18+ Warning
This file contains adult content! By downloading this file you agree that you are at least 18 years of age and wish to see such material.
Description
Hotfixes
Hotfix v2.0.1 (requires base download below) - Fixes the "lower exposed" part of her outfits not being rigged. Fixes both Nyotengu and standalone outfit.
Upgraded to DazV4
Changes:
Pussy and anus are able to open much wider now
Pussy and anus no longer have unlightable black regions when opened
Better deformation correctors
Fixed seam going down Nyotengu's face
Comes with Outfit Loader and Bodygroup Presetter data files.
DazV4 models do not override their previous public versions - they have "_dazv4" appended at the end of their name, differentiating them from previous models. This upgrade will not affect any existing projects.
First time downloading Nyotengu? Click an official SFMlab download button below.
Already had Nyotengu, and want to upgrade her to DazV4? Click here to download the upgrade kit!
========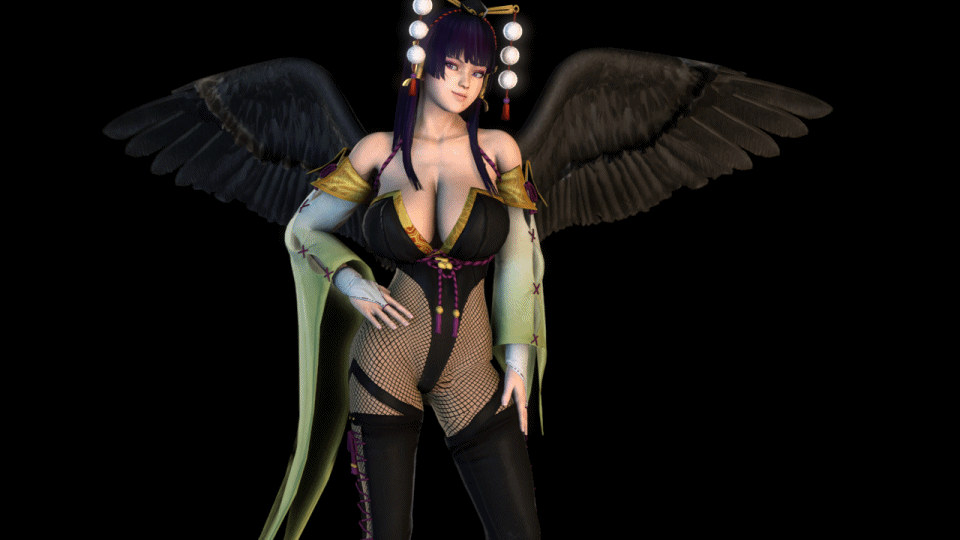 Click for gif showing off all outfit variants.
So I hoped to get this model done and released sometime between today and two Saturdays ago, and, well, that never happened. And for good reason, since it took nearly an additional 4 hours on stream today to get her finally ready for release. A whole lot of busy work and bug-fixing.
That being said, she is finally ready for release, though she assuredly still has bugs.
There isn't really too much to say for Nyotengu in particular that hasn't been said for any of the other DOA Fantasy characters - you can click here for more of those details if you're not familiar with this particular body standard that I am putting together.
The only thing of real note to say for Nyo in particular is that, due to the combination of the complexity of her hair and the length of her hair, she had too many bones to control it all that I could not provide controller bones for her hair. All of which means that if you want to manually pose or influence her hair in any capacity, you have to bake procedurals first - you cannot influence / pose the bones while they are actively jiggling. A necessary compromise to get the hair to compile with decent fidelity, unfortunately.
So yeah, I hope you all enjoy, and as always (and as shown by the last image), she and her outfit are fully compatible with the other DOAFantasy girls.
Comments
Leave a reply
You need to be logged in to leave a comment.