Adult content
This content is marked as Adult/NSFW content. You can toggle your preferences regarding this content type in your account settings.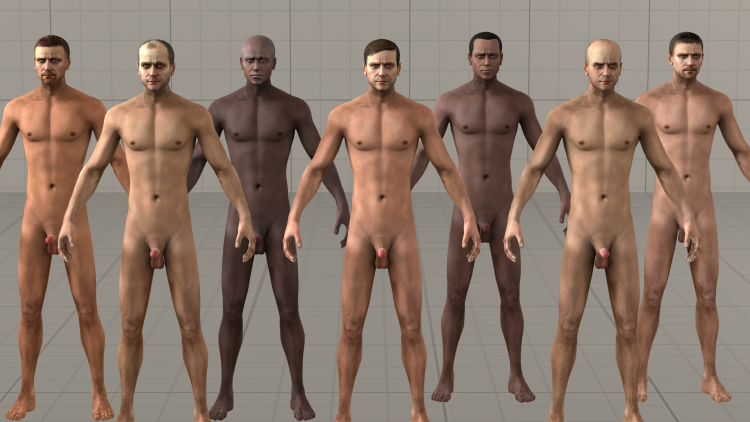 Description
ARE YOU TIRED OF HAVING TO CAREFULLY PICK YOUR POSES AND CAMERA ANGLES, LEST YOU REVEAL THE FACT THE STUD(S) OF THE SHOW HAVE LOST THEIR HEADS OVER HOW HOT THEIR PARTNER(S) ARE?
I know I was! That is, until I finally put together The New Era of SFM Porn© ® ™, also known as the Generic Nude Male!
Built on a slightly rerigged iteration of Shaotek's Ultimate Nude Male, this is headhack with the Black Mesa Source scientist head.
Why the BMS head? Because the scientists were specifically designed to be generic fodder characters - they have 22 unique skins, and over 75 head morphs that change the shape of the head.
Version 1.00 of this release only has the one skin shown here, but Version 1.1 will have 14 unique skins. Why only 14? Because each skin has two textures, which is a total of 28 textures. Then include the two eyes and the mouth, which brings to a total of 31 textures. 32 is the limit.
So why am I releasing now, instead of when I have all 14 skins ready? Because blending the textures is a pain in the ass, and it's going to take me a long time to do all 14 of them, with all of the other things I am working on.
There's no reason for me to hold onto this model, though - it's entirely functional, and I am sure there are people who are more than willing to deal with the lack of varied skins in exchange for actually having a male body with a head on it.
Keep your eyes peeled for that Version 1.1, though!
KNOWN ISSUES: Faceposing isn't the best. It uses the original BMS flexes, but the complex flexcontroller maths was torn out for a simpler slider system. There are evident texture seams around the neck. This is partially because I can't UV worth a fuck, but also partially due to the normals being different. Still, though, minor neck seams is better than a huge gaping hole! Rigging is a bit wonky still. I only rerigged the elbows and upper-arms, so the legs and shoulders still suffer from the weird Skyrim rigging. These may or may not get fixed in an intermediary release between 1.0 and 1.1
SFMLab is a free service. However, it costs about $0.03 to deliver you a 1GB file. With over 20TB of traffic every month and growing, SFMLab needs your help. If only 1% of our users each gave us $5 for a single month, we could keep the site running for several years.
Filename
Downloads
Created
Filesize
Files
MaleNude_v100.rar
2539
2016-01-31 20:32:28
8.79 MB
MaleNude_v102.rar
1092
2016-01-31 20:32:28
8.79 MB
MaleNude_v101.rar
777
2016-01-31 20:32:28
8.79 MB
Males_v111.7z
1275
2016-01-31 20:32:28
28.12 MB
Males_v11.7z
3057
2016-01-31 20:32:28
28.12 MB