Adult content
This content is marked as Adult/NSFW content. You can toggle your preferences regarding this content type in your account settings.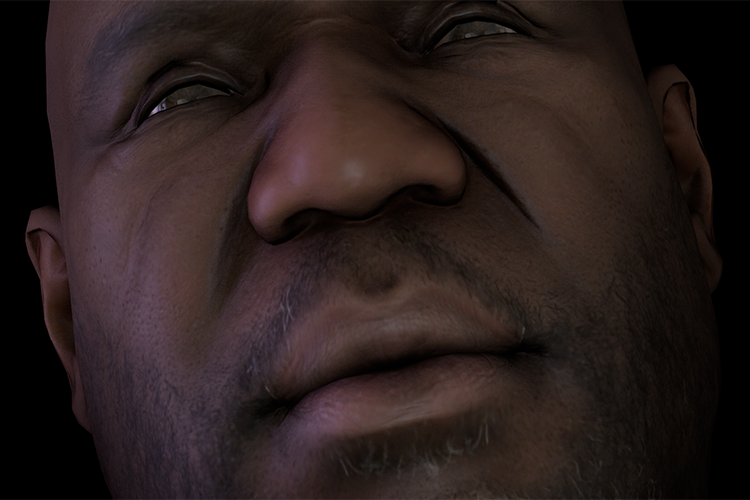 Description
Game: Left 4 Dead 2
Bio: Coach has a big heart and a healthy appetite, and a wicked swing with a chainsaw. After a knee injury ended his career as a defensive lineman in college, Coach salvaged his Physical Education degree (barely) and landed a job teaching health at the local high school in his hometown of Savannah. Working as a defensive coordinator for the freshmen tour team might not have been the best path to a pro coaching career; but it's come in pretty handy in guiding a group of Survivors to safety. Coach has watched his beloved hometown get ravaged by infected—now it's time to deliver his own brand of Southern hospitality.
Release info
The legends of the arrival of the great black one are true. Long has his coming be foretold. Now the prophesy has been fulfilled. NUDE COACH ARRIVES
Features:
Full set of HWM flexes, identical to the Valve cinematic model
A lovely nude body (thanks Shaotek)
IK Rig
An alternative dick shape :expand:
I might add some bell or butt bones if you guys want it. :mike10:
Please support the site via the SFMLab Patreon if you want more models like this.
SFMLab is a free service. However, it costs about $0.03 to deliver you a 1GB file. With over 20TB of traffic every month and growing, SFMLab needs your help. If only 1% of our users each gave us $5 for a single month, we could keep the site running for several years.
Filename
Downloads
Created
Filesize
Files
nude_coach1.zip
3215
2016-01-31 20:32:28
288.16 MB
File contents:

nude_coach/rig_male_fat.py
nude_coach/models/characters/l4d/coach.sw.vtx
nude_coach/models/characters/l4d/coach.dx80.vtx
nude_coach/models/characters/l4d/coach.dx90.vtx
nude_coach/models/characters/l4d/coach.mdl
nude_coach/models/characters/l4d/coach_phoneme.pre
nude_coach/models/characters/l4d/coach.vvd
nude_coach/materials/TheMask/shared/detail_hair.vtf
nude_coach/materials/TheMask/shared/eye-extra-right.vtf
nude_coach/materials/TheMask/shared/albedo_tintdefine.vtf
nude_coach/materials/TheMask/shared/lightwarp_thor.vtf
nude_coach/materials/TheMask/shared/detail_noise.vtf
nude_coach/materials/TheMask/shared/lightwarp_eye_plain.vtf
nude_coach/materials/TheMask/shared/detail_cloth5.vtf
nude_coach/materials/TheMask/shared/detail_leather3.vtf
nude_coach/materials/TheMask/shared/Phong_Exp.vtf
nude_coach/materials/TheMask/shared/phongwarp_metal2.vtf
nude_coach/materials/TheMask/shared/lightwarp_flesh2.vtf
nude_coach/materials/TheMask/shared/detail_skin.vtf
nude_coach/materials/TheMask/shared/detail_grit.vtf
nude_coach/materials/TheMask/shared/lightwarp_satin.vtf
nude_coach/materials/TheMask/shared/eye-extra.vtf
nude_coach/materials/TheMask/shared/detail_paper.vtf
nude_coach/materials/TheMask/shared/detail_leather2.vtf
nude_coach/materials/TheMask/shared/Generic_Glass_fresnel.vtf
nude_coach/materials/TheMask/shared/lightwarp_metallic.vtf
nude_coach/materials/TheMask/shared/detail_cloth2.vtf
nude_coach/materials/TheMask/shared/lightwarp_soft_white.vtf
nude_coach/materials/TheMask/shared/phongwarp_hair2.vtf
nude_coach/materials/TheMask/shared/armor_exp03.vtf
nude_coach/materials/TheMask/shared/normalmap_flat.vtf
nude_coach/materials/TheMask/shared/detail_leather.vtf
nude_coach/materials/TheMask/shared/lightwarp_flesh_troll.vtf
nude_coach/materials/TheMask/shared/detail_metal3.vtf
nude_coach/materials/TheMask/shared/detail_fur2.vtf
nude_coach/materials/TheMask/shared/detail_cloth3.vtf
nude_coach/materials/TheMask/shared/detail_metal.vtf
nude_coach/materials/TheMask/shared/detail_plastic.vtf
nude_coach/materials/TheMask/shared/detail_carbonfiber.vtf
nude_coach/materials/TheMask/shared/detail_sand2.vtf
nude_coach/materials/TheMask/shared/detail_scales.vtf
nude_coach/materials/TheMask/shared/detail_sand.vtf
nude_coach/materials/TheMask/shared/detail_metal2.vtf
nude_coach/materials/TheMask/shared/phongwarp_hair.vtf
nude_coach/materials/TheMask/shared/detail_hexagon.vtf
nude_coach/materials/TheMask/shared/lightwarp_flesh.vtf
nude_coach/materials/TheMask/shared/headshadow.vtf
nude_coach/materials/TheMask/shared/detail_scratches.vtf
nude_coach/materials/TheMask/shared/lightwarp_wet.vtf
nude_coach/materials/TheMask/shared/albedo_tintdefinelight.vtf
nude_coach/materials/TheMask/shared/detail_wood.vtf
nude_coach/materials/TheMask/shared/Generic_Glass.vtf
nude_coach/materials/TheMask/shared/eyeball_base.vtf
nude_coach/materials/TheMask/shared/exp.vtf
nude_coach/materials/TheMask/shared/Generic_Fluid_Dirty.vtf
nude_coach/materials/TheMask/shared/lightwarp_flesh_synth.vtf
nude_coach/materials/TheMask/shared/Chrome.vtf
nude_coach/materials/TheMask/shared/Fuel_Shine.vtf
nude_coach/materials/TheMask/shared/detail_wood2.vtf
nude_coach/materials/TheMask/shared/lightwarp_flesh_dark.vtf
nude_coach/materials/TheMask/shared/lightwarp_soft.vtf
nude_coach/materials/TheMask/shared/lightwarp_mask.vtf
nude_coach/materials/TheMask/shared/phongwarp_metal.vtf
nude_coach/materials/TheMask/shared/lightwarp_eye.vtf
nude_coach/materials/TheMask/shared/eye-cornea.vtf
nude_coach/materials/TheMask/shared/lightwarp_havan_soft.vtf
nude_coach/materials/TheMask/shared/lightwarp_guardian.vtf
nude_coach/materials/TheMask/shared/lightwarp_flesh_ender.vtf
nude_coach/materials/TheMask/shared/phongwarp_sheen.vtf
nude_coach/materials/TheMask/shared/Generic_Fluid.vtf
nude_coach/materials/TheMask/shared/lightwarp_ice.vtf
nude_coach/materials/TheMask/shared/detail_fur.vtf
nude_coach/materials/TheMask/shared/phongwarp_water.vtf
nude_coach/materials/TheMask/shared/detail_stone.vtf
nude_coach/materials/TheMask/shared/lightwarp_havan_hard.vtf
nude_coach/materials/TheMask/shared/armor_exp02.vtf
nude_coach/materials/TheMask/shared/detail_hexagon3.vtf
nude_coach/materials/TheMask/shared/detail_skin2.vtf
nude_coach/materials/TheMask/shared/lightwarp_hair.vtf
nude_coach/materials/TheMask/shared/armor_exp.vtf
nude_coach/materials/TheMask/shared/Generic.vtf
nude_coach/materials/TheMask/shared/detail_scratches2.vtf
nude_coach/materials/TheMask/shared/detail_cloth.vtf
nude_coach/materials/TheMask/shared/detail_hexagon2.vtf
nude_coach/materials/TheMask/shared/detail_cloth4.vtf
nude_coach/materials/TheMask/shared/lightwarp_elchulus.vtf
nude_coach/materials/TheMask/shared/eyelashes.vtf
nude_coach/materials/TheMask/shared/eye_ambient.vtf
nude_coach/materials/TheMask/shared/Generic_N.vtf
nude_coach/materials/TheMask/shared/rock01_detail.vtf
nude_coach/materials/TheMask/shared/Generic_Fluid_Dirty_02.vtf
nude_coach/materials/TheMask/shared/lightwarp_leather.vtf
nude_coach/materials/TheMask/shared/detail_flesh.vtf
nude_coach/materials/TheMask/shared/phong_exp_skin.vtf
nude_coach/materials/TheMask/shared/rock_solid_d.vtf
nude_coach/materials/TheMask/shared/Generic_White.vtf
nude_coach/materials/TheMask/shared/eye-reflection-cubemap-.vtf
nude_coach/materials/TheMask/shared/lightwarp_flesh_stark.vtf
nude_coach/materials/TheMask/shared/detail/Detail_Cloth8.vtf
nude_coach/materials/TheMask/shared/detail/Detail_Skin4.vtf
nude_coach/materials/TheMask/shared/detail/Detail_Leather5.vtf
nude_coach/materials/TheMask/shared/detail/Detail_Snow.vtf
nude_coach/materials/TheMask/shared/detail/Detail_Corrosion9.vtf
nude_coach/materials/TheMask/shared/detail/Detail_Rock3.vtf
nude_coach/materials/TheMask/shared/detail/Detail_Flesh.vtf
nude_coach/materials/TheMask/shared/detail/Detail_Asphalt2.vtf
nude_coach/materials/TheMask/shared/detail/Detail_Asphalt3.vtf
nude_coach/materials/TheMask/shared/detail/Detail_Dirt14.vtf
nude_coach/materials/TheMask/shared/detail/Detail_Ice2.vtf
nude_coach/materials/TheMask/shared/detail/Detail_Wallpaper2.vtf
nude_coach/materials/TheMask/shared/detail/Detail_Concrete5.vtf
nude_coach/materials/TheMask/shared/detail/Detail_Metal4.vtf
nude_coach/materials/TheMask/shared/detail/detail_Wallpaper.vtf
nude_coach/materials/TheMask/shared/detail/Detail_Rock7.vtf
nude_coach/materials/TheMask/shared/detail/Detail_Skin.vtf
nude_coach/materials/TheMask/shared/detail/Detail_Leather.vtf
nude_coach/materials/TheMask/shared/detail/Detail_Mud7.vtf
nude_coach/materials/TheMask/shared/detail/Detail_Concrete3.vtf
nude_coach/materials/TheMask/shared/detail/Detail_Leather2.vtf
nude_coach/materials/TheMask/shared/detail/Detail_Leather3.vtf
nude_coach/materials/TheMask/shared/detail/Detail_Mud3.vtf
nude_coach/materials/TheMask/shared/detail/Detail_Rock10.vtf
nude_coach/materials/TheMask/shared/detail/Detail_Rock.vtf
nude_coach/materials/TheMask/shared/detail/Detail_Corrosion7.vtf
nude_coach/materials/TheMask/shared/detail/Detail_Cloth7.vtf
nude_coach/materials/TheMask/shared/detail/Detail_Snow3.vtf
nude_coach/materials/TheMask/shared/detail/Detail_Dirt15.vtf
nude_coach/materials/TheMask/shared/detail/Detail_Metal11.vtf
nude_coach/materials/TheMask/shared/detail/detail_Wallpaper3.vtf
nude_coach/materials/TheMask/shared/detail/Detail_Dirt2.vtf
nude_coach/materials/TheMask/shared/detail/Detail_Metal13.vtf
nude_coach/materials/TheMask/shared/detail/Detail_Mud.vtf
nude_coach/materials/TheMask/shared/detail/Detail_Metal15.vtf
nude_coach/materials/TheMask/shared/detail/Detail_Cloth2.vtf
nude_coach/materials/TheMask/shared/detail/Detail_Metal5.vtf
nude_coach/materials/TheMask/shared/detail/Detail_Metal10.vtf
nude_coach/materials/TheMask/shared/detail/Detail_Corrosion5.vtf
nude_coach/materials/TheMask/shared/detail/Detail_Wallpaper5.vtf
nude_coach/materials/TheMask/shared/detail/Detail_Asphalt.vtf
nude_coach/materials/TheMask/shared/detail/Detail_Skin2.vtf
nude_coach/materials/TheMask/shared/detail/Detail_Cloth.vtf
nude_coach/materials/TheMask/shared/detail/Detail_Concrete4.vtf
nude_coach/materials/TheMask/shared/detail/Detail_Mud5.vtf
nude_coach/materials/TheMask/shared/detail/Detail_Bread2.vtf
nude_coach/materials/TheMask/shared/detail/Detail_Corrosion.vtf
nude_coach/materials/TheMask/shared/detail/Detail_Corrosion6.vtf
nude_coach/materials/TheMask/shared/detail/Detail_Wood.vtf
nude_coach/materials/TheMask/shared/detail/Detail_Ice.vtf
nude_coach/materials/TheMask/shared/detail/Detail_Leather6.vtf
nude_coach/materials/TheMask/shared/detail/Detail_Wood2.vtf
nude_coach/materials/TheMask/shared/detail/Detail_Dirt3.vtf
nude_coach/materials/TheMask/shared/detail/Detail_Rock6.vtf
nude_coach/materials/TheMask/shared/detail/Detail_Dirt4.vtf
nude_coach/materials/TheMask/shared/detail/Detail_Ice3.vtf
nude_coach/materials/TheMask/shared/detail/Detail_Skin5.vtf
nude_coach/materials/TheMask/shared/detail/Detail_Corrosion3.vtf
nude_coach/materials/TheMask/shared/detail/Detail_Corrosion8.vtf
nude_coach/materials/TheMask/shared/detail/Detail_Bricks.vtf
nude_coach/materials/TheMask/shared/detail/Detail_Dirt11.vtf
nude_coach/materials/TheMask/shared/detail/Detail_Metal7.vtf
nude_coach/materials/TheMask/shared/detail/Detail_Rock8.vtf
nude_coach/materials/TheMask/shared/detail/Detail_Mud4.vtf
nude_coach/materials/TheMask/shared/detail/Detail_Metal12.vtf
nude_coach/materials/TheMask/shared/detail/Detail_Rock9.vtf
nude_coach/materials/TheMask/shared/detail/Detail_Concrete6.vtf
nude_coach/materials/TheMask/shared/detail/Detail_Concrete.vtf
nude_coach/materials/TheMask/shared/detail/Detail_Skin3.vtf
nude_coach/materials/TheMask/shared/detail/Detail_Corrosion4.vtf
nude_coach/materials/TheMask/shared/detail/Detail_Fur.vtf
nude_coach/materials/TheMask/shared/detail/Detail_Rock2.vtf
nude_coach/materials/TheMask/shared/detail/Detail_Dirt.vtf
nude_coach/materials/TheMask/shared/detail/Detail_Cloth5.vtf
nude_coach/materials/TheMask/shared/detail/Detail_Cloth9.vtf
nude_coach/materials/TheMask/shared/detail/Detail_Dirt9.vtf
nude_coach/materials/TheMask/shared/detail/Detail_Dirt10.vtf
nude_coach/materials/TheMask/shared/detail/Detail_Rock4.vtf
nude_coach/materials/TheMask/shared/detail/Detail_Concrete2.vtf
nude_coach/materials/TheMask/shared/detail/Detail_Cloth3.vtf
nude_coach/materials/TheMask/shared/detail/Detail_Metal3.vtf
nude_coach/materials/TheMask/shared/detail/Detail_Wallpaper7.vtf
nude_coach/materials/TheMask/shared/detail/Detail_Dirt12.vtf
nude_coach/materials/TheMask/shared/detail/Detail_Dirt13.vtf
nude_coach/materials/TheMask/shared/detail/Detail_Metal8.vtf
nude_coach/materials/TheMask/shared/detail/Detail_Metal.vtf
nude_coach/materials/TheMask/shared/detail/Detail_Bread.vtf
nude_coach/materials/TheMask/shared/detail/Detail_ICe4.vtf
nude_coach/materials/TheMask/shared/detail/Detail_Dirt8.vtf
nude_coach/materials/TheMask/shared/detail/Detail_Metal9.vtf
nude_coach/materials/TheMask/shared/detail/Detail_Cloth4.vtf
nude_coach/materials/TheMask/shared/detail/Detail_Corrosion2.vtf
nude_coach/materials/TheMask/shared/detail/Detail_Skin6.vtf
nude_coach/materials/TheMask/shared/detail/detail_Wallpaper6.vtf
nude_coach/materials/TheMask/shared/detail/Detail_Cloth6.vtf
nude_coach/materials/TheMask/shared/detail/Detail_Snow2.vtf
nude_coach/materials/TheMask/shared/detail/Detail_Mud6.vtf
nude_coach/materials/TheMask/shared/detail/Detail_Metal14.vtf
nude_coach/materials/TheMask/shared/detail/Detail_Rock5.vtf
nude_coach/materials/TheMask/shared/detail/Detail_Leather4.vtf
nude_coach/materials/TheMask/shared/detail/Detail_Metal6.vtf
nude_coach/materials/TheMask/shared/detail/Detail_Dirt7.vtf
nude_coach/materials/TheMask/shared/detail/Detail_Dirt6.vtf
nude_coach/materials/TheMask/shared/detail/Detail_Mud2.vtf
nude_coach/materials/TheMask/shared/detail/Detail_Metal2.vtf
nude_coach/materials/TheMask/shared/detail/detail_Wallpaper4.vtf
nude_coach/materials/TheMask/shared/detail/Detail_Dirt5.vtf
nude_coach/materials/models/characters/l4d/coach/FatDonger.vtf
nude_coach/materials/models/characters/l4d/coach/FatLimbs.vtf
nude_coach/materials/models/characters/l4d/coach/FatLimbs2.vmt
nude_coach/materials/models/characters/l4d/coach/coach_eyeball_r.vmt
nude_coach/materials/models/characters/l4d/coach/FatBody2.vtf
nude_coach/materials/models/characters/l4d/coach/FatBody_N.vtf
nude_coach/materials/models/characters/l4d/coach/coach_head_it.vmt
nude_coach/materials/models/characters/l4d/coach/coach_head_wrp.vtf
nude_coach/materials/models/characters/l4d/coach/FatBody.vtf
nude_coach/materials/models/characters/l4d/coach/pubes.vmt
nude_coach/materials/models/characters/l4d/coach/coach_head.vtf
nude_coach/materials/models/characters/l4d/coach/coach_head_exp.vtf
nude_coach/materials/models/characters/l4d/coach/coach_head.vmt
nude_coach/materials/models/characters/l4d/coach/FatDonger2.vmt
nude_coach/materials/models/characters/l4d/coach/pubes.vtf
nude_coach/materials/models/characters/l4d/coach/coach_eyes.vtf
nude_coach/materials/models/characters/l4d/coach/FatDonger.vmt
nude_coach/materials/models/characters/l4d/coach/FatLimbs_N.vtf
nude_coach/materials/models/characters/l4d/coach/coach_eyeball_l.vmt
nude_coach/materials/models/characters/l4d/coach/coach_head_normal.vtf
nude_coach/materials/models/characters/l4d/coach/coach_body_exp.vtf
nude_coach/materials/models/characters/l4d/coach/FatLimbs.vmt
nude_coach/materials/models/characters/l4d/coach/coach_head_compress.vtf
nude_coach/materials/models/characters/l4d/coach/FatBody.vmt
nude_coach/materials/models/characters/l4d/coach/coach_eye_ao.vtf
nude_coach/materials/models/characters/l4d/coach/FatDonger2.vtf
nude_coach/materials/models/characters/l4d/coach/FatLimbs2.vtf
nude_coach/materials/models/characters/l4d/coach/FatDonger_N.vtf
nude_coach/materials/models/characters/l4d/coach/FatBody2.vmt
nude_coach1/rig_male_fat.py
nude_coach1/models/characters/l4d/coach.sw.vtx
nude_coach1/models/characters/l4d/coach.dx80.vtx
nude_coach1/models/characters/l4d/coach.dx90.vtx
nude_coach1/models/characters/l4d/coach.mdl
nude_coach1/models/characters/l4d/coach_phoneme.pre
nude_coach1/models/characters/l4d/coach.vvd
nude_coach1/materials/TheMask/shared/detail_hair.vtf
nude_coach1/materials/TheMask/shared/eye-extra-right.vtf
nude_coach1/materials/TheMask/shared/albedo_tintdefine.vtf
nude_coach1/materials/TheMask/shared/lightwarp_thor.vtf
nude_coach1/materials/TheMask/shared/detail_noise.vtf
nude_coach1/materials/TheMask/shared/lightwarp_eye_plain.vtf
nude_coach1/materials/TheMask/shared/detail_cloth5.vtf
nude_coach1/materials/TheMask/shared/detail_leather3.vtf
nude_coach1/materials/TheMask/shared/Phong_Exp.vtf
nude_coach1/materials/TheMask/shared/phongwarp_metal2.vtf
nude_coach1/materials/TheMask/shared/lightwarp_flesh2.vtf
nude_coach1/materials/TheMask/shared/detail_skin.vtf
nude_coach1/materials/TheMask/shared/detail_grit.vtf
nude_coach1/materials/TheMask/shared/lightwarp_satin.vtf
nude_coach1/materials/TheMask/shared/eye-extra.vtf
nude_coach1/materials/TheMask/shared/detail_paper.vtf
nude_coach1/materials/TheMask/shared/detail_leather2.vtf
nude_coach1/materials/TheMask/shared/Generic_Glass_fresnel.vtf
nude_coach1/materials/TheMask/shared/lightwarp_metallic.vtf
nude_coach1/materials/TheMask/shared/detail_cloth2.vtf
nude_coach1/materials/TheMask/shared/lightwarp_soft_white.vtf
nude_coach1/materials/TheMask/shared/phongwarp_hair2.vtf
nude_coach1/materials/TheMask/shared/armor_exp03.vtf
nude_coach1/materials/TheMask/shared/normalmap_flat.vtf
nude_coach1/materials/TheMask/shared/detail_leather.vtf
nude_coach1/materials/TheMask/shared/lightwarp_flesh_troll.vtf
nude_coach1/materials/TheMask/shared/detail_metal3.vtf
nude_coach1/materials/TheMask/shared/detail_fur2.vtf
nude_coach1/materials/TheMask/shared/detail_cloth3.vtf
nude_coach1/materials/TheMask/shared/detail_metal.vtf
nude_coach1/materials/TheMask/shared/detail_plastic.vtf
nude_coach1/materials/TheMask/shared/detail_carbonfiber.vtf
nude_coach1/materials/TheMask/shared/detail_sand2.vtf
nude_coach1/materials/TheMask/shared/detail_scales.vtf
nude_coach1/materials/TheMask/shared/detail_sand.vtf
nude_coach1/materials/TheMask/shared/detail_metal2.vtf
nude_coach1/materials/TheMask/shared/phongwarp_hair.vtf
nude_coach1/materials/TheMask/shared/detail_hexagon.vtf
nude_coach1/materials/TheMask/shared/lightwarp_flesh.vtf
nude_coach1/materials/TheMask/shared/headshadow.vtf
nude_coach1/materials/TheMask/shared/detail_scratches.vtf
nude_coach1/materials/TheMask/shared/lightwarp_wet.vtf
nude_coach1/materials/TheMask/shared/albedo_tintdefinelight.vtf
nude_coach1/materials/TheMask/shared/detail_wood.vtf
nude_coach1/materials/TheMask/shared/Generic_Glass.vtf
nude_coach1/materials/TheMask/shared/eyeball_base.vtf
nude_coach1/materials/TheMask/shared/exp.vtf
nude_coach1/materials/TheMask/shared/Generic_Fluid_Dirty.vtf
nude_coach1/materials/TheMask/shared/lightwarp_flesh_synth.vtf
nude_coach1/materials/TheMask/shared/Chrome.vtf
nude_coach1/materials/TheMask/shared/Fuel_Shine.vtf
nude_coach1/materials/TheMask/shared/detail_wood2.vtf
nude_coach1/materials/TheMask/shared/lightwarp_flesh_dark.vtf
nude_coach1/materials/TheMask/shared/lightwarp_soft.vtf
nude_coach1/materials/TheMask/shared/lightwarp_mask.vtf
nude_coach1/materials/TheMask/shared/phongwarp_metal.vtf
nude_coach1/materials/TheMask/shared/lightwarp_eye.vtf
nude_coach1/materials/TheMask/shared/eye-cornea.vtf
nude_coach1/materials/TheMask/shared/lightwarp_havan_soft.vtf
nude_coach1/materials/TheMask/shared/lightwarp_guardian.vtf
nude_coach1/materials/TheMask/shared/lightwarp_flesh_ender.vtf
nude_coach1/materials/TheMask/shared/phongwarp_sheen.vtf
nude_coach1/materials/TheMask/shared/Generic_Fluid.vtf
nude_coach1/materials/TheMask/shared/lightwarp_ice.vtf
nude_coach1/materials/TheMask/shared/detail_fur.vtf
nude_coach1/materials/TheMask/shared/phongwarp_water.vtf
nude_coach1/materials/TheMask/shared/detail_stone.vtf
nude_coach1/materials/TheMask/shared/lightwarp_havan_hard.vtf
nude_coach1/materials/TheMask/shared/armor_exp02.vtf
nude_coach1/materials/TheMask/shared/detail_hexagon3.vtf
nude_coach1/materials/TheMask/shared/detail_skin2.vtf
nude_coach1/materials/TheMask/shared/lightwarp_hair.vtf
nude_coach1/materials/TheMask/shared/armor_exp.vtf
nude_coach1/materials/TheMask/shared/Generic.vtf
nude_coach1/materials/TheMask/shared/detail_scratches2.vtf
nude_coach1/materials/TheMask/shared/detail_cloth.vtf
nude_coach1/materials/TheMask/shared/detail_hexagon2.vtf
nude_coach1/materials/TheMask/shared/detail_cloth4.vtf
nude_coach1/materials/TheMask/shared/lightwarp_elchulus.vtf
nude_coach1/materials/TheMask/shared/eyelashes.vtf
nude_coach1/materials/TheMask/shared/eye_ambient.vtf
nude_coach1/materials/TheMask/shared/Generic_N.vtf
nude_coach1/materials/TheMask/shared/rock01_detail.vtf
nude_coach1/materials/TheMask/shared/Generic_Fluid_Dirty_02.vtf
nude_coach1/materials/TheMask/shared/lightwarp_leather.vtf
nude_coach1/materials/TheMask/shared/detail_flesh.vtf
nude_coach1/materials/TheMask/shared/phong_exp_skin.vtf
nude_coach1/materials/TheMask/shared/rock_solid_d.vtf
nude_coach1/materials/TheMask/shared/Generic_White.vtf
nude_coach1/materials/TheMask/shared/eye-reflection-cubemap-.vtf
nude_coach1/materials/TheMask/shared/lightwarp_flesh_stark.vtf
nude_coach1/materials/TheMask/shared/detail/Detail_Cloth8.vtf
nude_coach1/materials/TheMask/shared/detail/Detail_Skin4.vtf
nude_coach1/materials/TheMask/shared/detail/Detail_Leather5.vtf
nude_coach1/materials/TheMask/shared/detail/Detail_Snow.vtf
nude_coach1/materials/TheMask/shared/detail/Detail_Corrosion9.vtf
nude_coach1/materials/TheMask/shared/detail/Detail_Rock3.vtf
nude_coach1/materials/TheMask/shared/detail/Detail_Flesh.vtf
nude_coach1/materials/TheMask/shared/detail/Detail_Asphalt2.vtf
nude_coach1/materials/TheMask/shared/detail/Detail_Asphalt3.vtf
nude_coach1/materials/TheMask/shared/detail/Detail_Dirt14.vtf
nude_coach1/materials/TheMask/shared/detail/Detail_Ice2.vtf
nude_coach1/materials/TheMask/shared/detail/Detail_Wallpaper2.vtf
nude_coach1/materials/TheMask/shared/detail/Detail_Concrete5.vtf
nude_coach1/materials/TheMask/shared/detail/Detail_Metal4.vtf
nude_coach1/materials/TheMask/shared/detail/detail_Wallpaper.vtf
nude_coach1/materials/TheMask/shared/detail/Detail_Rock7.vtf
nude_coach1/materials/TheMask/shared/detail/Detail_Skin.vtf
nude_coach1/materials/TheMask/shared/detail/Detail_Leather.vtf
nude_coach1/materials/TheMask/shared/detail/Detail_Mud7.vtf
nude_coach1/materials/TheMask/shared/detail/Detail_Concrete3.vtf
nude_coach1/materials/TheMask/shared/detail/Detail_Leather2.vtf
nude_coach1/materials/TheMask/shared/detail/Detail_Leather3.vtf
nude_coach1/materials/TheMask/shared/detail/Detail_Mud3.vtf
nude_coach1/materials/TheMask/shared/detail/Detail_Rock10.vtf
nude_coach1/materials/TheMask/shared/detail/Detail_Rock.vtf
nude_coach1/materials/TheMask/shared/detail/Detail_Corrosion7.vtf
nude_coach1/materials/TheMask/shared/detail/Detail_Cloth7.vtf
nude_coach1/materials/TheMask/shared/detail/Detail_Snow3.vtf
nude_coach1/materials/TheMask/shared/detail/Detail_Dirt15.vtf
nude_coach1/materials/TheMask/shared/detail/Detail_Metal11.vtf
nude_coach1/materials/TheMask/shared/detail/detail_Wallpaper3.vtf
nude_coach1/materials/TheMask/shared/detail/Detail_Dirt2.vtf
nude_coach1/materials/TheMask/shared/detail/Detail_Metal13.vtf
nude_coach1/materials/TheMask/shared/detail/Detail_Mud.vtf
nude_coach1/materials/TheMask/shared/detail/Detail_Metal15.vtf
nude_coach1/materials/TheMask/shared/detail/Detail_Cloth2.vtf
nude_coach1/materials/TheMask/shared/detail/Detail_Metal5.vtf
nude_coach1/materials/TheMask/shared/detail/Detail_Metal10.vtf
nude_coach1/materials/TheMask/shared/detail/Detail_Corrosion5.vtf
nude_coach1/materials/TheMask/shared/detail/Detail_Wallpaper5.vtf
nude_coach1/materials/TheMask/shared/detail/Detail_Asphalt.vtf
nude_coach1/materials/TheMask/shared/detail/Detail_Skin2.vtf
nude_coach1/materials/TheMask/shared/detail/Detail_Cloth.vtf
nude_coach1/materials/TheMask/shared/detail/Detail_Concrete4.vtf
nude_coach1/materials/TheMask/shared/detail/Detail_Mud5.vtf
nude_coach1/materials/TheMask/shared/detail/Detail_Bread2.vtf
nude_coach1/materials/TheMask/shared/detail/Detail_Corrosion.vtf
nude_coach1/materials/TheMask/shared/detail/Detail_Corrosion6.vtf
nude_coach1/materials/TheMask/shared/detail/Detail_Wood.vtf
nude_coach1/materials/TheMask/shared/detail/Detail_Ice.vtf
nude_coach1/materials/TheMask/shared/detail/Detail_Leather6.vtf
nude_coach1/materials/TheMask/shared/detail/Detail_Wood2.vtf
nude_coach1/materials/TheMask/shared/detail/Detail_Dirt3.vtf
nude_coach1/materials/TheMask/shared/detail/Detail_Rock6.vtf
nude_coach1/materials/TheMask/shared/detail/Detail_Dirt4.vtf
nude_coach1/materials/TheMask/shared/detail/Detail_Ice3.vtf
nude_coach1/materials/TheMask/shared/detail/Detail_Skin5.vtf
nude_coach1/materials/TheMask/shared/detail/Detail_Corrosion3.vtf
nude_coach1/materials/TheMask/shared/detail/Detail_Corrosion8.vtf
nude_coach1/materials/TheMask/shared/detail/Detail_Bricks.vtf
nude_coach1/materials/TheMask/shared/detail/Detail_Dirt11.vtf
nude_coach1/materials/TheMask/shared/detail/Detail_Metal7.vtf
nude_coach1/materials/TheMask/shared/detail/Detail_Rock8.vtf
nude_coach1/materials/TheMask/shared/detail/Detail_Mud4.vtf
nude_coach1/materials/TheMask/shared/detail/Detail_Metal12.vtf
nude_coach1/materials/TheMask/shared/detail/Detail_Rock9.vtf
nude_coach1/materials/TheMask/shared/detail/Detail_Concrete6.vtf
nude_coach1/materials/TheMask/shared/detail/Detail_Concrete.vtf
nude_coach1/materials/TheMask/shared/detail/Detail_Skin3.vtf
nude_coach1/materials/TheMask/shared/detail/Detail_Corrosion4.vtf
nude_coach1/materials/TheMask/shared/detail/Detail_Fur.vtf
nude_coach1/materials/TheMask/shared/detail/Detail_Rock2.vtf
nude_coach1/materials/TheMask/shared/detail/Detail_Dirt.vtf
nude_coach1/materials/TheMask/shared/detail/Detail_Cloth5.vtf
nude_coach1/materials/TheMask/shared/detail/Detail_Cloth9.vtf
nude_coach1/materials/TheMask/shared/detail/Detail_Dirt9.vtf
nude_coach1/materials/TheMask/shared/detail/Detail_Dirt10.vtf
nude_coach1/materials/TheMask/shared/detail/Detail_Rock4.vtf
nude_coach1/materials/TheMask/shared/detail/Detail_Concrete2.vtf
nude_coach1/materials/TheMask/shared/detail/Detail_Cloth3.vtf
nude_coach1/materials/TheMask/shared/detail/Detail_Metal3.vtf
nude_coach1/materials/TheMask/shared/detail/Detail_Wallpaper7.vtf
nude_coach1/materials/TheMask/shared/detail/Detail_Dirt12.vtf
nude_coach1/materials/TheMask/shared/detail/Detail_Dirt13.vtf
nude_coach1/materials/TheMask/shared/detail/Detail_Metal8.vtf
nude_coach1/materials/TheMask/shared/detail/Detail_Metal.vtf
nude_coach1/materials/TheMask/shared/detail/Detail_Bread.vtf
nude_coach1/materials/TheMask/shared/detail/Detail_ICe4.vtf
nude_coach1/materials/TheMask/shared/detail/Detail_Dirt8.vtf
nude_coach1/materials/TheMask/shared/detail/Detail_Metal9.vtf
nude_coach1/materials/TheMask/shared/detail/Detail_Cloth4.vtf
nude_coach1/materials/TheMask/shared/detail/Detail_Corrosion2.vtf
nude_coach1/materials/TheMask/shared/detail/Detail_Skin6.vtf
nude_coach1/materials/TheMask/shared/detail/detail_Wallpaper6.vtf
nude_coach1/materials/TheMask/shared/detail/Detail_Cloth6.vtf
nude_coach1/materials/TheMask/shared/detail/Detail_Snow2.vtf
nude_coach1/materials/TheMask/shared/detail/Detail_Mud6.vtf
nude_coach1/materials/TheMask/shared/detail/Detail_Metal14.vtf
nude_coach1/materials/TheMask/shared/detail/Detail_Rock5.vtf
nude_coach1/materials/TheMask/shared/detail/Detail_Leather4.vtf
nude_coach1/materials/TheMask/shared/detail/Detail_Metal6.vtf
nude_coach1/materials/TheMask/shared/detail/Detail_Dirt7.vtf
nude_coach1/materials/TheMask/shared/detail/Detail_Dirt6.vtf
nude_coach1/materials/TheMask/shared/detail/Detail_Mud2.vtf
nude_coach1/materials/TheMask/shared/detail/Detail_Metal2.vtf
nude_coach1/materials/TheMask/shared/detail/detail_Wallpaper4.vtf
nude_coach1/materials/TheMask/shared/detail/Detail_Dirt5.vtf
nude_coach1/materials/models/characters/l4d/coach/FatDonger.vtf
nude_coach1/materials/models/characters/l4d/coach/FatLimbs.vtf
nude_coach1/materials/models/characters/l4d/coach/FatLimbs2.vmt
nude_coach1/materials/models/characters/l4d/coach/coach_eyeball_r.vmt
nude_coach1/materials/models/characters/l4d/coach/FatBody2.vtf
nude_coach1/materials/models/characters/l4d/coach/FatBody_N.vtf
nude_coach1/materials/models/characters/l4d/coach/coach_head_it.vmt
nude_coach1/materials/models/characters/l4d/coach/coach_head_wrp.vtf
nude_coach1/materials/models/characters/l4d/coach/FatBody.vtf
nude_coach1/materials/models/characters/l4d/coach/pubes.vmt
nude_coach1/materials/models/characters/l4d/coach/coach_head.vtf
nude_coach1/materials/models/characters/l4d/coach/coach_head_exp.vtf
nude_coach1/materials/models/characters/l4d/coach/coach_head.vmt
nude_coach1/materials/models/characters/l4d/coach/FatDonger2.vmt
nude_coach1/materials/models/characters/l4d/coach/pubes.vtf
nude_coach1/materials/models/characters/l4d/coach/coach_eyes.vtf
nude_coach1/materials/models/characters/l4d/coach/FatDonger.vmt
nude_coach1/materials/models/characters/l4d/coach/FatLimbs_N.vtf
nude_coach1/materials/models/characters/l4d/coach/coach_eyeball_l.vmt
nude_coach1/materials/models/characters/l4d/coach/coach_head_normal.vtf
nude_coach1/materials/models/characters/l4d/coach/coach_body_exp.vtf
nude_coach1/materials/models/characters/l4d/coach/FatLimbs.vmt
nude_coach1/materials/models/characters/l4d/coach/coach_head_compress.vtf
nude_coach1/materials/models/characters/l4d/coach/FatBody.vmt
nude_coach1/materials/models/characters/l4d/coach/coach_eye_ao.vtf
nude_coach1/materials/models/characters/l4d/coach/FatDonger2.vtf
nude_coach1/materials/models/characters/l4d/coach/FatLimbs2.vtf
nude_coach1/materials/models/characters/l4d/coach/FatDonger_N.vtf
nude_coach1/materials/models/characters/l4d/coach/FatBody2.vmt