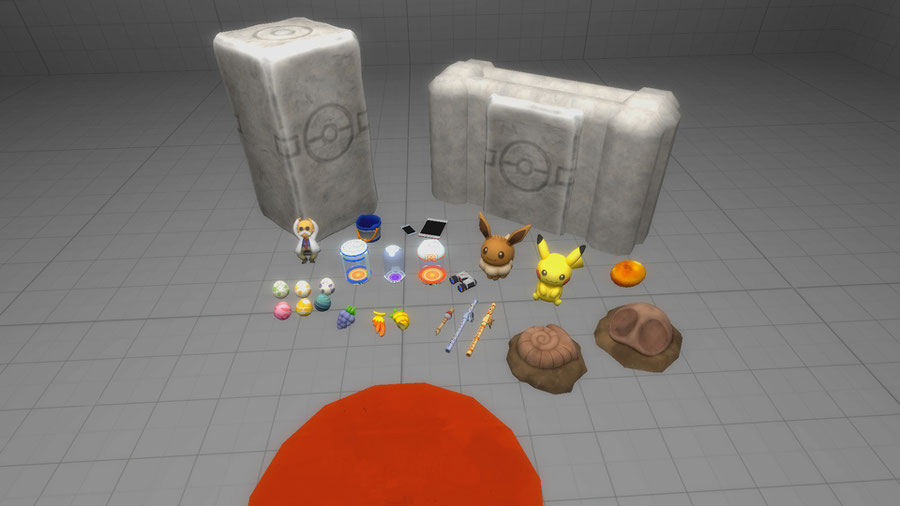 Show more
Description
Alternative Mirror: https://mega.nz/#F%21zbZCWSwQ%21pOQCmLhOEQH98k6dzR_EZA
NOTICE: Any uploads from Jan 16th 2022 or later will require this pack for the models to show up properly.
---
To install this addon, extract the contents of this folder and drag them into "steamapps\common\SourceFilmmaker\game\usermod"
---
Source:
Pokemon Core Series
Pokemon GO
Dancing? Pokémon Band
---
This model pack contains props from various Gen VI and Gen VII games. See below for the full list.
---
This pack contains the following:
Ash's Cap
Berries (Nanab, Pinap, Razz, Pecha)
Blaine Doll
Bucket
Cellphone
Dome Fossil
Eevee Plush
Helix Fossil
Incubators
Moon Flute
Old Amber
Pecha Berry Basket
Pikachu Plush
Pokebeans
Pokeflute
Pokemon Egg
Pokepuff (Basic, Frosted, Special)
Silph Scope
Strong Push Boulder
Sun Flute
Tablet
Wall
Features:
Green, Blue, and White screens skingroups for cellphone and tablet models.
Togglable Lightwarps via skingroups.
---
Credits:
Yunpol - Ported the models into SFM.
RandomTalkingBush - Ripping models.
ZeChrales - Provided 7KM Egg Texture.
Hallow - Provided models.
---
Disclaimer: All characters are from ©Nintendo and Game Freak.
SFMLab is a free service. However, it costs about $0.03 to deliver you a 1GB file. With over 20TB of traffic every month and growing, SFMLab needs your help. If only 1% of our users each gave us $5 for a single month, we could keep the site running for several years.
Filename
Downloads
Created
Filesize
Files
Yunpols_Pokemon_Misc_Pack.zip
619
2022-01-17 06:50:54
11.11 MB
File contents:

Yunpol's Pokemon Misc Pack/models/yunpolmodels/pokemon/misc/basic_bittens3.dx90.vtx
Yunpol's Pokemon Misc Pack/models/yunpolmodels/pokemon/misc/basic_pokepuff.mdl
Yunpol's Pokemon Misc Pack/models/yunpolmodels/pokemon/misc/frosted_bittens4.mdl
Yunpol's Pokemon Misc Pack/models/yunpolmodels/pokemon/misc/pokebean_eaten_1.vvd
Yunpol's Pokemon Misc Pack/models/yunpolmodels/pokemon/misc/frosted_pokepuff.dx90.vtx
Yunpol's Pokemon Misc Pack/models/yunpolmodels/pokemon/misc/basic_bittens4.vvd
Yunpol's Pokemon Misc Pack/models/yunpolmodels/pokemon/misc/pokebean_eaten_2.dx90.vtx
Yunpol's Pokemon Misc Pack/models/yunpolmodels/pokemon/misc/special_bittens1.dx90.vtx
Yunpol's Pokemon Misc Pack/models/yunpolmodels/pokemon/misc/tablet.vvd
Yunpol's Pokemon Misc Pack/models/yunpolmodels/pokemon/misc/pokebean_eaten_5.vvd
Yunpol's Pokemon Misc Pack/models/yunpolmodels/pokemon/misc/pecha_berry.vvd
Yunpol's Pokemon Misc Pack/models/yunpolmodels/pokemon/misc/Pinap_Berry.dx90.vtx
Yunpol's Pokemon Misc Pack/models/yunpolmodels/pokemon/misc/Silph_Scope.dx90.vtx
Yunpol's Pokemon Misc Pack/models/yunpolmodels/pokemon/misc/Wall.dx90.vtx
Yunpol's Pokemon Misc Pack/models/yunpolmodels/pokemon/misc/alola_cap.vvd
Yunpol's Pokemon Misc Pack/models/yunpolmodels/pokemon/misc/pokebean_eaten_1.dx90.vtx
Yunpol's Pokemon Misc Pack/models/yunpolmodels/pokemon/misc/frosted_bittens3.vvd
Yunpol's Pokemon Misc Pack/models/yunpolmodels/pokemon/misc/pokebean.vvd
Yunpol's Pokemon Misc Pack/models/yunpolmodels/pokemon/misc/wondercard.vvd
Yunpol's Pokemon Misc Pack/models/yunpolmodels/pokemon/misc/helix_fossil.mdl
Yunpol's Pokemon Misc Pack/models/yunpolmodels/pokemon/misc/Razz_Berry.dx90.vtx
Yunpol's Pokemon Misc Pack/models/yunpolmodels/pokemon/misc/pokepuff_crumb.vvd
Yunpol's Pokemon Misc Pack/models/yunpolmodels/pokemon/misc/special_bittens4.vvd
Yunpol's Pokemon Misc Pack/models/yunpolmodels/pokemon/misc/special_pokepuff.vvd
Yunpol's Pokemon Misc Pack/models/yunpolmodels/pokemon/misc/Eevee_Plush.dx90.vtx
Yunpol's Pokemon Misc Pack/models/yunpolmodels/pokemon/misc/pecha_berry_basket.vvd
Yunpol's Pokemon Misc Pack/models/yunpolmodels/pokemon/misc/basic_bittens1.mdl
Yunpol's Pokemon Misc Pack/models/yunpolmodels/pokemon/misc/special_bittens2.dx90.vtx
Yunpol's Pokemon Misc Pack/models/yunpolmodels/pokemon/misc/pinap_berry.mdl
Yunpol's Pokemon Misc Pack/models/yunpolmodels/pokemon/misc/pokepuff_crumb.dx90.vtx
Yunpol's Pokemon Misc Pack/models/yunpolmodels/pokemon/misc/special_bittens2.vvd
Yunpol's Pokemon Misc Pack/models/yunpolmodels/pokemon/misc/bucket.mdl
Yunpol's Pokemon Misc Pack/models/yunpolmodels/pokemon/misc/wondercard.dx90.vtx
Yunpol's Pokemon Misc Pack/models/yunpolmodels/pokemon/misc/Incubator_Unlimited.dx90.vtx
Yunpol's Pokemon Misc Pack/models/yunpolmodels/pokemon/misc/Blaine_Doll.dx90.vtx
Yunpol's Pokemon Misc Pack/models/yunpolmodels/pokemon/misc/silph_scope.mdl
Yunpol's Pokemon Misc Pack/models/yunpolmodels/pokemon/misc/frosted_bittens3.mdl
Yunpol's Pokemon Misc Pack/models/yunpolmodels/pokemon/misc/incubator_unlimited.mdl
Yunpol's Pokemon Misc Pack/models/yunpolmodels/pokemon/misc/frosted_pokepuff.vvd
Yunpol's Pokemon Misc Pack/models/yunpolmodels/pokemon/misc/Egg.dx90.vtx
Yunpol's Pokemon Misc Pack/models/yunpolmodels/pokemon/misc/basic_bittens2.dx90.vtx
Yunpol's Pokemon Misc Pack/models/yunpolmodels/pokemon/misc/pokebean_eaten_3.vvd
Yunpol's Pokemon Misc Pack/models/yunpolmodels/pokemon/misc/basic_pokepuff.vvd
Yunpol's Pokemon Misc Pack/models/yunpolmodels/pokemon/misc/special_bittens2.mdl
Yunpol's Pokemon Misc Pack/models/yunpolmodels/pokemon/misc/unova_cap.vvd
Yunpol's Pokemon Misc Pack/models/yunpolmodels/pokemon/misc/incubator.vvd
Yunpol's Pokemon Misc Pack/models/yunpolmodels/pokemon/misc/sun_flute.vvd
Yunpol's Pokemon Misc Pack/models/yunpolmodels/pokemon/misc/beast_ball.vvd
Yunpol's Pokemon Misc Pack/models/yunpolmodels/pokemon/misc/pokebean_eaten_1.mdl
Yunpol's Pokemon Misc Pack/models/yunpolmodels/pokemon/misc/strong_push_boulder.vvd
Yunpol's Pokemon Misc Pack/models/yunpolmodels/pokemon/misc/pikachu_plush.mdl
Yunpol's Pokemon Misc Pack/models/yunpolmodels/pokemon/misc/alola_cap.dx90.vtx
Yunpol's Pokemon Misc Pack/models/yunpolmodels/pokemon/misc/frosted_bittens4.dx90.vtx
Yunpol's Pokemon Misc Pack/models/yunpolmodels/pokemon/misc/moon_flute.mdl
Yunpol's Pokemon Misc Pack/models/yunpolmodels/pokemon/misc/unova_cap.dx90.vtx
Yunpol's Pokemon Misc Pack/models/yunpolmodels/pokemon/misc/old_amber.mdl
Yunpol's Pokemon Misc Pack/models/yunpolmodels/pokemon/misc/Dome_Fossil.dx90.vtx
Yunpol's Pokemon Misc Pack/models/yunpolmodels/pokemon/misc/frosted_bittens2.vvd
Yunpol's Pokemon Misc Pack/models/yunpolmodels/pokemon/misc/Cellphone.dx90.vtx
Yunpol's Pokemon Misc Pack/models/yunpolmodels/pokemon/misc/frosted_bittens1.mdl
Yunpol's Pokemon Misc Pack/models/yunpolmodels/pokemon/misc/beast_ball.mdl
Yunpol's Pokemon Misc Pack/models/yunpolmodels/pokemon/misc/dome_fossil.mdl
Yunpol's Pokemon Misc Pack/models/yunpolmodels/pokemon/misc/Pikachu_Plush.dx90.vtx
Yunpol's Pokemon Misc Pack/models/yunpolmodels/pokemon/misc/frosted_bittens1.vvd
Yunpol's Pokemon Misc Pack/models/yunpolmodels/pokemon/misc/Sun_Flute.dx90.vtx
Yunpol's Pokemon Misc Pack/models/yunpolmodels/pokemon/misc/basic_bittens4.mdl
Yunpol's Pokemon Misc Pack/models/yunpolmodels/pokemon/misc/pokeflute.mdl
Yunpol's Pokemon Misc Pack/models/yunpolmodels/pokemon/misc/frosted_bittens4.vvd
Yunpol's Pokemon Misc Pack/models/yunpolmodels/pokemon/misc/frosted_pokepuff.mdl
Yunpol's Pokemon Misc Pack/models/yunpolmodels/pokemon/misc/special_bittens3.vvd
Yunpol's Pokemon Misc Pack/models/yunpolmodels/pokemon/misc/pokebean_eaten_5.dx90.vtx
Yunpol's Pokemon Misc Pack/models/yunpolmodels/pokemon/misc/Strong_Push_Boulder.dx90.vtx
Yunpol's Pokemon Misc Pack/models/yunpolmodels/pokemon/misc/blaine_doll.vvd
Yunpol's Pokemon Misc Pack/models/yunpolmodels/pokemon/misc/special_bittens4.mdl
Yunpol's Pokemon Misc Pack/models/yunpolmodels/pokemon/misc/strong_push_boulder.mdl
Yunpol's Pokemon Misc Pack/models/yunpolmodels/pokemon/misc/Pecha_Berry_Basket.dx90.vtx
Yunpol's Pokemon Misc Pack/models/yunpolmodels/pokemon/misc/helix_fossil.vvd
Yunpol's Pokemon Misc Pack/models/yunpolmodels/pokemon/misc/special_bittens4.dx90.vtx
Yunpol's Pokemon Misc Pack/models/yunpolmodels/pokemon/misc/egg.vvd
Yunpol's Pokemon Misc Pack/models/yunpolmodels/pokemon/misc/pokebean_eaten_4.mdl
Yunpol's Pokemon Misc Pack/models/yunpolmodels/pokemon/misc/basic_bittens1.vvd
Yunpol's Pokemon Misc Pack/models/yunpolmodels/pokemon/misc/basic_bittens2.vvd
Yunpol's Pokemon Misc Pack/models/yunpolmodels/pokemon/misc/pokeflute.vvd
Yunpol's Pokemon Misc Pack/models/yunpolmodels/pokemon/misc/razz_berry.mdl
Yunpol's Pokemon Misc Pack/models/yunpolmodels/pokemon/misc/pokepuff_crumb.mdl
Yunpol's Pokemon Misc Pack/models/yunpolmodels/pokemon/misc/partner_cap.dx90.vtx
Yunpol's Pokemon Misc Pack/models/yunpolmodels/pokemon/misc/special_bittens3.mdl
Yunpol's Pokemon Misc Pack/models/yunpolmodels/pokemon/misc/basic_bittens1.dx90.vtx
Yunpol's Pokemon Misc Pack/models/yunpolmodels/pokemon/misc/pokebean_eaten_5.mdl
Yunpol's Pokemon Misc Pack/models/yunpolmodels/pokemon/misc/silph_scope.vvd
Yunpol's Pokemon Misc Pack/models/yunpolmodels/pokemon/misc/basic_pokepuff.dx90.vtx
Yunpol's Pokemon Misc Pack/models/yunpolmodels/pokemon/misc/Old_Amber.dx90.vtx
Yunpol's Pokemon Misc Pack/models/yunpolmodels/pokemon/misc/wall.vvd
Yunpol's Pokemon Misc Pack/models/yunpolmodels/pokemon/misc/eevee_plush.vvd
Yunpol's Pokemon Misc Pack/models/yunpolmodels/pokemon/misc/special_pokepuff.mdl
Yunpol's Pokemon Misc Pack/models/yunpolmodels/pokemon/misc/Pokeflute.dx90.vtx
Yunpol's Pokemon Misc Pack/models/yunpolmodels/pokemon/misc/nanab_berry.vvd
Yunpol's Pokemon Misc Pack/models/yunpolmodels/pokemon/misc/special_pokepuff.dx90.vtx
Yunpol's Pokemon Misc Pack/models/yunpolmodels/pokemon/misc/Tablet.dx90.vtx
Yunpol's Pokemon Misc Pack/models/yunpolmodels/pokemon/misc/Moon_Flute.dx90.vtx
Yunpol's Pokemon Misc Pack/models/yunpolmodels/pokemon/misc/pokebean_eaten_2.mdl
Yunpol's Pokemon Misc Pack/models/yunpolmodels/pokemon/misc/Incubator_Super.dx90.vtx
Yunpol's Pokemon Misc Pack/models/yunpolmodels/pokemon/misc/wall.mdl
Yunpol's Pokemon Misc Pack/models/yunpolmodels/pokemon/misc/incubator_super.vvd
Yunpol's Pokemon Misc Pack/models/yunpolmodels/pokemon/misc/dome_fossil.vvd
Yunpol's Pokemon Misc Pack/models/yunpolmodels/pokemon/misc/basic_bittens2.mdl
Yunpol's Pokemon Misc Pack/models/yunpolmodels/pokemon/misc/pokebean.mdl
Yunpol's Pokemon Misc Pack/models/yunpolmodels/pokemon/misc/kalos_cap.dx90.vtx
Yunpol's Pokemon Misc Pack/models/yunpolmodels/pokemon/misc/incubator_super.mdl
Yunpol's Pokemon Misc Pack/models/yunpolmodels/pokemon/misc/pokebean.dx90.vtx
Yunpol's Pokemon Misc Pack/models/yunpolmodels/pokemon/misc/special_bittens1.vvd
Yunpol's Pokemon Misc Pack/models/yunpolmodels/pokemon/misc/pecha_berry_basket.mdl
Yunpol's Pokemon Misc Pack/models/yunpolmodels/pokemon/misc/frosted_bittens3.dx90.vtx
Yunpol's Pokemon Misc Pack/models/yunpolmodels/pokemon/misc/basic_bittens3.vvd
Yunpol's Pokemon Misc Pack/models/yunpolmodels/pokemon/misc/eevee_plush.mdl
Yunpol's Pokemon Misc Pack/models/yunpolmodels/pokemon/misc/partner_cap.vvd
Yunpol's Pokemon Misc Pack/models/yunpolmodels/pokemon/misc/beast_ball.dx90.vtx
Yunpol's Pokemon Misc Pack/models/yunpolmodels/pokemon/misc/old_amber.vvd
Yunpol's Pokemon Misc Pack/models/yunpolmodels/pokemon/misc/moon_flute.vvd
Yunpol's Pokemon Misc Pack/models/yunpolmodels/pokemon/misc/wondercard.mdl
Yunpol's Pokemon Misc Pack/models/yunpolmodels/pokemon/misc/Helix_Fossil.dx90.vtx
Yunpol's Pokemon Misc Pack/models/yunpolmodels/pokemon/misc/kanto_cap.vvd
Yunpol's Pokemon Misc Pack/models/yunpolmodels/pokemon/misc/pokebean_eaten_4.vvd
Yunpol's Pokemon Misc Pack/models/yunpolmodels/pokemon/misc/frosted_bittens1.dx90.vtx
Yunpol's Pokemon Misc Pack/models/yunpolmodels/pokemon/misc/cellphone.vvd
Yunpol's Pokemon Misc Pack/models/yunpolmodels/pokemon/misc/Bucket.dx90.vtx
Yunpol's Pokemon Misc Pack/models/yunpolmodels/pokemon/misc/cellphone.mdl
Yunpol's Pokemon Misc Pack/models/yunpolmodels/pokemon/misc/frosted_bittens2.mdl
Yunpol's Pokemon Misc Pack/models/yunpolmodels/pokemon/misc/nanab_berry.mdl
Yunpol's Pokemon Misc Pack/models/yunpolmodels/pokemon/misc/pecha_berry.mdl
Yunpol's Pokemon Misc Pack/models/yunpolmodels/pokemon/misc/hoenn_cap.vvd
Yunpol's Pokemon Misc Pack/models/yunpolmodels/pokemon/misc/blaine_doll.mdl
Yunpol's Pokemon Misc Pack/models/yunpolmodels/pokemon/misc/pokebean_eaten_3.dx90.vtx
Yunpol's Pokemon Misc Pack/models/yunpolmodels/pokemon/misc/sun_flute.mdl
Yunpol's Pokemon Misc Pack/models/yunpolmodels/pokemon/misc/kalos_cap.mdl
Yunpol's Pokemon Misc Pack/models/yunpolmodels/pokemon/misc/partner_cap.mdl
Yunpol's Pokemon Misc Pack/models/yunpolmodels/pokemon/misc/basic_bittens4.dx90.vtx
Yunpol's Pokemon Misc Pack/models/yunpolmodels/pokemon/misc/alola_cap.mdl
Yunpol's Pokemon Misc Pack/models/yunpolmodels/pokemon/misc/egg.mdl
Yunpol's Pokemon Misc Pack/models/yunpolmodels/pokemon/misc/basic_bittens3.mdl
Yunpol's Pokemon Misc Pack/models/yunpolmodels/pokemon/misc/tablet.mdl
Yunpol's Pokemon Misc Pack/models/yunpolmodels/pokemon/misc/bucket.vvd
Yunpol's Pokemon Misc Pack/models/yunpolmodels/pokemon/misc/kanto_cap.mdl
Yunpol's Pokemon Misc Pack/models/yunpolmodels/pokemon/misc/kanto_cap.dx90.vtx
Yunpol's Pokemon Misc Pack/models/yunpolmodels/pokemon/misc/hoenn_cap.mdl
Yunpol's Pokemon Misc Pack/models/yunpolmodels/pokemon/misc/special_bittens3.dx90.vtx
Yunpol's Pokemon Misc Pack/models/yunpolmodels/pokemon/misc/hoenn_cap.dx90.vtx
Yunpol's Pokemon Misc Pack/models/yunpolmodels/pokemon/misc/pinap_berry.vvd
Yunpol's Pokemon Misc Pack/models/yunpolmodels/pokemon/misc/incubator.mdl
Yunpol's Pokemon Misc Pack/models/yunpolmodels/pokemon/misc/Pecha_Berry.dx90.vtx
Yunpol's Pokemon Misc Pack/models/yunpolmodels/pokemon/misc/sinnoh_cap.vvd
Yunpol's Pokemon Misc Pack/models/yunpolmodels/pokemon/misc/sinnoh_cap.mdl
Yunpol's Pokemon Misc Pack/models/yunpolmodels/pokemon/misc/frosted_bittens2.dx90.vtx
Yunpol's Pokemon Misc Pack/models/yunpolmodels/pokemon/misc/incubator_unlimited.vvd
Yunpol's Pokemon Misc Pack/models/yunpolmodels/pokemon/misc/Incubator.dx90.vtx
Yunpol's Pokemon Misc Pack/models/yunpolmodels/pokemon/misc/special_bittens1.mdl
Yunpol's Pokemon Misc Pack/models/yunpolmodels/pokemon/misc/pokebean_eaten_4.dx90.vtx
Yunpol's Pokemon Misc Pack/models/yunpolmodels/pokemon/misc/unova_cap.mdl
Yunpol's Pokemon Misc Pack/models/yunpolmodels/pokemon/misc/kalos_cap.vvd
Yunpol's Pokemon Misc Pack/models/yunpolmodels/pokemon/misc/pikachu_plush.vvd
Yunpol's Pokemon Misc Pack/models/yunpolmodels/pokemon/misc/sinnoh_cap.dx90.vtx
Yunpol's Pokemon Misc Pack/models/yunpolmodels/pokemon/misc/pokebean_eaten_2.vvd
Yunpol's Pokemon Misc Pack/models/yunpolmodels/pokemon/misc/Nanab_Berry.dx90.vtx
Yunpol's Pokemon Misc Pack/models/yunpolmodels/pokemon/misc/razz_berry.vvd
Yunpol's Pokemon Misc Pack/models/yunpolmodels/pokemon/misc/pokebean_eaten_3.mdl
Yunpol's Pokemon Misc Pack/materials/models/yunpolmodels/pokemon/misc/Incubator/Incubator.vtf
Yunpol's Pokemon Misc Pack/materials/models/yunpolmodels/pokemon/misc/Incubator/Incubator_NoLW.vmt
Yunpol's Pokemon Misc Pack/materials/models/yunpolmodels/pokemon/misc/Incubator/Incubator_Unlimited_NoLW.vmt
Yunpol's Pokemon Misc Pack/materials/models/yunpolmodels/pokemon/misc/Incubator/Glass_NoLW.vmt
Yunpol's Pokemon Misc Pack/materials/models/yunpolmodels/pokemon/misc/Incubator/Incubator_Super.vtf
Yunpol's Pokemon Misc Pack/materials/models/yunpolmodels/pokemon/misc/Incubator/Incubator_Unlimited.vtf
Yunpol's Pokemon Misc Pack/materials/models/yunpolmodels/pokemon/misc/Incubator/Glass.vtf
Yunpol's Pokemon Misc Pack/materials/models/yunpolmodels/pokemon/misc/Incubator/Incubator_Super.vmt
Yunpol's Pokemon Misc Pack/materials/models/yunpolmodels/pokemon/misc/Incubator/Incubator.vmt
Yunpol's Pokemon Misc Pack/materials/models/yunpolmodels/pokemon/misc/Incubator/Incubator_Unlimited.vmt
Yunpol's Pokemon Misc Pack/materials/models/yunpolmodels/pokemon/misc/Incubator/Incubator_Super_NoLW.vmt
Yunpol's Pokemon Misc Pack/materials/models/yunpolmodels/pokemon/misc/Incubator/Glass.vmt
Yunpol's Pokemon Misc Pack/materials/models/yunpolmodels/pokemon/misc/plushes/Pikachu/pokegoods01_01.vmt
Yunpol's Pokemon Misc Pack/materials/models/yunpolmodels/pokemon/misc/plushes/Pikachu/pokegoods01_01.vtf
Yunpol's Pokemon Misc Pack/materials/models/yunpolmodels/pokemon/misc/plushes/Pikachu/pokegoods01_01_NoLW.vmt
Yunpol's Pokemon Misc Pack/materials/models/yunpolmodels/pokemon/misc/plushes/Eevee/pokegoods02_01.vmt
Yunpol's Pokemon Misc Pack/materials/models/yunpolmodels/pokemon/misc/plushes/Eevee/pokegoods02_01.vtf
Yunpol's Pokemon Misc Pack/materials/models/yunpolmodels/pokemon/misc/plushes/Eevee/pokegoods02_01_NoLW.vmt
Yunpol's Pokemon Misc Pack/materials/models/yunpolmodels/pokemon/misc/plushes/Blaine/ob0005_00_obj_col.vtf
Yunpol's Pokemon Misc Pack/materials/models/yunpolmodels/pokemon/misc/plushes/Blaine/ob0005_00_obj_col_NoLW.vmt
Yunpol's Pokemon Misc Pack/materials/models/yunpolmodels/pokemon/misc/plushes/Blaine/ob0005_00_obj_col.vmt
Yunpol's Pokemon Misc Pack/materials/models/yunpolmodels/pokemon/misc/BeastBall/ob0226_00_Body.vmt
Yunpol's Pokemon Misc Pack/materials/models/yunpolmodels/pokemon/misc/BeastBall/ob0226_00_Body_Glow.vtf
Yunpol's Pokemon Misc Pack/materials/models/yunpolmodels/pokemon/misc/BeastBall/ob0226_00_Body_NoLW.vmt
Yunpol's Pokemon Misc Pack/materials/models/yunpolmodels/pokemon/misc/BeastBall/ob0226_00_Body.vtf
Yunpol's Pokemon Misc Pack/materials/models/yunpolmodels/pokemon/misc/bucket/ob0605_00_obj_col_NoLW.vmt
Yunpol's Pokemon Misc Pack/materials/models/yunpolmodels/pokemon/misc/bucket/ob0605_00_obj_col.vmt
Yunpol's Pokemon Misc Pack/materials/models/yunpolmodels/pokemon/misc/bucket/ob0605_00_obj_col.vtf
Yunpol's Pokemon Misc Pack/materials/models/yunpolmodels/pokemon/misc/Pokepuff/okashi_10_parts.vtf
Yunpol's Pokemon Misc Pack/materials/models/yunpolmodels/pokemon/misc/Pokepuff/okashi_03_base_NoLW.vmt
Yunpol's Pokemon Misc Pack/materials/models/yunpolmodels/pokemon/misc/Pokepuff/okashi_03_base.vtf
Yunpol's Pokemon Misc Pack/materials/models/yunpolmodels/pokemon/misc/Pokepuff/okashi_special_03_parts02_NoLW.vmt
Yunpol's Pokemon Misc Pack/materials/models/yunpolmodels/pokemon/misc/Pokepuff/okashi_02_base.vmt
Yunpol's Pokemon Misc Pack/materials/models/yunpolmodels/pokemon/misc/Pokepuff/okashi_parts_star.vtf
Yunpol's Pokemon Misc Pack/materials/models/yunpolmodels/pokemon/misc/Pokepuff/okashi_09_base.vtf
Yunpol's Pokemon Misc Pack/materials/models/yunpolmodels/pokemon/misc/Pokepuff/okashi_16_parts.vmt
Yunpol's Pokemon Misc Pack/materials/models/yunpolmodels/pokemon/misc/Pokepuff/okashi_special_01_parts_NoLW.vmt
Yunpol's Pokemon Misc Pack/materials/models/yunpolmodels/pokemon/misc/Pokepuff/okashi_special_03_parts01_NoLW.vmt
Yunpol's Pokemon Misc Pack/materials/models/yunpolmodels/pokemon/misc/Pokepuff/okashi_03_base.vmt
Yunpol's Pokemon Misc Pack/materials/models/yunpolmodels/pokemon/misc/Pokepuff/okashi_special_02_parts_NoLW.vmt
Yunpol's Pokemon Misc Pack/materials/models/yunpolmodels/pokemon/misc/Pokepuff/okashi_07_base.vmt
Yunpol's Pokemon Misc Pack/materials/models/yunpolmodels/pokemon/misc/Pokepuff/okashi_01_base.vtf
Yunpol's Pokemon Misc Pack/materials/models/yunpolmodels/pokemon/misc/Pokepuff/okashi_08_base.vtf
Yunpol's Pokemon Misc Pack/materials/models/yunpolmodels/pokemon/misc/Pokepuff/okashi_06_base_NoLW.vmt
Yunpol's Pokemon Misc Pack/materials/models/yunpolmodels/pokemon/misc/Pokepuff/okashi_special_01_parts.vmt
Yunpol's Pokemon Misc Pack/materials/models/yunpolmodels/pokemon/misc/Pokepuff/okashi_07_base.vtf
Yunpol's Pokemon Misc Pack/materials/models/yunpolmodels/pokemon/misc/Pokepuff/okashi_10_parts.vmt
Yunpol's Pokemon Misc Pack/materials/models/yunpolmodels/pokemon/misc/Pokepuff/okashi_special_03_parts02.vtf
Yunpol's Pokemon Misc Pack/materials/models/yunpolmodels/pokemon/misc/Pokepuff/okashi_12_parts.vtf
Yunpol's Pokemon Misc Pack/materials/models/yunpolmodels/pokemon/misc/Pokepuff/okashi_11_parts.vmt
Yunpol's Pokemon Misc Pack/materials/models/yunpolmodels/pokemon/misc/Pokepuff/okashi_special_00_parts.vtf
Yunpol's Pokemon Misc Pack/materials/models/yunpolmodels/pokemon/misc/Pokepuff/okashi_13_parts_NoLW.vmt
Yunpol's Pokemon Misc Pack/materials/models/yunpolmodels/pokemon/misc/Pokepuff/okashi_16_parts_NoLW.vmt
Yunpol's Pokemon Misc Pack/materials/models/yunpolmodels/pokemon/misc/Pokepuff/okashi_04_base.vmt
Yunpol's Pokemon Misc Pack/materials/models/yunpolmodels/pokemon/misc/Pokepuff/okashi_02_base_NoLW.vmt
Yunpol's Pokemon Misc Pack/materials/models/yunpolmodels/pokemon/misc/Pokepuff/okashi_11_parts.vtf
Yunpol's Pokemon Misc Pack/materials/models/yunpolmodels/pokemon/misc/Pokepuff/okashi_06_base.vmt
Yunpol's Pokemon Misc Pack/materials/models/yunpolmodels/pokemon/misc/Pokepuff/okashi_16_parts.vtf
Yunpol's Pokemon Misc Pack/materials/models/yunpolmodels/pokemon/misc/Pokepuff/okashi_special_01_parts.vtf
Yunpol's Pokemon Misc Pack/materials/models/yunpolmodels/pokemon/misc/Pokepuff/okashi_special_04_parts.vtf
Yunpol's Pokemon Misc Pack/materials/models/yunpolmodels/pokemon/misc/Pokepuff/okashi_01_base_NoLW.vmt
Yunpol's Pokemon Misc Pack/materials/models/yunpolmodels/pokemon/misc/Pokepuff/okashi_06_base.vtf
Yunpol's Pokemon Misc Pack/materials/models/yunpolmodels/pokemon/misc/Pokepuff/okashi_07_base_NoLW.vmt
Yunpol's Pokemon Misc Pack/materials/models/yunpolmodels/pokemon/misc/Pokepuff/okashi_special_05_parts_NoLW.vmt
Yunpol's Pokemon Misc Pack/materials/models/yunpolmodels/pokemon/misc/Pokepuff/okashi_special_02_parts.vmt
Yunpol's Pokemon Misc Pack/materials/models/yunpolmodels/pokemon/misc/Pokepuff/okashi_00_base_NoLW.vmt
Yunpol's Pokemon Misc Pack/materials/models/yunpolmodels/pokemon/misc/Pokepuff/okashi_10_parts_NoLW.vmt
Yunpol's Pokemon Misc Pack/materials/models/yunpolmodels/pokemon/misc/Pokepuff/okashi_14_parts.vmt
Yunpol's Pokemon Misc Pack/materials/models/yunpolmodels/pokemon/misc/Pokepuff/okashi_01_base.vmt
Yunpol's Pokemon Misc Pack/materials/models/yunpolmodels/pokemon/misc/Pokepuff/okashi_special_02_parts.vtf
Yunpol's Pokemon Misc Pack/materials/models/yunpolmodels/pokemon/misc/Pokepuff/okashi_08_base_NoLW.vmt
Yunpol's Pokemon Misc Pack/materials/models/yunpolmodels/pokemon/misc/Pokepuff/okashi_13_parts.vtf
Yunpol's Pokemon Misc Pack/materials/models/yunpolmodels/pokemon/misc/Pokepuff/okashi_special_00_parts.vmt
Yunpol's Pokemon Misc Pack/materials/models/yunpolmodels/pokemon/misc/Pokepuff/okashi_00_base.vmt
Yunpol's Pokemon Misc Pack/materials/models/yunpolmodels/pokemon/misc/Pokepuff/okashi_11_parts_NoLW.vmt
Yunpol's Pokemon Misc Pack/materials/models/yunpolmodels/pokemon/misc/Pokepuff/okashi_special_05_base.vmt
Yunpol's Pokemon Misc Pack/materials/models/yunpolmodels/pokemon/misc/Pokepuff/okashi_14_parts_NoLW.vmt
Yunpol's Pokemon Misc Pack/materials/models/yunpolmodels/pokemon/misc/Pokepuff/okashi_special_05_base.vtf
Yunpol's Pokemon Misc Pack/materials/models/yunpolmodels/pokemon/misc/Pokepuff/okashi_08_base.vmt
Yunpol's Pokemon Misc Pack/materials/models/yunpolmodels/pokemon/misc/Pokepuff/okashi_00_base.vtf
Yunpol's Pokemon Misc Pack/materials/models/yunpolmodels/pokemon/misc/Pokepuff/okashi_09_base.vmt
Yunpol's Pokemon Misc Pack/materials/models/yunpolmodels/pokemon/misc/Pokepuff/okashi_special_03_parts01.vtf
Yunpol's Pokemon Misc Pack/materials/models/yunpolmodels/pokemon/misc/Pokepuff/okashi_special_04_parts.vmt
Yunpol's Pokemon Misc Pack/materials/models/yunpolmodels/pokemon/misc/Pokepuff/okashi_special_03_parts02.vmt
Yunpol's Pokemon Misc Pack/materials/models/yunpolmodels/pokemon/misc/Pokepuff/okashi_special_00_fire.vmt
Yunpol's Pokemon Misc Pack/materials/models/yunpolmodels/pokemon/misc/Pokepuff/okashi_05_base.vmt
Yunpol's Pokemon Misc Pack/materials/models/yunpolmodels/pokemon/misc/Pokepuff/okashi_special_05_base_NoLW.vmt
Yunpol's Pokemon Misc Pack/materials/models/yunpolmodels/pokemon/misc/Pokepuff/okashi_09_base_NoLW.vmt
Yunpol's Pokemon Misc Pack/materials/models/yunpolmodels/pokemon/misc/Pokepuff/okashi_12_parts_NoLW.vmt
Yunpol's Pokemon Misc Pack/materials/models/yunpolmodels/pokemon/misc/Pokepuff/okashi_special_00_parts_NoLW.vmt
Yunpol's Pokemon Misc Pack/materials/models/yunpolmodels/pokemon/misc/Pokepuff/okashi_special_00_fire_NoLW.vmt
Yunpol's Pokemon Misc Pack/materials/models/yunpolmodels/pokemon/misc/Pokepuff/okashi_02_base.vtf
Yunpol's Pokemon Misc Pack/materials/models/yunpolmodels/pokemon/misc/Pokepuff/okashi_13_parts.vmt
Yunpol's Pokemon Misc Pack/materials/models/yunpolmodels/pokemon/misc/Pokepuff/okashi_12_parts.vmt
Yunpol's Pokemon Misc Pack/materials/models/yunpolmodels/pokemon/misc/Pokepuff/okashi_special_03_parts01.vmt
Yunpol's Pokemon Misc Pack/materials/models/yunpolmodels/pokemon/misc/Pokepuff/okashi_04_base_NoLW.vmt
Yunpol's Pokemon Misc Pack/materials/models/yunpolmodels/pokemon/misc/Pokepuff/okashi_05_base_NoLW.vmt
Yunpol's Pokemon Misc Pack/materials/models/yunpolmodels/pokemon/misc/Pokepuff/okashi_05_base.vtf
Yunpol's Pokemon Misc Pack/materials/models/yunpolmodels/pokemon/misc/Pokepuff/okashi_04_base.vtf
Yunpol's Pokemon Misc Pack/materials/models/yunpolmodels/pokemon/misc/Pokepuff/okashi_special_05_parts.vtf
Yunpol's Pokemon Misc Pack/materials/models/yunpolmodels/pokemon/misc/Pokepuff/okashi_special_05_parts.vmt
Yunpol's Pokemon Misc Pack/materials/models/yunpolmodels/pokemon/misc/Pokepuff/okashi_14_parts.vtf
Yunpol's Pokemon Misc Pack/materials/models/yunpolmodels/pokemon/misc/Pokepuff/okashi_parts_star_NoLW.vmt
Yunpol's Pokemon Misc Pack/materials/models/yunpolmodels/pokemon/misc/Pokepuff/okashi_special_04_parts_NoLW.vmt
Yunpol's Pokemon Misc Pack/materials/models/yunpolmodels/pokemon/misc/Pokepuff/okashi_parts_star.vmt
Yunpol's Pokemon Misc Pack/materials/models/yunpolmodels/pokemon/misc/cellphone/ob0007_00_obja_col.vtf
Yunpol's Pokemon Misc Pack/materials/models/yunpolmodels/pokemon/misc/cellphone/ob0007_00_objb_blue_col.vmt
Yunpol's Pokemon Misc Pack/materials/models/yunpolmodels/pokemon/misc/cellphone/ob0007_00_objb_green_col_NoLW.vmt
Yunpol's Pokemon Misc Pack/materials/models/yunpolmodels/pokemon/misc/cellphone/ob0007_00_objb_col.vtf
Yunpol's Pokemon Misc Pack/materials/models/yunpolmodels/pokemon/misc/cellphone/ob0007_00_objb_col.vmt
Yunpol's Pokemon Misc Pack/materials/models/yunpolmodels/pokemon/misc/cellphone/ob0007_00_objb_off_col.vmt
Yunpol's Pokemon Misc Pack/materials/models/yunpolmodels/pokemon/misc/cellphone/ob0007_00_objb_col_NoLW.vmt
Yunpol's Pokemon Misc Pack/materials/models/yunpolmodels/pokemon/misc/cellphone/ob0007_00_objb_green_col.vmt
Yunpol's Pokemon Misc Pack/materials/models/yunpolmodels/pokemon/misc/cellphone/ob0007_00_objb_blue_col_NoLW.vmt
Yunpol's Pokemon Misc Pack/materials/models/yunpolmodels/pokemon/misc/cellphone/ob0007_00_obja_col.vmt
Yunpol's Pokemon Misc Pack/materials/models/yunpolmodels/pokemon/misc/cellphone/ob0007_00_objb_white_col_NoLW.vmt
Yunpol's Pokemon Misc Pack/materials/models/yunpolmodels/pokemon/misc/cellphone/ob0007_00_objb_off_col_NoLW.vmt
Yunpol's Pokemon Misc Pack/materials/models/yunpolmodels/pokemon/misc/cellphone/ob0007_00_obja_col_NoLW.vmt
Yunpol's Pokemon Misc Pack/materials/models/yunpolmodels/pokemon/misc/cellphone/ob0007_00_objb_white_col.vmt
Yunpol's Pokemon Misc Pack/materials/models/yunpolmodels/pokemon/misc/cellphone/screen/black.vtf
Yunpol's Pokemon Misc Pack/materials/models/yunpolmodels/pokemon/misc/cellphone/screen/green.vtf
Yunpol's Pokemon Misc Pack/materials/models/yunpolmodels/pokemon/misc/cellphone/screen/white.vtf
Yunpol's Pokemon Misc Pack/materials/models/yunpolmodels/pokemon/misc/cellphone/screen/blue.vtf
Yunpol's Pokemon Misc Pack/materials/models/yunpolmodels/pokemon/misc/tablet/ob0009_00_obj_col.vtf
Yunpol's Pokemon Misc Pack/materials/models/yunpolmodels/pokemon/misc/tablet/ob0009_00_screen_blue_col.vmt
Yunpol's Pokemon Misc Pack/materials/models/yunpolmodels/pokemon/misc/tablet/ob0009_00_screen_col_NoLW.vmt
Yunpol's Pokemon Misc Pack/materials/models/yunpolmodels/pokemon/misc/tablet/ob0009_00_screen_off_col.vmt
Yunpol's Pokemon Misc Pack/materials/models/yunpolmodels/pokemon/misc/tablet/ob0009_00_screen_green_col.vmt
Yunpol's Pokemon Misc Pack/materials/models/yunpolmodels/pokemon/misc/tablet/ob0009_00_screen_blue_col_NoLW.vmt
Yunpol's Pokemon Misc Pack/materials/models/yunpolmodels/pokemon/misc/tablet/ob0009_00_screen_green_col_NoLW.vmt
Yunpol's Pokemon Misc Pack/materials/models/yunpolmodels/pokemon/misc/tablet/ob0009_00_screen_white_col_NoLW.vmt
Yunpol's Pokemon Misc Pack/materials/models/yunpolmodels/pokemon/misc/tablet/ob0009_00_screen_white_col.vmt
Yunpol's Pokemon Misc Pack/materials/models/yunpolmodels/pokemon/misc/tablet/ob0009_00_screen_col.vmt
Yunpol's Pokemon Misc Pack/materials/models/yunpolmodels/pokemon/misc/tablet/ob0009_00_obj_col.vmt
Yunpol's Pokemon Misc Pack/materials/models/yunpolmodels/pokemon/misc/tablet/ob0009_00_screen_off_col_NoLW.vmt
Yunpol's Pokemon Misc Pack/materials/models/yunpolmodels/pokemon/misc/tablet/ob0009_00_obj_col_NoLW.vmt
Yunpol's Pokemon Misc Pack/materials/models/yunpolmodels/pokemon/misc/tablet/screen/black.vtf
Yunpol's Pokemon Misc Pack/materials/models/yunpolmodels/pokemon/misc/tablet/screen/green.vtf
Yunpol's Pokemon Misc Pack/materials/models/yunpolmodels/pokemon/misc/tablet/screen/white.vtf
Yunpol's Pokemon Misc Pack/materials/models/yunpolmodels/pokemon/misc/tablet/screen/blue.vtf
Yunpol's Pokemon Misc Pack/materials/models/yunpolmodels/pokemon/misc/boulder/kairiki_rock03.vmt
Yunpol's Pokemon Misc Pack/materials/models/yunpolmodels/pokemon/misc/boulder/kairiki_wall01.vmt
Yunpol's Pokemon Misc Pack/materials/models/yunpolmodels/pokemon/misc/boulder/kairiki_wall02_NoLW.vmt
Yunpol's Pokemon Misc Pack/materials/models/yunpolmodels/pokemon/misc/boulder/kairiki_wall01.vtf
Yunpol's Pokemon Misc Pack/materials/models/yunpolmodels/pokemon/misc/boulder/kairiki_rock03_NoLW.vmt
Yunpol's Pokemon Misc Pack/materials/models/yunpolmodels/pokemon/misc/boulder/kairiki_rock03.vtf
Yunpol's Pokemon Misc Pack/materials/models/yunpolmodels/pokemon/misc/boulder/kairiki_wall02.vtf
Yunpol's Pokemon Misc Pack/materials/models/yunpolmodels/pokemon/misc/boulder/kairiki_wall02.vmt
Yunpol's Pokemon Misc Pack/materials/models/yunpolmodels/pokemon/misc/boulder/kairiki_wall01_NoLW.vmt
Yunpol's Pokemon Misc Pack/materials/models/yunpolmodels/pokemon/misc/silphscope/ob0002_00_obja_col.vtf
Yunpol's Pokemon Misc Pack/materials/models/yunpolmodels/pokemon/misc/silphscope/ob0002_00_objb_col_NoLW.vmt
Yunpol's Pokemon Misc Pack/materials/models/yunpolmodels/pokemon/misc/silphscope/ob0002_00_obja_col.vmt
Yunpol's Pokemon Misc Pack/materials/models/yunpolmodels/pokemon/misc/silphscope/ob0002_00_objb_col.vmt
Yunpol's Pokemon Misc Pack/materials/models/yunpolmodels/pokemon/misc/silphscope/ob0002_00_obja_col_NoLW.vmt
Yunpol's Pokemon Misc Pack/materials/models/yunpolmodels/pokemon/misc/silphscope/ob0002_00_objb_col.vtf
Yunpol's Pokemon Misc Pack/materials/models/yunpolmodels/pokemon/misc/silphscope/ob0002_00_obja_illum_col.vmt
Yunpol's Pokemon Misc Pack/materials/models/yunpolmodels/pokemon/misc/Fossils/Dome/obj_fossil02_01.vmt
Yunpol's Pokemon Misc Pack/materials/models/yunpolmodels/pokemon/misc/Fossils/Dome/obj_fossil02_01.vtf
Yunpol's Pokemon Misc Pack/materials/models/yunpolmodels/pokemon/misc/Fossils/Dome/obj_fossil02_01_NoLW.vmt
Yunpol's Pokemon Misc Pack/materials/models/yunpolmodels/pokemon/misc/Fossils/Amber/obj_amber01_01.vtf
Yunpol's Pokemon Misc Pack/materials/models/yunpolmodels/pokemon/misc/Fossils/Amber/obj_amber01_01.vmt
Yunpol's Pokemon Misc Pack/materials/models/yunpolmodels/pokemon/misc/Fossils/Amber/obj_amber01_01_NoLW.vmt
Yunpol's Pokemon Misc Pack/materials/models/yunpolmodels/pokemon/misc/Fossils/Helix/obj_fossil01_01_NoLW.vmt
Yunpol's Pokemon Misc Pack/materials/models/yunpolmodels/pokemon/misc/Fossils/Helix/obj_fossil01_01.vtf
Yunpol's Pokemon Misc Pack/materials/models/yunpolmodels/pokemon/misc/Fossils/Helix/obj_fossil01_01.vmt
Yunpol's Pokemon Misc Pack/materials/models/yunpolmodels/pokemon/misc/Egg/Egg_7KM_Crack_1.vtf
Yunpol's Pokemon Misc Pack/materials/models/yunpolmodels/pokemon/misc/Egg/Egg_10KM_Crack_1_NoLW.vmt
Yunpol's Pokemon Misc Pack/materials/models/yunpolmodels/pokemon/misc/Egg/Normal_Egg.vmt
Yunpol's Pokemon Misc Pack/materials/models/yunpolmodels/pokemon/misc/Egg/Egg_5KM.vtf
Yunpol's Pokemon Misc Pack/materials/models/yunpolmodels/pokemon/misc/Egg/Egg_5KM_Crack_1_NoLW.vmt
Yunpol's Pokemon Misc Pack/materials/models/yunpolmodels/pokemon/misc/Egg/Egg_7KM_Crack_2.vmt
Yunpol's Pokemon Misc Pack/materials/models/yunpolmodels/pokemon/misc/Egg/Egg_10KM.vmt
Yunpol's Pokemon Misc Pack/materials/models/yunpolmodels/pokemon/misc/Egg/Rare_Egg.vmt
Yunpol's Pokemon Misc Pack/materials/models/yunpolmodels/pokemon/misc/Egg/Egg_10KM_Crack_2_NoLW.vmt
Yunpol's Pokemon Misc Pack/materials/models/yunpolmodels/pokemon/misc/Egg/Egg_7KM_Crack_2_NoLW.vmt
Yunpol's Pokemon Misc Pack/materials/models/yunpolmodels/pokemon/misc/Egg/Egg_5KM_Crack_2_NoLW.vmt
Yunpol's Pokemon Misc Pack/materials/models/yunpolmodels/pokemon/misc/Egg/Legendary_Egg.vtf
Yunpol's Pokemon Misc Pack/materials/models/yunpolmodels/pokemon/misc/Egg/Egg_10KM_Crack_1.vtf
Yunpol's Pokemon Misc Pack/materials/models/yunpolmodels/pokemon/misc/Egg/Egg_10KM.vtf
Yunpol's Pokemon Misc Pack/materials/models/yunpolmodels/pokemon/misc/Egg/Egg_5KM_NoLW.vmt
Yunpol's Pokemon Misc Pack/materials/models/yunpolmodels/pokemon/misc/Egg/Legendary_Egg_NoLW.vmt
Yunpol's Pokemon Misc Pack/materials/models/yunpolmodels/pokemon/misc/Egg/Egg_Crack_2.vtf
Yunpol's Pokemon Misc Pack/materials/models/yunpolmodels/pokemon/misc/Egg/Egg_7KM_Crack_1.vmt
Yunpol's Pokemon Misc Pack/materials/models/yunpolmodels/pokemon/misc/Egg/Egg_7KM_NoLW.vmt
Yunpol's Pokemon Misc Pack/materials/models/yunpolmodels/pokemon/misc/Egg/Egg_Crack_1.vmt
Yunpol's Pokemon Misc Pack/materials/models/yunpolmodels/pokemon/misc/Egg/Egg_10KM_Crack_2.vtf
Yunpol's Pokemon Misc Pack/materials/models/yunpolmodels/pokemon/misc/Egg/Egg_Crack_1_NoLW.vmt
Yunpol's Pokemon Misc Pack/materials/models/yunpolmodels/pokemon/misc/Egg/Egg_Crack_1.vtf
Yunpol's Pokemon Misc Pack/materials/models/yunpolmodels/pokemon/misc/Egg/Egg_5KM_Crack_2.vtf
Yunpol's Pokemon Misc Pack/materials/models/yunpolmodels/pokemon/misc/Egg/Egg_7KM_Crack_2.vtf
Yunpol's Pokemon Misc Pack/materials/models/yunpolmodels/pokemon/misc/Egg/Egg_5KM_Crack_1.vtf
Yunpol's Pokemon Misc Pack/materials/models/yunpolmodels/pokemon/misc/Egg/Rare_Egg_NoLW.vmt
Yunpol's Pokemon Misc Pack/materials/models/yunpolmodels/pokemon/misc/Egg/Egg_10KM_NoLW.vmt
Yunpol's Pokemon Misc Pack/materials/models/yunpolmodels/pokemon/misc/Egg/Egg.vmt
Yunpol's Pokemon Misc Pack/materials/models/yunpolmodels/pokemon/misc/Egg/Egg_5KM_Crack_2.vmt
Yunpol's Pokemon Misc Pack/materials/models/yunpolmodels/pokemon/misc/Egg/Egg_7KM_Crack_1_NoLW.vmt
Yunpol's Pokemon Misc Pack/materials/models/yunpolmodels/pokemon/misc/Egg/Egg_Crack_2.vmt
Yunpol's Pokemon Misc Pack/materials/models/yunpolmodels/pokemon/misc/Egg/Egg_7KM.vtf
Yunpol's Pokemon Misc Pack/materials/models/yunpolmodels/pokemon/misc/Egg/Egg_10KM_Crack_2.vmt
Yunpol's Pokemon Misc Pack/materials/models/yunpolmodels/pokemon/misc/Egg/Rare_Egg.vtf
Yunpol's Pokemon Misc Pack/materials/models/yunpolmodels/pokemon/misc/Egg/Egg.vtf
Yunpol's Pokemon Misc Pack/materials/models/yunpolmodels/pokemon/misc/Egg/Egg_10KM_Crack_1.vmt
Yunpol's Pokemon Misc Pack/materials/models/yunpolmodels/pokemon/misc/Egg/Normal_Egg.vtf
Yunpol's Pokemon Misc Pack/materials/models/yunpolmodels/pokemon/misc/Egg/Egg_5KM_Crack_1.vmt
Yunpol's Pokemon Misc Pack/materials/models/yunpolmodels/pokemon/misc/Egg/Normal_Egg_NoLW.vmt
Yunpol's Pokemon Misc Pack/materials/models/yunpolmodels/pokemon/misc/Egg/Egg_Crack_2_NoLW.vmt
Yunpol's Pokemon Misc Pack/materials/models/yunpolmodels/pokemon/misc/Egg/Legendary_Egg.vmt
Yunpol's Pokemon Misc Pack/materials/models/yunpolmodels/pokemon/misc/Egg/Egg_NoLW.vmt
Yunpol's Pokemon Misc Pack/materials/models/yunpolmodels/pokemon/misc/Egg/Egg_7KM.vmt
Yunpol's Pokemon Misc Pack/materials/models/yunpolmodels/pokemon/misc/Egg/Egg_5KM.vmt
Yunpol's Pokemon Misc Pack/materials/models/yunpolmodels/pokemon/misc/AshCap/pm0025_23_SaCapNI1.vtf
Yunpol's Pokemon Misc Pack/materials/models/yunpolmodels/pokemon/misc/AshCap/pm0025_18_SaCapMU1.vtf
Yunpol's Pokemon Misc Pack/materials/models/yunpolmodels/pokemon/misc/AshCap/pm0025_20_SaCapDP1.vtf
Yunpol's Pokemon Misc Pack/materials/models/yunpolmodels/pokemon/misc/AshCap/pm0025_20_SaCapDP1.vmt
Yunpol's Pokemon Misc Pack/materials/models/yunpolmodels/pokemon/misc/AshCap/pm0025_18_SaCapMU1_NoLW.vmt
Yunpol's Pokemon Misc Pack/materials/models/yunpolmodels/pokemon/misc/AshCap/pm0025_23_SaCapNI1_NoLW.vmt
Yunpol's Pokemon Misc Pack/materials/models/yunpolmodels/pokemon/misc/AshCap/pm0025_22_SaCapXY1.vmt
Yunpol's Pokemon Misc Pack/materials/models/yunpolmodels/pokemon/misc/AshCap/pm0025_18_SaCapMU1.vmt
Yunpol's Pokemon Misc Pack/materials/models/yunpolmodels/pokemon/misc/AshCap/pm0025_20_SaCapDP1_NoLW.vmt
Yunpol's Pokemon Misc Pack/materials/models/yunpolmodels/pokemon/misc/AshCap/pm0025_21_SaCapBW1.vmt
Yunpol's Pokemon Misc Pack/materials/models/yunpolmodels/pokemon/misc/AshCap/pm0025_21_SaCapBW1.vtf
Yunpol's Pokemon Misc Pack/materials/models/yunpolmodels/pokemon/misc/AshCap/pm0025_23_SaCapNI1.vmt
Yunpol's Pokemon Misc Pack/materials/models/yunpolmodels/pokemon/misc/AshCap/pm0025_21_SaCapBW1_NoLW.vmt
Yunpol's Pokemon Misc Pack/materials/models/yunpolmodels/pokemon/misc/AshCap/pm0025_19_SaCapAG1.vtf
Yunpol's Pokemon Misc Pack/materials/models/yunpolmodels/pokemon/misc/AshCap/pm0025_22_SaCapXY1.vtf
Yunpol's Pokemon Misc Pack/materials/models/yunpolmodels/pokemon/misc/AshCap/pm0025_24_SaCapMO1_NoLW.vmt
Yunpol's Pokemon Misc Pack/materials/models/yunpolmodels/pokemon/misc/AshCap/pm0025_19_SaCapAG1.vmt
Yunpol's Pokemon Misc Pack/materials/models/yunpolmodels/pokemon/misc/AshCap/pm0025_19_SaCapAG1_NoLW.vmt
Yunpol's Pokemon Misc Pack/materials/models/yunpolmodels/pokemon/misc/AshCap/pm0025_22_SaCapXY1_NoLW.vmt
Yunpol's Pokemon Misc Pack/materials/models/yunpolmodels/pokemon/misc/AshCap/pm0025_24_SaCapMO1.vtf
Yunpol's Pokemon Misc Pack/materials/models/yunpolmodels/pokemon/misc/AshCap/pm0025_24_SaCapMO1.vmt
Yunpol's Pokemon Misc Pack/materials/models/yunpolmodels/pokemon/misc/Pokebean/pb0011_00_t01.vmt
Yunpol's Pokemon Misc Pack/materials/models/yunpolmodels/pokemon/misc/Pokebean/pb0011_00_t01.vtf
Yunpol's Pokemon Misc Pack/materials/models/yunpolmodels/pokemon/misc/Pokebean/pb0014_00_t01.vtf
Yunpol's Pokemon Misc Pack/materials/models/yunpolmodels/pokemon/misc/Pokebean/pb0009_00_t01.vmt
Yunpol's Pokemon Misc Pack/materials/models/yunpolmodels/pokemon/misc/Pokebean/pb0001_00_t01.vtf
Yunpol's Pokemon Misc Pack/materials/models/yunpolmodels/pokemon/misc/Pokebean/pb0015_00_t01.vmt
Yunpol's Pokemon Misc Pack/materials/models/yunpolmodels/pokemon/misc/Pokebean/pb0003_00_t01.vtf
Yunpol's Pokemon Misc Pack/materials/models/yunpolmodels/pokemon/misc/Pokebean/pb0008_00_t01_NoLW.vmt
Yunpol's Pokemon Misc Pack/materials/models/yunpolmodels/pokemon/misc/Pokebean/pb0006_00_t01.vmt
Yunpol's Pokemon Misc Pack/materials/models/yunpolmodels/pokemon/misc/Pokebean/pb0015_00_t01_NoLW.vmt
Yunpol's Pokemon Misc Pack/materials/models/yunpolmodels/pokemon/misc/Pokebean/pb0007_00_t01.vtf
Yunpol's Pokemon Misc Pack/materials/models/yunpolmodels/pokemon/misc/Pokebean/pb0005_00_t01_NoLW.vmt
Yunpol's Pokemon Misc Pack/materials/models/yunpolmodels/pokemon/misc/Pokebean/pb0002_00_t01.vtf
Yunpol's Pokemon Misc Pack/materials/models/yunpolmodels/pokemon/misc/Pokebean/pb0010_00_t01_NoLW.vmt
Yunpol's Pokemon Misc Pack/materials/models/yunpolmodels/pokemon/misc/Pokebean/pb0007_00_t01.vmt
Yunpol's Pokemon Misc Pack/materials/models/yunpolmodels/pokemon/misc/Pokebean/pb0005_00_t01.vmt
Yunpol's Pokemon Misc Pack/materials/models/yunpolmodels/pokemon/misc/Pokebean/pb0006_00_t01_NoLW.vmt
Yunpol's Pokemon Misc Pack/materials/models/yunpolmodels/pokemon/misc/Pokebean/pb0002_00_t01_NoLW.vmt
Yunpol's Pokemon Misc Pack/materials/models/yunpolmodels/pokemon/misc/Pokebean/pb0008_00_t01.vtf
Yunpol's Pokemon Misc Pack/materials/models/yunpolmodels/pokemon/misc/Pokebean/pb0015_00_t01.vtf
Yunpol's Pokemon Misc Pack/materials/models/yunpolmodels/pokemon/misc/Pokebean/pb0005_00_t01.vtf
Yunpol's Pokemon Misc Pack/materials/models/yunpolmodels/pokemon/misc/Pokebean/pb0007_00_t01_NoLW.vmt
Yunpol's Pokemon Misc Pack/materials/models/yunpolmodels/pokemon/misc/Pokebean/pb0010_00_t01.vtf
Yunpol's Pokemon Misc Pack/materials/models/yunpolmodels/pokemon/misc/Pokebean/pb0001_00_t01.vmt
Yunpol's Pokemon Misc Pack/materials/models/yunpolmodels/pokemon/misc/Pokebean/pb0004_00_t01.vtf
Yunpol's Pokemon Misc Pack/materials/models/yunpolmodels/pokemon/misc/Pokebean/pb0012_00_t01_NoLW.vmt
Yunpol's Pokemon Misc Pack/materials/models/yunpolmodels/pokemon/misc/Pokebean/pb0003_00_t01_NoLW.vmt
Yunpol's Pokemon Misc Pack/materials/models/yunpolmodels/pokemon/misc/Pokebean/pb0001_00_t01_NoLW.vmt
Yunpol's Pokemon Misc Pack/materials/models/yunpolmodels/pokemon/misc/Pokebean/pb0012_00_t01.vtf
Yunpol's Pokemon Misc Pack/materials/models/yunpolmodels/pokemon/misc/Pokebean/pb0002_00_t01.vmt
Yunpol's Pokemon Misc Pack/materials/models/yunpolmodels/pokemon/misc/Pokebean/pb0004_00_t01.vmt
Yunpol's Pokemon Misc Pack/materials/models/yunpolmodels/pokemon/misc/Pokebean/pb0011_00_t01_NoLW.vmt
Yunpol's Pokemon Misc Pack/materials/models/yunpolmodels/pokemon/misc/Pokebean/pb0013_00_t01_NoLW.vmt
Yunpol's Pokemon Misc Pack/materials/models/yunpolmodels/pokemon/misc/Pokebean/pb0014_00_t01_NoLW.vmt
Yunpol's Pokemon Misc Pack/materials/models/yunpolmodels/pokemon/misc/Pokebean/pb0006_00_t01.vtf
Yunpol's Pokemon Misc Pack/materials/models/yunpolmodels/pokemon/misc/Pokebean/pb0014_00_t01.vmt
Yunpol's Pokemon Misc Pack/materials/models/yunpolmodels/pokemon/misc/Pokebean/pb0013_00_t01.vtf
Yunpol's Pokemon Misc Pack/materials/models/yunpolmodels/pokemon/misc/Pokebean/pb0009_00_t01_NoLW.vmt
Yunpol's Pokemon Misc Pack/materials/models/yunpolmodels/pokemon/misc/Pokebean/pb0009_00_t01.vtf
Yunpol's Pokemon Misc Pack/materials/models/yunpolmodels/pokemon/misc/Pokebean/pb0003_00_t01.vmt
Yunpol's Pokemon Misc Pack/materials/models/yunpolmodels/pokemon/misc/Pokebean/pb0013_00_t01.vmt
Yunpol's Pokemon Misc Pack/materials/models/yunpolmodels/pokemon/misc/Pokebean/pb0004_00_t01_NoLW.vmt
Yunpol's Pokemon Misc Pack/materials/models/yunpolmodels/pokemon/misc/Pokebean/pb0012_00_t01.vmt
Yunpol's Pokemon Misc Pack/materials/models/yunpolmodels/pokemon/misc/Pokebean/pb0008_00_t01.vmt
Yunpol's Pokemon Misc Pack/materials/models/yunpolmodels/pokemon/misc/Pokebean/pb0010_00_t01.vmt
Yunpol's Pokemon Misc Pack/materials/models/yunpolmodels/pokemon/misc/WonderCard/giftcard02.vtf
Yunpol's Pokemon Misc Pack/materials/models/yunpolmodels/pokemon/misc/WonderCard/giftcard01_NoLW.vmt
Yunpol's Pokemon Misc Pack/materials/models/yunpolmodels/pokemon/misc/WonderCard/giftcard02.vmt
Yunpol's Pokemon Misc Pack/materials/models/yunpolmodels/pokemon/misc/WonderCard/giftcard02_NoLW.vmt
Yunpol's Pokemon Misc Pack/materials/models/yunpolmodels/pokemon/misc/WonderCard/giftcard00.vtf
Yunpol's Pokemon Misc Pack/materials/models/yunpolmodels/pokemon/misc/WonderCard/giftcard00_NoLW.vmt
Yunpol's Pokemon Misc Pack/materials/models/yunpolmodels/pokemon/misc/WonderCard/giftcard01.vmt
Yunpol's Pokemon Misc Pack/materials/models/yunpolmodels/pokemon/misc/WonderCard/giftcard00.vmt
Yunpol's Pokemon Misc Pack/materials/models/yunpolmodels/pokemon/misc/WonderCard/giftcard01.vtf
Yunpol's Pokemon Misc Pack/materials/models/yunpolmodels/pokemon/misc/berries/Razz/ob0501_00_obj_col_NoLW.vmt
Yunpol's Pokemon Misc Pack/materials/models/yunpolmodels/pokemon/misc/berries/Razz/ob0501_02_obj_col_NoLW.vmt
Yunpol's Pokemon Misc Pack/materials/models/yunpolmodels/pokemon/misc/berries/Razz/ob0501_01_obj_col.vtf
Yunpol's Pokemon Misc Pack/materials/models/yunpolmodels/pokemon/misc/berries/Razz/ob0501_01_obj_col_NoLW.vmt
Yunpol's Pokemon Misc Pack/materials/models/yunpolmodels/pokemon/misc/berries/Razz/ob0501_00_obj_col.vmt
Yunpol's Pokemon Misc Pack/materials/models/yunpolmodels/pokemon/misc/berries/Razz/ob0501_02_obj_col.vtf
Yunpol's Pokemon Misc Pack/materials/models/yunpolmodels/pokemon/misc/berries/Razz/ob0501_01_obj_col.vmt
Yunpol's Pokemon Misc Pack/materials/models/yunpolmodels/pokemon/misc/berries/Razz/ob0501_00_obj_col.vtf
Yunpol's Pokemon Misc Pack/materials/models/yunpolmodels/pokemon/misc/berries/Razz/ob0501_02_obj_col.vmt
Yunpol's Pokemon Misc Pack/materials/models/yunpolmodels/pokemon/misc/berries/Nanab/ob0502_02_obj_col_NoLW.vmt
Yunpol's Pokemon Misc Pack/materials/models/yunpolmodels/pokemon/misc/berries/Nanab/ob0502_01_obj_col_NoLW.vmt
Yunpol's Pokemon Misc Pack/materials/models/yunpolmodels/pokemon/misc/berries/Nanab/ob0502_00_obj_col.vtf
Yunpol's Pokemon Misc Pack/materials/models/yunpolmodels/pokemon/misc/berries/Nanab/ob0502_01_obj_col.vtf
Yunpol's Pokemon Misc Pack/materials/models/yunpolmodels/pokemon/misc/berries/Nanab/ob0502_01_obj_col.vmt
Yunpol's Pokemon Misc Pack/materials/models/yunpolmodels/pokemon/misc/berries/Nanab/ob0502_02_obj_col.vtf
Yunpol's Pokemon Misc Pack/materials/models/yunpolmodels/pokemon/misc/berries/Nanab/ob0502_00_obj_col_NoLW.vmt
Yunpol's Pokemon Misc Pack/materials/models/yunpolmodels/pokemon/misc/berries/Nanab/ob0502_02_obj_col.vmt
Yunpol's Pokemon Misc Pack/materials/models/yunpolmodels/pokemon/misc/berries/Nanab/ob0502_00_obj_col.vmt
Yunpol's Pokemon Misc Pack/materials/models/yunpolmodels/pokemon/misc/berries/Pecha/HoopaBasket_NoLW.vmt
Yunpol's Pokemon Misc Pack/materials/models/yunpolmodels/pokemon/misc/berries/Pecha/HoopaBasket.vmt
Yunpol's Pokemon Misc Pack/materials/models/yunpolmodels/pokemon/misc/berries/Pecha/HoopaBasket.vtf
Yunpol's Pokemon Misc Pack/materials/models/yunpolmodels/pokemon/misc/berries/Pinap/ob0503_00_obj_col_NoLW.vmt
Yunpol's Pokemon Misc Pack/materials/models/yunpolmodels/pokemon/misc/berries/Pinap/ob0503_01_obj_col.vmt
Yunpol's Pokemon Misc Pack/materials/models/yunpolmodels/pokemon/misc/berries/Pinap/ob0503_00_obj_col.vmt
Yunpol's Pokemon Misc Pack/materials/models/yunpolmodels/pokemon/misc/berries/Pinap/ob0503_02_obj_col.vtf
Yunpol's Pokemon Misc Pack/materials/models/yunpolmodels/pokemon/misc/berries/Pinap/ob0503_01_obj_col.vtf
Yunpol's Pokemon Misc Pack/materials/models/yunpolmodels/pokemon/misc/berries/Pinap/ob0503_01_obj_col_NoLW.vmt
Yunpol's Pokemon Misc Pack/materials/models/yunpolmodels/pokemon/misc/berries/Pinap/ob0503_00_obj_col.vtf
Yunpol's Pokemon Misc Pack/materials/models/yunpolmodels/pokemon/misc/berries/Pinap/ob0503_02_obj_col.vmt
Yunpol's Pokemon Misc Pack/materials/models/yunpolmodels/pokemon/misc/berries/Pinap/ob0503_02_obj_col_NoLW.vmt
Yunpol's Pokemon Misc Pack/materials/models/yunpolmodels/pokemon/misc/flute/poke/ob0003_00_obj_col.vmt
Yunpol's Pokemon Misc Pack/materials/models/yunpolmodels/pokemon/misc/flute/poke/ob0003_00_obj_col_NoLW.vmt
Yunpol's Pokemon Misc Pack/materials/models/yunpolmodels/pokemon/misc/flute/poke/ob0003_00_obj_col.vtf
Yunpol's Pokemon Misc Pack/materials/models/yunpolmodels/pokemon/misc/flute/sun/ob0025_00_Body_NoLW.vmt
Yunpol's Pokemon Misc Pack/materials/models/yunpolmodels/pokemon/misc/flute/sun/ob0025_00_Body.vtf
Yunpol's Pokemon Misc Pack/materials/models/yunpolmodels/pokemon/misc/flute/sun/ob0025_00_Body.vmt
Yunpol's Pokemon Misc Pack/materials/models/yunpolmodels/pokemon/misc/flute/moon/ob0026_00_Body.vmt
Yunpol's Pokemon Misc Pack/materials/models/yunpolmodels/pokemon/misc/flute/moon/ob0026_00_Body_NoLW.vmt
Yunpol's Pokemon Misc Pack/materials/models/yunpolmodels/pokemon/misc/flute/moon/ob0026_00_Body.vtf