Adult content
This content is marked as Adult/NSFW content. You can toggle your preferences regarding this content type in your account settings.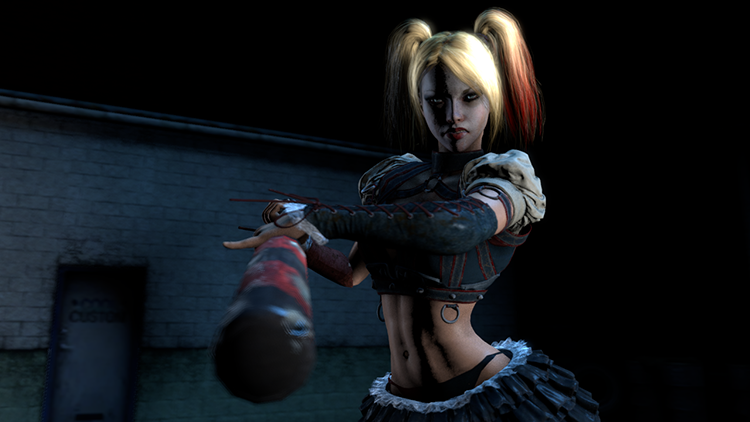 Description
If you can fix the neck seam let me know!
Note: upgrading to v1.1 will probably mess up any existing scenes you have with v1.0 Harley. This is because of the changes I made to her finger bones.
Features
Comes with 3 separate models
Harley
Harley's Skirt
Harley's Bat (new in v1.3)
After applying rig biped harleyquinn (or rig biped simple), you can lock rig root to the rootTransform of Harley's Skirt, then zero it in.
Skins
Bodygroups
Corset: on, mini, mini-bare, off
Sleeves: both, left, right, off
Arm Wraps: both, left, right, off
Arm Wrap Strings: both, left, right, off
Leggings: on, thigh-high (left/right), knee-high (left/right), off
Shorts: on, thong, off
Boots: on, left, right, off
Jigglebones
1 jigglebone for each breast (2 total)
1 jigglebone for each corset breast cup (2 total)
1 jigglebone for each butt cheek (2 total)
Notes & Tips
You might notice when you spawn her that she doesn't have that amazing cleavage that the original Harley model does (see Shaotek's release). This is because I wanted the breasts to look realistic when fully nude, and having squished tits with nothing holding them up doesn't look real. To gain some of her cleavage back while in the corset, I added separate breast jigglebones for the corset (see jigglebones section above). If you bake the procedural bones, you can move the breasts separately from the corset. This should allow you to push/rotate her breasts so that they look a little more busty while they're sitting in the corset. In theory, you could also use this method to animate her breasts coming out of the corset, although I haven't tried that.
Toe posing included for all ten toes.
Includes a mediocre vagina with posing. It's not the prettiest, but it moves, so enjoy it!
Bodygrouped clothes will sometimes look like they are tearing when her joints bend. This is probably a fixable issue, but it will take some time and I wanted to get her out for people to play with. I may spend sometime fixing the rigging to eliminate this tearing as best as I can in the future. It's not TOO bad right now.
The thong has two bones for movement. They are terribly rigged, I know, I'm sorry. I might spend more time smoothing out the rigging in the future, but for now this will have to do.
Credits
Rocksteady Studios - All original Harley Quinn content.
MikeyMack - Nude hack.
Shaotek - Pretty much all the material files for this model. Shout out to this guy because that saved me a lot of time, plus he made the materials look way better than I could have. Thanks man!
TheMask - Several detail/lightwarp textures.
Now get out there and make some smut, kid!
SFMLab is a free service. However, it costs about $0.03 to deliver you a 1GB file. With over 20TB of traffic every month and growing, SFMLab needs your help. If only 1% of our users each gave us $5 for a single month, we could keep the site running for several years.
Filename
Downloads
Created
Filesize
Files
harley_v1.0.rar
1588
2016-01-31 20:32:28
88.19 MB
harley_v1.3.rar
4141
2016-01-31 20:32:28
86.43 MB
harley_v1.1.rar
782
2016-01-31 20:32:28
88.2 MB
harley_v1.2.rar
1043
2016-01-31 20:32:28
88.21 MB