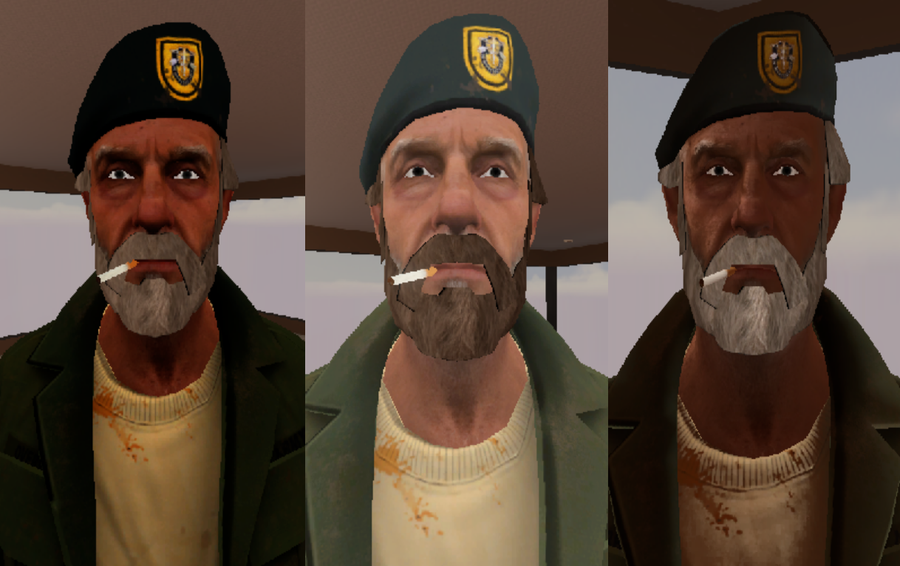 Show more
Description
FINALLY I manage to get this character done and as well get help from somebody to upload this, thanks rekin...that has a picture of a bunnies ass I think? Nice
MOVING ON
This is bill He's a old timer from the L4D game and is possible one of the many first ports in which I had done
Time to state the ISSUES that this model has
Now each of these three images show just how different these characters are and which ones are dark or white, the reason into that is cause some of them don't actually react to the light. Which means that if you shine a light on the middle one and right one, its not gonna show any type of light shinning on them or the reflection of it. They'll just appear dark still or rather white no matter what.
The one on the left however, will react to that and turn white due to the light shinning upon it. Anyhow I got three folds with each being different. The normal VMT is the one that will be within the material folder of the model right now. Well the middle one which is the white one. That doesn't grow dark at all, and lastly the dark one that just doesn't turn white at all no matter what light you shin on him. Besides that though, all of them do cast shadows so.
Now then, the hat doesn't come off The cig doesn't come off and lastly the gun doesn't come off. I'll be getting to those later on As well with getting his mouth open. As well working on the eye stuff, doesn't move as of yet or close Besides that though, he's actually quite alright So enjoy and have fun with him If there's anything you wish to know or say, please feel free to say something
INFO NOW If your wondering why these models are uploaded within SFM its self, please google "SFM L4D models work?"
You'll see quite a list for those of which that complain about the models not working, when they did the steps of downloading it into there source filmmaker and all. For some it worked and others it didn't, besides that thank you for reading.
SFMLab is a free service. However, it costs about $0.03 to deliver you a 1GB file. With over 20TB of traffic every month and growing, SFMLab needs your help. If only 1% of our users each gave us $5 for a single month, we could keep the site running for several years.
Filename
Downloads
Created
Filesize
Files
L4D_bill_2Mdnt5W.zip
572
2018-04-16 07:39:28
12.44 MB
L4D_bill.zip
598
2018-04-16 07:26:03
12.44 MB
L4D_bill_WAkdIC5.zip
560
2018-04-16 08:10:31
12.44 MB