Adult content
This content is marked as Adult/NSFW content. You can toggle your preferences regarding this content type in your account settings.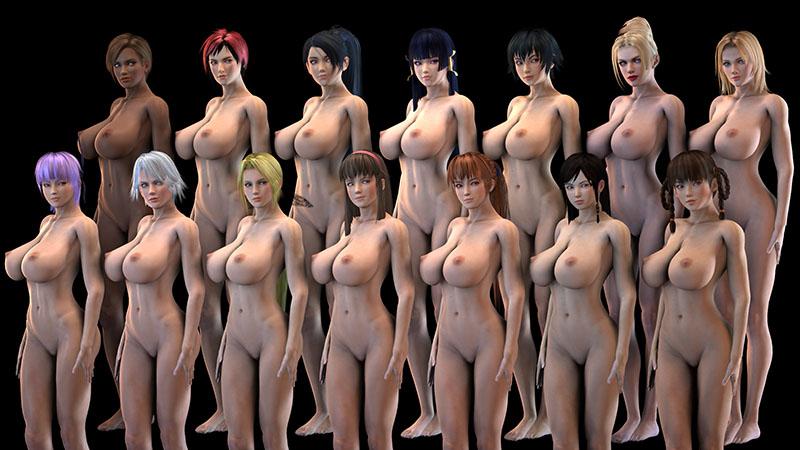 Description
The 14 DOAFantasy ladies, all ported to DazV5.
Due to the fact that DazV5 completely overhauls the DazV4 skeleton and rigging, as well as some minor mesh changes, there are currently no outfits for them. You're going to have to be patient in this regard - it took over a year of working on them on every stream to get the outfits that the DazV4 versions came with. In fact, you can do better than be patient - you can contribute outfits yourself! The full model source for all 14 characters is provided below.
I don't know when outfits will be made. However, they will not be released here until an outfit for all 14 characters is made. For rolling releases, you will want to follow me on Twitter ( @LordAardvark ) and keep an eye on my assets page ( https://lordaardvark.com/html/assets.html?cat=Outfits ). A "DOAFantasy DazV5" category will be added once outfits start getting released.
So while the characters have much-improved rigging and better-looking geometry (no more cutting yourself on the hard edges around the tits), they are less immediately usable due to the lack of outfits. So you'll have to decide what is more important to you - or you can even use DazV4 versions of the ladies for when outfits are needed, and swap to DazV5 when it's time to get naked. It's up to you, really.
They should operate entirely independently of the DazV4 outfits, except for shared materials and textures. So you'll want to back up any changes you made to those and install them after the DazV5 ladies here. Otherwise, DazV4 and DazV5 models should be able to exist side-by-side in your SFM install and SFM sessions.
Boiler-plate:
USE THE "breasts_nude" FLEX if you are using the model with the breasts bare. The model defaults to a "cleavage" pose, for outfits.
HOW TO TOGGLE "BODYGROUPED" HANDS, ARMS, AND LEGS ON DAZV5: - DazV5 models do not have the hands, arms, and legs as separate bodygroups. Instead, they are controlled via a special tool. - Go to Scripts -> LordAardvark -> DazV5 Bodygroups. Checkmark all of the models you want to toggle hands/arms/legs on, then press the buttons to toggle. Press "Done" and then update the SFM viewport to see the changes made.
INTERESTED IN BUILDING YOUR OWN OUTFITS FOR THIS MODEL? OR ADD BODYMORPH TO THE EXISTING OUTFITS? WANT TO PORT THE MODEL TO BLENDER? MAYBE JUST FIDDLE WITH THE MODEL YOURSELF? Download the raw DMX files HERE: http://files.lordaardvark.com/Assets/MdlSrc/DOAFantasy_DazV5_Src.7z For Bodymorph outfits, you will need to download DMXProc HERE: https://lordaardvark.com/html/assets.html?cat=Src___Tools%C2%A7=External_Programs&asset=DMXProc
The raw DMX files should include everything needed for compiling the model to Source. You will need Source tools for your program of choice to import the DMXs. For 3dsMax 2016+, GameZombie's DMX Tools: https://knockout.chat/thread/806/1 For Blender 2.80+, Blender Source Tools: http://steamreview.org/BlenderSourceTools/ Texture files are not included. You will need to convert them from VTF to TGA to work with them. You can find VTFEdit here: https://www.tophattwaffle.com/downloads/vtfedit/
!! IF YOU RUN INTO ANY ISSUES WORKING WITH THE SOURCE FILES, YOU ARE ON YOUR OWN. DO NOT ASK ME FOR ASSISTANCE. I DO NOT OFFICIALLY SUPPORT THIS LINE OF ACTION, AND AM MERELY PROVIDING IT AS A COURTESY. !!
SFMLab is a free service. However, it costs about $0.03 to deliver you a 1GB file. With over 20TB of traffic every month and growing, SFMLab needs your help. If only 1% of our users each gave us $5 for a single month, we could keep the site running for several years.
Filename
Downloads
Created
Filesize
Files
DOAFantasy_DazV5_v1-0-0.7z
5389
2020-05-12 21:52:10
67.49 MB