Adult content
This content is marked as Adult/NSFW content. You can toggle your preferences regarding this content type in your account settings.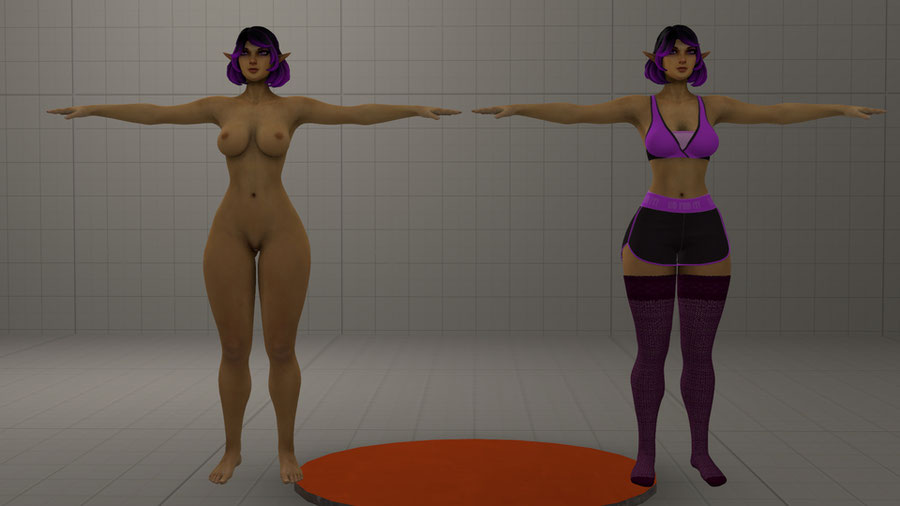 Description
At the request of a user as a commission, here is Skye for SFM with clothes as bodygroups, I had to delete some as SFM has a limit of materials.
The model isn't mine.
SFMLab is a free service. However, it costs about $0.03 to deliver you a 1GB file. With over 20TB of traffic every month and growing, SFMLab needs your help. If only 1% of our users each gave us $5 for a single month, we could keep the site running for several years.
Filename
Downloads
Created
Filesize
Files
Skye_NSFW_SFM.rar
1620
2020-07-23 22:59:54
9.07 MB
File contents:

usermod/materials/models/jgrosso/SkyeNSFW/01_kalbunnycollar.vtf
usermod/materials/models/jgrosso/SkyeNSFW/01_kalbunnycorset.vtf
usermod/materials/models/jgrosso/SkyeNSFW/01_kalbunnycuff.vtf
usermod/materials/models/jgrosso/SkyeNSFW/01_kalbunnyears.vtf
usermod/materials/models/jgrosso/SkyeNSFW/01_kalbunnypanty.vtf
usermod/materials/models/jgrosso/SkyeNSFW/01_kalbunnystocking.vtf
usermod/materials/models/jgrosso/SkyeNSFW/01_kalbunnytailfur.vtf
usermod/materials/models/jgrosso/SkyeNSFW/Arms.vmt
usermod/materials/models/jgrosso/SkyeNSFW/Asshole.vmt
usermod/materials/models/jgrosso/SkyeNSFW/Bra Cups.vmt
usermod/materials/models/jgrosso/SkyeNSFW/Bra Strings.vmt
usermod/materials/models/jgrosso/SkyeNSFW/Ears.vmt
usermod/materials/models/jgrosso/SkyeNSFW/Eyelashes.vmt
usermod/materials/models/jgrosso/SkyeNSFW/Eyes.vmt
usermod/materials/models/jgrosso/SkyeNSFW/eyes_diff.vtf
usermod/materials/models/jgrosso/SkyeNSFW/eyes_norm.vtf
usermod/materials/models/jgrosso/SkyeNSFW/eyes_spec.vtf
usermod/materials/models/jgrosso/SkyeNSFW/Face.vmt
usermod/materials/models/jgrosso/SkyeNSFW/fb8 bottom d1.vtf
usermod/materials/models/jgrosso/SkyeNSFW/fb8 top d1.vtf
usermod/materials/models/jgrosso/SkyeNSFW/FemaleShape.vmt
usermod/materials/models/jgrosso/SkyeNSFW/fINGERNAILS.vmt
usermod/materials/models/jgrosso/SkyeNSFW/Genital Area.vmt
usermod/materials/models/jgrosso/SkyeNSFW/gensmapd_1009.vtf
usermod/materials/models/jgrosso/SkyeNSFW/Gums.vmt
usermod/materials/models/jgrosso/SkyeNSFW/Hair.vmt
usermod/materials/models/jgrosso/SkyeNSFW/Legs.vmt
usermod/materials/models/jgrosso/SkyeNSFW/Lips.vmt
usermod/materials/models/jgrosso/SkyeNSFW/Panties 2 Lace.vmt
usermod/materials/models/jgrosso/SkyeNSFW/Panties 2.vmt
usermod/materials/models/jgrosso/SkyeNSFW/Panties.vmt
usermod/materials/models/jgrosso/SkyeNSFW/Pussy Interior.vmt
usermod/materials/models/jgrosso/SkyeNSFW/Pussy.vmt
usermod/materials/models/jgrosso/SkyeNSFW/ryjeane_lashes_1006.vtf
usermod/materials/models/jgrosso/SkyeNSFW/ryjeane_mouth_1005.vtf
usermod/materials/models/jgrosso/SkyeNSFW/ryjeane_mouth_1005nrm.vtf
usermod/materials/models/jgrosso/SkyeNSFW/Shape.vmt
usermod/materials/models/jgrosso/SkyeNSFW/Shoes1.vmt
usermod/materials/models/jgrosso/SkyeNSFW/Shorts addon.vmt
usermod/materials/models/jgrosso/SkyeNSFW/Shorts Border.vmt
usermod/materials/models/jgrosso/SkyeNSFW/Shorts.vmt
usermod/materials/models/jgrosso/SkyeNSFW/shorts_texture01.vtf
usermod/materials/models/jgrosso/SkyeNSFW/skye_head_def_diff.vtf
usermod/materials/models/jgrosso/SkyeNSFW/skye_head_def_norm.vtf
usermod/materials/models/jgrosso/SkyeNSFW/skye_head_def_spec.vtf
usermod/materials/models/jgrosso/SkyeNSFW/sneakers01_texture01.vtf
usermod/materials/models/jgrosso/SkyeNSFW/sneakers02_texture01.vtf
usermod/materials/models/jgrosso/SkyeNSFW/sneakers03_texture01.vtf
usermod/materials/models/jgrosso/SkyeNSFW/Sports Bra.vmt
usermod/materials/models/jgrosso/SkyeNSFW/Sportsbra addon.vmt
usermod/materials/models/jgrosso/SkyeNSFW/Stockings L.vmt
usermod/materials/models/jgrosso/SkyeNSFW/Stockings R.vmt
usermod/materials/models/jgrosso/SkyeNSFW/Teeth.vmt
usermod/materials/models/jgrosso/SkyeNSFW/tex_arms.vtf
usermod/materials/models/jgrosso/SkyeNSFW/tex_armsnrm.vtf
usermod/materials/models/jgrosso/SkyeNSFW/tex_arms_s.vtf
usermod/materials/models/jgrosso/SkyeNSFW/tex_face.vtf
usermod/materials/models/jgrosso/SkyeNSFW/tex_facenrm.vtf
usermod/materials/models/jgrosso/SkyeNSFW/tex_face_s.vtf
usermod/materials/models/jgrosso/SkyeNSFW/tex_legs.vtf
usermod/materials/models/jgrosso/SkyeNSFW/tex_legsnrm.vtf
usermod/materials/models/jgrosso/SkyeNSFW/tex_legs_s.vtf
usermod/materials/models/jgrosso/SkyeNSFW/tex_torso.vtf
usermod/materials/models/jgrosso/SkyeNSFW/tex_torsonrm.vtf
usermod/materials/models/jgrosso/SkyeNSFW/tex_torso_s.vtf
usermod/materials/models/jgrosso/SkyeNSFW/Top1.vmt
usermod/materials/models/jgrosso/SkyeNSFW/top_texture01.vtf
usermod/materials/models/jgrosso/SkyeNSFW/Torso.vmt
usermod/models/jgrosso/SkyeNSFW/SkyeNSFW.dx90.vtx
usermod/models/jgrosso/SkyeNSFW/skyensfw.mdl
usermod/models/jgrosso/SkyeNSFW/skyensfw.vvd