Adult content
This content is marked as Adult/NSFW content. You can toggle your preferences regarding this content type in your account settings.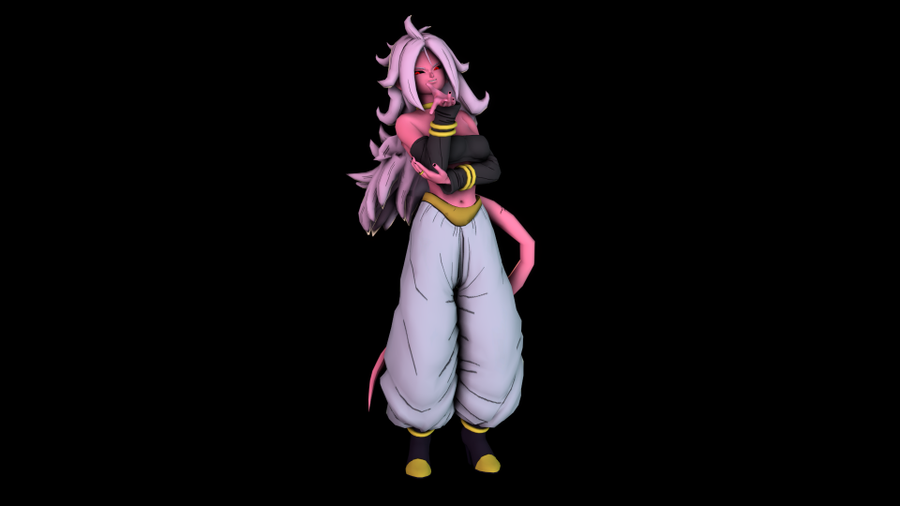 Show more
Description
This is a model by ThatSFMNoob originally released on his Patreon in March of 2018. She was released in April of 2018 originally on his Tumblr before that platform banned NSFW content. Unfortunately, she was never put on his DeviantArt, but Noob has given me permission to distribute his old models and models where his one month Patreon Early Access has expired to SFMLab. He has also given permission to LieutenantFlapJack to distribute these models to the official Source Filmmaker NSFW subreddit that he moderates, r/SourcePornmaker.
#Features
Nude
Jiggly breasts, butt and hair.
Finger and toe posing Tailposing for extra naughty stuff :eyes:
Face posing via flexes and face bones
Genital flexes
Bodygroups
Jiggle Roots
Thigh Twists
#Known Issues --Clipping--
In the case there's some clipping, bake Procedural Bones.
--Bodygrouped feet--
In order to use her boots, you need to turn off the feet, which are turned off by default.
Works with rig_biped_simple.
models\modelc\characters\xv\a21.mdl
SFMLab is a free service. However, it costs about $0.03 to deliver you a 1GB file. With over 20TB of traffic every month and growing, SFMLab needs your help. If only 1% of our users each gave us $5 for a single month, we could keep the site running for several years.
Filename
Downloads
Created
Filesize
Files
Majin_Android_21_FV2sbrA.rar
3623
2020-08-10 18:16:29
26.92 MB
File contents:

- Majin Android 21/usermod/materials/models/modelc/characters/xv/a21/Arms.vmt
- Majin Android 21/usermod/materials/models/modelc/characters/xv/a21/Arms_Diff.vtf
- Majin Android 21/usermod/materials/models/modelc/characters/xv/a21/Arms_nrm.vtf
- Majin Android 21/usermod/materials/models/modelc/characters/xv/a21/Body.vmt
- Majin Android 21/usermod/materials/models/modelc/characters/xv/a21/Body1_Diff.vtf
- Majin Android 21/usermod/materials/models/modelc/characters/xv/a21/Boots1.vmt
- Majin Android 21/usermod/materials/models/modelc/characters/xv/a21/Boots1_Diff.vtf
- Majin Android 21/usermod/materials/models/modelc/characters/xv/a21/Boots2.vmt
- Majin Android 21/usermod/materials/models/modelc/characters/xv/a21/Boots2_Diff.vtf
- Majin Android 21/usermod/materials/models/modelc/characters/xv/a21/Boots3.vmt
- Majin Android 21/usermod/materials/models/modelc/characters/xv/a21/Boots3_Diff.vtf
- Majin Android 21/usermod/materials/models/modelc/characters/xv/a21/Boots4.vmt
- Majin Android 21/usermod/materials/models/modelc/characters/xv/a21/Boots4_Diff.vtf
- Majin Android 21/usermod/materials/models/modelc/characters/xv/a21/Bracelets.vmt
- Majin Android 21/usermod/materials/models/modelc/characters/xv/a21/Eyeball.vtf
- Majin Android 21/usermod/materials/models/modelc/characters/xv/a21/eyeball_l.vmt
- Majin Android 21/usermod/materials/models/modelc/characters/xv/a21/eyeball_r.vmt
- Majin Android 21/usermod/materials/models/modelc/characters/xv/a21/Eyebrows.vmt
- Majin Android 21/usermod/materials/models/modelc/characters/xv/a21/Eyebrows_Diff.vtf
- Majin Android 21/usermod/materials/models/modelc/characters/xv/a21/Face.vmt
- Majin Android 21/usermod/materials/models/modelc/characters/xv/a21/Face_Diff.vtf
- Majin Android 21/usermod/materials/models/modelc/characters/xv/a21/genitals.vmt
- Majin Android 21/usermod/materials/models/modelc/characters/xv/a21/gens_diff.vtf
- Majin Android 21/usermod/materials/models/modelc/characters/xv/a21/Gens_Nrm.vtf
- Majin Android 21/usermod/materials/models/modelc/characters/xv/a21/Hair1.vmt
- Majin Android 21/usermod/materials/models/modelc/characters/xv/a21/Hair1_Diff.vtf
- Majin Android 21/usermod/materials/models/modelc/characters/xv/a21/Hair2.vmt
- Majin Android 21/usermod/materials/models/modelc/characters/xv/a21/Hair2_Diff.vtf
- Majin Android 21/usermod/materials/models/modelc/characters/xv/a21/Hair3.vmt
- Majin Android 21/usermod/materials/models/modelc/characters/xv/a21/Hair3_Diff.vtf
- Majin Android 21/usermod/materials/models/modelc/characters/xv/a21/Hand2_Diff.vtf
- Majin Android 21/usermod/materials/models/modelc/characters/xv/a21/Hand4_Diff.vtf
- Majin Android 21/usermod/materials/models/modelc/characters/xv/a21/Legs.vmt
- Majin Android 21/usermod/materials/models/modelc/characters/xv/a21/Legs_Diff.vtf
- Majin Android 21/usermod/materials/models/modelc/characters/xv/a21/Legs_nrm.vtf
- Majin Android 21/usermod/materials/models/modelc/characters/xv/a21/Mouth.vmt
- Majin Android 21/usermod/materials/models/modelc/characters/xv/a21/Mouth_Diff.vtf
- Majin Android 21/usermod/materials/models/modelc/characters/xv/a21/Pants1.vmt
- Majin Android 21/usermod/materials/models/modelc/characters/xv/a21/Pants1_Diff.vtf
- Majin Android 21/usermod/materials/models/modelc/characters/xv/a21/Pants2.vmt
- Majin Android 21/usermod/materials/models/modelc/characters/xv/a21/Pants2_Diff.vtf
- Majin Android 21/usermod/materials/models/modelc/characters/xv/a21/Pants3.vmt
- Majin Android 21/usermod/materials/models/modelc/characters/xv/a21/Pants3_Diff.vtf
- Majin Android 21/usermod/materials/models/modelc/characters/xv/a21/Sclera.vtf
- Majin Android 21/usermod/materials/models/modelc/characters/xv/a21/Sleeves.vmt
- Majin Android 21/usermod/materials/models/modelc/characters/xv/a21/Teeth.vmt
- Majin Android 21/usermod/materials/models/modelc/characters/xv/a21/Teetht_Diff.vtf
- Majin Android 21/usermod/materials/models/modelc/characters/xv/a21/Tongue.vmt
- Majin Android 21/usermod/materials/models/modelc/characters/xv/a21/Tongue_Diff.vtf
- Majin Android 21/usermod/materials/models/modelc/characters/xv/a21/Torso.vmt
- Majin Android 21/usermod/materials/models/modelc/characters/xv/a21/Torso_Diff.vtf
- Majin Android 21/usermod/materials/models/modelc/characters/xv/a21/Torso_nrm.vtf
- Majin Android 21/usermod/materials/models/modelc/characters/xv/a21/Eyeball2.vtf
- Majin Android 21/usermod/materials/models/modelc/characters/xv/a21/Ring.vmt
- Majin Android 21/usermod/materials/models/modelc/characters/xv/a21/Tail.vmt
- Majin Android 21/usermod/materials/models/modelc/characters/xv/a21/Tail1_Diff.vtf
- Majin Android 21/usermod/materials/models/modelc/characters/xv/a21/Body2_Diff.vtf
- Majin Android 21/usermod/materials/models/modelc/characters/xv/a21/Body3_Diff.vtf
- Majin Android 21/usermod/materials/models/modelc/characters/xv/a21/Bra.vmt
- Majin Android 21/usermod/materials/models/modelc/characters/xv/a21/debugempty.vmt
- Majin Android 21/usermod/materials/models/modelc/characters/xv/a21/Earring_Diff.vtf
- Majin Android 21/usermod/materials/models/modelc/characters/xv/a21/Hand1_Diff.vtf
- Majin Android 21/usermod/materials/models/modelc/characters/xv/a21/Hand3_Diff.vtf
- Majin Android 21/usermod/materials/models/modelc/characters/xv/a21/Neckbrace.vmt
- Majin Android 21/usermod/materials/models/modelc/shared/bumpmap_flat.vtf
- Majin Android 21/usermod/models/modelc/characters/xv/a21.dx90.vtx
- Majin Android 21/usermod/models/modelc/characters/xv/a21.mdl
- Majin Android 21/usermod/models/modelc/characters/xv/a21.vvd
- Majin Android 21/usermod/scripts/animset/Tools/oridafiles/Android 21/Android 21 Good.json