Adult content
This content is marked as Adult/NSFW content. You can toggle your preferences regarding this content type in your account settings.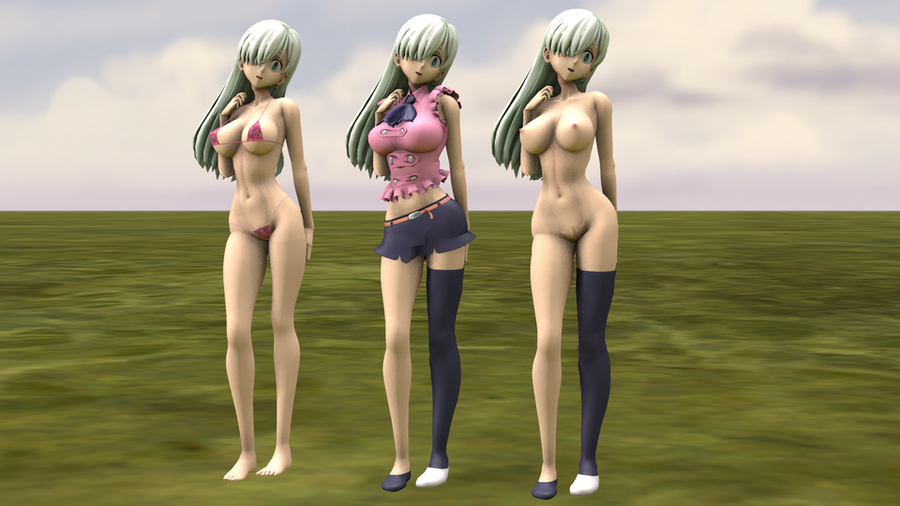 Description
Back again!
She has her normal outfit and a bikini
Has jiggle bones for tits, ass and hair
Now...She didn't come with any face bones so she has 3 seperate heads 1 for normal face. 1 for angry face and 1 for happy face.
All clothing items are removable.
Flexes for bigger tits, smaller tits, anus open vag open. And hips widen.
ENJOY!
SFMLab is a free service. However, it costs about $0.03 to deliver you a 1GB file. With over 20TB of traffic every month and growing, SFMLab needs your help. If only 1% of our users each gave us $5 for a single month, we could keep the site running for several years.
Filename
Downloads
Created
Filesize
Files
ElizabethLionesNSFW.7z
2755
2020-08-11 20:48:42
4.83 MB
File contents:

- usermod/materials/models/ElizabethLiones/41_frontHair-awake-0.vmt
- usermod/materials/models/ElizabethLiones/41_frontHair-normal-0.vmt
- usermod/materials/models/ElizabethLiones/41_hair-0.vmt
- usermod/materials/models/ElizabethLiones/bikini.vmt
- usermod/materials/models/ElizabethLiones/bikini.vtf
- usermod/materials/models/ElizabethLiones/bikini_bottom.vmt
- usermod/materials/models/ElizabethLiones/bikini_top.vmt
- usermod/materials/models/ElizabethLiones/body 3.vtf
- usermod/materials/models/ElizabethLiones/body.vmt
- usermod/materials/models/ElizabethLiones/body3_bump.vtf
- usermod/materials/models/ElizabethLiones/bumpmap_flat.vtf
- usermod/materials/models/ElizabethLiones/ch08a_elizabeth_eye_l_base.vtf
- usermod/materials/models/ElizabethLiones/ch08a_elizabeth_eye_l_highlight.vtf
- usermod/materials/models/ElizabethLiones/ch08a_elizabeth_eye_l_iris.vmt
- usermod/materials/models/ElizabethLiones/ch08a_elizabeth_eye_l_iris.vtf
- usermod/materials/models/ElizabethLiones/ch08a_elizabeth_eye_l_iris_bump.vtf
- usermod/materials/models/ElizabethLiones/ch08a_elizabeth_eye_l_normal.vtf
- usermod/materials/models/ElizabethLiones/ch08a_elizabeth_eye_r_iris.vmt
- usermod/materials/models/ElizabethLiones/ch08a_elizabeth_eye_r_iris.vtf
- usermod/materials/models/ElizabethLiones/ch08a_elizabeth_face_color.vmt
- usermod/materials/models/ElizabethLiones/ch08a_elizabeth_face_color.vtf
- usermod/materials/models/ElizabethLiones/ch08a_elizabeth_face_color_bump.vtf
- usermod/materials/models/ElizabethLiones/ch08a_elizabeth_hair_color.vmt
- usermod/materials/models/ElizabethLiones/ch08a_elizabeth_hair_color.vtf
- usermod/materials/models/ElizabethLiones/ch08a_elizabeth_hair_color_bump.vtf
- usermod/materials/models/ElizabethLiones/ch08a_elizabeth_hair_nml.vtf
- usermod/materials/models/ElizabethLiones/ch08a_elizabeth_hair_spc.vtf
- usermod/materials/models/ElizabethLiones/ch08a_elizabeth_uppbody_color.vtf
- usermod/materials/models/ElizabethLiones/ch08a_elizabeth_uppbody_color_bump.vtf
- usermod/materials/models/ElizabethLiones/earring.vmt
- usermod/materials/models/ElizabethLiones/eyel.vmt
- usermod/materials/models/ElizabethLiones/eyer.vmt
- usermod/materials/models/ElizabethLiones/face_angry.vmt
- usermod/materials/models/ElizabethLiones/face_happy.vmt
- usermod/materials/models/ElizabethLiones/face_normal.vmt
- usermod/materials/models/ElizabethLiones/hair1.vmt
- usermod/materials/models/ElizabethLiones/hair2.vmt
- usermod/materials/models/ElizabethLiones/hair3.vmt
- usermod/materials/models/ElizabethLiones/lashes_black.vmt
- usermod/materials/models/ElizabethLiones/lashes_black.vtf
- usermod/materials/models/ElizabethLiones/leg2-0_bump.vtf
- usermod/materials/models/ElizabethLiones/legs_nude.vmt
- usermod/materials/models/ElizabethLiones/legs_nude_stocking.vmt
- usermod/materials/models/ElizabethLiones/map.vtf
- usermod/materials/models/ElizabethLiones/scarf-0_bump.vtf
- usermod/materials/models/ElizabethLiones/scarf.vmt
- usermod/materials/models/ElizabethLiones/shirt.vmt
- usermod/materials/models/ElizabethLiones/shoe_right.vmt
- usermod/materials/models/ElizabethLiones/skirt.vmt
- usermod/materials/models/ElizabethLiones/stocking.vmt
- usermod/models/ElizabethLiones/ElizabethLiones.dx90.vtx
- usermod/models/ElizabethLiones/elizabethliones.mdl
- usermod/models/ElizabethLiones/ElizabethLiones.qc
- usermod/models/ElizabethLiones/elizabethliones.vvd
- usermod/scripts/sfm/animset/rig_elizabethliones.py