Adult content
This content is marked as Adult/NSFW content. You can toggle your preferences regarding this content type in your account settings.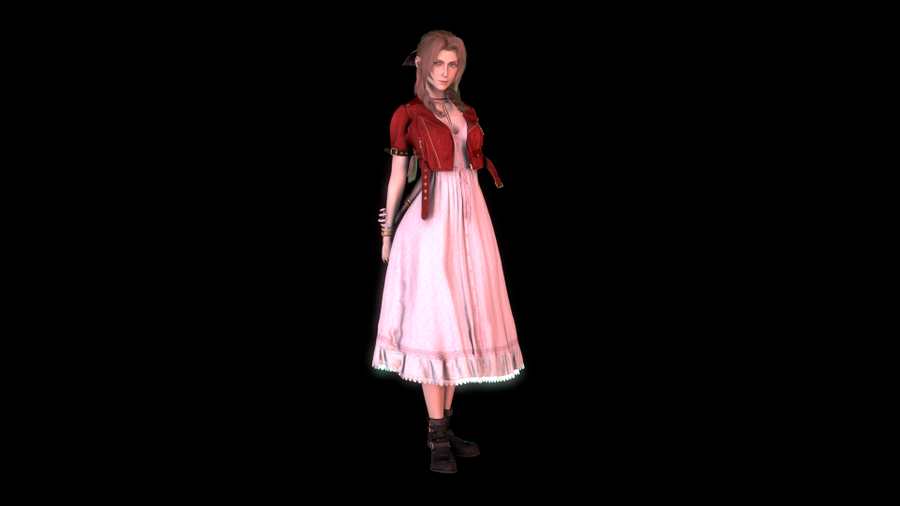 Show more
Description
#----PLEASE READ THE DESCRIPTION BEFORE DOWNLOADING----
This is a model by ThatSFMNoob originally released on his Patreon in June of 2020. Noob has given me permission to distribute his old models and models where his one month Patreon Early Access has expired to SFMLab. He has also given permission to LieutenantFlapJack to distribute these models to the official Source Filmmaker NSFW subreddit that he moderates, r/SourcePornmaker.
#Features
Nude
Jiggle Breasts, Butt and Hair
Finger and Toe Posing
Face posing via face flexes
Genital gape flexes
Genital adjustment flexes
Advanced Mouth Rig System
Pregnant Flex
"No Nipples" flex.
Jiggle Roots
Joint Helpers
Finger and toenail Materials
Has Outfit Loader Support (Hair, Clothing, Bracelets)
#Outfit Loader items
*These items are separate models. This means this model comes with 3 separated models.*
Hair – Self-explanatory, however, it also contains her hair Ribbon (not a Bodygroup since somehow it's very important for her to keep that on at all times.)

Outfit – Contains the Dress, Jacket, Necklace and Boots.

Bracelets – The "madman" actually did it and decided to make the bracelets a standalone bodygroups. Believe me, it's better that way, it's super easier to pose and even more easier to find. -Quote from Noob.

Full – All of the above.
#Known Issues --Clipping--
If any clipping persists, Bake Procedural Bones and use the helper bones as well.
-- Poseable dress --
Even though this is a feature, it's under the *Known Issues* section because she has a huge amount of dress bones. *Have fun posing them*.
-- Jiggly Jacket --
Her jacket is jiggly because Noob had to parent some jacket bones to her right pectoral bone, *otherwise the clipping would be unbearable*. Keep an eye on that, and if stuff happens, be sure to Bake Procedurals on the Jacket too.
--Model Scaling--
Because the model is built on the TF2 scale, it is taller than usual. To get her to approximate canon proportions, bake the Procedural Bones, right click the rootTransform bone, and click "Add Scale to Transforms". Double click the slider that appears and type in "0.0872258". This gets her to 163cm (about 5'4.17323").
Now you guys can join the hype train too and fill her up with white materia :D -Noob
Works with rig_biped_simple.
models\modelc\characters\ffvii\aerith_bracelets.mdl
models\modelc\characters\ffvii\aerith_cloth.mdl
models\modelc\characters\ffvii\aerith_cloth.mdl```

SFMLab is a free service. However, it costs about $0.03 to deliver you a 1GB file. With over 20TB of traffic every month and growing, SFMLab needs your help. If only 1% of our users each gave us $5 for a single month, we could keep the site running for several years.
Filename
Downloads
Created
Filesize
Files
02-06_Aerith.7z
5446
2020-08-12 00:44:15
50.32 MB
File contents:

- [02-06] Aerith/Readme.txt
- [02-06] Aerith/LordAardvarkScriptData/models-modelc-characters-ffvii-aerith.OFL
- [02-06] Aerith/Usermod/Materials/Models/ModelC/Characters/FFVII/Aerith/aDress.vmt
- [02-06] Aerith/Usermod/Materials/Models/ModelC/Characters/FFVII/Aerith/Aerith.vmt
- [02-06] Aerith/Usermod/Materials/Models/ModelC/Characters/FFVII/Aerith/Aerith_Diff.vtf
- [02-06] Aerith/Usermod/Materials/Models/ModelC/Characters/FFVII/Aerith/Aerith_Nrm.vtf
- [02-06] Aerith/Usermod/Materials/Models/ModelC/Characters/FFVII/Aerith/aHair.vmt
- [02-06] Aerith/Usermod/Materials/Models/ModelC/Characters/FFVII/Aerith/Arms.vmt
- [02-06] Aerith/Usermod/Materials/Models/ModelC/Characters/FFVII/Aerith/Arms_Diff.vtf
- [02-06] Aerith/Usermod/Materials/Models/ModelC/Characters/FFVII/Aerith/Arms_Nrm.vtf
- [02-06] Aerith/Usermod/Materials/Models/ModelC/Characters/FFVII/Aerith/aZipper.vmt
- [02-06] Aerith/Usermod/Materials/Models/ModelC/Characters/FFVII/Aerith/Belts.vmt
- [02-06] Aerith/Usermod/Materials/Models/ModelC/Characters/FFVII/Aerith/Boot.vmt
- [02-06] Aerith/Usermod/Materials/Models/ModelC/Characters/FFVII/Aerith/Bracelets.vmt
- [02-06] Aerith/Usermod/Materials/Models/ModelC/Characters/FFVII/Aerith/Cloth.Mat
- [02-06] Aerith/Usermod/Materials/Models/ModelC/Characters/FFVII/Aerith/Dress.vmt
- [02-06] Aerith/Usermod/Materials/Models/ModelC/Characters/FFVII/Aerith/Dress_Diff.vtf
- [02-06] Aerith/Usermod/Materials/Models/ModelC/Characters/FFVII/Aerith/Dress_Exp.vtf
- [02-06] Aerith/Usermod/Materials/Models/ModelC/Characters/FFVII/Aerith/Dress_Nrm.vtf
- [02-06] Aerith/Usermod/Materials/Models/ModelC/Characters/FFVII/Aerith/Eyeball.vtf
- [02-06] Aerith/Usermod/Materials/Models/ModelC/Characters/FFVII/Aerith/eyeball_l.vmt
- [02-06] Aerith/Usermod/Materials/Models/ModelC/Characters/FFVII/Aerith/eyeball_r.vmt
- [02-06] Aerith/Usermod/Materials/Models/ModelC/Characters/FFVII/Aerith/Eyelashes.vmt
- [02-06] Aerith/Usermod/Materials/Models/ModelC/Characters/FFVII/Aerith/Eye_AO.vtf
- [02-06] Aerith/Usermod/Materials/Models/ModelC/Characters/FFVII/Aerith/Fingernails.vmt
- [02-06] Aerith/Usermod/Materials/Models/ModelC/Characters/FFVII/Aerith/Genitals.vmt
- [02-06] Aerith/Usermod/Materials/Models/ModelC/Characters/FFVII/Aerith/Genitals_Diff.vtf
- [02-06] Aerith/Usermod/Materials/Models/ModelC/Characters/FFVII/Aerith/Genitals_Nrm.vtf
- [02-06] Aerith/Usermod/Materials/Models/ModelC/Characters/FFVII/Aerith/Hair_Diff.vtf
- [02-06] Aerith/Usermod/Materials/Models/ModelC/Characters/FFVII/Aerith/Hair_Nrm.vtf
- [02-06] Aerith/Usermod/Materials/Models/ModelC/Characters/FFVII/Aerith/Jacket.vmt
- [02-06] Aerith/Usermod/Materials/Models/ModelC/Characters/FFVII/Aerith/Jacket_Diff.vtf
- [02-06] Aerith/Usermod/Materials/Models/ModelC/Characters/FFVII/Aerith/Jacket_Exp.vtf
- [02-06] Aerith/Usermod/Materials/Models/ModelC/Characters/FFVII/Aerith/Jacket_Nrm.vtf
- [02-06] Aerith/Usermod/Materials/Models/ModelC/Characters/FFVII/Aerith/Legs.vmt
- [02-06] Aerith/Usermod/Materials/Models/ModelC/Characters/FFVII/Aerith/Legs_Diff.vtf
- [02-06] Aerith/Usermod/Materials/Models/ModelC/Characters/FFVII/Aerith/Legs_Nrm.vtf
- [02-06] Aerith/Usermod/Materials/Models/ModelC/Characters/FFVII/Aerith/Metal.Mat
- [02-06] Aerith/Usermod/Materials/Models/ModelC/Characters/FFVII/Aerith/Mouth.vmt
- [02-06] Aerith/Usermod/Materials/Models/ModelC/Characters/FFVII/Aerith/Mouth_Diff.vtf
- [02-06] Aerith/Usermod/Materials/Models/ModelC/Characters/FFVII/Aerith/Mouth_Nrm.vtf
- [02-06] Aerith/Usermod/Materials/Models/ModelC/Characters/FFVII/Aerith/Necklace.vmt
- [02-06] Aerith/Usermod/Materials/Models/ModelC/Characters/FFVII/Aerith/Necklace_Metal.vmt
- [02-06] Aerith/Usermod/Materials/Models/ModelC/Characters/FFVII/Aerith/Ribbon.vmt
- [02-06] Aerith/Usermod/Materials/Models/ModelC/Characters/FFVII/Aerith/Skin.Mat
- [02-06] Aerith/Usermod/Materials/Models/ModelC/Characters/FFVII/Aerith/tDress.vmt
- [02-06] Aerith/Usermod/Materials/Models/ModelC/Characters/FFVII/Aerith/tHair.vmt
- [02-06] Aerith/Usermod/Materials/Models/ModelC/Characters/FFVII/Aerith/Toenails.vmt
- [02-06] Aerith/Usermod/Materials/Models/ModelC/Characters/FFVII/Aerith/Torso.vmt
- [02-06] Aerith/Usermod/Materials/Models/ModelC/Characters/FFVII/Aerith/Torso_Diff.vtf
- [02-06] Aerith/Usermod/Materials/Models/ModelC/Characters/FFVII/Aerith/Torso_Nrm.vtf
- [02-06] Aerith/Usermod/Materials/Models/ModelC/Characters/FFVII/Aerith/tZipper.vmt
- [02-06] Aerith/Usermod/Materials/Models/ModelC/Shared/bumpmap_flat.vtf
- [02-06] Aerith/Usermod/Materials/Models/ModelC/Shared/bumpmap_flat_skin.vtf
- [02-06] Aerith/Usermod/Materials/Models/ModelC/Shared/Cloth_Exp_Generic.vtf
- [02-06] Aerith/Usermod/Materials/Models/ModelC/Shared/detail_cloth.vtf
- [02-06] Aerith/Usermod/Materials/Models/ModelC/Shared/detail_cloth2.vtf
- [02-06] Aerith/Usermod/Materials/Models/ModelC/Shared/detail_skin.vtf
- [02-06] Aerith/Usermod/Materials/Models/ModelC/Shared/exponent_generic.vtf
- [02-06] Aerith/Usermod/Materials/Models/ModelC/Shared/Exp_Generic2.vtf
- [02-06] Aerith/Usermod/Materials/Models/ModelC/Shared/eye_ao.vtf
- [02-06] Aerith/Usermod/Materials/Models/ModelC/Shared/flatcolor_transparent.vtf
- [02-06] Aerith/Usermod/Materials/Models/ModelC/Shared/Flat_Exponent_NN.vtf
- [02-06] Aerith/Usermod/Materials/Models/ModelC/Shared/green.vtf
- [02-06] Aerith/Usermod/Materials/Models/ModelC/Shared/green3.vtf
- [02-06] Aerith/Usermod/Materials/Models/ModelC/Shared/plain_color.vtf
- [02-06] Aerith/Usermod/Materials/Models/ModelC/Shared/pupil_ambient.vtf
- [02-06] Aerith/Usermod/Materials/Models/ModelC/Shared/Skin_Exp_Generic.vtf
- [02-06] Aerith/Usermod/Models/ModelC/Characters/FFVII/Aerith.dx80.vtx
- [02-06] Aerith/Usermod/Models/ModelC/Characters/FFVII/Aerith.dx90.vtx
- [02-06] Aerith/Usermod/Models/ModelC/Characters/FFVII/aerith.mdl
- [02-06] Aerith/Usermod/Models/ModelC/Characters/FFVII/Aerith.sw.vtx
- [02-06] Aerith/Usermod/Models/ModelC/Characters/FFVII/aerith.vvd
- [02-06] Aerith/Usermod/Models/ModelC/Characters/FFVII/Aerith_Bracelets.dx80.vtx
- [02-06] Aerith/Usermod/Models/ModelC/Characters/FFVII/Aerith_Bracelets.dx90.vtx
- [02-06] Aerith/Usermod/Models/ModelC/Characters/FFVII/aerith_bracelets.mdl
- [02-06] Aerith/Usermod/Models/ModelC/Characters/FFVII/Aerith_Bracelets.sw.vtx
- [02-06] Aerith/Usermod/Models/ModelC/Characters/FFVII/aerith_bracelets.vvd
- [02-06] Aerith/Usermod/Models/ModelC/Characters/FFVII/Aerith_Cloth.dx80.vtx
- [02-06] Aerith/Usermod/Models/ModelC/Characters/FFVII/Aerith_Cloth.dx90.vtx
- [02-06] Aerith/Usermod/Models/ModelC/Characters/FFVII/aerith_cloth.mdl
- [02-06] Aerith/Usermod/Models/ModelC/Characters/FFVII/Aerith_Cloth.sw.vtx
- [02-06] Aerith/Usermod/Models/ModelC/Characters/FFVII/aerith_cloth.vvd
- [02-06] Aerith/Usermod/Models/ModelC/Characters/FFVII/Aerith_Hair.dx80.vtx
- [02-06] Aerith/Usermod/Models/ModelC/Characters/FFVII/Aerith_Hair.dx90.vtx
- [02-06] Aerith/Usermod/Models/ModelC/Characters/FFVII/aerith_hair.mdl
- [02-06] Aerith/Usermod/Models/ModelC/Characters/FFVII/Aerith_Hair.sw.vtx
- [02-06] Aerith/Usermod/Models/ModelC/Characters/FFVII/aerith_hair.vvd