Show more
Description
ZA WARUDO! TOKI WO TOMARE!!!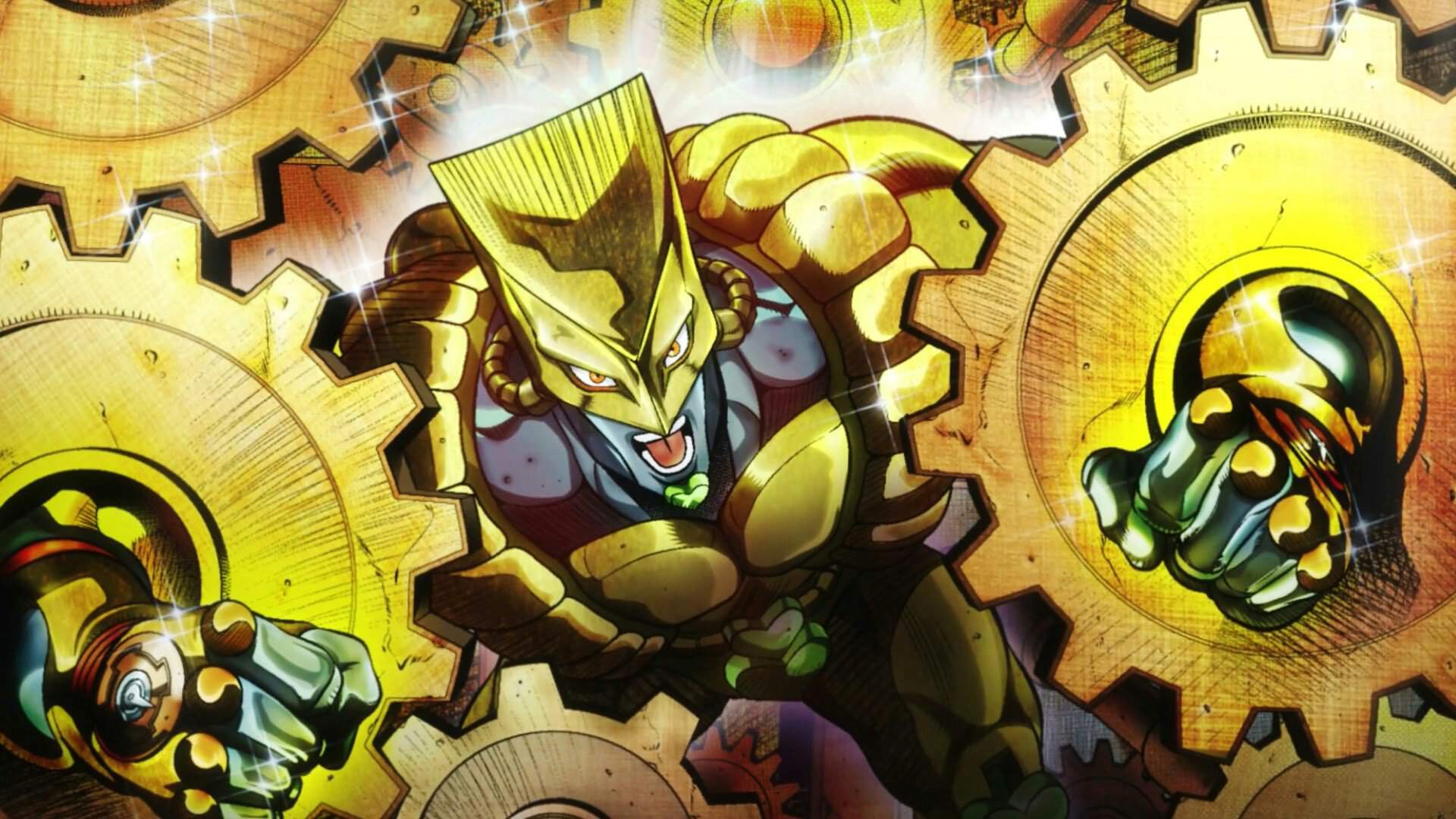 ---
[OBS: This pack can only contain items from the stands such as the kakyoin noroak stand, and if you ask about the MARIAH model, I will not post it for the simple reason of not having flexes on the face so I'm sorry.]
Hello, welcome my dear JOJOFAGS, I came here to give you a pack of models [which there are a lot of models], particles, textures from the anime JOJO'S BIZZARE ADVENTURE. The pack contains a lot of things, it is no coincidence that it takes a few minutes to export all of them, but enough talk and we will quote all the stands inside that pack.
Enemy Stands Included:
Death 13

GEB

Tower Of Grey

Osiris

Yellow Temperance

SUN

Anubis

Bastet

Empress

Sethan

Dark Blue Moon

Lovers

Tohth

Wheel Of Fortune

Justice

Oingo Brothers Stands

Hierophant Green Items [What]

Judgement

High Prientess
---
Well, I think I mentioned all the stands included in this pack, this pack contains other things besides the D13 map type models or the items on the kakyoin noroak stand. I hope you enjoyed this pack, have a good day or a good night.
SFMLab is a free service. However, it costs about $0.03 to deliver you a 1GB file. With over 20TB of traffic every month and growing, SFMLab needs your help. If only 1% of our users each gave us $5 for a single month, we could keep the site running for several years.
Filename
Downloads
Created
Filesize
Files
  Stand_Enemy_Pack.rar  
399
2020-08-15 20:54:00
86.12 MB
EU Download   NA Download
File contents:

Stand Enemy Pack/materials/decals/gstands_barnacle.vmt
Stand Enemy Pack/materials/decals/gstands_barnacle.vtf
Stand Enemy Pack/materials/decals/gstands_barnaclev.vmt
Stand Enemy Pack/materials/decals/gstands_barnacle_bump.vtf
Stand Enemy Pack/materials/effects/chariot_trail.vmt
Stand Enemy Pack/materials/effects/chariot_trail.vtf
Stand Enemy Pack/materials/effects/chariot_trail_bump.vtf
Stand Enemy Pack/materials/effects/ed_glimpse.vmt
Stand Enemy Pack/materials/effects/ed_glimpse.vtf
Stand Enemy Pack/materials/effects/ed_slash.vmt
Stand Enemy Pack/materials/effects/ed_slash.vtf
Stand Enemy Pack/materials/effects/foolsand.vmt
Stand Enemy Pack/materials/effects/foolsand.vtf
Stand Enemy Pack/materials/effects/foolsandbump.vmt
Stand Enemy Pack/materials/effects/foolsandbump.vtf
Stand Enemy Pack/materials/effects/foolsanddome.vmt
Stand Enemy Pack/materials/effects/foolsandparticle.vmt
Stand Enemy Pack/materials/effects/foolsandparticle.vtf
Stand Enemy Pack/materials/effects/gstands_aura.vmt
Stand Enemy Pack/materials/effects/gstands_aura.vtf
Stand Enemy Pack/materials/effects/gstands_aura2.vmt
Stand Enemy Pack/materials/effects/gstands_aura2.vtf
Stand Enemy Pack/materials/effects/gstands_aura2d.vtf
Stand Enemy Pack/materials/effects/gstands_aura2n.vtf
Stand Enemy Pack/materials/effects/gstands_aura_nmap.vmt
Stand Enemy Pack/materials/effects/gstands_aura_nmap.vtf
Stand Enemy Pack/materials/effects/gstands_barnacle.vmt
Stand Enemy Pack/materials/effects/gstands_barnacle.vtf
Stand Enemy Pack/materials/effects/gstands_barnaclev.vmt
Stand Enemy Pack/materials/effects/gstands_barnacle_bump.vtf
Stand Enemy Pack/materials/effects/gstands_bee.vmt
Stand Enemy Pack/materials/effects/gstands_bee.vtf
Stand Enemy Pack/materials/effects/gstands_cfhurricane.vmt
Stand Enemy Pack/materials/effects/gstands_cfhurricane.vtf
Stand Enemy Pack/materials/effects/gstands_cfhurricanebw.vtf
Stand Enemy Pack/materials/effects/gstands_cream_void.vmt
Stand Enemy Pack/materials/effects/gstands_cream_void.vtf
Stand Enemy Pack/materials/effects/gstands_cream_void_bump.vmt
Stand Enemy Pack/materials/effects/gstands_cream_void_bump.vtf
Stand Enemy Pack/materials/effects/gstands_emeraldsplash.vmt
Stand Enemy Pack/materials/effects/gstands_emeraldsplash.vtf
Stand Enemy Pack/materials/effects/gstands_emeraldsplash_drip.vmt
Stand Enemy Pack/materials/effects/gstands_emeraldsplash_drip.vtf
Stand Enemy Pack/materials/effects/gstands_fleshbud_tentacle.vmt
Stand Enemy Pack/materials/effects/gstands_fleshbud_tentacle.vtf
Stand Enemy Pack/materials/effects/gstands_hermit_purple.vmt
Stand Enemy Pack/materials/effects/gstands_hermit_purple.vtf
Stand Enemy Pack/materials/effects/gstands_hermit_purple_2.vmt
Stand Enemy Pack/materials/effects/gstands_hermit_purple_2.vtf
Stand Enemy Pack/materials/effects/gstands_htentbump.vtf
Stand Enemy Pack/materials/effects/gstands_htentb_.vmt
Stand Enemy Pack/materials/effects/gstands_htentb_.vtf
Stand Enemy Pack/materials/effects/gstands_htentg_.vmt
Stand Enemy Pack/materials/effects/gstands_htentg_.vtf
Stand Enemy Pack/materials/effects/gstands_htentp_.vmt
Stand Enemy Pack/materials/effects/gstands_htentp_.vtf
Stand Enemy Pack/materials/effects/gstands_htenty_.vmt
Stand Enemy Pack/materials/effects/gstands_htenty_.vtf
Stand Enemy Pack/materials/effects/gstands_sethan.vmt
Stand Enemy Pack/materials/effects/gstands_sethan.vtf
Stand Enemy Pack/materials/effects/gstands_slash.vmt
Stand Enemy Pack/materials/effects/gstands_slash.vtf
Stand Enemy Pack/materials/effects/gstands_sun.vmt
Stand Enemy Pack/materials/effects/gstands_sun.vtf
Stand Enemy Pack/materials/effects/gstands_tgray_blurtrail.vmt
Stand Enemy Pack/materials/effects/gstands_tgray_blurtrail.vtf
Stand Enemy Pack/materials/effects/gstands_tgray_vomit.vmt
Stand Enemy Pack/materials/effects/gstands_tgray_vomit.vtf
Stand Enemy Pack/materials/effects/gstands_tgray_vomit2.vmt
Stand Enemy Pack/materials/effects/menacing.vmt
Stand Enemy Pack/materials/effects/menacing.vtf
Stand Enemy Pack/materials/effects/plasma_particle.vtf
Stand Enemy Pack/materials/effects/swordtrail.vtf
Stand Enemy Pack/materials/effects/gstands_dbm/scale.vmt
Stand Enemy Pack/materials/effects/gstands_dbm/scale.vtf
Stand Enemy Pack/materials/effects/gstands_dbm/whirl1.vmt
Stand Enemy Pack/materials/effects/gstands_dbm/whirl1.vtf
Stand Enemy Pack/materials/effects/gstands_dbm/whirl2.vmt
Stand Enemy Pack/materials/effects/gstands_dbm/whirl2.vtf
Stand Enemy Pack/materials/effects/gstands_fireball/fireball.vmt
Stand Enemy Pack/materials/effects/gstands_fireball/fireball1.vmt
Stand Enemy Pack/materials/effects/gstands_fireball/fireball1.vtf
Stand Enemy Pack/materials/effects/gstands_fireball/fireball2.vmt
Stand Enemy Pack/materials/effects/gstands_fireball/fireball2.vtf
Stand Enemy Pack/materials/effects/gstands_fireball/fireball3.vmt
Stand Enemy Pack/materials/effects/gstands_fireball/fireball3.vtf
Stand Enemy Pack/materials/effects/gstands_fireball/fireball4.vmt
Stand Enemy Pack/materials/effects/gstands_fireball/fireball4.vtf
Stand Enemy Pack/materials/effects/gstands_fireball/fireball5.vmt
Stand Enemy Pack/materials/effects/gstands_fireball/fireball5.vtf
Stand Enemy Pack/materials/effects/gstands_fireball/fireball6.vtf
Stand Enemy Pack/materials/effects/gstands_fireball/fireballambient.vmt
Stand Enemy Pack/materials/effects/gstands_fireball/fireballambient2.vmt
Stand Enemy Pack/materials/effects/gstands_fireball/fireballorg.vmt
Stand Enemy Pack/materials/effects/gstands_fireball/fireballsheet.vmt
Stand Enemy Pack/materials/effects/gstands_fireball/fireball_full.vtf
Stand Enemy Pack/materials/effects/gstands_fireball/fireball_full2.vtf
Stand Enemy Pack/materials/effects/gstands_fireball/fireball_sheet.vtf
Stand Enemy Pack/materials/effects/gstands_fireball/flame.vtf
Stand Enemy Pack/materials/effects/gstands_fireball/flamethrowerfire102.vtf
Stand Enemy Pack/materials/effects/gstands_temperance/watersplash_001a.vmt
Stand Enemy Pack/materials/effects/gstands_temperance/watersplash_001a.vtf
Stand Enemy Pack/materials/effects/gstands_temperance/watersplash_001b.vmt
Stand Enemy Pack/materials/effects/gstands_temperance/watersplash_001b.vtf
Stand Enemy Pack/materials/effects/gstands_temperance/watersplash_002a.vmt
Stand Enemy Pack/materials/effects/gstands_temperance/watersplash_002a.vtf
Stand Enemy Pack/materials/effects/gstands_temperance/watersplash_002b.vmt
Stand Enemy Pack/materials/effects/gstands_temperance/watersplash_002b.vtf
Stand Enemy Pack/materials/gui/gstands-contenticon-hovered.png
Stand Enemy Pack/materials/gui/gstands-contenticon-normal.png
Stand Enemy Pack/materials/icon16/standarrow.png
Stand Enemy Pack/materials/models/arrow_mat.vmt
Stand Enemy Pack/materials/models/arrow_mat.vtf
Stand Enemy Pack/materials/models/arrow_mat_bump.vtf
Stand Enemy Pack/materials/models/gstands_gold.vmt
Stand Enemy Pack/materials/models/gstands_gold.vtf
Stand Enemy Pack/materials/models/gstands_gold_exp.vtf
Stand Enemy Pack/materials/models/anubis/basetex.vmt
Stand Enemy Pack/materials/models/anubis/basetex.vtf
Stand Enemy Pack/materials/models/anubis/basetex_n.vtf
Stand Enemy Pack/materials/models/anubis/blade.vmt
Stand Enemy Pack/materials/models/anubis/cubemapper.hdr.vtf
Stand Enemy Pack/materials/models/anubis/cubemapper.vtf
Stand Enemy Pack/materials/models/anubis/cubemap_gold001.hdr.vtf
Stand Enemy Pack/materials/models/anubis/cubemap_gold001.vtf
Stand Enemy Pack/materials/models/anubis/flat_normal.vtf
Stand Enemy Pack/materials/models/anubis/gold.vmt
Stand Enemy Pack/materials/models/anubis/golds.vmt
Stand Enemy Pack/materials/models/anubis/gold_player.vtf
Stand Enemy Pack/materials/models/anubis/handle.vmt
Stand Enemy Pack/materials/models/anubis/handle.vtf
Stand Enemy Pack/materials/models/anubis/ice_player.vtf
Stand Enemy Pack/materials/models/anubis/ice_player_lightwarp.vtf
Stand Enemy Pack/materials/models/anubis/ice_player_warp.vtf
Stand Enemy Pack/materials/models/anubis/ruby.vmt
Stand Enemy Pack/materials/models/anubis/ruby.vtf
Stand Enemy Pack/materials/models/anubis/rubycubemap.vmt
Stand Enemy Pack/materials/models/anubis/rubycubemap.vtf
Stand Enemy Pack/materials/models/d13/arches.vmt
Stand Enemy Pack/materials/models/d13/arches.vtf
Stand Enemy Pack/materials/models/d13/arches_n.vtf
Stand Enemy Pack/materials/models/d13/brick.vmt
Stand Enemy Pack/materials/models/d13/brick.vtf
Stand Enemy Pack/materials/models/d13/brickwall.vmt
Stand Enemy Pack/materials/models/d13/brickwall.vtf
Stand Enemy Pack/materials/models/d13/brickwall_n.vtf
Stand Enemy Pack/materials/models/d13/brick_n.vtf
Stand Enemy Pack/materials/models/d13/buildingblue.vmt
Stand Enemy Pack/materials/models/d13/buildingblue.vtf
Stand Enemy Pack/materials/models/d13/buildingblue_n.vtf
Stand Enemy Pack/materials/models/d13/buildings1.vmt
Stand Enemy Pack/materials/models/d13/buildings1.vtf
Stand Enemy Pack/materials/models/d13/buildings1_n.vtf
Stand Enemy Pack/materials/models/d13/buildings2.vmt
Stand Enemy Pack/materials/models/d13/buildings2.vtf
Stand Enemy Pack/materials/models/d13/buildings2_n.vtf
Stand Enemy Pack/materials/models/d13/buildings3.vmt
Stand Enemy Pack/materials/models/d13/buildings3.vtf
Stand Enemy Pack/materials/models/d13/buildings3_n.vtf
Stand Enemy Pack/materials/models/d13/carousel.vmt
Stand Enemy Pack/materials/models/d13/carousel.vtf
Stand Enemy Pack/materials/models/d13/carousel_n.vtf
Stand Enemy Pack/materials/models/d13/cloud.vmt
Stand Enemy Pack/materials/models/d13/cloud.vtf
Stand Enemy Pack/materials/models/d13/details.vmt
Stand Enemy Pack/materials/models/d13/details.vtf
Stand Enemy Pack/materials/models/d13/details_n.vtf
Stand Enemy Pack/materials/models/d13/exp.vtf
Stand Enemy Pack/materials/models/d13/fence.vmt
Stand Enemy Pack/materials/models/d13/fence.vtf
Stand Enemy Pack/materials/models/d13/fence_n.vtf
Stand Enemy Pack/materials/models/d13/ferris.vmt
Stand Enemy Pack/materials/models/d13/ferris.vtf
Stand Enemy Pack/materials/models/d13/ferris_n.vtf
Stand Enemy Pack/materials/models/d13/flat_normal.vtf
Stand Enemy Pack/materials/models/d13/flower.vmt
Stand Enemy Pack/materials/models/d13/flower.vtf
Stand Enemy Pack/materials/models/d13/flower_n.vtf
Stand Enemy Pack/materials/models/d13/groundgreen.vmt
Stand Enemy Pack/materials/models/d13/groundgreen.vtf
Stand Enemy Pack/materials/models/d13/groundtan.vmt
Stand Enemy Pack/materials/models/d13/groundtan.vtf
Stand Enemy Pack/materials/models/d13/groundtex.vmt
Stand Enemy Pack/materials/models/d13/groundtex.vtf
Stand Enemy Pack/materials/models/d13/horse.vmt
Stand Enemy Pack/materials/models/d13/horse.vtf
Stand Enemy Pack/materials/models/d13/horse_n.vtf
Stand Enemy Pack/materials/models/d13/purplewall.vmt
Stand Enemy Pack/materials/models/d13/purplewall.vtf
Stand Enemy Pack/materials/models/d13/purplewall2.vmt
Stand Enemy Pack/materials/models/d13/purplewall2.vtf
Stand Enemy Pack/materials/models/d13/purplewall2_n.vtf
Stand Enemy Pack/materials/models/d13/purplewall_n.vtf
Stand Enemy Pack/materials/models/d13/roofblue.vmt
Stand Enemy Pack/materials/models/d13/roofblue.vtf
Stand Enemy Pack/materials/models/d13/roofblue_n.vtf
Stand Enemy Pack/materials/models/d13/skytex.vmt
Stand Enemy Pack/materials/models/d13/skytex.vtf
Stand Enemy Pack/materials/models/d13/teacup.vmt
Stand Enemy Pack/materials/models/d13/teacup.vtf
Stand Enemy Pack/materials/models/d13/teacupbase.vmt
Stand Enemy Pack/materials/models/d13/teacupbase.vtf
Stand Enemy Pack/materials/models/d13/teacupbase_n.vtf
Stand Enemy Pack/materials/models/d13/teacup_n.vtf
Stand Enemy Pack/materials/models/d13/tileblue.vmt
Stand Enemy Pack/materials/models/d13/tileblue.vtf
Stand Enemy Pack/materials/models/d13/tileblue_n.vtf
Stand Enemy Pack/materials/models/d13/trim.vmt
Stand Enemy Pack/materials/models/d13/trim.vtf
Stand Enemy Pack/materials/models/d13/trim_n.vtf
Stand Enemy Pack/materials/models/d13/walldetails.vmt
Stand Enemy Pack/materials/models/d13/walldetails.vtf
Stand Enemy Pack/materials/models/d13/walldetails_n.vtf
Stand Enemy Pack/materials/models/d13/water.vmt
Stand Enemy Pack/materials/models/d13/water.vtf
Stand Enemy Pack/materials/models/d13/waternormal.vtf
Stand Enemy Pack/materials/models/d13/water_normal.vtf
Stand Enemy Pack/materials/models/dbm/dbm_barnacle.vmt
Stand Enemy Pack/materials/models/dbm/dbm_barnacle.vtf
Stand Enemy Pack/materials/models/dbm/flat_normal.vtf
Stand Enemy Pack/materials/models/death13/basetex.vmt
Stand Enemy Pack/materials/models/death13/basetex.vtf
Stand Enemy Pack/materials/models/death13/basetex1.vmt
Stand Enemy Pack/materials/models/death13/basetex1.vtf
Stand Enemy Pack/materials/models/death13/basetexspec.vtf
Stand Enemy Pack/materials/models/death13/basetexspec1.vtf
Stand Enemy Pack/materials/models/death13/basetex_spec.vmt
Stand Enemy Pack/materials/models/death13/basetex_spec1.vmt
Stand Enemy Pack/materials/models/death13/flat_normal.vtf
Stand Enemy Pack/materials/models/emporer/emperor_sheet.vmt
Stand Enemy Pack/materials/models/emporer/emperor_sheet.vtf
Stand Enemy Pack/materials/models/emporer/emperor_sheet1.vmt
Stand Enemy Pack/materials/models/emporer/emperor_sheet1.vtf
Stand Enemy Pack/materials/models/emporer/emperor_sheet2.vmt
Stand Enemy Pack/materials/models/emporer/emperor_sheet2.vtf
Stand Enemy Pack/materials/models/emporer/emperor_sheet3.vmt
Stand Enemy Pack/materials/models/emporer/emperor_sheet3.vtf
Stand Enemy Pack/materials/models/emporer/emperor_sheet_bump.vtf
Stand Enemy Pack/materials/models/empress/armortex.vmt
Stand Enemy Pack/materials/models/empress/armortex.vtf
Stand Enemy Pack/materials/models/empress/armortex1.vmt
Stand Enemy Pack/materials/models/empress/armortex1.vtf
Stand Enemy Pack/materials/models/empress/armortex2.vmt
Stand Enemy Pack/materials/models/empress/armortex2.vtf
Stand Enemy Pack/materials/models/empress/armortex3.vmt
Stand Enemy Pack/materials/models/empress/armortex3.vtf
Stand Enemy Pack/materials/models/empress/armortex_n.vtf
Stand Enemy Pack/materials/models/empress/basetex.vmt
Stand Enemy Pack/materials/models/empress/basetex.vtf
Stand Enemy Pack/materials/models/empress/basetex1.vmt
Stand Enemy Pack/materials/models/empress/basetex1.vtf
Stand Enemy Pack/materials/models/empress/basetex2.vmt
Stand Enemy Pack/materials/models/empress/basetex2.vtf
Stand Enemy Pack/materials/models/empress/basetex3.vmt
Stand Enemy Pack/materials/models/empress/basetex3.vtf
Stand Enemy Pack/materials/models/empress/basetex_n.vtf
Stand Enemy Pack/materials/models/empress/exp.vtf
Stand Enemy Pack/materials/models/empress/eyetex.vtf
Stand Enemy Pack/materials/models/empress/eye_l.vmt
Stand Enemy Pack/materials/models/empress/eye_l1.vmt
Stand Enemy Pack/materials/models/empress/eye_l2.vmt
Stand Enemy Pack/materials/models/empress/eye_l3.vmt
Stand Enemy Pack/materials/models/empress/eye_r.vmt
Stand Enemy Pack/materials/models/empress/eye_r1.vmt
Stand Enemy Pack/materials/models/empress/eye_r2.vmt
Stand Enemy Pack/materials/models/empress/eye_r3.vmt
Stand Enemy Pack/materials/models/empress/iris.vtf
Stand Enemy Pack/materials/models/empress/iris1.vtf
Stand Enemy Pack/materials/models/empress/iris2.vtf
Stand Enemy Pack/materials/models/empress/iris3.vtf
Stand Enemy Pack/materials/models/geb/basetex.vmt
Stand Enemy Pack/materials/models/geb/basetex.vtf
Stand Enemy Pack/materials/models/gstands_sun/black_splotches.vmt
Stand Enemy Pack/materials/models/gstands_sun/black_splotches.vtf
Stand Enemy Pack/materials/models/gstands_sun/blank.vtf
Stand Enemy Pack/materials/models/gstands_sun/gstands_sunlava.vmt
Stand Enemy Pack/materials/models/gstands_sun/rimlighting.vmt
Stand Enemy Pack/materials/models/gstands_sun/splotches.vtf
Stand Enemy Pack/materials/models/gstands_sun/sunlava.vtf
Stand Enemy Pack/materials/models/gstands_sun/yellow_splotches.vmt
Stand Enemy Pack/materials/models/hdm/basetex.vmt
Stand Enemy Pack/materials/models/hdm/basetex.vtf
Stand Enemy Pack/materials/models/hdm/basetex1.vmt
Stand Enemy Pack/materials/models/hdm/basetex1.vtf
Stand Enemy Pack/materials/models/hdm/basetex2.vmt
Stand Enemy Pack/materials/models/hdm/basetex2.vtf
Stand Enemy Pack/materials/models/hdm/basetex3.vmt
Stand Enemy Pack/materials/models/hdm/basetex3.vtf
Stand Enemy Pack/materials/models/hdm/basetex_n.vtf
Stand Enemy Pack/materials/models/hdm/eyetex.vtf
Stand Enemy Pack/materials/models/hdm/eye_l.vmt
Stand Enemy Pack/materials/models/hdm/eye_r.vmt
Stand Enemy Pack/materials/models/hdm/mirror_cover.vmt
Stand Enemy Pack/materials/models/hdm/mirror_cover.vtf
Stand Enemy Pack/materials/models/hdm/nodraw_mat.vmt
Stand Enemy Pack/materials/models/heg/emerald.vmt
Stand Enemy Pack/materials/models/heg/emerald.vtf
Stand Enemy Pack/materials/models/heg/emerald_n.vtf
Stand Enemy Pack/materials/models/hpworld/basebump.vtf
Stand Enemy Pack/materials/models/hpworld/basetex.vmt
Stand Enemy Pack/materials/models/hpworld/basetex.vtf
Stand Enemy Pack/materials/models/hpworld/basetexspec.vmt
Stand Enemy Pack/materials/models/hpworld/basetexspec.vtf
Stand Enemy Pack/materials/models/hpworld/exp.vtf
Stand Enemy Pack/materials/models/ice/basetex.vmt
Stand Enemy Pack/materials/models/ice/basetex.vtf
Stand Enemy Pack/materials/models/jst/basetex.vmt
Stand Enemy Pack/materials/models/jst/basetex.vtf
Stand Enemy Pack/materials/models/jst/basetexalpha.vmt
Stand Enemy Pack/materials/models/jst/flat_normal.vtf
Stand Enemy Pack/materials/models/jst/smokestackfallback.vtf
Stand Enemy Pack/materials/models/jst/smokestack_nofog.vmt
Stand Enemy Pack/materials/models/jst/smokestack_nofognoz.vmt
Stand Enemy Pack/materials/models/kfar/basebump.vtf
Stand Enemy Pack/materials/models/kfar/berry.vmt
Stand Enemy Pack/materials/models/kfar/berry.vtf
Stand Enemy Pack/materials/models/kfar/berrybump.vtf
Stand Enemy Pack/materials/models/kfar/dome.vmt
Stand Enemy Pack/materials/models/kfar/vine.vmt
Stand Enemy Pack/materials/models/kfar/vine.vtf
Stand Enemy Pack/materials/models/khnum/orangeskin.vmt
Stand Enemy Pack/materials/models/khnum/orangeskin.vtf
Stand Enemy Pack/materials/models/khnum/orangeskin_bump.vtf
Stand Enemy Pack/materials/models/lovers/basetex.vmt
Stand Enemy Pack/materials/models/lovers/basetex.vtf
Stand Enemy Pack/materials/models/lovers/basetex1.vmt
Stand Enemy Pack/materials/models/lovers/basetex1.vtf
Stand Enemy Pack/materials/models/lovers/basetex2.vmt
Stand Enemy Pack/materials/models/lovers/basetex2.vtf
Stand Enemy Pack/materials/models/lovers/basetex3.vmt
Stand Enemy Pack/materials/models/lovers/basetex3.vtf
Stand Enemy Pack/materials/models/lovers/basetex_selfillum.vtf
Stand Enemy Pack/materials/models/lovers/flat_normal.vtf
Stand Enemy Pack/materials/models/player/shared/ax.vmt
Stand Enemy Pack/materials/models/player/shared/ax.vtf
Stand Enemy Pack/materials/models/player/shared/handle.vmt
Stand Enemy Pack/materials/models/player/shared/handle.vtf
Stand Enemy Pack/materials/models/tgray/basetex.vmt
Stand Enemy Pack/materials/models/tgray/basetex.vtf
Stand Enemy Pack/materials/models/thoth/bookmat.vmt
Stand Enemy Pack/materials/models/thoth/bookmat2.vmt
Stand Enemy Pack/materials/models/thoth/manga1.vmt
Stand Enemy Pack/materials/models/thoth/manga1.vtf
Stand Enemy Pack/materials/models/thoth/thoth.vmt
Stand Enemy Pack/materials/models/thoth/thoth.vtf
Stand Enemy Pack/materials/models/tohth/bookmat.vmt
Stand Enemy Pack/materials/models/tohth/bookmat2.vmt
Stand Enemy Pack/materials/models/tohth/thoth.vtf
Stand Enemy Pack/materials/models/tohth/tohth.vmt
Stand Enemy Pack/materials/models/wof/basebump.vtf
Stand Enemy Pack/materials/models/wof/basebumpchrome.vtf
Stand Enemy Pack/materials/models/wof/baseenvmapmask.vtf
Stand Enemy Pack/materials/models/wof/basetex.vmt
Stand Enemy Pack/materials/models/wof/basetex.vtf
Stand Enemy Pack/materials/models/wof/chrome.vmt
Stand Enemy Pack/materials/models/wof/exp.vtf
Stand Enemy Pack/materials/models/yellowtemperance/goo.vmt
Stand Enemy Pack/materials/models/yellowtemperance/goo.vtf
Stand Enemy Pack/materials/models/yellowtemperance/goo_bottom.vmt
Stand Enemy Pack/materials/models/yellowtemperance/goo_opaque.vtf
Stand Enemy Pack/materials/models/yellowtemperance/goo_top.vmt
Stand Enemy Pack/materials/models/yellowtemperance/justgoo.vtf
Stand Enemy Pack/materials/vgui/entities/gstands_anubis.vmt
Stand Enemy Pack/materials/vgui/entities/gstands_anubis.vtf
Stand Enemy Pack/materials/vgui/entities/gstands_atum.vmt
Stand Enemy Pack/materials/vgui/entities/gstands_atum.vtf
Stand Enemy Pack/materials/vgui/entities/gstands_bastet.vmt
Stand Enemy Pack/materials/vgui/entities/gstands_bastet.vtf
Stand Enemy Pack/materials/vgui/entities/gstands_cream.vmt
Stand Enemy Pack/materials/vgui/entities/gstands_cream.vtf
Stand Enemy Pack/materials/vgui/entities/gstands_dark_blue_moon.vmt
Stand Enemy Pack/materials/vgui/entities/gstands_dark_blue_moon.vtf
Stand Enemy Pack/materials/vgui/entities/gstands_death.vmt
Stand Enemy Pack/materials/vgui/entities/gstands_death.vtf
Stand Enemy Pack/materials/vgui/entities/gstands_ebonydevil.vmt
Stand Enemy Pack/materials/vgui/entities/gstands_ebonydevil.vtf
Stand Enemy Pack/materials/vgui/entities/gstands_emperor.vmt
Stand Enemy Pack/materials/vgui/entities/gstands_emperor.vtf
Stand Enemy Pack/materials/vgui/entities/gstands_empress.vmt
Stand Enemy Pack/materials/vgui/entities/gstands_empress.vtf
Stand Enemy Pack/materials/vgui/entities/gstands_fool.vmt
Stand Enemy Pack/materials/vgui/entities/gstands_fool.vtf
Stand Enemy Pack/materials/vgui/entities/gstands_geb.vmt
Stand Enemy Pack/materials/vgui/entities/gstands_geb.vtf
Stand Enemy Pack/materials/vgui/entities/gstands_hanged_man.vmt
Stand Enemy Pack/materials/vgui/entities/gstands_hanged_man.vtf
Stand Enemy Pack/materials/vgui/entities/gstands_hermit_purple.vmt
Stand Enemy Pack/materials/vgui/entities/gstands_hermit_purple.vtf
Stand Enemy Pack/materials/vgui/entities/gstands_hermit_purple_2.vmt
Stand Enemy Pack/materials/vgui/entities/gstands_hermit_purple_2.vtf
Stand Enemy Pack/materials/vgui/entities/gstands_hierophant.vmt
Stand Enemy Pack/materials/vgui/entities/gstands_hierophant.vtf
Stand Enemy Pack/materials/vgui/entities/gstands_highpriestess.vmt
Stand Enemy Pack/materials/vgui/entities/gstands_highpriestess.vtf
Stand Enemy Pack/materials/vgui/entities/gstands_horus.vmt
Stand Enemy Pack/materials/vgui/entities/gstands_horus.vtf
Stand Enemy Pack/materials/vgui/entities/gstands_judgement.vmt
Stand Enemy Pack/materials/vgui/entities/gstands_judgement.vtf
Stand Enemy Pack/materials/vgui/entities/gstands_justice.vmt
Stand Enemy Pack/materials/vgui/entities/gstands_justice.vtf
Stand Enemy Pack/materials/vgui/entities/gstands_kfar.vmt
Stand Enemy Pack/materials/vgui/entities/gstands_kfar.vtf
Stand Enemy Pack/materials/vgui/entities/gstands_khnum.vmt
Stand Enemy Pack/materials/vgui/entities/gstands_khnum.vtf
Stand Enemy Pack/materials/vgui/entities/gstands_king_crimson.vmt
Stand Enemy Pack/materials/vgui/entities/gstands_king_crimson.vtf
Stand Enemy Pack/materials/vgui/entities/gstands_lovers.vmt
Stand Enemy Pack/materials/vgui/entities/gstands_lovers.vtf
Stand Enemy Pack/materials/vgui/entities/gstands_magicians_red.vmt
Stand Enemy Pack/materials/vgui/entities/gstands_magicians_red.vtf
Stand Enemy Pack/materials/vgui/entities/gstands_osiris.vmt
Stand Enemy Pack/materials/vgui/entities/gstands_osiris.vtf
Stand Enemy Pack/materials/vgui/entities/gstands_sethan.vmt
Stand Enemy Pack/materials/vgui/entities/gstands_sethan.vtf
Stand Enemy Pack/materials/vgui/entities/gstands_silver_chariot.vmt
Stand Enemy Pack/materials/vgui/entities/gstands_silver_chariot.vtf
Stand Enemy Pack/materials/vgui/entities/gstands_star_platinum.vmt
Stand Enemy Pack/materials/vgui/entities/gstands_star_platinum.vtf
Stand Enemy Pack/materials/vgui/entities/gstands_strength.vmt
Stand Enemy Pack/materials/vgui/entities/gstands_strength.vtf
Stand Enemy Pack/materials/vgui/entities/gstands_sun.vmt
Stand Enemy Pack/materials/vgui/entities/gstands_sun.vtf
Stand Enemy Pack/materials/vgui/entities/gstands_temperance.vmt
Stand Enemy Pack/materials/vgui/entities/gstands_temperance.vtf
Stand Enemy Pack/materials/vgui/entities/gstands_tenoresax.vmt
Stand Enemy Pack/materials/vgui/entities/gstands_tenoresax.vtf
Stand Enemy Pack/materials/vgui/entities/gstands_the_world.vmt
Stand Enemy Pack/materials/vgui/entities/gstands_the_world.vtf
Stand Enemy Pack/materials/vgui/entities/gstands_thoth.vmt
Stand Enemy Pack/materials/vgui/entities/gstands_thoth.vtf
Stand Enemy Pack/materials/vgui/entities/gstands_towergray.vmt
Stand Enemy Pack/materials/vgui/entities/gstands_towergray.vtf
Stand Enemy Pack/materials/vgui/entities/gstands_wheel_of_fortune.vmt
Stand Enemy Pack/materials/vgui/entities/gstands_wheel_of_fortune.vtf
Stand Enemy Pack/materials/vgui/hud/manga1.vmt
Stand Enemy Pack/materials/vgui/hud/manga1.vtf
Stand Enemy Pack/materials/vgui/hud/manga10.vmt
Stand Enemy Pack/materials/vgui/hud/manga10.vtf
Stand Enemy Pack/materials/vgui/hud/manga11.vmt
Stand Enemy Pack/materials/vgui/hud/manga11.vtf
Stand Enemy Pack/materials/vgui/hud/manga12.vmt
Stand Enemy Pack/materials/vgui/hud/manga12.vtf
Stand Enemy Pack/materials/vgui/hud/manga2.vmt
Stand Enemy Pack/materials/vgui/hud/manga2.vtf
Stand Enemy Pack/materials/vgui/hud/manga3.vmt
Stand Enemy Pack/materials/vgui/hud/manga3.vtf
Stand Enemy Pack/materials/vgui/hud/manga4.vmt
Stand Enemy Pack/materials/vgui/hud/manga4.vtf
Stand Enemy Pack/materials/vgui/hud/manga5.vmt
Stand Enemy Pack/materials/vgui/hud/manga5.vtf
Stand Enemy Pack/materials/vgui/hud/manga6.vmt
Stand Enemy Pack/materials/vgui/hud/manga6.vtf
Stand Enemy Pack/materials/vgui/hud/manga7.vmt
Stand Enemy Pack/materials/vgui/hud/manga7.vtf
Stand Enemy Pack/materials/vgui/hud/manga8.vmt
Stand Enemy Pack/materials/vgui/hud/manga8.vtf
Stand Enemy Pack/materials/vgui/hud/manga9.vmt
Stand Enemy Pack/materials/vgui/hud/manga9.vtf
Stand Enemy Pack/materials/vgui/hud/gstands_hud/armor_bar.vmt
Stand Enemy Pack/materials/vgui/hud/gstands_hud/armor_bar.vtf
Stand Enemy Pack/materials/vgui/hud/gstands_hud/bar_border.vmt
Stand Enemy Pack/materials/vgui/hud/gstands_hud/bar_border.vtf
Stand Enemy Pack/materials/vgui/hud/gstands_hud/boxdis.vmt
Stand Enemy Pack/materials/vgui/hud/gstands_hud/boxdis.vtf
Stand Enemy Pack/materials/vgui/hud/gstands_hud/boxend.vmt
Stand Enemy Pack/materials/vgui/hud/gstands_hud/boxend.vtf
Stand Enemy Pack/materials/vgui/hud/gstands_hud/cooldown_box.vmt
Stand Enemy Pack/materials/vgui/hud/gstands_hud/cooldown_box.vtf
Stand Enemy Pack/materials/vgui/hud/gstands_hud/corner_left.vmt
Stand Enemy Pack/materials/vgui/hud/gstands_hud/corner_left.vtf
Stand Enemy Pack/materials/vgui/hud/gstands_hud/corner_right.vmt
Stand Enemy Pack/materials/vgui/hud/gstands_hud/corner_right.vtf
Stand Enemy Pack/materials/vgui/hud/gstands_hud/crosshair.vmt
Stand Enemy Pack/materials/vgui/hud/gstands_hud/crosshair.vtf
Stand Enemy Pack/materials/vgui/hud/gstands_hud/generic_rect.vmt
Stand Enemy Pack/materials/vgui/hud/gstands_hud/generic_rect.vtf
Stand Enemy Pack/materials/vgui/hud/gstands_hud/health_bar.vmt
Stand Enemy Pack/materials/vgui/hud/gstands_hud/health_bar.vtf
Stand Enemy Pack/materials/vgui/hud/gstands_hud/pfpback.vmt
Stand Enemy Pack/materials/vgui/hud/gstands_hud/pfpback.vtf
Stand Enemy Pack/materials/vgui/hud/gstands_hud/pfpfront.vmt
Stand Enemy Pack/materials/vgui/hud/gstands_hud/pfpfront.vtf
Stand Enemy Pack/models/anubis.dx80.vtx
Stand Enemy Pack/models/anubis.dx90.vtx
Stand Enemy Pack/models/anubis.mdl
Stand Enemy Pack/models/anubis.phy
Stand Enemy Pack/models/anubis.sw.vtx
Stand Enemy Pack/models/anubis.vvd
Stand Enemy Pack/models/balloon.dx80.vtx
Stand Enemy Pack/models/balloon.dx90.vtx
Stand Enemy Pack/models/balloon.mdl
Stand Enemy Pack/models/balloon.sw.vtx
Stand Enemy Pack/models/balloon.vvd
Stand Enemy Pack/models/d13.dx80.vtx
Stand Enemy Pack/models/d13.dx90.vtx
Stand Enemy Pack/models/d13.mdl
Stand Enemy Pack/models/d13.sw.vtx
Stand Enemy Pack/models/d13.vvd
Stand Enemy Pack/models/d13foghand.dx80.vtx
Stand Enemy Pack/models/d13foghand.dx90.vtx
Stand Enemy Pack/models/d13foghand.mdl
Stand Enemy Pack/models/d13foghand.sw.vtx
Stand Enemy Pack/models/d13foghand.vvd
Stand Enemy Pack/models/d13map.dx80.vtx
Stand Enemy Pack/models/d13map.dx90.vtx
Stand Enemy Pack/models/d13map.mdl
Stand Enemy Pack/models/d13map.phy
Stand Enemy Pack/models/d13map.sw.vtx
Stand Enemy Pack/models/d13map.vvd
Stand Enemy Pack/models/d13scythe.dx80.vtx
Stand Enemy Pack/models/d13scythe.dx90.vtx
Stand Enemy Pack/models/d13scythe.mdl
Stand Enemy Pack/models/d13scythe.sw.vtx
Stand Enemy Pack/models/d13scythe.vvd
Stand Enemy Pack/models/horus.dx80.vtx
Stand Enemy Pack/models/horus.dx90.vtx
Stand Enemy Pack/models/horus.mdl
Stand Enemy Pack/models/horus.phy
Stand Enemy Pack/models/horus.sw.vtx
Stand Enemy Pack/models/horus.vvd
Stand Enemy Pack/models/jst.dx80.vtx
Stand Enemy Pack/models/jst.dx90.vtx
Stand Enemy Pack/models/jst.mdl
Stand Enemy Pack/models/jst.phy
Stand Enemy Pack/models/jst.sw.vtx
Stand Enemy Pack/models/jst.vvd
Stand Enemy Pack/models/lovers.dx80.vtx
Stand Enemy Pack/models/lovers.dx90.vtx
Stand Enemy Pack/models/lovers.mdl
Stand Enemy Pack/models/lovers.phy
Stand Enemy Pack/models/lovers.sw.vtx
Stand Enemy Pack/models/lovers.vvd
Stand Enemy Pack/models/tgray.dx80.vtx
Stand Enemy Pack/models/tgray.dx90.vtx
Stand Enemy Pack/models/tgray.mdl
Stand Enemy Pack/models/tgray.phy
Stand Enemy Pack/models/tgray.sw.vtx
Stand Enemy Pack/models/tgray.vvd
Stand Enemy Pack/models/wof.dx80.vtx
Stand Enemy Pack/models/wof.dx90.vtx
Stand Enemy Pack/models/wof.mdl
Stand Enemy Pack/models/wof.phy
Stand Enemy Pack/models/wof.sw.vtx
Stand Enemy Pack/models/wof.vvd
Stand Enemy Pack/models/w_anubis.dx80.vtx
Stand Enemy Pack/models/w_anubis.dx90.vtx
Stand Enemy Pack/models/w_anubis.mdl
Stand Enemy Pack/models/w_anubis.phy
Stand Enemy Pack/models/w_anubis.sw.vtx
Stand Enemy Pack/models/w_anubis.vvd
Stand Enemy Pack/models/w_anubis_broken.dx80.vtx
Stand Enemy Pack/models/w_anubis_broken.dx90.vtx
Stand Enemy Pack/models/w_anubis_broken.mdl
Stand Enemy Pack/models/w_anubis_broken.phy
Stand Enemy Pack/models/w_anubis_broken.sw.vtx
Stand Enemy Pack/models/w_anubis_broken.vvd
Stand Enemy Pack/models/empress/empress.dx80.vtx
Stand Enemy Pack/models/empress/empress.dx90.vtx
Stand Enemy Pack/models/empress/empress.mdl
Stand Enemy Pack/models/empress/empress.sw.vtx
Stand Enemy Pack/models/empress/empress.vvd
Stand Enemy Pack/models/geb/geb.dx80.vtx
Stand Enemy Pack/models/geb/geb.dx90.vtx
Stand Enemy Pack/models/geb/geb.mdl
Stand Enemy Pack/models/geb/geb.phy
Stand Enemy Pack/models/geb/geb.sw.vtx
Stand Enemy Pack/models/geb/geb.vvd
Stand Enemy Pack/models/hdm/hdm.dx80.vtx
Stand Enemy Pack/models/hdm/hdm.dx90.vtx
Stand Enemy Pack/models/hdm/hdm.mdl
Stand Enemy Pack/models/hdm/hdm.phy
Stand Enemy Pack/models/hdm/hdm.sw.vtx
Stand Enemy Pack/models/hdm/hdm.vvd
Stand Enemy Pack/models/heg/barrier.dx80.vtx
Stand Enemy Pack/models/heg/barrier.dx90.vtx
Stand Enemy Pack/models/heg/barrier.mdl
Stand Enemy Pack/models/heg/barrier.sw.vtx
Stand Enemy Pack/models/heg/barrier.vvd
Stand Enemy Pack/models/heg/emerald.dx80.vtx
Stand Enemy Pack/models/heg/emerald.dx90.vtx
Stand Enemy Pack/models/heg/emerald.mdl
Stand Enemy Pack/models/heg/emerald.phy
Stand Enemy Pack/models/heg/emerald.sw.vtx
Stand Enemy Pack/models/heg/emerald.vvd
Stand Enemy Pack/models/heg/tentattack.dx80.vtx
Stand Enemy Pack/models/heg/tentattack.dx90.vtx
Stand Enemy Pack/models/heg/tentattack.mdl
Stand Enemy Pack/models/heg/tentattack.sw.vtx
Stand Enemy Pack/models/heg/tentattack.vvd
Stand Enemy Pack/models/ice/freeze.dx80.vtx
Stand Enemy Pack/models/ice/freeze.dx90.vtx
Stand Enemy Pack/models/ice/freeze.mdl
Stand Enemy Pack/models/ice/freeze.sw.vtx
Stand Enemy Pack/models/ice/freeze.vvd
Stand Enemy Pack/models/ice/iceblock.dx80.vtx
Stand Enemy Pack/models/ice/iceblock.dx90.vtx
Stand Enemy Pack/models/ice/iceblock.mdl
Stand Enemy Pack/models/ice/iceblock.phy
Stand Enemy Pack/models/ice/iceblock.sw.vtx
Stand Enemy Pack/models/ice/iceblock.vvd
Stand Enemy Pack/models/ice/icechunk.dx80.vtx
Stand Enemy Pack/models/ice/icechunk.dx90.vtx
Stand Enemy Pack/models/ice/icechunk.mdl
Stand Enemy Pack/models/ice/icechunk.sw.vtx
Stand Enemy Pack/models/ice/icechunk.vvd
Stand Enemy Pack/models/ice/icespike.dx80.vtx
Stand Enemy Pack/models/ice/icespike.dx90.vtx
Stand Enemy Pack/models/ice/icespike.mdl
Stand Enemy Pack/models/ice/icespike.phy
Stand Enemy Pack/models/ice/icespike.sw.vtx
Stand Enemy Pack/models/ice/icespike.vvd
Stand Enemy Pack/models/ice/icetendril.dx80.vtx
Stand Enemy Pack/models/ice/icetendril.dx90.vtx
Stand Enemy Pack/models/ice/icetendril.mdl
Stand Enemy Pack/models/ice/icetendril.sw.vtx
Stand Enemy Pack/models/ice/icetendril.vvd
Stand Enemy Pack/models/models/bearing.dx80.vtx
Stand Enemy Pack/models/models/bearing.dx90.vtx
Stand Enemy Pack/models/models/bearing.mdl
Stand Enemy Pack/models/models/bearing.phy
Stand Enemy Pack/models/models/bearing.sw.vtx
Stand Enemy Pack/models/models/bearing.vvd
Stand Enemy Pack/models/models/gstands_sun.dx80.vtx
Stand Enemy Pack/models/models/gstands_sun.dx90.vtx
Stand Enemy Pack/models/models/gstands_sun.mdl
Stand Enemy Pack/models/models/gstands_sun.sw.vtx
Stand Enemy Pack/models/models/gstands_sun.vvd
Stand Enemy Pack/models/models/gstands_sunlava.dx80.vtx
Stand Enemy Pack/models/models/gstands_sunlava.dx90.vtx
Stand Enemy Pack/models/models/gstands_sunlava.mdl
Stand Enemy Pack/models/models/gstands_sunlava.sw.vtx
Stand Enemy Pack/models/models/gstands_sunlava.vvd
Stand Enemy Pack/models/models/hprope.dx80.vtx
Stand Enemy Pack/models/models/hprope.dx90.vtx
Stand Enemy Pack/models/models/hprope.mdl
Stand Enemy Pack/models/models/hprope.sw.vtx
Stand Enemy Pack/models/models/hprope.vvd
Stand Enemy Pack/models/models/hpworld.dx80.vtx
Stand Enemy Pack/models/models/hpworld.dx90.vtx
Stand Enemy Pack/models/models/hpworld.mdl
Stand Enemy Pack/models/models/hpworld.sw.vtx
Stand Enemy Pack/models/models/hpworld.vvd
Stand Enemy Pack/models/models/nail.dx80.vtx
Stand Enemy Pack/models/models/nail.dx90.vtx
Stand Enemy Pack/models/models/nail.mdl
Stand Enemy Pack/models/models/nail.phy
Stand Enemy Pack/models/models/nail.sw.vtx
Stand Enemy Pack/models/models/nail.vvd
Stand Enemy Pack/models/models/yellowtemperance.dx80.vtx
Stand Enemy Pack/models/models/yellowtemperance.dx90.vtx
Stand Enemy Pack/models/models/yellowtemperance.mdl
Stand Enemy Pack/models/models/yellowtemperance.sw.vtx
Stand Enemy Pack/models/models/yellowtemperance.vvd
Stand Enemy Pack/models/models/ytgoo.dx80.vtx
Stand Enemy Pack/models/models/ytgoo.dx90.vtx
Stand Enemy Pack/models/models/ytgoo.mdl
Stand Enemy Pack/models/models/ytgoo.sw.vtx
Stand Enemy Pack/models/models/ytgoo.vvd
Stand Enemy Pack/models/osiris/dice.dx80.vtx
Stand Enemy Pack/models/osiris/dice.dx90.vtx
Stand Enemy Pack/models/osiris/dice.mdl
Stand Enemy Pack/models/osiris/dice.phy
Stand Enemy Pack/models/osiris/dice.sw.vtx
Stand Enemy Pack/models/osiris/dice.vvd
Stand Enemy Pack/models/player/kfar.dx80.vtx
Stand Enemy Pack/models/player/kfar.dx90.vtx
Stand Enemy Pack/models/player/kfar.mdl
Stand Enemy Pack/models/player/kfar.phy
Stand Enemy Pack/models/player/kfar.sw.vtx
Stand Enemy Pack/models/player/kfar.vvd
Stand Enemy Pack/models/player/kfarose.dx80.vtx
Stand Enemy Pack/models/player/kfarose.dx90.vtx
Stand Enemy Pack/models/player/kfarose.mdl
Stand Enemy Pack/models/player/kfarose.sw.vtx
Stand Enemy Pack/models/player/kfarose.vvd
Stand Enemy Pack/models/sethan/w_sethax.dx80.vtx
Stand Enemy Pack/models/sethan/w_sethax.dx90.vtx
Stand Enemy Pack/models/sethan/w_sethax.mdl
Stand Enemy Pack/models/sethan/w_sethax.phy
Stand Enemy Pack/models/sethan/w_sethax.sw.vtx
Stand Enemy Pack/models/sethan/w_sethax.vvd
Stand Enemy Pack/models/thoth/thoth.dx80.vtx
Stand Enemy Pack/models/thoth/thoth.dx90.vtx
Stand Enemy Pack/models/thoth/thoth.mdl
Stand Enemy Pack/models/thoth/thoth.phy
Stand Enemy Pack/models/thoth/thoth.sw.vtx
Stand Enemy Pack/models/thoth/thoth.vvd
Stand Enemy Pack/models/weapons/c_thoth.dx80.vtx
Stand Enemy Pack/models/weapons/c_thoth.dx90.vtx
Stand Enemy Pack/models/weapons/c_thoth.mdl
Stand Enemy Pack/models/weapons/c_thoth.sw.vtx
Stand Enemy Pack/models/weapons/c_thoth.vvd
Stand Enemy Pack/models/weapons/orange.dx80.vtx
Stand Enemy Pack/models/weapons/orange.dx90.vtx
Stand Enemy Pack/models/weapons/orange.mdl
Stand Enemy Pack/models/weapons/orange.phy
Stand Enemy Pack/models/weapons/orange.sw.vtx
Stand Enemy Pack/models/weapons/orange.vvd
Stand Enemy Pack/particles/auraeffect.pcf
Stand Enemy Pack/particles/d13.pcf
Stand Enemy Pack/particles/emperor.pcf
Stand Enemy Pack/particles/fool.pcf
Stand Enemy Pack/particles/geb.pcf
Stand Enemy Pack/particles/hangedman.pcf
Stand Enemy Pack/particles/horus.pcf
Stand Enemy Pack/particles/hpurple.pcf
Stand Enemy Pack/particles/jgm.pcf
Stand Enemy Pack/particles/justice.pcf
Stand Enemy Pack/particles/kfar.pcf
Stand Enemy Pack/particles/lovers.pcf
Stand Enemy Pack/particles/mblur.pcf
Stand Enemy Pack/particles/menacing.pcf
Stand Enemy Pack/particles/mgr.pcf
Stand Enemy Pack/particles/mgrthrow.pcf
Stand Enemy Pack/particles/mgrtrail.pcf
Stand Enemy Pack/particles/stand_deploys.pcf
Stand Enemy Pack/particles/sun.pcf
Stand Enemy Pack/particles/tenoresax.pcf
Stand Enemy Pack/particles/tgray.pcf
Stand Enemy Pack/particles/whirl.pcf
Stand Enemy Pack/particles/wof.pcf
Stand Enemy Pack/particles/yt.pcf




  Other_Enemy_Stands_Remaining.rar  
233
2020-08-16 18:08:01
28.22 MB
EU Download   NA Download
File contents:

Other Enemy Stands Remaining/lua/autorun/jgm.lua
Other Enemy Stands Remaining/materials/models/ctl/basetex.vmt
Other Enemy Stands Remaining/materials/models/ctl/basetex.vtf
Other Enemy Stands Remaining/materials/models/ctl/basetex1.vmt
Other Enemy Stands Remaining/materials/models/ctl/basetex1.vtf
Other Enemy Stands Remaining/materials/models/ctl/basetex2.vmt
Other Enemy Stands Remaining/materials/models/ctl/basetex2.vtf
Other Enemy Stands Remaining/materials/models/ctl/basetex3.vmt
Other Enemy Stands Remaining/materials/models/ctl/basetex3.vtf
Other Enemy Stands Remaining/materials/models/ctl/basetex4.vmt
Other Enemy Stands Remaining/materials/models/ctl/basetex4.vtf
Other Enemy Stands Remaining/materials/models/ctl/basetex_n.vtf
Other Enemy Stands Remaining/materials/models/ctl/exp.vtf
Other Enemy Stands Remaining/materials/models/ctl/eyetex.vtf
Other Enemy Stands Remaining/materials/models/ctl/eye_l.vmt
Other Enemy Stands Remaining/materials/models/ctl/eye_r.vmt
Other Enemy Stands Remaining/materials/models/ctl/flat_normal.vtf
Other Enemy Stands Remaining/materials/models/dbi/basetex.vmt
Other Enemy Stands Remaining/materials/models/dbi/basetex.vtf
Other Enemy Stands Remaining/materials/models/dbi/browtex.vmt
Other Enemy Stands Remaining/materials/models/dbi/browtex.vtf
Other Enemy Stands Remaining/materials/models/dbi/eyetex.vtf
Other Enemy Stands Remaining/materials/models/dbi/eye_l.vmt
Other Enemy Stands Remaining/materials/models/dbi/eye_r.vmt
Other Enemy Stands Remaining/materials/models/dbi/iris.vmt
Other Enemy Stands Remaining/materials/models/dbi/iris.vtf
Other Enemy Stands Remaining/materials/models/dbm/basetex.vmt
Other Enemy Stands Remaining/materials/models/dbm/basetex.vtf
Other Enemy Stands Remaining/materials/models/dbm/basetex1.vmt
Other Enemy Stands Remaining/materials/models/dbm/basetex1.vtf
Other Enemy Stands Remaining/materials/models/dbm/basetex2.vmt
Other Enemy Stands Remaining/materials/models/dbm/basetex2.vtf
Other Enemy Stands Remaining/materials/models/dbm/basetex3.vmt
Other Enemy Stands Remaining/materials/models/dbm/basetex3.vtf
Other Enemy Stands Remaining/materials/models/dbm/basetex4.vmt
Other Enemy Stands Remaining/materials/models/dbm/basetex4.vtf
Other Enemy Stands Remaining/materials/models/dbm/basetex_n.vtf
Other Enemy Stands Remaining/materials/models/dbm/exp.vtf
Other Enemy Stands Remaining/materials/models/highpriestess/basetex.vmt
Other Enemy Stands Remaining/materials/models/highpriestess/basetex.vtf
Other Enemy Stands Remaining/materials/models/highpriestess/basetex1.vmt
Other Enemy Stands Remaining/materials/models/highpriestess/basetex1.vtf
Other Enemy Stands Remaining/materials/models/highpriestess/basetex2.vmt
Other Enemy Stands Remaining/materials/models/highpriestess/basetex2.vtf
Other Enemy Stands Remaining/materials/models/highpriestess/basetex3.vmt
Other Enemy Stands Remaining/materials/models/highpriestess/basetex3.vtf
Other Enemy Stands Remaining/materials/models/highpriestess/basetex_n.vtf
Other Enemy Stands Remaining/materials/models/highpriestess/cube_metal_silver.vtf
Other Enemy Stands Remaining/materials/models/highpriestess/exp.vtf
Other Enemy Stands Remaining/materials/models/highpriestess/eyeoccl.vtf
Other Enemy Stands Remaining/materials/models/highpriestess/eyetex.vtf
Other Enemy Stands Remaining/materials/models/highpriestess/eyetex1.vtf
Other Enemy Stands Remaining/materials/models/highpriestess/eyetex2.vtf
Other Enemy Stands Remaining/materials/models/highpriestess/eyetex3.vtf
Other Enemy Stands Remaining/materials/models/highpriestess/eye_l.vmt
Other Enemy Stands Remaining/materials/models/highpriestess/eye_l1.vmt
Other Enemy Stands Remaining/materials/models/highpriestess/eye_l2.vmt
Other Enemy Stands Remaining/materials/models/highpriestess/eye_l3.vmt
Other Enemy Stands Remaining/materials/models/highpriestess/eye_l_metal.vmt
Other Enemy Stands Remaining/materials/models/highpriestess/eye_r.vmt
Other Enemy Stands Remaining/materials/models/highpriestess/eye_r1.vmt
Other Enemy Stands Remaining/materials/models/highpriestess/eye_r2.vmt
Other Enemy Stands Remaining/materials/models/highpriestess/eye_r3.vmt
Other Enemy Stands Remaining/materials/models/highpriestess/eye_r_metal.vmt
Other Enemy Stands Remaining/materials/models/highpriestess/flatnormal.vtf
Other Enemy Stands Remaining/materials/models/highpriestess/metaleye.vtf
Other Enemy Stands Remaining/materials/models/highpriestess/metaltex.vmt
Other Enemy Stands Remaining/materials/models/highpriestess/metaltex.vtf
Other Enemy Stands Remaining/materials/models/jgm/baseref.vtf
Other Enemy Stands Remaining/materials/models/jgm/basespec.vmt
Other Enemy Stands Remaining/materials/models/jgm/basespec.vtf
Other Enemy Stands Remaining/materials/models/jgm/basespec1.vmt
Other Enemy Stands Remaining/materials/models/jgm/basespec1.vtf
Other Enemy Stands Remaining/materials/models/jgm/basespec2.vmt
Other Enemy Stands Remaining/materials/models/jgm/basespec2.vtf
Other Enemy Stands Remaining/materials/models/jgm/basespec3.vmt
Other Enemy Stands Remaining/materials/models/jgm/basespec3.vtf
Other Enemy Stands Remaining/materials/models/jgm/basespec4.vmt
Other Enemy Stands Remaining/materials/models/jgm/basespec4.vtf
Other Enemy Stands Remaining/materials/models/jgm/basetex.vmt
Other Enemy Stands Remaining/materials/models/jgm/basetex.vtf
Other Enemy Stands Remaining/materials/models/jgm/basetex1.vmt
Other Enemy Stands Remaining/materials/models/jgm/basetex1.vtf
Other Enemy Stands Remaining/materials/models/jgm/basetex2.vmt
Other Enemy Stands Remaining/materials/models/jgm/basetex2.vtf
Other Enemy Stands Remaining/materials/models/jgm/basetex3.vmt
Other Enemy Stands Remaining/materials/models/jgm/basetex3.vtf
Other Enemy Stands Remaining/materials/models/jgm/basetex4.vmt
Other Enemy Stands Remaining/materials/models/jgm/basetex4.vtf
Other Enemy Stands Remaining/materials/models/jgm/envmap.vtf
Other Enemy Stands Remaining/materials/models/jgm/exp.vtf
Other Enemy Stands Remaining/materials/models/jgm/flatnormal.vtf
Other Enemy Stands Remaining/materials/models/osi/basetex.vmt
Other Enemy Stands Remaining/materials/models/osi/basetex.vtf
Other Enemy Stands Remaining/models/hipriestess/highpriestess.dx80.vtx
Other Enemy Stands Remaining/models/hipriestess/highpriestess.dx90.vtx
Other Enemy Stands Remaining/models/hipriestess/highpriestess.mdl
Other Enemy Stands Remaining/models/hipriestess/highpriestess.phy
Other Enemy Stands Remaining/models/hipriestess/highpriestess.sw.vtx
Other Enemy Stands Remaining/models/hipriestess/highpriestess.vvd
Other Enemy Stands Remaining/models/player/atm/atm.dx80.vtx
Other Enemy Stands Remaining/models/player/atm/atm.dx90.vtx
Other Enemy Stands Remaining/models/player/atm/atm.mdl
Other Enemy Stands Remaining/models/player/atm/atm.phy
Other Enemy Stands Remaining/models/player/atm/atm.sw.vtx
Other Enemy Stands Remaining/models/player/atm/atm.vvd
Other Enemy Stands Remaining/models/player/dbm/dbm.dx80.vtx
Other Enemy Stands Remaining/models/player/dbm/dbm.dx90.vtx
Other Enemy Stands Remaining/models/player/dbm/dbm.mdl
Other Enemy Stands Remaining/models/player/dbm/dbm.phy
Other Enemy Stands Remaining/models/player/dbm/dbm.sw.vtx
Other Enemy Stands Remaining/models/player/dbm/dbm.vvd
Other Enemy Stands Remaining/models/player/jgm/jgm.dx80.vtx
Other Enemy Stands Remaining/models/player/jgm/jgm.dx90.vtx
Other Enemy Stands Remaining/models/player/jgm/jgm.mdl
Other Enemy Stands Remaining/models/player/jgm/jgm.phy
Other Enemy Stands Remaining/models/player/jgm/jgm.sw.vtx
Other Enemy Stands Remaining/models/player/jgm/jgm.vvd
Other Enemy Stands Remaining/models/player/osi/osi.dx80.vtx
Other Enemy Stands Remaining/models/player/osi/osi.dx90.vtx
Other Enemy Stands Remaining/models/player/osi/osi.mdl
Other Enemy Stands Remaining/models/player/osi/osi.phy
Other Enemy Stands Remaining/models/player/osi/osi.sw.vtx
Other Enemy Stands Remaining/models/player/osi/osi.vvd