Adult content
This content is marked as Adult/NSFW content. You can toggle your preferences regarding this content type in your account settings.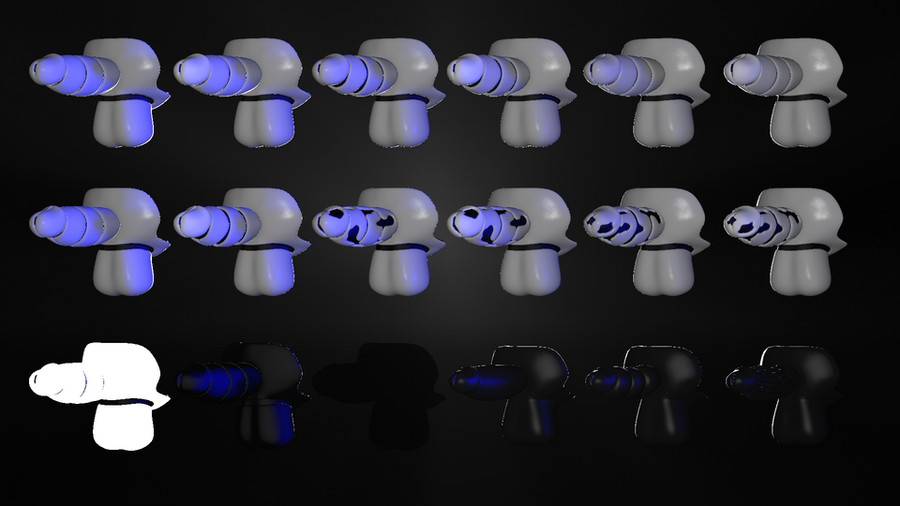 Show more
Description
As the title says, this is a RoboCock model. Mainly for FNaF but you can use it for other things. This model(s) was because I noticed the serious lack of Robotic dicks on here. This is also my first release on this site, so I hope you enjoy!
There are 5 mdls, mostly due to skin limitation, so each mdl has their own set of skins depending on the character.
Model by: Myles the Hedgehog (Me) Textures/Materials: RynFox, Endy, Chuiza, T.M., Joriji, and myself.
Mesh/bodygroups is the same across all 5 mdls, as well as a couple skin options. There is multiple Dick bodygroups (+endo), 2 ball bodygroups (+endo), and the attached-to-pelvis port bodygroups (+endo). There is a skin thing for each skin, it's often the even numbers, these are a endo texture change. It starts out with odds, being black.
The "bip_dick_0" bone is to "detach" the dick model from it's "port". If you want want to grow the dick, scale "bip_dick_1" up. Or down, if you want a twink.
Mdl1: Default FNaF 1-4 Freddy FNaF 1-4 Bonnie +Traps Glow Shadow Shadow2
Mdl2: Default FNaF 1-4 Chica FNaF 1-4 Foxy Glow Shadow Shadow2
Mdl3: Default FNaF 1-4 Fredbear +NightMare FNaF 1-3 ShadowFreddy Glow Shadow Shadow2
Mdl4: Default Funtimes Glow Shadow Shadow2
Mdl5: Default Toys +Phantoms Glow Shadow Shadow2
If you're wondering why the Rockstars or Mediocre's don't have a mdl, I have this weird motivation thing that as the week progresses, I stop caring about the project at hand. It's kinda like a stamina bar that lasts for a week, and is about the motivation I have for the project.
Idk what happened to the Puppet's material bump, I'll have to look into it later, just for now use override materials, Script, $bumpmap, flat.
SFMLab is a free service. However, it costs about $0.03 to deliver you a 1GB file. With over 20TB of traffic every month and growing, SFMLab needs your help. If only 1% of our users each gave us $5 for a single month, we could keep the site running for several years.
Filename
Downloads
Created
Filesize
Files
RoboCockSFM.zip
5493
2020-08-24 02:47:44
145.44 MB
File contents:

RoboCockSFM/materials/models/MylestheHedgehog/custommodels/NSFW/RoboCock/1Bonnie1.vmt
RoboCockSFM/materials/models/MylestheHedgehog/custommodels/NSFW/RoboCock/1Bonnie1.vtf
RoboCockSFM/materials/models/MylestheHedgehog/custommodels/NSFW/RoboCock/1Bonnie1_color.vtf
RoboCockSFM/materials/models/MylestheHedgehog/custommodels/NSFW/RoboCock/1Bonnie2.vmt
RoboCockSFM/materials/models/MylestheHedgehog/custommodels/NSFW/RoboCock/1Bonnie2.vtf
RoboCockSFM/materials/models/MylestheHedgehog/custommodels/NSFW/RoboCock/1Bonnie2_color.vtf
RoboCockSFM/materials/models/MylestheHedgehog/custommodels/NSFW/RoboCock/1bump.vtf
RoboCockSFM/materials/models/MylestheHedgehog/custommodels/NSFW/RoboCock/1Chica1.vmt
RoboCockSFM/materials/models/MylestheHedgehog/custommodels/NSFW/RoboCock/1Chica1.vtf
RoboCockSFM/materials/models/MylestheHedgehog/custommodels/NSFW/RoboCock/1Chica1_color.vtf
RoboCockSFM/materials/models/MylestheHedgehog/custommodels/NSFW/RoboCock/1Chica2.vmt
RoboCockSFM/materials/models/MylestheHedgehog/custommodels/NSFW/RoboCock/1Chica2.vtf
RoboCockSFM/materials/models/MylestheHedgehog/custommodels/NSFW/RoboCock/1Chica2_color.vtf
RoboCockSFM/materials/models/MylestheHedgehog/custommodels/NSFW/RoboCock/1Foxy1.vmt
RoboCockSFM/materials/models/MylestheHedgehog/custommodels/NSFW/RoboCock/1Foxy1.vtf
RoboCockSFM/materials/models/MylestheHedgehog/custommodels/NSFW/RoboCock/1Foxy1_color.vtf
RoboCockSFM/materials/models/MylestheHedgehog/custommodels/NSFW/RoboCock/1Foxy2.vmt
RoboCockSFM/materials/models/MylestheHedgehog/custommodels/NSFW/RoboCock/1Foxy2.vtf
RoboCockSFM/materials/models/MylestheHedgehog/custommodels/NSFW/RoboCock/1Foxy2_color.vtf
RoboCockSFM/materials/models/MylestheHedgehog/custommodels/NSFW/RoboCock/1Fredbear1.vmt
RoboCockSFM/materials/models/MylestheHedgehog/custommodels/NSFW/RoboCock/1Fredbear1.vtf
RoboCockSFM/materials/models/MylestheHedgehog/custommodels/NSFW/RoboCock/1Fredbear1_color.vtf
RoboCockSFM/materials/models/MylestheHedgehog/custommodels/NSFW/RoboCock/1Fredbear2.vmt
RoboCockSFM/materials/models/MylestheHedgehog/custommodels/NSFW/RoboCock/1Fredbear2.vtf
RoboCockSFM/materials/models/MylestheHedgehog/custommodels/NSFW/RoboCock/1Fredbear2_color.vtf
RoboCockSFM/materials/models/MylestheHedgehog/custommodels/NSFW/RoboCock/1Freddy1.vmt
RoboCockSFM/materials/models/MylestheHedgehog/custommodels/NSFW/RoboCock/1Freddy1.vtf
RoboCockSFM/materials/models/MylestheHedgehog/custommodels/NSFW/RoboCock/1Freddy1_Color.vtf
RoboCockSFM/materials/models/MylestheHedgehog/custommodels/NSFW/RoboCock/1Freddy2.vmt
RoboCockSFM/materials/models/MylestheHedgehog/custommodels/NSFW/RoboCock/1Freddy2.vtf
RoboCockSFM/materials/models/MylestheHedgehog/custommodels/NSFW/RoboCock/1Freddy2_color.vtf
RoboCockSFM/materials/models/MylestheHedgehog/custommodels/NSFW/RoboCock/1ShadowF1.vmt
RoboCockSFM/materials/models/MylestheHedgehog/custommodels/NSFW/RoboCock/1ShadowF1.vtf
RoboCockSFM/materials/models/MylestheHedgehog/custommodels/NSFW/RoboCock/1ShadowF2.vmt
RoboCockSFM/materials/models/MylestheHedgehog/custommodels/NSFW/RoboCock/1ShadowF_color.vtf
RoboCockSFM/materials/models/MylestheHedgehog/custommodels/NSFW/RoboCock/2Bonnie1.vmt
RoboCockSFM/materials/models/MylestheHedgehog/custommodels/NSFW/RoboCock/2Bonnie1.vtf
RoboCockSFM/materials/models/MylestheHedgehog/custommodels/NSFW/RoboCock/2Bonnie2.vmt
RoboCockSFM/materials/models/MylestheHedgehog/custommodels/NSFW/RoboCock/2Bonnie2.vtf
RoboCockSFM/materials/models/MylestheHedgehog/custommodels/NSFW/RoboCock/2Chica1.vmt
RoboCockSFM/materials/models/MylestheHedgehog/custommodels/NSFW/RoboCock/2Chica1.vtf
RoboCockSFM/materials/models/MylestheHedgehog/custommodels/NSFW/RoboCock/2Chica2.vmt
RoboCockSFM/materials/models/MylestheHedgehog/custommodels/NSFW/RoboCock/2Chica2.vtf
RoboCockSFM/materials/models/MylestheHedgehog/custommodels/NSFW/RoboCock/2Foxy1.vmt
RoboCockSFM/materials/models/MylestheHedgehog/custommodels/NSFW/RoboCock/2Foxy1.vtf
RoboCockSFM/materials/models/MylestheHedgehog/custommodels/NSFW/RoboCock/2Foxy2.vmt
RoboCockSFM/materials/models/MylestheHedgehog/custommodels/NSFW/RoboCock/2Foxy2.vtf
RoboCockSFM/materials/models/MylestheHedgehog/custommodels/NSFW/RoboCock/2Fredbear1.vmt
RoboCockSFM/materials/models/MylestheHedgehog/custommodels/NSFW/RoboCock/2Fredbear1.vtf
RoboCockSFM/materials/models/MylestheHedgehog/custommodels/NSFW/RoboCock/2Fredbear2.vmt
RoboCockSFM/materials/models/MylestheHedgehog/custommodels/NSFW/RoboCock/2Fredbear2.vtf
RoboCockSFM/materials/models/MylestheHedgehog/custommodels/NSFW/RoboCock/2Freddy1.vmt
RoboCockSFM/materials/models/MylestheHedgehog/custommodels/NSFW/RoboCock/2Freddy1.vtf
RoboCockSFM/materials/models/MylestheHedgehog/custommodels/NSFW/RoboCock/2Freddy2.vmt
RoboCockSFM/materials/models/MylestheHedgehog/custommodels/NSFW/RoboCock/2Freddy2.vtf
RoboCockSFM/materials/models/MylestheHedgehog/custommodels/NSFW/RoboCock/2ShadowF1.vmt
RoboCockSFM/materials/models/MylestheHedgehog/custommodels/NSFW/RoboCock/2ShadowF1.vtf
RoboCockSFM/materials/models/MylestheHedgehog/custommodels/NSFW/RoboCock/2ShadowF2.vmt
RoboCockSFM/materials/models/MylestheHedgehog/custommodels/NSFW/RoboCock/2ShadowF2.vtf
RoboCockSFM/materials/models/MylestheHedgehog/custommodels/NSFW/RoboCock/2Suit_nrm.vtf
RoboCockSFM/materials/models/MylestheHedgehog/custommodels/NSFW/RoboCock/3Chica1.vmt
RoboCockSFM/materials/models/MylestheHedgehog/custommodels/NSFW/RoboCock/3Chica1.vtf
RoboCockSFM/materials/models/MylestheHedgehog/custommodels/NSFW/RoboCock/3Chica2.vmt
RoboCockSFM/materials/models/MylestheHedgehog/custommodels/NSFW/RoboCock/3Chica2.vtf
RoboCockSFM/materials/models/MylestheHedgehog/custommodels/NSFW/RoboCock/3Foxy1.vmt
RoboCockSFM/materials/models/MylestheHedgehog/custommodels/NSFW/RoboCock/3Foxy1.vtf
RoboCockSFM/materials/models/MylestheHedgehog/custommodels/NSFW/RoboCock/3Foxy2.vmt
RoboCockSFM/materials/models/MylestheHedgehog/custommodels/NSFW/RoboCock/3Foxy2.vtf
RoboCockSFM/materials/models/MylestheHedgehog/custommodels/NSFW/RoboCock/3Freddy1.vmt
RoboCockSFM/materials/models/MylestheHedgehog/custommodels/NSFW/RoboCock/3Freddy1.vtf
RoboCockSFM/materials/models/MylestheHedgehog/custommodels/NSFW/RoboCock/3Freddy2.vmt
RoboCockSFM/materials/models/MylestheHedgehog/custommodels/NSFW/RoboCock/3Freddy2.vtf
RoboCockSFM/materials/models/MylestheHedgehog/custommodels/NSFW/RoboCock/4Bonnie1.vmt
RoboCockSFM/materials/models/MylestheHedgehog/custommodels/NSFW/RoboCock/4Bonnie1.vtf
RoboCockSFM/materials/models/MylestheHedgehog/custommodels/NSFW/RoboCock/4Bonnie2.vmt
RoboCockSFM/materials/models/MylestheHedgehog/custommodels/NSFW/RoboCock/4Bonnie2.vtf
RoboCockSFM/materials/models/MylestheHedgehog/custommodels/NSFW/RoboCock/4Bonnie_bump.vtf
RoboCockSFM/materials/models/MylestheHedgehog/custommodels/NSFW/RoboCock/4Chica1.vmt
RoboCockSFM/materials/models/MylestheHedgehog/custommodels/NSFW/RoboCock/4Chica1.vtf
RoboCockSFM/materials/models/MylestheHedgehog/custommodels/NSFW/RoboCock/4Chica2.vmt
RoboCockSFM/materials/models/MylestheHedgehog/custommodels/NSFW/RoboCock/4Chica2.vtf
RoboCockSFM/materials/models/MylestheHedgehog/custommodels/NSFW/RoboCock/4Chica_bump.vtf
RoboCockSFM/materials/models/MylestheHedgehog/custommodels/NSFW/RoboCock/4Foxy1.vmt
RoboCockSFM/materials/models/MylestheHedgehog/custommodels/NSFW/RoboCock/4Foxy1.vtf
RoboCockSFM/materials/models/MylestheHedgehog/custommodels/NSFW/RoboCock/4Foxy1_spec.vtf
RoboCockSFM/materials/models/MylestheHedgehog/custommodels/NSFW/RoboCock/4Foxy2.vmt
RoboCockSFM/materials/models/MylestheHedgehog/custommodels/NSFW/RoboCock/4Foxy2.vtf
RoboCockSFM/materials/models/MylestheHedgehog/custommodels/NSFW/RoboCock/4Foxy2_spec.vtf
RoboCockSFM/materials/models/MylestheHedgehog/custommodels/NSFW/RoboCock/4Foxy_bump.vtf
RoboCockSFM/materials/models/MylestheHedgehog/custommodels/NSFW/RoboCock/4Fredbear1.vmt
RoboCockSFM/materials/models/MylestheHedgehog/custommodels/NSFW/RoboCock/4Fredbear1.vtf
RoboCockSFM/materials/models/MylestheHedgehog/custommodels/NSFW/RoboCock/4Fredbear2.vmt
RoboCockSFM/materials/models/MylestheHedgehog/custommodels/NSFW/RoboCock/4Fredbear2.vtf
RoboCockSFM/materials/models/MylestheHedgehog/custommodels/NSFW/RoboCock/4Freddy1.vmt
RoboCockSFM/materials/models/MylestheHedgehog/custommodels/NSFW/RoboCock/4Freddy1.vtf
RoboCockSFM/materials/models/MylestheHedgehog/custommodels/NSFW/RoboCock/4Freddy2.vmt
RoboCockSFM/materials/models/MylestheHedgehog/custommodels/NSFW/RoboCock/4Freddy2.vtf
RoboCockSFM/materials/models/MylestheHedgehog/custommodels/NSFW/RoboCock/4Freddy_bump1.vtf
RoboCockSFM/materials/models/MylestheHedgehog/custommodels/NSFW/RoboCock/4Freddy_bump2.vtf
RoboCockSFM/materials/models/MylestheHedgehog/custommodels/NSFW/RoboCock/4Nightmare1.vmt
RoboCockSFM/materials/models/MylestheHedgehog/custommodels/NSFW/RoboCock/4Nightmare1.vtf
RoboCockSFM/materials/models/MylestheHedgehog/custommodels/NSFW/RoboCock/4Nightmare2.vmt
RoboCockSFM/materials/models/MylestheHedgehog/custommodels/NSFW/RoboCock/4Nightmare2.vtf
RoboCockSFM/materials/models/MylestheHedgehog/custommodels/NSFW/RoboCock/5Bonnie1.vmt
RoboCockSFM/materials/models/MylestheHedgehog/custommodels/NSFW/RoboCock/5Bonnie1.vtf
RoboCockSFM/materials/models/MylestheHedgehog/custommodels/NSFW/RoboCock/5Bonnie2.vmt
RoboCockSFM/materials/models/MylestheHedgehog/custommodels/NSFW/RoboCock/5Bonnie2.vtf
RoboCockSFM/materials/models/MylestheHedgehog/custommodels/NSFW/RoboCock/5Chica1.vmt
RoboCockSFM/materials/models/MylestheHedgehog/custommodels/NSFW/RoboCock/5Chica1.vtf
RoboCockSFM/materials/models/MylestheHedgehog/custommodels/NSFW/RoboCock/5Chica2.vmt
RoboCockSFM/materials/models/MylestheHedgehog/custommodels/NSFW/RoboCock/5Chica2.vtf
RoboCockSFM/materials/models/MylestheHedgehog/custommodels/NSFW/RoboCock/5Foxy1.vmt
RoboCockSFM/materials/models/MylestheHedgehog/custommodels/NSFW/RoboCock/5Foxy1.vtf
RoboCockSFM/materials/models/MylestheHedgehog/custommodels/NSFW/RoboCock/5Foxy2.vmt
RoboCockSFM/materials/models/MylestheHedgehog/custommodels/NSFW/RoboCock/5Foxy2.vtf
RoboCockSFM/materials/models/MylestheHedgehog/custommodels/NSFW/RoboCock/5Fredbear1.vmt
RoboCockSFM/materials/models/MylestheHedgehog/custommodels/NSFW/RoboCock/5Fredbear1.vtf
RoboCockSFM/materials/models/MylestheHedgehog/custommodels/NSFW/RoboCock/5Fredbear2.vmt
RoboCockSFM/materials/models/MylestheHedgehog/custommodels/NSFW/RoboCock/5Fredbear2.vtf
RoboCockSFM/materials/models/MylestheHedgehog/custommodels/NSFW/RoboCock/5Freddy1.vmt
RoboCockSFM/materials/models/MylestheHedgehog/custommodels/NSFW/RoboCock/5Freddy1.vtf
RoboCockSFM/materials/models/MylestheHedgehog/custommodels/NSFW/RoboCock/5Freddy2.vmt
RoboCockSFM/materials/models/MylestheHedgehog/custommodels/NSFW/RoboCock/5Freddy2.vtf
RoboCockSFM/materials/models/MylestheHedgehog/custommodels/NSFW/RoboCock/5Nightbear1.vmt
RoboCockSFM/materials/models/MylestheHedgehog/custommodels/NSFW/RoboCock/5Nightbear1.vtf
RoboCockSFM/materials/models/MylestheHedgehog/custommodels/NSFW/RoboCock/5Nightbear2.vmt
RoboCockSFM/materials/models/MylestheHedgehog/custommodels/NSFW/RoboCock/5Nightbear2.vtf
RoboCockSFM/materials/models/MylestheHedgehog/custommodels/NSFW/RoboCock/5ShadowF1.vmt
RoboCockSFM/materials/models/MylestheHedgehog/custommodels/NSFW/RoboCock/5ShadowF1.vtf
RoboCockSFM/materials/models/MylestheHedgehog/custommodels/NSFW/RoboCock/5ShadowF2.vmt
RoboCockSFM/materials/models/MylestheHedgehog/custommodels/NSFW/RoboCock/5ShadowF2.vtf
RoboCockSFM/materials/models/MylestheHedgehog/custommodels/NSFW/RoboCock/5Suit_nrm.vtf
RoboCockSFM/materials/models/MylestheHedgehog/custommodels/NSFW/RoboCock/BB1.vmt
RoboCockSFM/materials/models/MylestheHedgehog/custommodels/NSFW/RoboCock/BB1.vtf
RoboCockSFM/materials/models/MylestheHedgehog/custommodels/NSFW/RoboCock/BB2.vmt
RoboCockSFM/materials/models/MylestheHedgehog/custommodels/NSFW/RoboCock/BB2.vtf
RoboCockSFM/materials/models/MylestheHedgehog/custommodels/NSFW/RoboCock/BB3.vmt
RoboCockSFM/materials/models/MylestheHedgehog/custommodels/NSFW/RoboCock/BB3.vtf
RoboCockSFM/materials/models/MylestheHedgehog/custommodels/NSFW/RoboCock/black.vmt
RoboCockSFM/materials/models/MylestheHedgehog/custommodels/NSFW/RoboCock/black.vtf
RoboCockSFM/materials/models/MylestheHedgehog/custommodels/NSFW/RoboCock/black2.vmt
RoboCockSFM/materials/models/MylestheHedgehog/custommodels/NSFW/RoboCock/Blue.vmt
RoboCockSFM/materials/models/MylestheHedgehog/custommodels/NSFW/RoboCock/Blue.vtf
RoboCockSFM/materials/models/MylestheHedgehog/custommodels/NSFW/RoboCock/BonBlue.vmt
RoboCockSFM/materials/models/MylestheHedgehog/custommodels/NSFW/RoboCock/BonBlue.vtf
RoboCockSFM/materials/models/MylestheHedgehog/custommodels/NSFW/RoboCock/BonBlue2.vmt
RoboCockSFM/materials/models/MylestheHedgehog/custommodels/NSFW/RoboCock/BonBlue2.vtf
RoboCockSFM/materials/models/MylestheHedgehog/custommodels/NSFW/RoboCock/bonbump.vtf
RoboCockSFM/materials/models/MylestheHedgehog/custommodels/NSFW/RoboCock/DarkBlue.vmt
RoboCockSFM/materials/models/MylestheHedgehog/custommodels/NSFW/RoboCock/DarkBlue.vtf
RoboCockSFM/materials/models/MylestheHedgehog/custommodels/NSFW/RoboCock/detail.vtf
RoboCockSFM/materials/models/MylestheHedgehog/custommodels/NSFW/RoboCock/Endo.vmt
RoboCockSFM/materials/models/MylestheHedgehog/custommodels/NSFW/RoboCock/Endo1.vtf
RoboCockSFM/materials/models/MylestheHedgehog/custommodels/NSFW/RoboCock/endobump.vtf
RoboCockSFM/materials/models/MylestheHedgehog/custommodels/NSFW/RoboCock/envmap.vtf
RoboCockSFM/materials/models/MylestheHedgehog/custommodels/NSFW/RoboCock/flat.vtf
RoboCockSFM/materials/models/MylestheHedgehog/custommodels/NSFW/RoboCock/glow.vmt
RoboCockSFM/materials/models/MylestheHedgehog/custommodels/NSFW/RoboCock/glow.vtf
RoboCockSFM/materials/models/MylestheHedgehog/custommodels/NSFW/RoboCock/hatspec.vtf
RoboCockSFM/materials/models/MylestheHedgehog/custommodels/NSFW/RoboCock/JJ2.vmt
RoboCockSFM/materials/models/MylestheHedgehog/custommodels/NSFW/RoboCock/JJ2.vtf
RoboCockSFM/materials/models/MylestheHedgehog/custommodels/NSFW/RoboCock/JJ3.vmt
RoboCockSFM/materials/models/MylestheHedgehog/custommodels/NSFW/RoboCock/JJ3.vtf
RoboCockSFM/materials/models/MylestheHedgehog/custommodels/NSFW/RoboCock/Mangle1.vmt
RoboCockSFM/materials/models/MylestheHedgehog/custommodels/NSFW/RoboCock/Mangle2.vmt
RoboCockSFM/materials/models/MylestheHedgehog/custommodels/NSFW/RoboCock/Mangle2.vtf
RoboCockSFM/materials/models/MylestheHedgehog/custommodels/NSFW/RoboCock/Marionette1.vmt
RoboCockSFM/materials/models/MylestheHedgehog/custommodels/NSFW/RoboCock/Marionette1.vtf
RoboCockSFM/materials/models/MylestheHedgehog/custommodels/NSFW/RoboCock/Marionette2.vmt
RoboCockSFM/materials/models/MylestheHedgehog/custommodels/NSFW/RoboCock/Marionette2.vtf
RoboCockSFM/materials/models/MylestheHedgehog/custommodels/NSFW/RoboCock/Marionette3.vmt
RoboCockSFM/materials/models/MylestheHedgehog/custommodels/NSFW/RoboCock/Marionette3.vtf
RoboCockSFM/materials/models/MylestheHedgehog/custommodels/NSFW/RoboCock/Orange.vmt
RoboCockSFM/materials/models/MylestheHedgehog/custommodels/NSFW/RoboCock/Orange.vtf
RoboCockSFM/materials/models/MylestheHedgehog/custommodels/NSFW/RoboCock/PBB1.vmt
RoboCockSFM/materials/models/MylestheHedgehog/custommodels/NSFW/RoboCock/PBB1.vtf
RoboCockSFM/materials/models/MylestheHedgehog/custommodels/NSFW/RoboCock/PBB2.vmt
RoboCockSFM/materials/models/MylestheHedgehog/custommodels/NSFW/RoboCock/PBB2.vtf
RoboCockSFM/materials/models/MylestheHedgehog/custommodels/NSFW/RoboCock/PBB3.vmt
RoboCockSFM/materials/models/MylestheHedgehog/custommodels/NSFW/RoboCock/PBB3.vtf
RoboCockSFM/materials/models/MylestheHedgehog/custommodels/NSFW/RoboCock/phong1.vtf
RoboCockSFM/materials/models/MylestheHedgehog/custommodels/NSFW/RoboCock/Pink.vmt
RoboCockSFM/materials/models/MylestheHedgehog/custommodels/NSFW/RoboCock/Pink.vtf
RoboCockSFM/materials/models/MylestheHedgehog/custommodels/NSFW/RoboCock/Pink2.vmt
RoboCockSFM/materials/models/MylestheHedgehog/custommodels/NSFW/RoboCock/Pink2.vtf
RoboCockSFM/materials/models/MylestheHedgehog/custommodels/NSFW/RoboCock/Pink3.vmt
RoboCockSFM/materials/models/MylestheHedgehog/custommodels/NSFW/RoboCock/Pink3.vtf
RoboCockSFM/materials/models/MylestheHedgehog/custommodels/NSFW/RoboCock/PMangle1.vmt
RoboCockSFM/materials/models/MylestheHedgehog/custommodels/NSFW/RoboCock/PMangle1.vtf
RoboCockSFM/materials/models/MylestheHedgehog/custommodels/NSFW/RoboCock/PMangle2.vmt
RoboCockSFM/materials/models/MylestheHedgehog/custommodels/NSFW/RoboCock/PMangle2.vtf
RoboCockSFM/materials/models/MylestheHedgehog/custommodels/NSFW/RoboCock/Purple.vmt
RoboCockSFM/materials/models/MylestheHedgehog/custommodels/NSFW/RoboCock/Purple.vtf
RoboCockSFM/materials/models/MylestheHedgehog/custommodels/NSFW/RoboCock/Red.vmt
RoboCockSFM/materials/models/MylestheHedgehog/custommodels/NSFW/RoboCock/Red.vtf
RoboCockSFM/materials/models/MylestheHedgehog/custommodels/NSFW/RoboCock/reflect.vtf
RoboCockSFM/materials/models/MylestheHedgehog/custommodels/NSFW/RoboCock/SB1.vmt
RoboCockSFM/materials/models/MylestheHedgehog/custommodels/NSFW/RoboCock/SB1.vtf
RoboCockSFM/materials/models/MylestheHedgehog/custommodels/NSFW/RoboCock/SB2.vmt
RoboCockSFM/materials/models/MylestheHedgehog/custommodels/NSFW/RoboCock/SB2.vtf
RoboCockSFM/materials/models/MylestheHedgehog/custommodels/NSFW/RoboCock/SB_nrm.vtf
RoboCockSFM/materials/models/MylestheHedgehog/custommodels/NSFW/RoboCock/SCT1.vmt
RoboCockSFM/materials/models/MylestheHedgehog/custommodels/NSFW/RoboCock/SCT1.vtf
RoboCockSFM/materials/models/MylestheHedgehog/custommodels/NSFW/RoboCock/SCT2.vmt
RoboCockSFM/materials/models/MylestheHedgehog/custommodels/NSFW/RoboCock/SCT2.vtf
RoboCockSFM/materials/models/MylestheHedgehog/custommodels/NSFW/RoboCock/SCTbump.vtf
RoboCockSFM/materials/models/MylestheHedgehog/custommodels/NSFW/RoboCock/SLbump.vtf
RoboCockSFM/materials/models/MylestheHedgehog/custommodels/NSFW/RoboCock/SLWhite.vmt
RoboCockSFM/materials/models/MylestheHedgehog/custommodels/NSFW/RoboCock/SLWhite.vtf
RoboCockSFM/materials/models/MylestheHedgehog/custommodels/NSFW/RoboCock/smallb.vtf
RoboCockSFM/materials/models/MylestheHedgehog/custommodels/NSFW/RoboCock/spec.vtf
RoboCockSFM/materials/models/MylestheHedgehog/custommodels/NSFW/RoboCock/specularmap.vtf
RoboCockSFM/materials/models/MylestheHedgehog/custommodels/NSFW/RoboCock/specv2.vtf
RoboCockSFM/materials/models/MylestheHedgehog/custommodels/NSFW/RoboCock/specv9_8.vtf
RoboCockSFM/materials/models/MylestheHedgehog/custommodels/NSFW/RoboCock/ST1.vmt
RoboCockSFM/materials/models/MylestheHedgehog/custommodels/NSFW/RoboCock/ST1.vtf
RoboCockSFM/materials/models/MylestheHedgehog/custommodels/NSFW/RoboCock/st1_color.vtf
RoboCockSFM/materials/models/MylestheHedgehog/custommodels/NSFW/RoboCock/ST2.vmt
RoboCockSFM/materials/models/MylestheHedgehog/custommodels/NSFW/RoboCock/ST2.vtf
RoboCockSFM/materials/models/MylestheHedgehog/custommodels/NSFW/RoboCock/st2_color.vtf
RoboCockSFM/materials/models/MylestheHedgehog/custommodels/NSFW/RoboCock/st_bump.vtf
RoboCockSFM/materials/models/MylestheHedgehog/custommodels/NSFW/RoboCock/st_detail.vtf
RoboCockSFM/materials/models/MylestheHedgehog/custommodels/NSFW/RoboCock/suitspec.vtf
RoboCockSFM/materials/models/MylestheHedgehog/custommodels/NSFW/RoboCock/TextureHere.vmt
RoboCockSFM/materials/models/MylestheHedgehog/custommodels/NSFW/RoboCock/TextureHere.vtf
RoboCockSFM/materials/models/MylestheHedgehog/custommodels/NSFW/RoboCock/TextureHere2.vmt
RoboCockSFM/materials/models/MylestheHedgehog/custommodels/NSFW/RoboCock/ToyBonnie1.vmt
RoboCockSFM/materials/models/MylestheHedgehog/custommodels/NSFW/RoboCock/ToyBonnie1.vtf
RoboCockSFM/materials/models/MylestheHedgehog/custommodels/NSFW/RoboCock/ToyBonnie2.vmt
RoboCockSFM/materials/models/MylestheHedgehog/custommodels/NSFW/RoboCock/ToyBonnie2.vtf
RoboCockSFM/materials/models/MylestheHedgehog/custommodels/NSFW/RoboCock/ToyChica1.vmt
RoboCockSFM/materials/models/MylestheHedgehog/custommodels/NSFW/RoboCock/ToyChica1.vtf
RoboCockSFM/materials/models/MylestheHedgehog/custommodels/NSFW/RoboCock/ToyChica2.vmt
RoboCockSFM/materials/models/MylestheHedgehog/custommodels/NSFW/RoboCock/ToyChica2.vtf
RoboCockSFM/materials/models/MylestheHedgehog/custommodels/NSFW/RoboCock/ToyFreddy1.vmt
RoboCockSFM/materials/models/MylestheHedgehog/custommodels/NSFW/RoboCock/ToyFreddy1.vtf
RoboCockSFM/materials/models/MylestheHedgehog/custommodels/NSFW/RoboCock/ToyFreddy2.vmt
RoboCockSFM/materials/models/MylestheHedgehog/custommodels/NSFW/RoboCock/ToyFreddy2.vtf
RoboCockSFM/materials/models/MylestheHedgehog/custommodels/NSFW/RoboCock/White.vmt
RoboCockSFM/materials/models/MylestheHedgehog/custommodels/NSFW/RoboCock/White.vtf
RoboCockSFM/materials/models/MylestheHedgehog/custommodels/NSFW/RoboCock/White2.vmt
RoboCockSFM/materials/models/MylestheHedgehog/custommodels/NSFW/RoboCock/WSB1.vmt
RoboCockSFM/materials/models/MylestheHedgehog/custommodels/NSFW/RoboCock/WSB1.vtf
RoboCockSFM/materials/models/MylestheHedgehog/custommodels/NSFW/RoboCock/WSB2.vmt
RoboCockSFM/materials/models/MylestheHedgehog/custommodels/NSFW/RoboCock/WSB2.vtf
RoboCockSFM/models/models/MylestheHedgehog/custommodels/NSFW/robocock5.vvd
RoboCockSFM/models/models/MylestheHedgehog/custommodels/NSFW/RoboCock.dx90.vtx
RoboCockSFM/models/models/MylestheHedgehog/custommodels/NSFW/robocock.mdl
RoboCockSFM/models/models/MylestheHedgehog/custommodels/NSFW/robocock.vvd
RoboCockSFM/models/models/MylestheHedgehog/custommodels/NSFW/RoboCock2.dx90.vtx
RoboCockSFM/models/models/MylestheHedgehog/custommodels/NSFW/robocock2.mdl
RoboCockSFM/models/models/MylestheHedgehog/custommodels/NSFW/robocock2.vvd
RoboCockSFM/models/models/MylestheHedgehog/custommodels/NSFW/RoboCock3.dx90.vtx
RoboCockSFM/models/models/MylestheHedgehog/custommodels/NSFW/robocock3.mdl
RoboCockSFM/models/models/MylestheHedgehog/custommodels/NSFW/robocock3.vvd
RoboCockSFM/models/models/MylestheHedgehog/custommodels/NSFW/RoboCock4.dx90.vtx
RoboCockSFM/models/models/MylestheHedgehog/custommodels/NSFW/robocock4.mdl
RoboCockSFM/models/models/MylestheHedgehog/custommodels/NSFW/robocock4.vvd
RoboCockSFM/models/models/MylestheHedgehog/custommodels/NSFW/RoboCock5.dx90.vtx
RoboCockSFM/models/models/MylestheHedgehog/custommodels/NSFW/robocock5.mdl