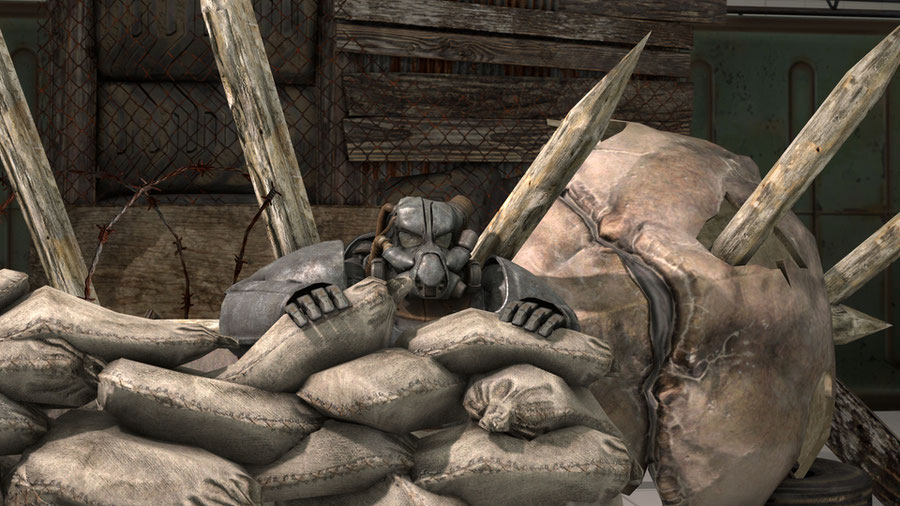 Description
Different fortifications from fallout 4 - walls, platforms, barricades and more.
TYPES OF FORTIFICATIONS
Junk (wooden planks and metal sheets)
Military (blockposts, landing pads, walls)
Cinderblocks
Tirewalls
Crates and barrels
CREDITS
Bethesda Softworks - These dudes may ruin entire fallout franchise, but they still own it.
Mosi - Ported these models from Fallout 4
Me - Recompiled Mosi's pack to be usable in SFM and uploaded it here.
UPDATES
v1 - initial release, different fortification props from enforced pre-war military walls and covers to handmade wooden barricades.
SFMLab is a free service. However, it costs about $0.03 to deliver you a 1GB file. With over 20TB of traffic every month and growing, SFMLab needs your help. If only 1% of our users each gave us $5 for a single month, we could keep the site running for several years.
Filename
Downloads
Created
Filesize
Files
F4_fortifications_v1.rar
1514
2020-09-09 15:00:17
62.13 MB
File contents:

F4_Fortifications_v1/models/mosi/fallout4/props/fortifications/tirewall01.vvd
F4_Fortifications_v1/models/mosi/fallout4/props/fortifications/cinderblockstairs02.vvd
F4_Fortifications_v1/models/mosi/fallout4/props/fortifications/cinderblocks02.dx80.vtx
F4_Fortifications_v1/models/mosi/fallout4/props/fortifications/sandbag02.vvd
F4_Fortifications_v1/models/mosi/fallout4/props/fortifications/vaultcrate02.sw.vtx
F4_Fortifications_v1/models/mosi/fallout4/props/fortifications/wallbarricade01.mdl
F4_Fortifications_v1/models/mosi/fallout4/props/fortifications/concretebarricade.phy
F4_Fortifications_v1/models/mosi/fallout4/props/fortifications/stonewallold02.sw.vtx
F4_Fortifications_v1/models/mosi/fallout4/props/fortifications/cinderblocks08.mdl
F4_Fortifications_v1/models/mosi/fallout4/props/fortifications/junkwall02.vvd
F4_Fortifications_v1/models/mosi/fallout4/props/fortifications/junkwalltall03.sw.vtx
F4_Fortifications_v1/models/mosi/fallout4/props/fortifications/junkwalltall01.sw.vtx
F4_Fortifications_v1/models/mosi/fallout4/props/fortifications/junkwalltallfree02.vvd
F4_Fortifications_v1/models/mosi/fallout4/props/fortifications/sandbag01.mdl
F4_Fortifications_v1/models/mosi/fallout4/props/fortifications/wallshelltower.sw.vtx
F4_Fortifications_v1/models/mosi/fallout4/props/fortifications/junkwallhallway.dx80.vtx
F4_Fortifications_v1/models/mosi/fallout4/props/fortifications/junkwalltallfree01.phy
F4_Fortifications_v1/models/mosi/fallout4/props/fortifications/barricadewall01.dx90.vtx
F4_Fortifications_v1/models/mosi/fallout4/props/fortifications/tirepile01.dx90.vtx
F4_Fortifications_v1/models/mosi/fallout4/props/fortifications/planks05.mdl
F4_Fortifications_v1/models/mosi/fallout4/props/fortifications/tirepile02.dx90.vtx
F4_Fortifications_v1/models/mosi/fallout4/props/fortifications/cinderblocks03.dx80.vtx
F4_Fortifications_v1/models/mosi/fallout4/props/fortifications/sandbag01.vvd
F4_Fortifications_v1/models/mosi/fallout4/props/fortifications/vaultcrate04.dx80.vtx
F4_Fortifications_v1/models/mosi/fallout4/props/fortifications/planks03.dx80.vtx
F4_Fortifications_v1/models/mosi/fallout4/props/fortifications/cinderblocks06.mdl
F4_Fortifications_v1/models/mosi/fallout4/props/fortifications/cratelarge01.dx80.vtx
F4_Fortifications_v1/models/mosi/fallout4/props/fortifications/chainlinkcorner01.sw.vtx
F4_Fortifications_v1/models/mosi/fallout4/props/fortifications/cinderblocks06.dx80.vtx
F4_Fortifications_v1/models/mosi/fallout4/props/fortifications/blocker03.phy
F4_Fortifications_v1/models/mosi/fallout4/props/fortifications/stonewallold02.phy
F4_Fortifications_v1/models/mosi/fallout4/props/fortifications/metalbarrel02.sw.vtx
F4_Fortifications_v1/models/mosi/fallout4/props/fortifications/junkwall01.dx90.vtx
F4_Fortifications_v1/models/mosi/fallout4/props/fortifications/ramp_truck.mdl
F4_Fortifications_v1/models/mosi/fallout4/props/fortifications/wallbarricade04.dx90.vtx
F4_Fortifications_v1/models/mosi/fallout4/props/fortifications/junkwall03.dx80.vtx
F4_Fortifications_v1/models/mosi/fallout4/props/fortifications/wallbarricade04.sw.vtx
F4_Fortifications_v1/models/mosi/fallout4/props/fortifications/junkwall05.dx80.vtx
F4_Fortifications_v1/models/mosi/fallout4/props/fortifications/blocker03.dx80.vtx
F4_Fortifications_v1/models/mosi/fallout4/props/fortifications/junkwalltall03.mdl
F4_Fortifications_v1/models/mosi/fallout4/props/fortifications/stonewallold02.dx80.vtx
F4_Fortifications_v1/models/mosi/fallout4/props/fortifications/ramp_truck.phy
F4_Fortifications_v1/models/mosi/fallout4/props/fortifications/woodenbarrel.mdl
F4_Fortifications_v1/models/mosi/fallout4/props/fortifications/chainlink01.dx90.vtx
F4_Fortifications_v1/models/mosi/fallout4/props/fortifications/junkwallhallway.mdl
F4_Fortifications_v1/models/mosi/fallout4/props/fortifications/blocker02.vvd
F4_Fortifications_v1/models/mosi/fallout4/props/fortifications/junkwallcorner.sw.vtx
F4_Fortifications_v1/models/mosi/fallout4/props/fortifications/metalbarrel01.dx90.vtx
F4_Fortifications_v1/models/mosi/fallout4/props/fortifications/junkwalltall02.dx90.vtx
F4_Fortifications_v1/models/mosi/fallout4/props/fortifications/planks01.vvd
F4_Fortifications_v1/models/mosi/fallout4/props/fortifications/junkwall05.sw.vtx
F4_Fortifications_v1/models/mosi/fallout4/props/fortifications/junkwall01.mdl
F4_Fortifications_v1/models/mosi/fallout4/props/fortifications/tirepile01.vvd
F4_Fortifications_v1/models/mosi/fallout4/props/fortifications/woodencrate02.dx90.vtx
F4_Fortifications_v1/models/mosi/fallout4/props/fortifications/blocker03.sw.vtx
F4_Fortifications_v1/models/mosi/fallout4/props/fortifications/vaultcrate03.mdl
F4_Fortifications_v1/models/mosi/fallout4/props/fortifications/tirewall01.phy
F4_Fortifications_v1/models/mosi/fallout4/props/fortifications/cinderblocks07.phy
F4_Fortifications_v1/models/mosi/fallout4/props/fortifications/guardpost.sw.vtx
F4_Fortifications_v1/models/mosi/fallout4/props/fortifications/guardpost.phy
F4_Fortifications_v1/models/mosi/fallout4/props/fortifications/tirepile01.dx80.vtx
F4_Fortifications_v1/models/mosi/fallout4/props/fortifications/doorbarricade.mdl
F4_Fortifications_v1/models/mosi/fallout4/props/fortifications/cinderblocks08.sw.vtx
F4_Fortifications_v1/models/mosi/fallout4/props/fortifications/junkwall03.dx90.vtx
F4_Fortifications_v1/models/mosi/fallout4/props/fortifications/junkwalltall03.dx90.vtx
F4_Fortifications_v1/models/mosi/fallout4/props/fortifications/woodencrate02.vvd
F4_Fortifications_v1/models/mosi/fallout4/props/fortifications/chainlink01.sw.vtx
F4_Fortifications_v1/models/mosi/fallout4/props/fortifications/vaultcrate01.mdl
F4_Fortifications_v1/models/mosi/fallout4/props/fortifications/metalbarrel01.phy
F4_Fortifications_v1/models/mosi/fallout4/props/fortifications/woodencrate01.dx90.vtx
F4_Fortifications_v1/models/mosi/fallout4/props/fortifications/junkwalltall04.dx90.vtx
F4_Fortifications_v1/models/mosi/fallout4/props/fortifications/cinderblocks04.dx80.vtx
F4_Fortifications_v1/models/mosi/fallout4/props/fortifications/ramp_plywood.dx90.vtx
F4_Fortifications_v1/models/mosi/fallout4/props/fortifications/junkwallcorner.mdl
F4_Fortifications_v1/models/mosi/fallout4/props/fortifications/junkwalltallfree02.dx80.vtx
F4_Fortifications_v1/models/mosi/fallout4/props/fortifications/junkwalltallfree02.sw.vtx
F4_Fortifications_v1/models/mosi/fallout4/props/fortifications/cinderblockstairs01.vvd
F4_Fortifications_v1/models/mosi/fallout4/props/fortifications/planks05.sw.vtx
F4_Fortifications_v1/models/mosi/fallout4/props/fortifications/junkwalltall01.dx80.vtx
F4_Fortifications_v1/models/mosi/fallout4/props/fortifications/barricadewall02.mdl
F4_Fortifications_v1/models/mosi/fallout4/props/fortifications/wallbarricade01.dx90.vtx
F4_Fortifications_v1/models/mosi/fallout4/props/fortifications/planks05.dx80.vtx
F4_Fortifications_v1/models/mosi/fallout4/props/fortifications/junkwall03.phy
F4_Fortifications_v1/models/mosi/fallout4/props/fortifications/barricadepanel02.sw.vtx
F4_Fortifications_v1/models/mosi/fallout4/props/fortifications/plywoodblocker.sw.vtx
F4_Fortifications_v1/models/mosi/fallout4/props/fortifications/woodencrate01.vvd
F4_Fortifications_v1/models/mosi/fallout4/props/fortifications/woodpalette.sw.vtx
F4_Fortifications_v1/models/mosi/fallout4/props/fortifications/junkwall03.sw.vtx
F4_Fortifications_v1/models/mosi/fallout4/props/fortifications/tirepile02.phy
F4_Fortifications_v1/models/mosi/fallout4/props/fortifications/guardpost.mdl
F4_Fortifications_v1/models/mosi/fallout4/props/fortifications/stonewallold03.dx90.vtx
F4_Fortifications_v1/models/mosi/fallout4/props/fortifications/woodencrate01.sw.vtx
F4_Fortifications_v1/models/mosi/fallout4/props/fortifications/planks03.sw.vtx
F4_Fortifications_v1/models/mosi/fallout4/props/fortifications/cinderblocks03.phy
F4_Fortifications_v1/models/mosi/fallout4/props/fortifications/planks02.sw.vtx
F4_Fortifications_v1/models/mosi/fallout4/props/fortifications/junkwalltallfree02.phy
F4_Fortifications_v1/models/mosi/fallout4/props/fortifications/cinderblockstairs01.phy
F4_Fortifications_v1/models/mosi/fallout4/props/fortifications/wallbarricade02.dx90.vtx
F4_Fortifications_v1/models/mosi/fallout4/props/fortifications/cinderblockstairs01.mdl
F4_Fortifications_v1/models/mosi/fallout4/props/fortifications/chainlinkend.dx90.vtx
F4_Fortifications_v1/models/mosi/fallout4/props/fortifications/barricadewall01.mdl
F4_Fortifications_v1/models/mosi/fallout4/props/fortifications/planks05.phy
F4_Fortifications_v1/models/mosi/fallout4/props/fortifications/blocker04.phy
F4_Fortifications_v1/models/mosi/fallout4/props/fortifications/wallbarricade03.sw.vtx
F4_Fortifications_v1/models/mosi/fallout4/props/fortifications/cinderblocks01.sw.vtx
F4_Fortifications_v1/models/mosi/fallout4/props/fortifications/cinderblocks01.mdl
F4_Fortifications_v1/models/mosi/fallout4/props/fortifications/blocker01.dx80.vtx
F4_Fortifications_v1/models/mosi/fallout4/props/fortifications/barricadewall02.sw.vtx
F4_Fortifications_v1/models/mosi/fallout4/props/fortifications/wallshelltower.dx80.vtx
F4_Fortifications_v1/models/mosi/fallout4/props/fortifications/cinderblocks02.phy
F4_Fortifications_v1/models/mosi/fallout4/props/fortifications/wallbarricade04.vvd
F4_Fortifications_v1/models/mosi/fallout4/props/fortifications/junkwalltallfree02.dx90.vtx
F4_Fortifications_v1/models/mosi/fallout4/props/fortifications/cinderblockstairs02.dx80.vtx
F4_Fortifications_v1/models/mosi/fallout4/props/fortifications/vaultcrate01.dx80.vtx
F4_Fortifications_v1/models/mosi/fallout4/props/fortifications/planks05.dx90.vtx
F4_Fortifications_v1/models/mosi/fallout4/props/fortifications/stonewallold03.phy
F4_Fortifications_v1/models/mosi/fallout4/props/fortifications/cinderblocks01.vvd
F4_Fortifications_v1/models/mosi/fallout4/props/fortifications/metalbarrel02.dx80.vtx
F4_Fortifications_v1/models/mosi/fallout4/props/fortifications/planks02.vvd
F4_Fortifications_v1/models/mosi/fallout4/props/fortifications/chainlinkcorner02.mdl
F4_Fortifications_v1/models/mosi/fallout4/props/fortifications/planks04.mdl
F4_Fortifications_v1/models/mosi/fallout4/props/fortifications/junkwalltall03.phy
F4_Fortifications_v1/models/mosi/fallout4/props/fortifications/blocker04.dx80.vtx
F4_Fortifications_v1/models/mosi/fallout4/props/fortifications/planks01.dx90.vtx
F4_Fortifications_v1/models/mosi/fallout4/props/fortifications/cinderblocks04.mdl
F4_Fortifications_v1/models/mosi/fallout4/props/fortifications/sandbag01.sw.vtx
F4_Fortifications_v1/models/mosi/fallout4/props/fortifications/wallbarricade03.phy
F4_Fortifications_v1/models/mosi/fallout4/props/fortifications/blocker02.phy
F4_Fortifications_v1/models/mosi/fallout4/props/fortifications/chainlinkcorner01.vvd
F4_Fortifications_v1/models/mosi/fallout4/props/fortifications/chainlinkcorner02.dx90.vtx
F4_Fortifications_v1/models/mosi/fallout4/props/fortifications/tirewall01.dx80.vtx
F4_Fortifications_v1/models/mosi/fallout4/props/fortifications/cinderblocks09.mdl
F4_Fortifications_v1/models/mosi/fallout4/props/fortifications/tirewall01.sw.vtx
F4_Fortifications_v1/models/mosi/fallout4/props/fortifications/cinderblocks04.phy
F4_Fortifications_v1/models/mosi/fallout4/props/fortifications/woodencrate03.sw.vtx
F4_Fortifications_v1/models/mosi/fallout4/props/fortifications/vaultcrate03.vvd
F4_Fortifications_v1/models/mosi/fallout4/props/fortifications/junkwalltallfree02.mdl
F4_Fortifications_v1/models/mosi/fallout4/props/fortifications/tirewall02.dx90.vtx
F4_Fortifications_v1/models/mosi/fallout4/props/fortifications/stonewallold01.dx90.vtx
F4_Fortifications_v1/models/mosi/fallout4/props/fortifications/junkwall01.dx80.vtx
F4_Fortifications_v1/models/mosi/fallout4/props/fortifications/planks03.vvd
F4_Fortifications_v1/models/mosi/fallout4/props/fortifications/wallbarricade02.mdl
F4_Fortifications_v1/models/mosi/fallout4/props/fortifications/junkwall07.sw.vtx
F4_Fortifications_v1/models/mosi/fallout4/props/fortifications/chainlinkcorner01.dx90.vtx
F4_Fortifications_v1/models/mosi/fallout4/props/fortifications/woodenbarrel.dx80.vtx
F4_Fortifications_v1/models/mosi/fallout4/props/fortifications/cinderblocks01.dx90.vtx
F4_Fortifications_v1/models/mosi/fallout4/props/fortifications/cinderblocks05.phy
F4_Fortifications_v1/models/mosi/fallout4/props/fortifications/planks03.mdl
F4_Fortifications_v1/models/mosi/fallout4/props/fortifications/junkwall06.vvd
F4_Fortifications_v1/models/mosi/fallout4/props/fortifications/junkwall02.sw.vtx
F4_Fortifications_v1/models/mosi/fallout4/props/fortifications/vaultcrate04.vvd
F4_Fortifications_v1/models/mosi/fallout4/props/fortifications/barricadepanel02.dx80.vtx
F4_Fortifications_v1/models/mosi/fallout4/props/fortifications/junkwalltallangled02.mdl
F4_Fortifications_v1/models/mosi/fallout4/props/fortifications/barricadepanel01.dx90.vtx
F4_Fortifications_v1/models/mosi/fallout4/props/fortifications/metalbarrel02.phy
F4_Fortifications_v1/models/mosi/fallout4/props/fortifications/tirepile01.mdl
F4_Fortifications_v1/models/mosi/fallout4/props/fortifications/doorbarricade.phy
F4_Fortifications_v1/models/mosi/fallout4/props/fortifications/junkwalldoorway.mdl
F4_Fortifications_v1/models/mosi/fallout4/props/fortifications/barricadewall02.phy
F4_Fortifications_v1/models/mosi/fallout4/props/fortifications/planks04.sw.vtx
F4_Fortifications_v1/models/mosi/fallout4/props/fortifications/blocker02.dx80.vtx
F4_Fortifications_v1/models/mosi/fallout4/props/fortifications/blocker01.phy
F4_Fortifications_v1/models/mosi/fallout4/props/fortifications/junkwall04.dx80.vtx
F4_Fortifications_v1/models/mosi/fallout4/props/fortifications/sandbag02.mdl
F4_Fortifications_v1/models/mosi/fallout4/props/fortifications/junkwallhallway.dx90.vtx
F4_Fortifications_v1/models/mosi/fallout4/props/fortifications/junkwalltall04.sw.vtx
F4_Fortifications_v1/models/mosi/fallout4/props/fortifications/chainlink01.dx80.vtx
F4_Fortifications_v1/models/mosi/fallout4/props/fortifications/cinderblockstairs01.dx80.vtx
F4_Fortifications_v1/models/mosi/fallout4/props/fortifications/woodenbarrel.vvd
F4_Fortifications_v1/models/mosi/fallout4/props/fortifications/woodencrate03.dx80.vtx
F4_Fortifications_v1/models/mosi/fallout4/props/fortifications/wallbarricade01.vvd
F4_Fortifications_v1/models/mosi/fallout4/props/fortifications/barricadepanel01.sw.vtx
F4_Fortifications_v1/models/mosi/fallout4/props/fortifications/plywoodblocker.vvd
F4_Fortifications_v1/models/mosi/fallout4/props/fortifications/chainlink01.vvd
F4_Fortifications_v1/models/mosi/fallout4/props/fortifications/junkwall07.vvd
F4_Fortifications_v1/models/mosi/fallout4/props/fortifications/junkwalltall02.vvd
F4_Fortifications_v1/models/mosi/fallout4/props/fortifications/wallbarricade01.dx80.vtx
F4_Fortifications_v1/models/mosi/fallout4/props/fortifications/woodenbarrel.phy
F4_Fortifications_v1/models/mosi/fallout4/props/fortifications/barricadepanel02.mdl
F4_Fortifications_v1/models/mosi/fallout4/props/fortifications/junkwalldoorway.phy
F4_Fortifications_v1/models/mosi/fallout4/props/fortifications/junkwalltallangled01.dx80.vtx
F4_Fortifications_v1/models/mosi/fallout4/props/fortifications/barricadewall02.dx80.vtx
F4_Fortifications_v1/models/mosi/fallout4/props/fortifications/junkwalltall02.phy
F4_Fortifications_v1/models/mosi/fallout4/props/fortifications/woodpalette.dx80.vtx
F4_Fortifications_v1/models/mosi/fallout4/props/fortifications/planks05.vvd
F4_Fortifications_v1/models/mosi/fallout4/props/fortifications/planks02.phy
F4_Fortifications_v1/models/mosi/fallout4/props/fortifications/junkwall02.dx80.vtx
F4_Fortifications_v1/models/mosi/fallout4/props/fortifications/woodencrate03.phy
F4_Fortifications_v1/models/mosi/fallout4/props/fortifications/chainlinkcorner01.phy
F4_Fortifications_v1/models/mosi/fallout4/props/fortifications/junkwall04.phy
F4_Fortifications_v1/models/mosi/fallout4/props/fortifications/junkwalltall03.dx80.vtx
F4_Fortifications_v1/models/mosi/fallout4/props/fortifications/chainlinkcorner02.vvd
F4_Fortifications_v1/models/mosi/fallout4/props/fortifications/cinderblocks09.sw.vtx
F4_Fortifications_v1/models/mosi/fallout4/props/fortifications/planks04.vvd
F4_Fortifications_v1/models/mosi/fallout4/props/fortifications/planks04.dx90.vtx
F4_Fortifications_v1/models/mosi/fallout4/props/fortifications/guardtower.dx90.vtx
F4_Fortifications_v1/models/mosi/fallout4/props/fortifications/blocker02.sw.vtx
F4_Fortifications_v1/models/mosi/fallout4/props/fortifications/vaultcrate01.dx90.vtx
F4_Fortifications_v1/models/mosi/fallout4/props/fortifications/vaultcrate03.dx90.vtx
F4_Fortifications_v1/models/mosi/fallout4/props/fortifications/cinderblocks03.sw.vtx
F4_Fortifications_v1/models/mosi/fallout4/props/fortifications/junkwalltall01.mdl
F4_Fortifications_v1/models/mosi/fallout4/props/fortifications/junkwall07.dx90.vtx
F4_Fortifications_v1/models/mosi/fallout4/props/fortifications/woodencrate02.dx80.vtx
F4_Fortifications_v1/models/mosi/fallout4/props/fortifications/stonewallold01.mdl
F4_Fortifications_v1/models/mosi/fallout4/props/fortifications/tirepile02.dx80.vtx
F4_Fortifications_v1/models/mosi/fallout4/props/fortifications/tirewall02.vvd
F4_Fortifications_v1/models/mosi/fallout4/props/fortifications/barricadewall01.vvd
F4_Fortifications_v1/models/mosi/fallout4/props/fortifications/junkwalltall04.phy
F4_Fortifications_v1/models/mosi/fallout4/props/fortifications/stonewallold01.phy
F4_Fortifications_v1/models/mosi/fallout4/props/fortifications/cinderblocks01.dx80.vtx
F4_Fortifications_v1/models/mosi/fallout4/props/fortifications/vaultcrate04.dx90.vtx
F4_Fortifications_v1/models/mosi/fallout4/props/fortifications/woodencrate03.mdl
F4_Fortifications_v1/models/mosi/fallout4/props/fortifications/planks01.sw.vtx
F4_Fortifications_v1/models/mosi/fallout4/props/fortifications/tirewall01.dx90.vtx
F4_Fortifications_v1/models/mosi/fallout4/props/fortifications/barricadewall02.vvd
F4_Fortifications_v1/models/mosi/fallout4/props/fortifications/cinderblocks02.vvd
F4_Fortifications_v1/models/mosi/fallout4/props/fortifications/wallbarricade01.sw.vtx
F4_Fortifications_v1/models/mosi/fallout4/props/fortifications/vaultcrate03.phy
F4_Fortifications_v1/models/mosi/fallout4/props/fortifications/junkwalldoorway.vvd
F4_Fortifications_v1/models/mosi/fallout4/props/fortifications/guardtower.sw.vtx
F4_Fortifications_v1/models/mosi/fallout4/props/fortifications/wallbarricade04.phy
F4_Fortifications_v1/models/mosi/fallout4/props/fortifications/ramp_truck.sw.vtx
F4_Fortifications_v1/models/mosi/fallout4/props/fortifications/blocker03.dx90.vtx
F4_Fortifications_v1/models/mosi/fallout4/props/fortifications/cinderblocks08.dx90.vtx
F4_Fortifications_v1/models/mosi/fallout4/props/fortifications/junkwallhallway.phy
F4_Fortifications_v1/models/mosi/fallout4/props/fortifications/barricadewall01.sw.vtx
F4_Fortifications_v1/models/mosi/fallout4/props/fortifications/cratelarge01.mdl
F4_Fortifications_v1/models/mosi/fallout4/props/fortifications/chainlinkend.phy
F4_Fortifications_v1/models/mosi/fallout4/props/fortifications/junkwallcorner.phy
F4_Fortifications_v1/models/mosi/fallout4/props/fortifications/vaultcrate02.mdl
F4_Fortifications_v1/models/mosi/fallout4/props/fortifications/doorbarricade.vvd
F4_Fortifications_v1/models/mosi/fallout4/props/fortifications/plywoodblocker.mdl
F4_Fortifications_v1/models/mosi/fallout4/props/fortifications/cinderblocks09.phy
F4_Fortifications_v1/models/mosi/fallout4/props/fortifications/cinderblocks01.phy
F4_Fortifications_v1/models/mosi/fallout4/props/fortifications/cinderblocks09.dx80.vtx
F4_Fortifications_v1/models/mosi/fallout4/props/fortifications/planks02.mdl
F4_Fortifications_v1/models/mosi/fallout4/props/fortifications/blocker02.dx90.vtx
F4_Fortifications_v1/models/mosi/fallout4/props/fortifications/junkwall07.phy
F4_Fortifications_v1/models/mosi/fallout4/props/fortifications/stonewallold01.dx80.vtx
F4_Fortifications_v1/models/mosi/fallout4/props/fortifications/cratelarge01.sw.vtx
F4_Fortifications_v1/models/mosi/fallout4/props/fortifications/chainlinkcorner01.mdl
F4_Fortifications_v1/models/mosi/fallout4/props/fortifications/ramp_plywood.mdl
F4_Fortifications_v1/models/mosi/fallout4/props/fortifications/cinderblocks07.mdl
F4_Fortifications_v1/models/mosi/fallout4/props/fortifications/concretebarricade.sw.vtx
F4_Fortifications_v1/models/mosi/fallout4/props/fortifications/chainlinkend.vvd
F4_Fortifications_v1/models/mosi/fallout4/props/fortifications/junkwall04.sw.vtx
F4_Fortifications_v1/models/mosi/fallout4/props/fortifications/junkwalltall01.dx90.vtx
F4_Fortifications_v1/models/mosi/fallout4/props/fortifications/junkwall01.sw.vtx
F4_Fortifications_v1/models/mosi/fallout4/props/fortifications/woodpalette.dx90.vtx
F4_Fortifications_v1/models/mosi/fallout4/props/fortifications/vaultcrate04.phy
F4_Fortifications_v1/models/mosi/fallout4/props/fortifications/planks02.dx90.vtx
F4_Fortifications_v1/models/mosi/fallout4/props/fortifications/tirepile02.mdl
F4_Fortifications_v1/models/mosi/fallout4/props/fortifications/junkwalldoorway.dx90.vtx
F4_Fortifications_v1/models/mosi/fallout4/props/fortifications/concretebarricade.dx80.vtx
F4_Fortifications_v1/models/mosi/fallout4/props/fortifications/stonewallold01.vvd
F4_Fortifications_v1/models/mosi/fallout4/props/fortifications/cinderblocks02.sw.vtx
F4_Fortifications_v1/models/mosi/fallout4/props/fortifications/junkwall05.vvd
F4_Fortifications_v1/models/mosi/fallout4/props/fortifications/ramp_truck.dx90.vtx
F4_Fortifications_v1/models/mosi/fallout4/props/fortifications/cinderblocks05.dx90.vtx
F4_Fortifications_v1/models/mosi/fallout4/props/fortifications/junkwalltallfree01.sw.vtx
F4_Fortifications_v1/models/mosi/fallout4/props/fortifications/junkwalltallangled01.dx90.vtx
F4_Fortifications_v1/models/mosi/fallout4/props/fortifications/stonewallold03.dx80.vtx
F4_Fortifications_v1/models/mosi/fallout4/props/fortifications/junkwall06.dx90.vtx
F4_Fortifications_v1/models/mosi/fallout4/props/fortifications/wallbarricade02.phy
F4_Fortifications_v1/models/mosi/fallout4/props/fortifications/wallbarricade01.phy
F4_Fortifications_v1/models/mosi/fallout4/props/fortifications/woodpalette.mdl
F4_Fortifications_v1/models/mosi/fallout4/props/fortifications/cinderblocks06.phy
F4_Fortifications_v1/models/mosi/fallout4/props/fortifications/junkwall04.dx90.vtx
F4_Fortifications_v1/models/mosi/fallout4/props/fortifications/stonewallold02.vvd
F4_Fortifications_v1/models/mosi/fallout4/props/fortifications/cinderblocks05.vvd
F4_Fortifications_v1/models/mosi/fallout4/props/fortifications/junkwall04.mdl
F4_Fortifications_v1/models/mosi/fallout4/props/fortifications/junkwalltallfree01.dx80.vtx
F4_Fortifications_v1/models/mosi/fallout4/props/fortifications/cinderblocks02.mdl
F4_Fortifications_v1/models/mosi/fallout4/props/fortifications/blocker01.mdl
F4_Fortifications_v1/models/mosi/fallout4/props/fortifications/woodencrate01.mdl
F4_Fortifications_v1/models/mosi/fallout4/props/fortifications/junkwalltallangled02.dx90.vtx
F4_Fortifications_v1/models/mosi/fallout4/props/fortifications/junkwall02.phy
F4_Fortifications_v1/models/mosi/fallout4/props/fortifications/junkwalltallfree01.mdl
F4_Fortifications_v1/models/mosi/fallout4/props/fortifications/woodencrate01.dx80.vtx
F4_Fortifications_v1/models/mosi/fallout4/props/fortifications/wallshelltower.vvd
F4_Fortifications_v1/models/mosi/fallout4/props/fortifications/metalbarrel01.vvd
F4_Fortifications_v1/models/mosi/fallout4/props/fortifications/sandbag02.sw.vtx
F4_Fortifications_v1/models/mosi/fallout4/props/fortifications/guardpost.dx90.vtx
F4_Fortifications_v1/models/mosi/fallout4/props/fortifications/junkwalltall04.dx80.vtx
F4_Fortifications_v1/models/mosi/fallout4/props/fortifications/stonewallold03.mdl
F4_Fortifications_v1/models/mosi/fallout4/props/fortifications/junkwall05.phy
F4_Fortifications_v1/models/mosi/fallout4/props/fortifications/doorbarricade.sw.vtx
F4_Fortifications_v1/models/mosi/fallout4/props/fortifications/cinderblocks03.dx90.vtx
F4_Fortifications_v1/models/mosi/fallout4/props/fortifications/blocker04.dx90.vtx
F4_Fortifications_v1/models/mosi/fallout4/props/fortifications/cinderblocks09.dx90.vtx
F4_Fortifications_v1/models/mosi/fallout4/props/fortifications/barricadepanel01.mdl
F4_Fortifications_v1/models/mosi/fallout4/props/fortifications/cinderblocks09.vvd
F4_Fortifications_v1/models/mosi/fallout4/props/fortifications/junkwalltall01.vvd
F4_Fortifications_v1/models/mosi/fallout4/props/fortifications/blocker01.dx90.vtx
F4_Fortifications_v1/models/mosi/fallout4/props/fortifications/blocker01.vvd
F4_Fortifications_v1/models/mosi/fallout4/props/fortifications/doorbarricade.dx80.vtx
F4_Fortifications_v1/models/mosi/fallout4/props/fortifications/woodpalette.phy
F4_Fortifications_v1/models/mosi/fallout4/props/fortifications/vaultcrate01.vvd
F4_Fortifications_v1/models/mosi/fallout4/props/fortifications/blocker04.sw.vtx
F4_Fortifications_v1/models/mosi/fallout4/props/fortifications/wallbarricade03.mdl
F4_Fortifications_v1/models/mosi/fallout4/props/fortifications/ramp_truck.vvd
F4_Fortifications_v1/models/mosi/fallout4/props/fortifications/sandbag01.dx90.vtx
F4_Fortifications_v1/models/mosi/fallout4/props/fortifications/chainlinkcorner02.dx80.vtx
F4_Fortifications_v1/models/mosi/fallout4/props/fortifications/planks03.phy
F4_Fortifications_v1/models/mosi/fallout4/props/fortifications/vaultcrate02.dx90.vtx
F4_Fortifications_v1/models/mosi/fallout4/props/fortifications/wallbarricade04.dx80.vtx
F4_Fortifications_v1/models/mosi/fallout4/props/fortifications/cinderblockstairs01.sw.vtx
F4_Fortifications_v1/models/mosi/fallout4/props/fortifications/vaultcrate02.dx80.vtx
F4_Fortifications_v1/models/mosi/fallout4/props/fortifications/junkwallcorner.dx80.vtx
F4_Fortifications_v1/models/mosi/fallout4/props/fortifications/chainlinkcorner02.sw.vtx
F4_Fortifications_v1/models/mosi/fallout4/props/fortifications/ramp_plywood.dx80.vtx
F4_Fortifications_v1/models/mosi/fallout4/props/fortifications/cinderblocks03.mdl
F4_Fortifications_v1/models/mosi/fallout4/props/fortifications/planks01.phy
F4_Fortifications_v1/models/mosi/fallout4/props/fortifications/stonewallold02.dx90.vtx
F4_Fortifications_v1/models/mosi/fallout4/props/fortifications/metalbarrel01.mdl
F4_Fortifications_v1/models/mosi/fallout4/props/fortifications/junkwall05.mdl
F4_Fortifications_v1/models/mosi/fallout4/props/fortifications/junkwallcorner.vvd
F4_Fortifications_v1/models/mosi/fallout4/props/fortifications/planks04.phy
F4_Fortifications_v1/models/mosi/fallout4/props/fortifications/vaultcrate04.sw.vtx
F4_Fortifications_v1/models/mosi/fallout4/props/fortifications/chainlinkcorner02.phy
F4_Fortifications_v1/models/mosi/fallout4/props/fortifications/vaultcrate02.vvd
F4_Fortifications_v1/models/mosi/fallout4/props/fortifications/vaultcrate02.phy
F4_Fortifications_v1/models/mosi/fallout4/props/fortifications/metalbarrel02.vvd
F4_Fortifications_v1/models/mosi/fallout4/props/fortifications/guardtower.vvd
F4_Fortifications_v1/models/mosi/fallout4/props/fortifications/junkwall06.mdl
F4_Fortifications_v1/models/mosi/fallout4/props/fortifications/vaultcrate03.dx80.vtx
F4_Fortifications_v1/models/mosi/fallout4/props/fortifications/tirewall02.dx80.vtx
F4_Fortifications_v1/models/mosi/fallout4/props/fortifications/junkwalltallangled01.vvd
F4_Fortifications_v1/models/mosi/fallout4/props/fortifications/woodencrate03.dx90.vtx
F4_Fortifications_v1/models/mosi/fallout4/props/fortifications/junkwall03.mdl
F4_Fortifications_v1/models/mosi/fallout4/props/fortifications/planks01.dx80.vtx
F4_Fortifications_v1/models/mosi/fallout4/props/fortifications/woodencrate02.mdl
F4_Fortifications_v1/models/mosi/fallout4/props/fortifications/junkwall07.dx80.vtx
F4_Fortifications_v1/models/mosi/fallout4/props/fortifications/junkwalltall02.sw.vtx
F4_Fortifications_v1/models/mosi/fallout4/props/fortifications/blocker04.vvd
F4_Fortifications_v1/models/mosi/fallout4/props/fortifications/sandbag01.dx80.vtx
F4_Fortifications_v1/models/mosi/fallout4/props/fortifications/wallbarricade03.dx80.vtx
F4_Fortifications_v1/models/mosi/fallout4/props/fortifications/chainlinkcorner01.dx80.vtx
F4_Fortifications_v1/models/mosi/fallout4/props/fortifications/junkwalltallfree01.vvd
F4_Fortifications_v1/models/mosi/fallout4/props/fortifications/metalbarrel01.sw.vtx
F4_Fortifications_v1/models/mosi/fallout4/props/fortifications/blocker04.mdl
F4_Fortifications_v1/models/mosi/fallout4/props/fortifications/wallshelltower.mdl
F4_Fortifications_v1/models/mosi/fallout4/props/fortifications/chainlinkend.sw.vtx
F4_Fortifications_v1/models/mosi/fallout4/props/fortifications/barricadewall01.phy
F4_Fortifications_v1/models/mosi/fallout4/props/fortifications/barricadepanel01.dx80.vtx
F4_Fortifications_v1/models/mosi/fallout4/props/fortifications/woodencrate02.phy
F4_Fortifications_v1/models/mosi/fallout4/props/fortifications/cinderblocks03.vvd
F4_Fortifications_v1/models/mosi/fallout4/props/fortifications/chainlink01.mdl
F4_Fortifications_v1/models/mosi/fallout4/props/fortifications/guardtower.phy
F4_Fortifications_v1/models/mosi/fallout4/props/fortifications/junkwall01.phy
F4_Fortifications_v1/models/mosi/fallout4/props/fortifications/ramp_plywood.sw.vtx
F4_Fortifications_v1/models/mosi/fallout4/props/fortifications/junkwall01.vvd
F4_Fortifications_v1/models/mosi/fallout4/props/fortifications/vaultcrate03.sw.vtx
F4_Fortifications_v1/models/mosi/fallout4/props/fortifications/cinderblocks08.vvd
F4_Fortifications_v1/models/mosi/fallout4/props/fortifications/wallbarricade02.vvd
F4_Fortifications_v1/models/mosi/fallout4/props/fortifications/blocker01.sw.vtx
F4_Fortifications_v1/models/mosi/fallout4/props/fortifications/stonewallold03.vvd
F4_Fortifications_v1/models/mosi/fallout4/props/fortifications/wallshelltower.dx90.vtx
F4_Fortifications_v1/models/mosi/fallout4/props/fortifications/junkwall06.phy
F4_Fortifications_v1/models/mosi/fallout4/props/fortifications/junkwall06.dx80.vtx
F4_Fortifications_v1/models/mosi/fallout4/props/fortifications/stonewallold03.sw.vtx
F4_Fortifications_v1/models/mosi/fallout4/props/fortifications/wallbarricade03.dx90.vtx
F4_Fortifications_v1/models/mosi/fallout4/props/fortifications/wallbarricade04.mdl
F4_Fortifications_v1/models/mosi/fallout4/props/fortifications/sandbag02.dx90.vtx
F4_Fortifications_v1/models/mosi/fallout4/props/fortifications/barricadepanel02.phy
F4_Fortifications_v1/models/mosi/fallout4/props/fortifications/stonewallold02.mdl
F4_Fortifications_v1/models/mosi/fallout4/props/fortifications/barricadepanel02.vvd
F4_Fortifications_v1/models/mosi/fallout4/props/fortifications/junkwall03.vvd
F4_Fortifications_v1/models/mosi/fallout4/props/fortifications/woodenbarrel.dx90.vtx
F4_Fortifications_v1/models/mosi/fallout4/props/fortifications/junkwalltall03.vvd
F4_Fortifications_v1/models/mosi/fallout4/props/fortifications/junkwalltallangled02.sw.vtx
F4_Fortifications_v1/models/mosi/fallout4/props/fortifications/junkwalltallangled01.mdl
F4_Fortifications_v1/models/mosi/fallout4/props/fortifications/junkwallhallway.vvd
F4_Fortifications_v1/models/mosi/fallout4/props/fortifications/blocker02.mdl
F4_Fortifications_v1/models/mosi/fallout4/props/fortifications/cinderblockstairs02.sw.vtx
F4_Fortifications_v1/models/mosi/fallout4/props/fortifications/tirewall02.phy
F4_Fortifications_v1/models/mosi/fallout4/props/fortifications/chainlinkend.dx80.vtx
F4_Fortifications_v1/models/mosi/fallout4/props/fortifications/junkwallhallway.sw.vtx
F4_Fortifications_v1/models/mosi/fallout4/props/fortifications/cinderblocks04.sw.vtx
F4_Fortifications_v1/models/mosi/fallout4/props/fortifications/metalbarrel02.mdl
F4_Fortifications_v1/models/mosi/fallout4/props/fortifications/cinderblocks02.dx90.vtx
F4_Fortifications_v1/models/mosi/fallout4/props/fortifications/cratelarge01.dx90.vtx
F4_Fortifications_v1/models/mosi/fallout4/props/fortifications/junkwalltall04.mdl
F4_Fortifications_v1/models/mosi/fallout4/props/fortifications/cratelarge01.vvd
F4_Fortifications_v1/models/mosi/fallout4/props/fortifications/planks03.dx90.vtx
F4_Fortifications_v1/models/mosi/fallout4/props/fortifications/junkwalltallangled01.sw.vtx
F4_Fortifications_v1/models/mosi/fallout4/props/fortifications/planks01.mdl
F4_Fortifications_v1/models/mosi/fallout4/props/fortifications/junkwallcorner.dx90.vtx
F4_Fortifications_v1/models/mosi/fallout4/props/fortifications/junkwalldoorway.sw.vtx
F4_Fortifications_v1/models/mosi/fallout4/props/fortifications/planks04.dx80.vtx
F4_Fortifications_v1/models/mosi/fallout4/props/fortifications/chainlinkend.mdl
F4_Fortifications_v1/models/mosi/fallout4/props/fortifications/junkwalldoorway.dx80.vtx
F4_Fortifications_v1/models/mosi/fallout4/props/fortifications/cratelarge01.phy
F4_Fortifications_v1/models/mosi/fallout4/props/fortifications/concretebarricade.mdl
F4_Fortifications_v1/models/mosi/fallout4/props/fortifications/cinderblocks04.vvd
F4_Fortifications_v1/models/mosi/fallout4/props/fortifications/cinderblocks07.dx90.vtx
F4_Fortifications_v1/models/mosi/fallout4/props/fortifications/cinderblocks07.vvd
F4_Fortifications_v1/models/mosi/fallout4/props/fortifications/cinderblocks08.phy
F4_Fortifications_v1/models/mosi/fallout4/props/fortifications/cinderblockstairs01.dx90.vtx
F4_Fortifications_v1/models/mosi/fallout4/props/fortifications/cinderblocks05.mdl
F4_Fortifications_v1/models/mosi/fallout4/props/fortifications/woodencrate01.phy
F4_Fortifications_v1/models/mosi/fallout4/props/fortifications/junkwalltallangled02.phy
F4_Fortifications_v1/models/mosi/fallout4/props/fortifications/woodencrate03.vvd
F4_Fortifications_v1/models/mosi/fallout4/props/fortifications/junkwalltallangled02.vvd
F4_Fortifications_v1/models/mosi/fallout4/props/fortifications/doorbarricade.dx90.vtx
F4_Fortifications_v1/models/mosi/fallout4/props/fortifications/junkwalltall02.mdl
F4_Fortifications_v1/models/mosi/fallout4/props/fortifications/cinderblocks06.sw.vtx
F4_Fortifications_v1/models/mosi/fallout4/props/fortifications/tirewall01.mdl
F4_Fortifications_v1/models/mosi/fallout4/props/fortifications/cinderblockstairs02.dx90.vtx
F4_Fortifications_v1/models/mosi/fallout4/props/fortifications/cinderblocks06.dx90.vtx
F4_Fortifications_v1/models/mosi/fallout4/props/fortifications/cinderblocks05.sw.vtx
F4_Fortifications_v1/models/mosi/fallout4/props/fortifications/junkwalltall02.dx80.vtx
F4_Fortifications_v1/models/mosi/fallout4/props/fortifications/ramp_truck.dx80.vtx
F4_Fortifications_v1/models/mosi/fallout4/props/fortifications/guardtower.mdl
F4_Fortifications_v1/models/mosi/fallout4/props/fortifications/plywoodblocker.dx80.vtx
F4_Fortifications_v1/models/mosi/fallout4/props/fortifications/junkwall04.vvd
F4_Fortifications_v1/models/mosi/fallout4/props/fortifications/junkwall05.dx90.vtx
F4_Fortifications_v1/models/mosi/fallout4/props/fortifications/barricadepanel02.dx90.vtx
F4_Fortifications_v1/models/mosi/fallout4/props/fortifications/guardtower.dx80.vtx
F4_Fortifications_v1/models/mosi/fallout4/props/fortifications/barricadepanel01.vvd
F4_Fortifications_v1/models/mosi/fallout4/props/fortifications/barricadewall01.dx80.vtx
F4_Fortifications_v1/models/mosi/fallout4/props/fortifications/vaultcrate04.mdl
F4_Fortifications_v1/models/mosi/fallout4/props/fortifications/guardpost.vvd
F4_Fortifications_v1/models/mosi/fallout4/props/fortifications/guardpost.dx80.vtx
F4_Fortifications_v1/models/mosi/fallout4/props/fortifications/junkwall07.mdl
F4_Fortifications_v1/models/mosi/fallout4/props/fortifications/metalbarrel02.dx90.vtx
F4_Fortifications_v1/models/mosi/fallout4/props/fortifications/cinderblocks06.vvd
F4_Fortifications_v1/models/mosi/fallout4/props/fortifications/junkwalltall01.phy
F4_Fortifications_v1/models/mosi/fallout4/props/fortifications/junkwalltallangled01.phy
F4_Fortifications_v1/models/mosi/fallout4/props/fortifications/junkwall06.sw.vtx
F4_Fortifications_v1/models/mosi/fallout4/props/fortifications/cinderblocks05.dx80.vtx
F4_Fortifications_v1/models/mosi/fallout4/props/fortifications/cinderblocks07.sw.vtx
F4_Fortifications_v1/models/mosi/fallout4/props/fortifications/wallbarricade03.vvd
F4_Fortifications_v1/models/mosi/fallout4/props/fortifications/cinderblocks04.dx90.vtx
F4_Fortifications_v1/models/mosi/fallout4/props/fortifications/woodencrate02.sw.vtx
F4_Fortifications_v1/models/mosi/fallout4/props/fortifications/cinderblockstairs02.mdl
F4_Fortifications_v1/models/mosi/fallout4/props/fortifications/junkwall02.mdl
F4_Fortifications_v1/models/mosi/fallout4/props/fortifications/planks02.dx80.vtx
F4_Fortifications_v1/models/mosi/fallout4/props/fortifications/plywoodblocker.phy
F4_Fortifications_v1/models/mosi/fallout4/props/fortifications/metalbarrel01.dx80.vtx
F4_Fortifications_v1/models/mosi/fallout4/props/fortifications/vaultcrate01.phy
F4_Fortifications_v1/models/mosi/fallout4/props/fortifications/junkwalltallfree01.dx90.vtx
F4_Fortifications_v1/models/mosi/fallout4/props/fortifications/tirepile01.sw.vtx
F4_Fortifications_v1/models/mosi/fallout4/props/fortifications/wallbarricade02.dx80.vtx
F4_Fortifications_v1/models/mosi/fallout4/props/fortifications/junkwalltall04.vvd
F4_Fortifications_v1/models/mosi/fallout4/props/fortifications/sandbag01.phy
F4_Fortifications_v1/models/mosi/fallout4/props/fortifications/sandbag02.phy
F4_Fortifications_v1/models/mosi/fallout4/props/fortifications/concretebarricade.vvd
F4_Fortifications_v1/models/mosi/fallout4/props/fortifications/cinderblocks07.dx80.vtx
F4_Fortifications_v1/models/mosi/fallout4/props/fortifications/stonewallold01.sw.vtx
F4_Fortifications_v1/models/mosi/fallout4/props/fortifications/tirepile01.phy
F4_Fortifications_v1/models/mosi/fallout4/props/fortifications/blocker03.mdl
F4_Fortifications_v1/models/mosi/fallout4/props/fortifications/junkwalltallangled02.dx80.vtx
F4_Fortifications_v1/models/mosi/fallout4/props/fortifications/woodpalette.vvd
F4_Fortifications_v1/models/mosi/fallout4/props/fortifications/wallbarricade02.sw.vtx
F4_Fortifications_v1/models/mosi/fallout4/props/fortifications/barricadewall02.dx90.vtx
F4_Fortifications_v1/models/mosi/fallout4/props/fortifications/ramp_plywood.vvd
F4_Fortifications_v1/models/mosi/fallout4/props/fortifications/tirewall02.sw.vtx
F4_Fortifications_v1/models/mosi/fallout4/props/fortifications/cinderblocks08.dx80.vtx
F4_Fortifications_v1/models/mosi/fallout4/props/fortifications/junkwall02.dx90.vtx
F4_Fortifications_v1/models/mosi/fallout4/props/fortifications/ramp_plywood.phy
F4_Fortifications_v1/models/mosi/fallout4/props/fortifications/tirepile02.vvd
F4_Fortifications_v1/models/mosi/fallout4/props/fortifications/chainlink01.phy
F4_Fortifications_v1/models/mosi/fallout4/props/fortifications/blocker03.vvd
F4_Fortifications_v1/models/mosi/fallout4/props/fortifications/wallshelltower.phy
F4_Fortifications_v1/models/mosi/fallout4/props/fortifications/vaultcrate01.sw.vtx
F4_Fortifications_v1/models/mosi/fallout4/props/fortifications/sandbag02.dx80.vtx
F4_Fortifications_v1/models/mosi/fallout4/props/fortifications/cinderblockstairs02.phy
F4_Fortifications_v1/models/mosi/fallout4/props/fortifications/plywoodblocker.dx90.vtx
F4_Fortifications_v1/models/mosi/fallout4/props/fortifications/tirewall02.mdl
F4_Fortifications_v1/models/mosi/fallout4/props/fortifications/tirepile02.sw.vtx
F4_Fortifications_v1/models/mosi/fallout4/props/fortifications/concretebarricade.dx90.vtx
F4_Fortifications_v1/models/mosi/fallout4/props/fortifications/woodenbarrel.sw.vtx
F4_Fortifications_v1/models/mosi/fallout4/props/fortifications/barricadepanel01.phy
F4_Fortifications_v1/models/mosi/fallout4/props/fortifications/bos/walkwaybend01.dx90.vtx
F4_Fortifications_v1/models/mosi/fallout4/props/fortifications/bos/steps.sw.vtx
F4_Fortifications_v1/models/mosi/fallout4/props/fortifications/bos/walkwayfiller01.phy
F4_Fortifications_v1/models/mosi/fallout4/props/fortifications/bos/walkwayfiller01.dx80.vtx
F4_Fortifications_v1/models/mosi/fallout4/props/fortifications/bos/barricade.phy
F4_Fortifications_v1/models/mosi/fallout4/props/fortifications/bos/barricadeplatebend01.vvd
F4_Fortifications_v1/models/mosi/fallout4/props/fortifications/bos/walkwaystairs03.mdl
F4_Fortifications_v1/models/mosi/fallout4/props/fortifications/bos/walkway01.vvd
F4_Fortifications_v1/models/mosi/fallout4/props/fortifications/bos/barricadeplate02.dx90.vtx
F4_Fortifications_v1/models/mosi/fallout4/props/fortifications/bos/walkway02.vvd
F4_Fortifications_v1/models/mosi/fallout4/props/fortifications/bos/platform01.dx90.vtx
F4_Fortifications_v1/models/mosi/fallout4/props/fortifications/bos/platform02.vvd
F4_Fortifications_v1/models/mosi/fallout4/props/fortifications/bos/walkwayfiller02.mdl
F4_Fortifications_v1/models/mosi/fallout4/props/fortifications/bos/walkway01.sw.vtx
F4_Fortifications_v1/models/mosi/fallout4/props/fortifications/bos/platform02.phy
F4_Fortifications_v1/models/mosi/fallout4/props/fortifications/bos/platform04.dx90.vtx
F4_Fortifications_v1/models/mosi/fallout4/props/fortifications/bos/walkwaybend01.sw.vtx
F4_Fortifications_v1/models/mosi/fallout4/props/fortifications/bos/walkwayfiller01.dx90.vtx
F4_Fortifications_v1/models/mosi/fallout4/props/fortifications/bos/walkwaybend01.phy
F4_Fortifications_v1/models/mosi/fallout4/props/fortifications/bos/barricadeplatebend01.mdl
F4_Fortifications_v1/models/mosi/fallout4/props/fortifications/bos/platform04.sw.vtx
F4_Fortifications_v1/models/mosi/fallout4/props/fortifications/bos/barricade.vvd
F4_Fortifications_v1/models/mosi/fallout4/props/fortifications/bos/walkwaystairs02.dx80.vtx
F4_Fortifications_v1/models/mosi/fallout4/props/fortifications/bos/walkwaybendstairs01.dx80.vtx
F4_Fortifications_v1/models/mosi/fallout4/props/fortifications/bos/walkway02.mdl
F4_Fortifications_v1/models/mosi/fallout4/props/fortifications/bos/platform03.dx90.vtx
F4_Fortifications_v1/models/mosi/fallout4/props/fortifications/bos/barricadeplatebend02.sw.vtx
F4_Fortifications_v1/models/mosi/fallout4/props/fortifications/bos/walkwaystairs02.dx90.vtx
F4_Fortifications_v1/models/mosi/fallout4/props/fortifications/bos/barricadeplatebend02.vvd
F4_Fortifications_v1/models/mosi/fallout4/props/fortifications/bos/walkwaystairs02.phy
F4_Fortifications_v1/models/mosi/fallout4/props/fortifications/bos/walkwayfiller01.sw.vtx
F4_Fortifications_v1/models/mosi/fallout4/props/fortifications/bos/walkwaybendstairs01.phy
F4_Fortifications_v1/models/mosi/fallout4/props/fortifications/bos/walkway01.dx80.vtx
F4_Fortifications_v1/models/mosi/fallout4/props/fortifications/bos/walkwaybend02.dx90.vtx
F4_Fortifications_v1/models/mosi/fallout4/props/fortifications/bos/walkwayfiller01.vvd
F4_Fortifications_v1/models/mosi/fallout4/props/fortifications/bos/barricadeplatebend02.mdl
F4_Fortifications_v1/models/mosi/fallout4/props/fortifications/bos/platform03.sw.vtx
F4_Fortifications_v1/models/mosi/fallout4/props/fortifications/bos/platform03.phy
F4_Fortifications_v1/models/mosi/fallout4/props/fortifications/bos/barricadeplate02.mdl
F4_Fortifications_v1/models/mosi/fallout4/props/fortifications/bos/walkwaybendstairs01.mdl
F4_Fortifications_v1/models/mosi/fallout4/props/fortifications/bos/walkwaybendstairs02.phy
F4_Fortifications_v1/models/mosi/fallout4/props/fortifications/bos/barricadeplate01.phy
F4_Fortifications_v1/models/mosi/fallout4/props/fortifications/bos/walkway02.dx90.vtx
F4_Fortifications_v1/models/mosi/fallout4/props/fortifications/bos/walkwaystairs01.dx80.vtx
F4_Fortifications_v1/models/mosi/fallout4/props/fortifications/bos/walkway02.phy
F4_Fortifications_v1/models/mosi/fallout4/props/fortifications/bos/walkwaystairs02.sw.vtx
F4_Fortifications_v1/models/mosi/fallout4/props/fortifications/bos/platform01.sw.vtx
F4_Fortifications_v1/models/mosi/fallout4/props/fortifications/bos/barricadeplate01.sw.vtx
F4_Fortifications_v1/models/mosi/fallout4/props/fortifications/bos/barricadeplate01.dx80.vtx
F4_Fortifications_v1/models/mosi/fallout4/props/fortifications/bos/poles.sw.vtx
F4_Fortifications_v1/models/mosi/fallout4/props/fortifications/bos/barricadeplate01.dx90.vtx
F4_Fortifications_v1/models/mosi/fallout4/props/fortifications/bos/walkway02.sw.vtx
F4_Fortifications_v1/models/mosi/fallout4/props/fortifications/bos/walkwaystairs01.vvd
F4_Fortifications_v1/models/mosi/fallout4/props/fortifications/bos/platform04.phy
F4_Fortifications_v1/models/mosi/fallout4/props/fortifications/bos/walkwaybend02.mdl
F4_Fortifications_v1/models/mosi/fallout4/props/fortifications/bos/walkwaybend01.vvd
F4_Fortifications_v1/models/mosi/fallout4/props/fortifications/bos/barricade.dx80.vtx
F4_Fortifications_v1/models/mosi/fallout4/props/fortifications/bos/walkwaybendstairs02.dx80.vtx
F4_Fortifications_v1/models/mosi/fallout4/props/fortifications/bos/helipad.phy
F4_Fortifications_v1/models/mosi/fallout4/props/fortifications/bos/poles.mdl
F4_Fortifications_v1/models/mosi/fallout4/props/fortifications/bos/poles.dx80.vtx
F4_Fortifications_v1/models/mosi/fallout4/props/fortifications/bos/walkwaystairs03.dx80.vtx
F4_Fortifications_v1/models/mosi/fallout4/props/fortifications/bos/platform02.sw.vtx
F4_Fortifications_v1/models/mosi/fallout4/props/fortifications/bos/walkway01.phy
F4_Fortifications_v1/models/mosi/fallout4/props/fortifications/bos/platform03.mdl
F4_Fortifications_v1/models/mosi/fallout4/props/fortifications/bos/walkwaybendstairs02.vvd
F4_Fortifications_v1/models/mosi/fallout4/props/fortifications/bos/barricadeplatebend02.dx80.vtx
F4_Fortifications_v1/models/mosi/fallout4/props/fortifications/bos/platform02.dx80.vtx
F4_Fortifications_v1/models/mosi/fallout4/props/fortifications/bos/poles.vvd
F4_Fortifications_v1/models/mosi/fallout4/props/fortifications/bos/walkwaystairs01.sw.vtx
F4_Fortifications_v1/models/mosi/fallout4/props/fortifications/bos/walkwaybend01.mdl
F4_Fortifications_v1/models/mosi/fallout4/props/fortifications/bos/steps.dx80.vtx
F4_Fortifications_v1/models/mosi/fallout4/props/fortifications/bos/steps.dx90.vtx
F4_Fortifications_v1/models/mosi/fallout4/props/fortifications/bos/walkwaystairs01.mdl
F4_Fortifications_v1/models/mosi/fallout4/props/fortifications/bos/walkwaystairs03.dx90.vtx
F4_Fortifications_v1/models/mosi/fallout4/props/fortifications/bos/barricadeplate02.sw.vtx
F4_Fortifications_v1/models/mosi/fallout4/props/fortifications/bos/walkwaybend01.dx80.vtx
F4_Fortifications_v1/models/mosi/fallout4/props/fortifications/bos/walkwaystairs02.mdl
F4_Fortifications_v1/models/mosi/fallout4/props/fortifications/bos/walkwayfiller02.dx90.vtx
F4_Fortifications_v1/models/mosi/fallout4/props/fortifications/bos/platform02.dx90.vtx
F4_Fortifications_v1/models/mosi/fallout4/props/fortifications/bos/walkwaystairs01.phy
F4_Fortifications_v1/models/mosi/fallout4/props/fortifications/bos/walkwayfiller01.mdl
F4_Fortifications_v1/models/mosi/fallout4/props/fortifications/bos/barricadeplate01.mdl
F4_Fortifications_v1/models/mosi/fallout4/props/fortifications/bos/walkwaybend02.dx80.vtx
F4_Fortifications_v1/models/mosi/fallout4/props/fortifications/bos/barricadeplate02.dx80.vtx
F4_Fortifications_v1/models/mosi/fallout4/props/fortifications/bos/walkwayfiller02.sw.vtx
F4_Fortifications_v1/models/mosi/fallout4/props/fortifications/bos/helipad.vvd
F4_Fortifications_v1/models/mosi/fallout4/props/fortifications/bos/barricadeplate02.phy
F4_Fortifications_v1/models/mosi/fallout4/props/fortifications/bos/barricadeplatebend01.dx90.vtx
F4_Fortifications_v1/models/mosi/fallout4/props/fortifications/bos/platform01.mdl
F4_Fortifications_v1/models/mosi/fallout4/props/fortifications/bos/barricadeplatebend02.phy
F4_Fortifications_v1/models/mosi/fallout4/props/fortifications/bos/steps.vvd
F4_Fortifications_v1/models/mosi/fallout4/props/fortifications/bos/platform01.phy
F4_Fortifications_v1/models/mosi/fallout4/props/fortifications/bos/platform04.vvd
F4_Fortifications_v1/models/mosi/fallout4/props/fortifications/bos/walkwaybendstairs01.vvd
F4_Fortifications_v1/models/mosi/fallout4/props/fortifications/bos/barricadeplate01.vvd
F4_Fortifications_v1/models/mosi/fallout4/props/fortifications/bos/platform03.dx80.vtx
F4_Fortifications_v1/models/mosi/fallout4/props/fortifications/bos/steps.phy
F4_Fortifications_v1/models/mosi/fallout4/props/fortifications/bos/walkway02.dx80.vtx
F4_Fortifications_v1/models/mosi/fallout4/props/fortifications/bos/barricadeplate02.vvd
F4_Fortifications_v1/models/mosi/fallout4/props/fortifications/bos/platform04.mdl
F4_Fortifications_v1/models/mosi/fallout4/props/fortifications/bos/helipad.dx90.vtx
F4_Fortifications_v1/models/mosi/fallout4/props/fortifications/bos/barricade.dx90.vtx
F4_Fortifications_v1/models/mosi/fallout4/props/fortifications/bos/platform02.mdl
F4_Fortifications_v1/models/mosi/fallout4/props/fortifications/bos/walkwaystairs03.vvd
F4_Fortifications_v1/models/mosi/fallout4/props/fortifications/bos/barricade.mdl
F4_Fortifications_v1/models/mosi/fallout4/props/fortifications/bos/walkwaybendstairs02.mdl
F4_Fortifications_v1/models/mosi/fallout4/props/fortifications/bos/platform01.dx80.vtx
F4_Fortifications_v1/models/mosi/fallout4/props/fortifications/bos/walkwaybend02.phy
F4_Fortifications_v1/models/mosi/fallout4/props/fortifications/bos/walkwaybendstairs01.dx90.vtx
F4_Fortifications_v1/models/mosi/fallout4/props/fortifications/bos/helipad.sw.vtx
F4_Fortifications_v1/models/mosi/fallout4/props/fortifications/bos/barricadeplatebend02.dx90.vtx
F4_Fortifications_v1/models/mosi/fallout4/props/fortifications/bos/poles.phy
F4_Fortifications_v1/models/mosi/fallout4/props/fortifications/bos/steps.mdl
F4_Fortifications_v1/models/mosi/fallout4/props/fortifications/bos/walkwaybendstairs02.dx90.vtx
F4_Fortifications_v1/models/mosi/fallout4/props/fortifications/bos/walkway01.dx90.vtx
F4_Fortifications_v1/models/mosi/fallout4/props/fortifications/bos/walkwayfiller02.dx80.vtx
F4_Fortifications_v1/models/mosi/fallout4/props/fortifications/bos/walkwayfiller02.phy
F4_Fortifications_v1/models/mosi/fallout4/props/fortifications/bos/barricadeplatebend01.phy
F4_Fortifications_v1/models/mosi/fallout4/props/fortifications/bos/poles.dx90.vtx
F4_Fortifications_v1/models/mosi/fallout4/props/fortifications/bos/walkwaystairs03.sw.vtx
F4_Fortifications_v1/models/mosi/fallout4/props/fortifications/bos/walkwayfiller02.vvd
F4_Fortifications_v1/models/mosi/fallout4/props/fortifications/bos/platform04.dx80.vtx
F4_Fortifications_v1/models/mosi/fallout4/props/fortifications/bos/walkwaystairs01.dx90.vtx
F4_Fortifications_v1/models/mosi/fallout4/props/fortifications/bos/walkwaybend02.sw.vtx
F4_Fortifications_v1/models/mosi/fallout4/props/fortifications/bos/helipad.dx80.vtx
F4_Fortifications_v1/models/mosi/fallout4/props/fortifications/bos/helipad.mdl
F4_Fortifications_v1/models/mosi/fallout4/props/fortifications/bos/walkwaybendstairs01.sw.vtx
F4_Fortifications_v1/models/mosi/fallout4/props/fortifications/bos/barricadeplatebend01.sw.vtx
F4_Fortifications_v1/models/mosi/fallout4/props/fortifications/bos/walkwaystairs02.vvd
F4_Fortifications_v1/models/mosi/fallout4/props/fortifications/bos/barricadeplatebend01.dx80.vtx
F4_Fortifications_v1/models/mosi/fallout4/props/fortifications/bos/platform03.vvd
F4_Fortifications_v1/models/mosi/fallout4/props/fortifications/bos/barricade.sw.vtx
F4_Fortifications_v1/models/mosi/fallout4/props/fortifications/bos/walkway01.mdl
F4_Fortifications_v1/models/mosi/fallout4/props/fortifications/bos/walkwaybend02.vvd
F4_Fortifications_v1/models/mosi/fallout4/props/fortifications/bos/walkwaystairs03.phy
F4_Fortifications_v1/models/mosi/fallout4/props/fortifications/bos/platform01.vvd
F4_Fortifications_v1/models/mosi/fallout4/props/fortifications/bos/walkwaybendstairs02.sw.vtx
F4_Fortifications_v1/materials/models/mosi/fallout4/props/fortifications/sandbag_gravel_n.vtf
F4_Fortifications_v1/materials/models/mosi/fallout4/props/fortifications/concrete_trim.vtf
F4_Fortifications_v1/materials/models/mosi/fallout4/props/fortifications/metalpost_n.vtf
F4_Fortifications_v1/materials/models/mosi/fallout4/props/fortifications/concrete.vtf
F4_Fortifications_v1/materials/models/mosi/fallout4/props/fortifications/mirelurkshell_n.vtf
F4_Fortifications_v1/materials/models/mosi/fallout4/props/fortifications/barricadewall.vtf
F4_Fortifications_v1/materials/models/mosi/fallout4/props/fortifications/plywoodblocker.vmt
F4_Fortifications_v1/materials/models/mosi/fallout4/props/fortifications/metalbarrel04.vtf
F4_Fortifications_v1/materials/models/mosi/fallout4/props/fortifications/woodtile01.vtf
F4_Fortifications_v1/materials/models/mosi/fallout4/props/fortifications/woodtile01_n.vtf
F4_Fortifications_v1/materials/models/mosi/fallout4/props/fortifications/metalbarrel06.vmt
F4_Fortifications_v1/materials/models/mosi/fallout4/props/fortifications/ramptruck.vtf
F4_Fortifications_v1/materials/models/mosi/fallout4/props/fortifications/roof01.vmt
F4_Fortifications_v1/materials/models/mosi/fallout4/props/fortifications/stonewallold.vtf
F4_Fortifications_v1/materials/models/mosi/fallout4/props/fortifications/cinderblocks.vtf
F4_Fortifications_v1/materials/models/mosi/fallout4/props/fortifications/metalbarrel05.vtf
F4_Fortifications_v1/materials/models/mosi/fallout4/props/fortifications/clothrope01.vtf
F4_Fortifications_v1/materials/models/mosi/fallout4/props/fortifications/mirelurkshellunder.vtf
F4_Fortifications_v1/materials/models/mosi/fallout4/props/fortifications/vaultcrate05.vmt
F4_Fortifications_v1/materials/models/mosi/fallout4/props/fortifications/planks01.vmt
F4_Fortifications_v1/materials/models/mosi/fallout4/props/fortifications/cratelarge04.vmt
F4_Fortifications_v1/materials/models/mosi/fallout4/props/fortifications/metalbarrel04.vmt
F4_Fortifications_v1/materials/models/mosi/fallout4/props/fortifications/woodencrate_n.vtf
F4_Fortifications_v1/materials/models/mosi/fallout4/props/fortifications/cratelarge03.vtf
F4_Fortifications_v1/materials/models/mosi/fallout4/props/fortifications/plywood01.vtf
F4_Fortifications_v1/materials/models/mosi/fallout4/props/fortifications/sandbag.vtf
F4_Fortifications_v1/materials/models/mosi/fallout4/props/fortifications/vaultcrate05.vtf
F4_Fortifications_v1/materials/models/mosi/fallout4/props/fortifications/tires.vmt
F4_Fortifications_v1/materials/models/mosi/fallout4/props/fortifications/vaultcrate02.vtf
F4_Fortifications_v1/materials/models/mosi/fallout4/props/fortifications/cinderblocks.vmt
F4_Fortifications_v1/materials/models/mosi/fallout4/props/fortifications/metalbarrel03.vmt
F4_Fortifications_v1/materials/models/mosi/fallout4/props/fortifications/cratelarge02.vtf
F4_Fortifications_v1/materials/models/mosi/fallout4/props/fortifications/vaultcrate02_n.vtf
F4_Fortifications_v1/materials/models/mosi/fallout4/props/fortifications/metalbarrel01.vmt
F4_Fortifications_v1/materials/models/mosi/fallout4/props/fortifications/metalbarrel02.vtf
F4_Fortifications_v1/materials/models/mosi/fallout4/props/fortifications/cratelarge04.vtf
F4_Fortifications_v1/materials/models/mosi/fallout4/props/fortifications/metalbarrel01.vtf
F4_Fortifications_v1/materials/models/mosi/fallout4/props/fortifications/plywood01_n.vtf
F4_Fortifications_v1/materials/models/mosi/fallout4/props/fortifications/pierdetails02_n.vtf
F4_Fortifications_v1/materials/models/mosi/fallout4/props/fortifications/vaultcrate03.vtf
F4_Fortifications_v1/materials/models/mosi/fallout4/props/fortifications/cinderblocks2.vtf
F4_Fortifications_v1/materials/models/mosi/fallout4/props/fortifications/mirelurkshell.vmt
F4_Fortifications_v1/materials/models/mosi/fallout4/props/fortifications/cratelarge02.vmt
F4_Fortifications_v1/materials/models/mosi/fallout4/props/fortifications/vaultcrate01.vtf
F4_Fortifications_v1/materials/models/mosi/fallout4/props/fortifications/gravelwall_n.vtf
F4_Fortifications_v1/materials/models/mosi/fallout4/props/fortifications/concrete_n.vtf
F4_Fortifications_v1/materials/models/mosi/fallout4/props/fortifications/woodencrate.vtf
F4_Fortifications_v1/materials/models/mosi/fallout4/props/fortifications/vaultcrate04.vtf
F4_Fortifications_v1/materials/models/mosi/fallout4/props/fortifications/chainlink.vmt
F4_Fortifications_v1/materials/models/mosi/fallout4/props/fortifications/plywoodblocker_n.vtf
F4_Fortifications_v1/materials/models/mosi/fallout4/props/fortifications/stonewallold_n.vtf
F4_Fortifications_v1/materials/models/mosi/fallout4/props/fortifications/pierdetails02.vmt
F4_Fortifications_v1/materials/models/mosi/fallout4/props/fortifications/gravelwall.vmt
F4_Fortifications_v1/materials/models/mosi/fallout4/props/fortifications/sandbag_gravel.vtf
F4_Fortifications_v1/materials/models/mosi/fallout4/props/fortifications/medrocks.vmt
F4_Fortifications_v1/materials/models/mosi/fallout4/props/fortifications/metalbarrel_n.vtf
F4_Fortifications_v1/materials/models/mosi/fallout4/props/fortifications/whwoodtile01_n.vtf
F4_Fortifications_v1/materials/models/mosi/fallout4/props/fortifications/cinderblocks_n.vtf
F4_Fortifications_v1/materials/models/mosi/fallout4/props/fortifications/whwoodtile01.vtf
F4_Fortifications_v1/materials/models/mosi/fallout4/props/fortifications/gravelwall.vtf
F4_Fortifications_v1/materials/models/mosi/fallout4/props/fortifications/barricadewall_n.vtf
F4_Fortifications_v1/materials/models/mosi/fallout4/props/fortifications/plywood02_alpha.vmt
F4_Fortifications_v1/materials/models/mosi/fallout4/props/fortifications/woodenbarrel.vmt
F4_Fortifications_v1/materials/models/mosi/fallout4/props/fortifications/barbedwire.vtf
F4_Fortifications_v1/materials/models/mosi/fallout4/props/fortifications/woodencrate.vmt
F4_Fortifications_v1/materials/models/mosi/fallout4/props/fortifications/woodenbarrel_n.vtf
F4_Fortifications_v1/materials/models/mosi/fallout4/props/fortifications/mirelurkshellunder_n.vtf
F4_Fortifications_v1/materials/models/mosi/fallout4/props/fortifications/whwoodtile01.vmt
F4_Fortifications_v1/materials/models/mosi/fallout4/props/fortifications/barbedwire.vmt
F4_Fortifications_v1/materials/models/mosi/fallout4/props/fortifications/sandbag_gravel.vmt
F4_Fortifications_v1/materials/models/mosi/fallout4/props/fortifications/ramptruck_n.vtf
F4_Fortifications_v1/materials/models/mosi/fallout4/props/fortifications/nil.vmt
F4_Fortifications_v1/materials/models/mosi/fallout4/props/fortifications/roof01_n.vtf
F4_Fortifications_v1/materials/models/mosi/fallout4/props/fortifications/stonewallold.vmt
F4_Fortifications_v1/materials/models/mosi/fallout4/props/fortifications/nil.vtf
F4_Fortifications_v1/materials/models/mosi/fallout4/props/fortifications/sandbag_gravel2.vtf
F4_Fortifications_v1/materials/models/mosi/fallout4/props/fortifications/dwood02.vmt
F4_Fortifications_v1/materials/models/mosi/fallout4/props/fortifications/cratelarge01.vtf
F4_Fortifications_v1/materials/models/mosi/fallout4/props/fortifications/barricadepanel.vtf
F4_Fortifications_v1/materials/models/mosi/fallout4/props/fortifications/metalbarrel06.vtf
F4_Fortifications_v1/materials/models/mosi/fallout4/props/fortifications/metalpost.vtf
F4_Fortifications_v1/materials/models/mosi/fallout4/props/fortifications/plywood01.vmt
F4_Fortifications_v1/materials/models/mosi/fallout4/props/fortifications/medrocks_n.vtf
F4_Fortifications_v1/materials/models/mosi/fallout4/props/fortifications/sandbag_dirt.vmt
F4_Fortifications_v1/materials/models/mosi/fallout4/props/fortifications/vaultcrate03.vmt
F4_Fortifications_v1/materials/models/mosi/fallout4/props/fortifications/planks01.vtf
F4_Fortifications_v1/materials/models/mosi/fallout4/props/fortifications/sandbag.vmt
F4_Fortifications_v1/materials/models/mosi/fallout4/props/fortifications/metalbarrel02.vmt
F4_Fortifications_v1/materials/models/mosi/fallout4/props/fortifications/tires_clean.vmt
F4_Fortifications_v1/materials/models/mosi/fallout4/props/fortifications/metalbarrel03.vtf
F4_Fortifications_v1/materials/models/mosi/fallout4/props/fortifications/chainlink.vtf
F4_Fortifications_v1/materials/models/mosi/fallout4/props/fortifications/concrete.vmt
F4_Fortifications_v1/materials/models/mosi/fallout4/props/fortifications/planks01_n.vtf
F4_Fortifications_v1/materials/models/mosi/fallout4/props/fortifications/roof01.vtf
F4_Fortifications_v1/materials/models/mosi/fallout4/props/fortifications/cratelarge01.vmt
F4_Fortifications_v1/materials/models/mosi/fallout4/props/fortifications/cratelarge_n.vtf
F4_Fortifications_v1/materials/models/mosi/fallout4/props/fortifications/vaultcrate02.vmt
F4_Fortifications_v1/materials/models/mosi/fallout4/props/fortifications/pierdetails02.vtf
F4_Fortifications_v1/materials/models/mosi/fallout4/props/fortifications/vaultcrate04.vmt
F4_Fortifications_v1/materials/models/mosi/fallout4/props/fortifications/woodtile01.vmt
F4_Fortifications_v1/materials/models/mosi/fallout4/props/fortifications/dwood02_n.vtf
F4_Fortifications_v1/materials/models/mosi/fallout4/props/fortifications/concrete_trim.vmt
F4_Fortifications_v1/materials/models/mosi/fallout4/props/fortifications/barricadepanel.vmt
F4_Fortifications_v1/materials/models/mosi/fallout4/props/fortifications/mirelurkshell.vtf
F4_Fortifications_v1/materials/models/mosi/fallout4/props/fortifications/cinderblocks2.vmt
F4_Fortifications_v1/materials/models/mosi/fallout4/props/fortifications/woodenbarrel.vtf
F4_Fortifications_v1/materials/models/mosi/fallout4/props/fortifications/tires_n.vtf
F4_Fortifications_v1/materials/models/mosi/fallout4/props/fortifications/clothrope01.vmt
F4_Fortifications_v1/materials/models/mosi/fallout4/props/fortifications/vaultcrate01.vmt
F4_Fortifications_v1/materials/models/mosi/fallout4/props/fortifications/plywood02.vtf
F4_Fortifications_v1/materials/models/mosi/fallout4/props/fortifications/dwood02.vtf
F4_Fortifications_v1/materials/models/mosi/fallout4/props/fortifications/barbedwire_n.vtf
F4_Fortifications_v1/materials/models/mosi/fallout4/props/fortifications/cratelarge05.vmt
F4_Fortifications_v1/materials/models/mosi/fallout4/props/fortifications/sandbag_n.vtf
F4_Fortifications_v1/materials/models/mosi/fallout4/props/fortifications/tires.vtf
F4_Fortifications_v1/materials/models/mosi/fallout4/props/fortifications/medrocks.vtf
F4_Fortifications_v1/materials/models/mosi/fallout4/props/fortifications/metalbarrel05.vmt
F4_Fortifications_v1/materials/models/mosi/fallout4/props/fortifications/metalpost.vmt
F4_Fortifications_v1/materials/models/mosi/fallout4/props/fortifications/clothrope01_n.vtf
F4_Fortifications_v1/materials/models/mosi/fallout4/props/fortifications/plywoodblocker.vtf
F4_Fortifications_v1/materials/models/mosi/fallout4/props/fortifications/roof01_alpha.vmt
F4_Fortifications_v1/materials/models/mosi/fallout4/props/fortifications/tires_clean.vtf
F4_Fortifications_v1/materials/models/mosi/fallout4/props/fortifications/cratelarge05.vtf
F4_Fortifications_v1/materials/models/mosi/fallout4/props/fortifications/ramptruck.vmt
F4_Fortifications_v1/materials/models/mosi/fallout4/props/fortifications/plywood02_n.vtf
F4_Fortifications_v1/materials/models/mosi/fallout4/props/fortifications/plywood02.vmt
F4_Fortifications_v1/materials/models/mosi/fallout4/props/fortifications/barricadepanel_n.vtf
F4_Fortifications_v1/materials/models/mosi/fallout4/props/fortifications/chainlink_n.vtf
F4_Fortifications_v1/materials/models/mosi/fallout4/props/fortifications/mirelurkshellunder.vmt
F4_Fortifications_v1/materials/models/mosi/fallout4/props/fortifications/tires_clean_n.vtf
F4_Fortifications_v1/materials/models/mosi/fallout4/props/fortifications/cratelarge03.vmt
F4_Fortifications_v1/materials/models/mosi/fallout4/props/fortifications/concrete_trim_n.vtf
F4_Fortifications_v1/materials/models/mosi/fallout4/props/fortifications/vaultcrate01_n.vtf
F4_Fortifications_v1/materials/models/mosi/fallout4/props/fortifications/barricadewall.vmt
F4_Fortifications_v1/materials/models/mosi/fallout4/props/fortifications/bos/prystairs01_n.vtf
F4_Fortifications_v1/materials/models/mosi/fallout4/props/fortifications/bos/barricade_green.vtf
F4_Fortifications_v1/materials/models/mosi/fallout4/props/fortifications/bos/prywalkway01.vmt
F4_Fortifications_v1/materials/models/mosi/fallout4/props/fortifications/bos/prywall03.vtf
F4_Fortifications_v1/materials/models/mosi/fallout4/props/fortifications/bos/pryfloor01_n.vtf
F4_Fortifications_v1/materials/models/mosi/fallout4/props/fortifications/bos/barricadeplate02_grey.vtf
F4_Fortifications_v1/materials/models/mosi/fallout4/props/fortifications/bos/barricade_gunner.vmt
F4_Fortifications_v1/materials/models/mosi/fallout4/props/fortifications/bos/prystairs01.vmt
F4_Fortifications_v1/materials/models/mosi/fallout4/props/fortifications/bos/barricadeplate02_grey.vmt
F4_Fortifications_v1/materials/models/mosi/fallout4/props/fortifications/bos/barricadeplate01_n.vtf
F4_Fortifications_v1/materials/models/mosi/fallout4/props/fortifications/bos/prywalkway01_n.vtf
F4_Fortifications_v1/materials/models/mosi/fallout4/props/fortifications/bos/pryceiling01.vmt
F4_Fortifications_v1/materials/models/mosi/fallout4/props/fortifications/bos/barricade_n.vtf
F4_Fortifications_v1/materials/models/mosi/fallout4/props/fortifications/bos/barricade_green.vmt
F4_Fortifications_v1/materials/models/mosi/fallout4/props/fortifications/bos/prywall03_n.vtf
F4_Fortifications_v1/materials/models/mosi/fallout4/props/fortifications/bos/barricade_bos.vmt
F4_Fortifications_v1/materials/models/mosi/fallout4/props/fortifications/bos/nil.vmt
F4_Fortifications_v1/materials/models/mosi/fallout4/props/fortifications/bos/barricadeplate01_green.vtf
F4_Fortifications_v1/materials/models/mosi/fallout4/props/fortifications/bos/barricade_gunner.vtf
F4_Fortifications_v1/materials/models/mosi/fallout4/props/fortifications/bos/barricadeplate02_n.vtf
F4_Fortifications_v1/materials/models/mosi/fallout4/props/fortifications/bos/barricadeplate01_grey.vtf
F4_Fortifications_v1/materials/models/mosi/fallout4/props/fortifications/bos/barricadeplate01_green.vmt
F4_Fortifications_v1/materials/models/mosi/fallout4/props/fortifications/bos/pryceiling01_n.vtf
F4_Fortifications_v1/materials/models/mosi/fallout4/props/fortifications/bos/pryfloor01.vtf
F4_Fortifications_v1/materials/models/mosi/fallout4/props/fortifications/bos/barricadeplate02_green.vmt
F4_Fortifications_v1/materials/models/mosi/fallout4/props/fortifications/bos/barricadeplate01_grey.vmt
F4_Fortifications_v1/materials/models/mosi/fallout4/props/fortifications/bos/barricadeplate02_green.vtf
F4_Fortifications_v1/materials/models/mosi/fallout4/props/fortifications/bos/prystairs01.vtf
F4_Fortifications_v1/materials/models/mosi/fallout4/props/fortifications/bos/prywalkway01.vtf
F4_Fortifications_v1/materials/models/mosi/fallout4/props/fortifications/bos/pryceiling01.vtf
F4_Fortifications_v1/materials/models/mosi/fallout4/props/fortifications/bos/barricade_bos.vtf
F4_Fortifications_v1/materials/models/mosi/fallout4/props/fortifications/bos/pryfloor01.vmt
F4_Fortifications_v1/materials/models/mosi/fallout4/props/fortifications/bos/prywall03.vmt
F4_Fortifications_v1/materials/models/mosi/shared/blank.vtf
F4_Fortifications_v1/materials/models/mosi/shared/white.vtf