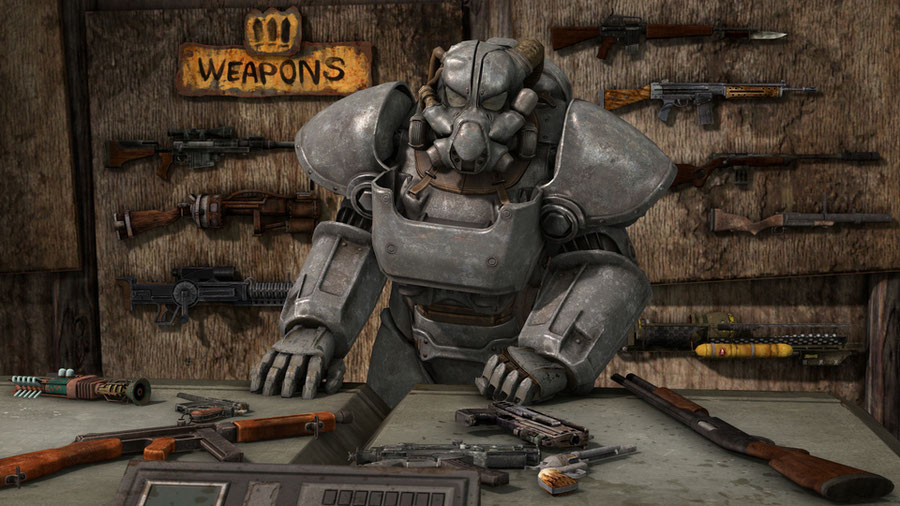 Description
Various guns, pistols and other melee and ranged weapons from Fallout 3 and Fallout 4
CONTENTS
Fallout 4 weapons - mostly melee, some energy and heavy weapons, skins, bodygroups.
Fallout 3 weapons - all kind of weapons, bodygroups.
CREDITS
Bethesda Softworks - These dudes may ruin entire fallout franchise, but they still own it.
Mosi - ported melee weapons from Fallout 4
Halokiller38 - ported weapons from Fallout 3
NinjaNoob - ported ranged weapons from Fallout 4
Me - recompiled all previous stuff into this pack.
UPDATES
v1 - initial release, different weapons from fallout 3 and 4, direct porting, no improving or modification was made to assets of previous porters/creators.
v2 - updated releases, F4 weapons now include some ranged weapons (energy rifles, heavy guns), F3 weapons now include bodygrouped models.
SFMLab is a free service. However, it costs about $0.03 to deliver you a 1GB file. With over 20TB of traffic every month and growing, SFMLab needs your help. If only 1% of our users each gave us $5 for a single month, we could keep the site running for several years.
Filename
Downloads
Created
Filesize
Files
F3_weapons_v1.rar
1203
2020-09-15 01:43:16
206.67 MB
File contents:

fallout_3_weapons_v1/models/halokiller38/fallout/weapons/shotguns/riotshotgun.phy
fallout_3_weapons_v1/models/halokiller38/fallout/weapons/shotguns/riotshotgun.vvd
fallout_3_weapons_v1/models/halokiller38/fallout/weapons/shotguns/huntingshotgunextchoke.dx80.vtx
fallout_3_weapons_v1/models/halokiller38/fallout/weapons/shotguns/combatshotgun.vvd
fallout_3_weapons_v1/models/halokiller38/fallout/weapons/shotguns/huntingshotgunextchoke.sw.vtx
fallout_3_weapons_v1/models/halokiller38/fallout/weapons/shotguns/huntingshotgunextchoke.dx90.vtx
fallout_3_weapons_v1/models/halokiller38/fallout/weapons/shotguns/huntingshotgun.phy
fallout_3_weapons_v1/models/halokiller38/fallout/weapons/shotguns/combatshotgun.phy
fallout_3_weapons_v1/models/halokiller38/fallout/weapons/shotguns/leveractionshotgun.sw.vtx
fallout_3_weapons_v1/models/halokiller38/fallout/weapons/shotguns/huntingshotgunextchoke.phy
fallout_3_weapons_v1/models/halokiller38/fallout/weapons/shotguns/leveractionshotgun.vvd
fallout_3_weapons_v1/models/halokiller38/fallout/weapons/shotguns/caravanshotgun.mdl
fallout_3_weapons_v1/models/halokiller38/fallout/weapons/shotguns/huntingshotgunext.dx90.vtx
fallout_3_weapons_v1/models/halokiller38/fallout/weapons/shotguns/huntingshotgunext.vvd
fallout_3_weapons_v1/models/halokiller38/fallout/weapons/shotguns/riotshotgun.dx90.vtx
fallout_3_weapons_v1/models/halokiller38/fallout/weapons/shotguns/combatshotgun.mdl
fallout_3_weapons_v1/models/halokiller38/fallout/weapons/shotguns/huntingshotgunextchoke.vvd
fallout_3_weapons_v1/models/halokiller38/fallout/weapons/shotguns/huntingshotgun.dx90.vtx
fallout_3_weapons_v1/models/halokiller38/fallout/weapons/shotguns/sawedoffshotgun.dx90.vtx
fallout_3_weapons_v1/models/halokiller38/fallout/weapons/shotguns/sawedoffshotgun.mdl
fallout_3_weapons_v1/models/halokiller38/fallout/weapons/shotguns/combatshotgun.dx90.vtx
fallout_3_weapons_v1/models/halokiller38/fallout/weapons/shotguns/huntingshotgununique.sw.vtx
fallout_3_weapons_v1/models/halokiller38/fallout/weapons/shotguns/huntingshotgunchoke.phy
fallout_3_weapons_v1/models/halokiller38/fallout/weapons/shotguns/huntingshotgunchoke.dx80.vtx
fallout_3_weapons_v1/models/halokiller38/fallout/weapons/shotguns/huntingshotgunchoke.dx90.vtx
fallout_3_weapons_v1/models/halokiller38/fallout/weapons/shotguns/sawedoffshotgun.dx80.vtx
fallout_3_weapons_v1/models/halokiller38/fallout/weapons/shotguns/leveractionshotgun.mdl
fallout_3_weapons_v1/models/halokiller38/fallout/weapons/shotguns/huntingshotgununique.vvd
fallout_3_weapons_v1/models/halokiller38/fallout/weapons/shotguns/doublebarrelshotgun.mdl
fallout_3_weapons_v1/models/halokiller38/fallout/weapons/shotguns/doublebarrelshotgun.phy
fallout_3_weapons_v1/models/halokiller38/fallout/weapons/shotguns/huntingshotgunext.dx80.vtx
fallout_3_weapons_v1/models/halokiller38/fallout/weapons/shotguns/doublebarrelshotgun.sw.vtx
fallout_3_weapons_v1/models/halokiller38/fallout/weapons/shotguns/huntingshotgununique.mdl
fallout_3_weapons_v1/models/halokiller38/fallout/weapons/shotguns/huntingshotgununique.dx80.vtx
fallout_3_weapons_v1/models/halokiller38/fallout/weapons/shotguns/huntingshotgun.mdl
fallout_3_weapons_v1/models/halokiller38/fallout/weapons/shotguns/huntingshotgunchoke.vvd
fallout_3_weapons_v1/models/halokiller38/fallout/weapons/shotguns/leveractionshotgun.phy
fallout_3_weapons_v1/models/halokiller38/fallout/weapons/shotguns/huntingshotgunext.phy
fallout_3_weapons_v1/models/halokiller38/fallout/weapons/shotguns/huntingshotgunchoke.sw.vtx
fallout_3_weapons_v1/models/halokiller38/fallout/weapons/shotguns/huntingshotgunext.sw.vtx
fallout_3_weapons_v1/models/halokiller38/fallout/weapons/shotguns/caravanshotgun.dx80.vtx
fallout_3_weapons_v1/models/halokiller38/fallout/weapons/shotguns/caravanshotgun.dx90.vtx
fallout_3_weapons_v1/models/halokiller38/fallout/weapons/shotguns/huntingshotgununique.dx90.vtx
fallout_3_weapons_v1/models/halokiller38/fallout/weapons/shotguns/leveractionshotgun.dx90.vtx
fallout_3_weapons_v1/models/halokiller38/fallout/weapons/shotguns/combatshotgun.sw.vtx
fallout_3_weapons_v1/models/halokiller38/fallout/weapons/shotguns/huntingshotgun.vvd
fallout_3_weapons_v1/models/halokiller38/fallout/weapons/shotguns/sawedoffshotgun.phy
fallout_3_weapons_v1/models/halokiller38/fallout/weapons/shotguns/sawedoffshotgun.sw.vtx
fallout_3_weapons_v1/models/halokiller38/fallout/weapons/shotguns/huntingshotgun.dx80.vtx
fallout_3_weapons_v1/models/halokiller38/fallout/weapons/shotguns/huntingshotgunext.mdl
fallout_3_weapons_v1/models/halokiller38/fallout/weapons/shotguns/huntingshotgunextchoke.mdl
fallout_3_weapons_v1/models/halokiller38/fallout/weapons/shotguns/caravanshotgun.vvd
fallout_3_weapons_v1/models/halokiller38/fallout/weapons/shotguns/riotshotgun.dx80.vtx
fallout_3_weapons_v1/models/halokiller38/fallout/weapons/shotguns/riotshotgun.mdl
fallout_3_weapons_v1/models/halokiller38/fallout/weapons/shotguns/leveractionshotgun.dx80.vtx
fallout_3_weapons_v1/models/halokiller38/fallout/weapons/shotguns/caravanshotgun.sw.vtx
fallout_3_weapons_v1/models/halokiller38/fallout/weapons/shotguns/sawedoffshotgun.vvd
fallout_3_weapons_v1/models/halokiller38/fallout/weapons/shotguns/doublebarrelshotgun.dx90.vtx
fallout_3_weapons_v1/models/halokiller38/fallout/weapons/shotguns/caravanshotgun.phy
fallout_3_weapons_v1/models/halokiller38/fallout/weapons/shotguns/huntingshotgununique.phy
fallout_3_weapons_v1/models/halokiller38/fallout/weapons/shotguns/huntingshotgun.sw.vtx
fallout_3_weapons_v1/models/halokiller38/fallout/weapons/shotguns/doublebarrelshotgun.vvd
fallout_3_weapons_v1/models/halokiller38/fallout/weapons/shotguns/riotshotgun.sw.vtx
fallout_3_weapons_v1/models/halokiller38/fallout/weapons/shotguns/doublebarrelshotgun.dx80.vtx
fallout_3_weapons_v1/models/halokiller38/fallout/weapons/shotguns/combatshotgun.dx80.vtx
fallout_3_weapons_v1/models/halokiller38/fallout/weapons/shotguns/huntingshotgunchoke.mdl
fallout_3_weapons_v1/models/halokiller38/fallout/weapons/rifles/huntingriflescoped.dx80.vtx
fallout_3_weapons_v1/models/halokiller38/fallout/weapons/rifles/varmintrifleext.mdl
fallout_3_weapons_v1/models/halokiller38/fallout/weapons/rifles/trailcarbine.sw.vtx
fallout_3_weapons_v1/models/halokiller38/fallout/weapons/rifles/huntingrifleextscope.dx80.vtx
fallout_3_weapons_v1/models/halokiller38/fallout/weapons/rifles/huntingrifle.mdl
fallout_3_weapons_v1/models/halokiller38/fallout/weapons/rifles/lincolnrifle.vvd
fallout_3_weapons_v1/models/halokiller38/fallout/weapons/rifles/scattergun.dx80.vtx
fallout_3_weapons_v1/models/halokiller38/fallout/weapons/rifles/lincolnrifle.mdl
fallout_3_weapons_v1/models/halokiller38/fallout/weapons/rifles/varmintrifleext.vvd
fallout_3_weapons_v1/models/halokiller38/fallout/weapons/rifles/huntingrifleallmods.vvd
fallout_3_weapons_v1/models/halokiller38/fallout/weapons/rifles/huntingrifleextscope.mdl
fallout_3_weapons_v1/models/halokiller38/fallout/weapons/rifles/cowboyrepeaterbrass.vvd
fallout_3_weapons_v1/models/halokiller38/fallout/weapons/rifles/leveractionrifle.phy
fallout_3_weapons_v1/models/halokiller38/fallout/weapons/rifles/huntingrifle.phy
fallout_3_weapons_v1/models/halokiller38/fallout/weapons/rifles/cowboyrepeater.sw.vtx
fallout_3_weapons_v1/models/halokiller38/fallout/weapons/rifles/thismachine.vvd
fallout_3_weapons_v1/models/halokiller38/fallout/weapons/rifles/cowboyrepeaterbrass.mdl
fallout_3_weapons_v1/models/halokiller38/fallout/weapons/rifles/trailcarbinescoped.mdl
fallout_3_weapons_v1/models/halokiller38/fallout/weapons/rifles/varmintrifle.vvd
fallout_3_weapons_v1/models/halokiller38/fallout/weapons/rifles/huntingriflescoped.phy
fallout_3_weapons_v1/models/halokiller38/fallout/weapons/rifles/varmintriflescp.dx90.vtx
fallout_3_weapons_v1/models/halokiller38/fallout/weapons/rifles/thismachine.dx80.vtx
fallout_3_weapons_v1/models/halokiller38/fallout/weapons/rifles/railwayrifle.mdl
fallout_3_weapons_v1/models/halokiller38/fallout/weapons/rifles/varmintriflescpext.phy
fallout_3_weapons_v1/models/halokiller38/fallout/weapons/rifles/brushgun.phy
fallout_3_weapons_v1/models/halokiller38/fallout/weapons/rifles/scattergun.dx90.vtx
fallout_3_weapons_v1/models/halokiller38/fallout/weapons/rifles/trailcarbine.mdl
fallout_3_weapons_v1/models/halokiller38/fallout/weapons/rifles/lincolnrifle.sw.vtx
fallout_3_weapons_v1/models/halokiller38/fallout/weapons/rifles/huntingrifleext.phy
fallout_3_weapons_v1/models/halokiller38/fallout/weapons/rifles/huntingrifleallmods.sw.vtx
fallout_3_weapons_v1/models/halokiller38/fallout/weapons/rifles/huntingrifleallmods.phy
fallout_3_weapons_v1/models/halokiller38/fallout/weapons/rifles/lincolnrifle.phy
fallout_3_weapons_v1/models/halokiller38/fallout/weapons/rifles/varmintriflesil.sw.vtx
fallout_3_weapons_v1/models/halokiller38/fallout/weapons/rifles/cowboyrepeaterunique.phy
fallout_3_weapons_v1/models/halokiller38/fallout/weapons/rifles/brushgun.dx80.vtx
fallout_3_weapons_v1/models/halokiller38/fallout/weapons/rifles/varmintriflescp.sw.vtx
fallout_3_weapons_v1/models/halokiller38/fallout/weapons/rifles/cowboyrepeater.dx90.vtx
fallout_3_weapons_v1/models/halokiller38/fallout/weapons/rifles/leveractionrifle.dx80.vtx
fallout_3_weapons_v1/models/halokiller38/fallout/weapons/rifles/varmintriflesil.dx90.vtx
fallout_3_weapons_v1/models/halokiller38/fallout/weapons/rifles/brushgun.mdl
fallout_3_weapons_v1/models/halokiller38/fallout/weapons/rifles/huntingrifle.dx90.vtx
fallout_3_weapons_v1/models/halokiller38/fallout/weapons/rifles/thismachine.dx90.vtx
fallout_3_weapons_v1/models/halokiller38/fallout/weapons/rifles/huntingrifleext.sw.vtx
fallout_3_weapons_v1/models/halokiller38/fallout/weapons/rifles/varmintriflescpext.mdl
fallout_3_weapons_v1/models/halokiller38/fallout/weapons/rifles/varmintriflescp.mdl
fallout_3_weapons_v1/models/halokiller38/fallout/weapons/rifles/bbgun01.vvd
fallout_3_weapons_v1/models/halokiller38/fallout/weapons/rifles/trailcarbinescoped.phy
fallout_3_weapons_v1/models/halokiller38/fallout/weapons/rifles/huntingrifleext.dx90.vtx
fallout_3_weapons_v1/models/halokiller38/fallout/weapons/rifles/bbgun01.phy
fallout_3_weapons_v1/models/halokiller38/fallout/weapons/rifles/varmintrifleext.sw.vtx
fallout_3_weapons_v1/models/halokiller38/fallout/weapons/rifles/cowboyrepeaterbrass.dx90.vtx
fallout_3_weapons_v1/models/halokiller38/fallout/weapons/rifles/thismachine.sw.vtx
fallout_3_weapons_v1/models/halokiller38/fallout/weapons/rifles/leveractionrifle.mdl
fallout_3_weapons_v1/models/halokiller38/fallout/weapons/rifles/varmintrifle.dx80.vtx
fallout_3_weapons_v1/models/halokiller38/fallout/weapons/rifles/varmintriflesil.vvd
fallout_3_weapons_v1/models/halokiller38/fallout/weapons/rifles/trailcarbine.dx90.vtx
fallout_3_weapons_v1/models/halokiller38/fallout/weapons/rifles/brushgun.vvd
fallout_3_weapons_v1/models/halokiller38/fallout/weapons/rifles/varmintrifle.sw.vtx
fallout_3_weapons_v1/models/halokiller38/fallout/weapons/rifles/varmintriflesilext.mdl
fallout_3_weapons_v1/models/halokiller38/fallout/weapons/rifles/scattergun.phy
fallout_3_weapons_v1/models/halokiller38/fallout/weapons/rifles/huntingrifle.sw.vtx
fallout_3_weapons_v1/models/halokiller38/fallout/weapons/rifles/lincolnrifle.dx90.vtx
fallout_3_weapons_v1/models/halokiller38/fallout/weapons/rifles/varmintriflescp.phy
fallout_3_weapons_v1/models/halokiller38/fallout/weapons/rifles/trailcarbinescoped.dx80.vtx
fallout_3_weapons_v1/models/halokiller38/fallout/weapons/rifles/huntingriflescoped.sw.vtx
fallout_3_weapons_v1/models/halokiller38/fallout/weapons/rifles/railwayrifle.vvd
fallout_3_weapons_v1/models/halokiller38/fallout/weapons/rifles/huntingrifleextscope.sw.vtx
fallout_3_weapons_v1/models/halokiller38/fallout/weapons/rifles/scattergun.vvd
fallout_3_weapons_v1/models/halokiller38/fallout/weapons/rifles/scattergun.sw.vtx
fallout_3_weapons_v1/models/halokiller38/fallout/weapons/rifles/thismachine.phy
fallout_3_weapons_v1/models/halokiller38/fallout/weapons/rifles/scattergun.mdl
fallout_3_weapons_v1/models/halokiller38/fallout/weapons/rifles/cowboyrepeater.vvd
fallout_3_weapons_v1/models/halokiller38/fallout/weapons/rifles/railwayrifle.sw.vtx
fallout_3_weapons_v1/models/halokiller38/fallout/weapons/rifles/trailcarbine.dx80.vtx
fallout_3_weapons_v1/models/halokiller38/fallout/weapons/rifles/varmintriflescpext.dx80.vtx
fallout_3_weapons_v1/models/halokiller38/fallout/weapons/rifles/cowboyrepeaterbrass.phy
fallout_3_weapons_v1/models/halokiller38/fallout/weapons/rifles/varmintriflescpext.dx90.vtx
fallout_3_weapons_v1/models/halokiller38/fallout/weapons/rifles/lincolnrifle.dx80.vtx
fallout_3_weapons_v1/models/halokiller38/fallout/weapons/rifles/leveractionrifle.vvd
fallout_3_weapons_v1/models/halokiller38/fallout/weapons/rifles/railwayrifle.dx80.vtx
fallout_3_weapons_v1/models/halokiller38/fallout/weapons/rifles/varmintriflescpext.vvd
fallout_3_weapons_v1/models/halokiller38/fallout/weapons/rifles/cowboyrepeaterbrass.sw.vtx
fallout_3_weapons_v1/models/halokiller38/fallout/weapons/rifles/varmintriflescp.dx80.vtx
fallout_3_weapons_v1/models/halokiller38/fallout/weapons/rifles/bbgun01.dx80.vtx
fallout_3_weapons_v1/models/halokiller38/fallout/weapons/rifles/varmintriflesil.phy
fallout_3_weapons_v1/models/halokiller38/fallout/weapons/rifles/varmintrifleext.dx90.vtx
fallout_3_weapons_v1/models/halokiller38/fallout/weapons/rifles/leveractionrifle.sw.vtx
fallout_3_weapons_v1/models/halokiller38/fallout/weapons/rifles/huntingrifle.vvd
fallout_3_weapons_v1/models/halokiller38/fallout/weapons/rifles/huntingrifleext.vvd
fallout_3_weapons_v1/models/halokiller38/fallout/weapons/rifles/varmintriflesilext.vvd
fallout_3_weapons_v1/models/halokiller38/fallout/weapons/rifles/huntingrifleextscope.vvd
fallout_3_weapons_v1/models/halokiller38/fallout/weapons/rifles/cowboyrepeaterunique.sw.vtx
fallout_3_weapons_v1/models/halokiller38/fallout/weapons/rifles/varmintrifle.phy
fallout_3_weapons_v1/models/halokiller38/fallout/weapons/rifles/huntingrifleextscope.phy
fallout_3_weapons_v1/models/halokiller38/fallout/weapons/rifles/railwayrifle.phy
fallout_3_weapons_v1/models/halokiller38/fallout/weapons/rifles/cowboyrepeater.phy
fallout_3_weapons_v1/models/halokiller38/fallout/weapons/rifles/varmintriflesil.dx80.vtx
fallout_3_weapons_v1/models/halokiller38/fallout/weapons/rifles/bbgun01.dx90.vtx
fallout_3_weapons_v1/models/halokiller38/fallout/weapons/rifles/thismachine.mdl
fallout_3_weapons_v1/models/halokiller38/fallout/weapons/rifles/huntingriflescoped.vvd
fallout_3_weapons_v1/models/halokiller38/fallout/weapons/rifles/trailcarbinescoped.dx90.vtx
fallout_3_weapons_v1/models/halokiller38/fallout/weapons/rifles/cowboyrepeater.dx80.vtx
fallout_3_weapons_v1/models/halokiller38/fallout/weapons/rifles/cowboyrepeaterunique.dx90.vtx
fallout_3_weapons_v1/models/halokiller38/fallout/weapons/rifles/trailcarbinescoped.vvd
fallout_3_weapons_v1/models/halokiller38/fallout/weapons/rifles/huntingrifle.dx80.vtx
fallout_3_weapons_v1/models/halokiller38/fallout/weapons/rifles/brushgun.sw.vtx
fallout_3_weapons_v1/models/halokiller38/fallout/weapons/rifles/cowboyrepeaterunique.mdl
fallout_3_weapons_v1/models/halokiller38/fallout/weapons/rifles/huntingrifleallmods.dx80.vtx
fallout_3_weapons_v1/models/halokiller38/fallout/weapons/rifles/varmintrifle.dx90.vtx
fallout_3_weapons_v1/models/halokiller38/fallout/weapons/rifles/huntingriflescoped.mdl
fallout_3_weapons_v1/models/halokiller38/fallout/weapons/rifles/varmintriflesilext.sw.vtx
fallout_3_weapons_v1/models/halokiller38/fallout/weapons/rifles/railwayrifle.dx90.vtx
fallout_3_weapons_v1/models/halokiller38/fallout/weapons/rifles/cowboyrepeater.mdl
fallout_3_weapons_v1/models/halokiller38/fallout/weapons/rifles/varmintrifleext.dx80.vtx
fallout_3_weapons_v1/models/halokiller38/fallout/weapons/rifles/cowboyrepeaterunique.vvd
fallout_3_weapons_v1/models/halokiller38/fallout/weapons/rifles/huntingrifleext.mdl
fallout_3_weapons_v1/models/halokiller38/fallout/weapons/rifles/varmintrifleext.phy
fallout_3_weapons_v1/models/halokiller38/fallout/weapons/rifles/huntingrifleextscope.dx90.vtx
fallout_3_weapons_v1/models/halokiller38/fallout/weapons/rifles/trailcarbine.vvd
fallout_3_weapons_v1/models/halokiller38/fallout/weapons/rifles/varmintrifle.mdl
fallout_3_weapons_v1/models/halokiller38/fallout/weapons/rifles/varmintriflescp.vvd
fallout_3_weapons_v1/models/halokiller38/fallout/weapons/rifles/varmintriflescpext.sw.vtx
fallout_3_weapons_v1/models/halokiller38/fallout/weapons/rifles/trailcarbine.phy
fallout_3_weapons_v1/models/halokiller38/fallout/weapons/rifles/leveractionrifle.dx90.vtx
fallout_3_weapons_v1/models/halokiller38/fallout/weapons/rifles/bbgun01.sw.vtx
fallout_3_weapons_v1/models/halokiller38/fallout/weapons/rifles/huntingrifleext.dx80.vtx
fallout_3_weapons_v1/models/halokiller38/fallout/weapons/rifles/huntingrifleallmods.dx90.vtx
fallout_3_weapons_v1/models/halokiller38/fallout/weapons/rifles/trailcarbinescoped.sw.vtx
fallout_3_weapons_v1/models/halokiller38/fallout/weapons/rifles/bbgun01.mdl
fallout_3_weapons_v1/models/halokiller38/fallout/weapons/rifles/varmintriflesil.mdl
fallout_3_weapons_v1/models/halokiller38/fallout/weapons/rifles/cowboyrepeaterbrass.dx80.vtx
fallout_3_weapons_v1/models/halokiller38/fallout/weapons/rifles/huntingrifleallmods.mdl
fallout_3_weapons_v1/models/halokiller38/fallout/weapons/rifles/cowboyrepeaterunique.dx80.vtx
fallout_3_weapons_v1/models/halokiller38/fallout/weapons/rifles/varmintriflesilext.phy
fallout_3_weapons_v1/models/halokiller38/fallout/weapons/rifles/varmintriflesilext.dx80.vtx
fallout_3_weapons_v1/models/halokiller38/fallout/weapons/rifles/huntingriflescoped.dx90.vtx
fallout_3_weapons_v1/models/halokiller38/fallout/weapons/rifles/brushgun.dx90.vtx
fallout_3_weapons_v1/models/halokiller38/fallout/weapons/rifles/varmintriflesilext.dx90.vtx
fallout_3_weapons_v1/models/halokiller38/fallout/weapons/sniperrifles/sniperriflesupressorunique.dx80.vtx
fallout_3_weapons_v1/models/halokiller38/fallout/weapons/sniperrifles/antimaterielrifle.dx80.vtx
fallout_3_weapons_v1/models/halokiller38/fallout/weapons/sniperrifles/sniperriflesupressorunique.phy
fallout_3_weapons_v1/models/halokiller38/fallout/weapons/sniperrifles/sniperriflesupressor.dx80.vtx
fallout_3_weapons_v1/models/halokiller38/fallout/weapons/sniperrifles/sniperrifle.phy
fallout_3_weapons_v1/models/halokiller38/fallout/weapons/sniperrifles/sniperriflesupressorunique.mdl
fallout_3_weapons_v1/models/halokiller38/fallout/weapons/sniperrifles/ratslayer.vvd
fallout_3_weapons_v1/models/halokiller38/fallout/weapons/sniperrifles/sniperrifleunique.mdl
fallout_3_weapons_v1/models/halokiller38/fallout/weapons/sniperrifles/antimaterielrifle.sw.vtx
fallout_3_weapons_v1/models/halokiller38/fallout/weapons/sniperrifles/antimaterielrifle.vvd
fallout_3_weapons_v1/models/halokiller38/fallout/weapons/sniperrifles/antimaterielrifle.dx90.vtx
fallout_3_weapons_v1/models/halokiller38/fallout/weapons/sniperrifles/ratslayer.phy
fallout_3_weapons_v1/models/halokiller38/fallout/weapons/sniperrifles/sniperriflesupressorcarbonfiber.sw.vtx
fallout_3_weapons_v1/models/halokiller38/fallout/weapons/sniperrifles/sniperriflesupressor.sw.vtx
fallout_3_weapons_v1/models/halokiller38/fallout/weapons/sniperrifles/antimaterielrifle.phy
fallout_3_weapons_v1/models/halokiller38/fallout/weapons/sniperrifles/sniperriflesupressor.vvd
fallout_3_weapons_v1/models/halokiller38/fallout/weapons/sniperrifles/sniperriflecarbonfiber.vvd
fallout_3_weapons_v1/models/halokiller38/fallout/weapons/sniperrifles/sniperriflesupressorcarbonfiber.dx80.vtx
fallout_3_weapons_v1/models/halokiller38/fallout/weapons/sniperrifles/sniperrifleunique.phy
fallout_3_weapons_v1/models/halokiller38/fallout/weapons/sniperrifles/sniperriflecarbonfiber.mdl
fallout_3_weapons_v1/models/halokiller38/fallout/weapons/sniperrifles/sniperrifleunique.sw.vtx
fallout_3_weapons_v1/models/halokiller38/fallout/weapons/sniperrifles/sniperrifle.vvd
fallout_3_weapons_v1/models/halokiller38/fallout/weapons/sniperrifles/sniperriflecarbonfiber.dx80.vtx
fallout_3_weapons_v1/models/halokiller38/fallout/weapons/sniperrifles/sniperriflecarbonfiber.phy
fallout_3_weapons_v1/models/halokiller38/fallout/weapons/sniperrifles/sniperriflesupressorunique.sw.vtx
fallout_3_weapons_v1/models/halokiller38/fallout/weapons/sniperrifles/sniperrifleunique.dx90.vtx
fallout_3_weapons_v1/models/halokiller38/fallout/weapons/sniperrifles/sniperriflesupressorunique.vvd
fallout_3_weapons_v1/models/halokiller38/fallout/weapons/sniperrifles/ratslayer.dx90.vtx
fallout_3_weapons_v1/models/halokiller38/fallout/weapons/sniperrifles/sniperrifleunique.dx80.vtx
fallout_3_weapons_v1/models/halokiller38/fallout/weapons/sniperrifles/ratslayer.sw.vtx
fallout_3_weapons_v1/models/halokiller38/fallout/weapons/sniperrifles/sniperriflesupressor.mdl
fallout_3_weapons_v1/models/halokiller38/fallout/weapons/sniperrifles/sniperriflesupressor.phy
fallout_3_weapons_v1/models/halokiller38/fallout/weapons/sniperrifles/sniperriflesupressorunique.dx90.vtx
fallout_3_weapons_v1/models/halokiller38/fallout/weapons/sniperrifles/ratslayer.mdl
fallout_3_weapons_v1/models/halokiller38/fallout/weapons/sniperrifles/sniperriflesupressor.dx90.vtx
fallout_3_weapons_v1/models/halokiller38/fallout/weapons/sniperrifles/sniperriflecarbonfiber.sw.vtx
fallout_3_weapons_v1/models/halokiller38/fallout/weapons/sniperrifles/sniperrifle.dx90.vtx
fallout_3_weapons_v1/models/halokiller38/fallout/weapons/sniperrifles/ratslayer.dx80.vtx
fallout_3_weapons_v1/models/halokiller38/fallout/weapons/sniperrifles/sniperriflesupressorcarbonfiber.dx90.vtx
fallout_3_weapons_v1/models/halokiller38/fallout/weapons/sniperrifles/sniperriflesupressorcarbonfiber.phy
fallout_3_weapons_v1/models/halokiller38/fallout/weapons/sniperrifles/sniperrifle.dx80.vtx
fallout_3_weapons_v1/models/halokiller38/fallout/weapons/sniperrifles/antimaterielrifle.mdl
fallout_3_weapons_v1/models/halokiller38/fallout/weapons/sniperrifles/sniperriflesupressorcarbonfiber.vvd
fallout_3_weapons_v1/models/halokiller38/fallout/weapons/sniperrifles/sniperrifle.mdl
fallout_3_weapons_v1/models/halokiller38/fallout/weapons/sniperrifles/sniperrifleunique.vvd
fallout_3_weapons_v1/models/halokiller38/fallout/weapons/sniperrifles/sniperriflecarbonfiber.dx90.vtx
fallout_3_weapons_v1/models/halokiller38/fallout/weapons/sniperrifles/sniperriflesupressorcarbonfiber.mdl
fallout_3_weapons_v1/models/halokiller38/fallout/weapons/sniperrifles/sniperrifle.sw.vtx
fallout_3_weapons_v1/models/halokiller38/fallout/weapons/plasma weapons/multiplasrifle.mdl
fallout_3_weapons_v1/models/halokiller38/fallout/weapons/plasma weapons/multiplasrifle.sw.vtx
fallout_3_weapons_v1/models/halokiller38/fallout/weapons/plasma weapons/plasmadefender.vvd
fallout_3_weapons_v1/models/halokiller38/fallout/weapons/plasma weapons/plasmacaster.dx80.vtx
fallout_3_weapons_v1/models/halokiller38/fallout/weapons/plasma weapons/plasmadefender.dx90.vtx
fallout_3_weapons_v1/models/halokiller38/fallout/weapons/plasma weapons/plasmadefender.sw.vtx
fallout_3_weapons_v1/models/halokiller38/fallout/weapons/plasma weapons/plasmacaster.mdl
fallout_3_weapons_v1/models/halokiller38/fallout/weapons/plasma weapons/plasmadefender.dx80.vtx
fallout_3_weapons_v1/models/halokiller38/fallout/weapons/plasma weapons/plasmarifle.vvd
fallout_3_weapons_v1/models/halokiller38/fallout/weapons/plasma weapons/plasmacaster.phy
fallout_3_weapons_v1/models/halokiller38/fallout/weapons/plasma weapons/plasmapistol.dx80.vtx
fallout_3_weapons_v1/models/halokiller38/fallout/weapons/plasma weapons/plasmacaster.dx90.vtx
fallout_3_weapons_v1/models/halokiller38/fallout/weapons/plasma weapons/plasmapistol.phy
fallout_3_weapons_v1/models/halokiller38/fallout/weapons/plasma weapons/plasmacaster.vvd
fallout_3_weapons_v1/models/halokiller38/fallout/weapons/plasma weapons/plasmacaster.sw.vtx
fallout_3_weapons_v1/models/halokiller38/fallout/weapons/plasma weapons/plasmarifle.sw.vtx
fallout_3_weapons_v1/models/halokiller38/fallout/weapons/plasma weapons/plasmarifle.dx80.vtx
fallout_3_weapons_v1/models/halokiller38/fallout/weapons/plasma weapons/multiplasrifle.phy
fallout_3_weapons_v1/models/halokiller38/fallout/weapons/plasma weapons/plasmapistol.dx90.vtx
fallout_3_weapons_v1/models/halokiller38/fallout/weapons/plasma weapons/plasmarifle.dx90.vtx
fallout_3_weapons_v1/models/halokiller38/fallout/weapons/plasma weapons/plasmapistol.mdl
fallout_3_weapons_v1/models/halokiller38/fallout/weapons/plasma weapons/plasmarifle.mdl
fallout_3_weapons_v1/models/halokiller38/fallout/weapons/plasma weapons/plasmadefender.mdl
fallout_3_weapons_v1/models/halokiller38/fallout/weapons/plasma weapons/plasmapistol.sw.vtx
fallout_3_weapons_v1/models/halokiller38/fallout/weapons/plasma weapons/plasmarifle.phy
fallout_3_weapons_v1/models/halokiller38/fallout/weapons/plasma weapons/plasmadefender.phy
fallout_3_weapons_v1/models/halokiller38/fallout/weapons/plasma weapons/plasmapistol.vvd
fallout_3_weapons_v1/models/halokiller38/fallout/weapons/plasma weapons/multiplasrifle.vvd
fallout_3_weapons_v1/models/halokiller38/fallout/weapons/melee/cleaver.sw.vtx
fallout_3_weapons_v1/models/halokiller38/fallout/weapons/melee/rustykitchenknife.sw.vtx
fallout_3_weapons_v1/models/halokiller38/fallout/weapons/melee/protonaxe.mdl
fallout_3_weapons_v1/models/halokiller38/fallout/weapons/melee/trenchknife.mdl
fallout_3_weapons_v1/models/halokiller38/fallout/weapons/melee/kitchenknife.phy
fallout_3_weapons_v1/models/halokiller38/fallout/weapons/melee/cattleprod.mdl
fallout_3_weapons_v1/models/halokiller38/fallout/weapons/melee/baseballbat.phy
fallout_3_weapons_v1/models/halokiller38/fallout/weapons/melee/deathclawgauntlet.dx90.vtx
fallout_3_weapons_v1/models/halokiller38/fallout/weapons/melee/dresscane.dx90.vtx
fallout_3_weapons_v1/models/halokiller38/fallout/weapons/melee/sledgehammer.dx90.vtx
fallout_3_weapons_v1/models/halokiller38/fallout/weapons/melee/fireaxeunique.vvd
fallout_3_weapons_v1/models/halokiller38/fallout/weapons/melee/kitchenknife.dx80.vtx
fallout_3_weapons_v1/models/halokiller38/fallout/weapons/melee/poolcue.mdl
fallout_3_weapons_v1/models/halokiller38/fallout/weapons/melee/eagleflagpoll.sw.vtx
fallout_3_weapons_v1/models/halokiller38/fallout/weapons/melee/katana.phy
fallout_3_weapons_v1/models/halokiller38/fallout/weapons/melee/deathclawgauntlet.dx80.vtx
fallout_3_weapons_v1/models/halokiller38/fallout/weapons/melee/baseballbatdirty.sw.vtx
fallout_3_weapons_v1/models/halokiller38/fallout/weapons/melee/thermiclance.dx90.vtx
fallout_3_weapons_v1/models/halokiller38/fallout/weapons/melee/inversalaxe.sw.vtx
fallout_3_weapons_v1/models/halokiller38/fallout/weapons/melee/straightrazor.mdl
fallout_3_weapons_v1/models/halokiller38/fallout/weapons/melee/dresscane.mdl
fallout_3_weapons_v1/models/halokiller38/fallout/weapons/melee/rollingpin.phy
fallout_3_weapons_v1/models/halokiller38/fallout/weapons/melee/gclub.sw.vtx
fallout_3_weapons_v1/models/halokiller38/fallout/weapons/melee/nailboard.sw.vtx
fallout_3_weapons_v1/models/halokiller38/fallout/weapons/melee/supersledgeunique.vvd
fallout_3_weapons_v1/models/halokiller38/fallout/weapons/melee/leadpipe.dx90.vtx
fallout_3_weapons_v1/models/halokiller38/fallout/weapons/melee/kitchenknife.dx90.vtx
fallout_3_weapons_v1/models/halokiller38/fallout/weapons/melee/spikedknuckles.sw.vtx
fallout_3_weapons_v1/models/halokiller38/fallout/weapons/melee/trenchknife.dx90.vtx
fallout_3_weapons_v1/models/halokiller38/fallout/weapons/melee/supersledge.dx80.vtx
fallout_3_weapons_v1/models/halokiller38/fallout/weapons/melee/bumpersword.sw.vtx
fallout_3_weapons_v1/models/halokiller38/fallout/weapons/melee/gclub.dx80.vtx
fallout_3_weapons_v1/models/halokiller38/fallout/weapons/melee/tireiron.vvd
fallout_3_weapons_v1/models/halokiller38/fallout/weapons/melee/thermiclance.sw.vtx
fallout_3_weapons_v1/models/halokiller38/fallout/weapons/melee/supersledge.mdl
fallout_3_weapons_v1/models/halokiller38/fallout/weapons/melee/baseballbatdirty.vvd
fallout_3_weapons_v1/models/halokiller38/fallout/weapons/melee/warclub.vvd
fallout_3_weapons_v1/models/halokiller38/fallout/weapons/melee/hatchet.phy
fallout_3_weapons_v1/models/halokiller38/fallout/weapons/melee/gclub.dx90.vtx
fallout_3_weapons_v1/models/halokiller38/fallout/weapons/melee/cleaver.mdl
fallout_3_weapons_v1/models/halokiller38/fallout/weapons/melee/inversalaxe.vvd
fallout_3_weapons_v1/models/halokiller38/fallout/weapons/melee/knifespear.sw.vtx
fallout_3_weapons_v1/models/halokiller38/fallout/weapons/melee/chineseofficersword.sw.vtx
fallout_3_weapons_v1/models/halokiller38/fallout/weapons/melee/ripper.dx90.vtx
fallout_3_weapons_v1/models/halokiller38/fallout/weapons/melee/chainsaw.dx90.vtx
fallout_3_weapons_v1/models/halokiller38/fallout/weapons/melee/leadpipe.phy
fallout_3_weapons_v1/models/halokiller38/fallout/weapons/melee/rebar.mdl
fallout_3_weapons_v1/models/halokiller38/fallout/weapons/melee/tireiron.sw.vtx
fallout_3_weapons_v1/models/halokiller38/fallout/weapons/melee/baton.sw.vtx
fallout_3_weapons_v1/models/halokiller38/fallout/weapons/melee/hatchet.sw.vtx
fallout_3_weapons_v1/models/halokiller38/fallout/weapons/melee/machetegladius.dx90.vtx
fallout_3_weapons_v1/models/halokiller38/fallout/weapons/melee/inversalaxe.mdl
fallout_3_weapons_v1/models/halokiller38/fallout/weapons/melee/nailboard.vvd
fallout_3_weapons_v1/models/halokiller38/fallout/weapons/melee/lilysblade.dx80.vtx
fallout_3_weapons_v1/models/halokiller38/fallout/weapons/melee/deathclawgauntlet.mdl
fallout_3_weapons_v1/models/halokiller38/fallout/weapons/melee/protonaxe.phy
fallout_3_weapons_v1/models/halokiller38/fallout/weapons/melee/supersledgeunique.mdl
fallout_3_weapons_v1/models/halokiller38/fallout/weapons/melee/fireaxe.dx90.vtx
fallout_3_weapons_v1/models/halokiller38/fallout/weapons/melee/rustykitchenknife.dx80.vtx
fallout_3_weapons_v1/models/halokiller38/fallout/weapons/melee/shishkebab.vvd
fallout_3_weapons_v1/models/halokiller38/fallout/weapons/melee/shishkebab.dx80.vtx
fallout_3_weapons_v1/models/halokiller38/fallout/weapons/melee/machetegladius.dx80.vtx
fallout_3_weapons_v1/models/halokiller38/fallout/weapons/melee/chainsaw.dx80.vtx
fallout_3_weapons_v1/models/halokiller38/fallout/weapons/melee/rustykitchenknife.vvd
fallout_3_weapons_v1/models/halokiller38/fallout/weapons/melee/knifespearclean.dx90.vtx
fallout_3_weapons_v1/models/halokiller38/fallout/weapons/melee/rebar.dx80.vtx
fallout_3_weapons_v1/models/halokiller38/fallout/weapons/melee/fireaxeunique.sw.vtx
fallout_3_weapons_v1/models/halokiller38/fallout/weapons/melee/bowieknife.dx80.vtx
fallout_3_weapons_v1/models/halokiller38/fallout/weapons/melee/sledgehammer.mdl
fallout_3_weapons_v1/models/halokiller38/fallout/weapons/melee/chancesknife.phy
fallout_3_weapons_v1/models/halokiller38/fallout/weapons/melee/supersledgeunique.sw.vtx
fallout_3_weapons_v1/models/halokiller38/fallout/weapons/melee/ripper.vvd
fallout_3_weapons_v1/models/halokiller38/fallout/weapons/melee/spikedknuckles.mdl
fallout_3_weapons_v1/models/halokiller38/fallout/weapons/melee/9iron.dx80.vtx
fallout_3_weapons_v1/models/halokiller38/fallout/weapons/melee/chancesknife.vvd
fallout_3_weapons_v1/models/halokiller38/fallout/weapons/melee/sledgehammer.dx80.vtx
fallout_3_weapons_v1/models/halokiller38/fallout/weapons/melee/leadpipe.mdl
fallout_3_weapons_v1/models/halokiller38/fallout/weapons/melee/shovel.dx80.vtx
fallout_3_weapons_v1/models/halokiller38/fallout/weapons/melee/warclub.phy
fallout_3_weapons_v1/models/halokiller38/fallout/weapons/melee/rebar.sw.vtx
fallout_3_weapons_v1/models/halokiller38/fallout/weapons/melee/switchblade.vvd
fallout_3_weapons_v1/models/halokiller38/fallout/weapons/melee/leadpipe.vvd
fallout_3_weapons_v1/models/halokiller38/fallout/weapons/melee/warclub.mdl
fallout_3_weapons_v1/models/halokiller38/fallout/weapons/melee/baton.phy
fallout_3_weapons_v1/models/halokiller38/fallout/weapons/melee/tomahawk.sw.vtx
fallout_3_weapons_v1/models/halokiller38/fallout/weapons/melee/throwinghatchet.sw.vtx
fallout_3_weapons_v1/models/halokiller38/fallout/weapons/melee/tireiron.dx80.vtx
fallout_3_weapons_v1/models/halokiller38/fallout/weapons/melee/machete.dx80.vtx
fallout_3_weapons_v1/models/halokiller38/fallout/weapons/melee/lilysblade.mdl
fallout_3_weapons_v1/models/halokiller38/fallout/weapons/melee/sledgehammer.vvd
fallout_3_weapons_v1/models/halokiller38/fallout/weapons/melee/thermiclance.mdl
fallout_3_weapons_v1/models/halokiller38/fallout/weapons/melee/leadpipeunique.vvd
fallout_3_weapons_v1/models/halokiller38/fallout/weapons/melee/leadpipeunique.sw.vtx
fallout_3_weapons_v1/models/halokiller38/fallout/weapons/melee/rollingpin.dx90.vtx
fallout_3_weapons_v1/models/halokiller38/fallout/weapons/melee/dresscane.dx80.vtx
fallout_3_weapons_v1/models/halokiller38/fallout/weapons/melee/deathclawgauntlet.sw.vtx
fallout_3_weapons_v1/models/halokiller38/fallout/weapons/melee/baton.mdl
fallout_3_weapons_v1/models/halokiller38/fallout/weapons/melee/supersledge.vvd
fallout_3_weapons_v1/models/halokiller38/fallout/weapons/melee/warclub.sw.vtx
fallout_3_weapons_v1/models/halokiller38/fallout/weapons/melee/supersledgeunique.phy
fallout_3_weapons_v1/models/halokiller38/fallout/weapons/melee/katana.sw.vtx
fallout_3_weapons_v1/models/halokiller38/fallout/weapons/melee/nukabreaker.mdl
fallout_3_weapons_v1/models/halokiller38/fallout/weapons/melee/machete.phy
fallout_3_weapons_v1/models/halokiller38/fallout/weapons/melee/supersledgeunique.dx90.vtx
fallout_3_weapons_v1/models/halokiller38/fallout/weapons/melee/knifespearclean.phy
fallout_3_weapons_v1/models/halokiller38/fallout/weapons/melee/autoaxe.dx90.vtx
fallout_3_weapons_v1/models/halokiller38/fallout/weapons/melee/firehydrant.sw.vtx
fallout_3_weapons_v1/models/halokiller38/fallout/weapons/melee/brassknuckles.dx90.vtx
fallout_3_weapons_v1/models/halokiller38/fallout/weapons/melee/lilysblade.phy
fallout_3_weapons_v1/models/halokiller38/fallout/weapons/melee/knifespear.dx90.vtx
fallout_3_weapons_v1/models/halokiller38/fallout/weapons/melee/lilysblade.vvd
fallout_3_weapons_v1/models/halokiller38/fallout/weapons/melee/combatknife.dx80.vtx
fallout_3_weapons_v1/models/halokiller38/fallout/weapons/melee/shockbaton.mdl
fallout_3_weapons_v1/models/halokiller38/fallout/weapons/melee/straightrazor.dx90.vtx
fallout_3_weapons_v1/models/halokiller38/fallout/weapons/melee/knifespearclean.dx80.vtx
fallout_3_weapons_v1/models/halokiller38/fallout/weapons/melee/brassknuckles.dx80.vtx
fallout_3_weapons_v1/models/halokiller38/fallout/weapons/melee/cattleprod.phy
fallout_3_weapons_v1/models/halokiller38/fallout/weapons/melee/firehydrant.dx90.vtx
fallout_3_weapons_v1/models/halokiller38/fallout/weapons/melee/dresscane.vvd
fallout_3_weapons_v1/models/halokiller38/fallout/weapons/melee/katana.vvd
fallout_3_weapons_v1/models/halokiller38/fallout/weapons/melee/shishkebab.dx90.vtx
fallout_3_weapons_v1/models/halokiller38/fallout/weapons/melee/knifespear.vvd
fallout_3_weapons_v1/models/halokiller38/fallout/weapons/melee/protonaxe.dx80.vtx
fallout_3_weapons_v1/models/halokiller38/fallout/weapons/melee/switchblade.mdl
fallout_3_weapons_v1/models/halokiller38/fallout/weapons/melee/spikedknuckles.dx80.vtx
fallout_3_weapons_v1/models/halokiller38/fallout/weapons/melee/straightrazor.vvd
fallout_3_weapons_v1/models/halokiller38/fallout/weapons/melee/yaoguiguantlet.mdl
fallout_3_weapons_v1/models/halokiller38/fallout/weapons/melee/chineseofficersword.phy
fallout_3_weapons_v1/models/halokiller38/fallout/weapons/melee/eagleflagpoll.mdl
fallout_3_weapons_v1/models/halokiller38/fallout/weapons/melee/cattleprod.sw.vtx
fallout_3_weapons_v1/models/halokiller38/fallout/weapons/melee/chainsaw.sw.vtx
fallout_3_weapons_v1/models/halokiller38/fallout/weapons/melee/kitchenknife.vvd
fallout_3_weapons_v1/models/halokiller38/fallout/weapons/melee/inversalaxe.dx90.vtx
fallout_3_weapons_v1/models/halokiller38/fallout/weapons/melee/samuraisword.mdl
fallout_3_weapons_v1/models/halokiller38/fallout/weapons/melee/machete.mdl
fallout_3_weapons_v1/models/halokiller38/fallout/weapons/melee/kitchenknife.mdl
fallout_3_weapons_v1/models/halokiller38/fallout/weapons/melee/mantisgauntlet.phy
fallout_3_weapons_v1/models/halokiller38/fallout/weapons/melee/shovel.dx90.vtx
fallout_3_weapons_v1/models/halokiller38/fallout/weapons/melee/ballisticfist.dx80.vtx
fallout_3_weapons_v1/models/halokiller38/fallout/weapons/melee/throwinghatchet.dx80.vtx
fallout_3_weapons_v1/models/halokiller38/fallout/weapons/melee/bowieknife.sw.vtx
fallout_3_weapons_v1/models/halokiller38/fallout/weapons/melee/bumpersword.vvd
fallout_3_weapons_v1/models/halokiller38/fallout/weapons/melee/rollingpin.vvd
fallout_3_weapons_v1/models/halokiller38/fallout/weapons/melee/rollingpin.sw.vtx
fallout_3_weapons_v1/models/halokiller38/fallout/weapons/melee/leadpipeunique.dx90.vtx
fallout_3_weapons_v1/models/halokiller38/fallout/weapons/melee/ballisticfist.sw.vtx
fallout_3_weapons_v1/models/halokiller38/fallout/weapons/melee/cleaver.dx80.vtx
fallout_3_weapons_v1/models/halokiller38/fallout/weapons/melee/knifespearclean.mdl
fallout_3_weapons_v1/models/halokiller38/fallout/weapons/melee/bowieknife.dx90.vtx
fallout_3_weapons_v1/models/halokiller38/fallout/weapons/melee/spear.vvd
fallout_3_weapons_v1/models/halokiller38/fallout/weapons/melee/hatchet.dx80.vtx
fallout_3_weapons_v1/models/halokiller38/fallout/weapons/melee/yaoguiguantlet.phy
fallout_3_weapons_v1/models/halokiller38/fallout/weapons/melee/cleaver.dx90.vtx
fallout_3_weapons_v1/models/halokiller38/fallout/weapons/melee/supersledge.dx90.vtx
fallout_3_weapons_v1/models/halokiller38/fallout/weapons/melee/poolcue.sw.vtx
fallout_3_weapons_v1/models/halokiller38/fallout/weapons/melee/leadpipeunique.phy
fallout_3_weapons_v1/models/halokiller38/fallout/weapons/melee/brassknuckles.sw.vtx
fallout_3_weapons_v1/models/halokiller38/fallout/weapons/melee/baseballbat.dx90.vtx
fallout_3_weapons_v1/models/halokiller38/fallout/weapons/melee/machete.dx90.vtx
fallout_3_weapons_v1/models/halokiller38/fallout/weapons/melee/leadpipeunique.dx80.vtx
fallout_3_weapons_v1/models/halokiller38/fallout/weapons/melee/rebar.phy
fallout_3_weapons_v1/models/halokiller38/fallout/weapons/melee/shovel.sw.vtx
fallout_3_weapons_v1/models/halokiller38/fallout/weapons/melee/fireaxe.phy
fallout_3_weapons_v1/models/halokiller38/fallout/weapons/melee/yaoguiguantlet.dx90.vtx
fallout_3_weapons_v1/models/halokiller38/fallout/weapons/melee/switchblade.phy
fallout_3_weapons_v1/models/halokiller38/fallout/weapons/melee/knifespear.phy
fallout_3_weapons_v1/models/halokiller38/fallout/weapons/melee/gclub.vvd
fallout_3_weapons_v1/models/halokiller38/fallout/weapons/melee/shockbaton.sw.vtx
fallout_3_weapons_v1/models/halokiller38/fallout/weapons/melee/combatknife.mdl
fallout_3_weapons_v1/models/halokiller38/fallout/weapons/melee/ballisticfist.vvd
fallout_3_weapons_v1/models/halokiller38/fallout/weapons/melee/combatknife.dx90.vtx
fallout_3_weapons_v1/models/halokiller38/fallout/weapons/melee/supersledgeunique.dx80.vtx
fallout_3_weapons_v1/models/halokiller38/fallout/weapons/melee/baseballbatdirty.mdl
fallout_3_weapons_v1/models/halokiller38/fallout/weapons/melee/bowieknife.vvd
fallout_3_weapons_v1/models/halokiller38/fallout/weapons/melee/trenchknife.dx80.vtx
fallout_3_weapons_v1/models/halokiller38/fallout/weapons/melee/chainsaw.mdl
fallout_3_weapons_v1/models/halokiller38/fallout/weapons/melee/chancesknife.sw.vtx
fallout_3_weapons_v1/models/halokiller38/fallout/weapons/melee/lilysblade.sw.vtx
fallout_3_weapons_v1/models/halokiller38/fallout/weapons/melee/9iron.phy
fallout_3_weapons_v1/models/halokiller38/fallout/weapons/melee/straightrazor.phy
fallout_3_weapons_v1/models/halokiller38/fallout/weapons/melee/autoaxe.phy
fallout_3_weapons_v1/models/halokiller38/fallout/weapons/melee/machetegladius.phy
fallout_3_weapons_v1/models/halokiller38/fallout/weapons/melee/9iron.vvd
fallout_3_weapons_v1/models/halokiller38/fallout/weapons/melee/spear.sw.vtx
fallout_3_weapons_v1/models/halokiller38/fallout/weapons/melee/knifespear.dx80.vtx
fallout_3_weapons_v1/models/halokiller38/fallout/weapons/melee/cattleprod.dx90.vtx
fallout_3_weapons_v1/models/halokiller38/fallout/weapons/melee/leadpipe.dx80.vtx
fallout_3_weapons_v1/models/halokiller38/fallout/weapons/melee/cattleprod.dx80.vtx
fallout_3_weapons_v1/models/halokiller38/fallout/weapons/melee/bumpersword.dx90.vtx
fallout_3_weapons_v1/models/halokiller38/fallout/weapons/melee/baseballbatdirty.phy
fallout_3_weapons_v1/models/halokiller38/fallout/weapons/melee/shishkebab.mdl
fallout_3_weapons_v1/models/halokiller38/fallout/weapons/melee/inversalaxe.phy
fallout_3_weapons_v1/models/halokiller38/fallout/weapons/melee/fireaxeunique.mdl
fallout_3_weapons_v1/models/halokiller38/fallout/weapons/melee/machetegladius.vvd
fallout_3_weapons_v1/models/halokiller38/fallout/weapons/melee/deathclawgauntlet.vvd
fallout_3_weapons_v1/models/halokiller38/fallout/weapons/melee/samuraisword.phy
fallout_3_weapons_v1/models/halokiller38/fallout/weapons/melee/firehydrant.mdl
fallout_3_weapons_v1/models/halokiller38/fallout/weapons/melee/tireiron.phy
fallout_3_weapons_v1/models/halokiller38/fallout/weapons/melee/tireiron.dx90.vtx
fallout_3_weapons_v1/models/halokiller38/fallout/weapons/melee/rustykitchenknife.dx90.vtx
fallout_3_weapons_v1/models/halokiller38/fallout/weapons/melee/eagleflagpoll.phy
fallout_3_weapons_v1/models/halokiller38/fallout/weapons/melee/ripper.phy
fallout_3_weapons_v1/models/halokiller38/fallout/weapons/melee/mantisgauntlet.mdl
fallout_3_weapons_v1/models/halokiller38/fallout/weapons/melee/baseballbatdirty.dx90.vtx
fallout_3_weapons_v1/models/halokiller38/fallout/weapons/melee/rustykitchenknife.phy
fallout_3_weapons_v1/models/halokiller38/fallout/weapons/melee/bumpersword.mdl
fallout_3_weapons_v1/models/halokiller38/fallout/weapons/melee/machete.sw.vtx
fallout_3_weapons_v1/models/halokiller38/fallout/weapons/melee/katana.dx90.vtx
fallout_3_weapons_v1/models/halokiller38/fallout/weapons/melee/fireaxe.vvd
fallout_3_weapons_v1/models/halokiller38/fallout/weapons/melee/samuraisword.vvd
fallout_3_weapons_v1/models/halokiller38/fallout/weapons/melee/chainsaw.phy
fallout_3_weapons_v1/models/halokiller38/fallout/weapons/melee/baton.vvd
fallout_3_weapons_v1/models/halokiller38/fallout/weapons/melee/dresscane.phy
fallout_3_weapons_v1/models/halokiller38/fallout/weapons/melee/throwinghatchet.dx90.vtx
fallout_3_weapons_v1/models/halokiller38/fallout/weapons/melee/brassknuckles.phy
fallout_3_weapons_v1/models/halokiller38/fallout/weapons/melee/switchblade.dx80.vtx
fallout_3_weapons_v1/models/halokiller38/fallout/weapons/melee/chancesknife.dx90.vtx
fallout_3_weapons_v1/models/halokiller38/fallout/weapons/melee/gclub.phy
fallout_3_weapons_v1/models/halokiller38/fallout/weapons/melee/mantisgauntlet.vvd
fallout_3_weapons_v1/models/halokiller38/fallout/weapons/melee/poolcue.dx90.vtx
fallout_3_weapons_v1/models/halokiller38/fallout/weapons/melee/tireiron.mdl
fallout_3_weapons_v1/models/halokiller38/fallout/weapons/melee/autoaxe.vvd
fallout_3_weapons_v1/models/halokiller38/fallout/weapons/melee/knifespearclean.vvd
fallout_3_weapons_v1/models/halokiller38/fallout/weapons/melee/nailboard.phy
fallout_3_weapons_v1/models/halokiller38/fallout/weapons/melee/bumpersword.phy
fallout_3_weapons_v1/models/halokiller38/fallout/weapons/melee/throwinghatchet.phy
fallout_3_weapons_v1/models/halokiller38/fallout/weapons/melee/chancesknife.dx80.vtx
fallout_3_weapons_v1/models/halokiller38/fallout/weapons/melee/nailboard.dx80.vtx
fallout_3_weapons_v1/models/halokiller38/fallout/weapons/melee/nukabreaker.sw.vtx
fallout_3_weapons_v1/models/halokiller38/fallout/weapons/melee/rollingpin.mdl
fallout_3_weapons_v1/models/halokiller38/fallout/weapons/melee/katana.mdl
fallout_3_weapons_v1/models/halokiller38/fallout/weapons/melee/baton.dx90.vtx
fallout_3_weapons_v1/models/halokiller38/fallout/weapons/melee/trenchknife.sw.vtx
fallout_3_weapons_v1/models/halokiller38/fallout/weapons/melee/firehydrant.dx80.vtx
fallout_3_weapons_v1/models/halokiller38/fallout/weapons/melee/ballisticfist.dx90.vtx
fallout_3_weapons_v1/models/halokiller38/fallout/weapons/melee/9iron.sw.vtx
fallout_3_weapons_v1/models/halokiller38/fallout/weapons/melee/baseballbat.vvd
fallout_3_weapons_v1/models/halokiller38/fallout/weapons/melee/shovel.vvd
fallout_3_weapons_v1/models/halokiller38/fallout/weapons/melee/hatchet.dx90.vtx
fallout_3_weapons_v1/models/halokiller38/fallout/weapons/melee/sledgehammer.phy
fallout_3_weapons_v1/models/halokiller38/fallout/weapons/melee/fireaxe.dx80.vtx
fallout_3_weapons_v1/models/halokiller38/fallout/weapons/melee/rollingpin.dx80.vtx
fallout_3_weapons_v1/models/halokiller38/fallout/weapons/melee/9iron.dx90.vtx
fallout_3_weapons_v1/models/halokiller38/fallout/weapons/melee/fireaxe.mdl
fallout_3_weapons_v1/models/halokiller38/fallout/weapons/melee/supersledge.phy
fallout_3_weapons_v1/models/halokiller38/fallout/weapons/melee/chineseofficersword.dx90.vtx
fallout_3_weapons_v1/models/halokiller38/fallout/weapons/melee/tomahawk.dx90.vtx
fallout_3_weapons_v1/models/halokiller38/fallout/weapons/melee/warclub.dx90.vtx
fallout_3_weapons_v1/models/halokiller38/fallout/weapons/melee/mantisgauntlet.dx80.vtx
fallout_3_weapons_v1/models/halokiller38/fallout/weapons/melee/shockbaton.dx90.vtx
fallout_3_weapons_v1/models/halokiller38/fallout/weapons/melee/cattleprod.vvd
fallout_3_weapons_v1/models/halokiller38/fallout/weapons/melee/bowieknife.mdl
fallout_3_weapons_v1/models/halokiller38/fallout/weapons/melee/poolcue.vvd
fallout_3_weapons_v1/models/halokiller38/fallout/weapons/melee/ballisticfist.mdl
fallout_3_weapons_v1/models/halokiller38/fallout/weapons/melee/chancesknife.mdl
fallout_3_weapons_v1/models/halokiller38/fallout/weapons/melee/nailboard.mdl
fallout_3_weapons_v1/models/halokiller38/fallout/weapons/melee/cleaver.phy
fallout_3_weapons_v1/models/halokiller38/fallout/weapons/melee/ballisticfist.phy
fallout_3_weapons_v1/models/halokiller38/fallout/weapons/melee/switchblade.dx90.vtx
fallout_3_weapons_v1/models/halokiller38/fallout/weapons/melee/spikedknuckles.dx90.vtx
fallout_3_weapons_v1/models/halokiller38/fallout/weapons/melee/samuraisword.dx80.vtx
fallout_3_weapons_v1/models/halokiller38/fallout/weapons/melee/ripper.sw.vtx
fallout_3_weapons_v1/models/halokiller38/fallout/weapons/melee/bowieknife.phy
fallout_3_weapons_v1/models/halokiller38/fallout/weapons/melee/rebar.vvd
fallout_3_weapons_v1/models/halokiller38/fallout/weapons/melee/straightrazor.dx80.vtx
fallout_3_weapons_v1/models/halokiller38/fallout/weapons/melee/samuraisword.dx90.vtx
fallout_3_weapons_v1/models/halokiller38/fallout/weapons/melee/combatknife.sw.vtx
fallout_3_weapons_v1/models/halokiller38/fallout/weapons/melee/poolcue.dx80.vtx
fallout_3_weapons_v1/models/halokiller38/fallout/weapons/melee/deathclawgauntlet.phy
fallout_3_weapons_v1/models/halokiller38/fallout/weapons/melee/protonaxe.dx90.vtx
fallout_3_weapons_v1/models/halokiller38/fallout/weapons/melee/nukabreaker.vvd
fallout_3_weapons_v1/models/halokiller38/fallout/weapons/melee/bumpersword.dx80.vtx
fallout_3_weapons_v1/models/halokiller38/fallout/weapons/melee/eagleflagpoll.dx90.vtx
fallout_3_weapons_v1/models/halokiller38/fallout/weapons/melee/katana.dx80.vtx
fallout_3_weapons_v1/models/halokiller38/fallout/weapons/melee/spear.phy
fallout_3_weapons_v1/models/halokiller38/fallout/weapons/melee/shovel.mdl
fallout_3_weapons_v1/models/halokiller38/fallout/weapons/melee/tomahawk.dx80.vtx
fallout_3_weapons_v1/models/halokiller38/fallout/weapons/melee/switchblade.sw.vtx
fallout_3_weapons_v1/models/halokiller38/fallout/weapons/melee/spear.mdl
fallout_3_weapons_v1/models/halokiller38/fallout/weapons/melee/baseballbat.mdl
fallout_3_weapons_v1/models/halokiller38/fallout/weapons/melee/autoaxe.mdl
fallout_3_weapons_v1/models/halokiller38/fallout/weapons/melee/brassknuckles.vvd
fallout_3_weapons_v1/models/halokiller38/fallout/weapons/melee/spikedknuckles.vvd
fallout_3_weapons_v1/models/halokiller38/fallout/weapons/melee/spear.dx90.vtx
fallout_3_weapons_v1/models/halokiller38/fallout/weapons/melee/baton.dx80.vtx
fallout_3_weapons_v1/models/halokiller38/fallout/weapons/melee/cleaver.vvd
fallout_3_weapons_v1/models/halokiller38/fallout/weapons/melee/knifespearclean.sw.vtx
fallout_3_weapons_v1/models/halokiller38/fallout/weapons/melee/machetegladius.mdl
fallout_3_weapons_v1/models/halokiller38/fallout/weapons/melee/thermiclance.phy
fallout_3_weapons_v1/models/halokiller38/fallout/weapons/melee/throwinghatchet.vvd
fallout_3_weapons_v1/models/halokiller38/fallout/weapons/melee/nailboard.dx90.vtx
fallout_3_weapons_v1/models/halokiller38/fallout/weapons/melee/trenchknife.phy
fallout_3_weapons_v1/models/halokiller38/fallout/weapons/melee/firehydrant.phy
fallout_3_weapons_v1/models/halokiller38/fallout/weapons/melee/dresscane.sw.vtx
fallout_3_weapons_v1/models/halokiller38/fallout/weapons/melee/machetegladius.sw.vtx
fallout_3_weapons_v1/models/halokiller38/fallout/weapons/melee/ripper.dx80.vtx
fallout_3_weapons_v1/models/halokiller38/fallout/weapons/melee/fireaxeunique.dx80.vtx
fallout_3_weapons_v1/models/halokiller38/fallout/weapons/melee/rebar.dx90.vtx
fallout_3_weapons_v1/models/halokiller38/fallout/weapons/melee/baseballbat.dx80.vtx
fallout_3_weapons_v1/models/halokiller38/fallout/weapons/melee/yaoguiguantlet.vvd
fallout_3_weapons_v1/models/halokiller38/fallout/weapons/melee/shockbaton.phy
fallout_3_weapons_v1/models/halokiller38/fallout/weapons/melee/straightrazor.sw.vtx
fallout_3_weapons_v1/models/halokiller38/fallout/weapons/melee/mantisgauntlet.sw.vtx
fallout_3_weapons_v1/models/halokiller38/fallout/weapons/melee/ripper.mdl
fallout_3_weapons_v1/models/halokiller38/fallout/weapons/melee/brassknuckles.mdl
fallout_3_weapons_v1/models/halokiller38/fallout/weapons/melee/chineseofficersword.mdl
fallout_3_weapons_v1/models/halokiller38/fallout/weapons/melee/shockbaton.vvd
fallout_3_weapons_v1/models/halokiller38/fallout/weapons/melee/kitchenknife.sw.vtx
fallout_3_weapons_v1/models/halokiller38/fallout/weapons/melee/nukabreaker.dx80.vtx
fallout_3_weapons_v1/models/halokiller38/fallout/weapons/melee/gclub.mdl
fallout_3_weapons_v1/models/halokiller38/fallout/weapons/melee/shockbaton.dx80.vtx
fallout_3_weapons_v1/models/halokiller38/fallout/weapons/melee/combatknife.vvd
fallout_3_weapons_v1/models/halokiller38/fallout/weapons/melee/samuraisword.sw.vtx
fallout_3_weapons_v1/models/halokiller38/fallout/weapons/melee/fireaxeunique.dx90.vtx
fallout_3_weapons_v1/models/halokiller38/fallout/weapons/melee/inversalaxe.dx80.vtx
fallout_3_weapons_v1/models/halokiller38/fallout/weapons/melee/poolcue.phy
fallout_3_weapons_v1/models/halokiller38/fallout/weapons/melee/fireaxe.sw.vtx
fallout_3_weapons_v1/models/halokiller38/fallout/weapons/melee/eagleflagpoll.dx80.vtx
fallout_3_weapons_v1/models/halokiller38/fallout/weapons/melee/firehydrant.vvd
fallout_3_weapons_v1/models/halokiller38/fallout/weapons/melee/9iron.mdl
fallout_3_weapons_v1/models/halokiller38/fallout/weapons/melee/leadpipeunique.mdl
fallout_3_weapons_v1/models/halokiller38/fallout/weapons/melee/chineseofficersword.vvd
fallout_3_weapons_v1/models/halokiller38/fallout/weapons/melee/supersledge.sw.vtx
fallout_3_weapons_v1/models/halokiller38/fallout/weapons/melee/tomahawk.phy
fallout_3_weapons_v1/models/halokiller38/fallout/weapons/melee/spikedknuckles.phy
fallout_3_weapons_v1/models/halokiller38/fallout/weapons/melee/shishkebab.phy
fallout_3_weapons_v1/models/halokiller38/fallout/weapons/melee/warclub.dx80.vtx
fallout_3_weapons_v1/models/halokiller38/fallout/weapons/melee/hatchet.vvd
fallout_3_weapons_v1/models/halokiller38/fallout/weapons/melee/yaoguiguantlet.sw.vtx
fallout_3_weapons_v1/models/halokiller38/fallout/weapons/melee/mantisgauntlet.dx90.vtx
fallout_3_weapons_v1/models/halokiller38/fallout/weapons/melee/yaoguiguantlet.dx80.vtx
fallout_3_weapons_v1/models/halokiller38/fallout/weapons/melee/sledgehammer.sw.vtx
fallout_3_weapons_v1/models/halokiller38/fallout/weapons/melee/baseballbat.sw.vtx
fallout_3_weapons_v1/models/halokiller38/fallout/weapons/melee/throwinghatchet.mdl
fallout_3_weapons_v1/models/halokiller38/fallout/weapons/melee/eagleflagpoll.vvd
fallout_3_weapons_v1/models/halokiller38/fallout/weapons/melee/hatchet.mdl
fallout_3_weapons_v1/models/halokiller38/fallout/weapons/melee/shishkebab.sw.vtx
fallout_3_weapons_v1/models/halokiller38/fallout/weapons/melee/baseballbatdirty.dx80.vtx
fallout_3_weapons_v1/models/halokiller38/fallout/weapons/melee/fireaxeunique.phy
fallout_3_weapons_v1/models/halokiller38/fallout/weapons/melee/nukabreaker.phy
fallout_3_weapons_v1/models/halokiller38/fallout/weapons/melee/tomahawk.mdl
fallout_3_weapons_v1/models/halokiller38/fallout/weapons/melee/chainsaw.vvd
fallout_3_weapons_v1/models/halokiller38/fallout/weapons/melee/lilysblade.dx90.vtx
fallout_3_weapons_v1/models/halokiller38/fallout/weapons/melee/protonaxe.sw.vtx
fallout_3_weapons_v1/models/halokiller38/fallout/weapons/melee/trenchknife.vvd
fallout_3_weapons_v1/models/halokiller38/fallout/weapons/melee/spear.dx80.vtx
fallout_3_weapons_v1/models/halokiller38/fallout/weapons/melee/shovel.phy
fallout_3_weapons_v1/models/halokiller38/fallout/weapons/melee/thermiclance.vvd
fallout_3_weapons_v1/models/halokiller38/fallout/weapons/melee/autoaxe.dx80.vtx
fallout_3_weapons_v1/models/halokiller38/fallout/weapons/melee/tomahawk.vvd
fallout_3_weapons_v1/models/halokiller38/fallout/weapons/melee/thermiclance.dx80.vtx
fallout_3_weapons_v1/models/halokiller38/fallout/weapons/melee/nukabreaker.dx90.vtx
fallout_3_weapons_v1/models/halokiller38/fallout/weapons/melee/leadpipe.sw.vtx
fallout_3_weapons_v1/models/halokiller38/fallout/weapons/melee/chineseofficersword.dx80.vtx
fallout_3_weapons_v1/models/halokiller38/fallout/weapons/melee/protonaxe.vvd
fallout_3_weapons_v1/models/halokiller38/fallout/weapons/melee/rustykitchenknife.mdl
fallout_3_weapons_v1/models/halokiller38/fallout/weapons/melee/autoaxe.sw.vtx
fallout_3_weapons_v1/models/halokiller38/fallout/weapons/melee/machete.vvd
fallout_3_weapons_v1/models/halokiller38/fallout/weapons/melee/combatknife.phy
fallout_3_weapons_v1/models/halokiller38/fallout/weapons/melee/knifespear.mdl
fallout_3_weapons_v1/models/halokiller38/fallout/weapons/smgs/127smgsilencer.mdl
fallout_3_weapons_v1/models/halokiller38/fallout/weapons/smgs/127smgsilencer.dx80.vtx
fallout_3_weapons_v1/models/halokiller38/fallout/weapons/smgs/10mmsmg.phy
fallout_3_weapons_v1/models/halokiller38/fallout/weapons/smgs/22smg.phy
fallout_3_weapons_v1/models/halokiller38/fallout/weapons/smgs/127smgsilencer.dx90.vtx
fallout_3_weapons_v1/models/halokiller38/fallout/weapons/smgs/10mmsmg.sw.vtx
fallout_3_weapons_v1/models/halokiller38/fallout/weapons/smgs/45smg.dx80.vtx
fallout_3_weapons_v1/models/halokiller38/fallout/weapons/smgs/22smg.dx90.vtx
fallout_3_weapons_v1/models/halokiller38/fallout/weapons/smgs/22smg.mdl
fallout_3_weapons_v1/models/halokiller38/fallout/weapons/smgs/9mmsmgdrumunique.vvd
fallout_3_weapons_v1/models/halokiller38/fallout/weapons/smgs/9mmsmgdrum.phy
fallout_3_weapons_v1/models/halokiller38/fallout/weapons/smgs/10mmsmg.mdl
fallout_3_weapons_v1/models/halokiller38/fallout/weapons/smgs/22smgext.dx80.vtx
fallout_3_weapons_v1/models/halokiller38/fallout/weapons/smgs/10mmsmgextclip.vvd
fallout_3_weapons_v1/models/halokiller38/fallout/weapons/smgs/10mmsmgextclip.mdl
fallout_3_weapons_v1/models/halokiller38/fallout/weapons/smgs/9mmsmgdrumunique.sw.vtx
fallout_3_weapons_v1/models/halokiller38/fallout/weapons/smgs/10mmsmgextclip.dx90.vtx
fallout_3_weapons_v1/models/halokiller38/fallout/weapons/smgs/127smg.phy
fallout_3_weapons_v1/models/halokiller38/fallout/weapons/smgs/10mmsmgextclip.dx80.vtx
fallout_3_weapons_v1/models/halokiller38/fallout/weapons/smgs/9mmsmg.dx90.vtx
fallout_3_weapons_v1/models/halokiller38/fallout/weapons/smgs/9mmsmg.sw.vtx
fallout_3_weapons_v1/models/halokiller38/fallout/weapons/smgs/22smgext.vvd
fallout_3_weapons_v1/models/halokiller38/fallout/weapons/smgs/22smgext.dx90.vtx
fallout_3_weapons_v1/models/halokiller38/fallout/weapons/smgs/9mmsmgdrumunique.mdl
fallout_3_weapons_v1/models/halokiller38/fallout/weapons/smgs/10mmsmgextclip.sw.vtx
fallout_3_weapons_v1/models/halokiller38/fallout/weapons/smgs/9mmsmgdrum.mdl
fallout_3_weapons_v1/models/halokiller38/fallout/weapons/smgs/45smg.mdl
fallout_3_weapons_v1/models/halokiller38/fallout/weapons/smgs/9mmsmg.vvd
fallout_3_weapons_v1/models/halokiller38/fallout/weapons/smgs/9mmsmg.phy
fallout_3_weapons_v1/models/halokiller38/fallout/weapons/smgs/45smg.phy
fallout_3_weapons_v1/models/halokiller38/fallout/weapons/smgs/9mmsmgdrum.vvd
fallout_3_weapons_v1/models/halokiller38/fallout/weapons/smgs/22smgext.mdl
fallout_3_weapons_v1/models/halokiller38/fallout/weapons/smgs/45smg.dx90.vtx
fallout_3_weapons_v1/models/halokiller38/fallout/weapons/smgs/9mmsmgdrum.dx80.vtx
fallout_3_weapons_v1/models/halokiller38/fallout/weapons/smgs/9mmsmg.mdl
fallout_3_weapons_v1/models/halokiller38/fallout/weapons/smgs/22smgext.phy
fallout_3_weapons_v1/models/halokiller38/fallout/weapons/smgs/127smgsilencer.vvd
fallout_3_weapons_v1/models/halokiller38/fallout/weapons/smgs/10mmsmg.dx80.vtx
fallout_3_weapons_v1/models/halokiller38/fallout/weapons/smgs/10mmsmg.vvd
fallout_3_weapons_v1/models/halokiller38/fallout/weapons/smgs/9mmsmg.dx80.vtx
fallout_3_weapons_v1/models/halokiller38/fallout/weapons/smgs/22smg.dx80.vtx
fallout_3_weapons_v1/models/halokiller38/fallout/weapons/smgs/10mmsmgextclip.phy
fallout_3_weapons_v1/models/halokiller38/fallout/weapons/smgs/127smg.mdl
fallout_3_weapons_v1/models/halokiller38/fallout/weapons/smgs/127smg.dx80.vtx
fallout_3_weapons_v1/models/halokiller38/fallout/weapons/smgs/127smg.vvd
fallout_3_weapons_v1/models/halokiller38/fallout/weapons/smgs/22smgext.sw.vtx
fallout_3_weapons_v1/models/halokiller38/fallout/weapons/smgs/22smg.vvd
fallout_3_weapons_v1/models/halokiller38/fallout/weapons/smgs/45smg.vvd
fallout_3_weapons_v1/models/halokiller38/fallout/weapons/smgs/127smgsilencer.sw.vtx
fallout_3_weapons_v1/models/halokiller38/fallout/weapons/smgs/9mmsmgdrumunique.phy
fallout_3_weapons_v1/models/halokiller38/fallout/weapons/smgs/127smg.sw.vtx
fallout_3_weapons_v1/models/halokiller38/fallout/weapons/smgs/45smg.sw.vtx
fallout_3_weapons_v1/models/halokiller38/fallout/weapons/smgs/22smg.sw.vtx
fallout_3_weapons_v1/models/halokiller38/fallout/weapons/smgs/9mmsmgdrumunique.dx80.vtx
fallout_3_weapons_v1/models/halokiller38/fallout/weapons/smgs/10mmsmg.dx90.vtx
fallout_3_weapons_v1/models/halokiller38/fallout/weapons/smgs/9mmsmgdrum.dx90.vtx
fallout_3_weapons_v1/models/halokiller38/fallout/weapons/smgs/9mmsmgdrum.sw.vtx
fallout_3_weapons_v1/models/halokiller38/fallout/weapons/smgs/127smg.dx90.vtx
fallout_3_weapons_v1/models/halokiller38/fallout/weapons/smgs/127smgsilencer.phy
fallout_3_weapons_v1/models/halokiller38/fallout/weapons/smgs/9mmsmgdrumunique.dx90.vtx
fallout_3_weapons_v1/models/halokiller38/fallout/weapons/rocketlaunchers/redglare.mdl
fallout_3_weapons_v1/models/halokiller38/fallout/weapons/rocketlaunchers/missilelauncher.dx80.vtx
fallout_3_weapons_v1/models/halokiller38/fallout/weapons/rocketlaunchers/redglare.vvd
fallout_3_weapons_v1/models/halokiller38/fallout/weapons/rocketlaunchers/redglare.dx90.vtx
fallout_3_weapons_v1/models/halokiller38/fallout/weapons/rocketlaunchers/redglare.phy
fallout_3_weapons_v1/models/halokiller38/fallout/weapons/rocketlaunchers/missilelauncher.sw.vtx
fallout_3_weapons_v1/models/halokiller38/fallout/weapons/rocketlaunchers/missilelauncher.mdl
fallout_3_weapons_v1/models/halokiller38/fallout/weapons/rocketlaunchers/missilelauncher.dx90.vtx
fallout_3_weapons_v1/models/halokiller38/fallout/weapons/rocketlaunchers/missilelauncher.vvd
fallout_3_weapons_v1/models/halokiller38/fallout/weapons/rocketlaunchers/redglare.dx80.vtx
fallout_3_weapons_v1/models/halokiller38/fallout/weapons/rocketlaunchers/missilelauncher.phy
fallout_3_weapons_v1/models/halokiller38/fallout/weapons/rocketlaunchers/redglare.sw.vtx
fallout_3_weapons_v1/models/halokiller38/fallout/weapons/explosives/nukagrenade.dx90.vtx
fallout_3_weapons_v1/models/halokiller38/fallout/weapons/explosives/nukagrenade.vvd
fallout_3_weapons_v1/models/halokiller38/fallout/weapons/explosives/greatbeargrenaderifle.mdl
fallout_3_weapons_v1/models/halokiller38/fallout/weapons/explosives/dynamite.vvd
fallout_3_weapons_v1/models/halokiller38/fallout/weapons/explosives/c4det.sw.vtx
fallout_3_weapons_v1/models/halokiller38/fallout/weapons/explosives/grenaderifleunique.dx90.vtx
fallout_3_weapons_v1/models/halokiller38/fallout/weapons/explosives/c4det.dx80.vtx
fallout_3_weapons_v1/models/halokiller38/fallout/weapons/explosives/grenaderifleunique.phy
fallout_3_weapons_v1/models/halokiller38/fallout/weapons/explosives/longfusedynamite.mdl
fallout_3_weapons_v1/models/halokiller38/fallout/weapons/explosives/nukagrenade.dx80.vtx
fallout_3_weapons_v1/models/halokiller38/fallout/weapons/explosives/grenadelauncher.vvd
fallout_3_weapons_v1/models/halokiller38/fallout/weapons/explosives/pulsegrenade.sw.vtx
fallout_3_weapons_v1/models/halokiller38/fallout/weapons/explosives/flashbanggrenade.vvd
fallout_3_weapons_v1/models/halokiller38/fallout/weapons/explosives/timebomb.dx80.vtx
fallout_3_weapons_v1/models/halokiller38/fallout/weapons/explosives/c4det.phy
fallout_3_weapons_v1/models/halokiller38/fallout/weapons/explosives/stungrenade.phy
fallout_3_weapons_v1/models/halokiller38/fallout/weapons/explosives/nukagrenade.mdl
fallout_3_weapons_v1/models/halokiller38/fallout/weapons/explosives/greatbeargrenaderifle.vvd
fallout_3_weapons_v1/models/halokiller38/fallout/weapons/explosives/dynamite.dx80.vtx
fallout_3_weapons_v1/models/halokiller38/fallout/weapons/explosives/stungrenade.dx90.vtx
fallout_3_weapons_v1/models/halokiller38/fallout/weapons/explosives/greatbeargrenaderifle.phy
fallout_3_weapons_v1/models/halokiller38/fallout/weapons/explosives/pulsegrenade.xbox.vtx
fallout_3_weapons_v1/models/halokiller38/fallout/weapons/explosives/flashbanggrenade.sw.vtx
fallout_3_weapons_v1/models/halokiller38/fallout/weapons/explosives/pulsegrenade.phy
fallout_3_weapons_v1/models/halokiller38/fallout/weapons/explosives/timebomb.mdl
fallout_3_weapons_v1/models/halokiller38/fallout/weapons/explosives/grenaderifle.mdl
fallout_3_weapons_v1/models/halokiller38/fallout/weapons/explosives/firebomb.dx90.vtx
fallout_3_weapons_v1/models/halokiller38/fallout/weapons/explosives/greatbeargrenaderifle.dx80.vtx
fallout_3_weapons_v1/models/halokiller38/fallout/weapons/explosives/grenadelauncher.dx90.vtx
fallout_3_weapons_v1/models/halokiller38/fallout/weapons/explosives/cryogrenade.dx90.vtx
fallout_3_weapons_v1/models/halokiller38/fallout/weapons/explosives/longfusedynamite.xbox.vtx
fallout_3_weapons_v1/models/halokiller38/fallout/weapons/explosives/fraggrenade.vvd
fallout_3_weapons_v1/models/halokiller38/fallout/weapons/explosives/redvictorygrenaderifle.vvd
fallout_3_weapons_v1/models/halokiller38/fallout/weapons/explosives/c4.mdl
fallout_3_weapons_v1/models/halokiller38/fallout/weapons/explosives/redvictorygrenaderifle.dx90.vtx
fallout_3_weapons_v1/models/halokiller38/fallout/weapons/explosives/dynamite.mdl
fallout_3_weapons_v1/models/halokiller38/fallout/weapons/explosives/greatbeargrenaderifle.dx90.vtx
fallout_3_weapons_v1/models/halokiller38/fallout/weapons/explosives/cryogrenade.sw.vtx
fallout_3_weapons_v1/models/halokiller38/fallout/weapons/explosives/plasmagrenade.phy
fallout_3_weapons_v1/models/halokiller38/fallout/weapons/explosives/incendiarygrenade.mdl
fallout_3_weapons_v1/models/halokiller38/fallout/weapons/explosives/incendiarygrenade.xbox.vtx
fallout_3_weapons_v1/models/halokiller38/fallout/weapons/explosives/fatman.mdl
fallout_3_weapons_v1/models/halokiller38/fallout/weapons/explosives/stungrenade.mdl
fallout_3_weapons_v1/models/halokiller38/fallout/weapons/explosives/grenadelauncher.mdl
fallout_3_weapons_v1/models/halokiller38/fallout/weapons/explosives/cryogrenade.vvd
fallout_3_weapons_v1/models/halokiller38/fallout/weapons/explosives/grenaderiflelongbarrel.vvd
fallout_3_weapons_v1/models/halokiller38/fallout/weapons/explosives/fatman.dx80.vtx
fallout_3_weapons_v1/models/halokiller38/fallout/weapons/explosives/pulsegrenade.mdl
fallout_3_weapons_v1/models/halokiller38/fallout/weapons/explosives/redvictorygrenaderifle.sw.vtx
fallout_3_weapons_v1/models/halokiller38/fallout/weapons/explosives/incendiarygrenade.sw.vtx
fallout_3_weapons_v1/models/halokiller38/fallout/weapons/explosives/flashbanggrenade.mdl
fallout_3_weapons_v1/models/halokiller38/fallout/weapons/explosives/fraggrenade.sw.vtx
fallout_3_weapons_v1/models/halokiller38/fallout/weapons/explosives/grenadelauncher.phy
fallout_3_weapons_v1/models/halokiller38/fallout/weapons/explosives/grenaderifle.dx90.vtx
fallout_3_weapons_v1/models/halokiller38/fallout/weapons/explosives/pulsegrenade.dx80.vtx
fallout_3_weapons_v1/models/halokiller38/fallout/weapons/explosives/grenaderiflelongbarrel.phy
fallout_3_weapons_v1/models/halokiller38/fallout/weapons/explosives/plasmagrenade.mdl
fallout_3_weapons_v1/models/halokiller38/fallout/weapons/explosives/c4.dx90.vtx
fallout_3_weapons_v1/models/halokiller38/fallout/weapons/explosives/gasbomb.phy
fallout_3_weapons_v1/models/halokiller38/fallout/weapons/explosives/c4.sw.vtx
fallout_3_weapons_v1/models/halokiller38/fallout/weapons/explosives/fraggrenade.dx80.vtx
fallout_3_weapons_v1/models/halokiller38/fallout/weapons/explosives/cryogrenade.phy
fallout_3_weapons_v1/models/halokiller38/fallout/weapons/explosives/plasmagrenade.xbox.vtx
fallout_3_weapons_v1/models/halokiller38/fallout/weapons/explosives/incendiarygrenade.dx80.vtx
fallout_3_weapons_v1/models/halokiller38/fallout/weapons/explosives/timebomb.sw.vtx
fallout_3_weapons_v1/models/halokiller38/fallout/weapons/explosives/grenaderifle.dx80.vtx
fallout_3_weapons_v1/models/halokiller38/fallout/weapons/explosives/grenaderiflelongbarrel.sw.vtx
fallout_3_weapons_v1/models/halokiller38/fallout/weapons/explosives/stungrenade.vvd
fallout_3_weapons_v1/models/halokiller38/fallout/weapons/explosives/plasmagrenade.vvd
fallout_3_weapons_v1/models/halokiller38/fallout/weapons/explosives/grenaderifleunique.mdl
fallout_3_weapons_v1/models/halokiller38/fallout/weapons/explosives/cryogrenade.xbox.vtx
fallout_3_weapons_v1/models/halokiller38/fallout/weapons/explosives/greatbeargrenaderifle.sw.vtx
fallout_3_weapons_v1/models/halokiller38/fallout/weapons/explosives/c4.vvd
fallout_3_weapons_v1/models/halokiller38/fallout/weapons/explosives/c4.dx80.vtx
fallout_3_weapons_v1/models/halokiller38/fallout/weapons/explosives/incendiarygrenade.vvd
fallout_3_weapons_v1/models/halokiller38/fallout/weapons/explosives/plasmagrenade.sw.vtx
fallout_3_weapons_v1/models/halokiller38/fallout/weapons/explosives/grenaderiflelongbarrel.dx90.vtx
fallout_3_weapons_v1/models/halokiller38/fallout/weapons/explosives/redvictorygrenaderifle.phy
fallout_3_weapons_v1/models/halokiller38/fallout/weapons/explosives/longfusedynamite.sw.vtx
fallout_3_weapons_v1/models/halokiller38/fallout/weapons/explosives/incendiarygrenade.dx90.vtx
fallout_3_weapons_v1/models/halokiller38/fallout/weapons/explosives/cryogrenade.mdl
fallout_3_weapons_v1/models/halokiller38/fallout/weapons/explosives/gasbomb.sw.vtx
fallout_3_weapons_v1/models/halokiller38/fallout/weapons/explosives/pulsegrenade.vvd
fallout_3_weapons_v1/models/halokiller38/fallout/weapons/explosives/gasbomb.mdl
fallout_3_weapons_v1/models/halokiller38/fallout/weapons/explosives/timebomb.phy
fallout_3_weapons_v1/models/halokiller38/fallout/weapons/explosives/gasbomb.dx80.vtx
fallout_3_weapons_v1/models/halokiller38/fallout/weapons/explosives/dynamite.phy
fallout_3_weapons_v1/models/halokiller38/fallout/weapons/explosives/firebomb.phy
fallout_3_weapons_v1/models/halokiller38/fallout/weapons/explosives/fatman.phy
fallout_3_weapons_v1/models/halokiller38/fallout/weapons/explosives/flashbanggrenade.xbox.vtx
fallout_3_weapons_v1/models/halokiller38/fallout/weapons/explosives/grenaderiflelongbarrel.mdl
fallout_3_weapons_v1/models/halokiller38/fallout/weapons/explosives/gasbomb.vvd
fallout_3_weapons_v1/models/halokiller38/fallout/weapons/explosives/firebomb.sw.vtx
fallout_3_weapons_v1/models/halokiller38/fallout/weapons/explosives/grenaderifleunique.vvd
fallout_3_weapons_v1/models/halokiller38/fallout/weapons/explosives/fatman.vvd
fallout_3_weapons_v1/models/halokiller38/fallout/weapons/explosives/grenaderifle.phy
fallout_3_weapons_v1/models/halokiller38/fallout/weapons/explosives/longfusedynamite.vvd
fallout_3_weapons_v1/models/halokiller38/fallout/weapons/explosives/gasbomb.dx90.vtx
fallout_3_weapons_v1/models/halokiller38/fallout/weapons/explosives/timebomb.xbox.vtx
fallout_3_weapons_v1/models/halokiller38/fallout/weapons/explosives/plasmagrenade.dx80.vtx
fallout_3_weapons_v1/models/halokiller38/fallout/weapons/explosives/grenaderifleunique.sw.vtx
fallout_3_weapons_v1/models/halokiller38/fallout/weapons/explosives/fraggrenade.xbox.vtx
fallout_3_weapons_v1/models/halokiller38/fallout/weapons/explosives/c4det.dx90.vtx
fallout_3_weapons_v1/models/halokiller38/fallout/weapons/explosives/flashbanggrenade.dx80.vtx
fallout_3_weapons_v1/models/halokiller38/fallout/weapons/explosives/firebomb.vvd
fallout_3_weapons_v1/models/halokiller38/fallout/weapons/explosives/redvictorygrenaderifle.mdl
fallout_3_weapons_v1/models/halokiller38/fallout/weapons/explosives/grenaderifle.sw.vtx
fallout_3_weapons_v1/models/halokiller38/fallout/weapons/explosives/grenadelauncher.sw.vtx
fallout_3_weapons_v1/models/halokiller38/fallout/weapons/explosives/longfusedynamite.phy
fallout_3_weapons_v1/models/halokiller38/fallout/weapons/explosives/c4det.vvd
fallout_3_weapons_v1/models/halokiller38/fallout/weapons/explosives/c4det.mdl
fallout_3_weapons_v1/models/halokiller38/fallout/weapons/explosives/grenaderifle.vvd
fallout_3_weapons_v1/models/halokiller38/fallout/weapons/explosives/nukagrenade.xbox.vtx
fallout_3_weapons_v1/models/halokiller38/fallout/weapons/explosives/dynamite.dx90.vtx
fallout_3_weapons_v1/models/halokiller38/fallout/weapons/explosives/firebomb.mdl
fallout_3_weapons_v1/models/halokiller38/fallout/weapons/explosives/flashbanggrenade.dx90.vtx
fallout_3_weapons_v1/models/halokiller38/fallout/weapons/explosives/flashbanggrenade.phy
fallout_3_weapons_v1/models/halokiller38/fallout/weapons/explosives/fraggrenade.dx90.vtx
fallout_3_weapons_v1/models/halokiller38/fallout/weapons/explosives/dynamite.xbox.vtx
fallout_3_weapons_v1/models/halokiller38/fallout/weapons/explosives/timebomb.vvd
fallout_3_weapons_v1/models/halokiller38/fallout/weapons/explosives/fatman.dx90.vtx
fallout_3_weapons_v1/models/halokiller38/fallout/weapons/explosives/stungrenade.dx80.vtx
fallout_3_weapons_v1/models/halokiller38/fallout/weapons/explosives/stungrenade.sw.vtx
fallout_3_weapons_v1/models/halokiller38/fallout/weapons/explosives/plasmagrenade.dx90.vtx
fallout_3_weapons_v1/models/halokiller38/fallout/weapons/explosives/grenaderiflelongbarrel.dx80.vtx
fallout_3_weapons_v1/models/halokiller38/fallout/weapons/explosives/gasbomb.xbox.vtx
fallout_3_weapons_v1/models/halokiller38/fallout/weapons/explosives/dynamite.sw.vtx
fallout_3_weapons_v1/models/halokiller38/fallout/weapons/explosives/longfusedynamite.dx80.vtx
fallout_3_weapons_v1/models/halokiller38/fallout/weapons/explosives/incendiarygrenade.phy
fallout_3_weapons_v1/models/halokiller38/fallout/weapons/explosives/longfusedynamite.dx90.vtx
fallout_3_weapons_v1/models/halokiller38/fallout/weapons/explosives/nukagrenade.phy
fallout_3_weapons_v1/models/halokiller38/fallout/weapons/explosives/grenadelauncher.dx80.vtx
fallout_3_weapons_v1/models/halokiller38/fallout/weapons/explosives/firebomb.dx80.vtx
fallout_3_weapons_v1/models/halokiller38/fallout/weapons/explosives/nukagrenade.sw.vtx
fallout_3_weapons_v1/models/halokiller38/fallout/weapons/explosives/timebomb.dx90.vtx
fallout_3_weapons_v1/models/halokiller38/fallout/weapons/explosives/redvictorygrenaderifle.dx80.vtx
fallout_3_weapons_v1/models/halokiller38/fallout/weapons/explosives/fatman.sw.vtx
fallout_3_weapons_v1/models/halokiller38/fallout/weapons/explosives/grenaderifleunique.dx80.vtx
fallout_3_weapons_v1/models/halokiller38/fallout/weapons/explosives/pulsegrenade.dx90.vtx
fallout_3_weapons_v1/models/halokiller38/fallout/weapons/explosives/fraggrenade.phy
fallout_3_weapons_v1/models/halokiller38/fallout/weapons/explosives/c4.phy
fallout_3_weapons_v1/models/halokiller38/fallout/weapons/explosives/fraggrenade.mdl
fallout_3_weapons_v1/models/halokiller38/fallout/weapons/explosives/firebomb.xbox.vtx
fallout_3_weapons_v1/models/halokiller38/fallout/weapons/explosives/stungrenade.xbox.vtx
fallout_3_weapons_v1/models/halokiller38/fallout/weapons/explosives/cryogrenade.dx80.vtx
fallout_3_weapons_v1/models/halokiller38/fallout/weapons/pistols/45pistol.sw.vtx
fallout_3_weapons_v1/models/halokiller38/fallout/weapons/pistols/44magnumrevolver.vvd
fallout_3_weapons_v1/models/halokiller38/fallout/weapons/pistols/thatgun.phy
fallout_3_weapons_v1/models/halokiller38/fallout/weapons/pistols/chinesepistol.sw.vtx
fallout_3_weapons_v1/models/halokiller38/fallout/weapons/pistols/44magnumrevolverscope.sw.vtx
fallout_3_weapons_v1/models/halokiller38/fallout/weapons/pistols/127mmpistol.sw.vtx
fallout_3_weapons_v1/models/halokiller38/fallout/weapons/pistols/44revolverunique.dx90.vtx
fallout_3_weapons_v1/models/halokiller38/fallout/weapons/pistols/silenced22pistol.mdl
fallout_3_weapons_v1/models/halokiller38/fallout/weapons/pistols/357revolvershorthdcyl.mdl
fallout_3_weapons_v1/models/halokiller38/fallout/weapons/pistols/357revolvershort.phy
fallout_3_weapons_v1/models/halokiller38/fallout/weapons/pistols/thatgun.mdl
fallout_3_weapons_v1/models/halokiller38/fallout/weapons/pistols/357revolverhdcyl.mdl
fallout_3_weapons_v1/models/halokiller38/fallout/weapons/pistols/10mmpistolallmods.vvd
fallout_3_weapons_v1/models/halokiller38/fallout/weapons/pistols/127mmpistol.phy
fallout_3_weapons_v1/models/halokiller38/fallout/weapons/pistols/45pistol.vvd
fallout_3_weapons_v1/models/halokiller38/fallout/weapons/pistols/357revolver.sw.vtx
fallout_3_weapons_v1/models/halokiller38/fallout/weapons/pistols/chinesepistol.mdl
fallout_3_weapons_v1/models/halokiller38/fallout/weapons/pistols/556pistol.dx90.vtx
fallout_3_weapons_v1/models/halokiller38/fallout/weapons/pistols/silenced22pistol.dx90.vtx
fallout_3_weapons_v1/models/halokiller38/fallout/weapons/pistols/rangersequoia.mdl
fallout_3_weapons_v1/models/halokiller38/fallout/weapons/pistols/32pistol.sw.vtx
fallout_3_weapons_v1/models/halokiller38/fallout/weapons/pistols/10mmpistolallmods.dx80.vtx
fallout_3_weapons_v1/models/halokiller38/fallout/weapons/pistols/127mmpistol.dx90.vtx
fallout_3_weapons_v1/models/halokiller38/fallout/weapons/pistols/10mmpistolextendedmag.dx80.vtx
fallout_3_weapons_v1/models/halokiller38/fallout/weapons/pistols/9mmpistol.mdl
fallout_3_weapons_v1/models/halokiller38/fallout/weapons/pistols/127mmpistol.dx80.vtx
fallout_3_weapons_v1/models/halokiller38/fallout/weapons/pistols/556pistol.dx80.vtx
fallout_3_weapons_v1/models/halokiller38/fallout/weapons/pistols/357revolverhdcyl.vvd
fallout_3_weapons_v1/models/halokiller38/fallout/weapons/pistols/10mmpistollasersight.mdl
fallout_3_weapons_v1/models/halokiller38/fallout/weapons/pistols/357revolver.dx80.vtx
fallout_3_weapons_v1/models/halokiller38/fallout/weapons/pistols/10mmpistolsilenced.vvd
fallout_3_weapons_v1/models/halokiller38/fallout/weapons/pistols/45pistolsil.phy
fallout_3_weapons_v1/models/halokiller38/fallout/weapons/pistols/policepistol.dx80.vtx
fallout_3_weapons_v1/models/halokiller38/fallout/weapons/pistols/45autopistolunique.phy
fallout_3_weapons_v1/models/halokiller38/fallout/weapons/pistols/9mmunique.dx90.vtx
fallout_3_weapons_v1/models/halokiller38/fallout/weapons/pistols/10mmpistolextendedmag.vvd
fallout_3_weapons_v1/models/halokiller38/fallout/weapons/pistols/9mmscope.mdl
fallout_3_weapons_v1/models/halokiller38/fallout/weapons/pistols/9mmpistol.phy
fallout_3_weapons_v1/models/halokiller38/fallout/weapons/pistols/9mmpistol.vvd
fallout_3_weapons_v1/models/halokiller38/fallout/weapons/pistols/556pistol.phy
fallout_3_weapons_v1/models/halokiller38/fallout/weapons/pistols/9mmscope.dx80.vtx
fallout_3_weapons_v1/models/halokiller38/fallout/weapons/pistols/9mmextclip.dx80.vtx
fallout_3_weapons_v1/models/halokiller38/fallout/weapons/pistols/45pistol.dx80.vtx
fallout_3_weapons_v1/models/halokiller38/fallout/weapons/pistols/556pistol.sw.vtx
fallout_3_weapons_v1/models/halokiller38/fallout/weapons/pistols/9mmextclipscp.phy
fallout_3_weapons_v1/models/halokiller38/fallout/weapons/pistols/357revolvershort.sw.vtx
fallout_3_weapons_v1/models/halokiller38/fallout/weapons/pistols/9mmunique.dx80.vtx
fallout_3_weapons_v1/models/halokiller38/fallout/weapons/pistols/9mmpistol.sw.vtx
fallout_3_weapons_v1/models/halokiller38/fallout/weapons/pistols/10mmpistolallmods.dx90.vtx
fallout_3_weapons_v1/models/halokiller38/fallout/weapons/pistols/44magnumrevolver.dx80.vtx
fallout_3_weapons_v1/models/halokiller38/fallout/weapons/pistols/thatgun.dx80.vtx
fallout_3_weapons_v1/models/halokiller38/fallout/weapons/pistols/10mmpistollasersight.sw.vtx
fallout_3_weapons_v1/models/halokiller38/fallout/weapons/pistols/9mmscope.phy
fallout_3_weapons_v1/models/halokiller38/fallout/weapons/pistols/32pistol.dx90.vtx
fallout_3_weapons_v1/models/halokiller38/fallout/weapons/pistols/32pistol.dx80.vtx
fallout_3_weapons_v1/models/halokiller38/fallout/weapons/pistols/127mmpistolsilencer.dx90.vtx
fallout_3_weapons_v1/models/halokiller38/fallout/weapons/pistols/9mmscope.sw.vtx
fallout_3_weapons_v1/models/halokiller38/fallout/weapons/pistols/rangersequoia.phy
fallout_3_weapons_v1/models/halokiller38/fallout/weapons/pistols/44magnumrevolverscope.dx80.vtx
fallout_3_weapons_v1/models/halokiller38/fallout/weapons/pistols/10mmpistolsilenced.sw.vtx
fallout_3_weapons_v1/models/halokiller38/fallout/weapons/pistols/10mmpistolsilenced.mdl
fallout_3_weapons_v1/models/halokiller38/fallout/weapons/pistols/10mmpistolsilenced.dx80.vtx
fallout_3_weapons_v1/models/halokiller38/fallout/weapons/pistols/357revolvershorthdcyl.dx80.vtx
fallout_3_weapons_v1/models/halokiller38/fallout/weapons/pistols/357revolverhdcyl.dx80.vtx
fallout_3_weapons_v1/models/halokiller38/fallout/weapons/pistols/9mmextclip.mdl
fallout_3_weapons_v1/models/halokiller38/fallout/weapons/pistols/10mmpistol.dx80.vtx
fallout_3_weapons_v1/models/halokiller38/fallout/weapons/pistols/357revolver.vvd
fallout_3_weapons_v1/models/halokiller38/fallout/weapons/pistols/9mmextclip.sw.vtx
fallout_3_weapons_v1/models/halokiller38/fallout/weapons/pistols/9mmextclip.dx90.vtx
fallout_3_weapons_v1/models/halokiller38/fallout/weapons/pistols/45pistol.mdl
fallout_3_weapons_v1/models/halokiller38/fallout/weapons/pistols/127mmpistol.vvd
fallout_3_weapons_v1/models/halokiller38/fallout/weapons/pistols/44revolverunique.sw.vtx
fallout_3_weapons_v1/models/halokiller38/fallout/weapons/pistols/45pistolsil.dx90.vtx
fallout_3_weapons_v1/models/halokiller38/fallout/weapons/pistols/9mmscope.dx90.vtx
fallout_3_weapons_v1/models/halokiller38/fallout/weapons/pistols/10mmpistollasersight.dx90.vtx
fallout_3_weapons_v1/models/halokiller38/fallout/weapons/pistols/10mmpistollasersight.phy
fallout_3_weapons_v1/models/halokiller38/fallout/weapons/pistols/357revolverhdcyl.phy
fallout_3_weapons_v1/models/halokiller38/fallout/weapons/pistols/44magnumrevolver.phy
fallout_3_weapons_v1/models/halokiller38/fallout/weapons/pistols/357revolverhdcyl.dx90.vtx
fallout_3_weapons_v1/models/halokiller38/fallout/weapons/pistols/357revolver.dx90.vtx
fallout_3_weapons_v1/models/halokiller38/fallout/weapons/pistols/10mmpistol.mdl
fallout_3_weapons_v1/models/halokiller38/fallout/weapons/pistols/357revolvershorthdcyl.sw.vtx
fallout_3_weapons_v1/models/halokiller38/fallout/weapons/pistols/huntingrevolver.dx90.vtx
fallout_3_weapons_v1/models/halokiller38/fallout/weapons/pistols/9mmunique.phy
fallout_3_weapons_v1/models/halokiller38/fallout/weapons/pistols/357revolvershorthdcyl.phy
fallout_3_weapons_v1/models/halokiller38/fallout/weapons/pistols/556pistol.mdl
fallout_3_weapons_v1/models/halokiller38/fallout/weapons/pistols/policepistol.vvd
fallout_3_weapons_v1/models/halokiller38/fallout/weapons/pistols/45pistol.dx90.vtx
fallout_3_weapons_v1/models/halokiller38/fallout/weapons/pistols/357revolvershort.dx90.vtx
fallout_3_weapons_v1/models/halokiller38/fallout/weapons/pistols/silenced22pistol.vvd
fallout_3_weapons_v1/models/halokiller38/fallout/weapons/pistols/9mmextclipscp.dx90.vtx
fallout_3_weapons_v1/models/halokiller38/fallout/weapons/pistols/127mmpistol.mdl
fallout_3_weapons_v1/models/halokiller38/fallout/weapons/pistols/9mmextclipscp.mdl
fallout_3_weapons_v1/models/halokiller38/fallout/weapons/pistols/10mmpistolextendedmag.sw.vtx
fallout_3_weapons_v1/models/halokiller38/fallout/weapons/pistols/44magnumrevolverscope.dx90.vtx
fallout_3_weapons_v1/models/halokiller38/fallout/weapons/pistols/45pistolsil.vvd
fallout_3_weapons_v1/models/halokiller38/fallout/weapons/pistols/45autopistolunique.dx90.vtx
fallout_3_weapons_v1/models/halokiller38/fallout/weapons/pistols/32pistol.mdl
fallout_3_weapons_v1/models/halokiller38/fallout/weapons/pistols/357revolvershorthdcyl.dx90.vtx
fallout_3_weapons_v1/models/halokiller38/fallout/weapons/pistols/silenced22pistol.sw.vtx
fallout_3_weapons_v1/models/halokiller38/fallout/weapons/pistols/10mmpistolallmods.phy
fallout_3_weapons_v1/models/halokiller38/fallout/weapons/pistols/9mmpistol.dx80.vtx
fallout_3_weapons_v1/models/halokiller38/fallout/weapons/pistols/45autopistolunique.mdl
fallout_3_weapons_v1/models/halokiller38/fallout/weapons/pistols/10mmpistolextendedmag.mdl
fallout_3_weapons_v1/models/halokiller38/fallout/weapons/pistols/policepistol.mdl
fallout_3_weapons_v1/models/halokiller38/fallout/weapons/pistols/45autopistolunique.sw.vtx
fallout_3_weapons_v1/models/halokiller38/fallout/weapons/pistols/357revolvershort.dx80.vtx
fallout_3_weapons_v1/models/halokiller38/fallout/weapons/pistols/357revolver.mdl
fallout_3_weapons_v1/models/halokiller38/fallout/weapons/pistols/357revolvershorthdcyl.vvd
fallout_3_weapons_v1/models/halokiller38/fallout/weapons/pistols/thatgun.vvd
fallout_3_weapons_v1/models/halokiller38/fallout/weapons/pistols/44magnumrevolverscope.vvd
fallout_3_weapons_v1/models/halokiller38/fallout/weapons/pistols/policepistol.sw.vtx
fallout_3_weapons_v1/models/halokiller38/fallout/weapons/pistols/44magnumrevolverscope.phy
fallout_3_weapons_v1/models/halokiller38/fallout/weapons/pistols/9mmextclipscp.vvd
fallout_3_weapons_v1/models/halokiller38/fallout/weapons/pistols/45pistolsil.dx80.vtx
fallout_3_weapons_v1/models/halokiller38/fallout/weapons/pistols/44revolverunique.phy
fallout_3_weapons_v1/models/halokiller38/fallout/weapons/pistols/10mmpistol.vvd
fallout_3_weapons_v1/models/halokiller38/fallout/weapons/pistols/silenced22pistol.phy
fallout_3_weapons_v1/models/halokiller38/fallout/weapons/pistols/10mmpistolallmods.mdl
fallout_3_weapons_v1/models/halokiller38/fallout/weapons/pistols/10mmpistol.dx90.vtx
fallout_3_weapons_v1/models/halokiller38/fallout/weapons/pistols/thatgun.sw.vtx
fallout_3_weapons_v1/models/halokiller38/fallout/weapons/pistols/44magnumrevolver.sw.vtx
fallout_3_weapons_v1/models/halokiller38/fallout/weapons/pistols/huntingrevolver.mdl
fallout_3_weapons_v1/models/halokiller38/fallout/weapons/pistols/357revolvershort.vvd
fallout_3_weapons_v1/models/halokiller38/fallout/weapons/pistols/44magnumrevolver.mdl
fallout_3_weapons_v1/models/halokiller38/fallout/weapons/pistols/127mmpistolsilencer.phy
fallout_3_weapons_v1/models/halokiller38/fallout/weapons/pistols/huntingrevolver.vvd
fallout_3_weapons_v1/models/halokiller38/fallout/weapons/pistols/357revolverhdcyl.sw.vtx
fallout_3_weapons_v1/models/halokiller38/fallout/weapons/pistols/10mmpistol.phy
fallout_3_weapons_v1/models/halokiller38/fallout/weapons/pistols/44magnumrevolverscope.mdl
fallout_3_weapons_v1/models/halokiller38/fallout/weapons/pistols/chinesepistol.phy
fallout_3_weapons_v1/models/halokiller38/fallout/weapons/pistols/10mmpistolsilenced.phy
fallout_3_weapons_v1/models/halokiller38/fallout/weapons/pistols/44magnumrevolver.dx90.vtx
fallout_3_weapons_v1/models/halokiller38/fallout/weapons/pistols/rangersequoia.dx90.vtx
fallout_3_weapons_v1/models/halokiller38/fallout/weapons/pistols/policepistol.dx90.vtx
fallout_3_weapons_v1/models/halokiller38/fallout/weapons/pistols/45pistolsil.mdl
fallout_3_weapons_v1/models/halokiller38/fallout/weapons/pistols/45pistol.phy
fallout_3_weapons_v1/models/halokiller38/fallout/weapons/pistols/10mmpistollasersight.vvd
fallout_3_weapons_v1/models/halokiller38/fallout/weapons/pistols/45pistolsil.sw.vtx
fallout_3_weapons_v1/models/halokiller38/fallout/weapons/pistols/9mmunique.mdl
fallout_3_weapons_v1/models/halokiller38/fallout/weapons/pistols/45autopistolunique.vvd
fallout_3_weapons_v1/models/halokiller38/fallout/weapons/pistols/10mmpistollasersight.dx80.vtx
fallout_3_weapons_v1/models/halokiller38/fallout/weapons/pistols/9mmpistol.dx90.vtx
fallout_3_weapons_v1/models/halokiller38/fallout/weapons/pistols/556pistol.vvd
fallout_3_weapons_v1/models/halokiller38/fallout/weapons/pistols/9mmunique.sw.vtx
fallout_3_weapons_v1/models/halokiller38/fallout/weapons/pistols/32pistol.phy
fallout_3_weapons_v1/models/halokiller38/fallout/weapons/pistols/9mmextclip.phy
fallout_3_weapons_v1/models/halokiller38/fallout/weapons/pistols/357revolver.phy
fallout_3_weapons_v1/models/halokiller38/fallout/weapons/pistols/44revolverunique.dx80.vtx
fallout_3_weapons_v1/models/halokiller38/fallout/weapons/pistols/127mmpistolsilencer.mdl
fallout_3_weapons_v1/models/halokiller38/fallout/weapons/pistols/9mmextclip.vvd
fallout_3_weapons_v1/models/halokiller38/fallout/weapons/pistols/9mmextclipscp.dx80.vtx
fallout_3_weapons_v1/models/halokiller38/fallout/weapons/pistols/rangersequoia.dx80.vtx
fallout_3_weapons_v1/models/halokiller38/fallout/weapons/pistols/127mmpistolsilencer.vvd
fallout_3_weapons_v1/models/halokiller38/fallout/weapons/pistols/127mmpistolsilencer.dx80.vtx
fallout_3_weapons_v1/models/halokiller38/fallout/weapons/pistols/10mmpistol.sw.vtx
fallout_3_weapons_v1/models/halokiller38/fallout/weapons/pistols/chinesepistol.dx80.vtx
fallout_3_weapons_v1/models/halokiller38/fallout/weapons/pistols/chinesepistol.dx90.vtx
fallout_3_weapons_v1/models/halokiller38/fallout/weapons/pistols/9mmscope.vvd
fallout_3_weapons_v1/models/halokiller38/fallout/weapons/pistols/huntingrevolver.sw.vtx
fallout_3_weapons_v1/models/halokiller38/fallout/weapons/pistols/9mmunique.vvd
fallout_3_weapons_v1/models/halokiller38/fallout/weapons/pistols/45autopistolunique.dx80.vtx
fallout_3_weapons_v1/models/halokiller38/fallout/weapons/pistols/silenced22pistol.dx80.vtx
fallout_3_weapons_v1/models/halokiller38/fallout/weapons/pistols/10mmpistolallmods.sw.vtx
fallout_3_weapons_v1/models/halokiller38/fallout/weapons/pistols/huntingrevolver.phy
fallout_3_weapons_v1/models/halokiller38/fallout/weapons/pistols/rangersequoia.sw.vtx
fallout_3_weapons_v1/models/halokiller38/fallout/weapons/pistols/rangersequoia.vvd
fallout_3_weapons_v1/models/halokiller38/fallout/weapons/pistols/10mmpistolextendedmag.dx90.vtx
fallout_3_weapons_v1/models/halokiller38/fallout/weapons/pistols/9mmextclipscp.sw.vtx
fallout_3_weapons_v1/models/halokiller38/fallout/weapons/pistols/357revolvershort.mdl
fallout_3_weapons_v1/models/halokiller38/fallout/weapons/pistols/32pistol.vvd
fallout_3_weapons_v1/models/halokiller38/fallout/weapons/pistols/127mmpistolsilencer.sw.vtx
fallout_3_weapons_v1/models/halokiller38/fallout/weapons/pistols/chinesepistol.vvd
fallout_3_weapons_v1/models/halokiller38/fallout/weapons/pistols/huntingrevolver.dx80.vtx
fallout_3_weapons_v1/models/halokiller38/fallout/weapons/pistols/44revolverunique.mdl
fallout_3_weapons_v1/models/halokiller38/fallout/weapons/pistols/thatgun.dx90.vtx
fallout_3_weapons_v1/models/halokiller38/fallout/weapons/pistols/10mmpistolsilenced.dx90.vtx
fallout_3_weapons_v1/models/halokiller38/fallout/weapons/pistols/10mmpistolextendedmag.phy
fallout_3_weapons_v1/models/halokiller38/fallout/weapons/pistols/policepistol.phy
fallout_3_weapons_v1/models/halokiller38/fallout/weapons/pistols/44revolverunique.vvd
fallout_3_weapons_v1/models/halokiller38/fallout/weapons/assaultrifles/infiltratorsil.mdl
fallout_3_weapons_v1/models/halokiller38/fallout/weapons/assaultrifles/assaultcarbine.phy
fallout_3_weapons_v1/models/halokiller38/fallout/weapons/assaultrifles/chineseassaultrifle.vvd
fallout_3_weapons_v1/models/halokiller38/fallout/weapons/assaultrifles/assaultcarbineext.dx80.vtx
fallout_3_weapons_v1/models/halokiller38/fallout/weapons/assaultrifles/r91assaultrifle.phy
fallout_3_weapons_v1/models/halokiller38/fallout/weapons/assaultrifles/infiltrator.dx80.vtx
fallout_3_weapons_v1/models/halokiller38/fallout/weapons/assaultrifles/assaultcarbine.dx80.vtx
fallout_3_weapons_v1/models/halokiller38/fallout/weapons/assaultrifles/marksmancarbinea.phy
fallout_3_weapons_v1/models/halokiller38/fallout/weapons/assaultrifles/chineseassaultrifle.mdl
fallout_3_weapons_v1/models/halokiller38/fallout/weapons/assaultrifles/chineseassaultrifle.sw.vtx
fallout_3_weapons_v1/models/halokiller38/fallout/weapons/assaultrifles/marksmancarbineext.vvd
fallout_3_weapons_v1/models/halokiller38/fallout/weapons/assaultrifles/battlerifle.dx90.vtx
fallout_3_weapons_v1/models/halokiller38/fallout/weapons/assaultrifles/battlerifle.mdl
fallout_3_weapons_v1/models/halokiller38/fallout/weapons/assaultrifles/battlerifleap.phy
fallout_3_weapons_v1/models/halokiller38/fallout/weapons/assaultrifles/assaultcarbineext.phy
fallout_3_weapons_v1/models/halokiller38/fallout/weapons/assaultrifles/marksmancarbine.mdl
fallout_3_weapons_v1/models/halokiller38/fallout/weapons/assaultrifles/infiltratorsil.vvd
fallout_3_weapons_v1/models/halokiller38/fallout/weapons/assaultrifles/battlerifleallmods.vvd
fallout_3_weapons_v1/models/halokiller38/fallout/weapons/assaultrifles/assaultcarbinesilencer.sw.vtx
fallout_3_weapons_v1/models/halokiller38/fallout/weapons/assaultrifles/chineseassaultrifle.dx90.vtx
fallout_3_weapons_v1/models/halokiller38/fallout/weapons/assaultrifles/assaultcarbine.vvd
fallout_3_weapons_v1/models/halokiller38/fallout/weapons/assaultrifles/battleriflebayo.phy
fallout_3_weapons_v1/models/halokiller38/fallout/weapons/assaultrifles/infiltratorsil.phy
fallout_3_weapons_v1/models/halokiller38/fallout/weapons/assaultrifles/battlerifleallmods.sw.vtx
fallout_3_weapons_v1/models/halokiller38/fallout/weapons/assaultrifles/marksmancarbinea.mdl
fallout_3_weapons_v1/models/halokiller38/fallout/weapons/assaultrifles/battlerifle.dx80.vtx
fallout_3_weapons_v1/models/halokiller38/fallout/weapons/assaultrifles/infiltratorsilscp.sw.vtx
fallout_3_weapons_v1/models/halokiller38/fallout/weapons/assaultrifles/battlerifleallmods.dx80.vtx
fallout_3_weapons_v1/models/halokiller38/fallout/weapons/assaultrifles/assaultcarbineext.sw.vtx
fallout_3_weapons_v1/models/halokiller38/fallout/weapons/assaultrifles/infiltrator.phy
fallout_3_weapons_v1/models/halokiller38/fallout/weapons/assaultrifles/r91assaultrifle.mdl
fallout_3_weapons_v1/models/halokiller38/fallout/weapons/assaultrifles/battlerifleap.mdl
fallout_3_weapons_v1/models/halokiller38/fallout/weapons/assaultrifles/infiltrator.sw.vtx
fallout_3_weapons_v1/models/halokiller38/fallout/weapons/assaultrifles/assaultcarbine.mdl
fallout_3_weapons_v1/models/halokiller38/fallout/weapons/assaultrifles/infiltratorsilscp.mdl
fallout_3_weapons_v1/models/halokiller38/fallout/weapons/assaultrifles/infiltratorsil.sw.vtx
fallout_3_weapons_v1/models/halokiller38/fallout/weapons/assaultrifles/battlerifle.vvd
fallout_3_weapons_v1/models/halokiller38/fallout/weapons/assaultrifles/assaultcarbinesilencer.phy
fallout_3_weapons_v1/models/halokiller38/fallout/weapons/assaultrifles/assaultcarbine.sw.vtx
fallout_3_weapons_v1/models/halokiller38/fallout/weapons/assaultrifles/assaultcarbinesilencer.vvd
fallout_3_weapons_v1/models/halokiller38/fallout/weapons/assaultrifles/battlerifleap.vvd
fallout_3_weapons_v1/models/halokiller38/fallout/weapons/assaultrifles/infiltrator.vvd
fallout_3_weapons_v1/models/halokiller38/fallout/weapons/assaultrifles/marksmancarbineext.mdl
fallout_3_weapons_v1/models/halokiller38/fallout/weapons/assaultrifles/r91assaultrifle.sw.vtx
fallout_3_weapons_v1/models/halokiller38/fallout/weapons/assaultrifles/battleriflerec.vvd
fallout_3_weapons_v1/models/halokiller38/fallout/weapons/assaultrifles/assaultcarbine.dx90.vtx
fallout_3_weapons_v1/models/halokiller38/fallout/weapons/assaultrifles/assaultcarbinesilencer.dx80.vtx
fallout_3_weapons_v1/models/halokiller38/fallout/weapons/assaultrifles/marksmancarbinea.vvd
fallout_3_weapons_v1/models/halokiller38/fallout/weapons/assaultrifles/infiltratorsilscp.dx90.vtx
fallout_3_weapons_v1/models/halokiller38/fallout/weapons/assaultrifles/assaultcarbineext.dx90.vtx
fallout_3_weapons_v1/models/halokiller38/fallout/weapons/assaultrifles/battleriflebayo.sw.vtx
fallout_3_weapons_v1/models/halokiller38/fallout/weapons/assaultrifles/battleriflebayo.dx90.vtx
fallout_3_weapons_v1/models/halokiller38/fallout/weapons/assaultrifles/chineseassaultrifle.dx80.vtx
fallout_3_weapons_v1/models/halokiller38/fallout/weapons/assaultrifles/infiltrator.mdl
fallout_3_weapons_v1/models/halokiller38/fallout/weapons/assaultrifles/marksmancarbinea.dx80.vtx
fallout_3_weapons_v1/models/halokiller38/fallout/weapons/assaultrifles/marksmancarbineext.dx80.vtx
fallout_3_weapons_v1/models/halokiller38/fallout/weapons/assaultrifles/r91assaultrifle.vvd
fallout_3_weapons_v1/models/halokiller38/fallout/weapons/assaultrifles/assaultcarbineext.mdl
fallout_3_weapons_v1/models/halokiller38/fallout/weapons/assaultrifles/battlerifleap.dx80.vtx
fallout_3_weapons_v1/models/halokiller38/fallout/weapons/assaultrifles/chineseassaultrifle.phy
fallout_3_weapons_v1/models/halokiller38/fallout/weapons/assaultrifles/battleriflerec.sw.vtx
fallout_3_weapons_v1/models/halokiller38/fallout/weapons/assaultrifles/battlerifle.phy
fallout_3_weapons_v1/models/halokiller38/fallout/weapons/assaultrifles/marksmancarbine.dx90.vtx
fallout_3_weapons_v1/models/halokiller38/fallout/weapons/assaultrifles/battleriflebayo.mdl
fallout_3_weapons_v1/models/halokiller38/fallout/weapons/assaultrifles/infiltratorsilscp.vvd
fallout_3_weapons_v1/models/halokiller38/fallout/weapons/assaultrifles/battleriflerec.dx90.vtx
fallout_3_weapons_v1/models/halokiller38/fallout/weapons/assaultrifles/battlerifleap.sw.vtx
fallout_3_weapons_v1/models/halokiller38/fallout/weapons/assaultrifles/marksmancarbine.vvd
fallout_3_weapons_v1/models/halokiller38/fallout/weapons/assaultrifles/infiltrator.dx90.vtx
fallout_3_weapons_v1/models/halokiller38/fallout/weapons/assaultrifles/battleriflerec.phy
fallout_3_weapons_v1/models/halokiller38/fallout/weapons/assaultrifles/marksmancarbineext.sw.vtx
fallout_3_weapons_v1/models/halokiller38/fallout/weapons/assaultrifles/assaultcarbinesilencer.dx90.vtx
fallout_3_weapons_v1/models/halokiller38/fallout/weapons/assaultrifles/marksmancarbineext.dx90.vtx
fallout_3_weapons_v1/models/halokiller38/fallout/weapons/assaultrifles/battlerifleallmods.mdl
fallout_3_weapons_v1/models/halokiller38/fallout/weapons/assaultrifles/marksmancarbine.dx80.vtx
fallout_3_weapons_v1/models/halokiller38/fallout/weapons/assaultrifles/r91assaultrifle.dx80.vtx
fallout_3_weapons_v1/models/halokiller38/fallout/weapons/assaultrifles/infiltratorsil.dx80.vtx
fallout_3_weapons_v1/models/halokiller38/fallout/weapons/assaultrifles/assaultcarbinesilencer.mdl
fallout_3_weapons_v1/models/halokiller38/fallout/weapons/assaultrifles/marksmancarbine.phy
fallout_3_weapons_v1/models/halokiller38/fallout/weapons/assaultrifles/battlerifle.sw.vtx
fallout_3_weapons_v1/models/halokiller38/fallout/weapons/assaultrifles/battlerifleallmods.dx90.vtx
fallout_3_weapons_v1/models/halokiller38/fallout/weapons/assaultrifles/assaultcarbineext.vvd
fallout_3_weapons_v1/models/halokiller38/fallout/weapons/assaultrifles/battleriflebayo.vvd
fallout_3_weapons_v1/models/halokiller38/fallout/weapons/assaultrifles/battlerifleap.dx90.vtx
fallout_3_weapons_v1/models/halokiller38/fallout/weapons/assaultrifles/battleriflerec.mdl
fallout_3_weapons_v1/models/halokiller38/fallout/weapons/assaultrifles/infiltratorsil.dx90.vtx
fallout_3_weapons_v1/models/halokiller38/fallout/weapons/assaultrifles/marksmancarbineext.phy
fallout_3_weapons_v1/models/halokiller38/fallout/weapons/assaultrifles/marksmancarbinea.dx90.vtx
fallout_3_weapons_v1/models/halokiller38/fallout/weapons/assaultrifles/infiltratorsilscp.phy
fallout_3_weapons_v1/models/halokiller38/fallout/weapons/assaultrifles/r91assaultrifle.dx90.vtx
fallout_3_weapons_v1/models/halokiller38/fallout/weapons/assaultrifles/battleriflebayo.dx80.vtx
fallout_3_weapons_v1/models/halokiller38/fallout/weapons/assaultrifles/battleriflerec.dx80.vtx
fallout_3_weapons_v1/models/halokiller38/fallout/weapons/assaultrifles/infiltratorsilscp.dx80.vtx
fallout_3_weapons_v1/models/halokiller38/fallout/weapons/assaultrifles/marksmancarbinea.sw.vtx
fallout_3_weapons_v1/models/halokiller38/fallout/weapons/assaultrifles/marksmancarbine.sw.vtx
fallout_3_weapons_v1/models/halokiller38/fallout/weapons/assaultrifles/battlerifleallmods.phy
fallout_3_weapons_v1/models/halokiller38/fallout/weapons/energy weapons/rechargerrifle.phy
fallout_3_weapons_v1/models/halokiller38/fallout/weapons/energy weapons/laserpdw.vvd
fallout_3_weapons_v1/models/halokiller38/fallout/weapons/energy weapons/gatlinglaser.dx80.vtx
fallout_3_weapons_v1/models/halokiller38/fallout/weapons/energy weapons/gatlinglaser.mdl
fallout_3_weapons_v1/models/halokiller38/fallout/weapons/energy weapons/laer.dx90.vtx
fallout_3_weapons_v1/models/halokiller38/fallout/weapons/energy weapons/laserriflescopebs.dx90.vtx
fallout_3_weapons_v1/models/halokiller38/fallout/weapons/energy weapons/laserriflescope.dx90.vtx
fallout_3_weapons_v1/models/halokiller38/fallout/weapons/energy weapons/laserriflescopebs.sw.vtx
fallout_3_weapons_v1/models/halokiller38/fallout/weapons/energy weapons/laserriflebeamsplitter.sw.vtx
fallout_3_weapons_v1/models/halokiller38/fallout/weapons/energy weapons/euclidfinder.vvd
fallout_3_weapons_v1/models/halokiller38/fallout/weapons/energy weapons/euclidfinder.dx80.vtx
fallout_3_weapons_v1/models/halokiller38/fallout/weapons/energy weapons/holorifle.vvd
fallout_3_weapons_v1/models/halokiller38/fallout/weapons/energy weapons/laserrifle.sw.vtx
fallout_3_weapons_v1/models/halokiller38/fallout/weapons/energy weapons/pulsegun.phy
fallout_3_weapons_v1/models/halokiller38/fallout/weapons/energy weapons/gaussrifle.vvd
fallout_3_weapons_v1/models/halokiller38/fallout/weapons/energy weapons/euclidfinder.dx90.vtx
fallout_3_weapons_v1/models/halokiller38/fallout/weapons/energy weapons/laserpdwrecycler.sw.vtx
fallout_3_weapons_v1/models/halokiller38/fallout/weapons/energy weapons/holorifle.mdl
fallout_3_weapons_v1/models/halokiller38/fallout/weapons/energy weapons/laserriflebeamsplitter.mdl
fallout_3_weapons_v1/models/halokiller38/fallout/weapons/energy weapons/holorifle.sw.vtx
fallout_3_weapons_v1/models/halokiller38/fallout/weapons/energy weapons/holorifle.phy
fallout_3_weapons_v1/models/halokiller38/fallout/weapons/energy weapons/laserrifle.mdl
fallout_3_weapons_v1/models/halokiller38/fallout/weapons/energy weapons/pulsegun.vvd
fallout_3_weapons_v1/models/halokiller38/fallout/weapons/energy weapons/laserpistolunique.dx90.vtx
fallout_3_weapons_v1/models/halokiller38/fallout/weapons/energy weapons/rechargerrifle.sw.vtx
fallout_3_weapons_v1/models/halokiller38/fallout/weapons/energy weapons/laserpdwrecycler.dx90.vtx
fallout_3_weapons_v1/models/halokiller38/fallout/weapons/energy weapons/laserpistolunique.sw.vtx
fallout_3_weapons_v1/models/halokiller38/fallout/weapons/energy weapons/laserriflebeamsplitter.vvd
fallout_3_weapons_v1/models/halokiller38/fallout/weapons/energy weapons/gaussrifle.phy
fallout_3_weapons_v1/models/halokiller38/fallout/weapons/energy weapons/pulsegun.sw.vtx
fallout_3_weapons_v1/models/halokiller38/fallout/weapons/energy weapons/pulsegun.dx80.vtx
fallout_3_weapons_v1/models/halokiller38/fallout/weapons/energy weapons/laserrifleunique.dx80.vtx
fallout_3_weapons_v1/models/halokiller38/fallout/weapons/energy weapons/tribeamlaserrifle.dx80.vtx
fallout_3_weapons_v1/models/halokiller38/fallout/weapons/energy weapons/laserrifleunique.dx90.vtx
fallout_3_weapons_v1/models/halokiller38/fallout/weapons/energy weapons/laserpdw.sw.vtx
fallout_3_weapons_v1/models/halokiller38/fallout/weapons/energy weapons/holorifle.dx80.vtx
fallout_3_weapons_v1/models/halokiller38/fallout/weapons/energy weapons/laserpdw.phy
fallout_3_weapons_v1/models/halokiller38/fallout/weapons/energy weapons/laserpistolunique.phy
fallout_3_weapons_v1/models/halokiller38/fallout/weapons/energy weapons/gaussrifle.dx90.vtx
fallout_3_weapons_v1/models/halokiller38/fallout/weapons/energy weapons/rechargerpistol.dx80.vtx
fallout_3_weapons_v1/models/halokiller38/fallout/weapons/energy weapons/laserpistolunique.mdl
fallout_3_weapons_v1/models/halokiller38/fallout/weapons/energy weapons/laserpdwrecycler.mdl
fallout_3_weapons_v1/models/halokiller38/fallout/weapons/energy weapons/gaussrifleunique.sw.vtx
fallout_3_weapons_v1/models/halokiller38/fallout/weapons/energy weapons/gaussrifleunique.phy
fallout_3_weapons_v1/models/halokiller38/fallout/weapons/energy weapons/laserpistol.dx80.vtx
fallout_3_weapons_v1/models/halokiller38/fallout/weapons/energy weapons/gaussrifleunique.dx90.vtx
fallout_3_weapons_v1/models/halokiller38/fallout/weapons/energy weapons/rechargerpistol.dx90.vtx
fallout_3_weapons_v1/models/halokiller38/fallout/weapons/energy weapons/laer.sw.vtx
fallout_3_weapons_v1/models/halokiller38/fallout/weapons/energy weapons/laer.mdl
fallout_3_weapons_v1/models/halokiller38/fallout/weapons/energy weapons/laserrifleunique.mdl
fallout_3_weapons_v1/models/halokiller38/fallout/weapons/energy weapons/euclidfinder.mdl
fallout_3_weapons_v1/models/halokiller38/fallout/weapons/energy weapons/rechargerpistol.mdl
fallout_3_weapons_v1/models/halokiller38/fallout/weapons/energy weapons/laserpistolunique.vvd
fallout_3_weapons_v1/models/halokiller38/fallout/weapons/energy weapons/gatlinglaser.vvd
fallout_3_weapons_v1/models/halokiller38/fallout/weapons/energy weapons/tribeamlaserrifle.mdl
fallout_3_weapons_v1/models/halokiller38/fallout/weapons/energy weapons/rechargerpistol.phy
fallout_3_weapons_v1/models/halokiller38/fallout/weapons/energy weapons/laserriflebeamsplitter.phy
fallout_3_weapons_v1/models/halokiller38/fallout/weapons/energy weapons/laserpistol.vvd
fallout_3_weapons_v1/models/halokiller38/fallout/weapons/energy weapons/laserpdwrecycler.dx80.vtx
fallout_3_weapons_v1/models/halokiller38/fallout/weapons/energy weapons/rechargerpistol.sw.vtx
fallout_3_weapons_v1/models/halokiller38/fallout/weapons/energy weapons/rechargerrifle.vvd
fallout_3_weapons_v1/models/halokiller38/fallout/weapons/energy weapons/laserriflescope.vvd
fallout_3_weapons_v1/models/halokiller38/fallout/weapons/energy weapons/laserriflescope.sw.vtx
fallout_3_weapons_v1/models/halokiller38/fallout/weapons/energy weapons/euclidfinder.phy
fallout_3_weapons_v1/models/halokiller38/fallout/weapons/energy weapons/rechargerrifle.dx90.vtx
fallout_3_weapons_v1/models/halokiller38/fallout/weapons/energy weapons/laserpdw.dx80.vtx
fallout_3_weapons_v1/models/halokiller38/fallout/weapons/energy weapons/laserpdwrecycler.vvd
fallout_3_weapons_v1/models/halokiller38/fallout/weapons/energy weapons/rechargerrifle.dx80.vtx
fallout_3_weapons_v1/models/halokiller38/fallout/weapons/energy weapons/laserriflebeamsplitter.dx80.vtx
fallout_3_weapons_v1/models/halokiller38/fallout/weapons/energy weapons/tribeamlaserrifle.dx90.vtx
fallout_3_weapons_v1/models/halokiller38/fallout/weapons/energy weapons/holorifle.dx90.vtx
fallout_3_weapons_v1/models/halokiller38/fallout/weapons/energy weapons/gaussrifle.dx80.vtx
fallout_3_weapons_v1/models/halokiller38/fallout/weapons/energy weapons/laserpdw.mdl
fallout_3_weapons_v1/models/halokiller38/fallout/weapons/energy weapons/tribeamlaserrifle.sw.vtx
fallout_3_weapons_v1/models/halokiller38/fallout/weapons/energy weapons/laer.dx80.vtx
fallout_3_weapons_v1/models/halokiller38/fallout/weapons/energy weapons/gaussrifle.sw.vtx
fallout_3_weapons_v1/models/halokiller38/fallout/weapons/energy weapons/laserpistolunique.dx80.vtx
fallout_3_weapons_v1/models/halokiller38/fallout/weapons/energy weapons/euclidfinder.sw.vtx
fallout_3_weapons_v1/models/halokiller38/fallout/weapons/energy weapons/laserriflescopebs.mdl
fallout_3_weapons_v1/models/halokiller38/fallout/weapons/energy weapons/laserpistol.phy
fallout_3_weapons_v1/models/halokiller38/fallout/weapons/energy weapons/tribeamlaserrifle.vvd
fallout_3_weapons_v1/models/halokiller38/fallout/weapons/energy weapons/laserriflescopebs.dx80.vtx
fallout_3_weapons_v1/models/halokiller38/fallout/weapons/energy weapons/gaussrifleunique.dx80.vtx
fallout_3_weapons_v1/models/halokiller38/fallout/weapons/energy weapons/laserpistol.mdl
fallout_3_weapons_v1/models/halokiller38/fallout/weapons/energy weapons/gaussrifleunique.vvd
fallout_3_weapons_v1/models/halokiller38/fallout/weapons/energy weapons/laserriflescope.mdl
fallout_3_weapons_v1/models/halokiller38/fallout/weapons/energy weapons/laserriflescopebs.phy
fallout_3_weapons_v1/models/halokiller38/fallout/weapons/energy weapons/gatlinglaser.sw.vtx
fallout_3_weapons_v1/models/halokiller38/fallout/weapons/energy weapons/gatlinglaser.dx90.vtx
fallout_3_weapons_v1/models/halokiller38/fallout/weapons/energy weapons/laserpistol.dx90.vtx
fallout_3_weapons_v1/models/halokiller38/fallout/weapons/energy weapons/laserriflescope.dx80.vtx
fallout_3_weapons_v1/models/halokiller38/fallout/weapons/energy weapons/laserpistol.sw.vtx
fallout_3_weapons_v1/models/halokiller38/fallout/weapons/energy weapons/pulsegun.mdl
fallout_3_weapons_v1/models/halokiller38/fallout/weapons/energy weapons/laer.vvd
fallout_3_weapons_v1/models/halokiller38/fallout/weapons/energy weapons/rechargerpistol.vvd
fallout_3_weapons_v1/models/halokiller38/fallout/weapons/energy weapons/laserpdw.dx90.vtx
fallout_3_weapons_v1/models/halokiller38/fallout/weapons/energy weapons/laserriflescopebs.vvd
fallout_3_weapons_v1/models/halokiller38/fallout/weapons/energy weapons/tribeamlaserrifle.phy
fallout_3_weapons_v1/models/halokiller38/fallout/weapons/energy weapons/gaussrifleunique.mdl
fallout_3_weapons_v1/models/halokiller38/fallout/weapons/energy weapons/laserriflescope.phy
fallout_3_weapons_v1/models/halokiller38/fallout/weapons/energy weapons/laserrifle.vvd
fallout_3_weapons_v1/models/halokiller38/fallout/weapons/energy weapons/rechargerrifle.mdl
fallout_3_weapons_v1/models/halokiller38/fallout/weapons/energy weapons/laserrifleunique.vvd
fallout_3_weapons_v1/models/halokiller38/fallout/weapons/energy weapons/laserriflebeamsplitter.dx90.vtx
fallout_3_weapons_v1/models/halokiller38/fallout/weapons/energy weapons/laer.phy
fallout_3_weapons_v1/models/halokiller38/fallout/weapons/energy weapons/laserpdwrecycler.phy
fallout_3_weapons_v1/models/halokiller38/fallout/weapons/energy weapons/gaussrifle.mdl
fallout_3_weapons_v1/models/halokiller38/fallout/weapons/energy weapons/laserrifle.phy
fallout_3_weapons_v1/models/halokiller38/fallout/weapons/energy weapons/gatlinglaser.phy
fallout_3_weapons_v1/models/halokiller38/fallout/weapons/energy weapons/laserrifle.dx80.vtx
fallout_3_weapons_v1/models/halokiller38/fallout/weapons/energy weapons/laserrifleunique.sw.vtx
fallout_3_weapons_v1/models/halokiller38/fallout/weapons/energy weapons/laserrifleunique.phy
fallout_3_weapons_v1/models/halokiller38/fallout/weapons/energy weapons/laserrifle.dx90.vtx
fallout_3_weapons_v1/models/halokiller38/fallout/weapons/energy weapons/pulsegun.dx90.vtx
fallout_3_weapons_v1/materials/models/halokiller38/sniperriflesupressor_n.vtf
fallout_3_weapons_v1/materials/models/halokiller38/katana.vmt
fallout_3_weapons_v1/materials/models/halokiller38/multiplasrifle.vmt
fallout_3_weapons_v1/materials/models/halokiller38/10mmpistol_n.vtf
fallout_3_weapons_v1/materials/models/halokiller38/machetegladius_n.vtf
fallout_3_weapons_v1/materials/models/halokiller38/fatman_n.vtf
fallout_3_weapons_v1/materials/models/halokiller38/laserrifleunique_n.vtf
fallout_3_weapons_v1/materials/models/halokiller38/huntingrifleclip.vmt
fallout_3_weapons_v1/materials/models/halokiller38/brushgunstocksaddle.vtf
fallout_3_weapons_v1/materials/models/halokiller38/1stpersontrailcarbinescope_n.vtf
fallout_3_weapons_v1/materials/models/halokiller38/grenaderifleuniquedecal_n.vtf
fallout_3_weapons_v1/materials/models/halokiller38/laserriflescope.vtf
fallout_3_weapons_v1/materials/models/halokiller38/machetegladius.vtf
fallout_3_weapons_v1/materials/models/halokiller38/magnumrevolver.vtf
fallout_3_weapons_v1/materials/models/halokiller38/dynamite.vtf
fallout_3_weapons_v1/materials/models/halokiller38/sniperriflecarbonfiber_n.vtf
fallout_3_weapons_v1/materials/models/halokiller38/nailboard_n.vtf
fallout_3_weapons_v1/materials/models/halokiller38/1stpersong3assaultrifle_n.vtf
fallout_3_weapons_v1/materials/models/halokiller38/25mmgrndlnchrunique.vmt
fallout_3_weapons_v1/materials/models/halokiller38/fiveshotspeedloader.vmt
fallout_3_weapons_v1/materials/models/halokiller38/357revolverstd.vmt
fallout_3_weapons_v1/materials/models/halokiller38/laserrifle01_n.vtf
fallout_3_weapons_v1/materials/models/halokiller38/heavyincinerator.vtf
fallout_3_weapons_v1/materials/models/halokiller38/dlc041stpersonshotgun.vtf
fallout_3_weapons_v1/materials/models/halokiller38/protonlaser01.vtf
fallout_3_weapons_v1/materials/models/halokiller38/flashbanggrenade.vtf
fallout_3_weapons_v1/materials/models/halokiller38/minigunbackpack.vtf
fallout_3_weapons_v1/materials/models/halokiller38/127smgsilencer.vtf
fallout_3_weapons_v1/materials/models/halokiller38/cowboyrepeaterunique_n.vtf
fallout_3_weapons_v1/materials/models/halokiller38/hatchet_n.vtf
fallout_3_weapons_v1/materials/models/halokiller38/pipboybtnglow01_n.vtf
fallout_3_weapons_v1/materials/models/halokiller38/cryogrenade_n.vtf
fallout_3_weapons_v1/materials/models/halokiller38/cowboyrepeater_n.vtf
fallout_3_weapons_v1/materials/models/halokiller38/redglare02.vmt
fallout_3_weapons_v1/materials/models/halokiller38/grenaderiflered.vtf
fallout_3_weapons_v1/materials/models/halokiller38/huntingrifleclip_n.vtf
fallout_3_weapons_v1/materials/models/halokiller38/1stpersonlaserscattergun01.vmt
fallout_3_weapons_v1/materials/models/halokiller38/127smg.vtf
fallout_3_weapons_v1/materials/models/halokiller38/82airborn.vtf
fallout_3_weapons_v1/materials/models/halokiller38/euclidscreensuccess.vtf
fallout_3_weapons_v1/materials/models/halokiller38/32pistolcasing.vtf
fallout_3_weapons_v1/materials/models/halokiller38/eagleflagpoll_n.vtf
fallout_3_weapons_v1/materials/models/halokiller38/9mmsmg.vtf
fallout_3_weapons_v1/materials/models/halokiller38/antimaterialrifle_n.vtf
fallout_3_weapons_v1/materials/models/halokiller38/spear.vtf
fallout_3_weapons_v1/materials/models/halokiller38/bowieknife.vmt
fallout_3_weapons_v1/materials/models/halokiller38/throwingknife_n.vtf
fallout_3_weapons_v1/materials/models/halokiller38/eccell_n.vtf
fallout_3_weapons_v1/materials/models/halokiller38/1stpersonlaserscattergun02.vtf
fallout_3_weapons_v1/materials/models/halokiller38/gclub_n.vtf
fallout_3_weapons_v1/materials/models/halokiller38/127pistol.vmt
fallout_3_weapons_v1/materials/models/halokiller38/grenade.vtf
fallout_3_weapons_v1/materials/models/halokiller38/rollingpin_n.vtf
fallout_3_weapons_v1/materials/models/halokiller38/plasmapistol.vmt
fallout_3_weapons_v1/materials/models/halokiller38/1stpersonnvdlc01holorifle.vtf
fallout_3_weapons_v1/materials/models/halokiller38/nailer.vmt
fallout_3_weapons_v1/materials/models/halokiller38/10mmpistolsilencer.vtf
fallout_3_weapons_v1/materials/models/halokiller38/shouldermountedsmgglass.vmt
fallout_3_weapons_v1/materials/models/halokiller38/throwingknife.vtf
fallout_3_weapons_v1/materials/models/halokiller38/antimaterialrifle.vtf
fallout_3_weapons_v1/materials/models/halokiller38/lilyweapon.vmt
fallout_3_weapons_v1/materials/models/halokiller38/1stpersonthismachine.vmt
fallout_3_weapons_v1/materials/models/halokiller38/samuraisword.vmt
fallout_3_weapons_v1/materials/models/halokiller38/arcwelder_pack_n.vtf
fallout_3_weapons_v1/materials/models/halokiller38/brainbotbub.vtf
fallout_3_weapons_v1/materials/models/halokiller38/sniperrifleuniquestock_n.vtf
fallout_3_weapons_v1/materials/models/halokiller38/samuraisword_n.vtf
fallout_3_weapons_v1/materials/models/halokiller38/1stpersontrailcarbinescope.vmt
fallout_3_weapons_v1/materials/models/halokiller38/teslacannon_n.vtf
fallout_3_weapons_v1/materials/models/halokiller38/lightmachinegun.vmt
fallout_3_weapons_v1/materials/models/halokiller38/1stpersonmissilelauncher.vtf
fallout_3_weapons_v1/materials/models/halokiller38/caravanshotgun.vmt
fallout_3_weapons_v1/materials/models/halokiller38/plasmadefender.vmt
fallout_3_weapons_v1/materials/models/halokiller38/fireaxe.vmt
fallout_3_weapons_v1/materials/models/halokiller38/stungrenade_n.vtf
fallout_3_weapons_v1/materials/models/halokiller38/hatchet.vtf
fallout_3_weapons_v1/materials/models/halokiller38/alienpistolclip.vtf
fallout_3_weapons_v1/materials/models/halokiller38/magnumrevolverunique_n.vtf
fallout_3_weapons_v1/materials/models/halokiller38/rechargerrifle.vmt
fallout_3_weapons_v1/materials/models/halokiller38/arcwelder_pack.vtf
fallout_3_weapons_v1/materials/models/halokiller38/timebomb.vtf
fallout_3_weapons_v1/materials/models/halokiller38/powderchargemine_n.vtf
fallout_3_weapons_v1/materials/models/halokiller38/switchblade_n.vtf
fallout_3_weapons_v1/materials/models/halokiller38/minefrag_n.vtf
fallout_3_weapons_v1/materials/models/halokiller38/marksman.vtf
fallout_3_weapons_v1/materials/models/halokiller38/dresscane.vtf
fallout_3_weapons_v1/materials/models/halokiller38/plasmarifle01.vmt
fallout_3_weapons_v1/materials/models/halokiller38/rockitlauncher.vtf
fallout_3_weapons_v1/materials/models/halokiller38/shovel_n.vtf
fallout_3_weapons_v1/materials/models/halokiller38/sledgehammer.vtf
fallout_3_weapons_v1/materials/models/halokiller38/sniperrifle.vmt
fallout_3_weapons_v1/materials/models/halokiller38/laer.vmt
fallout_3_weapons_v1/materials/models/halokiller38/laserpistol.vtf
fallout_3_weapons_v1/materials/models/halokiller38/euclidfinder.vmt
fallout_3_weapons_v1/materials/models/halokiller38/mauserpistolclip01_n.vtf
fallout_3_weapons_v1/materials/models/halokiller38/1stpersonassaultrifle01.vmt
fallout_3_weapons_v1/materials/models/halokiller38/10mmsmgextendedclip_n.vtf
fallout_3_weapons_v1/materials/models/halokiller38/10mmlaser.vmt
fallout_3_weapons_v1/materials/models/halokiller38/grenaderifleblue_n.vtf
fallout_3_weapons_v1/materials/models/halokiller38/gasbomb_n.vtf
fallout_3_weapons_v1/materials/models/halokiller38/rebar.vtf
fallout_3_weapons_v1/materials/models/halokiller38/tireiron_n.vtf
fallout_3_weapons_v1/materials/models/halokiller38/fxwhite.vtf
fallout_3_weapons_v1/materials/models/halokiller38/10mmclip.vmt
fallout_3_weapons_v1/materials/models/halokiller38/sniperrifleuniquestock.vmt
fallout_3_weapons_v1/materials/models/halokiller38/huntingshotgununique.vtf
fallout_3_weapons_v1/materials/models/halokiller38/sniperriflecarbonfiber.vmt
fallout_3_weapons_v1/materials/models/halokiller38/rustykitchenknife.vmt
fallout_3_weapons_v1/materials/models/halokiller38/fireaxeunique.vmt
fallout_3_weapons_v1/materials/models/halokiller38/9mmscope.vmt
fallout_3_weapons_v1/materials/models/halokiller38/laserpistol.vmt
fallout_3_weapons_v1/materials/models/halokiller38/cyberdoggun02.vtf
fallout_3_weapons_v1/materials/models/halokiller38/10mmsmg.vtf
fallout_3_weapons_v1/materials/models/halokiller38/1stpersonhuntingrifle.vtf
fallout_3_weapons_v1/materials/models/halokiller38/dlc051stpersonalienrifle.vtf
fallout_3_weapons_v1/materials/models/halokiller38/euclidfinder_n.vtf
fallout_3_weapons_v1/materials/models/halokiller38/9mmunique_n.vtf
fallout_3_weapons_v1/materials/models/halokiller38/pulsegrenade_n.vtf
fallout_3_weapons_v1/materials/models/halokiller38/inversallaser01.vtf
fallout_3_weapons_v1/materials/models/halokiller38/9mmscope.vtf
fallout_3_weapons_v1/materials/models/halokiller38/brainbotbub.vmt
fallout_3_weapons_v1/materials/models/halokiller38/supersledgeunique.vmt
fallout_3_weapons_v1/materials/models/halokiller38/cryomine_n.vtf
fallout_3_weapons_v1/materials/models/halokiller38/mineplasma_n.vtf
fallout_3_weapons_v1/materials/models/halokiller38/1stpersoncombatshotgun.vtf
fallout_3_weapons_v1/materials/models/halokiller38/shouldermountedsmgglass_n.vtf
fallout_3_weapons_v1/materials/models/halokiller38/fatman02_n.vtf
fallout_3_weapons_v1/materials/models/halokiller38/grenaderifle.vtf
fallout_3_weapons_v1/materials/models/halokiller38/marksman_n.vtf
fallout_3_weapons_v1/materials/models/halokiller38/1stperson32snubnose.vtf
fallout_3_weapons_v1/materials/models/halokiller38/1stpersontrailcarbinescope.vtf
fallout_3_weapons_v1/materials/models/halokiller38/cattleprod.vtf
fallout_3_weapons_v1/materials/models/halokiller38/10mmsmgmag.vmt
fallout_3_weapons_v1/materials/models/halokiller38/c4.vtf
fallout_3_weapons_v1/materials/models/halokiller38/mineplasma.vmt
fallout_3_weapons_v1/materials/models/halokiller38/gclub.vtf
fallout_3_weapons_v1/materials/models/halokiller38/dynamite_n.vtf
fallout_3_weapons_v1/materials/models/halokiller38/1stpersonlaserscattergun02_n.vtf
fallout_3_weapons_v1/materials/models/halokiller38/nailer_n.vtf
fallout_3_weapons_v1/materials/models/halokiller38/1stpersonvarmintunique_22.vmt
fallout_3_weapons_v1/materials/models/halokiller38/laserpistolunique.vtf
fallout_3_weapons_v1/materials/models/halokiller38/10mmpistol.vtf
fallout_3_weapons_v1/materials/models/halokiller38/fiveshotspeedloader.vtf
fallout_3_weapons_v1/materials/models/halokiller38/sledgehammer_n.vtf
fallout_3_weapons_v1/materials/models/halokiller38/magnumrevolver_n.vtf
fallout_3_weapons_v1/materials/models/halokiller38/cattleprod_n.vtf
fallout_3_weapons_v1/materials/models/halokiller38/cyberdoggun_n.vtf
fallout_3_weapons_v1/materials/models/halokiller38/cowboyrepeatertangsights.vtf
fallout_3_weapons_v1/materials/models/halokiller38/stungrenade.vtf
fallout_3_weapons_v1/materials/models/halokiller38/1stpersontrailcarbine_n.vtf
fallout_3_weapons_v1/materials/models/halokiller38/satchelcharge.vmt
fallout_3_weapons_v1/materials/models/halokiller38/scattergun.vmt
fallout_3_weapons_v1/materials/models/halokiller38/9mmsmgdrumunique.vmt
fallout_3_weapons_v1/materials/models/halokiller38/1stpersonassualtcarbine_n.vtf
fallout_3_weapons_v1/materials/models/halokiller38/supersledgeunique_n.vtf
fallout_3_weapons_v1/materials/models/halokiller38/flashbanggrenade.vmt
fallout_3_weapons_v1/materials/models/halokiller38/shovel.vtf
fallout_3_weapons_v1/materials/models/halokiller38/mantisgauntlet.vtf
fallout_3_weapons_v1/materials/models/halokiller38/grenaderiflered_n.vtf
fallout_3_weapons_v1/materials/models/halokiller38/trailcarbinelam.vtf
fallout_3_weapons_v1/materials/models/halokiller38/grenadelaunch.vmt
fallout_3_weapons_v1/materials/models/halokiller38/fxzapbolt.vtf
fallout_3_weapons_v1/materials/models/halokiller38/chancesknife.vtf
fallout_3_weapons_v1/materials/models/halokiller38/dlc041stpersonshotgun_n.vtf
fallout_3_weapons_v1/materials/models/halokiller38/357rejectionrod.vtf
fallout_3_weapons_v1/materials/models/halokiller38/multiplasrifle.vtf
fallout_3_weapons_v1/materials/models/halokiller38/127pistolsilencer.vtf
fallout_3_weapons_v1/materials/models/halokiller38/brassknuckles.vtf
fallout_3_weapons_v1/materials/models/halokiller38/switchblade.vtf
fallout_3_weapons_v1/materials/models/halokiller38/fxplasma.vtf
fallout_3_weapons_v1/materials/models/halokiller38/sniperrifleuniqueclip_n.vtf
fallout_3_weapons_v1/materials/models/halokiller38/laserrifle01.vmt
fallout_3_weapons_v1/materials/models/halokiller38/1stperson32speedloader.vmt
fallout_3_weapons_v1/materials/models/halokiller38/1stpersong3assaultrifleclip_n.vtf
fallout_3_weapons_v1/materials/models/halokiller38/grenadelaunch.vtf
fallout_3_weapons_v1/materials/models/halokiller38/fatman02.vmt
fallout_3_weapons_v1/materials/models/halokiller38/1stpersong3assaultrifleclip.vtf
fallout_3_weapons_v1/materials/models/halokiller38/10mmsmg.vmt
fallout_3_weapons_v1/materials/models/halokiller38/minigununiquedecal_n.vtf
fallout_3_weapons_v1/materials/models/halokiller38/katana_n.vtf
fallout_3_weapons_v1/materials/models/halokiller38/kitchenknife_n.vtf
fallout_3_weapons_v1/materials/models/halokiller38/minepulse.vtf
fallout_3_weapons_v1/materials/models/halokiller38/firehydrant01.vtf
fallout_3_weapons_v1/materials/models/halokiller38/82airborn_n.vtf
fallout_3_weapons_v1/materials/models/halokiller38/1stperson32speedloader.vtf
fallout_3_weapons_v1/materials/models/halokiller38/samuraisword.vtf
fallout_3_weapons_v1/materials/models/halokiller38/9mmsmgdrumunique_n.vtf
fallout_3_weapons_v1/materials/models/halokiller38/32pistolcasing_n.vtf
fallout_3_weapons_v1/materials/models/halokiller38/flashbanggrenade_n.vtf
fallout_3_weapons_v1/materials/models/halokiller38/huntingriflemods_n.vtf
fallout_3_weapons_v1/materials/models/halokiller38/cleaver.vtf
fallout_3_weapons_v1/materials/models/halokiller38/peepsight.vtf
fallout_3_weapons_v1/materials/models/halokiller38/c4det.vtf
fallout_3_weapons_v1/materials/models/halokiller38/gatlinglaser.vtf
fallout_3_weapons_v1/materials/models/halokiller38/deathclawgauntlet.vtf
fallout_3_weapons_v1/materials/models/halokiller38/laserpdw.vmt
fallout_3_weapons_v1/materials/models/halokiller38/fxwhite.vmt
fallout_3_weapons_v1/materials/models/halokiller38/fatmanbomb_n.vtf
fallout_3_weapons_v1/materials/models/halokiller38/laserriflescope.vmt
fallout_3_weapons_v1/materials/models/halokiller38/1stpersonmauserpistol01_n.vtf
fallout_3_weapons_v1/materials/models/halokiller38/1stpersonlincolnrifle.vmt
fallout_3_weapons_v1/materials/models/halokiller38/1stpersonthismachine.vtf
fallout_3_weapons_v1/materials/models/halokiller38/combatshotgun.vtf
fallout_3_weapons_v1/materials/models/halokiller38/huntingrevolver.vmt
fallout_3_weapons_v1/materials/models/halokiller38/25mmgrndlnchrhispeedkit.vtf
fallout_3_weapons_v1/materials/models/halokiller38/leadpipeunique_n.vtf
fallout_3_weapons_v1/materials/models/halokiller38/tomahawk2.vtf
fallout_3_weapons_v1/materials/models/halokiller38/1stpersonmissilelauncher_g.vtf
fallout_3_weapons_v1/materials/models/halokiller38/1stpersonnvdlc0245autopist_n.vtf
fallout_3_weapons_v1/materials/models/halokiller38/dlc01infiltrator1stperson.vtf
fallout_3_weapons_v1/materials/models/halokiller38/1stpersonmissilelauncher2.vmt
fallout_3_weapons_v1/materials/models/halokiller38/battlerifleallmods_n.vtf
fallout_3_weapons_v1/materials/models/halokiller38/mantisgauntlet.vmt
fallout_3_weapons_v1/materials/models/halokiller38/throwinghatchet.vtf
fallout_3_weapons_v1/materials/models/halokiller38/laer.vtf
fallout_3_weapons_v1/materials/models/halokiller38/laserriflescope_n.vtf
fallout_3_weapons_v1/materials/models/halokiller38/battlerifle_n.vtf
fallout_3_weapons_v1/materials/models/halokiller38/1stpersonnvdlc01automaticrifle_n.vtf
fallout_3_weapons_v1/materials/models/halokiller38/rockitlauncher.vmt
fallout_3_weapons_v1/materials/models/halokiller38/1stpersonalienblaster_g.vtf
fallout_3_weapons_v1/materials/models/halokiller38/1stpersonhuntingriflescope_n.vtf
fallout_3_weapons_v1/materials/models/halokiller38/cyberdoggun02_n.vtf
fallout_3_weapons_v1/materials/models/halokiller38/heavyincinerator.vmt
fallout_3_weapons_v1/materials/models/halokiller38/battleriflerec.vtf
fallout_3_weapons_v1/materials/models/halokiller38/teslaeffect01.vtf
fallout_3_weapons_v1/materials/models/halokiller38/varmint_22_n.vtf
fallout_3_weapons_v1/materials/models/halokiller38/9mmsmgdrum_n.vtf
fallout_3_weapons_v1/materials/models/halokiller38/policepistol.vmt
fallout_3_weapons_v1/materials/models/halokiller38/combatshotgundrum.vmt
fallout_3_weapons_v1/materials/models/halokiller38/laserpistolunique02.vtf
fallout_3_weapons_v1/materials/models/halokiller38/leadpipe_n.vtf
fallout_3_weapons_v1/materials/models/halokiller38/minigununique_n.vtf
fallout_3_weapons_v1/materials/models/halokiller38/silenced22.vmt
fallout_3_weapons_v1/materials/models/halokiller38/bbgun01_n.vtf
fallout_3_weapons_v1/materials/models/halokiller38/minigunhispeedmotor_n.vtf
fallout_3_weapons_v1/materials/models/halokiller38/huntingriflemods.vmt
fallout_3_weapons_v1/materials/models/halokiller38/flaregun.vtf
fallout_3_weapons_v1/materials/models/halokiller38/pipboybtnglow01.vtf
fallout_3_weapons_v1/materials/models/halokiller38/1stpersonhuntingrifle.vmt
fallout_3_weapons_v1/materials/models/halokiller38/battleriflerec.vmt
fallout_3_weapons_v1/materials/models/halokiller38/1stpersonnvdlc0245submach.vmt
fallout_3_weapons_v1/materials/models/halokiller38/plasmadefender.vtf
fallout_3_weapons_v1/materials/models/halokiller38/redglare_n.vtf
fallout_3_weapons_v1/materials/models/halokiller38/combatknife.vmt
fallout_3_weapons_v1/materials/models/halokiller38/grenaderifleuniquedecal.vtf
fallout_3_weapons_v1/materials/models/halokiller38/nukabreak_n.vtf
fallout_3_weapons_v1/materials/models/halokiller38/leadpipeunique.vmt
fallout_3_weapons_v1/materials/models/halokiller38/fireaxe.vtf
fallout_3_weapons_v1/materials/models/halokiller38/cowboyrepeaterbrass.vtf
fallout_3_weapons_v1/materials/models/halokiller38/127smgsilencer.vmt
fallout_3_weapons_v1/materials/models/halokiller38/gaussrifleback.vmt
fallout_3_weapons_v1/materials/models/halokiller38/9mmsmgunique_n.vtf
fallout_3_weapons_v1/materials/models/halokiller38/throwinghatchet.vmt
fallout_3_weapons_v1/materials/models/halokiller38/redglare02.vtf
fallout_3_weapons_v1/materials/models/halokiller38/satchelcharge_n.vtf
fallout_3_weapons_v1/materials/models/halokiller38/timebomb_n.vtf
fallout_3_weapons_v1/materials/models/halokiller38/9mmscope_n.vtf
fallout_3_weapons_v1/materials/models/halokiller38/horseclub_n.vtf
fallout_3_weapons_v1/materials/models/halokiller38/25mmgrndlnchrhispeedkit.vmt
fallout_3_weapons_v1/materials/models/halokiller38/1stpersonsawedoffshotgun_n.vtf
fallout_3_weapons_v1/materials/models/halokiller38/combatknife_n.vtf
fallout_3_weapons_v1/materials/models/halokiller38/lilyweapon_n.vtf
fallout_3_weapons_v1/materials/models/halokiller38/huntingshotgununique_n.vtf
fallout_3_weapons_v1/materials/models/halokiller38/combatshotgun.vmt
fallout_3_weapons_v1/materials/models/halokiller38/gatlinglaser.vmt
fallout_3_weapons_v1/materials/models/halokiller38/cryomine.vmt
fallout_3_weapons_v1/materials/models/halokiller38/10mmsmgextendedclip.vmt
fallout_3_weapons_v1/materials/models/halokiller38/knifespearclean.vmt
fallout_3_weapons_v1/materials/models/halokiller38/cowboyrepeatertangsights.vmt
fallout_3_weapons_v1/materials/models/halokiller38/scattergun.vtf
fallout_3_weapons_v1/materials/models/halokiller38/1stpersonvarmintunique_22_n.vtf
fallout_3_weapons_v1/materials/models/halokiller38/teslacannon.vtf
fallout_3_weapons_v1/materials/models/halokiller38/laserpistol_n.vtf
fallout_3_weapons_v1/materials/models/halokiller38/spikedknuckles_n.vtf
fallout_3_weapons_v1/materials/models/halokiller38/10mmclip_n.vtf
fallout_3_weapons_v1/materials/models/halokiller38/10mmlaser.vtf
fallout_3_weapons_v1/materials/models/halokiller38/dlc01infiltratorbody1stperson.vtf
fallout_3_weapons_v1/materials/models/halokiller38/1stpersonmissilelauncher2.vtf
fallout_3_weapons_v1/materials/models/halokiller38/9mmsmgdrum.vtf
fallout_3_weapons_v1/materials/models/halokiller38/brassknuckles.vmt
fallout_3_weapons_v1/materials/models/halokiller38/ballisticfist.vmt
fallout_3_weapons_v1/materials/models/halokiller38/minefrag.vmt
fallout_3_weapons_v1/materials/models/halokiller38/huntingrevolver.vtf
fallout_3_weapons_v1/materials/models/halokiller38/minigunstabilizers.vmt
fallout_3_weapons_v1/materials/models/halokiller38/rollingpin.vtf
fallout_3_weapons_v1/materials/models/halokiller38/nukagrenade.vmt
fallout_3_weapons_v1/materials/models/halokiller38/cowboyrepeater.vtf
fallout_3_weapons_v1/materials/models/halokiller38/127smg.vmt
fallout_3_weapons_v1/materials/models/halokiller38/huntingrevolver_n.vtf
fallout_3_weapons_v1/materials/models/halokiller38/plasmagrenade.vtf
fallout_3_weapons_v1/materials/models/halokiller38/1stpersonvarmintunique_22.vtf
fallout_3_weapons_v1/materials/models/halokiller38/grenade_n.vtf
fallout_3_weapons_v1/materials/models/halokiller38/marksmanaa_n.vtf
fallout_3_weapons_v1/materials/models/halokiller38/rechargerpistol_n.vtf
fallout_3_weapons_v1/materials/models/halokiller38/1stperson10mmlaserredlight.vmt
fallout_3_weapons_v1/materials/models/halokiller38/rangersequoia.vtf
fallout_3_weapons_v1/materials/models/halokiller38/rustykitchenknife.vtf
fallout_3_weapons_v1/materials/models/halokiller38/baseballbat.vtf
fallout_3_weapons_v1/materials/models/halokiller38/tireiron.vmt
fallout_3_weapons_v1/materials/models/halokiller38/357revolverstd_n.vtf
fallout_3_weapons_v1/materials/models/halokiller38/fiveshotspeedloader_n.vtf
fallout_3_weapons_v1/materials/models/halokiller38/fatman.vtf
fallout_3_weapons_v1/materials/models/halokiller38/1stpersonleveractionshotgun.vmt
fallout_3_weapons_v1/materials/models/halokiller38/gaussriflefrontunique.vmt
fallout_3_weapons_v1/materials/models/halokiller38/teslaeffect01.vmt
fallout_3_weapons_v1/materials/models/halokiller38/gaussriflefront_n.vtf
fallout_3_weapons_v1/materials/models/halokiller38/inversallaser01.vmt
fallout_3_weapons_v1/materials/models/halokiller38/trailcarbinelam.vmt
fallout_3_weapons_v1/materials/models/halokiller38/combatknife.vtf
fallout_3_weapons_v1/materials/models/halokiller38/minigunhispeedmotor.vmt
fallout_3_weapons_v1/materials/models/halokiller38/laserpistolunique02.vmt
fallout_3_weapons_v1/materials/models/halokiller38/bottlecapmine.vmt
fallout_3_weapons_v1/materials/models/halokiller38/grenaderifleunique.vtf
fallout_3_weapons_v1/materials/models/halokiller38/ripper.vmt
fallout_3_weapons_v1/materials/models/halokiller38/satchelcharge.vtf
fallout_3_weapons_v1/materials/models/halokiller38/1stpersonnvdlc01holorifle_n.vtf
fallout_3_weapons_v1/materials/models/halokiller38/1stpersontrailcarbine.vmt
fallout_3_weapons_v1/materials/models/halokiller38/1stpersong3assaultrifleclip.vmt
fallout_3_weapons_v1/materials/models/halokiller38/plasmarifle02_n.vtf
fallout_3_weapons_v1/materials/models/halokiller38/teslacannon.vmt
fallout_3_weapons_v1/materials/models/halokiller38/1stpersonmauserpistol01.vtf
fallout_3_weapons_v1/materials/models/halokiller38/9mmsmgdrum.vmt
fallout_3_weapons_v1/materials/models/halokiller38/1stpersonhuntingriflescope.vmt
fallout_3_weapons_v1/materials/models/halokiller38/dlc051stpersonalienrifle_n.vtf
fallout_3_weapons_v1/materials/models/halokiller38/arcwelder.vtf
fallout_3_weapons_v1/materials/models/halokiller38/shockbaton.vmt
fallout_3_weapons_v1/materials/models/halokiller38/1stpersonrailwayrifle_n.vtf
fallout_3_weapons_v1/materials/models/halokiller38/alienpistol.vmt
fallout_3_weapons_v1/materials/models/halokiller38/firehydrant01_n.vtf
fallout_3_weapons_v1/materials/models/halokiller38/gaussrifleback_n.vtf
fallout_3_weapons_v1/materials/models/halokiller38/127silencer_n.vtf
fallout_3_weapons_v1/materials/models/halokiller38/dlc051stpersonalienrifle.vmt
fallout_3_weapons_v1/materials/models/halokiller38/neongreenironsights.vmt
fallout_3_weapons_v1/materials/models/halokiller38/rechargerpistol.vmt
fallout_3_weapons_v1/materials/models/halokiller38/machete.vtf
fallout_3_weapons_v1/materials/models/halokiller38/sledgehammer.vmt
fallout_3_weapons_v1/materials/models/halokiller38/bottlecapmine.vtf
fallout_3_weapons_v1/materials/models/halokiller38/357rejectionrod_n.vtf
fallout_3_weapons_v1/materials/models/halokiller38/mineplasma.vtf
fallout_3_weapons_v1/materials/models/halokiller38/c4det.vmt
fallout_3_weapons_v1/materials/models/halokiller38/c4light.vmt
fallout_3_weapons_v1/materials/models/halokiller38/powderchargemine.vmt
fallout_3_weapons_v1/materials/models/halokiller38/firebomb.vmt
fallout_3_weapons_v1/materials/models/halokiller38/knifespear_n.vtf
fallout_3_weapons_v1/materials/models/halokiller38/1stpersonmissilelauncher.vmt
fallout_3_weapons_v1/materials/models/halokiller38/shouldermountedsmg.vmt
fallout_3_weapons_v1/materials/models/halokiller38/throwinghatchet_n.vtf
fallout_3_weapons_v1/materials/models/halokiller38/1stpersonplasmacaster_n.vtf
fallout_3_weapons_v1/materials/models/halokiller38/magnumspeedloader.vmt
fallout_3_weapons_v1/materials/models/halokiller38/sniperrifleclip.vmt
fallout_3_weapons_v1/materials/models/halokiller38/flaregun.vmt
fallout_3_weapons_v1/materials/models/halokiller38/incendiarygrenade.vmt
fallout_3_weapons_v1/materials/models/halokiller38/battlerifleallmods.vtf
fallout_3_weapons_v1/materials/models/halokiller38/laserrifle02_n.vtf
fallout_3_weapons_v1/materials/models/halokiller38/10mmsmgmag_n.vtf
fallout_3_weapons_v1/materials/models/halokiller38/9mmsmg.vmt
fallout_3_weapons_v1/materials/models/halokiller38/1stpersonalienblaster_n.vtf
fallout_3_weapons_v1/materials/models/halokiller38/laserpdw.vtf
fallout_3_weapons_v1/materials/models/halokiller38/laserrifle02.vmt
fallout_3_weapons_v1/materials/models/halokiller38/laserpistolunique02_n.vtf
fallout_3_weapons_v1/materials/models/halokiller38/poolcue.vmt
fallout_3_weapons_v1/materials/models/halokiller38/eagleflagpoll.vtf
fallout_3_weapons_v1/materials/models/halokiller38/gatlinglaser_n.vtf
fallout_3_weapons_v1/materials/models/halokiller38/baseballbatdirty.vmt
fallout_3_weapons_v1/materials/models/halokiller38/incendiarygrenade_n.vtf
fallout_3_weapons_v1/materials/models/halokiller38/thatgun.vmt
fallout_3_weapons_v1/materials/models/halokiller38/inversalaxe.vtf
fallout_3_weapons_v1/materials/models/halokiller38/cattleprod.vmt
fallout_3_weapons_v1/materials/models/halokiller38/1stpersonnvdlc0245submach.vtf
fallout_3_weapons_v1/materials/models/halokiller38/shockbaton_n.vtf
fallout_3_weapons_v1/materials/models/halokiller38/chineseofficersword_n.vtf
fallout_3_weapons_v1/materials/models/halokiller38/plasmadefender_n.vtf
fallout_3_weapons_v1/materials/models/halokiller38/hatchet.vmt
fallout_3_weapons_v1/materials/models/halokiller38/silenced22_n.vtf
fallout_3_weapons_v1/materials/models/halokiller38/dlc041stpersonrifle.vtf
fallout_3_weapons_v1/materials/models/halokiller38/battlerifle.vtf
fallout_3_weapons_v1/materials/models/halokiller38/grenaderifle.vmt
fallout_3_weapons_v1/materials/models/halokiller38/peepsight_n.vtf
fallout_3_weapons_v1/materials/models/halokiller38/cowboyrepeaterunique.vmt
fallout_3_weapons_v1/materials/models/halokiller38/arcwelder_pack.vmt
fallout_3_weapons_v1/materials/models/halokiller38/fatman.vmt
fallout_3_weapons_v1/materials/models/halokiller38/riotshotgun.vmt
fallout_3_weapons_v1/materials/models/halokiller38/firebomb_n.vtf
fallout_3_weapons_v1/materials/models/halokiller38/battlerifle.vmt
fallout_3_weapons_v1/materials/models/halokiller38/pulsegun_n.vtf
fallout_3_weapons_v1/materials/models/halokiller38/combatshotgundrum.vtf
fallout_3_weapons_v1/materials/models/halokiller38/flaregun_n.vtf
fallout_3_weapons_v1/materials/models/halokiller38/chineseofficersword.vtf
fallout_3_weapons_v1/materials/models/halokiller38/smallenergycell_n.vtf
fallout_3_weapons_v1/materials/models/halokiller38/1stpersonmissilelauncher_n.vtf
fallout_3_weapons_v1/materials/models/halokiller38/stungrenade.vmt
fallout_3_weapons_v1/materials/models/halokiller38/1stpersonlaserscattergun02.vmt
fallout_3_weapons_v1/materials/models/halokiller38/chainsaw.vtf
fallout_3_weapons_v1/materials/models/halokiller38/grenaderifleunique_n.vtf
fallout_3_weapons_v1/materials/models/halokiller38/fxzapbolt.vmt
fallout_3_weapons_v1/materials/models/halokiller38/baton.vtf
fallout_3_weapons_v1/materials/models/halokiller38/riotshotgun_n.vtf
fallout_3_weapons_v1/materials/models/halokiller38/fireaxeunique_n.vtf
fallout_3_weapons_v1/materials/models/halokiller38/1stpersonleveractionshotgun.vtf
fallout_3_weapons_v1/materials/models/halokiller38/autoaxeback.vtf
fallout_3_weapons_v1/materials/models/halokiller38/357rejectionrod.vmt
fallout_3_weapons_v1/materials/models/halokiller38/cowboyrepeatertangsights_n.vtf
fallout_3_weapons_v1/materials/models/halokiller38/smallenergycell.vtf
fallout_3_weapons_v1/materials/models/halokiller38/laserpistolunique.vmt
fallout_3_weapons_v1/materials/models/halokiller38/shovel.vmt
fallout_3_weapons_v1/materials/models/halokiller38/leadersword_n.vtf
fallout_3_weapons_v1/materials/models/halokiller38/deathclawgauntlet.vmt
fallout_3_weapons_v1/materials/models/halokiller38/25mmgrndlnchr_n.vtf
fallout_3_weapons_v1/materials/models/halokiller38/policepistol_n.vtf
fallout_3_weapons_v1/materials/models/halokiller38/horseclub.vtf
fallout_3_weapons_v1/materials/models/halokiller38/c4_n.vtf
fallout_3_weapons_v1/materials/models/halokiller38/10mmpistol.vmt
fallout_3_weapons_v1/materials/models/halokiller38/127pistol_n.vtf
fallout_3_weapons_v1/materials/models/halokiller38/thermiclance.vmt
fallout_3_weapons_v1/materials/models/halokiller38/lightmachinegun.vtf
fallout_3_weapons_v1/materials/models/halokiller38/gaussriflebackunique.vtf
fallout_3_weapons_v1/materials/models/halokiller38/ballisticfist_n.vtf
fallout_3_weapons_v1/materials/models/halokiller38/baseballbat_n.vtf
fallout_3_weapons_v1/materials/models/halokiller38/dlc01infiltrator1stperson_n.vtf
fallout_3_weapons_v1/materials/models/halokiller38/ripper.vtf
fallout_3_weapons_v1/materials/models/halokiller38/sniperrifleuniqueclip.vtf
fallout_3_weapons_v1/materials/models/halokiller38/autoaxefront_n.vtf
fallout_3_weapons_v1/materials/models/halokiller38/mauserpistolclip01.vtf
fallout_3_weapons_v1/materials/models/halokiller38/poolcue.vtf
fallout_3_weapons_v1/materials/models/halokiller38/magnumspeedloader_n.vtf
fallout_3_weapons_v1/materials/models/halokiller38/357revolverhdcyl_n.vtf
fallout_3_weapons_v1/materials/models/halokiller38/grenaderiflered.vmt
fallout_3_weapons_v1/materials/models/halokiller38/1stpersong3assaultrifle.vmt
fallout_3_weapons_v1/materials/models/halokiller38/10mmsilencer_n.vtf
fallout_3_weapons_v1/materials/models/halokiller38/caravanshotgun_n.vtf
fallout_3_weapons_v1/materials/models/halokiller38/1stpersonrailwayrifle.vtf
fallout_3_weapons_v1/materials/models/halokiller38/laserriflemods_n.vtf
fallout_3_weapons_v1/materials/models/halokiller38/1stpersonhuntingriflescope.vtf
fallout_3_weapons_v1/materials/models/halokiller38/357revolverstd.vtf
fallout_3_weapons_v1/materials/models/halokiller38/cyberdoggun.vmt
fallout_3_weapons_v1/materials/models/halokiller38/minigunstabilizers.vtf
fallout_3_weapons_v1/materials/models/halokiller38/autoaxeback.vmt
fallout_3_weapons_v1/materials/models/halokiller38/dlc041stpersonrifle.vmt
fallout_3_weapons_v1/materials/models/halokiller38/euclidscreensuccess.vmt
fallout_3_weapons_v1/materials/models/halokiller38/poolcue_n.vtf
fallout_3_weapons_v1/materials/models/halokiller38/grenaderifleblue.vtf
fallout_3_weapons_v1/materials/models/halokiller38/9mm.vtf
fallout_3_weapons_v1/materials/models/halokiller38/thatgun_n.vtf
fallout_3_weapons_v1/materials/models/halokiller38/machete.vmt
fallout_3_weapons_v1/materials/models/halokiller38/thermiclance_n.vtf
fallout_3_weapons_v1/materials/models/halokiller38/gaussriflebackunique.vmt
fallout_3_weapons_v1/materials/models/halokiller38/10mmsmgmag.vtf
fallout_3_weapons_v1/materials/models/halokiller38/microfusioncell01.vmt
fallout_3_weapons_v1/materials/models/halokiller38/cleaver_n.vtf
fallout_3_weapons_v1/materials/models/halokiller38/autoaxefront.vtf
fallout_3_weapons_v1/materials/models/halokiller38/cowboyrepeater.vmt
fallout_3_weapons_v1/materials/models/halokiller38/silenced22.vtf
fallout_3_weapons_v1/materials/models/halokiller38/brassknuckles_n.vtf
fallout_3_weapons_v1/materials/models/halokiller38/chineseofficersword.vmt
fallout_3_weapons_v1/materials/models/halokiller38/autoaxefront.vmt
fallout_3_weapons_v1/materials/models/halokiller38/fatman02.vtf
fallout_3_weapons_v1/materials/models/halokiller38/multiplasrifle_n.vtf
fallout_3_weapons_v1/materials/models/halokiller38/nukabreak.vtf
fallout_3_weapons_v1/materials/models/halokiller38/brushgunstocksaddle_n.vtf
fallout_3_weapons_v1/materials/models/halokiller38/yaoguiguantlet.vmt
fallout_3_weapons_v1/materials/models/halokiller38/fireaxeunique.vtf
fallout_3_weapons_v1/materials/models/halokiller38/huntingshotgun.vmt
fallout_3_weapons_v1/materials/models/halokiller38/1stpersonassaultrifle02.vtf
fallout_3_weapons_v1/materials/models/halokiller38/throwingknife.vmt
fallout_3_weapons_v1/materials/models/halokiller38/9iron.vmt
fallout_3_weapons_v1/materials/models/halokiller38/laserrifle01.vtf
fallout_3_weapons_v1/materials/models/halokiller38/357revolverhdcyl.vmt
fallout_3_weapons_v1/materials/models/halokiller38/magnumrevolverunique.vtf
fallout_3_weapons_v1/materials/models/halokiller38/cyberdoggun02.vmt
fallout_3_weapons_v1/materials/models/halokiller38/45autopistuni.vmt
fallout_3_weapons_v1/materials/models/halokiller38/heavyincinerator_n.vtf
fallout_3_weapons_v1/materials/models/halokiller38/1stpersong3assaultrifle.vtf
fallout_3_weapons_v1/materials/models/halokiller38/plasmagrenade_n.vtf
fallout_3_weapons_v1/materials/models/halokiller38/trailcarbinelam_n.vtf
fallout_3_weapons_v1/materials/models/halokiller38/1stpersonnvdlc0245autopist.vtf
fallout_3_weapons_v1/materials/models/halokiller38/1stpersonnvdlc01automaticrifle.vtf
fallout_3_weapons_v1/materials/models/halokiller38/spear_n.vtf
fallout_3_weapons_v1/materials/models/halokiller38/grenadelaunch_n.vtf
fallout_3_weapons_v1/materials/models/halokiller38/laserrifleunique.vtf
fallout_3_weapons_v1/materials/models/halokiller38/minefrag.vtf
fallout_3_weapons_v1/materials/models/halokiller38/minepulse.vmt
fallout_3_weapons_v1/materials/models/halokiller38/huntingshotgun_n.vtf
fallout_3_weapons_v1/materials/models/halokiller38/sniperriflesupressor.vtf
fallout_3_weapons_v1/materials/models/halokiller38/1stpersonminigun_n.vtf
fallout_3_weapons_v1/materials/models/halokiller38/huntingriflemods.vtf
fallout_3_weapons_v1/materials/models/halokiller38/cowboyrepeaterunique.vtf
fallout_3_weapons_v1/materials/models/halokiller38/1stpersonnvdlc01holorifle.vmt
fallout_3_weapons_v1/materials/models/halokiller38/nukabreak.vmt
fallout_3_weapons_v1/materials/models/halokiller38/laserriflemods.vmt
fallout_3_weapons_v1/materials/models/halokiller38/dlc05alienrifle_g.vtf
fallout_3_weapons_v1/materials/models/halokiller38/thermiclance.vtf
fallout_3_weapons_v1/materials/models/halokiller38/alienpistol_n.vtf
fallout_3_weapons_v1/materials/models/halokiller38/dlc041stpersonrifle_n.vtf
fallout_3_weapons_v1/materials/models/halokiller38/huntingshotgununique.vmt
fallout_3_weapons_v1/materials/models/halokiller38/pulsegrenade.vtf
fallout_3_weapons_v1/materials/models/halokiller38/laer_n.vtf
fallout_3_weapons_v1/materials/models/halokiller38/shishkebab_n.vtf
fallout_3_weapons_v1/materials/models/halokiller38/straightrazor.vmt
fallout_3_weapons_v1/materials/models/halokiller38/binoculars.vtf
fallout_3_weapons_v1/materials/models/halokiller38/1stpersoncombatshotgun_n.vtf
fallout_3_weapons_v1/materials/models/halokiller38/machetegladius.vmt
fallout_3_weapons_v1/materials/models/halokiller38/shouldermountedsmgglass.vtf
fallout_3_weapons_v1/materials/models/halokiller38/lightmachinegun_n.vtf
fallout_3_weapons_v1/materials/models/halokiller38/1stpersonassualtcarbine.vmt
fallout_3_weapons_v1/materials/models/halokiller38/1stperson32speedloader_n.vtf
fallout_3_weapons_v1/materials/models/halokiller38/9mmsmgdrumunique.vtf
fallout_3_weapons_v1/materials/models/halokiller38/c4light.vtf
fallout_3_weapons_v1/materials/models/halokiller38/laserriflemods.vtf
fallout_3_weapons_v1/materials/models/halokiller38/grenaderifleuniquedecal.vmt
fallout_3_weapons_v1/materials/models/halokiller38/rollingpin.vmt
fallout_3_weapons_v1/materials/models/halokiller38/laserpistolunique_n.vtf
fallout_3_weapons_v1/materials/models/halokiller38/gaussrifleback.vtf
fallout_3_weapons_v1/materials/models/halokiller38/357revolverhdcyl.vtf
fallout_3_weapons_v1/materials/models/halokiller38/sniperrifleclip_n.vtf
fallout_3_weapons_v1/materials/models/halokiller38/cowboyrepeaterbrass.vmt
fallout_3_weapons_v1/materials/models/halokiller38/rechargerpistol.vtf
fallout_3_weapons_v1/materials/models/halokiller38/combatshotgundrum_n.vtf
fallout_3_weapons_v1/materials/models/halokiller38/eagleflagpoll.vmt
fallout_3_weapons_v1/materials/models/halokiller38/10mmlaser_n.vtf
fallout_3_weapons_v1/materials/models/halokiller38/c4det_n.vtf
fallout_3_weapons_v1/materials/models/halokiller38/nailboard.vmt
fallout_3_weapons_v1/materials/models/halokiller38/1stperson32snubnose.vmt
fallout_3_weapons_v1/materials/models/halokiller38/spikedknuckles.vmt
fallout_3_weapons_v1/materials/models/halokiller38/marksmanaa.vmt
fallout_3_weapons_v1/materials/models/halokiller38/leadpipe.vmt
fallout_3_weapons_v1/materials/models/halokiller38/dlc01infiltratorbody1stperson_n.vtf
fallout_3_weapons_v1/materials/models/halokiller38/1stpersonminigun.vmt
fallout_3_weapons_v1/materials/models/halokiller38/shouldermountedsmg.vtf
fallout_3_weapons_v1/materials/models/halokiller38/eccell.vtf
fallout_3_weapons_v1/materials/models/halokiller38/1stpersonassaultriflemag01bump.vtf
fallout_3_weapons_v1/materials/models/halokiller38/32pistolcasing.vmt
fallout_3_weapons_v1/materials/models/halokiller38/1stpersondartgun.vmt
fallout_3_weapons_v1/materials/models/halokiller38/firehydrant01.vmt
fallout_3_weapons_v1/materials/models/halokiller38/bbgun01.vmt
fallout_3_weapons_v1/materials/models/halokiller38/tomahawk2.vmt
fallout_3_weapons_v1/materials/models/halokiller38/1stpersonmauserpistol01.vmt
fallout_3_weapons_v1/materials/models/halokiller38/neongreenironsights.vtf
fallout_3_weapons_v1/materials/models/halokiller38/varmint_22.vtf
fallout_3_weapons_v1/materials/models/halokiller38/9iron_n.vtf
fallout_3_weapons_v1/materials/models/halokiller38/nukagrenade_n.vtf
fallout_3_weapons_v1/materials/models/halokiller38/1stpersonassaultrifle01.vtf
fallout_3_weapons_v1/materials/models/halokiller38/marksman.vmt
fallout_3_weapons_v1/materials/models/halokiller38/gaussriflefrontunique.vtf
fallout_3_weapons_v1/materials/models/halokiller38/sniperrifle.vtf
fallout_3_weapons_v1/materials/models/halokiller38/bowieknife_n.vtf
fallout_3_weapons_v1/materials/models/halokiller38/rechargerrifle_n.vtf
fallout_3_weapons_v1/materials/models/halokiller38/marksmanaa.vtf
fallout_3_weapons_v1/materials/models/halokiller38/leadersword.vtf
fallout_3_weapons_v1/materials/models/halokiller38/1stpersonnvdlc0245autopist.vmt
fallout_3_weapons_v1/materials/models/halokiller38/baseballbat.vmt
fallout_3_weapons_v1/materials/models/halokiller38/tomhwk.vtf
fallout_3_weapons_v1/materials/models/halokiller38/flamesmed01.vtf
fallout_3_weapons_v1/materials/models/halokiller38/plasmapistol_n.vtf
fallout_3_weapons_v1/materials/models/halokiller38/82airborn.vmt
fallout_3_weapons_v1/materials/models/halokiller38/1stpersontrailcarbine.vtf
fallout_3_weapons_v1/materials/models/halokiller38/sniperriflesupressor.vmt
fallout_3_weapons_v1/materials/models/halokiller38/9mmunique.vtf
fallout_3_weapons_v1/materials/models/halokiller38/1stpersonsawedoffshotgun.vtf
fallout_3_weapons_v1/materials/models/halokiller38/minigununique.vtf
fallout_3_weapons_v1/materials/models/halokiller38/127pistol.vtf
fallout_3_weapons_v1/materials/models/halokiller38/nailer.vtf
fallout_3_weapons_v1/materials/models/halokiller38/gclub.vmt
fallout_3_weapons_v1/materials/models/halokiller38/baton.vmt
fallout_3_weapons_v1/materials/models/halokiller38/sniperriflecarbonfiber_n.vmt
fallout_3_weapons_v1/materials/models/halokiller38/riotshotgun.vtf
fallout_3_weapons_v1/materials/models/halokiller38/1stpersonlaserscattergun01.vtf
fallout_3_weapons_v1/materials/models/halokiller38/spikedknuckles.vtf
fallout_3_weapons_v1/materials/models/halokiller38/dlc041stpersonshotgun.vmt
fallout_3_weapons_v1/materials/models/halokiller38/binoculars.vmt
fallout_3_weapons_v1/materials/models/halokiller38/rebar.vmt
fallout_3_weapons_v1/materials/models/halokiller38/cyberdoggun.vtf
fallout_3_weapons_v1/materials/models/halokiller38/laserpdwrecycler.vmt
fallout_3_weapons_v1/materials/models/halokiller38/timebomb.vmt
fallout_3_weapons_v1/materials/models/halokiller38/plasmapistol.vtf
fallout_3_weapons_v1/materials/models/halokiller38/sniperrifleunique.vtf
fallout_3_weapons_v1/materials/models/halokiller38/1stpersonthismachine_n.vtf
fallout_3_weapons_v1/materials/models/halokiller38/supersledgeunique.vtf
fallout_3_weapons_v1/materials/models/halokiller38/varmint_22.vmt
fallout_3_weapons_v1/materials/models/halokiller38/rockitlauncher_n.vtf
fallout_3_weapons_v1/materials/models/halokiller38/minigunhispeedmotor.vtf
fallout_3_weapons_v1/materials/models/halokiller38/1stpersoncombatshotgun.vmt
fallout_3_weapons_v1/materials/models/halokiller38/127smgsilencer_n.vtf
fallout_3_weapons_v1/materials/models/halokiller38/1stpersonassaultriflemag01.vtf
fallout_3_weapons_v1/materials/models/halokiller38/9mmsmgunique.vmt
fallout_3_weapons_v1/materials/models/halokiller38/sniperriflecarbonfiber.vtf
fallout_3_weapons_v1/materials/models/halokiller38/minigunstabilizers_n.vtf
fallout_3_weapons_v1/materials/models/halokiller38/straightrazor.vtf
fallout_3_weapons_v1/materials/models/halokiller38/1stpersonassaultrifle01bump.vtf
fallout_3_weapons_v1/materials/models/halokiller38/plasmarifle01_n.vtf
fallout_3_weapons_v1/materials/models/halokiller38/45autopistuni.vtf
fallout_3_weapons_v1/materials/models/halokiller38/1stpersonplasmacaster.vtf
fallout_3_weapons_v1/materials/models/halokiller38/25mmgrndlnchr.vmt
fallout_3_weapons_v1/materials/models/halokiller38/bottlecapmine_n.vtf
fallout_3_weapons_v1/materials/models/halokiller38/ballisticfist.vtf
fallout_3_weapons_v1/materials/models/halokiller38/minigunbackpack.vmt
fallout_3_weapons_v1/materials/models/halokiller38/cowboyrepeaterbrass_n.vtf
fallout_3_weapons_v1/materials/models/halokiller38/pulsegun.vtf
fallout_3_weapons_v1/materials/models/halokiller38/chancesknife_n.vtf
fallout_3_weapons_v1/materials/models/halokiller38/1stpersonsawedoffshotgun.vmt
fallout_3_weapons_v1/materials/models/halokiller38/grenaderifleblue.vmt
fallout_3_weapons_v1/materials/models/halokiller38/25mmgrndlnchrhispeedkit_n.vtf
fallout_3_weapons_v1/materials/models/halokiller38/1stpersonassaultriflemag01.vmt
fallout_3_weapons_v1/materials/models/halokiller38/25mmgrndlnchrunique.vtf
fallout_3_weapons_v1/materials/models/halokiller38/smallenergycell.vmt
fallout_3_weapons_v1/materials/models/halokiller38/powderchargemine.vtf
fallout_3_weapons_v1/materials/models/halokiller38/127pistolsilencer.vmt
fallout_3_weapons_v1/materials/models/halokiller38/knifespearclean_n.vtf
fallout_3_weapons_v1/materials/models/halokiller38/kitchenknife.vtf
fallout_3_weapons_v1/materials/models/halokiller38/tomahawk2_n.vtf
fallout_3_weapons_v1/materials/models/halokiller38/22smg_n.vtf
fallout_3_weapons_v1/materials/models/halokiller38/policepistol.vtf
fallout_3_weapons_v1/materials/models/halokiller38/gaussriflefront.vtf
fallout_3_weapons_v1/materials/models/halokiller38/eccell.vmt
fallout_3_weapons_v1/materials/models/halokiller38/cryogrenade.vmt
fallout_3_weapons_v1/materials/models/halokiller38/1stperson556thatgun.vmt
fallout_3_weapons_v1/materials/models/halokiller38/caravanshotgun.vtf
fallout_3_weapons_v1/materials/models/halokiller38/1stpersonassaultrifle02.vmt
fallout_3_weapons_v1/materials/models/halokiller38/rechargerrifle.vtf
fallout_3_weapons_v1/materials/models/halokiller38/1stperson556thatgun.vtf
fallout_3_weapons_v1/materials/models/halokiller38/protonlaser01.vmt
fallout_3_weapons_v1/materials/models/halokiller38/cryogrenade.vtf
fallout_3_weapons_v1/materials/models/halokiller38/nailboard.vtf
fallout_3_weapons_v1/materials/models/halokiller38/laserpdwrecycler.vtf
fallout_3_weapons_v1/materials/models/halokiller38/laserrifleunique.vmt
fallout_3_weapons_v1/materials/models/halokiller38/grenaderifleunique.vmt
fallout_3_weapons_v1/materials/models/halokiller38/plasmaglow.vmt
fallout_3_weapons_v1/materials/models/halokiller38/sniperrifleuniqueclip.vmt
fallout_3_weapons_v1/materials/models/halokiller38/fatmanbomb.vmt
fallout_3_weapons_v1/materials/models/halokiller38/magnumrevolver.vmt
fallout_3_weapons_v1/materials/models/halokiller38/gasbomb.vtf
fallout_3_weapons_v1/materials/models/halokiller38/1stpersonhuntingrifle_n.vtf
fallout_3_weapons_v1/materials/models/halokiller38/dresscane_n.vtf
fallout_3_weapons_v1/materials/models/halokiller38/redglare.vmt
fallout_3_weapons_v1/materials/models/halokiller38/plasmaglow.vtf
fallout_3_weapons_v1/materials/models/halokiller38/fireaxe_n.vtf
fallout_3_weapons_v1/materials/models/halokiller38/pulsegun.vmt
fallout_3_weapons_v1/materials/models/halokiller38/grenade.vmt
fallout_3_weapons_v1/materials/models/halokiller38/yaoguiguantlet.vtf
fallout_3_weapons_v1/materials/models/halokiller38/bbgun01.vtf
fallout_3_weapons_v1/materials/models/halokiller38/magnumrevolverunique.vmt
fallout_3_weapons_v1/materials/models/halokiller38/chainsaw.vmt
fallout_3_weapons_v1/materials/models/halokiller38/dynamite.vmt
fallout_3_weapons_v1/materials/models/halokiller38/minigunbackpack_n.vtf
fallout_3_weapons_v1/materials/models/halokiller38/9mm_n.vtf
fallout_3_weapons_v1/materials/models/halokiller38/45autopistuni_n.vtf
fallout_3_weapons_v1/materials/models/halokiller38/1stpersonmissilelauncher2_n.vtf
fallout_3_weapons_v1/materials/models/halokiller38/1stpersonnvdlc01automaticrifle.vmt
fallout_3_weapons_v1/materials/models/halokiller38/fatmanbomb.vtf
fallout_3_weapons_v1/materials/models/halokiller38/redglare.vtf
fallout_3_weapons_v1/materials/models/halokiller38/protonaxe_n.vtf
fallout_3_weapons_v1/materials/models/halokiller38/dlc01infiltrator1stperson.vmt
fallout_3_weapons_v1/materials/models/halokiller38/gaussriflefront.vmt
fallout_3_weapons_v1/materials/models/halokiller38/rustykitchenknife_n.vtf
fallout_3_weapons_v1/materials/models/halokiller38/1stpersonleveractionshotgun_n.vtf
fallout_3_weapons_v1/materials/models/halokiller38/sniperrifleunique.vmt
fallout_3_weapons_v1/materials/models/halokiller38/plasmagrenade.vmt
fallout_3_weapons_v1/materials/models/halokiller38/tomhwk.vmt
fallout_3_weapons_v1/materials/models/halokiller38/protonaxe.vtf
fallout_3_weapons_v1/materials/models/halokiller38/9mm.vmt
fallout_3_weapons_v1/materials/models/halokiller38/minigununiquedecal.vmt
fallout_3_weapons_v1/materials/models/halokiller38/grenaderifle_n.vtf
fallout_3_weapons_v1/materials/models/halokiller38/plasmarifle02.vtf
fallout_3_weapons_v1/materials/models/halokiller38/1stpersondartgun.vtf
fallout_3_weapons_v1/materials/models/halokiller38/9mmsmg_n.vtf
fallout_3_weapons_v1/materials/models/halokiller38/10mmclip.vtf
fallout_3_weapons_v1/materials/models/halokiller38/chancesknife.vmt
fallout_3_weapons_v1/materials/models/halokiller38/mauserpistolclip01.vmt
fallout_3_weapons_v1/materials/models/halokiller38/minigununique.vmt
fallout_3_weapons_v1/materials/models/halokiller38/baseballbatdirty.vtf
fallout_3_weapons_v1/materials/models/halokiller38/shouldermountedsmg_n.vtf
fallout_3_weapons_v1/materials/models/halokiller38/laserpdwrecycler_n.vtf
fallout_3_weapons_v1/materials/models/halokiller38/c4light_n.vtf
fallout_3_weapons_v1/materials/models/halokiller38/autoaxeback_n.vtf
fallout_3_weapons_v1/materials/models/halokiller38/laserrifle02.vtf
fallout_3_weapons_v1/materials/models/halokiller38/22smg.vmt
fallout_3_weapons_v1/materials/models/halokiller38/shishkebab.vtf
fallout_3_weapons_v1/materials/models/halokiller38/leadersword.vmt
fallout_3_weapons_v1/materials/models/halokiller38/1stpersonnvdlc0245submach_n.vtf
fallout_3_weapons_v1/materials/models/halokiller38/c4.vmt
fallout_3_weapons_v1/materials/models/halokiller38/inversalaxe.vmt
fallout_3_weapons_v1/materials/models/halokiller38/deathclawgauntlet_n.vtf
fallout_3_weapons_v1/materials/models/halokiller38/yaoguiguantlet_n.vtf
fallout_3_weapons_v1/materials/models/halokiller38/rebar_n.vtf
fallout_3_weapons_v1/materials/models/halokiller38/cryomine.vtf
fallout_3_weapons_v1/materials/models/halokiller38/thatgun.vtf
fallout_3_weapons_v1/materials/models/halokiller38/supersledge.vmt
fallout_3_weapons_v1/materials/models/halokiller38/sniperrifleuniquestock.vtf
fallout_3_weapons_v1/materials/models/halokiller38/firebomb.vtf
fallout_3_weapons_v1/materials/models/halokiller38/spear.vmt
fallout_3_weapons_v1/materials/models/halokiller38/alienpistolclip.vmt
fallout_3_weapons_v1/materials/models/halokiller38/9mmunique.vmt
fallout_3_weapons_v1/materials/models/halokiller38/flamer.vmt
fallout_3_weapons_v1/materials/models/halokiller38/alienpistol.vtf
fallout_3_weapons_v1/materials/models/halokiller38/pipboybtnglow01.vmt
fallout_3_weapons_v1/materials/models/halokiller38/25mmgrndlnchr.vtf
fallout_3_weapons_v1/materials/models/halokiller38/knifespearclean.vtf
fallout_3_weapons_v1/materials/models/halokiller38/10mmsmgextendedclip.vtf
fallout_3_weapons_v1/materials/models/halokiller38/rangersequoia.vmt
fallout_3_weapons_v1/materials/models/halokiller38/dlc01infiltratorbody1stperson.vmt
fallout_3_weapons_v1/materials/models/halokiller38/gasbomb.vmt
fallout_3_weapons_v1/materials/models/halokiller38/tomhwk_n.vtf
fallout_3_weapons_v1/materials/models/halokiller38/bowieknife.vtf
fallout_3_weapons_v1/materials/models/halokiller38/9iron.vtf
fallout_3_weapons_v1/materials/models/halokiller38/microfusioncell01_n.vtf
fallout_3_weapons_v1/materials/models/halokiller38/huntingshotgun.vtf
fallout_3_weapons_v1/materials/models/halokiller38/binoculars_n.vtf
fallout_3_weapons_v1/materials/models/halokiller38/baton_n.vtf
fallout_3_weapons_v1/materials/models/halokiller38/protonaxe.vmt
fallout_3_weapons_v1/materials/models/halokiller38/arcwelder.vmt
fallout_3_weapons_v1/materials/models/halokiller38/plasmarifle01.vtf
fallout_3_weapons_v1/materials/models/halokiller38/sniperrifleclip.vtf
fallout_3_weapons_v1/materials/models/halokiller38/cleaver.vmt
fallout_3_weapons_v1/materials/models/halokiller38/flamesmed01.vmt
fallout_3_weapons_v1/materials/models/halokiller38/10mmpistolsilencer.vmt
fallout_3_weapons_v1/materials/models/halokiller38/scattergun_n.vtf
fallout_3_weapons_v1/materials/models/halokiller38/1stpersonrailwayrifle.vmt
fallout_3_weapons_v1/materials/models/halokiller38/knifespear.vmt
fallout_3_weapons_v1/materials/models/halokiller38/magnumspeedloader.vtf
fallout_3_weapons_v1/materials/models/halokiller38/chainsaw_n.vtf
fallout_3_weapons_v1/materials/models/halokiller38/127smg_n.vtf
fallout_3_weapons_v1/materials/models/halokiller38/euclidfinder.vtf
fallout_3_weapons_v1/materials/models/halokiller38/leadpipe.vtf
fallout_3_weapons_v1/materials/models/halokiller38/machete_n.vtf
fallout_3_weapons_v1/materials/models/halokiller38/shockbaton.vtf
fallout_3_weapons_v1/materials/models/halokiller38/flamer_n.vtf
fallout_3_weapons_v1/materials/models/halokiller38/sniperrifle_n.vtf
fallout_3_weapons_v1/materials/models/halokiller38/tireiron.vtf
fallout_3_weapons_v1/materials/models/halokiller38/1stpersonlincolnrifle_n.vtf
fallout_3_weapons_v1/materials/models/halokiller38/22smg.vtf
fallout_3_weapons_v1/materials/models/halokiller38/leadpipeunique.vtf
fallout_3_weapons_v1/materials/models/halokiller38/mantisgauntlet_n.vtf
fallout_3_weapons_v1/materials/models/halokiller38/katana.vtf
fallout_3_weapons_v1/materials/models/halokiller38/1stpersonplasmacaster.vmt
fallout_3_weapons_v1/materials/models/halokiller38/1stpersonassualtcarbine.vtf
fallout_3_weapons_v1/materials/models/halokiller38/microfusioncell01.vtf
fallout_3_weapons_v1/materials/models/halokiller38/1stpersonassaultrifle02bump.vtf
fallout_3_weapons_v1/materials/models/halokiller38/baseballbatdirty_n.vtf
fallout_3_weapons_v1/materials/models/halokiller38/knifespear.vtf
fallout_3_weapons_v1/materials/models/halokiller38/battleriflerec_n.vtf
fallout_3_weapons_v1/materials/models/halokiller38/alienpistolclip_n.vtf
fallout_3_weapons_v1/materials/models/halokiller38/laserpdw_n.vtf
fallout_3_weapons_v1/materials/models/halokiller38/battlerifleallmods.vmt
fallout_3_weapons_v1/materials/models/halokiller38/nukagrenade.vtf
fallout_3_weapons_v1/materials/models/halokiller38/arcwelder_n.vtf
fallout_3_weapons_v1/materials/models/halokiller38/kitchenknife.vmt
fallout_3_weapons_v1/materials/models/halokiller38/switchblade.vmt
fallout_3_weapons_v1/materials/models/halokiller38/antimaterialrifle.vmt
fallout_3_weapons_v1/materials/models/halokiller38/1stpersonlincolnrifle.vtf
fallout_3_weapons_v1/materials/models/halokiller38/supersledge_n.vtf
fallout_3_weapons_v1/materials/models/halokiller38/flamer.vtf
fallout_3_weapons_v1/materials/models/halokiller38/minepulse_n.vtf
fallout_3_weapons_v1/materials/models/halokiller38/brushgunstocksaddle.vmt
fallout_3_weapons_v1/materials/models/halokiller38/minigununiquedecal.vtf
fallout_3_weapons_v1/materials/models/halokiller38/dresscane.vmt
fallout_3_weapons_v1/materials/models/halokiller38/fxplasma.vmt
fallout_3_weapons_v1/materials/models/halokiller38/1stperson32snubnose_n.vtf
fallout_3_weapons_v1/materials/models/halokiller38/rangersequoia_n.vtf
fallout_3_weapons_v1/materials/models/halokiller38/shishkebab.vmt
fallout_3_weapons_v1/materials/models/halokiller38/1stperson10mmlaserredlight.vtf
fallout_3_weapons_v1/materials/models/halokiller38/straightrazor_n.vtf
fallout_3_weapons_v1/materials/models/halokiller38/lilyweapon.vtf
fallout_3_weapons_v1/materials/models/halokiller38/1stpersonalienblaster.vtf
fallout_3_weapons_v1/materials/models/halokiller38/10mmsmg_n.vtf
fallout_3_weapons_v1/materials/models/halokiller38/ripper_n.vtf
fallout_3_weapons_v1/materials/models/halokiller38/1stpersonalienblaster.vmt
fallout_3_weapons_v1/materials/models/halokiller38/huntingrifleclip.vtf
fallout_3_weapons_v1/materials/models/halokiller38/pulsegrenade.vmt
fallout_3_weapons_v1/materials/models/halokiller38/supersledge.vtf
fallout_3_weapons_v1/materials/models/halokiller38/peepsight.vmt
fallout_3_weapons_v1/materials/models/halokiller38/9mmsmgunique.vtf
fallout_3_weapons_v1/materials/models/halokiller38/combatshotgun_n.vtf
fallout_3_weapons_v1/materials/models/halokiller38/horseclub.vmt
fallout_3_weapons_v1/materials/models/halokiller38/plasmarifle02.vmt
fallout_3_weapons_v1/materials/models/halokiller38/1stpersonminigun.vtf
fallout_3_weapons_v1/materials/models/halokiller38/1stpersondartgun_n.vtf
fallout_3_weapons_v1/materials/models/halokiller38/incendiarygrenade.vtf




F4_weapons_v1.rar
921
2020-09-15 01:43:23
129.09 MB
File contents:

fallout_4_weapons_v1/models/mosi/fallout4/props/weapons/melee/rockethammer.vvd
fallout_4_weapons_v1/models/mosi/fallout4/props/weapons/melee/sledgehammer.dx90.vtx
fallout_4_weapons_v1/models/mosi/fallout4/props/weapons/melee/pipewrench.dx80.vtx
fallout_4_weapons_v1/models/mosi/fallout4/props/weapons/melee/poolcue.mdl
fallout_4_weapons_v1/models/mosi/fallout4/props/weapons/melee/rollingpin.phy
fallout_4_weapons_v1/models/mosi/fallout4/props/weapons/melee/walkingcane.sw.vtx
fallout_4_weapons_v1/models/mosi/fallout4/props/weapons/melee/revolutionarysword.dx80.vtx
fallout_4_weapons_v1/models/mosi/fallout4/props/weapons/melee/polehook.dx80.vtx
fallout_4_weapons_v1/models/mosi/fallout4/props/weapons/melee/tireiron.vvd
fallout_4_weapons_v1/models/mosi/fallout4/props/weapons/melee/tireiron.sw.vtx
fallout_4_weapons_v1/models/mosi/fallout4/props/weapons/melee/shishkebab.vvd
fallout_4_weapons_v1/models/mosi/fallout4/props/weapons/melee/shishkebab.dx80.vtx
fallout_4_weapons_v1/models/mosi/fallout4/props/weapons/melee/sledgehammer.mdl
fallout_4_weapons_v1/models/mosi/fallout4/props/weapons/melee/polehook.dx90.vtx
fallout_4_weapons_v1/models/mosi/fallout4/props/weapons/melee/sledgehammer.dx80.vtx
fallout_4_weapons_v1/models/mosi/fallout4/props/weapons/melee/powerfist.vvd
fallout_4_weapons_v1/models/mosi/fallout4/props/weapons/melee/switchblade.vvd
fallout_4_weapons_v1/models/mosi/fallout4/props/weapons/melee/tireiron.dx80.vtx
fallout_4_weapons_v1/models/mosi/fallout4/props/weapons/melee/sledgehammer.vvd
fallout_4_weapons_v1/models/mosi/fallout4/props/weapons/melee/revolutionarysword.dx90.vtx
fallout_4_weapons_v1/models/mosi/fallout4/props/weapons/melee/pipewrench.dx90.vtx
fallout_4_weapons_v1/models/mosi/fallout4/props/weapons/melee/polehook.vvd
fallout_4_weapons_v1/models/mosi/fallout4/props/weapons/melee/rollingpin.dx90.vtx
fallout_4_weapons_v1/models/mosi/fallout4/props/weapons/melee/powerfist.dx90.vtx
fallout_4_weapons_v1/models/mosi/fallout4/props/weapons/melee/pipewrench.mdl
fallout_4_weapons_v1/models/mosi/fallout4/props/weapons/melee/shishkebab.dx90.vtx
fallout_4_weapons_v1/models/mosi/fallout4/props/weapons/melee/switchblade.mdl
fallout_4_weapons_v1/models/mosi/fallout4/props/weapons/melee/polehook.phy
fallout_4_weapons_v1/models/mosi/fallout4/props/weapons/melee/rollingpin.vvd
fallout_4_weapons_v1/models/mosi/fallout4/props/weapons/melee/rollingpin.sw.vtx
fallout_4_weapons_v1/models/mosi/fallout4/props/weapons/melee/poolcue.sw.vtx
fallout_4_weapons_v1/models/mosi/fallout4/props/weapons/melee/pipewrench.sw.vtx
fallout_4_weapons_v1/models/mosi/fallout4/props/weapons/melee/walkingcane.mdl
fallout_4_weapons_v1/models/mosi/fallout4/props/weapons/melee/walkingcane.dx90.vtx
fallout_4_weapons_v1/models/mosi/fallout4/props/weapons/melee/switchblade.phy
fallout_4_weapons_v1/models/mosi/fallout4/props/weapons/melee/walkingcane.phy
fallout_4_weapons_v1/models/mosi/fallout4/props/weapons/melee/powerfist.sw.vtx
fallout_4_weapons_v1/models/mosi/fallout4/props/weapons/melee/shishkebab.mdl
fallout_4_weapons_v1/models/mosi/fallout4/props/weapons/melee/tireiron.phy
fallout_4_weapons_v1/models/mosi/fallout4/props/weapons/melee/tireiron.dx90.vtx
fallout_4_weapons_v1/models/mosi/fallout4/props/weapons/melee/rockethammer.mdl
fallout_4_weapons_v1/models/mosi/fallout4/props/weapons/melee/powerfist.mdl
fallout_4_weapons_v1/models/mosi/fallout4/props/weapons/melee/switchblade.dx80.vtx
fallout_4_weapons_v1/models/mosi/fallout4/props/weapons/melee/poolcue.dx90.vtx
fallout_4_weapons_v1/models/mosi/fallout4/props/weapons/melee/tireiron.mdl
fallout_4_weapons_v1/models/mosi/fallout4/props/weapons/melee/revolutionarysword.mdl
fallout_4_weapons_v1/models/mosi/fallout4/props/weapons/melee/revolutionarysword.sw.vtx
fallout_4_weapons_v1/models/mosi/fallout4/props/weapons/melee/rollingpin.mdl
fallout_4_weapons_v1/models/mosi/fallout4/props/weapons/melee/sledgehammer.phy
fallout_4_weapons_v1/models/mosi/fallout4/props/weapons/melee/rollingpin.dx80.vtx
fallout_4_weapons_v1/models/mosi/fallout4/props/weapons/melee/polehook.sw.vtx
fallout_4_weapons_v1/models/mosi/fallout4/props/weapons/melee/poolcue.vvd
fallout_4_weapons_v1/models/mosi/fallout4/props/weapons/melee/switchblade.dx90.vtx
fallout_4_weapons_v1/models/mosi/fallout4/props/weapons/melee/rockethammer.sw.vtx
fallout_4_weapons_v1/models/mosi/fallout4/props/weapons/melee/poolcue.dx80.vtx
fallout_4_weapons_v1/models/mosi/fallout4/props/weapons/melee/rockethammer.dx90.vtx
fallout_4_weapons_v1/models/mosi/fallout4/props/weapons/melee/rockethammer.dx80.vtx
fallout_4_weapons_v1/models/mosi/fallout4/props/weapons/melee/switchblade.sw.vtx
fallout_4_weapons_v1/models/mosi/fallout4/props/weapons/melee/revolutionarysword.vvd
fallout_4_weapons_v1/models/mosi/fallout4/props/weapons/melee/powerfist.phy
fallout_4_weapons_v1/models/mosi/fallout4/props/weapons/melee/walkingcane.vvd
fallout_4_weapons_v1/models/mosi/fallout4/props/weapons/melee/powerfist.dx80.vtx
fallout_4_weapons_v1/models/mosi/fallout4/props/weapons/melee/poolcue.phy
fallout_4_weapons_v1/models/mosi/fallout4/props/weapons/melee/shishkebab.phy
fallout_4_weapons_v1/models/mosi/fallout4/props/weapons/melee/rockethammer.phy
fallout_4_weapons_v1/models/mosi/fallout4/props/weapons/melee/sledgehammer.sw.vtx
fallout_4_weapons_v1/models/mosi/fallout4/props/weapons/melee/revolutionarysword.phy
fallout_4_weapons_v1/models/mosi/fallout4/props/weapons/melee/shishkebab.sw.vtx
fallout_4_weapons_v1/models/mosi/fallout4/props/weapons/melee/walkingcane.dx80.vtx
fallout_4_weapons_v1/materials/models/mosi/fallout4/props/weapons/melee/bat1.vtf
fallout_4_weapons_v1/materials/models/mosi/fallout4/props/weapons/melee/rev2.vtf
fallout_4_weapons_v1/materials/models/mosi/fallout4/props/weapons/melee/batmetal.vmt
fallout_4_weapons_v1/materials/models/mosi/fallout4/props/weapons/melee/knife_serrated_n.vtf
fallout_4_weapons_v1/materials/models/mosi/fallout4/props/weapons/melee/chain.vtf
fallout_4_weapons_v1/materials/models/mosi/fallout4/props/weapons/melee/wrench_misc.vmt
fallout_4_weapons_v1/materials/models/mosi/fallout4/props/weapons/melee/pipe_bolts_n.vtf
fallout_4_weapons_v1/materials/models/mosi/fallout4/props/weapons/melee/machete_sacrificial_n.vtf
fallout_4_weapons_v1/materials/models/mosi/fallout4/props/weapons/melee/machete_sacrificial.vmt
fallout_4_weapons_v1/materials/models/mosi/fallout4/props/weapons/melee/bat3.vmt
fallout_4_weapons_v1/materials/models/mosi/fallout4/props/weapons/melee/sledge_cinder2_n.vtf
fallout_4_weapons_v1/materials/models/mosi/fallout4/props/weapons/melee/grognakaxe_n.vtf
fallout_4_weapons_v1/materials/models/mosi/fallout4/props/weapons/melee/wrench_hook.vtf
fallout_4_weapons_v1/materials/models/mosi/fallout4/props/weapons/melee/bat3.vtf
fallout_4_weapons_v1/materials/models/mosi/fallout4/props/weapons/melee/wrench_hook_n.vtf
fallout_4_weapons_v1/materials/models/mosi/fallout4/props/weapons/melee/knuckle.vmt
fallout_4_weapons_v1/materials/models/mosi/fallout4/props/weapons/melee/rollingpin_n.vtf
fallout_4_weapons_v1/materials/models/mosi/fallout4/props/weapons/melee/serratedblade_n.vtf
fallout_4_weapons_v1/materials/models/mosi/fallout4/props/weapons/melee/pipe_gears_n.vtf
fallout_4_weapons_v1/materials/models/mosi/fallout4/props/weapons/melee/grognakaxe.vmt
fallout_4_weapons_v1/materials/models/mosi/fallout4/props/weapons/melee/copperwire.vmt
fallout_4_weapons_v1/materials/models/mosi/fallout4/props/weapons/melee/knife_handle.vmt
fallout_4_weapons_v1/materials/models/mosi/fallout4/props/weapons/melee/pipe_gears.vmt
fallout_4_weapons_v1/materials/models/mosi/fallout4/props/weapons/melee/rev2.vmt
fallout_4_weapons_v1/materials/models/mosi/fallout4/props/weapons/melee/batworldseries_n.vtf
fallout_4_weapons_v1/materials/models/mosi/fallout4/props/weapons/melee/bat_n.vtf
fallout_4_weapons_v1/materials/models/mosi/fallout4/props/weapons/melee/blank.vmt
fallout_4_weapons_v1/materials/models/mosi/fallout4/props/weapons/melee/switchblade_n.vtf
fallout_4_weapons_v1/materials/models/mosi/fallout4/props/weapons/melee/bat_sawblade.vmt
fallout_4_weapons_v1/materials/models/mosi/fallout4/props/weapons/melee/bolts_n.vtf
fallout_4_weapons_v1/materials/models/mosi/fallout4/props/weapons/melee/grognakhandle.vmt
fallout_4_weapons_v1/materials/models/mosi/fallout4/props/weapons/melee/bolts2_n.vtf
fallout_4_weapons_v1/materials/models/mosi/fallout4/props/weapons/melee/sledge_cinder2.vmt
fallout_4_weapons_v1/materials/models/mosi/fallout4/props/weapons/melee/tireiron_n.vtf
fallout_4_weapons_v1/materials/models/mosi/fallout4/props/weapons/melee/machete_serrated_n.vtf
fallout_4_weapons_v1/materials/models/mosi/fallout4/props/weapons/melee/sledge_strap.vmt
fallout_4_weapons_v1/materials/models/mosi/fallout4/props/weapons/melee/batp2.vmt
fallout_4_weapons_v1/materials/models/mosi/fallout4/props/weapons/melee/bat5.vmt
fallout_4_weapons_v1/materials/models/mosi/fallout4/props/weapons/melee/bolts2.vtf
fallout_4_weapons_v1/materials/models/mosi/fallout4/props/weapons/melee/powerfist_rebar.vmt
fallout_4_weapons_v1/materials/models/mosi/fallout4/props/weapons/melee/knife_serrated.vtf
fallout_4_weapons_v1/materials/models/mosi/fallout4/props/weapons/melee/poolcue_barbedwire.vmt
fallout_4_weapons_v1/materials/models/mosi/fallout4/props/weapons/melee/powerfist.vtf
fallout_4_weapons_v1/materials/models/mosi/fallout4/props/weapons/melee/knife_n.vtf
fallout_4_weapons_v1/materials/models/mosi/fallout4/props/weapons/melee/rocketham_coil.vtf
fallout_4_weapons_v1/materials/models/mosi/fallout4/props/weapons/melee/sawblade_n.vtf
fallout_4_weapons_v1/materials/models/mosi/fallout4/props/weapons/melee/machete_hilt.vmt
fallout_4_weapons_v1/materials/models/mosi/fallout4/props/weapons/melee/fishgaff.vtf
fallout_4_weapons_v1/materials/models/mosi/fallout4/props/weapons/melee/bat4.vtf
fallout_4_weapons_v1/materials/models/mosi/fallout4/props/weapons/melee/switchblade.vtf
fallout_4_weapons_v1/materials/models/mosi/fallout4/props/weapons/melee/poolcue_blade.vtf
fallout_4_weapons_v1/materials/models/mosi/fallout4/props/weapons/melee/rev_n.vtf
fallout_4_weapons_v1/materials/models/mosi/fallout4/props/weapons/melee/machete_serrated.vmt
fallout_4_weapons_v1/materials/models/mosi/fallout4/props/weapons/melee/chinasword.vmt
fallout_4_weapons_v1/materials/models/mosi/fallout4/props/weapons/melee/knife_serrated.vmt
fallout_4_weapons_v1/materials/models/mosi/fallout4/props/weapons/melee/sledge_n.vtf
fallout_4_weapons_v1/materials/models/mosi/fallout4/props/weapons/melee/sledge.vmt
fallout_4_weapons_v1/materials/models/mosi/fallout4/props/weapons/melee/baton_stun.vtf
fallout_4_weapons_v1/materials/models/mosi/fallout4/props/weapons/melee/powerfist_rebar.vtf
fallout_4_weapons_v1/materials/models/mosi/fallout4/props/weapons/melee/machete_serrated.vtf
fallout_4_weapons_v1/materials/models/mosi/fallout4/props/weapons/melee/rocketham_glow.vtf
fallout_4_weapons_v1/materials/models/mosi/fallout4/props/weapons/melee/batworldseries.vmt
fallout_4_weapons_v1/materials/models/mosi/fallout4/props/weapons/melee/deathclaw.vmt
fallout_4_weapons_v1/materials/models/mosi/fallout4/props/weapons/melee/rev_serrated_n.vtf
fallout_4_weapons_v1/materials/models/mosi/fallout4/props/weapons/melee/sledge_tenderizer.vmt
fallout_4_weapons_v1/materials/models/mosi/fallout4/props/weapons/melee/bat_razor.vmt
fallout_4_weapons_v1/materials/models/mosi/fallout4/props/weapons/melee/rocketham_stun.vmt
fallout_4_weapons_v1/materials/models/mosi/fallout4/props/weapons/melee/sledge_cinder.vtf
fallout_4_weapons_v1/materials/models/mosi/fallout4/props/weapons/melee/sledge2.vtf
fallout_4_weapons_v1/materials/models/mosi/fallout4/props/weapons/melee/commiewhacker_n.vtf
fallout_4_weapons_v1/materials/models/mosi/fallout4/props/weapons/melee/rocketham_glow.vmt
fallout_4_weapons_v1/materials/models/mosi/fallout4/props/weapons/melee/bat_grip_leather.vmt
fallout_4_weapons_v1/materials/models/mosi/fallout4/props/weapons/melee/tireiron_hatchet.vmt
fallout_4_weapons_v1/materials/models/mosi/fallout4/props/weapons/melee/rev_serrated.vmt
fallout_4_weapons_v1/materials/models/mosi/fallout4/props/weapons/melee/chinasword_serrated.vmt
fallout_4_weapons_v1/materials/models/mosi/fallout4/props/weapons/melee/pipe_bolts.vmt
fallout_4_weapons_v1/materials/models/mosi/fallout4/props/weapons/melee/grognakaxe.vtf
fallout_4_weapons_v1/materials/models/mosi/fallout4/props/weapons/melee/sawblade.vtf
fallout_4_weapons_v1/materials/models/mosi/fallout4/props/weapons/melee/batp5.vmt
fallout_4_weapons_v1/materials/models/mosi/fallout4/props/weapons/melee/rollingpin.vtf
fallout_4_weapons_v1/materials/models/mosi/fallout4/props/weapons/melee/rev.vtf
fallout_4_weapons_v1/materials/models/mosi/fallout4/props/weapons/melee/batp5.vtf
fallout_4_weapons_v1/materials/models/mosi/fallout4/props/weapons/melee/tireiron.vmt
fallout_4_weapons_v1/materials/models/mosi/fallout4/props/weapons/melee/baton_stun_n.vtf
fallout_4_weapons_v1/materials/models/mosi/fallout4/props/weapons/melee/tireiron2.vmt
fallout_4_weapons_v1/materials/models/mosi/fallout4/props/weapons/melee/bat_grip_tape.vmt
fallout_4_weapons_v1/materials/models/mosi/fallout4/props/weapons/melee/pipe_n.vtf
fallout_4_weapons_v1/materials/models/mosi/fallout4/props/weapons/melee/sledge_strap.vtf
fallout_4_weapons_v1/materials/models/mosi/fallout4/props/weapons/melee/batp2.vtf
fallout_4_weapons_v1/materials/models/mosi/fallout4/props/weapons/melee/knife_stealth_n.vtf
fallout_4_weapons_v1/materials/models/mosi/fallout4/props/weapons/melee/sledge_strap_n.vtf
fallout_4_weapons_v1/materials/models/mosi/fallout4/props/weapons/melee/batmisc_n.vtf
fallout_4_weapons_v1/materials/models/mosi/fallout4/props/weapons/melee/batswatter_n.vtf
fallout_4_weapons_v1/materials/models/mosi/fallout4/props/weapons/melee/sledge_cinder.vmt
fallout_4_weapons_v1/materials/models/mosi/fallout4/props/weapons/melee/sledge.vtf
fallout_4_weapons_v1/materials/models/mosi/fallout4/props/weapons/melee/board.vmt
fallout_4_weapons_v1/materials/models/mosi/fallout4/props/weapons/melee/machete.vtf
fallout_4_weapons_v1/materials/models/mosi/fallout4/props/weapons/melee/switchblade_serrated.vmt
fallout_4_weapons_v1/materials/models/mosi/fallout4/props/weapons/melee/batp4.vmt
fallout_4_weapons_v1/materials/models/mosi/fallout4/props/weapons/melee/batp1.vmt
fallout_4_weapons_v1/materials/models/mosi/fallout4/props/weapons/melee/batmetal_n.vtf
fallout_4_weapons_v1/materials/models/mosi/fallout4/props/weapons/melee/barbedwire.vtf
fallout_4_weapons_v1/materials/models/mosi/fallout4/props/weapons/melee/sledge_tenderizer.vtf
fallout_4_weapons_v1/materials/models/mosi/fallout4/props/weapons/melee/razor_n.vtf
fallout_4_weapons_v1/materials/models/mosi/fallout4/props/weapons/melee/machete_hilt_n.vtf
fallout_4_weapons_v1/materials/models/mosi/fallout4/props/weapons/melee/knuckles.vtf
fallout_4_weapons_v1/materials/models/mosi/fallout4/props/weapons/melee/rocketham.vtf
fallout_4_weapons_v1/materials/models/mosi/fallout4/props/weapons/melee/rev.vmt
fallout_4_weapons_v1/materials/models/mosi/fallout4/props/weapons/melee/batswatter.vtf
fallout_4_weapons_v1/materials/models/mosi/fallout4/props/weapons/melee/tireiron2_n.vtf
fallout_4_weapons_v1/materials/models/mosi/fallout4/props/weapons/melee/knuckles_tenderizer_n.vtf
fallout_4_weapons_v1/materials/models/mosi/fallout4/props/weapons/melee/poolcue.vmt
fallout_4_weapons_v1/materials/models/mosi/fallout4/props/weapons/melee/batswatter.vmt
fallout_4_weapons_v1/materials/models/mosi/fallout4/props/weapons/melee/rocketham_n.vtf
fallout_4_weapons_v1/materials/models/mosi/fallout4/props/weapons/melee/knuckles_n.vtf
fallout_4_weapons_v1/materials/models/mosi/fallout4/props/weapons/melee/bat4.vmt
fallout_4_weapons_v1/materials/models/mosi/fallout4/props/weapons/melee/deathclaw_n.vtf
fallout_4_weapons_v1/materials/models/mosi/fallout4/props/weapons/melee/barbedwire.vmt
fallout_4_weapons_v1/materials/models/mosi/fallout4/props/weapons/melee/fusion_core.vmt
fallout_4_weapons_v1/materials/models/mosi/fallout4/props/weapons/melee/rocketham_stun_n.vtf
fallout_4_weapons_v1/materials/models/mosi/fallout4/props/weapons/melee/powerfist_rebar_n.vtf
fallout_4_weapons_v1/materials/models/mosi/fallout4/props/weapons/melee/chinasword_n.vtf
fallout_4_weapons_v1/materials/models/mosi/fallout4/props/weapons/melee/baton.vtf
fallout_4_weapons_v1/materials/models/mosi/fallout4/props/weapons/melee/pipe.vtf
fallout_4_weapons_v1/materials/models/mosi/fallout4/props/weapons/melee/bat_barbedwire.vmt
fallout_4_weapons_v1/materials/models/mosi/fallout4/props/weapons/melee/poolcue.vtf
fallout_4_weapons_v1/materials/models/mosi/fallout4/props/weapons/melee/pipe.vmt
fallout_4_weapons_v1/materials/models/mosi/fallout4/props/weapons/melee/board2.vmt
fallout_4_weapons_v1/materials/models/mosi/fallout4/props/weapons/melee/chinasword_hilt.vmt
fallout_4_weapons_v1/materials/models/mosi/fallout4/props/weapons/melee/commiewhacker.vtf
fallout_4_weapons_v1/materials/models/mosi/fallout4/props/weapons/melee/poolcue_n.vtf
fallout_4_weapons_v1/materials/models/mosi/fallout4/props/weapons/melee/machete.vmt
fallout_4_weapons_v1/materials/models/mosi/fallout4/props/weapons/melee/chinasword_stun.vmt
fallout_4_weapons_v1/materials/models/mosi/fallout4/props/weapons/melee/powerfist.vmt
fallout_4_weapons_v1/materials/models/mosi/fallout4/props/weapons/melee/blood_n.vtf
fallout_4_weapons_v1/materials/models/mosi/fallout4/props/weapons/melee/bat2.vmt
fallout_4_weapons_v1/materials/models/mosi/fallout4/props/weapons/melee/boxingglove_n.vtf
fallout_4_weapons_v1/materials/models/mosi/fallout4/props/weapons/melee/rocketham_coil_n.vtf
fallout_4_weapons_v1/materials/models/mosi/fallout4/props/weapons/melee/sledge_cinder_n.vtf
fallout_4_weapons_v1/materials/models/mosi/fallout4/props/weapons/melee/switchblade_serrated_n.vtf
fallout_4_weapons_v1/materials/models/mosi/fallout4/props/weapons/melee/fishgaff.vmt
fallout_4_weapons_v1/materials/models/mosi/fallout4/props/weapons/melee/boxingglove.vmt
fallout_4_weapons_v1/materials/models/mosi/fallout4/props/weapons/melee/rollingpinmetal.vtf
fallout_4_weapons_v1/materials/models/mosi/fallout4/props/weapons/melee/wrench.vtf
fallout_4_weapons_v1/materials/models/mosi/fallout4/props/weapons/melee/board.vtf
fallout_4_weapons_v1/materials/models/mosi/fallout4/props/weapons/melee/nails.vtf
fallout_4_weapons_v1/materials/models/mosi/fallout4/props/weapons/melee/batp4.vtf
fallout_4_weapons_v1/materials/models/mosi/fallout4/props/weapons/melee/knuckle_spikes.vtf
fallout_4_weapons_v1/materials/models/mosi/fallout4/props/weapons/melee/shishkebab_n.vtf
fallout_4_weapons_v1/materials/models/mosi/fallout4/props/weapons/melee/rev2_n.vtf
fallout_4_weapons_v1/materials/models/mosi/fallout4/props/weapons/melee/walkingcane_n.vtf
fallout_4_weapons_v1/materials/models/mosi/fallout4/props/weapons/melee/batworldseries.vtf
fallout_4_weapons_v1/materials/models/mosi/fallout4/props/weapons/melee/rocketham_stun.vtf
fallout_4_weapons_v1/materials/models/mosi/fallout4/props/weapons/melee/knuckle_spikes.vmt
fallout_4_weapons_v1/materials/models/mosi/fallout4/props/weapons/melee/rollingpin.vmt
fallout_4_weapons_v1/materials/models/mosi/fallout4/props/weapons/melee/board_spikes_n.vtf
fallout_4_weapons_v1/materials/models/mosi/fallout4/props/weapons/melee/copperwire.vtf
fallout_4_weapons_v1/materials/models/mosi/fallout4/props/weapons/melee/chain_n.vtf
fallout_4_weapons_v1/materials/models/mosi/fallout4/props/weapons/melee/sledge2.vmt
fallout_4_weapons_v1/materials/models/mosi/fallout4/props/weapons/melee/wrench_misc.vtf
fallout_4_weapons_v1/materials/models/mosi/fallout4/props/weapons/melee/machete_hilt.vtf
fallout_4_weapons_v1/materials/models/mosi/fallout4/props/weapons/melee/sledge2_n.vtf
fallout_4_weapons_v1/materials/models/mosi/fallout4/props/weapons/melee/razor.vtf
fallout_4_weapons_v1/materials/models/mosi/fallout4/props/weapons/melee/bat_grip_wrap.vmt
fallout_4_weapons_v1/materials/models/mosi/fallout4/props/weapons/melee/pipe_gears.vtf
fallout_4_weapons_v1/materials/models/mosi/fallout4/props/weapons/melee/machete_sacrificial.vtf
fallout_4_weapons_v1/materials/models/mosi/fallout4/props/weapons/melee/batp_n.vtf
fallout_4_weapons_v1/materials/models/mosi/fallout4/props/weapons/melee/rollingpinmetal.vmt
fallout_4_weapons_v1/materials/models/mosi/fallout4/props/weapons/melee/bat5.vtf
fallout_4_weapons_v1/materials/models/mosi/fallout4/props/weapons/melee/board_spikes.vmt
fallout_4_weapons_v1/materials/models/mosi/fallout4/props/weapons/melee/wrench.vmt
fallout_4_weapons_v1/materials/models/mosi/fallout4/props/weapons/melee/nails_n.vtf
fallout_4_weapons_v1/materials/models/mosi/fallout4/props/weapons/melee/batmisc.vtf
fallout_4_weapons_v1/materials/models/mosi/fallout4/props/weapons/melee/nails.vmt
fallout_4_weapons_v1/materials/models/mosi/fallout4/props/weapons/melee/knife.vtf
fallout_4_weapons_v1/materials/models/mosi/fallout4/props/weapons/melee/blood.vtf
fallout_4_weapons_v1/materials/models/mosi/fallout4/props/weapons/melee/wrench_hook.vmt
fallout_4_weapons_v1/materials/models/mosi/fallout4/props/weapons/melee/rollingpinmetal_n.vtf
fallout_4_weapons_v1/materials/models/mosi/fallout4/props/weapons/melee/baton.vmt
fallout_4_weapons_v1/materials/models/mosi/fallout4/props/weapons/melee/bat2.vtf
fallout_4_weapons_v1/materials/models/mosi/fallout4/props/weapons/melee/poolcue_blade.vmt
fallout_4_weapons_v1/materials/models/mosi/fallout4/props/weapons/melee/tireiron_hatchet_n.vtf
fallout_4_weapons_v1/materials/models/mosi/fallout4/props/weapons/melee/copperwire_n.vtf
fallout_4_weapons_v1/materials/models/mosi/fallout4/props/weapons/melee/batp3.vmt
fallout_4_weapons_v1/materials/models/mosi/fallout4/props/weapons/melee/walkingcane.vtf
fallout_4_weapons_v1/materials/models/mosi/fallout4/props/weapons/melee/chinasword.vtf
fallout_4_weapons_v1/materials/models/mosi/fallout4/props/weapons/melee/bat_chains.vmt
fallout_4_weapons_v1/materials/models/mosi/fallout4/props/weapons/melee/bolts.vmt
fallout_4_weapons_v1/materials/models/mosi/fallout4/props/weapons/melee/switchblade_serrated.vtf
fallout_4_weapons_v1/materials/models/mosi/fallout4/props/weapons/melee/knuckles_tenderizer.vtf
fallout_4_weapons_v1/materials/models/mosi/fallout4/props/weapons/melee/tireiron2.vtf
fallout_4_weapons_v1/materials/models/mosi/fallout4/props/weapons/melee/barbedwire_n.vtf
fallout_4_weapons_v1/materials/models/mosi/fallout4/props/weapons/melee/poolcue_blade_n.vtf
fallout_4_weapons_v1/materials/models/mosi/fallout4/props/weapons/melee/batp3.vtf
fallout_4_weapons_v1/materials/models/mosi/fallout4/props/weapons/melee/rev_serrated.vtf
fallout_4_weapons_v1/materials/models/mosi/fallout4/props/weapons/melee/board_spikes.vtf
fallout_4_weapons_v1/materials/models/mosi/fallout4/props/weapons/melee/serratedblade.vtf
fallout_4_weapons_v1/materials/models/mosi/fallout4/props/weapons/melee/deathclaw.vtf
fallout_4_weapons_v1/materials/models/mosi/fallout4/props/weapons/melee/knuckle_spikes_n.vtf
fallout_4_weapons_v1/materials/models/mosi/fallout4/props/weapons/melee/sledge_tenderizer_n.vtf
fallout_4_weapons_v1/materials/models/mosi/fallout4/props/weapons/melee/knife_stealth.vtf
fallout_4_weapons_v1/materials/models/mosi/fallout4/props/weapons/melee/tireiron_hatchet.vtf
fallout_4_weapons_v1/materials/models/mosi/fallout4/props/weapons/melee/shishkebab.vtf
fallout_4_weapons_v1/materials/models/mosi/fallout4/props/weapons/melee/pipe_bolts.vtf
fallout_4_weapons_v1/materials/models/mosi/fallout4/props/weapons/melee/bolts2.vmt
fallout_4_weapons_v1/materials/models/mosi/fallout4/props/weapons/melee/board2_n.vtf
fallout_4_weapons_v1/materials/models/mosi/fallout4/props/weapons/melee/batp1.vtf
fallout_4_weapons_v1/materials/models/mosi/fallout4/props/weapons/melee/board_n.vtf
fallout_4_weapons_v1/materials/models/mosi/fallout4/props/weapons/melee/bat.vmt
fallout_4_weapons_v1/materials/models/mosi/fallout4/props/weapons/melee/board2.vtf
fallout_4_weapons_v1/materials/models/mosi/fallout4/props/weapons/melee/baton_stun.vmt
fallout_4_weapons_v1/materials/models/mosi/fallout4/props/weapons/melee/walkingcane.vmt
fallout_4_weapons_v1/materials/models/mosi/fallout4/props/weapons/melee/blood.vmt
fallout_4_weapons_v1/materials/models/mosi/fallout4/props/weapons/melee/commiewhacker.vmt
fallout_4_weapons_v1/materials/models/mosi/fallout4/props/weapons/melee/baton_n.vtf
fallout_4_weapons_v1/materials/models/mosi/fallout4/props/weapons/melee/knife.vmt
fallout_4_weapons_v1/materials/models/mosi/fallout4/props/weapons/melee/rocketham.vmt
fallout_4_weapons_v1/materials/models/mosi/fallout4/props/weapons/melee/machete_m.vtf
fallout_4_weapons_v1/materials/models/mosi/fallout4/props/weapons/melee/machete_n.vtf
fallout_4_weapons_v1/materials/models/mosi/fallout4/props/weapons/melee/tireiron.vtf
fallout_4_weapons_v1/materials/models/mosi/fallout4/props/weapons/melee/powerfist_n.vtf
fallout_4_weapons_v1/materials/models/mosi/fallout4/props/weapons/melee/bat_nails.vmt
fallout_4_weapons_v1/materials/models/mosi/fallout4/props/weapons/melee/batmetal.vtf
fallout_4_weapons_v1/materials/models/mosi/fallout4/props/weapons/melee/wrench_n.vtf
fallout_4_weapons_v1/materials/models/mosi/fallout4/props/weapons/melee/knuckle_tenderizer.vmt
fallout_4_weapons_v1/materials/models/mosi/fallout4/props/weapons/melee/switchblade.vmt
fallout_4_weapons_v1/materials/models/mosi/fallout4/props/weapons/melee/rocketham_coil.vmt
fallout_4_weapons_v1/materials/models/mosi/fallout4/props/weapons/melee/shishkebab.vmt
fallout_4_weapons_v1/materials/models/mosi/fallout4/props/weapons/melee/sledge_cinder2.vtf
fallout_4_weapons_v1/materials/models/mosi/fallout4/props/weapons/melee/wrench_misc_n.vtf
fallout_4_weapons_v1/materials/models/mosi/fallout4/props/weapons/melee/bolts.vtf
fallout_4_weapons_v1/materials/models/mosi/fallout4/props/weapons/melee/fishgaff_n.vtf
fallout_4_weapons_v1/materials/models/mosi/fallout4/props/weapons/melee/boxingglove.vtf
fallout_4_weapons_v1/materials/models/mosi/fallout4/props/weapons/melee/knife_stealth.vmt




F3_weapons_v2.rar
1096
2020-09-26 06:56:54
192.85 MB
File contents:

F3_weapons_v2/models/halokiller38/fallout/weapons/shotguns/huntingshotgun.phy
F3_weapons_v2/models/halokiller38/fallout/weapons/shotguns/leveractionshotgun.sw.vtx
F3_weapons_v2/models/halokiller38/fallout/weapons/shotguns/leveractionshotgun.vvd
F3_weapons_v2/models/halokiller38/fallout/weapons/shotguns/caravanshotgun.mdl
F3_weapons_v2/models/halokiller38/fallout/weapons/shotguns/huntingshotgun.dx90.vtx
F3_weapons_v2/models/halokiller38/fallout/weapons/shotguns/sawedoffshotgun.dx90.vtx
F3_weapons_v2/models/halokiller38/fallout/weapons/shotguns/sawedoffshotgun.mdl
F3_weapons_v2/models/halokiller38/fallout/weapons/shotguns/sawedoffshotgun.dx80.vtx
F3_weapons_v2/models/halokiller38/fallout/weapons/shotguns/leveractionshotgun.mdl
F3_weapons_v2/models/halokiller38/fallout/weapons/shotguns/doublebarrelshotgun.mdl
F3_weapons_v2/models/halokiller38/fallout/weapons/shotguns/doublebarrelshotgun.phy
F3_weapons_v2/models/halokiller38/fallout/weapons/shotguns/doublebarrelshotgun.sw.vtx
F3_weapons_v2/models/halokiller38/fallout/weapons/shotguns/huntingshotgun.mdl
F3_weapons_v2/models/halokiller38/fallout/weapons/shotguns/leveractionshotgun.phy
F3_weapons_v2/models/halokiller38/fallout/weapons/shotguns/caravanshotgun.dx80.vtx
F3_weapons_v2/models/halokiller38/fallout/weapons/shotguns/caravanshotgun.dx90.vtx
F3_weapons_v2/models/halokiller38/fallout/weapons/shotguns/leveractionshotgun.dx90.vtx
F3_weapons_v2/models/halokiller38/fallout/weapons/shotguns/huntingshotgun.vvd
F3_weapons_v2/models/halokiller38/fallout/weapons/shotguns/sawedoffshotgun.phy
F3_weapons_v2/models/halokiller38/fallout/weapons/shotguns/sawedoffshotgun.sw.vtx
F3_weapons_v2/models/halokiller38/fallout/weapons/shotguns/huntingshotgun.dx80.vtx
F3_weapons_v2/models/halokiller38/fallout/weapons/shotguns/caravanshotgun.vvd
F3_weapons_v2/models/halokiller38/fallout/weapons/shotguns/leveractionshotgun.dx80.vtx
F3_weapons_v2/models/halokiller38/fallout/weapons/shotguns/caravanshotgun.sw.vtx
F3_weapons_v2/models/halokiller38/fallout/weapons/shotguns/sawedoffshotgun.vvd
F3_weapons_v2/models/halokiller38/fallout/weapons/shotguns/doublebarrelshotgun.dx90.vtx
F3_weapons_v2/models/halokiller38/fallout/weapons/shotguns/caravanshotgun.phy
F3_weapons_v2/models/halokiller38/fallout/weapons/shotguns/huntingshotgun.sw.vtx
F3_weapons_v2/models/halokiller38/fallout/weapons/shotguns/doublebarrelshotgun.vvd
F3_weapons_v2/models/halokiller38/fallout/weapons/shotguns/doublebarrelshotgun.dx80.vtx
F3_weapons_v2/models/halokiller38/fallout/weapons/heavy weapons/minigun_shoulder.phy
F3_weapons_v2/models/halokiller38/fallout/weapons/heavy weapons/arcwelder.phy
F3_weapons_v2/models/halokiller38/fallout/weapons/heavy weapons/25mm_gun.vvd
F3_weapons_v2/models/halokiller38/fallout/weapons/heavy weapons/minigun_shoulder.vvd
F3_weapons_v2/models/halokiller38/fallout/weapons/heavy weapons/arcwelder.dx90.vtx
F3_weapons_v2/models/halokiller38/fallout/weapons/heavy weapons/25mm_gun.phy
F3_weapons_v2/models/halokiller38/fallout/weapons/heavy weapons/minigun_hands.phy
F3_weapons_v2/models/halokiller38/fallout/weapons/heavy weapons/heavy_incenerator.vvd
F3_weapons_v2/models/halokiller38/fallout/weapons/heavy weapons/machine_gun.phy
F3_weapons_v2/models/halokiller38/fallout/weapons/heavy weapons/minigun_shoulder.dx90.vtx
F3_weapons_v2/models/halokiller38/fallout/weapons/heavy weapons/arcwelder.vvd
F3_weapons_v2/models/halokiller38/fallout/weapons/heavy weapons/arcwelder.mdl
F3_weapons_v2/models/halokiller38/fallout/weapons/heavy weapons/minigun_hands.mdl
F3_weapons_v2/models/halokiller38/fallout/weapons/heavy weapons/heavy_incenerator.dx90.vtx
F3_weapons_v2/models/halokiller38/fallout/weapons/heavy weapons/25mm_gun.mdl
F3_weapons_v2/models/halokiller38/fallout/weapons/heavy weapons/heavy_incenerator.mdl
F3_weapons_v2/models/halokiller38/fallout/weapons/heavy weapons/minigun_shoulder.mdl
F3_weapons_v2/models/halokiller38/fallout/weapons/heavy weapons/machine_gun.vvd
F3_weapons_v2/models/halokiller38/fallout/weapons/heavy weapons/machine_gun.mdl
F3_weapons_v2/models/halokiller38/fallout/weapons/heavy weapons/25mm_gun.dx90.vtx
F3_weapons_v2/models/halokiller38/fallout/weapons/heavy weapons/minigun_hands.vvd
F3_weapons_v2/models/halokiller38/fallout/weapons/heavy weapons/minigun_hands.dx90.vtx
F3_weapons_v2/models/halokiller38/fallout/weapons/heavy weapons/heavy_incenerator.phy
F3_weapons_v2/models/halokiller38/fallout/weapons/heavy weapons/machine_gun.dx90.vtx
F3_weapons_v2/models/halokiller38/fallout/weapons/rifles/scattergun.dx80.vtx
F3_weapons_v2/models/halokiller38/fallout/weapons/rifles/cowboyrepeater.sw.vtx
F3_weapons_v2/models/halokiller38/fallout/weapons/rifles/railwayrifle.mdl
F3_weapons_v2/models/halokiller38/fallout/weapons/rifles/scattergun.dx90.vtx
F3_weapons_v2/models/halokiller38/fallout/weapons/rifles/varmint_rifle.dx90.vtx
F3_weapons_v2/models/halokiller38/fallout/weapons/rifles/hunting_rifle.dx90.vtx
F3_weapons_v2/models/halokiller38/fallout/weapons/rifles/hunting_rifle.mdl
F3_weapons_v2/models/halokiller38/fallout/weapons/rifles/cowboyrepeater.dx90.vtx
F3_weapons_v2/models/halokiller38/fallout/weapons/rifles/varmint_rifle.vvd
F3_weapons_v2/models/halokiller38/fallout/weapons/rifles/scattergun.phy
F3_weapons_v2/models/halokiller38/fallout/weapons/rifles/railwayrifle.vvd
F3_weapons_v2/models/halokiller38/fallout/weapons/rifles/scattergun.vvd
F3_weapons_v2/models/halokiller38/fallout/weapons/rifles/scattergun.sw.vtx
F3_weapons_v2/models/halokiller38/fallout/weapons/rifles/hunting_rifle.vvd
F3_weapons_v2/models/halokiller38/fallout/weapons/rifles/scattergun.mdl
F3_weapons_v2/models/halokiller38/fallout/weapons/rifles/cowboyrepeater.vvd
F3_weapons_v2/models/halokiller38/fallout/weapons/rifles/railwayrifle.sw.vtx
F3_weapons_v2/models/halokiller38/fallout/weapons/rifles/varmint_rifle.mdl
F3_weapons_v2/models/halokiller38/fallout/weapons/rifles/railwayrifle.dx80.vtx
F3_weapons_v2/models/halokiller38/fallout/weapons/rifles/hunting_rifle.phy
F3_weapons_v2/models/halokiller38/fallout/weapons/rifles/railwayrifle.phy
F3_weapons_v2/models/halokiller38/fallout/weapons/rifles/varmint_rifle.phy
F3_weapons_v2/models/halokiller38/fallout/weapons/rifles/cowboyrepeater.phy
F3_weapons_v2/models/halokiller38/fallout/weapons/rifles/cowboyrepeater.dx80.vtx
F3_weapons_v2/models/halokiller38/fallout/weapons/rifles/railwayrifle.dx90.vtx
F3_weapons_v2/models/halokiller38/fallout/weapons/rifles/cowboyrepeater.mdl
F3_weapons_v2/models/halokiller38/fallout/weapons/mines/powderchargemine.phy
F3_weapons_v2/models/halokiller38/fallout/weapons/mines/plasmamine.phy
F3_weapons_v2/models/halokiller38/fallout/weapons/mines/cryomine.sw.vtx
F3_weapons_v2/models/halokiller38/fallout/weapons/mines/bottlecapmine.vvd
F3_weapons_v2/models/halokiller38/fallout/weapons/mines/cryomine.phy
F3_weapons_v2/models/halokiller38/fallout/weapons/mines/plasmamine.mdl
F3_weapons_v2/models/halokiller38/fallout/weapons/mines/powderchargemine.dx80.vtx
F3_weapons_v2/models/halokiller38/fallout/weapons/mines/bottlecapmine.dx80.vtx
F3_weapons_v2/models/halokiller38/fallout/weapons/mines/cryomine.mdl
F3_weapons_v2/models/halokiller38/fallout/weapons/mines/pulsemine.phy
F3_weapons_v2/models/halokiller38/fallout/weapons/mines/pulsemine.mdl
F3_weapons_v2/models/halokiller38/fallout/weapons/mines/powderchargemine.mdl
F3_weapons_v2/models/halokiller38/fallout/weapons/mines/bottlecapmine.dx90.vtx
F3_weapons_v2/models/halokiller38/fallout/weapons/mines/minefrag.mdl
F3_weapons_v2/models/halokiller38/fallout/weapons/mines/bottlecapmine.sw.vtx
F3_weapons_v2/models/halokiller38/fallout/weapons/mines/minefrag.dx80.vtx
F3_weapons_v2/models/halokiller38/fallout/weapons/mines/bottlecapmine.mdl
F3_weapons_v2/models/halokiller38/fallout/weapons/mines/powderchargemine.vvd
F3_weapons_v2/models/halokiller38/fallout/weapons/mines/cryomine.dx90.vtx
F3_weapons_v2/models/halokiller38/fallout/weapons/mines/plasmamine.vvd
F3_weapons_v2/models/halokiller38/fallout/weapons/mines/minefrag.phy
F3_weapons_v2/models/halokiller38/fallout/weapons/mines/plasmamine.sw.vtx
F3_weapons_v2/models/halokiller38/fallout/weapons/mines/minefrag.dx90.vtx
F3_weapons_v2/models/halokiller38/fallout/weapons/mines/powderchargemine.sw.vtx
F3_weapons_v2/models/halokiller38/fallout/weapons/mines/pulsemine.vvd
F3_weapons_v2/models/halokiller38/fallout/weapons/mines/pulsemine.sw.vtx
F3_weapons_v2/models/halokiller38/fallout/weapons/mines/plasmamine.dx90.vtx
F3_weapons_v2/models/halokiller38/fallout/weapons/mines/powderchargemine.dx90.vtx
F3_weapons_v2/models/halokiller38/fallout/weapons/mines/pulsemine.dx80.vtx
F3_weapons_v2/models/halokiller38/fallout/weapons/mines/pulsemine.dx90.vtx
F3_weapons_v2/models/halokiller38/fallout/weapons/mines/cryomine.dx80.vtx
F3_weapons_v2/models/halokiller38/fallout/weapons/mines/minefrag.sw.vtx
F3_weapons_v2/models/halokiller38/fallout/weapons/mines/bottlecapmine.phy
F3_weapons_v2/models/halokiller38/fallout/weapons/mines/cryomine.vvd
F3_weapons_v2/models/halokiller38/fallout/weapons/mines/minefrag.vvd
F3_weapons_v2/models/halokiller38/fallout/weapons/mines/plasmamine.dx80.vtx
F3_weapons_v2/models/halokiller38/fallout/weapons/sniperrifles/sniperrifle.phy
F3_weapons_v2/models/halokiller38/fallout/weapons/sniperrifles/ratslayer.vvd
F3_weapons_v2/models/halokiller38/fallout/weapons/sniperrifles/antimaterial_rifle.mdl
F3_weapons_v2/models/halokiller38/fallout/weapons/sniperrifles/antimaterial_rifle.vvd
F3_weapons_v2/models/halokiller38/fallout/weapons/sniperrifles/sniperrifle.vvd
F3_weapons_v2/models/halokiller38/fallout/weapons/sniperrifles/ratslayer.mdl
F3_weapons_v2/models/halokiller38/fallout/weapons/sniperrifles/sniperrifle.dx90.vtx
F3_weapons_v2/models/halokiller38/fallout/weapons/sniperrifles/Ratslayer.dx90.vtx
F3_weapons_v2/models/halokiller38/fallout/weapons/sniperrifles/sniperrifle.mdl
F3_weapons_v2/models/halokiller38/fallout/weapons/sniperrifles/antimaterial_rifle.dx90.vtx
F3_weapons_v2/models/halokiller38/fallout/weapons/sniperrifles/antimaterial_rifle.phy
F3_weapons_v2/models/halokiller38/fallout/weapons/sniperrifles/Ratslayer.phy
F3_weapons_v2/models/halokiller38/fallout/weapons/misc/nailer.vvd
F3_weapons_v2/models/halokiller38/fallout/weapons/misc/nailer.sw.vtx
F3_weapons_v2/models/halokiller38/fallout/weapons/misc/flaregun.dx90.vtx
F3_weapons_v2/models/halokiller38/fallout/weapons/misc/binoculars.vvd
F3_weapons_v2/models/halokiller38/fallout/weapons/misc/flaregun.dx80.vtx
F3_weapons_v2/models/halokiller38/fallout/weapons/misc/nailer.phy
F3_weapons_v2/models/halokiller38/fallout/weapons/misc/binoculars.sw.vtx
F3_weapons_v2/models/halokiller38/fallout/weapons/misc/flaregun.mdl
F3_weapons_v2/models/halokiller38/fallout/weapons/misc/nailer.dx80.vtx
F3_weapons_v2/models/halokiller38/fallout/weapons/misc/flaregun.sw.vtx
F3_weapons_v2/models/halokiller38/fallout/weapons/misc/nailer.mdl
F3_weapons_v2/models/halokiller38/fallout/weapons/misc/flaregun.phy
F3_weapons_v2/models/halokiller38/fallout/weapons/misc/flaregun.vvd
F3_weapons_v2/models/halokiller38/fallout/weapons/misc/binoculars.dx90.vtx
F3_weapons_v2/models/halokiller38/fallout/weapons/misc/binoculars.dx80.vtx
F3_weapons_v2/models/halokiller38/fallout/weapons/misc/binoculars.phy
F3_weapons_v2/models/halokiller38/fallout/weapons/misc/nailer.dx90.vtx
F3_weapons_v2/models/halokiller38/fallout/weapons/misc/binoculars.mdl
F3_weapons_v2/models/halokiller38/fallout/weapons/plasma weapons/plasmadefender.vvd
F3_weapons_v2/models/halokiller38/fallout/weapons/plasma weapons/plasmadefender.dx90.vtx
F3_weapons_v2/models/halokiller38/fallout/weapons/plasma weapons/plasmacaster.mdl
F3_weapons_v2/models/halokiller38/fallout/weapons/plasma weapons/plasmacaster.phy
F3_weapons_v2/models/halokiller38/fallout/weapons/plasma weapons/plasmacaster.dx90.vtx
F3_weapons_v2/models/halokiller38/fallout/weapons/plasma weapons/plasmacaster.vvd
F3_weapons_v2/models/halokiller38/fallout/weapons/plasma weapons/plasmadefender.mdl
F3_weapons_v2/models/halokiller38/fallout/weapons/plasma weapons/plasmadefender.phy
F3_weapons_v2/models/halokiller38/fallout/weapons/melee/cleaver.sw.vtx
F3_weapons_v2/models/halokiller38/fallout/weapons/melee/rustykitchenknife.sw.vtx
F3_weapons_v2/models/halokiller38/fallout/weapons/melee/protonaxe.mdl
F3_weapons_v2/models/halokiller38/fallout/weapons/melee/trenchknife.mdl
F3_weapons_v2/models/halokiller38/fallout/weapons/melee/kitchenknife.phy
F3_weapons_v2/models/halokiller38/fallout/weapons/melee/cattleprod.mdl
F3_weapons_v2/models/halokiller38/fallout/weapons/melee/baseballbat.phy
F3_weapons_v2/models/halokiller38/fallout/weapons/melee/deathclawgauntlet.dx90.vtx
F3_weapons_v2/models/halokiller38/fallout/weapons/melee/dresscane.dx90.vtx
F3_weapons_v2/models/halokiller38/fallout/weapons/melee/sledgehammer.dx90.vtx
F3_weapons_v2/models/halokiller38/fallout/weapons/melee/fireaxeunique.vvd
F3_weapons_v2/models/halokiller38/fallout/weapons/melee/kitchenknife.dx80.vtx
F3_weapons_v2/models/halokiller38/fallout/weapons/melee/poolcue.mdl
F3_weapons_v2/models/halokiller38/fallout/weapons/melee/eagleflagpoll.sw.vtx
F3_weapons_v2/models/halokiller38/fallout/weapons/melee/katana.phy
F3_weapons_v2/models/halokiller38/fallout/weapons/melee/deathclawgauntlet.dx80.vtx
F3_weapons_v2/models/halokiller38/fallout/weapons/melee/baseballbatdirty.sw.vtx
F3_weapons_v2/models/halokiller38/fallout/weapons/melee/thermiclance.dx90.vtx
F3_weapons_v2/models/halokiller38/fallout/weapons/melee/inversalaxe.sw.vtx
F3_weapons_v2/models/halokiller38/fallout/weapons/melee/straightrazor.mdl
F3_weapons_v2/models/halokiller38/fallout/weapons/melee/dresscane.mdl
F3_weapons_v2/models/halokiller38/fallout/weapons/melee/rollingpin.phy
F3_weapons_v2/models/halokiller38/fallout/weapons/melee/gclub.sw.vtx
F3_weapons_v2/models/halokiller38/fallout/weapons/melee/nailboard.sw.vtx
F3_weapons_v2/models/halokiller38/fallout/weapons/melee/supersledgeunique.vvd
F3_weapons_v2/models/halokiller38/fallout/weapons/melee/leadpipe.dx90.vtx
F3_weapons_v2/models/halokiller38/fallout/weapons/melee/kitchenknife.dx90.vtx
F3_weapons_v2/models/halokiller38/fallout/weapons/melee/spikedknuckles.sw.vtx
F3_weapons_v2/models/halokiller38/fallout/weapons/melee/trenchknife.dx90.vtx
F3_weapons_v2/models/halokiller38/fallout/weapons/melee/supersledge.dx80.vtx
F3_weapons_v2/models/halokiller38/fallout/weapons/melee/bumpersword.sw.vtx
F3_weapons_v2/models/halokiller38/fallout/weapons/melee/gclub.dx80.vtx
F3_weapons_v2/models/halokiller38/fallout/weapons/melee/tireiron.vvd
F3_weapons_v2/models/halokiller38/fallout/weapons/melee/thermiclance.sw.vtx
F3_weapons_v2/models/halokiller38/fallout/weapons/melee/supersledge.mdl
F3_weapons_v2/models/halokiller38/fallout/weapons/melee/baseballbatdirty.vvd
F3_weapons_v2/models/halokiller38/fallout/weapons/melee/warclub.vvd
F3_weapons_v2/models/halokiller38/fallout/weapons/melee/hatchet.phy
F3_weapons_v2/models/halokiller38/fallout/weapons/melee/gclub.dx90.vtx
F3_weapons_v2/models/halokiller38/fallout/weapons/melee/cleaver.mdl
F3_weapons_v2/models/halokiller38/fallout/weapons/melee/inversalaxe.vvd
F3_weapons_v2/models/halokiller38/fallout/weapons/melee/knifespear.sw.vtx
F3_weapons_v2/models/halokiller38/fallout/weapons/melee/chineseofficersword.sw.vtx
F3_weapons_v2/models/halokiller38/fallout/weapons/melee/ripper.dx90.vtx
F3_weapons_v2/models/halokiller38/fallout/weapons/melee/chainsaw.dx90.vtx
F3_weapons_v2/models/halokiller38/fallout/weapons/melee/leadpipe.phy
F3_weapons_v2/models/halokiller38/fallout/weapons/melee/rebar.mdl
F3_weapons_v2/models/halokiller38/fallout/weapons/melee/tireiron.sw.vtx
F3_weapons_v2/models/halokiller38/fallout/weapons/melee/baton.sw.vtx
F3_weapons_v2/models/halokiller38/fallout/weapons/melee/hatchet.sw.vtx
F3_weapons_v2/models/halokiller38/fallout/weapons/melee/machetegladius.dx90.vtx
F3_weapons_v2/models/halokiller38/fallout/weapons/melee/inversalaxe.mdl
F3_weapons_v2/models/halokiller38/fallout/weapons/melee/nailboard.vvd
F3_weapons_v2/models/halokiller38/fallout/weapons/melee/lilysblade.dx80.vtx
F3_weapons_v2/models/halokiller38/fallout/weapons/melee/deathclawgauntlet.mdl
F3_weapons_v2/models/halokiller38/fallout/weapons/melee/protonaxe.phy
F3_weapons_v2/models/halokiller38/fallout/weapons/melee/supersledgeunique.mdl
F3_weapons_v2/models/halokiller38/fallout/weapons/melee/fireaxe.dx90.vtx
F3_weapons_v2/models/halokiller38/fallout/weapons/melee/rustykitchenknife.dx80.vtx
F3_weapons_v2/models/halokiller38/fallout/weapons/melee/shishkebab.vvd
F3_weapons_v2/models/halokiller38/fallout/weapons/melee/shishkebab.dx80.vtx
F3_weapons_v2/models/halokiller38/fallout/weapons/melee/machetegladius.dx80.vtx
F3_weapons_v2/models/halokiller38/fallout/weapons/melee/chainsaw.dx80.vtx
F3_weapons_v2/models/halokiller38/fallout/weapons/melee/rustykitchenknife.vvd
F3_weapons_v2/models/halokiller38/fallout/weapons/melee/knifespearclean.dx90.vtx
F3_weapons_v2/models/halokiller38/fallout/weapons/melee/rebar.dx80.vtx
F3_weapons_v2/models/halokiller38/fallout/weapons/melee/fireaxeunique.sw.vtx
F3_weapons_v2/models/halokiller38/fallout/weapons/melee/bowieknife.dx80.vtx
F3_weapons_v2/models/halokiller38/fallout/weapons/melee/sledgehammer.mdl
F3_weapons_v2/models/halokiller38/fallout/weapons/melee/chancesknife.phy
F3_weapons_v2/models/halokiller38/fallout/weapons/melee/supersledgeunique.sw.vtx
F3_weapons_v2/models/halokiller38/fallout/weapons/melee/ripper.vvd
F3_weapons_v2/models/halokiller38/fallout/weapons/melee/spikedknuckles.mdl
F3_weapons_v2/models/halokiller38/fallout/weapons/melee/9iron.dx80.vtx
F3_weapons_v2/models/halokiller38/fallout/weapons/melee/chancesknife.vvd
F3_weapons_v2/models/halokiller38/fallout/weapons/melee/sledgehammer.dx80.vtx
F3_weapons_v2/models/halokiller38/fallout/weapons/melee/leadpipe.mdl
F3_weapons_v2/models/halokiller38/fallout/weapons/melee/shovel.dx80.vtx
F3_weapons_v2/models/halokiller38/fallout/weapons/melee/warclub.phy
F3_weapons_v2/models/halokiller38/fallout/weapons/melee/rebar.sw.vtx
F3_weapons_v2/models/halokiller38/fallout/weapons/melee/switchblade.vvd
F3_weapons_v2/models/halokiller38/fallout/weapons/melee/leadpipe.vvd
F3_weapons_v2/models/halokiller38/fallout/weapons/melee/warclub.mdl
F3_weapons_v2/models/halokiller38/fallout/weapons/melee/baton.phy
F3_weapons_v2/models/halokiller38/fallout/weapons/melee/tomahawk.sw.vtx
F3_weapons_v2/models/halokiller38/fallout/weapons/melee/throwinghatchet.sw.vtx
F3_weapons_v2/models/halokiller38/fallout/weapons/melee/tireiron.dx80.vtx
F3_weapons_v2/models/halokiller38/fallout/weapons/melee/machete.dx80.vtx
F3_weapons_v2/models/halokiller38/fallout/weapons/melee/lilysblade.mdl
F3_weapons_v2/models/halokiller38/fallout/weapons/melee/sledgehammer.vvd
F3_weapons_v2/models/halokiller38/fallout/weapons/melee/thermiclance.mdl
F3_weapons_v2/models/halokiller38/fallout/weapons/melee/leadpipeunique.vvd
F3_weapons_v2/models/halokiller38/fallout/weapons/melee/leadpipeunique.sw.vtx
F3_weapons_v2/models/halokiller38/fallout/weapons/melee/rollingpin.dx90.vtx
F3_weapons_v2/models/halokiller38/fallout/weapons/melee/dresscane.dx80.vtx
F3_weapons_v2/models/halokiller38/fallout/weapons/melee/deathclawgauntlet.sw.vtx
F3_weapons_v2/models/halokiller38/fallout/weapons/melee/baton.mdl
F3_weapons_v2/models/halokiller38/fallout/weapons/melee/supersledge.vvd
F3_weapons_v2/models/halokiller38/fallout/weapons/melee/warclub.sw.vtx
F3_weapons_v2/models/halokiller38/fallout/weapons/melee/supersledgeunique.phy
F3_weapons_v2/models/halokiller38/fallout/weapons/melee/katana.sw.vtx
F3_weapons_v2/models/halokiller38/fallout/weapons/melee/nukabreaker.mdl
F3_weapons_v2/models/halokiller38/fallout/weapons/melee/machete.phy
F3_weapons_v2/models/halokiller38/fallout/weapons/melee/supersledgeunique.dx90.vtx
F3_weapons_v2/models/halokiller38/fallout/weapons/melee/knifespearclean.phy
F3_weapons_v2/models/halokiller38/fallout/weapons/melee/autoaxe.dx90.vtx
F3_weapons_v2/models/halokiller38/fallout/weapons/melee/firehydrant.sw.vtx
F3_weapons_v2/models/halokiller38/fallout/weapons/melee/brassknuckles.dx90.vtx
F3_weapons_v2/models/halokiller38/fallout/weapons/melee/lilysblade.phy
F3_weapons_v2/models/halokiller38/fallout/weapons/melee/knifespear.dx90.vtx
F3_weapons_v2/models/halokiller38/fallout/weapons/melee/lilysblade.vvd
F3_weapons_v2/models/halokiller38/fallout/weapons/melee/combatknife.dx80.vtx
F3_weapons_v2/models/halokiller38/fallout/weapons/melee/shockbaton.mdl
F3_weapons_v2/models/halokiller38/fallout/weapons/melee/straightrazor.dx90.vtx
F3_weapons_v2/models/halokiller38/fallout/weapons/melee/knifespearclean.dx80.vtx
F3_weapons_v2/models/halokiller38/fallout/weapons/melee/brassknuckles.dx80.vtx
F3_weapons_v2/models/halokiller38/fallout/weapons/melee/cattleprod.phy
F3_weapons_v2/models/halokiller38/fallout/weapons/melee/firehydrant.dx90.vtx
F3_weapons_v2/models/halokiller38/fallout/weapons/melee/dresscane.vvd
F3_weapons_v2/models/halokiller38/fallout/weapons/melee/katana.vvd
F3_weapons_v2/models/halokiller38/fallout/weapons/melee/shishkebab.dx90.vtx
F3_weapons_v2/models/halokiller38/fallout/weapons/melee/knifespear.vvd
F3_weapons_v2/models/halokiller38/fallout/weapons/melee/protonaxe.dx80.vtx
F3_weapons_v2/models/halokiller38/fallout/weapons/melee/switchblade.mdl
F3_weapons_v2/models/halokiller38/fallout/weapons/melee/spikedknuckles.dx80.vtx
F3_weapons_v2/models/halokiller38/fallout/weapons/melee/straightrazor.vvd
F3_weapons_v2/models/halokiller38/fallout/weapons/melee/yaoguiguantlet.mdl
F3_weapons_v2/models/halokiller38/fallout/weapons/melee/chineseofficersword.phy
F3_weapons_v2/models/halokiller38/fallout/weapons/melee/eagleflagpoll.mdl
F3_weapons_v2/models/halokiller38/fallout/weapons/melee/cattleprod.sw.vtx
F3_weapons_v2/models/halokiller38/fallout/weapons/melee/chainsaw.sw.vtx
F3_weapons_v2/models/halokiller38/fallout/weapons/melee/kitchenknife.vvd
F3_weapons_v2/models/halokiller38/fallout/weapons/melee/inversalaxe.dx90.vtx
F3_weapons_v2/models/halokiller38/fallout/weapons/melee/samuraisword.mdl
F3_weapons_v2/models/halokiller38/fallout/weapons/melee/machete.mdl
F3_weapons_v2/models/halokiller38/fallout/weapons/melee/kitchenknife.mdl
F3_weapons_v2/models/halokiller38/fallout/weapons/melee/mantisgauntlet.phy
F3_weapons_v2/models/halokiller38/fallout/weapons/melee/shovel.dx90.vtx
F3_weapons_v2/models/halokiller38/fallout/weapons/melee/ballisticfist.dx80.vtx
F3_weapons_v2/models/halokiller38/fallout/weapons/melee/throwinghatchet.dx80.vtx
F3_weapons_v2/models/halokiller38/fallout/weapons/melee/bowieknife.sw.vtx
F3_weapons_v2/models/halokiller38/fallout/weapons/melee/bumpersword.vvd
F3_weapons_v2/models/halokiller38/fallout/weapons/melee/rollingpin.vvd
F3_weapons_v2/models/halokiller38/fallout/weapons/melee/rollingpin.sw.vtx
F3_weapons_v2/models/halokiller38/fallout/weapons/melee/leadpipeunique.dx90.vtx
F3_weapons_v2/models/halokiller38/fallout/weapons/melee/ballisticfist.sw.vtx
F3_weapons_v2/models/halokiller38/fallout/weapons/melee/cleaver.dx80.vtx
F3_weapons_v2/models/halokiller38/fallout/weapons/melee/knifespearclean.mdl
F3_weapons_v2/models/halokiller38/fallout/weapons/melee/bowieknife.dx90.vtx
F3_weapons_v2/models/halokiller38/fallout/weapons/melee/spear.vvd
F3_weapons_v2/models/halokiller38/fallout/weapons/melee/hatchet.dx80.vtx
F3_weapons_v2/models/halokiller38/fallout/weapons/melee/yaoguiguantlet.phy
F3_weapons_v2/models/halokiller38/fallout/weapons/melee/cleaver.dx90.vtx
F3_weapons_v2/models/halokiller38/fallout/weapons/melee/supersledge.dx90.vtx
F3_weapons_v2/models/halokiller38/fallout/weapons/melee/poolcue.sw.vtx
F3_weapons_v2/models/halokiller38/fallout/weapons/melee/leadpipeunique.phy
F3_weapons_v2/models/halokiller38/fallout/weapons/melee/brassknuckles.sw.vtx
F3_weapons_v2/models/halokiller38/fallout/weapons/melee/baseballbat.dx90.vtx
F3_weapons_v2/models/halokiller38/fallout/weapons/melee/machete.dx90.vtx
F3_weapons_v2/models/halokiller38/fallout/weapons/melee/leadpipeunique.dx80.vtx
F3_weapons_v2/models/halokiller38/fallout/weapons/melee/rebar.phy
F3_weapons_v2/models/halokiller38/fallout/weapons/melee/shovel.sw.vtx
F3_weapons_v2/models/halokiller38/fallout/weapons/melee/fireaxe.phy
F3_weapons_v2/models/halokiller38/fallout/weapons/melee/yaoguiguantlet.dx90.vtx
F3_weapons_v2/models/halokiller38/fallout/weapons/melee/switchblade.phy
F3_weapons_v2/models/halokiller38/fallout/weapons/melee/knifespear.phy
F3_weapons_v2/models/halokiller38/fallout/weapons/melee/gclub.vvd
F3_weapons_v2/models/halokiller38/fallout/weapons/melee/shockbaton.sw.vtx
F3_weapons_v2/models/halokiller38/fallout/weapons/melee/combatknife.mdl
F3_weapons_v2/models/halokiller38/fallout/weapons/melee/ballisticfist.vvd
F3_weapons_v2/models/halokiller38/fallout/weapons/melee/combatknife.dx90.vtx
F3_weapons_v2/models/halokiller38/fallout/weapons/melee/supersledgeunique.dx80.vtx
F3_weapons_v2/models/halokiller38/fallout/weapons/melee/baseballbatdirty.mdl
F3_weapons_v2/models/halokiller38/fallout/weapons/melee/bowieknife.vvd
F3_weapons_v2/models/halokiller38/fallout/weapons/melee/trenchknife.dx80.vtx
F3_weapons_v2/models/halokiller38/fallout/weapons/melee/chainsaw.mdl
F3_weapons_v2/models/halokiller38/fallout/weapons/melee/chancesknife.sw.vtx
F3_weapons_v2/models/halokiller38/fallout/weapons/melee/lilysblade.sw.vtx
F3_weapons_v2/models/halokiller38/fallout/weapons/melee/9iron.phy
F3_weapons_v2/models/halokiller38/fallout/weapons/melee/straightrazor.phy
F3_weapons_v2/models/halokiller38/fallout/weapons/melee/autoaxe.phy
F3_weapons_v2/models/halokiller38/fallout/weapons/melee/machetegladius.phy
F3_weapons_v2/models/halokiller38/fallout/weapons/melee/9iron.vvd
F3_weapons_v2/models/halokiller38/fallout/weapons/melee/spear.sw.vtx
F3_weapons_v2/models/halokiller38/fallout/weapons/melee/knifespear.dx80.vtx
F3_weapons_v2/models/halokiller38/fallout/weapons/melee/cattleprod.dx90.vtx
F3_weapons_v2/models/halokiller38/fallout/weapons/melee/leadpipe.dx80.vtx
F3_weapons_v2/models/halokiller38/fallout/weapons/melee/cattleprod.dx80.vtx
F3_weapons_v2/models/halokiller38/fallout/weapons/melee/bumpersword.dx90.vtx
F3_weapons_v2/models/halokiller38/fallout/weapons/melee/baseballbatdirty.phy
F3_weapons_v2/models/halokiller38/fallout/weapons/melee/shishkebab.mdl
F3_weapons_v2/models/halokiller38/fallout/weapons/melee/inversalaxe.phy
F3_weapons_v2/models/halokiller38/fallout/weapons/melee/fireaxeunique.mdl
F3_weapons_v2/models/halokiller38/fallout/weapons/melee/machetegladius.vvd
F3_weapons_v2/models/halokiller38/fallout/weapons/melee/deathclawgauntlet.vvd
F3_weapons_v2/models/halokiller38/fallout/weapons/melee/samuraisword.phy
F3_weapons_v2/models/halokiller38/fallout/weapons/melee/firehydrant.mdl
F3_weapons_v2/models/halokiller38/fallout/weapons/melee/tireiron.phy
F3_weapons_v2/models/halokiller38/fallout/weapons/melee/tireiron.dx90.vtx
F3_weapons_v2/models/halokiller38/fallout/weapons/melee/rustykitchenknife.dx90.vtx
F3_weapons_v2/models/halokiller38/fallout/weapons/melee/eagleflagpoll.phy
F3_weapons_v2/models/halokiller38/fallout/weapons/melee/ripper.phy
F3_weapons_v2/models/halokiller38/fallout/weapons/melee/mantisgauntlet.mdl
F3_weapons_v2/models/halokiller38/fallout/weapons/melee/baseballbatdirty.dx90.vtx
F3_weapons_v2/models/halokiller38/fallout/weapons/melee/rustykitchenknife.phy
F3_weapons_v2/models/halokiller38/fallout/weapons/melee/bumpersword.mdl
F3_weapons_v2/models/halokiller38/fallout/weapons/melee/machete.sw.vtx
F3_weapons_v2/models/halokiller38/fallout/weapons/melee/katana.dx90.vtx
F3_weapons_v2/models/halokiller38/fallout/weapons/melee/fireaxe.vvd
F3_weapons_v2/models/halokiller38/fallout/weapons/melee/samuraisword.vvd
F3_weapons_v2/models/halokiller38/fallout/weapons/melee/chainsaw.phy
F3_weapons_v2/models/halokiller38/fallout/weapons/melee/baton.vvd
F3_weapons_v2/models/halokiller38/fallout/weapons/melee/dresscane.phy
F3_weapons_v2/models/halokiller38/fallout/weapons/melee/throwinghatchet.dx90.vtx
F3_weapons_v2/models/halokiller38/fallout/weapons/melee/brassknuckles.phy
F3_weapons_v2/models/halokiller38/fallout/weapons/melee/switchblade.dx80.vtx
F3_weapons_v2/models/halokiller38/fallout/weapons/melee/chancesknife.dx90.vtx
F3_weapons_v2/models/halokiller38/fallout/weapons/melee/gclub.phy
F3_weapons_v2/models/halokiller38/fallout/weapons/melee/mantisgauntlet.vvd
F3_weapons_v2/models/halokiller38/fallout/weapons/melee/poolcue.dx90.vtx
F3_weapons_v2/models/halokiller38/fallout/weapons/melee/tireiron.mdl
F3_weapons_v2/models/halokiller38/fallout/weapons/melee/autoaxe.vvd
F3_weapons_v2/models/halokiller38/fallout/weapons/melee/knifespearclean.vvd
F3_weapons_v2/models/halokiller38/fallout/weapons/melee/nailboard.phy
F3_weapons_v2/models/halokiller38/fallout/weapons/melee/bumpersword.phy
F3_weapons_v2/models/halokiller38/fallout/weapons/melee/throwinghatchet.phy
F3_weapons_v2/models/halokiller38/fallout/weapons/melee/chancesknife.dx80.vtx
F3_weapons_v2/models/halokiller38/fallout/weapons/melee/nailboard.dx80.vtx
F3_weapons_v2/models/halokiller38/fallout/weapons/melee/nukabreaker.sw.vtx
F3_weapons_v2/models/halokiller38/fallout/weapons/melee/rollingpin.mdl
F3_weapons_v2/models/halokiller38/fallout/weapons/melee/katana.mdl
F3_weapons_v2/models/halokiller38/fallout/weapons/melee/baton.dx90.vtx
F3_weapons_v2/models/halokiller38/fallout/weapons/melee/trenchknife.sw.vtx
F3_weapons_v2/models/halokiller38/fallout/weapons/melee/firehydrant.dx80.vtx
F3_weapons_v2/models/halokiller38/fallout/weapons/melee/ballisticfist.dx90.vtx
F3_weapons_v2/models/halokiller38/fallout/weapons/melee/9iron.sw.vtx
F3_weapons_v2/models/halokiller38/fallout/weapons/melee/baseballbat.vvd
F3_weapons_v2/models/halokiller38/fallout/weapons/melee/shovel.vvd
F3_weapons_v2/models/halokiller38/fallout/weapons/melee/hatchet.dx90.vtx
F3_weapons_v2/models/halokiller38/fallout/weapons/melee/sledgehammer.phy
F3_weapons_v2/models/halokiller38/fallout/weapons/melee/fireaxe.dx80.vtx
F3_weapons_v2/models/halokiller38/fallout/weapons/melee/rollingpin.dx80.vtx
F3_weapons_v2/models/halokiller38/fallout/weapons/melee/9iron.dx90.vtx
F3_weapons_v2/models/halokiller38/fallout/weapons/melee/fireaxe.mdl
F3_weapons_v2/models/halokiller38/fallout/weapons/melee/supersledge.phy
F3_weapons_v2/models/halokiller38/fallout/weapons/melee/chineseofficersword.dx90.vtx
F3_weapons_v2/models/halokiller38/fallout/weapons/melee/tomahawk.dx90.vtx
F3_weapons_v2/models/halokiller38/fallout/weapons/melee/warclub.dx90.vtx
F3_weapons_v2/models/halokiller38/fallout/weapons/melee/mantisgauntlet.dx80.vtx
F3_weapons_v2/models/halokiller38/fallout/weapons/melee/shockbaton.dx90.vtx
F3_weapons_v2/models/halokiller38/fallout/weapons/melee/cattleprod.vvd
F3_weapons_v2/models/halokiller38/fallout/weapons/melee/bowieknife.mdl
F3_weapons_v2/models/halokiller38/fallout/weapons/melee/poolcue.vvd
F3_weapons_v2/models/halokiller38/fallout/weapons/melee/ballisticfist.mdl
F3_weapons_v2/models/halokiller38/fallout/weapons/melee/chancesknife.mdl
F3_weapons_v2/models/halokiller38/fallout/weapons/melee/nailboard.mdl
F3_weapons_v2/models/halokiller38/fallout/weapons/melee/cleaver.phy
F3_weapons_v2/models/halokiller38/fallout/weapons/melee/ballisticfist.phy
F3_weapons_v2/models/halokiller38/fallout/weapons/melee/switchblade.dx90.vtx
F3_weapons_v2/models/halokiller38/fallout/weapons/melee/spikedknuckles.dx90.vtx
F3_weapons_v2/models/halokiller38/fallout/weapons/melee/samuraisword.dx80.vtx
F3_weapons_v2/models/halokiller38/fallout/weapons/melee/ripper.sw.vtx
F3_weapons_v2/models/halokiller38/fallout/weapons/melee/bowieknife.phy
F3_weapons_v2/models/halokiller38/fallout/weapons/melee/rebar.vvd
F3_weapons_v2/models/halokiller38/fallout/weapons/melee/straightrazor.dx80.vtx
F3_weapons_v2/models/halokiller38/fallout/weapons/melee/samuraisword.dx90.vtx
F3_weapons_v2/models/halokiller38/fallout/weapons/melee/combatknife.sw.vtx
F3_weapons_v2/models/halokiller38/fallout/weapons/melee/poolcue.dx80.vtx
F3_weapons_v2/models/halokiller38/fallout/weapons/melee/deathclawgauntlet.phy
F3_weapons_v2/models/halokiller38/fallout/weapons/melee/protonaxe.dx90.vtx
F3_weapons_v2/models/halokiller38/fallout/weapons/melee/nukabreaker.vvd
F3_weapons_v2/models/halokiller38/fallout/weapons/melee/bumpersword.dx80.vtx
F3_weapons_v2/models/halokiller38/fallout/weapons/melee/eagleflagpoll.dx90.vtx
F3_weapons_v2/models/halokiller38/fallout/weapons/melee/katana.dx80.vtx
F3_weapons_v2/models/halokiller38/fallout/weapons/melee/spear.phy
F3_weapons_v2/models/halokiller38/fallout/weapons/melee/shovel.mdl
F3_weapons_v2/models/halokiller38/fallout/weapons/melee/tomahawk.dx80.vtx
F3_weapons_v2/models/halokiller38/fallout/weapons/melee/switchblade.sw.vtx
F3_weapons_v2/models/halokiller38/fallout/weapons/melee/spear.mdl
F3_weapons_v2/models/halokiller38/fallout/weapons/melee/baseballbat.mdl
F3_weapons_v2/models/halokiller38/fallout/weapons/melee/autoaxe.mdl
F3_weapons_v2/models/halokiller38/fallout/weapons/melee/brassknuckles.vvd
F3_weapons_v2/models/halokiller38/fallout/weapons/melee/spikedknuckles.vvd
F3_weapons_v2/models/halokiller38/fallout/weapons/melee/spear.dx90.vtx
F3_weapons_v2/models/halokiller38/fallout/weapons/melee/baton.dx80.vtx
F3_weapons_v2/models/halokiller38/fallout/weapons/melee/cleaver.vvd
F3_weapons_v2/models/halokiller38/fallout/weapons/melee/knifespearclean.sw.vtx
F3_weapons_v2/models/halokiller38/fallout/weapons/melee/machetegladius.mdl
F3_weapons_v2/models/halokiller38/fallout/weapons/melee/thermiclance.phy
F3_weapons_v2/models/halokiller38/fallout/weapons/melee/throwinghatchet.vvd
F3_weapons_v2/models/halokiller38/fallout/weapons/melee/nailboard.dx90.vtx
F3_weapons_v2/models/halokiller38/fallout/weapons/melee/trenchknife.phy
F3_weapons_v2/models/halokiller38/fallout/weapons/melee/firehydrant.phy
F3_weapons_v2/models/halokiller38/fallout/weapons/melee/dresscane.sw.vtx
F3_weapons_v2/models/halokiller38/fallout/weapons/melee/machetegladius.sw.vtx
F3_weapons_v2/models/halokiller38/fallout/weapons/melee/ripper.dx80.vtx
F3_weapons_v2/models/halokiller38/fallout/weapons/melee/fireaxeunique.dx80.vtx
F3_weapons_v2/models/halokiller38/fallout/weapons/melee/rebar.dx90.vtx
F3_weapons_v2/models/halokiller38/fallout/weapons/melee/baseballbat.dx80.vtx
F3_weapons_v2/models/halokiller38/fallout/weapons/melee/yaoguiguantlet.vvd
F3_weapons_v2/models/halokiller38/fallout/weapons/melee/shockbaton.phy
F3_weapons_v2/models/halokiller38/fallout/weapons/melee/straightrazor.sw.vtx
F3_weapons_v2/models/halokiller38/fallout/weapons/melee/mantisgauntlet.sw.vtx
F3_weapons_v2/models/halokiller38/fallout/weapons/melee/ripper.mdl
F3_weapons_v2/models/halokiller38/fallout/weapons/melee/brassknuckles.mdl
F3_weapons_v2/models/halokiller38/fallout/weapons/melee/chineseofficersword.mdl
F3_weapons_v2/models/halokiller38/fallout/weapons/melee/shockbaton.vvd
F3_weapons_v2/models/halokiller38/fallout/weapons/melee/kitchenknife.sw.vtx
F3_weapons_v2/models/halokiller38/fallout/weapons/melee/nukabreaker.dx80.vtx
F3_weapons_v2/models/halokiller38/fallout/weapons/melee/gclub.mdl
F3_weapons_v2/models/halokiller38/fallout/weapons/melee/shockbaton.dx80.vtx
F3_weapons_v2/models/halokiller38/fallout/weapons/melee/combatknife.vvd
F3_weapons_v2/models/halokiller38/fallout/weapons/melee/samuraisword.sw.vtx
F3_weapons_v2/models/halokiller38/fallout/weapons/melee/fireaxeunique.dx90.vtx
F3_weapons_v2/models/halokiller38/fallout/weapons/melee/inversalaxe.dx80.vtx
F3_weapons_v2/models/halokiller38/fallout/weapons/melee/poolcue.phy
F3_weapons_v2/models/halokiller38/fallout/weapons/melee/fireaxe.sw.vtx
F3_weapons_v2/models/halokiller38/fallout/weapons/melee/eagleflagpoll.dx80.vtx
F3_weapons_v2/models/halokiller38/fallout/weapons/melee/firehydrant.vvd
F3_weapons_v2/models/halokiller38/fallout/weapons/melee/9iron.mdl
F3_weapons_v2/models/halokiller38/fallout/weapons/melee/leadpipeunique.mdl
F3_weapons_v2/models/halokiller38/fallout/weapons/melee/chineseofficersword.vvd
F3_weapons_v2/models/halokiller38/fallout/weapons/melee/supersledge.sw.vtx
F3_weapons_v2/models/halokiller38/fallout/weapons/melee/tomahawk.phy
F3_weapons_v2/models/halokiller38/fallout/weapons/melee/spikedknuckles.phy
F3_weapons_v2/models/halokiller38/fallout/weapons/melee/shishkebab.phy
F3_weapons_v2/models/halokiller38/fallout/weapons/melee/warclub.dx80.vtx
F3_weapons_v2/models/halokiller38/fallout/weapons/melee/hatchet.vvd
F3_weapons_v2/models/halokiller38/fallout/weapons/melee/yaoguiguantlet.sw.vtx
F3_weapons_v2/models/halokiller38/fallout/weapons/melee/mantisgauntlet.dx90.vtx
F3_weapons_v2/models/halokiller38/fallout/weapons/melee/yaoguiguantlet.dx80.vtx
F3_weapons_v2/models/halokiller38/fallout/weapons/melee/sledgehammer.sw.vtx
F3_weapons_v2/models/halokiller38/fallout/weapons/melee/baseballbat.sw.vtx
F3_weapons_v2/models/halokiller38/fallout/weapons/melee/throwinghatchet.mdl
F3_weapons_v2/models/halokiller38/fallout/weapons/melee/eagleflagpoll.vvd
F3_weapons_v2/models/halokiller38/fallout/weapons/melee/hatchet.mdl
F3_weapons_v2/models/halokiller38/fallout/weapons/melee/shishkebab.sw.vtx
F3_weapons_v2/models/halokiller38/fallout/weapons/melee/baseballbatdirty.dx80.vtx
F3_weapons_v2/models/halokiller38/fallout/weapons/melee/fireaxeunique.phy
F3_weapons_v2/models/halokiller38/fallout/weapons/melee/nukabreaker.phy
F3_weapons_v2/models/halokiller38/fallout/weapons/melee/tomahawk.mdl
F3_weapons_v2/models/halokiller38/fallout/weapons/melee/chainsaw.vvd
F3_weapons_v2/models/halokiller38/fallout/weapons/melee/lilysblade.dx90.vtx
F3_weapons_v2/models/halokiller38/fallout/weapons/melee/protonaxe.sw.vtx
F3_weapons_v2/models/halokiller38/fallout/weapons/melee/trenchknife.vvd
F3_weapons_v2/models/halokiller38/fallout/weapons/melee/spear.dx80.vtx
F3_weapons_v2/models/halokiller38/fallout/weapons/melee/shovel.phy
F3_weapons_v2/models/halokiller38/fallout/weapons/melee/thermiclance.vvd
F3_weapons_v2/models/halokiller38/fallout/weapons/melee/autoaxe.dx80.vtx
F3_weapons_v2/models/halokiller38/fallout/weapons/melee/tomahawk.vvd
F3_weapons_v2/models/halokiller38/fallout/weapons/melee/thermiclance.dx80.vtx
F3_weapons_v2/models/halokiller38/fallout/weapons/melee/nukabreaker.dx90.vtx
F3_weapons_v2/models/halokiller38/fallout/weapons/melee/leadpipe.sw.vtx
F3_weapons_v2/models/halokiller38/fallout/weapons/melee/chineseofficersword.dx80.vtx
F3_weapons_v2/models/halokiller38/fallout/weapons/melee/protonaxe.vvd
F3_weapons_v2/models/halokiller38/fallout/weapons/melee/rustykitchenknife.mdl
F3_weapons_v2/models/halokiller38/fallout/weapons/melee/autoaxe.sw.vtx
F3_weapons_v2/models/halokiller38/fallout/weapons/melee/machete.vvd
F3_weapons_v2/models/halokiller38/fallout/weapons/melee/combatknife.phy
F3_weapons_v2/models/halokiller38/fallout/weapons/melee/knifespear.mdl
F3_weapons_v2/models/halokiller38/fallout/weapons/smgs/10mm_smg.mdl
F3_weapons_v2/models/halokiller38/fallout/weapons/smgs/22mm_smg.phy
F3_weapons_v2/models/halokiller38/fallout/weapons/smgs/10mm_smg.vvd
F3_weapons_v2/models/halokiller38/fallout/weapons/smgs/45mm_smg.vvd
F3_weapons_v2/models/halokiller38/fallout/weapons/smgs/22mm_smg.vvd
F3_weapons_v2/models/halokiller38/fallout/weapons/smgs/9mm_smg.mdl
F3_weapons_v2/models/halokiller38/fallout/weapons/smgs/45mm_smg.dx90.vtx
F3_weapons_v2/models/halokiller38/fallout/weapons/smgs/22mm_smg.dx90.vtx
F3_weapons_v2/models/halokiller38/fallout/weapons/smgs/45mm_smg.phy
F3_weapons_v2/models/halokiller38/fallout/weapons/smgs/9mm_smg.vvd
F3_weapons_v2/models/halokiller38/fallout/weapons/smgs/9mm_smg.dx90.vtx
F3_weapons_v2/models/halokiller38/fallout/weapons/smgs/10mm_smg.dx90.vtx
F3_weapons_v2/models/halokiller38/fallout/weapons/smgs/22mm_smg.mdl
F3_weapons_v2/models/halokiller38/fallout/weapons/smgs/10mm_smg.phy
F3_weapons_v2/models/halokiller38/fallout/weapons/smgs/9mm_smg.phy
F3_weapons_v2/models/halokiller38/fallout/weapons/smgs/45mm_smg.mdl
F3_weapons_v2/models/halokiller38/fallout/weapons/rocketlaunchers/missile_launcher.phy
F3_weapons_v2/models/halokiller38/fallout/weapons/rocketlaunchers/redglare.mdl
F3_weapons_v2/models/halokiller38/fallout/weapons/rocketlaunchers/missile_launcher.mdl
F3_weapons_v2/models/halokiller38/fallout/weapons/rocketlaunchers/redglare.vvd
F3_weapons_v2/models/halokiller38/fallout/weapons/rocketlaunchers/redglare.dx90.vtx
F3_weapons_v2/models/halokiller38/fallout/weapons/rocketlaunchers/redglare.phy
F3_weapons_v2/models/halokiller38/fallout/weapons/rocketlaunchers/missile_launcher.dx90.vtx
F3_weapons_v2/models/halokiller38/fallout/weapons/rocketlaunchers/missile_launcher.vvd
F3_weapons_v2/models/halokiller38/fallout/weapons/explosives/nukagrenade.dx90.vtx
F3_weapons_v2/models/halokiller38/fallout/weapons/explosives/nukagrenade.vvd
F3_weapons_v2/models/halokiller38/fallout/weapons/explosives/greatbeargrenaderifle.mdl
F3_weapons_v2/models/halokiller38/fallout/weapons/explosives/dynamite.vvd
F3_weapons_v2/models/halokiller38/fallout/weapons/explosives/c4det.sw.vtx
F3_weapons_v2/models/halokiller38/fallout/weapons/explosives/c4det.dx80.vtx
F3_weapons_v2/models/halokiller38/fallout/weapons/explosives/longfusedynamite.mdl
F3_weapons_v2/models/halokiller38/fallout/weapons/explosives/nukagrenade.dx80.vtx
F3_weapons_v2/models/halokiller38/fallout/weapons/explosives/grenadelauncher.vvd
F3_weapons_v2/models/halokiller38/fallout/weapons/explosives/pulsegrenade.sw.vtx
F3_weapons_v2/models/halokiller38/fallout/weapons/explosives/flashbanggrenade.vvd
F3_weapons_v2/models/halokiller38/fallout/weapons/explosives/timebomb.dx80.vtx
F3_weapons_v2/models/halokiller38/fallout/weapons/explosives/c4det.phy
F3_weapons_v2/models/halokiller38/fallout/weapons/explosives/stungrenade.phy
F3_weapons_v2/models/halokiller38/fallout/weapons/explosives/nukagrenade.mdl
F3_weapons_v2/models/halokiller38/fallout/weapons/explosives/greatbeargrenaderifle.vvd
F3_weapons_v2/models/halokiller38/fallout/weapons/explosives/dynamite.dx80.vtx
F3_weapons_v2/models/halokiller38/fallout/weapons/explosives/stungrenade.dx90.vtx
F3_weapons_v2/models/halokiller38/fallout/weapons/explosives/greatbeargrenaderifle.phy
F3_weapons_v2/models/halokiller38/fallout/weapons/explosives/pulsegrenade.xbox.vtx
F3_weapons_v2/models/halokiller38/fallout/weapons/explosives/flashbanggrenade.sw.vtx
F3_weapons_v2/models/halokiller38/fallout/weapons/explosives/pulsegrenade.phy
F3_weapons_v2/models/halokiller38/fallout/weapons/explosives/timebomb.mdl
F3_weapons_v2/models/halokiller38/fallout/weapons/explosives/grenaderifle.mdl
F3_weapons_v2/models/halokiller38/fallout/weapons/explosives/firebomb.dx90.vtx
F3_weapons_v2/models/halokiller38/fallout/weapons/explosives/greatbeargrenaderifle.dx80.vtx
F3_weapons_v2/models/halokiller38/fallout/weapons/explosives/grenadelauncher.dx90.vtx
F3_weapons_v2/models/halokiller38/fallout/weapons/explosives/cryogrenade.dx90.vtx
F3_weapons_v2/models/halokiller38/fallout/weapons/explosives/longfusedynamite.xbox.vtx
F3_weapons_v2/models/halokiller38/fallout/weapons/explosives/fraggrenade.vvd
F3_weapons_v2/models/halokiller38/fallout/weapons/explosives/redvictorygrenaderifle.vvd
F3_weapons_v2/models/halokiller38/fallout/weapons/explosives/c4.mdl
F3_weapons_v2/models/halokiller38/fallout/weapons/explosives/redvictorygrenaderifle.dx90.vtx
F3_weapons_v2/models/halokiller38/fallout/weapons/explosives/dynamite.mdl
F3_weapons_v2/models/halokiller38/fallout/weapons/explosives/greatbeargrenaderifle.dx90.vtx
F3_weapons_v2/models/halokiller38/fallout/weapons/explosives/cryogrenade.sw.vtx
F3_weapons_v2/models/halokiller38/fallout/weapons/explosives/plasmagrenade.phy
F3_weapons_v2/models/halokiller38/fallout/weapons/explosives/incendiarygrenade.mdl
F3_weapons_v2/models/halokiller38/fallout/weapons/explosives/incendiarygrenade.xbox.vtx
F3_weapons_v2/models/halokiller38/fallout/weapons/explosives/fatman.mdl
F3_weapons_v2/models/halokiller38/fallout/weapons/explosives/stungrenade.mdl
F3_weapons_v2/models/halokiller38/fallout/weapons/explosives/grenadelauncher.mdl
F3_weapons_v2/models/halokiller38/fallout/weapons/explosives/cryogrenade.vvd
F3_weapons_v2/models/halokiller38/fallout/weapons/explosives/fatman.dx80.vtx
F3_weapons_v2/models/halokiller38/fallout/weapons/explosives/pulsegrenade.mdl
F3_weapons_v2/models/halokiller38/fallout/weapons/explosives/redvictorygrenaderifle.sw.vtx
F3_weapons_v2/models/halokiller38/fallout/weapons/explosives/incendiarygrenade.sw.vtx
F3_weapons_v2/models/halokiller38/fallout/weapons/explosives/flashbanggrenade.mdl
F3_weapons_v2/models/halokiller38/fallout/weapons/explosives/fraggrenade.sw.vtx
F3_weapons_v2/models/halokiller38/fallout/weapons/explosives/grenadelauncher.phy
F3_weapons_v2/models/halokiller38/fallout/weapons/explosives/grenaderifle.dx90.vtx
F3_weapons_v2/models/halokiller38/fallout/weapons/explosives/pulsegrenade.dx80.vtx
F3_weapons_v2/models/halokiller38/fallout/weapons/explosives/plasmagrenade.mdl
F3_weapons_v2/models/halokiller38/fallout/weapons/explosives/c4.dx90.vtx
F3_weapons_v2/models/halokiller38/fallout/weapons/explosives/gasbomb.phy
F3_weapons_v2/models/halokiller38/fallout/weapons/explosives/c4.sw.vtx
F3_weapons_v2/models/halokiller38/fallout/weapons/explosives/fraggrenade.dx80.vtx
F3_weapons_v2/models/halokiller38/fallout/weapons/explosives/cryogrenade.phy
F3_weapons_v2/models/halokiller38/fallout/weapons/explosives/plasmagrenade.xbox.vtx
F3_weapons_v2/models/halokiller38/fallout/weapons/explosives/incendiarygrenade.dx80.vtx
F3_weapons_v2/models/halokiller38/fallout/weapons/explosives/timebomb.sw.vtx
F3_weapons_v2/models/halokiller38/fallout/weapons/explosives/grenaderifle.dx80.vtx
F3_weapons_v2/models/halokiller38/fallout/weapons/explosives/stungrenade.vvd
F3_weapons_v2/models/halokiller38/fallout/weapons/explosives/plasmagrenade.vvd
F3_weapons_v2/models/halokiller38/fallout/weapons/explosives/cryogrenade.xbox.vtx
F3_weapons_v2/models/halokiller38/fallout/weapons/explosives/greatbeargrenaderifle.sw.vtx
F3_weapons_v2/models/halokiller38/fallout/weapons/explosives/c4.vvd
F3_weapons_v2/models/halokiller38/fallout/weapons/explosives/c4.dx80.vtx
F3_weapons_v2/models/halokiller38/fallout/weapons/explosives/incendiarygrenade.vvd
F3_weapons_v2/models/halokiller38/fallout/weapons/explosives/plasmagrenade.sw.vtx
F3_weapons_v2/models/halokiller38/fallout/weapons/explosives/redvictorygrenaderifle.phy
F3_weapons_v2/models/halokiller38/fallout/weapons/explosives/longfusedynamite.sw.vtx
F3_weapons_v2/models/halokiller38/fallout/weapons/explosives/incendiarygrenade.dx90.vtx
F3_weapons_v2/models/halokiller38/fallout/weapons/explosives/cryogrenade.mdl
F3_weapons_v2/models/halokiller38/fallout/weapons/explosives/gasbomb.sw.vtx
F3_weapons_v2/models/halokiller38/fallout/weapons/explosives/pulsegrenade.vvd
F3_weapons_v2/models/halokiller38/fallout/weapons/explosives/gasbomb.mdl
F3_weapons_v2/models/halokiller38/fallout/weapons/explosives/timebomb.phy
F3_weapons_v2/models/halokiller38/fallout/weapons/explosives/gasbomb.dx80.vtx
F3_weapons_v2/models/halokiller38/fallout/weapons/explosives/dynamite.phy
F3_weapons_v2/models/halokiller38/fallout/weapons/explosives/firebomb.phy
F3_weapons_v2/models/halokiller38/fallout/weapons/explosives/fatman.phy
F3_weapons_v2/models/halokiller38/fallout/weapons/explosives/flashbanggrenade.xbox.vtx
F3_weapons_v2/models/halokiller38/fallout/weapons/explosives/gasbomb.vvd
F3_weapons_v2/models/halokiller38/fallout/weapons/explosives/firebomb.sw.vtx
F3_weapons_v2/models/halokiller38/fallout/weapons/explosives/fatman.vvd
F3_weapons_v2/models/halokiller38/fallout/weapons/explosives/grenaderifle.phy
F3_weapons_v2/models/halokiller38/fallout/weapons/explosives/longfusedynamite.vvd
F3_weapons_v2/models/halokiller38/fallout/weapons/explosives/gasbomb.dx90.vtx
F3_weapons_v2/models/halokiller38/fallout/weapons/explosives/timebomb.xbox.vtx
F3_weapons_v2/models/halokiller38/fallout/weapons/explosives/plasmagrenade.dx80.vtx
F3_weapons_v2/models/halokiller38/fallout/weapons/explosives/fraggrenade.xbox.vtx
F3_weapons_v2/models/halokiller38/fallout/weapons/explosives/c4det.dx90.vtx
F3_weapons_v2/models/halokiller38/fallout/weapons/explosives/flashbanggrenade.dx80.vtx
F3_weapons_v2/models/halokiller38/fallout/weapons/explosives/firebomb.vvd
F3_weapons_v2/models/halokiller38/fallout/weapons/explosives/redvictorygrenaderifle.mdl
F3_weapons_v2/models/halokiller38/fallout/weapons/explosives/grenaderifle.sw.vtx
F3_weapons_v2/models/halokiller38/fallout/weapons/explosives/grenadelauncher.sw.vtx
F3_weapons_v2/models/halokiller38/fallout/weapons/explosives/longfusedynamite.phy
F3_weapons_v2/models/halokiller38/fallout/weapons/explosives/c4det.vvd
F3_weapons_v2/models/halokiller38/fallout/weapons/explosives/c4det.mdl
F3_weapons_v2/models/halokiller38/fallout/weapons/explosives/grenaderifle.vvd
F3_weapons_v2/models/halokiller38/fallout/weapons/explosives/nukagrenade.xbox.vtx
F3_weapons_v2/models/halokiller38/fallout/weapons/explosives/dynamite.dx90.vtx
F3_weapons_v2/models/halokiller38/fallout/weapons/explosives/firebomb.mdl
F3_weapons_v2/models/halokiller38/fallout/weapons/explosives/flashbanggrenade.dx90.vtx
F3_weapons_v2/models/halokiller38/fallout/weapons/explosives/flashbanggrenade.phy
F3_weapons_v2/models/halokiller38/fallout/weapons/explosives/fraggrenade.dx90.vtx
F3_weapons_v2/models/halokiller38/fallout/weapons/explosives/dynamite.xbox.vtx
F3_weapons_v2/models/halokiller38/fallout/weapons/explosives/timebomb.vvd
F3_weapons_v2/models/halokiller38/fallout/weapons/explosives/fatman.dx90.vtx
F3_weapons_v2/models/halokiller38/fallout/weapons/explosives/stungrenade.dx80.vtx
F3_weapons_v2/models/halokiller38/fallout/weapons/explosives/stungrenade.sw.vtx
F3_weapons_v2/models/halokiller38/fallout/weapons/explosives/plasmagrenade.dx90.vtx
F3_weapons_v2/models/halokiller38/fallout/weapons/explosives/gasbomb.xbox.vtx
F3_weapons_v2/models/halokiller38/fallout/weapons/explosives/dynamite.sw.vtx
F3_weapons_v2/models/halokiller38/fallout/weapons/explosives/longfusedynamite.dx80.vtx
F3_weapons_v2/models/halokiller38/fallout/weapons/explosives/incendiarygrenade.phy
F3_weapons_v2/models/halokiller38/fallout/weapons/explosives/longfusedynamite.dx90.vtx
F3_weapons_v2/models/halokiller38/fallout/weapons/explosives/nukagrenade.phy
F3_weapons_v2/models/halokiller38/fallout/weapons/explosives/grenadelauncher.dx80.vtx
F3_weapons_v2/models/halokiller38/fallout/weapons/explosives/firebomb.dx80.vtx
F3_weapons_v2/models/halokiller38/fallout/weapons/explosives/nukagrenade.sw.vtx
F3_weapons_v2/models/halokiller38/fallout/weapons/explosives/timebomb.dx90.vtx
F3_weapons_v2/models/halokiller38/fallout/weapons/explosives/redvictorygrenaderifle.dx80.vtx
F3_weapons_v2/models/halokiller38/fallout/weapons/explosives/fatman.sw.vtx
F3_weapons_v2/models/halokiller38/fallout/weapons/explosives/pulsegrenade.dx90.vtx
F3_weapons_v2/models/halokiller38/fallout/weapons/explosives/fraggrenade.phy
F3_weapons_v2/models/halokiller38/fallout/weapons/explosives/c4.phy
F3_weapons_v2/models/halokiller38/fallout/weapons/explosives/fraggrenade.mdl
F3_weapons_v2/models/halokiller38/fallout/weapons/explosives/firebomb.xbox.vtx
F3_weapons_v2/models/halokiller38/fallout/weapons/explosives/stungrenade.xbox.vtx
F3_weapons_v2/models/halokiller38/fallout/weapons/explosives/cryogrenade.dx80.vtx
F3_weapons_v2/models/halokiller38/fallout/weapons/pistols/10mm_pistol.phy
F3_weapons_v2/models/halokiller38/fallout/weapons/pistols/127mm_pistol.mdl
F3_weapons_v2/models/halokiller38/fallout/weapons/pistols/44mm_revolver.mdl
F3_weapons_v2/models/halokiller38/fallout/weapons/pistols/chinese_pistol.mdl
F3_weapons_v2/models/halokiller38/fallout/weapons/pistols/44mm_revolver.dx90.vtx
F3_weapons_v2/models/halokiller38/fallout/weapons/pistols/9mm_pistol.vvd
F3_weapons_v2/models/halokiller38/fallout/weapons/pistols/chinese_pistol.vvd
F3_weapons_v2/models/halokiller38/fallout/weapons/pistols/9mm_pistol.dx90.vtx
F3_weapons_v2/models/halokiller38/fallout/weapons/pistols/10mm_pistol.mdl
F3_weapons_v2/models/halokiller38/fallout/weapons/pistols/44mm_revolver.vvd
F3_weapons_v2/models/halokiller38/fallout/weapons/pistols/10mm_pistol.vvd
F3_weapons_v2/models/halokiller38/fallout/weapons/pistols/10mm_pistol.dx90.vtx
F3_weapons_v2/models/halokiller38/fallout/weapons/pistols/127mm_pistol.phy
F3_weapons_v2/models/halokiller38/fallout/weapons/pistols/357mm_revolver.mdl
F3_weapons_v2/models/halokiller38/fallout/weapons/pistols/44mm_revolver.phy
F3_weapons_v2/models/halokiller38/fallout/weapons/pistols/45_pistol.vvd
F3_weapons_v2/models/halokiller38/fallout/weapons/pistols/127mm_pistol.vvd
F3_weapons_v2/models/halokiller38/fallout/weapons/pistols/45_pistol.dx90.vtx
F3_weapons_v2/models/halokiller38/fallout/weapons/pistols/357mm_revolver.vvd
F3_weapons_v2/models/halokiller38/fallout/weapons/pistols/9mm_pistol.mdl
F3_weapons_v2/models/halokiller38/fallout/weapons/pistols/357mm_revolver.phy
F3_weapons_v2/models/halokiller38/fallout/weapons/pistols/chinese_pistol.dx90.vtx
F3_weapons_v2/models/halokiller38/fallout/weapons/pistols/45_pistol.phy
F3_weapons_v2/models/halokiller38/fallout/weapons/pistols/357mm_revolver.dx90.vtx
F3_weapons_v2/models/halokiller38/fallout/weapons/pistols/chinese_pistol.phy
F3_weapons_v2/models/halokiller38/fallout/weapons/pistols/9mm_pistol.phy
F3_weapons_v2/models/halokiller38/fallout/weapons/pistols/45_pistol.mdl
F3_weapons_v2/models/halokiller38/fallout/weapons/pistols/127mm_pistol.dx90.vtx
F3_weapons_v2/models/halokiller38/fallout/weapons/assaultrifles/chinese_rifle.vvd
F3_weapons_v2/models/halokiller38/fallout/weapons/assaultrifles/battle_rifle.vvd
F3_weapons_v2/models/halokiller38/fallout/weapons/assaultrifles/infiltrator.phy
F3_weapons_v2/models/halokiller38/fallout/weapons/assaultrifles/assault_carbine.mdl
F3_weapons_v2/models/halokiller38/fallout/weapons/assaultrifles/marksman_carbine.phy
F3_weapons_v2/models/halokiller38/fallout/weapons/assaultrifles/infiltrator.vvd
F3_weapons_v2/models/halokiller38/fallout/weapons/assaultrifles/marksman_carbine.mdl
F3_weapons_v2/models/halokiller38/fallout/weapons/assaultrifles/infiltrator.mdl
F3_weapons_v2/models/halokiller38/fallout/weapons/assaultrifles/marksman_carbine.vvd
F3_weapons_v2/models/halokiller38/fallout/weapons/assaultrifles/battle_rifle.mdl
F3_weapons_v2/models/halokiller38/fallout/weapons/assaultrifles/assault_carbine.phy
F3_weapons_v2/models/halokiller38/fallout/weapons/assaultrifles/chinese_rifle.mdl
F3_weapons_v2/models/halokiller38/fallout/weapons/assaultrifles/infiltrator.dx90.vtx
F3_weapons_v2/models/halokiller38/fallout/weapons/assaultrifles/chinese_rifle.dx90.vtx
F3_weapons_v2/models/halokiller38/fallout/weapons/assaultrifles/chinese_rifle.phy
F3_weapons_v2/models/halokiller38/fallout/weapons/assaultrifles/assault_carbine.dx90.vtx
F3_weapons_v2/models/halokiller38/fallout/weapons/assaultrifles/assault_carbine.vvd
F3_weapons_v2/models/halokiller38/fallout/weapons/assaultrifles/battle_rifle.phy
F3_weapons_v2/models/halokiller38/fallout/weapons/assaultrifles/battle_rifle.dx90.vtx
F3_weapons_v2/models/halokiller38/fallout/weapons/assaultrifles/marksman_carbine.dx90.vtx
F3_weapons_v2/models/halokiller38/fallout/weapons/energy weapons/rechargerrifle.phy
F3_weapons_v2/models/halokiller38/fallout/weapons/energy weapons/gauss_rifle_unique.dx90.vtx
F3_weapons_v2/models/halokiller38/fallout/weapons/energy weapons/gatlinglaser.mdl
F3_weapons_v2/models/halokiller38/fallout/weapons/energy weapons/laer.dx90.vtx
F3_weapons_v2/models/halokiller38/fallout/weapons/energy weapons/gauss_rifle_unique.phy
F3_weapons_v2/models/halokiller38/fallout/weapons/energy weapons/gauss_rifle.phy
F3_weapons_v2/models/halokiller38/fallout/weapons/energy weapons/euclidfinder.vvd
F3_weapons_v2/models/halokiller38/fallout/weapons/energy weapons/holorifle.vvd
F3_weapons_v2/models/halokiller38/fallout/weapons/energy weapons/gauss_rifle.vvd
F3_weapons_v2/models/halokiller38/fallout/weapons/energy weapons/pulsegun.phy
F3_weapons_v2/models/halokiller38/fallout/weapons/energy weapons/euclidfinder.dx90.vtx
F3_weapons_v2/models/halokiller38/fallout/weapons/energy weapons/holorifle.mdl
F3_weapons_v2/models/halokiller38/fallout/weapons/energy weapons/Holorifle.phy
F3_weapons_v2/models/halokiller38/fallout/weapons/energy weapons/pulsegun.vvd
F3_weapons_v2/models/halokiller38/fallout/weapons/energy weapons/Holorifle.dx90.vtx
F3_weapons_v2/models/halokiller38/fallout/weapons/energy weapons/gauss_rifle_unique.vvd
F3_weapons_v2/models/halokiller38/fallout/weapons/energy weapons/rechargerpistol.dx90.vtx
F3_weapons_v2/models/halokiller38/fallout/weapons/energy weapons/laer.mdl
F3_weapons_v2/models/halokiller38/fallout/weapons/energy weapons/euclidfinder.mdl
F3_weapons_v2/models/halokiller38/fallout/weapons/energy weapons/rechargerpistol.mdl
F3_weapons_v2/models/halokiller38/fallout/weapons/energy weapons/gatlinglaser.vvd
F3_weapons_v2/models/halokiller38/fallout/weapons/energy weapons/rechargerpistol.phy
F3_weapons_v2/models/halokiller38/fallout/weapons/energy weapons/rechargerrifle.vvd
F3_weapons_v2/models/halokiller38/fallout/weapons/energy weapons/euclidfinder.phy
F3_weapons_v2/models/halokiller38/fallout/weapons/energy weapons/rechargerrifle.dx90.vtx
F3_weapons_v2/models/halokiller38/fallout/weapons/energy weapons/gatlinglaser.dx90.vtx
F3_weapons_v2/models/halokiller38/fallout/weapons/energy weapons/gauss_rifle.dx90.vtx
F3_weapons_v2/models/halokiller38/fallout/weapons/energy weapons/pulsegun.mdl
F3_weapons_v2/models/halokiller38/fallout/weapons/energy weapons/laer.vvd
F3_weapons_v2/models/halokiller38/fallout/weapons/energy weapons/gauss_rifle.mdl
F3_weapons_v2/models/halokiller38/fallout/weapons/energy weapons/rechargerpistol.vvd
F3_weapons_v2/models/halokiller38/fallout/weapons/energy weapons/gauss_rifle_unique.mdl
F3_weapons_v2/models/halokiller38/fallout/weapons/energy weapons/rechargerrifle.mdl
F3_weapons_v2/models/halokiller38/fallout/weapons/energy weapons/laer.phy
F3_weapons_v2/models/halokiller38/fallout/weapons/energy weapons/gatlinglaser.phy
F3_weapons_v2/models/halokiller38/fallout/weapons/energy weapons/pulsegun.dx90.vtx
F3_weapons_v2/materials/models/halokiller38/sniperriflesupressor_n.vtf
F3_weapons_v2/materials/models/halokiller38/katana.vmt
F3_weapons_v2/materials/models/halokiller38/multiplasrifle.vmt
F3_weapons_v2/materials/models/halokiller38/10mmpistol_n.vtf
F3_weapons_v2/materials/models/halokiller38/machetegladius_n.vtf
F3_weapons_v2/materials/models/halokiller38/fatman_n.vtf
F3_weapons_v2/materials/models/halokiller38/laserrifleunique_n.vtf
F3_weapons_v2/materials/models/halokiller38/huntingrifleclip.vmt
F3_weapons_v2/materials/models/halokiller38/brushgunstocksaddle.vtf
F3_weapons_v2/materials/models/halokiller38/1stpersontrailcarbinescope_n.vtf
F3_weapons_v2/materials/models/halokiller38/grenaderifleuniquedecal_n.vtf
F3_weapons_v2/materials/models/halokiller38/laserriflescope.vtf
F3_weapons_v2/materials/models/halokiller38/machetegladius.vtf
F3_weapons_v2/materials/models/halokiller38/magnumrevolver.vtf
F3_weapons_v2/materials/models/halokiller38/dynamite.vtf
F3_weapons_v2/materials/models/halokiller38/sniperriflecarbonfiber_n.vtf
F3_weapons_v2/materials/models/halokiller38/nailboard_n.vtf
F3_weapons_v2/materials/models/halokiller38/1stpersong3assaultrifle_n.vtf
F3_weapons_v2/materials/models/halokiller38/25mmgrndlnchrunique.vmt
F3_weapons_v2/materials/models/halokiller38/fiveshotspeedloader.vmt
F3_weapons_v2/materials/models/halokiller38/357revolverstd.vmt
F3_weapons_v2/materials/models/halokiller38/laserrifle01_n.vtf
F3_weapons_v2/materials/models/halokiller38/heavyincinerator.vtf
F3_weapons_v2/materials/models/halokiller38/dlc041stpersonshotgun.vtf
F3_weapons_v2/materials/models/halokiller38/protonlaser01.vtf
F3_weapons_v2/materials/models/halokiller38/flashbanggrenade.vtf
F3_weapons_v2/materials/models/halokiller38/minigunbackpack.vtf
F3_weapons_v2/materials/models/halokiller38/127smgsilencer.vtf
F3_weapons_v2/materials/models/halokiller38/cowboyrepeaterunique_n.vtf
F3_weapons_v2/materials/models/halokiller38/hatchet_n.vtf
F3_weapons_v2/materials/models/halokiller38/pipboybtnglow01_n.vtf
F3_weapons_v2/materials/models/halokiller38/cryogrenade_n.vtf
F3_weapons_v2/materials/models/halokiller38/cowboyrepeater_n.vtf
F3_weapons_v2/materials/models/halokiller38/redglare02.vmt
F3_weapons_v2/materials/models/halokiller38/grenaderiflered.vtf
F3_weapons_v2/materials/models/halokiller38/huntingrifleclip_n.vtf
F3_weapons_v2/materials/models/halokiller38/1stpersonlaserscattergun01.vmt
F3_weapons_v2/materials/models/halokiller38/127smg.vtf
F3_weapons_v2/materials/models/halokiller38/82airborn.vtf
F3_weapons_v2/materials/models/halokiller38/euclidscreensuccess.vtf
F3_weapons_v2/materials/models/halokiller38/32pistolcasing.vtf
F3_weapons_v2/materials/models/halokiller38/eagleflagpoll_n.vtf
F3_weapons_v2/materials/models/halokiller38/9mmsmg.vtf
F3_weapons_v2/materials/models/halokiller38/antimaterialrifle_n.vtf
F3_weapons_v2/materials/models/halokiller38/spear.vtf
F3_weapons_v2/materials/models/halokiller38/bowieknife.vmt
F3_weapons_v2/materials/models/halokiller38/throwingknife_n.vtf
F3_weapons_v2/materials/models/halokiller38/eccell_n.vtf
F3_weapons_v2/materials/models/halokiller38/1stpersonlaserscattergun02.vtf
F3_weapons_v2/materials/models/halokiller38/gclub_n.vtf
F3_weapons_v2/materials/models/halokiller38/127pistol.vmt
F3_weapons_v2/materials/models/halokiller38/grenade.vtf
F3_weapons_v2/materials/models/halokiller38/rollingpin_n.vtf
F3_weapons_v2/materials/models/halokiller38/plasmapistol.vmt
F3_weapons_v2/materials/models/halokiller38/1stpersonnvdlc01holorifle.vtf
F3_weapons_v2/materials/models/halokiller38/nailer.vmt
F3_weapons_v2/materials/models/halokiller38/10mmpistolsilencer.vtf
F3_weapons_v2/materials/models/halokiller38/shouldermountedsmgglass.vmt
F3_weapons_v2/materials/models/halokiller38/throwingknife.vtf
F3_weapons_v2/materials/models/halokiller38/antimaterialrifle.vtf
F3_weapons_v2/materials/models/halokiller38/lilyweapon.vmt
F3_weapons_v2/materials/models/halokiller38/1stpersonthismachine.vmt
F3_weapons_v2/materials/models/halokiller38/samuraisword.vmt
F3_weapons_v2/materials/models/halokiller38/arcwelder_pack_n.vtf
F3_weapons_v2/materials/models/halokiller38/brainbotbub.vtf
F3_weapons_v2/materials/models/halokiller38/sniperrifleuniquestock_n.vtf
F3_weapons_v2/materials/models/halokiller38/samuraisword_n.vtf
F3_weapons_v2/materials/models/halokiller38/1stpersontrailcarbinescope.vmt
F3_weapons_v2/materials/models/halokiller38/teslacannon_n.vtf
F3_weapons_v2/materials/models/halokiller38/lightmachinegun.vmt
F3_weapons_v2/materials/models/halokiller38/1stpersonmissilelauncher.vtf
F3_weapons_v2/materials/models/halokiller38/caravanshotgun.vmt
F3_weapons_v2/materials/models/halokiller38/plasmadefender.vmt
F3_weapons_v2/materials/models/halokiller38/fireaxe.vmt
F3_weapons_v2/materials/models/halokiller38/stungrenade_n.vtf
F3_weapons_v2/materials/models/halokiller38/hatchet.vtf
F3_weapons_v2/materials/models/halokiller38/alienpistolclip.vtf
F3_weapons_v2/materials/models/halokiller38/magnumrevolverunique_n.vtf
F3_weapons_v2/materials/models/halokiller38/rechargerrifle.vmt
F3_weapons_v2/materials/models/halokiller38/arcwelder_pack.vtf
F3_weapons_v2/materials/models/halokiller38/timebomb.vtf
F3_weapons_v2/materials/models/halokiller38/powderchargemine_n.vtf
F3_weapons_v2/materials/models/halokiller38/switchblade_n.vtf
F3_weapons_v2/materials/models/halokiller38/minefrag_n.vtf
F3_weapons_v2/materials/models/halokiller38/marksman.vtf
F3_weapons_v2/materials/models/halokiller38/dresscane.vtf
F3_weapons_v2/materials/models/halokiller38/plasmarifle01.vmt
F3_weapons_v2/materials/models/halokiller38/rockitlauncher.vtf
F3_weapons_v2/materials/models/halokiller38/shovel_n.vtf
F3_weapons_v2/materials/models/halokiller38/sledgehammer.vtf
F3_weapons_v2/materials/models/halokiller38/sniperrifle.vmt
F3_weapons_v2/materials/models/halokiller38/laer.vmt
F3_weapons_v2/materials/models/halokiller38/laserpistol.vtf
F3_weapons_v2/materials/models/halokiller38/euclidfinder.vmt
F3_weapons_v2/materials/models/halokiller38/mauserpistolclip01_n.vtf
F3_weapons_v2/materials/models/halokiller38/1stpersonassaultrifle01.vmt
F3_weapons_v2/materials/models/halokiller38/10mmsmgextendedclip_n.vtf
F3_weapons_v2/materials/models/halokiller38/10mmlaser.vmt
F3_weapons_v2/materials/models/halokiller38/grenaderifleblue_n.vtf
F3_weapons_v2/materials/models/halokiller38/gasbomb_n.vtf
F3_weapons_v2/materials/models/halokiller38/rebar.vtf
F3_weapons_v2/materials/models/halokiller38/tireiron_n.vtf
F3_weapons_v2/materials/models/halokiller38/fxwhite.vtf
F3_weapons_v2/materials/models/halokiller38/10mmclip.vmt
F3_weapons_v2/materials/models/halokiller38/sniperrifleuniquestock.vmt
F3_weapons_v2/materials/models/halokiller38/huntingshotgununique.vtf
F3_weapons_v2/materials/models/halokiller38/sniperriflecarbonfiber.vmt
F3_weapons_v2/materials/models/halokiller38/rustykitchenknife.vmt
F3_weapons_v2/materials/models/halokiller38/fireaxeunique.vmt
F3_weapons_v2/materials/models/halokiller38/9mmscope.vmt
F3_weapons_v2/materials/models/halokiller38/laserpistol.vmt
F3_weapons_v2/materials/models/halokiller38/cyberdoggun02.vtf
F3_weapons_v2/materials/models/halokiller38/10mmsmg.vtf
F3_weapons_v2/materials/models/halokiller38/1stpersonhuntingrifle.vtf
F3_weapons_v2/materials/models/halokiller38/dlc051stpersonalienrifle.vtf
F3_weapons_v2/materials/models/halokiller38/euclidfinder_n.vtf
F3_weapons_v2/materials/models/halokiller38/9mmunique_n.vtf
F3_weapons_v2/materials/models/halokiller38/pulsegrenade_n.vtf
F3_weapons_v2/materials/models/halokiller38/inversallaser01.vtf
F3_weapons_v2/materials/models/halokiller38/9mmscope.vtf
F3_weapons_v2/materials/models/halokiller38/brainbotbub.vmt
F3_weapons_v2/materials/models/halokiller38/supersledgeunique.vmt
F3_weapons_v2/materials/models/halokiller38/cryomine_n.vtf
F3_weapons_v2/materials/models/halokiller38/mineplasma_n.vtf
F3_weapons_v2/materials/models/halokiller38/1stpersoncombatshotgun.vtf
F3_weapons_v2/materials/models/halokiller38/shouldermountedsmgglass_n.vtf
F3_weapons_v2/materials/models/halokiller38/fatman02_n.vtf
F3_weapons_v2/materials/models/halokiller38/grenaderifle.vtf
F3_weapons_v2/materials/models/halokiller38/marksman_n.vtf
F3_weapons_v2/materials/models/halokiller38/1stperson32snubnose.vtf
F3_weapons_v2/materials/models/halokiller38/1stpersontrailcarbinescope.vtf
F3_weapons_v2/materials/models/halokiller38/cattleprod.vtf
F3_weapons_v2/materials/models/halokiller38/10mmsmgmag.vmt
F3_weapons_v2/materials/models/halokiller38/c4.vtf
F3_weapons_v2/materials/models/halokiller38/mineplasma.vmt
F3_weapons_v2/materials/models/halokiller38/gclub.vtf
F3_weapons_v2/materials/models/halokiller38/dynamite_n.vtf
F3_weapons_v2/materials/models/halokiller38/1stpersonlaserscattergun02_n.vtf
F3_weapons_v2/materials/models/halokiller38/nailer_n.vtf
F3_weapons_v2/materials/models/halokiller38/1stpersonvarmintunique_22.vmt
F3_weapons_v2/materials/models/halokiller38/laserpistolunique.vtf
F3_weapons_v2/materials/models/halokiller38/10mmpistol.vtf
F3_weapons_v2/materials/models/halokiller38/fiveshotspeedloader.vtf
F3_weapons_v2/materials/models/halokiller38/sledgehammer_n.vtf
F3_weapons_v2/materials/models/halokiller38/magnumrevolver_n.vtf
F3_weapons_v2/materials/models/halokiller38/cattleprod_n.vtf
F3_weapons_v2/materials/models/halokiller38/cyberdoggun_n.vtf
F3_weapons_v2/materials/models/halokiller38/cowboyrepeatertangsights.vtf
F3_weapons_v2/materials/models/halokiller38/stungrenade.vtf
F3_weapons_v2/materials/models/halokiller38/1stpersontrailcarbine_n.vtf
F3_weapons_v2/materials/models/halokiller38/satchelcharge.vmt
F3_weapons_v2/materials/models/halokiller38/scattergun.vmt
F3_weapons_v2/materials/models/halokiller38/9mmsmgdrumunique.vmt
F3_weapons_v2/materials/models/halokiller38/1stpersonassualtcarbine_n.vtf
F3_weapons_v2/materials/models/halokiller38/supersledgeunique_n.vtf
F3_weapons_v2/materials/models/halokiller38/flashbanggrenade.vmt
F3_weapons_v2/materials/models/halokiller38/shovel.vtf
F3_weapons_v2/materials/models/halokiller38/mantisgauntlet.vtf
F3_weapons_v2/materials/models/halokiller38/grenaderiflered_n.vtf
F3_weapons_v2/materials/models/halokiller38/trailcarbinelam.vtf
F3_weapons_v2/materials/models/halokiller38/grenadelaunch.vmt
F3_weapons_v2/materials/models/halokiller38/fxzapbolt.vtf
F3_weapons_v2/materials/models/halokiller38/chancesknife.vtf
F3_weapons_v2/materials/models/halokiller38/dlc041stpersonshotgun_n.vtf
F3_weapons_v2/materials/models/halokiller38/357rejectionrod.vtf
F3_weapons_v2/materials/models/halokiller38/multiplasrifle.vtf
F3_weapons_v2/materials/models/halokiller38/127pistolsilencer.vtf
F3_weapons_v2/materials/models/halokiller38/brassknuckles.vtf
F3_weapons_v2/materials/models/halokiller38/switchblade.vtf
F3_weapons_v2/materials/models/halokiller38/fxplasma.vtf
F3_weapons_v2/materials/models/halokiller38/sniperrifleuniqueclip_n.vtf
F3_weapons_v2/materials/models/halokiller38/laserrifle01.vmt
F3_weapons_v2/materials/models/halokiller38/1stperson32speedloader.vmt
F3_weapons_v2/materials/models/halokiller38/1stpersong3assaultrifleclip_n.vtf
F3_weapons_v2/materials/models/halokiller38/grenadelaunch.vtf
F3_weapons_v2/materials/models/halokiller38/fatman02.vmt
F3_weapons_v2/materials/models/halokiller38/1stpersong3assaultrifleclip.vtf
F3_weapons_v2/materials/models/halokiller38/10mmsmg.vmt
F3_weapons_v2/materials/models/halokiller38/minigununiquedecal_n.vtf
F3_weapons_v2/materials/models/halokiller38/katana_n.vtf
F3_weapons_v2/materials/models/halokiller38/kitchenknife_n.vtf
F3_weapons_v2/materials/models/halokiller38/minepulse.vtf
F3_weapons_v2/materials/models/halokiller38/firehydrant01.vtf
F3_weapons_v2/materials/models/halokiller38/82airborn_n.vtf
F3_weapons_v2/materials/models/halokiller38/1stperson32speedloader.vtf
F3_weapons_v2/materials/models/halokiller38/samuraisword.vtf
F3_weapons_v2/materials/models/halokiller38/9mmsmgdrumunique_n.vtf
F3_weapons_v2/materials/models/halokiller38/32pistolcasing_n.vtf
F3_weapons_v2/materials/models/halokiller38/flashbanggrenade_n.vtf
F3_weapons_v2/materials/models/halokiller38/huntingriflemods_n.vtf
F3_weapons_v2/materials/models/halokiller38/cleaver.vtf
F3_weapons_v2/materials/models/halokiller38/peepsight.vtf
F3_weapons_v2/materials/models/halokiller38/c4det.vtf
F3_weapons_v2/materials/models/halokiller38/gatlinglaser.vtf
F3_weapons_v2/materials/models/halokiller38/deathclawgauntlet.vtf
F3_weapons_v2/materials/models/halokiller38/laserpdw.vmt
F3_weapons_v2/materials/models/halokiller38/fxwhite.vmt
F3_weapons_v2/materials/models/halokiller38/fatmanbomb_n.vtf
F3_weapons_v2/materials/models/halokiller38/laserriflescope.vmt
F3_weapons_v2/materials/models/halokiller38/1stpersonmauserpistol01_n.vtf
F3_weapons_v2/materials/models/halokiller38/1stpersonlincolnrifle.vmt
F3_weapons_v2/materials/models/halokiller38/1stpersonthismachine.vtf
F3_weapons_v2/materials/models/halokiller38/combatshotgun.vtf
F3_weapons_v2/materials/models/halokiller38/huntingrevolver.vmt
F3_weapons_v2/materials/models/halokiller38/25mmgrndlnchrhispeedkit.vtf
F3_weapons_v2/materials/models/halokiller38/leadpipeunique_n.vtf
F3_weapons_v2/materials/models/halokiller38/tomahawk2.vtf
F3_weapons_v2/materials/models/halokiller38/1stpersonmissilelauncher_g.vtf
F3_weapons_v2/materials/models/halokiller38/1stpersonnvdlc0245autopist_n.vtf
F3_weapons_v2/materials/models/halokiller38/dlc01infiltrator1stperson.vtf
F3_weapons_v2/materials/models/halokiller38/1stpersonmissilelauncher2.vmt
F3_weapons_v2/materials/models/halokiller38/battlerifleallmods_n.vtf
F3_weapons_v2/materials/models/halokiller38/mantisgauntlet.vmt
F3_weapons_v2/materials/models/halokiller38/throwinghatchet.vtf
F3_weapons_v2/materials/models/halokiller38/laer.vtf
F3_weapons_v2/materials/models/halokiller38/laserriflescope_n.vtf
F3_weapons_v2/materials/models/halokiller38/battlerifle_n.vtf
F3_weapons_v2/materials/models/halokiller38/1stpersonnvdlc01automaticrifle_n.vtf
F3_weapons_v2/materials/models/halokiller38/rockitlauncher.vmt
F3_weapons_v2/materials/models/halokiller38/1stpersonalienblaster_g.vtf
F3_weapons_v2/materials/models/halokiller38/1stpersonhuntingriflescope_n.vtf
F3_weapons_v2/materials/models/halokiller38/cyberdoggun02_n.vtf
F3_weapons_v2/materials/models/halokiller38/heavyincinerator.vmt
F3_weapons_v2/materials/models/halokiller38/battleriflerec.vtf
F3_weapons_v2/materials/models/halokiller38/teslaeffect01.vtf
F3_weapons_v2/materials/models/halokiller38/varmint_22_n.vtf
F3_weapons_v2/materials/models/halokiller38/9mmsmgdrum_n.vtf
F3_weapons_v2/materials/models/halokiller38/policepistol.vmt
F3_weapons_v2/materials/models/halokiller38/combatshotgundrum.vmt
F3_weapons_v2/materials/models/halokiller38/laserpistolunique02.vtf
F3_weapons_v2/materials/models/halokiller38/leadpipe_n.vtf
F3_weapons_v2/materials/models/halokiller38/minigununique_n.vtf
F3_weapons_v2/materials/models/halokiller38/silenced22.vmt
F3_weapons_v2/materials/models/halokiller38/bbgun01_n.vtf
F3_weapons_v2/materials/models/halokiller38/minigunhispeedmotor_n.vtf
F3_weapons_v2/materials/models/halokiller38/huntingriflemods.vmt
F3_weapons_v2/materials/models/halokiller38/flaregun.vtf
F3_weapons_v2/materials/models/halokiller38/pipboybtnglow01.vtf
F3_weapons_v2/materials/models/halokiller38/1stpersonhuntingrifle.vmt
F3_weapons_v2/materials/models/halokiller38/battleriflerec.vmt
F3_weapons_v2/materials/models/halokiller38/1stpersonnvdlc0245submach.vmt
F3_weapons_v2/materials/models/halokiller38/plasmadefender.vtf
F3_weapons_v2/materials/models/halokiller38/redglare_n.vtf
F3_weapons_v2/materials/models/halokiller38/combatknife.vmt
F3_weapons_v2/materials/models/halokiller38/grenaderifleuniquedecal.vtf
F3_weapons_v2/materials/models/halokiller38/nukabreak_n.vtf
F3_weapons_v2/materials/models/halokiller38/leadpipeunique.vmt
F3_weapons_v2/materials/models/halokiller38/fireaxe.vtf
F3_weapons_v2/materials/models/halokiller38/cowboyrepeaterbrass.vtf
F3_weapons_v2/materials/models/halokiller38/127smgsilencer.vmt
F3_weapons_v2/materials/models/halokiller38/gaussrifleback.vmt
F3_weapons_v2/materials/models/halokiller38/9mmsmgunique_n.vtf
F3_weapons_v2/materials/models/halokiller38/throwinghatchet.vmt
F3_weapons_v2/materials/models/halokiller38/redglare02.vtf
F3_weapons_v2/materials/models/halokiller38/satchelcharge_n.vtf
F3_weapons_v2/materials/models/halokiller38/timebomb_n.vtf
F3_weapons_v2/materials/models/halokiller38/9mmscope_n.vtf
F3_weapons_v2/materials/models/halokiller38/horseclub_n.vtf
F3_weapons_v2/materials/models/halokiller38/25mmgrndlnchrhispeedkit.vmt
F3_weapons_v2/materials/models/halokiller38/1stpersonsawedoffshotgun_n.vtf
F3_weapons_v2/materials/models/halokiller38/combatknife_n.vtf
F3_weapons_v2/materials/models/halokiller38/lilyweapon_n.vtf
F3_weapons_v2/materials/models/halokiller38/huntingshotgununique_n.vtf
F3_weapons_v2/materials/models/halokiller38/combatshotgun.vmt
F3_weapons_v2/materials/models/halokiller38/gatlinglaser.vmt
F3_weapons_v2/materials/models/halokiller38/cryomine.vmt
F3_weapons_v2/materials/models/halokiller38/10mmsmgextendedclip.vmt
F3_weapons_v2/materials/models/halokiller38/knifespearclean.vmt
F3_weapons_v2/materials/models/halokiller38/cowboyrepeatertangsights.vmt
F3_weapons_v2/materials/models/halokiller38/scattergun.vtf
F3_weapons_v2/materials/models/halokiller38/1stpersonvarmintunique_22_n.vtf
F3_weapons_v2/materials/models/halokiller38/teslacannon.vtf
F3_weapons_v2/materials/models/halokiller38/laserpistol_n.vtf
F3_weapons_v2/materials/models/halokiller38/spikedknuckles_n.vtf
F3_weapons_v2/materials/models/halokiller38/10mmclip_n.vtf
F3_weapons_v2/materials/models/halokiller38/10mmlaser.vtf
F3_weapons_v2/materials/models/halokiller38/dlc01infiltratorbody1stperson.vtf
F3_weapons_v2/materials/models/halokiller38/1stpersonmissilelauncher2.vtf
F3_weapons_v2/materials/models/halokiller38/9mmsmgdrum.vtf
F3_weapons_v2/materials/models/halokiller38/brassknuckles.vmt
F3_weapons_v2/materials/models/halokiller38/ballisticfist.vmt
F3_weapons_v2/materials/models/halokiller38/minefrag.vmt
F3_weapons_v2/materials/models/halokiller38/huntingrevolver.vtf
F3_weapons_v2/materials/models/halokiller38/minigunstabilizers.vmt
F3_weapons_v2/materials/models/halokiller38/rollingpin.vtf
F3_weapons_v2/materials/models/halokiller38/nukagrenade.vmt
F3_weapons_v2/materials/models/halokiller38/cowboyrepeater.vtf
F3_weapons_v2/materials/models/halokiller38/127smg.vmt
F3_weapons_v2/materials/models/halokiller38/huntingrevolver_n.vtf
F3_weapons_v2/materials/models/halokiller38/plasmagrenade.vtf
F3_weapons_v2/materials/models/halokiller38/1stpersonvarmintunique_22.vtf
F3_weapons_v2/materials/models/halokiller38/grenade_n.vtf
F3_weapons_v2/materials/models/halokiller38/marksmanaa_n.vtf
F3_weapons_v2/materials/models/halokiller38/rechargerpistol_n.vtf
F3_weapons_v2/materials/models/halokiller38/1stperson10mmlaserredlight.vmt
F3_weapons_v2/materials/models/halokiller38/rangersequoia.vtf
F3_weapons_v2/materials/models/halokiller38/rustykitchenknife.vtf
F3_weapons_v2/materials/models/halokiller38/baseballbat.vtf
F3_weapons_v2/materials/models/halokiller38/tireiron.vmt
F3_weapons_v2/materials/models/halokiller38/357revolverstd_n.vtf
F3_weapons_v2/materials/models/halokiller38/fiveshotspeedloader_n.vtf
F3_weapons_v2/materials/models/halokiller38/fatman.vtf
F3_weapons_v2/materials/models/halokiller38/1stpersonleveractionshotgun.vmt
F3_weapons_v2/materials/models/halokiller38/gaussriflefrontunique.vmt
F3_weapons_v2/materials/models/halokiller38/teslaeffect01.vmt
F3_weapons_v2/materials/models/halokiller38/gaussriflefront_n.vtf
F3_weapons_v2/materials/models/halokiller38/inversallaser01.vmt
F3_weapons_v2/materials/models/halokiller38/trailcarbinelam.vmt
F3_weapons_v2/materials/models/halokiller38/combatknife.vtf
F3_weapons_v2/materials/models/halokiller38/minigunhispeedmotor.vmt
F3_weapons_v2/materials/models/halokiller38/laserpistolunique02.vmt
F3_weapons_v2/materials/models/halokiller38/bottlecapmine.vmt
F3_weapons_v2/materials/models/halokiller38/grenaderifleunique.vtf
F3_weapons_v2/materials/models/halokiller38/ripper.vmt
F3_weapons_v2/materials/models/halokiller38/satchelcharge.vtf
F3_weapons_v2/materials/models/halokiller38/1stpersonnvdlc01holorifle_n.vtf
F3_weapons_v2/materials/models/halokiller38/1stpersontrailcarbine.vmt
F3_weapons_v2/materials/models/halokiller38/1stpersong3assaultrifleclip.vmt
F3_weapons_v2/materials/models/halokiller38/plasmarifle02_n.vtf
F3_weapons_v2/materials/models/halokiller38/teslacannon.vmt
F3_weapons_v2/materials/models/halokiller38/1stpersonmauserpistol01.vtf
F3_weapons_v2/materials/models/halokiller38/9mmsmgdrum.vmt
F3_weapons_v2/materials/models/halokiller38/1stpersonhuntingriflescope.vmt
F3_weapons_v2/materials/models/halokiller38/dlc051stpersonalienrifle_n.vtf
F3_weapons_v2/materials/models/halokiller38/arcwelder.vtf
F3_weapons_v2/materials/models/halokiller38/shockbaton.vmt
F3_weapons_v2/materials/models/halokiller38/1stpersonrailwayrifle_n.vtf
F3_weapons_v2/materials/models/halokiller38/alienpistol.vmt
F3_weapons_v2/materials/models/halokiller38/firehydrant01_n.vtf
F3_weapons_v2/materials/models/halokiller38/gaussrifleback_n.vtf
F3_weapons_v2/materials/models/halokiller38/127silencer_n.vtf
F3_weapons_v2/materials/models/halokiller38/dlc051stpersonalienrifle.vmt
F3_weapons_v2/materials/models/halokiller38/neongreenironsights.vmt
F3_weapons_v2/materials/models/halokiller38/rechargerpistol.vmt
F3_weapons_v2/materials/models/halokiller38/machete.vtf
F3_weapons_v2/materials/models/halokiller38/sledgehammer.vmt
F3_weapons_v2/materials/models/halokiller38/bottlecapmine.vtf
F3_weapons_v2/materials/models/halokiller38/357rejectionrod_n.vtf
F3_weapons_v2/materials/models/halokiller38/mineplasma.vtf
F3_weapons_v2/materials/models/halokiller38/c4det.vmt
F3_weapons_v2/materials/models/halokiller38/c4light.vmt
F3_weapons_v2/materials/models/halokiller38/powderchargemine.vmt
F3_weapons_v2/materials/models/halokiller38/firebomb.vmt
F3_weapons_v2/materials/models/halokiller38/knifespear_n.vtf
F3_weapons_v2/materials/models/halokiller38/1stpersonmissilelauncher.vmt
F3_weapons_v2/materials/models/halokiller38/shouldermountedsmg.vmt
F3_weapons_v2/materials/models/halokiller38/throwinghatchet_n.vtf
F3_weapons_v2/materials/models/halokiller38/1stpersonplasmacaster_n.vtf
F3_weapons_v2/materials/models/halokiller38/magnumspeedloader.vmt
F3_weapons_v2/materials/models/halokiller38/sniperrifleclip.vmt
F3_weapons_v2/materials/models/halokiller38/flaregun.vmt
F3_weapons_v2/materials/models/halokiller38/incendiarygrenade.vmt
F3_weapons_v2/materials/models/halokiller38/battlerifleallmods.vtf
F3_weapons_v2/materials/models/halokiller38/laserrifle02_n.vtf
F3_weapons_v2/materials/models/halokiller38/10mmsmgmag_n.vtf
F3_weapons_v2/materials/models/halokiller38/9mmsmg.vmt
F3_weapons_v2/materials/models/halokiller38/1stpersonalienblaster_n.vtf
F3_weapons_v2/materials/models/halokiller38/laserpdw.vtf
F3_weapons_v2/materials/models/halokiller38/laserrifle02.vmt
F3_weapons_v2/materials/models/halokiller38/laserpistolunique02_n.vtf
F3_weapons_v2/materials/models/halokiller38/poolcue.vmt
F3_weapons_v2/materials/models/halokiller38/eagleflagpoll.vtf
F3_weapons_v2/materials/models/halokiller38/gatlinglaser_n.vtf
F3_weapons_v2/materials/models/halokiller38/baseballbatdirty.vmt
F3_weapons_v2/materials/models/halokiller38/incendiarygrenade_n.vtf
F3_weapons_v2/materials/models/halokiller38/thatgun.vmt
F3_weapons_v2/materials/models/halokiller38/inversalaxe.vtf
F3_weapons_v2/materials/models/halokiller38/cattleprod.vmt
F3_weapons_v2/materials/models/halokiller38/1stpersonnvdlc0245submach.vtf
F3_weapons_v2/materials/models/halokiller38/shockbaton_n.vtf
F3_weapons_v2/materials/models/halokiller38/chineseofficersword_n.vtf
F3_weapons_v2/materials/models/halokiller38/plasmadefender_n.vtf
F3_weapons_v2/materials/models/halokiller38/hatchet.vmt
F3_weapons_v2/materials/models/halokiller38/silenced22_n.vtf
F3_weapons_v2/materials/models/halokiller38/dlc041stpersonrifle.vtf
F3_weapons_v2/materials/models/halokiller38/battlerifle.vtf
F3_weapons_v2/materials/models/halokiller38/grenaderifle.vmt
F3_weapons_v2/materials/models/halokiller38/peepsight_n.vtf
F3_weapons_v2/materials/models/halokiller38/cowboyrepeaterunique.vmt
F3_weapons_v2/materials/models/halokiller38/arcwelder_pack.vmt
F3_weapons_v2/materials/models/halokiller38/fatman.vmt
F3_weapons_v2/materials/models/halokiller38/riotshotgun.vmt
F3_weapons_v2/materials/models/halokiller38/firebomb_n.vtf
F3_weapons_v2/materials/models/halokiller38/battlerifle.vmt
F3_weapons_v2/materials/models/halokiller38/pulsegun_n.vtf
F3_weapons_v2/materials/models/halokiller38/combatshotgundrum.vtf
F3_weapons_v2/materials/models/halokiller38/flaregun_n.vtf
F3_weapons_v2/materials/models/halokiller38/chineseofficersword.vtf
F3_weapons_v2/materials/models/halokiller38/smallenergycell_n.vtf
F3_weapons_v2/materials/models/halokiller38/1stpersonmissilelauncher_n.vtf
F3_weapons_v2/materials/models/halokiller38/stungrenade.vmt
F3_weapons_v2/materials/models/halokiller38/1stpersonlaserscattergun02.vmt
F3_weapons_v2/materials/models/halokiller38/chainsaw.vtf
F3_weapons_v2/materials/models/halokiller38/grenaderifleunique_n.vtf
F3_weapons_v2/materials/models/halokiller38/fxzapbolt.vmt
F3_weapons_v2/materials/models/halokiller38/baton.vtf
F3_weapons_v2/materials/models/halokiller38/riotshotgun_n.vtf
F3_weapons_v2/materials/models/halokiller38/fireaxeunique_n.vtf
F3_weapons_v2/materials/models/halokiller38/1stpersonleveractionshotgun.vtf
F3_weapons_v2/materials/models/halokiller38/autoaxeback.vtf
F3_weapons_v2/materials/models/halokiller38/357rejectionrod.vmt
F3_weapons_v2/materials/models/halokiller38/cowboyrepeatertangsights_n.vtf
F3_weapons_v2/materials/models/halokiller38/smallenergycell.vtf
F3_weapons_v2/materials/models/halokiller38/laserpistolunique.vmt
F3_weapons_v2/materials/models/halokiller38/shovel.vmt
F3_weapons_v2/materials/models/halokiller38/leadersword_n.vtf
F3_weapons_v2/materials/models/halokiller38/deathclawgauntlet.vmt
F3_weapons_v2/materials/models/halokiller38/25mmgrndlnchr_n.vtf
F3_weapons_v2/materials/models/halokiller38/policepistol_n.vtf
F3_weapons_v2/materials/models/halokiller38/horseclub.vtf
F3_weapons_v2/materials/models/halokiller38/c4_n.vtf
F3_weapons_v2/materials/models/halokiller38/10mmpistol.vmt
F3_weapons_v2/materials/models/halokiller38/127pistol_n.vtf
F3_weapons_v2/materials/models/halokiller38/thermiclance.vmt
F3_weapons_v2/materials/models/halokiller38/lightmachinegun.vtf
F3_weapons_v2/materials/models/halokiller38/gaussriflebackunique.vtf
F3_weapons_v2/materials/models/halokiller38/ballisticfist_n.vtf
F3_weapons_v2/materials/models/halokiller38/baseballbat_n.vtf
F3_weapons_v2/materials/models/halokiller38/dlc01infiltrator1stperson_n.vtf
F3_weapons_v2/materials/models/halokiller38/ripper.vtf
F3_weapons_v2/materials/models/halokiller38/sniperrifleuniqueclip.vtf
F3_weapons_v2/materials/models/halokiller38/autoaxefront_n.vtf
F3_weapons_v2/materials/models/halokiller38/mauserpistolclip01.vtf
F3_weapons_v2/materials/models/halokiller38/poolcue.vtf
F3_weapons_v2/materials/models/halokiller38/magnumspeedloader_n.vtf
F3_weapons_v2/materials/models/halokiller38/357revolverhdcyl_n.vtf
F3_weapons_v2/materials/models/halokiller38/grenaderiflered.vmt
F3_weapons_v2/materials/models/halokiller38/1stpersong3assaultrifle.vmt
F3_weapons_v2/materials/models/halokiller38/10mmsilencer_n.vtf
F3_weapons_v2/materials/models/halokiller38/caravanshotgun_n.vtf
F3_weapons_v2/materials/models/halokiller38/1stpersonrailwayrifle.vtf
F3_weapons_v2/materials/models/halokiller38/laserriflemods_n.vtf
F3_weapons_v2/materials/models/halokiller38/1stpersonhuntingriflescope.vtf
F3_weapons_v2/materials/models/halokiller38/357revolverstd.vtf
F3_weapons_v2/materials/models/halokiller38/cyberdoggun.vmt
F3_weapons_v2/materials/models/halokiller38/minigunstabilizers.vtf
F3_weapons_v2/materials/models/halokiller38/autoaxeback.vmt
F3_weapons_v2/materials/models/halokiller38/dlc041stpersonrifle.vmt
F3_weapons_v2/materials/models/halokiller38/euclidscreensuccess.vmt
F3_weapons_v2/materials/models/halokiller38/poolcue_n.vtf
F3_weapons_v2/materials/models/halokiller38/grenaderifleblue.vtf
F3_weapons_v2/materials/models/halokiller38/9mm.vtf
F3_weapons_v2/materials/models/halokiller38/thatgun_n.vtf
F3_weapons_v2/materials/models/halokiller38/machete.vmt
F3_weapons_v2/materials/models/halokiller38/thermiclance_n.vtf
F3_weapons_v2/materials/models/halokiller38/gaussriflebackunique.vmt
F3_weapons_v2/materials/models/halokiller38/10mmsmgmag.vtf
F3_weapons_v2/materials/models/halokiller38/microfusioncell01.vmt
F3_weapons_v2/materials/models/halokiller38/cleaver_n.vtf
F3_weapons_v2/materials/models/halokiller38/autoaxefront.vtf
F3_weapons_v2/materials/models/halokiller38/cowboyrepeater.vmt
F3_weapons_v2/materials/models/halokiller38/silenced22.vtf
F3_weapons_v2/materials/models/halokiller38/brassknuckles_n.vtf
F3_weapons_v2/materials/models/halokiller38/chineseofficersword.vmt
F3_weapons_v2/materials/models/halokiller38/autoaxefront.vmt
F3_weapons_v2/materials/models/halokiller38/fatman02.vtf
F3_weapons_v2/materials/models/halokiller38/multiplasrifle_n.vtf
F3_weapons_v2/materials/models/halokiller38/nukabreak.vtf
F3_weapons_v2/materials/models/halokiller38/brushgunstocksaddle_n.vtf
F3_weapons_v2/materials/models/halokiller38/yaoguiguantlet.vmt
F3_weapons_v2/materials/models/halokiller38/fireaxeunique.vtf
F3_weapons_v2/materials/models/halokiller38/huntingshotgun.vmt
F3_weapons_v2/materials/models/halokiller38/1stpersonassaultrifle02.vtf
F3_weapons_v2/materials/models/halokiller38/throwingknife.vmt
F3_weapons_v2/materials/models/halokiller38/9iron.vmt
F3_weapons_v2/materials/models/halokiller38/laserrifle01.vtf
F3_weapons_v2/materials/models/halokiller38/357revolverhdcyl.vmt
F3_weapons_v2/materials/models/halokiller38/magnumrevolverunique.vtf
F3_weapons_v2/materials/models/halokiller38/cyberdoggun02.vmt
F3_weapons_v2/materials/models/halokiller38/45autopistuni.vmt
F3_weapons_v2/materials/models/halokiller38/heavyincinerator_n.vtf
F3_weapons_v2/materials/models/halokiller38/1stpersong3assaultrifle.vtf
F3_weapons_v2/materials/models/halokiller38/plasmagrenade_n.vtf
F3_weapons_v2/materials/models/halokiller38/trailcarbinelam_n.vtf
F3_weapons_v2/materials/models/halokiller38/1stpersonnvdlc0245autopist.vtf
F3_weapons_v2/materials/models/halokiller38/1stpersonnvdlc01automaticrifle.vtf
F3_weapons_v2/materials/models/halokiller38/spear_n.vtf
F3_weapons_v2/materials/models/halokiller38/grenadelaunch_n.vtf
F3_weapons_v2/materials/models/halokiller38/laserrifleunique.vtf
F3_weapons_v2/materials/models/halokiller38/minefrag.vtf
F3_weapons_v2/materials/models/halokiller38/minepulse.vmt
F3_weapons_v2/materials/models/halokiller38/huntingshotgun_n.vtf
F3_weapons_v2/materials/models/halokiller38/sniperriflesupressor.vtf
F3_weapons_v2/materials/models/halokiller38/1stpersonminigun_n.vtf
F3_weapons_v2/materials/models/halokiller38/huntingriflemods.vtf
F3_weapons_v2/materials/models/halokiller38/cowboyrepeaterunique.vtf
F3_weapons_v2/materials/models/halokiller38/1stpersonnvdlc01holorifle.vmt
F3_weapons_v2/materials/models/halokiller38/nukabreak.vmt
F3_weapons_v2/materials/models/halokiller38/laserriflemods.vmt
F3_weapons_v2/materials/models/halokiller38/dlc05alienrifle_g.vtf
F3_weapons_v2/materials/models/halokiller38/thermiclance.vtf
F3_weapons_v2/materials/models/halokiller38/alienpistol_n.vtf
F3_weapons_v2/materials/models/halokiller38/dlc041stpersonrifle_n.vtf
F3_weapons_v2/materials/models/halokiller38/huntingshotgununique.vmt
F3_weapons_v2/materials/models/halokiller38/pulsegrenade.vtf
F3_weapons_v2/materials/models/halokiller38/laer_n.vtf
F3_weapons_v2/materials/models/halokiller38/shishkebab_n.vtf
F3_weapons_v2/materials/models/halokiller38/straightrazor.vmt
F3_weapons_v2/materials/models/halokiller38/binoculars.vtf
F3_weapons_v2/materials/models/halokiller38/1stpersoncombatshotgun_n.vtf
F3_weapons_v2/materials/models/halokiller38/machetegladius.vmt
F3_weapons_v2/materials/models/halokiller38/shouldermountedsmgglass.vtf
F3_weapons_v2/materials/models/halokiller38/lightmachinegun_n.vtf
F3_weapons_v2/materials/models/halokiller38/1stpersonassualtcarbine.vmt
F3_weapons_v2/materials/models/halokiller38/1stperson32speedloader_n.vtf
F3_weapons_v2/materials/models/halokiller38/9mmsmgdrumunique.vtf
F3_weapons_v2/materials/models/halokiller38/c4light.vtf
F3_weapons_v2/materials/models/halokiller38/laserriflemods.vtf
F3_weapons_v2/materials/models/halokiller38/grenaderifleuniquedecal.vmt
F3_weapons_v2/materials/models/halokiller38/rollingpin.vmt
F3_weapons_v2/materials/models/halokiller38/laserpistolunique_n.vtf
F3_weapons_v2/materials/models/halokiller38/gaussrifleback.vtf
F3_weapons_v2/materials/models/halokiller38/357revolverhdcyl.vtf
F3_weapons_v2/materials/models/halokiller38/sniperrifleclip_n.vtf
F3_weapons_v2/materials/models/halokiller38/cowboyrepeaterbrass.vmt
F3_weapons_v2/materials/models/halokiller38/rechargerpistol.vtf
F3_weapons_v2/materials/models/halokiller38/combatshotgundrum_n.vtf
F3_weapons_v2/materials/models/halokiller38/eagleflagpoll.vmt
F3_weapons_v2/materials/models/halokiller38/10mmlaser_n.vtf
F3_weapons_v2/materials/models/halokiller38/c4det_n.vtf
F3_weapons_v2/materials/models/halokiller38/nailboard.vmt
F3_weapons_v2/materials/models/halokiller38/1stperson32snubnose.vmt
F3_weapons_v2/materials/models/halokiller38/spikedknuckles.vmt
F3_weapons_v2/materials/models/halokiller38/marksmanaa.vmt
F3_weapons_v2/materials/models/halokiller38/leadpipe.vmt
F3_weapons_v2/materials/models/halokiller38/dlc01infiltratorbody1stperson_n.vtf
F3_weapons_v2/materials/models/halokiller38/1stpersonminigun.vmt
F3_weapons_v2/materials/models/halokiller38/shouldermountedsmg.vtf
F3_weapons_v2/materials/models/halokiller38/eccell.vtf
F3_weapons_v2/materials/models/halokiller38/1stpersonassaultriflemag01bump.vtf
F3_weapons_v2/materials/models/halokiller38/32pistolcasing.vmt
F3_weapons_v2/materials/models/halokiller38/1stpersondartgun.vmt
F3_weapons_v2/materials/models/halokiller38/firehydrant01.vmt
F3_weapons_v2/materials/models/halokiller38/bbgun01.vmt
F3_weapons_v2/materials/models/halokiller38/tomahawk2.vmt
F3_weapons_v2/materials/models/halokiller38/1stpersonmauserpistol01.vmt
F3_weapons_v2/materials/models/halokiller38/neongreenironsights.vtf
F3_weapons_v2/materials/models/halokiller38/varmint_22.vtf
F3_weapons_v2/materials/models/halokiller38/9iron_n.vtf
F3_weapons_v2/materials/models/halokiller38/nukagrenade_n.vtf
F3_weapons_v2/materials/models/halokiller38/1stpersonassaultrifle01.vtf
F3_weapons_v2/materials/models/halokiller38/marksman.vmt
F3_weapons_v2/materials/models/halokiller38/gaussriflefrontunique.vtf
F3_weapons_v2/materials/models/halokiller38/sniperrifle.vtf
F3_weapons_v2/materials/models/halokiller38/bowieknife_n.vtf
F3_weapons_v2/materials/models/halokiller38/rechargerrifle_n.vtf
F3_weapons_v2/materials/models/halokiller38/marksmanaa.vtf
F3_weapons_v2/materials/models/halokiller38/leadersword.vtf
F3_weapons_v2/materials/models/halokiller38/1stpersonnvdlc0245autopist.vmt
F3_weapons_v2/materials/models/halokiller38/baseballbat.vmt
F3_weapons_v2/materials/models/halokiller38/tomhwk.vtf
F3_weapons_v2/materials/models/halokiller38/flamesmed01.vtf
F3_weapons_v2/materials/models/halokiller38/plasmapistol_n.vtf
F3_weapons_v2/materials/models/halokiller38/82airborn.vmt
F3_weapons_v2/materials/models/halokiller38/1stpersontrailcarbine.vtf
F3_weapons_v2/materials/models/halokiller38/sniperriflesupressor.vmt
F3_weapons_v2/materials/models/halokiller38/9mmunique.vtf
F3_weapons_v2/materials/models/halokiller38/1stpersonsawedoffshotgun.vtf
F3_weapons_v2/materials/models/halokiller38/minigununique.vtf
F3_weapons_v2/materials/models/halokiller38/127pistol.vtf
F3_weapons_v2/materials/models/halokiller38/nailer.vtf
F3_weapons_v2/materials/models/halokiller38/gclub.vmt
F3_weapons_v2/materials/models/halokiller38/baton.vmt
F3_weapons_v2/materials/models/halokiller38/sniperriflecarbonfiber_n.vmt
F3_weapons_v2/materials/models/halokiller38/riotshotgun.vtf
F3_weapons_v2/materials/models/halokiller38/1stpersonlaserscattergun01.vtf
F3_weapons_v2/materials/models/halokiller38/spikedknuckles.vtf
F3_weapons_v2/materials/models/halokiller38/dlc041stpersonshotgun.vmt
F3_weapons_v2/materials/models/halokiller38/binoculars.vmt
F3_weapons_v2/materials/models/halokiller38/rebar.vmt
F3_weapons_v2/materials/models/halokiller38/cyberdoggun.vtf
F3_weapons_v2/materials/models/halokiller38/laserpdwrecycler.vmt
F3_weapons_v2/materials/models/halokiller38/timebomb.vmt
F3_weapons_v2/materials/models/halokiller38/plasmapistol.vtf
F3_weapons_v2/materials/models/halokiller38/sniperrifleunique.vtf
F3_weapons_v2/materials/models/halokiller38/1stpersonthismachine_n.vtf
F3_weapons_v2/materials/models/halokiller38/supersledgeunique.vtf
F3_weapons_v2/materials/models/halokiller38/varmint_22.vmt
F3_weapons_v2/materials/models/halokiller38/rockitlauncher_n.vtf
F3_weapons_v2/materials/models/halokiller38/minigunhispeedmotor.vtf
F3_weapons_v2/materials/models/halokiller38/1stpersoncombatshotgun.vmt
F3_weapons_v2/materials/models/halokiller38/127smgsilencer_n.vtf
F3_weapons_v2/materials/models/halokiller38/1stpersonassaultriflemag01.vtf
F3_weapons_v2/materials/models/halokiller38/9mmsmgunique.vmt
F3_weapons_v2/materials/models/halokiller38/sniperriflecarbonfiber.vtf
F3_weapons_v2/materials/models/halokiller38/minigunstabilizers_n.vtf
F3_weapons_v2/materials/models/halokiller38/straightrazor.vtf
F3_weapons_v2/materials/models/halokiller38/1stpersonassaultrifle01bump.vtf
F3_weapons_v2/materials/models/halokiller38/plasmarifle01_n.vtf
F3_weapons_v2/materials/models/halokiller38/45autopistuni.vtf
F3_weapons_v2/materials/models/halokiller38/1stpersonplasmacaster.vtf
F3_weapons_v2/materials/models/halokiller38/25mmgrndlnchr.vmt
F3_weapons_v2/materials/models/halokiller38/bottlecapmine_n.vtf
F3_weapons_v2/materials/models/halokiller38/ballisticfist.vtf
F3_weapons_v2/materials/models/halokiller38/minigunbackpack.vmt
F3_weapons_v2/materials/models/halokiller38/cowboyrepeaterbrass_n.vtf
F3_weapons_v2/materials/models/halokiller38/pulsegun.vtf
F3_weapons_v2/materials/models/halokiller38/chancesknife_n.vtf
F3_weapons_v2/materials/models/halokiller38/1stpersonsawedoffshotgun.vmt
F3_weapons_v2/materials/models/halokiller38/grenaderifleblue.vmt
F3_weapons_v2/materials/models/halokiller38/25mmgrndlnchrhispeedkit_n.vtf
F3_weapons_v2/materials/models/halokiller38/1stpersonassaultriflemag01.vmt
F3_weapons_v2/materials/models/halokiller38/25mmgrndlnchrunique.vtf
F3_weapons_v2/materials/models/halokiller38/smallenergycell.vmt
F3_weapons_v2/materials/models/halokiller38/powderchargemine.vtf
F3_weapons_v2/materials/models/halokiller38/127pistolsilencer.vmt
F3_weapons_v2/materials/models/halokiller38/knifespearclean_n.vtf
F3_weapons_v2/materials/models/halokiller38/kitchenknife.vtf
F3_weapons_v2/materials/models/halokiller38/tomahawk2_n.vtf
F3_weapons_v2/materials/models/halokiller38/22smg_n.vtf
F3_weapons_v2/materials/models/halokiller38/policepistol.vtf
F3_weapons_v2/materials/models/halokiller38/gaussriflefront.vtf
F3_weapons_v2/materials/models/halokiller38/eccell.vmt
F3_weapons_v2/materials/models/halokiller38/cryogrenade.vmt
F3_weapons_v2/materials/models/halokiller38/1stperson556thatgun.vmt
F3_weapons_v2/materials/models/halokiller38/caravanshotgun.vtf
F3_weapons_v2/materials/models/halokiller38/1stpersonassaultrifle02.vmt
F3_weapons_v2/materials/models/halokiller38/rechargerrifle.vtf
F3_weapons_v2/materials/models/halokiller38/1stperson556thatgun.vtf
F3_weapons_v2/materials/models/halokiller38/protonlaser01.vmt
F3_weapons_v2/materials/models/halokiller38/cryogrenade.vtf
F3_weapons_v2/materials/models/halokiller38/nailboard.vtf
F3_weapons_v2/materials/models/halokiller38/laserpdwrecycler.vtf
F3_weapons_v2/materials/models/halokiller38/laserrifleunique.vmt
F3_weapons_v2/materials/models/halokiller38/grenaderifleunique.vmt
F3_weapons_v2/materials/models/halokiller38/plasmaglow.vmt
F3_weapons_v2/materials/models/halokiller38/sniperrifleuniqueclip.vmt
F3_weapons_v2/materials/models/halokiller38/fatmanbomb.vmt
F3_weapons_v2/materials/models/halokiller38/magnumrevolver.vmt
F3_weapons_v2/materials/models/halokiller38/gasbomb.vtf
F3_weapons_v2/materials/models/halokiller38/1stpersonhuntingrifle_n.vtf
F3_weapons_v2/materials/models/halokiller38/dresscane_n.vtf
F3_weapons_v2/materials/models/halokiller38/redglare.vmt
F3_weapons_v2/materials/models/halokiller38/plasmaglow.vtf
F3_weapons_v2/materials/models/halokiller38/fireaxe_n.vtf
F3_weapons_v2/materials/models/halokiller38/pulsegun.vmt
F3_weapons_v2/materials/models/halokiller38/grenade.vmt
F3_weapons_v2/materials/models/halokiller38/yaoguiguantlet.vtf
F3_weapons_v2/materials/models/halokiller38/bbgun01.vtf
F3_weapons_v2/materials/models/halokiller38/magnumrevolverunique.vmt
F3_weapons_v2/materials/models/halokiller38/chainsaw.vmt
F3_weapons_v2/materials/models/halokiller38/dynamite.vmt
F3_weapons_v2/materials/models/halokiller38/minigunbackpack_n.vtf
F3_weapons_v2/materials/models/halokiller38/9mm_n.vtf
F3_weapons_v2/materials/models/halokiller38/45autopistuni_n.vtf
F3_weapons_v2/materials/models/halokiller38/1stpersonmissilelauncher2_n.vtf
F3_weapons_v2/materials/models/halokiller38/1stpersonnvdlc01automaticrifle.vmt
F3_weapons_v2/materials/models/halokiller38/fatmanbomb.vtf
F3_weapons_v2/materials/models/halokiller38/redglare.vtf
F3_weapons_v2/materials/models/halokiller38/protonaxe_n.vtf
F3_weapons_v2/materials/models/halokiller38/dlc01infiltrator1stperson.vmt
F3_weapons_v2/materials/models/halokiller38/gaussriflefront.vmt
F3_weapons_v2/materials/models/halokiller38/rustykitchenknife_n.vtf
F3_weapons_v2/materials/models/halokiller38/1stpersonleveractionshotgun_n.vtf
F3_weapons_v2/materials/models/halokiller38/sniperrifleunique.vmt
F3_weapons_v2/materials/models/halokiller38/plasmagrenade.vmt
F3_weapons_v2/materials/models/halokiller38/tomhwk.vmt
F3_weapons_v2/materials/models/halokiller38/protonaxe.vtf
F3_weapons_v2/materials/models/halokiller38/9mm.vmt
F3_weapons_v2/materials/models/halokiller38/minigununiquedecal.vmt
F3_weapons_v2/materials/models/halokiller38/grenaderifle_n.vtf
F3_weapons_v2/materials/models/halokiller38/plasmarifle02.vtf
F3_weapons_v2/materials/models/halokiller38/1stpersondartgun.vtf
F3_weapons_v2/materials/models/halokiller38/9mmsmg_n.vtf
F3_weapons_v2/materials/models/halokiller38/10mmclip.vtf
F3_weapons_v2/materials/models/halokiller38/chancesknife.vmt
F3_weapons_v2/materials/models/halokiller38/mauserpistolclip01.vmt
F3_weapons_v2/materials/models/halokiller38/minigununique.vmt
F3_weapons_v2/materials/models/halokiller38/baseballbatdirty.vtf
F3_weapons_v2/materials/models/halokiller38/shouldermountedsmg_n.vtf
F3_weapons_v2/materials/models/halokiller38/laserpdwrecycler_n.vtf
F3_weapons_v2/materials/models/halokiller38/c4light_n.vtf
F3_weapons_v2/materials/models/halokiller38/autoaxeback_n.vtf
F3_weapons_v2/materials/models/halokiller38/laserrifle02.vtf
F3_weapons_v2/materials/models/halokiller38/22smg.vmt
F3_weapons_v2/materials/models/halokiller38/shishkebab.vtf
F3_weapons_v2/materials/models/halokiller38/leadersword.vmt
F3_weapons_v2/materials/models/halokiller38/1stpersonnvdlc0245submach_n.vtf
F3_weapons_v2/materials/models/halokiller38/c4.vmt
F3_weapons_v2/materials/models/halokiller38/inversalaxe.vmt
F3_weapons_v2/materials/models/halokiller38/deathclawgauntlet_n.vtf
F3_weapons_v2/materials/models/halokiller38/yaoguiguantlet_n.vtf
F3_weapons_v2/materials/models/halokiller38/rebar_n.vtf
F3_weapons_v2/materials/models/halokiller38/cryomine.vtf
F3_weapons_v2/materials/models/halokiller38/thatgun.vtf
F3_weapons_v2/materials/models/halokiller38/supersledge.vmt
F3_weapons_v2/materials/models/halokiller38/sniperrifleuniquestock.vtf
F3_weapons_v2/materials/models/halokiller38/firebomb.vtf
F3_weapons_v2/materials/models/halokiller38/spear.vmt
F3_weapons_v2/materials/models/halokiller38/alienpistolclip.vmt
F3_weapons_v2/materials/models/halokiller38/9mmunique.vmt
F3_weapons_v2/materials/models/halokiller38/flamer.vmt
F3_weapons_v2/materials/models/halokiller38/alienpistol.vtf
F3_weapons_v2/materials/models/halokiller38/pipboybtnglow01.vmt
F3_weapons_v2/materials/models/halokiller38/25mmgrndlnchr.vtf
F3_weapons_v2/materials/models/halokiller38/knifespearclean.vtf
F3_weapons_v2/materials/models/halokiller38/10mmsmgextendedclip.vtf
F3_weapons_v2/materials/models/halokiller38/rangersequoia.vmt
F3_weapons_v2/materials/models/halokiller38/dlc01infiltratorbody1stperson.vmt
F3_weapons_v2/materials/models/halokiller38/gasbomb.vmt
F3_weapons_v2/materials/models/halokiller38/tomhwk_n.vtf
F3_weapons_v2/materials/models/halokiller38/bowieknife.vtf
F3_weapons_v2/materials/models/halokiller38/9iron.vtf
F3_weapons_v2/materials/models/halokiller38/microfusioncell01_n.vtf
F3_weapons_v2/materials/models/halokiller38/huntingshotgun.vtf
F3_weapons_v2/materials/models/halokiller38/binoculars_n.vtf
F3_weapons_v2/materials/models/halokiller38/baton_n.vtf
F3_weapons_v2/materials/models/halokiller38/protonaxe.vmt
F3_weapons_v2/materials/models/halokiller38/arcwelder.vmt
F3_weapons_v2/materials/models/halokiller38/plasmarifle01.vtf
F3_weapons_v2/materials/models/halokiller38/sniperrifleclip.vtf
F3_weapons_v2/materials/models/halokiller38/cleaver.vmt
F3_weapons_v2/materials/models/halokiller38/flamesmed01.vmt
F3_weapons_v2/materials/models/halokiller38/10mmpistolsilencer.vmt
F3_weapons_v2/materials/models/halokiller38/scattergun_n.vtf
F3_weapons_v2/materials/models/halokiller38/1stpersonrailwayrifle.vmt
F3_weapons_v2/materials/models/halokiller38/knifespear.vmt
F3_weapons_v2/materials/models/halokiller38/magnumspeedloader.vtf
F3_weapons_v2/materials/models/halokiller38/chainsaw_n.vtf
F3_weapons_v2/materials/models/halokiller38/127smg_n.vtf
F3_weapons_v2/materials/models/halokiller38/euclidfinder.vtf
F3_weapons_v2/materials/models/halokiller38/leadpipe.vtf
F3_weapons_v2/materials/models/halokiller38/machete_n.vtf
F3_weapons_v2/materials/models/halokiller38/shockbaton.vtf
F3_weapons_v2/materials/models/halokiller38/flamer_n.vtf
F3_weapons_v2/materials/models/halokiller38/sniperrifle_n.vtf
F3_weapons_v2/materials/models/halokiller38/tireiron.vtf
F3_weapons_v2/materials/models/halokiller38/1stpersonlincolnrifle_n.vtf
F3_weapons_v2/materials/models/halokiller38/22smg.vtf
F3_weapons_v2/materials/models/halokiller38/leadpipeunique.vtf
F3_weapons_v2/materials/models/halokiller38/mantisgauntlet_n.vtf
F3_weapons_v2/materials/models/halokiller38/katana.vtf
F3_weapons_v2/materials/models/halokiller38/1stpersonplasmacaster.vmt
F3_weapons_v2/materials/models/halokiller38/1stpersonassualtcarbine.vtf
F3_weapons_v2/materials/models/halokiller38/microfusioncell01.vtf
F3_weapons_v2/materials/models/halokiller38/1stpersonassaultrifle02bump.vtf
F3_weapons_v2/materials/models/halokiller38/baseballbatdirty_n.vtf
F3_weapons_v2/materials/models/halokiller38/knifespear.vtf
F3_weapons_v2/materials/models/halokiller38/battleriflerec_n.vtf
F3_weapons_v2/materials/models/halokiller38/alienpistolclip_n.vtf
F3_weapons_v2/materials/models/halokiller38/laserpdw_n.vtf
F3_weapons_v2/materials/models/halokiller38/battlerifleallmods.vmt
F3_weapons_v2/materials/models/halokiller38/nukagrenade.vtf
F3_weapons_v2/materials/models/halokiller38/arcwelder_n.vtf
F3_weapons_v2/materials/models/halokiller38/kitchenknife.vmt
F3_weapons_v2/materials/models/halokiller38/switchblade.vmt
F3_weapons_v2/materials/models/halokiller38/antimaterialrifle.vmt
F3_weapons_v2/materials/models/halokiller38/1stpersonlincolnrifle.vtf
F3_weapons_v2/materials/models/halokiller38/supersledge_n.vtf
F3_weapons_v2/materials/models/halokiller38/flamer.vtf
F3_weapons_v2/materials/models/halokiller38/minepulse_n.vtf
F3_weapons_v2/materials/models/halokiller38/brushgunstocksaddle.vmt
F3_weapons_v2/materials/models/halokiller38/minigununiquedecal.vtf
F3_weapons_v2/materials/models/halokiller38/dresscane.vmt
F3_weapons_v2/materials/models/halokiller38/fxplasma.vmt
F3_weapons_v2/materials/models/halokiller38/1stperson32snubnose_n.vtf
F3_weapons_v2/materials/models/halokiller38/rangersequoia_n.vtf
F3_weapons_v2/materials/models/halokiller38/shishkebab.vmt
F3_weapons_v2/materials/models/halokiller38/1stperson10mmlaserredlight.vtf
F3_weapons_v2/materials/models/halokiller38/straightrazor_n.vtf
F3_weapons_v2/materials/models/halokiller38/lilyweapon.vtf
F3_weapons_v2/materials/models/halokiller38/1stpersonalienblaster.vtf
F3_weapons_v2/materials/models/halokiller38/10mmsmg_n.vtf
F3_weapons_v2/materials/models/halokiller38/ripper_n.vtf
F3_weapons_v2/materials/models/halokiller38/1stpersonalienblaster.vmt
F3_weapons_v2/materials/models/halokiller38/huntingrifleclip.vtf
F3_weapons_v2/materials/models/halokiller38/pulsegrenade.vmt
F3_weapons_v2/materials/models/halokiller38/supersledge.vtf
F3_weapons_v2/materials/models/halokiller38/peepsight.vmt
F3_weapons_v2/materials/models/halokiller38/9mmsmgunique.vtf
F3_weapons_v2/materials/models/halokiller38/combatshotgun_n.vtf
F3_weapons_v2/materials/models/halokiller38/horseclub.vmt
F3_weapons_v2/materials/models/halokiller38/plasmarifle02.vmt
F3_weapons_v2/materials/models/halokiller38/1stpersonminigun.vtf
F3_weapons_v2/materials/models/halokiller38/1stpersondartgun_n.vtf
F3_weapons_v2/materials/models/halokiller38/incendiarygrenade.vtf




F4_weapons_v2.rar
1380
2020-09-26 10:52:38
397.5 MB
File contents:

F4_weapons_v2/models/mosi/fallout4/props/weapons/melee/rockethammer.vvd
F4_weapons_v2/models/mosi/fallout4/props/weapons/melee/board.sw.vtx
F4_weapons_v2/models/mosi/fallout4/props/weapons/melee/baseballbat.phy
F4_weapons_v2/models/mosi/fallout4/props/weapons/melee/deathclawgauntlet.dx90.vtx
F4_weapons_v2/models/mosi/fallout4/props/weapons/melee/sledgehammer.dx90.vtx
F4_weapons_v2/models/mosi/fallout4/props/weapons/melee/chineeseofficersword.phy
F4_weapons_v2/models/mosi/fallout4/props/weapons/melee/chineeseofficersword.sw.vtx
F4_weapons_v2/models/mosi/fallout4/props/weapons/melee/pipewrench.dx80.vtx
F4_weapons_v2/models/mosi/fallout4/props/weapons/melee/poolcue.mdl
F4_weapons_v2/models/mosi/fallout4/props/weapons/melee/deathclawgauntlet.dx80.vtx
F4_weapons_v2/models/mosi/fallout4/props/weapons/melee/boxingglove.dx90.vtx
F4_weapons_v2/models/mosi/fallout4/props/weapons/melee/rollingpin.phy
F4_weapons_v2/models/mosi/fallout4/props/weapons/melee/walkingcane.sw.vtx
F4_weapons_v2/models/mosi/fallout4/props/weapons/melee/leadpipe.dx90.vtx
F4_weapons_v2/models/mosi/fallout4/props/weapons/melee/revolutionarysword.dx80.vtx
F4_weapons_v2/models/mosi/fallout4/props/weapons/melee/polehook.dx80.vtx
F4_weapons_v2/models/mosi/fallout4/props/weapons/melee/tireiron.vvd
F4_weapons_v2/models/mosi/fallout4/props/weapons/melee/chineeseofficersword.dx90.vtx
F4_weapons_v2/models/mosi/fallout4/props/weapons/melee/board.phy
F4_weapons_v2/models/mosi/fallout4/props/weapons/melee/commiewhacker.phy
F4_weapons_v2/models/mosi/fallout4/props/weapons/melee/leadpipe.phy
F4_weapons_v2/models/mosi/fallout4/props/weapons/melee/tireiron.sw.vtx
F4_weapons_v2/models/mosi/fallout4/props/weapons/melee/baton.sw.vtx
F4_weapons_v2/models/mosi/fallout4/props/weapons/melee/deathclawgauntlet.mdl
F4_weapons_v2/models/mosi/fallout4/props/weapons/melee/shishkebab.vvd
F4_weapons_v2/models/mosi/fallout4/props/weapons/melee/shishkebab.dx80.vtx
F4_weapons_v2/models/mosi/fallout4/props/weapons/melee/sledgehammer.mdl
F4_weapons_v2/models/mosi/fallout4/props/weapons/melee/polehook.dx90.vtx
F4_weapons_v2/models/mosi/fallout4/props/weapons/melee/board.dx80.vtx
F4_weapons_v2/models/mosi/fallout4/props/weapons/melee/boxingglove.sw.vtx
F4_weapons_v2/models/mosi/fallout4/props/weapons/melee/sledgehammer.dx80.vtx
F4_weapons_v2/models/mosi/fallout4/props/weapons/melee/leadpipe.mdl
F4_weapons_v2/models/mosi/fallout4/props/weapons/melee/powerfist.vvd
F4_weapons_v2/models/mosi/fallout4/props/weapons/melee/switchblade.vvd
F4_weapons_v2/models/mosi/fallout4/props/weapons/melee/leadpipe.vvd
F4_weapons_v2/models/mosi/fallout4/props/weapons/melee/baton.phy
F4_weapons_v2/models/mosi/fallout4/props/weapons/melee/tireiron.dx80.vtx
F4_weapons_v2/models/mosi/fallout4/props/weapons/melee/machete.dx80.vtx
F4_weapons_v2/models/mosi/fallout4/props/weapons/melee/sledgehammer.vvd
F4_weapons_v2/models/mosi/fallout4/props/weapons/melee/revolutionarysword.dx90.vtx
F4_weapons_v2/models/mosi/fallout4/props/weapons/melee/pipewrench.dx90.vtx
F4_weapons_v2/models/mosi/fallout4/props/weapons/melee/polehook.vvd
F4_weapons_v2/models/mosi/fallout4/props/weapons/melee/rollingpin.dx90.vtx
F4_weapons_v2/models/mosi/fallout4/props/weapons/melee/deathclawgauntlet.sw.vtx
F4_weapons_v2/models/mosi/fallout4/props/weapons/melee/baton.mdl
F4_weapons_v2/models/mosi/fallout4/props/weapons/melee/powerfist.dx90.vtx
F4_weapons_v2/models/mosi/fallout4/props/weapons/melee/pipewrench.mdl
F4_weapons_v2/models/mosi/fallout4/props/weapons/melee/machete.phy
F4_weapons_v2/models/mosi/fallout4/props/weapons/melee/grognakaxe.vvd
F4_weapons_v2/models/mosi/fallout4/props/weapons/melee/shishkebab.dx90.vtx
F4_weapons_v2/models/mosi/fallout4/props/weapons/melee/switchblade.mdl
F4_weapons_v2/models/mosi/fallout4/props/weapons/melee/polehook.phy
F4_weapons_v2/models/mosi/fallout4/props/weapons/melee/grognakaxe.dx90.vtx
F4_weapons_v2/models/mosi/fallout4/props/weapons/melee/machete.mdl
F4_weapons_v2/models/mosi/fallout4/props/weapons/melee/rollingpin.vvd
F4_weapons_v2/models/mosi/fallout4/props/weapons/melee/rollingpin.sw.vtx
F4_weapons_v2/models/mosi/fallout4/props/weapons/melee/poolcue.sw.vtx
F4_weapons_v2/models/mosi/fallout4/props/weapons/melee/pipewrench.sw.vtx
F4_weapons_v2/models/mosi/fallout4/props/weapons/melee/walkingcane.mdl
F4_weapons_v2/models/mosi/fallout4/props/weapons/melee/baseballbat.dx90.vtx
F4_weapons_v2/models/mosi/fallout4/props/weapons/melee/machete.dx90.vtx
F4_weapons_v2/models/mosi/fallout4/props/weapons/melee/walkingcane.dx90.vtx
F4_weapons_v2/models/mosi/fallout4/props/weapons/melee/switchblade.phy
F4_weapons_v2/models/mosi/fallout4/props/weapons/melee/knife.sw.vtx
F4_weapons_v2/models/mosi/fallout4/props/weapons/melee/grognakaxe.dx80.vtx
F4_weapons_v2/models/mosi/fallout4/props/weapons/melee/chineeseofficersword.vvd
F4_weapons_v2/models/mosi/fallout4/props/weapons/melee/walkingcane.phy
F4_weapons_v2/models/mosi/fallout4/props/weapons/melee/powerfist.sw.vtx
F4_weapons_v2/models/mosi/fallout4/props/weapons/melee/grognakaxe.phy
F4_weapons_v2/models/mosi/fallout4/props/weapons/melee/leadpipe.dx80.vtx
F4_weapons_v2/models/mosi/fallout4/props/weapons/melee/boxingglove.mdl
F4_weapons_v2/models/mosi/fallout4/props/weapons/melee/shishkebab.mdl
F4_weapons_v2/models/mosi/fallout4/props/weapons/melee/deathclawgauntlet.vvd
F4_weapons_v2/models/mosi/fallout4/props/weapons/melee/knuckles.vvd
F4_weapons_v2/models/mosi/fallout4/props/weapons/melee/tireiron.phy
F4_weapons_v2/models/mosi/fallout4/props/weapons/melee/tireiron.dx90.vtx
F4_weapons_v2/models/mosi/fallout4/props/weapons/melee/commiewhacker.dx90.vtx
F4_weapons_v2/models/mosi/fallout4/props/weapons/melee/rockethammer.mdl
F4_weapons_v2/models/mosi/fallout4/props/weapons/melee/machete.sw.vtx
F4_weapons_v2/models/mosi/fallout4/props/weapons/melee/baton.vvd
F4_weapons_v2/models/mosi/fallout4/props/weapons/melee/powerfist.mdl
F4_weapons_v2/models/mosi/fallout4/props/weapons/melee/switchblade.dx80.vtx
F4_weapons_v2/models/mosi/fallout4/props/weapons/melee/poolcue.dx90.vtx
F4_weapons_v2/models/mosi/fallout4/props/weapons/melee/tireiron.mdl
F4_weapons_v2/models/mosi/fallout4/props/weapons/melee/chineeseofficersword.mdl
F4_weapons_v2/models/mosi/fallout4/props/weapons/melee/revolutionarysword.mdl
F4_weapons_v2/models/mosi/fallout4/props/weapons/melee/commiewhacker.sw.vtx
F4_weapons_v2/models/mosi/fallout4/props/weapons/melee/revolutionarysword.sw.vtx
F4_weapons_v2/models/mosi/fallout4/props/weapons/melee/pipewrench.vvd
F4_weapons_v2/models/mosi/fallout4/props/weapons/melee/rollingpin.mdl
F4_weapons_v2/models/mosi/fallout4/props/weapons/melee/baton.dx90.vtx
F4_weapons_v2/models/mosi/fallout4/props/weapons/melee/baseballbat.vvd
F4_weapons_v2/models/mosi/fallout4/props/weapons/melee/knife.phy
F4_weapons_v2/models/mosi/fallout4/props/weapons/melee/sledgehammer.phy
F4_weapons_v2/models/mosi/fallout4/props/weapons/melee/rollingpin.dx80.vtx
F4_weapons_v2/models/mosi/fallout4/props/weapons/melee/knife.dx90.vtx
F4_weapons_v2/models/mosi/fallout4/props/weapons/melee/polehook.sw.vtx
F4_weapons_v2/models/mosi/fallout4/props/weapons/melee/poolcue.vvd
F4_weapons_v2/models/mosi/fallout4/props/weapons/melee/knuckles.dx80.vtx
F4_weapons_v2/models/mosi/fallout4/props/weapons/melee/chineeseofficersword.dx80.vtx
F4_weapons_v2/models/mosi/fallout4/props/weapons/melee/commiewhacker.mdl
F4_weapons_v2/models/mosi/fallout4/props/weapons/melee/switchblade.dx90.vtx
F4_weapons_v2/models/mosi/fallout4/props/weapons/melee/knife.mdl
F4_weapons_v2/models/mosi/fallout4/props/weapons/melee/rockethammer.sw.vtx
F4_weapons_v2/models/mosi/fallout4/props/weapons/melee/poolcue.dx80.vtx
F4_weapons_v2/models/mosi/fallout4/props/weapons/melee/deathclawgauntlet.phy
F4_weapons_v2/models/mosi/fallout4/props/weapons/melee/board.dx90.vtx
F4_weapons_v2/models/mosi/fallout4/props/weapons/melee/rockethammer.dx90.vtx
F4_weapons_v2/models/mosi/fallout4/props/weapons/melee/rockethammer.dx80.vtx
F4_weapons_v2/models/mosi/fallout4/props/weapons/melee/switchblade.sw.vtx
F4_weapons_v2/models/mosi/fallout4/props/weapons/melee/revolutionarysword.vvd
F4_weapons_v2/models/mosi/fallout4/props/weapons/melee/baseballbat.mdl
F4_weapons_v2/models/mosi/fallout4/props/weapons/melee/knuckles.mdl
F4_weapons_v2/models/mosi/fallout4/props/weapons/melee/knuckles.phy
F4_weapons_v2/models/mosi/fallout4/props/weapons/melee/baton.dx80.vtx
F4_weapons_v2/models/mosi/fallout4/props/weapons/melee/boxingglove.vvd
F4_weapons_v2/models/mosi/fallout4/props/weapons/melee/powerfist.phy
F4_weapons_v2/models/mosi/fallout4/props/weapons/melee/walkingcane.vvd
F4_weapons_v2/models/mosi/fallout4/props/weapons/melee/board.mdl
F4_weapons_v2/models/mosi/fallout4/props/weapons/melee/board.vvd
F4_weapons_v2/models/mosi/fallout4/props/weapons/melee/pipewrench.phy
F4_weapons_v2/models/mosi/fallout4/props/weapons/melee/powerfist.dx80.vtx
F4_weapons_v2/models/mosi/fallout4/props/weapons/melee/grognakaxe.mdl
F4_weapons_v2/models/mosi/fallout4/props/weapons/melee/knuckles.dx90.vtx
F4_weapons_v2/models/mosi/fallout4/props/weapons/melee/grognakaxe.sw.vtx
F4_weapons_v2/models/mosi/fallout4/props/weapons/melee/poolcue.phy
F4_weapons_v2/models/mosi/fallout4/props/weapons/melee/boxingglove.dx80.vtx
F4_weapons_v2/models/mosi/fallout4/props/weapons/melee/commiewhacker.vvd
F4_weapons_v2/models/mosi/fallout4/props/weapons/melee/shishkebab.phy
F4_weapons_v2/models/mosi/fallout4/props/weapons/melee/knife.vvd
F4_weapons_v2/models/mosi/fallout4/props/weapons/melee/rockethammer.phy
F4_weapons_v2/models/mosi/fallout4/props/weapons/melee/sledgehammer.sw.vtx
F4_weapons_v2/models/mosi/fallout4/props/weapons/melee/revolutionarysword.phy
F4_weapons_v2/models/mosi/fallout4/props/weapons/melee/boxingglove.phy
F4_weapons_v2/models/mosi/fallout4/props/weapons/melee/shishkebab.sw.vtx
F4_weapons_v2/models/mosi/fallout4/props/weapons/melee/walkingcane.dx80.vtx
F4_weapons_v2/models/mosi/fallout4/props/weapons/melee/knife.dx80.vtx
F4_weapons_v2/models/mosi/fallout4/props/weapons/melee/leadpipe.sw.vtx
F4_weapons_v2/models/mosi/fallout4/props/weapons/melee/commiewhacker.dx80.vtx
F4_weapons_v2/models/mosi/fallout4/props/weapons/melee/polehook.mdl
F4_weapons_v2/models/mosi/fallout4/props/weapons/melee/machete.vvd
F4_weapons_v2/models/mosi/fallout4/props/weapons/melee/knuckles.sw.vtx
F4_weapons_v2/models/ninja/fo4/weapons/Laser_Gatling.sw.vtx
F4_weapons_v2/models/ninja/fo4/weapons/Laser_Rifle.dx90.vtx
F4_weapons_v2/models/ninja/fo4/weapons/plasma_rifle.mdl
F4_weapons_v2/models/ninja/fo4/weapons/Minigun.sw.vtx
F4_weapons_v2/models/ninja/fo4/weapons/laser_gatling.vvd
F4_weapons_v2/models/ninja/fo4/weapons/Plasma_Rifle.dx80.vtx
F4_weapons_v2/models/ninja/fo4/weapons/plasma_rifle.vvd
F4_weapons_v2/models/ninja/fo4/weapons/minigun.mdl
F4_weapons_v2/models/ninja/fo4/weapons/Minigun.dx90.vtx
F4_weapons_v2/models/ninja/fo4/weapons/laser_rifle.vvd
F4_weapons_v2/models/ninja/fo4/weapons/Laser_Gatling.phy
F4_weapons_v2/models/ninja/fo4/weapons/Plasma_Rifle.dx90.vtx
F4_weapons_v2/models/ninja/fo4/weapons/Plasma_Rifle.phy
F4_weapons_v2/models/ninja/fo4/weapons/Minigun.phy
F4_weapons_v2/models/ninja/fo4/weapons/Laser_Gatling.dx80.vtx
F4_weapons_v2/models/ninja/fo4/weapons/Laser_Rifle.dx80.vtx
F4_weapons_v2/models/ninja/fo4/weapons/laser_gatling.mdl
F4_weapons_v2/models/ninja/fo4/weapons/Laser_Rifle.sw.vtx
F4_weapons_v2/models/ninja/fo4/weapons/Laser_Rifle.phy
F4_weapons_v2/models/ninja/fo4/weapons/Plasma_Rifle.sw.vtx
F4_weapons_v2/models/ninja/fo4/weapons/Minigun.dx80.vtx
F4_weapons_v2/models/ninja/fo4/weapons/minigun.vvd
F4_weapons_v2/models/ninja/fo4/weapons/Laser_Gatling.dx90.vtx
F4_weapons_v2/models/ninja/fo4/weapons/laser_rifle.mdl
F4_weapons_v2/materials/models/mosi/fallout4/props/weapons/melee/bat1.vtf
F4_weapons_v2/materials/models/mosi/fallout4/props/weapons/melee/rev2.vtf
F4_weapons_v2/materials/models/mosi/fallout4/props/weapons/melee/batmetal.vmt
F4_weapons_v2/materials/models/mosi/fallout4/props/weapons/melee/knife_serrated_n.vtf
F4_weapons_v2/materials/models/mosi/fallout4/props/weapons/melee/chain.vtf
F4_weapons_v2/materials/models/mosi/fallout4/props/weapons/melee/wrench_misc.vmt
F4_weapons_v2/materials/models/mosi/fallout4/props/weapons/melee/pipe_bolts_n.vtf
F4_weapons_v2/materials/models/mosi/fallout4/props/weapons/melee/machete_sacrificial_n.vtf
F4_weapons_v2/materials/models/mosi/fallout4/props/weapons/melee/machete_sacrificial.vmt
F4_weapons_v2/materials/models/mosi/fallout4/props/weapons/melee/bat3.vmt
F4_weapons_v2/materials/models/mosi/fallout4/props/weapons/melee/sledge_cinder2_n.vtf
F4_weapons_v2/materials/models/mosi/fallout4/props/weapons/melee/grognakaxe_n.vtf
F4_weapons_v2/materials/models/mosi/fallout4/props/weapons/melee/wrench_hook.vtf
F4_weapons_v2/materials/models/mosi/fallout4/props/weapons/melee/bat3.vtf
F4_weapons_v2/materials/models/mosi/fallout4/props/weapons/melee/wrench_hook_n.vtf
F4_weapons_v2/materials/models/mosi/fallout4/props/weapons/melee/knuckle.vmt
F4_weapons_v2/materials/models/mosi/fallout4/props/weapons/melee/rollingpin_n.vtf
F4_weapons_v2/materials/models/mosi/fallout4/props/weapons/melee/serratedblade_n.vtf
F4_weapons_v2/materials/models/mosi/fallout4/props/weapons/melee/pipe_gears_n.vtf
F4_weapons_v2/materials/models/mosi/fallout4/props/weapons/melee/grognakaxe.vmt
F4_weapons_v2/materials/models/mosi/fallout4/props/weapons/melee/copperwire.vmt
F4_weapons_v2/materials/models/mosi/fallout4/props/weapons/melee/knife_handle.vmt
F4_weapons_v2/materials/models/mosi/fallout4/props/weapons/melee/pipe_gears.vmt
F4_weapons_v2/materials/models/mosi/fallout4/props/weapons/melee/rev2.vmt
F4_weapons_v2/materials/models/mosi/fallout4/props/weapons/melee/batworldseries_n.vtf
F4_weapons_v2/materials/models/mosi/fallout4/props/weapons/melee/bat_n.vtf
F4_weapons_v2/materials/models/mosi/fallout4/props/weapons/melee/blank.vmt
F4_weapons_v2/materials/models/mosi/fallout4/props/weapons/melee/switchblade_n.vtf
F4_weapons_v2/materials/models/mosi/fallout4/props/weapons/melee/bat_sawblade.vmt
F4_weapons_v2/materials/models/mosi/fallout4/props/weapons/melee/bolts_n.vtf
F4_weapons_v2/materials/models/mosi/fallout4/props/weapons/melee/grognakhandle.vmt
F4_weapons_v2/materials/models/mosi/fallout4/props/weapons/melee/bolts2_n.vtf
F4_weapons_v2/materials/models/mosi/fallout4/props/weapons/melee/sledge_cinder2.vmt
F4_weapons_v2/materials/models/mosi/fallout4/props/weapons/melee/tireiron_n.vtf
F4_weapons_v2/materials/models/mosi/fallout4/props/weapons/melee/machete_serrated_n.vtf
F4_weapons_v2/materials/models/mosi/fallout4/props/weapons/melee/sledge_strap.vmt
F4_weapons_v2/materials/models/mosi/fallout4/props/weapons/melee/batp2.vmt
F4_weapons_v2/materials/models/mosi/fallout4/props/weapons/melee/bat5.vmt
F4_weapons_v2/materials/models/mosi/fallout4/props/weapons/melee/bolts2.vtf
F4_weapons_v2/materials/models/mosi/fallout4/props/weapons/melee/powerfist_rebar.vmt
F4_weapons_v2/materials/models/mosi/fallout4/props/weapons/melee/knife_serrated.vtf
F4_weapons_v2/materials/models/mosi/fallout4/props/weapons/melee/poolcue_barbedwire.vmt
F4_weapons_v2/materials/models/mosi/fallout4/props/weapons/melee/powerfist.vtf
F4_weapons_v2/materials/models/mosi/fallout4/props/weapons/melee/knife_n.vtf
F4_weapons_v2/materials/models/mosi/fallout4/props/weapons/melee/rocketham_coil.vtf
F4_weapons_v2/materials/models/mosi/fallout4/props/weapons/melee/sawblade_n.vtf
F4_weapons_v2/materials/models/mosi/fallout4/props/weapons/melee/machete_hilt.vmt
F4_weapons_v2/materials/models/mosi/fallout4/props/weapons/melee/fishgaff.vtf
F4_weapons_v2/materials/models/mosi/fallout4/props/weapons/melee/bat4.vtf
F4_weapons_v2/materials/models/mosi/fallout4/props/weapons/melee/switchblade.vtf
F4_weapons_v2/materials/models/mosi/fallout4/props/weapons/melee/poolcue_blade.vtf
F4_weapons_v2/materials/models/mosi/fallout4/props/weapons/melee/rev_n.vtf
F4_weapons_v2/materials/models/mosi/fallout4/props/weapons/melee/machete_serrated.vmt
F4_weapons_v2/materials/models/mosi/fallout4/props/weapons/melee/chinasword.vmt
F4_weapons_v2/materials/models/mosi/fallout4/props/weapons/melee/knife_serrated.vmt
F4_weapons_v2/materials/models/mosi/fallout4/props/weapons/melee/sledge_n.vtf
F4_weapons_v2/materials/models/mosi/fallout4/props/weapons/melee/sledge.vmt
F4_weapons_v2/materials/models/mosi/fallout4/props/weapons/melee/baton_stun.vtf
F4_weapons_v2/materials/models/mosi/fallout4/props/weapons/melee/powerfist_rebar.vtf
F4_weapons_v2/materials/models/mosi/fallout4/props/weapons/melee/machete_serrated.vtf
F4_weapons_v2/materials/models/mosi/fallout4/props/weapons/melee/rocketham_glow.vtf
F4_weapons_v2/materials/models/mosi/fallout4/props/weapons/melee/batworldseries.vmt
F4_weapons_v2/materials/models/mosi/fallout4/props/weapons/melee/deathclaw.vmt
F4_weapons_v2/materials/models/mosi/fallout4/props/weapons/melee/rev_serrated_n.vtf
F4_weapons_v2/materials/models/mosi/fallout4/props/weapons/melee/sledge_tenderizer.vmt
F4_weapons_v2/materials/models/mosi/fallout4/props/weapons/melee/bat_razor.vmt
F4_weapons_v2/materials/models/mosi/fallout4/props/weapons/melee/rocketham_stun.vmt
F4_weapons_v2/materials/models/mosi/fallout4/props/weapons/melee/sledge_cinder.vtf
F4_weapons_v2/materials/models/mosi/fallout4/props/weapons/melee/sledge2.vtf
F4_weapons_v2/materials/models/mosi/fallout4/props/weapons/melee/commiewhacker_n.vtf
F4_weapons_v2/materials/models/mosi/fallout4/props/weapons/melee/rocketham_glow.vmt
F4_weapons_v2/materials/models/mosi/fallout4/props/weapons/melee/bat_grip_leather.vmt
F4_weapons_v2/materials/models/mosi/fallout4/props/weapons/melee/tireiron_hatchet.vmt
F4_weapons_v2/materials/models/mosi/fallout4/props/weapons/melee/rev_serrated.vmt
F4_weapons_v2/materials/models/mosi/fallout4/props/weapons/melee/chinasword_serrated.vmt
F4_weapons_v2/materials/models/mosi/fallout4/props/weapons/melee/pipe_bolts.vmt
F4_weapons_v2/materials/models/mosi/fallout4/props/weapons/melee/grognakaxe.vtf
F4_weapons_v2/materials/models/mosi/fallout4/props/weapons/melee/sawblade.vtf
F4_weapons_v2/materials/models/mosi/fallout4/props/weapons/melee/batp5.vmt
F4_weapons_v2/materials/models/mosi/fallout4/props/weapons/melee/rollingpin.vtf
F4_weapons_v2/materials/models/mosi/fallout4/props/weapons/melee/rev.vtf
F4_weapons_v2/materials/models/mosi/fallout4/props/weapons/melee/batp5.vtf
F4_weapons_v2/materials/models/mosi/fallout4/props/weapons/melee/tireiron.vmt
F4_weapons_v2/materials/models/mosi/fallout4/props/weapons/melee/baton_stun_n.vtf
F4_weapons_v2/materials/models/mosi/fallout4/props/weapons/melee/tireiron2.vmt
F4_weapons_v2/materials/models/mosi/fallout4/props/weapons/melee/bat_grip_tape.vmt
F4_weapons_v2/materials/models/mosi/fallout4/props/weapons/melee/pipe_n.vtf
F4_weapons_v2/materials/models/mosi/fallout4/props/weapons/melee/sledge_strap.vtf
F4_weapons_v2/materials/models/mosi/fallout4/props/weapons/melee/batp2.vtf
F4_weapons_v2/materials/models/mosi/fallout4/props/weapons/melee/knife_stealth_n.vtf
F4_weapons_v2/materials/models/mosi/fallout4/props/weapons/melee/sledge_strap_n.vtf
F4_weapons_v2/materials/models/mosi/fallout4/props/weapons/melee/batmisc_n.vtf
F4_weapons_v2/materials/models/mosi/fallout4/props/weapons/melee/batswatter_n.vtf
F4_weapons_v2/materials/models/mosi/fallout4/props/weapons/melee/sledge_cinder.vmt
F4_weapons_v2/materials/models/mosi/fallout4/props/weapons/melee/sledge.vtf
F4_weapons_v2/materials/models/mosi/fallout4/props/weapons/melee/board.vmt
F4_weapons_v2/materials/models/mosi/fallout4/props/weapons/melee/machete.vtf
F4_weapons_v2/materials/models/mosi/fallout4/props/weapons/melee/switchblade_serrated.vmt
F4_weapons_v2/materials/models/mosi/fallout4/props/weapons/melee/batp4.vmt
F4_weapons_v2/materials/models/mosi/fallout4/props/weapons/melee/batp1.vmt
F4_weapons_v2/materials/models/mosi/fallout4/props/weapons/melee/batmetal_n.vtf
F4_weapons_v2/materials/models/mosi/fallout4/props/weapons/melee/barbedwire.vtf
F4_weapons_v2/materials/models/mosi/fallout4/props/weapons/melee/sledge_tenderizer.vtf
F4_weapons_v2/materials/models/mosi/fallout4/props/weapons/melee/razor_n.vtf
F4_weapons_v2/materials/models/mosi/fallout4/props/weapons/melee/machete_hilt_n.vtf
F4_weapons_v2/materials/models/mosi/fallout4/props/weapons/melee/knuckles.vtf
F4_weapons_v2/materials/models/mosi/fallout4/props/weapons/melee/rocketham.vtf
F4_weapons_v2/materials/models/mosi/fallout4/props/weapons/melee/rev.vmt
F4_weapons_v2/materials/models/mosi/fallout4/props/weapons/melee/batswatter.vtf
F4_weapons_v2/materials/models/mosi/fallout4/props/weapons/melee/tireiron2_n.vtf
F4_weapons_v2/materials/models/mosi/fallout4/props/weapons/melee/knuckles_tenderizer_n.vtf
F4_weapons_v2/materials/models/mosi/fallout4/props/weapons/melee/poolcue.vmt
F4_weapons_v2/materials/models/mosi/fallout4/props/weapons/melee/batswatter.vmt
F4_weapons_v2/materials/models/mosi/fallout4/props/weapons/melee/rocketham_n.vtf
F4_weapons_v2/materials/models/mosi/fallout4/props/weapons/melee/knuckles_n.vtf
F4_weapons_v2/materials/models/mosi/fallout4/props/weapons/melee/bat4.vmt
F4_weapons_v2/materials/models/mosi/fallout4/props/weapons/melee/deathclaw_n.vtf
F4_weapons_v2/materials/models/mosi/fallout4/props/weapons/melee/barbedwire.vmt
F4_weapons_v2/materials/models/mosi/fallout4/props/weapons/melee/fusion_core.vmt
F4_weapons_v2/materials/models/mosi/fallout4/props/weapons/melee/rocketham_stun_n.vtf
F4_weapons_v2/materials/models/mosi/fallout4/props/weapons/melee/powerfist_rebar_n.vtf
F4_weapons_v2/materials/models/mosi/fallout4/props/weapons/melee/chinasword_n.vtf
F4_weapons_v2/materials/models/mosi/fallout4/props/weapons/melee/baton.vtf
F4_weapons_v2/materials/models/mosi/fallout4/props/weapons/melee/pipe.vtf
F4_weapons_v2/materials/models/mosi/fallout4/props/weapons/melee/bat_barbedwire.vmt
F4_weapons_v2/materials/models/mosi/fallout4/props/weapons/melee/poolcue.vtf
F4_weapons_v2/materials/models/mosi/fallout4/props/weapons/melee/pipe.vmt
F4_weapons_v2/materials/models/mosi/fallout4/props/weapons/melee/board2.vmt
F4_weapons_v2/materials/models/mosi/fallout4/props/weapons/melee/chinasword_hilt.vmt
F4_weapons_v2/materials/models/mosi/fallout4/props/weapons/melee/commiewhacker.vtf
F4_weapons_v2/materials/models/mosi/fallout4/props/weapons/melee/poolcue_n.vtf
F4_weapons_v2/materials/models/mosi/fallout4/props/weapons/melee/machete.vmt
F4_weapons_v2/materials/models/mosi/fallout4/props/weapons/melee/chinasword_stun.vmt
F4_weapons_v2/materials/models/mosi/fallout4/props/weapons/melee/powerfist.vmt
F4_weapons_v2/materials/models/mosi/fallout4/props/weapons/melee/blood_n.vtf
F4_weapons_v2/materials/models/mosi/fallout4/props/weapons/melee/bat2.vmt
F4_weapons_v2/materials/models/mosi/fallout4/props/weapons/melee/boxingglove_n.vtf
F4_weapons_v2/materials/models/mosi/fallout4/props/weapons/melee/rocketham_coil_n.vtf
F4_weapons_v2/materials/models/mosi/fallout4/props/weapons/melee/sledge_cinder_n.vtf
F4_weapons_v2/materials/models/mosi/fallout4/props/weapons/melee/switchblade_serrated_n.vtf
F4_weapons_v2/materials/models/mosi/fallout4/props/weapons/melee/fishgaff.vmt
F4_weapons_v2/materials/models/mosi/fallout4/props/weapons/melee/boxingglove.vmt
F4_weapons_v2/materials/models/mosi/fallout4/props/weapons/melee/rollingpinmetal.vtf
F4_weapons_v2/materials/models/mosi/fallout4/props/weapons/melee/wrench.vtf
F4_weapons_v2/materials/models/mosi/fallout4/props/weapons/melee/board.vtf
F4_weapons_v2/materials/models/mosi/fallout4/props/weapons/melee/nails.vtf
F4_weapons_v2/materials/models/mosi/fallout4/props/weapons/melee/batp4.vtf
F4_weapons_v2/materials/models/mosi/fallout4/props/weapons/melee/knuckle_spikes.vtf
F4_weapons_v2/materials/models/mosi/fallout4/props/weapons/melee/shishkebab_n.vtf
F4_weapons_v2/materials/models/mosi/fallout4/props/weapons/melee/rev2_n.vtf
F4_weapons_v2/materials/models/mosi/fallout4/props/weapons/melee/walkingcane_n.vtf
F4_weapons_v2/materials/models/mosi/fallout4/props/weapons/melee/batworldseries.vtf
F4_weapons_v2/materials/models/mosi/fallout4/props/weapons/melee/rocketham_stun.vtf
F4_weapons_v2/materials/models/mosi/fallout4/props/weapons/melee/knuckle_spikes.vmt
F4_weapons_v2/materials/models/mosi/fallout4/props/weapons/melee/rollingpin.vmt
F4_weapons_v2/materials/models/mosi/fallout4/props/weapons/melee/board_spikes_n.vtf
F4_weapons_v2/materials/models/mosi/fallout4/props/weapons/melee/copperwire.vtf
F4_weapons_v2/materials/models/mosi/fallout4/props/weapons/melee/chain_n.vtf
F4_weapons_v2/materials/models/mosi/fallout4/props/weapons/melee/sledge2.vmt
F4_weapons_v2/materials/models/mosi/fallout4/props/weapons/melee/wrench_misc.vtf
F4_weapons_v2/materials/models/mosi/fallout4/props/weapons/melee/machete_hilt.vtf
F4_weapons_v2/materials/models/mosi/fallout4/props/weapons/melee/sledge2_n.vtf
F4_weapons_v2/materials/models/mosi/fallout4/props/weapons/melee/razor.vtf
F4_weapons_v2/materials/models/mosi/fallout4/props/weapons/melee/bat_grip_wrap.vmt
F4_weapons_v2/materials/models/mosi/fallout4/props/weapons/melee/pipe_gears.vtf
F4_weapons_v2/materials/models/mosi/fallout4/props/weapons/melee/machete_sacrificial.vtf
F4_weapons_v2/materials/models/mosi/fallout4/props/weapons/melee/batp_n.vtf
F4_weapons_v2/materials/models/mosi/fallout4/props/weapons/melee/rollingpinmetal.vmt
F4_weapons_v2/materials/models/mosi/fallout4/props/weapons/melee/bat5.vtf
F4_weapons_v2/materials/models/mosi/fallout4/props/weapons/melee/board_spikes.vmt
F4_weapons_v2/materials/models/mosi/fallout4/props/weapons/melee/wrench.vmt
F4_weapons_v2/materials/models/mosi/fallout4/props/weapons/melee/nails_n.vtf
F4_weapons_v2/materials/models/mosi/fallout4/props/weapons/melee/batmisc.vtf
F4_weapons_v2/materials/models/mosi/fallout4/props/weapons/melee/nails.vmt
F4_weapons_v2/materials/models/mosi/fallout4/props/weapons/melee/knife.vtf
F4_weapons_v2/materials/models/mosi/fallout4/props/weapons/melee/blood.vtf
F4_weapons_v2/materials/models/mosi/fallout4/props/weapons/melee/wrench_hook.vmt
F4_weapons_v2/materials/models/mosi/fallout4/props/weapons/melee/rollingpinmetal_n.vtf
F4_weapons_v2/materials/models/mosi/fallout4/props/weapons/melee/baton.vmt
F4_weapons_v2/materials/models/mosi/fallout4/props/weapons/melee/bat2.vtf
F4_weapons_v2/materials/models/mosi/fallout4/props/weapons/melee/poolcue_blade.vmt
F4_weapons_v2/materials/models/mosi/fallout4/props/weapons/melee/tireiron_hatchet_n.vtf
F4_weapons_v2/materials/models/mosi/fallout4/props/weapons/melee/copperwire_n.vtf
F4_weapons_v2/materials/models/mosi/fallout4/props/weapons/melee/batp3.vmt
F4_weapons_v2/materials/models/mosi/fallout4/props/weapons/melee/walkingcane.vtf
F4_weapons_v2/materials/models/mosi/fallout4/props/weapons/melee/chinasword.vtf
F4_weapons_v2/materials/models/mosi/fallout4/props/weapons/melee/bat_chains.vmt
F4_weapons_v2/materials/models/mosi/fallout4/props/weapons/melee/bolts.vmt
F4_weapons_v2/materials/models/mosi/fallout4/props/weapons/melee/switchblade_serrated.vtf
F4_weapons_v2/materials/models/mosi/fallout4/props/weapons/melee/knuckles_tenderizer.vtf
F4_weapons_v2/materials/models/mosi/fallout4/props/weapons/melee/tireiron2.vtf
F4_weapons_v2/materials/models/mosi/fallout4/props/weapons/melee/barbedwire_n.vtf
F4_weapons_v2/materials/models/mosi/fallout4/props/weapons/melee/poolcue_blade_n.vtf
F4_weapons_v2/materials/models/mosi/fallout4/props/weapons/melee/batp3.vtf
F4_weapons_v2/materials/models/mosi/fallout4/props/weapons/melee/rev_serrated.vtf
F4_weapons_v2/materials/models/mosi/fallout4/props/weapons/melee/board_spikes.vtf
F4_weapons_v2/materials/models/mosi/fallout4/props/weapons/melee/serratedblade.vtf
F4_weapons_v2/materials/models/mosi/fallout4/props/weapons/melee/deathclaw.vtf
F4_weapons_v2/materials/models/mosi/fallout4/props/weapons/melee/knuckle_spikes_n.vtf
F4_weapons_v2/materials/models/mosi/fallout4/props/weapons/melee/sledge_tenderizer_n.vtf
F4_weapons_v2/materials/models/mosi/fallout4/props/weapons/melee/knife_stealth.vtf
F4_weapons_v2/materials/models/mosi/fallout4/props/weapons/melee/tireiron_hatchet.vtf
F4_weapons_v2/materials/models/mosi/fallout4/props/weapons/melee/shishkebab.vtf
F4_weapons_v2/materials/models/mosi/fallout4/props/weapons/melee/pipe_bolts.vtf
F4_weapons_v2/materials/models/mosi/fallout4/props/weapons/melee/bolts2.vmt
F4_weapons_v2/materials/models/mosi/fallout4/props/weapons/melee/board2_n.vtf
F4_weapons_v2/materials/models/mosi/fallout4/props/weapons/melee/batp1.vtf
F4_weapons_v2/materials/models/mosi/fallout4/props/weapons/melee/board_n.vtf
F4_weapons_v2/materials/models/mosi/fallout4/props/weapons/melee/bat.vmt
F4_weapons_v2/materials/models/mosi/fallout4/props/weapons/melee/board2.vtf
F4_weapons_v2/materials/models/mosi/fallout4/props/weapons/melee/baton_stun.vmt
F4_weapons_v2/materials/models/mosi/fallout4/props/weapons/melee/walkingcane.vmt
F4_weapons_v2/materials/models/mosi/fallout4/props/weapons/melee/blood.vmt
F4_weapons_v2/materials/models/mosi/fallout4/props/weapons/melee/commiewhacker.vmt
F4_weapons_v2/materials/models/mosi/fallout4/props/weapons/melee/baton_n.vtf
F4_weapons_v2/materials/models/mosi/fallout4/props/weapons/melee/knife.vmt
F4_weapons_v2/materials/models/mosi/fallout4/props/weapons/melee/rocketham.vmt
F4_weapons_v2/materials/models/mosi/fallout4/props/weapons/melee/machete_m.vtf
F4_weapons_v2/materials/models/mosi/fallout4/props/weapons/melee/machete_n.vtf
F4_weapons_v2/materials/models/mosi/fallout4/props/weapons/melee/tireiron.vtf
F4_weapons_v2/materials/models/mosi/fallout4/props/weapons/melee/powerfist_n.vtf
F4_weapons_v2/materials/models/mosi/fallout4/props/weapons/melee/bat_nails.vmt
F4_weapons_v2/materials/models/mosi/fallout4/props/weapons/melee/batmetal.vtf
F4_weapons_v2/materials/models/mosi/fallout4/props/weapons/melee/wrench_n.vtf
F4_weapons_v2/materials/models/mosi/fallout4/props/weapons/melee/knuckle_tenderizer.vmt
F4_weapons_v2/materials/models/mosi/fallout4/props/weapons/melee/switchblade.vmt
F4_weapons_v2/materials/models/mosi/fallout4/props/weapons/melee/rocketham_coil.vmt
F4_weapons_v2/materials/models/mosi/fallout4/props/weapons/melee/shishkebab.vmt
F4_weapons_v2/materials/models/mosi/fallout4/props/weapons/melee/sledge_cinder2.vtf
F4_weapons_v2/materials/models/mosi/fallout4/props/weapons/melee/wrench_misc_n.vtf
F4_weapons_v2/materials/models/mosi/fallout4/props/weapons/melee/bolts.vtf
F4_weapons_v2/materials/models/mosi/fallout4/props/weapons/melee/fishgaff_n.vtf
F4_weapons_v2/materials/models/mosi/fallout4/props/weapons/melee/boxingglove.vtf
F4_weapons_v2/materials/models/mosi/fallout4/props/weapons/melee/knife_stealth.vmt
F4_weapons_v2/materials/models/ninja/fo4/exp.vtf
F4_weapons_v2/materials/models/ninja/fo4/clothes_wrp.vtf
F4_weapons_v2/materials/models/ninja/fo4/frame/fusioncore01_d.vmt
F4_weapons_v2/materials/models/ninja/fo4/frame/fusioncore01_n.vtf
F4_weapons_v2/materials/models/ninja/fo4/frame/FusionCore01_A.vtf
F4_weapons_v2/materials/models/ninja/fo4/frame/fusioncore01_d.vtf
F4_weapons_v2/materials/models/ninja/fo4/weapons/minigun/Minigun3Barrel_n.vtf
F4_weapons_v2/materials/models/ninja/fo4/weapons/minigun/MinigunMeatgrinder_A.vtf
F4_weapons_v2/materials/models/ninja/fo4/weapons/minigun/minigun_barrel_n.vtf
F4_weapons_v2/materials/models/ninja/fo4/weapons/minigun/MinigunGunnerSight_n.vtf
F4_weapons_v2/materials/models/ninja/fo4/weapons/minigun/minigun3barrel_d.vtf
F4_weapons_v2/materials/models/ninja/fo4/weapons/minigun/Minigun_rear_A.vtf
F4_weapons_v2/materials/models/ninja/fo4/weapons/minigun/minigun_d.vtf
F4_weapons_v2/materials/models/ninja/fo4/weapons/minigun/MiniGunAmmo_A.vtf
F4_weapons_v2/materials/models/ninja/fo4/weapons/minigun/minigun_n.vtf
F4_weapons_v2/materials/models/ninja/fo4/weapons/minigun/minigun_barrel_d.vtf
F4_weapons_v2/materials/models/ninja/fo4/weapons/minigun/MinigunMeatgrinder_n.vtf
F4_weapons_v2/materials/models/ninja/fo4/weapons/minigun/Minigun3Barrel_A.vtf
F4_weapons_v2/materials/models/ninja/fo4/weapons/minigun/MinigunGunnerSight_A.vtf
F4_weapons_v2/materials/models/ninja/fo4/weapons/minigun/minigun_rear_d.vtf
F4_weapons_v2/materials/models/ninja/fo4/weapons/minigun/minigunammo_d.vmt
F4_weapons_v2/materials/models/ninja/fo4/weapons/minigun/MiniGun_barrel_A.vtf
F4_weapons_v2/materials/models/ninja/fo4/weapons/minigun/minigunammo_n.vtf
F4_weapons_v2/materials/models/ninja/fo4/weapons/minigun/minigunammo_d.vtf
F4_weapons_v2/materials/models/ninja/fo4/weapons/minigun/minigunmeatgrinder_d.vtf
F4_weapons_v2/materials/models/ninja/fo4/weapons/minigun/minigun_barrel_d.vmt
F4_weapons_v2/materials/models/ninja/fo4/weapons/minigun/minigungunnersight_d.vmt
F4_weapons_v2/materials/models/ninja/fo4/weapons/minigun/minigun_d.vmt
F4_weapons_v2/materials/models/ninja/fo4/weapons/minigun/minigun3barrel_d.vmt
F4_weapons_v2/materials/models/ninja/fo4/weapons/minigun/minigungunnersight_d.vtf
F4_weapons_v2/materials/models/ninja/fo4/weapons/minigun/MiniGun_A.vtf
F4_weapons_v2/materials/models/ninja/fo4/weapons/minigun/minigun_rear_d.vmt
F4_weapons_v2/materials/models/ninja/fo4/weapons/minigun/minigun_rear_n.vtf
F4_weapons_v2/materials/models/ninja/fo4/weapons/minigun/minigunmeatgrinder_d.vmt
F4_weapons_v2/materials/models/ninja/fo4/weapons/plasma/plasmacell_d.vtf
F4_weapons_v2/materials/models/ninja/fo4/weapons/plasma/SniperBarrel_A.vtf
F4_weapons_v2/materials/models/ninja/fo4/weapons/plasma/plasmareceiver_d.vtf
F4_weapons_v2/materials/models/ninja/fo4/weapons/plasma/SniperStock_A.vtf
F4_weapons_v2/materials/models/ninja/fo4/weapons/plasma/riflestock_d.vtf
F4_weapons_v2/materials/models/ninja/fo4/weapons/plasma/FlamerNozzle_n.vtf
F4_weapons_v2/materials/models/ninja/fo4/weapons/plasma/laserreticle_d.vmt
F4_weapons_v2/materials/models/ninja/fo4/weapons/plasma/moldedgrip_d.vmt
F4_weapons_v2/materials/models/ninja/fo4/weapons/plasma/Scope_n.vtf
F4_weapons_v2/materials/models/ninja/fo4/weapons/plasma/plasmapistolgrip_d.vmt
F4_weapons_v2/materials/models/ninja/fo4/weapons/plasma/ShotgunBarrel_A.vtf
F4_weapons_v2/materials/models/ninja/fo4/weapons/plasma/PlasmaPistolGrip_A.vtf
F4_weapons_v2/materials/models/ninja/fo4/weapons/plasma/RiotStock_A.vtf
F4_weapons_v2/materials/models/ninja/fo4/weapons/plasma/shotgunbarrel_d.vtf
F4_weapons_v2/materials/models/ninja/fo4/weapons/plasma/riotstock_d.vtf
F4_weapons_v2/materials/models/ninja/fo4/weapons/plasma/reflexsite_d.vmt
F4_weapons_v2/materials/models/ninja/fo4/weapons/plasma/sniperstock_d.vtf
F4_weapons_v2/materials/models/ninja/fo4/weapons/plasma/plasmapistolgrip_d.vtf
F4_weapons_v2/materials/models/ninja/fo4/weapons/plasma/SpinBarrel_n.vtf
F4_weapons_v2/materials/models/ninja/fo4/weapons/plasma/PlasmaReceiver_A.vtf
F4_weapons_v2/materials/models/ninja/fo4/weapons/plasma/MoldedGrip_n.vtf
F4_weapons_v2/materials/models/ninja/fo4/weapons/plasma/sniperstock_d.vmt
F4_weapons_v2/materials/models/ninja/fo4/weapons/plasma/FlamerNozzle_A.vtf
F4_weapons_v2/materials/models/ninja/fo4/weapons/plasma/moldedgrip_d.vtf
F4_weapons_v2/materials/models/ninja/fo4/weapons/plasma/PlasmaPistolGrip_n.vtf
F4_weapons_v2/materials/models/ninja/fo4/weapons/plasma/plasmacell_d.vmt
F4_weapons_v2/materials/models/ninja/fo4/weapons/plasma/PlasmaCell_n.vtf
F4_weapons_v2/materials/models/ninja/fo4/weapons/plasma/SniperStock_n.vtf
F4_weapons_v2/materials/models/ninja/fo4/weapons/plasma/spinbarrel_d.vmt
F4_weapons_v2/materials/models/ninja/fo4/weapons/plasma/riflestock_d.vmt
F4_weapons_v2/materials/models/ninja/fo4/weapons/plasma/PlasmaReceiver_n.vtf
F4_weapons_v2/materials/models/ninja/fo4/weapons/plasma/riotstock_d.vmt
F4_weapons_v2/materials/models/ninja/fo4/weapons/plasma/flamernozzle_d.vtf
F4_weapons_v2/materials/models/ninja/fo4/weapons/plasma/MoldedGrip_A.vtf
F4_weapons_v2/materials/models/ninja/fo4/weapons/plasma/flamernozzle_d.vmt
F4_weapons_v2/materials/models/ninja/fo4/weapons/plasma/RiotStock_n.vtf
F4_weapons_v2/materials/models/ninja/fo4/weapons/plasma/sniperbarrel_d.vmt
F4_weapons_v2/materials/models/ninja/fo4/weapons/plasma/plasmareceiver_d.vmt
F4_weapons_v2/materials/models/ninja/fo4/weapons/plasma/RifleStock_n.vtf
F4_weapons_v2/materials/models/ninja/fo4/weapons/plasma/scope_d.vmt
F4_weapons_v2/materials/models/ninja/fo4/weapons/plasma/shotgunbarrel_d.vmt
F4_weapons_v2/materials/models/ninja/fo4/weapons/plasma/ReflexSite_A.vtf
F4_weapons_v2/materials/models/ninja/fo4/weapons/plasma/scope_d.vtf
F4_weapons_v2/materials/models/ninja/fo4/weapons/plasma/SpinBarrel_A.vtf
F4_weapons_v2/materials/models/ninja/fo4/weapons/plasma/ReflexSite_n.vtf
F4_weapons_v2/materials/models/ninja/fo4/weapons/plasma/reflexsite_d.vtf
F4_weapons_v2/materials/models/ninja/fo4/weapons/plasma/PlasmaCell_A.vtf
F4_weapons_v2/materials/models/ninja/fo4/weapons/plasma/sniperbarrel_d.vtf
F4_weapons_v2/materials/models/ninja/fo4/weapons/plasma/Scope_A.vtf
F4_weapons_v2/materials/models/ninja/fo4/weapons/plasma/ShotgunBarrel_n.vtf
F4_weapons_v2/materials/models/ninja/fo4/weapons/plasma/spinbarrel_d.vtf
F4_weapons_v2/materials/models/ninja/fo4/weapons/plasma/RifleStock_A.vtf
F4_weapons_v2/materials/models/ninja/fo4/weapons/plasma/SniperBarrel_n.vtf
F4_weapons_v2/materials/models/ninja/fo4/weapons/laser/LaserFocuser_n.vtf
F4_weapons_v2/materials/models/ninja/fo4/weapons/laser/microfusioncell_d.vmt
F4_weapons_v2/materials/models/ninja/fo4/weapons/laser/MicroFusionReceiver_n.vtf
F4_weapons_v2/materials/models/ninja/fo4/weapons/laser/HeavyBarrel_d.vtf
F4_weapons_v2/materials/models/ninja/fo4/weapons/laser/LaserReflexSight_A.vtf
F4_weapons_v2/materials/models/ninja/fo4/weapons/laser/marksmanstock_d.vmt
F4_weapons_v2/materials/models/ninja/fo4/weapons/laser/laserreticle_d.vmt
F4_weapons_v2/materials/models/ninja/fo4/weapons/laser/LaserReflexSight_d.vtf
F4_weapons_v2/materials/models/ninja/fo4/weapons/laser/TacticalGrip_n.vtf
F4_weapons_v2/materials/models/ninja/fo4/weapons/laser/LaserFocuser_d.vtf
F4_weapons_v2/materials/models/ninja/fo4/weapons/laser/LaserRifleGrip_n.vtf
F4_weapons_v2/materials/models/ninja/fo4/weapons/laser/LaserScope_A.vtf
F4_weapons_v2/materials/models/ninja/fo4/weapons/laser/laserdiffuser_d.vmt
F4_weapons_v2/materials/models/ninja/fo4/weapons/laser/LaserRifleGrip_A.vtf
F4_weapons_v2/materials/models/ninja/fo4/weapons/laser/AssaultBarrel_n.vtf
F4_weapons_v2/materials/models/ninja/fo4/weapons/laser/HeavyBarrel_A.vtf
F4_weapons_v2/materials/models/ninja/fo4/weapons/laser/laserreflexsight_d.vmt
F4_weapons_v2/materials/models/ninja/fo4/weapons/laser/lasermagnifier_d.vmt
F4_weapons_v2/materials/models/ninja/fo4/weapons/laser/tacticalgrip_d.vmt
F4_weapons_v2/materials/models/ninja/fo4/weapons/laser/TacticalGrip_d.vtf
F4_weapons_v2/materials/models/ninja/fo4/weapons/laser/heavybarrel_d.vmt
F4_weapons_v2/materials/models/ninja/fo4/weapons/laser/AssaultBarrel_A.vtf
F4_weapons_v2/materials/models/ninja/fo4/weapons/laser/RecoilStock_A.vtf
F4_weapons_v2/materials/models/ninja/fo4/weapons/laser/PistolGrip_d.vtf
F4_weapons_v2/materials/models/ninja/fo4/weapons/laser/MicroFusionCell_d.vtf
F4_weapons_v2/materials/models/ninja/fo4/weapons/laser/MarksmanStock_d.vtf
F4_weapons_v2/materials/models/ninja/fo4/weapons/laser/AssaultBarrel_d.vtf
F4_weapons_v2/materials/models/ninja/fo4/weapons/laser/FrontSight_A.vtf
F4_weapons_v2/materials/models/ninja/fo4/weapons/laser/laserriflegrip_d.vmt
F4_weapons_v2/materials/models/ninja/fo4/weapons/laser/RecoilStock_n.vtf
F4_weapons_v2/materials/models/ninja/fo4/weapons/laser/LaserReflexSight_n.vtf
F4_weapons_v2/materials/models/ninja/fo4/weapons/laser/LaserDiffuser_n.vtf
F4_weapons_v2/materials/models/ninja/fo4/weapons/laser/laserfocuser_d.vmt
F4_weapons_v2/materials/models/ninja/fo4/weapons/laser/FrontSight_d.vtf
F4_weapons_v2/materials/models/ninja/fo4/weapons/laser/LaserMagnifier_n.vtf
F4_weapons_v2/materials/models/ninja/fo4/weapons/laser/pistolbarrel_d.vmt
F4_weapons_v2/materials/models/ninja/fo4/weapons/laser/RecoilStock_d.vtf
F4_weapons_v2/materials/models/ninja/fo4/weapons/laser/LaserScope_d.vtf
F4_weapons_v2/materials/models/ninja/fo4/weapons/laser/MarksmanStock_n.vtf
F4_weapons_v2/materials/models/ninja/fo4/weapons/laser/laserriflebarrel_d.vmt
F4_weapons_v2/materials/models/ninja/fo4/weapons/laser/pistolgrip_d.vmt
F4_weapons_v2/materials/models/ninja/fo4/weapons/laser/laserreticle_d.vtf
F4_weapons_v2/materials/models/ninja/fo4/weapons/laser/LaserMagnifier_A.vtf
F4_weapons_v2/materials/models/ninja/fo4/weapons/laser/LaserDiffuser_d.vtf
F4_weapons_v2/materials/models/ninja/fo4/weapons/laser/PistolGrip_A.vtf
F4_weapons_v2/materials/models/ninja/fo4/weapons/laser/PistolBarrel_d.vtf
F4_weapons_v2/materials/models/ninja/fo4/weapons/laser/LaserRifleBarrel_n.vtf
F4_weapons_v2/materials/models/ninja/fo4/weapons/laser/PistolBarrel_A.vtf
F4_weapons_v2/materials/models/ninja/fo4/weapons/laser/MicroFusionReceiver_A.vtf
F4_weapons_v2/materials/models/ninja/fo4/weapons/laser/FrontSight_n.vtf
F4_weapons_v2/materials/models/ninja/fo4/weapons/laser/PistolBarrel_n.vtf
F4_weapons_v2/materials/models/ninja/fo4/weapons/laser/PistolGrip_n.vtf
F4_weapons_v2/materials/models/ninja/fo4/weapons/laser/LaserScope_n.vtf
F4_weapons_v2/materials/models/ninja/fo4/weapons/laser/microfusionreceiver_d.vmt
F4_weapons_v2/materials/models/ninja/fo4/weapons/laser/HeavyBarrel_n.vtf
F4_weapons_v2/materials/models/ninja/fo4/weapons/laser/LaserFocuser_A.vtf
F4_weapons_v2/materials/models/ninja/fo4/weapons/laser/LaserMagnifier_d.vtf
F4_weapons_v2/materials/models/ninja/fo4/weapons/laser/TacticalGrip_A.vtf
F4_weapons_v2/materials/models/ninja/fo4/weapons/laser/recoilstock_d.vmt
F4_weapons_v2/materials/models/ninja/fo4/weapons/laser/assaultbarrel_d.vmt
F4_weapons_v2/materials/models/ninja/fo4/weapons/laser/LaserRifleGrip_d.vtf
F4_weapons_v2/materials/models/ninja/fo4/weapons/laser/MicroFusionReceiver_d.vtf
F4_weapons_v2/materials/models/ninja/fo4/weapons/laser/MicroFusionCell_n.vtf
F4_weapons_v2/materials/models/ninja/fo4/weapons/laser/LaserRifleBarrel_A.vtf
F4_weapons_v2/materials/models/ninja/fo4/weapons/laser/laserscope_d.vmt
F4_weapons_v2/materials/models/ninja/fo4/weapons/laser/LaserRifleBarrel_d.vtf
F4_weapons_v2/materials/models/ninja/fo4/weapons/laser/LaserDiffuser_A.vtf
F4_weapons_v2/materials/models/ninja/fo4/weapons/laser/MicroFusionCell_A.vtf
F4_weapons_v2/materials/models/ninja/fo4/weapons/laser/MarksmanStock_A.vtf
F4_weapons_v2/materials/models/ninja/fo4/weapons/gatlinglaser/gatlinglasermuzzle_d.vmt
F4_weapons_v2/materials/models/ninja/fo4/weapons/gatlinglaser/GatlingLaserSight_A.vtf
F4_weapons_v2/materials/models/ninja/fo4/weapons/gatlinglaser/gatlinglasersight_d.vtf
F4_weapons_v2/materials/models/ninja/fo4/weapons/gatlinglaser/gatlinglaserscreen_t.vmt
F4_weapons_v2/materials/models/ninja/fo4/weapons/gatlinglaser/laserreticle_d.vmt
F4_weapons_v2/materials/models/ninja/fo4/weapons/gatlinglaser/GatlingLaserMuzzle_A.vtf
F4_weapons_v2/materials/models/ninja/fo4/weapons/gatlinglaser/gatlinglasersuperbarrel_d.vmt
F4_weapons_v2/materials/models/ninja/fo4/weapons/gatlinglaser/GatlingLaserScreen_n.vtf
F4_weapons_v2/materials/models/ninja/fo4/weapons/gatlinglaser/GatlingLaser_A.vtf
F4_weapons_v2/materials/models/ninja/fo4/weapons/gatlinglaser/gatlinglaser_n.vtf
F4_weapons_v2/materials/models/ninja/fo4/weapons/gatlinglaser/gatlinglaserscreen_d.vtf
F4_weapons_v2/materials/models/ninja/fo4/weapons/gatlinglaser/gatlinglasersight_d.vmt
F4_weapons_v2/materials/models/ninja/fo4/weapons/gatlinglaser/fusioncore01_d.vmt
F4_weapons_v2/materials/models/ninja/fo4/weapons/gatlinglaser/gatlinglaser_d.vmt
F4_weapons_v2/materials/models/ninja/fo4/weapons/gatlinglaser/gatlinglaser_d.vtf
F4_weapons_v2/materials/models/ninja/fo4/weapons/gatlinglaser/GatlingLaserScreen_A.vtf
F4_weapons_v2/materials/models/ninja/fo4/weapons/gatlinglaser/gatlinglasersuperbarrel_d.vtf
F4_weapons_v2/materials/models/ninja/fo4/weapons/gatlinglaser/gatlinglaserscreen_d.vmt
F4_weapons_v2/materials/models/ninja/fo4/weapons/gatlinglaser/GatlingLaserSight_n.vtf
F4_weapons_v2/materials/models/ninja/fo4/weapons/gatlinglaser/GatlingLaserSuperBarrel_A.vtf
F4_weapons_v2/materials/models/ninja/fo4/weapons/gatlinglaser/GatlingLaserMuzzle_n.vtf
F4_weapons_v2/materials/models/ninja/fo4/weapons/gatlinglaser/GatlingLaserSuperBarrel_n.vtf
F4_weapons_v2/materials/models/ninja/fo4/weapons/gatlinglaser/gatlinglasermuzzle_d.vtf
F4_weapons_v2/materials/models/ninja/fo4/shared/white2.vtf
F4_weapons_v2/materials/models/ninja/fo4/shared/white3.vtf
F4_weapons_v2/materials/models/ninja/fo4/shared/green.vtf
F4_weapons_v2/materials/models/ninja/fo4/shared/white.vtf
F4_weapons_v2/materials/models/ninja/fo4/shared/flat_normal.vtf