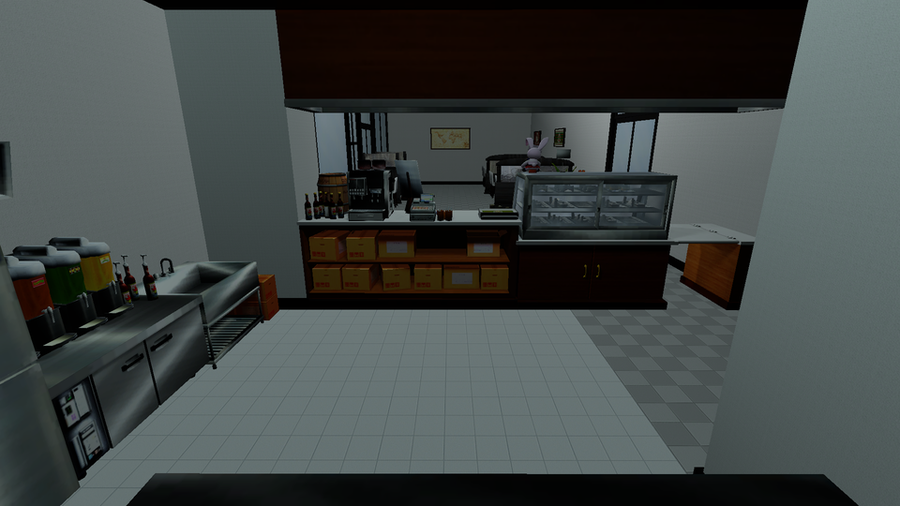 Show more
Description
UPDATE: Fixed folder mixup, should load properly now.
This was 3 years in the making, like seriously I started this in 2017 and only just now this month finished it, was going to be like a limited time paywalled thing but honestly at this point I just want to see people use it so here it is.
I THINK it was a MMD Scene of some kind but the source files were lost when my old HDD died.
There's no bodygroups but that's only because the model is split into like 20 parts and you could just cut one of the parts off to remove something, this was obviously because it was spitting an [ACCESS VIOLATION] error which just means there's too many verts and even splitting the model doesn't work so it's literally 20 models that all link together.
Revzin's Autoloader Script works, just load 'Cafe' then use the script on it and it'll load the rest of the models and properly lock them together.
There's 2 sets of windows that are pretty much [Day Solid] and [Night Solid] where you can't see outside, perfect for when you don't want to scenebuild what's on the outside, but you can also add an '$alpha' to the windows to give a slight see-through look or just turn them off completely and use your own glass or whatever.
Nothing can be moved but you can turn the chairs off and add your own chairs, I do believe I also made it where certain meshes are separate so you can add your own 'Menu' or 'Blackboard' type thing, I'm just ready for this to be out there.
Tag me @lorisor21 on twitter if you use it for something, I just wanna see what people come up with.
SFMLab is a free service. However, it costs about $0.03 to deliver you a 1GB file. With over 20TB of traffic every month and growing, SFMLab needs your help. If only 1% of our users each gave us $5 for a single month, we could keep the site running for several years.
Filename
Downloads
Created
Filesize
Files
Cafe_Map_Model_SFM_V1.1
1536
2020-10-01 08:23:10
3.6 MB
File contents:

usermod/models/lorisor/scene models/Cafe/cafe9.mdl
usermod/models/lorisor/scene models/Cafe/cafe18.vvd
usermod/models/lorisor/scene models/Cafe/cafe9.vvd
usermod/models/lorisor/scene models/Cafe/Cafe8.dx90.vtx
usermod/models/lorisor/scene models/Cafe/cafe5.mdl
usermod/models/lorisor/scene models/Cafe/Cafe3.dx90.vtx
usermod/models/lorisor/scene models/Cafe/Cafe5.dx90.vtx
usermod/models/lorisor/scene models/Cafe/cafe15.mdl
usermod/models/lorisor/scene models/Cafe/cafe4.vvd
usermod/models/lorisor/scene models/Cafe/cafe4.mdl
usermod/models/lorisor/scene models/Cafe/Cafe14.dx90.vtx
usermod/models/lorisor/scene models/Cafe/cafe6.vvd
usermod/models/lorisor/scene models/Cafe/Cafe19.dx90.vtx
usermod/models/lorisor/scene models/Cafe/cafe8.vvd
usermod/models/lorisor/scene models/Cafe/Cafe16.dx90.vtx
usermod/models/lorisor/scene models/Cafe/Cafe7.dx90.vtx
usermod/models/lorisor/scene models/Cafe/cafe.mdl
usermod/models/lorisor/scene models/Cafe/cafe6.mdl
usermod/models/lorisor/scene models/Cafe/cafe18.mdl
usermod/models/lorisor/scene models/Cafe/cafe15.vvd
usermod/models/lorisor/scene models/Cafe/cafe12.mdl
usermod/models/lorisor/scene models/Cafe/Cafe13.dx90.vtx
usermod/models/lorisor/scene models/Cafe/Cafe4.dx90.vtx
usermod/models/lorisor/scene models/Cafe/Cafe2.dx90.vtx
usermod/models/lorisor/scene models/Cafe/cafe5.vvd
usermod/models/lorisor/scene models/Cafe/Cafe15.dx90.vtx
usermod/models/lorisor/scene models/Cafe/cafe13.vvd
usermod/models/lorisor/scene models/Cafe/cafe14.vvd
usermod/models/lorisor/scene models/Cafe/Cafe10.dx90.vtx
usermod/models/lorisor/scene models/Cafe/cafe12.vvd
usermod/models/lorisor/scene models/Cafe/cafe7.mdl
usermod/models/lorisor/scene models/Cafe/cafe16.vvd
usermod/models/lorisor/scene models/Cafe/cafe2.mdl
usermod/models/lorisor/scene models/Cafe/cafe8.mdl
usermod/models/lorisor/scene models/Cafe/Cafe11.dx90.vtx
usermod/models/lorisor/scene models/Cafe/cafe3.mdl
usermod/models/lorisor/scene models/Cafe/cafe13.mdl
usermod/models/lorisor/scene models/Cafe/cafe.vvd
usermod/models/lorisor/scene models/Cafe/Cafe18.dx90.vtx
usermod/models/lorisor/scene models/Cafe/Cafe6.dx90.vtx
usermod/models/lorisor/scene models/Cafe/Cafe.dx90.vtx
usermod/models/lorisor/scene models/Cafe/cafe3.vvd
usermod/models/lorisor/scene models/Cafe/cafe7.vvd
usermod/models/lorisor/scene models/Cafe/cafe19.mdl
usermod/models/lorisor/scene models/Cafe/cafe2.vvd
usermod/models/lorisor/scene models/Cafe/cafe17.mdl
usermod/models/lorisor/scene models/Cafe/cafe14.mdl
usermod/models/lorisor/scene models/Cafe/cafe11.vvd
usermod/models/lorisor/scene models/Cafe/cafe10.vvd
usermod/models/lorisor/scene models/Cafe/Cafe12.dx90.vtx
usermod/models/lorisor/scene models/Cafe/cafe17.vvd
usermod/models/lorisor/scene models/Cafe/cafe10.mdl
usermod/models/lorisor/scene models/Cafe/cafe16.mdl
usermod/models/lorisor/scene models/Cafe/cafe11.mdl
usermod/models/lorisor/scene models/Cafe/Cafe9.dx90.vtx
usermod/models/lorisor/scene models/Cafe/cafe19.vvd
usermod/models/lorisor/scene models/Cafe/Cafe17.dx90.vtx
usermod/materials/models/lorisor/scene models/Cafe/tKi_drink_server_raberu_00_00.vtf
usermod/materials/models/lorisor/scene models/Cafe/25_Mesh182_0_0_0.vmt
usermod/materials/models/lorisor/scene models/Cafe/25_Mesh116_0.vmt
usermod/materials/models/lorisor/scene models/Cafe/25_Mesh46_0.vmt
usermod/materials/models/lorisor/scene models/Cafe/tKi_nuigurumi_00_02.vtf
usermod/materials/models/lorisor/scene models/Cafe/tKi_danbolu_close_00_00.vtf
usermod/materials/models/lorisor/scene models/Cafe/25_Mesh25_0.vmt
usermod/materials/models/lorisor/scene models/Cafe/25_Mesh83_0_0_0.vmt
usermod/materials/models/lorisor/scene models/Cafe/25_Mesh82_0_0_0.vmt
usermod/materials/models/lorisor/scene models/Cafe/25_Mesh31_0.vmt
usermod/materials/models/lorisor/scene models/Cafe/tKi_isu_00_01.vtf
usermod/materials/models/lorisor/scene models/Cafe/tKi_reizouko_00_00.png
usermod/materials/models/lorisor/scene models/Cafe/tKi_kaunter_komono_00_00.vtf
usermod/materials/models/lorisor/scene models/Cafe/tKi_tuitate_00_00.vtf
usermod/materials/models/lorisor/scene models/Cafe/25_Mesh228_0.vmt
usermod/materials/models/lorisor/scene models/Cafe/25_Mesh89_0_0_0.vmt
usermod/materials/models/lorisor/scene models/Cafe/tKi_reji_00_00.vtf
usermod/materials/models/lorisor/scene models/Cafe/tKi_tenjyou_light_00_00.vtf
usermod/materials/models/lorisor/scene models/Cafe/25_Mesh208_0_0_0.vmt
usermod/materials/models/lorisor/scene models/Cafe/25_Mesh34_0.vmt
usermod/materials/models/lorisor/scene models/Cafe/25_Mesh108_0_0_0.vmt
usermod/materials/models/lorisor/scene models/Cafe/tKi_syrup_00_00.vtf
usermod/materials/models/lorisor/scene models/Cafe/25_Mesh135_0.vmt
usermod/materials/models/lorisor/scene models/Cafe/25_Mesh49_0_0_0.vmt
usermod/materials/models/lorisor/scene models/Cafe/25_Mesh22_0.vmt
usermod/materials/models/lorisor/scene models/Cafe/25_Mesh87_0_0_0.vmt
usermod/materials/models/lorisor/scene models/Cafe/tKi_tenjyou_00_00.vtf
usermod/materials/models/lorisor/scene models/Cafe/25_Mesh144_0.vmt
usermod/materials/models/lorisor/scene models/Cafe/25_Mesh137_0.vmt
usermod/materials/models/lorisor/scene models/Cafe/25_Mesh191_0_0_0.vmt
usermod/materials/models/lorisor/scene models/Cafe/25_Mesh236_0.vmt
usermod/materials/models/lorisor/scene models/Cafe/25_Mesh221_0.vmt
usermod/materials/models/lorisor/scene models/Cafe/25_Mesh205_0_0_0.vmt
usermod/materials/models/lorisor/scene models/Cafe/tKi_nuigurumi_00_01.vtf
usermod/materials/models/lorisor/scene models/Cafe/25_Mesh213_0.vmt
usermod/materials/models/lorisor/scene models/Cafe/25_Mesh238_0.vmt
usermod/materials/models/lorisor/scene models/Cafe/25_Mesh60_0.vmt
usermod/materials/models/lorisor/scene models/Cafe/tKi_reizouko_00_01.png
usermod/materials/models/lorisor/scene models/Cafe/25_Mesh14_0.vmt
usermod/materials/models/lorisor/scene models/Cafe/25_Mesh57_0_0_0.vmt
usermod/materials/models/lorisor/scene models/Cafe/25_Mesh202_0_0_0.vmt
usermod/materials/models/lorisor/scene models/Cafe/25_Mesh209_0_0_0.vmt
usermod/materials/models/lorisor/scene models/Cafe/25_Mesh112_0_0_0.vmt
usermod/materials/models/lorisor/scene models/Cafe/25_Mesh47_0_0_0.vmt
usermod/materials/models/lorisor/scene models/Cafe/tKi_teburu_01_00.vtf
usermod/materials/models/lorisor/scene models/Cafe/tKi_teburu_01_02.vtf
usermod/materials/models/lorisor/scene models/Cafe/tKi_coffeeserver_00_04.vtf
usermod/materials/models/lorisor/scene models/Cafe/25_Mesh142_0_0_0.vmt
usermod/materials/models/lorisor/scene models/Cafe/tKi_garasu_00_00.vtf
usermod/materials/models/lorisor/scene models/Cafe/25_Mesh26_0.vmt
usermod/materials/models/lorisor/scene models/Cafe/tKi_plant_miki_00_00.vtf
usermod/materials/models/lorisor/scene models/Cafe/tKi_menu_paneru_00_00.vtf
usermod/materials/models/lorisor/scene models/Cafe/25_Mesh200_0_0_0.vmt
usermod/materials/models/lorisor/scene models/Cafe/tKi_kafe_komono_01_00.vtf
usermod/materials/models/lorisor/scene models/Cafe/tKi_taru_00_00.vtf
usermod/materials/models/lorisor/scene models/Cafe/tKi_nuigurumi_00_00.vtf
usermod/materials/models/lorisor/scene models/Cafe/tKi_keki_kase_00_00.vtf
usermod/materials/models/lorisor/scene models/Cafe/25_Mesh226_0_0_0.vmt
usermod/materials/models/lorisor/scene models/Cafe/25_Mesh216_0_0_0.vmt
usermod/materials/models/lorisor/scene models/Cafe/tKi_teburu_01_03.vtf
usermod/materials/models/lorisor/scene models/Cafe/25_Mesh45_0.vmt
usermod/materials/models/lorisor/scene models/Cafe/25_Mesh230_0.vmt
usermod/materials/models/lorisor/scene models/Cafe/25_Mesh33_0.vmt
usermod/materials/models/lorisor/scene models/Cafe/tKi_syrup_01_00.vtf
usermod/materials/models/lorisor/scene models/Cafe/25_+WindowsDay2.vmt
usermod/materials/models/lorisor/scene models/Cafe/tKi_sinku_00_00.vtf
usermod/materials/models/lorisor/scene models/Cafe/tKi_drink_server_03_01.vtf
usermod/materials/models/lorisor/scene models/Cafe/tKi_reizouko_00_00.vtf
usermod/materials/models/lorisor/scene models/Cafe/25_Mesh64_0.vmt
usermod/materials/models/lorisor/scene models/Cafe/25_Mesh214_0.vmt
usermod/materials/models/lorisor/scene models/Cafe/tKi_coffeeserver_00_00.vtf
usermod/materials/models/lorisor/scene models/Cafe/25_Mesh30_0.vmt
usermod/materials/models/lorisor/scene models/Cafe/tKi_tore_00_00.vtf
usermod/materials/models/lorisor/scene models/Cafe/25_Mesh102_0_0_0.vmt
usermod/materials/models/lorisor/scene models/Cafe/25_Mesh69_0_0_0.vmt
usermod/materials/models/lorisor/scene models/Cafe/25_Mesh21_0_0_0.vmt
usermod/materials/models/lorisor/scene models/Cafe/25_Mesh5_0_0_0.vmt
usermod/materials/models/lorisor/scene models/Cafe/tKi_kamicoccopu_00_00.vtf
usermod/materials/models/lorisor/scene models/Cafe/25_Mesh195_0_0_0.vmt
usermod/materials/models/lorisor/scene models/Cafe/tKi_wall_paneru_00_00.vtf
usermod/materials/models/lorisor/scene models/Cafe/tKi_wall_00_01.vtf
usermod/materials/models/lorisor/scene models/Cafe/tKi_cuke_tore_00_00.vtf
usermod/materials/models/lorisor/scene models/Cafe/25_Mesh12_0_0_0.vmt
usermod/materials/models/lorisor/scene models/Cafe/tKi_gomibako_00_00.vtf
usermod/materials/models/lorisor/scene models/Cafe/25_Mesh217_0_0_0.vmt
usermod/materials/models/lorisor/scene models/Cafe/25_Mesh172_0_0_0.vmt
usermod/materials/models/lorisor/scene models/Cafe/tKi_teburu_01_01.vtf
usermod/materials/models/lorisor/scene models/Cafe/tKi_sinku_00_00.png
usermod/materials/models/lorisor/scene models/Cafe/25_Mesh99_0.vmt
usermod/materials/models/lorisor/scene models/Cafe/tKi_tuitate_00_03.vtf
usermod/materials/models/lorisor/scene models/Cafe/tKi_reizouko_01_00.png
usermod/materials/models/lorisor/scene models/Cafe/25_Mesh196_0_0_0.vmt
usermod/materials/models/lorisor/scene models/Cafe/25_Mesh188_0.vmt
usermod/materials/models/lorisor/scene models/Cafe/25_Mesh92_0_0_0.vmt
usermod/materials/models/lorisor/scene models/Cafe/25_-WindowsNight.vmt
usermod/materials/models/lorisor/scene models/Cafe/tKi_cuke_00_00.vtf
usermod/materials/models/lorisor/scene models/Cafe/25_Mesh206_0_0_0.vmt
usermod/materials/models/lorisor/scene models/Cafe/tKi_reji_00_01.vtf
usermod/materials/models/lorisor/scene models/Cafe/25_Mesh50_0_0_0.vmt
usermod/materials/models/lorisor/scene models/Cafe/25_Mesh140_0.vmt
usermod/materials/models/lorisor/scene models/Cafe/25_Mesh74_0.vmt
usermod/materials/models/lorisor/scene models/Cafe/tKi_wall_00_00.vtf
usermod/materials/models/lorisor/scene models/Cafe/25_Mesh75_0.vmt
usermod/materials/models/lorisor/scene models/Cafe/25_Mesh56_0_0_0.vmt
usermod/materials/models/lorisor/scene models/Cafe/25_Mesh117_0.vmt
usermod/materials/models/lorisor/scene models/Cafe/25_Mesh6_0.vmt
usermod/materials/models/lorisor/scene models/Cafe/tKi_sofa_00_03.vtf
usermod/materials/models/lorisor/scene models/Cafe/tki_drink_server_tank_00_00.vtf
usermod/materials/models/lorisor/scene models/Cafe/25_Mesh44_0_0_0.vmt
usermod/materials/models/lorisor/scene models/Cafe/tKi_teburu_00_02.vtf
usermod/materials/models/lorisor/scene models/Cafe/tKi_yuka_00_01.vtf
usermod/materials/models/lorisor/scene models/Cafe/tKi_sandoitti_02_01.vtf
usermod/materials/models/lorisor/scene models/Cafe/tKi_sandoitti_03_00.vtf
usermod/materials/models/lorisor/scene models/Cafe/bumpmap_flat.vtf
usermod/materials/models/lorisor/scene models/Cafe/25_Mesh237_0.vmt
usermod/materials/models/lorisor/scene models/Cafe/25_Mesh234_0.vmt
usermod/materials/models/lorisor/scene models/Cafe/25_Mesh13_0.vmt
usermod/materials/models/lorisor/scene models/Cafe/25_Mesh193_0_0_0.vmt
usermod/materials/models/lorisor/scene models/Cafe/tKi_sandoitti_01_00.vtf
usermod/materials/models/lorisor/scene models/Cafe/tKi_reizouko_01_00.vtf
usermod/materials/models/lorisor/scene models/Cafe/25_Mesh17_0_0_0.vmt
usermod/materials/models/lorisor/scene models/Cafe/25_Mesh119_0.vmt
usermod/materials/models/lorisor/scene models/Cafe/25_Mesh139_0.vmt
usermod/materials/models/lorisor/scene models/Cafe/25_Mesh220_0.vmt
usermod/materials/models/lorisor/scene models/Cafe/25_Mesh63_0.vmt
usermod/materials/models/lorisor/scene models/Cafe/25_Mesh177_0_0_0.vmt
usermod/materials/models/lorisor/scene models/Cafe/25_Mesh183_0_0_0.vmt
usermod/materials/models/lorisor/scene models/Cafe/25_Mesh106_0_0_0.vmt
usermod/materials/models/lorisor/scene models/Cafe/tKi_kaunter_00_00.vtf
usermod/materials/models/lorisor/scene models/Cafe/25_Mesh187_0_0_0.vmt
usermod/materials/models/lorisor/scene models/Cafe/25_Mesh109_0.vmt
usermod/materials/models/lorisor/scene models/Cafe/25_-WindowsNight2.vmt
usermod/materials/models/lorisor/scene models/Cafe/25_Mesh227_0_0_0.vmt
usermod/materials/models/lorisor/scene models/Cafe/tKi_sandoitti_tore_00_00.vtf
usermod/materials/models/lorisor/scene models/Cafe/25_Mesh104_0_0_0.vmt
usermod/materials/models/lorisor/scene models/Cafe/25_+WindowsDay.vmt
usermod/materials/models/lorisor/scene models/Cafe/25_Mesh62_0.vmt
usermod/materials/models/lorisor/scene models/Cafe/25_Mesh32_0.vmt
usermod/materials/models/lorisor/scene models/Cafe/tKi_sofa_daiza_00_01.vtf
usermod/materials/models/lorisor/scene models/Cafe/tKi_kaunter_00_01.vtf
usermod/materials/models/lorisor/scene models/Cafe/25_Mesh39_0.vmt
usermod/materials/models/lorisor/scene models/Cafe/25_Mesh232_0.vmt
usermod/materials/models/lorisor/scene models/Cafe/tKi_coffeeserver_00_02.vtf
usermod/materials/models/lorisor/scene models/Cafe/25_Mesh48_0_0_0.vmt
usermod/materials/models/lorisor/scene models/Cafe/tKi_kanban_00_00.vtf
usermod/materials/models/lorisor/scene models/Cafe/tKi_tuitate_garasu_00_00.vtf
usermod/materials/models/lorisor/scene models/Cafe/25_Mesh29_0.vmt
usermod/materials/models/lorisor/scene models/Cafe/tKi_danbolu_open_00_00.vtf
usermod/materials/models/lorisor/scene models/Cafe/tKi_cuke_02_00.vtf
usermod/materials/models/lorisor/scene models/Cafe/25_Mesh229_0.vmt
usermod/materials/models/lorisor/scene models/Cafe/25_Mesh118_0.vmt
usermod/materials/models/lorisor/scene models/Cafe/tKi_light_suixtuti_00_00.vtf
usermod/materials/models/lorisor/scene models/Cafe/25_Mesh235_0.vmt
usermod/materials/models/lorisor/scene models/Cafe/tKi_sandoitti_00_00.vtf
usermod/materials/models/lorisor/scene models/Cafe/25_Mesh231_0_0_0.vmt
usermod/materials/models/lorisor/scene models/Cafe/25_Mesh215_0.vmt
usermod/materials/models/lorisor/scene models/Cafe/tKi_kaunter_00_02.vtf
usermod/materials/models/lorisor/scene models/Cafe/25_Mesh84_0_0_0.vmt
usermod/materials/models/lorisor/scene models/Cafe/25_Mesh88_0_0_0.vmt
usermod/materials/models/lorisor/scene models/Cafe/25_Mesh11_0_0_0.vmt
usermod/materials/models/lorisor/scene models/Cafe/25_Mesh15_0.vmt
usermod/materials/models/lorisor/scene models/Cafe/25_Mesh204_0_0_0.vmt
usermod/materials/models/lorisor/scene models/Cafe/tKi_yuka_00_00.vtf
usermod/materials/models/lorisor/scene models/Cafe/tki_plans_ha_00_00.vtf
usermod/materials/models/lorisor/scene models/Cafe/tKi_doa_00_00.vtf
usermod/materials/models/lorisor/scene models/Cafe/25_Mesh52_0.vmt
usermod/materials/models/lorisor/scene models/Cafe/25_Mesh131_0.vmt
usermod/materials/models/lorisor/scene models/Cafe/tKi_cuke_03_00.vtf
usermod/materials/models/lorisor/scene models/Cafe/tKi_drink_server_03_00.vtf
usermod/materials/models/lorisor/scene models/Cafe/25_Mesh59_0.vmt
usermod/materials/models/lorisor/scene models/Cafe/25_Mesh115_0_0_0.vmt
usermod/materials/models/lorisor/scene models/Cafe/tKi_kaunter_light_00_00.vtf
usermod/materials/models/lorisor/scene models/Cafe/tKi_kafe_komono_00_00.vtf
usermod/materials/models/lorisor/scene models/Cafe/tKi_garasu_00_00_K.vtf
usermod/materials/models/lorisor/scene models/Cafe/tKi_teburu_00_01.vtf
usermod/materials/models/lorisor/scene models/Cafe/tKi_cuke_01_00.vtf
usermod/materials/models/lorisor/scene models/Cafe/tKi_coffeeserver_00_01.vtf
usermod/materials/models/lorisor/scene models/Cafe/25_Mesh212_0_0_0.vmt
usermod/materials/models/lorisor/scene models/Cafe/25_Mesh219_0.vmt
usermod/materials/models/lorisor/scene models/Cafe/tKi_doa_01_00.vtf
usermod/materials/models/lorisor/scene models/Cafe/tKi_staf_doa_00_00.vtf
usermod/materials/models/lorisor/scene models/Cafe/tKi_kaunter_01_00.vtf
usermod/materials/models/lorisor/scene models/Cafe/tKi_sandoitti_peper_00_00.vtf
usermod/materials/models/lorisor/scene models/Cafe/tKi_tuitate_00_02.vtf
usermod/materials/models/lorisor/scene models/Cafe/25_Mesh51_0_0_0.vmt
usermod/materials/models/lorisor/scene models/Cafe/25_Mesh61_0.vmt
usermod/materials/models/lorisor/scene models/Cafe/25_Mesh233_0.vmt
usermod/materials/models/lorisor/scene models/Cafe/25_Mesh58_0_0_0.vmt
usermod/materials/models/lorisor/scene models/Cafe/25_Mesh151_0_0_0.vmt
usermod/materials/models/lorisor/scene models/Cafe/25_Mesh127_0.vmt
usermod/materials/models/lorisor/scene models/Cafe/25_Mesh114_0.vmt
usermod/materials/models/lorisor/scene models/Cafe/25_Mesh16_0_0_0.vmt
usermod/materials/models/lorisor/scene models/Cafe/25_Mesh43_0_0_0.vmt
usermod/materials/models/lorisor/scene models/Cafe/25_Mesh145_0.vmt
usermod/materials/models/lorisor/scene models/Cafe/25_Mesh143_0_0_1.vmt
usermod/materials/models/lorisor/scene models/Cafe/25_Mesh143_0_0_0.vmt
usermod/materials/models/lorisor/scene models/Cafe/25_Mesh18_0_0_0.vmt
usermod/materials/models/lorisor/scene models/Cafe/25_Mesh218_0.vmt
usermod/materials/models/lorisor/scene models/Cafe/tKi_teburu_00_00.vtf
usermod/materials/models/lorisor/scene models/Cafe/25_Mesh156_0_0_0.vmt
usermod/materials/models/lorisor/scene models/Cafe/25_Mesh189_0_0_0.vmt
usermod/materials/models/lorisor/scene models/Cafe/25_Mesh138_0.vmt
usermod/materials/models/lorisor/scene models/Cafe/tki_keki_garasu_00_00.vtf
usermod/materials/models/lorisor/scene models/Cafe/25_Mesh162_0_0_0.vmt
usermod/materials/models/lorisor/scene models/Cafe/tKi_kanban_01_00.vtf
usermod/materials/models/lorisor/scene models/Cafe/25_Mesh123_0.vmt
usermod/materials/models/lorisor/scene models/Cafe/tKi_coffeeserver_00_03.vtf
usermod/materials/models/lorisor/scene models/Cafe/25_Mesh203_0_0_0.vmt
usermod/materials/models/lorisor/scene models/Cafe/tKi_tore_peper_00_00.vtf
usermod/materials/models/lorisor/scene models/Cafe/tKi_plant_miki_00_01.vtf
usermod/materials/models/lorisor/scene models/Cafe/25_Mesh167_0_0_0.vmt
usermod/materials/models/lorisor/scene models/Cafe/tKi_madowaku_00_00.vtf
usermod/materials/models/lorisor/scene models/Cafe/tKi_tuitate_00_01.vtf
usermod/materials/models/lorisor/scene models/Cafe/tKi_reizouko_00_01.vtf