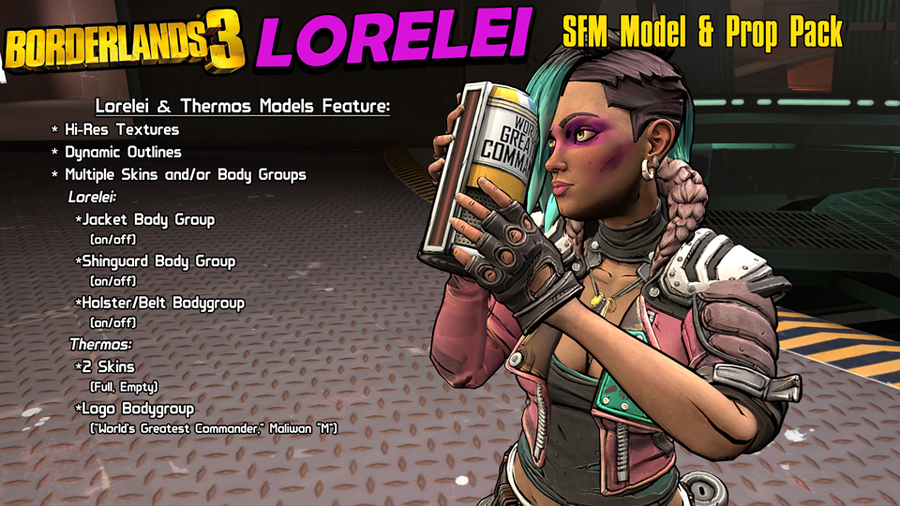 Show more
Description
---
UPDATED October 7, 2020: If you had missing texture errors, please redownload. The missing textures are in the zip file now. Apologies!
---
"I'm the Coffee Commander now!"
This model/props pack includes Atlas's bloody badass Coffee Commander herself, Lorelei, and a thermos of her favorite brew!
Both of these models feature hi-res textures and dynamic outlines.
Lorelei comes with body groups for her jacket, gun holster/belt, and shin guard (on/off for each). The coffee thermos comes with a body group for the logo ("World's Greatest Commander" or Maliwan "M"), and for the level of coffee in the thermos (full, empty)
Lorelei's model does not have face flexes (the dynamic outline does not play well with face flexes), but there are face bones to pose instead.
If you use either of these models, send me a link to the finished project; I'd love to see it!
Do not repost/upload these models elsewhere... certainly do not claim it as your own work. Please ask before porting to a different format.
CREDITS:
Gildor for creating the Unreal Engine Model Viewer
Kabalstein for pointing me in the right direction with fixing the jaw deform issue
Lorelei and Borderlands belong to Gearbox Software.
SFMLab is a free service. However, it costs about $0.03 to deliver you a 1GB file. With over 20TB of traffic every month and growing, SFMLab needs your help. If only 1% of our users each gave us $5 for a single month, we could keep the site running for several years.
Filename
Downloads
Created
Filesize
Files
mcemily_Lorelei_SxPM8dx.zip
821
2020-10-08 00:44:53
11.65 MB
File contents:

models/mcemily/Borderlands/Props/BL3Thermos.dx90.vtx
models/mcemily/Borderlands/Props/bl3thermos.vvd
models/mcemily/Borderlands/Props/bl3thermos.mdl
models/mcemily/Borderlands/Lorelei/lorelei.mdl
models/mcemily/Borderlands/Lorelei/Lorelei.dx90.vtx
models/mcemily/Borderlands/Lorelei/lorelei.vvd
materials/models/mcemily/Borderlands/BL3/T_Human_Mouth_01_N.vtf
materials/models/mcemily/Borderlands/BL3/outline.vtf
materials/models/mcemily/Borderlands/BL3/Props/Thermos_Commander.vmt
materials/models/mcemily/Borderlands/BL3/Props/T_Thermos_Commander_D.vtf
materials/models/mcemily/Borderlands/BL3/Props/outline.vmt
materials/models/mcemily/Borderlands/BL3/Props/T_Thermos_D.vtf
materials/models/mcemily/Borderlands/BL3/Props/T_Thermos_WorldsBestCommander_Rev.vtf
materials/models/mcemily/Borderlands/BL3/Props/T_ThermosFull_D.vtf
materials/models/mcemily/Borderlands/BL3/Props/Thermos_WorldsBestCommander_Rev.vmt
materials/models/mcemily/Borderlands/BL3/Props/Thermos_CommanderFull.vmt
materials/models/mcemily/Borderlands/BL3/Props/MaliwanLogo.vmt
materials/models/mcemily/Borderlands/BL3/Props/T_Thermos_CommanderFull_D.vtf
materials/models/mcemily/Borderlands/BL3/Props/ThermosFull.vmt
materials/models/mcemily/Borderlands/BL3/Props/Thermos.vmt
materials/models/mcemily/Borderlands/BL3/Lorelei/outline.vmt
materials/models/mcemily/Borderlands/BL3/Lorelei/T_Lorelei_Jacket_E.vtf
materials/models/mcemily/Borderlands/BL3/Lorelei/Lorelei_Jacket.vmt
materials/models/mcemily/Borderlands/BL3/Lorelei/T_Lorelei_Jacket_N.vtf
materials/models/mcemily/Borderlands/BL3/Lorelei/T_Lorelei_Body_N.vtf
materials/models/mcemily/Borderlands/BL3/Lorelei/Lorelei_Eyes.vmt
materials/models/mcemily/Borderlands/BL3/Lorelei/T_Lorelei_Jacket_D.vtf
materials/models/mcemily/Borderlands/BL3/Lorelei/T_Lorelei_Body_D.vtf
materials/models/mcemily/Borderlands/BL3/Lorelei/Lorelei_Eyes_D.vtf
materials/models/mcemily/Borderlands/BL3/Lorelei/Lorelei_Body.vmt