Adult content
This content is marked as Adult/NSFW content. You can toggle your preferences regarding this content type in your account settings.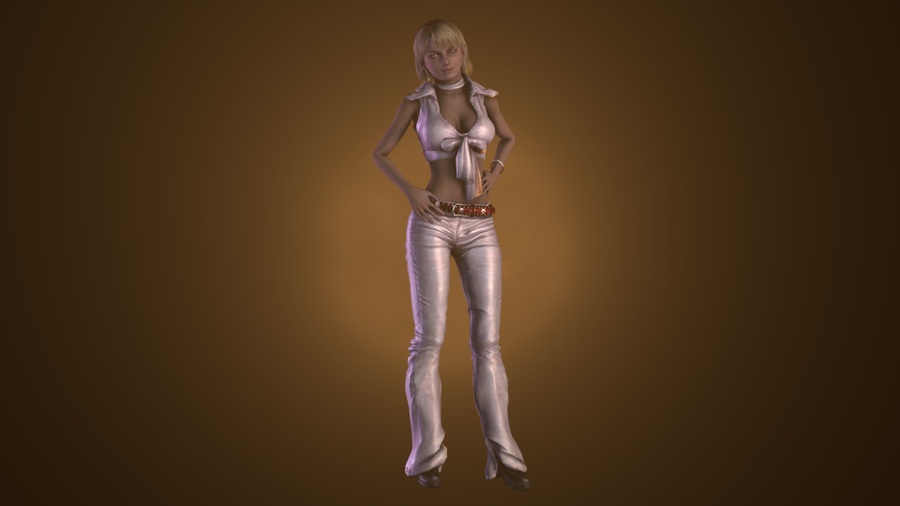 Show more
Description
HELP ME LEON!!!!
NSFW Image Preview by Scathach. Show him some love!
Features
Nude
Jiggly breasts, butt and hair.
Finger and toe posing
Face posing via flexes and face bones
Genital flexes
Bodygroups
Works with rig_biped_simple in conjunction with my flexsort script
Jiggle Roots
Thigh Twists
Finger and toenail Materials
Bodygrouped feet¹
Known Issues
--Clipping--
If any clipping persists, use the Fitting flexes.
--Bodygrouped Feet¹--
Her feet have been bodygrouped for better posing for her shoes.
--Collars on the shirt--
The collar wasn't rigged initially, but when Noob worked on posing her for testing, things weren't going so well, so he decided to rig them.
--Low quality textures--
Quote from Noob below:
I though this was some sort of bad joke, but no. Some of her color maps were kinda lowish quality and her some of her normal maps were straight up ant size. Talk about using the game engine to the max resources lol
--Model Scaling--
Because the model is built on the TF2 scale, it is taller than usual. To get her to approximate canon proportions, bake the Procedural Bones, right click the rootTransform bne, and click "Add Scale to Transforms". Double click the slider that appears and type in "0.0857143". This gets her to about 167cm (around 5'6").
SFMLab is a free service. However, it costs about $0.03 to deliver you a 1GB file. With over 20TB of traffic every month and growing, SFMLab needs your help. If only 1% of our users each gave us $5 for a single month, we could keep the site running for several years.
Filename
Downloads
Created
Filesize
Files
CM_02_-_Ashley_RE4_-_v0.7z
2501
2020-10-30 01:10:27
33.19 MB
File contents:

CM 02 - Ashley RE4 - v0/CM 02 - Ashley RE4 - v0/Usermod/Models/ModelC/Characters/RE/Ashley_Graham.dx90.vtx
CM 02 - Ashley RE4 - v0/CM 02 - Ashley RE4 - v0/Usermod/Models/ModelC/Characters/RE/ashley_graham.vvd
CM 02 - Ashley RE4 - v0/CM 02 - Ashley RE4 - v0/Usermod/Models/ModelC/Characters/RE/ashley_graham.mdl
CM 02 - Ashley RE4 - v0/CM 02 - Ashley RE4 - v0/Usermod/Materials/Models/ModelC/Shared/green3.vtf
CM 02 - Ashley RE4 - v0/CM 02 - Ashley RE4 - v0/Usermod/Materials/Models/ModelC/Shared/exponent_generic.vtf
CM 02 - Ashley RE4 - v0/CM 02 - Ashley RE4 - v0/Usermod/Materials/Models/ModelC/Shared/detail_skin.vtf
CM 02 - Ashley RE4 - v0/CM 02 - Ashley RE4 - v0/Usermod/Materials/Models/ModelC/Shared/detail_cloth2.vtf
CM 02 - Ashley RE4 - v0/CM 02 - Ashley RE4 - v0/Usermod/Materials/Models/ModelC/Shared/pupil_ambient.vtf
CM 02 - Ashley RE4 - v0/CM 02 - Ashley RE4 - v0/Usermod/Materials/Models/ModelC/Shared/bumpmap_flat_skin.vtf
CM 02 - Ashley RE4 - v0/CM 02 - Ashley RE4 - v0/Usermod/Materials/Models/ModelC/Shared/green.vtf
CM 02 - Ashley RE4 - v0/CM 02 - Ashley RE4 - v0/Usermod/Materials/Models/ModelC/Shared/bumpmap_flat.vtf
CM 02 - Ashley RE4 - v0/CM 02 - Ashley RE4 - v0/Usermod/Materials/Models/ModelC/Shared/plain_color.vtf
CM 02 - Ashley RE4 - v0/CM 02 - Ashley RE4 - v0/Usermod/Materials/Models/ModelC/Shared/detail_cloth.vtf
CM 02 - Ashley RE4 - v0/CM 02 - Ashley RE4 - v0/Usermod/Materials/Models/ModelC/Characters/RE/Ashley_Graham/Arms_Nrm.vtf
CM 02 - Ashley RE4 - v0/CM 02 - Ashley RE4 - v0/Usermod/Materials/Models/ModelC/Characters/RE/Ashley_Graham/Eyeball.vtf
CM 02 - Ashley RE4 - v0/CM 02 - Ashley RE4 - v0/Usermod/Materials/Models/ModelC/Characters/RE/Ashley_Graham/Genitals_Diff.vtf
CM 02 - Ashley RE4 - v0/CM 02 - Ashley RE4 - v0/Usermod/Materials/Models/ModelC/Characters/RE/Ashley_Graham/Legs_Nrm.vtf
CM 02 - Ashley RE4 - v0/CM 02 - Ashley RE4 - v0/Usermod/Materials/Models/ModelC/Characters/RE/Ashley_Graham/Top.vmt
CM 02 - Ashley RE4 - v0/CM 02 - Ashley RE4 - v0/Usermod/Materials/Models/ModelC/Characters/RE/Ashley_Graham/Outfit.vmt
CM 02 - Ashley RE4 - v0/CM 02 - Ashley RE4 - v0/Usermod/Materials/Models/ModelC/Characters/RE/Ashley_Graham/SideHair_Diff.vtf
CM 02 - Ashley RE4 - v0/CM 02 - Ashley RE4 - v0/Usermod/Materials/Models/ModelC/Characters/RE/Ashley_Graham/Ashley.vmt
CM 02 - Ashley RE4 - v0/CM 02 - Ashley RE4 - v0/Usermod/Materials/Models/ModelC/Characters/RE/Ashley_Graham/Hair_Nrm.vtf
CM 02 - Ashley RE4 - v0/CM 02 - Ashley RE4 - v0/Usermod/Materials/Models/ModelC/Characters/RE/Ashley_Graham/Face_Diff.vtf
CM 02 - Ashley RE4 - v0/CM 02 - Ashley RE4 - v0/Usermod/Materials/Models/ModelC/Characters/RE/Ashley_Graham/Torso_Nrm.vtf
CM 02 - Ashley RE4 - v0/CM 02 - Ashley RE4 - v0/Usermod/Materials/Models/ModelC/Characters/RE/Ashley_Graham/Pockets.vmt
CM 02 - Ashley RE4 - v0/CM 02 - Ashley RE4 - v0/Usermod/Materials/Models/ModelC/Characters/RE/Ashley_Graham/Toenails.vmt
CM 02 - Ashley RE4 - v0/CM 02 - Ashley RE4 - v0/Usermod/Materials/Models/ModelC/Characters/RE/Ashley_Graham/Face_Nrm.vtf
CM 02 - Ashley RE4 - v0/CM 02 - Ashley RE4 - v0/Usermod/Materials/Models/ModelC/Characters/RE/Ashley_Graham/Belt_Nrm.vtf
CM 02 - Ashley RE4 - v0/CM 02 - Ashley RE4 - v0/Usermod/Materials/Models/ModelC/Characters/RE/Ashley_Graham/Pockets_Nrm.vtf
CM 02 - Ashley RE4 - v0/CM 02 - Ashley RE4 - v0/Usermod/Materials/Models/ModelC/Characters/RE/Ashley_Graham/Shoes.vmt
CM 02 - Ashley RE4 - v0/CM 02 - Ashley RE4 - v0/Usermod/Materials/Models/ModelC/Characters/RE/Ashley_Graham/tSideHair.vmt
CM 02 - Ashley RE4 - v0/CM 02 - Ashley RE4 - v0/Usermod/Materials/Models/ModelC/Characters/RE/Ashley_Graham/Lashes.vmt
CM 02 - Ashley RE4 - v0/CM 02 - Ashley RE4 - v0/Usermod/Materials/Models/ModelC/Characters/RE/Ashley_Graham/Top_Nrm.vtf
CM 02 - Ashley RE4 - v0/CM 02 - Ashley RE4 - v0/Usermod/Materials/Models/ModelC/Characters/RE/Ashley_Graham/Legs_Diff.vtf
CM 02 - Ashley RE4 - v0/CM 02 - Ashley RE4 - v0/Usermod/Materials/Models/ModelC/Characters/RE/Ashley_Graham/Neck_Nrm.vtf
CM 02 - Ashley RE4 - v0/CM 02 - Ashley RE4 - v0/Usermod/Materials/Models/ModelC/Characters/RE/Ashley_Graham/Metal.vmt
CM 02 - Ashley RE4 - v0/CM 02 - Ashley RE4 - v0/Usermod/Materials/Models/ModelC/Characters/RE/Ashley_Graham/Leather.vmt
CM 02 - Ashley RE4 - v0/CM 02 - Ashley RE4 - v0/Usermod/Materials/Models/ModelC/Characters/RE/Ashley_Graham/Belt_Diff.vtf
CM 02 - Ashley RE4 - v0/CM 02 - Ashley RE4 - v0/Usermod/Materials/Models/ModelC/Characters/RE/Ashley_Graham/aHair.vmt
CM 02 - Ashley RE4 - v0/CM 02 - Ashley RE4 - v0/Usermod/Materials/Models/ModelC/Characters/RE/Ashley_Graham/Arms_Diff.vtf
CM 02 - Ashley RE4 - v0/CM 02 - Ashley RE4 - v0/Usermod/Materials/Models/ModelC/Characters/RE/Ashley_Graham/Genitals_Nrm.vtf
CM 02 - Ashley RE4 - v0/CM 02 - Ashley RE4 - v0/Usermod/Materials/Models/ModelC/Characters/RE/Ashley_Graham/Arms.vmt
CM 02 - Ashley RE4 - v0/CM 02 - Ashley RE4 - v0/Usermod/Materials/Models/ModelC/Characters/RE/Ashley_Graham/Hair_Diff.vtf
CM 02 - Ashley RE4 - v0/CM 02 - Ashley RE4 - v0/Usermod/Materials/Models/ModelC/Characters/RE/Ashley_Graham/tHair.vmt
CM 02 - Ashley RE4 - v0/CM 02 - Ashley RE4 - v0/Usermod/Materials/Models/ModelC/Characters/RE/Ashley_Graham/Torso.vmt
CM 02 - Ashley RE4 - v0/CM 02 - Ashley RE4 - v0/Usermod/Materials/Models/ModelC/Characters/RE/Ashley_Graham/eyeball_l.vmt
CM 02 - Ashley RE4 - v0/CM 02 - Ashley RE4 - v0/Usermod/Materials/Models/ModelC/Characters/RE/Ashley_Graham/Fingernails.vmt
CM 02 - Ashley RE4 - v0/CM 02 - Ashley RE4 - v0/Usermod/Materials/Models/ModelC/Characters/RE/Ashley_Graham/Pants_Nrm.vtf
CM 02 - Ashley RE4 - v0/CM 02 - Ashley RE4 - v0/Usermod/Materials/Models/ModelC/Characters/RE/Ashley_Graham/Pockets_Diff.vtf
CM 02 - Ashley RE4 - v0/CM 02 - Ashley RE4 - v0/Usermod/Materials/Models/ModelC/Characters/RE/Ashley_Graham/Legs.vmt
CM 02 - Ashley RE4 - v0/CM 02 - Ashley RE4 - v0/Usermod/Materials/Models/ModelC/Characters/RE/Ashley_Graham/eyeball_r.vmt
CM 02 - Ashley RE4 - v0/CM 02 - Ashley RE4 - v0/Usermod/Materials/Models/ModelC/Characters/RE/Ashley_Graham/Genitals.vmt
CM 02 - Ashley RE4 - v0/CM 02 - Ashley RE4 - v0/Usermod/Materials/Models/ModelC/Characters/RE/Ashley_Graham/Top_Diff.vtf
CM 02 - Ashley RE4 - v0/CM 02 - Ashley RE4 - v0/Usermod/Materials/Models/ModelC/Characters/RE/Ashley_Graham/Torso_Diff.vtf
CM 02 - Ashley RE4 - v0/CM 02 - Ashley RE4 - v0/Usermod/Materials/Models/ModelC/Characters/RE/Ashley_Graham/Neck.vmt
CM 02 - Ashley RE4 - v0/CM 02 - Ashley RE4 - v0/Usermod/Materials/Models/ModelC/Characters/RE/Ashley_Graham/Pants_Diff.vtf
CM 02 - Ashley RE4 - v0/CM 02 - Ashley RE4 - v0/Usermod/Materials/Models/ModelC/Characters/RE/Ashley_Graham/Lashes_Diff.vtf
CM 02 - Ashley RE4 - v0/CM 02 - Ashley RE4 - v0/Usermod/Materials/Models/ModelC/Characters/RE/Ashley_Graham/SideHair_Nrm.vtf
CM 02 - Ashley RE4 - v0/CM 02 - Ashley RE4 - v0/Usermod/Materials/Models/ModelC/Characters/RE/Ashley_Graham/Neck_Diff.vtf
CM 02 - Ashley RE4 - v0/CM 02 - Ashley RE4 - v0/Usermod/Materials/Models/ModelC/Characters/RE/Ashley_Graham/aSideHair.vmt