Adult content
This content is marked as Adult/NSFW content. You can toggle your preferences regarding this content type in your account settings.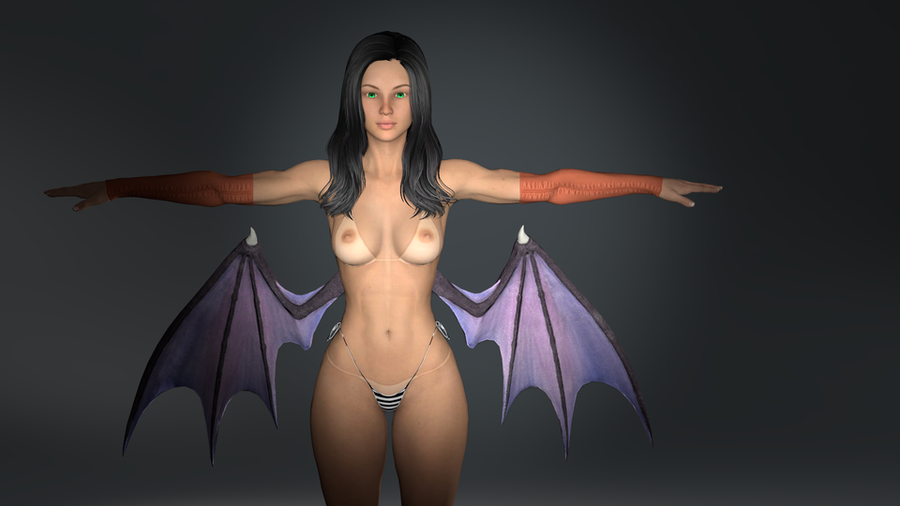 Description
A succubus Original character
https://twitter.com/nsfwstudio11
Use it as you wish We appreciate a link to our twitter if you use the model.
Rig: Valve 3 spine
Jigglebones on ass and breast.
Also thanks to xemnasxD for help with the model!
UPDATE: FIXED THE EMPTY FOLDER working now
SFMLab is a free service. However, it costs about $0.03 to deliver you a 1GB file. With over 20TB of traffic every month and growing, SFMLab needs your help. If only 1% of our users each gave us $5 for a single month, we could keep the site running for several years.
Filename
Downloads
Created
Filesize
Files
succubus_IgM9JxM_2.rar
942
2020-11-17 23:46:16
62.32 MB
File contents:

succubus/models/helen/xps.vvd
succubus/models/helen/xps.dx90.vtx
succubus/models/helen/xps.mdl
succubus/materials/models/helen/xps/torso2.vmt
succubus/materials/models/helen/xps/tin_eyes_spe.png
succubus/materials/models/helen/xps/mouth2.vmt
succubus/materials/models/helen/xps/00A_COLOR.png
succubus/materials/models/helen/xps/d5.vmt
succubus/materials/models/helen/xps/glove3.vmt
succubus/materials/models/helen/xps/SunFlirtBot-Sk_1.png
succubus/materials/models/helen/xps/wing.vtf
succubus/materials/models/helen/xps/swim.vtf
succubus/materials/models/helen/xps/FWSAZettaMouth_1005.png
succubus/materials/models/helen/xps/hair.vmt
succubus/materials/models/helen/xps/torso.vtf
succubus/materials/models/helen/xps/gen2.vmt
succubus/materials/models/helen/xps/tin_face_base.png
succubus/materials/models/helen/xps/eyelash.vtf
succubus/materials/models/helen/xps/basebump.vtf
succubus/materials/models/helen/xps/armsx.vtf
succubus/materials/models/helen/xps/bikini.vmt
succubus/materials/models/helen/xps/tex_torso_s.png
succubus/materials/models/helen/xps/legs.vtf
succubus/materials/models/helen/xps/basex.vtf
succubus/materials/models/helen/xps/FWSAZettaArms_1004.png
succubus/materials/models/helen/xps/tin_face_nrm_VLH2_PP1.png
succubus/materials/models/helen/xps/xps.xps
succubus/materials/models/helen/xps/torsobump.vtf
succubus/materials/models/helen/xps/gloves.vmt
succubus/materials/models/helen/xps/wingx.vtf
succubus/materials/models/helen/xps/legsx.vtf
succubus/materials/models/helen/xps/facenump.vtf
succubus/materials/models/helen/xps/FWSAZettaFace_1001nrm.png
succubus/materials/models/helen/xps/face3.vmt
succubus/materials/models/helen/xps/RyJeane_lashes_1006.png
succubus/materials/models/helen/xps/hair_s.png
succubus/materials/models/helen/xps/FWSAZettaMouth_1005nrm.png
succubus/materials/models/helen/xps/gloves2.vmt
succubus/materials/models/helen/xps/face2.vmt
succubus/materials/models/helen/xps/123GloveTEX.png
succubus/materials/models/helen/xps/base.vmt
succubus/materials/models/helen/xps/wings2.vmt
succubus/materials/models/helen/xps/mouth.vmt
succubus/materials/models/helen/xps/FWSAZettaLegs_1003.png
succubus/materials/models/helen/xps/lightmap_white.png
succubus/materials/models/helen/xps/face4.vmt
succubus/materials/models/helen/xps/bikini.vtf
succubus/materials/models/helen/xps/00A_SSS.png
succubus/materials/models/helen/xps/face.vtf
succubus/materials/models/helen/xps/eyelash.vmt
succubus/materials/models/helen/xps/bikini2.vmt
succubus/materials/models/helen/xps/d5.png
succubus/materials/models/helen/xps/tex_face_s.png
succubus/materials/models/helen/xps/FWSAZettaArms_1004nrm.png
succubus/materials/models/helen/xps/MicBik_MicroBikini04.png
succubus/materials/models/helen/xps/wing.vmt
succubus/materials/models/helen/xps/arms2.vmt
succubus/materials/models/helen/xps/swim.vmt
succubus/materials/models/helen/xps/d5.vtf
succubus/materials/models/helen/xps/legs.vmt
succubus/materials/models/helen/xps/torsox.vtf
succubus/materials/models/helen/xps/swim2.vmt
succubus/materials/models/helen/xps/GensMapD_1009.png
succubus/materials/models/helen/xps/mouth.vtf
succubus/materials/models/helen/xps/color.png
succubus/materials/models/helen/xps/arms.vmt
succubus/materials/models/helen/xps/l.png
succubus/materials/models/helen/xps/flatspec.tga
succubus/materials/models/helen/xps/FWSAZettaTorso_1002.png
succubus/materials/models/helen/xps/armsbump.vtf
succubus/materials/models/helen/xps/torso.vmt
succubus/materials/models/helen/xps/gen.vtf
succubus/materials/models/helen/xps/hairx.vtf
succubus/materials/models/helen/xps/arms.vtf
succubus/materials/models/helen/xps/hair.vtf
succubus/materials/models/helen/xps/Prev.png
succubus/materials/models/helen/xps/tex_arms_s.png
succubus/materials/models/helen/xps/glove4.vmt
succubus/materials/models/helen/xps/face.vmt
succubus/materials/models/helen/xps/wing2.vmt
succubus/materials/models/helen/xps/FWSAZettaFace_1001.png
succubus/materials/models/helen/xps/hair_n.png
succubus/materials/models/helen/xps/FWSAZettaTorso_1002nrm.png
succubus/materials/models/helen/xps/gen.vmt
succubus/materials/models/helen/xps/FWSAZettaLegs_1003nrm.png
succubus/materials/models/helen/xps/mouthbump.vtf
succubus/materials/models/helen/xps/base.vtf
succubus/materials/models/helen/xps/hairbump.vtf
succubus/materials/models/helen/xps/hair_d.png
succubus/materials/models/helen/xps/gloves.vtf
succubus/materials/models/helen/xps/FWSAZettaEyes01_1007.png
succubus/materials/models/helen/xps/00A_NORMAL.png
succubus/materials/models/helen/xps/wingbump.vtf
succubus/materials/models/helen/xps/legsbump.vtf
succubus/materials/models/helen/xps/glove5.vmt
succubus/materials/models/helen/xps/gen3.vmt
succubus/materials/models/helen/xps/glove6.vmt
succubus/materials/models/helen/xps/facex.vtf
succubus/materials/models/helen/xps/i13swimm_ao3.png
succubus/materials/models/helen/xps/legs2.vmt
succubus/materials/models/helen/xps/tex_legs_s.png
succubus/materials/models/helen/xps/wings.vmt