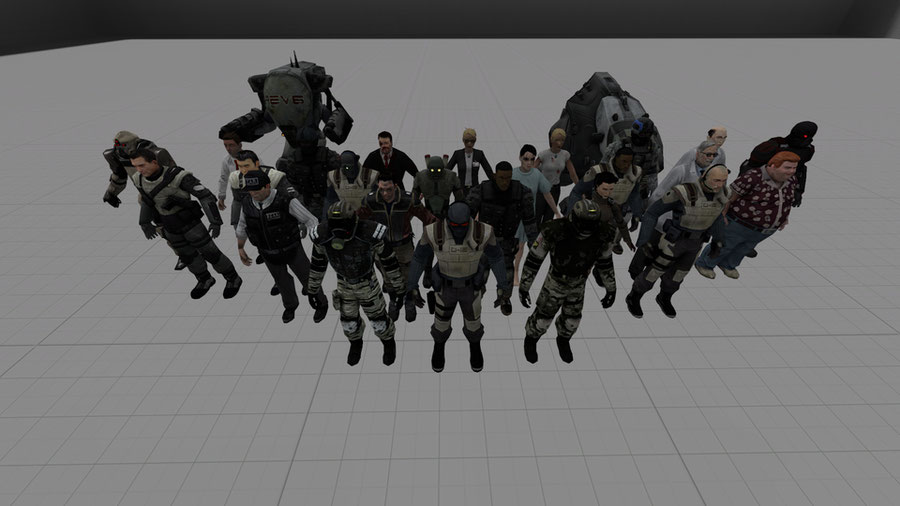 Show more
Description
This has basically everything from F.E.A.R. and it's expansions, but some of the props do not work, you have been warned. All weapons and Character Models work fine. Also weapons and character models are in a different folders.
CREDIT: All models are from F.E.A.R. and belong to Monolith Productions. Credit to ☭Comrade Communist☭ for porting these to GMod. Map: https://sfmlab.com/project/27570/
SFMLab is a free service. However, it costs about $0.03 to deliver you a 1GB file. With over 20TB of traffic every month and growing, SFMLab needs your help. If only 1% of our users each gave us $5 for a single month, we could keep the site running for several years.
Filename
Downloads
Created
Filesize
Files
f.e.a.r.zip
858
2020-12-15 04:50:18
488.41 MB
File contents:

f.e.a.r/sound/snd_jack_job_radioswitch.wav
f.e.a.r/sound/traceurmount1.wav
f.e.a.r/sound/traceurmount2.wav
f.e.a.r/sound/snd_jack_job_radiotone.wav
f.e.a.r/sound/wallrun.wav
f.e.a.r/sound/help.wav
f.e.a.r/sound/light.wav
f.e.a.r/sound/traceurmount3.wav
f.e.a.r/sound/npc_fear_weps/shotgun/single.wav
f.e.a.r/sound/npc_fear_weps/shotgun/pump.wav
f.e.a.r/sound/npc_fear_weps/50mm/fire.wav
f.e.a.r/sound/npc_fear_weps/at14/reload.wav
f.e.a.r/sound/npc_fear_weps/at14/single_npc.wav
f.e.a.r/sound/npc_fear_weps/at14/empty.wav
f.e.a.r/sound/npc_fear_weps/at14/single.wav
f.e.a.r/sound/npc_fear_weps/rg/grenadelauncher_fire.wav
f.e.a.r/sound/npc_fear_weps/rg/grenadelauncher_reload1.wav
f.e.a.r/sound/npc_fear_weps/ves/double.wav
f.e.a.r/sound/npc_fear_weps/ves/reload.wav
f.e.a.r/sound/npc_fear_weps/ves/single1.wav
f.e.a.r/sound/npc_fear_weps/ves/grenade_launch.wav
f.e.a.r/sound/npc_fear_weps/ves/single_npc.wav
f.e.a.r/sound/npc_fear_weps/ves/empty.wav
f.e.a.r/sound/npc_fear_weps/ves/single2.wav
f.e.a.r/sound/npc_fear_weps/crossbow/single.wav
f.e.a.r/sound/npc_fear_weps/laser/fire.wav
f.e.a.r/sound/npc_fear_weps/smg/double.wav
f.e.a.r/sound/npc_fear_weps/smg/reload.wav
f.e.a.r/sound/npc_fear_weps/smg/single1.wav
f.e.a.r/sound/npc_fear_weps/smg/grenade_launch.wav
f.e.a.r/sound/npc_fear_weps/smg/single_npc.wav
f.e.a.r/sound/npc_fear_weps/smg/empty.wav
f.e.a.r/sound/npc_fear_weps/smg/single3.wav
f.e.a.r/sound/npc_fear_weps/smg/single2.wav
f.e.a.r/sound/npc_fear_weps/rpg/single.wav
f.e.a.r/sound/npc_fear_weps/min/fire.wav
f.e.a.r/sound/npc_fear_weps/g2a2/double.wav
f.e.a.r/sound/npc_fear_weps/g2a2/reload.wav
f.e.a.r/sound/npc_fear_weps/g2a2/single1.wav
f.e.a.r/sound/npc_fear_weps/g2a2/grenade_launch.wav
f.e.a.r/sound/npc_fear_weps/g2a2/single_npc.wav
f.e.a.r/sound/npc_fear_weps/g2a2/empty.wav
f.e.a.r/sound/npc_fear_weps/g2a2/single3.wav
f.e.a.r/sound/npc_fear_weps/g2a2/single2.wav
f.e.a.r/sound/npc_fear_weps/asp/double.wav
f.e.a.r/sound/npc_fear_weps/asp/reload.wav
f.e.a.r/sound/npc_fear_weps/asp/single1.wav
f.e.a.r/sound/npc_fear_weps/asp/grenade_launch.wav
f.e.a.r/sound/npc_fear_weps/asp/single_npc.wav
f.e.a.r/sound/npc_fear_weps/asp/empty.wav
f.e.a.r/sound/npc_fear_weps/asp/single3.wav
f.e.a.r/sound/npc_fear_weps/asp/single2.wav
f.e.a.r/sound/npc_fear_weps/type7/fire_ai.wav
f.e.a.r/sound/npc_fear_weps/type7/fire.wav
f.e.a.r/sound/comrade/fear_prop/vulcan/fireloop.wav
f.e.a.r/sound/comrade/fear_prop/vulcan/firestop.wav
f.e.a.r/sound/comrade/fear_prop/minigun/minigun_fire_start_01.wav
f.e.a.r/sound/comrade/fear_prop/minigun/minigun_select_01.wav
f.e.a.r/sound/comrade/fear_prop/minigun/minigun_deselect_01.wav
f.e.a.r/sound/comrade/fear_prop/minigun/minigun_fire_stop_01.wav
f.e.a.r/sound/comrade/fear_prop/minigun/minigun_fire_stop_ai_01.wav
f.e.a.r/sound/comrade/fear_prop/minigun/minigun_fire_loop_ai_01.wav
f.e.a.r/sound/comrade/fear_prop/minigun/minigun_fire_loop_01.wav
f.e.a.r/sound/comrade/fear_prop/vehicles/heliblades1.wav
f.e.a.r/sound/comrade/fear_prop/vehicles/factory_truck_03.wav
f.e.a.r/sound/comrade/fear_prop/vehicles/helifall_tmp.wav
f.e.a.r/sound/comrade/fear_prop/vehicles/factory_truck_02.wav
f.e.a.r/sound/comrade/fear_prop/vehicles/heli_ropeslide.wav
f.e.a.r/sound/comrade/fear_prop/vehicles/heliengine2.wav
f.e.a.r/sound/comrade/fear_prop/vehicles/heliloud.wav
f.e.a.r/sound/comrade/fear_prop/vehicles/helicopter_distant_loop.wav
f.e.a.r/sound/comrade/fear_prop/vehicles/factory_truck_final.wav
f.e.a.r/sound/comrade/fear_prop/vehicles/helicopter_interior_flying_loop.wav
f.e.a.r/sound/comrade/fear_prop/vehicles/factory_truck_final_land.wav
f.e.a.r/sound/comrade/fear_prop/vehicles/helicopter_flyby_01.wav
f.e.a.r/sound/comrade/fear_prop/vehicles/factory_truck_01.wav
f.e.a.r/sound/comrade/fear_prop/vehicles/truckpullup_1.wav
f.e.a.r/sound/comrade/fear_prop/vehicles/truckdriveby_01.wav
f.e.a.r/sound/comrade/fear_prop/vehicles/heliint_01.wav
f.e.a.r/sound/comrade/fear_prop/vehicles/heli_ropeslide_ai.wav
f.e.a.r/sound/comrade/fear_prop/vehicles/heliengine1.wav
f.e.a.r/sound/comrade/fear_prop/vehicles/truckexp_1.wav
f.e.a.r/sound/comrade/fear_prop/vehicles/heliloud_bh.wav
f.e.a.r/sound/comrade/fear_prop/vehicles/factory_truck_final_fence.wav
f.e.a.r/sound/comrade/fear_prop/vehicles/helicopter_flyby_02.wav
f.e.a.r/sound/comrade/fear_prop/vehicles/factory_truck_02_camera.wav
f.e.a.r/sound/comrade/fear_prop/missilelauncher/fire_end_03_ai.wav
f.e.a.r/sound/comrade/fear_prop/missilelauncher/fire_end_01.wav
f.e.a.r/sound/comrade/fear_prop/missilelauncher/reload2.wav
f.e.a.r/sound/comrade/fear_prop/missilelauncher/fire_end_01_ai.wav
f.e.a.r/sound/comrade/fear_prop/missilelauncher/fire_ai.wav
f.e.a.r/sound/comrade/fear_prop/missilelauncher/fire.wav
f.e.a.r/sound/comrade/fear_prop/missilelauncher/loop.wav
f.e.a.r/sound/comrade/fear_prop/missilelauncher/fire_end_03.wav
f.e.a.r/sound/comrade/fear_prop/missilelauncher/fire_end_02.wav
f.e.a.r/sound/comrade/fear_prop/missilelauncher/reload3.wav
f.e.a.r/sound/comrade/fear_prop/missilelauncher/deselect.wav
f.e.a.r/sound/comrade/fear_prop/missilelauncher/select.wav
f.e.a.r/sound/comrade/fear_prop/missilelauncher/reload1.wav
f.e.a.r/sound/comrade/fear_prop/missilelauncher/fire_end_02_ai.wav
f.e.a.r/sound/weapons/lsp/sl8/m24_boltforward.wav
f.e.a.r/sound/weapons/lsp/sl8/m4a1-1.wav
f.e.a.r/sound/weapons/lsp/sl8/m24_magin.wav
f.e.a.r/sound/weapons/lsp/sl8/reload.wav
f.e.a.r/sound/weapons/lsp/sl8/m4a1_silencer_on.wav
f.e.a.r/sound/weapons/lsp/sl8/m24_boltback.wav
f.e.a.r/sound/weapons/lsp/sl8/m24_magout.wav
f.e.a.r/sound/weapons/lsp/sl8/m4a1_unsil-1.wav
f.e.a.r/sound/weapons/lsp/sl8/m4a1_silencer_off.wav
f.e.a.r/sound/weapons/lsp/sten/mp5_clipout.wav
f.e.a.r/sound/weapons/lsp/sten/fire.wav
f.e.a.r/sound/weapons/lsp/sten/mp5_clipin.wav
f.e.a.r/sound/weapons/lsp/sten/mp5_boltslap.wav
f.e.a.r/sound/weapons/lsp/sten/mp5_boltpull.wav
f.e.a.r/sound/weapons/claw/claw_2.wav
f.e.a.r/sound/weapons/claw/lunge_1.wav
f.e.a.r/sound/weapons/claw/uncloak_01.wav
f.e.a.r/sound/weapons/claw/squib_knife_impact_flesh_02.wav
f.e.a.r/sound/weapons/claw/qubodup_sword_swing2.wav
f.e.a.r/sound/weapons/universal/iron_out.wav
f.e.a.r/sound/weapons/universal/pap.wav
f.e.a.r/sound/weapons/universal/zoom.wav
f.e.a.r/sound/weapons/universal/firemode.wav
f.e.a.r/sound/weapons/universal/iron_in.wav
f.e.a.r/sound/weapons/tbolts/tbolts_fx1.wav
f.e.a.r/sound/weapons/tbolts/tbolts_fx4.wav
f.e.a.r/sound/weapons/tbolts/tbolts_fx2.wav
f.e.a.r/sound/weapons/tbolts/tbolts_fx3.wav
f.e.a.r/sound/weapons/tbolts/tbolts_fire.wav
f.e.a.r/sound/weapons/rifle/gunfire/rifle_fire_1.wav
f.e.a.r/sound/weapons/rifle/gunother/rifle_clip_out_1.wav
f.e.a.r/sound/weapons/rifle/gunother/rifle_fullautobutton_1.wav
f.e.a.r/sound/weapons/rifle/gunother/rifle_helpinghandextend.wav
f.e.a.r/sound/weapons/rifle/gunother/rifle_slideback_1.wav
f.e.a.r/sound/weapons/rifle/gunother/rifle_clip_in_1.wav
f.e.a.r/sound/weapons/rifle/gunother/rifle_clip_locked_1.wav
f.e.a.r/sound/weapons/rifle/gunother/rifle_ready_1.wav
f.e.a.r/sound/weapons/rifle/gunother/rifle_slideforward_1.wav
f.e.a.r/sound/weapons/rifle/gunother/rifle_deploy_1.wav
f.e.a.r/sound/weapons/rifle/gunother/rifle_helpinghandretract.wav
f.e.a.r/sound/weapons/shuriken/on_wall.wav
f.e.a.r/sound/weapons/shuriken/throw4.wav
f.e.a.r/sound/weapons/shuriken/hit3.wav
f.e.a.r/sound/weapons/sanctum2_tr/s_tr_shoot1.wav
f.e.a.r/sound/weapons/sanctum2_tr/s_tr_reload1.ogg
f.e.a.r/sound/weapons/sanctum2_tr/s_tr_shoot2.wav
f.e.a.r/sound/weapons/sanctum2_tr/s_tr_shoot_l.wav
f.e.a.r/sound/weapons/ass_dual/ass_dual_fire.wav
f.e.a.r/sound/weapons/ass_dual/ass_dual_reload.wav
f.e.a.r/sound/weapons/smg/gunother/smg_deploy_1.wav
f.e.a.r/sound/weapons/smg/gunother/smg_clip_locked_1.wav
f.e.a.r/sound/weapons/smg/gunother/smg_clip_out_1.wav
f.e.a.r/sound/weapons/smg/gunother/smg_fullautobutton_1.wav
f.e.a.r/sound/weapons/smg/gunother/smg_slideforward_1.wav
f.e.a.r/sound/weapons/smg/gunother/smg_slideback_1.wav
f.e.a.r/sound/weapons/smg/gunother/smg_clip_in_1.wav
f.e.a.r/sound/weapons/npc_katana/squib_knife_impact_flesh_02.wav
f.e.a.r/sound/weapons/npc_katana/qubodup_sword_swing2.wav
f.e.a.r/sound/weapons/xnife/knife_deploy1.wav
f.e.a.r/sound/weapons/asp/fire1.wav
f.e.a.r/sound/weapons/asp/fire.wav
f.e.a.r/sound/weapons/gr9npc/ass_dual_fire.wav
f.e.a.r/sound/weapons/gr9npc/gr9npcfire.wav
f.e.a.r/sound/weapons/gr9npc/gr9npcreload.wav
f.e.a.r/sound/weapons/gr9npc/ass_dual_reload.wav
f.e.a.r/sound/weapons/sg552/gunfire/sg552-1.wav
f.e.a.r/sound/weapons/sg552/gunother/sg552_clipin.wav
f.e.a.r/sound/weapons/sg552/gunother/sg552_boltpull.wav
f.e.a.r/sound/weapons/sg552/gunother/sg552_boltpullforward.wav
f.e.a.r/sound/weapons/sg552/gunother/sg552_clipout.wav
f.e.a.r/sound/ghosts/bizon/boltpull_converted.wav
f.e.a.r/sound/ghosts/bizon/cloth.mp3
f.e.a.r/sound/ghosts/bizon/magin_converted1.wav
f.e.a.r/sound/ghosts/bizon/magin_converted.wav
f.e.a.r/sound/ghosts/bizon/magout_converted.wav
f.e.a.r/sound/items/cliprelease1.wav
f.e.a.r/sound/items/9mmclip1.wav
f.e.a.r/sound/items/clipinsert1.wav
f.e.a.r/sound/items/9mmclip2.wav
f.e.a.r/sound/fear/granade.wav
f.e.a.r/sound/fear/assaultrifle/fire1.wav
f.e.a.r/sound/fear/assaultrifle/fire4.wav
f.e.a.r/sound/fear/assaultrifle/fire3.wav
f.e.a.r/sound/fear/assaultrifle/deselect.wav
f.e.a.r/sound/fear/assaultrifle/select.wav
f.e.a.r/sound/fear/assaultrifle/reload1.wav
f.e.a.r/sound/fear/assaultrifle/fire2.wav
f.e.a.r/sound/fear/assaultrifle/fire5.wav
f.e.a.r/sound/fear/rev/pa_movement_11.wav
f.e.a.r/sound/fear/rev/pa_movement_15.wav
f.e.a.r/sound/fear/rev/pa_movement_4.wav
f.e.a.r/sound/fear/rev/pa_footstep_1b.wav
f.e.a.r/sound/fear/rev/parmor_progdamsparks_01.wav
f.e.a.r/sound/fear/rev/pa_movement_16.wav
f.e.a.r/sound/fear/rev/pa_land_2.wav
f.e.a.r/sound/fear/rev/drone_damaged_lp.wav
f.e.a.r/sound/fear/rev/pa_footstep_2b.wav
f.e.a.r/sound/fear/rev/pa_footstep_1a.wav
f.e.a.r/sound/fear/rev/pa_movement_19.wav
f.e.a.r/sound/fear/rev/pa_limpstep_2.wav
f.e.a.r/sound/fear/rev/pa_land_1.wav
f.e.a.r/sound/fear/rev/pa_movement_10.wav
f.e.a.r/sound/fear/rev/pa_movement_13.wav
f.e.a.r/sound/fear/rev/lunge_big_scream.wav
f.e.a.r/sound/fear/rev/pa_movement_14.wav
f.e.a.r/sound/fear/rev/parmor_progdamsparks_04.wav
f.e.a.r/sound/fear/rev/pa_movement_2.wav
f.e.a.r/sound/fear/rev/badge_pa_jump.wav
f.e.a.r/sound/fear/rev/parmor_progdamsparks_03.wav
f.e.a.r/sound/fear/rev/pa_movement_12.wav
f.e.a.r/sound/fear/rev/pa_movement_3.wav
f.e.a.r/sound/fear/rev/parmor_progdamsparks_02.wav
f.e.a.r/sound/fear/rev/pa_movement_9.wav
f.e.a.r/sound/fear/rev/pa_movement_17.wav
f.e.a.r/sound/fear/rev/pa_limpstep_1.wav
f.e.a.r/sound/fear/rev/pa_movement_8.wav
f.e.a.r/sound/fear/rev/pa_footstep_2a.wav
f.e.a.r/sound/fear/rev/pa_movement_18.wav
f.e.a.r/sound/fear/rev/pa_movement_5.wav
f.e.a.r/sound/fear/rev/pa_movement_1.wav
f.e.a.r/sound/fear/rev/pa_movement_6.wav
f.e.a.r/sound/fear/rev/pa_movement_7.wav
f.e.a.r/sound/fear/dron/drone_spark_03.wav
f.e.a.r/sound/fear/dron/drone_hover_lp.wav
f.e.a.r/sound/fear/dron/drone_damaged_lp.wav
f.e.a.r/sound/fear/dron/drone_turn_05.wav
f.e.a.r/sound/fear/dron/fire.wav
f.e.a.r/sound/fear/dron/drone_spark_04.wav
f.e.a.r/sound/fear/dron/drone_spark_02.wav
f.e.a.r/sound/fear/dron/drone_explode_03.wav
f.e.a.r/sound/fear/dron/drone_spark_05.wav
f.e.a.r/sound/fear/dron/drone_02_loud.wav
f.e.a.r/sound/fear/dron/drone_01.wav
f.e.a.r/sound/fear/dron/drone_turn_01.wav
f.e.a.r/sound/fear/dron/drone_spark_01.wav
f.e.a.r/sound/fear/dron/drone_explode_02.wav
f.e.a.r/sound/fear/dron/drone_explode_04.wav
f.e.a.r/sound/fear/dron/drone_spark_06.wav
f.e.a.r/sound/fear/dron/drone_turn_04.wav
f.e.a.r/sound/fear/dron/drone_turn_03.wav
f.e.a.r/sound/fear/dron/drone_turn_06.wav
f.e.a.r/sound/fear/dron/drone_02.wav
f.e.a.r/sound/fear/dron/drone_turn_02.wav
f.e.a.r/sound/fear/dron/drone_explode_01.wav
f.e.a.r/sound/fear/grenadelauncher/grenadelauncher_far_explode_02.wav
f.e.a.r/sound/fear/grenadelauncher/grenadelauncher_fire.wav
f.e.a.r/sound/fear/grenadelauncher/grenadelauncher_deselect.wav
f.e.a.r/sound/fear/grenadelauncher/grenadelauncher_reload2.wav
f.e.a.r/sound/fear/grenadelauncher/grenadelauncher_explode_03.wav
f.e.a.r/sound/fear/grenadelauncher/grenadelauncher_explode_04.wav
f.e.a.r/sound/fear/grenadelauncher/grenadelauncher_far_explode_01.wav
f.e.a.r/sound/fear/grenadelauncher/grenadelauncher_explode_01.wav
f.e.a.r/sound/fear/grenadelauncher/grenadelauncher_explode_02.wav
f.e.a.r/sound/fear/grenadelauncher/grenadelauncher_select.wav
f.e.a.r/sound/fear/grenadelauncher/grenadelauncher_fire_ai.wav
f.e.a.r/sound/fear/grenadelauncher/grenadelauncher_reload1.wav
f.e.a.r/sound/fear/grenadelauncher/grenadelauncher_far_explode_04.wav
f.e.a.r/sound/fear/grenadelauncher/grenadelauncher_far_explode_03.wav
f.e.a.r/sound/fear/advancedrifle/advancedrifle_fire1_dist.wav
f.e.a.r/sound/fear/advancedrifle/advancedrifle_reload2.wav
f.e.a.r/sound/fear/advancedrifle/advancedrifle_deselect.wav
f.e.a.r/sound/fear/advancedrifle/advancedrifle_zoom.wav
f.e.a.r/sound/fear/advancedrifle/advancedrifle_select.wav
f.e.a.r/sound/fear/advancedrifle/advancedrifle_fire1_ai.wav
f.e.a.r/sound/fear/advancedrifle/advancedrifle_fire2.wav
f.e.a.r/sound/fear/advancedrifle/advancedrifle_fireloop_ai.wav
f.e.a.r/sound/fear/advancedrifle/advancedrifle_fireloop_dist.wav
f.e.a.r/sound/fear/advancedrifle/advancedrifle_fireloop.wav
f.e.a.r/sound/fear/advancedrifle/advancedrifle_fire1.wav
f.e.a.r/sound/fear/advancedrifle/advancedrifle_reload1.wav
f.e.a.r/sound/fear/turret/deployableturret_turnlp_01.wav
f.e.a.r/sound/fear/turret/deployableturret_open_01.wav
f.e.a.r/sound/fear/turret/deployableturret_fire_loop_01.wav
f.e.a.r/sound/fear/turret/deployableturret_seen_01.wav
f.e.a.r/sound/fear/turret/deployableturret_lost_01.wav
f.e.a.r/sound/fear/turret/deployableturret_fire_01.wav
f.e.a.r/sound/fear/shotgun/fire_dist.wav
f.e.a.r/sound/fear/shotgun/reload2.wav
f.e.a.r/sound/fear/shotgun/fire.wav
f.e.a.r/sound/fear/shotgun/deselect.wav
f.e.a.r/sound/fear/shotgun/select.wav
f.e.a.r/sound/fear/shotgun/reload1.wav
f.e.a.r/sound/fear/vulcan/fireloop.wav
f.e.a.r/sound/fear/vulcan/firestop.wav
f.e.a.r/sound/fear/minigun/minigun_fire_start_01.wav
f.e.a.r/sound/fear/minigun/minigun_select_01.wav
f.e.a.r/sound/fear/minigun/minigun_deselect_01.wav
f.e.a.r/sound/fear/minigun/minigun_fire_stop_01.wav
f.e.a.r/sound/fear/minigun/minigun_fire_stop_ai_01.wav
f.e.a.r/sound/fear/minigun/minigun_fire_loop_ai_01.wav
f.e.a.r/sound/fear/minigun/minigun_fire_loop_01.wav
f.e.a.r/sound/fear/assassin/lunge_4.wav
f.e.a.r/sound/fear/assassin/lunge_2.wav
f.e.a.r/sound/fear/assassin/on_wall.wav
f.e.a.r/sound/fear/assassin/leap_1.wav
f.e.a.r/sound/fear/assassin/claw_2.wav
f.e.a.r/sound/fear/assassin/lunge_1.wav
f.e.a.r/sound/fear/assassin/land.wav
f.e.a.r/sound/fear/assassin/uncloak_01.wav
f.e.a.r/sound/fear/assassin/lunge_big_scream.wav
f.e.a.r/sound/fear/assassin/lunge_3.wav
f.e.a.r/sound/fear/assassin/claw_3.wav
f.e.a.r/sound/fear/assassin/lunge_b.wav
f.e.a.r/sound/fear/assassin/leap_2.wav
f.e.a.r/sound/fear/assassin/claw_1.wav
f.e.a.r/sound/fear/assassin/lope_b_start.wav
f.e.a.r/sound/fear/semiauto/fire_dist.wav
f.e.a.r/sound/fear/semiauto/reload2.wav
f.e.a.r/sound/fear/semiauto/zoom_short.wav
f.e.a.r/sound/fear/semiauto/fire_ai.wav
f.e.a.r/sound/fear/semiauto/fire.wav
f.e.a.r/sound/fear/semiauto/reload.wav
f.e.a.r/sound/fear/semiauto/deselect.wav
f.e.a.r/sound/fear/semiauto/select.wav
f.e.a.r/sound/fear/semiauto/reload1.wav
f.e.a.r/sound/fear/semiauto/sniperzoom.wav
f.e.a.r/sound/fear/hight/01.wav
f.e.a.r/sound/fear/hight/heavyarmor_alert_01.ogg
f.e.a.r/sound/fear/hight/heavyarmor_death_01.ogg
f.e.a.r/sound/fear/hight/heavyarmor_alert_02.ogg
f.e.a.r/sound/fear/hight/heavyarmor_alert_03.ogg
f.e.a.r/sound/fear/hight/heavyarmor_death_03.ogg
f.e.a.r/sound/fear/hight/heavyarmor_death_02.ogg
f.e.a.r/sound/fear/hight/02.wav
f.e.a.r/sound/fear/hight/05.wav
f.e.a.r/sound/fear/hight/heavyarmor_alert_04.ogg
f.e.a.r/sound/fear/hight/04.wav
f.e.a.r/sound/fear/hight/heavyarmor_alert_05.ogg
f.e.a.r/sound/fear/hight/03.wav
f.e.a.r/sound/fear/hight/heavyarmor_death_04.ogg
f.e.a.r/sound/fear/chainlightninggun/chainlightninggun_beam.wav
f.e.a.r/sound/fear/chainlightninggun/chainlightninggun.wav
f.e.a.r/sound/fear/chainlightninggun/chainlightninggun_fire.wav
f.e.a.r/sound/fear/mine/explode.wav
f.e.a.r/sound/fear/mine/arm.wav
f.e.a.r/sound/fear/mine/activate.wav
f.e.a.r/sound/fear/mine/armed.wav
f.e.a.r/sound/fear/nailgun/nailgun_impact_01.wav
f.e.a.r/sound/fear/nailgun/reload2.wav
f.e.a.r/sound/fear/nailgun/fire_ai.wav
f.e.a.r/sound/fear/nailgun/fire.wav
f.e.a.r/sound/fear/nailgun/nailgun_impact_02.wav
f.e.a.r/sound/fear/nailgun/nailgun_trail_01.wav
f.e.a.r/sound/fear/nailgun/deselect.wav
f.e.a.r/sound/fear/nailgun/select.wav
f.e.a.r/sound/fear/nailgun/reload1.wav
f.e.a.r/sound/fear/plasmaweapon/reload2.wav
f.e.a.r/sound/fear/plasmaweapon/fire_ai.wav
f.e.a.r/sound/fear/plasmaweapon/fire.wav
f.e.a.r/sound/fear/plasmaweapon/plasma_death.wav
f.e.a.r/sound/fear/plasmaweapon/plamsa_beam.wav
f.e.a.r/sound/fear/plasmaweapon/deselect.wav
f.e.a.r/sound/fear/plasmaweapon/select.wav
f.e.a.r/sound/fear/plasmaweapon/reload1.wav
f.e.a.r/sound/fear/turret2/turret_turnlp.wav
f.e.a.r/sound/fear/turret2/open.wav
f.e.a.r/sound/fear/turret2/hud_turret_glasscrack.wav
f.e.a.r/sound/fear/turret2/turret_seen.wav
f.e.a.r/sound/fear/turret2/fire.wav
f.e.a.r/sound/fear/turret2/hud_turret_damind_03.wav
f.e.a.r/sound/fear/turret2/hud_turret_damind_01.wav
f.e.a.r/sound/fear/turret2/turret_lost.wav
f.e.a.r/sound/fear/turret2/hud_turret_damind_02.wav
f.e.a.r/sound/fear/smg/fire_04.wav
f.e.a.r/sound/fear/smg/fire_03.wav
f.e.a.r/sound/fear/smg/fire.wav
f.e.a.r/sound/fear/smg/fire_05.wav
f.e.a.r/sound/fear/smg/deselect.wav
f.e.a.r/sound/fear/smg/select.wav
f.e.a.r/sound/fear/smg/fire_01.wav
f.e.a.r/sound/fear/smg/fire_02.wav
f.e.a.r/sound/fear/lasercarbine/lasercarbine_fire_start_01.wav
f.e.a.r/sound/fear/lasercarbine/lasercarbine_deselect_01.wav
f.e.a.r/sound/fear/lasercarbine/lasercarbine_fire_loop_01.mp3
f.e.a.r/sound/fear/lasercarbine/lasercarbine_fire_start_ai_01.wav
f.e.a.r/sound/fear/lasercarbine/lasercarbine_fire_stop_01.wav
f.e.a.r/sound/fear/lasercarbine/lasercarbine_fire_loop_ai_01.wav
f.e.a.r/sound/fear/lasercarbine/lasercarbine_select_01.wav
f.e.a.r/sound/fear/lasercarbine/lasercarbine_fire_stop_ai_01.wav
f.e.a.r/sound/fear/pistol/dryfire.wav
f.e.a.r/sound/fear/pistol/fire_03.wav
f.e.a.r/sound/fear/pistol/fire_ai.wav
f.e.a.r/sound/fear/pistol/fire.wav
f.e.a.r/sound/fear/pistol/deselect.wav
f.e.a.r/sound/fear/pistol/select.wav
f.e.a.r/sound/fear/pistol/fire_01.wav
f.e.a.r/sound/fear/pistol/reload1.wav
f.e.a.r/sound/fear/pistol/fire_02.wav
f.e.a.r/sound/fear/cannon/cannon_cycle.wav
f.e.a.r/sound/fear/cannon/fire.wav
f.e.a.r/sound/fear/cannon/deselect.wav
f.e.a.r/sound/fear/cannon/select.wav
f.e.a.r/sound/fear/missilelauncher/fire_ai2.wav
f.e.a.r/sound/fear/missilelauncher/fire_end_01.wav
f.e.a.r/sound/fear/missilelauncher/fire_ai.wav
f.e.a.r/sound/fear/missilelauncher/fire.wav
f.e.a.r/sound/fear/missilelauncher/loop.wav
f.e.a.r/sound/fear/missilelauncher/fire_end_03.wav
f.e.a.r/sound/fear/missilelauncher/fire_end_02.wav
f.e.a.r/sound/fear/missilelauncher/deselect.wav
f.e.a.r/sound/fear/missilelauncher/select.wav
f.e.a.r/sound/npc/creepy/whispers_01.ogg
f.e.a.r/sound/npc/creepy/creepy_breath.ogg
f.e.a.r/sound/npc/creepy/creepy_scrape4.ogg
f.e.a.r/sound/npc/creepy/scream_02brev.ogg
f.e.a.r/sound/npc/creepy/scream_doctor.ogg
f.e.a.r/sound/npc/creepy/slowmo.ogg
f.e.a.r/sound/npc/creepy/spooky_03.ogg
f.e.a.r/sound/npc/creepy/preheadtilt_1.ogg
f.e.a.r/sound/npc/creepy/moodystandsound.ogg
f.e.a.r/sound/npc/creepy/creepy_scrape3.ogg
f.e.a.r/sound/npc/creepy/creepy_scrape2.ogg
f.e.a.r/sound/npc/creepy/creepy_screech.ogg
f.e.a.r/sound/npc/creepy/spooky_01.ogg
f.e.a.r/sound/npc/creepy/scream_replica_01.ogg
f.e.a.r/sound/npc/creepy/spooky_02.ogg
f.e.a.r/sound/npc/mamon/phantoms_09.ogg
f.e.a.r/sound/npc/mamon/shadow_creature_attack_03.ogg
f.e.a.r/sound/npc/mamon/shadow_ambient_01.ogg
f.e.a.r/sound/npc/mamon/phantoms_06.ogg
f.e.a.r/sound/npc/mamon/shadow_creature_pain_03.ogg
f.e.a.r/sound/npc/mamon/voices_01.ogg
f.e.a.r/sound/npc/mamon/phantoms_01.ogg
f.e.a.r/sound/npc/mamon/shadow_ambient_01b.ogg
f.e.a.r/sound/npc/mamon/scream02_slower.ogg
f.e.a.r/sound/npc/mamon/shadow_ambient_02.ogg
f.e.a.r/sound/npc/mamon/shadow_creature_03.ogg
f.e.a.r/sound/npc/mamon/shadow_creature_01.ogg
f.e.a.r/sound/npc/mamon/voices_02.ogg
f.e.a.r/sound/npc/mamon/voices_03.ogg
f.e.a.r/sound/npc/mamon/shadow_creature_pain_04.ogg
f.e.a.r/sound/npc/mamon/phantoms_05.ogg
f.e.a.r/sound/npc/mamon/shadow_creature_pain_02.ogg
f.e.a.r/sound/npc/mamon/phantoms_07.ogg
f.e.a.r/sound/npc/mamon/shadow_creature_attack_01.ogg
f.e.a.r/sound/npc/mamon/phantoms_08.ogg
f.e.a.r/sound/npc/mamon/shadow_creature_pain_01.ogg
f.e.a.r/sound/npc/mamon/phantoms_02.ogg
f.e.a.r/sound/npc/mamon/shadow_ambient_03.ogg
f.e.a.r/sound/npc/mamon/voices_04.ogg
f.e.a.r/sound/npc/mamon/phantoms_04.ogg
f.e.a.r/sound/npc/mamon/shadow_scream_01.ogg
f.e.a.r/sound/npc/mamon/phantoms_03.ogg
f.e.a.r/sound/npc/mamon/shadow_creature_02.ogg
f.e.a.r/sound/npc/mamon/shadow_creature_attack_02.ogg
f.e.a.r/sound/npc/mamon/shadow_search.ogg
f.e.a.r/sound/npc/spencer/15025.ogg
f.e.a.r/sound/npc/spencer/15045.ogg
f.e.a.r/sound/npc/spencer/14778.ogg
f.e.a.r/sound/npc/spencer/15038.ogg
f.e.a.r/sound/npc/spencer/15067.ogg
f.e.a.r/sound/npc/spencer/15089.ogg
f.e.a.r/sound/npc/spencer/14016.ogg
f.e.a.r/sound/npc/spencer/14763.ogg
f.e.a.r/sound/npc/spencer/11822.ogg
f.e.a.r/sound/npc/spencer/14010.ogg
f.e.a.r/sound/npc/spencer/15035.ogg
f.e.a.r/sound/npc/spencer/14121.ogg
f.e.a.r/sound/npc/spencer/15008.ogg
f.e.a.r/sound/npc/spencer/14776.ogg
f.e.a.r/sound/npc/spencer/15048.ogg
f.e.a.r/sound/npc/spencer/15022.ogg
f.e.a.r/sound/npc/spencer/jankowski_01.ogg
f.e.a.r/sound/npc/spencer/15065.ogg
f.e.a.r/sound/npc/spencer/15047.ogg
f.e.a.r/sound/npc/spencer/15014.ogg
f.e.a.r/sound/npc/spencer/14120.ogg
f.e.a.r/sound/npc/spencer/15041.ogg
f.e.a.r/sound/npc/spencer/15061.ogg
f.e.a.r/sound/npc/spencer/14012.ogg
f.e.a.r/sound/npc/spencer/14765.ogg
f.e.a.r/sound/npc/spencer/15016.ogg
f.e.a.r/sound/npc/spencer/15033.ogg
f.e.a.r/sound/npc/spencer/14769.ogg
f.e.a.r/sound/npc/spencer/jankowski_02.ogg
f.e.a.r/sound/npc/spencer/14011.ogg
f.e.a.r/sound/npc/spencer/14029.ogg
f.e.a.r/sound/npc/spencer/12406.ogg
f.e.a.r/sound/npc/spencer/14767.ogg
f.e.a.r/sound/npc/spencer/15032.ogg
f.e.a.r/sound/npc/spencer/14007.ogg
f.e.a.r/sound/npc/spencer/15813.ogg
f.e.a.r/sound/npc/spencer/14014.ogg
f.e.a.r/sound/npc/spencer/15036.ogg
f.e.a.r/sound/npc/spencer/14008.ogg
f.e.a.r/sound/npc/spencer/14757.ogg
f.e.a.r/sound/npc/spencer/14026.ogg
f.e.a.r/sound/npc/spencer/15049.ogg
f.e.a.r/sound/npc/spencer/15059.ogg
f.e.a.r/sound/npc/spencer/jankowski_03.ogg
f.e.a.r/sound/npc/spencer/14753.ogg
f.e.a.r/sound/npc/spencer/14119.ogg
f.e.a.r/sound/npc/spencer/15819.ogg
f.e.a.r/sound/npc/spencer/15037.ogg
f.e.a.r/sound/npc/spencer/14761.ogg
f.e.a.r/sound/npc/spencer/15044.ogg
f.e.a.r/sound/npc/spencer/14015.ogg
f.e.a.r/sound/npc/spencer/14752.ogg
f.e.a.r/sound/npc/spencer/14018.ogg
f.e.a.r/sound/npc/spencer/14118.ogg
f.e.a.r/sound/npc/spencer/15042.ogg
f.e.a.r/sound/npc/spencer/15050.ogg
f.e.a.r/sound/npc/spencer/15020.ogg
f.e.a.r/sound/npc/spencer/15034.ogg
f.e.a.r/sound/npc/spencer/15046.ogg
f.e.a.r/sound/npc/spencer/12396.ogg
f.e.a.r/sound/npc/spencer/15068.ogg
f.e.a.r/sound/npc/spencer/15063.ogg
f.e.a.r/sound/npc/spencer/14759.ogg
f.e.a.r/sound/npc/spencer/15039.ogg
f.e.a.r/sound/npc/spencer/15010.ogg
f.e.a.r/sound/npc/delta/25195.ogg
f.e.a.r/sound/npc/delta/25048.ogg
f.e.a.r/sound/npc/delta/25349.ogg
f.e.a.r/sound/npc/delta/25073.ogg
f.e.a.r/sound/npc/delta/25288.ogg
f.e.a.r/sound/npc/delta/25017.ogg
f.e.a.r/sound/npc/delta/25241.ogg
f.e.a.r/sound/npc/delta/25084.ogg
f.e.a.r/sound/npc/delta/25322.ogg
f.e.a.r/sound/npc/delta/25226.ogg
f.e.a.r/sound/npc/delta/25099.ogg
f.e.a.r/sound/npc/delta/25074.ogg
f.e.a.r/sound/npc/delta/25199.ogg
f.e.a.r/sound/npc/delta/25068.ogg
f.e.a.r/sound/npc/delta/25182.ogg
f.e.a.r/sound/npc/delta/25325.ogg
f.e.a.r/sound/npc/delta/25104.ogg
f.e.a.r/sound/npc/delta/25196.ogg
f.e.a.r/sound/npc/delta/25004.ogg
f.e.a.r/sound/npc/delta/25077.ogg
f.e.a.r/sound/npc/delta/25341.ogg
f.e.a.r/sound/npc/delta/25069.ogg
f.e.a.r/sound/npc/delta/25356.ogg
f.e.a.r/sound/npc/delta/25137.ogg
f.e.a.r/sound/npc/delta/25042.ogg
f.e.a.r/sound/npc/delta/25070.ogg
f.e.a.r/sound/npc/delta/25286.ogg
f.e.a.r/sound/npc/delta/25144.ogg
f.e.a.r/sound/npc/delta/25027.ogg
f.e.a.r/sound/npc/delta/25154.ogg
f.e.a.r/sound/npc/delta/25225.ogg
f.e.a.r/sound/npc/delta/25308.ogg
f.e.a.r/sound/npc/delta/25067.ogg
f.e.a.r/sound/npc/delta/25178.ogg
f.e.a.r/sound/npc/delta/25162.ogg
f.e.a.r/sound/npc/delta/25259.ogg
f.e.a.r/sound/npc/delta/25181.ogg
f.e.a.r/sound/npc/delta/25243.ogg
f.e.a.r/sound/npc/delta/25127.ogg
f.e.a.r/sound/npc/delta/25134.ogg
f.e.a.r/sound/npc/delta/25136.ogg
f.e.a.r/sound/npc/delta/25180.ogg
f.e.a.r/sound/npc/delta/25095.ogg
f.e.a.r/sound/npc/delta/25124.ogg
f.e.a.r/sound/npc/delta/25038.ogg
f.e.a.r/sound/npc/delta/25039.ogg
f.e.a.r/sound/npc/delta/25007.ogg
f.e.a.r/sound/npc/delta/25223.ogg
f.e.a.r/sound/npc/delta/25063.ogg
f.e.a.r/sound/npc/delta/25236.ogg
f.e.a.r/sound/npc/delta/25176.ogg
f.e.a.r/sound/npc/delta/25304.ogg
f.e.a.r/sound/npc/delta/25183.ogg
f.e.a.r/sound/npc/delta/25217.ogg
f.e.a.r/sound/npc/delta/25213.ogg
f.e.a.r/sound/npc/delta/25352.ogg
f.e.a.r/sound/npc/delta/25284.ogg
f.e.a.r/sound/npc/delta/25191.ogg
f.e.a.r/sound/npc/delta/25234.ogg
f.e.a.r/sound/npc/delta/25215.ogg
f.e.a.r/sound/npc/delta/25222.ogg
f.e.a.r/sound/npc/delta/25071.ogg
f.e.a.r/sound/npc/delta/25315.ogg
f.e.a.r/sound/npc/delta/25332.ogg
f.e.a.r/sound/npc/delta/25272.ogg
f.e.a.r/sound/npc/delta/25016.ogg
f.e.a.r/sound/npc/delta/25114.ogg
f.e.a.r/sound/npc/delta/25361.ogg
f.e.a.r/sound/npc/delta/25076.ogg
f.e.a.r/sound/npc/delta/25320.ogg
f.e.a.r/sound/npc/delta/25046.ogg
f.e.a.r/sound/npc/delta/25185.ogg
f.e.a.r/sound/npc/delta/25103.ogg
f.e.a.r/sound/npc/delta/25351.ogg
f.e.a.r/sound/npc/delta/25001.ogg
f.e.a.r/sound/npc/delta/25026.ogg
f.e.a.r/sound/npc/delta/25161.ogg
f.e.a.r/sound/npc/delta/25248.ogg
f.e.a.r/sound/npc/delta/25303.ogg
f.e.a.r/sound/npc/delta/25043.ogg
f.e.a.r/sound/npc/delta/25145.ogg
f.e.a.r/sound/npc/delta/25254.ogg
f.e.a.r/sound/npc/delta/25003.ogg
f.e.a.r/sound/npc/delta/25163.ogg
f.e.a.r/sound/npc/delta/25060.ogg
f.e.a.r/sound/npc/delta/25221.ogg
f.e.a.r/sound/npc/delta/25059.ogg
f.e.a.r/sound/npc/delta/25323.ogg
f.e.a.r/sound/npc/delta/25175.ogg
f.e.a.r/sound/npc/delta/25362.ogg
f.e.a.r/sound/npc/delta/25097.ogg
f.e.a.r/sound/npc/delta/25193.ogg
f.e.a.r/sound/npc/delta/25359.ogg
f.e.a.r/sound/npc/delta/25292.ogg
f.e.a.r/sound/npc/delta/25354.ogg
f.e.a.r/sound/npc/delta/25238.ogg
f.e.a.r/sound/npc/delta/25244.ogg
f.e.a.r/sound/npc/delta/25045.ogg
f.e.a.r/sound/npc/delta/25261.ogg
f.e.a.r/sound/npc/delta/25231.ogg
f.e.a.r/sound/npc/delta/25152.ogg
f.e.a.r/sound/npc/delta/25294.ogg
f.e.a.r/sound/npc/delta/25306.ogg
f.e.a.r/sound/npc/delta/25237.ogg
f.e.a.r/sound/npc/delta/25246.ogg
f.e.a.r/sound/npc/delta/25146.ogg
f.e.a.r/sound/npc/delta/25054.ogg
f.e.a.r/sound/npc/delta/25035.ogg
f.e.a.r/sound/npc/delta/25142.ogg
f.e.a.r/sound/npc/delta/25156.ogg
f.e.a.r/sound/npc/delta/25040.ogg
f.e.a.r/sound/npc/delta/25096.ogg
f.e.a.r/sound/npc/delta/25350.ogg
f.e.a.r/sound/npc/delta/25189.ogg
f.e.a.r/sound/npc/delta/25130.ogg
f.e.a.r/sound/npc/delta/25358.ogg
f.e.a.r/sound/npc/delta/25108.ogg
f.e.a.r/sound/npc/delta/25062.ogg
f.e.a.r/sound/npc/delta/25128.ogg
f.e.a.r/sound/npc/delta/25230.ogg
f.e.a.r/sound/npc/delta/25029.ogg
f.e.a.r/sound/npc/delta/25309.ogg
f.e.a.r/sound/npc/delta/25321.ogg
f.e.a.r/sound/npc/delta/25101.ogg
f.e.a.r/sound/npc/delta/25138.ogg
f.e.a.r/sound/npc/delta/25129.ogg
f.e.a.r/sound/npc/delta/25075.ogg
f.e.a.r/sound/npc/delta/25041.ogg
f.e.a.r/sound/npc/delta/25061.ogg
f.e.a.r/sound/npc/delta/25233.ogg
f.e.a.r/sound/npc/delta/25283.ogg
f.e.a.r/sound/npc/delta/25024.ogg
f.e.a.r/sound/npc/delta/25166.ogg
f.e.a.r/sound/npc/delta/25079.ogg
f.e.a.r/sound/npc/delta/25228.ogg
f.e.a.r/sound/npc/delta/25131.ogg
f.e.a.r/sound/npc/delta/25064.ogg
f.e.a.r/sound/npc/delta/25201.ogg
f.e.a.r/sound/npc/delta/25028.ogg
f.e.a.r/sound/npc/delta/25305.ogg
f.e.a.r/sound/npc/delta/25086.ogg
f.e.a.r/sound/npc/delta/25310.ogg
f.e.a.r/sound/npc/delta/25080.ogg
f.e.a.r/sound/npc/delta/25158.ogg
f.e.a.r/sound/npc/delta/25115.ogg
f.e.a.r/sound/npc/delta/25036.ogg
f.e.a.r/sound/npc/delta/25239.ogg
f.e.a.r/sound/npc/delta/25037.ogg
f.e.a.r/sound/npc/delta/25087.ogg
f.e.a.r/sound/npc/delta/25316.ogg
f.e.a.r/sound/npc/delta/25200.ogg
f.e.a.r/sound/npc/delta/25348.ogg
f.e.a.r/sound/npc/delta/25014.ogg
f.e.a.r/sound/npc/delta/25275.ogg
f.e.a.r/sound/npc/delta/25135.ogg
f.e.a.r/sound/npc/delta/25149.ogg
f.e.a.r/sound/npc/delta/25311.ogg
f.e.a.r/sound/npc/delta/25245.ogg
f.e.a.r/sound/npc/delta/25179.ogg
f.e.a.r/sound/npc/delta/25360.ogg
f.e.a.r/sound/npc/delta/25110.ogg
f.e.a.r/sound/npc/delta/25058.ogg
f.e.a.r/sound/npc/delta/25083.ogg
f.e.a.r/sound/npc/delta/25078.ogg
f.e.a.r/sound/npc/delta/25274.ogg
f.e.a.r/sound/npc/delta/25312.ogg
f.e.a.r/sound/npc/delta/25057.ogg
f.e.a.r/sound/npc/delta/25157.ogg
f.e.a.r/sound/npc/delta/25126.ogg
f.e.a.r/sound/npc/delta/25112.ogg
f.e.a.r/sound/npc/delta/25118.ogg
f.e.a.r/sound/npc/delta/25324.ogg
f.e.a.r/sound/npc/delta/25285.ogg
f.e.a.r/sound/npc/delta/25085.ogg
f.e.a.r/sound/npc/delta/25100.ogg
f.e.a.r/sound/npc/delta/25109.ogg
f.e.a.r/sound/npc/delta/25139.ogg
f.e.a.r/sound/npc/delta/25044.ogg
f.e.a.r/sound/npc/delta/25290.ogg
f.e.a.r/sound/npc/delta/25194.ogg
f.e.a.r/sound/npc/delta/25081.ogg
f.e.a.r/sound/npc/delta/25287.ogg
f.e.a.r/sound/npc/delta/25012.ogg
f.e.a.r/sound/npc/delta/25055.ogg
f.e.a.r/sound/npc/delta/25224.ogg
f.e.a.r/sound/npc/delta/25313.ogg
f.e.a.r/sound/npc/delta/25192.ogg
f.e.a.r/sound/npc/delta/25006.ogg
f.e.a.r/sound/npc/delta/25273.ogg
f.e.a.r/sound/npc/delta/25314.ogg
f.e.a.r/sound/npc/delta/25220.ogg
f.e.a.r/sound/npc/delta/25227.ogg
f.e.a.r/sound/npc/delta/25072.ogg
f.e.a.r/sound/npc/delta/25052.ogg
f.e.a.r/sound/npc/delta/25282.ogg
f.e.a.r/sound/npc/delta/25098.ogg
f.e.a.r/sound/npc/delta/25342.ogg
f.e.a.r/sound/npc/delta/25184.ogg
f.e.a.r/sound/npc/delta/25050.ogg
f.e.a.r/sound/npc/delta/25000.ogg
f.e.a.r/sound/npc/delta/25214.ogg
f.e.a.r/sound/npc/delta/25347.ogg
f.e.a.r/sound/npc/delta/25088.ogg
f.e.a.r/sound/npc/delta/25025.ogg
f.e.a.r/sound/npc/delta/25307.ogg
f.e.a.r/sound/npc/delta/25066.ogg
f.e.a.r/sound/npc/delta/25119.ogg
f.e.a.r/sound/npc/delta/25106.ogg
f.e.a.r/sound/npc/delta/25049.ogg
f.e.a.r/sound/npc/delta/25269.ogg
f.e.a.r/sound/npc/delta/25155.ogg
f.e.a.r/sound/npc/delta/25187.ogg
f.e.a.r/sound/npc/delta/25013.ogg
f.e.a.r/sound/npc/delta/25056.ogg
f.e.a.r/sound/npc/delta/25340.ogg
f.e.a.r/sound/npc/delta/25051.ogg
f.e.a.r/sound/npc/delta/25186.ogg
f.e.a.r/sound/npc/delta/25002.ogg
f.e.a.r/sound/npc/delta/25153.ogg
f.e.a.r/sound/npc/delta/25082.ogg
f.e.a.r/sound/npc/delta/25212.ogg
f.e.a.r/sound/npc/delta/25125.ogg
f.e.a.r/sound/npc/delta/25105.ogg
f.e.a.r/sound/npc/delta/25235.ogg
f.e.a.r/sound/npc/delta/25065.ogg
f.e.a.r/sound/npc/delta/25015.ogg
f.e.a.r/sound/npc/delta/25177.ogg
f.e.a.r/sound/npc/delta/25053.ogg
f.e.a.r/sound/npc/delta/25117.ogg
f.e.a.r/sound/npc/delta/25174.ogg
f.e.a.r/sound/npc/delta/25143.ogg
f.e.a.r/sound/npc/delta/25047.ogg
f.e.a.r/sound/npc/delta/25232.ogg
f.e.a.r/sound/npc/delta/25132.ogg
f.e.a.r/sound/npc/delta/25140.ogg
f.e.a.r/sound/npc/delta/25353.ogg
f.e.a.r/sound/npc/delta/25150.ogg
f.e.a.r/sound/npc/delta/25123.ogg
f.e.a.r/sound/npc/delta/25202.ogg
f.e.a.r/sound/npc/delta/25120.ogg
f.e.a.r/sound/npc/shef/15019.ogg
f.e.a.r/sound/npc/shef/15017.ogg
f.e.a.r/sound/npc/shef/15015.ogg
f.e.a.r/sound/npc/shef/15012.ogg
f.e.a.r/sound/npc/shef/15816.ogg
f.e.a.r/sound/npc/shef/betters_038.ogg
f.e.a.r/sound/npc/shef/15028b.ogg
f.e.a.r/sound/npc/shef/15814.ogg
f.e.a.r/sound/npc/shef/betters_039.ogg
f.e.a.r/sound/npc/shef/15007.ogg
f.e.a.r/sound/npc/shef/15031.ogg
f.e.a.r/sound/npc/shef/betters_036.ogg
f.e.a.r/sound/npc/shef/betters_033.ogg
f.e.a.r/sound/npc/shef/betters_035.ogg
f.e.a.r/sound/npc/shef/15028.ogg
f.e.a.r/sound/npc/shef/betters_034.ogg
f.e.a.r/sound/npc/shef/betters_040.ogg
f.e.a.r/sound/npc/shef/betters_043.ogg
f.e.a.r/sound/npc/shef/15817.ogg
f.e.a.r/sound/npc/shef/14002.ogg
f.e.a.r/sound/npc/shef/15021.ogg
f.e.a.r/sound/npc/shef/15023.ogg
f.e.a.r/sound/npc/shef/betters_037.ogg
f.e.a.r/sound/npc/shef/14027.ogg
f.e.a.r/sound/npc/shef/15027.ogg
f.e.a.r/sound/npc/shef/14000.ogg
f.e.a.r/sound/npc/shef/15029.ogg
f.e.a.r/sound/npc/shef/betters_042.ogg
f.e.a.r/sound/npc/shef/betters_041.ogg
f.e.a.r/sound/npc/shef/15821.ogg
f.e.a.r/sound/npc/shef/14025.ogg
f.e.a.r/sound/npc/shef/15820.ogg
f.e.a.r/sound/npc/morison/morrison_057.ogg
f.e.a.r/sound/npc/morison/morrison_003.ogg
f.e.a.r/sound/npc/morison/morrison_087.ogg
f.e.a.r/sound/npc/morison/morrison_072.ogg
f.e.a.r/sound/npc/morison/morrison_112.ogg
f.e.a.r/sound/npc/morison/morrison_071.ogg
f.e.a.r/sound/npc/morison/morrison_099.ogg
f.e.a.r/sound/npc/morison/morrison_034.ogg
f.e.a.r/sound/npc/morison/morrison_002.ogg
f.e.a.r/sound/npc/morison/morrison_104.ogg
f.e.a.r/sound/npc/morison/morrison_051.ogg
f.e.a.r/sound/npc/morison/morrison_089.ogg
f.e.a.r/sound/npc/morison/morrison_035.ogg
f.e.a.r/sound/npc/morison/morrison_084.ogg
f.e.a.r/sound/npc/morison/morrison_124.ogg
f.e.a.r/sound/npc/morison/morrison_105.ogg
f.e.a.r/sound/npc/morison/morrison_119.ogg
f.e.a.r/sound/npc/morison/morrison_039.ogg
f.e.a.r/sound/npc/morison/morrison_121.ogg
f.e.a.r/sound/npc/morison/morrison_008.ogg
f.e.a.r/sound/npc/morison/morrison_007.ogg
f.e.a.r/sound/npc/morison/morrison_011.ogg
f.e.a.r/sound/npc/morison/morrison_120.ogg
f.e.a.r/sound/npc/morison/morrison_043.ogg
f.e.a.r/sound/npc/morison/morrison_073.ogg
f.e.a.r/sound/npc/morison/morrison_111.ogg
f.e.a.r/sound/npc/morison/morrison_050.ogg
f.e.a.r/sound/npc/morison/morrison_118.ogg
f.e.a.r/sound/npc/morison/morrison_122.ogg
f.e.a.r/sound/npc/morison/morrison_100.ogg
f.e.a.r/sound/npc/morison/morrison_086.ogg
f.e.a.r/sound/npc/morison/morrison_012.ogg
f.e.a.r/sound/npc/morison/morrison_095.ogg
f.e.a.r/sound/npc/morison/morrison_044.ogg
f.e.a.r/sound/npc/morison/morrison_017.ogg
f.e.a.r/sound/npc/morison/morrison_046.ogg
f.e.a.r/sound/npc/morison/morrison_092.ogg
f.e.a.r/sound/npc/morison/morrison_014.ogg
f.e.a.r/sound/npc/morison/morrison_088.ogg
f.e.a.r/sound/npc/morison/morrison_115.ogg
f.e.a.r/sound/npc/morison/morrison_114.ogg
f.e.a.r/sound/npc/morison/morrison_093.ogg
f.e.a.r/sound/npc/morison/morrison_110.ogg
f.e.a.r/sound/npc/morison/morrison_045.ogg
f.e.a.r/sound/npc/morison/morrison_048.ogg
f.e.a.r/sound/npc/morison/morrison_005.ogg
f.e.a.r/sound/npc/morison/morrison_097.ogg
f.e.a.r/sound/npc/morison/morrison_083.ogg
f.e.a.r/sound/npc/morison/morrison_016.ogg
f.e.a.r/sound/npc/morison/morrison_082.ogg
f.e.a.r/sound/npc/morison/morrison_123.ogg
f.e.a.r/sound/npc/morison/morrison_081.ogg
f.e.a.r/sound/npc/morison/morrison_116.ogg
f.e.a.r/sound/npc/morison/morrison_085.ogg
f.e.a.r/sound/npc/morison/morrison_113.ogg
f.e.a.r/sound/npc/morison/morrison_096.ogg
f.e.a.r/sound/npc/morison/morrison_041.ogg
f.e.a.r/sound/npc/morison/morrison_049.ogg
f.e.a.r/sound/npc/morison/morrison_101.ogg
f.e.a.r/sound/npc/morison/morrison_047.ogg
f.e.a.r/sound/npc/morison/morrison_058.ogg
f.e.a.r/sound/npc/morison/morrison_107.ogg
f.e.a.r/sound/npc/morison/morrison_001.ogg
f.e.a.r/sound/npc/morison/morrison_103.ogg
f.e.a.r/sound/npc/morison/morrison_098.ogg
f.e.a.r/sound/npc/morison/morrison_015.ogg
f.e.a.r/sound/npc/morison/morrison_013.ogg
f.e.a.r/sound/npc/morison/morrison_078.ogg
f.e.a.r/sound/npc/morison/morrison_108.ogg
f.e.a.r/sound/npc/morison/morrison_042.ogg
f.e.a.r/sound/npc/morison/morrison_117.ogg
f.e.a.r/sound/npc/morison/morrison_077.ogg
f.e.a.r/sound/npc/morison/morrison_004.ogg
f.e.a.r/sound/npc/morison/morrison_125.ogg
f.e.a.r/sound/npc/morison/morrison_010.ogg
f.e.a.r/sound/npc/morison/morrison_109.ogg
f.e.a.r/sound/npc/morison/morrison_106.ogg
f.e.a.r/sound/npc/morison/morrison_091.ogg
f.e.a.r/sound/npc/morison/morrison_006.ogg
f.e.a.r/sound/npc/morison/morrison_009.ogg
f.e.a.r/sound/npc/morison/morrison_040.ogg
f.e.a.r/sound/npc/fear_soldier/fear_pain3.wav
f.e.a.r/sound/npc/fear_soldier/death16.wav
f.e.a.r/sound/npc/fear_soldier/fear_death14.wav
f.e.a.r/sound/npc/fear_soldier/gear1.wav
f.e.a.r/sound/npc/fear_soldier/gear4.wav
f.e.a.r/sound/npc/fear_soldier/death17.wav
f.e.a.r/sound/npc/fear_soldier/fear_pain6.wav
f.e.a.r/sound/npc/fear_soldier/fear_death18.wav
f.e.a.r/sound/npc/fear_soldier/gear9.wav
f.e.a.r/sound/npc/fear_soldier/fear_pain4.wav
f.e.a.r/sound/npc/fear_soldier/die3.wav
f.e.a.r/sound/npc/fear_soldier/gear10.wav
f.e.a.r/sound/npc/fear_soldier/fear_die1.wav
f.e.a.r/sound/npc/fear_soldier/gear2.wav
f.e.a.r/sound/npc/fear_soldier/fear_die4.wav
f.e.a.r/sound/npc/fear_soldier/fear_pain2.wav
f.e.a.r/sound/npc/fear_soldier/fear_die3.wav
f.e.a.r/sound/npc/fear_soldier/fear_die5.wav
f.e.a.r/sound/npc/fear_soldier/gear5.wav
f.e.a.r/sound/npc/fear_soldier/gear7.wav
f.e.a.r/sound/npc/fear_soldier/die2.wav
f.e.a.r/sound/npc/fear_soldier/fear_death11.wav
f.e.a.r/sound/npc/fear_soldier/fear_die7.wav
f.e.a.r/sound/npc/fear_soldier/fear_die9.wav
f.e.a.r/sound/npc/fear_soldier/fear_death16.wav
f.e.a.r/sound/npc/fear_soldier/fear_death15.wav
f.e.a.r/sound/npc/fear_soldier/fear_death13.wav
f.e.a.r/sound/npc/fear_soldier/fear_die2.wav
f.e.a.r/sound/npc/fear_soldier/death15.wav
f.e.a.r/sound/npc/fear_soldier/fear_death12.wav
f.e.a.r/sound/npc/fear_soldier/fear_death19.wav
f.e.a.r/sound/npc/fear_soldier/fear_death10.wav
f.e.a.r/sound/npc/fear_soldier/gear3.wav
f.e.a.r/sound/npc/fear_soldier/fear_die6.wav
f.e.a.r/sound/npc/fear_soldier/fear_die8.wav
f.e.a.r/sound/npc/fear_soldier/fear_death20.wav
f.e.a.r/sound/npc/fear_soldier/gear6.wav
f.e.a.r/sound/npc/fear_soldier/gear8.wav
f.e.a.r/sound/npc/fear_soldier/fear_pain5.wav
f.e.a.r/sound/npc/fear_soldier/fear_death17.wav
f.e.a.r/sound/npc/fear_soldier/die1.wav
f.e.a.r/sound/npc/fear_soldier/fear_pain1.wav
f.e.a.r/sound/npc/fear_soldier/vo/fear_itsgonnablow.wav
f.e.a.r/sound/npc/fear_soldier/vo/fear_gothim.wav
f.e.a.r/sound/npc/fear_soldier/vo/fear_move2.wav
f.e.a.r/sound/npc/fear_soldier/vo/fear_understood4.wav
f.e.a.r/sound/npc/fear_soldier/vo/fear_icant.wav
f.e.a.r/sound/npc/fear_soldier/vo/fear_squadonme2.wav
f.e.a.r/sound/npc/fear_soldier/vo/fear_teamspreadout2.wav
f.e.a.r/sound/npc/fear_soldier/vo/fear_yessir2.wav
f.e.a.r/sound/npc/fear_soldier/vo/fear_idle1.wav
f.e.a.r/sound/npc/fear_soldier/vo/fear_targetsighted.wav
f.e.a.r/sound/npc/fear_soldier/vo/fear_coverthatentry.wav
f.e.a.r/sound/npc/fear_soldier/vo/fear_hesnothere.wav
f.e.a.r/sound/npc/fear_soldier/vo/fear_youalright.wav
f.e.a.r/sound/npc/fear_soldier/vo/fear_icantgetashot.wav
f.e.a.r/sound/npc/fear_soldier/vo/fear_coverme.wav
f.e.a.r/sound/npc/fear_soldier/vo/fear_takingfire.wav
f.e.a.r/sound/npc/fear_soldier/vo/fear_moveit.wav
f.e.a.r/sound/npc/fear_soldier/vo/fear_intruderisheadedyourway.wav
f.e.a.r/sound/npc/fear_soldier/vo/fear_givemecoverfire.wav
f.e.a.r/sound/npc/fear_soldier/vo/fear_hesoverthere.wav
f.e.a.r/sound/npc/fear_soldier/vo/fear_affirmative2.wav
f.e.a.r/sound/npc/fear_soldier/vo/fear_nofuckingway.wav
f.e.a.r/sound/npc/fear_soldier/vo/fear_calmdown.wav
f.e.a.r/sound/npc/fear_soldier/vo/fear_ohshit.wav
f.e.a.r/sound/npc/fear_soldier/vo/fear_go.wav
f.e.a.r/sound/npc/fear_soldier/vo/fear_takehimdown.wav
f.e.a.r/sound/npc/fear_soldier/vo/fear_hellyeah.wav
f.e.a.r/sound/npc/fear_soldier/vo/fear_noresponse.wav
f.e.a.r/sound/npc/fear_soldier/vo/fear_getbehindme.wav
f.e.a.r/sound/npc/fear_soldier/vo/fear_shootit1.wav
f.e.a.r/sound/npc/fear_soldier/vo/fear_movement2.wav
f.e.a.r/sound/npc/fear_soldier/vo/fear_takeoutthatturret.wav
f.e.a.r/sound/npc/fear_soldier/vo/fear_squadrecon.wav
f.e.a.r/sound/npc/fear_soldier/vo/fear_shutthefuckup.wav
f.e.a.r/sound/npc/fear_soldier/vo/fear_gotit.wav
f.e.a.r/sound/npc/fear_soldier/vo/fear_getbacktoyourpost.wav
f.e.a.r/sound/npc/fear_soldier/vo/fear_thisway.wav
f.e.a.r/sound/npc/fear_soldier/vo/fear_staythere.wav
f.e.a.r/sound/npc/fear_soldier/vo/fear_destroyit.wav
f.e.a.r/sound/npc/fear_soldier/vo/fear_fuck.wav
f.e.a.r/sound/npc/fear_soldier/vo/fear_commandwecouldusesomereinfocements.wav
f.e.a.r/sound/npc/fear_soldier/vo/fear_holdup.wav
f.e.a.r/sound/npc/fear_soldier/vo/fear_waitformysignal.wav
f.e.a.r/sound/npc/fear_soldier/vo/fear_shootit3.wav
f.e.a.r/sound/npc/fear_soldier/vo/fear_icantseehim.wav
f.e.a.r/sound/npc/fear_soldier/vo/fear_pinhimdown.wav
f.e.a.r/sound/npc/fear_soldier/vo/fear_careful.wav
f.e.a.r/sound/npc/fear_soldier/vo/fear_yessir3.wav
f.e.a.r/sound/npc/fear_soldier/vo/fear_teamgettocover.wav
f.e.a.r/sound/npc/fear_soldier/vo/fear_whatthefuckisthat.wav
f.e.a.r/sound/npc/fear_soldier/vo/fear_ineedhelp.wav
f.e.a.r/sound/npc/fear_soldier/vo/fear_getthisthingoffme.wav
f.e.a.r/sound/npc/fear_soldier/vo/fear_grenadegetdown.wav
f.e.a.r/sound/npc/fear_soldier/vo/fear_waitup.wav
f.e.a.r/sound/npc/fear_soldier/vo/fear_foward.wav
f.e.a.r/sound/npc/fear_soldier/vo/fear_getoutofthere.wav
f.e.a.r/sound/npc/fear_soldier/vo/fear_immovingin.wav
f.e.a.r/sound/npc/fear_soldier/vo/fear_threatdown.wav
f.e.a.r/sound/npc/fear_soldier/vo/fear_holdyourposition.wav
f.e.a.r/sound/npc/fear_soldier/vo/fear_mandown.wav
f.e.a.r/sound/npc/fear_soldier/vo/fear_thatsaafirmative.wav
f.e.a.r/sound/npc/fear_soldier/vo/fear_getdowngetdown.wav
f.e.a.r/sound/npc/fear_soldier/vo/fear_watchyourstep.wav
f.e.a.r/sound/npc/fear_soldier/vo/fear_roger.wav
f.e.a.r/sound/npc/fear_soldier/vo/fear_dontlethimgetaway.wav
f.e.a.r/sound/npc/fear_soldier/vo/fear_targetspotted.wav
f.e.a.r/sound/npc/fear_soldier/vo/fear_stillwaitinforordersrepeatwhereyouare.wav
f.e.a.r/sound/npc/fear_soldier/vo/fear_commandthisisechosevenshouldweinvestigate.wav
f.e.a.r/sound/npc/fear_soldier/vo/fear_shitithinkhesdown.wav
f.e.a.r/sound/npc/fear_soldier/vo/fear_illcoveryou.wav
f.e.a.r/sound/npc/fear_soldier/vo/fear_puthimdown.wav
f.e.a.r/sound/npc/fear_soldier/vo/fear_takeitiout.wav
f.e.a.r/sound/npc/fear_soldier/vo/fear_behindyou.wav
f.e.a.r/sound/npc/fear_soldier/vo/fear_getback.wav
f.e.a.r/sound/npc/fear_soldier/vo/fear_commandwhatsthesiprep.wav
f.e.a.r/sound/npc/fear_soldier/vo/fear_whatthehell.wav
f.e.a.r/sound/npc/fear_soldier/vo/fear_imoutofshot.wav
f.e.a.r/sound/npc/fear_soldier/vo/fear_canyouseeanything.wav
f.e.a.r/sound/npc/fear_soldier/vo/fear_stayalert2.wav
f.e.a.r/sound/npc/fear_soldier/vo/fear_checkyoursix.wav
f.e.a.r/sound/npc/fear_soldier/vo/fear_whereishe.wav
f.e.a.r/sound/npc/fear_soldier/vo/fear_gogo.wav
f.e.a.r/sound/npc/fear_soldier/vo/fear_roger3.wav
f.e.a.r/sound/npc/fear_soldier/vo/fear_threatneutralized2.wav
f.e.a.r/sound/npc/fear_soldier/vo/fear_checkyourfire.wav
f.e.a.r/sound/npc/fear_soldier/vo/fear_becareful.wav
f.e.a.r/sound/npc/fear_soldier/vo/fear_clearout.wav
f.e.a.r/sound/npc/fear_soldier/vo/fear_comeon.wav
f.e.a.r/sound/npc/fear_soldier/vo/fear_imokay.wav
f.e.a.r/sound/npc/fear_soldier/vo/fear_shootthefuckingthing.wav
f.e.a.r/sound/npc/fear_soldier/vo/fear_hostile.wav
f.e.a.r/sound/npc/fear_soldier/vo/fear_igotthreemendown.wav
f.e.a.r/sound/npc/fear_soldier/vo/fear_wegotenemymovementinthissector.wav
f.e.a.r/sound/npc/fear_soldier/vo/fear_killhim.wav
f.e.a.r/sound/npc/fear_soldier/vo/fear_stayaway.wav
f.e.a.r/sound/npc/fear_soldier/vo/fear_huh.wav
f.e.a.r/sound/npc/fear_soldier/vo/fear_justmove.wav
f.e.a.r/sound/npc/fear_soldier/vo/fear_teamtakecover.wav
f.e.a.r/sound/npc/fear_soldier/vo/fear_closein.wav
f.e.a.r/sound/npc/fear_soldier/vo/fear_report2.wav
f.e.a.r/sound/npc/fear_soldier/vo/fear_spreadout3.wav
f.e.a.r/sound/npc/fear_soldier/vo/fear_staysharp.wav
f.e.a.r/sound/npc/fear_soldier/vo/fear_holdpositionhere.wav
f.e.a.r/sound/npc/fear_soldier/vo/fear_trytoflank.wav
f.e.a.r/sound/npc/fear_soldier/vo/fear_findhim2.wav
f.e.a.r/sound/npc/fear_soldier/vo/fear_didwegethim.wav
f.e.a.r/sound/npc/fear_soldier/vo/fear_fallback!.wav
f.e.a.r/sound/npc/fear_soldier/vo/fear_everyoneback.wav
f.e.a.r/sound/npc/fear_soldier/vo/fear_movement.wav
f.e.a.r/sound/npc/fear_soldier/vo/fear_serchthisarea.wav
f.e.a.r/sound/npc/fear_soldier/vo/fear_getawayfromhim.wav
f.e.a.r/sound/npc/fear_soldier/vo/fear_flushhimout.wav
f.e.a.r/sound/npc/fear_soldier/vo/fear_getoutofthere2.wav
f.e.a.r/sound/npc/fear_soldier/vo/fear_squadmove.wav
f.e.a.r/sound/npc/fear_soldier/vo/fear_thisisfoxtroughtninerover.wav
f.e.a.r/sound/npc/fear_soldier/vo/fear_checkitout2.wav
f.e.a.r/sound/npc/fear_soldier/vo/fear_getoutofhere.wav
f.e.a.r/sound/npc/fear_soldier/vo/fear_hesgettingaway.wav
f.e.a.r/sound/npc/fear_soldier/vo/fear_run.wav
f.e.a.r/sound/npc/fear_soldier/vo/fear_whatwasthat.wav
f.e.a.r/sound/npc/fear_soldier/vo/fear_youseehim.wav
f.e.a.r/sound/npc/fear_soldier/vo/fear_imgoingtopatrolthearea.wav
f.e.a.r/sound/npc/fear_soldier/vo/fear_contact.wav
f.e.a.r/sound/npc/fear_soldier/vo/fear_wait.wav
f.e.a.r/sound/npc/fear_soldier/vo/fear_hegotaway.wav
f.e.a.r/sound/npc/fear_soldier/vo/fear_somebodyhelpme.wav
f.e.a.r/sound/npc/fear_soldier/vo/fear_wegottoblendin.wav
f.e.a.r/sound/npc/fear_soldier/vo/fear_back.wav
f.e.a.r/sound/npc/fear_soldier/vo/fear_look.wav
f.e.a.r/sound/npc/fear_soldier/vo/fear_overthere.wav
f.e.a.r/sound/npc/fear_soldier/vo/fear_yourclear.wav
f.e.a.r/sound/npc/fear_soldier/vo/fear_watchyourfire.wav
f.e.a.r/sound/npc/fear_soldier/vo/fear_whatisit2.wav
f.e.a.r/sound/npc/fear_soldier/vo/fear_keepyoureyesopen.wav
f.e.a.r/sound/npc/fear_soldier/vo/fear_welostcontactwithzulusix.wav
f.e.a.r/sound/npc/fear_soldier/vo/fear_gogogo.wav
f.e.a.r/sound/npc/fear_soldier/vo/fear_echoseveninposition.wav
f.e.a.r/sound/npc/fear_soldier/vo/fear_ithinkhesdown.wav
f.e.a.r/sound/npc/fear_soldier/vo/fear_hesfallingback.wav
f.e.a.r/sound/npc/fear_soldier/vo/fear_hewipedoutthewholesquad.wav
f.e.a.r/sound/npc/fear_soldier/vo/fear_checkitout.wav
f.e.a.r/sound/npc/fear_soldier/vo/fear_hesrushing.wav
f.e.a.r/sound/npc/fear_soldier/vo/fear_wheredhego.wav
f.e.a.r/sound/npc/fear_soldier/vo/fear_diemotherfucker.wav
f.e.a.r/sound/npc/fear_soldier/vo/fear_lookout.wav
f.e.a.r/sound/npc/fear_soldier/vo/fear_serching.wav
f.e.a.r/sound/npc/fear_soldier/vo/fear_spreadoutandsearch.wav
f.e.a.r/sound/npc/fear_soldier/vo/fear_enemyneutralized.wav
f.e.a.r/sound/npc/fear_soldier/vo/fear_hessightingoutonyour.wav
f.e.a.r/sound/npc/fear_soldier/vo/fear_fallback2.wav
f.e.a.r/sound/npc/fear_soldier/vo/fear_isitclear.wav
f.e.a.r/sound/npc/fear_soldier/vo/fear_shit.wav
f.e.a.r/sound/npc/fear_soldier/vo/fear_spreadoutandfindhim.wav
f.e.a.r/sound/npc/fear_soldier/vo/fear_nosir.wav
f.e.a.r/sound/npc/fear_soldier/vo/fear_ineedbackup.wav
f.e.a.r/sound/npc/fear_soldier/vo/fear_hesgone.wav
f.e.a.r/sound/npc/fear_soldier/vo/fear_no.wav
f.e.a.r/sound/npc/fear_soldier/vo/fear_followme.wav
f.e.a.r/sound/npc/fear_soldier/vo/fear_dontletuponhim.wav
f.e.a.r/sound/npc/fear_soldier/vo/fear_keepittight.wav
f.e.a.r/sound/npc/fear_soldier/vo/fear_echozerowhatsyourstatus.wav
f.e.a.r/sound/npc/fear_soldier/vo/fear_move.wav
f.e.a.r/sound/npc/fear_soldier/vo/fear_wegotcontact.wav
f.e.a.r/sound/npc/fear_soldier/vo/fear_stayoutofsightgoinin.wav
f.e.a.r/sound/npc/fear_soldier/vo/fear_goback.wav
f.e.a.r/sound/npc/fear_soldier/vo/fear_anymovement.wav
f.e.a.r/sound/npc/fear_soldier/vo/fear_commandwegothostiles.wav
f.e.a.r/sound/npc/fear_soldier/vo/fear_thereheis2.wav
f.e.a.r/sound/npc/fear_soldier/vo/fear_findhim.wav
f.e.a.r/sound/npc/fear_soldier/vo/fear_igottwomendown.wav
f.e.a.r/sound/npc/fear_soldier/vo/fear_noway.wav
f.e.a.r/sound/npc/fear_soldier/vo/fear_helpgetitoff.wav
f.e.a.r/sound/npc/fear_soldier/vo/fear_illholdback.wav
f.e.a.r/sound/npc/fear_soldier/vo/fear_moveup.wav
f.e.a.r/sound/npc/fear_soldier/vo/fear_copythat.wav
f.e.a.r/sound/npc/fear_soldier/vo/fear_lookout2.wav
f.e.a.r/sound/npc/fear_soldier/vo/fear_mandown2.wav
f.e.a.r/sound/npc/fear_soldier/vo/fear_ivebinhit.wav
f.e.a.r/sound/npc/fear_soldier/vo/fear_negative.wav
f.e.a.r/sound/npc/fear_soldier/vo/fear_holdup2.wav
f.e.a.r/sound/npc/fear_soldier/vo/fear_lostcontact.wav
f.e.a.r/sound/npc/fear_soldier/vo/fear_allclear3.wav
f.e.a.r/sound/npc/fear_soldier/vo/fear_holdyourfire.wav
f.e.a.r/sound/npc/fear_soldier/vo/fear_rogerechosixintruderhasbinconfirmedstayalert.wav
f.e.a.r/sound/npc/fear_soldier/vo/fear_watchit.wav
f.e.a.r/sound/npc/fear_soldier/vo/fear_commandtheresnosignofenemyactivity.wav
f.e.a.r/sound/npc/fear_soldier/vo/fear_zuluandsevennothingtoreport.wav
f.e.a.r/sound/npc/fear_soldier/vo/fear_thisisechosevenwefinishedourpatrol.wav
f.e.a.r/sound/npc/fear_soldier/vo/fear_splitup.wav
f.e.a.r/sound/npc/fear_soldier/vo/fear_getback2.wav
f.e.a.r/sound/npc/fear_soldier/vo/fear_commandwelostcontactwiththesearchteam.wav
f.e.a.r/sound/npc/fear_soldier/vo/fear_whatthe.wav
f.e.a.r/sound/npc/fear_soldier/vo/fear_yessir4.wav
f.e.a.r/sound/npc/fear_soldier/vo/fear_itsgonnablow2.wav
f.e.a.r/sound/npc/fear_soldier/vo/fear_staydown.wav
f.e.a.r/sound/npc/fear_soldier/vo/fear_thisisechosixwehavereachedthefirstmarker.wav
f.e.a.r/sound/npc/fear_soldier/vo/fear_rogerkeepyoureyesopen.wav
f.e.a.r/sound/npc/fear_soldier/vo/fear_ithoughtiheardsomething.wav
f.e.a.r/sound/npc/fear_soldier/vo/fear_recon.wav
f.e.a.r/sound/npc/fear_soldier/vo/fear_understood3.wav
f.e.a.r/sound/npc/fear_soldier/vo/fear_givemesupressingfire.wav
f.e.a.r/sound/npc/fear_soldier/vo/fear_teamspreadout.wav
f.e.a.r/sound/npc/fear_soldier/vo/fear_echozeroalltargetsaredown.wav
f.e.a.r/sound/npc/fear_soldier/vo/fear_moveitout.wav
f.e.a.r/sound/npc/fear_soldier/vo/fear_nothinginreport.wav
f.e.a.r/sound/npc/fear_soldier/vo/fear_whereshouldigo.wav
f.e.a.r/sound/npc/fear_soldier/vo/fear_hestofast.wav
f.e.a.r/sound/npc/fear_soldier/vo/fear_getitoff.wav
f.e.a.r/sound/npc/fear_soldier/vo/fear_sightsarecold.wav
f.e.a.r/sound/npc/fear_soldier/vo/fear_holdup3.wav
f.e.a.r/sound/npc/fear_soldier/vo/fear_resumepatrol.wav
f.e.a.r/sound/npc/fear_soldier/vo/fear_stopwastingammo.wav
f.e.a.r/sound/npc/fear_soldier/vo/fear_fanout.wav
f.e.a.r/sound/npc/fear_soldier/vo/fear_hesonthemove.wav
f.e.a.r/sound/npc/fear_soldier/vo/fear_areasecure.wav
f.e.a.r/sound/npc/fear_soldier/vo/fear_grenadeout.wav
f.e.a.r/sound/npc/fear_soldier/vo/fear_needbackupnow.wav
f.e.a.r/sound/npc/fear_soldier/vo/fear_searchtheentirearea.wav
f.e.a.r/sound/npc/fear_soldier/vo/fear_negativestayput.wav
f.e.a.r/sound/npc/fear_soldier/vo/fear_enemynutralised.wav
f.e.a.r/sound/npc/fear_soldier/vo/fear_inposition.wav
f.e.a.r/sound/npc/fear_soldier/vo/fear_ishedead.wav
f.e.a.r/sound/npc/fear_soldier/vo/fear_getdown3.wav
f.e.a.r/sound/npc/fear_soldier/vo/fear_doyouneedbackup.wav
f.e.a.r/sound/npc/fear_soldier/vo/fear_getdown2.wav
f.e.a.r/sound/npc/fear_soldier/vo/fear_squadspreadout.wav
f.e.a.r/sound/npc/fear_soldier/vo/fear_notsure.wav
f.e.a.r/sound/npc/fear_soldier/vo/fear_gladtohearit.wav
f.e.a.r/sound/npc/fear_soldier/vo/fear_moveout2.wav
f.e.a.r/sound/npc/fear_soldier/vo/fear_squadonme_moveout.wav
f.e.a.r/sound/npc/fear_soldier/vo/fear_securethearea.wav
f.e.a.r/sound/npc/fear_soldier/vo/fear_keepyourmouthshut.wav
f.e.a.r/sound/npc/fear_soldier/vo/fear_waithereforfurtherorders.wav
f.e.a.r/sound/npc/fear_soldier/vo/fear_spreadout.wav
f.e.a.r/sound/npc/fear_soldier/vo/fear_squadonme.wav
f.e.a.r/sound/npc/fear_soldier/vo/fear_hesdown.wav
f.e.a.r/sound/npc/fear_soldier/vo/fear_negativestayput2.wav
f.e.a.r/sound/npc/fear_soldier/vo/fear_cantconfirm.wav
f.e.a.r/sound/npc/fear_soldier/vo/fear_thisisbravotwelveinposition.wav
f.e.a.r/sound/npc/fear_soldier/vo/fear_supressingfire.wav
f.e.a.r/sound/npc/fear_soldier/vo/fear_wegotamandown.wav
f.e.a.r/sound/npc/fear_soldier/vo/fear_squadclosein.wav
f.e.a.r/sound/npc/fear_soldier/vo/fear_getdown.wav
f.e.a.r/sound/npc/fear_soldier/vo/fear_echosixinposition.wav
f.e.a.r/sound/npc/fear_soldier/vo/fear_wegotcontact2.wav
f.e.a.r/sound/npc/fear_soldier/vo/fear_squadcheckin2.wav
f.e.a.r/sound/npc/fear_soldier/vo/fear_commandtargetisdown.wav
f.e.a.r/sound/npc/fear_soldier/vo/fear_ithinkhesdown2.wav
f.e.a.r/sound/npc/fear_soldier/vo/fear_getagrip.wav
f.e.a.r/sound/npc/fear_soldier/vo/fear_hesrunning.wav
f.e.a.r/sound/npc/fear_soldier/vo/fear_negativeilldispatchasearchteam.wav
f.e.a.r/sound/npc/fear_soldier/vo/fear_weneedreinforcements.wav
f.e.a.r/sound/npc/fear_soldier/vo/fear_targetaqqured.wav
f.e.a.r/sound/npc/fear_soldier/vo/fear_fallback1.wav
f.e.a.r/sound/npc/fear_soldier/vo/fear_thereheis1.wav
f.e.a.r/sound/npc/fear_soldier/vo/fear_clear1.wav
f.e.a.r/sound/npc/fear_soldier/vo/fear_didyouseethat.wav
f.e.a.r/sound/npc/fear_soldier/vo/fear_rogerechosixsecuretheareaintrudershavebinconfirmed.wav
f.e.a.r/sound/npc/fear_soldier/vo/fear_squadcheckin.wav
f.e.a.r/sound/npc/fear_soldier/vo/fear_whatsyourstatus2.wav
f.e.a.r/sound/npc/fear_soldier/vo/fear_whatsyourstatus.wav
f.e.a.r/sound/npc/fear_soldier/vo/fear_zulusixreport.wav
f.e.a.r/sound/npc/fear_soldier/vo/fear_lookoutgrenade.wav
f.e.a.r/sound/npc/fear_soldier/vo/fear_regroup.wav
f.e.a.r/sound/npc/fear_soldier/vo/fear_commandwehavecontactatsectorthree.wav
f.e.a.r/sound/npc/fear_soldier/vo/fear_finishhim.wav
f.e.a.r/sound/npc/fear_soldier/vo/fear_icantseeshit.wav
f.e.a.r/sound/npc/fear_soldier/vo/fear_waitup2.wav
f.e.a.r/sound/npc/fear_soldier/vo/fear_threatsighted.wav
f.e.a.r/sound/npc/fear_soldier/vo/fear_wehavntseenanything.wav
f.e.a.r/sound/npc/fear_soldier/vo/fear_copy.wav
f.e.a.r/sound/npc/fear_soldier/vo/fear_copythatinposition.wav
f.e.a.r/sound/npc/fear_soldier/vo/fear_thisway2.wav
f.e.a.r/sound/npc/fear_soldier/vo/fear_squadmoveout2.wav
f.e.a.r/sound/npc/fear_soldier/vo/fear_allclear.wav
f.e.a.r/sound/npc/fear_soldier/vo/fear_whatsthat.wav
f.e.a.r/sound/npc/fear_soldier/vo/fear_understoodreinforcementsareonroute.wav
f.e.a.r/sound/npc/fear_soldier/vo/fear_hostileconfirmed.wav
f.e.a.r/sound/npc/fear_soldier/vo/fear_overthere2.wav
f.e.a.r/sound/npc/fear_soldier/vo/fear_letsgo.wav
f.e.a.r/sound/npc/fear_soldier/vo/fear_takehimout.wav
f.e.a.r/sound/npc/fear_soldier/vo/fear_welostaman.wav
f.e.a.r/sound/npc/fear_soldier/vo/fear_imgood.wav
f.e.a.r/sound/npc/fear_soldier/vo/fear_gotavisual.wav
f.e.a.r/sound/npc/fear_soldier/vo/fear_yessir.wav
f.e.a.r/sound/npc/fear_soldier/vo/fear_icantsee1.wav
f.e.a.r/sound/npc/fear_soldier/vo/fear_stayalert.wav
f.e.a.r/sound/npc/fear_soldier/vo/fear_justgetoutofthere.wav
f.e.a.r/sound/npc/fear_soldier/vo/fear_whatisit.wav
f.e.a.r/sound/npc/fear_soldier/vo/fear_zulusixwhyhaventyoucheckedin.wav
f.e.a.r/sound/npc/fear_soldier/vo/fear_anyoneseehim.wav
f.e.a.r/sound/npc/fear_soldier/vo/fear_hestryingtoflank.wav
f.e.a.r/sound/npc/fear_soldier/vo/fear_echoninersightsarecold.wav
f.e.a.r/sound/npc/fear_soldier/vo/fear_gogogo2.wav
f.e.a.r/sound/npc/fear_soldier/vo/fear_zulusixwhatsyourstatus.wav
f.e.a.r/sound/npc/fear_soldier/vo/fear_advancing.wav
f.e.a.r/sound/npc/fear_soldier/vo/fear_sattleup.wav
f.e.a.r/sound/npc/fear_soldier/vo/fear_therealldead.wav
f.e.a.r/sound/npc/fear_soldier/vo/fear_report.wav
f.e.a.r/sound/npc/fear_soldier/vo/fear_ilosthim.wav
f.e.a.r/sound/npc/fear_soldier/vo/fear_gettocoverwegotaintruderheadedthisway.wav
f.e.a.r/sound/npc/fear_soldier/vo/fear_death10.wav
f.e.a.r/sound/npc/fear_soldier/vo/fear_hemaytrytocomethisway.wav
f.e.a.r/sound/npc/fear_soldier/vo/fear_imtrying.wav
f.e.a.r/sound/npc/fear_soldier/vo/fear_advance.wav
f.e.a.r/sound/npc/fear_soldier/vo/fear_imalright.wav
f.e.a.r/sound/npc/fear_soldier/vo/fear_imtakingfire.wav
f.e.a.r/sound/npc/fear_soldier/vo/fear_squadregroup.wav
f.e.a.r/sound/npc/fear_soldier/vo/fear_cuthimoff.wav
f.e.a.r/sound/npc/fear_soldier/vo/fear_echozeroreport.wav
f.e.a.r/sound/npc/fear_soldier/vo/fear_shutup.wav
f.e.a.r/sound/npc/fear_soldier/vo/fear_igotyoucovered.wav
f.e.a.r/sound/npc/fear_soldier/vo/fear_yourexposed.wav
f.e.a.r/sound/npc/fear_soldier/vo/fear_checkin2.wav
f.e.a.r/sound/npc/fear_soldier/vo/fear_understood2.wav
f.e.a.r/sound/npc/fear_soldier/vo/fear_grenade.wav
f.e.a.r/sound/npc/fear_soldier/vo/fear_imhit.wav
f.e.a.r/sound/npc/fear_soldier/vo/fear_help.wav
f.e.a.r/sound/npc/fear_soldier/vo/fear_noshit.wav
f.e.a.r/sound/npc/fear_soldier/vo/fear_whichway.wav
f.e.a.r/sound/npc/fear_soldier/vo/fear_allteamsconvergeonmyposition.wav
f.e.a.r/sound/npc/fear_soldier/vo/fear_echo12wegotapossibleintruder.wav
f.e.a.r/sound/npc/fear_soldier/vo/fear_closeing.wav
f.e.a.r/sound/npc/fear_soldier/vo/fear_rogerwewillcheckitout.wav
f.e.a.r/sound/npc/fear_soldier/vo/fear_wecantstophim.wav
f.e.a.r/sound/npc/fear_soldier/vo/fear_nosignofhim.wav
f.e.a.r/sound/npc/fear_soldier/vo/fear_inposition2.wav
f.e.a.r/sound/npc/fear_soldier/vo/fear_searcheverywhere.wav
f.e.a.r/sound/npc/fear_soldier/vo/fear_squadadvance.wav
f.e.a.r/sound/npc/fear_soldier/vo/fear_takehimout2.wav
f.e.a.r/sound/npc/fear_soldier/vo/fear_affirmative.wav
f.e.a.r/sound/npc/fear_soldier/vo/fear_checkin.wav
f.e.a.r/sound/npc/fear_soldier/vo/fear_holdposition2.wav
f.e.a.r/sound/npc/fear_soldier/vo/fear_rogerthat.wav
f.e.a.r/sound/npc/fear_soldier/vo/fear_staydown2.wav
f.e.a.r/sound/npc/fear_soldier/vo/fear_watchoutgrenade.wav
f.e.a.r/sound/npc/fear_soldier/vo/fear_getawayfromthere.wav
f.e.a.r/sound/npc/fear_soldier/vo/fear_doyouseehim.wav
f.e.a.r/sound/npc/fear_soldier/vo/fear_tryandgetaround.wav
f.e.a.r/sound/npc/fear_soldier/vo/fear_squadgettocover.wav
f.e.a.r/sound/npc/fear_soldier/vo/fear_takecover.wav
f.e.a.r/sound/npc/fear_soldier/vo/fear_ceasefire.wav
f.e.a.r/sound/npc/fear_soldier/vo/fear_headsup.wav
f.e.a.r/sound/npc/fear_soldier/vo/fear_waithere.wav
f.e.a.r/sound/npc/fear_soldier/vo/fear_roger2.wav
f.e.a.r/sound/npc/fear_soldier/vo/fear_hesexposed.wav
f.e.a.r/sound/npc/fear_soldier/vo/fear_idle2.wav
f.e.a.r/sound/npc/fear_soldier/vo/fear_nowyourclear.wav
f.e.a.r/sound/npc/fear_soldier/vo/fear_waithere2.wav
f.e.a.r/sound/npc/fear_soldier/vo/fear_needreinforcements.wav
f.e.a.r/sound/npc/fear_soldier/vo/fear_understood.wav
f.e.a.r/sound/npc/fear_soldier/vo/fear_spreadout2.wav
f.e.a.r/sound/npc/fear_soldier/vo/fear_retreat.wav
f.e.a.r/sound/npc/fear_soldier/vo/fear_negative2.wav
f.e.a.r/sound/npc/fear_soldier/vo/fear_shutyourfuckingmouth.wav
f.e.a.r/sound/npc/fear_soldier/vo/fear_hesclosedin.wav
f.e.a.r/sound/npc/fear_soldier/vo/fear_rogerthat2.wav
f.e.a.r/sound/npc/fear_soldier/vo/fear_wegotmovement.wav
f.e.a.r/sound/npc/fear_soldier/vo/fear_fireinthehole.wav
f.e.a.r/sound/npc/fear_soldier/vo/fear_allclear2.wav
f.e.a.r/sound/npc/fear_soldier/vo/fear_squadmoveup.wav
f.e.a.r/sound/npc/fear_soldier/vo/fear_notgettingaresponse.wav
f.e.a.r/sound/npc/fear_soldier/vo/fear_getoutoftheway.wav
f.e.a.r/sound/npc/fear_soldier/vo/fear_keepittightecho12isntresponding.wav
f.e.a.r/sound/npc/fear_soldier/vo/fear_allsquadsfallbacktotherallypoint.wav
f.e.a.r/sound/npc/fear_soldier/vo/fear_onme.wav
f.e.a.r/sound/npc/fear_soldier/vo/fear_iseesomething.wav
f.e.a.r/sound/npc/fear_soldier/vo/fear_ineedammo.wav
f.e.a.r/sound/npc/fettel/15611.ogg
f.e.a.r/sound/npc/fettel/fettel_011.wav
f.e.a.r/sound/npc/fettel/14132.ogg
f.e.a.r/sound/npc/fettel/14637.ogg
f.e.a.r/sound/npc/fettel/fettel_038.wav
f.e.a.r/sound/npc/fettel/15613.ogg
f.e.a.r/sound/npc/fettel/15421.ogg
f.e.a.r/sound/npc/fettel/fettel_009.wav
f.e.a.r/sound/npc/fettel/15907.ogg
f.e.a.r/sound/npc/fettel/fettel_039.wav
f.e.a.r/sound/npc/fettel/fettel_007.wav
f.e.a.r/sound/npc/fettel/fettel_010.wav
f.e.a.r/sound/npc/fettel/14822.ogg
f.e.a.r/sound/npc/fettel/15897.ogg
f.e.a.r/sound/npc/fettel/fettel_013.wav
f.e.a.r/sound/npc/fettel/fettel_023.wav
f.e.a.r/sound/npc/fettel/14651.ogg
f.e.a.r/sound/npc/fettel/fettel_27.wav
f.e.a.r/sound/npc/fettel/15890.ogg
f.e.a.r/sound/npc/fettel/15424.ogg
f.e.a.r/sound/npc/fettel/fettel_042.wav
f.e.a.r/sound/npc/fettel/15896.ogg
f.e.a.r/sound/npc/fettel/14126.ogg
f.e.a.r/sound/npc/fettel/fettel_024.wav
f.e.a.r/sound/npc/fettel/fettel_047.wav
f.e.a.r/sound/npc/fettel/15423.ogg
f.e.a.r/sound/npc/fettel/14125.ogg
f.e.a.r/sound/npc/fettel/fettel_005.wav
f.e.a.r/sound/npc/fettel/fettel_012.wav
f.e.a.r/sound/npc/fettel/14649.ogg
f.e.a.r/sound/npc/fettel/15605.ogg
f.e.a.r/sound/npc/fettel/14674.ogg
f.e.a.r/sound/npc/fettel/15614.ogg
f.e.a.r/sound/npc/fettel/14821.ogg
f.e.a.r/sound/npc/fettel/15422.ogg
f.e.a.r/sound/npc/fettel/14675.ogg
f.e.a.r/sound/npc/fettel/15887.ogg
f.e.a.r/sound/npc/fettel/14827.ogg
f.e.a.r/sound/npc/fettel/15609.ogg
f.e.a.r/sound/npc/fettel/fettel_02.wav
f.e.a.r/sound/npc/fettel/15892.ogg
f.e.a.r/sound/npc/fettel/15889.ogg
f.e.a.r/sound/npc/fettel/15884.ogg
f.e.a.r/sound/npc/fettel/fettel_001.wav
f.e.a.r/sound/npc/fettel/14824.ogg
f.e.a.r/sound/npc/fettel/fettel_04.wav
f.e.a.r/sound/npc/fettel/15607.ogg
f.e.a.r/sound/npc/fettel/fettel_017.wav
f.e.a.r/sound/npc/fettel/14826.ogg
f.e.a.r/sound/npc/fettel/14650.ogg
f.e.a.r/sound/npc/fettel/15459.ogg
f.e.a.r/sound/npc/fettel/15894.ogg
f.e.a.r/sound/npc/fettel/14827b.ogg
f.e.a.r/sound/npc/fettel/fettel_24.wav
f.e.a.r/sound/npc/fettel/fettel_15.wav
f.e.a.r/sound/npc/fettel/15420.ogg
f.e.a.r/sound/npc/fettel/14128.ogg
f.e.a.r/sound/npc/fettel/15909.ogg
f.e.a.r/sound/npc/fettel/15912.ogg
f.e.a.r/sound/npc/fettel/fettel_044.wav
f.e.a.r/sound/npc/fettel/fettel_041.wav
f.e.a.r/sound/npc/fettel/15565.ogg
f.e.a.r/sound/npc/fettel/15908.ogg
f.e.a.r/sound/npc/fettel/15885.ogg
f.e.a.r/sound/npc/fettel/14653.ogg
f.e.a.r/sound/npc/fettel/fettel_015.wav
f.e.a.r/sound/npc/fettel/15891.ogg
f.e.a.r/sound/npc/fettel/15610.ogg
f.e.a.r/sound/npc/fettel/14130.ogg
f.e.a.r/sound/npc/fettel/14652.ogg
f.e.a.r/sound/npc/fettel/14829.ogg
f.e.a.r/sound/npc/fettel/15893.ogg
f.e.a.r/sound/npc/fettel/15888.ogg
f.e.a.r/sound/npc/fettel/14654.ogg
f.e.a.r/sound/npc/fettel/14636.ogg
f.e.a.r/sound/npc/fettel/fettel_036.wav
f.e.a.r/sound/npc/fettel/fettel_014.wav
f.e.a.r/sound/npc/fettel/15566.ogg
f.e.a.r/sound/npc/fettel/15886.ogg
f.e.a.r/sound/npc/fettel/14676.ogg
f.e.a.r/sound/npc/fettel/fettel_020.wav
f.e.a.r/sound/npc/fettel/14673.ogg
f.e.a.r/sound/npc/fettel/fettel_019.wav
f.e.a.r/sound/npc/fettel/14823.ogg
f.e.a.r/sound/npc/fettel/15910.ogg
f.e.a.r/sound/npc/fettel/fettel_004.wav
f.e.a.r/sound/npc/fettel/fettel_01.wav
f.e.a.r/sound/npc/fettel/fettel_008.wav
f.e.a.r/sound/npc/fettel/15425.ogg
f.e.a.r/sound/npc/fettel/fettel_006.wav
f.e.a.r/sound/npc/fettel/14138.ogg
f.e.a.r/sound/npc/fettel/15608.ogg
f.e.a.r/sound/npc/fettel/fettel_021.wav
f.e.a.r/sound/npc/fettel/fettel_037.wav
f.e.a.r/sound/npc/fettel/15911.ogg
f.e.a.r/sound/npc/fettel/15606.ogg
f.e.a.r/sound/npc/fettel/fettel_14.wav
f.e.a.r/sound/npc/fettel/fettel_12.wav
f.e.a.r/sound/npc/fettel/fettel_046.wav
f.e.a.r/sound/npc/fettel/14828.ogg
f.e.a.r/sound/npc/fettel/fettel_040.wav
f.e.a.r/sound/npc/fettel/14143.ogg
f.e.a.r/sound/npc/fettel/14127.ogg
f.e.a.r/sound/npc/fettel/fettel_045.wav
f.e.a.r/sound/npc/fettel/fettel_13.wav
f.e.a.r/sound/npc/fettel/15612.ogg
f.e.a.r/sound/npc/fettel/15895.ogg
f.e.a.r/sound/npc/harlan/14815.ogg
f.e.a.r/sound/npc/harlan/14664.ogg
f.e.a.r/sound/npc/harlan/14614.ogg
f.e.a.r/sound/npc/harlan/14609.ogg
f.e.a.r/sound/npc/harlan/14618.ogg
f.e.a.r/sound/npc/harlan/14813.ogg
f.e.a.r/sound/npc/harlan/14610.ogg
f.e.a.r/sound/npc/harlan/14666.ogg
f.e.a.r/sound/npc/harlan/14612.ogg
f.e.a.r/sound/npc/harlan/14661.ogg
f.e.a.r/sound/npc/harlan/14656.ogg
f.e.a.r/sound/npc/harlan/14808.ogg
f.e.a.r/sound/npc/harlan/14811.ogg
f.e.a.r/sound/npc/harlan/14617.ogg
f.e.a.r/sound/npc/harlan/14816.ogg
f.e.a.r/sound/npc/harlan/14616.ogg
f.e.a.r/sound/npc/alice/14507.ogg
f.e.a.r/sound/npc/alice/14509.ogg
f.e.a.r/sound/npc/alice/15514.ogg
f.e.a.r/sound/npc/alice/14523.ogg
f.e.a.r/sound/npc/alice/15283.ogg
f.e.a.r/sound/npc/alice/14663.ogg
f.e.a.r/sound/npc/alice/14543.ogg
f.e.a.r/sound/npc/alice/15850.ogg
f.e.a.r/sound/npc/alice/14530.ogg
f.e.a.r/sound/npc/alice/14513.ogg
f.e.a.r/sound/npc/alice/14511.ogg
f.e.a.r/sound/npc/alice/14532.ogg
f.e.a.r/sound/npc/alice/14641.ogg
f.e.a.r/sound/npc/alice/14549.ogg
f.e.a.r/sound/npc/alice/14500.ogg
f.e.a.r/sound/npc/alice/15836.ogg
f.e.a.r/sound/npc/alice/14521.ogg
f.e.a.r/sound/npc/alice/14550.ogg
f.e.a.r/sound/npc/alice/15838.ogg
f.e.a.r/sound/npc/alice/14529.ogg
f.e.a.r/sound/npc/alice/15284.ogg
f.e.a.r/sound/npc/alice/14525.ogg
f.e.a.r/sound/npc/alice/14743.ogg
f.e.a.r/sound/npc/alice/15293.ogg
f.e.a.r/sound/npc/alice/14645.ogg
f.e.a.r/sound/npc/alice/14518.ogg
f.e.a.r/sound/npc/alice/14522.ogg
f.e.a.r/sound/npc/alice/14502.ogg
f.e.a.r/sound/npc/alice/14556.ogg
f.e.a.r/sound/npc/alice/14547.ogg
f.e.a.r/sound/npc/alice/15516.ogg
f.e.a.r/sound/npc/alice/14534.ogg
f.e.a.r/sound/npc/alice/15328.ogg
f.e.a.r/sound/npc/alice/14520.ogg
f.e.a.r/sound/npc/alice/14535.ogg
f.e.a.r/sound/npc/alice/14539.ogg
f.e.a.r/sound/npc/alice/14669.ogg
f.e.a.r/sound/npc/alice/14638.ogg
f.e.a.r/sound/npc/alice/14519.ogg
f.e.a.r/sound/npc/alice/14501.ogg
f.e.a.r/sound/npc/alice/14552.ogg
f.e.a.r/sound/npc/alice/15295.ogg
f.e.a.r/sound/npc/alice/14541.ogg
f.e.a.r/sound/npc/alice/15300.ogg
f.e.a.r/sound/npc/alice/14646.ogg
f.e.a.r/sound/npc/alice/14665.ogg
f.e.a.r/sound/npc/alice/14527.ogg
f.e.a.r/sound/npc/alice/15835.ogg
f.e.a.r/sound/npc/alice/14554.ogg
f.e.a.r/sound/npc/alice/14504.ogg
f.e.a.r/sound/npc/alice/14526.ogg
f.e.a.r/sound/npc/alice/14639.ogg
f.e.a.r/sound/npc/alice/15839.ogg
f.e.a.r/sound/npc/alice/14517.ogg
f.e.a.r/sound/npc/alice/14528.ogg
f.e.a.r/sound/npc/alice/14531.ogg
f.e.a.r/sound/npc/alice/15510.ogg
f.e.a.r/sound/npc/alice/14524.ogg
f.e.a.r/sound/npc/alice/14647.ogg
f.e.a.r/sound/npc/alice/15298.ogg
f.e.a.r/sound/npc/alice/15515.ogg
f.e.a.r/sound/npc/alice/14668.ogg
f.e.a.r/sound/npc/alice/15302.ogg
f.e.a.r/sound/npc/alice/14640.ogg
f.e.a.r/sound/npc/alice/14506.ogg
f.e.a.r/sound/npc/alice/14545.ogg
f.e.a.r/sound/npc/alice/15297.ogg
f.e.a.r/sound/npc/alice/15291.ogg
f.e.a.r/sound/npc/alice/15330.ogg
f.e.a.r/sound/npc/alice/15512.ogg
f.e.a.r/sound/npc/shade/scream_malecell_06_slow_abridged.ogg
f.e.a.r/sound/npc/shade/scream_malecell_06_slower.ogg
f.e.a.r/sound/npc/shade/screams_lowlevel_03_distorted.ogg
f.e.a.r/sound/npc/shade/shade_attack_03.ogg
f.e.a.r/sound/npc/shade/shade_lurch_01.ogg
f.e.a.r/sound/npc/shade/screams_lowlevel_01_distorted.ogg
f.e.a.r/sound/npc/shade/shade_attack_01.ogg
f.e.a.r/sound/npc/shade/shade_death.ogg
f.e.a.r/sound/npc/shade/shade_attack_02.ogg
f.e.a.r/sound/npc/shade/scream_malecell_06_distorted02.ogg
f.e.a.r/sound/npc/shade/scream_malecell_06_slow.ogg
f.e.a.r/sound/npc/shade/scream_malecell_06_distorted.ogg
f.e.a.r/sound/npc/shade/screams_lowlevel_04_distort.ogg
f.e.a.r/sound/npc/shade/shade_lurch_03.ogg
f.e.a.r/sound/npc/shade/shade_lurch_02.ogg
f.e.a.r/sound/npc/atc_soldier/20295.ogg
f.e.a.r/sound/npc/atc_soldier/20084.ogg
f.e.a.r/sound/npc/atc_soldier/20152.ogg
f.e.a.r/sound/npc/atc_soldier/20215.ogg
f.e.a.r/sound/npc/atc_soldier/20307.ogg
f.e.a.r/sound/npc/atc_soldier/20337.ogg
f.e.a.r/sound/npc/atc_soldier/20134.ogg
f.e.a.r/sound/npc/atc_soldier/20132.ogg
f.e.a.r/sound/npc/atc_soldier/20085.ogg
f.e.a.r/sound/npc/atc_soldier/20232.ogg
f.e.a.r/sound/npc/atc_soldier/20172.ogg
f.e.a.r/sound/npc/atc_soldier/20006.ogg
f.e.a.r/sound/npc/atc_soldier/20203.ogg
f.e.a.r/sound/npc/atc_soldier/20257.ogg
f.e.a.r/sound/npc/atc_soldier/20282.ogg
f.e.a.r/sound/npc/atc_soldier/20235.ogg
f.e.a.r/sound/npc/atc_soldier/20210.ogg
f.e.a.r/sound/npc/atc_soldier/20220.ogg
f.e.a.r/sound/npc/atc_soldier/20196.ogg
f.e.a.r/sound/npc/atc_soldier/20301.ogg
f.e.a.r/sound/npc/atc_soldier/20122.ogg
f.e.a.r/sound/npc/atc_soldier/20123.ogg
f.e.a.r/sound/npc/atc_soldier/20284.ogg
f.e.a.r/sound/npc/atc_soldier/20244.ogg
f.e.a.r/sound/npc/atc_soldier/20149.ogg
f.e.a.r/sound/npc/atc_soldier/20183.ogg
f.e.a.r/sound/npc/atc_soldier/20338.ogg
f.e.a.r/sound/npc/atc_soldier/20057.ogg
f.e.a.r/sound/npc/atc_soldier/20212.ogg
f.e.a.r/sound/npc/atc_soldier/20097.ogg
f.e.a.r/sound/npc/atc_soldier/20083.ogg
f.e.a.r/sound/npc/atc_soldier/20081.ogg
f.e.a.r/sound/npc/atc_soldier/20262.ogg
f.e.a.r/sound/npc/atc_soldier/20256.ogg
f.e.a.r/sound/npc/atc_soldier/20137.ogg
f.e.a.r/sound/npc/atc_soldier/20030.ogg
f.e.a.r/sound/npc/atc_soldier/20309.ogg
f.e.a.r/sound/npc/atc_soldier/20242.ogg
f.e.a.r/sound/npc/atc_soldier/20015.ogg
f.e.a.r/sound/npc/atc_soldier/20175.ogg
f.e.a.r/sound/npc/atc_soldier/20214.ogg
f.e.a.r/sound/npc/atc_soldier/20341.ogg
f.e.a.r/sound/npc/atc_soldier/20077.ogg
f.e.a.r/sound/npc/atc_soldier/20300.ogg
f.e.a.r/sound/npc/atc_soldier/20322.ogg
f.e.a.r/sound/npc/atc_soldier/20288.ogg
f.e.a.r/sound/npc/atc_soldier/20044.ogg
f.e.a.r/sound/npc/atc_soldier/20169.ogg
f.e.a.r/sound/npc/atc_soldier/20013.ogg
f.e.a.r/sound/npc/atc_soldier/20096.ogg
f.e.a.r/sound/npc/atc_soldier/20090.ogg
f.e.a.r/sound/npc/atc_soldier/20207.ogg
f.e.a.r/sound/npc/atc_soldier/20342.ogg
f.e.a.r/sound/npc/atc_soldier/20260.ogg
f.e.a.r/sound/npc/atc_soldier/20238.ogg
f.e.a.r/sound/npc/atc_soldier/20151.ogg
f.e.a.r/sound/npc/atc_soldier/20021.ogg
f.e.a.r/sound/npc/atc_soldier/20095.ogg
f.e.a.r/sound/npc/atc_soldier/20336.ogg
f.e.a.r/sound/npc/atc_soldier/20223.ogg
f.e.a.r/sound/npc/atc_soldier/20050.ogg
f.e.a.r/sound/npc/atc_soldier/20195.ogg
f.e.a.r/sound/npc/atc_soldier/20208.ogg
f.e.a.r/sound/npc/atc_soldier/20311.ogg
f.e.a.r/sound/npc/atc_soldier/20225.ogg
f.e.a.r/sound/npc/atc_soldier/20012.ogg
f.e.a.r/sound/npc/atc_soldier/20186.ogg
f.e.a.r/sound/npc/atc_soldier/20236.ogg
f.e.a.r/sound/npc/atc_soldier/20316.ogg
f.e.a.r/sound/npc/atc_soldier/20142.ogg
f.e.a.r/sound/npc/atc_soldier/20211.ogg
f.e.a.r/sound/npc/atc_soldier/20087.ogg
f.e.a.r/sound/npc/atc_soldier/20073.ogg
f.e.a.r/sound/npc/atc_soldier/20011.ogg
f.e.a.r/sound/npc/atc_soldier/20071.ogg
f.e.a.r/sound/npc/atc_soldier/20009.ogg
f.e.a.r/sound/npc/atc_soldier/20020.ogg
f.e.a.r/sound/npc/atc_soldier/20002.ogg
f.e.a.r/sound/npc/atc_soldier/20305.ogg
f.e.a.r/sound/npc/atc_soldier/20182.ogg
f.e.a.r/sound/npc/atc_soldier/20001.ogg
f.e.a.r/sound/npc/atc_soldier/20125.ogg
f.e.a.r/sound/npc/atc_soldier/20136.ogg
f.e.a.r/sound/npc/atc_soldier/20222.ogg
f.e.a.r/sound/npc/atc_soldier/20216.ogg
f.e.a.r/sound/npc/atc_soldier/20155.ogg
f.e.a.r/sound/npc/atc_soldier/20080.ogg
f.e.a.r/sound/npc/atc_soldier/20346.ogg
f.e.a.r/sound/npc/atc_soldier/20259.ogg
f.e.a.r/sound/npc/atc_soldier/20312.ogg
f.e.a.r/sound/npc/atc_soldier/20042.ogg
f.e.a.r/sound/npc/atc_soldier/20239.ogg
f.e.a.r/sound/npc/atc_soldier/20198.ogg
f.e.a.r/sound/npc/atc_soldier/20298.ogg
f.e.a.r/sound/npc/atc_soldier/20035.ogg
f.e.a.r/sound/npc/atc_soldier/20007.ogg
f.e.a.r/sound/npc/atc_soldier/20150.ogg
f.e.a.r/sound/npc/atc_soldier/20034.ogg
f.e.a.r/sound/npc/atc_soldier/20023.ogg
f.e.a.r/sound/npc/atc_soldier/20058.ogg
f.e.a.r/sound/npc/atc_soldier/20293.ogg
f.e.a.r/sound/npc/atc_soldier/20154.ogg
f.e.a.r/sound/npc/atc_soldier/20121.ogg
f.e.a.r/sound/npc/atc_soldier/20000.ogg
f.e.a.r/sound/npc/atc_soldier/20033.ogg
f.e.a.r/sound/npc/atc_soldier/20141.ogg
f.e.a.r/sound/npc/atc_soldier/20321.ogg
f.e.a.r/sound/npc/atc_soldier/20124.ogg
f.e.a.r/sound/npc/atc_soldier/20315.ogg
f.e.a.r/sound/npc/atc_soldier/20022.ogg
f.e.a.r/sound/npc/atc_soldier/20217.ogg
f.e.a.r/sound/npc/atc_soldier/20247.ogg
f.e.a.r/sound/npc/atc_soldier/20231.ogg
f.e.a.r/sound/npc/atc_soldier/20018.ogg
f.e.a.r/sound/npc/atc_soldier/20213.ogg
f.e.a.r/sound/npc/atc_soldier/20209.ogg
f.e.a.r/sound/npc/atc_soldier/20234.ogg
f.e.a.r/sound/npc/atc_soldier/20252.ogg
f.e.a.r/sound/npc/atc_soldier/20079.ogg
f.e.a.r/sound/npc/atc_soldier/20075.ogg
f.e.a.r/sound/npc/atc_soldier/20324.ogg
f.e.a.r/sound/npc/atc_soldier/20237.ogg
f.e.a.r/sound/npc/atc_soldier/20340.ogg
f.e.a.r/sound/npc/atc_soldier/20056.ogg
f.e.a.r/sound/npc/atc_soldier/20156.ogg
f.e.a.r/sound/npc/atc_soldier/20304.ogg
f.e.a.r/sound/npc/atc_soldier/20283.ogg
f.e.a.r/sound/npc/atc_soldier/20004.ogg
f.e.a.r/sound/npc/atc_soldier/20170.ogg
f.e.a.r/sound/npc/atc_soldier/20344.ogg
f.e.a.r/sound/npc/atc_soldier/20165.ogg
f.e.a.r/sound/npc/atc_soldier/20126.ogg
f.e.a.r/sound/npc/atc_soldier/20258.ogg
f.e.a.r/sound/npc/atc_soldier/20070.ogg
f.e.a.r/sound/npc/atc_soldier/20233.ogg
f.e.a.r/sound/npc/atc_soldier/20159.ogg
f.e.a.r/sound/npc/atc_soldier/20245.ogg
f.e.a.r/sound/npc/atc_soldier/20230.ogg
f.e.a.r/sound/npc/atc_soldier/20032.ogg
f.e.a.r/sound/npc/atc_soldier/20029.ogg
f.e.a.r/sound/npc/atc_soldier/20200.ogg
f.e.a.r/sound/npc/atc_soldier/20219.ogg
f.e.a.r/sound/npc/atc_soldier/20166.ogg
f.e.a.r/sound/npc/atc_soldier/20043.ogg
f.e.a.r/sound/npc/atc_soldier/20127.ogg
f.e.a.r/sound/npc/atc_soldier/20036.ogg
f.e.a.r/sound/npc/atc_soldier/20206.ogg
f.e.a.r/sound/npc/atc_soldier/20177.ogg
f.e.a.r/sound/npc/atc_soldier/20086.ogg
f.e.a.r/sound/npc/atc_soldier/20037.ogg
f.e.a.r/sound/npc/atc_soldier/20250.ogg
f.e.a.r/sound/npc/atc_soldier/20243.ogg
f.e.a.r/sound/npc/atc_soldier/20323.ogg
f.e.a.r/sound/npc/atc_soldier/20153.ogg
f.e.a.r/sound/npc/atc_soldier/20178.ogg
f.e.a.r/sound/npc/atc_soldier/20181.ogg
f.e.a.r/sound/npc/atc_soldier/20140.ogg
f.e.a.r/sound/npc/atc_soldier/20241.ogg
f.e.a.r/sound/npc/atc_soldier/20345.ogg
f.e.a.r/sound/npc/atc_soldier/20003.ogg
f.e.a.r/sound/npc/atc_soldier/20078.ogg
f.e.a.r/sound/npc/atc_soldier/20310.ogg
f.e.a.r/sound/npc/atc_soldier/20263.ogg
f.e.a.r/sound/npc/atc_soldier/20179.ogg
f.e.a.r/sound/npc/atc_soldier/20133.ogg
f.e.a.r/sound/npc/atc_soldier/20173.ogg
f.e.a.r/sound/npc/atc_soldier/20313.ogg
f.e.a.r/sound/npc/atc_soldier/20226.ogg
f.e.a.r/sound/npc/atc_soldier/20194.ogg
f.e.a.r/sound/npc/atc_soldier/20144.ogg
f.e.a.r/sound/npc/atc_soldier/20218.ogg
f.e.a.r/sound/npc/atc_soldier/20254.ogg
f.e.a.r/sound/npc/atc_soldier/20224.ogg
f.e.a.r/sound/npc/atc_soldier/20046.ogg
f.e.a.r/sound/npc/atc_soldier/20055.ogg
f.e.a.r/sound/npc/atc_soldier/20343.ogg
f.e.a.r/sound/npc/atc_soldier/20248.ogg
f.e.a.r/sound/npc/atc_soldier/20265.ogg
f.e.a.r/sound/npc/atc_soldier/20296.ogg
f.e.a.r/sound/npc/atc_soldier/20026.ogg
f.e.a.r/sound/npc/atc_soldier/20202.ogg
f.e.a.r/sound/npc/atc_soldier/20299.ogg
f.e.a.r/sound/npc/atc_soldier/20197.ogg
f.e.a.r/sound/npc/atc_soldier/20291.ogg
f.e.a.r/sound/npc/atc_soldier/20180.ogg
f.e.a.r/sound/npc/atc_soldier/20158.ogg
f.e.a.r/sound/npc/atc_soldier/20031.ogg
f.e.a.r/sound/npc/atc_soldier/20049.ogg
f.e.a.r/sound/npc/atc_soldier/20240.ogg
f.e.a.r/sound/npc/atc_soldier/20091.ogg
f.e.a.r/sound/npc/atc_soldier/20314.ogg
f.e.a.r/sound/npc/atc_soldier/20167.ogg
f.e.a.r/sound/npc/atc_soldier/20251.ogg
f.e.a.r/sound/npc/atc_soldier/20016.ogg
f.e.a.r/sound/npc/atc_soldier/20204.ogg
f.e.a.r/sound/npc/atc_soldier/20059.ogg
f.e.a.r/sound/npc/atc_soldier/20201.ogg
f.e.a.r/sound/npc/atc_soldier/20190.ogg
f.e.a.r/sound/npc/atc_soldier/20174.ogg
f.e.a.r/sound/npc/atc_soldier/20045.ogg
f.e.a.r/sound/npc/atc_soldier/20145.ogg
f.e.a.r/sound/npc/atc_soldier/20014.ogg
f.e.a.r/sound/npc/atc_soldier/20027.ogg
f.e.a.r/sound/npc/atc_soldier/20308.ogg
f.e.a.r/sound/npc/atc_soldier/20048.ogg
f.e.a.r/sound/npc/atc_soldier/20264.ogg
f.e.a.r/sound/npc/atc_soldier/20005.ogg
f.e.a.r/sound/npc/atc_soldier/20261.ogg
f.e.a.r/sound/npc/atc_soldier/20306.ogg
f.e.a.r/sound/npc/atc_soldier/20038.ogg
f.e.a.r/sound/npc/atc_soldier/20072.ogg
f.e.a.r/sound/npc/atc_soldier/20171.ogg
f.e.a.r/sound/npc/atc_soldier/20302.ogg
f.e.a.r/sound/npc/atc_soldier/20339.ogg
f.e.a.r/sound/npc/atc_soldier/20289.ogg
f.e.a.r/sound/npc/atc_soldier/20157.ogg
f.e.a.r/sound/npc/atc_soldier/20074.ogg
f.e.a.r/sound/npc/atc_soldier/20249.ogg
f.e.a.r/sound/npc/atc_soldier/20199.ogg
f.e.a.r/sound/npc/atc_soldier/20019.ogg
f.e.a.r/sound/npc/atc_soldier/20028.ogg
f.e.a.r/sound/npc/atc_soldier/20292.ogg
f.e.a.r/sound/npc/atc_soldier/20176.ogg
f.e.a.r/sound/npc/atc_soldier/20246.ogg
f.e.a.r/sound/npc/atc_soldier/20008.ogg
f.e.a.r/sound/npc/atc_soldier/20253.ogg
f.e.a.r/sound/npc/atc_soldier/20024.ogg
f.e.a.r/sound/npc/atc_soldier/20168.ogg
f.e.a.r/sound/npc/atc_soldier/20082.ogg
f.e.a.r/sound/npc/atc_soldier/20266.ogg
f.e.a.r/sound/npc/atc_soldier/20076.ogg
f.e.a.r/sound/npc/atc_soldier/20290.ogg
f.e.a.r/sound/npc/atc_soldier/20221.ogg
f.e.a.r/sound/npc/atc_soldier/20294.ogg
f.e.a.r/sound/npc/atc_soldier/20303.ogg
f.e.a.r/sound/npc/atc_soldier/20285.ogg
f.e.a.r/sound/npc/atc_soldier/20192.ogg
f.e.a.r/sound/npc/atc_soldier/20017.ogg
f.e.a.r/sound/npc/atc_soldier/20143.ogg
f.e.a.r/sound/npc/atc_soldier/20139.ogg
f.e.a.r/sound/npc/raynes/raynes_084.ogg
f.e.a.r/sound/npc/raynes/raynes_091.ogg
f.e.a.r/sound/npc/raynes/raynes_155.ogg
f.e.a.r/sound/npc/raynes/raynes_156.ogg
f.e.a.r/sound/npc/raynes/raynes_017.ogg
f.e.a.r/sound/npc/raynes/raynes_032.ogg
f.e.a.r/sound/npc/raynes/raynes_169.ogg
f.e.a.r/sound/npc/raynes/raynes_183.ogg
f.e.a.r/sound/npc/raynes/raynes_171.ogg
f.e.a.r/sound/npc/raynes/raynes_163.ogg
f.e.a.r/sound/npc/raynes/raynes_049.ogg
f.e.a.r/sound/npc/raynes/raynes_096.ogg
f.e.a.r/sound/npc/raynes/raynes_045.ogg
f.e.a.r/sound/npc/raynes/raynes_006.ogg
f.e.a.r/sound/npc/raynes/raynes_181.ogg
f.e.a.r/sound/npc/raynes/raynes_064.ogg
f.e.a.r/sound/npc/raynes/raynes_107.ogg
f.e.a.r/sound/npc/raynes/raynes_152.ogg
f.e.a.r/sound/npc/raynes/raynes_105.ogg
f.e.a.r/sound/npc/raynes/raynes_180.ogg
f.e.a.r/sound/npc/raynes/raynes_074.ogg
f.e.a.r/sound/npc/raynes/raynes_018.ogg
f.e.a.r/sound/npc/raynes/raynes_065.ogg
f.e.a.r/sound/npc/raynes/raynes_072.ogg
f.e.a.r/sound/npc/raynes/raynes_140.ogg
f.e.a.r/sound/npc/raynes/raynes_121.ogg
f.e.a.r/sound/npc/raynes/raynes_077.ogg
f.e.a.r/sound/npc/raynes/raynes_097.ogg
f.e.a.r/sound/npc/raynes/raynes_098.ogg
f.e.a.r/sound/npc/raynes/raynes_159.ogg
f.e.a.r/sound/npc/raynes/raynes_005.ogg
f.e.a.r/sound/npc/raynes/raynes_228.ogg
f.e.a.r/sound/npc/raynes/raynes_108.ogg
f.e.a.r/sound/npc/raynes/raynes_024.ogg
f.e.a.r/sound/npc/raynes/raynes_109.ogg
f.e.a.r/sound/npc/raynes/raynes_092.ogg
f.e.a.r/sound/npc/raynes/raynes_086.ogg
f.e.a.r/sound/npc/raynes/raynes_170.ogg
f.e.a.r/sound/npc/raynes/raynes_147.ogg
f.e.a.r/sound/npc/raynes/raynes_023.ogg
f.e.a.r/sound/npc/raynes/raynes_058.ogg
f.e.a.r/sound/npc/raynes/raynes_162.ogg
f.e.a.r/sound/npc/raynes/raynes_227.ogg
f.e.a.r/sound/npc/raynes/raynes_050.ogg
f.e.a.r/sound/npc/raynes/raynes_149.ogg
f.e.a.r/sound/npc/raynes/raynes_174.ogg
f.e.a.r/sound/npc/raynes/raynes_144.ogg
f.e.a.r/sound/npc/raynes/raynes_120.ogg
f.e.a.r/sound/npc/raynes/raynes_106.ogg
f.e.a.r/sound/npc/raynes/raynes_007.ogg
f.e.a.r/sound/npc/raynes/raynes_118.ogg
f.e.a.r/sound/npc/raynes/raynes_173.ogg
f.e.a.r/sound/npc/raynes/raynes_019.ogg
f.e.a.r/sound/npc/raynes/raynes_071.ogg
f.e.a.r/sound/npc/raynes/raynes_051.ogg
f.e.a.r/sound/npc/raynes/raynes_090.ogg
f.e.a.r/sound/npc/raynes/raynes_008.ogg
f.e.a.r/sound/npc/raynes/raynes_128.ogg
f.e.a.r/sound/npc/raynes/raynes_062.ogg
f.e.a.r/sound/npc/raynes/raynes_016.ogg
f.e.a.r/sound/npc/raynes/raynes_167.ogg
f.e.a.r/sound/npc/raynes/raynes_068.ogg
f.e.a.r/sound/npc/raynes/raynes_057.ogg
f.e.a.r/sound/npc/raynes/raynes_067.ogg
f.e.a.r/sound/npc/raynes/raynes_054.ogg
f.e.a.r/sound/npc/raynes/raynes_010.ogg
f.e.a.r/sound/npc/raynes/raynes_053.ogg
f.e.a.r/sound/npc/raynes/raynes_103.ogg
f.e.a.r/sound/npc/raynes/raynes_073.ogg
f.e.a.r/sound/npc/raynes/raynes_056.ogg
f.e.a.r/sound/npc/raynes/raynes_166.ogg
f.e.a.r/sound/npc/raynes/raynes_048.ogg
f.e.a.r/sound/npc/raynes/raynes_055.ogg
f.e.a.r/sound/npc/raynes/raynes_059.ogg
f.e.a.r/sound/npc/raynes/raynes_145.ogg
f.e.a.r/sound/npc/raynes/raynes_119.ogg
f.e.a.r/sound/npc/raynes/raynes_165.ogg
f.e.a.r/sound/npc/raynes/raynes_015.ogg
f.e.a.r/sound/npc/raynes/raynes_003.ogg
f.e.a.r/sound/npc/raynes/raynes_168.ogg
f.e.a.r/sound/npc/raynes/raynes_069.ogg
f.e.a.r/sound/npc/raynes/raynes_066.ogg
f.e.a.r/sound/npc/raynes/raynes_146.ogg
f.e.a.r/sound/npc/raynes/raynes_151.ogg
f.e.a.r/sound/npc/raynes/raynes_052.ogg
f.e.a.r/sound/npc/raynes/raynes_060.ogg
f.e.a.r/sound/npc/raynes/raynes_153.ogg
f.e.a.r/sound/npc/raynes/raynes_129.ogg
f.e.a.r/sound/npc/raynes/raynes_178.ogg
f.e.a.r/sound/npc/raynes/raynes_172.ogg
f.e.a.r/sound/npc/raynes/raynes_177.ogg
f.e.a.r/sound/npc/raynes/raynes_004.ogg
f.e.a.r/sound/npc/raynes/raynes_070.ogg
f.e.a.r/sound/npc/raynes/raynes_009.ogg
f.e.a.r/sound/npc/raynes/raynes_184.ogg
f.e.a.r/sound/npc/raynes/raynes_047.ogg
f.e.a.r/sound/npc/raynes/raynes_157.ogg
f.e.a.r/sound/npc/raynes/raynes_158.ogg
f.e.a.r/sound/npc/raynes/raynes_198.ogg
f.e.a.r/sound/npc/raynes/raynes_093.ogg
f.e.a.r/sound/npc/raynes/raynes_046.ogg
f.e.a.r/sound/npc/raynes/raynes_083.ogg
f.e.a.r/sound/npc/alma/15860.wav
f.e.a.r/sound/npc/alma/almaslash_1.ogg
f.e.a.r/sound/npc/alma/alma_whisper_2.ogg
f.e.a.r/sound/npc/alma/alma_chaos_loop_02.ogg
f.e.a.r/sound/npc/alma/alma_scream_03.ogg
f.e.a.r/sound/npc/alma/alma_whisper_3_alt4.ogg
f.e.a.r/sound/npc/alma/after_alma.ogg
f.e.a.r/sound/npc/alma/scream_02brev.ogg
f.e.a.r/sound/npc/alma/old_alma.ogg
f.e.a.r/sound/npc/alma/scream01.ogg
f.e.a.r/sound/npc/alma/alma_child_04.ogg
f.e.a.r/sound/npc/alma/alma_singlevoice_2.ogg
f.e.a.r/sound/npc/alma/opng_almastep_2b.ogg
f.e.a.r/sound/npc/alma/alma_talk_1.ogg
f.e.a.r/sound/npc/alma/alma_scream.ogg
f.e.a.r/sound/npc/alma/alma_whisper_2_alt1.ogg
f.e.a.r/sound/npc/alma/alma_explos_02.ogg
f.e.a.r/sound/npc/alma/opng_almastep_1a.ogg
f.e.a.r/sound/npc/alma/alma_dispel.ogg
f.e.a.r/sound/npc/alma/scream02.ogg
f.e.a.r/sound/npc/alma/alma_run.ogg
f.e.a.r/sound/npc/alma/alma_chaos_loop_01.ogg
f.e.a.r/sound/npc/alma/alma_whisper_3_alt2.ogg
f.e.a.r/sound/npc/alma/alma_whisper_1_trailoff.ogg
f.e.a.r/sound/npc/alma/alma_explos_01.ogg
f.e.a.r/sound/npc/alma/alma_child_01.ogg
f.e.a.r/sound/npc/alma/alma_child_05.ogg
f.e.a.r/sound/npc/alma/alma_whisper_3_alt1.ogg
f.e.a.r/sound/npc/alma/alma_child_02.ogg
f.e.a.r/sound/npc/alma/opng_almastep_1b.ogg
f.e.a.r/sound/npc/alma/alma_scream_04.ogg
f.e.a.r/sound/npc/alma/alma_child_06.ogg
f.e.a.r/sound/npc/alma/almarun1.ogg
f.e.a.r/sound/npc/alma/alma_explos_04.ogg
f.e.a.r/sound/npc/alma/scaryalma01sound.ogg
f.e.a.r/sound/npc/alma/15861.wav
f.e.a.r/sound/npc/alma/almaslash_3.ogg
f.e.a.r/sound/npc/alma/15856.wav
f.e.a.r/sound/npc/alma/alma_child_07.ogg
f.e.a.r/sound/npc/alma/alma_scream_02.ogg
f.e.a.r/sound/npc/alma/15851.wav
f.e.a.r/sound/npc/alma/opng_almastep_2a.ogg
f.e.a.r/sound/npc/alma/almarun2.ogg
f.e.a.r/sound/npc/alma/weeping01.ogg
f.e.a.r/sound/npc/alma/almaslash_2.ogg
f.e.a.r/sound/npc/alma/alma_child_03.ogg
f.e.a.r/sound/npc/alma/alma_scream_01.ogg
f.e.a.r/sound/npc/alma/alma_explos_03.ogg
f.e.a.r/sound/npc/alma/alma_helpme03rev.ogg
f.e.a.r/sound/npc/alma/alma_whisper_1.ogg
f.e.a.r/sound/npc/alma/scream03.ogg
f.e.a.r/sound/npc/bishop/bristol_005.ogg
f.e.a.r/sound/npc/bishop/14360.ogg
f.e.a.r/sound/npc/bishop/14358.ogg
f.e.a.r/sound/npc/bishop/14377.ogg
f.e.a.r/sound/npc/bishop/15231.ogg
f.e.a.r/sound/npc/bishop/bristol_007.ogg
f.e.a.r/sound/npc/bishop/15212.ogg
f.e.a.r/sound/npc/bishop/15190.ogg
f.e.a.r/sound/npc/bishop/14357.ogg
f.e.a.r/sound/npc/bishop/14363.ogg
f.e.a.r/sound/npc/bishop/15214.ogg
f.e.a.r/sound/npc/bishop/14379.ogg
f.e.a.r/sound/npc/bishop/bristol_004.ogg
f.e.a.r/sound/npc/bishop/15191.ogg
f.e.a.r/sound/npc/bishop/15216.ogg
f.e.a.r/sound/npc/bishop/14361.ogg
f.e.a.r/sound/npc/bishop/14355.ogg
f.e.a.r/sound/npc/bishop/14356.ogg
f.e.a.r/sound/npc/bishop/15229.ogg
f.e.a.r/sound/npc/bishop/bristol_006.ogg
f.e.a.r/sound/npc/bishop/bristol_010.ogg
f.e.a.r/sound/npc/bishop/15189.ogg
f.e.a.r/sound/npc/bishop/bristol_001.ogg
f.e.a.r/sound/npc/bishop/15194.ogg
f.e.a.r/sound/npc/bishop/bristol_008.ogg
f.e.a.r/sound/npc/bishop/14404.ogg
f.e.a.r/sound/npc/bishop/15203.ogg
f.e.a.r/sound/npc/bishop/14369.ogg
f.e.a.r/sound/npc/bishop/15208.ogg
f.e.a.r/sound/npc/bishop/14359.ogg
f.e.a.r/sound/npc/bishop/14401.ogg
f.e.a.r/sound/npc/bishop/15200.ogg
f.e.a.r/sound/npc/bishop/bristol_002.ogg
f.e.a.r/sound/npc/bishop/14365.ogg
f.e.a.r/sound/npc/bishop/bristol_003.ogg
f.e.a.r/sound/npc/bishop/bristol_009.ogg
f.e.a.r/sound/npc/bishop/15236.ogg
f.e.a.r/sound/npc/bishop/bristol_011.ogg
f.e.a.r/sound/npc/bishop/14407.ogg
f.e.a.r/sound/npc/bishop/15210.ogg
f.e.a.r/sound/npc/norton/14442.ogg
f.e.a.r/sound/npc/norton/15826.ogg
f.e.a.r/sound/npc/norton/mapes_09.ogg
f.e.a.r/sound/npc/norton/15828.ogg
f.e.a.r/sound/npc/norton/mapes_07.ogg
f.e.a.r/sound/npc/norton/15159.ogg
f.e.a.r/sound/npc/norton/15844.ogg
f.e.a.r/sound/npc/norton/14449.ogg
f.e.a.r/sound/npc/norton/15825.ogg
f.e.a.r/sound/npc/norton/15156.ogg
f.e.a.r/sound/npc/norton/15827.ogg
f.e.a.r/sound/npc/norton/mapes_06.ogg
f.e.a.r/sound/npc/norton/15153.ogg
f.e.a.r/sound/npc/norton/14445.ogg
f.e.a.r/sound/npc/norton/15486.ogg
f.e.a.r/sound/npc/norton/15917.ogg
f.e.a.r/sound/npc/norton/14447.ogg
f.e.a.r/sound/npc/norton/15150.ogg
f.e.a.r/sound/npc/norton/14460.ogg
f.e.a.r/sound/npc/norton/14461.ogg
f.e.a.r/sound/npc/norton/14295.ogg
f.e.a.r/sound/npc/norton/15822.ogg
f.e.a.r/sound/npc/norton/14458.ogg
f.e.a.r/sound/npc/norton/14293.ogg
f.e.a.r/sound/npc/norton/15829.ogg
f.e.a.r/sound/npc/norton/15845.ogg
f.e.a.r/sound/npc/norton/14300.ogg
f.e.a.r/sound/npc/norton/15917b.ogg
f.e.a.r/sound/npc/norton/15485.ogg
f.e.a.r/sound/npc/norton/14456.ogg
f.e.a.r/sound/npc/norton/14298.ogg
f.e.a.r/sound/npc/norton/15487.ogg
f.e.a.r/sound/npc/norton/14303.ogg
f.e.a.r/sound/npc/norton/14462.ogg
f.e.a.r/sound/npc/norton/14443.ogg
f.e.a.r/sound/npc/norton/14297.ogg
f.e.a.r/sound/npc/norton/15488.ogg
f.e.a.r/sound/npc/norton/14301.ogg
f.e.a.r/sound/npc/norton/mapes_10.ogg
f.e.a.r/sound/npc/norton/15158.ogg
f.e.a.r/sound/npc/norton/14459.ogg
f.e.a.r/sound/npc/norton/15918.ogg
f.e.a.r/sound/npc/norton/15483.ogg
f.e.a.r/sound/npc/norton/14291.ogg
f.e.a.r/sound/npc/ghost/gib2.ogg
f.e.a.r/sound/npc/ghost/attack_3.ogg
f.e.a.r/sound/npc/ghost/attack_1.ogg
f.e.a.r/sound/npc/ghost/swipe_2.ogg
f.e.a.r/sound/npc/ghost/spawn.ogg
f.e.a.r/sound/npc/ghost/gib.ogg
f.e.a.r/sound/npc/ghost/attack_2.ogg
f.e.a.r/sound/npc/ghost/flying_lp.ogg
f.e.a.r/sound/npc/ghost/gib1.ogg
f.e.a.r/sound/npc/ghost/attack_4.ogg
f.e.a.r/sound/npc/ghost/swipe_1.ogg
f.e.a.r/sound/npc/ghost/light_reaction.ogg
f.e.a.r/sound/npc/jin/15522.ogg
f.e.a.r/sound/npc/jin/jin_15.ogg
f.e.a.r/sound/npc/jin/14337.ogg
f.e.a.r/sound/npc/jin/14146.ogg
f.e.a.r/sound/npc/jin/14771.ogg
f.e.a.r/sound/npc/jin/14764.ogg
f.e.a.r/sound/npc/jin/14339.ogg
f.e.a.r/sound/npc/jin/15026.ogg
f.e.a.r/sound/npc/jin/15064.ogg
f.e.a.r/sound/npc/jin/15060.ogg
f.e.a.r/sound/npc/jin/14153.ogg
f.e.a.r/sound/npc/jin/jin_29.ogg
f.e.a.r/sound/npc/jin/15532.ogg
f.e.a.r/sound/npc/jin/14766.ogg
f.e.a.r/sound/npc/jin/14155.ogg
f.e.a.r/sound/npc/jin/jin_50.ogg
f.e.a.r/sound/npc/jin/15062.ogg
f.e.a.r/sound/npc/jin/jin_36.ogg
f.e.a.r/sound/npc/jin/14333.ogg
f.e.a.r/sound/npc/jin/jin_19.ogg
f.e.a.r/sound/npc/jin/14028.ogg
f.e.a.r/sound/npc/jin/15093.ogg
f.e.a.r/sound/npc/jin/15091.ogg
f.e.a.r/sound/npc/jin/15013.ogg
f.e.a.r/sound/npc/jin/14342.ogg
f.e.a.r/sound/npc/jin/12487.ogg
f.e.a.r/sound/npc/jin/15018.ogg
f.e.a.r/sound/npc/jin/jin_12.ogg
f.e.a.r/sound/npc/jin/15188.ogg
f.e.a.r/sound/npc/jin/jin_48.ogg
f.e.a.r/sound/npc/jin/jin_23.ogg
f.e.a.r/sound/npc/jin/jin_51.ogg
f.e.a.r/sound/npc/jin/jin_22.ogg
f.e.a.r/sound/npc/jin/15009.ogg
f.e.a.r/sound/npc/jin/14030.ogg
f.e.a.r/sound/npc/jin/14340.ogg
f.e.a.r/sound/npc/jin/15520.ogg
f.e.a.r/sound/npc/jin/14144.ogg
f.e.a.r/sound/npc/jin/jin_11.ogg
f.e.a.r/sound/npc/jin/15187.ogg
f.e.a.r/sound/npc/jin/15518.ogg
f.e.a.r/sound/npc/jin/14331.ogg
f.e.a.r/sound/npc/jin/14346.ogg
f.e.a.r/sound/npc/jin/14768.ogg
f.e.a.r/sound/npc/jin/jin_17.ogg
f.e.a.r/sound/npc/jin/14762.ogg
f.e.a.r/sound/npc/jin/jin_52.ogg
f.e.a.r/sound/npc/jin/15182.ogg
f.e.a.r/sound/npc/jin/15180.ogg
f.e.a.r/sound/npc/jin/14755.ogg
f.e.a.r/sound/npc/jin/14147.ogg
f.e.a.r/sound/npc/jin/14149.ogg
f.e.a.r/sound/npc/jin/jin_37.ogg
f.e.a.r/sound/npc/jin/15011.ogg
f.e.a.r/sound/npc/jin/15186.ogg
f.e.a.r/sound/npc/jin/jin_20.ogg
f.e.a.r/sound/npc/jin/15530.ogg
f.e.a.r/sound/npc/jin/jin_21.ogg
f.e.a.r/sound/npc/jin/14329.ogg
f.e.a.r/sound/npc/jin/jin_14.ogg
f.e.a.r/sound/npc/jin/15066.ogg
f.e.a.r/sound/npc/jin/jin_13.ogg
f.e.a.r/sound/npc/jin/15525.ogg
f.e.a.r/sound/npc/jin/14017.ogg
f.e.a.r/sound/npc/jin/15024.ogg
f.e.a.r/sound/npc/jin/15528.ogg
f.e.a.r/sound/npc/jin/jin_10.ogg
f.e.a.r/sound/npc/jin/15185.ogg
f.e.a.r/sound/npc/jin/jin_16.ogg
f.e.a.r/sound/npc/jin/14754.ogg
f.e.a.r/sound/npc/jin/15070.ogg
f.e.a.r/sound/npc/jin/jin_07.ogg
f.e.a.r/sound/npc/jin/jin_39.ogg
f.e.a.r/sound/npc/jin/jin_09.ogg
f.e.a.r/sound/npc/jin/jin_18.ogg
f.e.a.r/sound/npc/night/nc_elite_003.ogg
f.e.a.r/sound/npc/night/nc_soldier_c174.ogg
f.e.a.r/sound/npc/night/nc_soldier_c269.ogg
f.e.a.r/sound/npc/night/nc_soldier_c091.ogg
f.e.a.r/sound/npc/night/nc_soldier_c096.ogg
f.e.a.r/sound/npc/night/nc_soldier_c154.ogg
f.e.a.r/sound/npc/night/nc_elite_036.ogg
f.e.a.r/sound/npc/night/nc_soldier_c060.ogg
f.e.a.r/sound/npc/night/nc_soldier_c153.ogg
f.e.a.r/sound/npc/night/nc_soldier_c178.ogg
f.e.a.r/sound/npc/night/nc_soldier_c256.ogg
f.e.a.r/sound/npc/night/nc_soldier_c197.ogg
f.e.a.r/sound/npc/night/nc_soldier_c051.ogg
f.e.a.r/sound/npc/night/nc_soldier_c149.ogg
f.e.a.r/sound/npc/night/nc_soldier_c243.ogg
f.e.a.r/sound/npc/night/nc_commander_032.ogg
f.e.a.r/sound/npc/night/nc_soldier_c206.ogg
f.e.a.r/sound/npc/night/nc_soldier_c160.ogg
f.e.a.r/sound/npc/night/nc_soldier_c191.ogg
f.e.a.r/sound/npc/night/nc_soldier_c044.ogg
f.e.a.r/sound/npc/night/nc_soldier_c159.ogg
f.e.a.r/sound/npc/night/nc_elite_055.ogg
f.e.a.r/sound/npc/night/nc_soldier_c079.ogg
f.e.a.r/sound/npc/night/nc_soldier_c130.ogg
f.e.a.r/sound/npc/night/nc_soldier_c259.ogg
f.e.a.r/sound/npc/night/nc_soldier_016.ogg
f.e.a.r/sound/npc/night/nc_soldier_c246.ogg
f.e.a.r/sound/npc/night/nc_soldier_c062.ogg
f.e.a.r/sound/npc/night/nc_soldier_c237.ogg
f.e.a.r/sound/npc/night/nc_commander_019.ogg
f.e.a.r/sound/npc/night/nc_soldier_c205.ogg
f.e.a.r/sound/npc/night/nc_soldier_c039.ogg
f.e.a.r/sound/npc/night/nc_soldier_c129.ogg
f.e.a.r/sound/npc/night/nc_elite_052.ogg
f.e.a.r/sound/npc/night/nc_soldier_c021.ogg
f.e.a.r/sound/npc/night/nc_commander_009.ogg
f.e.a.r/sound/npc/night/nc_soldier_013.ogg
f.e.a.r/sound/npc/night/nc_elite_026.ogg
f.e.a.r/sound/npc/night/nc_soldier_c255.ogg
f.e.a.r/sound/npc/night/nc_soldier_c118.ogg
f.e.a.r/sound/npc/night/nc_soldier_c230.ogg
f.e.a.r/sound/npc/night/nc_soldier_c077.ogg
f.e.a.r/sound/npc/night/nc_soldier_009.ogg
f.e.a.r/sound/npc/night/nc_commander_046.ogg
f.e.a.r/sound/npc/night/nc_soldier_c022.ogg
f.e.a.r/sound/npc/night/nc_soldier_c175.ogg
f.e.a.r/sound/npc/night/nc_soldier_c001.ogg
f.e.a.r/sound/npc/night/nc_soldier_c023.ogg
f.e.a.r/sound/npc/night/nc_soldier_c042.ogg
f.e.a.r/sound/npc/night/nc_soldier_c025.ogg
f.e.a.r/sound/npc/night/nc_soldier_c209.ogg
f.e.a.r/sound/npc/night/nc_commander_037.ogg
f.e.a.r/sound/npc/night/nc_soldier_c020.ogg
f.e.a.r/sound/npc/night/nc_soldier_c181.ogg
f.e.a.r/sound/npc/night/nc_elite_047.ogg
f.e.a.r/sound/npc/night/nc_soldier_c032.ogg
f.e.a.r/sound/npc/night/nc_soldier_c266.ogg
f.e.a.r/sound/npc/night/nc_soldier_c067.ogg
f.e.a.r/sound/npc/night/nc_soldier_c232.ogg
f.e.a.r/sound/npc/night/nc_elite_033.ogg
f.e.a.r/sound/npc/night/nc_soldier_c214.ogg
f.e.a.r/sound/npc/night/nc_elite_048.ogg
f.e.a.r/sound/npc/night/nc_soldier_c043.ogg
f.e.a.r/sound/npc/night/nc_soldier_c225.ogg
f.e.a.r/sound/npc/night/nc_commander_025.ogg
f.e.a.r/sound/npc/night/nc_soldier_c007.ogg
f.e.a.r/sound/npc/night/nc_soldier_c089.ogg
f.e.a.r/sound/npc/night/nc_soldier_c224.ogg
f.e.a.r/sound/npc/night/nc_soldier_c211.ogg
f.e.a.r/sound/npc/night/nc_soldier_c069.ogg
f.e.a.r/sound/npc/night/nc_soldier_c137.ogg
f.e.a.r/sound/npc/night/nc_soldier_c247.ogg
f.e.a.r/sound/npc/night/nc_soldier_c158.ogg
f.e.a.r/sound/npc/night/nc_elite_011.ogg
f.e.a.r/sound/npc/night/nc_soldier_c087.ogg
f.e.a.r/sound/npc/night/nc_soldier_c012.ogg
f.e.a.r/sound/npc/night/nc_commander_043.ogg
f.e.a.r/sound/npc/night/nc_soldier_c140.ogg
f.e.a.r/sound/npc/night/nc_elite_017.ogg
f.e.a.r/sound/npc/night/nc_soldier_c070.ogg
f.e.a.r/sound/npc/night/nc_commander_016.ogg
f.e.a.r/sound/npc/night/nc_soldier_018.ogg
f.e.a.r/sound/npc/night/nc_soldier_c064.ogg
f.e.a.r/sound/npc/night/nc_soldier_c147.ogg
f.e.a.r/sound/npc/night/nc_commander_018.ogg
f.e.a.r/sound/npc/night/nc_soldier_c273.ogg
f.e.a.r/sound/npc/night/nc_soldier_c028.ogg
f.e.a.r/sound/npc/night/nc_soldier_c215.ogg
f.e.a.r/sound/npc/night/nc_soldier_c071.ogg
f.e.a.r/sound/npc/night/nc_soldier_011.ogg
f.e.a.r/sound/npc/night/nc_soldier_c002.ogg
f.e.a.r/sound/npc/night/nc_soldier_c073.ogg
f.e.a.r/sound/npc/night/nc_soldier_c210.ogg
f.e.a.r/sound/npc/night/nc_soldier_c252.ogg
f.e.a.r/sound/npc/night/nc_soldier_c005.ogg
f.e.a.r/sound/npc/night/nc_elite_056.ogg
f.e.a.r/sound/npc/night/nc_soldier_c103.ogg
f.e.a.r/sound/npc/night/nc_soldier_c086.ogg
f.e.a.r/sound/npc/night/nc_soldier_c168.ogg
f.e.a.r/sound/npc/night/nc_commander_048.ogg
f.e.a.r/sound/npc/night/nc_soldier_c123.ogg
f.e.a.r/sound/npc/night/nc_soldier_c036.ogg
f.e.a.r/sound/npc/night/nc_elite_057.ogg
f.e.a.r/sound/npc/night/nc_elite_025.ogg
f.e.a.r/sound/npc/night/nc_soldier_c274.ogg
f.e.a.r/sound/npc/night/nc_soldier_014.ogg
f.e.a.r/sound/npc/night/nc_soldier_c245.ogg
f.e.a.r/sound/npc/night/nc_commander_011.ogg
f.e.a.r/sound/npc/night/nc_elite_061.ogg
f.e.a.r/sound/npc/night/nc_soldier_c054.ogg
f.e.a.r/sound/npc/night/nc_soldier_c075.ogg
f.e.a.r/sound/npc/night/nc_soldier_c170.ogg
f.e.a.r/sound/npc/night/nc_commander_017.ogg
f.e.a.r/sound/npc/night/nc_soldier_c072.ogg
f.e.a.r/sound/npc/night/nc_soldier_c163.ogg
f.e.a.r/sound/npc/night/nc_commander_047.ogg
f.e.a.r/sound/npc/night/nc_soldier_c014.ogg
f.e.a.r/sound/npc/night/nc_elite_040.ogg
f.e.a.r/sound/npc/night/nc_soldier_c093.ogg
f.e.a.r/sound/npc/night/nc_soldier_c156.ogg
f.e.a.r/sound/npc/night/nc_soldier_c055.ogg
f.e.a.r/sound/npc/night/nc_soldier_c264.ogg
f.e.a.r/sound/npc/night/nc_soldier_c155.ogg
f.e.a.r/sound/npc/night/nc_soldier_c151.ogg
f.e.a.r/sound/npc/night/nc_soldier_c241.ogg
f.e.a.r/sound/npc/night/nc_soldier_c132.ogg
f.e.a.r/sound/npc/night/nc_soldier_c065.ogg
f.e.a.r/sound/npc/night/nc_soldier_c026.ogg
f.e.a.r/sound/npc/night/nc_soldier_c016.ogg
f.e.a.r/sound/npc/night/nc_soldier_008.ogg
f.e.a.r/sound/npc/night/nc_elite_006.ogg
f.e.a.r/sound/npc/night/nc_elite_060.ogg
f.e.a.r/sound/npc/night/nc_soldier_005.ogg
f.e.a.r/sound/npc/night/nc_soldier_c142.ogg
f.e.a.r/sound/npc/night/nc_soldier_c139.ogg
f.e.a.r/sound/npc/night/nc_soldier_c058.ogg
f.e.a.r/sound/npc/night/nc_soldier_c162.ogg
f.e.a.r/sound/npc/night/nc_soldier_001.ogg
f.e.a.r/sound/npc/night/nc_soldier_c037.ogg
f.e.a.r/sound/npc/night/nc_soldier_c076.ogg
f.e.a.r/sound/npc/night/nc_soldier_c182.ogg
f.e.a.r/sound/npc/night/nc_commander_022.ogg
f.e.a.r/sound/npc/night/nc_soldier_017.ogg
f.e.a.r/sound/npc/night/nc_commander_021.ogg
f.e.a.r/sound/npc/night/nc_soldier_c033.ogg
f.e.a.r/sound/npc/night/nc_soldier_c268.ogg
f.e.a.r/sound/npc/night/nc_soldier_c111.ogg
f.e.a.r/sound/npc/night/nc_soldier_c166.ogg
f.e.a.r/sound/npc/night/nc_soldier_c101.ogg
f.e.a.r/sound/npc/night/nc_soldier_c201.ogg
f.e.a.r/sound/npc/night/nc_soldier_c112.ogg
f.e.a.r/sound/npc/night/nc_soldier_c138.ogg
f.e.a.r/sound/npc/night/nc_elite_013.ogg
f.e.a.r/sound/npc/night/nc_soldier_c176.ogg
f.e.a.r/sound/npc/night/nc_soldier_c004.ogg
f.e.a.r/sound/npc/night/nc_soldier_c143.ogg
f.e.a.r/sound/npc/night/nc_soldier_c218.ogg
f.e.a.r/sound/npc/night/nc_soldier_c217.ogg
f.e.a.r/sound/npc/night/nc_soldier_c169.ogg
f.e.a.r/sound/npc/night/nc_elite_035.ogg
f.e.a.r/sound/npc/night/nc_soldier_c066.ogg
f.e.a.r/sound/npc/night/nc_soldier_c234.ogg
f.e.a.r/sound/npc/night/nc_soldier_c216.ogg
f.e.a.r/sound/npc/night/nc_soldier_c254.ogg
f.e.a.r/sound/npc/night/nc_commander_028.ogg
f.e.a.r/sound/npc/night/nc_elite_031.ogg
f.e.a.r/sound/npc/night/nc_soldier_c128.ogg
f.e.a.r/sound/npc/night/nc_soldier_c124.ogg
f.e.a.r/sound/npc/night/nc_elite_053.ogg
f.e.a.r/sound/npc/night/nc_soldier_c167.ogg
f.e.a.r/sound/npc/night/nc_soldier_010.ogg
f.e.a.r/sound/npc/night/nc_elite_005.ogg
f.e.a.r/sound/npc/night/nc_soldier_c081.ogg
f.e.a.r/sound/npc/night/nc_commander_014.ogg
f.e.a.r/sound/npc/night/nc_soldier_c179.ogg
f.e.a.r/sound/npc/night/nc_soldier_020.ogg
f.e.a.r/sound/npc/night/nc_soldier_c116.ogg
f.e.a.r/sound/npc/night/nc_elite_012.ogg
f.e.a.r/sound/npc/night/nc_commander_035.ogg
f.e.a.r/sound/npc/night/nc_elite_043.ogg
f.e.a.r/sound/npc/night/nc_soldier_c161.ogg
f.e.a.r/sound/npc/night/nc_soldier_c146.ogg
f.e.a.r/sound/npc/night/nc_commander_023.ogg
f.e.a.r/sound/npc/night/nc_elite_024.ogg
f.e.a.r/sound/npc/night/nc_soldier_c231.ogg
f.e.a.r/sound/npc/night/nc_elite_021.ogg
f.e.a.r/sound/npc/night/nc_commander_005.ogg
f.e.a.r/sound/npc/night/nc_soldier_c080.ogg
f.e.a.r/sound/npc/night/nc_elite_009.ogg
f.e.a.r/sound/npc/night/nc_soldier_c135.ogg
f.e.a.r/sound/npc/night/nc_soldier_c122.ogg
f.e.a.r/sound/npc/night/nc_soldier_c262.ogg
f.e.a.r/sound/npc/night/nc_soldier_c009.ogg
f.e.a.r/sound/npc/night/nc_commander_036.ogg
f.e.a.r/sound/npc/night/nc_soldier_c144.ogg
f.e.a.r/sound/npc/night/nc_soldier_c272.ogg
f.e.a.r/sound/npc/night/nc_soldier_c059.ogg
f.e.a.r/sound/npc/night/nc_elite_041.ogg
f.e.a.r/sound/npc/night/nc_soldier_c199.ogg
f.e.a.r/sound/npc/night/nc_soldier_c207.ogg
f.e.a.r/sound/npc/night/nc_soldier_c261.ogg
f.e.a.r/sound/npc/night/nc_soldier_c045.ogg
f.e.a.r/sound/npc/night/nc_commander_020.ogg
f.e.a.r/sound/npc/night/nc_soldier_c270.ogg
f.e.a.r/sound/npc/night/nc_soldier_c085.ogg
f.e.a.r/sound/npc/night/nc_soldier_c063.ogg
f.e.a.r/sound/npc/night/nc_commander_003.ogg
f.e.a.r/sound/npc/night/nc_soldier_c189.ogg
f.e.a.r/sound/npc/night/nc_soldier_c099.ogg
f.e.a.r/sound/npc/night/nc_soldier_c084.ogg
f.e.a.r/sound/npc/night/nc_soldier_c119.ogg
f.e.a.r/sound/npc/night/nc_soldier_c157.ogg
f.e.a.r/sound/npc/night/nc_soldier_c213.ogg
f.e.a.r/sound/npc/night/nc_soldier_c050.ogg
f.e.a.r/sound/npc/night/nc_soldier_004.ogg
f.e.a.r/sound/npc/night/nc_elite_044.ogg
f.e.a.r/sound/npc/night/nc_commander_031.ogg
f.e.a.r/sound/npc/night/nc_commander_015.ogg
f.e.a.r/sound/npc/night/nc_commander_013.ogg
f.e.a.r/sound/npc/night/nc_elite_030.ogg
f.e.a.r/sound/npc/night/nc_soldier_c244.ogg
f.e.a.r/sound/npc/night/nc_soldier_c257.ogg
f.e.a.r/sound/npc/night/nc_soldier_c068.ogg
f.e.a.r/sound/npc/night/nc_soldier_c061.ogg
f.e.a.r/sound/npc/night/nc_soldier_c219.ogg
f.e.a.r/sound/npc/night/nc_soldier_c229.ogg
f.e.a.r/sound/npc/night/nc_soldier_c172.ogg
f.e.a.r/sound/npc/night/nc_soldier_c253.ogg
f.e.a.r/sound/npc/night/nc_elite_008.ogg
f.e.a.r/sound/npc/night/nc_soldier_c003.ogg
f.e.a.r/sound/npc/night/nc_soldier_c031.ogg
f.e.a.r/sound/npc/night/nc_elite_045.ogg
f.e.a.r/sound/npc/night/nc_soldier_c110.ogg
f.e.a.r/sound/npc/night/nc_soldier_c265.ogg
f.e.a.r/sound/npc/night/nc_elite_022.ogg
f.e.a.r/sound/npc/night/nc_soldier_c227.ogg
f.e.a.r/sound/npc/night/nc_soldier_c105.ogg
f.e.a.r/sound/npc/night/nc_soldier_c171.ogg
f.e.a.r/sound/npc/night/nc_soldier_c202.ogg
f.e.a.r/sound/npc/night/nc_elite_058.ogg
f.e.a.r/sound/npc/night/nc_soldier_c038.ogg
f.e.a.r/sound/npc/night/nc_elite_027.ogg
f.e.a.r/sound/npc/night/nc_soldier_c152.ogg
f.e.a.r/sound/npc/night/nc_commander_001.ogg
f.e.a.r/sound/npc/night/nc_soldier_c173.ogg
f.e.a.r/sound/npc/night/nc_soldier_c267.ogg
f.e.a.r/sound/npc/night/nc_soldier_c008.ogg
f.e.a.r/sound/npc/night/nc_soldier_c177.ogg
f.e.a.r/sound/npc/night/nc_soldier_c235.ogg
f.e.a.r/sound/npc/night/nc_soldier_007.ogg
f.e.a.r/sound/npc/night/nc_soldier_c113.ogg
f.e.a.r/sound/npc/night/nc_elite_032.ogg
f.e.a.r/sound/npc/night/nc_soldier_c010.ogg
f.e.a.r/sound/npc/night/nc_soldier_c102.ogg
f.e.a.r/sound/npc/night/nc_soldier_c204.ogg
f.e.a.r/sound/npc/night/nc_soldier_c100.ogg
f.e.a.r/sound/npc/night/nc_soldier_c238.ogg
f.e.a.r/sound/npc/night/nc_soldier_c226.ogg
f.e.a.r/sound/npc/night/nc_soldier_003.ogg
f.e.a.r/sound/npc/night/nc_soldier_c222.ogg
f.e.a.r/sound/npc/night/nc_soldier_c048.ogg
f.e.a.r/sound/npc/night/nc_soldier_c107.ogg
f.e.a.r/sound/npc/night/nc_soldier_c078.ogg
f.e.a.r/sound/npc/night/nc_elite_039.ogg
f.e.a.r/sound/npc/night/nc_soldier_c131.ogg
f.e.a.r/sound/npc/night/nc_soldier_c141.ogg
f.e.a.r/sound/npc/night/nc_soldier_c053.ogg
f.e.a.r/sound/npc/night/nc_soldier_c074.ogg
f.e.a.r/sound/npc/night/nc_soldier_c185.ogg
f.e.a.r/sound/npc/night/nc_soldier_c121.ogg
f.e.a.r/sound/npc/night/nc_elite_002.ogg
f.e.a.r/sound/npc/night/nc_soldier_c106.ogg
f.e.a.r/sound/npc/night/nc_commander_010.ogg
f.e.a.r/sound/npc/night/nc_elite_049.ogg
f.e.a.r/sound/npc/night/nc_soldier_c013.ogg
f.e.a.r/sound/npc/night/nc_commander_024.ogg
f.e.a.r/sound/npc/night/nc_commander_042.ogg
f.e.a.r/sound/npc/night/nc_soldier_012.ogg
f.e.a.r/sound/npc/night/nc_soldier_c242.ogg
f.e.a.r/sound/npc/night/nc_soldier_c212.ogg
f.e.a.r/sound/npc/night/nc_commander_045.ogg
f.e.a.r/sound/npc/night/nc_soldier_c233.ogg
f.e.a.r/sound/npc/night/nc_soldier_c250.ogg
f.e.a.r/sound/npc/night/nc_soldier_c239.ogg
f.e.a.r/sound/npc/night/nc_soldier_c165.ogg
f.e.a.r/sound/npc/night/nc_soldier_c190.ogg
f.e.a.r/sound/npc/night/nc_elite_028.ogg
f.e.a.r/sound/npc/night/nc_soldier_c041.ogg
f.e.a.r/sound/npc/night/nc_soldier_c164.ogg
f.e.a.r/sound/npc/night/nc_soldier_c133.ogg
f.e.a.r/sound/npc/night/nc_soldier_c019.ogg
f.e.a.r/sound/npc/night/nc_soldier_c183.ogg
f.e.a.r/sound/npc/night/nc_soldier_c136.ogg
f.e.a.r/sound/npc/night/nc_commander_004.ogg
f.e.a.r/sound/npc/night/nc_soldier_c186.ogg
f.e.a.r/sound/npc/night/nc_soldier_c127.ogg
f.e.a.r/sound/npc/night/nc_soldier_c271.ogg
f.e.a.r/sound/npc/night/nc_soldier_c034.ogg
f.e.a.r/sound/npc/night/nc_soldier_c248.ogg
f.e.a.r/sound/npc/night/nc_soldier_c083.ogg
f.e.a.r/sound/npc/night/nc_soldier_c260.ogg
f.e.a.r/sound/npc/night/nc_elite_014.ogg
f.e.a.r/sound/npc/night/nc_soldier_c006.ogg
f.e.a.r/sound/npc/night/nc_soldier_c220.ogg
f.e.a.r/sound/npc/night/nc_soldier_c193.ogg
f.e.a.r/sound/npc/night/nc_soldier_c134.ogg
f.e.a.r/sound/npc/night/nc_soldier_c115.ogg
f.e.a.r/sound/npc/night/nc_soldier_c098.ogg
f.e.a.r/sound/npc/night/nc_soldier_c117.ogg
f.e.a.r/sound/npc/night/nc_commander_041.ogg
f.e.a.r/sound/npc/night/nc_soldier_c011.ogg
f.e.a.r/sound/npc/night/nc_commander_044.ogg
f.e.a.r/sound/npc/night/nc_soldier_c120.ogg
f.e.a.r/sound/npc/night/nc_elite_029.ogg
f.e.a.r/sound/npc/night/nc_soldier_c196.ogg
f.e.a.r/sound/npc/night/nc_elite_018.ogg
f.e.a.r/sound/npc/night/nc_soldier_c203.ogg
f.e.a.r/sound/npc/night/nc_soldier_c046.ogg
f.e.a.r/sound/npc/night/nc_soldier_c024.ogg
f.e.a.r/sound/npc/night/nc_soldier_c251.ogg
f.e.a.r/sound/npc/night/nc_soldier_c223.ogg
f.e.a.r/sound/npc/night/nc_soldier_c180.ogg
f.e.a.r/sound/npc/night/nc_soldier_c195.ogg
f.e.a.r/sound/npc/night/nc_elite_015.ogg
f.e.a.r/sound/npc/night/nc_soldier_c236.ogg
f.e.a.r/sound/npc/night/nc_soldier_c094.ogg
f.e.a.r/sound/npc/night/nc_soldier_c150.ogg
f.e.a.r/sound/npc/night/nc_soldier_c221.ogg
f.e.a.r/sound/npc/night/nc_soldier_c108.ogg
f.e.a.r/sound/npc/night/nc_elite_019.ogg
f.e.a.r/sound/npc/night/nc_elite_042.ogg
f.e.a.r/sound/npc/night/nc_soldier_c192.ogg
f.e.a.r/sound/npc/night/nc_commander_034.ogg
f.e.a.r/sound/npc/night/nc_soldier_c047.ogg
f.e.a.r/sound/npc/night/nc_commander_027.ogg
f.e.a.r/sound/npc/night/nc_soldier_c184.ogg
f.e.a.r/sound/npc/night/nc_elite_001.ogg
f.e.a.r/sound/npc/night/nc_elite_007.ogg
f.e.a.r/sound/npc/night/nc_soldier_c090.ogg
f.e.a.r/sound/npc/night/nc_soldier_c052.ogg
f.e.a.r/sound/npc/night/nc_soldier_c263.ogg
f.e.a.r/sound/npc/night/nc_elite_038.ogg
f.e.a.r/sound/npc/night/nc_soldier_c258.ogg
f.e.a.r/sound/npc/night/nc_soldier_c017.ogg
f.e.a.r/sound/npc/night/nc_soldier_c057.ogg
f.e.a.r/sound/npc/night/nc_commander_038.ogg
f.e.a.r/sound/npc/night/nc_soldier_c194.ogg
f.e.a.r/sound/npc/night/nc_soldier_c200.ogg
f.e.a.r/sound/npc/night/nc_commander_026.ogg
f.e.a.r/sound/npc/night/nc_elite_004.ogg
f.e.a.r/sound/npc/night/nc_soldier_c109.ogg
f.e.a.r/sound/npc/night/nc_soldier_006.ogg
f.e.a.r/sound/npc/night/nc_soldier_015.ogg
f.e.a.r/sound/npc/night/nc_elite_016.ogg
f.e.a.r/sound/npc/night/nc_commander_008.ogg
f.e.a.r/sound/npc/night/nc_soldier_c228.ogg
f.e.a.r/sound/npc/night/nc_soldier_c015.ogg
f.e.a.r/sound/npc/night/nc_soldier_c027.ogg
f.e.a.r/sound/npc/night/nc_soldier_c125.ogg
f.e.a.r/sound/npc/night/nc_soldier_c148.ogg
f.e.a.r/sound/npc/night/nc_commander_002.ogg
f.e.a.r/sound/npc/night/nc_soldier_c095.ogg
f.e.a.r/sound/npc/night/nc_soldier_c056.ogg
f.e.a.r/sound/npc/night/nc_soldier_c029.ogg
f.e.a.r/sound/npc/night/nc_soldier_c240.ogg
f.e.a.r/sound/npc/night/nc_soldier_c126.ogg
f.e.a.r/sound/npc/night/nc_soldier_c104.ogg
f.e.a.r/sound/npc/night/nc_soldier_c208.ogg
f.e.a.r/sound/npc/night/nc_soldier_c092.ogg
f.e.a.r/sound/npc/night/nc_elite_023.ogg
f.e.a.r/sound/npc/night/nc_commander_007.ogg
f.e.a.r/sound/npc/night/nc_commander_006.ogg
f.e.a.r/sound/npc/night/nc_soldier_019.ogg
f.e.a.r/sound/npc/night/nc_soldier_c198.ogg
f.e.a.r/sound/npc/night/nc_soldier_c018.ogg
f.e.a.r/sound/npc/night/nc_soldier_c088.ogg
f.e.a.r/sound/npc/night/nc_soldier_c188.ogg
f.e.a.r/sound/npc/night/nc_soldier_c040.ogg
f.e.a.r/sound/npc/night/nc_soldier_c030.ogg
f.e.a.r/sound/npc/night/nc_elite_046.ogg
f.e.a.r/sound/npc/night/nc_elite_054.ogg
f.e.a.r/sound/npc/night/nc_elite_010.ogg
f.e.a.r/sound/npc/night/nc_soldier_c249.ogg
f.e.a.r/sound/npc/night/nc_soldier_c114.ogg
f.e.a.r/sound/npc/night/nc_commander_029.ogg
f.e.a.r/sound/npc/night/nc_elite_034.ogg
f.e.a.r/sound/npc/night/nc_elite_050.ogg
f.e.a.r/sound/npc/night/nc_elite_059.ogg
f.e.a.r/sound/npc/night/nc_soldier_c082.ogg
f.e.a.r/sound/npc/night/nc_elite_020.ogg
f.e.a.r/sound/npc/night/nc_soldier_c035.ogg
f.e.a.r/sound/npc/night/nc_commander_033.ogg
f.e.a.r/sound/npc/night/nc_soldier_c187.ogg
f.e.a.r/sound/npc/night/nc_soldier_c049.ogg
f.e.a.r/sound/npc/night/nc_commander_012.ogg
f.e.a.r/sound/npc/night/nc_soldier_c145.ogg
f.e.a.r/sound/npc/duglas/holiday_50.ogg
f.e.a.r/sound/npc/duglas/holiday_60.ogg
f.e.a.r/sound/npc/duglas/holiday_85.ogg
f.e.a.r/sound/npc/duglas/holiday_104.ogg
f.e.a.r/sound/npc/duglas/holiday_31.ogg
f.e.a.r/sound/npc/duglas/holiday_131.ogg
f.e.a.r/sound/npc/duglas/holiday_126.ogg
f.e.a.r/sound/npc/duglas/holiday_33.ogg
f.e.a.r/sound/npc/duglas/holiday_80.ogg
f.e.a.r/sound/npc/duglas/holiday_91.ogg
f.e.a.r/sound/npc/duglas/holiday_27.ogg
f.e.a.r/sound/npc/duglas/holiday_28.ogg
f.e.a.r/sound/npc/duglas/holiday_58.ogg
f.e.a.r/sound/npc/duglas/holiday_133.ogg
f.e.a.r/sound/npc/duglas/holiday_82.ogg
f.e.a.r/sound/npc/duglas/holiday_47.ogg
f.e.a.r/sound/npc/duglas/holiday_62.ogg
f.e.a.r/sound/npc/duglas/holiday_73.ogg
f.e.a.r/sound/npc/duglas/holiday_87.ogg
f.e.a.r/sound/npc/duglas/holiday_99.ogg
f.e.a.r/sound/npc/duglas/holiday_128.ogg
f.e.a.r/sound/npc/duglas/holiday_45.ogg
f.e.a.r/sound/npc/duglas/holiday_51.ogg
f.e.a.r/sound/npc/duglas/holiday_79.ogg
f.e.a.r/sound/npc/duglas/holiday_69.ogg
f.e.a.r/sound/npc/duglas/holiday_96.ogg
f.e.a.r/sound/npc/duglas/holiday_100.ogg
f.e.a.r/sound/npc/duglas/holiday_83.ogg
f.e.a.r/sound/npc/duglas/holiday_129.ogg
f.e.a.r/sound/npc/duglas/holiday_98.ogg
f.e.a.r/sound/npc/duglas/holiday_86.ogg
f.e.a.r/sound/npc/duglas/holiday_89.ogg
f.e.a.r/sound/npc/duglas/holiday_93.ogg
f.e.a.r/sound/npc/duglas/holiday_30.ogg
f.e.a.r/sound/npc/duglas/holiday_66.ogg
f.e.a.r/sound/npc/duglas/holiday_70.ogg
f.e.a.r/sound/npc/duglas/holiday_84.ogg
f.e.a.r/sound/npc/duglas/holiday_77.ogg
f.e.a.r/sound/npc/duglas/holiday_05.ogg
f.e.a.r/sound/npc/duglas/holiday_20.ogg
f.e.a.r/sound/npc/duglas/holiday_102.ogg
f.e.a.r/sound/npc/duglas/holiday_18.ogg
f.e.a.r/sound/npc/duglas/holiday_71.ogg
f.e.a.r/sound/npc/duglas/holiday_74.ogg
f.e.a.r/sound/npc/duglas/holiday_43.ogg
f.e.a.r/sound/npc/duglas/holiday_88.ogg
f.e.a.r/sound/npc/duglas/holiday_57.ogg
f.e.a.r/sound/npc/duglas/holiday_92.ogg
f.e.a.r/sound/npc/duglas/holiday_61.ogg
f.e.a.r/sound/npc/duglas/holiday_29.ogg
f.e.a.r/sound/npc/duglas/holiday_95.ogg
f.e.a.r/sound/npc/duglas/holiday_81.ogg
f.e.a.r/sound/npc/duglas/holiday_113.ogg
f.e.a.r/sound/npc/duglas/holiday_32.ogg
f.e.a.r/sound/npc/duglas/holiday_75.ogg
f.e.a.r/sound/npc/duglas/holiday_04.ogg
f.e.a.r/sound/npc/duglas/holiday_103.ogg
f.e.a.r/sound/npc/duglas/holiday_41.ogg
f.e.a.r/sound/npc/duglas/holiday_130.ogg
f.e.a.r/sound/npc/duglas/holiday_90.ogg
f.e.a.r/sound/npc/duglas/holiday_101.ogg
f.e.a.r/sound/npc/duglas/holiday_68.ogg
f.e.a.r/sound/npc/duglas/holiday_40.ogg
f.e.a.r/sound/npc/duglas/holiday_94.ogg
f.e.a.r/sound/npc/duglas/holiday_19.ogg
f.e.a.r/sound/npc/duglas/holiday_49.ogg
f.e.a.r/sound/npc/duglas/holiday_132.ogg
f.e.a.r/sound/npc/duglas/holiday_65.ogg
f.e.a.r/sound/npc/duglas/holiday_64.ogg
f.e.a.r/sound/npc/duglas/holiday_144.ogg
f.e.a.r/sound/npc/duglas/holiday_44.ogg
f.e.a.r/sound/npc/duglas/holiday_72.ogg
f.e.a.r/sound/npc/duglas/holiday_21.ogg
f.e.a.r/sound/npc/duglas/holiday_127.ogg
f.e.a.r/sound/npc/duglas/holiday_76.ogg
f.e.a.r/sound/npc/duglas/holiday_42.ogg
f.e.a.r/sound/npc/duglas/holiday_67.ogg
f.e.a.r/sound/npc/duglas/holiday_48.ogg
f.e.a.r/sound/npc/duglas/holiday_112.ogg
f.e.a.r/sound/npc/duglas/holiday_63.ogg
f.e.a.r/sound/npc/fear_soldier2/14633.ogg
f.e.a.r/sound/npc/fear_soldier2/14628.ogg
f.e.a.r/sound/npc/fear_soldier2/14222.ogg
f.e.a.r/sound/npc/fear_soldier2/14306.ogg
f.e.a.r/sound/npc/fear_soldier2/14219.ogg
f.e.a.r/sound/npc/fear_soldier2/14371.ogg
f.e.a.r/sound/npc/fear_soldier2/14496.ogg
f.e.a.r/sound/npc/fear_soldier2/15779.ogg
f.e.a.r/sound/npc/fear_soldier2/15434.ogg
f.e.a.r/sound/npc/fear_soldier2/14252.ogg
f.e.a.r/sound/npc/fear_soldier2/14578.ogg
f.e.a.r/sound/npc/fear_soldier2/14577.ogg
f.e.a.r/sound/npc/fear_soldier2/14353.ogg
f.e.a.r/sound/npc/fear_soldier2/15778.ogg
f.e.a.r/sound/npc/fear_soldier2/14246.ogg
f.e.a.r/sound/npc/fear_soldier2/14183.ogg
f.e.a.r/sound/npc/fear_soldier2/21403.ogg
f.e.a.r/sound/npc/fear_soldier2/14793.ogg
f.e.a.r/sound/npc/fear_soldier2/14309.ogg
f.e.a.r/sound/npc/fear_soldier2/14350.ogg
f.e.a.r/sound/npc/fear_soldier2/14107.ogg
f.e.a.r/sound/npc/fear_soldier2/14635.ogg
f.e.a.r/sound/npc/fear_soldier2/14109.ogg
f.e.a.r/sound/npc/fear_soldier2/15788.ogg
f.e.a.r/sound/npc/fear_soldier2/14202.ogg
f.e.a.r/sound/npc/fear_soldier2/14204.ogg
f.e.a.r/sound/npc/fear_soldier2/14791.ogg
f.e.a.r/sound/npc/fear_soldier2/15786.ogg
f.e.a.r/sound/npc/fear_soldier2/21404.ogg
f.e.a.r/sound/npc/fear_soldier2/14319.ogg
f.e.a.r/sound/npc/fear_soldier2/14307.ogg
f.e.a.r/sound/npc/fear_soldier2/21233.ogg
f.e.a.r/sound/npc/fear_soldier2/14174.ogg
f.e.a.r/sound/npc/fear_soldier2/14285.ogg
f.e.a.r/sound/npc/fear_soldier2/14591.ogg
f.e.a.r/sound/npc/fear_soldier2/21342.ogg
f.e.a.r/sound/npc/fear_soldier2/14220.ogg
f.e.a.r/sound/npc/fear_soldier2/14171.ogg
f.e.a.r/sound/npc/fear_soldier2/14250.ogg
f.e.a.r/sound/npc/fear_soldier2/14205.ogg
f.e.a.r/sound/npc/fear_soldier2/15787.ogg
f.e.a.r/sound/npc/fear_soldier2/14563.ogg
f.e.a.r/sound/npc/fear_soldier2/14451.ogg
f.e.a.r/sound/npc/fear_soldier2/14286.ogg
f.e.a.r/sound/npc/fear_soldier2/14251.ogg
f.e.a.r/sound/npc/fear_soldier2/14790.ogg
f.e.a.r/sound/npc/fear_soldier2/21327.ogg
f.e.a.r/sound/npc/fear_soldier2/14180.ogg
f.e.a.r/sound/npc/fear_soldier2/21356.ogg
f.e.a.r/sound/npc/fear_soldier2/14110.ogg
f.e.a.r/sound/npc/fear_soldier2/14283.ogg
f.e.a.r/sound/npc/fear_soldier2/15435.ogg
f.e.a.r/sound/npc/fear_soldier2/14225.ogg
f.e.a.r/sound/npc/fear_soldier2/14453.ogg
f.e.a.r/sound/npc/fear_soldier2/14200.ogg
f.e.a.r/sound/npc/fear_soldier2/14221.ogg
f.e.a.r/sound/npc/fear_soldier2/14454.ogg
f.e.a.r/sound/npc/fear_soldier2/14352.ogg
f.e.a.r/sound/npc/fear_soldier2/14565.ogg
f.e.a.r/sound/npc/fear_soldier2/14592.ogg
f.e.a.r/sound/npc/fear_soldier2/14370.ogg
f.e.a.r/sound/npc/fear_soldier2/14818.ogg
f.e.a.r/sound/npc/fear_soldier2/15776.ogg
f.e.a.r/sound/npc/fear_soldier2/21328.ogg
f.e.a.r/sound/npc/fear_soldier2/21366.ogg
f.e.a.r/sound/npc/fear_soldier2/14847.ogg
f.e.a.r/sound/npc/fear_soldier2/14201.ogg
f.e.a.r/sound/npc/fear_soldier2/14112.ogg
f.e.a.r/sound/npc/fear_soldier2/14197.ogg
f.e.a.r/sound/npc/fear_soldier2/15433.ogg
f.e.a.r/sound/npc/fear_soldier2/14178.ogg
f.e.a.r/sound/npc/fear_soldier2/15440.ogg
f.e.a.r/sound/npc/fear_soldier2/14354.ogg
f.e.a.r/sound/npc/fear_soldier2/21397.ogg
f.e.a.r/sound/npc/fear_soldier2/14175.ogg
f.e.a.r/sound/npc/fear_soldier2/14820.ogg
f.e.a.r/sound/npc/fear_soldier2/14488.ogg
f.e.a.r/sound/npc/fear_soldier2/21256.ogg
f.e.a.r/sound/npc/fear_soldier2/14305.ogg
f.e.a.r/sound/npc/fear_soldier2/14580.ogg
f.e.a.r/sound/npc/fear_soldier2/14316.ogg
f.e.a.r/sound/npc/fear_soldier2/14499.ogg
f.e.a.r/sound/npc/fear_soldier2/14372.ogg
f.e.a.r/sound/npc/fear_soldier2/14284.ogg
f.e.a.r/sound/npc/fear_soldier2/14688.ogg
f.e.a.r/sound/npc/fear_soldier2/15777.ogg
f.e.a.r/sound/npc/fear_soldier2/14455.ogg
f.e.a.r/sound/npc/fear_soldier2/14850.ogg
f.e.a.r/sound/npc/fear_soldier2/14792.ogg
f.e.a.r/sound/npc/fear_soldier2/14450.ogg
f.e.a.r/sound/npc/fear_soldier2/15438.ogg
f.e.a.r/sound/npc/fear_soldier2/14561.ogg
f.e.a.r/sound/npc/fear_soldier2/15781.ogg
f.e.a.r/sound/npc/fear_soldier2/14348.ogg
f.e.a.r/sound/npc/fear_soldier2/14116.ogg
f.e.a.r/sound/npc/fear_soldier2/14492.ogg
f.e.a.r/sound/npc/fear_soldier2/14579.ogg
f.e.a.r/sound/npc/fear_soldier2/14491.ogg
f.e.a.r/sound/npc/fear_soldier2/14678.ogg
f.e.a.r/sound/npc/fear_soldier2/14466.ogg
f.e.a.r/sound/npc/fear_soldier2/14170.ogg
f.e.a.r/sound/npc/fear_soldier2/14280.ogg
f.e.a.r/sound/npc/fear_soldier2/14288.ogg
f.e.a.r/sound/npc/fear_soldier2/14318.ogg
f.e.a.r/sound/npc/fear_soldier2/21322.ogg
f.e.a.r/sound/npc/fear_soldier2/14179.ogg
f.e.a.r/sound/npc/fear_soldier2/14117.ogg
f.e.a.r/sound/npc/fear_soldier2/14495.ogg
f.e.a.r/sound/npc/fear_soldier2/14351.ogg
f.e.a.r/sound/npc/fear_soldier2/21380.ogg
f.e.a.r/sound/npc/fear_soldier2/14253.ogg
f.e.a.r/sound/npc/fear_soldier2/15432.ogg
f.e.a.r/sound/npc/fear_soldier2/14173.ogg
f.e.a.r/sound/npc/fear_soldier2/15780.ogg
f.e.a.r/sound/npc/fear_soldier2/14287.ogg
f.e.a.r/sound/npc/fear_soldier2/14279.ogg
f.e.a.r/sound/npc/fear_soldier2/14282.ogg
f.e.a.r/sound/npc/fear_soldier2/14077.ogg
f.e.a.r/sound/npc/fear_soldier2/14634.ogg
f.e.a.r/sound/npc/fear_soldier2/14490.ogg
f.e.a.r/sound/npc/fear_soldier2/21236.ogg
f.e.a.r/sound/npc/fear_soldier2/14849.ogg
f.e.a.r/sound/npc/fear_soldier2/14308.ogg
f.e.a.r/sound/npc/fear_soldier2/14515.ogg
f.e.a.r/sound/npc/fear_soldier2/14848.ogg
f.e.a.r/sound/npc/fear_soldier2/14321.ogg
f.e.a.r/sound/npc/fear_soldier2/21401.ogg
f.e.a.r/sound/npc/fear_soldier2/14104.ogg
f.e.a.r/sound/npc/fear_soldier2/14111.ogg
f.e.a.r/sound/npc/fear_soldier2/14627.ogg
f.e.a.r/sound/npc/fear_soldier2/14184.ogg
f.e.a.r/sound/npc/fear_soldier2/14794.ogg
f.e.a.r/sound/npc/fear_soldier2/14560.ogg
f.e.a.r/sound/npc/fear_soldier2/14866.ogg
f.e.a.r/sound/npc/fear_soldier2/14079.ogg
f.e.a.r/sound/npc/fear_soldier2/15439.ogg
f.e.a.r/sound/npc/fear_soldier2/14105.ogg
f.e.a.r/sound/npc/fear_soldier2/14203.ogg
f.e.a.r/sound/npc/fear_soldier2/21405.ogg
f.e.a.r/sound/npc/fear_soldier2/14172.ogg
f.e.a.r/sound/npc/fear_soldier2/14278.ogg
f.e.a.r/sound/npc/fear_soldier2/14289.ogg
f.e.a.r/sound/npc/fear_soldier2/15441.ogg
f.e.a.r/sound/npc/fear_soldier2/14206.ogg
f.e.a.r/sound/npc/fear_soldier2/15785.ogg
f.e.a.r/sound/npc/fear_soldier2/14169.ogg
f.e.a.r/sound/npc/fear_soldier2/21238.ogg
f.e.a.r/sound/npc/fear_soldier2/14182.ogg
f.e.a.r/sound/npc/fear_soldier2/14108.ogg
f.e.a.r/sound/npc/fear_soldier2/14078.ogg
f.e.a.r/sound/npc/fear_soldier2/21320.ogg
f.e.a.r/sound/npc/fear_soldier2/14865.ogg
f.e.a.r/sound/npc/fear_soldier2/14679.ogg
f.e.a.r/sound/npc/fear_soldier2/14349.ogg
f.e.a.r/sound/npc/fear_soldier2/21402.ogg
f.e.a.r/sound/npc/fear_soldier2/14347.ogg
f.e.a.r/sound/npc/fear_soldier2/14115.ogg
f.e.a.r/sound/npc/fear_soldier2/15789.ogg
f.e.a.r/sound/npc/fear_soldier2/14795.ogg
f.e.a.r/sound/npc/fear_soldier2/14254.ogg
f.e.a.r/sound/npc/fear_soldier2/15443.ogg
f.e.a.r/sound/npc/fear_soldier2/14177.ogg
f.e.a.r/sound/npc/fear_soldier2/14223.ogg
f.e.a.r/sound/npc/fear_soldier2/15499.ogg
f.e.a.r/sound/npc/fear_soldier2/14593.ogg
f.e.a.r/sound/npc/fear_soldier2/14199.ogg
f.e.a.r/sound/npc/fear_soldier2/21183.ogg
f.e.a.r/sound/npc/fear_soldier2/14564.ogg
f.e.a.r/sound/npc/fear_soldier2/14493.ogg
f.e.a.r/sound/npc/fear_soldier2/14281.ogg
f.e.a.r/sound/npc/fear_soldier2/14581.ogg
f.e.a.r/sound/npc/fear_soldier2/14489.ogg
f.e.a.r/sound/npc/fear_soldier2/14198.ogg
f.e.a.r/sound/npc/fear_soldier2/14687.ogg
f.e.a.r/sound/npc/fear_soldier2/14224.ogg
f.e.a.r/sound/npc/fear_soldier2/14819.ogg
f.e.a.r/sound/npc/fear_soldier2/14181.ogg
f.e.a.r/sound/npc/fear_soldier2/14249.ogg
f.e.a.r/sound/npc/fear_soldier2/14106.ogg
f.e.a.r/sound/npc/fear_soldier2/14176.ogg
f.e.a.r/sound/npc/fear_soldier2/14373.ogg
f.e.a.r/sound/npc/fear_soldier2/15436.ogg
f.e.a.r/sound/npc/fear_soldier2/14846.ogg
f.e.a.r/sound/npc/fear_soldier2/14320.ogg
f.e.a.r/sound/npc/fear_soldier2/14680.ogg
f.e.a.r/sound/npc/fear_soldier2/15442.ogg
f.e.a.r/sound/npc/fear_soldier2/15437.ogg
f.e.a.r/sound/npc/fear_soldier2/14626.ogg
f.e.a.r/sound/npc/fear_soldier2/14497.ogg
f.e.a.r/sound/npc/fear_soldier2/14076.ogg
f.e.a.r/sound/npc/fear_soldier2/21027.ogg
f.e.a.r/sound/npc/fear_soldier2/14494.ogg
f.e.a.r/sound/npc/fear_soldier2/15501.ogg
f.e.a.r/sound/npc/fear_soldier2/15783.ogg
f.e.a.r/sound/npc/fear_soldier2/14452.ogg
f.e.a.r/sound/npc/fear_soldier2/14498.ogg
f.e.a.r/sound/npc/fear_soldier2/14854.ogg
f.e.a.r/sound/npc/fear_soldier2/14248.ogg
f.e.a.r/sound/npc/fear_soldier2/14562.ogg
f.e.a.r/sound/npc/fear_soldier2/21375.ogg
f.e.a.r/sound/npc/fear_soldier2/14851.ogg
f.e.a.r/sound/npc/fear_soldier2/15901.ogg
f.e.a.r/sound/npc/fear_soldier2/14516.ogg
f.e.a.r/sound/npc/fear_soldier2/14080.ogg
f.e.a.r/sound/npc/chen/kaplan_058.ogg
f.e.a.r/sound/npc/chen/kaplan_154.ogg
f.e.a.r/sound/npc/chen/kaplan_076.ogg
f.e.a.r/sound/npc/chen/kaplan_028.ogg
f.e.a.r/sound/npc/chen/kaplan_052.ogg
f.e.a.r/sound/npc/chen/kaplan_056.ogg
f.e.a.r/sound/npc/chen/kaplan_044.ogg
f.e.a.r/sound/npc/chen/kaplan_080.ogg
f.e.a.r/sound/npc/chen/kaplan_120.ogg
f.e.a.r/sound/npc/chen/kaplan_099.ogg
f.e.a.r/sound/npc/chen/kaplan_051.ogg
f.e.a.r/sound/npc/chen/kaplan_024.ogg
f.e.a.r/sound/npc/chen/kaplan_140.ogg
f.e.a.r/sound/npc/chen/kaplan_009.ogg
f.e.a.r/sound/npc/chen/kaplan_025.ogg
f.e.a.r/sound/npc/chen/kaplan_078.ogg
f.e.a.r/sound/npc/chen/kaplan_156.ogg
f.e.a.r/sound/npc/chen/kaplan_026.ogg
f.e.a.r/sound/npc/chen/kaplan_034.ogg
f.e.a.r/sound/npc/chen/kaplan_063.ogg
f.e.a.r/sound/npc/chen/kaplan_151.ogg
f.e.a.r/sound/npc/chen/kaplan_139.ogg
f.e.a.r/sound/npc/chen/kaplan_145.ogg
f.e.a.r/sound/npc/chen/kaplan_053.ogg
f.e.a.r/sound/npc/chen/kaplan_132.ogg
f.e.a.r/sound/npc/chen/kaplan_004.ogg
f.e.a.r/sound/npc/chen/kaplan_167.ogg
f.e.a.r/sound/npc/chen/kaplan_023.ogg
f.e.a.r/sound/npc/chen/kaplan_041.ogg
f.e.a.r/sound/npc/chen/kaplan_105.ogg
f.e.a.r/sound/npc/chen/kaplan_037.ogg
f.e.a.r/sound/npc/chen/kaplan_128.ogg
f.e.a.r/sound/npc/chen/kaplan_065.ogg
f.e.a.r/sound/npc/chen/kaplan_179.ogg
f.e.a.r/sound/npc/chen/kaplan_049.ogg
f.e.a.r/sound/npc/chen/kaplan_172.ogg
f.e.a.r/sound/npc/chen/kaplan_153.ogg
f.e.a.r/sound/npc/chen/kaplan_066.ogg
f.e.a.r/sound/npc/chen/kaplan_079.ogg
f.e.a.r/sound/npc/chen/kaplan_039.ogg
f.e.a.r/sound/npc/chen/kaplan_121.ogg
f.e.a.r/sound/npc/chen/kaplan_050.ogg
f.e.a.r/sound/npc/chen/kaplan_054.ogg
f.e.a.r/sound/npc/chen/kaplan_021.ogg
f.e.a.r/sound/npc/chen/kaplan_060.ogg
f.e.a.r/sound/npc/chen/kaplan_155.ogg
f.e.a.r/sound/npc/chen/kaplan_173.ogg
f.e.a.r/sound/npc/chen/kaplan_045.ogg
f.e.a.r/sound/npc/chen/kaplan_141.ogg
f.e.a.r/sound/npc/chen/kaplan_055.ogg
f.e.a.r/sound/npc/chen/kaplan_048.ogg
f.e.a.r/sound/npc/chen/kaplan_127.ogg
f.e.a.r/sound/npc/chen/kaplan_018.ogg
f.e.a.r/sound/npc/chen/kaplan_168.ogg
f.e.a.r/sound/npc/chen/kaplan_122.ogg
f.e.a.r/sound/npc/chen/kaplan_016.ogg
f.e.a.r/sound/npc/chen/kaplan_118.ogg
f.e.a.r/sound/npc/chen/kaplan_027.ogg
f.e.a.r/sound/npc/chen/kaplan_059.ogg
f.e.a.r/sound/npc/chen/kaplan_150.ogg
f.e.a.r/sound/npc/chen/kaplan_074.ogg
f.e.a.r/sound/npc/chen/kaplan_174.ogg
f.e.a.r/sound/npc/chen/kaplan_003.ogg
f.e.a.r/sound/npc/chen/kaplan_164.ogg
f.e.a.r/sound/npc/chen/kaplan_142.ogg
f.e.a.r/sound/npc/chen/kaplan_033.ogg
f.e.a.r/sound/npc/chen/kaplan_097.ogg
f.e.a.r/sound/npc/chen/kaplan_100.ogg
f.e.a.r/sound/npc/chen/kaplan_176.ogg
f.e.a.r/sound/npc/chen/kaplan_077.ogg
f.e.a.r/sound/npc/chen/kaplan_073.ogg
f.e.a.r/sound/npc/chen/kaplan_010.ogg
f.e.a.r/sound/npc/chen/kaplan_038.ogg
f.e.a.r/sound/npc/chen/kaplan_022.ogg
f.e.a.r/sound/npc/chen/kaplan_047.ogg
f.e.a.r/sound/npc/chen/kaplan_111.ogg
f.e.a.r/sound/npc/chen/kaplan_064.ogg
f.e.a.r/sound/npc/chen/kaplan_166.ogg
f.e.a.r/sound/npc/chen/kaplan_131.ogg
f.e.a.r/sound/npc/chen/kaplan_109.ogg
f.e.a.r/sound/npc/chen/kaplan_175.ogg
f.e.a.r/sound/npc/chen/kaplan_019.ogg
f.e.a.r/sound/npc/chen/kaplan_057.ogg
f.e.a.r/sound/npc/chen/kaplan_068.ogg
f.e.a.r/sound/npc/chen/kaplan_104.ogg
f.e.a.r/sound/npc/chen/kaplan_144.ogg
f.e.a.r/sound/npc/chen/kaplan_083.ogg
f.e.a.r/sound/npc/chen/kaplan_146.ogg
f.e.a.r/sound/npc/chen/kaplan_087.ogg
f.e.a.r/sound/npc/chen/kaplan_119.ogg
f.e.a.r/sound/npc/chen/kaplan_043.ogg
f.e.a.r/sound/npc/chen/kaplan_062.ogg
f.e.a.r/sound/npc/chen/kaplan_029.ogg
f.e.a.r/sound/npc/chen/kaplan_013.ogg
f.e.a.r/sound/npc/chen/kaplan_110.ogg
f.e.a.r/sound/npc/chen/kaplan_031.ogg
f.e.a.r/sound/npc/chen/kaplan_177.ogg
f.e.a.r/sound/npc/chen/kaplan_069.ogg
f.e.a.r/sound/npc/chen/kaplan_020.ogg
f.e.a.r/sound/npc/chen/kaplan_061.ogg
f.e.a.r/sound/npc/chen/kaplan_130.ogg
f.e.a.r/sound/npc/chen/kaplan_178.ogg
f.e.a.r/sound/npc/chen/kaplan_143.ogg
f.e.a.r/sound/npc/chen/kaplan_138.ogg
f.e.a.r/sound/npc/chen/kaplan_088.ogg
f.e.a.r/sound/npc/chen/kaplan_117.ogg
f.e.a.r/sound/npc/chen/kaplan_101.ogg
f.e.a.r/sound/npc/chen/kaplan_017.ogg
f.e.a.r/sound/npc/chen/kaplan_036.ogg
f.e.a.r/sound/npc/chen/kaplan_015.ogg
f.e.a.r/sound/npc/chen/kaplan_098.ogg
f.e.a.r/sound/npc/chen/kaplan_152.ogg
f.e.a.r/sound/npc/chen/kaplan_040.ogg
f.e.a.r/sound/npc/chen/kaplan_149.ogg
f.e.a.r/sound/npc/chen/kaplan_123.ogg
f.e.a.r/sound/npc/chen/kaplan_067.ogg
f.e.a.r/sound/npc/chen/kaplan_126.ogg
f.e.a.r/sound/npc/chen/kaplan_170.ogg
f.e.a.r/sound/npc/chen/kaplan_171.ogg
f.e.a.r/sound/npc/chen/kaplan_124.ogg
f.e.a.r/sound/npc/chen/kaplan_102.ogg
f.e.a.r/sound/npc/chen/kaplan_046.ogg
f.e.a.r/sound/npc/mody/14139.ogg
f.e.a.r/sound/npc/mody/14211.ogg
f.e.a.r/sound/npc/mody/15466.ogg
f.e.a.r/sound/npc/mody/14135.ogg
f.e.a.r/sound/npc/mody/14212.ogg
f.e.a.r/sound/npc/mody/moody_01.ogg
f.e.a.r/sound/npc/mody/14131.ogg
f.e.a.r/sound/npc/mody/14137.ogg
f.e.a.r/sound/npc/mody/moody_02.ogg
f.e.a.r/sound/npc/mody/14133.ogg
f.e.a.r/sound/npc/mody/14129.ogg
f.e.a.r/sound/npc/mody/14209.ogg
f.e.a.r/sound/npc/mody/14210.ogg
f.e.a.r/particles/effect_hl2.pcf
f.e.a.r/particles/storm_fx.pcf
f.e.a.r/particles/koks.pcf
f.e.a.r/particles/spectra_fx.pcf
f.e.a.r/particles/stalactite.pcf
f.e.a.r/particles/blood_by_comrade.pcf
f.e.a.r/particles/umbra_fx.pcf
f.e.a.r/particles/bloomtest.pcf
f.e.a.r/particles/trace_fx.pcf
f.e.a.r/particles/weapon_mp5.pcf
f.e.a.r/particles/nio_fx.pcf
f.e.a.r/particles/vortigaunte_fx.pcf
f.e.a.r/particles/weapon_magnum.pcf
f.e.a.r/particles/weapon_rpg.pcf
f.e.a.r/particles/veho_fx.pcf
f.e.a.r/particles/tbolt_fx_reborn.pcf
f.e.a.r/particles/electrical_fx.pcf
f.e.a.r/particles/blood_impact.pcf
f.e.a.r/particles/boxglove_fx.pcf
f.e.a.r/particles/hwave_fx.pcf
f.e.a.r/particles/choreo_gman.pcf
f.e.a.r/particles/mortar_fx.pcf
f.e.a.r/particles/impacts_fx.pcf
f.e.a.r/particles/cinematic_fx.pcf
f.e.a.r/particles/stalker_effects2.pcf
f.e.a.r/particles/weapon_glock.pcf
f.e.a.r/particles/antlion_worker.pcf
f.e.a.r/particles/corrosion_fx.pcf
f.e.a.r/particles/fear_fx.pcf
f.e.a.r/particles/darkling_fx.pcf
f.e.a.r/particles/smg_muzzle_flash.pcf
f.e.a.r/particles/stalker_effects.pcf
f.e.a.r/particles/cryo_fx.pcf
f.e.a.r/particles/vapor_fx.pcf
f.e.a.r/particles/fire_01.pcf
f.e.a.r/particles/striderbuster.pcf
f.e.a.r/particles/water_impact.pcf
f.e.a.r/particles/grenade_mp5.pcf
f.e.a.r/particles/shadowmonster.pcf
f.e.a.r/particles/weapon_shotgun.pcf
f.e.a.r/particles/1187_teleport.pcf
f.e.a.r/particles/pulsar_fx.pcf
f.e.a.r/particles/sanctum_fx.pcf
f.e.a.r/particles/env_smoke.pcf
f.e.a.r/particles/hellfire_fx.pcf
f.e.a.r/particles/underscore_fx.pcf
f.e.a.r/particles/vorti_fx.pcf
f.e.a.r/particles/ngen_fx.pcf
f.e.a.r/particles/fallingstar_fx.pcf
f.e.a.r/particles/vortigaunt_fx.pcf
f.e.a.r/particles/stinger_fx.pcf
f.e.a.r/resource/fonts/waukegan ldo extended bold.ttf
f.e.a.r/resource/fonts/waukegan ldo bold.ttf
f.e.a.r/resource/fonts/bolt.ttf
f.e.a.r/resource/fonts/purista semibold.ttf
f.e.a.r/resource/fonts/purista numbers.ttf
f.e.a.r/models/led.mdl
f.e.a.r/models/led.sw.vtx
f.e.a.r/models/led.phy
f.e.a.r/models/led.dx80.vtx
f.e.a.r/models/led.vvd
f.e.a.r/models/led.dx90.vtx
f.e.a.r/models/radio/c_radio.dx90.vtx
f.e.a.r/models/radio/w_radio.phy
f.e.a.r/models/radio/c_radio.vvd
f.e.a.r/models/radio/w_radio.dx80.vtx
f.e.a.r/models/radio/w_radio.mdl
f.e.a.r/models/radio/w_radio.dx90.vtx
f.e.a.r/models/radio/w_radio.sw.vtx
f.e.a.r/models/radio/c_radio.dx80.vtx
f.e.a.r/models/radio/w_radio.vvd
f.e.a.r/models/radio/c_radio.mdl
f.e.a.r/models/radio/c_radio.sw.vtx
f.e.a.r/models/comrade/havis.dx90.vtx
f.e.a.r/models/comrade/mor_hand.dx80.vtx
f.e.a.r/models/comrade/mody.mdl
f.e.a.r/models/comrade/gibs_foot2.mdl
f.e.a.r/models/comrade/replica_dead.vvd
f.e.a.r/models/comrade/night_hand3.dx80.vtx
f.e.a.r/models/comrade/chens.phy
f.e.a.r/models/comrade/replica_dead2.sw.vtx
f.e.a.r/models/comrade/elit_laser.vvd
f.e.a.r/models/comrade/night5.dx90.vtx
f.e.a.r/models/comrade/alice.phy
f.e.a.r/models/comrade/mor_hand.mdl
f.e.a.r/models/comrade/delta_hand.vvd
f.e.a.r/models/comrade/tehnik.dx80.vtx
f.e.a.r/models/comrade/replica2.vvd
f.e.a.r/models/comrade/replica_anims.mdl
f.e.a.r/models/comrade/gibs_foot.dx80.vtx
f.e.a.r/models/comrade/habert.sw.vtx
f.e.a.r/models/comrade/havis2.phy
f.e.a.r/models/comrade/shef.dx80.vtx
f.e.a.r/models/comrade/shade.sw.vtx
f.e.a.r/models/comrade/alma_child.dx90.vtx
f.e.a.r/models/comrade/senator.dx80.vtx
f.e.a.r/models/comrade/duglas_dead.dx80.vtx
f.e.a.r/models/comrade/point_hand.mdl
f.e.a.r/models/comrade/habert2.sw.vtx
f.e.a.r/models/comrade/replica_dead.dx90.vtx
f.e.a.r/models/comrade/night2.phy
f.e.a.r/models/comrade/replica_dead2.dx90.vtx
f.e.a.r/models/comrade/duglas.mdl
f.e.a.r/models/comrade/habert.dx90.vtx
f.e.a.r/models/comrade/mor_hand.sw.vtx
f.e.a.r/models/comrade/cityzen.dx80.vtx
f.e.a.r/models/comrade/gibs_gun.vvd
f.e.a.r/models/comrade/haberts.mdl
f.e.a.r/models/comrade/dron.dx80.vtx
f.e.a.r/models/comrade/spencer.vvd
f.e.a.r/models/comrade/fettel.mdl
f.e.a.r/models/comrade/night4.dx80.vtx
f.e.a.r/models/comrade/delta3.phy
f.e.a.r/models/comrade/rev6a.dx90.vtx
f.e.a.r/models/comrade/fear_elite.mdl
f.e.a.r/models/comrade/serjant_hand.dx80.vtx
f.e.a.r/models/comrade/fear_turret.vvd
f.e.a.r/models/comrade/c_hand_atc2.vvd
f.e.a.r/models/comrade/gibs_shock2.vvd
f.e.a.r/models/comrade/nigh3.dx80.vtx
f.e.a.r/models/comrade/cityzen.phy
f.e.a.r/models/comrade/elit_laser.dx80.vtx
f.e.a.r/models/comrade/bones.sw.vtx
f.e.a.r/models/comrade/replica_dead.dx80.vtx
f.e.a.r/models/comrade/nigh3.vvd
f.e.a.r/models/comrade/jin.dx80.vtx
f.e.a.r/models/comrade/delta3.mdl
f.e.a.r/models/comrade/mamon.mdl
f.e.a.r/models/comrade/pointman.dx80.vtx
f.e.a.r/models/comrade/rev6a.dx80.vtx
f.e.a.r/models/comrade/replica_dead2.vvd
f.e.a.r/models/comrade/shade.dx90.vtx
f.e.a.r/models/comrade/c_hand_atc.sw.vtx
f.e.a.r/models/comrade/habert.dx80.vtx
f.e.a.r/models/comrade/c_hand_atc2.mdl
f.e.a.r/models/comrade/alice2.dx90.vtx
f.e.a.r/models/comrade/replica_dead.phy
f.e.a.r/models/comrade/havis2.dx90.vtx
f.e.a.r/models/comrade/shade.dx80.vtx
f.e.a.r/models/comrade/minigunner.mdl
f.e.a.r/models/comrade/night2.dx90.vtx
f.e.a.r/models/comrade/gibs_shock.dx80.vtx
f.e.a.r/models/comrade/night5.dx80.vtx
f.e.a.r/models/comrade/havis.vvd
f.e.a.r/models/comrade/tehnik2.dx90.vtx
f.e.a.r/models/comrade/bones.mdl
f.e.a.r/models/comrade/senator.sw.vtx
f.e.a.r/models/comrade/gibs_shock.sw.vtx
f.e.a.r/models/comrade/bishop.vvd
f.e.a.r/models/comrade/c_hand.dx80.vtx
f.e.a.r/models/comrade/kaplan.mdl
f.e.a.r/models/comrade/delta2.dx90.vtx
f.e.a.r/models/comrade/norton.vvd
f.e.a.r/models/comrade/duglas_dead.dx90.vtx
f.e.a.r/models/comrade/mor_hand.vvd
f.e.a.r/models/comrade/spencer.dx80.vtx
f.e.a.r/models/comrade/alice_hand2.mdl
f.e.a.r/models/comrade/havis.phy
f.e.a.r/models/comrade/soldier.sw.vtx
f.e.a.r/models/comrade/night_hand1.vvd
f.e.a.r/models/comrade/minigunner.sw.vtx
f.e.a.r/models/comrade/raynes.vvd
f.e.a.r/models/comrade/gibs_foot2.vvd
f.e.a.r/models/comrade/alma.phy
f.e.a.r/models/comrade/holiday.sw.vtx
f.e.a.r/models/comrade/tehnik2.vvd
f.e.a.r/models/comrade/soldier.phy
f.e.a.r/models/comrade/elit_laser.phy
f.e.a.r/models/comrade/mody.phy
f.e.a.r/models/comrade/hight.dx80.vtx
f.e.a.r/models/comrade/atc_security.vvd
f.e.a.r/models/comrade/mor_hand.dx90.vtx
f.e.a.r/models/comrade/fettel2.phy
f.e.a.r/models/comrade/spencer.phy
f.e.a.r/models/comrade/rev6.vvd
f.e.a.r/models/comrade/serjant_hand.sw.vtx
f.e.a.r/models/comrade/phantom.phy
f.e.a.r/models/comrade/pointman.mdl
f.e.a.r/models/comrade/rev6.dx90.vtx
f.e.a.r/models/comrade/senator.dx90.vtx
f.e.a.r/models/comrade/night_hand2.mdl
f.e.a.r/models/comrade/tehnik.sw.vtx
f.e.a.r/models/comrade/norton_anims.ani
f.e.a.r/models/comrade/minigunner.dx80.vtx
f.e.a.r/models/comrade/mody.dx90.vtx
f.e.a.r/models/comrade/chens.dx90.vtx
f.e.a.r/models/comrade/fear_elite.vvd
f.e.a.r/models/comrade/night5.mdl
f.e.a.r/models/comrade/cityzen.vvd
f.e.a.r/models/comrade/habert2.mdl
f.e.a.r/models/comrade/tehnik.mdl
f.e.a.r/models/comrade/krieg.mdl
f.e.a.r/models/comrade/night.sw.vtx
f.e.a.r/models/comrade/bones.dx90.vtx
f.e.a.r/models/comrade/shade.phy
f.e.a.r/models/comrade/med.vvd
f.e.a.r/models/comrade/doktor.phy
f.e.a.r/models/comrade/replica.vvd
f.e.a.r/models/comrade/havis2.vvd
f.e.a.r/models/comrade/delta.phy
f.e.a.r/models/comrade/doktor.sw.vtx
f.e.a.r/models/comrade/doctor.sw.vtx
f.e.a.r/models/comrade/night5.phy
f.e.a.r/models/comrade/night_hand3.vvd
f.e.a.r/models/comrade/shef_hand.mdl
f.e.a.r/models/comrade/dron.dx90.vtx
f.e.a.r/models/comrade/fear_elite.dx80.vtx
f.e.a.r/models/comrade/gibs_shock2.dx90.vtx
f.e.a.r/models/comrade/serjant_hand.dx90.vtx
f.e.a.r/models/comrade/minigunner.dx90.vtx
f.e.a.r/models/comrade/rev8.dx90.vtx
f.e.a.r/models/comrade/c_hand.sw.vtx
f.e.a.r/models/comrade/delta4.sw.vtx
f.e.a.r/models/comrade/alma_child.mdl
f.e.a.r/models/comrade/alma_old.mdl
f.e.a.r/models/comrade/elite_anims.mdl
f.e.a.r/models/comrade/assassin.phy
f.e.a.r/models/comrade/delta2.sw.vtx
f.e.a.r/models/comrade/alice_hand.dx80.vtx
f.e.a.r/models/comrade/gibs_foot3.dx90.vtx
f.e.a.r/models/comrade/atc_security.dx80.vtx
f.e.a.r/models/comrade/maps_hand.dx90.vtx
f.e.a.r/models/comrade/morison.vvd
f.e.a.r/models/comrade/maps_hand.mdl
f.e.a.r/models/comrade/delta2.mdl
f.e.a.r/models/comrade/fear_turret.dx80.vtx
f.e.a.r/models/comrade/maps_hand.vvd
f.e.a.r/models/comrade/night_hand2.dx80.vtx
f.e.a.r/models/comrade/holiday.dx80.vtx
f.e.a.r/models/comrade/alice2.vvd
f.e.a.r/models/comrade/alma_old.dx90.vtx
f.e.a.r/models/comrade/hight.vvd
f.e.a.r/models/comrade/jin.sw.vtx
f.e.a.r/models/comrade/atcheavysec.dx80.vtx
f.e.a.r/models/comrade/alma_hand.vvd
f.e.a.r/models/comrade/habert2.dx80.vtx
f.e.a.r/models/comrade/alma_child.phy
f.e.a.r/models/comrade/night.phy
f.e.a.r/models/comrade/gibs_shock.phy
f.e.a.r/models/comrade/alma.dx80.vtx
f.e.a.r/models/comrade/point_hand.vvd
f.e.a.r/models/comrade/fettel2.dx90.vtx
f.e.a.r/models/comrade/night4.mdl
f.e.a.r/models/comrade/turret2.sw.vtx
f.e.a.r/models/comrade/night.dx80.vtx
f.e.a.r/models/comrade/tehnik2.dx80.vtx
f.e.a.r/models/comrade/delta2.dx80.vtx
f.e.a.r/models/comrade/habert.mdl
f.e.a.r/models/comrade/atcheavysec.sw.vtx
f.e.a.r/models/comrade/replica.dx90.vtx
f.e.a.r/models/comrade/alice2.dx80.vtx
f.e.a.r/models/comrade/atcheavysec.phy
f.e.a.r/models/comrade/gibs_foot.mdl
f.e.a.r/models/comrade/night_hand1.dx90.vtx
f.e.a.r/models/comrade/turret2.mdl
f.e.a.r/models/comrade/atc_security.mdl
f.e.a.r/models/comrade/replica.sw.vtx
f.e.a.r/models/comrade/alice_hand2.dx80.vtx
f.e.a.r/models/comrade/night4.phy
f.e.a.r/models/comrade/gibs_gun.sw.vtx
f.e.a.r/models/comrade/night2.dx80.vtx
f.e.a.r/models/comrade/gibs_foot3.phy
f.e.a.r/models/comrade/nigh3.phy
f.e.a.r/models/comrade/replica2.dx90.vtx
f.e.a.r/models/comrade/gibs_shock2.mdl
f.e.a.r/models/comrade/senator.mdl
f.e.a.r/models/comrade/bishop.phy
f.e.a.r/models/comrade/alice.dx80.vtx
f.e.a.r/models/comrade/doktor.mdl
f.e.a.r/models/comrade/fettel.phy
f.e.a.r/models/comrade/raynes.sw.vtx
f.e.a.r/models/comrade/senator.phy
f.e.a.r/models/comrade/tehnik2.mdl
f.e.a.r/models/comrade/med.sw.vtx
f.e.a.r/models/comrade/alice.sw.vtx
f.e.a.r/models/comrade/atcheavysec.mdl
f.e.a.r/models/comrade/duglas.vvd
f.e.a.r/models/comrade/kaplan.vvd
f.e.a.r/models/comrade/fettel.vvd
f.e.a.r/models/comrade/delta.sw.vtx
f.e.a.r/models/comrade/night.vvd
f.e.a.r/models/comrade/rev6.mdl
f.e.a.r/models/comrade/krieg.vvd
f.e.a.r/models/comrade/gibs_foot3.mdl
f.e.a.r/models/comrade/shef.sw.vtx
f.e.a.r/models/comrade/alice2.sw.vtx
f.e.a.r/models/comrade/delta3.sw.vtx
f.e.a.r/models/comrade/habert2.dx90.vtx
f.e.a.r/models/comrade/assassin_anims.ani
f.e.a.r/models/comrade/fettel2.vvd
f.e.a.r/models/comrade/bones.vvd
f.e.a.r/models/comrade/delta_hand.dx80.vtx
f.e.a.r/models/comrade/spencer.dx90.vtx
f.e.a.r/models/comrade/holiday.phy
f.e.a.r/models/comrade/bishop.dx90.vtx
f.e.a.r/models/comrade/atc_security.dx90.vtx
f.e.a.r/models/comrade/night4.sw.vtx
f.e.a.r/models/comrade/duglas.phy
f.e.a.r/models/comrade/elite_anims.ani
f.e.a.r/models/comrade/replica_dead2.dx80.vtx
f.e.a.r/models/comrade/delta_hand2.dx90.vtx
f.e.a.r/models/comrade/norton.mdl
f.e.a.r/models/comrade/replica2.mdl
f.e.a.r/models/comrade/minigunner.phy
f.e.a.r/models/comrade/delta4.dx80.vtx
f.e.a.r/models/comrade/mody.dx80.vtx
f.e.a.r/models/comrade/night.dx90.vtx
f.e.a.r/models/comrade/fettel.dx80.vtx
f.e.a.r/models/comrade/duglas_dead.phy
f.e.a.r/models/comrade/fettel2.mdl
f.e.a.r/models/comrade/delta4.mdl
f.e.a.r/models/comrade/chens.vvd
f.e.a.r/models/comrade/alice_hand2.vvd
f.e.a.r/models/comrade/gibs_foot3.vvd
f.e.a.r/models/comrade/night_hand3.sw.vtx
f.e.a.r/models/comrade/habert.phy
f.e.a.r/models/comrade/fettel.dx90.vtx
f.e.a.r/models/comrade/habert2.phy
f.e.a.r/models/comrade/rev8.mdl
f.e.a.r/models/comrade/spensers.dx80.vtx
f.e.a.r/models/comrade/chens.mdl
f.e.a.r/models/comrade/harlan.sw.vtx
f.e.a.r/models/comrade/delta_hand2.sw.vtx
f.e.a.r/models/comrade/cityzen.dx90.vtx
f.e.a.r/models/comrade/harlan.dx90.vtx
f.e.a.r/models/comrade/maps_hand.sw.vtx
f.e.a.r/models/comrade/gibs_shock.vvd
f.e.a.r/models/comrade/night_hand3.mdl
f.e.a.r/models/comrade/hight.sw.vtx
f.e.a.r/models/comrade/duglas.dx90.vtx
f.e.a.r/models/comrade/harlan.phy
f.e.a.r/models/comrade/mody.vvd
f.e.a.r/models/comrade/haberts.vvd
f.e.a.r/models/comrade/hight.dx90.vtx
f.e.a.r/models/comrade/phantom.mdl
f.e.a.r/models/comrade/doctor.dx90.vtx
f.e.a.r/models/comrade/nigh3.dx90.vtx
f.e.a.r/models/comrade/assassin.mdl
f.e.a.r/models/comrade/alma.dx90.vtx
f.e.a.r/models/comrade/gibs_foot.phy
f.e.a.r/models/comrade/habert2.vvd
f.e.a.r/models/comrade/spensers.phy
f.e.a.r/models/comrade/phantom.vvd
f.e.a.r/models/comrade/gibs_gun2.mdl
f.e.a.r/models/comrade/c_hand_atc2.sw.vtx
f.e.a.r/models/comrade/spencer.sw.vtx
f.e.a.r/models/comrade/night_hand1.dx80.vtx
f.e.a.r/models/comrade/fettel.sw.vtx
f.e.a.r/models/comrade/alice_hand.vvd
f.e.a.r/models/comrade/holiday.vvd
f.e.a.r/models/comrade/delta.vvd
f.e.a.r/models/comrade/gibs_foot.dx90.vtx
f.e.a.r/models/comrade/gibs_foot2.sw.vtx
f.e.a.r/models/comrade/soldier.vvd
f.e.a.r/models/comrade/assassin.vvd
f.e.a.r/models/comrade/alice.dx90.vtx
f.e.a.r/models/comrade/doctor.vvd
f.e.a.r/models/comrade/rev6a.mdl
f.e.a.r/models/comrade/harlan2.sw.vtx
f.e.a.r/models/comrade/havis2.mdl
f.e.a.r/models/comrade/soldier.dx90.vtx
f.e.a.r/models/comrade/harlan.mdl
f.e.a.r/models/comrade/gibs_shock2.dx80.vtx
f.e.a.r/models/comrade/gibs_gun.dx80.vtx
f.e.a.r/models/comrade/alma.vvd
f.e.a.r/models/comrade/krieg.sw.vtx
f.e.a.r/models/comrade/night5.vvd
f.e.a.r/models/comrade/tehnik.phy
f.e.a.r/models/comrade/med.dx80.vtx
f.e.a.r/models/comrade/mody.sw.vtx
f.e.a.r/models/comrade/holiday.dx90.vtx
f.e.a.r/models/comrade/harlan2.dx90.vtx
f.e.a.r/models/comrade/phantom.dx90.vtx
f.e.a.r/models/comrade/soldier.mdl
f.e.a.r/models/comrade/alma_hand.dx80.vtx
f.e.a.r/models/comrade/morison.dx90.vtx
f.e.a.r/models/comrade/havis2.sw.vtx
f.e.a.r/models/comrade/delta4.dx90.vtx
f.e.a.r/models/comrade/point_hand.sw.vtx
f.e.a.r/models/comrade/replica2.sw.vtx
f.e.a.r/models/comrade/kaplan.dx90.vtx
f.e.a.r/models/comrade/mamon_anims.ani
f.e.a.r/models/comrade/spensers.sw.vtx
f.e.a.r/models/comrade/kaplan.dx80.vtx
f.e.a.r/models/comrade/night2.vvd
f.e.a.r/models/comrade/delta.mdl
f.e.a.r/models/comrade/replica.dx80.vtx
f.e.a.r/models/comrade/rev8.sw.vtx
f.e.a.r/models/comrade/night5.sw.vtx
f.e.a.r/models/comrade/delta_hand.sw.vtx
f.e.a.r/models/comrade/shef.phy
f.e.a.r/models/comrade/spencer.mdl
f.e.a.r/models/comrade/gibs_shock2.sw.vtx
f.e.a.r/models/comrade/shade.mdl
f.e.a.r/models/comrade/gibs_gun2.dx80.vtx
f.e.a.r/models/comrade/morison.mdl
f.e.a.r/models/comrade/spensers.vvd
f.e.a.r/models/comrade/night_hand1.mdl
f.e.a.r/models/comrade/morison.dx80.vtx
f.e.a.r/models/comrade/bishop.sw.vtx
f.e.a.r/models/comrade/bishop.mdl
f.e.a.r/models/comrade/rev8.dx80.vtx
f.e.a.r/models/comrade/mamon.phy
f.e.a.r/models/comrade/c_hand_atc2.dx80.vtx
f.e.a.r/models/comrade/delta.dx90.vtx
f.e.a.r/models/comrade/night_hand2.dx90.vtx
f.e.a.r/models/comrade/pointman.dx90.vtx
f.e.a.r/models/comrade/alice_hand.sw.vtx
f.e.a.r/models/comrade/turret2.dx90.vtx
f.e.a.r/models/comrade/replica.mdl
f.e.a.r/models/comrade/gibs_foot3.sw.vtx
f.e.a.r/models/comrade/assassin_anims.mdl
f.e.a.r/models/comrade/jin.vvd
f.e.a.r/models/comrade/c_hand_atc.mdl
f.e.a.r/models/comrade/tehnik2.phy
f.e.a.r/models/comrade/delta_hand.dx90.vtx
f.e.a.r/models/comrade/replica.phy
f.e.a.r/models/comrade/fear_elite.sw.vtx
f.e.a.r/models/comrade/nigh3.mdl
f.e.a.r/models/comrade/alma_child.vvd
f.e.a.r/models/comrade/doktor.dx80.vtx
f.e.a.r/models/comrade/havis.dx80.vtx
f.e.a.r/models/comrade/night_hand2.sw.vtx
f.e.a.r/models/comrade/alice_hand.dx90.vtx
f.e.a.r/models/comrade/night4.vvd
f.e.a.r/models/comrade/mamon.sw.vtx
f.e.a.r/models/comrade/assassin.dx90.vtx
f.e.a.r/models/comrade/harlan2.mdl
f.e.a.r/models/comrade/turret2.vvd
f.e.a.r/models/comrade/duglas.sw.vtx
f.e.a.r/models/comrade/night_hand3.dx90.vtx
f.e.a.r/models/comrade/harlan.vvd
f.e.a.r/models/comrade/harlan2.dx80.vtx
f.e.a.r/models/comrade/bones.dx80.vtx
f.e.a.r/models/comrade/spensers.dx90.vtx
f.e.a.r/models/comrade/rev6.sw.vtx
f.e.a.r/models/comrade/doctor.mdl
f.e.a.r/models/comrade/alma_old.dx80.vtx
f.e.a.r/models/comrade/c_hand.mdl
f.e.a.r/models/comrade/delta3.dx80.vtx
f.e.a.r/models/comrade/havis.sw.vtx
f.e.a.r/models/comrade/c_hand_atc.dx80.vtx
f.e.a.r/models/comrade/alma_old.sw.vtx
f.e.a.r/models/comrade/bishop.dx80.vtx
f.e.a.r/models/comrade/doktor.vvd
f.e.a.r/models/comrade/elit_laser.mdl
f.e.a.r/models/comrade/norton.dx80.vtx
f.e.a.r/models/comrade/replica_dead.sw.vtx
f.e.a.r/models/comrade/mamon.dx90.vtx
f.e.a.r/models/comrade/replica2.phy
f.e.a.r/models/comrade/alma_old.phy
f.e.a.r/models/comrade/delta2.vvd
f.e.a.r/models/comrade/jin.phy
f.e.a.r/models/comrade/dron.sw.vtx
f.e.a.r/models/comrade/kaplan.sw.vtx
f.e.a.r/models/comrade/duglas.dx80.vtx
f.e.a.r/models/comrade/elit_laser.sw.vtx
f.e.a.r/models/comrade/assassin.dx80.vtx
f.e.a.r/models/comrade/krieg.dx80.vtx
f.e.a.r/models/comrade/dron.vvd
f.e.a.r/models/comrade/alma_hand.mdl
f.e.a.r/models/comrade/atcheavysec.vvd
f.e.a.r/models/comrade/haberts.dx90.vtx
f.e.a.r/models/comrade/fear_turret.dx90.vtx
f.e.a.r/models/comrade/rev6.dx80.vtx
f.e.a.r/models/comrade/doktor.dx90.vtx
f.e.a.r/models/comrade/replica2.dx80.vtx
f.e.a.r/models/comrade/duglas_dead.mdl
f.e.a.r/models/comrade/tehnik.vvd
f.e.a.r/models/comrade/dron.mdl
f.e.a.r/models/comrade/gibs_gun2.phy
f.e.a.r/models/comrade/gibs_foot.vvd
f.e.a.r/models/comrade/replica_dead.mdl
f.e.a.r/models/comrade/atc_security.phy
f.e.a.r/models/comrade/jin.mdl
f.e.a.r/models/comrade/cityzen.mdl
f.e.a.r/models/comrade/gibs_gun2.dx90.vtx
f.e.a.r/models/comrade/senator.vvd
f.e.a.r/models/comrade/hight.phy
f.e.a.r/models/comrade/alice_hand2.dx90.vtx
f.e.a.r/models/comrade/maps_hand.dx80.vtx
f.e.a.r/models/comrade/norton.dx90.vtx
f.e.a.r/models/comrade/alma.mdl
f.e.a.r/models/comrade/rev8.vvd
f.e.a.r/models/comrade/gibs_gun.phy
f.e.a.r/models/comrade/atc_security.sw.vtx
f.e.a.r/models/comrade/duglas_dead.sw.vtx
f.e.a.r/models/comrade/hight.mdl
f.e.a.r/models/comrade/raynes.dx90.vtx
f.e.a.r/models/comrade/shef_hand.dx90.vtx
f.e.a.r/models/comrade/chens.dx80.vtx
f.e.a.r/models/comrade/gibs_gun.mdl
f.e.a.r/models/comrade/alice_hand.mdl
f.e.a.r/models/comrade/gibs_foot2.dx90.vtx
f.e.a.r/models/comrade/c_hand_atc2.dx90.vtx
f.e.a.r/models/comrade/raynes.phy
f.e.a.r/models/comrade/haberts.sw.vtx
f.e.a.r/models/comrade/gibs_foot.sw.vtx
f.e.a.r/models/comrade/doctor.phy
f.e.a.r/models/comrade/replica_dead2.mdl
f.e.a.r/models/comrade/duglas_dead.vvd
f.e.a.r/models/comrade/norton_anims.mdl
f.e.a.r/models/comrade/pointman.sw.vtx
f.e.a.r/models/comrade/night4.dx90.vtx
f.e.a.r/models/comrade/shade.vvd
f.e.a.r/models/comrade/gibs_foot2.dx80.vtx
f.e.a.r/models/comrade/delta4.phy
f.e.a.r/models/comrade/mamon.dx80.vtx
f.e.a.r/models/comrade/phantom.dx80.vtx
f.e.a.r/models/comrade/replica_anims.ani
f.e.a.r/models/comrade/harlan2.phy
f.e.a.r/models/comrade/night_hand2.vvd
f.e.a.r/models/comrade/delta3.dx90.vtx
f.e.a.r/models/comrade/tehnik.dx90.vtx
f.e.a.r/models/comrade/haberts.dx80.vtx
f.e.a.r/models/comrade/alice2.phy
f.e.a.r/models/comrade/rev6a.vvd
f.e.a.r/models/comrade/cityzen.sw.vtx
f.e.a.r/models/comrade/gibs_foot2.phy
f.e.a.r/models/comrade/tehnik2.sw.vtx
f.e.a.r/models/comrade/delta_hand2.vvd
f.e.a.r/models/comrade/shef.vvd
f.e.a.r/models/comrade/c_hand.vvd
f.e.a.r/models/comrade/delta_hand2.dx80.vtx
f.e.a.r/models/comrade/habert.vvd
f.e.a.r/models/comrade/nigh3.sw.vtx
f.e.a.r/models/comrade/jin.dx90.vtx
f.e.a.r/models/comrade/fettel2.sw.vtx
f.e.a.r/models/comrade/replica_dead2.phy
f.e.a.r/models/comrade/harlan2.vvd
f.e.a.r/models/comrade/raynes.mdl
f.e.a.r/models/comrade/turret2.dx80.vtx
f.e.a.r/models/comrade/gibs_shock.dx90.vtx
f.e.a.r/models/comrade/soldier.dx80.vtx
f.e.a.r/models/comrade/kaplan.phy
f.e.a.r/models/comrade/alma_hand.sw.vtx
f.e.a.r/models/comrade/point_hand.dx90.vtx
f.e.a.r/models/comrade/raynes.dx80.vtx
f.e.a.r/models/comrade/pointman.phy
f.e.a.r/models/comrade/elit_laser.dx90.vtx
f.e.a.r/models/comrade/fear_turret.phy
f.e.a.r/models/comrade/serjant_hand.vvd
f.e.a.r/models/comrade/alma.sw.vtx
f.e.a.r/models/comrade/c_hand_atc.vvd
f.e.a.r/models/comrade/minigunner.vvd
f.e.a.r/models/comrade/morison.sw.vtx
f.e.a.r/models/comrade/delta4.vvd
f.e.a.r/models/comrade/turret2.phy
f.e.a.r/models/comrade/night_hand1.sw.vtx
f.e.a.r/models/comrade/alma_child.dx80.vtx
f.e.a.r/models/comrade/norton.phy
f.e.a.r/models/comrade/alice.vvd
f.e.a.r/models/comrade/night2.sw.vtx
f.e.a.r/models/comrade/norton.sw.vtx
f.e.a.r/models/comrade/shef_hand.sw.vtx
f.e.a.r/models/comrade/chens.sw.vtx
f.e.a.r/models/comrade/shef.dx90.vtx
f.e.a.r/models/comrade/shef_hand.vvd
f.e.a.r/models/comrade/gibs_gun2.vvd
f.e.a.r/models/comrade/fear_turret.mdl
f.e.a.r/models/comrade/night.mdl
f.e.a.r/models/comrade/havis2.dx80.vtx
f.e.a.r/models/comrade/shef.mdl
f.e.a.r/models/comrade/alma_hand.dx90.vtx
f.e.a.r/models/comrade/med.dx90.vtx
f.e.a.r/models/comrade/night2.mdl
f.e.a.r/models/comrade/c_hand.dx90.vtx
f.e.a.r/models/comrade/bones.phy
f.e.a.r/models/comrade/fear_elite.dx90.vtx
f.e.a.r/models/comrade/spensers.mdl
f.e.a.r/models/comrade/assassin.sw.vtx
f.e.a.r/models/comrade/harlan.dx80.vtx
f.e.a.r/models/comrade/med.mdl
f.e.a.r/models/comrade/atcheavysec.dx90.vtx
f.e.a.r/models/comrade/rev6a.sw.vtx
f.e.a.r/models/comrade/gibs_shock.mdl
f.e.a.r/models/comrade/med.phy
f.e.a.r/models/comrade/alma_child.sw.vtx
f.e.a.r/models/comrade/fear_turret.sw.vtx
f.e.a.r/models/comrade/krieg.phy
f.e.a.r/models/comrade/mamon_anims.mdl
f.e.a.r/models/comrade/doctor.dx80.vtx
f.e.a.r/models/comrade/gibs_foot3.dx80.vtx
f.e.a.r/models/comrade/alma_old.vvd
f.e.a.r/models/comrade/delta.dx80.vtx
f.e.a.r/models/comrade/mamon.vvd
f.e.a.r/models/comrade/alice_hand2.sw.vtx
f.e.a.r/models/comrade/delta_hand2.mdl
f.e.a.r/models/comrade/shef_hand.dx80.vtx
f.e.a.r/models/comrade/holiday.mdl
f.e.a.r/models/comrade/delta3.vvd
f.e.a.r/models/comrade/gibs_gun2.sw.vtx
f.e.a.r/models/comrade/havis.mdl
f.e.a.r/models/comrade/alice.mdl
f.e.a.r/models/comrade/gibs_shock2.phy
f.e.a.r/models/comrade/fettel2.dx80.vtx
f.e.a.r/models/comrade/phantom.sw.vtx
f.e.a.r/models/comrade/delta_hand.mdl
f.e.a.r/models/comrade/point_hand.dx80.vtx
f.e.a.r/models/comrade/krieg.dx90.vtx
f.e.a.r/models/comrade/delta2.phy
f.e.a.r/models/comrade/morison.phy
f.e.a.r/models/comrade/alice2.mdl
f.e.a.r/models/comrade/gibs_gun.dx90.vtx
f.e.a.r/models/comrade/c_hand_atc.dx90.vtx
f.e.a.r/models/comrade/haberts.phy
f.e.a.r/models/comrade/pointman.vvd
f.e.a.r/models/comrade/fear_elite.phy
f.e.a.r/models/comrade/serjant_hand.mdl
f.e.a.r/models/comrade/pm/replica_anims.mdl
f.e.a.r/models/comrade/pm/shef.dx80.vtx
f.e.a.r/models/comrade/pm/point_hand.mdl
f.e.a.r/models/comrade/pm/duglas.mdl
f.e.a.r/models/comrade/pm/spencer.vvd
f.e.a.r/models/comrade/pm/fear_elite.mdl
f.e.a.r/models/comrade/pm/serjant_hand.dx80.vtx
f.e.a.r/models/comrade/pm/jin.dx80.vtx
f.e.a.r/models/comrade/pm/pointman.dx80.vtx
f.e.a.r/models/comrade/pm/kaplan.mdl
f.e.a.r/models/comrade/pm/spencer.dx80.vtx
f.e.a.r/models/comrade/pm/soldier.sw.vtx
f.e.a.r/models/comrade/pm/raynes.vvd
f.e.a.r/models/comrade/pm/soldier.phy
f.e.a.r/models/comrade/pm/spencer.phy
f.e.a.r/models/comrade/pm/serjant_hand.sw.vtx
f.e.a.r/models/comrade/pm/pointman.mdl
f.e.a.r/models/comrade/pm/fear_elite.vvd
f.e.a.r/models/comrade/pm/shef_hand.mdl
f.e.a.r/models/comrade/pm/fear_elite.dx80.vtx
f.e.a.r/models/comrade/pm/serjant_hand.dx90.vtx
f.e.a.r/models/comrade/pm/jin.sw.vtx
f.e.a.r/models/comrade/pm/point_hand.vvd
f.e.a.r/models/comrade/pm/raynes.sw.vtx
f.e.a.r/models/comrade/pm/duglas.vvd
f.e.a.r/models/comrade/pm/kaplan.vvd
f.e.a.r/models/comrade/pm/shef.sw.vtx
f.e.a.r/models/comrade/pm/spencer.dx90.vtx
f.e.a.r/models/comrade/pm/duglas.phy
f.e.a.r/models/comrade/pm/duglas.dx90.vtx
f.e.a.r/models/comrade/pm/spencer.sw.vtx
f.e.a.r/models/comrade/pm/soldier.vvd
f.e.a.r/models/comrade/pm/soldier.dx90.vtx
f.e.a.r/models/comrade/pm/soldier.mdl
f.e.a.r/models/comrade/pm/point_hand.sw.vtx
f.e.a.r/models/comrade/pm/kaplan.dx90.vtx
f.e.a.r/models/comrade/pm/kaplan.dx80.vtx
f.e.a.r/models/comrade/pm/shef.phy
f.e.a.r/models/comrade/pm/spencer.mdl
f.e.a.r/models/comrade/pm/pointman.dx90.vtx
f.e.a.r/models/comrade/pm/jin.vvd
f.e.a.r/models/comrade/pm/fear_elite.sw.vtx
f.e.a.r/models/comrade/pm/duglas.sw.vtx
f.e.a.r/models/comrade/pm/jin.phy
f.e.a.r/models/comrade/pm/kaplan.sw.vtx
f.e.a.r/models/comrade/pm/duglas.dx80.vtx
f.e.a.r/models/comrade/pm/jin.mdl
f.e.a.r/models/comrade/pm/raynes.dx90.vtx
f.e.a.r/models/comrade/pm/shef_hand.dx90.vtx
f.e.a.r/models/comrade/pm/raynes.phy
f.e.a.r/models/comrade/pm/pointman.sw.vtx
f.e.a.r/models/comrade/pm/replica_anims.ani
f.e.a.r/models/comrade/pm/shef.vvd
f.e.a.r/models/comrade/pm/jin.dx90.vtx
f.e.a.r/models/comrade/pm/raynes.mdl
f.e.a.r/models/comrade/pm/soldier.dx80.vtx
f.e.a.r/models/comrade/pm/kaplan.phy
f.e.a.r/models/comrade/pm/point_hand.dx90.vtx
f.e.a.r/models/comrade/pm/raynes.dx80.vtx
f.e.a.r/models/comrade/pm/pointman.phy
f.e.a.r/models/comrade/pm/serjant_hand.vvd
f.e.a.r/models/comrade/pm/shef_hand.sw.vtx
f.e.a.r/models/comrade/pm/shef.dx90.vtx
f.e.a.r/models/comrade/pm/shef_hand.vvd
f.e.a.r/models/comrade/pm/shef.mdl
f.e.a.r/models/comrade/pm/fear_elite.dx90.vtx
f.e.a.r/models/comrade/pm/shef_hand.dx80.vtx
f.e.a.r/models/comrade/pm/point_hand.dx80.vtx
f.e.a.r/models/comrade/pm/pointman.vvd
f.e.a.r/models/comrade/pm/fear_elite.phy
f.e.a.r/models/comrade/pm/serjant_hand.mdl
f.e.a.r/models/comrade/delta_dead/gibs_foot2.mdl
f.e.a.r/models/comrade/delta_dead/gibs_delta.mdl
f.e.a.r/models/comrade/delta_dead/gibs_foot.dx80.vtx
f.e.a.r/models/comrade/delta_dead/gibs_head.phy
f.e.a.r/models/comrade/delta_dead/gibs_foot2.vvd
f.e.a.r/models/comrade/delta_dead/gibs_head.sw.vtx
f.e.a.r/models/comrade/delta_dead/gibs_hand2.dx80.vtx
f.e.a.r/models/comrade/delta_dead/gibs_pelvis.dx90.vtx
f.e.a.r/models/comrade/delta_dead/gibs_delta.dx90.vtx
f.e.a.r/models/comrade/delta_dead/gibs_hand2.vvd
f.e.a.r/models/comrade/delta_dead/gibs_hand2.sw.vtx
f.e.a.r/models/comrade/delta_dead/gibs_hand.vvd
f.e.a.r/models/comrade/delta_dead/gibs_pelvis.vvd
f.e.a.r/models/comrade/delta_dead/gibs_foot.mdl
f.e.a.r/models/comrade/delta_dead/gibs_pelvis.phy
f.e.a.r/models/comrade/delta_dead/gibs_hand2.phy
f.e.a.r/models/comrade/delta_dead/gibs_hand.phy
f.e.a.r/models/comrade/delta_dead/gibs_hand2.dx90.vtx
f.e.a.r/models/comrade/delta_dead/gibs_delta.vvd
f.e.a.r/models/comrade/delta_dead/gibs_foot.phy
f.e.a.r/models/comrade/delta_dead/gibs_foot.dx90.vtx
f.e.a.r/models/comrade/delta_dead/gibs_foot2.sw.vtx
f.e.a.r/models/comrade/delta_dead/gibs_pelvis.mdl
f.e.a.r/models/comrade/delta_dead/gibs_pelvis.sw.vtx
f.e.a.r/models/comrade/delta_dead/gibs_head.dx90.vtx
f.e.a.r/models/comrade/delta_dead/gibs_hand.dx90.vtx
f.e.a.r/models/comrade/delta_dead/gibs_head.mdl
f.e.a.r/models/comrade/delta_dead/gibs_foot.vvd
f.e.a.r/models/comrade/delta_dead/gibs_hand.dx80.vtx
f.e.a.r/models/comrade/delta_dead/gibs_delta.dx80.vtx
f.e.a.r/models/comrade/delta_dead/gibs_head.dx80.vtx
f.e.a.r/models/comrade/delta_dead/gibs_delta.phy
f.e.a.r/models/comrade/delta_dead/gibs_foot2.dx90.vtx
f.e.a.r/models/comrade/delta_dead/gibs_foot.sw.vtx
f.e.a.r/models/comrade/delta_dead/gibs_foot2.dx80.vtx
f.e.a.r/models/comrade/delta_dead/gibs_foot2.phy
f.e.a.r/models/comrade/delta_dead/gibs_hand.mdl
f.e.a.r/models/comrade/delta_dead/gibs_delta.sw.vtx
f.e.a.r/models/comrade/delta_dead/gibs_head.vvd
f.e.a.r/models/comrade/delta_dead/gibs_pelvis.dx80.vtx
f.e.a.r/models/comrade/delta_dead/gibs_hand.sw.vtx
f.e.a.r/models/comrade/delta_dead/gibs_hand2.mdl
f.e.a.r/models/comrade/fear_props/med2.dx90.vtx
f.e.a.r/models/comrade/fear_props/pribor3.sw.vtx
f.e.a.r/models/comrade/fear_props/korobka.vvd
f.e.a.r/models/comrade/fear_props/gruz.phy
f.e.a.r/models/comrade/fear_props/sistemnik.vvd
f.e.a.r/models/comrade/fear_props/dom.sw.vtx
f.e.a.r/models/comrade/fear_props/korobka.phy
f.e.a.r/models/comrade/fear_props/sistemnik2.vvd
f.e.a.r/models/comrade/fear_props/kofemat.mdl
f.e.a.r/models/comrade/fear_props/mi24.sw.vtx
f.e.a.r/models/comrade/fear_props/car4.dx80.vtx
f.e.a.r/models/comrade/fear_props/notebook.dx90.vtx
f.e.a.r/models/comrade/fear_props/medkit.dx80.vtx
f.e.a.r/models/comrade/fear_props/gruz.vvd
f.e.a.r/models/comrade/fear_props/teh1.dx90.vtx
f.e.a.r/models/comrade/fear_props/notebook.sw.vtx
f.e.a.r/models/comrade/fear_props/car.vvd
f.e.a.r/models/comrade/fear_props/printer2.mdl
f.e.a.r/models/comrade/fear_props/notebook2.dx80.vtx
f.e.a.r/models/comrade/fear_props/monitor3.vvd
f.e.a.r/models/comrade/fear_props/car2.vvd
f.e.a.r/models/comrade/fear_props/keyboard.mdl
f.e.a.r/models/comrade/fear_props/kaktus2.vvd
f.e.a.r/models/comrade/fear_props/pribor.dx80.vtx
f.e.a.r/models/comrade/fear_props/printer.mdl
f.e.a.r/models/comrade/fear_props/medic.mdl
f.e.a.r/models/comrade/fear_props/jurnal2.dx90.vtx
f.e.a.r/models/comrade/fear_props/yash1.sw.vtx
f.e.a.r/models/comrade/fear_props/kaktus.sw.vtx
f.e.a.r/models/comrade/fear_props/printer.dx80.vtx
f.e.a.r/models/comrade/fear_props/yachik.sw.vtx
f.e.a.r/models/comrade/fear_props/bochka.vvd
f.e.a.r/models/comrade/fear_props/monitor.dx90.vtx
f.e.a.r/models/comrade/fear_props/armor.vvd
f.e.a.r/models/comrade/fear_props/stepler.dx80.vtx
f.e.a.r/models/comrade/fear_props/dom2.mdl
f.e.a.r/models/comrade/fear_props/flash.mdl
f.e.a.r/models/comrade/fear_props/stepler.phy
f.e.a.r/models/comrade/fear_props/dom2.vvd
f.e.a.r/models/comrade/fear_props/dom2.dx80.vtx
f.e.a.r/models/comrade/fear_props/kaktus2.dx90.vtx
f.e.a.r/models/comrade/fear_props/hawk2.mdl
f.e.a.r/models/comrade/fear_props/air2.sw.vtx
f.e.a.r/models/comrade/fear_props/mouse.phy
f.e.a.r/models/comrade/fear_props/mobila.dx80.vtx
f.e.a.r/models/comrade/fear_props/pribor3.vvd
f.e.a.r/models/comrade/fear_props/shitok.dx90.vtx
f.e.a.r/models/comrade/fear_props/pribor2.sw.vtx
f.e.a.r/models/comrade/fear_props/kaktus2.sw.vtx
f.e.a.r/models/comrade/fear_props/mi24.mdl
f.e.a.r/models/comrade/fear_props/yachik.dx90.vtx
f.e.a.r/models/comrade/fear_props/bochka.sw.vtx
f.e.a.r/models/comrade/fear_props/vaza.mdl
f.e.a.r/models/comrade/fear_props/flash.phy
f.e.a.r/models/comrade/fear_props/atc2.sw.vtx
f.e.a.r/models/comrade/fear_props/ognetush.phy
f.e.a.r/models/comrade/fear_props/notebook2.vvd
f.e.a.r/models/comrade/fear_props/ognetush.sw.vtx
f.e.a.r/models/comrade/fear_props/armor.dx90.vtx
f.e.a.r/models/comrade/fear_props/dom4.vvd
f.e.a.r/models/comrade/fear_props/flash.dx90.vtx
f.e.a.r/models/comrade/fear_props/krushka.phy
f.e.a.r/models/comrade/fear_props/shitok.phy
f.e.a.r/models/comrade/fear_props/medkit.sw.vtx
f.e.a.r/models/comrade/fear_props/pribor3.mdl
f.e.a.r/models/comrade/fear_props/notebook5.mdl
f.e.a.r/models/comrade/fear_props/teh3.vvd
f.e.a.r/models/comrade/fear_props/truck.dx80.vtx
f.e.a.r/models/comrade/fear_props/atc2.dx90.vtx
f.e.a.r/models/comrade/fear_props/parashut.sw.vtx
f.e.a.r/models/comrade/fear_props/microvol.sw.vtx
f.e.a.r/models/comrade/fear_props/pribor2.mdl
f.e.a.r/models/comrade/fear_props/kaktus3.mdl
f.e.a.r/models/comrade/fear_props/gruz.dx90.vtx
f.e.a.r/models/comrade/fear_props/car2.dx80.vtx
f.e.a.r/models/comrade/fear_props/phone2.dx90.vtx
f.e.a.r/models/comrade/fear_props/monitor3.dx90.vtx
f.e.a.r/models/comrade/fear_props/stul.sw.vtx
f.e.a.r/models/comrade/fear_props/yash1.mdl
f.e.a.r/models/comrade/fear_props/mouse.sw.vtx
f.e.a.r/models/comrade/fear_props/stul.dx80.vtx
f.e.a.r/models/comrade/fear_props/atc2.dx80.vtx
f.e.a.r/models/comrade/fear_props/kaktus3.dx80.vtx
f.e.a.r/models/comrade/fear_props/med.vvd
f.e.a.r/models/comrade/fear_props/car2.dx90.vtx
f.e.a.r/models/comrade/fear_props/pribor.mdl
f.e.a.r/models/comrade/fear_props/mobila.vvd
f.e.a.r/models/comrade/fear_props/korobka.mdl
f.e.a.r/models/comrade/fear_props/car4.mdl
f.e.a.r/models/comrade/fear_props/kaktus.mdl
f.e.a.r/models/comrade/fear_props/monitor3.dx80.vtx
f.e.a.r/models/comrade/fear_props/kaktus.vvd
f.e.a.r/models/comrade/fear_props/phone2.vvd
f.e.a.r/models/comrade/fear_props/kaktus2.mdl
f.e.a.r/models/comrade/fear_props/notebook.dx80.vtx
f.e.a.r/models/comrade/fear_props/arsenal.phy
f.e.a.r/models/comrade/fear_props/car3.sw.vtx
f.e.a.r/models/comrade/fear_props/vaza.dx80.vtx
f.e.a.r/models/comrade/fear_props/med2.sw.vtx
f.e.a.r/models/comrade/fear_props/teh5.vvd
f.e.a.r/models/comrade/fear_props/air.mdl
f.e.a.r/models/comrade/fear_props/atc.vvd
f.e.a.r/models/comrade/fear_props/printer2.sw.vtx
f.e.a.r/models/comrade/fear_props/dom3.vvd
f.e.a.r/models/comrade/fear_props/vaza.sw.vtx
f.e.a.r/models/comrade/fear_props/hawk2.dx90.vtx
f.e.a.r/models/comrade/fear_props/mi24.phy
f.e.a.r/models/comrade/fear_props/monitor2.dx90.vtx
f.e.a.r/models/comrade/fear_props/teh5.phy
f.e.a.r/models/comrade/fear_props/stul.phy
f.e.a.r/models/comrade/fear_props/med2.dx80.vtx
f.e.a.r/models/comrade/fear_props/radio.phy
f.e.a.r/models/comrade/fear_props/notebook3.dx80.vtx
f.e.a.r/models/comrade/fear_props/teh4.dx80.vtx
f.e.a.r/models/comrade/fear_props/dom4.dx90.vtx
f.e.a.r/models/comrade/fear_props/chips.mdl
f.e.a.r/models/comrade/fear_props/notebook.mdl
f.e.a.r/models/comrade/fear_props/keyboard2.vvd
f.e.a.r/models/comrade/fear_props/stul.mdl
f.e.a.r/models/comrade/fear_props/car3.phy
f.e.a.r/models/comrade/fear_props/kofemat.sw.vtx
f.e.a.r/models/comrade/fear_props/air2.dx80.vtx
f.e.a.r/models/comrade/fear_props/jurnal2.mdl
f.e.a.r/models/comrade/fear_props/kaktus3.phy
f.e.a.r/models/comrade/fear_props/car3.dx90.vtx
f.e.a.r/models/comrade/fear_props/teh5.dx80.vtx
f.e.a.r/models/comrade/fear_props/avtomat.sw.vtx
f.e.a.r/models/comrade/fear_props/sistemnik.dx80.vtx
f.e.a.r/models/comrade/fear_props/chips.dx80.vtx
f.e.a.r/models/comrade/fear_props/stepler.vvd
f.e.a.r/models/comrade/fear_props/teh3.phy
f.e.a.r/models/comrade/fear_props/teh2.mdl
f.e.a.r/models/comrade/fear_props/parashut.phy
f.e.a.r/models/comrade/fear_props/notebook5.vvd
f.e.a.r/models/comrade/fear_props/notebook5.dx80.vtx
f.e.a.r/models/comrade/fear_props/truck.dx90.vtx
f.e.a.r/models/comrade/fear_props/mouse.mdl
f.e.a.r/models/comrade/fear_props/microvol.vvd
f.e.a.r/models/comrade/fear_props/notebook2.dx90.vtx
f.e.a.r/models/comrade/fear_props/medkit.mdl
f.e.a.r/models/comrade/fear_props/chips.sw.vtx
f.e.a.r/models/comrade/fear_props/microvol.phy
f.e.a.r/models/comrade/fear_props/air.dx80.vtx
f.e.a.r/models/comrade/fear_props/teh5.mdl
f.e.a.r/models/comrade/fear_props/kaktus2.phy
f.e.a.r/models/comrade/fear_props/mobila.phy
f.e.a.r/models/comrade/fear_props/jurnal2.vvd
f.e.a.r/models/comrade/fear_props/vaza.phy
f.e.a.r/models/comrade/fear_props/jurnal.mdl
f.e.a.r/models/comrade/fear_props/truck.vvd
f.e.a.r/models/comrade/fear_props/keyboard2.phy
f.e.a.r/models/comrade/fear_props/air2.mdl
f.e.a.r/models/comrade/fear_props/dom3.dx80.vtx
f.e.a.r/models/comrade/fear_props/dom.dx80.vtx
f.e.a.r/models/comrade/fear_props/sistemnik.dx90.vtx
f.e.a.r/models/comrade/fear_props/parashut.vvd
f.e.a.r/models/comrade/fear_props/dom2.sw.vtx
f.e.a.r/models/comrade/fear_props/printer.phy
f.e.a.r/models/comrade/fear_props/med.sw.vtx
f.e.a.r/models/comrade/fear_props/car5.sw.vtx
f.e.a.r/models/comrade/fear_props/phone.dx80.vtx
f.e.a.r/models/comrade/fear_props/notebook5.dx90.vtx
f.e.a.r/models/comrade/fear_props/notebook.phy
f.e.a.r/models/comrade/fear_props/keyboard.dx90.vtx
f.e.a.r/models/comrade/fear_props/notebook4.sw.vtx
f.e.a.r/models/comrade/fear_props/krushka2.sw.vtx
f.e.a.r/models/comrade/fear_props/hawk2.dx80.vtx
f.e.a.r/models/comrade/fear_props/krushka.vvd
f.e.a.r/models/comrade/fear_props/korobka.dx90.vtx
f.e.a.r/models/comrade/fear_props/shitok.dx80.vtx
f.e.a.r/models/comrade/fear_props/pribor3.phy
f.e.a.r/models/comrade/fear_props/radio.vvd
f.e.a.r/models/comrade/fear_props/atc.dx80.vtx
f.e.a.r/models/comrade/fear_props/teh2.vvd
f.e.a.r/models/comrade/fear_props/dom.dx90.vtx
f.e.a.r/models/comrade/fear_props/monitor.sw.vtx
f.e.a.r/models/comrade/fear_props/dom3.dx90.vtx
f.e.a.r/models/comrade/fear_props/phone.sw.vtx
f.e.a.r/models/comrade/fear_props/car3.vvd
f.e.a.r/models/comrade/fear_props/stepler.mdl
f.e.a.r/models/comrade/fear_props/korobka.dx80.vtx
f.e.a.r/models/comrade/fear_props/radio.dx90.vtx
f.e.a.r/models/comrade/fear_props/notebook4.vvd
f.e.a.r/models/comrade/fear_props/stul.vvd
f.e.a.r/models/comrade/fear_props/pribor2.vvd
f.e.a.r/models/comrade/fear_props/monitor.dx80.vtx
f.e.a.r/models/comrade/fear_props/notebook3.vvd
f.e.a.r/models/comrade/fear_props/teh3.mdl
f.e.a.r/models/comrade/fear_props/microvol.dx80.vtx
f.e.a.r/models/comrade/fear_props/car2.mdl
f.e.a.r/models/comrade/fear_props/hawk2.vvd
f.e.a.r/models/comrade/fear_props/jurnal.vvd
f.e.a.r/models/comrade/fear_props/kaktus.dx90.vtx
f.e.a.r/models/comrade/fear_props/arsenal.dx90.vtx
f.e.a.r/models/comrade/fear_props/kofemat.vvd
f.e.a.r/models/comrade/fear_props/phone2.sw.vtx
f.e.a.r/models/comrade/fear_props/hawk.mdl
f.e.a.r/models/comrade/fear_props/pribor2.dx90.vtx
f.e.a.r/models/comrade/fear_props/teh2.dx80.vtx
f.e.a.r/models/comrade/fear_props/hawk.phy
f.e.a.r/models/comrade/fear_props/avtomat.mdl
f.e.a.r/models/comrade/fear_props/parashut.dx90.vtx
f.e.a.r/models/comrade/fear_props/sistemnik.sw.vtx
f.e.a.r/models/comrade/fear_props/notebook3.sw.vtx
f.e.a.r/models/comrade/fear_props/monitor3.mdl
f.e.a.r/models/comrade/fear_props/yash1.dx90.vtx
f.e.a.r/models/comrade/fear_props/arsenal.mdl
f.e.a.r/models/comrade/fear_props/keyboard.dx80.vtx
f.e.a.r/models/comrade/fear_props/radio.dx80.vtx
f.e.a.r/models/comrade/fear_props/parashut.mdl
f.e.a.r/models/comrade/fear_props/car4.vvd
f.e.a.r/models/comrade/fear_props/arsenal.dx80.vtx
f.e.a.r/models/comrade/fear_props/notebook3.mdl
f.e.a.r/models/comrade/fear_props/car5.dx90.vtx
f.e.a.r/models/comrade/fear_props/yash1.dx80.vtx
f.e.a.r/models/comrade/fear_props/ognetush.dx90.vtx
f.e.a.r/models/comrade/fear_props/avtomat.dx80.vtx
f.e.a.r/models/comrade/fear_props/armor.dx80.vtx
f.e.a.r/models/comrade/fear_props/pribor.phy
f.e.a.r/models/comrade/fear_props/hawk.dx90.vtx
f.e.a.r/models/comrade/fear_props/radio.sw.vtx
f.e.a.r/models/comrade/fear_props/atc.sw.vtx
f.e.a.r/models/comrade/fear_props/bochka.phy
f.e.a.r/models/comrade/fear_props/kaktus3.dx90.vtx
f.e.a.r/models/comrade/fear_props/car.dx90.vtx
f.e.a.r/models/comrade/fear_props/sistemnik2.sw.vtx
f.e.a.r/models/comrade/fear_props/air.vvd
f.e.a.r/models/comrade/fear_props/monitor.mdl
f.e.a.r/models/comrade/fear_props/air2.phy
f.e.a.r/models/comrade/fear_props/armor.sw.vtx
f.e.a.r/models/comrade/fear_props/phone2.mdl
f.e.a.r/models/comrade/fear_props/teh2.phy
f.e.a.r/models/comrade/fear_props/pribor.vvd
f.e.a.r/models/comrade/fear_props/teh1.mdl
f.e.a.r/models/comrade/fear_props/avtomat.dx90.vtx
f.e.a.r/models/comrade/fear_props/kaktus3.sw.vtx
f.e.a.r/models/comrade/fear_props/med.dx80.vtx
f.e.a.r/models/comrade/fear_props/dom4.dx80.vtx
f.e.a.r/models/comrade/fear_props/flash.vvd
f.e.a.r/models/comrade/fear_props/mobila.dx90.vtx
f.e.a.r/models/comrade/fear_props/med2.mdl
f.e.a.r/models/comrade/fear_props/dom.mdl
f.e.a.r/models/comrade/fear_props/printer.dx90.vtx
f.e.a.r/models/comrade/fear_props/armor.phy
f.e.a.r/models/comrade/fear_props/truck.mdl
f.e.a.r/models/comrade/fear_props/dom3.mdl
f.e.a.r/models/comrade/fear_props/mi24.vvd
f.e.a.r/models/comrade/fear_props/kofemat.phy
f.e.a.r/models/comrade/fear_props/notebook4.dx90.vtx
f.e.a.r/models/comrade/fear_props/parashut.dx80.vtx
f.e.a.r/models/comrade/fear_props/notebook5.phy
f.e.a.r/models/comrade/fear_props/sistemnik2.dx90.vtx
f.e.a.r/models/comrade/fear_props/avtomat.phy
f.e.a.r/models/comrade/fear_props/jurnal.dx80.vtx
f.e.a.r/models/comrade/fear_props/teh2.dx90.vtx
f.e.a.r/models/comrade/fear_props/car5.phy
f.e.a.r/models/comrade/fear_props/teh3.dx80.vtx
f.e.a.r/models/comrade/fear_props/ognetush.mdl
f.e.a.r/models/comrade/fear_props/car.mdl
f.e.a.r/models/comrade/fear_props/yachik.vvd
f.e.a.r/models/comrade/fear_props/car5.dx80.vtx
f.e.a.r/models/comrade/fear_props/vaza.dx90.vtx
f.e.a.r/models/comrade/fear_props/pribor.sw.vtx
f.e.a.r/models/comrade/fear_props/dom4.phy
f.e.a.r/models/comrade/fear_props/krushka2.dx80.vtx
f.e.a.r/models/comrade/fear_props/jurnal2.sw.vtx
f.e.a.r/models/comrade/fear_props/teh4.sw.vtx
f.e.a.r/models/comrade/fear_props/kofemat.dx90.vtx
f.e.a.r/models/comrade/fear_props/hawk.dx80.vtx
f.e.a.r/models/comrade/fear_props/notebook2.phy
f.e.a.r/models/comrade/fear_props/printer2.phy
f.e.a.r/models/comrade/fear_props/arsenal.vvd
f.e.a.r/models/comrade/fear_props/gruz.mdl
f.e.a.r/models/comrade/fear_props/monitor2.sw.vtx
f.e.a.r/models/comrade/fear_props/kaktus3.vvd
f.e.a.r/models/comrade/fear_props/krushka.dx80.vtx
f.e.a.r/models/comrade/fear_props/yachik.dx80.vtx
f.e.a.r/models/comrade/fear_props/atc2.mdl
f.e.a.r/models/comrade/fear_props/stepler.sw.vtx
f.e.a.r/models/comrade/fear_props/pribor2.dx80.vtx
f.e.a.r/models/comrade/fear_props/krushka2.mdl
f.e.a.r/models/comrade/fear_props/mouse.dx90.vtx
f.e.a.r/models/comrade/fear_props/vaza.vvd
f.e.a.r/models/comrade/fear_props/hawk.vvd
f.e.a.r/models/comrade/fear_props/car5.vvd
f.e.a.r/models/comrade/fear_props/sistemnik.phy
f.e.a.r/models/comrade/fear_props/teh4.mdl
f.e.a.r/models/comrade/fear_props/car4.phy
f.e.a.r/models/comrade/fear_props/shitok.vvd
f.e.a.r/models/comrade/fear_props/monitor2.dx80.vtx
f.e.a.r/models/comrade/fear_props/pribor3.dx80.vtx
f.e.a.r/models/comrade/fear_props/yachik.mdl
f.e.a.r/models/comrade/fear_props/monitor.vvd
f.e.a.r/models/comrade/fear_props/mouse.vvd
f.e.a.r/models/comrade/fear_props/teh5.sw.vtx
f.e.a.r/models/comrade/fear_props/notebook5.sw.vtx
f.e.a.r/models/comrade/fear_props/kaktus.phy
f.e.a.r/models/comrade/fear_props/keyboard2.dx80.vtx
f.e.a.r/models/comrade/fear_props/microvol.dx90.vtx
f.e.a.r/models/comrade/fear_props/sistemnik2.phy
f.e.a.r/models/comrade/fear_props/krushka.mdl
f.e.a.r/models/comrade/fear_props/gruz.sw.vtx
f.e.a.r/models/comrade/fear_props/atc.mdl
f.e.a.r/models/comrade/fear_props/stul.dx90.vtx
f.e.a.r/models/comrade/fear_props/phone2.dx80.vtx
f.e.a.r/models/comrade/fear_props/medic.phy
f.e.a.r/models/comrade/fear_props/dom2.dx90.vtx
f.e.a.r/models/comrade/fear_props/medkit.phy
f.e.a.r/models/comrade/fear_props/monitor2.mdl
f.e.a.r/models/comrade/fear_props/car3.dx80.vtx
f.e.a.r/models/comrade/fear_props/air2.dx90.vtx
f.e.a.r/models/comrade/fear_props/bochka.dx80.vtx
f.e.a.r/models/comrade/fear_props/car.sw.vtx
f.e.a.r/models/comrade/fear_props/air.sw.vtx
f.e.a.r/models/comrade/fear_props/air.dx90.vtx
f.e.a.r/models/comrade/fear_props/printer2.dx80.vtx
f.e.a.r/models/comrade/fear_props/bochka.dx90.vtx
f.e.a.r/models/comrade/fear_props/mouse.dx80.vtx
f.e.a.r/models/comrade/fear_props/sistemnik2.dx80.vtx
f.e.a.r/models/comrade/fear_props/medkit.dx90.vtx
f.e.a.r/models/comrade/fear_props/car2.phy
f.e.a.r/models/comrade/fear_props/mi24.dx80.vtx
f.e.a.r/models/comrade/fear_props/arsenal.sw.vtx
f.e.a.r/models/comrade/fear_props/mobila.sw.vtx
f.e.a.r/models/comrade/fear_props/truck.sw.vtx
f.e.a.r/models/comrade/fear_props/teh5.dx90.vtx
f.e.a.r/models/comrade/fear_props/teh3.sw.vtx
f.e.a.r/models/comrade/fear_props/phone.vvd
f.e.a.r/models/comrade/fear_props/medic.sw.vtx
f.e.a.r/models/comrade/fear_props/dom3.sw.vtx
f.e.a.r/models/comrade/fear_props/hawk2.sw.vtx
f.e.a.r/models/comrade/fear_props/keyboard.vvd
f.e.a.r/models/comrade/fear_props/hawk2.phy
f.e.a.r/models/comrade/fear_props/korobka.sw.vtx
f.e.a.r/models/comrade/fear_props/chips.dx90.vtx
f.e.a.r/models/comrade/fear_props/teh4.dx90.vtx
f.e.a.r/models/comrade/fear_props/monitor2.vvd
f.e.a.r/models/comrade/fear_props/gruz.dx80.vtx
f.e.a.r/models/comrade/fear_props/notebook2.mdl
f.e.a.r/models/comrade/fear_props/hawk.sw.vtx
f.e.a.r/models/comrade/fear_props/jurnal.phy
f.e.a.r/models/comrade/fear_props/kaktus.dx80.vtx
f.e.a.r/models/comrade/fear_props/pribor3.dx90.vtx
f.e.a.r/models/comrade/fear_props/monitor2.phy
f.e.a.r/models/comrade/fear_props/teh4.vvd
f.e.a.r/models/comrade/fear_props/notebook4.phy
f.e.a.r/models/comrade/fear_props/teh1.sw.vtx
f.e.a.r/models/comrade/fear_props/medic.dx80.vtx
f.e.a.r/models/comrade/fear_props/monitor.phy
f.e.a.r/models/comrade/fear_props/stepler.dx90.vtx
f.e.a.r/models/comrade/fear_props/printer2.dx90.vtx
f.e.a.r/models/comrade/fear_props/shitok.mdl
f.e.a.r/models/comrade/fear_props/ognetush.dx80.vtx
f.e.a.r/models/comrade/fear_props/keyboard2.dx90.vtx
f.e.a.r/models/comrade/fear_props/yash1.phy
f.e.a.r/models/comrade/fear_props/medic.vvd
f.e.a.r/models/comrade/fear_props/medic.dx90.vtx
f.e.a.r/models/comrade/fear_props/car4.sw.vtx
f.e.a.r/models/comrade/fear_props/shitok.sw.vtx
f.e.a.r/models/comrade/fear_props/car2.sw.vtx
f.e.a.r/models/comrade/fear_props/car.dx80.vtx
f.e.a.r/models/comrade/fear_props/keyboard.sw.vtx
f.e.a.r/models/comrade/fear_props/sistemnik2.mdl
f.e.a.r/models/comrade/fear_props/medkit.vvd
f.e.a.r/models/comrade/fear_props/dom.vvd
f.e.a.r/models/comrade/fear_props/chips.vvd
f.e.a.r/models/comrade/fear_props/teh3.dx90.vtx
f.e.a.r/models/comrade/fear_props/armor.mdl
f.e.a.r/models/comrade/fear_props/phone2.phy
f.e.a.r/models/comrade/fear_props/car5.mdl
f.e.a.r/models/comrade/fear_props/jurnal.dx90.vtx
f.e.a.r/models/comrade/fear_props/monitor3.sw.vtx
f.e.a.r/models/comrade/fear_props/phone.mdl
f.e.a.r/models/comrade/fear_props/notebook.vvd
f.e.a.r/models/comrade/fear_props/keyboard.phy
f.e.a.r/models/comrade/fear_props/truck.phy
f.e.a.r/models/comrade/fear_props/printer2.vvd
f.e.a.r/models/comrade/fear_props/kofemat.dx80.vtx
f.e.a.r/models/comrade/fear_props/krushka2.vvd
f.e.a.r/models/comrade/fear_props/ognetush.vvd
f.e.a.r/models/comrade/fear_props/mobila.mdl
f.e.a.r/models/comrade/fear_props/mi24.dx90.vtx
f.e.a.r/models/comrade/fear_props/notebook4.dx80.vtx
f.e.a.r/models/comrade/fear_props/yachik.phy
f.e.a.r/models/comrade/fear_props/teh4.phy
f.e.a.r/models/comrade/fear_props/jurnal2.phy
f.e.a.r/models/comrade/fear_props/printer.sw.vtx
f.e.a.r/models/comrade/fear_props/krushka2.dx90.vtx
f.e.a.r/models/comrade/fear_props/car.phy
f.e.a.r/models/comrade/fear_props/car4.dx90.vtx
f.e.a.r/models/comrade/fear_props/krushka.dx90.vtx
f.e.a.r/models/comrade/fear_props/notebook2.sw.vtx
f.e.a.r/models/comrade/fear_props/flash.dx80.vtx
f.e.a.r/models/comrade/fear_props/kaktus2.dx80.vtx
f.e.a.r/models/comrade/fear_props/med2.phy
f.e.a.r/models/comrade/fear_props/keyboard2.sw.vtx
f.e.a.r/models/comrade/fear_props/dom.phy
f.e.a.r/models/comrade/fear_props/med2.vvd
f.e.a.r/models/comrade/fear_props/med.dx90.vtx
f.e.a.r/models/comrade/fear_props/phone.phy
f.e.a.r/models/comrade/fear_props/dom2.phy
f.e.a.r/models/comrade/fear_props/monitor3.phy
f.e.a.r/models/comrade/fear_props/bochka.mdl
f.e.a.r/models/comrade/fear_props/dom4.mdl
f.e.a.r/models/comrade/fear_props/printer.vvd
f.e.a.r/models/comrade/fear_props/air.phy
f.e.a.r/models/comrade/fear_props/atc.dx90.vtx
f.e.a.r/models/comrade/fear_props/notebook3.dx90.vtx
f.e.a.r/models/comrade/fear_props/notebook4.mdl
f.e.a.r/models/comrade/fear_props/microvol.mdl
f.e.a.r/models/comrade/fear_props/krushka.sw.vtx
f.e.a.r/models/comrade/fear_props/med.mdl
f.e.a.r/models/comrade/fear_props/teh1.vvd
f.e.a.r/models/comrade/fear_props/med.phy
f.e.a.r/models/comrade/fear_props/air2.vvd
f.e.a.r/models/comrade/fear_props/teh1.dx80.vtx
f.e.a.r/models/comrade/fear_props/krushka2.phy
f.e.a.r/models/comrade/fear_props/atc2.phy
f.e.a.r/models/comrade/fear_props/flash.sw.vtx
f.e.a.r/models/comrade/fear_props/avtomat.vvd
f.e.a.r/models/comrade/fear_props/pribor2.phy
f.e.a.r/models/comrade/fear_props/jurnal.sw.vtx
f.e.a.r/models/comrade/fear_props/car3.mdl
f.e.a.r/models/comrade/fear_props/yash1.vvd
f.e.a.r/models/comrade/fear_props/teh1.phy
f.e.a.r/models/comrade/fear_props/dom4.sw.vtx
f.e.a.r/models/comrade/fear_props/atc2.vvd
f.e.a.r/models/comrade/fear_props/radio.mdl
f.e.a.r/models/comrade/fear_props/notebook3.phy
f.e.a.r/models/comrade/fear_props/jurnal2.dx80.vtx
f.e.a.r/models/comrade/fear_props/dom3.phy
f.e.a.r/models/comrade/fear_props/chips.phy
f.e.a.r/models/comrade/fear_props/pribor.dx90.vtx
f.e.a.r/models/comrade/fear_props/atc.phy
f.e.a.r/models/comrade/fear_props/teh2.sw.vtx
f.e.a.r/models/comrade/fear_props/phone.dx90.vtx
f.e.a.r/models/comrade/fear_props/keyboard2.mdl
f.e.a.r/models/comrade/fear_props/sistemnik.mdl
f.e.a.r/models/comrade/atc_dead/gibs3.vvd
f.e.a.r/models/comrade/atc_dead/gibs3.mdl
f.e.a.r/models/comrade/atc_dead/gibs_reference3.mdl
f.e.a.r/models/comrade/atc_dead/gibs_head.phy
f.e.a.r/models/comrade/atc_dead/gibs_reference3.sw.vtx
f.e.a.r/models/comrade/atc_dead/gibs_head2.mdl
f.e.a.r/models/comrade/atc_dead/gibs_head.sw.vtx
f.e.a.r/models/comrade/atc_dead/gibs_head2.vvd
f.e.a.r/models/comrade/atc_dead/gibs_reference2.dx90.vtx
f.e.a.r/models/comrade/atc_dead/gibs_reference3.dx80.vtx
f.e.a.r/models/comrade/atc_dead/gibs_hand2.dx80.vtx
f.e.a.r/models/comrade/atc_dead/gibs_reference.vvd
f.e.a.r/models/comrade/atc_dead/gibs_reference2.dx80.vtx
f.e.a.r/models/comrade/atc_dead/gibs_hand2.vvd
f.e.a.r/models/comrade/atc_dead/gibs_hand2.sw.vtx
f.e.a.r/models/comrade/atc_dead/gibs_hand.vvd
f.e.a.r/models/comrade/atc_dead/gibs_reference.dx80.vtx
f.e.a.r/models/comrade/atc_dead/gibs5.sw.vtx
f.e.a.r/models/comrade/atc_dead/gibs2.mdl
f.e.a.r/models/comrade/atc_dead/gibs_head2.dx80.vtx
f.e.a.r/models/comrade/atc_dead/gibs4.dx90.vtx
f.e.a.r/models/comrade/atc_dead/gibs_reference2.vvd
f.e.a.r/models/comrade/atc_dead/gibs.phy
f.e.a.r/models/comrade/atc_dead/gibs_reference3.dx90.vtx
f.e.a.r/models/comrade/atc_dead/gibs3.phy
f.e.a.r/models/comrade/atc_dead/gibs_reference3.vvd
f.e.a.r/models/comrade/atc_dead/gibs3.dx80.vtx
f.e.a.r/models/comrade/atc_dead/gibs_hand2.phy
f.e.a.r/models/comrade/atc_dead/gibs2.sw.vtx
f.e.a.r/models/comrade/atc_dead/gibs5.vvd
f.e.a.r/models/comrade/atc_dead/gibs_hand.phy
f.e.a.r/models/comrade/atc_dead/gibs4.mdl
f.e.a.r/models/comrade/atc_dead/gibs5.dx80.vtx
f.e.a.r/models/comrade/atc_dead/gibs_hand2.dx90.vtx
f.e.a.r/models/comrade/atc_dead/gibs3.sw.vtx
f.e.a.r/models/comrade/atc_dead/gibs.dx90.vtx
f.e.a.r/models/comrade/atc_dead/gibs_reference2.mdl
f.e.a.r/models/comrade/atc_dead/gibs.dx80.vtx
f.e.a.r/models/comrade/atc_dead/gibs4.dx80.vtx
f.e.a.r/models/comrade/atc_dead/gibs_head.dx90.vtx
f.e.a.r/models/comrade/atc_dead/gibs.vvd
f.e.a.r/models/comrade/atc_dead/gibs2.dx80.vtx
f.e.a.r/models/comrade/atc_dead/gibs_head2.phy
f.e.a.r/models/comrade/atc_dead/gibs5.dx90.vtx
f.e.a.r/models/comrade/atc_dead/gibs5.phy
f.e.a.r/models/comrade/atc_dead/gibs2.phy
f.e.a.r/models/comrade/atc_dead/gibs4.sw.vtx
f.e.a.r/models/comrade/atc_dead/gibs.sw.vtx
f.e.a.r/models/comrade/atc_dead/gibs_hand.dx90.vtx
f.e.a.r/models/comrade/atc_dead/gibs_head.mdl
f.e.a.r/models/comrade/atc_dead/gibs4.vvd
f.e.a.r/models/comrade/atc_dead/gibs_hand.dx80.vtx
f.e.a.r/models/comrade/atc_dead/gibs_head2.sw.vtx
f.e.a.r/models/comrade/atc_dead/gibs_head.dx80.vtx
f.e.a.r/models/comrade/atc_dead/gibs3.dx90.vtx
f.e.a.r/models/comrade/atc_dead/gibs_reference.dx90.vtx
f.e.a.r/models/comrade/atc_dead/gibs_reference2.sw.vtx
f.e.a.r/models/comrade/atc_dead/gibs4.phy
f.e.a.r/models/comrade/atc_dead/gibs_hand.mdl
f.e.a.r/models/comrade/atc_dead/gibs_reference.sw.vtx
f.e.a.r/models/comrade/atc_dead/gibs_reference2.phy
f.e.a.r/models/comrade/atc_dead/gibs_reference.phy
f.e.a.r/models/comrade/atc_dead/gibs_reference3.phy
f.e.a.r/models/comrade/atc_dead/gibs_head.vvd
f.e.a.r/models/comrade/atc_dead/gibs.mdl
f.e.a.r/models/comrade/atc_dead/gibs_hand.sw.vtx
f.e.a.r/models/comrade/atc_dead/gibs_reference.mdl
f.e.a.r/models/comrade/atc_dead/gibs2.dx90.vtx
f.e.a.r/models/comrade/atc_dead/gibs2.vvd
f.e.a.r/models/comrade/atc_dead/gibs_hand2.mdl
f.e.a.r/models/comrade/atc_dead/gibs5.mdl
f.e.a.r/models/comrade/atc_dead/gibs_head2.dx90.vtx
f.e.a.r/models/comrade/weapons/w_ves.sw.vtx
f.e.a.r/models/comrade/weapons/v_claws.mdl
f.e.a.r/models/comrade/weapons/v_claws.sw.vtx
f.e.a.r/models/comrade/weapons/w_ves.vvd
f.e.a.r/models/comrade/weapons/w_ves.dx90.vtx
f.e.a.r/models/comrade/weapons/v_claws.dx80.vtx
f.e.a.r/models/comrade/weapons/w_ves.mdl
f.e.a.r/models/comrade/weapons/w_ves.dx80.vtx
f.e.a.r/models/comrade/weapons/v_claws.vvd
f.e.a.r/models/comrade/weapons/v_claws.dx90.vtx
f.e.a.r/models/comrade/weapons/w_ves.phy
f.e.a.r/models/comrade/weapons/fear/w_vulcane.dx80.vtx
f.e.a.r/models/comrade/weapons/fear/c_pist.vvd
f.e.a.r/models/comrade/weapons/fear/v_tesla.sw.vtx
f.e.a.r/models/comrade/weapons/fear/v_asp.sw.vtx
f.e.a.r/models/comrade/weapons/fear/v_laser.dx80.vtx
f.e.a.r/models/comrade/weapons/fear/w_vulcan.dx90.vtx
f.e.a.r/models/comrade/weapons/fear/v_rpg.vvd
f.e.a.r/models/comrade/weapons/fear/w_spas.dx80.vtx
f.e.a.r/models/comrade/weapons/fear/v_smg.vvd
f.e.a.r/models/comrade/weapons/fear/w_laser.vvd
f.e.a.r/models/comrade/weapons/fear/w_spas.sw.vtx
f.e.a.r/models/comrade/weapons/fear/v_bomb.mdl
f.e.a.r/models/comrade/weapons/fear/v_at14_duble.vvd
f.e.a.r/models/comrade/weapons/fear/v_at14_duble.dx90.vtx
f.e.a.r/models/comrade/weapons/fear/v_at14.dx90.vtx
f.e.a.r/models/comrade/weapons/fear/w_neilgun.vvd
f.e.a.r/models/comrade/weapons/fear/c_pist.dx90.vtx
f.e.a.r/models/comrade/weapons/fear/c_mine.dx80.vtx
f.e.a.r/models/comrade/weapons/fear/v_bomb.sw.vtx
f.e.a.r/models/comrade/weapons/fear/v_neil2.dx90.vtx
f.e.a.r/models/comrade/weapons/fear/v_neil2.sw.vtx
f.e.a.r/models/comrade/weapons/fear/v_spas.sw.vtx
f.e.a.r/models/comrade/weapons/fear/w_asp.sw.vtx
f.e.a.r/models/comrade/weapons/fear/w_rpg.sw.vtx
f.e.a.r/models/comrade/weapons/fear/v_minigun.sw.vtx
f.e.a.r/models/comrade/weapons/fear/v_type7.dx90.vtx
f.e.a.r/models/comrade/weapons/fear/w_50mm.dx80.vtx
f.e.a.r/models/comrade/weapons/fear/v_bomb.dx80.vtx
f.e.a.r/models/comrade/weapons/fear/v_rg.sw.vtx
f.e.a.r/models/comrade/weapons/fear/w_50mm.vvd
f.e.a.r/models/comrade/weapons/fear/v_rg.dx80.vtx
f.e.a.r/models/comrade/weapons/fear/c_mine.mdl
f.e.a.r/models/comrade/weapons/fear/w_smg.mdl
f.e.a.r/models/comrade/weapons/fear/c_pist.dx80.vtx
f.e.a.r/models/comrade/weapons/fear/w_at14_duble.mdl
f.e.a.r/models/comrade/weapons/fear/w_vulcan.vvd
f.e.a.r/models/comrade/weapons/fear/w_rpg.vvd
f.e.a.r/models/comrade/weapons/fear/v_at14.mdl
f.e.a.r/models/comrade/weapons/fear/w_rpg.dx90.vtx
f.e.a.r/models/comrade/weapons/fear/w_laser.sw.vtx
f.e.a.r/models/comrade/weapons/fear/w_spas.dx90.vtx
f.e.a.r/models/comrade/weapons/fear/w_rg.dx80.vtx
f.e.a.r/models/comrade/weapons/fear/v_tesla.dx90.vtx
f.e.a.r/models/comrade/weapons/fear/w_mine.mdl
f.e.a.r/models/comrade/weapons/fear/v_bomb.vvd
f.e.a.r/models/comrade/weapons/fear/v_neil2.dx80.vtx
f.e.a.r/models/comrade/weapons/fear/w_mine2.dx80.vtx
f.e.a.r/models/comrade/weapons/fear/w_miniguno.vvd
f.e.a.r/models/comrade/weapons/fear/v_spas.mdl
f.e.a.r/models/comrade/weapons/fear/v_at14_duble.sw.vtx
f.e.a.r/models/comrade/weapons/fear/v_g2a2.dx90.vtx
f.e.a.r/models/comrade/weapons/fear/w_smg.dx90.vtx
f.e.a.r/models/comrade/weapons/fear/w_at14.sw.vtx
f.e.a.r/models/comrade/weapons/fear/shield.phy
f.e.a.r/models/comrade/weapons/fear/v_at14.vvd
f.e.a.r/models/comrade/weapons/fear/v_ves.sw.vtx
f.e.a.r/models/comrade/weapons/fear/w_grenade.dx80.vtx
f.e.a.r/models/comrade/weapons/fear/w_smg.vvd
f.e.a.r/models/comrade/weapons/fear/w_at14_duble.vvd
f.e.a.r/models/comrade/weapons/fear/w_miniguno.dx80.vtx
f.e.a.r/models/comrade/weapons/fear/w_neil.phy
f.e.a.r/models/comrade/weapons/fear/v_laser.vvd
f.e.a.r/models/comrade/weapons/fear/w_vulcan.sw.vtx
f.e.a.r/models/comrade/weapons/fear/w_rpg.dx80.vtx
f.e.a.r/models/comrade/weapons/fear/v_type7.sw.vtx
f.e.a.r/models/comrade/weapons/fear/w_miniguno.phy
f.e.a.r/models/comrade/weapons/fear/v_smg.mdl
f.e.a.r/models/comrade/weapons/fear/v_neil2.vvd
f.e.a.r/models/comrade/weapons/fear/v_minigun.mdl
f.e.a.r/models/comrade/weapons/fear/w_smg.dx80.vtx
f.e.a.r/models/comrade/weapons/fear/w_at14.mdl
f.e.a.r/models/comrade/weapons/fear/w_rg.dx90.vtx
f.e.a.r/models/comrade/weapons/fear/w_vulcane.mdl
f.e.a.r/models/comrade/weapons/fear/w_tesla.sw.vtx
f.e.a.r/models/comrade/weapons/fear/w_grenade.sw.vtx
f.e.a.r/models/comrade/weapons/fear/v_rg.mdl
f.e.a.r/models/comrade/weapons/fear/w_tesla.phy
f.e.a.r/models/comrade/weapons/fear/w_spas.mdl
f.e.a.r/models/comrade/weapons/fear/w_miniguno.mdl
f.e.a.r/models/comrade/weapons/fear/w_at14_duble.dx90.vtx
f.e.a.r/models/comrade/weapons/fear/c_mine.vvd
f.e.a.r/models/comrade/weapons/fear/v_laser.sw.vtx
f.e.a.r/models/comrade/weapons/fear/w_laser.dx80.vtx
f.e.a.r/models/comrade/weapons/fear/w_g2a2.mdl
f.e.a.r/models/comrade/weapons/fear/w_neilgun.phy
f.e.a.r/models/comrade/weapons/fear/v_rpg.mdl
f.e.a.r/models/comrade/weapons/fear/w_neil.dx80.vtx
f.e.a.r/models/comrade/weapons/fear/w_rg.phy
f.e.a.r/models/comrade/weapons/fear/c_mine.sw.vtx
f.e.a.r/models/comrade/weapons/fear/v_50mm.dx90.vtx
f.e.a.r/models/comrade/weapons/fear/w_type7.dx80.vtx
f.e.a.r/models/comrade/weapons/fear/v_50mm.sw.vtx
f.e.a.r/models/comrade/weapons/fear/w_type7.mdl
f.e.a.r/models/comrade/weapons/fear/w_neil.vvd
f.e.a.r/models/comrade/weapons/fear/w_rg.vvd
f.e.a.r/models/comrade/weapons/fear/w_tesla.mdl
f.e.a.r/models/comrade/weapons/fear/v_type7.dx80.vtx
f.e.a.r/models/comrade/weapons/fear/w_vulcan.dx80.vtx
f.e.a.r/models/comrade/weapons/fear/w_g2a2.sw.vtx
f.e.a.r/models/comrade/weapons/fear/w_neil.mdl
f.e.a.r/models/comrade/weapons/fear/v_at14.dx80.vtx
f.e.a.r/models/comrade/weapons/fear/v_g2a2.vvd
f.e.a.r/models/comrade/weapons/fear/c_pist.mdl
f.e.a.r/models/comrade/weapons/fear/w_asp.mdl
f.e.a.r/models/comrade/weapons/fear/v_50mm.mdl
f.e.a.r/models/comrade/weapons/fear/w_smg.phy
f.e.a.r/models/comrade/weapons/fear/c_mine.dx90.vtx
f.e.a.r/models/comrade/weapons/fear/w_rg.mdl
f.e.a.r/models/comrade/weapons/fear/v_neil.dx80.vtx
f.e.a.r/models/comrade/weapons/fear/w_grenade.dx90.vtx
f.e.a.r/models/comrade/weapons/fear/w_at14.vvd
f.e.a.r/models/comrade/weapons/fear/w_neilgun.sw.vtx
f.e.a.r/models/comrade/weapons/fear/v_ves.dx80.vtx
f.e.a.r/models/comrade/weapons/fear/v_smg.dx80.vtx
f.e.a.r/models/comrade/weapons/fear/w_mine2.dx90.vtx
f.e.a.r/models/comrade/weapons/fear/v_minigun.dx80.vtx
f.e.a.r/models/comrade/weapons/fear/v_mine.vvd
f.e.a.r/models/comrade/weapons/fear/w_50mm.sw.vtx
f.e.a.r/models/comrade/weapons/fear/w_50mm.mdl
f.e.a.r/models/comrade/weapons/fear/w_tesla.dx80.vtx
f.e.a.r/models/comrade/weapons/fear/w_vulcane.phy
f.e.a.r/models/comrade/weapons/fear/v_spas.dx80.vtx
f.e.a.r/models/comrade/weapons/fear/c_pist.sw.vtx
f.e.a.r/models/comrade/weapons/fear/shield.dx90.vtx
f.e.a.r/models/comrade/weapons/fear/w_neilgun.dx80.vtx
f.e.a.r/models/comrade/weapons/fear/w_grenade.mdl
f.e.a.r/models/comrade/weapons/fear/v_mine.mdl
f.e.a.r/models/comrade/weapons/fear/w_g2a2.vvd
f.e.a.r/models/comrade/weapons/fear/w_vulcane.dx90.vtx
f.e.a.r/models/comrade/weapons/fear/w_mine2.mdl
f.e.a.r/models/comrade/weapons/fear/v_rg.vvd
f.e.a.r/models/comrade/weapons/fear/w_laser.mdl
f.e.a.r/models/comrade/weapons/fear/w_50mm.phy
f.e.a.r/models/comrade/weapons/fear/w_neil.dx90.vtx
f.e.a.r/models/comrade/weapons/fear/v_neil.sw.vtx
f.e.a.r/models/comrade/weapons/fear/w_vulcane.sw.vtx
f.e.a.r/models/comrade/weapons/fear/w_mine2.phy
f.e.a.r/models/comrade/weapons/fear/v_at14_duble.dx80.vtx
f.e.a.r/models/comrade/weapons/fear/w_vulcan.phy
f.e.a.r/models/comrade/weapons/fear/w_miniguno.dx90.vtx
f.e.a.r/models/comrade/weapons/fear/w_type7.dx90.vtx
f.e.a.r/models/comrade/weapons/fear/v_rpg.dx90.vtx
f.e.a.r/models/comrade/weapons/fear/v_tesla.vvd
f.e.a.r/models/comrade/weapons/fear/v_g2a2.mdl
f.e.a.r/models/comrade/weapons/fear/w_spas.phy
f.e.a.r/models/comrade/weapons/fear/v_mine.dx80.vtx
f.e.a.r/models/comrade/weapons/fear/w_smg.sw.vtx
f.e.a.r/models/comrade/weapons/fear/v_at14.sw.vtx
f.e.a.r/models/comrade/weapons/fear/v_laser.dx90.vtx
f.e.a.r/models/comrade/weapons/fear/w_g2a2.dx80.vtx
f.e.a.r/models/comrade/weapons/fear/v_type7.vvd
f.e.a.r/models/comrade/weapons/fear/v_rpg.dx80.vtx
f.e.a.r/models/comrade/weapons/fear/v_asp.vvd
f.e.a.r/models/comrade/weapons/fear/w_rpg.phy
f.e.a.r/models/comrade/weapons/fear/w_type7.vvd
f.e.a.r/models/comrade/weapons/fear/w_type7.sw.vtx
f.e.a.r/models/comrade/weapons/fear/w_mine.sw.vtx
f.e.a.r/models/comrade/weapons/fear/w_laser.dx90.vtx
f.e.a.r/models/comrade/weapons/fear/w_at14_duble.dx80.vtx
f.e.a.r/models/comrade/weapons/fear/v_mine.dx90.vtx
f.e.a.r/models/comrade/weapons/fear/v_asp.dx90.vtx
f.e.a.r/models/comrade/weapons/fear/v_tesla.dx80.vtx
f.e.a.r/models/comrade/weapons/fear/w_mine.vvd
f.e.a.r/models/comrade/weapons/fear/w_mine2.sw.vtx
f.e.a.r/models/comrade/weapons/fear/v_rpg.sw.vtx
f.e.a.r/models/comrade/weapons/fear/v_ves.vvd
f.e.a.r/models/comrade/weapons/fear/w_asp.dx90.vtx
f.e.a.r/models/comrade/weapons/fear/w_miniguno.sw.vtx
f.e.a.r/models/comrade/weapons/fear/v_spas.vvd
f.e.a.r/models/comrade/weapons/fear/w_at14_duble.phy
f.e.a.r/models/comrade/weapons/fear/w_g2a2.phy
f.e.a.r/models/comrade/weapons/fear/v_bomb.dx90.vtx
f.e.a.r/models/comrade/weapons/fear/v_rg.dx90.vtx
f.e.a.r/models/comrade/weapons/fear/w_rpg.mdl
f.e.a.r/models/comrade/weapons/fear/v_50mm.dx80.vtx
f.e.a.r/models/comrade/weapons/fear/v_neil.vvd
f.e.a.r/models/comrade/weapons/fear/w_at14.dx90.vtx
f.e.a.r/models/comrade/weapons/fear/shield.mdl
f.e.a.r/models/comrade/weapons/fear/w_neil.sw.vtx
f.e.a.r/models/comrade/weapons/fear/w_at14.phy
f.e.a.r/models/comrade/weapons/fear/w_spas.vvd
f.e.a.r/models/comrade/weapons/fear/v_g2a2.sw.vtx
f.e.a.r/models/comrade/weapons/fear/w_neilgun.dx90.vtx
f.e.a.r/models/comrade/weapons/fear/v_ves.mdl
f.e.a.r/models/comrade/weapons/fear/shield.sw.vtx
f.e.a.r/models/comrade/weapons/fear/w_laser.phy
f.e.a.r/models/comrade/weapons/fear/v_50mm.vvd
f.e.a.r/models/comrade/weapons/fear/w_vulcane.vvd
f.e.a.r/models/comrade/weapons/fear/v_tesla.mdl
f.e.a.r/models/comrade/weapons/fear/w_asp.dx80.vtx
f.e.a.r/models/comrade/weapons/fear/v_minigun.vvd
f.e.a.r/models/comrade/weapons/fear/v_g2a2.dx80.vtx
f.e.a.r/models/comrade/weapons/fear/v_at14_duble.mdl
f.e.a.r/models/comrade/weapons/fear/v_smg.sw.vtx
f.e.a.r/models/comrade/weapons/fear/v_spas.dx90.vtx
f.e.a.r/models/comrade/weapons/fear/w_tesla.dx90.vtx
f.e.a.r/models/comrade/weapons/fear/v_neil.dx90.vtx
f.e.a.r/models/comrade/weapons/fear/w_mine.dx80.vtx
f.e.a.r/models/comrade/weapons/fear/w_grenade.vvd
f.e.a.r/models/comrade/weapons/fear/w_rg.sw.vtx
f.e.a.r/models/comrade/weapons/fear/w_tesla.vvd
f.e.a.r/models/comrade/weapons/fear/w_type7.phy
f.e.a.r/models/comrade/weapons/fear/v_neil2.mdl
f.e.a.r/models/comrade/weapons/fear/v_smg.dx90.vtx
f.e.a.r/models/comrade/weapons/fear/w_neilgun.mdl
f.e.a.r/models/comrade/weapons/fear/v_neil.mdl
f.e.a.r/models/comrade/weapons/fear/v_ves.dx90.vtx
f.e.a.r/models/comrade/weapons/fear/w_grenade.phy
f.e.a.r/models/comrade/weapons/fear/w_mine.dx90.vtx
f.e.a.r/models/comrade/weapons/fear/w_at14_duble.sw.vtx
f.e.a.r/models/comrade/weapons/fear/v_asp.dx80.vtx
f.e.a.r/models/comrade/weapons/fear/v_minigun.dx90.vtx
f.e.a.r/models/comrade/weapons/fear/w_mine2.vvd
f.e.a.r/models/comrade/weapons/fear/v_asp.mdl
f.e.a.r/models/comrade/weapons/fear/v_laser.mdl
f.e.a.r/models/comrade/weapons/fear/w_at14.dx80.vtx
f.e.a.r/models/comrade/weapons/fear/w_vulcan.mdl
f.e.a.r/models/comrade/weapons/fear/w_asp.phy
f.e.a.r/models/comrade/weapons/fear/v_type7.mdl
f.e.a.r/models/comrade/weapons/fear/v_mine.sw.vtx
f.e.a.r/models/comrade/weapons/fear/shield.vvd
f.e.a.r/models/comrade/weapons/fear/w_50mm.dx90.vtx
f.e.a.r/models/comrade/weapons/fear/w_g2a2.dx90.vtx
f.e.a.r/models/comrade/weapons/fear/w_mine.phy
f.e.a.r/models/comrade/weapons/fear/shield.dx80.vtx
f.e.a.r/models/comrade/weapons/fear/w_asp.vvd
f.e.a.r/models/comrade/night_dead/gibs_tors2.dx90.vtx
f.e.a.r/models/comrade/night_dead/gibs_head.phy
f.e.a.r/models/comrade/night_dead/gibs_head2.mdl
f.e.a.r/models/comrade/night_dead/gibs_head.sw.vtx
f.e.a.r/models/comrade/night_dead/gibs_head2.vvd
f.e.a.r/models/comrade/night_dead/gibs_tors4.mdl
f.e.a.r/models/comrade/night_dead/gibs_hand2.dx80.vtx
f.e.a.r/models/comrade/night_dead/gibs_hand4.sw.vtx
f.e.a.r/models/comrade/night_dead/gibs_tors.vvd
f.e.a.r/models/comrade/night_dead/gibs_tors2.mdl
f.e.a.r/models/comrade/night_dead/gibs_tors4.phy
f.e.a.r/models/comrade/night_dead/gibs_hand2.vvd
f.e.a.r/models/comrade/night_dead/gibs_hand2.sw.vtx
f.e.a.r/models/comrade/night_dead/gibs_hand.vvd
f.e.a.r/models/comrade/night_dead/gibs_tors4.vvd
f.e.a.r/models/comrade/night_dead/gibs_hand4.mdl
f.e.a.r/models/comrade/night_dead/gibs_head2.dx80.vtx
f.e.a.r/models/comrade/night_dead/gibs_tors3.dx80.vtx
f.e.a.r/models/comrade/night_dead/gibs_tors3.vvd
f.e.a.r/models/comrade/night_dead/gibs_tors.dx80.vtx
f.e.a.r/models/comrade/night_dead/gibs_hand2.phy
f.e.a.r/models/comrade/night_dead/gibs_tors4.sw.vtx
f.e.a.r/models/comrade/night_dead/gibs_hand.phy
f.e.a.r/models/comrade/night_dead/gibs_tors3.mdl
f.e.a.r/models/comrade/night_dead/gibs_tors3.sw.vtx
f.e.a.r/models/comrade/night_dead/gibs_tors.dx90.vtx
f.e.a.r/models/comrade/night_dead/gibs_hand2.dx90.vtx
f.e.a.r/models/comrade/night_dead/gibs_hand3.dx90.vtx
f.e.a.r/models/comrade/night_dead/gibs_hand3.sw.vtx
f.e.a.r/models/comrade/night_dead/gibs_tors2.dx80.vtx
f.e.a.r/models/comrade/night_dead/gibs_tors.sw.vtx
f.e.a.r/models/comrade/night_dead/gibs_hand3.vvd
f.e.a.r/models/comrade/night_dead/gibs_tors2.sw.vtx
f.e.a.r/models/comrade/night_dead/gibs_hand4.phy
f.e.a.r/models/comrade/night_dead/gibs_tors2.phy
f.e.a.r/models/comrade/night_dead/gibs_head.dx90.vtx
f.e.a.r/models/comrade/night_dead/gibs_tors.phy
f.e.a.r/models/comrade/night_dead/gibs_hand3.phy
f.e.a.r/models/comrade/night_dead/gibs_head2.phy
f.e.a.r/models/comrade/night_dead/gibs_hand.dx90.vtx
f.e.a.r/models/comrade/night_dead/gibs_head.mdl
f.e.a.r/models/comrade/night_dead/gibs_tors4.dx80.vtx
f.e.a.r/models/comrade/night_dead/gibs_hand.dx80.vtx
f.e.a.r/models/comrade/night_dead/gibs_head2.sw.vtx
f.e.a.r/models/comrade/night_dead/gibs_head.dx80.vtx
f.e.a.r/models/comrade/night_dead/gibs_hand4.dx80.vtx
f.e.a.r/models/comrade/night_dead/gibs_hand4.vvd
f.e.a.r/models/comrade/night_dead/gibs_hand3.mdl
f.e.a.r/models/comrade/night_dead/gibs_tors4.dx90.vtx
f.e.a.r/models/comrade/night_dead/gibs_hand.mdl
f.e.a.r/models/comrade/night_dead/gibs_hand3.dx80.vtx
f.e.a.r/models/comrade/night_dead/gibs_tors3.phy
f.e.a.r/models/comrade/night_dead/gibs_head.vvd
f.e.a.r/models/comrade/night_dead/gibs_hand.sw.vtx
f.e.a.r/models/comrade/night_dead/gibs_tors3.dx90.vtx
f.e.a.r/models/comrade/night_dead/gibs_hand4.dx90.vtx
f.e.a.r/models/comrade/night_dead/gibs_tors.mdl
f.e.a.r/models/comrade/night_dead/gibs_tors2.vvd
f.e.a.r/models/comrade/night_dead/gibs_hand2.mdl
f.e.a.r/models/comrade/night_dead/gibs_head2.dx90.vtx
f.e.a.r/models/comrade/fear_dead/right_foot.dx80.vtx
f.e.a.r/models/comrade/fear_dead/right_hand.sw.vtx
f.e.a.r/models/comrade/fear_dead/head.dx90.vtx
f.e.a.r/models/comrade/fear_dead/head.dx80.vtx
f.e.a.r/models/comrade/fear_dead/right_hand.mdl
f.e.a.r/models/comrade/fear_dead/right_foot.phy
f.e.a.r/models/comrade/fear_dead/left_hand.dx80.vtx
f.e.a.r/models/comrade/fear_dead/right_hand.dx90.vtx
f.e.a.r/models/comrade/fear_dead/left_hand.mdl
f.e.a.r/models/comrade/fear_dead/head.mdl
f.e.a.r/models/comrade/fear_dead/left_hand.vvd
f.e.a.r/models/comrade/fear_dead/head.vvd
f.e.a.r/models/comrade/fear_dead/right_foot.dx90.vtx
f.e.a.r/models/comrade/fear_dead/right_hand.phy
f.e.a.r/models/comrade/fear_dead/right_foot.sw.vtx
f.e.a.r/models/comrade/fear_dead/left_hand.sw.vtx
f.e.a.r/models/comrade/fear_dead/right_foot.mdl
f.e.a.r/models/comrade/fear_dead/head.phy
f.e.a.r/models/comrade/fear_dead/right_hand.dx80.vtx
f.e.a.r/models/comrade/fear_dead/left_hand.phy
f.e.a.r/models/comrade/fear_dead/left_hand.dx90.vtx
f.e.a.r/models/comrade/fear_dead/right_foot.vvd
f.e.a.r/models/comrade/fear_dead/right_hand.vvd
f.e.a.r/models/comrade/fear_dead/head.sw.vtx
f.e.a.r/models/reemiel/replica_anims.mdl
f.e.a.r/models/reemiel/fearce_minigunner.sw.vtx
f.e.a.r/models/reemiel/fearce_replica_pm.vvd
f.e.a.r/models/reemiel/fearce_c_hand.dx90.vtx
f.e.a.r/models/reemiel/fearce_c_hand.dx80.vtx
f.e.a.r/models/reemiel/fearce_minigunner.dx90.vtx
f.e.a.r/models/reemiel/fearce_hight.dx90.vtx
f.e.a.r/models/reemiel/fearce_replica.vvd
f.e.a.r/models/reemiel/fearce_hight.dx80.vtx
f.e.a.r/models/reemiel/fearce_hight.mdl
f.e.a.r/models/reemiel/fearce_replica_pm.phy
f.e.a.r/models/reemiel/fearce_replica_pm.dx90.vtx
f.e.a.r/models/reemiel/fearce_elit_laser.phy
f.e.a.r/models/reemiel/fearce_elit_laser.sw.vtx
f.e.a.r/models/reemiel/fearce_elit_laser.mdl
f.e.a.r/models/reemiel/fearce_replica.dx80.vtx
f.e.a.r/models/reemiel/fearce_replica_pm.dx80.vtx
f.e.a.r/models/reemiel/fearce_minigunner.vvd
f.e.a.r/models/reemiel/fearce_replica.phy
f.e.a.r/models/reemiel/fearce_hight.vvd
f.e.a.r/models/reemiel/fearce_elit_laser.dx90.vtx
f.e.a.r/models/reemiel/fearce_replica.sw.vtx
f.e.a.r/models/reemiel/fearce_hight.sw.vtx
f.e.a.r/models/reemiel/fearce_minigunner.dx80.vtx
f.e.a.r/models/reemiel/fearce_elit_laser.dx80.vtx
f.e.a.r/models/reemiel/fearce_c_hand.mdl
f.e.a.r/models/reemiel/fearce_elit_laser.vvd
f.e.a.r/models/reemiel/fearce_c_hand.sw.vtx
f.e.a.r/models/reemiel/fearce_c_hand.vvd
f.e.a.r/models/reemiel/replica_anims.ani
f.e.a.r/models/reemiel/fearce_minigunner.mdl
f.e.a.r/models/reemiel/fearce_replica_pm.sw.vtx
f.e.a.r/models/reemiel/fearce_minigunner.phy
f.e.a.r/models/reemiel/fearce_hight.phy
f.e.a.r/models/reemiel/fearce_replica_pm.mdl
f.e.a.r/models/reemiel/fearce_replica.dx90.vtx
f.e.a.r/models/reemiel/fearce_replica.mdl
f.e.a.r/models/weapons/v_wolve_t.dx90.vtx
f.e.a.r/models/weapons/v_wolve_t.mdl
f.e.a.r/models/weapons/v_ar_sl8.xbox.vtx
f.e.a.r/models/weapons/w_rif_fear.dx90.vtx
f.e.a.r/models/weapons/w_ar_sl8.mdl
f.e.a.r/models/weapons/w_ar_sl8.dx80.vtx
f.e.a.r/models/weapons/w_miniguno.vvd
f.e.a.r/models/weapons/w_rif_fear.dx80.vtx
f.e.a.r/models/weapons/w_miniguno.dx80.vtx
f.e.a.r/models/weapons/w_miniguno.phy
f.e.a.r/models/weapons/w_rif_fear.sw.vtx
f.e.a.r/models/weapons/w_rif_fear.phy
f.e.a.r/models/weapons/v_wolve_t.vvd
f.e.a.r/models/weapons/w_miniguno.mdl
f.e.a.r/models/weapons/v_ar_sl8.sw.vtx
f.e.a.r/models/weapons/v_wolve_t.dx80.vtx
f.e.a.r/models/weapons/v_ar_sl8.vvd
f.e.a.r/models/weapons/w_rif_fear.vvd
f.e.a.r/models/weapons/w_ar_sl8.dx90.vtx
f.e.a.r/models/weapons/w_ar_sl8.vvd
f.e.a.r/models/weapons/v_wolve_t.xbox.vtx
f.e.a.r/models/weapons/v_ar_sl8.dx90.vtx
f.e.a.r/models/weapons/w_miniguno.dx90.vtx
f.e.a.r/models/weapons/w_ar_sl8.xbox.vtx
f.e.a.r/models/weapons/v_ar_sl8.dx80.vtx
f.e.a.r/models/weapons/w_miniguno.sw.vtx
f.e.a.r/models/weapons/v_ar_sl8.mdl
f.e.a.r/models/weapons/w_ar_sl8.sw.vtx
f.e.a.r/models/weapons/v_wolve_t.sw.vtx
f.e.a.r/models/weapons/w_rif_fear.mdl
f.e.a.r/models/weapons/minigun/v_minigun.xbox.vtx
f.e.a.r/models/weapons/minigun/v_minigun.sw.vtx
f.e.a.r/models/weapons/minigun/w_minigun.vvd
f.e.a.r/models/weapons/minigun/v_minigun.mdl
f.e.a.r/models/weapons/minigun/w_minigun.phy
f.e.a.r/models/weapons/minigun/v_minigun.dx80.vtx
f.e.a.r/models/weapons/minigun/w_minigun.mdl
f.e.a.r/models/weapons/minigun/w_minigun.dx90.vtx
f.e.a.r/models/weapons/minigun/v_minigun.vvd
f.e.a.r/models/weapons/minigun/w_minigun.dx80.vtx
f.e.a.r/models/weapons/minigun/w_minigun.sw.vtx
f.e.a.r/models/weapons/minigun/v_minigun.dx90.vtx
f.e.a.r/models/weapons/doi/w_marinebayonet.vvd
f.e.a.r/models/weapons/doi/w_marinebayonet.mdl
f.e.a.r/models/weapons/doi/w_marinebayonet.sw.vtx
f.e.a.r/models/weapons/doi/w_marinebayonet.dx90.vtx
f.e.a.r/models/weapons/doi/w_marinebayonet.dx80.vtx
f.e.a.r/models/weapons/doi/w_marinebayonet.phy
f.e.a.r/models/weapons/fear/v_minigun2.dx80.vtx
f.e.a.r/models/weapons/fear/w_vulcane.dx80.vtx
f.e.a.r/models/weapons/fear/v_tesla.sw.vtx
f.e.a.r/models/weapons/fear/v_asp.sw.vtx
f.e.a.r/models/weapons/fear/v_laser.dx80.vtx
f.e.a.r/models/weapons/fear/w_vulcan.dx90.vtx
f.e.a.r/models/weapons/fear/v_rpg.vvd
f.e.a.r/models/weapons/fear/w_spas.dx80.vtx
f.e.a.r/models/weapons/fear/v_smg.vvd
f.e.a.r/models/weapons/fear/w_laser.vvd
f.e.a.r/models/weapons/fear/w_spas.sw.vtx
f.e.a.r/models/weapons/fear/v_bomb.mdl
f.e.a.r/models/weapons/fear/v_at14_duble.vvd
f.e.a.r/models/weapons/fear/w_ves.sw.vtx
f.e.a.r/models/weapons/fear/c_grenade.sw.vtx
f.e.a.r/models/weapons/fear/v_at14_duble.dx90.vtx
f.e.a.r/models/weapons/fear/rocket.dx80.vtx
f.e.a.r/models/weapons/fear/v_at14.dx90.vtx
f.e.a.r/models/weapons/fear/v_claws.mdl
f.e.a.r/models/weapons/fear/w_neilgun.vvd
f.e.a.r/models/weapons/fear/v_claws.sw.vtx
f.e.a.r/models/weapons/fear/c_mine.dx80.vtx
f.e.a.r/models/weapons/fear/v_bomb.sw.vtx
f.e.a.r/models/weapons/fear/v_neil2.dx90.vtx
f.e.a.r/models/weapons/fear/v_neil2.sw.vtx
f.e.a.r/models/weapons/fear/v_spas.sw.vtx
f.e.a.r/models/weapons/fear/w_asp.sw.vtx
f.e.a.r/models/weapons/fear/w_rpg.sw.vtx
f.e.a.r/models/weapons/fear/v_minigun.sw.vtx
f.e.a.r/models/weapons/fear/v_type7.dx90.vtx
f.e.a.r/models/weapons/fear/grenade.dx90.vtx
f.e.a.r/models/weapons/fear/w_50mm.dx80.vtx
f.e.a.r/models/weapons/fear/v_bomb.dx80.vtx
f.e.a.r/models/weapons/fear/w_bomb.vvd
f.e.a.r/models/weapons/fear/rocket.sw.vtx
f.e.a.r/models/weapons/fear/v_rg.sw.vtx
f.e.a.r/models/weapons/fear/w_50mm.vvd
f.e.a.r/models/weapons/fear/v_rg.dx80.vtx
f.e.a.r/models/weapons/fear/c_mine.mdl
f.e.a.r/models/weapons/fear/w_smg.mdl
f.e.a.r/models/weapons/fear/w_at14_duble.mdl
f.e.a.r/models/weapons/fear/w_vulcan.vvd
f.e.a.r/models/weapons/fear/w_rpg.vvd
f.e.a.r/models/weapons/fear/v_at14.mdl
f.e.a.r/models/weapons/fear/w_rpg.dx90.vtx
f.e.a.r/models/weapons/fear/c_grenade.dx80.vtx
f.e.a.r/models/weapons/fear/w_laser.sw.vtx
f.e.a.r/models/weapons/fear/w_minigun.vvd
f.e.a.r/models/weapons/fear/w_spas.dx90.vtx
f.e.a.r/models/weapons/fear/w_ves.vvd
f.e.a.r/models/weapons/fear/w_rg.dx80.vtx
f.e.a.r/models/weapons/fear/v_tesla.dx90.vtx
f.e.a.r/models/weapons/fear/w_mine.mdl
f.e.a.r/models/weapons/fear/v_bomb.vvd
f.e.a.r/models/weapons/fear/v_neil2.dx80.vtx
f.e.a.r/models/weapons/fear/w_mine2.dx80.vtx
f.e.a.r/models/weapons/fear/v_spas.mdl
f.e.a.r/models/weapons/fear/v_at14_duble.sw.vtx
f.e.a.r/models/weapons/fear/v_g2a2.dx90.vtx
f.e.a.r/models/weapons/fear/w_smg.dx90.vtx
f.e.a.r/models/weapons/fear/w_at14.sw.vtx
f.e.a.r/models/weapons/fear/w_ves.dx90.vtx
f.e.a.r/models/weapons/fear/shield.phy
f.e.a.r/models/weapons/fear/v_at14.vvd
f.e.a.r/models/weapons/fear/v_minigun2.dx90.vtx
f.e.a.r/models/weapons/fear/v_ves.sw.vtx
f.e.a.r/models/weapons/fear/v_claws.dx80.vtx
f.e.a.r/models/weapons/fear/w_grenade.dx80.vtx
f.e.a.r/models/weapons/fear/w_smg.vvd
f.e.a.r/models/weapons/fear/w_at14_duble.vvd
f.e.a.r/models/weapons/fear/w_bomb.phy
f.e.a.r/models/weapons/fear/w_rif_m4a1.dx80.vtx
f.e.a.r/models/weapons/fear/w_neil.phy
f.e.a.r/models/weapons/fear/w_bomb.mdl
f.e.a.r/models/weapons/fear/v_laser.vvd
f.e.a.r/models/weapons/fear/w_vulcan.sw.vtx
f.e.a.r/models/weapons/fear/w_rpg.dx80.vtx
f.e.a.r/models/weapons/fear/v_type7.sw.vtx
f.e.a.r/models/weapons/fear/v_smg.mdl
f.e.a.r/models/weapons/fear/v_neil2.vvd
f.e.a.r/models/weapons/fear/v_minigun.mdl
f.e.a.r/models/weapons/fear/w_smg.dx80.vtx
f.e.a.r/models/weapons/fear/w_at14.mdl
f.e.a.r/models/weapons/fear/w_rg.dx90.vtx
f.e.a.r/models/weapons/fear/w_vulcane.mdl
f.e.a.r/models/weapons/fear/w_tesla.sw.vtx
f.e.a.r/models/weapons/fear/w_grenade.sw.vtx
f.e.a.r/models/weapons/fear/rocket.mdl
f.e.a.r/models/weapons/fear/v_rg.mdl
f.e.a.r/models/weapons/fear/w_tesla.phy
f.e.a.r/models/weapons/fear/grenade.mdl
f.e.a.r/models/weapons/fear/w_spas.mdl
f.e.a.r/models/weapons/fear/w_at14_duble.dx90.vtx
f.e.a.r/models/weapons/fear/c_mine.vvd
f.e.a.r/models/weapons/fear/w_rif_m4a1.dx90.vtx
f.e.a.r/models/weapons/fear/v_laser.sw.vtx
f.e.a.r/models/weapons/fear/w_laser.dx80.vtx
f.e.a.r/models/weapons/fear/w_g2a2.mdl
f.e.a.r/models/weapons/fear/w_neilgun.phy
f.e.a.r/models/weapons/fear/v_rpg.mdl
f.e.a.r/models/weapons/fear/w_bomb.sw.vtx
f.e.a.r/models/weapons/fear/w_neil.dx80.vtx
f.e.a.r/models/weapons/fear/w_rg.phy
f.e.a.r/models/weapons/fear/c_mine.sw.vtx
f.e.a.r/models/weapons/fear/v_50mm.dx90.vtx
f.e.a.r/models/weapons/fear/w_type7.dx80.vtx
f.e.a.r/models/weapons/fear/v_50mm.sw.vtx
f.e.a.r/models/weapons/fear/w_type7.mdl
f.e.a.r/models/weapons/fear/w_neil.vvd
f.e.a.r/models/weapons/fear/w_rg.vvd
f.e.a.r/models/weapons/fear/w_tesla.mdl
f.e.a.r/models/weapons/fear/v_type7.dx80.vtx
f.e.a.r/models/weapons/fear/w_vulcan.dx80.vtx
f.e.a.r/models/weapons/fear/w_minigun.phy
f.e.a.r/models/weapons/fear/w_g2a2.sw.vtx
f.e.a.r/models/weapons/fear/v_minigun2.vvd
f.e.a.r/models/weapons/fear/w_neil.mdl
f.e.a.r/models/weapons/fear/v_at14.dx80.vtx
f.e.a.r/models/weapons/fear/w_bomb.dx80.vtx
f.e.a.r/models/weapons/fear/v_g2a2.vvd
f.e.a.r/models/weapons/fear/w_asp.mdl
f.e.a.r/models/weapons/fear/w_ves.mdl
f.e.a.r/models/weapons/fear/v_50mm.mdl
f.e.a.r/models/weapons/fear/w_smg.phy
f.e.a.r/models/weapons/fear/c_mine.dx90.vtx
f.e.a.r/models/weapons/fear/rocket.phy
f.e.a.r/models/weapons/fear/grenade.phy
f.e.a.r/models/weapons/fear/w_rg.mdl
f.e.a.r/models/weapons/fear/v_neil.dx80.vtx
f.e.a.r/models/weapons/fear/w_grenade.dx90.vtx
f.e.a.r/models/weapons/fear/w_ves.dx80.vtx
f.e.a.r/models/weapons/fear/w_at14.vvd
f.e.a.r/models/weapons/fear/w_neilgun.sw.vtx
f.e.a.r/models/weapons/fear/v_ves.dx80.vtx
f.e.a.r/models/weapons/fear/v_smg.dx80.vtx
f.e.a.r/models/weapons/fear/w_mine2.dx90.vtx
f.e.a.r/models/weapons/fear/v_minigun.dx80.vtx
f.e.a.r/models/weapons/fear/v_mine.vvd
f.e.a.r/models/weapons/fear/w_50mm.sw.vtx
f.e.a.r/models/weapons/fear/w_rif_m4a1.mdl
f.e.a.r/models/weapons/fear/w_50mm.mdl
f.e.a.r/models/weapons/fear/w_tesla.dx80.vtx
f.e.a.r/models/weapons/fear/w_vulcane.phy
f.e.a.r/models/weapons/fear/v_spas.dx80.vtx
f.e.a.r/models/weapons/fear/shield.dx90.vtx
f.e.a.r/models/weapons/fear/w_neilgun.dx80.vtx
f.e.a.r/models/weapons/fear/w_grenade.mdl
f.e.a.r/models/weapons/fear/v_minigun2.sw.vtx
f.e.a.r/models/weapons/fear/v_mine.mdl
f.e.a.r/models/weapons/fear/w_g2a2.vvd
f.e.a.r/models/weapons/fear/c_grenade.dx90.vtx
f.e.a.r/models/weapons/fear/w_vulcane.dx90.vtx
f.e.a.r/models/weapons/fear/w_mine2.mdl
f.e.a.r/models/weapons/fear/v_rg.vvd
f.e.a.r/models/weapons/fear/w_laser.mdl
f.e.a.r/models/weapons/fear/v_claws.vvd
f.e.a.r/models/weapons/fear/w_50mm.phy
f.e.a.r/models/weapons/fear/w_neil.dx90.vtx
f.e.a.r/models/weapons/fear/v_neil.sw.vtx
f.e.a.r/models/weapons/fear/w_vulcane.sw.vtx
f.e.a.r/models/weapons/fear/v_claws.dx90.vtx
f.e.a.r/models/weapons/fear/w_mine2.phy
f.e.a.r/models/weapons/fear/v_at14_duble.dx80.vtx
f.e.a.r/models/weapons/fear/w_vulcan.phy
f.e.a.r/models/weapons/fear/grenade.dx80.vtx
f.e.a.r/models/weapons/fear/w_type7.dx90.vtx
f.e.a.r/models/weapons/fear/v_rpg.dx90.vtx
f.e.a.r/models/weapons/fear/v_tesla.vvd
f.e.a.r/models/weapons/fear/v_g2a2.mdl
f.e.a.r/models/weapons/fear/w_spas.phy
f.e.a.r/models/weapons/fear/w_rif_m4a1.vvd
f.e.a.r/models/weapons/fear/v_mine.dx80.vtx
f.e.a.r/models/weapons/fear/w_smg.sw.vtx
f.e.a.r/models/weapons/fear/w_minigun.mdl
f.e.a.r/models/weapons/fear/v_at14.sw.vtx
f.e.a.r/models/weapons/fear/v_laser.dx90.vtx
f.e.a.r/models/weapons/fear/w_g2a2.dx80.vtx
f.e.a.r/models/weapons/fear/grenade.sw.vtx
f.e.a.r/models/weapons/fear/v_type7.vvd
f.e.a.r/models/weapons/fear/v_rpg.dx80.vtx
f.e.a.r/models/weapons/fear/v_asp.vvd
f.e.a.r/models/weapons/fear/w_rpg.phy
f.e.a.r/models/weapons/fear/w_type7.vvd
f.e.a.r/models/weapons/fear/w_type7.sw.vtx
f.e.a.r/models/weapons/fear/w_mine.sw.vtx
f.e.a.r/models/weapons/fear/w_laser.dx90.vtx
f.e.a.r/models/weapons/fear/w_at14_duble.dx80.vtx
f.e.a.r/models/weapons/fear/v_mine.dx90.vtx
f.e.a.r/models/weapons/fear/v_asp.dx90.vtx
f.e.a.r/models/weapons/fear/rocket.dx90.vtx
f.e.a.r/models/weapons/fear/v_tesla.dx80.vtx
f.e.a.r/models/weapons/fear/w_mine.vvd
f.e.a.r/models/weapons/fear/w_mine2.sw.vtx
f.e.a.r/models/weapons/fear/v_rpg.sw.vtx
f.e.a.r/models/weapons/fear/v_ves.vvd
f.e.a.r/models/weapons/fear/w_asp.dx90.vtx
f.e.a.r/models/weapons/fear/w_bomb.dx90.vtx
f.e.a.r/models/weapons/fear/v_spas.vvd
f.e.a.r/models/weapons/fear/w_at14_duble.phy
f.e.a.r/models/weapons/fear/w_g2a2.phy
f.e.a.r/models/weapons/fear/v_bomb.dx90.vtx
f.e.a.r/models/weapons/fear/v_rg.dx90.vtx
f.e.a.r/models/weapons/fear/w_rpg.mdl
f.e.a.r/models/weapons/fear/v_50mm.dx80.vtx
f.e.a.r/models/weapons/fear/v_neil.vvd
f.e.a.r/models/weapons/fear/w_at14.dx90.vtx
f.e.a.r/models/weapons/fear/shield.mdl
f.e.a.r/models/weapons/fear/w_neil.sw.vtx
f.e.a.r/models/weapons/fear/w_at14.phy
f.e.a.r/models/weapons/fear/w_spas.vvd
f.e.a.r/models/weapons/fear/v_g2a2.sw.vtx
f.e.a.r/models/weapons/fear/w_neilgun.dx90.vtx
f.e.a.r/models/weapons/fear/w_minigun.dx90.vtx
f.e.a.r/models/weapons/fear/v_ves.mdl
f.e.a.r/models/weapons/fear/shield.sw.vtx
f.e.a.r/models/weapons/fear/w_laser.phy
f.e.a.r/models/weapons/fear/v_50mm.vvd
f.e.a.r/models/weapons/fear/w_vulcane.vvd
f.e.a.r/models/weapons/fear/v_tesla.mdl
f.e.a.r/models/weapons/fear/w_asp.dx80.vtx
f.e.a.r/models/weapons/fear/v_minigun.vvd
f.e.a.r/models/weapons/fear/w_minigun.dx80.vtx
f.e.a.r/models/weapons/fear/v_g2a2.dx80.vtx
f.e.a.r/models/weapons/fear/v_at14_duble.mdl
f.e.a.r/models/weapons/fear/v_smg.sw.vtx
f.e.a.r/models/weapons/fear/rocket.vvd
f.e.a.r/models/weapons/fear/v_spas.dx90.vtx
f.e.a.r/models/weapons/fear/w_tesla.dx90.vtx
f.e.a.r/models/weapons/fear/v_neil.dx90.vtx
f.e.a.r/models/weapons/fear/grenade.vvd
f.e.a.r/models/weapons/fear/w_mine.dx80.vtx
f.e.a.r/models/weapons/fear/w_minigun.sw.vtx
f.e.a.r/models/weapons/fear/w_grenade.vvd
f.e.a.r/models/weapons/fear/w_rg.sw.vtx
f.e.a.r/models/weapons/fear/w_tesla.vvd
f.e.a.r/models/weapons/fear/w_type7.phy
f.e.a.r/models/weapons/fear/v_neil2.mdl
f.e.a.r/models/weapons/fear/v_smg.dx90.vtx
f.e.a.r/models/weapons/fear/w_neilgun.mdl
f.e.a.r/models/weapons/fear/v_neil.mdl
f.e.a.r/models/weapons/fear/v_ves.dx90.vtx
f.e.a.r/models/weapons/fear/w_grenade.phy
f.e.a.r/models/weapons/fear/w_ves.phy
f.e.a.r/models/weapons/fear/c_grenade.vvd
f.e.a.r/models/weapons/fear/w_mine.dx90.vtx
f.e.a.r/models/weapons/fear/c_grenade.mdl
f.e.a.r/models/weapons/fear/w_at14_duble.sw.vtx
f.e.a.r/models/weapons/fear/w_rif_m4a1.phy
f.e.a.r/models/weapons/fear/v_asp.dx80.vtx
f.e.a.r/models/weapons/fear/v_minigun.dx90.vtx
f.e.a.r/models/weapons/fear/w_mine2.vvd
f.e.a.r/models/weapons/fear/v_asp.mdl
f.e.a.r/models/weapons/fear/v_laser.mdl
f.e.a.r/models/weapons/fear/w_at14.dx80.vtx
f.e.a.r/models/weapons/fear/w_vulcan.mdl
f.e.a.r/models/weapons/fear/w_asp.phy
f.e.a.r/models/weapons/fear/v_type7.mdl
f.e.a.r/models/weapons/fear/v_mine.sw.vtx
f.e.a.r/models/weapons/fear/shield.vvd
f.e.a.r/models/weapons/fear/v_minigun2.mdl
f.e.a.r/models/weapons/fear/w_50mm.dx90.vtx
f.e.a.r/models/weapons/fear/w_g2a2.dx90.vtx
f.e.a.r/models/weapons/fear/w_mine.phy
f.e.a.r/models/weapons/fear/shield.dx80.vtx
f.e.a.r/models/weapons/fear/w_asp.vvd
f.e.a.r/models/jaanus/shuriken_small.mdl
f.e.a.r/models/jaanus/shuriken_small.dx80.vtx
f.e.a.r/models/jaanus/shuriken_small.phy
f.e.a.r/models/jaanus/shuriken_small.dx90.vtx
f.e.a.r/models/jaanus/shuriken_small.sw.vtx
f.e.a.r/models/jaanus/shuriken_small.vvd
f.e.a.r/models/scavy/nail.mdl
f.e.a.r/models/scavy/nail.sw.vtx
f.e.a.r/models/scavy/nail.dx90.vtx
f.e.a.r/models/scavy/nail.phy
f.e.a.r/models/scavy/nail.dx80.vtx
f.e.a.r/models/scavy/nail.vvd
f.e.a.r/models/fear/bones.sw.vtx
f.e.a.r/models/fear/bones.mdl
f.e.a.r/models/fear/bones.dx90.vtx
f.e.a.r/models/fear/bones.vvd
f.e.a.r/models/fear/bones.dx80.vtx
f.e.a.r/models/fear/bones.phy
f.e.a.r/models/conely/pointmeng/pointmeng.mdl
f.e.a.r/models/conely/pointmeng/pointmeng.sw.vtx
f.e.a.r/models/conely/pointmeng/pointmeng.dx90.vtx
f.e.a.r/models/conely/pointmeng/pointmeng.vvd
f.e.a.r/models/conely/pointmeng/pointmeng.phy
f.e.a.r/models/conely/pointmeng/pointmeng.dx80.vtx
f.e.a.r/models/rev8/gibs_foot2.mdl
f.e.a.r/models/rev8/gibs_korpus.sw.vtx
f.e.a.r/models/rev8/gibs_gun.vvd
f.e.a.r/models/rev8/gibs_korpus.dx80.vtx
f.e.a.r/models/rev8/gibs_korpus.phy
f.e.a.r/models/rev8/gibs_foot2.vvd
f.e.a.r/models/rev8/gibs_foots.dx90.vtx
f.e.a.r/models/rev8/gibs_korpus.dx90.vtx
f.e.a.r/models/rev8/gibs_foots.dx80.vtx
f.e.a.r/models/rev8/gibs_gun.sw.vtx
f.e.a.r/models/rev8/gibs_foots.sw.vtx
f.e.a.r/models/rev8/gibs_foot2.sw.vtx
f.e.a.r/models/rev8/gibs_gun.dx80.vtx
f.e.a.r/models/rev8/gibs_foots.vvd
f.e.a.r/models/rev8/gibs_foots.phy
f.e.a.r/models/rev8/gibs_korpus.mdl
f.e.a.r/models/rev8/gibs_foots.mdl
f.e.a.r/models/rev8/gibs_korpus.vvd
f.e.a.r/models/rev8/gibs_gun.phy
f.e.a.r/models/rev8/gibs_gun.mdl
f.e.a.r/models/rev8/gibs_foot2.dx90.vtx
f.e.a.r/models/rev8/gibs_foot2.dx80.vtx
f.e.a.r/models/rev8/gibs_foot2.phy
f.e.a.r/models/rev8/gibs_gun.dx90.vtx
f.e.a.r/materials/sprites/s_laser_dot.vmt
f.e.a.r/materials/sprites/s_laser_beam.vmt
f.e.a.r/materials/sprites/flameleta4.vtf
f.e.a.r/materials/sprites/flameleta3.vtf
f.e.a.r/materials/sprites/flameleta2.vtf
f.e.a.r/materials/sprites/flameleta5.vtf
f.e.a.r/materials/sprites/flameleta1.vtf
f.e.a.r/materials/sprites/s_laser_beam.vtf
f.e.a.r/materials/sprites/doom3/bfgballsac.vmt
f.e.a.r/materials/sprites/doom3/plasmalight.vmt
f.e.a.r/materials/sprites/doom3/plasma2.vmt
f.e.a.r/materials/sprites/doom3/plasmalight.vtf
f.e.a.r/materials/sprites/doom3/boomboom.vtf
f.e.a.r/materials/sprites/doom3/f_machinegun.vtf
f.e.a.r/materials/sprites/doom3/f_machinegun.vmt
f.e.a.r/materials/sprites/doom3/bfgballblast.vmt
f.e.a.r/materials/sprites/doom3/plasma.vmt
f.e.a.r/materials/sprites/doom3/plasma_mflash.vmt
f.e.a.r/materials/sprites/doom3/plasma.vtf
f.e.a.r/materials/sprites/doom3/q2bfgexp.vtf
f.e.a.r/materials/sprites/doom3/bfg_mflash.vtf
f.e.a.r/materials/sprites/doom3/bfgboltarc.vmt
f.e.a.r/materials/sprites/doom3/bfgboltarc2.vmt
f.e.a.r/materials/sprites/doom3/barrelexpbase1.vmt
f.e.a.r/materials/sprites/doom3/q2bfgexp.vmt
f.e.a.r/materials/sprites/doom3/plasmablast.vtf
f.e.a.r/materials/sprites/doom3/bfgballsac.vtf
f.e.a.r/materials/sprites/doom3/rocket_mflash.vmt
f.e.a.r/materials/sprites/doom3/bfgballsacarc.vmt
f.e.a.r/materials/sprites/doom3/bfgboltarc.vtf
f.e.a.r/materials/sprites/doom3/plasmablast.vmt
f.e.a.r/materials/sprites/doom3/bfgboltarc2.vtf
f.e.a.r/materials/sprites/doom3/rocket_mflash.vtf
f.e.a.r/materials/sprites/doom3/plasma2.vtf
f.e.a.r/materials/sprites/doom3/pistol_mflash.vtf
f.e.a.r/materials/sprites/doom3/plasma_mflash.vtf
f.e.a.r/materials/sprites/doom3/bfg_mflash.vmt
f.e.a.r/materials/sprites/doom3/bfgballsacarc.vtf
f.e.a.r/materials/sprites/doom3/boomboom.vmt
f.e.a.r/materials/sprites/doom3/pistol_mflash.vmt
f.e.a.r/materials/sprites/doom3/barrelexpbase1.vtf
f.e.a.r/materials/sprites/doom3/bfgballblast.vtf
f.e.a.r/materials/particle/mat1.vtf
f.e.a.r/materials/particle/fire_noz.vmt
f.e.a.r/materials/particle/electrical_beam.vmt
f.e.a.r/materials/particle/muzzleflash_burst_add_ob.vmt
f.e.a.r/materials/particle/beam_smoke_03_normal.vtf
f.e.a.r/materials/particle/beam_smoke_02.vtf
f.e.a.r/materials/particle/generic_smoke_puff.vtf
f.e.a.r/materials/particle/beam_fire_nocolor_ob.vmt
f.e.a.r/materials/particle/beam_electrical_2.vtf
f.e.a.r/materials/particle/sanctum_beam_01.vtf
f.e.a.r/materials/particle/stokes.vtf
f.e.a.r/materials/particle/particle_glow_05_additive_superob.vmt
f.e.a.r/materials/particle/spectral_square_ob.vmt
f.e.a.r/materials/particle/beam_smoke_01.vtf
f.e.a.r/materials/particle/beam_smoke_03.vmt
f.e.a.r/materials/particle/mat1.vmt
f.e.a.r/materials/particle/animglow02.vmt
f.e.a.r/materials/particle/bendibeam_nocolor.vtf
f.e.a.r/materials/particle/sanctum_beam.vtf
f.e.a.r/materials/particle/sanctum_blasts_01.vtf
f.e.a.r/materials/particle/beam_smoke_04.vtf
f.e.a.r/materials/particle/sanctum_electric_01.vtf
f.e.a.r/materials/particle/particle_ring_wave_10_add.vmt
f.e.a.r/materials/particle/beam_fire_nocolor.vtf
f.e.a.r/materials/particle/generic_smoke_puff.vmt
f.e.a.r/materials/particle/particle_electrical_arc.vtf
f.e.a.r/materials/particle/particle_electrical_arc_ob.vmt
f.e.a.r/materials/particle/beam_electrical.vmt
f.e.a.r/materials/particle/bendibeam_nocolor.vmt
f.e.a.r/materials/particle/beam_smoke_03.vtf
f.e.a.r/materials/particle/beam_electrical_2_add.vmt
f.e.a.r/materials/particle/beam_electrical_ob.vmt
f.e.a.r/materials/particle/beam_smoke_03_warp.vmt
f.e.a.r/materials/particle/beam_electrical.vtf
f.e.a.r/materials/particle/beam_smoke_02.vmt
f.e.a.r/materials/particle/sanctum_electric_01.vmt
f.e.a.r/materials/particle/beam_refract.vmt
f.e.a.r/materials/particle/sanctum_beam_01.vmt
f.e.a.r/materials/particle/particle_electrical_arc.vmt
f.e.a.r/materials/particle/beam_smoke_04.vmt
f.e.a.r/materials/particle/muzzleflash_burst.vtf
f.e.a.r/materials/particle/particle_electrical_arc_nocolor.vmt
f.e.a.r/materials/particle/beam_smoke_03_ob.vmt
f.e.a.r/materials/particle/electrical_beam.vtf
f.e.a.r/materials/particle/sanctum_beam.vmt
f.e.a.r/materials/particle/muzzleflash_burst_add.vmt
f.e.a.r/materials/particle/stokes_ob.vmt
f.e.a.r/materials/particle/beam_smoke_01.vmt
f.e.a.r/materials/particle/sanctum_blasts_01.vmt
f.e.a.r/materials/particle/stokes.vmt
f.e.a.r/materials/particle/beam_fire_nocolor_add.vmt
f.e.a.r/materials/particle/beam_refract_normal.vtf
f.e.a.r/materials/particle/antlion_goop3/antlion_goop3_trail_add.vmt
f.e.a.r/materials/particle/antlion_goop3/antlion_goop3_ob.vmt
f.e.a.r/materials/radio/plastic_ambient_occlusion.vtf
f.e.a.r/materials/radio/buttons2.vtf
f.e.a.r/materials/radio/buttons2.vmt
f.e.a.r/materials/radio/holes.vmt
f.e.a.r/materials/radio/qwe.vtf
f.e.a.r/materials/radio/buttons4.vmt
f.e.a.r/materials/radio/button.vtf
f.e.a.r/materials/radio/plastic2_base_color.vtf
f.e.a.r/materials/radio/wart.vmt
f.e.a.r/materials/radio/plastic_2.vmt
f.e.a.r/materials/radio/plastic_normal.vtf
f.e.a.r/materials/radio/plastic_shiny.vmt
f.e.a.r/materials/radio/rip.vtf
f.e.a.r/materials/radio/plastic_base_color.vtf
f.e.a.r/materials/radio/trans.vtf
f.e.a.r/materials/radio/glass.vmt
f.e.a.r/materials/radio/radio_plastic.vmt
f.e.a.r/materials/radio/plastic_height.vtf
f.e.a.r/materials/radio/buttons3.vtf
f.e.a.r/materials/radio/buttons1.vmt
f.e.a.r/materials/radio/digital.vtf
f.e.a.r/materials/radio/illum_screen.vmt
f.e.a.r/materials/radio/illum.vtf
f.e.a.r/materials/radio/buttons00.vmt
f.e.a.r/materials/particles/mat1.vtf
f.e.a.r/materials/particles/refract_ring.vmt
f.e.a.r/materials/particles/mat3.vmt
f.e.a.r/materials/particles/sanctum2_electric_01.vtf
f.e.a.r/materials/particles/smoke6.vtf
f.e.a.r/materials/particles/sanctum2_beam_01.vtf
f.e.a.r/materials/particles/smoke4.vtf
f.e.a.r/materials/particles/fatsmoke.vtf
f.e.a.r/materials/particles/flameleta2.vmt
f.e.a.r/materials/particles/shockwaveinverted.vmt
f.e.a.r/materials/particles/smoke6.vmt
f.e.a.r/materials/particles/smoke4.vmt
f.e.a.r/materials/particles/smokex2.vmt
f.e.a.r/materials/particles/mat1.vmt
f.e.a.r/materials/particles/flameleta1.vmt
f.e.a.r/materials/particles/smokey2.vtf
f.e.a.r/materials/particles/flameleta5.vmt
f.e.a.r/materials/particles/refract_ring.vtf
f.e.a.r/materials/particles/flameleta4.vmt
f.e.a.r/materials/particles/smokex3.vtf
f.e.a.r/materials/particles/mat2.vmt
f.e.a.r/materials/particles/flameleta3.vmt
f.e.a.r/materials/particles/smokex2.vtf
f.e.a.r/materials/particles/mat2.vtf
f.e.a.r/materials/particles/mat3.vtf
f.e.a.r/materials/particles/dirt.vtf
f.e.a.r/materials/particles/dirt.vmt
f.e.a.r/materials/particles/fatsmoke.vmt
f.e.a.r/materials/particles/shockwaveinverted.vtf
f.e.a.r/materials/particles/smoke1.vtf
f.e.a.r/materials/particles/smokex3.vmt
f.e.a.r/materials/particles/smoke1.vmt
f.e.a.r/materials/particles/sanctum2_electric_01.vmt
f.e.a.r/materials/particles/flamelet1.vmt
f.e.a.r/materials/particles/sanctum2_beam_01.vmt
f.e.a.r/materials/particles/smokey2.vmt
f.e.a.r/materials/entities/npc_vj_replica_commando.png
f.e.a.r/materials/entities/weapon_vj_spas_fear.png
f.e.a.r/materials/entities/npc_vj_replica_mortar.png
f.e.a.r/materials/entities/npc_vj_atc_security4.png
f.e.a.r/materials/entities/weapon_vj_rpg_fear.png
f.e.a.r/materials/entities/weapon_vj_asp.png
f.e.a.r/materials/entities/npc_vj_fear_shef.png
f.e.a.r/materials/entities/npc_vj_fear_habert.png
f.e.a.r/materials/entities/npc_vj_replica_t1142.png
f.e.a.r/materials/entities/npc_vj_replica_recon_echelon.png
f.e.a.r/materials/entities/npc_vj_replica_t112.png
f.e.a.r/materials/entities/npc_vj_fear_portal.png
f.e.a.r/materials/entities/npc_vj_fear_wade2.png
f.e.a.r/materials/entities/npc_vj_fear_mamon.png
f.e.a.r/materials/entities/npc_vj_fearce_replica_soldier_1.png
f.e.a.r/materials/entities/npc_vj_replica_rev62.png
f.e.a.r/materials/entities/npc_vj_atc_dron.png
f.e.a.r/materials/entities/npc_vj_fearce_replica_heavy_armor_1.png
f.e.a.r/materials/entities/npc_vj_atc_security3.png
f.e.a.r/materials/entities/npc_vj_fear_havis.png
f.e.a.r/materials/entities/npc_vj_fear_chen.png
f.e.a.r/materials/entities/weapon_vj_50mm_fear.png
f.e.a.r/materials/entities/npc_vj_delta_soldier2.png
f.e.a.r/materials/entities/npc_vj_fearce_replica_elite_laser_soldier_2.png
f.e.a.r/materials/entities/npc_vj_fear_alma.png
f.e.a.r/materials/entities/npc_vj_fear_alma_child.png
f.e.a.r/materials/entities/npc_vj_fear_doktor3.png
f.e.a.r/materials/entities/npc_vj_fear_doktor8.png
f.e.a.r/materials/entities/npc_vj_replica_sniper.png
f.e.a.r/materials/entities/npc_vj_fearce_replica_soldier_4.png
f.e.a.r/materials/entities/npc_vj_fear_duglas.png
f.e.a.r/materials/entities/npc_vj_atc_heavysecurity3.png
f.e.a.r/materials/entities/npc_vj_fear_duglas2.png
f.e.a.r/materials/entities/weapon_vj_rg_fear.png
f.e.a.r/materials/entities/npc_vj_replica_urban_elit.png
f.e.a.r/materials/entities/npc_vj_fearce_replica_soldier_3.png
f.e.a.r/materials/entities/npc_vj_replica_recon_red.png
f.e.a.r/materials/entities/npc_vj_atc_heavysecurity4.png
f.e.a.r/materials/entities/npc_vj_replica_elite.png
f.e.a.r/materials/entities/npc_vj_fear_doktor2.png
f.e.a.r/materials/entities/weapon_vj_at14_2.png
f.e.a.r/materials/entities/npc_vj_delta_soldier.png
f.e.a.r/materials/entities/weapon_vj_minigun_fear.png
f.e.a.r/materials/entities/npc_vj_fear_mamons.png
f.e.a.r/materials/entities/npc_vj_replica_saboter.png
f.e.a.r/materials/entities/npc_vj_replica_rev65.png
f.e.a.r/materials/entities/npc_vj_replica_elite_commando.png
f.e.a.r/materials/entities/weapon_vj_neilgun_fear.png
f.e.a.r/materials/entities/weapon_vj_at14.png
f.e.a.r/materials/entities/npc_vj_fear_krig.png
f.e.a.r/materials/entities/npc_vj_fearce_replica_elite_laser_soldier_1.png
f.e.a.r/materials/entities/npc_vj_night_soldier2.png
f.e.a.r/materials/entities/npc_vj_replica_desert_sleep.png
f.e.a.r/materials/entities/npc_vj_fear_alice2.png
f.e.a.r/materials/entities/npc_vj_replica_desert_urban.png
f.e.a.r/materials/entities/npc_vj_fear_doktor4.png
f.e.a.r/materials/entities/weapon_vj_g2a2.png
f.e.a.r/materials/entities/npc_vj_replica_laser.png
f.e.a.r/materials/entities/npc_vj_replica_force.png
f.e.a.r/materials/entities/npc_vj_replica_assassin.png
f.e.a.r/materials/entities/npc_vj_fear_bones.png
f.e.a.r/materials/entities/weapon_vj_laser_fear.png
f.e.a.r/materials/entities/npc_vj_replica_elite3.png
f.e.a.r/materials/entities/npc_vj_fear_shadow.png
f.e.a.r/materials/entities/npc_vj_replica_hight2.png
f.e.a.r/materials/entities/npc_vj_replica_sniper2.png
f.e.a.r/materials/entities/npc_vj_atc_heavysecurity.png
f.e.a.r/materials/entities/npc_vj_replica_t114.png
f.e.a.r/materials/entities/npc_vj_replica_laser2.png
f.e.a.r/materials/entities/npc_vj_fear_doktor.png
f.e.a.r/materials/entities/npc_vj_replica_desert.png
f.e.a.r/materials/entities/npc_vj_fear_turret.png
f.e.a.r/materials/entities/npc_vj_fear_wade.png
f.e.a.r/materials/entities/npc_vj_replica_elite_sleep.png
f.e.a.r/materials/entities/npc_vj_atc_heavysecurity2.png
f.e.a.r/materials/entities/npc_vj_fear_raynes.png
f.e.a.r/materials/entities/npc_vj_fear_chlen.png
f.e.a.r/materials/entities/weapon_vj_ves.png
f.e.a.r/materials/entities/npc_vj_replica_fettel2.png
f.e.a.r/materials/entities/npc_vj_fear_spencer.png
f.e.a.r/materials/entities/npc_vj_fear_dug.png
f.e.a.r/materials/entities/npc_vj_fear_brisol.png
f.e.a.r/materials/entities/npc_vj_night_assassin2.png
f.e.a.r/materials/entities/npc_vj_atc_security2.png
f.e.a.r/materials/entities/npc_vj_fear_habert2.png
f.e.a.r/materials/entities/npc_vj_replica_pilot.png
f.e.a.r/materials/entities/weapon_vj_smg_fear.png
f.e.a.r/materials/entities/npc_vj_replica_t117.png
f.e.a.r/materials/entities/npc_vj_fear_haviz.png
f.e.a.r/materials/entities/npc_vj_night_soldier.png
f.e.a.r/materials/entities/weapon_vj_tesla_fear.png
f.e.a.r/materials/entities/npc_vj_fear_mamon3.png
f.e.a.r/materials/entities/npc_vj_fearce_replica_minigunner.png
f.e.a.r/materials/entities/npc_vj_atc_security5.png
f.e.a.r/materials/entities/npc_vj_atc_turret.png
f.e.a.r/materials/entities/npc_vj_replica_fettel.png
f.e.a.r/materials/entities/npc_vj_fearce_replica_heavy_armor_2.png
f.e.a.r/materials/entities/npc_vj_fear_soldier.png
f.e.a.r/materials/entities/npc_vj_fear_jin.png
f.e.a.r/materials/entities/npc_vj_night_lider.png
f.e.a.r/materials/entities/npc_vj_fear_shade.png
f.e.a.r/materials/entities/npc_vj_replica_t114_sleep.png
f.e.a.r/materials/entities/npc_vj_replica_scout.png
f.e.a.r/materials/entities/npc_vj_fear_alma_old.png
f.e.a.r/materials/entities/npc_vj_night_soldier3.png
f.e.a.r/materials/entities/npc_vj_delta_soldier5.png
f.e.a.r/materials/entities/npc_vj_fear_chlen2.png
f.e.a.r/materials/entities/npc_vj_atc_security.png
f.e.a.r/materials/entities/npc_vj_replica_rev64.png
f.e.a.r/materials/entities/npc_vj_delta_soldier3.png
f.e.a.r/materials/entities/npc_vj_fear_med.png
f.e.a.r/materials/entities/npc_vj_replica_recon_pnv.png
f.e.a.r/materials/entities/npc_vj_replica_elite4.png
f.e.a.r/materials/entities/npc_vj_replica_pnv2.png
f.e.a.r/materials/entities/npc_vj_fear_pointman.png
f.e.a.r/materials/entities/npc_vj_fear_bishop.png
f.e.a.r/materials/entities/npc_vj_fearce_replica_soldier_2.png
f.e.a.r/materials/entities/npc_vj_fear_senator.png
f.e.a.r/materials/entities/npc_vj_replica_rev63.png
f.e.a.r/materials/entities/npc_vj_replica_recon.png
f.e.a.r/materials/entities/npc_vj_fear_sergeant.png
f.e.a.r/materials/entities/npc_vj_fear_doktor7.png
f.e.a.r/materials/entities/npc_vj_fear_doktor6.png
f.e.a.r/materials/entities/npc_vj_night_assassin.png
f.e.a.r/materials/entities/npc_vj_fear_mody.png
f.e.a.r/materials/entities/npc_vj_delta_soldier4.png
f.e.a.r/materials/entities/npc_vj_fear_morison.png
f.e.a.r/materials/entities/npc_vj_replica_recon_sleep.png
f.e.a.r/materials/entities/npc_vj_replica_rev6.png
f.e.a.r/materials/entities/npc_vj_replica_rev8.png
f.e.a.r/materials/entities/npc_vj_fear_norton.png
f.e.a.r/materials/entities/npc_vj_fear_alice.png
f.e.a.r/materials/entities/npc_vj_replica_hight.png
f.e.a.r/materials/entities/npc_vj_replica_enginer.png
f.e.a.r/materials/entities/npc_vj_replica_pnv.png
f.e.a.r/materials/entities/npc_vj_night_commando.png
f.e.a.r/materials/entities/npc_vj_replica_recon_urban.png
f.e.a.r/materials/entities/npc_vj_fear_elite.png
f.e.a.r/materials/entities/npc_vj_fear_doktor5.png
f.e.a.r/materials/entities/weapon_vj_type.png
f.e.a.r/materials/effects/softwave_normal.vtf
f.e.a.r/materials/effects/veho_swave.vmt
f.e.a.r/materials/effects/scope04.vtf
f.e.a.r/materials/effects/laser_line.vtf
f.e.a.r/materials/effects/veho_swave2.vmt
f.e.a.r/materials/effects/scope02.vmt
f.e.a.r/materials/effects/sight_lens_refract.vmt
f.e.a.r/materials/effects/spectral_swirls_1.vmt
f.e.a.r/materials/effects/muzzleflare_01.vtf
f.e.a.r/materials/effects/laser_haze.vmt
f.e.a.r/materials/effects/spectral_swirls_1.vtf
f.e.a.r/materials/effects/beam_nocolor.vtf
f.e.a.r/materials/effects/s_flashlight_01.vmt
f.e.a.r/materials/effects/muzzleflare_01.vmt
f.e.a.r/materials/effects/veho_swave.vtf
f.e.a.r/materials/effects/energy_electric.vtf
f.e.a.r/materials/effects/spectral_swirls_0.vtf
f.e.a.r/materials/effects/scope01.vtf
f.e.a.r/materials/effects/impact_veho.vmt
f.e.a.r/materials/effects/muzzleviewflare_01.vtf
f.e.a.r/materials/effects/scope04.vmt
f.e.a.r/materials/effects/led_glow.vmt
f.e.a.r/materials/effects/scope01.vmt
f.e.a.r/materials/effects/muzzlestarlarge_01.vmt
f.e.a.r/materials/effects/muzzleviewflare_shotgun_01.vtf
f.e.a.r/materials/effects/sight_glass.vtf
f.e.a.r/materials/effects/muzzleviewflare_shotgun_01.vmt
f.e.a.r/materials/effects/s_indicate_01.vmt
f.e.a.r/materials/effects/impact_energy.vmt
f.e.a.r/materials/effects/laser_haze.vtf
f.e.a.r/materials/effects/spectral_square.vtf
f.e.a.r/materials/effects/spectral_square_01_nocolor.vmt
f.e.a.r/materials/effects/muzzleviewflare_01.vmt
f.e.a.r/materials/effects/scope03.vtf
f.e.a.r/materials/effects/laser_noise.vtf
f.e.a.r/materials/effects/sight_lens.vmt
f.e.a.r/materials/effects/muzzleblur.vmt
f.e.a.r/materials/effects/energy_electric.vmt
f.e.a.r/materials/effects/scope02.vtf
f.e.a.r/materials/effects/sight_lens_bump.vtf
f.e.a.r/materials/effects/spark_flamelet.vmt
f.e.a.r/materials/effects/sight_lens.vtf
f.e.a.r/materials/effects/laser_line.vmt
f.e.a.r/materials/effects/type7_ring.vtf
f.e.a.r/materials/effects/laser_line_asa.vmt
f.e.a.r/materials/effects/shockwave.vmt
f.e.a.r/materials/effects/sight_glass.vmt
f.e.a.r/materials/effects/s_flashlight_01.vtf
f.e.a.r/materials/effects/spark_flamelet.vtf
f.e.a.r/materials/effects/impact_veho.vtf
f.e.a.r/materials/effects/scope03.vmt
f.e.a.r/materials/effects/softwave_normal2.vtf
f.e.a.r/materials/effects/type7_ring.vmt
f.e.a.r/materials/effects/laser_line2.vmt
f.e.a.r/materials/effects/veho_swave2.vtf
f.e.a.r/materials/effects/spectral_swirls_0.vmt
f.e.a.r/materials/effects/spark_sc.vmt
f.e.a.r/materials/effects/muzzlestarlarge_01.vtf
f.e.a.r/materials/effects/s_indicate_01.vtf
f.e.a.r/materials/effects/beam_nocolor.vmt
f.e.a.r/materials/effects/vapor_shock.vtf
f.e.a.r/materials/effects/tracer/tracer_7.vmt
f.e.a.r/materials/effects/tracer/tracer_7.vtf
f.e.a.r/materials/effects/tracer/tracer_5.vmt
f.e.a.r/materials/effects/tracer/tracer_5.vtf
f.e.a.r/materials/hud/fear_rg.vmt
f.e.a.r/materials/hud/fear_tesla.vmt
f.e.a.r/materials/hud/fear_smg.vmt
f.e.a.r/materials/hud/fear_spas.vmt
f.e.a.r/materials/hud/fear_50mm.vtf
f.e.a.r/materials/hud/fear_smg.vtf
f.e.a.r/materials/hud/fear_grenade.vtf
f.e.a.r/materials/hud/fear_neilgun.vtf
f.e.a.r/materials/hud/fear_mine.vtf
f.e.a.r/materials/hud/fear_g2a2.vmt
f.e.a.r/materials/hud/fear_laser.vmt
f.e.a.r/materials/hud/fear_mine.vmt
f.e.a.r/materials/hud/fear_bomb.vtf
f.e.a.r/materials/hud/fear_ves.vtf
f.e.a.r/materials/hud/fear_grenade.vmt
f.e.a.r/materials/hud/fear_type7.vmt
f.e.a.r/materials/hud/fear_at14_duble.vmt
f.e.a.r/materials/hud/fear_asp.vmt
f.e.a.r/materials/hud/fear_g2a2.vtf
f.e.a.r/materials/hud/fear_rg.vtf
f.e.a.r/materials/hud/fear_type7.vtf
f.e.a.r/materials/hud/fear_rpg.vtf
f.e.a.r/materials/hud/fear_minigun.vmt
f.e.a.r/materials/hud/fear_asp.vtf
f.e.a.r/materials/hud/fear_bomb.vmt
f.e.a.r/materials/hud/fear_50mm.vmt
f.e.a.r/materials/hud/fear_tesla.vtf
f.e.a.r/materials/hud/fear_at14.vmt
f.e.a.r/materials/hud/fear_minigun.vtf
f.e.a.r/materials/hud/fear_ves.vmt
f.e.a.r/materials/hud/fear_neilgun.vmt
f.e.a.r/materials/hud/fear_spas.vtf
f.e.a.r/materials/hud/fear_at14.vtf
f.e.a.r/materials/hud/fear_at14_duble.vtf
f.e.a.r/materials/hud/fear_laser.vtf
f.e.a.r/materials/hud/fear_rpg.vmt
f.e.a.r/materials/weapons/w_models/w_eq_fraggrenade/w_eq_fraggrenade.vmt
f.e.a.r/materials/weapons/w_models/w_eq_fraggrenade/w_eq_fraggrenade.vtf
f.e.a.r/materials/weapons/w_models/w_knife_t/w_knife_t.vmt
f.e.a.r/materials/weapons/w_models/w_knife_t/w_knife_t.vtf
f.e.a.r/materials/weapons/w_models/w_eq_defuser/w_eq_defuser.vmt
f.e.a.r/materials/weapons/w_models/w_eq_defuser/w_eq_defuser.vtf
f.e.a.r/materials/weapons/w_models/w_eq_smokegrenade/w_eq_smokegrenade.vmt
f.e.a.r/materials/weapons/w_models/w_eq_smokegrenade/w_eq_smokegrenade.vtf
f.e.a.r/materials/weapons/w_models/w_eq_eholster/w_eq_eholster.vtf
f.e.a.r/materials/weapons/w_models/w_eq_eholster/w_eq_eholster.vmt
f.e.a.r/materials/weapons/w_models/w_eq_flashbang/w_eq_flashbang.vmt
f.e.a.r/materials/weapons/w_models/w_eq_flashbang/w_eq_flashbang.vtf
f.e.a.r/materials/weapons/v_models/eq_smokegrenade/smokegrenade_ref.vtf
f.e.a.r/materials/weapons/v_models/eq_smokegrenade/smokegrenade.vmt
f.e.a.r/materials/weapons/v_models/eq_smokegrenade/smokegrenade.vtf
f.e.a.r/materials/weapons/v_models/knife_t/knife_t.vtf
f.e.a.r/materials/weapons/v_models/knife_t/knife_t_ref.vtf
f.e.a.r/materials/weapons/v_models/knife_t/knife_t.vmt
f.e.a.r/materials/weapons/v_models/hands/v_hands.vmt
f.e.a.r/materials/weapons/v_models/hands/v_hands_normal.vtf
f.e.a.r/materials/weapons/v_models/hands/v_hands.vtf
f.e.a.r/materials/weapons/v_models/eq_fraggrenade/fraggrenade.vmt
f.e.a.r/materials/weapons/v_models/eq_fraggrenade/fraggrenade_ref.vtf
f.e.a.r/materials/weapons/v_models/eq_fraggrenade/fraggrenade.vtf
f.e.a.r/materials/weapons/v_models/eq_flashbang/flashbang.vmt
f.e.a.r/materials/weapons/v_models/eq_flashbang/flashbang.vtf
f.e.a.r/materials/weapons/v_models/eq_flashbang/flashbang_ref.vtf
f.e.a.r/materials/shuriken/deathicon.vmt
f.e.a.r/materials/shuriken/deathicon.vtf
f.e.a.r/materials/jaanus/brass.vmt
f.e.a.r/materials/jaanus/brass_mask.vtf
f.e.a.r/materials/jaanus/brass.vtf
f.e.a.r/materials/jaanus/shuriken.vtf
f.e.a.r/materials/jaanus/shuriken.vmt
f.e.a.r/materials/models/leakwep/v_han3/v_hand_sheet.vmt
f.e.a.r/materials/models/leakwep/v_han3/v_hand_sheet.vtf
f.e.a.r/materials/models/leakwep/v_han3/armtexture.vtf
f.e.a.r/materials/models/leakwep/v_han3/armtexture.vmt
f.e.a.r/materials/models/leakwep/v_han3/v_hand_sheet_normal.vtf
f.e.a.r/materials/models/leakwep/v_han3/ay/inner.vmt
f.e.a.r/materials/models/leakwep/v_han3/ay/hand.vtf
f.e.a.r/materials/models/leakwep/v_han3/ay/finger.vtf
f.e.a.r/materials/models/leakwep/v_han3/ay/arm.vmt
f.e.a.r/materials/models/leakwep/v_han3/ay/finger.vmt
f.e.a.r/materials/models/leakwep/v_han3/ay/joint.vmt
f.e.a.r/materials/models/leakwep/v_han3/ay/hand2.vmt
f.e.a.r/materials/models/leakwep/v_han3/ay/handplate.vmt
f.e.a.r/materials/models/leakwep/v_han3/ay/arm.vtf
f.e.a.r/materials/models/leakwep/v_han3/ay/hand.vmt
f.e.a.r/materials/models/leakwep/v_han3/ay/thumb.vmt
f.e.a.r/materials/models/leakwep/v_han3/ay/bicep.vmt
f.e.a.r/materials/models/leakwep/v_han3/ay/joint.vtf
f.e.a.r/materials/models/leakwep/v_han3/ay/handplate.vtf
f.e.a.r/materials/models/leakwep/v_han3/ay/armtexture.vtf
f.e.a.r/materials/models/leakwep/v_han3/ay/hand2.vtf
f.e.a.r/materials/models/leakwep/v_han3/ay/bicep.vtf
f.e.a.r/materials/models/leakwep/v_han3/ay/armtexture.vmt
f.e.a.r/materials/models/leakwep/v_han3/ay/thumb.vtf
f.e.a.r/materials/models/leakwep/v_han3/ay/inner.vtf
f.e.a.r/materials/models/failure/mk6/basenologo.vtf
f.e.a.r/materials/models/failure/mk6/base.vmt
f.e.a.r/materials/models/failure/mk6/basenologo.vmt
f.e.a.r/materials/models/failure/mk6/base.vtf
f.e.a.r/materials/models/scav/nail_shiny.vmt
f.e.a.r/materials/models/scav/nail_dull.vmt
f.e.a.r/materials/models/scav/nail.vtf
f.e.a.r/materials/models/scav/nail_shinymask.vtf
f.e.a.r/materials/models/comrade/car3/atc_glass2_s.vtf
f.e.a.r/materials/models/comrade/car3/atc_glass2.vmt
f.e.a.r/materials/models/comrade/car3/atc_koleso2_s.vtf
f.e.a.r/materials/models/comrade/car3/atc_car2.vtf
f.e.a.r/materials/models/comrade/car3/atc_car2_s.vtf
f.e.a.r/materials/models/comrade/car3/atc_koleso2_n.vtf
f.e.a.r/materials/models/comrade/car3/atc_koleso2.vtf
f.e.a.r/materials/models/comrade/car3/atc_car2.vmt
f.e.a.r/materials/models/comrade/car3/atc_koleso2.vmt
f.e.a.r/materials/models/comrade/car3/atc_car2_n.vtf
f.e.a.r/materials/models/comrade/car3/atc_glass2.vtf
f.e.a.r/materials/models/comrade/car2/atc_koleso_n.vtf
f.e.a.r/materials/models/comrade/car2/atc_koleso.vtf
f.e.a.r/materials/models/comrade/car2/atc_car.vmt
f.e.a.r/materials/models/comrade/car2/atc_glass.vmt
f.e.a.r/materials/models/comrade/car2/atc_koleso_s.vtf
f.e.a.r/materials/models/comrade/car2/atc_car_n.vtf
f.e.a.r/materials/models/comrade/car2/atc_koleso.vmt
f.e.a.r/materials/models/comrade/car2/atc_glass.vtf
f.e.a.r/materials/models/comrade/car2/atc_car.vtf
f.e.a.r/materials/models/comrade/car/7.vmt
f.e.a.r/materials/models/comrade/car/3.vtf
f.e.a.r/materials/models/comrade/car/2.vtf
f.e.a.r/materials/models/comrade/car/3n.vtf
f.e.a.r/materials/models/comrade/car/1.vtf
f.e.a.r/materials/models/comrade/car/4s.vtf
f.e.a.r/materials/models/comrade/car/1.vmt
f.e.a.r/materials/models/comrade/car/1s.vtf
f.e.a.r/materials/models/comrade/car/12.vmt
f.e.a.r/materials/models/comrade/car/7.vtf
f.e.a.r/materials/models/comrade/car/5g.vtf
f.e.a.r/materials/models/comrade/car/4a.vmt
f.e.a.r/materials/models/comrade/car/1n.vtf
f.e.a.r/materials/models/comrade/car/3s.vtf
f.e.a.r/materials/models/comrade/car/5s.vtf
f.e.a.r/materials/models/comrade/car/2s.vtf
f.e.a.r/materials/models/comrade/car/6.vtf
f.e.a.r/materials/models/comrade/car/5n.vtf
f.e.a.r/materials/models/comrade/car/4.vtf
f.e.a.r/materials/models/comrade/car/12.vtf
f.e.a.r/materials/models/comrade/car/4.vmt
f.e.a.r/materials/models/comrade/car/5a.vmt
f.e.a.r/materials/models/comrade/car/5.vtf
f.e.a.r/materials/models/comrade/car/7a.vmt
f.e.a.r/materials/models/comrade/car/4g.vtf
f.e.a.r/materials/models/comrade/car/2.vmt
f.e.a.r/materials/models/comrade/car/3.vmt
f.e.a.r/materials/models/comrade/car/2n.vtf
f.e.a.r/materials/models/comrade/car/6.vmt
f.e.a.r/materials/models/comrade/car/5.vmt
f.e.a.r/materials/models/comrade/car/4n.vtf
f.e.a.r/materials/models/comrade/truck/3.vtf
f.e.a.r/materials/models/comrade/truck/2.vtf
f.e.a.r/materials/models/comrade/truck/3n.vtf
f.e.a.r/materials/models/comrade/truck/1.vtf
f.e.a.r/materials/models/comrade/truck/1.vmt
f.e.a.r/materials/models/comrade/truck/1s.vtf
f.e.a.r/materials/models/comrade/truck/1e.vtf
f.e.a.r/materials/models/comrade/truck/1a.vmt
f.e.a.r/materials/models/comrade/truck/1n.vtf
f.e.a.r/materials/models/comrade/truck/3s.vtf
f.e.a.r/materials/models/comrade/truck/2.vmt
f.e.a.r/materials/models/comrade/truck/3.vmt
f.e.a.r/materials/models/comrade/prop/printer_s.vtf
f.e.a.r/materials/models/comrade/prop/arsenal.vtf
f.e.a.r/materials/models/comrade/prop/chips.vmt
f.e.a.r/materials/models/comrade/prop/notebook4.vmt
f.e.a.r/materials/models/comrade/prop/bochka.vmt
f.e.a.r/materials/models/comrade/prop/flash_s.vtf
f.e.a.r/materials/models/comrade/prop/shitok_s.vtf
f.e.a.r/materials/models/comrade/prop/mobila2.vtf
f.e.a.r/materials/models/comrade/prop/notebook2d.vtf
f.e.a.r/materials/models/comrade/prop/mobila_s.vtf
f.e.a.r/materials/models/comrade/prop/medkit_s.vtf
f.e.a.r/materials/models/comrade/prop/notebook4_g.vtf
f.e.a.r/materials/models/comrade/prop/pribor3.vtf
f.e.a.r/materials/models/comrade/prop/teh4.vtf
f.e.a.r/materials/models/comrade/prop/atc.vmt
f.e.a.r/materials/models/comrade/prop/notebook2_n.vtf
f.e.a.r/materials/models/comrade/prop/flash.vmt
f.e.a.r/materials/models/comrade/prop/monitor3.vmt
f.e.a.r/materials/models/comrade/prop/mobila_n.vtf
f.e.a.r/materials/models/comrade/prop/sistemnik2_n.vtf
f.e.a.r/materials/models/comrade/prop/stepler2.vtf
f.e.a.r/materials/models/comrade/prop/korobka.vtf
f.e.a.r/materials/models/comrade/prop/stepler_n.vtf
f.e.a.r/materials/models/comrade/prop/jurnal.vmt
f.e.a.r/materials/models/comrade/prop/mouse_s.vtf
f.e.a.r/materials/models/comrade/prop/teh2.vtf
f.e.a.r/materials/models/comrade/prop/sistemnik2.vtf
f.e.a.r/materials/models/comrade/prop/monitor2.vmt
f.e.a.r/materials/models/comrade/prop/monitor3_n.vtf
f.e.a.r/materials/models/comrade/prop/bochka_n.vtf
f.e.a.r/materials/models/comrade/prop/medic2.vmt
f.e.a.r/materials/models/comrade/prop/medic_s.vtf
f.e.a.r/materials/models/comrade/prop/teh3.vmt
f.e.a.r/materials/models/comrade/prop/mobila_g.vtf
f.e.a.r/materials/models/comrade/prop/teh1.vmt
f.e.a.r/materials/models/comrade/prop/notebook2.vtf
f.e.a.r/materials/models/comrade/prop/znak.vmt
f.e.a.r/materials/models/comrade/prop/bochka2.vmt
f.e.a.r/materials/models/comrade/prop/dom3.vtf
f.e.a.r/materials/models/comrade/prop/pribor_n.vtf
f.e.a.r/materials/models/comrade/prop/kaktus2.vmt
f.e.a.r/materials/models/comrade/prop/stul_n.vtf
f.e.a.r/materials/models/comrade/prop/med2_b.vtf
f.e.a.r/materials/models/comrade/prop/teh4_n.vtf
f.e.a.r/materials/models/comrade/prop/monitor.vmt
f.e.a.r/materials/models/comrade/prop/vaza.vtf
f.e.a.r/materials/models/comrade/prop/krushka2.vmt
f.e.a.r/materials/models/comrade/prop/kaktus2a.vmt
f.e.a.r/materials/models/comrade/prop/bochka3.vtf
f.e.a.r/materials/models/comrade/prop/printer.vtf
f.e.a.r/materials/models/comrade/prop/med.vtf
f.e.a.r/materials/models/comrade/prop/notebook4.vtf
f.e.a.r/materials/models/comrade/prop/kaktus.vtf
f.e.a.r/materials/models/comrade/prop/medic2_g.vtf
f.e.a.r/materials/models/comrade/prop/printer.vmt
f.e.a.r/materials/models/comrade/prop/medkit.vtf
f.e.a.r/materials/models/comrade/prop/kaktus2.vtf
f.e.a.r/materials/models/comrade/prop/phone2_n.vtf
f.e.a.r/materials/models/comrade/prop/notebook2a.vmt
f.e.a.r/materials/models/comrade/prop/pribor.vtf
f.e.a.r/materials/models/comrade/prop/microvol.vtf
f.e.a.r/materials/models/comrade/prop/bochka3.vmt
f.e.a.r/materials/models/comrade/prop/pribor3.vmt
f.e.a.r/materials/models/comrade/prop/phone2.vtf
f.e.a.r/materials/models/comrade/prop/teh2.vmt
f.e.a.r/materials/models/comrade/prop/medic.vtf
f.e.a.r/materials/models/comrade/prop/notebook2_g.vtf
f.e.a.r/materials/models/comrade/prop/notebook2c.vmt
f.e.a.r/materials/models/comrade/prop/pribor.vmt
f.e.a.r/materials/models/comrade/prop/mouse.vtf
f.e.a.r/materials/models/comrade/prop/sistemnik_s.vtf
f.e.a.r/materials/models/comrade/prop/notebook2.vmt
f.e.a.r/materials/models/comrade/prop/kaktus2_n.vtf
f.e.a.r/materials/models/comrade/prop/kaktus_n.vtf
f.e.a.r/materials/models/comrade/prop/phone.vmt
f.e.a.r/materials/models/comrade/prop/medic2.vtf
f.e.a.r/materials/models/comrade/prop/kofemat.vtf
f.e.a.r/materials/models/comrade/prop/notebook2_s.vtf
f.e.a.r/materials/models/comrade/prop/microvol_s.vtf
f.e.a.r/materials/models/comrade/prop/auto2.vtf
f.e.a.r/materials/models/comrade/prop/dom4.vtf
f.e.a.r/materials/models/comrade/prop/jurnal3.vtf
f.e.a.r/materials/models/comrade/prop/mobila2.vmt
f.e.a.r/materials/models/comrade/prop/phone_n.vtf
f.e.a.r/materials/models/comrade/prop/med2.vtf
f.e.a.r/materials/models/comrade/prop/ognetush.vmt
f.e.a.r/materials/models/comrade/prop/airbas.vtf
f.e.a.r/materials/models/comrade/prop/keyboard.vtf
f.e.a.r/materials/models/comrade/prop/keyboard2_s.vtf
f.e.a.r/materials/models/comrade/prop/pribor2_n.vtf
f.e.a.r/materials/models/comrade/prop/ognetush.vtf
f.e.a.r/materials/models/comrade/prop/stul.vmt
f.e.a.r/materials/models/comrade/prop/medic.vmt
f.e.a.r/materials/models/comrade/prop/notebook2b.vtf
f.e.a.r/materials/models/comrade/prop/phone2.vmt
f.e.a.r/materials/models/comrade/prop/teh3_n.vtf
f.e.a.r/materials/models/comrade/prop/keyboard2.vmt
f.e.a.r/materials/models/comrade/prop/armor_light_n.vtf
f.e.a.r/materials/models/comrade/prop/medic_n.vtf
f.e.a.r/materials/models/comrade/prop/notebook.vtf
f.e.a.r/materials/models/comrade/prop/medkit_n.vtf
f.e.a.r/materials/models/comrade/prop/monitor_n.vtf
f.e.a.r/materials/models/comrade/prop/gruz.vmt
f.e.a.r/materials/models/comrade/prop/medic_g.vtf
f.e.a.r/materials/models/comrade/prop/dom3_s.vtf
f.e.a.r/materials/models/comrade/prop/airbas2.vmt
f.e.a.r/materials/models/comrade/prop/jurnal3.vmt
f.e.a.r/materials/models/comrade/prop/jurnal5.vtf
f.e.a.r/materials/models/comrade/prop/sistemnik.vmt
f.e.a.r/materials/models/comrade/prop/med2_n.vtf
f.e.a.r/materials/models/comrade/prop/notebook4_n.vtf
f.e.a.r/materials/models/comrade/prop/jurnal2.vtf
f.e.a.r/materials/models/comrade/prop/phone_s.vtf
f.e.a.r/materials/models/comrade/prop/avtomat.vmt
f.e.a.r/materials/models/comrade/prop/radio.vtf
f.e.a.r/materials/models/comrade/prop/printer_n.vtf
f.e.a.r/materials/models/comrade/prop/teh1_s.vtf
f.e.a.r/materials/models/comrade/prop/med_n.vtf
f.e.a.r/materials/models/comrade/prop/monitor3.vtf
f.e.a.r/materials/models/comrade/prop/keyboard2.vtf
f.e.a.r/materials/models/comrade/prop/arsenal_n.vtf
f.e.a.r/materials/models/comrade/prop/dom4_n.vtf
f.e.a.r/materials/models/comrade/prop/auto_n.vtf
f.e.a.r/materials/models/comrade/prop/teh1_n.vtf
f.e.a.r/materials/models/comrade/prop/atc.vtf
f.e.a.r/materials/models/comrade/prop/parashut.vmt
f.e.a.r/materials/models/comrade/prop/notebook_n.vtf
f.e.a.r/materials/models/comrade/prop/krushka2.vtf
f.e.a.r/materials/models/comrade/prop/monitor2.vtf
f.e.a.r/materials/models/comrade/prop/keyboard2_n.vtf
f.e.a.r/materials/models/comrade/prop/med2_b.vmt
f.e.a.r/materials/models/comrade/prop/atc2.vmt
f.e.a.r/materials/models/comrade/prop/auto.vtf
f.e.a.r/materials/models/comrade/prop/kofemat_n.vtf
f.e.a.r/materials/models/comrade/prop/notebook2c.vtf
f.e.a.r/materials/models/comrade/prop/teh3.vtf
f.e.a.r/materials/models/comrade/prop/printer2_n.vtf
f.e.a.r/materials/models/comrade/prop/phone3.vtf
f.e.a.r/materials/models/comrade/prop/ognetush_n.vtf
f.e.a.r/materials/models/comrade/prop/auto.vmt
f.e.a.r/materials/models/comrade/prop/keyboard_s.vtf
f.e.a.r/materials/models/comrade/prop/jurnal5.vmt
f.e.a.r/materials/models/comrade/prop/sistemnik2_s.vtf
f.e.a.r/materials/models/comrade/prop/kofemat.vmt
f.e.a.r/materials/models/comrade/prop/shitok_n.vtf
f.e.a.r/materials/models/comrade/prop/microvol_n.vtf
f.e.a.r/materials/models/comrade/prop/notebook2b.vmt
f.e.a.r/materials/models/comrade/prop/sistemnik2.vmt
f.e.a.r/materials/models/comrade/prop/printer2.vmt
f.e.a.r/materials/models/comrade/prop/airbas ù Ωε∩Φ  (2) ù Ωε∩Φ .vmt
f.e.a.r/materials/models/comrade/prop/mouse_g.vtf
f.e.a.r/materials/models/comrade/prop/printer2.vtf
f.e.a.r/materials/models/comrade/prop/yachik.vtf
f.e.a.r/materials/models/comrade/prop/yachik_s.vtf
f.e.a.r/materials/models/comrade/prop/teh1.vtf
f.e.a.r/materials/models/comrade/prop/armor_light_e.vtf
f.e.a.r/materials/models/comrade/prop/flash.vtf
f.e.a.r/materials/models/comrade/prop/korobka.vmt
f.e.a.r/materials/models/comrade/prop/dom4.vmt
f.e.a.r/materials/models/comrade/prop/stepler.vmt
f.e.a.r/materials/models/comrade/prop/gruz.vtf
f.e.a.r/materials/models/comrade/prop/teh2_n.vtf
f.e.a.r/materials/models/comrade/prop/phone.vtf
f.e.a.r/materials/models/comrade/prop/notebook.vmt
f.e.a.r/materials/models/comrade/prop/sistemnik.vtf
f.e.a.r/materials/models/comrade/prop/med2_s.vtf
f.e.a.r/materials/models/comrade/prop/radio.vmt
f.e.a.r/materials/models/comrade/prop/krujka.vmt
f.e.a.r/materials/models/comrade/prop/dom_n.vtf
f.e.a.r/materials/models/comrade/prop/znak.vtf
f.e.a.r/materials/models/comrade/prop/notebook_s.vtf
f.e.a.r/materials/models/comrade/prop/jurnal4.vtf
f.e.a.r/materials/models/comrade/prop/jurnal2.vmt
f.e.a.r/materials/models/comrade/prop/kofemat_g.vtf
f.e.a.r/materials/models/comrade/prop/atc2.vtf
f.e.a.r/materials/models/comrade/prop/pribor_s.vtf
f.e.a.r/materials/models/comrade/prop/avtomat.vtf
f.e.a.r/materials/models/comrade/prop/shitok.vtf
f.e.a.r/materials/models/comrade/prop/arsenal2.vmt
f.e.a.r/materials/models/comrade/prop/dom2.vmt
f.e.a.r/materials/models/comrade/prop/bochka.vtf
f.e.a.r/materials/models/comrade/prop/vaza.vmt
f.e.a.r/materials/models/comrade/prop/pribor_g.vtf
f.e.a.r/materials/models/comrade/prop/phone2_s.vtf
f.e.a.r/materials/models/comrade/prop/pribor2.vtf
f.e.a.r/materials/models/comrade/prop/notebook2d.vmt
f.e.a.r/materials/models/comrade/prop/monitor3_s.vtf
f.e.a.r/materials/models/comrade/prop/armor_light_e.vmt
f.e.a.r/materials/models/comrade/prop/dom2.vtf
f.e.a.r/materials/models/comrade/prop/monitor_s.vtf
f.e.a.r/materials/models/comrade/prop/pribor3_n.vtf
f.e.a.r/materials/models/comrade/prop/mobila.vmt
f.e.a.r/materials/models/comrade/prop/kaktus_s.vtf
f.e.a.r/materials/models/comrade/prop/monitor2_n.vtf
f.e.a.r/materials/models/comrade/prop/mouse.vmt
f.e.a.r/materials/models/comrade/prop/jurnal.vtf
f.e.a.r/materials/models/comrade/prop/shitok.vmt
f.e.a.r/materials/models/comrade/prop/flash_n.vtf
f.e.a.r/materials/models/comrade/prop/airbas2_n.vtf
f.e.a.r/materials/models/comrade/prop/med2.vmt
f.e.a.r/materials/models/comrade/prop/kaktus.vmt
f.e.a.r/materials/models/comrade/prop/dom_s.vtf
f.e.a.r/materials/models/comrade/prop/teh2_s.vtf
f.e.a.r/materials/models/comrade/prop/stepler.vtf
f.e.a.r/materials/models/comrade/prop/stepler_s.vtf
f.e.a.r/materials/models/comrade/prop/teh3_g.vtf
f.e.a.r/materials/models/comrade/prop/notebook2a.vtf
f.e.a.r/materials/models/comrade/prop/parashut.vtf
f.e.a.r/materials/models/comrade/prop/sistemnik_n.vtf
f.e.a.r/materials/models/comrade/prop/ognetush_s.vtf
f.e.a.r/materials/models/comrade/prop/yachik_n.vtf
f.e.a.r/materials/models/comrade/prop/krujka.vtf
f.e.a.r/materials/models/comrade/prop/airbas.vmt
f.e.a.r/materials/models/comrade/prop/dom.vtf
f.e.a.r/materials/models/comrade/prop/notebook4_s.vtf
f.e.a.r/materials/models/comrade/prop/sistemnik_g.vtf
f.e.a.r/materials/models/comrade/prop/radio_s.vtf
f.e.a.r/materials/models/comrade/prop/airbas2.vtf
f.e.a.r/materials/models/comrade/prop/auto2.vmt
f.e.a.r/materials/models/comrade/prop/stul.vtf
f.e.a.r/materials/models/comrade/prop/teh2_g.vtf
f.e.a.r/materials/models/comrade/prop/teh4_s.vtf
f.e.a.r/materials/models/comrade/prop/keyboard_n.vtf
f.e.a.r/materials/models/comrade/prop/teh3_s.vtf
f.e.a.r/materials/models/comrade/prop/airbas ù Ωε∩Φ  (2) ù Ωε∩Φ  ù Ωε∩Φ .vmt
f.e.a.r/materials/models/comrade/prop/mobila.vtf
f.e.a.r/materials/models/comrade/prop/dom.vmt
f.e.a.r/materials/models/comrade/prop/airbas_n.vtf
f.e.a.r/materials/models/comrade/prop/dom3_n.vtf
f.e.a.r/materials/models/comrade/prop/radio_n.vtf
f.e.a.r/materials/models/comrade/prop/monitor.vtf
f.e.a.r/materials/models/comrade/prop/yachik.vmt
f.e.a.r/materials/models/comrade/prop/jurnal4.vmt
f.e.a.r/materials/models/comrade/prop/kaktus2a.vtf
f.e.a.r/materials/models/comrade/prop/phone3.vmt
f.e.a.r/materials/models/comrade/prop/stepler2.vmt
f.e.a.r/materials/models/comrade/prop/kofemat_s.vtf
f.e.a.r/materials/models/comrade/prop/teh4.vmt
f.e.a.r/materials/models/comrade/prop/dom3.vmt
f.e.a.r/materials/models/comrade/prop/medkit.vmt
f.e.a.r/materials/models/comrade/prop/5.vmt
f.e.a.r/materials/models/comrade/prop/med.vmt
f.e.a.r/materials/models/comrade/prop/chips.vtf
f.e.a.r/materials/models/comrade/prop/teh1_g.vtf
f.e.a.r/materials/models/comrade/prop/auto2_n.vtf
f.e.a.r/materials/models/comrade/prop/arsenal.vmt
f.e.a.r/materials/models/comrade/prop/arsenal2.vtf
f.e.a.r/materials/models/comrade/prop/mouse_n.vtf
f.e.a.r/materials/models/comrade/prop/pribor2.vmt
f.e.a.r/materials/models/comrade/prop/microvol.vmt
f.e.a.r/materials/models/comrade/prop/med_s.vtf
f.e.a.r/materials/models/comrade/prop/keyboard.vmt
f.e.a.r/materials/models/comrade/prop/bochka2.vtf
f.e.a.r/materials/models/comrade/weapons/w_models/w_knife_t/w_knife_t.vmt
f.e.a.r/materials/models/comrade/weapons/w_models/w_knife_t/w_knife_t.vtf
f.e.a.r/materials/models/comrade/weapons/w_models/w_eq_defuser/w_eq_defuser.vmt
f.e.a.r/materials/models/comrade/weapons/w_models/w_eq_defuser/w_eq_defuser.vtf
f.e.a.r/materials/models/comrade/weapons/w_models/w_eq_eholster/w_eq_eholster.vtf
f.e.a.r/materials/models/comrade/weapons/w_models/w_eq_eholster/w_eq_eholster.vmt
f.e.a.r/materials/models/comrade/weapons/v_models/knife_t/knife_t.vtf
f.e.a.r/materials/models/comrade/weapons/v_models/knife_t/knife_t_ref.vtf
f.e.a.r/materials/models/comrade/weapons/v_models/knife_t/knife_t.vmt
f.e.a.r/materials/models/comrade/weapons/v_models/hands/v_hands.vmt
f.e.a.r/materials/models/comrade/weapons/v_models/hands/v_hands_normal.vtf
f.e.a.r/materials/models/comrade/weapons/v_models/hands/v_hands.vtf
f.e.a.r/materials/models/comrade/weapons/v_models/hands_ghost/v_hands.vmt
f.e.a.r/materials/models/comrade/weapons/v_models/hands_ghost/v_hands_normal.vtf
f.e.a.r/materials/models/comrade/weapons/v_models/hands_ghost/v_hands_exp.vtf
f.e.a.r/materials/models/comrade/weapons/v_models/hands_ghost/v_hands.vtf
f.e.a.r/materials/models/comrade/weapons/v_models/hands_ghost/phongwarp.vtf
f.e.a.r/materials/models/comrade/weapons/v_models/hands_ghost/v_hands_exponent.vtf
f.e.a.r/materials/models/comrade/weapons/fear/neil/neil.vmt
f.e.a.r/materials/models/comrade/weapons/fear/neil/neil_g.vtf
f.e.a.r/materials/models/comrade/weapons/fear/neil/neil.vtf
f.e.a.r/materials/models/comrade/weapons/fear/neil/neil_n.vtf
f.e.a.r/materials/models/comrade/weapons/fear/shield/shield.vtf
f.e.a.r/materials/models/comrade/weapons/fear/shield/shield.vmt
f.e.a.r/materials/models/comrade/weapons/fear/shield/shield_g.vtf
f.e.a.r/materials/models/comrade/weapons/fear/shield/shield_n.vtf
f.e.a.r/materials/models/comrade/weapons/fear/grenade/grenade.vtf
f.e.a.r/materials/models/comrade/weapons/fear/grenade/grenade_n.vtf
f.e.a.r/materials/models/comrade/weapons/fear/grenade/grenade_g.vtf
f.e.a.r/materials/models/comrade/weapons/fear/grenade/grenade.vmt
f.e.a.r/materials/models/comrade/weapons/fear/spas/spas_n.vtf
f.e.a.r/materials/models/comrade/weapons/fear/spas/wpn_shell.vmt
f.e.a.r/materials/models/comrade/weapons/fear/spas/spas.vtf
f.e.a.r/materials/models/comrade/weapons/fear/spas/wpn_shell.vtf
f.e.a.r/materials/models/comrade/weapons/fear/spas/spas.vmt
f.e.a.r/materials/models/comrade/weapons/fear/grenades/grenades3fx.vmt
f.e.a.r/materials/models/comrade/weapons/fear/grenades/grenades3fx.vtf
f.e.a.r/materials/models/comrade/weapons/fear/grenades/grenades3.vmt
f.e.a.r/materials/models/comrade/weapons/fear/grenades/grenades3.vtf
f.e.a.r/materials/models/comrade/weapons/fear/grenades/grenades3_local.vtf
f.e.a.r/materials/models/comrade/weapons/fear/50mm/50mm2_g.vtf
f.e.a.r/materials/models/comrade/weapons/fear/50mm/50mm.vtf
f.e.a.r/materials/models/comrade/weapons/fear/50mm/50mm2.vtf
f.e.a.r/materials/models/comrade/weapons/fear/50mm/50mm2_n.vtf
f.e.a.r/materials/models/comrade/weapons/fear/50mm/50mm_n.vtf
f.e.a.r/materials/models/comrade/weapons/fear/50mm/50mm2.vmt
f.e.a.r/materials/models/comrade/weapons/fear/50mm/50mm.vmt
f.e.a.r/materials/models/comrade/weapons/fear/at14/at14.vtf
f.e.a.r/materials/models/comrade/weapons/fear/at14/at14_n.vtf
f.e.a.r/materials/models/comrade/weapons/fear/at14/at14.vmt
f.e.a.r/materials/models/comrade/weapons/fear/rg/rg.vmt
f.e.a.r/materials/models/comrade/weapons/fear/rg/rg_n.vtf
f.e.a.r/materials/models/comrade/weapons/fear/rg/rg.vtf
f.e.a.r/materials/models/comrade/weapons/fear/v_minigun/minigun_n.vtf
f.e.a.r/materials/models/comrade/weapons/fear/v_minigun/minigun_spec.vtf
f.e.a.r/materials/models/comrade/weapons/fear/v_minigun/minigun.vtf
f.e.a.r/materials/models/comrade/weapons/fear/v_minigun/minigun_g.vtf
f.e.a.r/materials/models/comrade/weapons/fear/v_minigun/minigun.vmt
f.e.a.r/materials/models/comrade/weapons/fear/tesla/p3x_d.vmt
f.e.a.r/materials/models/comrade/weapons/fear/tesla/p1.vtf
f.e.a.r/materials/models/comrade/weapons/fear/tesla/p3_d.vmt
f.e.a.r/materials/models/comrade/weapons/fear/tesla/tesla.vmt
f.e.a.r/materials/models/comrade/weapons/fear/tesla/p2_d.vmt
f.e.a.r/materials/models/comrade/weapons/fear/tesla/tesla_g.vtf
f.e.a.r/materials/models/comrade/weapons/fear/tesla/tesla_n.vtf
f.e.a.r/materials/models/comrade/weapons/fear/tesla/p1x_d.vmt
f.e.a.r/materials/models/comrade/weapons/fear/tesla/p2x_d.vmt
f.e.a.r/materials/models/comrade/weapons/fear/tesla/p1_d.vmt
f.e.a.r/materials/models/comrade/weapons/fear/tesla/tesla.vtf
f.e.a.r/materials/models/comrade/weapons/fear/ves/ves.vmt
f.e.a.r/materials/models/comrade/weapons/fear/ves/opt_n.vtf
f.e.a.r/materials/models/comrade/weapons/fear/ves/ves_n.vtf
f.e.a.r/materials/models/comrade/weapons/fear/ves/opt.vtf
f.e.a.r/materials/models/comrade/weapons/fear/ves/opt.vmt
f.e.a.r/materials/models/comrade/weapons/fear/ves/ves.vtf
f.e.a.r/materials/models/comrade/weapons/fear/laser/laser.vmt
f.e.a.r/materials/models/comrade/weapons/fear/laser/laser_n.vtf
f.e.a.r/materials/models/comrade/weapons/fear/laser/laser.vtf
f.e.a.r/materials/models/comrade/weapons/fear/laser/laser_g.vtf
f.e.a.r/materials/models/comrade/weapons/fear/mine/mine_n.vtf
f.e.a.r/materials/models/comrade/weapons/fear/mine/mine.vtf
f.e.a.r/materials/models/comrade/weapons/fear/mine/mine.vmt
f.e.a.r/materials/models/comrade/weapons/fear/smg/smg.vtf
f.e.a.r/materials/models/comrade/weapons/fear/smg/smg_g.vtf
f.e.a.r/materials/models/comrade/weapons/fear/smg/smg_n.vtf
f.e.a.r/materials/models/comrade/weapons/fear/smg/smg.vmt
f.e.a.r/materials/models/comrade/weapons/fear/smg/smg_spec.vtf
f.e.a.r/materials/models/comrade/weapons/fear/rpg/rpg.vtf
f.e.a.r/materials/models/comrade/weapons/fear/rpg/rpg_g.vtf
f.e.a.r/materials/models/comrade/weapons/fear/rpg/rpg.vmt
f.e.a.r/materials/models/comrade/weapons/fear/rpg/rpg_n.vtf
f.e.a.r/materials/models/comrade/weapons/fear/g2a2/g2a2.vtf
f.e.a.r/materials/models/comrade/weapons/fear/g2a2/g2a2.vmt
f.e.a.r/materials/models/comrade/weapons/fear/g2a2/g2a2_n.vtf
f.e.a.r/materials/models/comrade/weapons/fear/asp/asp.vtf
f.e.a.r/materials/models/comrade/weapons/fear/asp/asp_n.vtf
f.e.a.r/materials/models/comrade/weapons/fear/asp/asp.vmt
f.e.a.r/materials/models/comrade/weapons/fear/type7/type7.vmt
f.e.a.r/materials/models/comrade/weapons/fear/type7/type7.vtf
f.e.a.r/materials/models/comrade/weapons/fear/type7/type7_g.vtf
f.e.a.r/materials/models/comrade/weapons/fear/type7/type7_n.vtf
f.e.a.r/materials/models/comrade/mi24/3.vtf
f.e.a.r/materials/models/comrade/mi24/2.vtf
f.e.a.r/materials/models/comrade/mi24/3n.vtf
f.e.a.r/materials/models/comrade/mi24/1.vtf
f.e.a.r/materials/models/comrade/mi24/4s.vtf
f.e.a.r/materials/models/comrade/mi24/1.vmt
f.e.a.r/materials/models/comrade/mi24/1s.vtf
f.e.a.r/materials/models/comrade/mi24/12.vmt
f.e.a.r/materials/models/comrade/mi24/6n.vtf
f.e.a.r/materials/models/comrade/mi24/1n.vtf
f.e.a.r/materials/models/comrade/mi24/3s.vtf
f.e.a.r/materials/models/comrade/mi24/5s.vtf
f.e.a.r/materials/models/comrade/mi24/2s.vtf
f.e.a.r/materials/models/comrade/mi24/6.vtf
f.e.a.r/materials/models/comrade/mi24/5n.vtf
f.e.a.r/materials/models/comrade/mi24/4.vtf
f.e.a.r/materials/models/comrade/mi24/12.vtf
f.e.a.r/materials/models/comrade/mi24/4.vmt
f.e.a.r/materials/models/comrade/mi24/5.vtf
f.e.a.r/materials/models/comrade/mi24/2.vmt
f.e.a.r/materials/models/comrade/mi24/3.vmt
f.e.a.r/materials/models/comrade/mi24/2n.vtf
f.e.a.r/materials/models/comrade/mi24/6.vmt
f.e.a.r/materials/models/comrade/mi24/5.vmt
f.e.a.r/materials/models/comrade/mi24/4n.vtf
f.e.a.r/materials/models/comrade/mi24/6s.vtf
f.e.a.r/materials/models/comrade/hawk/8s.vtf
f.e.a.r/materials/models/comrade/hawk/9n.vtf
f.e.a.r/materials/models/comrade/hawk/10n.vtf
f.e.a.r/materials/models/comrade/hawk/14.vmt
f.e.a.r/materials/models/comrade/hawk/11n.vtf
f.e.a.r/materials/models/comrade/hawk/7.vmt
f.e.a.r/materials/models/comrade/hawk/11.vmt
f.e.a.r/materials/models/comrade/hawk/3.vtf
f.e.a.r/materials/models/comrade/hawk/2.vtf
f.e.a.r/materials/models/comrade/hawk/8n.vtf
f.e.a.r/materials/models/comrade/hawk/3n.vtf
f.e.a.r/materials/models/comrade/hawk/1.vtf
f.e.a.r/materials/models/comrade/hawk/4s.vtf
f.e.a.r/materials/models/comrade/hawk/1.vmt
f.e.a.r/materials/models/comrade/hawk/10s.vtf
f.e.a.r/materials/models/comrade/hawk/7n.vtf
f.e.a.r/materials/models/comrade/hawk/1s.vtf
f.e.a.r/materials/models/comrade/hawk/11.vtf
f.e.a.r/materials/models/comrade/hawk/9s.vtf
f.e.a.r/materials/models/comrade/hawk/12.vmt
f.e.a.r/materials/models/comrade/hawk/6n.vtf
f.e.a.r/materials/models/comrade/hawk/7.vtf
f.e.a.r/materials/models/comrade/hawk/11s.vtf
f.e.a.r/materials/models/comrade/hawk/9.vmt
f.e.a.r/materials/models/comrade/hawk/8.vtf
f.e.a.r/materials/models/comrade/hawk/1n.vtf
f.e.a.r/materials/models/comrade/hawk/3s.vtf
f.e.a.r/materials/models/comrade/hawk/5s.vtf
f.e.a.r/materials/models/comrade/hawk/14n.vtf
f.e.a.r/materials/models/comrade/hawk/8.vmt
f.e.a.r/materials/models/comrade/hawk/2s.vtf
f.e.a.r/materials/models/comrade/hawk/6.vtf
f.e.a.r/materials/models/comrade/hawk/14.vtf
f.e.a.r/materials/models/comrade/hawk/5n.vtf
f.e.a.r/materials/models/comrade/hawk/4.vtf
f.e.a.r/materials/models/comrade/hawk/9.vtf
f.e.a.r/materials/models/comrade/hawk/12.vtf
f.e.a.r/materials/models/comrade/hawk/4.vmt
f.e.a.r/materials/models/comrade/hawk/5.vtf
f.e.a.r/materials/models/comrade/hawk/10.vtf
f.e.a.r/materials/models/comrade/hawk/4g.vtf
f.e.a.r/materials/models/comrade/hawk/2.vmt
f.e.a.r/materials/models/comrade/hawk/7s.vtf
f.e.a.r/materials/models/comrade/hawk/3.vmt
f.e.a.r/materials/models/comrade/hawk/2n.vtf
f.e.a.r/materials/models/comrade/hawk/6.vmt
f.e.a.r/materials/models/comrade/hawk/10.vmt
f.e.a.r/materials/models/comrade/hawk/5.vmt
f.e.a.r/materials/models/comrade/hawk/4n.vtf
f.e.a.r/materials/models/comrade/hawk/6s.vtf
f.e.a.r/materials/models/comrade/air/3.vtf
f.e.a.r/materials/models/comrade/air/2.vtf
f.e.a.r/materials/models/comrade/air/3n.vtf
f.e.a.r/materials/models/comrade/air/1.vtf
f.e.a.r/materials/models/comrade/air/4s.vtf
f.e.a.r/materials/models/comrade/air/1.vmt
f.e.a.r/materials/models/comrade/air/1s.vtf
f.e.a.r/materials/models/comrade/air/1n.vtf
f.e.a.r/materials/models/comrade/air/3s.vtf
f.e.a.r/materials/models/comrade/air/2s.vtf
f.e.a.r/materials/models/comrade/air/5n.vtf
f.e.a.r/materials/models/comrade/air/4.vtf
f.e.a.r/materials/models/comrade/air/4.vmt
f.e.a.r/materials/models/comrade/air/5.vtf
f.e.a.r/materials/models/comrade/air/2.vmt
f.e.a.r/materials/models/comrade/air/3.vmt
f.e.a.r/materials/models/comrade/air/2n.vtf
f.e.a.r/materials/models/comrade/air/5.vmt
f.e.a.r/materials/models/comrade/air/4n.vtf
f.e.a.r/materials/models/comrade/fear_dead/replica_forces2.vtf
f.e.a.r/materials/models/comrade/fear_dead/replica_forces2.vmt
f.e.a.r/materials/models/comrade/fear_dead/tex_0021_0.vmt
f.e.a.r/materials/models/comrade/fear_dead/steklo.vmt
f.e.a.r/materials/models/comrade/fear_dead/replica_forces.vtf
f.e.a.r/materials/models/comrade/fear_dead/replica_desert_n.vtf
f.e.a.r/materials/models/comrade/fear_dead/replica_t114.vtf
f.e.a.r/materials/models/comrade/fear_dead/replica_forces2_n.vtf
f.e.a.r/materials/models/comrade/fear_dead/replica_elite.vmt
f.e.a.r/materials/models/comrade/fear_dead/replica_desert.vtf
f.e.a.r/materials/models/comrade/fear_dead/helmet.vmt
f.e.a.r/materials/models/comrade/fear_dead/remen.vmt
f.e.a.r/materials/models/comrade/fear_dead/replica_desert.vmt
f.e.a.r/materials/models/comrade/fear_dead/replica_elite.vtf
f.e.a.r/materials/models/comrade/fear_dead/replica_recon.vmt
f.e.a.r/materials/models/comrade/fear_dead/replica_t114.vmt
f.e.a.r/materials/models/comrade/fear_dead/replica_forces.vmt
f.e.a.r/materials/models/comrade/fear_dead/replica_recon.vtf
f.e.a.r/materials/models/comrade/fear/corpse_2_body_d.vtf
f.e.a.r/materials/models/comrade/fear/bishop_hand.vtf
f.e.a.r/materials/models/comrade/fear/atc_body_gibs_n.vtf
f.e.a.r/materials/models/comrade/fear/alma_teen_hair_d.vtf
f.e.a.r/materials/models/comrade/fear/powerarmor_legs_d.vtf
f.e.a.r/materials/models/comrade/fear/harlan_n.vtf
f.e.a.r/materials/models/comrade/fear/bishop_s.vtf
f.e.a.r/materials/models/comrade/fear/haivs.vmt
f.e.a.r/materials/models/comrade/fear/replica_urbant.vtf
f.e.a.r/materials/models/comrade/fear/nogi.vtf
f.e.a.r/materials/models/comrade/fear/jin_head.vtf
f.e.a.r/materials/models/comrade/fear/tex_0021_0w.vtf
f.e.a.r/materials/models/comrade/fear/remen_n.vtf
f.e.a.r/materials/models/comrade/fear/remen.vtf
f.e.a.r/materials/models/comrade/fear/raynes_d.vmt
f.e.a.r/materials/models/comrade/fear/corpse_4_head_d.vmt
f.e.a.r/materials/models/comrade/fear/scaner.vtf
f.e.a.r/materials/models/comrade/fear/night_4.vmt
f.e.a.r/materials/models/comrade/fear/fettel_tors_blood.vtf
f.e.a.r/materials/models/comrade/fear/doctor_n.vtf
f.e.a.r/materials/models/comrade/fear/hight_head.vtf
f.e.a.r/materials/models/comrade/fear/powerarmor_turret_e.vtf
f.e.a.r/materials/models/comrade/fear/jackowskimeatpuppet_d.vtf
f.e.a.r/materials/models/comrade/fear/alma_teen_head_s.vtf
f.e.a.r/materials/models/comrade/fear/scaner_n.vtf
f.e.a.r/materials/models/comrade/fear/fettel_hands_n.vtf
f.e.a.r/materials/models/comrade/fear/raynes_n.vtf
f.e.a.r/materials/models/comrade/fear/elit_laser_spec.vtf
f.e.a.r/materials/models/comrade/fear/elit_laser_g.vtf
f.e.a.r/materials/models/comrade/fear/hight.vtf
f.e.a.r/materials/models/comrade/fear/corpse_2_body_d.vmt
f.e.a.r/materials/models/comrade/fear/alice_bod_before_d.vtf
f.e.a.r/materials/models/comrade/fear/replica_urbant.vmt
f.e.a.r/materials/models/comrade/fear/jin_body_b_n.vtf
f.e.a.r/materials/models/comrade/fear/fettel_hands_blood.vmt
f.e.a.r/materials/models/comrade/fear/alice_hair_before_d.vtf
f.e.a.r/materials/models/comrade/fear/fettel_head.vmt
f.e.a.r/materials/models/comrade/fear/bishop_hand_n.vtf
f.e.a.r/materials/models/comrade/fear/kaska2.vtf
f.e.a.r/materials/models/comrade/fear/solder_d.vtf
f.e.a.r/materials/models/comrade/fear/roba_n.vtf
f.e.a.r/materials/models/comrade/fear/atc_body_n.vtf
f.e.a.r/materials/models/comrade/fear/haivs_s.vtf
f.e.a.r/materials/models/comrade/fear/nortonmapes_head_d.vmt
f.e.a.r/materials/models/comrade/fear/roba2.vtf
f.e.a.r/materials/models/comrade/fear/atc_head_2_gibs_d.vmt
f.e.a.r/materials/models/comrade/fear/shef_body.vmt
f.e.a.r/materials/models/comrade/fear/alice_bod_after_d2.vtf
f.e.a.r/materials/models/comrade/fear/scaner_spec.vtf
f.e.a.r/materials/models/comrade/fear/gas.vmt
f.e.a.r/materials/models/comrade/fear/engineer.vtf
f.e.a.r/materials/models/comrade/fear/alma_teen_head_d.vtf
f.e.a.r/materials/models/comrade/fear/kaska2.vmt
f.e.a.r/materials/models/comrade/fear/jin_body_b.vmt
f.e.a.r/materials/models/comrade/fear/habert_head_n.vtf
f.e.a.r/materials/models/comrade/fear/fettel_tors_n.vtf
f.e.a.r/materials/models/comrade/fear/powerarmor_legs_d.vmt
f.e.a.r/materials/models/comrade/fear/ghost_d.vtf
f.e.a.r/materials/models/comrade/fear/moody_head_d.vmt
f.e.a.r/materials/models/comrade/fear/powerarmor_turret_d2.vtf
f.e.a.r/materials/models/comrade/fear/habert_head_d.vtf
f.e.a.r/materials/models/comrade/fear/shef_hand_n.vtf
f.e.a.r/materials/models/comrade/fear/duglas_s.vtf
f.e.a.r/materials/models/comrade/fear/noise_detail_01.vtf
f.e.a.r/materials/models/comrade/fear/tex_0033_1_spec.vtf
f.e.a.r/materials/models/comrade/fear/nogi_n.vtf
f.e.a.r/materials/models/comrade/fear/atc_head_2_d.vmt
f.e.a.r/materials/models/comrade/fear/atc_head.vtf
f.e.a.r/materials/models/comrade/fear/alma_teen_body_s.vtf
f.e.a.r/materials/models/comrade/fear/replica_saboteur.vmt
f.e.a.r/materials/models/comrade/fear/atc_head_glow.vtf
f.e.a.r/materials/models/comrade/fear/moody_body_d.vmt
f.e.a.r/materials/models/comrade/fear/night_1_gibs.vmt
f.e.a.r/materials/models/comrade/fear/atc_head_d.vmt
f.e.a.r/materials/models/comrade/fear/t117.vtf
f.e.a.r/materials/models/comrade/fear/shade_n.vtf
f.e.a.r/materials/models/comrade/fear/corpse_3_head_d.vmt
f.e.a.r/materials/models/comrade/fear/driver_bloody_d.vmt
f.e.a.r/materials/models/comrade/fear/bishop.vmt
f.e.a.r/materials/models/comrade/fear/kaplan_d.vmt
f.e.a.r/materials/models/comrade/fear/almaold_n.vtf
f.e.a.r/materials/models/comrade/fear/tex_0021_0.vmt
f.e.a.r/materials/models/comrade/fear/helmet_s.vtf
f.e.a.r/materials/models/comrade/fear/alice_lashes.vmt
f.e.a.r/materials/models/comrade/fear/t117_head_n.vtf
f.e.a.r/materials/models/comrade/fear/harlan_head_n.vtf
f.e.a.r/materials/models/comrade/fear/replica_scout.vtf
f.e.a.r/materials/models/comrade/fear/steklo.vmt
f.e.a.r/materials/models/comrade/fear/morisson_d.vmt
f.e.a.r/materials/models/comrade/fear/atc_head.vmt
f.e.a.r/materials/models/comrade/fear/alice_bod_after_d.vmt
f.e.a.r/materials/models/comrade/fear/naberts_head_s.vtf
f.e.a.r/materials/models/comrade/fear/hand_d.vtf
f.e.a.r/materials/models/comrade/fear/replica_forces.vtf
f.e.a.r/materials/models/comrade/fear/deltaforcemulti_d.vtf
f.e.a.r/materials/models/comrade/fear/corpse_2_head_d.vtf
f.e.a.r/materials/models/comrade/fear/atc_head_d.vtf
f.e.a.r/materials/models/comrade/fear/shef_body_s.vtf
f.e.a.r/materials/models/comrade/fear/almaold_d.vtf
f.e.a.r/materials/models/comrade/fear/powerarmor_turret_d2.vmt
f.e.a.r/materials/models/comrade/fear/minigunner_spec.vtf
f.e.a.r/materials/models/comrade/fear/hand_s.vtf
f.e.a.r/materials/models/comrade/fear/alice_bod_before_n.vtf
f.e.a.r/materials/models/comrade/fear/haivs.vtf
f.e.a.r/materials/models/comrade/fear/alice_head_n.vtf
f.e.a.r/materials/models/comrade/fear/pointman.vmt
f.e.a.r/materials/models/comrade/fear/fettel_head.vtf
f.e.a.r/materials/models/comrade/fear/raynes_c.vmt
f.e.a.r/materials/models/comrade/fear/naberts_head.vtf
f.e.a.r/materials/models/comrade/fear/jin_body.vmt
f.e.a.r/materials/models/comrade/fear/fettel_head_blood.vtf
f.e.a.r/materials/models/comrade/fear/korpus.vmt
f.e.a.r/materials/models/comrade/fear/fettel_hands.vtf
f.e.a.r/materials/models/comrade/fear/kaska_n.vtf
f.e.a.r/materials/models/comrade/fear/t117_head_w.vtf
f.e.a.r/materials/models/comrade/fear/turret2_n.vtf
f.e.a.r/materials/models/comrade/fear/raynes_b.vmt
f.e.a.r/materials/models/comrade/fear/powerarmor_turret_d.vmt
f.e.a.r/materials/models/comrade/fear/elit_laser2.vtf
f.e.a.r/materials/models/comrade/fear/atchelmetvisor.vmt
f.e.a.r/materials/models/comrade/fear/skeleton_d.vtf
f.e.a.r/materials/models/comrade/fear/spencer_body3.vtf
f.e.a.r/materials/models/comrade/fear/jackowskimeatpuppet_d.vmt
f.e.a.r/materials/models/comrade/fear/shef_head.vmt
f.e.a.r/materials/models/comrade/fear/helmet_nn.vtf
f.e.a.r/materials/models/comrade/fear/nortonmapes_head_d.vtf
f.e.a.r/materials/models/comrade/fear/spencer_body.vtf
f.e.a.r/materials/models/comrade/fear/jin_head_b_n.vtf
f.e.a.r/materials/models/comrade/fear/t117_head.vtf
f.e.a.r/materials/models/comrade/fear/alma_d.vtf
f.e.a.r/materials/models/comrade/fear/armor_light2_e.vtf
f.e.a.r/materials/models/comrade/fear/doc_s.vtf
f.e.a.r/materials/models/comrade/fear/bishop_n.vtf
f.e.a.r/materials/models/comrade/fear/naberts_hand.vmt
f.e.a.r/materials/models/comrade/fear/doctor.vtf
f.e.a.r/materials/models/comrade/fear/harlan.vmt
f.e.a.r/materials/models/comrade/fear/powerarmor_legs_d2.vtf
f.e.a.r/materials/models/comrade/fear/krige_d.vmt
f.e.a.r/materials/models/comrade/fear/tex_0021_0n.vtf
f.e.a.r/materials/models/comrade/fear/bristolhead_d.vmt
f.e.a.r/materials/models/comrade/fear/roba.vtf
f.e.a.r/materials/models/comrade/fear/alma_teen_hair_s.vtf
f.e.a.r/materials/models/comrade/fear/corpse_4_head_n.vtf
f.e.a.r/materials/models/comrade/fear/krige_s.vtf
f.e.a.r/materials/models/comrade/fear/harlan_head.vtf
f.e.a.r/materials/models/comrade/fear/night_3_n.vtf
f.e.a.r/materials/models/comrade/fear/metrocop_sheet.vtf
f.e.a.r/materials/models/comrade/fear/pnv.vtf
f.e.a.r/materials/models/comrade/fear/night_2_s.vtf
f.e.a.r/materials/models/comrade/fear/raynes_s.vtf
f.e.a.r/materials/models/comrade/fear/replica_pnv.vtf
f.e.a.r/materials/models/comrade/fear/night_4_g.vtf
f.e.a.r/materials/models/comrade/fear/duglas_n.vtf
f.e.a.r/materials/models/comrade/fear/naberts_head.vmt
f.e.a.r/materials/models/comrade/fear/atcheavysec.vmt
f.e.a.r/materials/models/comrade/fear/fettel_head_n.vtf
f.e.a.r/materials/models/comrade/fear/alma_teen_hair_d2.vmt
f.e.a.r/materials/models/comrade/fear/alice_head_d.vtf
f.e.a.r/materials/models/comrade/fear/deltaforce_n.vtf
f.e.a.r/materials/models/comrade/fear/atc_body_d.vmt
f.e.a.r/materials/models/comrade/fear/helmet2.vtf
f.e.a.r/materials/models/comrade/fear/corpse_1_head_d.vmt
f.e.a.r/materials/models/comrade/fear/helmet_d.vmt
f.e.a.r/materials/models/comrade/fear/moody_body_n.vtf
f.e.a.r/materials/models/comrade/fear/fettel_tors_blood.vmt
f.e.a.r/materials/models/comrade/fear/alma_leg_n.vtf
f.e.a.r/materials/models/comrade/fear/spencer_head_n.vtf
f.e.a.r/materials/models/comrade/fear/kaska.vmt
f.e.a.r/materials/models/comrade/fear/replica_mortarman.vtf
f.e.a.r/materials/models/comrade/fear/player_n.vtf
f.e.a.r/materials/models/comrade/fear/night_1_s.vtf
f.e.a.r/materials/models/comrade/fear/replica_urban_spec.vtf
f.e.a.r/materials/models/comrade/fear/replica_echelon.vmt
f.e.a.r/materials/models/comrade/fear/hight_spec.vtf
f.e.a.r/materials/models/comrade/fear/player_s.vtf
f.e.a.r/materials/models/comrade/fear/duglas.vmt
f.e.a.r/materials/models/comrade/fear/hight_head.vmt
f.e.a.r/materials/models/comrade/fear/breen_sheet.vmt
f.e.a.r/materials/models/comrade/fear/habert.vtf
f.e.a.r/materials/models/comrade/fear/helmet_g.vtf
f.e.a.r/materials/models/comrade/fear/corpse_1_body_d.vmt
f.e.a.r/materials/models/comrade/fear/naberts_hand.vtf
f.e.a.r/materials/models/comrade/fear/doktor_s.vtf
f.e.a.r/materials/models/comrade/fear/senator_head_n.vtf
f.e.a.r/materials/models/comrade/fear/doctor.vmt
f.e.a.r/materials/models/comrade/fear/soldier_d.vtf
f.e.a.r/materials/models/comrade/fear/fettel_hands_blood.vtf
f.e.a.r/materials/models/comrade/fear/spencer_body4.vtf
f.e.a.r/materials/models/comrade/fear/t117_spec.vtf
f.e.a.r/materials/models/comrade/fear/nortonmapes_head_s.vtf
f.e.a.r/materials/models/comrade/fear/raynes_b.vtf
f.e.a.r/materials/models/comrade/fear/elite3.vtf
f.e.a.r/materials/models/comrade/fear/habert.vmt
f.e.a.r/materials/models/comrade/fear/spencer_body_n.vtf
f.e.a.r/materials/models/comrade/fear/spencer_body4.vmt
f.e.a.r/materials/models/comrade/fear/helmet_d.vtf
f.e.a.r/materials/models/comrade/fear/turret.vmt
f.e.a.r/materials/models/comrade/fear/powerarmor_turret_s.vtf
f.e.a.r/materials/models/comrade/fear/alma_teen_head_n.vtf
f.e.a.r/materials/models/comrade/fear/night_1.vmt
f.e.a.r/materials/models/comrade/fear/korpus_s.vtf
f.e.a.r/materials/models/comrade/fear/hight_head_n.vtf
f.e.a.r/materials/models/comrade/fear/elit_laser.vtf
f.e.a.r/materials/models/comrade/fear/replica_saboteur.vtf
f.e.a.r/materials/models/comrade/fear/kaplan_meatpuppet_d.vmt
f.e.a.r/materials/models/comrade/fear/haivs_n.vtf
f.e.a.r/materials/models/comrade/fear/metrocop_sheet.vmt
f.e.a.r/materials/models/comrade/fear/assassin_d.vtf
f.e.a.r/materials/models/comrade/fear/senator.vmt
f.e.a.r/materials/models/comrade/fear/driver_bloody_d.vtf
f.e.a.r/materials/models/comrade/fear/corpse_4_head_s.vtf
f.e.a.r/materials/models/comrade/fear/harlan_s.vtf
f.e.a.r/materials/models/comrade/fear/dron_gibs.vtf
f.e.a.r/materials/models/comrade/fear/replica_forces_spec.vtf
f.e.a.r/materials/models/comrade/fear/night_3.vmt
f.e.a.r/materials/models/comrade/fear/replica_elite.vmt
f.e.a.r/materials/models/comrade/fear/replica_echelon.vtf
f.e.a.r/materials/models/comrade/fear/shef_hand_s.vtf
f.e.a.r/materials/models/comrade/fear/corpse_2_head_d.vmt
f.e.a.r/materials/models/comrade/fear/alma_teen_body_n.vtf
f.e.a.r/materials/models/comrade/fear/t114.vmt
f.e.a.r/materials/models/comrade/fear/engineer_spec.vtf
f.e.a.r/materials/models/comrade/fear/spencer_head_s.vtf
f.e.a.r/materials/models/comrade/fear/spencer_body.vmt
f.e.a.r/materials/models/comrade/fear/replica_desert.vtf
f.e.a.r/materials/models/comrade/fear/turret_spec.vtf
f.e.a.r/materials/models/comrade/fear/alma_d.vmt
f.e.a.r/materials/models/comrade/fear/remen2.vmt
f.e.a.r/materials/models/comrade/fear/shef_hand.vmt
f.e.a.r/materials/models/comrade/fear/pilot.vmt
f.e.a.r/materials/models/comrade/fear/alice_bod_before_d.vmt
f.e.a.r/materials/models/comrade/fear/night_3.vtf
f.e.a.r/materials/models/comrade/fear/kaplan_meatpuppet_n.vtf
f.e.a.r/materials/models/comrade/fear/guns.vmt
f.e.a.r/materials/models/comrade/fear/spencer_body_s.vtf
f.e.a.r/materials/models/comrade/fear/night_1.vtf
f.e.a.r/materials/models/comrade/fear/alma_s.vtf
f.e.a.r/materials/models/comrade/fear/night_4_gibs.vmt
f.e.a.r/materials/models/comrade/fear/moody_head_d.vtf
f.e.a.r/materials/models/comrade/fear/corpse_4_head_d.vtf
f.e.a.r/materials/models/comrade/fear/moody_body_s.vtf
f.e.a.r/materials/models/comrade/fear/jin_radio.vmt
f.e.a.r/materials/models/comrade/fear/korpus.vtf
f.e.a.r/materials/models/comrade/fear/helmet_spec.vtf
f.e.a.r/materials/models/comrade/fear/deltaforce_special_multi.vmt
f.e.a.r/materials/models/comrade/fear/duglas.vtf
f.e.a.r/materials/models/comrade/fear/bloodymalebystanderhead_s.vtf
f.e.a.r/materials/models/comrade/fear/bishop_head_n.vtf
f.e.a.r/materials/models/comrade/fear/replica_elite3.vtf
f.e.a.r/materials/models/comrade/fear/fettel_head_blood.vmt
f.e.a.r/materials/models/comrade/fear/night_4_gibs.vtf
f.e.a.r/materials/models/comrade/fear/alma_leg_d.vtf
f.e.a.r/materials/models/comrade/fear/alma_teen_hair_d2.vtf
f.e.a.r/materials/models/comrade/fear/alice_bod_after_d.vtf
f.e.a.r/materials/models/comrade/fear/elit_laser.vmt
f.e.a.r/materials/models/comrade/fear/replica_scout.vmt
f.e.a.r/materials/models/comrade/fear/guns_n.vtf
f.e.a.r/materials/models/comrade/fear/hight.vmt
f.e.a.r/materials/models/comrade/fear/bone_n.vtf
f.e.a.r/materials/models/comrade/fear/replica_pnv.vmt
f.e.a.r/materials/models/comrade/fear/doc_n.vtf
f.e.a.r/materials/models/comrade/fear/dron_g.vtf
f.e.a.r/materials/models/comrade/fear/korpus_g.vtf
f.e.a.r/materials/models/comrade/fear/skeleton_extrabloody_d.vtf
f.e.a.r/materials/models/comrade/fear/armor_light2_e.vmt
f.e.a.r/materials/models/comrade/fear/shef_head_n.vtf
f.e.a.r/materials/models/comrade/fear/nortonmapes_head_n.vtf
f.e.a.r/materials/models/comrade/fear/alice_bod_after_s.vtf
f.e.a.r/materials/models/comrade/fear/replica_urban.vmt
f.e.a.r/materials/models/comrade/fear/atc_body_gibs_d.vmt
f.e.a.r/materials/models/comrade/fear/shade_d.vmt
f.e.a.r/materials/models/comrade/fear/jin_body_n.vtf
f.e.a.r/materials/models/comrade/fear/powerarmor_turret_d.vtf
f.e.a.r/materials/models/comrade/fear/night_2.vmt
f.e.a.r/materials/models/comrade/fear/powerarmor_turret_n.vtf
f.e.a.r/materials/models/comrade/fear/spencer_head.vmt
f.e.a.r/materials/models/comrade/fear/kaplan_b.vmt
f.e.a.r/materials/models/comrade/fear/glass.vtf
f.e.a.r/materials/models/comrade/fear/replica_mortarman.vmt
f.e.a.r/materials/models/comrade/fear/helmet.vmt
f.e.a.r/materials/models/comrade/fear/metrocop_sheet_normal.vtf
f.e.a.r/materials/models/comrade/fear/moody_body_d.vtf
f.e.a.r/materials/models/comrade/fear/atc_head_2_gibs_d.vtf
f.e.a.r/materials/models/comrade/fear/jin_head_s.vtf
f.e.a.r/materials/models/comrade/fear/alice_hair_before_d.vmt
f.e.a.r/materials/models/comrade/fear/jin_body_b.vtf
f.e.a.r/materials/models/comrade/fear/atc_head_m.vtf
f.e.a.r/materials/models/comrade/fear/jackowskimeatpuppet_n.vtf
f.e.a.r/materials/models/comrade/fear/spencer_body4_n.vtf
f.e.a.r/materials/models/comrade/fear/harlan_head.vmt
f.e.a.r/materials/models/comrade/fear/alma_leg_s.vtf
f.e.a.r/materials/models/comrade/fear/jin_parik.vtf
f.e.a.r/materials/models/comrade/fear/haivs_head.vmt
f.e.a.r/materials/models/comrade/fear/turret2_s.vtf
f.e.a.r/materials/models/comrade/fear/bristol_d.vmt
f.e.a.r/materials/models/comrade/fear/night_1a_g.vtf
f.e.a.r/materials/models/comrade/fear/scaner.vmt
f.e.a.r/materials/models/comrade/fear/skeleton_d.vmt
f.e.a.r/materials/models/comrade/fear/bristolhead_d.vtf
f.e.a.r/materials/models/comrade/fear/minigunner.vmt
f.e.a.r/materials/models/comrade/fear/atc_body_d.vtf
f.e.a.r/materials/models/comrade/fear/bishop_head.vmt
f.e.a.r/materials/models/comrade/fear/hand_n.vtf
f.e.a.r/materials/models/comrade/fear/bishop_hand.vmt
f.e.a.r/materials/models/comrade/fear/atchelmetvisor.vtf
f.e.a.r/materials/models/comrade/fear/habert_head_d.vmt
f.e.a.r/materials/models/comrade/fear/atc_head_1_gibs_d.vmt
f.e.a.r/materials/models/comrade/fear/steklo_n.vtf
f.e.a.r/materials/models/comrade/fear/t117_head_spec.vtf
f.e.a.r/materials/models/comrade/fear/turret2_g.vtf
f.e.a.r/materials/models/comrade/fear/jin_parik2.vmt
f.e.a.r/materials/models/comrade/fear/remen.vmt
f.e.a.r/materials/models/comrade/fear/bishop_hand_s.vtf
f.e.a.r/materials/models/comrade/fear/powerarmor_legs_d2.vmt
f.e.a.r/materials/models/comrade/fear/ghost_d.vmt
f.e.a.r/materials/models/comrade/fear/bishop_head.vtf
f.e.a.r/materials/models/comrade/fear/scaner_g.vtf
f.e.a.r/materials/models/comrade/fear/morisson_s.vtf
f.e.a.r/materials/models/comrade/fear/deltaforcebloody_d.vtf
f.e.a.r/materials/models/comrade/fear/solder_d.vmt
f.e.a.r/materials/models/comrade/fear/replica_desert.vmt
f.e.a.r/materials/models/comrade/fear/t114.vtf
f.e.a.r/materials/models/comrade/fear/ghost_e.vtf
f.e.a.r/materials/models/comrade/fear/bloodymalebystander_d.vmt
f.e.a.r/materials/models/comrade/fear/haivs_head_n.vtf
f.e.a.r/materials/models/comrade/fear/ghost_s.vtf
f.e.a.r/materials/models/comrade/fear/powerarmor_legs_s.vtf
f.e.a.r/materials/models/comrade/fear/assassin_n.vtf
f.e.a.r/materials/models/comrade/fear/helmet2.vmt
f.e.a.r/materials/models/comrade/fear/hand_d.vmt
f.e.a.r/materials/models/comrade/fear/night_4.vtf
f.e.a.r/materials/models/comrade/fear/alma_teen_body_d.vmt
f.e.a.r/materials/models/comrade/fear/fettel_tors.vmt
f.e.a.r/materials/models/comrade/fear/pointman.vtf
f.e.a.r/materials/models/comrade/fear/nortonmapes_torso_d.vmt
f.e.a.r/materials/models/comrade/fear/hight_head_g.vtf
f.e.a.r/materials/models/comrade/fear/shef_head_s.vtf
f.e.a.r/materials/models/comrade/fear/shef_body_n.vtf
f.e.a.r/materials/models/comrade/fear/pnv_spec.vtf
f.e.a.r/materials/models/comrade/fear/naberts_body.vmt
f.e.a.r/materials/models/comrade/fear/doctor_s.vtf
f.e.a.r/materials/models/comrade/fear/night_1_gibs.vtf
f.e.a.r/materials/models/comrade/fear/nortonmapes_torso_s.vtf
f.e.a.r/materials/models/comrade/fear/doktor_n.vtf
f.e.a.r/materials/models/comrade/fear/replica_elite2.vmt
f.e.a.r/materials/models/comrade/fear/powerarmor_legs_d3.vmt
f.e.a.r/materials/models/comrade/fear/t112.vmt
f.e.a.r/materials/models/comrade/fear/shade_d.vtf
f.e.a.r/materials/models/comrade/fear/player_d.vmt
f.e.a.r/materials/models/comrade/fear/shadowcreature_d.vtf
f.e.a.r/materials/models/comrade/fear/nortonmapes_torso_n.vtf
f.e.a.r/materials/models/comrade/fear/jin_parik.vmt
f.e.a.r/materials/models/comrade/fear/elit_laser_n.vtf
f.e.a.r/materials/models/comrade/fear/senator_head.vtf
f.e.a.r/materials/models/comrade/fear/deltaforcebloody_d.vmt
f.e.a.r/materials/models/comrade/fear/bishop.vtf
f.e.a.r/materials/models/comrade/fear/soldier_d.vmt
f.e.a.r/materials/models/comrade/fear/deltaforce_special_multi.vtf
f.e.a.r/materials/models/comrade/fear/raynes_c.vtf
f.e.a.r/materials/models/comrade/fear/alice_lashes.vtf
f.e.a.r/materials/models/comrade/fear/t117_head.vmt
f.e.a.r/materials/models/comrade/fear/krigehead_d.vmt
f.e.a.r/materials/models/comrade/fear/duglas_b.vmt
f.e.a.r/materials/models/comrade/fear/atc_body_gibs_d.vtf
f.e.a.r/materials/models/comrade/fear/bristol_d.vtf
f.e.a.r/materials/models/comrade/fear/turret2.vmt
f.e.a.r/materials/models/comrade/fear/atc_head_1_d.vtf
f.e.a.r/materials/models/comrade/fear/turret2.vtf
f.e.a.r/materials/models/comrade/fear/armor_light2_s.vtf
f.e.a.r/materials/models/comrade/fear/steklo.vtf
f.e.a.r/materials/models/comrade/fear/replica_sniper.vmt
f.e.a.r/materials/models/comrade/fear/jin_head.vmt
f.e.a.r/materials/models/comrade/fear/naberts_head_n.vtf
f.e.a.r/materials/models/comrade/fear/doc.vmt
f.e.a.r/materials/models/comrade/fear/kaplan_meatpuppet_s.vtf
f.e.a.r/materials/models/comrade/fear/jin_head_b.vtf
f.e.a.r/materials/models/comrade/fear/kaplan_s.vtf
f.e.a.r/materials/models/comrade/fear/engineer.vmt
f.e.a.r/materials/models/comrade/fear/atc_head_spec.vtf
f.e.a.r/materials/models/comrade/fear/corpse_1_body_d.vtf
f.e.a.r/materials/models/comrade/fear/atc_head_n.vtf
f.e.a.r/materials/models/comrade/fear/alice_bod_after_n.vtf
f.e.a.r/materials/models/comrade/fear/dron_n.vtf
f.e.a.r/materials/models/comrade/fear/kaplan_b.vtf
f.e.a.r/materials/models/comrade/fear/night_1_n.vtf
f.e.a.r/materials/models/comrade/fear/moody_head_s.vtf
f.e.a.r/materials/models/comrade/fear/duglas_b.vtf
f.e.a.r/materials/models/comrade/fear/roba2.vmt
f.e.a.r/materials/models/comrade/fear/gas_g.vtf
f.e.a.r/materials/models/comrade/fear/bone.vmt
f.e.a.r/materials/models/comrade/fear/alma_leg_d.vmt
f.e.a.r/materials/models/comrade/fear/powerarmor_legs_n.vtf
f.e.a.r/materials/models/comrade/fear/jin_head_n.vtf
f.e.a.r/materials/models/comrade/fear/drone_s.vtf
f.e.a.r/materials/models/comrade/fear/spencer_body2.vtf
f.e.a.r/materials/models/comrade/fear/morisson_n.vtf
f.e.a.r/materials/models/comrade/fear/atcheavysec_n.vtf
f.e.a.r/materials/models/comrade/fear/naberts_body.vtf
f.e.a.r/materials/models/comrade/fear/dron.vtf
f.e.a.r/materials/models/comrade/fear/alice_head_d.vmt
f.e.a.r/materials/models/comrade/fear/assassin_d.vmt
f.e.a.r/materials/models/comrade/fear/raynes_d.vtf
f.e.a.r/materials/models/comrade/fear/bloodymalebystander_d.vtf
f.e.a.r/materials/models/comrade/fear/nogi_s.vtf
f.e.a.r/materials/models/comrade/fear/spencer_body3.vmt
f.e.a.r/materials/models/comrade/fear/deltaforce_d.vtf
f.e.a.r/materials/models/comrade/fear/jin_radio_n.vtf
f.e.a.r/materials/models/comrade/fear/elite3.vmt
f.e.a.r/materials/models/comrade/fear/alice_head_s.vtf
f.e.a.r/materials/models/comrade/fear/naberts_body_s.vtf
f.e.a.r/materials/models/comrade/fear/alice_bod_before_s.vtf
f.e.a.r/materials/models/comrade/fear/breen_sheet.vtf
f.e.a.r/materials/models/comrade/fear/jin_radio.vtf
f.e.a.r/materials/models/comrade/fear/senator.vtf
f.e.a.r/materials/models/comrade/fear/atc_head_1_d.vmt
f.e.a.r/materials/models/comrade/fear/glass.vmt
f.e.a.r/materials/models/comrade/fear/haivs_head_s.vtf
f.e.a.r/materials/models/comrade/fear/minigunner_g.vtf
f.e.a.r/materials/models/comrade/fear/guns.vtf
f.e.a.r/materials/models/comrade/fear/morisson_d.vtf
f.e.a.r/materials/models/comrade/fear/elit_laser2.vmt
f.e.a.r/materials/models/comrade/fear/night_4_n.vtf
f.e.a.r/materials/models/comrade/fear/replica_recon_spec.vtf
f.e.a.r/materials/models/comrade/fear/alma_n.vtf
f.e.a.r/materials/models/comrade/fear/t117.vmt
f.e.a.r/materials/models/comrade/fear/turret_n.vtf
f.e.a.r/materials/models/comrade/fear/jin_head_b.vmt
f.e.a.r/materials/models/comrade/fear/tex_0021_0g.vtf
f.e.a.r/materials/models/comrade/fear/replica_elite.vtf
f.e.a.r/materials/models/comrade/fear/nursexp_n.vtf
f.e.a.r/materials/models/comrade/fear/replica_urban.vtf
f.e.a.r/materials/models/comrade/fear/kaska_s.vtf
f.e.a.r/materials/models/comrade/fear/replica_recon.vmt
f.e.a.r/materials/models/comrade/fear/turret_g.vtf
f.e.a.r/materials/models/comrade/fear/minigunner_n.vtf
f.e.a.r/materials/models/comrade/fear/helmet.vtf
f.e.a.r/materials/models/comrade/fear/ghost_n.vtf
f.e.a.r/materials/models/comrade/fear/night_1a.vmt
f.e.a.r/materials/models/comrade/fear/night_1_g.vtf
f.e.a.r/materials/models/comrade/fear/nursexp_d.vtf
f.e.a.r/materials/models/comrade/fear/shadowcreature_d.vmt
f.e.a.r/materials/models/comrade/fear/replica_commando.vtf
f.e.a.r/materials/models/comrade/fear/turret.vtf
f.e.a.r/materials/models/comrade/fear/replica_recon_n.vtf
f.e.a.r/materials/models/comrade/fear/shadowcreature_n.vtf
f.e.a.r/materials/models/comrade/fear/atcheavysec2.vtf
f.e.a.r/materials/models/comrade/fear/kaplan_n.vtf
f.e.a.r/materials/models/comrade/fear/fettel_tors.vtf
f.e.a.r/materials/models/comrade/fear/atc_head_s.vtf
f.e.a.r/materials/models/comrade/fear/pointman_n.vtf
f.e.a.r/materials/models/comrade/fear/replica_commando.vmt
f.e.a.r/materials/models/comrade/fear/kaplan_meatpuppet_d.vtf
f.e.a.r/materials/models/comrade/fear/spencer_head.vtf
f.e.a.r/materials/models/comrade/fear/kaska.vtf
f.e.a.r/materials/models/comrade/fear/atcheavysec.vtf
f.e.a.r/materials/models/comrade/fear/alma_teen_body_d.vtf
f.e.a.r/materials/models/comrade/fear/deltaforcemulti_d.vmt
f.e.a.r/materials/models/comrade/fear/alice_hair_before_s.vtf
f.e.a.r/materials/models/comrade/fear/dron.vmt
f.e.a.r/materials/models/comrade/fear/jackowskimeatpuppet_s .vtf
f.e.a.r/materials/models/comrade/fear/shef_body.vtf
f.e.a.r/materials/models/comrade/fear/harlan_head_s.vtf
f.e.a.r/materials/models/comrade/fear/powerarmor_legs_d3.vtf
f.e.a.r/materials/models/comrade/fear/nogi.vmt
f.e.a.r/materials/models/comrade/fear/harlan_head ù Ωε∩Φ  (4).vmt
f.e.a.r/materials/models/comrade/fear/doktor.vtf
f.e.a.r/materials/models/comrade/fear/atc_body_s.vtf
f.e.a.r/materials/models/comrade/fear/replica_sniper.vtf
f.e.a.r/materials/models/comrade/fear/night_4_s.vtf
f.e.a.r/materials/models/comrade/fear/dron_gibs.vmt
f.e.a.r/materials/models/comrade/fear/soldier_4_d.vmt
f.e.a.r/materials/models/comrade/fear/pilot.vtf
f.e.a.r/materials/models/comrade/fear/powerarmor_legs_gibs_d.vtf
f.e.a.r/materials/models/comrade/fear/krigehead_d.vtf
f.e.a.r/materials/models/comrade/fear/atcheavysec2.vmt
f.e.a.r/materials/models/comrade/fear/atc_head_gibs_d.vtf
f.e.a.r/materials/models/comrade/fear/minigunner.vtf
f.e.a.r/materials/models/comrade/fear/corpse_3_body_d.vtf
f.e.a.r/materials/models/comrade/fear/harlan_head ù Ωε∩Φ  (5).vmt
f.e.a.r/materials/models/comrade/fear/pnv_n.vtf
f.e.a.r/materials/models/comrade/fear/senator_head.vmt
f.e.a.r/materials/models/comrade/fear/soldier_4_d.vtf
f.e.a.r/materials/models/comrade/fear/night_1a.vtf
f.e.a.r/materials/models/comrade/fear/night_3_s.vtf
f.e.a.r/materials/models/comrade/fear/haivs_head.vtf
f.e.a.r/materials/models/comrade/fear/t112.vtf
f.e.a.r/materials/models/comrade/fear/tex_0021_0.vtf
f.e.a.r/materials/models/comrade/fear/replica_elite3.vmt
f.e.a.r/materials/models/comrade/fear/nursexp_d.vmt
f.e.a.r/materials/models/comrade/fear/hight_n.vtf
f.e.a.r/materials/models/comrade/fear/roba_s.vtf
f.e.a.r/materials/models/comrade/fear/atchelmetvisor_spec.vtf
f.e.a.r/materials/models/comrade/fear/moody_head_n.vtf
f.e.a.r/materials/models/comrade/fear/atc_head_1_gibs_d.vtf
f.e.a.r/materials/models/comrade/fear/atc_head_2_d.vtf
f.e.a.r/materials/models/comrade/fear/bone.vtf
f.e.a.r/materials/models/comrade/fear/replica_forces.vmt
f.e.a.r/materials/models/comrade/fear/powerarmor_turret_d3.vmt
f.e.a.r/materials/models/comrade/fear/replica_recon.vtf
f.e.a.r/materials/models/comrade/fear/gas.vtf
f.e.a.r/materials/models/comrade/fear/krige_d.vtf
f.e.a.r/materials/models/comrade/fear/pnv.vmt
f.e.a.r/materials/models/comrade/fear/nortonmapes_torso_d.vtf
f.e.a.r/materials/models/comrade/fear/alice_bod_after_d2.vmt
f.e.a.r/materials/models/comrade/fear/jin_body.vtf
f.e.a.r/materials/models/comrade/fear/shef_hand.vtf
f.e.a.r/materials/models/comrade/fear/bloodymalebystanderhead_n.vtf
f.e.a.r/materials/models/comrade/fear/replica_elite2.vtf
f.e.a.r/materials/models/comrade/fear/roba.vmt
f.e.a.r/materials/models/comrade/fear/krige_n.vtf
f.e.a.r/materials/models/comrade/fear/night_2_g.vtf
f.e.a.r/materials/models/comrade/fear/t117_head_g.vtf
f.e.a.r/materials/models/comrade/fear/krigehead_n.vtf
f.e.a.r/materials/models/comrade/fear/korpus_n.vtf
f.e.a.r/materials/models/comrade/fear/bloodymalebystanderhead_d.vtf
f.e.a.r/materials/models/comrade/fear/alice_hair_before_n.vtf
f.e.a.r/materials/models/comrade/fear/doktor.vmt
f.e.a.r/materials/models/comrade/fear/deltaforce_special_n.vtf
f.e.a.r/materials/models/comrade/fear/fettel_hands.vmt
f.e.a.r/materials/models/comrade/fear/night_1a_n.vtf
f.e.a.r/materials/models/comrade/fear/atchelmetvisor_n.vtf
f.e.a.r/materials/models/comrade/fear/corpse_1_head_d.vtf
f.e.a.r/materials/models/comrade/fear/doc.vtf
f.e.a.r/materials/models/comrade/fear/atc_head_gibs_d.vmt
f.e.a.r/materials/models/comrade/fear/armor_light2_n.vtf
f.e.a.r/materials/models/comrade/fear/kaplan_d.vtf
f.e.a.r/materials/models/comrade/fear/atc_head_gibs_n.vtf
f.e.a.r/materials/models/comrade/fear/corpse_3_head_d.vtf
f.e.a.r/materials/models/comrade/fear/atcheavysec_spec.vtf
f.e.a.r/materials/models/comrade/fear/naberts_body_n.vtf
f.e.a.r/materials/models/comrade/fear/helmet_n.vtf
f.e.a.r/materials/models/comrade/fear/deltaforcebloody_n.vtf
f.e.a.r/materials/models/comrade/fear/spencer_body2.vmt
f.e.a.r/materials/models/comrade/fear/shef_head.vtf
f.e.a.r/materials/models/comrade/fear/alma_teen_hair_d.vmt
f.e.a.r/materials/models/comrade/fear/corpse_3_body_d.vmt
f.e.a.r/materials/models/comrade/fear/guns_s.vtf
f.e.a.r/materials/models/comrade/fear/alma_teen_hair_n.vtf
f.e.a.r/materials/models/comrade/fear/deltaforce_d.vmt
f.e.a.r/materials/models/comrade/fear/gas_n.vtf
f.e.a.r/materials/models/comrade/fear/krigehead_s.vtf
f.e.a.r/materials/models/comrade/fear/jin_body_s.vtf
f.e.a.r/materials/models/comrade/fear/assassin_g.vtf
f.e.a.r/materials/models/comrade/fear/deltaforce_s.vtf
f.e.a.r/materials/models/comrade/fear/almaold_d.vmt
f.e.a.r/materials/models/comrade/fear/powerarmor_legs_gibs_d.vmt
f.e.a.r/materials/models/comrade/fear/alma_teen_head_d.vmt
f.e.a.r/materials/models/comrade/fear/powerarmor_turret_d3.vtf
f.e.a.r/materials/models/comrade/fear/night_2.vtf
f.e.a.r/materials/models/comrade/fear/night_2_n.vtf
f.e.a.r/materials/models/comrade/fear/bloodymalebystanderhead_d.vmt
f.e.a.r/materials/models/comrade/fear/skeleton_extrabloody_d.vmt
f.e.a.r/materials/models/comrade/fear/player_d.vtf
f.e.a.r/materials/models/comrade/fear/harlan.vtf
f.e.a.r/materials/models/comrade/car4/1g.vtf
f.e.a.r/materials/models/comrade/car4/7.vmt
f.e.a.r/materials/models/comrade/car4/3.vtf
f.e.a.r/materials/models/comrade/car4/2.vtf
f.e.a.r/materials/models/comrade/car4/3n.vtf
f.e.a.r/materials/models/comrade/car4/1.vtf
f.e.a.r/materials/models/comrade/car4/1.vmt
f.e.a.r/materials/models/comrade/car4/1s.vtf
f.e.a.r/materials/models/comrade/car4/1a.vmt
f.e.a.r/materials/models/comrade/car4/1n.vtf
f.e.a.r/materials/models/comrade/car4/3s.vtf
f.e.a.r/materials/models/comrade/car4/2s.vtf
f.e.a.r/materials/models/comrade/car4/2.vmt
f.e.a.r/materials/models/comrade/car4/3.vmt
f.e.a.r/materials/models/comrade/car4/2n.vtf
f.e.a.r/materials/models/comrade/car4/6.vmt
f.e.a.r/materials/models/reemiel/fearce/fearce_replica.vtf
f.e.a.r/materials/models/reemiel/fearce/fearce_hight2.vmt
f.e.a.r/materials/models/reemiel/fearce/fearce_hight_head_n.vtf
f.e.a.r/materials/models/reemiel/fearce/fearce_replica4_n.vtf
f.e.a.r/materials/models/reemiel/fearce/fearce_hight_head2_g.vtf
f.e.a.r/materials/models/reemiel/fearce/fearce_replica3.vtf
f.e.a.r/materials/models/reemiel/fearce/fearce_hight_spec.vtf
f.e.a.r/materials/models/reemiel/fearce/fearce_hight.vmt
f.e.a.r/materials/models/reemiel/fearce/fearce_hight_n.vtf
f.e.a.r/materials/models/reemiel/fearce/fearce_replica3.vmt
f.e.a.r/materials/models/reemiel/fearce/fearce_hight_head.vmt
f.e.a.r/materials/models/reemiel/fearce/fearce_replica4.vtf
f.e.a.r/materials/models/reemiel/fearce/fearce_replica2.vtf
f.e.a.r/materials/models/reemiel/fearce/fearce_minigunner_g.vtf
f.e.a.r/materials/models/reemiel/fearce/fearce_minigunner.vtf
f.e.a.r/materials/models/reemiel/fearce/fearce_hight2.vtf
f.e.a.r/materials/models/reemiel/fearce/fearce_hight_head2.vtf
f.e.a.r/materials/models/reemiel/fearce/fearce_hight_head_g.vtf
f.e.a.r/materials/models/reemiel/fearce/fearce_elit_laser_spec.vtf
f.e.a.r/materials/models/reemiel/fearce/fearce_replica_n.vtf
f.e.a.r/materials/models/reemiel/fearce/fearce_hight.vtf
f.e.a.r/materials/models/reemiel/fearce/fearce_elit_laser_n.vtf
f.e.a.r/materials/models/reemiel/fearce/fearce_minigunner.vmt
f.e.a.r/materials/models/reemiel/fearce/fearce_elit_laser2.vmt
f.e.a.r/materials/models/reemiel/fearce/fearce_replica2.vmt
f.e.a.r/materials/models/reemiel/fearce/fearce_hight_head2.vmt
f.e.a.r/materials/models/reemiel/fearce/fearce_elit_laser.vtf
f.e.a.r/materials/models/reemiel/fearce/fearce_elit_laser2.vtf
f.e.a.r/materials/models/reemiel/fearce/fearce_minigunner_spec.vtf
f.e.a.r/materials/models/reemiel/fearce/fearce_replica4.vmt
f.e.a.r/materials/models/reemiel/fearce/fearce_hight_head.vtf
f.e.a.r/materials/models/reemiel/fearce/fearce_replica.vmt
f.e.a.r/materials/models/reemiel/fearce/fearce_elit_laser.vmt
f.e.a.r/materials/models/reemiel/fearce/fearce_minigunner_n.vtf
f.e.a.r/materials/models/reemiel/fearce/fearce_elit_laser_g.vtf
f.e.a.r/materials/models/reemiel/fearce_attachments/steklo_fear_d.vtf
f.e.a.r/materials/models/reemiel/fearce_attachments/pnv_fearce_spec.vtf
f.e.a.r/materials/models/reemiel/fearce_attachments/gasmask.vmt
f.e.a.r/materials/models/reemiel/fearce_attachments/helmet_fear_g.vtf
f.e.a.r/materials/models/reemiel/fearce_attachments/pnv_fearce_d.vtf
f.e.a.r/materials/models/reemiel/fearce_attachments/helmet_fearce_d.vmt
f.e.a.r/materials/models/reemiel/fearce_attachments/gasmask2.vmt
f.e.a.r/materials/models/reemiel/fearce_attachments/helmet_fear_n.vtf
f.e.a.r/materials/models/reemiel/fearce_attachments/gasmask.vtf
f.e.a.r/materials/models/reemiel/fearce_attachments/helmet_fearce_d.vtf
f.e.a.r/materials/models/reemiel/fearce_attachments/helmet_fearce_n.vtf
f.e.a.r/materials/models/reemiel/fearce_attachments/remen2.vmt
f.e.a.r/materials/models/reemiel/fearce_attachments/gasmask_n.vtf
f.e.a.r/materials/models/reemiel/fearce_attachments/remen_fear_n.vtf
f.e.a.r/materials/models/reemiel/fearce_attachments/gasmask_g.vtf
f.e.a.r/materials/models/reemiel/fearce_attachments/steklo_fear_n.vtf
f.e.a.r/materials/models/reemiel/fearce_attachments/gasmask2.vtf
f.e.a.r/materials/models/reemiel/fearce_attachments/pnv_fearce_n.vtf
f.e.a.r/materials/models/reemiel/fearce_attachments/helmet_fear_spec.vtf
f.e.a.r/materials/models/reemiel/fearce_attachments/helmet_fearce_e.vtf
f.e.a.r/materials/models/reemiel/fearce_attachments/remen_fear_d.vtf
f.e.a.r/materials/models/reemiel/fearce_attachments/helmet_fear_d.vmt
f.e.a.r/materials/models/reemiel/fearce_attachments/pnv_fearce_d.vmt
f.e.a.r/materials/models/reemiel/fearce_attachments/helmet_fear_d.vtf
f.e.a.r/materials/models/reemiel/fearce_attachments/bone.vtf
f.e.a.r/materials/models/reemiel/fearce_attachments/remen_fear_d.vmt
f.e.a.r/materials/models/reemiel/fearce_attachments/steklo_fear_d.vmt
f.e.a.r/materials/models/weapons/sanctum2/tr/tesla_dif_01.vtf
f.e.a.r/materials/models/weapons/sanctum2/tr/tesla_dif_01.vmt
f.e.a.r/materials/models/weapons/sanctum2/tr/tesla_nor_01.vtf
f.e.a.r/materials/models/weapons/doom3/rocketlauncher/rshell1_local.vtf
f.e.a.r/materials/models/weapons/doom3/rocketlauncher/w_rocketlauncher.vtf
f.e.a.r/materials/models/weapons/doom3/rocketlauncher/rocket.vmt
f.e.a.r/materials/models/weapons/doom3/rocketlauncher/rocket_local.vtf
f.e.a.r/materials/models/weapons/doom3/rocketlauncher/w_rocketlauncher.vmt
f.e.a.r/materials/models/weapons/doom3/rocketlauncher/rocket.vtf
f.e.a.r/materials/models/weapons/doom3/rocketlauncher/rshell1.vmt
f.e.a.r/materials/models/weapons/doom3/rocketlauncher/rocketfin_local.vtf
f.e.a.r/materials/models/weapons/doom3/rocketlauncher/rocketlauncher.vmt
f.e.a.r/materials/models/weapons/doom3/rocketlauncher/rshell1.vtf
f.e.a.r/materials/models/weapons/doom3/rocketlauncher/rocketfin.vtf
f.e.a.r/materials/models/weapons/doom3/rocketlauncher/w_rocketlauncher_local.vtf
f.e.a.r/materials/models/weapons/doom3/rocketlauncher/rocketlauncher_local.vtf
f.e.a.r/materials/models/weapons/doom3/rocketlauncher/rocketfin.vmt
f.e.a.r/materials/models/weapons/doom3/rocketlauncher/rocketlauncher.vtf
f.e.a.r/materials/models/weapons/melee/weapon_marine_bayonet_dm.vtf
f.e.a.r/materials/models/weapons/melee/weapon_marine_bayonet_nm.vtf
f.e.a.r/materials/models/weapons/melee/weapon_w_marine_bayonet_dm.vtf
f.e.a.r/materials/models/weapons/melee/weapon_marine_bayonet_dm.vmt
f.e.a.r/materials/models/weapons/melee/weapon_w_marine_bayonet_dm.vmt
f.e.a.r/materials/models/weapons/v_models/hands_ghost/v_hands.vmt
f.e.a.r/materials/models/weapons/v_models/hands_ghost/v_hands_normal.vtf
f.e.a.r/materials/models/weapons/v_models/hands_ghost/v_hands_exp.vtf
f.e.a.r/materials/models/weapons/v_models/hands_ghost/v_hands.vtf
f.e.a.r/materials/models/weapons/v_models/hands_ghost/phongwarp.vtf
f.e.a.r/materials/models/weapons/v_models/hands_ghost/v_hands_exponent.vtf
f.e.a.r/materials/models/weapons/v_models/fearrifle/reciever2.vtf
f.e.a.r/materials/models/weapons/v_models/fearrifle/cmag.vmt
f.e.a.r/materials/models/weapons/v_models/fearrifle/base.vmt
f.e.a.r/materials/models/weapons/v_models/fearrifle/rail.vmt
f.e.a.r/materials/models/weapons/v_models/fearrifle/stock.vmt
f.e.a.r/materials/models/weapons/v_models/fearrifle/rail.vtf
f.e.a.r/materials/models/weapons/v_models/fearrifle/gucci.vmt
f.e.a.r/materials/models/weapons/v_models/fearrifle/stock.vtf
f.e.a.r/materials/models/weapons/v_models/fearrifle/cmag.vtf
f.e.a.r/materials/models/weapons/v_models/fearrifle/fore.vmt
f.e.a.r/materials/models/weapons/v_models/fearrifle/reciever2.vmt
f.e.a.r/materials/models/weapons/v_models/fearrifle/base.vtf
f.e.a.r/materials/models/weapons/v_models/fearrifle/gucci.vtf
f.e.a.r/materials/models/weapons/v_models/fearrifle/fore.vtf
f.e.a.r/materials/models/weapons/v_minigun/jb_chaingun_spec.vtf
f.e.a.r/materials/models/weapons/v_minigun/jb_chaingun.vtf
f.e.a.r/materials/models/weapons/v_minigun/jb_chaingun_normal.vtf
f.e.a.r/materials/models/weapons/v_minigun/jb_chaingun.vmt
f.e.a.r/materials/models/weapons/fear/neil/neil.vmt
f.e.a.r/materials/models/weapons/fear/neil/neil_g.vtf
f.e.a.r/materials/models/weapons/fear/neil/neil.vtf
f.e.a.r/materials/models/weapons/fear/neil/neil_n.vtf
f.e.a.r/materials/models/weapons/fear/shield/shield.vtf
f.e.a.r/materials/models/weapons/fear/shield/shield.vmt
f.e.a.r/materials/models/weapons/fear/shield/shield_g.vtf
f.e.a.r/materials/models/weapons/fear/shield/shield_n.vtf
f.e.a.r/materials/models/weapons/fear/grenade/grenade.vtf
f.e.a.r/materials/models/weapons/fear/grenade/grenade_n.vtf
f.e.a.r/materials/models/weapons/fear/grenade/grenade_g.vtf
f.e.a.r/materials/models/weapons/fear/grenade/grenade.vmt
f.e.a.r/materials/models/weapons/fear/spas/spas_n.vtf
f.e.a.r/materials/models/weapons/fear/spas/wpn_shell.vmt
f.e.a.r/materials/models/weapons/fear/spas/spas.vtf
f.e.a.r/materials/models/weapons/fear/spas/wpn_shell.vtf
f.e.a.r/materials/models/weapons/fear/spas/spas.vmt
f.e.a.r/materials/models/weapons/fear/grenades/grenades3fx.vmt
f.e.a.r/materials/models/weapons/fear/grenades/grenades3fx.vtf
f.e.a.r/materials/models/weapons/fear/grenades/grenades3.vmt
f.e.a.r/materials/models/weapons/fear/grenades/grenades3.vtf
f.e.a.r/materials/models/weapons/fear/grenades/grenades3_local.vtf
f.e.a.r/materials/models/weapons/fear/50mm/50mm2_g.vtf
f.e.a.r/materials/models/weapons/fear/50mm/50mm.vtf
f.e.a.r/materials/models/weapons/fear/50mm/50mm2.vtf
f.e.a.r/materials/models/weapons/fear/50mm/50mm2_n.vtf
f.e.a.r/materials/models/weapons/fear/50mm/50mm_n.vtf
f.e.a.r/materials/models/weapons/fear/50mm/50mm2.vmt
f.e.a.r/materials/models/weapons/fear/50mm/50mm.vmt
f.e.a.r/materials/models/weapons/fear/at14/at14.vtf
f.e.a.r/materials/models/weapons/fear/at14/at14_n.vtf
f.e.a.r/materials/models/weapons/fear/at14/at14.vmt
f.e.a.r/materials/models/weapons/fear/rg/rg.vmt
f.e.a.r/materials/models/weapons/fear/rg/rg_n.vtf
f.e.a.r/materials/models/weapons/fear/rg/rg.vtf
f.e.a.r/materials/models/weapons/fear/v_minigun/minigun_n.vtf
f.e.a.r/materials/models/weapons/fear/v_minigun/minigun_spec.vtf
f.e.a.r/materials/models/weapons/fear/v_minigun/minigun.vtf
f.e.a.r/materials/models/weapons/fear/v_minigun/minigun_g.vtf
f.e.a.r/materials/models/weapons/fear/v_minigun/minigun.vmt
f.e.a.r/materials/models/weapons/fear/tesla/p3x_d.vmt
f.e.a.r/materials/models/weapons/fear/tesla/p1.vtf
f.e.a.r/materials/models/weapons/fear/tesla/p3_d.vmt
f.e.a.r/materials/models/weapons/fear/tesla/tesla.vmt
f.e.a.r/materials/models/weapons/fear/tesla/p2_d.vmt
f.e.a.r/materials/models/weapons/fear/tesla/tesla_g.vtf
f.e.a.r/materials/models/weapons/fear/tesla/tesla_n.vtf
f.e.a.r/materials/models/weapons/fear/tesla/p1x_d.vmt
f.e.a.r/materials/models/weapons/fear/tesla/p2x_d.vmt
f.e.a.r/materials/models/weapons/fear/tesla/p1_d.vmt
f.e.a.r/materials/models/weapons/fear/tesla/tesla.vtf
f.e.a.r/materials/models/weapons/fear/ves/ves.vmt
f.e.a.r/materials/models/weapons/fear/ves/opt_n.vtf
f.e.a.r/materials/models/weapons/fear/ves/ves_n.vtf
f.e.a.r/materials/models/weapons/fear/ves/opt.vtf
f.e.a.r/materials/models/weapons/fear/ves/opt.vmt
f.e.a.r/materials/models/weapons/fear/ves/ves.vtf
f.e.a.r/materials/models/weapons/fear/laser/laser.vmt
f.e.a.r/materials/models/weapons/fear/laser/laser_n.vtf
f.e.a.r/materials/models/weapons/fear/laser/laser.vtf
f.e.a.r/materials/models/weapons/fear/laser/laser_g.vtf
f.e.a.r/materials/models/weapons/fear/mine/mine_n.vtf
f.e.a.r/materials/models/weapons/fear/mine/mine.vtf
f.e.a.r/materials/models/weapons/fear/mine/mine.vmt
f.e.a.r/materials/models/weapons/fear/bomb/bomb_n.vtf
f.e.a.r/materials/models/weapons/fear/bomb/bomb.vmt
f.e.a.r/materials/models/weapons/fear/bomb/deton.vmt
f.e.a.r/materials/models/weapons/fear/bomb/deton.vtf
f.e.a.r/materials/models/weapons/fear/bomb/deton_n.vtf
f.e.a.r/materials/models/weapons/fear/bomb/bomb.vtf
f.e.a.r/materials/models/weapons/fear/smg/smg.vtf
f.e.a.r/materials/models/weapons/fear/smg/smg_g.vtf
f.e.a.r/materials/models/weapons/fear/smg/smg_n.vtf
f.e.a.r/materials/models/weapons/fear/smg/smg.vmt
f.e.a.r/materials/models/weapons/fear/smg/smg_spec.vtf
f.e.a.r/materials/models/weapons/fear/rpg/rpg.vtf
f.e.a.r/materials/models/weapons/fear/rpg/rpg_g.vtf
f.e.a.r/materials/models/weapons/fear/rpg/rpg.vmt
f.e.a.r/materials/models/weapons/fear/rpg/rpg_n.vtf
f.e.a.r/materials/models/weapons/fear/g2a2/g2a2.vtf
f.e.a.r/materials/models/weapons/fear/g2a2/g2a2.vmt
f.e.a.r/materials/models/weapons/fear/g2a2/g2a2_n.vtf
f.e.a.r/materials/models/weapons/fear/asp/asp.vtf
f.e.a.r/materials/models/weapons/fear/asp/asp_n.vtf
f.e.a.r/materials/models/weapons/fear/asp/asp.vmt
f.e.a.r/materials/models/weapons/fear/type7/type7.vmt
f.e.a.r/materials/models/weapons/fear/type7/type7.vtf
f.e.a.r/materials/models/weapons/fear/type7/type7_g.vtf
f.e.a.r/materials/models/weapons/fear/type7/type7_n.vtf
f.e.a.r/materials/models/models/failure/mk6/basenologo.vtf
f.e.a.r/materials/models/models/failure/mk6/base.vmt
f.e.a.r/materials/models/models/failure/mk6/basenologo.vmt
f.e.a.r/materials/models/models/failure/mk6/base.vtf
f.e.a.r/materials/models/models/scav/nail_shiny.vmt
f.e.a.r/materials/models/models/scav/nail_dull.vmt
f.e.a.r/materials/models/models/scav/nail.vtf
f.e.a.r/materials/models/models/scav/nail_shinymask.vtf
f.e.a.r/materials/models/models/weapons/doom3/rocketlauncher/rshell1_local.vtf
f.e.a.r/materials/models/models/weapons/doom3/rocketlauncher/rocket.vmt
f.e.a.r/materials/models/models/weapons/doom3/rocketlauncher/rocket_local.vtf
f.e.a.r/materials/models/models/weapons/doom3/rocketlauncher/rocket.vtf
f.e.a.r/materials/models/models/weapons/doom3/rocketlauncher/rshell1.vmt
f.e.a.r/materials/models/models/weapons/doom3/rocketlauncher/rocketfin_local.vtf
f.e.a.r/materials/models/models/weapons/doom3/rocketlauncher/rshell1.vtf
f.e.a.r/materials/models/models/weapons/doom3/rocketlauncher/rocketfin.vtf
f.e.a.r/materials/models/models/weapons/doom3/rocketlauncher/rocketfin.vmt
f.e.a.r/materials/models/fear/bone_n.vtf
f.e.a.r/materials/models/fear/bone.vmt
f.e.a.r/materials/models/fear/bone.vtf
f.e.a.r/materials/models/fear/v_minigun/minigun.vmt
f.e.a.r/materials/models/conely/pointmeng/metal.vmt
f.e.a.r/materials/models/conely/pointmeng/pointmeng_straps_detailbump.vtf
f.e.a.r/materials/models/conely/pointmeng/chr_swat_heatvision_hands_diffusemap.vtf
f.e.a.r/materials/models/conely/pointmeng/chr_swat_heatvision_hands.vmt
f.e.a.r/materials/models/conely/pointmeng/pointmeng_legs_normal.vtf
f.e.a.r/materials/models/conely/pointmeng/pointmeng_legs.vmt
f.e.a.r/materials/models/conely/pointmeng/prag_male_torso_ext_c_diff.vtf
f.e.a.r/materials/models/conely/pointmeng/prag_male_torso_ext_c_norm.vtf
f.e.a.r/materials/models/conely/pointmeng/chr_sat_echo_torso_normalmap.vtf
f.e.a.r/materials/models/conely/pointmeng/chr_sat_echo_arms_diffusemap.vtf
f.e.a.r/materials/models/conely/pointmeng/chr_sat_echo_acce_diffusemap.vtf
f.e.a.r/materials/models/conely/pointmeng/pointmeng_vest_exponent.vtf
f.e.a.r/materials/models/conely/pointmeng/pointmeng_legs_diffuse.vtf
f.e.a.r/materials/models/conely/pointmeng/chr_sat_echo_arms_normalmap.vtf
f.e.a.r/materials/models/conely/pointmeng/chr_707_vigil_legs_normaldetailmap02.vtf
f.e.a.r/materials/models/conely/pointmeng/pointmeng_boots.vmt
f.e.a.r/materials/models/conely/pointmeng/jeans_01_diff.vtf
f.e.a.r/materials/models/conely/pointmeng/chr_sat_echo_arms_default.vmt
f.e.a.r/materials/models/conely/pointmeng/pointmeng_vest_normal.vtf
f.e.a.r/materials/models/conely/pointmeng/chr_sat_echo_acce_normalmap.vtf
f.e.a.r/materials/models/conely/pointmeng/pointmeng_straps_diff.vtf
f.e.a.r/materials/models/conely/pointmeng/chr_sat_echo_gear_default_diffusemap.vtf
f.e.a.r/materials/models/conely/pointmeng/chr_707_vigil_headgear_normaldetailmap02.vtf
f.e.a.r/materials/models/conely/pointmeng/vigil_straps_reflect2.vmt
f.e.a.r/materials/models/conely/pointmeng/pointmeng_holster.vmt
f.e.a.r/materials/models/conely/pointmeng/chr_sat_echo_gear_default.vmt
f.e.a.r/materials/models/conely/pointmeng/chr_swat_heatvision_hands_normalmap.vtf
f.e.a.r/materials/models/conely/pointmeng/pointmeng_straps.vmt
f.e.a.r/materials/models/conely/pointmeng/chr_sat_echo_acce_default.vmt
f.e.a.r/materials/models/conely/pointmeng/chr_sat_echo_torso_default.vmt
f.e.a.r/materials/models/conely/pointmeng/chr_sat_echo_gear_default_normalmap.vtf
f.e.a.r/materials/models/conely/pointmeng/pointmeng_vest.vmt
f.e.a.r/materials/models/conely/pointmeng/vigil_straps_reflect.vmt
f.e.a.r/materials/models/conely/pointmeng/fabric_09_diff.vtf
f.e.a.r/materials/models/conely/pointmeng/chr_sat_echo_torso_diffusemap.vtf
f.e.a.r/materials/models/conely/pointmeng/pointmeng_vest_shared.vtf
f.e.a.r/materials/models/conely/pointmeng/prag_male_torso_ext_c.vmt
f.e.a.r/materials/models/conely/pointmeng/acc/chr_geo_blackmirror_armor_diffuse.vtf
f.e.a.r/materials/models/conely/pointmeng/acc/chr_gsg9_jager_holster_d.vtf
f.e.a.r/materials/models/conely/pointmeng/acc/chr_geo_cazador_acce_normaldetailmap.vtf
f.e.a.r/materials/models/conely/pointmeng/acc/chr_geo_blackmirror_armor_normaldetailmap.vtf
f.e.a.r/materials/models/conely/pointmeng/acc/chr_gsg9_jager_holster_n.vtf
f.e.a.r/materials/models/conely/pointmeng/acc/chr_geo_blackmirror_straps_diffuse.vtf
f.e.a.r/materials/models/conely/pointmeng/acc/chr_grom_zofia_headgear_normalmap.vtf
f.e.a.r/materials/models/conely/pointmeng/acc/chr_grom_zofia_headgear_diffusemap.vtf
f.e.a.r/materials/models/conely/pointmeng/acc/chr_geo_blackmirror_straps.vmt
f.e.a.r/materials/models/conely/pointmeng/acc/chr_gsg9_jager_holster.vmt
f.e.a.r/materials/models/conely/pointmeng/acc/chr_geo_blackmirror_armor_normal.vtf
f.e.a.r/materials/models/conely/pointmeng/acc/chr_grom_zofia_headgear_glass.vmt
f.e.a.r/materials/models/conely/pointmeng/acc/chr_grom_zofia_headgear.vmt
f.e.a.r/materials/models/conely/pointmeng/acc/carbon_01_diff.vtf
f.e.a.r/materials/models/conely/pointmeng/acc/chr_geo_blackmirror_straps_normal.vtf
f.e.a.r/materials/models/conely/pointmeng/acc/chr_geo_blackmirror_armor.vmt
f.e.a.r/materials/models/conely/pointmeng/head/infiltrator_mask.vmt
f.e.a.r/materials/models/conely/pointmeng/head/chr_gis_maestro_headgear.vmt
f.e.a.r/materials/models/conely/pointmeng/head/chr_gis_maestro_headgear_strap.vmt
f.e.a.r/materials/models/conely/pointmeng/head/chr_gis_maestro_headgear_diffuse.vtf
f.e.a.r/materials/models/conely/pointmeng/head/chr_gsg9_zapper_visor_normalmap.vtf
f.e.a.r/materials/models/conely/pointmeng/head/chr_gis_maestro_headgear_normal.vtf
f.e.a.r/materials/models/conely/pointmeng/head/chr_gsg9_zapper_visor.vmt
f.e.a.r/materials/models/conely/pointmeng/head/infiltrator_mask_nml.vtf
f.e.a.r/materials/models/conely/pointmeng/head/chr_gsg9_zapper_visor_diffusemap.vtf
f.e.a.r/materials/models/conely/pointmeng/head/infiltrator_mask_bsm.vtf
f.e.a.r/materials/models/player/elite1/6ff7ef28.vmt
f.e.a.r/materials/models/player/elite1/t_leet.vmt
f.e.a.r/materials/models/player/elite1/6ff7ef28.vtf
f.e.a.r/materials/models/player/elite1/soldier_multi_n.vtf
f.e.a.r/materials/models/player/elite1/t_leet.vtf
f.e.a.r/materials/models/player/elite1/t_leet_normal.vtf
f.e.a.r/materials/models/player/fear01/6ff7ef28.vmt
f.e.a.r/materials/models/player/fear01/6ff7ef28.vtf
f.e.a.r/materials/models/player/fear01/soldier_multi_n.vtf
f.e.a.r/materials/models/player/fear04/gradient.vmt
f.e.a.r/materials/models/player/fear04/head_replica.vtf
f.e.a.r/materials/models/player/fear04/black.vtf
f.e.a.r/materials/models/player/fear04/6ff7ef28.vmt
f.e.a.r/materials/models/player/fear04/copy of black.vtf
f.e.a.r/materials/models/player/fear04/6ff7ef28.vtf
f.e.a.r/materials/models/player/fear04/head_replica_n.vtf
f.e.a.r/materials/models/player/fear04/head_replica.vmt
f.e.a.r/materials/models/player/fear04/soldier_multi_n.vtf
f.e.a.r/materials/models/player/fear04/black.vmt
f.e.a.r/materials/models/player/fear00/6ff7ef28.vmt
f.e.a.r/materials/models/player/fear00/6ff7ef28.vtf
f.e.a.r/materials/vgui/entities/fear_rg.vmt
f.e.a.r/materials/vgui/entities/fear_tesla.vmt
f.e.a.r/materials/vgui/entities/fear_minigun2.vmt
f.e.a.r/materials/vgui/entities/fear_smg.vmt
f.e.a.r/materials/vgui/entities/fear_spas.vmt
f.e.a.r/materials/vgui/entities/fear_50mm.vtf
f.e.a.r/materials/vgui/entities/fear_smg.vtf
f.e.a.r/materials/vgui/entities/fear_grenade.vtf
f.e.a.r/materials/vgui/entities/fear_neilgun.vtf
f.e.a.r/materials/vgui/entities/fear_mine.vtf
f.e.a.r/materials/vgui/entities/fear_g2a2.vmt
f.e.a.r/materials/vgui/entities/fear_laser.vmt
f.e.a.r/materials/vgui/entities/fear_mine.vmt
f.e.a.r/materials/vgui/entities/fear_bomb.vtf
f.e.a.r/materials/vgui/entities/fear_ves.vtf
f.e.a.r/materials/vgui/entities/fear_grenade.vmt
f.e.a.r/materials/vgui/entities/fear_type7.vmt
f.e.a.r/materials/vgui/entities/fear_at14_duble.vmt
f.e.a.r/materials/vgui/entities/fear_asp.vmt
f.e.a.r/materials/vgui/entities/fear_g2a2.vtf
f.e.a.r/materials/vgui/entities/fear_rg.vtf
f.e.a.r/materials/vgui/entities/fear_type7.vtf
f.e.a.r/materials/vgui/entities/fear_rpg.vtf
f.e.a.r/materials/vgui/entities/fear_asp.vtf
f.e.a.r/materials/vgui/entities/fear_bomb.vmt
f.e.a.r/materials/vgui/entities/fear_50mm.vmt
f.e.a.r/materials/vgui/entities/fear_tesla.vtf
f.e.a.r/materials/vgui/entities/fear_at14.vmt
f.e.a.r/materials/vgui/entities/fear_minigun2.vtf
f.e.a.r/materials/vgui/entities/fear_ves.vmt
f.e.a.r/materials/vgui/entities/fear_neilgun.vmt
f.e.a.r/materials/vgui/entities/fear_spas.vtf
f.e.a.r/materials/vgui/entities/fear_at14.vtf
f.e.a.r/materials/vgui/entities/fear_at14_duble.vtf
f.e.a.r/materials/vgui/entities/fear_laser.vtf
f.e.a.r/materials/vgui/entities/fear_rpg.vmt
f.e.a.r/materials/vgui/icons/rocketlauncherw.vtf
f.e.a.r/materials/vgui/icons/doublebarrelw.vmt
f.e.a.r/materials/vgui/icons/fistw.vmt
f.e.a.r/materials/vgui/icons/chaingunw.vtf
f.e.a.r/materials/vgui/icons/shotgunw.vmt
f.e.a.r/materials/vgui/icons/flashlightw.vmt
f.e.a.r/materials/vgui/icons/rocketlauncherw.vmt
f.e.a.r/materials/vgui/icons/plasmagunw.vmt
f.e.a.r/materials/vgui/icons/pistolw.vtf
f.e.a.r/materials/vgui/icons/plasmagunw.vtf
f.e.a.r/materials/vgui/icons/bfgw.vtf
f.e.a.r/materials/vgui/icons/chainsaww.vtf
f.e.a.r/materials/vgui/icons/pistolw.vmt
f.e.a.r/materials/vgui/icons/machinegunw.vtf
f.e.a.r/materials/vgui/icons/shotgunw.vtf
f.e.a.r/materials/vgui/icons/bfgw.vmt
f.e.a.r/materials/vgui/icons/chaingunw.vmt
f.e.a.r/materials/vgui/icons/grenadew.vtf
f.e.a.r/materials/vgui/icons/grenadew.vmt
f.e.a.r/materials/vgui/icons/fistw.vtf
f.e.a.r/materials/vgui/icons/doublebarrelw.vtf
f.e.a.r/materials/vgui/icons/chainsaww.vmt
f.e.a.r/materials/vgui/icons/machinegunw.vmt
f.e.a.r/materials/vgui/icons/flashlightw.vtf
f.e.a.r/materials/vgui/hud/s_kill_mine.vtf
f.e.a.r/materials/vgui/hud/bms_rvmp5hudicon.vtf
f.e.a.r/materials/vgui/hud/s_kill_mine_t.vtf
f.e.a.r/materials/vgui/hud/s_kill_bc_g.vtf
f.e.a.r/materials/vgui/hud/s_kill_mine_t.vmt
f.e.a.r/materials/vgui/hud/bm_m203grenicon.vtf
f.e.a.r/materials/vgui/hud/s_kill_rex.vmt
f.e.a.r/materials/vgui/hud/bms_357hudicon.vtf
f.e.a.r/materials/vgui/hud/npc_bms_357.vmt
f.e.a.r/materials/vgui/hud/s_kill_tr.vmt
f.e.a.r/materials/vgui/hud/s_kill_hc.vtf
f.e.a.r/materials/vgui/hud/bm_m203gren.vmt
f.e.a.r/materials/vgui/hud/s_kill_smg.vmt
f.e.a.r/materials/vgui/hud/npc_bms_deagle.vmt
f.e.a.r/materials/vgui/hud/s_kill_rex.vtf
f.e.a.r/materials/vgui/hud/s_kill_tr.vtf
f.e.a.r/materials/vgui/hud/bms_glockrvhudicon.vtf
f.e.a.r/materials/vgui/hud/npc_bms_glock.vmt
f.e.a.r/materials/vgui/hud/s_kill_sg.vtf
f.e.a.r/materials/vgui/hud/s_kill_mine.vmt
f.e.a.r/materials/vgui/hud/s_kill_ar.vmt
f.e.a.r/materials/vgui/hud/s_kill_sr.vmt
f.e.a.r/materials/vgui/hud/bms_m4hudicon.vtf
f.e.a.r/materials/vgui/hud/npc_bms_revamped_mp5.vmt
f.e.a.r/materials/vgui/hud/bms_mp5hud.vtf
f.e.a.r/materials/vgui/hud/s_kill_smg.vtf
f.e.a.r/materials/vgui/hud/sanctum_tr.vmt
f.e.a.r/materials/vgui/hud/bms_m9hudicon.vtf
f.e.a.r/materials/vgui/hud/npc_bms_m4.vmt
f.e.a.r/materials/vgui/hud/npc_bms_sw_magnum.vmt
f.e.a.r/materials/vgui/hud/s_kill_ar_g.vmt
f.e.a.r/materials/vgui/hud/npc_bms_sw_magnumhudicon.vtf
f.e.a.r/materials/vgui/hud/npc_bms_m9.vmt
f.e.a.r/materials/vgui/hud/npc_bms_mp5.vmt
f.e.a.r/materials/vgui/hud/s_kill_sg.vmt
f.e.a.r/materials/vgui/hud/s_kill_sr.vtf
f.e.a.r/materials/vgui/hud/s_kill_bc.vtf
f.e.a.r/materials/vgui/hud/s_kill_bc.vmt
f.e.a.r/materials/vgui/hud/sanctum_tr.vtf
f.e.a.r/materials/vgui/hud/s_kill_hc.vmt
f.e.a.r/materials/vgui/hud/bms_glock17hudicon.vtf
f.e.a.r/materials/vgui/hud/npc_bms_revamped_glock.vmt
f.e.a.r/materials/vgui/hud/s_kill_ar.vtf
f.e.a.r/materials/vgui/hud/s_kill_bc_g.vmt
f.e.a.r/materials/vgui/hud/s_kill_ar_g.vtf
f.e.a.r/materials/vgui/hud/bms_deaglehudicon.vtf
f.e.a.r/materials/vgui/hud/ves/assassins.vtf
f.e.a.r/materials/vgui/hud/ves/black.vtf
f.e.a.r/materials/vgui/hud/ves/scope_sniper_ul.vmt
f.e.a.r/materials/vgui/hud/ves/scope_dudv_ul.vtf
f.e.a.r/materials/vgui/hud/ves/scope_normal_ul.vtf
f.e.a.r/materials/vgui/hud/ves/scope_sniper_ll.vmt
f.e.a.r/materials/vgui/hud/ves/scope_sniper_ur.vmt
f.e.a.r/materials/vgui/hud/ves/nothing.vmt
f.e.a.r/materials/vgui/hud/ves/scope_normal_ul.png
f.e.a.r/materials/vgui/hud/ves/nothing.vtf
f.e.a.r/materials/vgui/hud/ves/assassins.vmt
f.e.a.r/materials/vgui/hud/ves/scope_sniper_ul.vtf
f.e.a.r/materials/vgui/hud/ves/black.vmt
f.e.a.r/materials/vgui/hud/ves/scope_sniper_lr.vmt
f.e.a.r/materials/lavadeeto/bf4_ammo.vtf
f.e.a.r/materials/lavadeeto/bf4_ammo.vmt
f.e.a.r/materials/lavadeeto/minimap/minimap_fov.png
f.e.a.r/materials/lavadeeto/minimap/freindly arrow.png
f.e.a.r/materials/lavadeeto/minimap/minimap_back.png
f.e.a.r/materials/lavadeeto/minimap/c_angled.png
f.e.a.r/materials/lavadeeto/minimap/slider_lose.png
f.e.a.r/materials/lavadeeto/minimap/friendly arrow.png
f.e.a.r/materials/lavadeeto/minimap/enemy arrow.png
f.e.a.r/materials/lavadeeto/minimap/player arrow.png
f.e.a.r/materials/lavadeeto/minimap/minimap_front.png
f.e.a.r/materials/lavadeeto/minimap/c_east.png
f.e.a.r/materials/lavadeeto/minimap/dead player icon.png
f.e.a.r/materials/lavadeeto/minimap/slider_nuetral.png
f.e.a.r/materials/lavadeeto/minimap/slider_win.png
f.e.a.r/materials/lavadeeto/minimap/c_west.png
f.e.a.r/materials/lavadeeto/minimap/c_south.png
f.e.a.r/materials/lavadeeto/minimap/minimap_front_effects.png
f.e.a.r/materials/lavadeeto/minimap/c_north.png
f.e.a.r/materials/lavadeeto/weapon hud/reload_back.png
f.e.a.r/materials/lavadeeto/weapon hud/weapon_back.png
f.e.a.r/materials/lavadeeto/weapon hud/fr_auto.png
f.e.a.r/materials/lavadeeto/weapon hud/fr_single.png
f.e.a.r/materials/lavadeeto/weapon hud/reload_icon.png
f.e.a.r/materials/lavadeeto/extras/medicpack.png
f.e.a.r/materials/lavadeeto/extras/ammunition.png
f.e.a.r/materials/lavadeeto/extras/medic.png
f.e.a.r/materials/lavadeeto/extras/ammopack.png
f.e.a.r/materials/lavadeeto/extras/credit.png
f.e.a.r/materials/lavadeeto/extras/death.png
f.e.a.r/materials/lavadeeto/extras/crosshair tick.png
f.e.a.r/materials/lavadeeto/extras/rollermina.png
f.e.a.r/materials/lavadeeto/extras/frag icon.png
f.e.a.r/materials/lavadeeto/extras/frag ring.png
f.e.a.r/lua/entities/obj_vj_fear_grenade4.lua
f.e.a.r/lua/entities/obj_vj_fear_mine.lua
f.e.a.r/lua/entities/obj_vj_fear_grenade8.lua
f.e.a.r/lua/entities/obj_fear_blaster.lua
f.e.a.r/lua/entities/obj_vj_fear_mine2.lua
f.e.a.r/lua/entities/sanctum_lamp.lua
f.e.a.r/lua/entities/obj_vj_fear_grenade.lua
f.e.a.r/lua/entities/type-7.lua
f.e.a.r/lua/entities/type-7v2.lua
f.e.a.r/lua/entities/faton.lua
f.e.a.r/lua/entities/obj_vj_fear_grenade3.lua
f.e.a.r/lua/entities/obj_vj_fear_grenade2.lua
f.e.a.r/lua/entities/npc_vj_fear_havis/init.lua
f.e.a.r/lua/entities/npc_vj_fear_havis/shared.lua
f.e.a.r/lua/entities/dmg_corrosion/shared.lua
f.e.a.r/lua/entities/zeala_nade/shared.lua
f.e.a.r/lua/entities/npc_vj_fear_sergeant/init.lua
f.e.a.r/lua/entities/npc_vj_fear_sergeant/shared.lua
f.e.a.r/lua/entities/npc_vj_replica_desert_sleep/init.lua
f.e.a.r/lua/entities/npc_vj_replica_desert_sleep/shared.lua
f.e.a.r/lua/entities/npc_vj_atc_turret/init.lua
f.e.a.r/lua/entities/npc_vj_atc_turret/shared.lua
f.e.a.r/lua/entities/npc_vj_replica_force/init.lua
f.e.a.r/lua/entities/npc_vj_replica_force/shared.lua
f.e.a.r/lua/entities/trace_sfire/shared.lua
f.e.a.r/lua/entities/sfw_frag_missile_av/shared.lua
f.e.a.r/lua/entities/sfi_upgrade/shared.lua
f.e.a.r/lua/entities/celest_w_pfire/shared.lua
f.e.a.r/lua/entities/npc_vj_fear_doktor7/init.lua
f.e.a.r/lua/entities/npc_vj_fear_doktor7/shared.lua
f.e.a.r/lua/entities/spectra_pfire/shared.lua
f.e.a.r/lua/entities/npc_vj_replica_pilot/init.lua
f.e.a.r/lua/entities/npc_vj_replica_pilot/shared.lua
f.e.a.r/lua/entities/npc_vj_fear_wade/init.lua
f.e.a.r/lua/entities/npc_vj_fear_wade/shared.lua
f.e.a.r/lua/entities/npc_vj_fearce_replica_soldier_4/init.lua
f.e.a.r/lua/entities/npc_vj_fearce_replica_soldier_4/shared.lua
f.e.a.r/lua/entities/sfw_mirv_child/shared.lua
f.e.a.r/lua/entities/npc_vj_delta_soldier5/init.lua
f.e.a.r/lua/entities/npc_vj_delta_soldier5/shared.lua
f.e.a.r/lua/entities/npc_vj_atc_heavysecurity2/init.lua
f.e.a.r/lua/entities/npc_vj_atc_heavysecurity2/shared.lua
f.e.a.r/lua/entities/fear_50mp_55mm/cl_init.lua
f.e.a.r/lua/entities/fear_50mp_55mm/init.lua
f.e.a.r/lua/entities/fear_50mp_55mm/shared.lua
f.e.a.r/lua/entities/fear_50mp_55mm_v3/cl_init.lua
f.e.a.r/lua/entities/fear_50mp_55mm_v3/init.lua
f.e.a.r/lua/entities/fear_50mp_55mm_v3/shared.lua
f.e.a.r/lua/entities/npc_vj_fear_alma/init.lua
f.e.a.r/lua/entities/npc_vj_fear_alma/shared.lua
f.e.a.r/lua/entities/sfw_cryon_ent/shared.lua
f.e.a.r/lua/entities/npc_vj_fear_pointman/init.lua
f.e.a.r/lua/entities/npc_vj_fear_pointman/shared.lua
f.e.a.r/lua/entities/npc_vj_fear_wade2/init.lua
f.e.a.r/lua/entities/npc_vj_fear_wade2/shared.lua
f.e.a.r/lua/entities/gdcwa_matador_90mm/cl_init.lua
f.e.a.r/lua/entities/gdcwa_matador_90mm/init.lua
f.e.a.r/lua/entities/gdcwa_matador_90mm/shared.lua
f.e.a.r/lua/entities/npc_vj_fear_chen/init.lua
f.e.a.r/lua/entities/npc_vj_fear_chen/shared.lua
f.e.a.r/lua/entities/fear_50mp_55mm_v2/cl_init.lua
f.e.a.r/lua/entities/fear_50mp_55mm_v2/init.lua
f.e.a.r/lua/entities/fear_50mp_55mm_v2/shared.lua
f.e.a.r/lua/entities/fear_crossbowboltnpc/shared.lua
f.e.a.r/lua/entities/obj_vj_alma_wave/init.lua
f.e.a.r/lua/entities/obj_vj_alma_wave/shared.lua
f.e.a.r/lua/entities/gdcwa_frag12/cl_init.lua
f.e.a.r/lua/entities/gdcwa_frag12/init.lua
f.e.a.r/lua/entities/gdcwa_frag12/shared.lua
f.e.a.r/lua/entities/sfw_frag_ent/shared.lua
f.e.a.r/lua/entities/npc_vj_fear_duglas2/init.lua
f.e.a.r/lua/entities/npc_vj_fear_duglas2/shared.lua
f.e.a.r/lua/entities/sfw_frag_missile_ap/shared.lua
f.e.a.r/lua/entities/senti_pfire/shared.lua
f.e.a.r/lua/entities/ember_endpoint/shared.lua
f.e.a.r/lua/entities/asa6_powershot/shared.lua
f.e.a.r/lua/entities/sfi_supplies/shared.lua
f.e.a.r/lua/entities/npc_vj_replica_sniper/init.lua
f.e.a.r/lua/entities/npc_vj_replica_sniper/shared.lua
f.e.a.r/lua/entities/npc_vj_replica_recon_pnv/init.lua
f.e.a.r/lua/entities/npc_vj_replica_recon_pnv/shared.lua
f.e.a.r/lua/entities/npc_vj_replica_elite4/init.lua
f.e.a.r/lua/entities/npc_vj_replica_elite4/shared.lua
f.e.a.r/lua/entities/npc_vj_fear_doktor8/init.lua
f.e.a.r/lua/entities/npc_vj_fear_doktor8/shared.lua
f.e.a.r/lua/entities/npc_vj_fearce_replica_minigunner/init.lua
f.e.a.r/lua/entities/npc_vj_fearce_replica_minigunner/shared.lua
f.e.a.r/lua/entities/npc_vj_fear_med/init.lua
f.e.a.r/lua/entities/npc_vj_fear_med/shared.lua
f.e.a.r/lua/entities/vapor_pfire/shared.lua
f.e.a.r/lua/entities/npc_vj_fear_shadow/init.lua
f.e.a.r/lua/entities/npc_vj_fear_shadow/shared.lua
f.e.a.r/lua/entities/mine_ent/shared.lua
f.e.a.r/lua/entities/npc_vj_fearce_replica_soldier_3/init.lua
f.e.a.r/lua/entities/npc_vj_fearce_replica_soldier_3/shared.lua
f.e.a.r/lua/entities/npc_vj_fear_mamon3/init.lua
f.e.a.r/lua/entities/npc_vj_fear_mamon3/shared.lua
f.e.a.r/lua/entities/saph_pfire/shared.lua
f.e.a.r/lua/entities/vapor_nade/shared.lua
f.e.a.r/lua/entities/npc_vj_night_lider/init.lua
f.e.a.r/lua/entities/npc_vj_night_lider/shared.lua
f.e.a.r/lua/entities/gdcwa_m74/cl_init.lua
f.e.a.r/lua/entities/gdcwa_m74/init.lua
f.e.a.r/lua/entities/gdcwa_m74/shared.lua
f.e.a.r/lua/entities/npc_vj_simbioz_base_v2/cl_init.lua
f.e.a.r/lua/entities/npc_vj_simbioz_base_v2/init.lua
f.e.a.r/lua/entities/npc_vj_simbioz_base_v2/shared.lua
f.e.a.r/lua/entities/npc_vj_simbioz_base_v2/schedules.lua
f.e.a.r/lua/entities/npc_vj_fear_alice/init.lua
f.e.a.r/lua/entities/npc_vj_fear_alice/shared.lua
f.e.a.r/lua/entities/npc_vj_replica_fettel3/init.lua
f.e.a.r/lua/entities/npc_vj_replica_fettel3/shared.lua
f.e.a.r/lua/entities/fear_m203gren/cl_init.lua
f.e.a.r/lua/entities/fear_m203gren/init.lua
f.e.a.r/lua/entities/fear_m203gren/shared.lua
f.e.a.r/lua/entities/vectra_pfire/shared.lua
f.e.a.r/lua/entities/npc_vj_fearce_replica_elite_laser_soldier_1/init.lua
f.e.a.r/lua/entities/npc_vj_fearce_replica_elite_laser_soldier_1/shared.lua
f.e.a.r/lua/entities/npc_vj_replica_rev8/init.lua
f.e.a.r/lua/entities/npc_vj_replica_rev8/shared.lua
f.e.a.r/lua/entities/supra_nade_child/shared.lua
f.e.a.r/lua/entities/sfi_chroma_test/shared.lua
f.e.a.r/lua/entities/npc_vj_fear_spencer/init.lua
f.e.a.r/lua/entities/npc_vj_fear_spencer/shared.lua
f.e.a.r/lua/entities/npc_vj_replica_rev63/init.lua
f.e.a.r/lua/entities/npc_vj_replica_rev63/shared.lua
f.e.a.r/lua/entities/fear_rocket/cl_init.lua
f.e.a.r/lua/entities/fear_rocket/init.lua
f.e.a.r/lua/entities/fear_rocket/shared.lua
f.e.a.r/lua/entities/sfw_thor_ent/shared.lua
f.e.a.r/lua/entities/energy_crystal_type7a/cl_init.lua
f.e.a.r/lua/entities/energy_crystal_type7a/init.lua
f.e.a.r/lua/entities/energy_crystal_type7a/shared.lua
f.e.a.r/lua/entities/sfi_sentinel/shared.lua
f.e.a.r/lua/entities/gdcwa_wpnade/cl_init.lua
f.e.a.r/lua/entities/gdcwa_wpnade/init.lua
f.e.a.r/lua/entities/gdcwa_wpnade/shared.lua
f.e.a.r/lua/entities/vapor_nade_classic/shared.lua
f.e.a.r/lua/entities/npc_vj_fear_dug/init.lua
f.e.a.r/lua/entities/npc_vj_fear_dug/shared.lua
f.e.a.r/lua/entities/npc_vj_atc_heavysecurity3/init.lua
f.e.a.r/lua/entities/npc_vj_atc_heavysecurity3/shared.lua
f.e.a.r/lua/entities/npc_vj_fear_test/init.lua
f.e.a.r/lua/entities/npc_vj_fear_test/shared.lua
f.e.a.r/lua/entities/npc_vj_delta_soldier2/init.lua
f.e.a.r/lua/entities/npc_vj_delta_soldier2/shared.lua
f.e.a.r/lua/entities/npc_vj_fear_chlen2/init.lua
f.e.a.r/lua/entities/npc_vj_fear_chlen2/shared.lua
f.e.a.r/lua/entities/npc_vj_atc_heavysecurity4/init.lua
f.e.a.r/lua/entities/npc_vj_atc_heavysecurity4/shared.lua
f.e.a.r/lua/entities/npc_vj_fear_haviz/init.lua
f.e.a.r/lua/entities/npc_vj_fear_haviz/shared.lua
f.e.a.r/lua/entities/sting_pfire/shared.lua
f.e.a.r/lua/entities/npc_grenade/shared.lua
f.e.a.r/lua/entities/npc_vj_delta_soldier3/init.lua
f.e.a.r/lua/entities/npc_vj_delta_soldier3/shared.lua
f.e.a.r/lua/entities/jotunn_arrow/shared.lua
f.e.a.r/lua/entities/npc_vj_replica_t112/init.lua
f.e.a.r/lua/entities/npc_vj_replica_t112/shared.lua
f.e.a.r/lua/entities/npc_vj_fearce_replica_soldier_2/init.lua
f.e.a.r/lua/entities/npc_vj_fearce_replica_soldier_2/shared.lua
f.e.a.r/lua/entities/panda_pfire/shared.lua
f.e.a.r/lua/entities/gdcwa_matador_used/cl_init.lua
f.e.a.r/lua/entities/gdcwa_matador_used/init.lua
f.e.a.r/lua/entities/gdcwa_matador_used/shared.lua
f.e.a.r/lua/entities/npc_vj_delta_soldier4/init.lua
f.e.a.r/lua/entities/npc_vj_delta_soldier4/shared.lua
f.e.a.r/lua/entities/obj_alma_gravitation/cl_init.lua
f.e.a.r/lua/entities/obj_alma_gravitation/init.lua
f.e.a.r/lua/entities/obj_alma_gravitation/shared.lua
f.e.a.r/lua/entities/npc_vj_night_soldier/init.lua
f.e.a.r/lua/entities/npc_vj_night_soldier/shared.lua
f.e.a.r/lua/entities/npc_shuriken/shared.lua
f.e.a.r/lua/entities/npc_vj_night_commando/init.lua
f.e.a.r/lua/entities/npc_vj_night_commando/shared.lua
f.e.a.r/lua/entities/npc_vj_fear_alma_child/init.lua
f.e.a.r/lua/entities/npc_vj_fear_alma_child/shared.lua
f.e.a.r/lua/entities/npc_vj_replica_scout/init.lua
f.e.a.r/lua/entities/npc_vj_replica_scout/shared.lua
f.e.a.r/lua/entities/npc_vj_replica_t114_sleep/init.lua
f.e.a.r/lua/entities/npc_vj_replica_t114_sleep/shared.lua
f.e.a.r/lua/entities/gdcwa_indicatornade/cl_init.lua
f.e.a.r/lua/entities/gdcwa_indicatornade/init.lua
f.e.a.r/lua/entities/gdcwa_indicatornade/shared.lua
f.e.a.r/lua/entities/npc_vj_fear_elite/init.lua
f.e.a.r/lua/entities/npc_vj_fear_elite/shared.lua
f.e.a.r/lua/entities/npc_vj_fear_doktor6/init.lua
f.e.a.r/lua/entities/npc_vj_fear_doktor6/shared.lua
f.e.a.r/lua/entities/npc_vj_replica_rev6/init.lua
f.e.a.r/lua/entities/npc_vj_replica_rev6/shared.lua
f.e.a.r/lua/entities/dmg_freezing/shared.lua
f.e.a.r/lua/entities/npc_vj_fearce_replica_soldier_1/init.lua
f.e.a.r/lua/entities/npc_vj_fearce_replica_soldier_1/shared.lua
f.e.a.r/lua/entities/fstar_pfire/shared.lua
f.e.a.r/lua/entities/npc_vj_replica_assassin/init.lua
f.e.a.r/lua/entities/npc_vj_replica_assassin/shared.lua
f.e.a.r/lua/entities/gdcwa_at4_used/cl_init.lua
f.e.a.r/lua/entities/gdcwa_at4_used/init.lua
f.e.a.r/lua/entities/gdcwa_at4_used/shared.lua
f.e.a.r/lua/entities/aura_pfire/shared.lua
f.e.a.r/lua/entities/npc_vj_replica_urban_elit/init.lua
f.e.a.r/lua/entities/npc_vj_replica_urban_elit/shared.lua
f.e.a.r/lua/entities/npc_vj_replica_mortar/init.lua
f.e.a.r/lua/entities/npc_vj_replica_mortar/shared.lua
f.e.a.r/lua/entities/npc_vj_replica_recon_red/init.lua
f.e.a.r/lua/entities/npc_vj_replica_recon_red/shared.lua
f.e.a.r/lua/entities/gdcwa_rpg_cinematic/cl_init.lua
f.e.a.r/lua/entities/gdcwa_rpg_cinematic/init.lua
f.e.a.r/lua/entities/gdcwa_rpg_cinematic/shared.lua
f.e.a.r/lua/entities/npc_vj_replica_recon_sleep/init.lua
f.e.a.r/lua/entities/npc_vj_replica_recon_sleep/shared.lua
f.e.a.r/lua/entities/npc_vj_replica_hight2/init.lua
f.e.a.r/lua/entities/npc_vj_replica_hight2/shared.lua
f.e.a.r/lua/entities/npc_vj_fear_doktor4/init.lua
f.e.a.r/lua/entities/npc_vj_fear_doktor4/shared.lua
f.e.a.r/lua/entities/npc_vj_fearce_replica_heavy_armor_1/init.lua
f.e.a.r/lua/entities/npc_vj_fearce_replica_heavy_armor_1/shared.lua
f.e.a.r/lua/entities/npc_vj_replica_rev65/init.lua
f.e.a.r/lua/entities/npc_vj_replica_rev65/shared.lua
f.e.a.r/lua/entities/fear_5.56x45_tracer/cl_init.lua
f.e.a.r/lua/entities/fear_5.56x45_tracer/init.lua
f.e.a.r/lua/entities/fear_5.56x45_tracer/shared.lua
f.e.a.r/lua/entities/npc_vj_atc_heavysecurity/init.lua
f.e.a.r/lua/entities/npc_vj_atc_heavysecurity/shared.lua
f.e.a.r/lua/entities/ent_bfg_ammo_knife/cl_init.lua
f.e.a.r/lua/entities/ent_bfg_ammo_knife/init.lua
f.e.a.r/lua/entities/ent_bfg_ammo_knife/shared.lua
f.e.a.r/lua/entities/npc_vj_replica_pnv/init.lua
f.e.a.r/lua/entities/npc_vj_replica_pnv/shared.lua
f.e.a.r/lua/entities/obj_vj_turret/init.lua
f.e.a.r/lua/entities/obj_vj_turret/shared.lua
f.e.a.r/lua/entities/npc_vj_fear_alma_old/init.lua
f.e.a.r/lua/entities/npc_vj_fear_alma_old/shared.lua
f.e.a.r/lua/entities/npc_vj_replica_elite/init.lua
f.e.a.r/lua/entities/npc_vj_replica_elite/shared.lua
f.e.a.r/lua/entities/npc_vj_atc_security/init.lua
f.e.a.r/lua/entities/npc_vj_atc_security/shared.lua
f.e.a.r/lua/entities/npc_vj_fear_chlen/init.lua
f.e.a.r/lua/entities/npc_vj_fear_chlen/shared.lua
f.e.a.r/lua/entities/npc_vj_fear_bishop/init.lua
f.e.a.r/lua/entities/npc_vj_fear_bishop/shared.lua
f.e.a.r/lua/entities/fear_9x19_350/cl_init.lua
f.e.a.r/lua/entities/fear_9x19_350/init.lua
f.e.a.r/lua/entities/fear_9x19_350/shared.lua
f.e.a.r/lua/entities/npc_vj_replica_recon/init.lua
f.e.a.r/lua/entities/npc_vj_replica_recon/shared.lua
f.e.a.r/lua/entities/supra_nade_parent/shared.lua
f.e.a.r/lua/entities/npc_vj_fear_krig/init.lua
f.e.a.r/lua/entities/npc_vj_fear_krig/shared.lua
f.e.a.r/lua/entities/npc_vj_fear_nightmare/init.lua
f.e.a.r/lua/entities/npc_vj_fear_nightmare/shared.lua
f.e.a.r/lua/entities/npc_vj_fear_turret/init.lua
f.e.a.r/lua/entities/npc_vj_fear_turret/shared.lua
f.e.a.r/lua/entities/npc_vj_atc_security3/init.lua
f.e.a.r/lua/entities/npc_vj_atc_security3/shared.lua
f.e.a.r/lua/entities/vapor_sfire/shared.lua
f.e.a.r/lua/entities/sfw_fathom_child/shared.lua
f.e.a.r/lua/entities/npc_vj_replica_recon_echelon/init.lua
f.e.a.r/lua/entities/npc_vj_replica_recon_echelon/shared.lua
f.e.a.r/lua/entities/sfi_flare_osm/shared.lua
f.e.a.r/lua/entities/npc_vj_replica_elite_commando/init.lua
f.e.a.r/lua/entities/npc_vj_replica_elite_commando/shared.lua
f.e.a.r/lua/entities/npc_vj_fearce_replica_heavy_armor_2/init.lua
f.e.a.r/lua/entities/npc_vj_fearce_replica_heavy_armor_2/shared.lua
f.e.a.r/lua/entities/obj_vj_fear_knife/init.lua
f.e.a.r/lua/entities/obj_vj_fear_knife/shared.lua
f.e.a.r/lua/entities/npc_vj_replica_commando/init.lua
f.e.a.r/lua/entities/npc_vj_replica_commando/shared.lua
f.e.a.r/lua/entities/npc_vj_atc_security5/init.lua
f.e.a.r/lua/entities/npc_vj_atc_security5/shared.lua
f.e.a.r/lua/entities/trace_pfire/shared.lua
f.e.a.r/lua/entities/sfi_shield/shared.lua
f.e.a.r/lua/entities/gdcwa_smokenade/cl_init.lua
f.e.a.r/lua/entities/gdcwa_smokenade/init.lua
f.e.a.r/lua/entities/gdcwa_smokenade/shared.lua
f.e.a.r/lua/entities/bane_hurt/shared.lua
f.e.a.r/lua/entities/npc_vj_fearce_replica_elite_laser_soldier_2/init.lua
f.e.a.r/lua/entities/npc_vj_fearce_replica_elite_laser_soldier_2/shared.lua
f.e.a.r/lua/entities/npc_vj_replica_t117/init.lua
f.e.a.r/lua/entities/npc_vj_replica_t117/shared.lua
f.e.a.r/lua/entities/npc_vj_replica_recon_urban/init.lua
f.e.a.r/lua/entities/npc_vj_replica_recon_urban/shared.lua
f.e.a.r/lua/entities/bliz_sfire/shared.lua
f.e.a.r/lua/entities/energy_crystal_type7/cl_init.lua
f.e.a.r/lua/entities/energy_crystal_type7/init.lua
f.e.a.r/lua/entities/energy_crystal_type7/shared.lua
f.e.a.r/lua/entities/fear_minigun_round_npc/cl_init.lua
f.e.a.r/lua/entities/fear_minigun_round_npc/init.lua
f.e.a.r/lua/entities/fear_minigun_round_npc/shared.lua
f.e.a.r/lua/entities/npc_vj_fear_shade/init.lua
f.e.a.r/lua/entities/npc_vj_fear_shade/shared.lua
f.e.a.r/lua/entities/npc_vj_replica_saboter/init.lua
f.e.a.r/lua/entities/npc_vj_replica_saboter/shared.lua
f.e.a.r/lua/entities/npc_vj_fear_mamon2/init.lua
f.e.a.r/lua/entities/npc_vj_fear_mamon2/shared.lua
f.e.a.r/lua/entities/gmtr_ent_ammo_45acp/cl_init.lua
f.e.a.r/lua/entities/gmtr_ent_ammo_45acp/init.lua
f.e.a.r/lua/entities/gmtr_ent_ammo_45acp/shared.lua
f.e.a.r/lua/entities/npc_vj_fear_mamons/init.lua
f.e.a.r/lua/entities/npc_vj_fear_mamons/shared.lua
f.e.a.r/lua/entities/npc_vj_fear_norton/init.lua
f.e.a.r/lua/entities/npc_vj_fear_norton/shared.lua
f.e.a.r/lua/entities/npc_vj_fear_doktor2/init.lua
f.e.a.r/lua/entities/npc_vj_fear_doktor2/shared.lua
f.e.a.r/lua/entities/npc_vj_fear_bones/init.lua
f.e.a.r/lua/entities/npc_vj_fear_bones/shared.lua
f.e.a.r/lua/entities/npc_vj_night_assassin/init.lua
f.e.a.r/lua/entities/npc_vj_night_assassin/shared.lua
f.e.a.r/lua/entities/npc_vj_replica_sniper2/init.lua
f.e.a.r/lua/entities/npc_vj_replica_sniper2/shared.lua
f.e.a.r/lua/entities/npc_vj_replica_laser/init.lua
f.e.a.r/lua/entities/npc_vj_replica_laser/shared.lua
f.e.a.r/lua/entities/npc_vj_atc_dron/init.lua
f.e.a.r/lua/entities/npc_vj_atc_dron/shared.lua
f.e.a.r/lua/entities/npc_vj_fear_doktor5/init.lua
f.e.a.r/lua/entities/npc_vj_fear_doktor5/shared.lua
f.e.a.r/lua/entities/npc_vj_fear_alice2/init.lua
f.e.a.r/lua/entities/npc_vj_fear_alice2/shared.lua
f.e.a.r/lua/entities/storm_pfire/shared.lua
f.e.a.r/lua/entities/ent_fear_grenade/cl_init.lua
f.e.a.r/lua/entities/ent_fear_grenade/init.lua
f.e.a.r/lua/entities/ent_fear_grenade/shared.lua
f.e.a.r/lua/entities/hfire_pfire/shared.lua
f.e.a.r/lua/entities/rg_grenade_v2/cl_init.lua
f.e.a.r/lua/entities/rg_grenade_v2/init.lua
f.e.a.r/lua/entities/rg_grenade_v2/shared.lua
f.e.a.r/lua/entities/sfw_fireball_ent/shared.lua
f.e.a.r/lua/entities/sfi_health/shared.lua
f.e.a.r/lua/entities/npc_vj_fear_senator/init.lua
f.e.a.r/lua/entities/npc_vj_fear_senator/shared.lua
f.e.a.r/lua/entities/sfw_vortex_world/shared.lua
f.e.a.r/lua/entities/npc_vj_replica_hight/init.lua
f.e.a.r/lua/entities/npc_vj_replica_hight/shared.lua
f.e.a.r/lua/entities/npc_vj_replica_elite3/init.lua
f.e.a.r/lua/entities/npc_vj_replica_elite3/shared.lua
f.e.a.r/lua/entities/npc_vj_fear_morison/init.lua
f.e.a.r/lua/entities/npc_vj_fear_morison/shared.lua
f.e.a.r/lua/entities/sfp_base/shared.lua
f.e.a.r/lua/entities/npc_vj_night_assassin2/init.lua
f.e.a.r/lua/entities/npc_vj_night_assassin2/shared.lua
f.e.a.r/lua/entities/gdcwa_at4_84mm/cl_init.lua
f.e.a.r/lua/entities/gdcwa_at4_84mm/init.lua
f.e.a.r/lua/entities/gdcwa_at4_84mm/shared.lua
f.e.a.r/lua/entities/npc_vj_fear_doktor3/init.lua
f.e.a.r/lua/entities/npc_vj_fear_doktor3/shared.lua
f.e.a.r/lua/entities/astra_pfire/shared.lua
f.e.a.r/lua/entities/npc_vj_fear_habert2/init.lua
f.e.a.r/lua/entities/npc_vj_fear_habert2/shared.lua
f.e.a.r/lua/entities/npc_vj_fear_soldier/init.lua
f.e.a.r/lua/entities/npc_vj_fear_soldier/shared.lua
f.e.a.r/lua/entities/gdcwa_357_490/cl_init.lua
f.e.a.r/lua/entities/gdcwa_357_490/init.lua
f.e.a.r/lua/entities/gdcwa_357_490/shared.lua
f.e.a.r/lua/entities/npc_vj_replica_laser2/init.lua
f.e.a.r/lua/entities/npc_vj_replica_laser2/shared.lua
f.e.a.r/lua/entities/npc_vj_atc_security4/init.lua
f.e.a.r/lua/entities/npc_vj_atc_security4/shared.lua
f.e.a.r/lua/entities/ent_bfg_throwknife/cl_init.lua
f.e.a.r/lua/entities/ent_bfg_throwknife/init.lua
f.e.a.r/lua/entities/ent_bfg_throwknife/shared.lua
f.e.a.r/lua/entities/ent_bfg_throwknife/._init.lua
f.e.a.r/lua/entities/gdcwa_slug/cl_init.lua
f.e.a.r/lua/entities/gdcwa_slug/init.lua
f.e.a.r/lua/entities/gdcwa_slug/shared.lua
f.e.a.r/lua/entities/npc_vj_fear_portal/init.lua
f.e.a.r/lua/entities/npc_vj_fear_portal/shared.lua
f.e.a.r/lua/entities/gdcw_thrownflashbang/init.lua
f.e.a.r/lua/entities/gdcw_thrownflashbang/shared.lua
f.e.a.r/lua/entities/fear_radios/cl_init.lua
f.e.a.r/lua/entities/fear_radios/elite_backup.lua
f.e.a.r/lua/entities/fear_radios/init.lua
f.e.a.r/lua/entities/fear_radios/shared.lua
f.e.a.r/lua/entities/npc_vj_replica_desert_urban/init.lua
f.e.a.r/lua/entities/npc_vj_replica_desert_urban/shared.lua
f.e.a.r/lua/entities/npc_vj_replica_fettel2/init.lua
f.e.a.r/lua/entities/npc_vj_replica_fettel2/shared.lua
f.e.a.r/lua/entities/lapis_pfire/shared.lua
f.e.a.r/lua/entities/hwave_grenade/shared.lua
f.e.a.r/lua/entities/mtm_missile/shared.lua
f.e.a.r/lua/entities/sfw_azure_ent/shared.lua
f.e.a.r/lua/entities/gdcwa_rpg_heat/cl_init.lua
f.e.a.r/lua/entities/gdcwa_rpg_heat/init.lua
f.e.a.r/lua/entities/gdcwa_rpg_heat/shared.lua
f.e.a.r/lua/entities/sfi_flare/shared.lua
f.e.a.r/lua/entities/npc_vj_replica_elite_sleep/init.lua
f.e.a.r/lua/entities/npc_vj_replica_elite_sleep/shared.lua
f.e.a.r/lua/entities/npc_vj_replica_fettel/init.lua
f.e.a.r/lua/entities/npc_vj_replica_fettel/shared.lua
f.e.a.r/lua/entities/npc_vj_replica_desert/init.lua
f.e.a.r/lua/entities/npc_vj_replica_desert/shared.lua
f.e.a.r/lua/entities/npc_vj_fear_shef/init.lua
f.e.a.r/lua/entities/npc_vj_fear_shef/shared.lua
f.e.a.r/lua/entities/npc_vj_fear_brisol/init.lua
f.e.a.r/lua/entities/npc_vj_fear_brisol/shared.lua
f.e.a.r/lua/entities/npc_vj_fear_doktor/init.lua
f.e.a.r/lua/entities/npc_vj_fear_doktor/shared.lua
f.e.a.r/lua/entities/sting_sfire/shared.lua
f.e.a.r/lua/entities/dmg_dark/shared.lua
f.e.a.r/lua/entities/hornet_pfire/shared.lua
f.e.a.r/lua/entities/npc_vj_fear_raynes/init.lua
f.e.a.r/lua/entities/npc_vj_fear_raynes/shared.lua
f.e.a.r/lua/entities/npc_vj_atc_security2/init.lua
f.e.a.r/lua/entities/npc_vj_atc_security2/shared.lua
f.e.a.r/lua/entities/npc_vj_fear_mody/init.lua
f.e.a.r/lua/entities/npc_vj_fear_mody/shared.lua
f.e.a.r/lua/entities/npc_vj_fear_turret2/init.lua
f.e.a.r/lua/entities/npc_vj_fear_turret2/shared.lua
f.e.a.r/lua/entities/obj_vj_turret3/init.lua
f.e.a.r/lua/entities/obj_vj_turret3/shared.lua
f.e.a.r/lua/entities/fear_rpgproj/cl_init.lua
f.e.a.r/lua/entities/fear_rpgproj/init.lua
f.e.a.r/lua/entities/fear_rpgproj/shared.lua
f.e.a.r/lua/entities/gdcwa_fragnade/initold.lua
f.e.a.r/lua/entities/gdcwa_fragnade/cl_init.lua
f.e.a.r/lua/entities/gdcwa_fragnade/init.lua
f.e.a.r/lua/entities/gdcwa_fragnade/shared.lua
f.e.a.r/lua/entities/fstar_sfire/shared.lua
f.e.a.r/lua/entities/npc_vj_replica_t1142/init.lua
f.e.a.r/lua/entities/npc_vj_replica_t1142/shared.lua
f.e.a.r/lua/entities/hwave_pfire/shared.lua
f.e.a.r/lua/entities/npc_vj_fear_mamon/init.lua
f.e.a.r/lua/entities/npc_vj_fear_mamon/shared.lua
f.e.a.r/lua/entities/gdcwa_buckshot/cl_init.lua
f.e.a.r/lua/entities/gdcwa_buckshot/init.lua
f.e.a.r/lua/entities/gdcwa_buckshot/shared.lua
f.e.a.r/lua/entities/npc_vj_night_soldier3/init.lua
f.e.a.r/lua/entities/npc_vj_night_soldier3/shared.lua
f.e.a.r/lua/entities/npc_vj_night_soldier2/init.lua
f.e.a.r/lua/entities/npc_vj_night_soldier2/shared.lua
f.e.a.r/lua/entities/fear_bomba/cl_init.lua
f.e.a.r/lua/entities/fear_bomba/init.lua
f.e.a.r/lua/entities/fear_bomba/shared.lua
f.e.a.r/lua/entities/sent_cs_flame/cl_init.lua
f.e.a.r/lua/entities/sent_cs_flame/init.lua
f.e.a.r/lua/entities/sent_cs_flame/shared.lua
f.e.a.r/lua/entities/gdcwa_m54/cl_init.lua
f.e.a.r/lua/entities/gdcwa_m54/init.lua
f.e.a.r/lua/entities/gdcwa_m54/shared.lua
f.e.a.r/lua/entities/npc_vj_delta_soldier/init.lua
f.e.a.r/lua/entities/npc_vj_delta_soldier/shared.lua
f.e.a.r/lua/entities/npc_vj_replica_rev64/init.lua
f.e.a.r/lua/entities/npc_vj_replica_rev64/shared.lua
f.e.a.r/lua/entities/npc_vj_fear_duglas/init.lua
f.e.a.r/lua/entities/npc_vj_fear_duglas/shared.lua
f.e.a.r/lua/entities/fear_planted/cl_init.lua
f.e.a.r/lua/entities/fear_planted/init.lua
f.e.a.r/lua/entities/fear_planted/shared.lua
f.e.a.r/lua/entities/sfw_mirv_ent/shared.lua
f.e.a.r/lua/entities/fear_rocket2/cl_init.lua
f.e.a.r/lua/entities/fear_rocket2/init.lua
f.e.a.r/lua/entities/fear_rocket2/shared.lua
f.e.a.r/lua/entities/npc_vj_fear_jin/init.lua
f.e.a.r/lua/entities/npc_vj_fear_jin/shared.lua
f.e.a.r/lua/entities/npc_vj_fear_habert/init.lua
f.e.a.r/lua/entities/npc_vj_fear_habert/shared.lua
f.e.a.r/lua/entities/npc_vj_replica_pnv2/init.lua
f.e.a.r/lua/entities/npc_vj_replica_pnv2/shared.lua
f.e.a.r/lua/entities/npc_vj_replica_enginer/init.lua
f.e.a.r/lua/entities/npc_vj_replica_enginer/shared.lua
f.e.a.r/lua/entities/sfi_pkin/shared.lua
f.e.a.r/lua/entities/npc_vj_replica_t114/init.lua
f.e.a.r/lua/entities/npc_vj_replica_t114/shared.lua
f.e.a.r/lua/entities/rg_grenade/cl_init.lua
f.e.a.r/lua/entities/rg_grenade/init.lua
f.e.a.r/lua/entities/rg_grenade/shared.lua
f.e.a.r/lua/entities/npc_vj_replica_rev62/init.lua
f.e.a.r/lua/entities/npc_vj_replica_rev62/shared.lua
f.e.a.r/lua/entities/drac_pfire/shared.lua
f.e.a.r/lua/entities/grinder_pellet/shared.lua
f.e.a.r/lua/effects/dark_succumb.lua
f.e.a.r/lua/effects/effect_laser_prd.lua
f.e.a.r/lua/effects/nrg_tracer.lua
f.e.a.r/lua/effects/meridian_tracer.lua
f.e.a.r/lua/effects/xplo_tracer.lua
f.e.a.r/lua/effects/effect_pepel_prd.lua
f.e.a.r/lua/effects/spr_tracer.lua
f.e.a.r/lua/effects/red_ray_6.lua
f.e.a.r/lua/effects/sound_tracer_06.lua
f.e.a.r/lua/effects/vp_binary_tracer.lua
f.e.a.r/lua/effects/pele_tracer.lua
f.e.a.r/lua/effects/pulsar_tracer_noattach.lua
f.e.a.r/lua/effects/power_ray_04.lua
f.e.a.r/lua/effects/tbolt_tracer.lua
f.e.a.r/lua/effects/power_muzflash_04.lua
f.e.a.r/lua/effects/effect_laser_trbl.lua
f.e.a.r/lua/effects/ca3_tracer.lua
f.e.a.r/lua/effects/astra_beam_noattach.lua
f.e.a.r/lua/effects/nio_dissolve.lua
f.e.a.r/lua/effects/sound_tracer_7.lua
f.e.a.r/lua/effects/bliz_tracer.lua
f.e.a.r/lua/effects/scifis_aftershock.lua
f.e.a.r/lua/effects/sound_tracer_05.lua
f.e.a.r/lua/effects/blast_muzflash_01.lua
f.e.a.r/lua/effects/ca3_tracer_noattach.lua
f.e.a.r/lua/effects/moby_tracer.lua
f.e.a.r/lua/effects/nio_tracer.lua
f.e.a.r/lua/effects/eml_tracer_cryo.lua
f.e.a.r/lua/effects/sfw_muzzle_generic.lua
f.e.a.r/lua/effects/green_muzflash_03.lua
f.e.a.r/lua/effects/blast_tracer_01.lua
f.e.a.r/lua/effects/tbolt_tracer_cheap.lua
f.e.a.r/lua/effects/green_impact_03.lua
f.e.a.r/lua/effects/spr_tracer_noattach.lua
f.e.a.r/lua/effects/vh_tracer.lua
f.e.a.r/lua/effects/effect_laser_pbl.lua
f.e.a.r/lua/effects/fxbase.lua
f.e.a.r/lua/effects/effect_laser_trrd.lua
f.e.a.r/lua/effects/c_ely_shield.lua
f.e.a.r/lua/effects/shk_tracer.lua
f.e.a.r/lua/effects/pulsar_tracer.lua
f.e.a.r/lua/effects/astra_beam.lua
f.e.a.r/lua/effects/cryon_hull.lua
f.e.a.r/lua/effects/aq_tracer.lua
f.e.a.r/lua/effects/effect_pepel_prd2.lua
f.e.a.r/lua/effects/sound_muzflash_06.lua
f.e.a.r/lua/effects/hwave_dissolve.lua
f.e.a.r/lua/effects/laser_gun_tracer_02.lua
f.e.a.r/lua/effects/crsv_dissolve.lua
f.e.a.r/lua/effects/blast_impact_01.lua
f.e.a.r/lua/effects/celest_dissolve.lua
f.e.a.r/lua/effects/vp_dissolve.lua
f.e.a.r/lua/effects/cryon_frozen.lua
f.e.a.r/lua/effects/power_impact_04.lua
f.e.a.r/lua/effects/spectra_blast.lua
f.e.a.r/lua/effects/spectra_tracer.lua
f.e.a.r/lua/effects/meridian_tracer_noattach.lua
f.e.a.r/lua/effects/nio_tracer_legacy.lua
f.e.a.r/lua/effects/pest_tracer.lua
f.e.a.r/lua/effects/celest_dissolve_wrath.lua
f.e.a.r/lua/effects/green_ray_03.lua
f.e.a.r/lua/effects/seraph_tracer.lua
f.e.a.r/lua/effects/sound_muzflash_05.lua
f.e.a.r/lua/effects/c_tesla_light_effect/init.lua
f.e.a.r/lua/effects/doom3_rocket_exp1/init.lua
f.e.a.r/lua/effects/gdcw_muzzle/init.lua
f.e.a.r/lua/effects/gdcw_nadeairburst/init.lua
f.e.a.r/lua/effects/gdcw_tpaboom/init.lua
f.e.a.r/lua/effects/gdcw_muzzlepistol/init.lua
f.e.a.r/lua/effects/gdcw_muzzlepistol/shared.lua
f.e.a.r/lua/effects/fear_muzzle_none/init.lua
f.e.a.r/lua/effects/gdcw_muzzlenpcsil/init.lua
f.e.a.r/lua/effects/fear_cinematicboom/init.lua
f.e.a.r/lua/effects/fear_whitephosphorus/initold.lua
f.e.a.r/lua/effects/fear_whitephosphorus/init.lua
f.e.a.r/lua/effects/gdcw_whitephosphorus/initold.lua
f.e.a.r/lua/effects/gdcw_whitephosphorus/init.lua
f.e.a.r/lua/effects/fear_muzzle/init.lua
f.e.a.r/lua/effects/s_bc_g_light/init.lua
f.e.a.r/lua/effects/fear_tpaboom/init.lua
f.e.a.r/lua/effects/fear_exp1/init.lua
f.e.a.r/lua/effects/fear_exp2/init.lua
f.e.a.r/lua/effects/fear_staticboom/init.lua
f.e.a.r/lua/effects/gdcw_universal_impact/init.lua
f.e.a.r/lua/effects/min_muzzle/init.lua
f.e.a.r/lua/effects/gdcw_universal_penetrate/init.lua
f.e.a.r/lua/effects/fear_smoke/init.lua
f.e.a.r/lua/effects/fear_exp5/init.lua
f.e.a.r/lua/effects/gdcw_muzzle_sup/init.lua
f.e.a.r/lua/effects/fear_50mp_exp/init.lua
f.e.a.r/lua/effects/laser_muzzlelight/init.lua
f.e.a.r/lua/effects/fear_backblast/init.lua
f.e.a.r/lua/effects/fear_hei_impact/init.lua
f.e.a.r/lua/effects/bp_arctaucannon/init.lua
f.e.a.r/lua/effects/s_tesla_light_effect/init.lua
f.e.a.r/lua/effects/gdcw_staticboom/init.lua
f.e.a.r/lua/effects/s_rex_m_explode/init.lua
f.e.a.r/lua/effects/ves_muzzle/init.lua
f.e.a.r/lua/effects/type_ring/init.lua
f.e.a.r/lua/effects/s_bc_light/init.lua
f.e.a.r/lua/effects/fear_muzzle_sup/init.lua
f.e.a.r/lua/effects/fear_nadeairburst/init.lua
f.e.a.r/lua/effects/gdcw_hei_impact/init.lua
f.e.a.r/lua/effects/fear_50mp_muzzle/init.lua
f.e.a.r/lua/effects/gdcw_whitephosphorusairburst/init.lua
f.e.a.r/lua/effects/fear_muzzle2/init.lua
f.e.a.r/lua/effects/fear_exp3/init.lua
f.e.a.r/lua/effects/fear_universal_impact/init.lua
f.e.a.r/lua/effects/gdcw_cinematicboom/init.lua
f.e.a.r/lua/effects/fear_50mp_exp1/init.lua
f.e.a.r/lua/effects/gdcw_muzzlep90/init.lua
f.e.a.r/lua/effects/gdcw_muzzlep90/shared.lua
f.e.a.r/lua/effects/fear_whitephosphorusairburst/init.lua
f.e.a.r/lua/effects/s_ar_explode/init.lua
f.e.a.r/lua/effects/type_muzzlelight/init.lua
f.e.a.r/lua/effects/fear_exp/init.lua
f.e.a.r/lua/effects/fear_universal_penetrate/init.lua
f.e.a.r/lua/effects/ves_muzzlelight/init.lua
f.e.a.r/lua/effects/fear_muzzlelight/init.lua
f.e.a.r/lua/effects/min_muzzlelight/init.lua
f.e.a.r/lua/effects/gdcw_backblast/init.lua
f.e.a.r/lua/effects/doom3_rocket_exp/init.lua
f.e.a.r/lua/effects/gdcw_muzzle_none/init.lua
f.e.a.r/lua/effects/doom3_rocket_muzzle/init.lua
f.e.a.r/lua/effects/fear_exp4/init.lua
f.e.a.r/lua/base/scifis_sounds.lua
f.e.a.r/lua/base/scifis_hud.lua
f.e.a.r/lua/base/scifis_hooks.lua
f.e.a.r/lua/base/scifis_elementals.lua
f.e.a.r/lua/base/scifis_dropmagic.lua
f.e.a.r/lua/base/scifis_projectile.lua
f.e.a.r/lua/base/scifis_techs.lua
f.e.a.r/lua/base/scifis_globals.lua
f.e.a.r/lua/base/scifis_base.lua
f.e.a.r/lua/base/scifis_damage_swep.lua
f.e.a.r/lua/base/scifis_render.lua
f.e.a.r/lua/weapons/fear_tactical_radio.lua
f.e.a.r/lua/weapons/weapon_replica_backup.lua
f.e.a.r/lua/weapons/fear_replica_radio.lua
f.e.a.r/lua/weapons/fear_50mm/shared.lua
f.e.a.r/lua/weapons/npc_fear_asp_v2/cl_init.lua
f.e.a.r/lua/weapons/npc_fear_asp_v2/init.lua
f.e.a.r/lua/weapons/npc_fear_asp_v2/shared.lua
f.e.a.r/lua/weapons/npc_fear_asp_v2/ai_translations.lua
f.e.a.r/lua/weapons/fear_grenade/shared.lua
f.e.a.r/lua/weapons/fear_type7/shared.lua
f.e.a.r/lua/weapons/fear_claws/int.lua
f.e.a.r/lua/weapons/fear_claws/cl_init.lua
f.e.a.r/lua/weapons/fear_claws/shared.lua
f.e.a.r/lua/weapons/stalker_gun_base/cl_init.lua
f.e.a.r/lua/weapons/stalker_gun_base/init.lua
f.e.a.r/lua/weapons/stalker_gun_base/shared.lua
f.e.a.r/lua/weapons/bobs_nade_bases/shared.lua
f.e.a.r/lua/weapons/fear_neilgun2/shared.lua
f.e.a.r/lua/weapons/bms_gun_bases/cl_init.lua
f.e.a.r/lua/weapons/bms_gun_bases/init.lua
f.e.a.r/lua/weapons/bms_gun_bases/shared.lua
f.e.a.r/lua/weapons/fear_minigun2/shared.lua
f.e.a.r/lua/weapons/weapon_vj_type-7/shared.lua
f.e.a.r/lua/weapons/stalker_shotty_base/cl_init.lua
f.e.a.r/lua/weapons/stalker_shotty_base/init.lua
f.e.a.r/lua/weapons/stalker_shotty_base/shared.lua
f.e.a.r/lua/weapons/gdcw2_base_assault/cl_init.lua
f.e.a.r/lua/weapons/gdcw2_base_assault/init.lua
f.e.a.r/lua/weapons/gdcw2_base_assault/shared.lua
f.e.a.r/lua/weapons/weapon_vj_tesla_fear/shared.lua
f.e.a.r/lua/weapons/weapon_cs_sword/cl_init.lua
f.e.a.r/lua/weapons/weapon_cs_sword/init.lua
f.e.a.r/lua/weapons/weapon_cs_sword/shared.lua
f.e.a.r/lua/weapons/npc_fear_neilgun/cl_init.lua
f.e.a.r/lua/weapons/npc_fear_neilgun/init.lua
f.e.a.r/lua/weapons/npc_fear_neilgun/shared.lua
f.e.a.r/lua/weapons/npc_fear_neilgun/ai_translations.lua
f.e.a.r/lua/weapons/50mm_weapon_base/cl_anims.lua
f.e.a.r/lua/weapons/50mm_weapon_base/shared.lua
f.e.a.r/lua/weapons/weapon_vj_smg_fear/shared.lua
f.e.a.r/lua/weapons/fear_minigun/init.lua
f.e.a.r/lua/weapons/fear_minigun/shared.lua
f.e.a.r/lua/weapons/fear_minigun/ai_translations.lua
f.e.a.r/lua/weapons/npc_fear_rg/cl_init.lua
f.e.a.r/lua/weapons/npc_fear_rg/init.lua
f.e.a.r/lua/weapons/npc_fear_rg/shared.lua
f.e.a.r/lua/weapons/npc_fear_rg/ai_translations.lua
f.e.a.r/lua/weapons/ptp_shotgun_base/shared.lua
f.e.a.r/lua/weapons/weapon_vj_minigun_fear2/shared.lua
f.e.a.r/lua/weapons/weapon_bfg_throwknife/cl_init.lua
f.e.a.r/lua/weapons/weapon_bfg_throwknife/init.lua
f.e.a.r/lua/weapons/weapon_bfg_throwknife/shared.lua
f.e.a.r/lua/weapons/fear_at14/cl_init.lua
f.e.a.r/lua/weapons/fear_at14/init.lua
f.e.a.r/lua/weapons/fear_at14/shared.lua
f.e.a.r/lua/weapons/weapon_vj_g2a2/shared.lua
f.e.a.r/lua/weapons/weapon_vj_at14/shared.lua
f.e.a.r/lua/weapons/npc_fear_smg/cl_init.lua
f.e.a.r/lua/weapons/npc_fear_smg/init.lua
f.e.a.r/lua/weapons/npc_fear_smg/shared.lua
f.e.a.r/lua/weapons/npc_fear_smg/ai_translations.lua
f.e.a.r/lua/weapons/npc_fear_claws/cl_init.lua
f.e.a.r/lua/weapons/npc_fear_claws/init.lua
f.e.a.r/lua/weapons/npc_fear_claws/shared.lua
f.e.a.r/lua/weapons/npc_fear_claws/ai_translations.lua
f.e.a.r/lua/weapons/fear_laser/shared.lua
f.e.a.r/lua/weapons/npc_fear_ves_v2/cl_init.lua
f.e.a.r/lua/weapons/npc_fear_ves_v2/init.lua
f.e.a.r/lua/weapons/npc_fear_ves_v2/shared.lua
f.e.a.r/lua/weapons/npc_fear_ves_v2/ai_translations.lua
f.e.a.r/lua/weapons/h2_ai_base/cl_init.lua
f.e.a.r/lua/weapons/h2_ai_base/init.lua
f.e.a.r/lua/weapons/h2_ai_base/shared.lua
f.e.a.r/lua/weapons/h2_ai_base/ai_translations.lua
f.e.a.r/lua/weapons/fear_rpg/cl_init.lua
f.e.a.r/lua/weapons/fear_rpg/init.lua
f.e.a.r/lua/weapons/fear_rpg/shared.lua
f.e.a.r/lua/weapons/fear_rpg/ai_translations.lua
f.e.a.r/lua/weapons/weapon_vj_neilgun_fear/shared.lua
f.e.a.r/lua/weapons/npc_fear_50mm/cl_init.lua
f.e.a.r/lua/weapons/npc_fear_50mm/init.lua
f.e.a.r/lua/weapons/npc_fear_50mm/shared.lua
f.e.a.r/lua/weapons/npc_fear_50mm/ai_translations.lua
f.e.a.r/lua/weapons/ptp_weapon_base/cl_anims.lua
f.e.a.r/lua/weapons/ptp_weapon_base/shared.lua
f.e.a.r/lua/weapons/weapon_cs_dual/cl_init.lua
f.e.a.r/lua/weapons/weapon_cs_dual/init.lua
f.e.a.r/lua/weapons/weapon_cs_dual/shared.lua
f.e.a.r/lua/weapons/npc_fear_minigun/cl_init.lua
f.e.a.r/lua/weapons/npc_fear_minigun/init.lua
f.e.a.r/lua/weapons/npc_fear_minigun/shared.lua
f.e.a.r/lua/weapons/npc_fear_minigun/ai_translations.lua
f.e.a.r/lua/weapons/npc_fear_g2a2_v2/cl_init.lua
f.e.a.r/lua/weapons/npc_fear_g2a2_v2/init.lua
f.e.a.r/lua/weapons/npc_fear_g2a2_v2/shared.lua
f.e.a.r/lua/weapons/npc_fear_g2a2_v2/ai_translations.lua
f.e.a.r/lua/weapons/weapon_vj_minigun_fear/shared.lua
f.e.a.r/lua/weapons/weapon_vj_rg_fear/shared.lua
f.e.a.r/lua/weapons/npc_fear_laser/shared.lua
f.e.a.r/lua/weapons/fear_rg/shared.lua
f.e.a.r/lua/weapons/fear_asp/shared.lua
f.e.a.r/lua/weapons/weapon_vj_asp/shared.lua
f.e.a.r/lua/weapons/fear_base/cl_init.lua
f.e.a.r/lua/weapons/fear_base/init.lua
f.e.a.r/lua/weapons/fear_base/shared.lua
f.e.a.r/lua/weapons/fear_base/ai_translations.lua
f.e.a.r/lua/weapons/fear_g2a2/shared.lua
f.e.a.r/lua/weapons/fear_at14_duble/shared.lua
f.e.a.r/lua/weapons/weapon_cs_minigun/cl_init.lua
f.e.a.r/lua/weapons/weapon_cs_minigun/init.lua
f.e.a.r/lua/weapons/weapon_cs_minigun/shared.lua
f.e.a.r/lua/weapons/fear_smg/cl_init.lua
f.e.a.r/lua/weapons/fear_smg/init.lua
f.e.a.r/lua/weapons/fear_smg/shared.lua
f.e.a.r/lua/weapons/weapon_vj_spas_fear/shared.lua
f.e.a.r/lua/weapons/fear_tesla/sanctum_tr.lua
f.e.a.r/lua/weapons/fear_tesla/cl_init.lua
f.e.a.r/lua/weapons/fear_tesla/init.lua
f.e.a.r/lua/weapons/weapon_vj_ves/shared.lua
f.e.a.r/lua/weapons/npc_fear_at14/cl_init.lua
f.e.a.r/lua/weapons/npc_fear_at14/init.lua
f.e.a.r/lua/weapons/npc_fear_at14/shared.lua
f.e.a.r/lua/weapons/npc_fear_at14/ai_translations.lua
f.e.a.r/lua/weapons/npc_fear_type7/cl_init.lua
f.e.a.r/lua/weapons/npc_fear_type7/init.lua
f.e.a.r/lua/weapons/npc_fear_type7/shared.lua
f.e.a.r/lua/weapons/npc_fear_type7/ai_translations.lua
f.e.a.r/lua/weapons/weapon_rpg_base/shared.lua
f.e.a.r/lua/weapons/weapon_rpg_base/ai_translations.lua
f.e.a.r/lua/weapons/fear_bomb/shared.lua
f.e.a.r/lua/weapons/ptp_scoped_base/cl_init.lua
f.e.a.r/lua/weapons/ptp_scoped_base/shared.lua
f.e.a.r/lua/weapons/weapon_vj_at14_2/shared.lua
f.e.a.r/lua/weapons/fear_mine/shared.lua
f.e.a.r/lua/weapons/bobs_gun_bases/cl_init.lua
f.e.a.r/lua/weapons/bobs_gun_bases/init.lua
f.e.a.r/lua/weapons/bobs_gun_bases/shared.lua
f.e.a.r/lua/weapons/fear_neilgun/shared.lua
f.e.a.r/lua/weapons/weapon_rg_base/shared.lua
f.e.a.r/lua/weapons/weapon_rg_base/ai_translations.lua
f.e.a.r/lua/weapons/weapon_vj_laser_fear/shared.lua
f.e.a.r/lua/weapons/ptp_zoom_base/shared.lua
f.e.a.r/lua/weapons/weapon_mad_base/cl_init.lua
f.e.a.r/lua/weapons/weapon_mad_base/init.lua
f.e.a.r/lua/weapons/weapon_mad_base/shared.lua
f.e.a.r/lua/weapons/weapon_mad_base/ai_translations.lua
f.e.a.r/lua/weapons/npc_fear_spas/cl_init.lua
f.e.a.r/lua/weapons/npc_fear_spas/init.lua
f.e.a.r/lua/weapons/npc_fear_spas/shared.lua
f.e.a.r/lua/weapons/npc_fear_spas/ai_translations.lua
f.e.a.r/lua/weapons/lsp_ar_sl8/shared.lua
f.e.a.r/lua/weapons/fear_radio/shared.lua
f.e.a.r/lua/weapons/fear_basa/shared.lua
f.e.a.r/lua/weapons/weapon_vj_rpg_fear/shared.lua
f.e.a.r/lua/weapons/weapon_vj_50mm_fear/shared.lua
f.e.a.r/lua/weapons/fear_ves/shared.lua
f.e.a.r/lua/weapons/npc_fear_minigun2/cl_init.lua
f.e.a.r/lua/weapons/npc_fear_minigun2/init.lua
f.e.a.r/lua/weapons/npc_fear_minigun2/shared.lua
f.e.a.r/lua/weapons/npc_fear_minigun2/ai_translations.lua
f.e.a.r/lua/weapons/g1a1_weapon_base/cl_anims.lua
f.e.a.r/lua/weapons/g1a1_weapon_base/shared.lua
f.e.a.r/lua/weapons/fear_spas/shared.lua
f.e.a.r/lua/matproxy/sanctum_sight_illumination.lua
f.e.a.r/lua/matproxy/sanctum_tesla_color.lua
f.e.a.r/lua/matproxy/sanctum_mine_gradient.lua
f.e.a.r/lua/autorun/vj_afect.lua
f.e.a.r/lua/autorun/fearnpcweapons.lua
f.e.a.r/lua/autorun/abab_ai.lua
f.e.a.r/lua/autorun/extra_weps_sounds.lua
f.e.a.r/lua/autorun/fear_player_pm2.lua
f.e.a.r/lua/autorun/vj_supernatural_fear_autorun.lua
f.e.a.r/lua/autorun/vj_fheros_vj_autorun.lua
f.e.a.r/lua/autorun/stealth_katana_weplist.lua
f.e.a.r/lua/autorun/stealth_npc_convars.lua
f.e.a.r/lua/autorun/weapon_l4d2_rifle_sg552_sounds.lua
f.e.a.r/lua/autorun/bizon_sounds.lua
f.e.a.r/lua/autorun/vj_fearce_replica_vj_spawn.lua
f.e.a.r/lua/autorun/fb_bf4_hud_sv.lua
f.e.a.r/lua/autorun/fear_player_pms22.lua
f.e.a.r/lua/autorun/vj_atc_fear_convar.lua
f.e.a.r/lua/autorun/fearsettings.lua
f.e.a.r/lua/autorun/kbinfo.lua
f.e.a.r/lua/autorun/vj_supernatural_fear_spawn.lua
f.e.a.r/lua/autorun/stealthnpcweaponpanel.lua
f.e.a.r/lua/autorun/scifis_init.lua
f.e.a.r/lua/autorun/vj_supernatural_fear_convar.lua
f.e.a.r/lua/autorun/vj_replicameh_vj_convar.lua
f.e.a.r/lua/autorun/fearnpcweaponpanel.lua
f.e.a.r/lua/autorun/sanctum_menu.lua
f.e.a.r/lua/autorun/fear_fear_wepsounds.lua
f.e.a.r/lua/autorun/vj_fear_vj_convar.lua
f.e.a.r/lua/autorun/tesla_sounds.lua
f.e.a.r/lua/autorun/vj_replica_vj_autorun.lua
f.e.a.r/lua/autorun/fear_player_pm8.lua
f.e.a.r/lua/autorun/fear_player_pm3.lua
f.e.a.r/lua/autorun/fear_npc_wepslist.lua
f.e.a.r/lua/autorun/vj_fheros_vj_convar.lua
f.e.a.r/lua/autorun/vj_nightsfear_vj_spawn.lua
f.e.a.r/lua/autorun/vj_fear_vj_spawn.lua
f.e.a.r/lua/autorun/fer_npc_addparticles.lua
f.e.a.r/lua/autorun/fear_player_pm4.lua
f.e.a.r/lua/autorun/vj_replica_vj_convar.lua
f.e.a.r/lua/autorun/fear_npc_convars.lua
f.e.a.r/lua/autorun/gdcwsettingsbypolat.lua
f.e.a.r/lua/autorun/weapon_fear_rifle_sounds.lua
f.e.a.r/lua/autorun/npc_stealth_wepsounds.lua
f.e.a.r/lua/autorun/weapon_l4d2_charger_claw_sounds.lua
f.e.a.r/lua/autorun/vj_nightsfear_vj_convar.lua
f.e.a.r/lua/autorun/vj_atc_fear_spawn.lua
f.e.a.r/lua/autorun/vj_loyal.lua
f.e.a.r/lua/autorun/fear_precache.lua
f.e.a.r/lua/autorun/vj_nightsfear_vj_autorun.lua
f.e.a.r/lua/autorun/vj_atc_fear_autorun.lua
f.e.a.r/lua/autorun/vj_replica_vj_spawn.lua
f.e.a.r/lua/autorun/m9k_specialtiesgdcw2.lua
f.e.a.r/lua/autorun/m9k_specialtiesgdcw.lua
f.e.a.r/lua/autorun/fearce_replica_player_pm.lua
f.e.a.r/lua/autorun/vj_fearce_replica_vj_autorun.lua
f.e.a.r/lua/autorun/vj_replicameh_vj_spawn.lua
f.e.a.r/lua/autorun/stealthkatanaconvars.lua
f.e.a.r/lua/autorun/jihad_resources_gdcw.lua
f.e.a.r/lua/autorun/weapon_l4d2_rifle_sounds.lua
f.e.a.r/lua/autorun/vj_delta_vj_autorun.lua
f.e.a.r/lua/autorun/vj_delta_vj_spawn.lua
f.e.a.r/lua/autorun/scifis_additions.lua
f.e.a.r/lua/autorun/vj_delta_vj_convar.lua
f.e.a.r/lua/autorun/fear_player_wepsounds.lua
f.e.a.r/lua/autorun/vj_fear_vj_autorun.lua
f.e.a.r/lua/autorun/dbinfo.lua
f.e.a.r/lua/autorun/vj_fheros_vj_spawn.lua
f.e.a.r/lua/autorun/vj_fearce_replica_vj_convar.lua
f.e.a.r/lua/autorun/sanctum_init.lua
f.e.a.r/lua/autorun/vj_replicameh_vj_autorun.lua
f.e.a.r/lua/autorun/weapon_fear_rifle_g1a1_sounds.lua
f.e.a.r/lua/autorun/scifis_precache.lua
f.e.a.r/lua/autorun/fear_radio.lua
f.e.a.r/lua/autorun/fear_player_pm5.lua
f.e.a.r/lua/autorun/client/fear_umenu.lua
f.e.a.r/lua/autorun/client/fear_hud.lua
f.e.a.r/lua/autorun/server/player_ai.lua