Adult content
This content is marked as Adult/NSFW content. You can toggle your preferences regarding this content type in your account settings.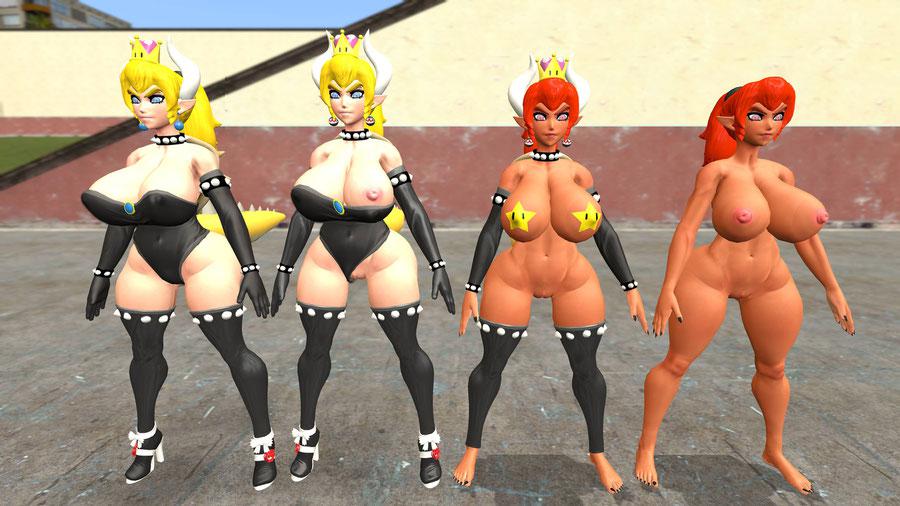 Description
Made originally by EndlessIllusionX, All credit goes to Endless Also has a futa option
Found on DeviantArt
SFM Version is included, thanks to ScarletSabbath
SFMLab is a free service. However, it costs about $0.03 to deliver you a 1GB file. With over 20TB of traffic every month and growing, SFMLab needs your help. If only 1% of our users each gave us $5 for a single month, we could keep the site running for several years.
Filename
Downloads
Created
Filesize
Files
Bowsette.zip
3056
2021-01-18 09:21:49
14.25 MB
File contents:

Bowsette/rig_bowsette_ei.py
Bowsette/models/endlessIllusion/Bowsette/bowsette.mdl
Bowsette/models/endlessIllusion/Bowsette/Bowsette.dx90.vtx
Bowsette/models/endlessIllusion/Bowsette/bowsette_phoneme.pre
Bowsette/models/endlessIllusion/Bowsette/bowsette.vvd
Bowsette/materials/models/endlessIllusion/shared/eyeCubemap.vtf
Bowsette/materials/models/endlessIllusion/shared/skinDetail.vtf
Bowsette/materials/models/endlessIllusion/shared/eyeOcclusion.vtf
Bowsette/materials/models/endlessIllusion/shared/eyeCornea.vtf
Bowsette/materials/models/endlessIllusion/shared/cubemaps/softcube.vtf
Bowsette/materials/models/endlessIllusion/shared/cubemaps/cartoonChrome.vtf
Bowsette/materials/models/endlessIllusion/shared/cubemaps/clouds.vtf
Bowsette/materials/models/endlessIllusion/shared/cubemaps/softsilver.vtf
Bowsette/materials/models/endlessIllusion/shared/phongwarps/simplesmall.vtf
Bowsette/materials/models/endlessIllusion/shared/phongwarps/simplemedium.vtf
Bowsette/materials/models/endlessIllusion/shared/lightwarps/gray.vtf
Bowsette/materials/models/endlessIllusion/shared/lightwarps/sharpcenter.vtf
Bowsette/materials/models/endlessIllusion/shared/lightwarps/default.vtf
Bowsette/materials/models/endlessIllusion/shared/lightwarps/toon.vtf
Bowsette/materials/models/endlessIllusion/shared/lightwarps/lowcontrast.vtf
Bowsette/materials/models/endlessIllusion/Bowsette/cloth.vmt
Bowsette/materials/models/endlessIllusion/Bowsette/skin1.vmt
Bowsette/materials/models/endlessIllusion/Bowsette/spikes.vmt
Bowsette/materials/models/endlessIllusion/Bowsette/eyebrows1.vmt
Bowsette/materials/models/endlessIllusion/Bowsette/eyebrows2.vmt
Bowsette/materials/models/endlessIllusion/Bowsette/braces.vmt
Bowsette/materials/models/endlessIllusion/Bowsette/hair2.vmt
Bowsette/materials/models/endlessIllusion/Bowsette/main_bump.vtf
Bowsette/materials/models/endlessIllusion/Bowsette/teeth.vmt
Bowsette/materials/models/endlessIllusion/Bowsette/eyeball2_L.vmt
Bowsette/materials/models/endlessIllusion/Bowsette/main2_diff.vtf
Bowsette/materials/models/endlessIllusion/Bowsette/inside.vmt
Bowsette/materials/models/endlessIllusion/Bowsette/shell.vmt
Bowsette/materials/models/endlessIllusion/Bowsette/eyeball1_R.vmt
Bowsette/materials/models/endlessIllusion/Bowsette/crown.vmt
Bowsette/materials/models/endlessIllusion/Bowsette/eye1.vtf
Bowsette/materials/models/endlessIllusion/Bowsette/hair1.vmt
Bowsette/materials/models/endlessIllusion/Bowsette/eyeball2_R.vmt
Bowsette/materials/models/endlessIllusion/Bowsette/eyeball1_L.vmt
Bowsette/materials/models/endlessIllusion/Bowsette/skin2.vmt
Bowsette/materials/models/endlessIllusion/Bowsette/nails.vmt
Bowsette/materials/models/endlessIllusion/Bowsette/eye2.vtf
Bowsette/materials/models/endlessIllusion/Bowsette/main1_diff.vtf
Bowsette/materials/models/endlessIllusion/Bowsette/eyelashes.vmt
Bowsette/materials/models/endlessIllusion/Bowsette/latex.vmt