Adult content
This content is marked as Adult/NSFW content. You can toggle your preferences regarding this content type in your account settings.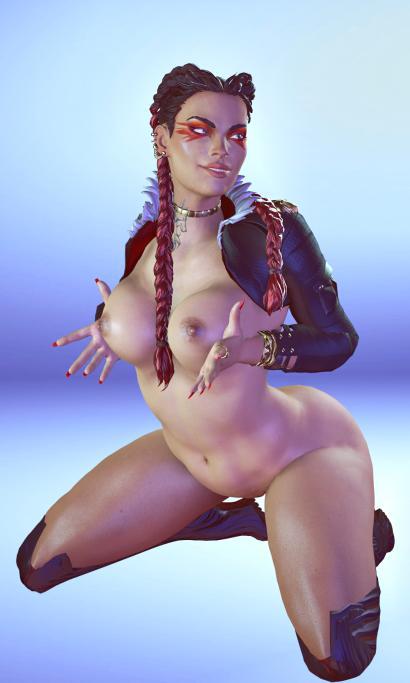 Show more
Description
I ported a SFW version of Loba quite some time ago, which also happens to be on SFMlab, just uploaded by someone else. Anywho, I thought I'd go back and revisit her and give her a proper NSFW model.
Features Include.
-Jigglebones for Breasts and Butt.
-Facial/Body flexes
-Separate Outfit
-Fit flexes for her body AND outfit, mix and match where appropriate.
Additional Preview pics provided courtesy of TastyTextures, who you can find here
https://twitter.com/laughingwallaby
Like whatcha see? Consider supporting/following for more over at
https://twitter.com/A_nother_Alias
SFMLab is a free service. However, it costs about $0.03 to deliver you a 1GB file. With over 20TB of traffic every month and growing, SFMLab needs your help. If only 1% of our users each gave us $5 for a single month, we could keep the site running for several years.
Filename
Downloads
Created
Filesize
Files
LobaREL.7z
5419
2021-01-20 03:30:02
38.67 MB
File contents:

models/a.lias/characters/apex legends/lobaoutfit.dx90.vtx
models/a.lias/characters/apex legends/lobaoutfit.mdl
models/a.lias/characters/apex legends/loba_nude.mdl
models/a.lias/characters/apex legends/loba_nude.dx90.vtx
models/a.lias/characters/apex legends/lobaoutfit.vvd
models/a.lias/characters/apex legends/loba_nude.vvd
materials/models/a.lias/characters/apex legends/loba/loba_body_s.vmt
materials/models/a.lias/characters/apex legends/loba/loba_hair_e.vtf
materials/models/a.lias/characters/apex legends/loba/hair_fx.vtf
materials/models/a.lias/characters/apex legends/loba/body_legs_exponent.vtf
materials/models/a.lias/characters/apex legends/loba/torso_n.vtf
materials/models/a.lias/characters/apex legends/loba/loba_hair_spec.vmt
materials/models/a.lias/characters/apex legends/loba/loba_body.vmt
materials/models/a.lias/characters/apex legends/loba/torso.vtf
materials/models/a.lias/characters/apex legends/loba/vagint.vmt
materials/models/a.lias/characters/apex legends/loba/loba_gear_s.vmt
materials/models/a.lias/characters/apex legends/loba/loba_legs_d.vtf
materials/models/a.lias/characters/apex legends/loba/loba_face.vmt
materials/models/a.lias/characters/apex legends/loba/loba_face_spec.vmt
materials/models/a.lias/characters/apex legends/loba/anus.vmt
materials/models/a.lias/characters/apex legends/loba/loba_face.vtf
materials/models/a.lias/characters/apex legends/loba/loba_face_n.vtf
materials/models/a.lias/characters/apex legends/loba/eyeball_ao_2.vtf
materials/models/a.lias/characters/apex legends/loba/loba_arms_d.vtf
materials/models/a.lias/characters/apex legends/loba/hair_fx_shade.vtf
materials/models/a.lias/characters/apex legends/loba/loba_hair_n.vtf
materials/models/a.lias/characters/apex legends/loba/loba_body_col.vtf
materials/models/a.lias/characters/apex legends/loba/toenails.vmt
materials/models/a.lias/characters/apex legends/loba/lightwarp_soft.vtf
materials/models/a.lias/characters/apex legends/loba/loba_face_spec.vtf
materials/models/a.lias/characters/apex legends/loba/green2.vtf
materials/models/a.lias/characters/apex legends/loba/loba_body_spec.vtf
materials/models/a.lias/characters/apex legends/loba/body_arms_normal.vtf
materials/models/a.lias/characters/apex legends/loba/legs.vmt
materials/models/a.lias/characters/apex legends/loba/eyeball_gen_loba.vtf
materials/models/a.lias/characters/apex legends/loba/body_legs_normal.vtf
materials/models/a.lias/characters/apex legends/loba/loba_hair_d.vtf
materials/models/a.lias/characters/apex legends/loba/arms.vmt
materials/models/a.lias/characters/apex legends/loba/eyeball_l.vmt
materials/models/a.lias/characters/apex legends/loba/torso.vmt
materials/models/a.lias/characters/apex legends/loba/gen.vtf
materials/models/a.lias/characters/apex legends/loba/loba_body_nml.vtf
materials/models/a.lias/characters/apex legends/loba/loba_gear_spec.vtf
materials/models/a.lias/characters/apex legends/loba/body_arms_exponent.vtf
materials/models/a.lias/characters/apex legends/loba/loba_hair_spec.vtf
materials/models/a.lias/characters/apex legends/loba/fingernails.vmt
materials/models/a.lias/characters/apex legends/loba/gen.vmt
materials/models/a.lias/characters/apex legends/loba/eyeball_r.vmt
materials/models/a.lias/characters/apex legends/loba/loba_hair.vmt
materials/models/a.lias/characters/apex legends/loba/loba_gear_col.vtf
materials/models/a.lias/characters/apex legends/loba/loba_gear_nml.vtf
materials/models/a.lias/characters/apex legends/loba/loba_gear.vmt
materials/models/a.lias/characters/apex legends/loba/eyeball_cornea.vtf
materials/models/a.lias/characters/apex legends/loba/gen_n.vtf
materials/models/a.lias/characters/apex legends/loba/loba_face_nml.vtf
materials/models/a.lias/characters/apex legends/loba/body_torso_exponent.vtf
materials/models/a.lias/characters/apex legends/loba/rect.vmt
materials/models/a.lias/characters/apex legends/loba/lob_e.vtf
materials/models/a.lias/characters/apex legends/loba/eyeball_cubemap.vtf