Furry content
This content is marked as Furry/Anthro content. You can toggle your preferences regarding this content type in your account settings.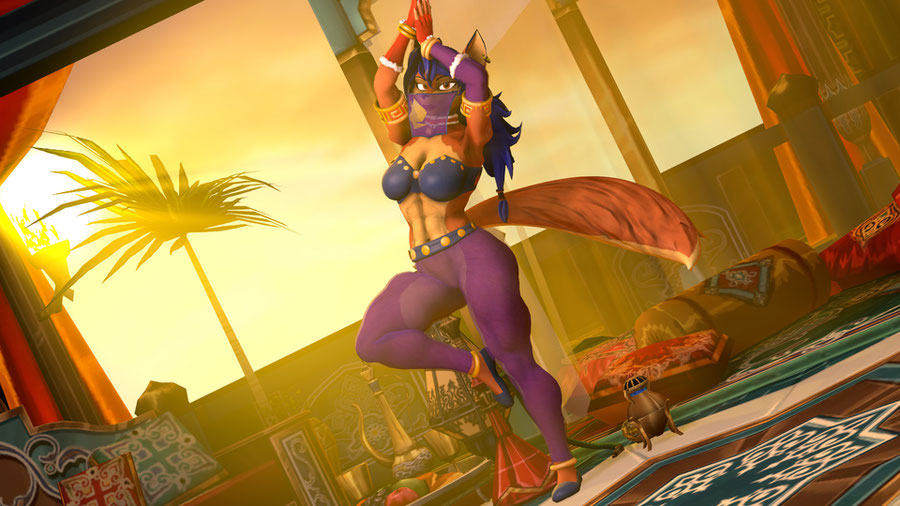 Show more
Description
A Belly Dancer outfit for MrWarfare's Carmelita Fox based on the one she wore in the Sly Cooper series.
https://sfmlab.com/project/30351/
Compatible with all body flexes from the original model and compatible with Outfit Loader.
Original model was made by Sparkpad, rigged by me.
Carmelita Fox belongs to Super Punch Productions and Sony.
SFMLab is a free service. However, it costs about $0.03 to deliver you a 1GB file. With over 20TB of traffic every month and growing, SFMLab needs your help. If only 1% of our users each gave us $5 for a single month, we could keep the site running for several years.
Filename
Downloads
Created
Filesize
Files
Dancer_Carmelita_v2_SFM.7z
2049
2021-01-27 05:02:53
7.63 MB
File contents:

Dancer Carmelita v2 SFM/models/fursonas/SlyCooper/carmelita/cloths/dancer/ringsupperarms.mdl
Dancer Carmelita v2 SFM/models/fursonas/SlyCooper/carmelita/cloths/dancer/shoes.mdl
Dancer Carmelita v2 SFM/models/fursonas/SlyCooper/carmelita/cloths/dancer/cloth.vvd
Dancer Carmelita v2 SFM/models/fursonas/SlyCooper/carmelita/cloths/dancer/Pants.dx90.vtx
Dancer Carmelita v2 SFM/models/fursonas/SlyCooper/carmelita/cloths/dancer/WristRings.dx90.vtx
Dancer Carmelita v2 SFM/models/fursonas/SlyCooper/carmelita/cloths/dancer/Bra.dx90.vtx
Dancer Carmelita v2 SFM/models/fursonas/SlyCooper/carmelita/cloths/dancer/DancerOutfit.dx90.vtx
Dancer Carmelita v2 SFM/models/fursonas/SlyCooper/carmelita/cloths/dancer/wristrings.mdl
Dancer Carmelita v2 SFM/models/fursonas/SlyCooper/carmelita/cloths/dancer/belt.vvd
Dancer Carmelita v2 SFM/models/fursonas/SlyCooper/carmelita/cloths/dancer/pants.vvd
Dancer Carmelita v2 SFM/models/fursonas/SlyCooper/carmelita/cloths/dancer/DancerOutfit.dx90.dx90.vtx
Dancer Carmelita v2 SFM/models/fursonas/SlyCooper/carmelita/cloths/dancer/Cloth.dx90.vtx
Dancer Carmelita v2 SFM/models/fursonas/SlyCooper/carmelita/cloths/dancer/ArmSleeves.dx90.vtx
Dancer Carmelita v2 SFM/models/fursonas/SlyCooper/carmelita/cloths/dancer/danceroutfit.dx90.mdl
Dancer Carmelita v2 SFM/models/fursonas/SlyCooper/carmelita/cloths/dancer/collar.vvd
Dancer Carmelita v2 SFM/models/fursonas/SlyCooper/carmelita/cloths/dancer/cloth.mdl
Dancer Carmelita v2 SFM/models/fursonas/SlyCooper/carmelita/cloths/dancer/danceroutfit.dx90.vvd
Dancer Carmelita v2 SFM/models/fursonas/SlyCooper/carmelita/cloths/dancer/legrings.mdl
Dancer Carmelita v2 SFM/models/fursonas/SlyCooper/carmelita/cloths/dancer/RingsUpperArms.dx90.vtx
Dancer Carmelita v2 SFM/models/fursonas/SlyCooper/carmelita/cloths/dancer/mouthveil.vvd
Dancer Carmelita v2 SFM/models/fursonas/SlyCooper/carmelita/cloths/dancer/legrings.vvd
Dancer Carmelita v2 SFM/models/fursonas/SlyCooper/carmelita/cloths/dancer/Collar.dx90.vtx
Dancer Carmelita v2 SFM/models/fursonas/SlyCooper/carmelita/cloths/dancer/LegRings.dx90.vtx
Dancer Carmelita v2 SFM/models/fursonas/SlyCooper/carmelita/cloths/dancer/mouthveil.mdl
Dancer Carmelita v2 SFM/models/fursonas/SlyCooper/carmelita/cloths/dancer/ringsupperarms.vvd
Dancer Carmelita v2 SFM/models/fursonas/SlyCooper/carmelita/cloths/dancer/MouthVeil.dx90.vtx
Dancer Carmelita v2 SFM/models/fursonas/SlyCooper/carmelita/cloths/dancer/armsleeves.vvd
Dancer Carmelita v2 SFM/models/fursonas/SlyCooper/carmelita/cloths/dancer/collar.mdl
Dancer Carmelita v2 SFM/models/fursonas/SlyCooper/carmelita/cloths/dancer/belt.mdl
Dancer Carmelita v2 SFM/models/fursonas/SlyCooper/carmelita/cloths/dancer/Belt.dx90.vtx
Dancer Carmelita v2 SFM/models/fursonas/SlyCooper/carmelita/cloths/dancer/armsleeves.mdl
Dancer Carmelita v2 SFM/models/fursonas/SlyCooper/carmelita/cloths/dancer/pants.mdl
Dancer Carmelita v2 SFM/models/fursonas/SlyCooper/carmelita/cloths/dancer/danceroutfit.vvd
Dancer Carmelita v2 SFM/models/fursonas/SlyCooper/carmelita/cloths/dancer/Shoes.dx90.vtx
Dancer Carmelita v2 SFM/models/fursonas/SlyCooper/carmelita/cloths/dancer/wristrings.vvd
Dancer Carmelita v2 SFM/models/fursonas/SlyCooper/carmelita/cloths/dancer/bra.mdl
Dancer Carmelita v2 SFM/models/fursonas/SlyCooper/carmelita/cloths/dancer/danceroutfit.mdl
Dancer Carmelita v2 SFM/models/fursonas/SlyCooper/carmelita/cloths/dancer/bra.vvd
Dancer Carmelita v2 SFM/models/fursonas/SlyCooper/carmelita/cloths/dancer/shoes.vvd
Dancer Carmelita v2 SFM/materials/models/fursonas/SlyCooper/Carmelita/Dancer/purple.vtf
Dancer Carmelita v2 SFM/materials/models/fursonas/SlyCooper/Carmelita/Dancer/cartoon_chrome.hdr.vtf
Dancer Carmelita v2 SFM/materials/models/fursonas/SlyCooper/Carmelita/Dancer/orangen.vtf
Dancer Carmelita v2 SFM/materials/models/fursonas/SlyCooper/Carmelita/Dancer/OrangeCloth.vmt
Dancer Carmelita v2 SFM/materials/models/fursonas/SlyCooper/Carmelita/Dancer/GoldArms.vmt
Dancer Carmelita v2 SFM/materials/models/fursonas/SlyCooper/Carmelita/Dancer/red.vtf
Dancer Carmelita v2 SFM/materials/models/fursonas/SlyCooper/Carmelita/Dancer/gold.vtf
Dancer Carmelita v2 SFM/materials/models/fursonas/SlyCooper/Carmelita/Dancer/Veil.vmt
Dancer Carmelita v2 SFM/materials/models/fursonas/SlyCooper/Carmelita/Dancer/GoldDarker.vmt
Dancer Carmelita v2 SFM/materials/models/fursonas/SlyCooper/Carmelita/Dancer/Col.vtf
Dancer Carmelita v2 SFM/materials/models/fursonas/SlyCooper/Carmelita/Dancer/Blue.vmt
Dancer Carmelita v2 SFM/materials/models/fursonas/SlyCooper/Carmelita/Dancer/purplen.vtf
Dancer Carmelita v2 SFM/materials/models/fursonas/SlyCooper/Carmelita/Dancer/Belt.vmt
Dancer Carmelita v2 SFM/materials/models/fursonas/SlyCooper/Carmelita/Dancer/GoldDarker.vtf
Dancer Carmelita v2 SFM/materials/models/fursonas/SlyCooper/Carmelita/Dancer/whiten.vtf
Dancer Carmelita v2 SFM/materials/models/fursonas/SlyCooper/Carmelita/Dancer/phongexponenttexture.vtf
Dancer Carmelita v2 SFM/materials/models/fursonas/SlyCooper/Carmelita/Dancer/redn.vtf
Dancer Carmelita v2 SFM/materials/models/fursonas/SlyCooper/Carmelita/Dancer/pantsn.vtf
Dancer Carmelita v2 SFM/materials/models/fursonas/SlyCooper/Carmelita/Dancer/bluen.vtf
Dancer Carmelita v2 SFM/materials/models/fursonas/SlyCooper/Carmelita/Dancer/white.vtf
Dancer Carmelita v2 SFM/materials/models/fursonas/SlyCooper/Carmelita/Dancer/Gold.vmt
Dancer Carmelita v2 SFM/materials/models/fursonas/SlyCooper/Carmelita/Dancer/PurpleCloth.vmt
Dancer Carmelita v2 SFM/materials/models/fursonas/SlyCooper/Carmelita/Dancer/Pants.vtf
Dancer Carmelita v2 SFM/materials/models/fursonas/SlyCooper/Carmelita/Dancer/Collar.vmt
Dancer Carmelita v2 SFM/materials/models/fursonas/SlyCooper/Carmelita/Dancer/Red.vmt
Dancer Carmelita v2 SFM/materials/models/fursonas/SlyCooper/Carmelita/Dancer/blue.vtf
Dancer Carmelita v2 SFM/materials/models/fursonas/SlyCooper/Carmelita/Dancer/Suit.vmt
Dancer Carmelita v2 SFM/materials/models/fursonas/SlyCooper/Carmelita/Dancer/orange.vtf
Dancer Carmelita v2 SFM/materials/models/fursonas/SlyCooper/Carmelita/Dancer/gold_lightwarp.vtf