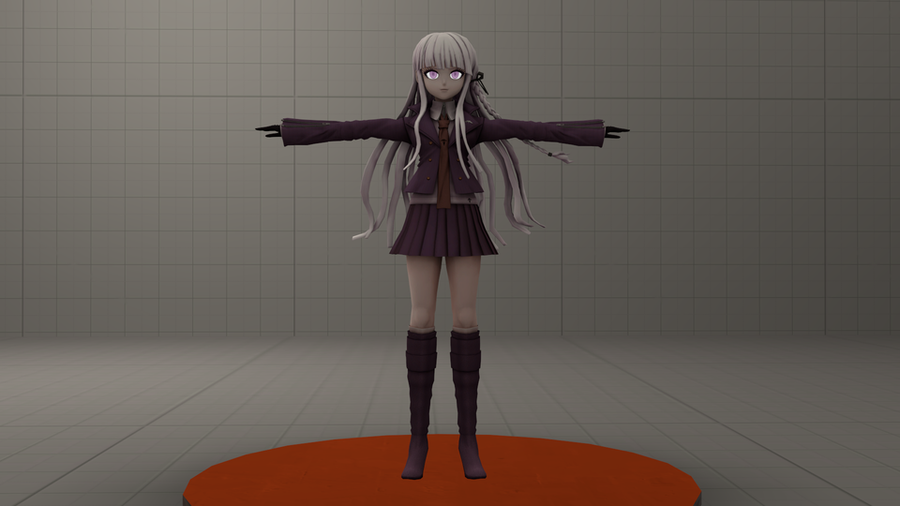 Show more
Description
Kyoko model ported by chriscross
uploaded by me duh
there are two versions of the model included, one is the original which has issues regarding the skirt and legs being connected in some places, please use the EDIT version as this has the issues fixed.
id upload the fix itself however you need the original for the edit to work.
SFMLab is a free service. However, it costs about $0.03 to deliver you a 1GB file. With over 20TB of traffic every month and growing, SFMLab needs your help. If only 1% of our users each gave us $5 for a single month, we could keep the site running for several years.
Filename
Downloads
Created
Filesize
Files
KyokoKirigiri_edit.rar
837
2021-02-01 19:28:58
1.03 MB
File contents:

usermod/models/chriscross/kyokokirigiri/KyokoKirigiri_edit.dx90.vtx
usermod/models/chriscross/kyokokirigiri/kyokokirigiri_edit.vvd
usermod/models/chriscross/kyokokirigiri/kyokokirigiri_edit.mdl




KyokoKirigiri.rar
722
2021-02-03 01:05:39
6.75 MB
File contents:

KyokoKirigiri /usermod/models/ChrisCross/KyokoKirigiri/kyokokirigiri.mdl
KyokoKirigiri /usermod/models/ChrisCross/KyokoKirigiri/kyokokirigiri.vvd
KyokoKirigiri /usermod/models/ChrisCross/KyokoKirigiri/KyokoKirigiri.dx90.vtx
KyokoKirigiri /usermod/materials/models/ChrisCross/KyokoKirigiri/hair_d_waifu2x_art_noise1_scale_tta_1.png
KyokoKirigiri /usermod/materials/models/ChrisCross/KyokoKirigiri/head_d.png
KyokoKirigiri /usermod/materials/models/ChrisCross/KyokoKirigiri/body_d.png
KyokoKirigiri /usermod/materials/models/ChrisCross/KyokoKirigiri/Hair.vmt
KyokoKirigiri /usermod/materials/models/ChrisCross/KyokoKirigiri/Face.vtf
KyokoKirigiri /usermod/materials/models/ChrisCross/KyokoKirigiri/Eyes.vmt
KyokoKirigiri /usermod/materials/models/ChrisCross/KyokoKirigiri/exponent.vtf
KyokoKirigiri /usermod/materials/models/ChrisCross/KyokoKirigiri/Hair.vtf
KyokoKirigiri /usermod/materials/models/ChrisCross/KyokoKirigiri/B.vtf
KyokoKirigiri /usermod/materials/models/ChrisCross/KyokoKirigiri/Body.vtf
KyokoKirigiri /usermod/materials/models/ChrisCross/KyokoKirigiri/Face.vmt
KyokoKirigiri /usermod/materials/models/ChrisCross/KyokoKirigiri/Body.vmt