Adult content
This content is marked as Adult/NSFW content. You can toggle your preferences regarding this content type in your account settings.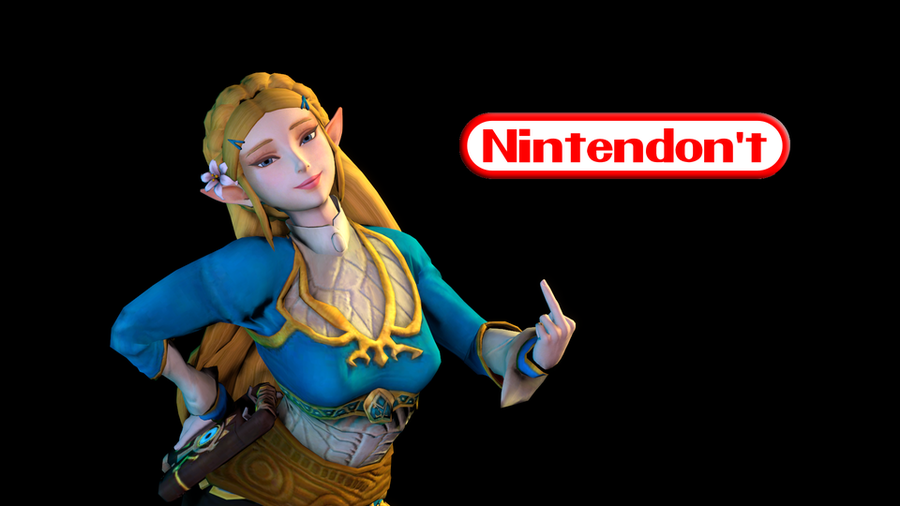 Show more
Description
Credits:
• Model Creator: arhoangel
• Ported to XNALara: dddkhakha1
• Texture Assistant: TSelman61
• Ported to SFM: stook111 (of course)
XNALara (XPS) Model: https://www.deviantart.com/dddkhakha1/art/Zelda-The-Legend-of-Zelda-Breath-of-the-Wild-850526446
---
Summary
Zelda, Breath of the Wild DLC, without the Cel Shading. First time porting for models, features including corrective flex, breast size, even jigglebones and couple more.
Enjoy!
---
Final Update: 3.0
• Genitals: Did I say a little bit bigger, I meant a GIGANTIC, T R I A N G U L A R, Monster pussy flex! And also made the anus a bit bigger.
• Renamed the redundant symbol letters just to its name to make it easier to read and navigate.
• Fingers are finally renamed with valve template.
• The small hole from the side below the shoulders when you increase the breast size to full is fixed. (Yay!)
• Both breast and butt flex are a bit bigger, also because now all the body parts are joined together at last (should've done that at the beginning), the shape keys are also combined together, which makes the flexes easier to rearrange and it makes the body look so, so, so much smoother. (The POWER of Blender Sculpt Tool!)
• No matter how hard I try, it seems that the eye TargetView doesn't want me to work at all. Eye give up the attempts to get the TargetView bone feature to work.
• If you want the DIY workaround way of TargetView bone control for the eyes, you can easily make your own for every session you make: https://steamcommunity.com/sharedfiles/filedetails/?id=1399176770
And finally I added additional body flexes which are:
• Squint Left and Right
• Tongue Out
• Blow and Suck
• Lips - In and Out
• Throat Swallow
• Throat Bulge
• Tits - Push or Push
• Belly Bulge - Small, Medium, Large and even Monster
• Pregnant (If you're rocking that way)
• Vag - Push and Pull
• Anus - Push and Pull

(Open Jaw or tongue out, for example, will not sync exactly with the bones. Keep that in mind.)
---
// Hair, butt and breasts are constrained by jigglebones //
To control them manually, you need to bake the model by:
• Right click on the model
• Hover on "Utilities"
• Click on "Bake Procedural Bones"

You're now able to control these assests, but the jigglebones will not work until you unbake them.
---
// Slate and Bag around the waist //
If you want the Slate and Bag gone:
> Right click on Zelda
> Click on "Override Materials"
> Hover on "Show in Element Viewer" and click on "Model"
> Expand (click on a plus, next to materials) and right click on either on "Slate" and "Bag"
> Hover on "Add Atrribute" and click on "float"
> Type in "$alpha" and voilà.


---
Quick notice
This might be the last upload I'll ever do for my lifetime for personal reason and I want to leave it behind me. So no more new updates or model ports from me. Any Nintendo model request you want to ask to be made and ported, you'll have to find someone else. Take care!
SFMLab is a free service. However, it costs about $0.03 to deliver you a 1GB file. With over 20TB of traffic every month and growing, SFMLab needs your help. If only 1% of our users each gave us $5 for a single month, we could keep the site running for several years.
Filename
Downloads
Created
Filesize
Files
Zelda-BotW-DLC-3.0.zip
7726
2021-02-11 01:09:38
10.5 MB
File contents:

usermod/models/custombyme/Zelda_DLC.dx90.vtx
usermod/models/custombyme/zelda_dlc.vvd
usermod/models/custombyme/zelda_dlc.mdl
usermod/scripts/sfm/animset/rig_zelda_dlc.py
usermod/materials/models/custombyme/Zelda_DLC/Bag.vmt
usermod/materials/models/custombyme/Zelda_DLC/Genital.vmt
usermod/materials/models/custombyme/Zelda_DLC/Boots_Metal.vmt
usermod/materials/models/custombyme/Zelda_DLC/eyeball_R.vmt
usermod/materials/models/custombyme/Zelda_DLC/Shirt_Metal.vmt
usermod/materials/models/custombyme/Zelda_DLC/Hands.vmt
usermod/materials/models/custombyme/Zelda_DLC/Head.vmt
usermod/materials/models/custombyme/Zelda_DLC/Hair.vmt
usermod/materials/models/custombyme/Zelda_DLC/Knee.vmt
usermod/materials/models/custombyme/Zelda_DLC/HairPin.vmt
usermod/materials/models/custombyme/Zelda_DLC/Flower.vmt
usermod/materials/models/custombyme/Zelda_DLC/Arms.vmt
usermod/materials/models/custombyme/Zelda_DLC/Boots.vmt
usermod/materials/models/custombyme/Zelda_DLC/Shirt.vmt
usermod/materials/models/custombyme/Zelda_DLC/Foot.vmt
usermod/materials/models/custombyme/Zelda_DLC/Teeth.vmt
usermod/materials/models/custombyme/Zelda_DLC/Tongue.vmt
usermod/materials/models/custombyme/Zelda_DLC/eyeball_L.vmt
usermod/materials/models/custombyme/Zelda_DLC/Torso.vmt
usermod/materials/models/custombyme/Zelda_DLC/Slate.vmt
usermod/materials/models/custombyme/Zelda_DLC/Bottom.vmt
usermod/materials/models/custombyme/Zelda_DLC/Neck.vmt
usermod/materials/models/custombyme/Zelda_DLC/Hips.vmt
usermod/materials/models/custombyme/Zelda_DLC/VTF/legs_dif.vtf
usermod/materials/models/custombyme/Zelda_DLC/VTF/that_dif.vtf
usermod/materials/models/custombyme/Zelda_DLC/VTF/legs_nor.vtf
usermod/materials/models/custombyme/Zelda_DLC/VTF/flower_dif.vtf
usermod/materials/models/custombyme/Zelda_DLC/VTF/flower_nor.vtf
usermod/materials/models/custombyme/Zelda_DLC/VTF/that_nor.vtf
usermod/materials/models/custombyme/Zelda_DLC/VTF/arms_dif.vtf
usermod/materials/models/custombyme/Zelda_DLC/VTF/head_nor.vtf
usermod/materials/models/custombyme/Zelda_DLC/VTF/body_nor.vtf
usermod/materials/models/custombyme/Zelda_DLC/VTF/overall_dif.vtf
usermod/materials/models/custombyme/Zelda_DLC/VTF/overall_nor.vtf
usermod/materials/models/custombyme/Zelda_DLC/VTF/bumpmap_flat.vtf
usermod/materials/models/custombyme/Zelda_DLC/VTF/pupil_dif.vtf
usermod/materials/models/custombyme/Zelda_DLC/VTF/overall2_dif.vtf
usermod/materials/models/custombyme/Zelda_DLC/VTF/arms_nor.vtf
usermod/materials/models/custombyme/Zelda_DLC/VTF/head_dif.vtf
usermod/materials/models/custombyme/Zelda_DLC/VTF/body_dif.vtf
usermod/materials/models/custombyme/Zelda_DLC/Shared/eye-extra.vtf
usermod/materials/models/custombyme/Zelda_DLC/Shared/eye_lightwarp.vtf
usermod/materials/models/custombyme/Zelda_DLC/Shared/eye-cornea.vtf
usermod/materials/models/custombyme/Zelda_DLC/Shared/eye-reflection-cubemap-.vtf
__MACOSX/usermod/materials/models/custombyme/Zelda_DLC/._eyeball_L.vmt




Zelda-BotW-DLC-2.5-(Old).zip
1562
2021-02-07 17:31:21
10.16 MB
File contents:

usermod/models/custombyme/Zelda_DLC.dx90.vtx
usermod/models/custombyme/zelda_dlc.vvd
usermod/models/custombyme/zelda_dlc.mdl
usermod/scripts/sfm/animset/rig_zelda_dlc.py
usermod/materials/models/custombyme/Zelda_DLC/Bag.vmt
usermod/materials/models/custombyme/Zelda_DLC/Genital.vmt
usermod/materials/models/custombyme/Zelda_DLC/Boots_Metal.vmt
usermod/materials/models/custombyme/Zelda_DLC/Shirt_Metal.vmt
usermod/materials/models/custombyme/Zelda_DLC/Hands.vmt
usermod/materials/models/custombyme/Zelda_DLC/Head.vmt
usermod/materials/models/custombyme/Zelda_DLC/Hair.vmt
usermod/materials/models/custombyme/Zelda_DLC/Knee.vmt
usermod/materials/models/custombyme/Zelda_DLC/Eyes.vmt
usermod/materials/models/custombyme/Zelda_DLC/HairPin.vmt
usermod/materials/models/custombyme/Zelda_DLC/Flower.vmt
usermod/materials/models/custombyme/Zelda_DLC/Arms.vmt
usermod/materials/models/custombyme/Zelda_DLC/Boots.vmt
usermod/materials/models/custombyme/Zelda_DLC/Shirt.vmt
usermod/materials/models/custombyme/Zelda_DLC/Foot.vmt
usermod/materials/models/custombyme/Zelda_DLC/Teeth.vmt
usermod/materials/models/custombyme/Zelda_DLC/Tongue.vmt
usermod/materials/models/custombyme/Zelda_DLC/Torso.vmt
usermod/materials/models/custombyme/Zelda_DLC/Slate.vmt
usermod/materials/models/custombyme/Zelda_DLC/Bottom.vmt
usermod/materials/models/custombyme/Zelda_DLC/Neck.vmt
usermod/materials/models/custombyme/Zelda_DLC/Hips.vmt
usermod/materials/models/custombyme/Zelda_DLC/VTF/legs_dif.vtf
usermod/materials/models/custombyme/Zelda_DLC/VTF/that_dif.vtf
usermod/materials/models/custombyme/Zelda_DLC/VTF/legs_nor.vtf
usermod/materials/models/custombyme/Zelda_DLC/VTF/flower_dif.vtf
usermod/materials/models/custombyme/Zelda_DLC/VTF/flower_nor.vtf
usermod/materials/models/custombyme/Zelda_DLC/VTF/that_nor.vtf
usermod/materials/models/custombyme/Zelda_DLC/VTF/arms_dif.vtf
usermod/materials/models/custombyme/Zelda_DLC/VTF/head_nor.vtf
usermod/materials/models/custombyme/Zelda_DLC/VTF/body_nor.vtf
usermod/materials/models/custombyme/Zelda_DLC/VTF/overall_dif.vtf
usermod/materials/models/custombyme/Zelda_DLC/VTF/overall_nor.vtf
usermod/materials/models/custombyme/Zelda_DLC/VTF/bumpmap_flat.vtf
usermod/materials/models/custombyme/Zelda_DLC/VTF/pupil_dif.vtf
usermod/materials/models/custombyme/Zelda_DLC/VTF/overall2_dif.vtf
usermod/materials/models/custombyme/Zelda_DLC/VTF/arms_nor.vtf
usermod/materials/models/custombyme/Zelda_DLC/VTF/head_dif.vtf
usermod/materials/models/custombyme/Zelda_DLC/VTF/body_dif.vtf




Zelda-BotW-DLC-(Old).zip
1456
2021-02-06 03:54:44
10.03 MB
File contents:

usermod/models/custombyme/Zelda_DLC.dx90.vtx
usermod/models/custombyme/zelda_dlc.vvd
usermod/models/custombyme/zelda_dlc.mdl
usermod/scripts/sfm/animset/rig_zelda_dlc.py
usermod/materials/models/custombyme/Zelda_DLC/Genital.vmt
usermod/materials/models/custombyme/Zelda_DLC/Boots_Metal.vmt
usermod/materials/models/custombyme/Zelda_DLC/Shirt_Metal.vmt
usermod/materials/models/custombyme/Zelda_DLC/Hands.vmt
usermod/materials/models/custombyme/Zelda_DLC/Head.vmt
usermod/materials/models/custombyme/Zelda_DLC/Hair.vmt
usermod/materials/models/custombyme/Zelda_DLC/Knee.vmt
usermod/materials/models/custombyme/Zelda_DLC/Eyes.vmt
usermod/materials/models/custombyme/Zelda_DLC/HairPin.vmt
usermod/materials/models/custombyme/Zelda_DLC/Flower.vmt
usermod/materials/models/custombyme/Zelda_DLC/Arms.vmt
usermod/materials/models/custombyme/Zelda_DLC/Boots.vmt
usermod/materials/models/custombyme/Zelda_DLC/Shirt.vmt
usermod/materials/models/custombyme/Zelda_DLC/Foot.vmt
usermod/materials/models/custombyme/Zelda_DLC/Teeth.vmt
usermod/materials/models/custombyme/Zelda_DLC/Tongue.vmt
usermod/materials/models/custombyme/Zelda_DLC/Torso.vmt
usermod/materials/models/custombyme/Zelda_DLC/Bottom.vmt
usermod/materials/models/custombyme/Zelda_DLC/Neck.vmt
usermod/materials/models/custombyme/Zelda_DLC/Hips.vmt
usermod/materials/models/custombyme/Zelda_DLC/VTF/legs_dif.vtf
usermod/materials/models/custombyme/Zelda_DLC/VTF/that_dif.vtf
usermod/materials/models/custombyme/Zelda_DLC/VTF/legs_nor.vtf
usermod/materials/models/custombyme/Zelda_DLC/VTF/flower_dif.vtf
usermod/materials/models/custombyme/Zelda_DLC/VTF/flower_nor.vtf
usermod/materials/models/custombyme/Zelda_DLC/VTF/that_nor.vtf
usermod/materials/models/custombyme/Zelda_DLC/VTF/arms_dif.vtf
usermod/materials/models/custombyme/Zelda_DLC/VTF/head_nor.vtf
usermod/materials/models/custombyme/Zelda_DLC/VTF/body_nor.vtf
usermod/materials/models/custombyme/Zelda_DLC/VTF/overall_dif.vtf
usermod/materials/models/custombyme/Zelda_DLC/VTF/overall_nor.vtf
usermod/materials/models/custombyme/Zelda_DLC/VTF/bumpmap_flat.vtf
usermod/materials/models/custombyme/Zelda_DLC/VTF/pupil_dif.vtf
usermod/materials/models/custombyme/Zelda_DLC/VTF/overall2_dif.vtf
usermod/materials/models/custombyme/Zelda_DLC/VTF/arms_nor.vtf
usermod/materials/models/custombyme/Zelda_DLC/VTF/head_dif.vtf
usermod/materials/models/custombyme/Zelda_DLC/VTF/body_dif.vtf