Adult content
This content is marked as Adult/NSFW content. You can toggle your preferences regarding this content type in your account settings.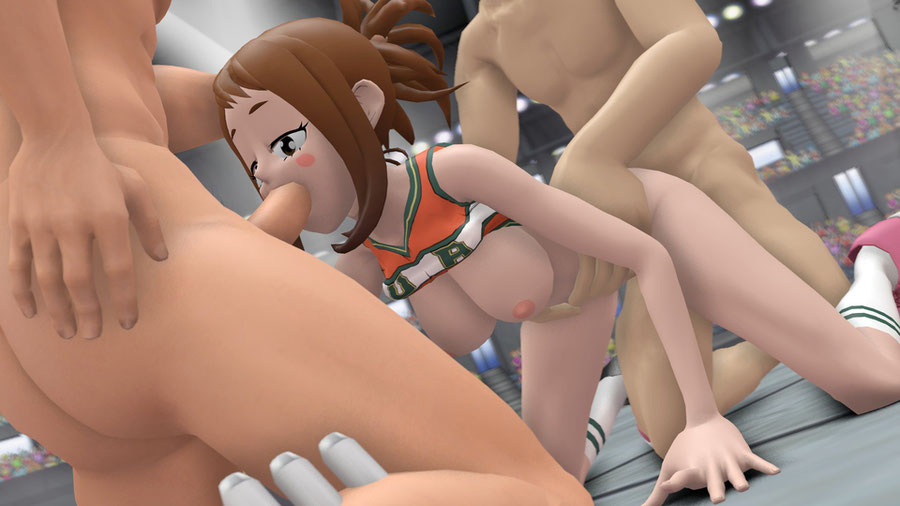 Show more
Description
Uravity is here!
This will mess up old sessions so be careful!
Here is where you can download the first version.
https://sfmlab.com/project/26515/
Updated now has new daz body/rig and bunch of new outfits! Also has eye posing with a skin to turn off to eye controled with bones!
Thanks to Nyahs_smut and Marcovee4 for testing out the models and for the preview pics!
The ik is rig_MHA ochaco uraraka.py
This model is from MHA: One's Justice thanks to asideofchidori, silverado117 and mvegeta. Underwear is by Shimikari
Also I got a Patreon if you want to send some support, see wips or vote on which model I'll do next. https://www.patreon.com/Yinyama3D
Have fun~
Update
New body base and eye controls. It might mess up old save so be careful!
SFMLab is a free service. However, it costs about $0.03 to deliver you a 1GB file. With over 20TB of traffic every month and growing, SFMLab needs your help. If only 1% of our users each gave us $5 for a single month, we could keep the site running for several years.
Filename
Downloads
Created
Filesize
Files
Ochaco_Uraraka_v2.6_pack.zip
680
2023-09-11 07:21:48
35.26 MB
File contents:

usermod/scripts/sfm/animset/rig_MHA Female.py
usermod/models/My Hero Academia/Ochaco Uraraka/ochaco uraraka swimsuit.mdl
usermod/models/My Hero Academia/Ochaco Uraraka/ochaco uraraka uravity.mdl
usermod/models/My Hero Academia/Ochaco Uraraka/Ochaco Uraraka Uravity.dx90.vtx
usermod/models/My Hero Academia/Ochaco Uraraka/ochaco uraraka festival.vvd
usermod/models/My Hero Academia/Ochaco Uraraka/Ochaco Uraraka Uravity suit ripped.dx90.vtx
usermod/models/My Hero Academia/Ochaco Uraraka/ochaco uraraka casual.mdl
usermod/models/My Hero Academia/Ochaco Uraraka/ochaco uraraka festival.mdl
usermod/models/My Hero Academia/Ochaco Uraraka/ochaco uraraka cheerleader.mdl
usermod/models/My Hero Academia/Ochaco Uraraka/Ochaco Uraraka Casual.dx90.vtx
usermod/models/My Hero Academia/Ochaco Uraraka/ochaco uraraka cheerleader.vvd
usermod/models/My Hero Academia/Ochaco Uraraka/ochaco uraraka gym.mdl
usermod/models/My Hero Academia/Ochaco Uraraka/ochaco uraraka casual.vvd
usermod/models/My Hero Academia/Ochaco Uraraka/ochaco uraraka ua.vvd
usermod/models/My Hero Academia/Ochaco Uraraka/Ochaco Uraraka Gym.dx90.vtx
usermod/models/My Hero Academia/Ochaco Uraraka/Ochaco Uraraka Cheerleader.dx90.vtx
usermod/models/My Hero Academia/Ochaco Uraraka/ochaco uraraka gym.vvd
usermod/models/My Hero Academia/Ochaco Uraraka/ochaco uraraka uravity.vvd
usermod/models/My Hero Academia/Ochaco Uraraka/Ochaco Uraraka Festival.dx90.vtx
usermod/models/My Hero Academia/Ochaco Uraraka/ochaco uraraka ua.mdl
usermod/models/My Hero Academia/Ochaco Uraraka/Ochaco Uraraka UA.dx90.vtx
usermod/models/My Hero Academia/Ochaco Uraraka/ochaco uraraka uravity suit ripped.vvd
usermod/models/My Hero Academia/Ochaco Uraraka/Ochaco Uraraka Swimsuit.dx90.vtx
usermod/models/My Hero Academia/Ochaco Uraraka/ochaco uraraka swimsuit.vvd
usermod/models/My Hero Academia/Ochaco Uraraka/ochaco uraraka uravity suit ripped.mdl
usermod/materials/models/My Hero Academia/Ochaco Uraraka UA/Arms.vmt
usermod/materials/models/My Hero Academia/Ochaco Uraraka UA/Torso.vtf
usermod/materials/models/My Hero Academia/Ochaco Uraraka UA/Casual.vtf
usermod/materials/models/My Hero Academia/Ochaco Uraraka UA/Backpack.vtf
usermod/materials/models/My Hero Academia/Ochaco Uraraka UA/hair.vtf
usermod/materials/models/My Hero Academia/Ochaco Uraraka UA/Torso.vmt
usermod/materials/models/My Hero Academia/Ochaco Uraraka UA/shirt.vtf
usermod/materials/models/My Hero Academia/Ochaco Uraraka UA/eye R.vtf
usermod/materials/models/My Hero Academia/Ochaco Uraraka UA/arms.vtf
usermod/materials/models/My Hero Academia/Ochaco Uraraka UA/Shirt.vmt
usermod/materials/models/My Hero Academia/Ochaco Uraraka UA/face.vtf
usermod/materials/models/My Hero Academia/Ochaco Uraraka UA/Fingernails.vmt
usermod/materials/models/My Hero Academia/Ochaco Uraraka UA/eyes.vtf
usermod/materials/models/My Hero Academia/Ochaco Uraraka UA/bra.vmt
usermod/materials/models/My Hero Academia/Ochaco Uraraka UA/hair.vmt
usermod/materials/models/My Hero Academia/Ochaco Uraraka UA/uniform.vtf
usermod/materials/models/My Hero Academia/Ochaco Uraraka UA/legs.vmt
usermod/materials/models/My Hero Academia/Ochaco Uraraka UA/Backpack.vmt
usermod/materials/models/My Hero Academia/Ochaco Uraraka UA/White.vtf
usermod/materials/models/My Hero Academia/Ochaco Uraraka UA/bra.vtf
usermod/materials/models/My Hero Academia/Ochaco Uraraka UA/face_shader3.vtf
usermod/materials/models/My Hero Academia/Ochaco Uraraka UA/Casual.vmt
usermod/materials/models/My Hero Academia/Ochaco Uraraka UA/eye L.vtf
usermod/materials/models/My Hero Academia/Ochaco Uraraka UA/toenails.vmt
usermod/materials/models/My Hero Academia/Ochaco Uraraka UA/Genitalia.vmt
usermod/materials/models/My Hero Academia/Ochaco Uraraka UA/Genitalia.vtf
usermod/materials/models/My Hero Academia/Ochaco Uraraka UA/eye Right.vmt
usermod/materials/models/My Hero Academia/Ochaco Uraraka UA/legs.vtf
usermod/materials/models/My Hero Academia/Ochaco Uraraka UA/Sclera.vmt
usermod/materials/models/My Hero Academia/Ochaco Uraraka UA/uniform.vmt
usermod/materials/models/My Hero Academia/Ochaco Uraraka UA/map.vtf
usermod/materials/models/My Hero Academia/Ochaco Uraraka UA/map bra.vtf
usermod/materials/models/My Hero Academia/Ochaco Uraraka UA/Toenails.vtf
usermod/materials/models/My Hero Academia/Ochaco Uraraka UA/face.vmt
usermod/materials/models/My Hero Academia/Ochaco Uraraka UA/Panties.vmt
usermod/materials/models/My Hero Academia/Ochaco Uraraka UA/lightwarp.vtf
usermod/materials/models/My Hero Academia/Ochaco Uraraka UA/eyes.vmt
usermod/materials/models/My Hero Academia/Ochaco Uraraka UA/eye Left.vmt
usermod/materials/models/My Hero Academia/Ochaco Uraraka Uravity/Arms.vmt
usermod/materials/models/My Hero Academia/Ochaco Uraraka Uravity/Torso.vtf
usermod/materials/models/My Hero Academia/Ochaco Uraraka Uravity/Main.vtf
usermod/materials/models/My Hero Academia/Ochaco Uraraka Uravity/hair.vtf
usermod/materials/models/My Hero Academia/Ochaco Uraraka Uravity/Torso.vmt
usermod/materials/models/My Hero Academia/Ochaco Uraraka Uravity/shirt.vtf
usermod/materials/models/My Hero Academia/Ochaco Uraraka Uravity/arms.vtf
usermod/materials/models/My Hero Academia/Ochaco Uraraka Uravity/face.vtf
usermod/materials/models/My Hero Academia/Ochaco Uraraka Uravity/Helmet.vtf
usermod/materials/models/My Hero Academia/Ochaco Uraraka Uravity/Fingernails.vmt
usermod/materials/models/My Hero Academia/Ochaco Uraraka Uravity/main R.vtf
usermod/materials/models/My Hero Academia/Ochaco Uraraka Uravity/Main R.vmt
usermod/materials/models/My Hero Academia/Ochaco Uraraka Uravity/eyes.vtf
usermod/materials/models/My Hero Academia/Ochaco Uraraka Uravity/bra.vmt
usermod/materials/models/My Hero Academia/Ochaco Uraraka Uravity/hair.vmt
usermod/materials/models/My Hero Academia/Ochaco Uraraka Uravity/visor.vtf
usermod/materials/models/My Hero Academia/Ochaco Uraraka Uravity/uniform.vtf
usermod/materials/models/My Hero Academia/Ochaco Uraraka Uravity/legs.vmt
usermod/materials/models/My Hero Academia/Ochaco Uraraka Uravity/Main.vmt
usermod/materials/models/My Hero Academia/Ochaco Uraraka Uravity/White.vtf
usermod/materials/models/My Hero Academia/Ochaco Uraraka Uravity/bra.vtf
usermod/materials/models/My Hero Academia/Ochaco Uraraka Uravity/face_shader3.vtf
usermod/materials/models/My Hero Academia/Ochaco Uraraka Uravity/toenails.vmt
usermod/materials/models/My Hero Academia/Ochaco Uraraka Uravity/Genitalia.vmt
usermod/materials/models/My Hero Academia/Ochaco Uraraka Uravity/Helmet.vmt
usermod/materials/models/My Hero Academia/Ochaco Uraraka Uravity/Genitalia.vtf
usermod/materials/models/My Hero Academia/Ochaco Uraraka Uravity/eye Right.vmt
usermod/materials/models/My Hero Academia/Ochaco Uraraka Uravity/legs.vtf
usermod/materials/models/My Hero Academia/Ochaco Uraraka Uravity/Sclera.vmt
usermod/materials/models/My Hero Academia/Ochaco Uraraka Uravity/map.vtf
usermod/materials/models/My Hero Academia/Ochaco Uraraka Uravity/map bra.vtf
usermod/materials/models/My Hero Academia/Ochaco Uraraka Uravity/Toenails.vtf
usermod/materials/models/My Hero Academia/Ochaco Uraraka Uravity/face.vmt
usermod/materials/models/My Hero Academia/Ochaco Uraraka Uravity/Panties.vmt
usermod/materials/models/My Hero Academia/Ochaco Uraraka Uravity/lightwarp.vtf
usermod/materials/models/My Hero Academia/Ochaco Uraraka Uravity/eyes.vmt
usermod/materials/models/My Hero Academia/Ochaco Uraraka Uravity/visor.vmt
usermod/materials/models/My Hero Academia/Ochaco Uraraka Uravity/eye Left.vmt
usermod/materials/models/My Hero Academia/Ochaco Uraraka Cheerleader/Arms.vmt
usermod/materials/models/My Hero Academia/Ochaco Uraraka Cheerleader/Torso.vtf
usermod/materials/models/My Hero Academia/Ochaco Uraraka Cheerleader/Festival.vmt
usermod/materials/models/My Hero Academia/Ochaco Uraraka Cheerleader/Gym.vmt
usermod/materials/models/My Hero Academia/Ochaco Uraraka Cheerleader/hair.vtf
usermod/materials/models/My Hero Academia/Ochaco Uraraka Cheerleader/Torso.vmt
usermod/materials/models/My Hero Academia/Ochaco Uraraka Cheerleader/black.vtf
usermod/materials/models/My Hero Academia/Ochaco Uraraka Cheerleader/eye R.vtf
usermod/materials/models/My Hero Academia/Ochaco Uraraka Cheerleader/arms.vtf
usermod/materials/models/My Hero Academia/Ochaco Uraraka Cheerleader/face.vtf
usermod/materials/models/My Hero Academia/Ochaco Uraraka Cheerleader/Fingernails.vmt
usermod/materials/models/My Hero Academia/Ochaco Uraraka Cheerleader/Cheer.vmt
usermod/materials/models/My Hero Academia/Ochaco Uraraka Cheerleader/gym.vtf
usermod/materials/models/My Hero Academia/Ochaco Uraraka Cheerleader/eyes.vtf
usermod/materials/models/My Hero Academia/Ochaco Uraraka Cheerleader/bra.vmt
usermod/materials/models/My Hero Academia/Ochaco Uraraka Cheerleader/hair.vmt
usermod/materials/models/My Hero Academia/Ochaco Uraraka Cheerleader/legs.vmt
usermod/materials/models/My Hero Academia/Ochaco Uraraka Cheerleader/White.vtf
usermod/materials/models/My Hero Academia/Ochaco Uraraka Cheerleader/cheer.vtf
usermod/materials/models/My Hero Academia/Ochaco Uraraka Cheerleader/bra.vtf
usermod/materials/models/My Hero Academia/Ochaco Uraraka Cheerleader/face_shader3.vtf
usermod/materials/models/My Hero Academia/Ochaco Uraraka Cheerleader/eye L.vtf
usermod/materials/models/My Hero Academia/Ochaco Uraraka Cheerleader/toenails.vmt
usermod/materials/models/My Hero Academia/Ochaco Uraraka Cheerleader/Genitalia.vmt
usermod/materials/models/My Hero Academia/Ochaco Uraraka Cheerleader/Genitalia.vtf
usermod/materials/models/My Hero Academia/Ochaco Uraraka Cheerleader/eye Right.vmt
usermod/materials/models/My Hero Academia/Ochaco Uraraka Cheerleader/legs.vtf
usermod/materials/models/My Hero Academia/Ochaco Uraraka Cheerleader/Sclera.vmt
usermod/materials/models/My Hero Academia/Ochaco Uraraka Cheerleader/map.vtf
usermod/materials/models/My Hero Academia/Ochaco Uraraka Cheerleader/map bra.vtf
usermod/materials/models/My Hero Academia/Ochaco Uraraka Cheerleader/black.vmt
usermod/materials/models/My Hero Academia/Ochaco Uraraka Cheerleader/Toenails.vtf
usermod/materials/models/My Hero Academia/Ochaco Uraraka Cheerleader/face.vmt
usermod/materials/models/My Hero Academia/Ochaco Uraraka Cheerleader/Panties.vmt
usermod/materials/models/My Hero Academia/Ochaco Uraraka Cheerleader/lightwarp.vtf
usermod/materials/models/My Hero Academia/Ochaco Uraraka Cheerleader/Festival.vtf
usermod/materials/models/My Hero Academia/Ochaco Uraraka Cheerleader/eyes.vmt
usermod/materials/models/My Hero Academia/Ochaco Uraraka Cheerleader/eye Left.vmt
usermod/materials/models/Shared/n_flat.vtf
usermod/materials/models/Shared/bumpmap_flat.vtf
usermod/materials/models/Shared/plain_color.vtf
usermod/materials/models/Shared/lightwarp.vtf




Ochaco_Uraraka_pack.zip
6033
2021-03-25 08:45:39
28.85 MB
File contents:

usermod/models/My Hero Academia/Ochaco Uraraka/Ochaco Uraraka Casual.dx90.vtx
usermod/models/My Hero Academia/Ochaco Uraraka/ochaco uraraka gym.mdl
usermod/models/My Hero Academia/Ochaco Uraraka/Ochaco Uraraka Uravity suit ripped.dx90.vtx
usermod/models/My Hero Academia/Ochaco Uraraka/ochaco uraraka uravity suit cut.mdl
usermod/models/My Hero Academia/Ochaco Uraraka/ochaco uraraka uravity.mdl
usermod/models/My Hero Academia/Ochaco Uraraka/ochaco uraraka casual.vvd
usermod/models/My Hero Academia/Ochaco Uraraka/ochaco uraraka uravity.vvd
usermod/models/My Hero Academia/Ochaco Uraraka/Ochaco Uraraka Cheerleader.dx90.vtx
usermod/models/My Hero Academia/Ochaco Uraraka/ochaco uraraka uravity suit cut.vvd
usermod/models/My Hero Academia/Ochaco Uraraka/Ochaco Uraraka Festival.dx90.vtx
usermod/models/My Hero Academia/Ochaco Uraraka/Ochaco Uraraka UA.dx90.vtx
usermod/models/My Hero Academia/Ochaco Uraraka/Ochaco Uraraka Uravity suit cut.dx90.vtx
usermod/models/My Hero Academia/Ochaco Uraraka/ochaco uraraka uravity suit ripped.mdl
usermod/models/My Hero Academia/Ochaco Uraraka/Ochaco Uraraka Uravity.dx90.vtx
usermod/models/My Hero Academia/Ochaco Uraraka/ochaco uraraka ua.vvd
usermod/models/My Hero Academia/Ochaco Uraraka/ochaco uraraka swimsuit.vvd
usermod/models/My Hero Academia/Ochaco Uraraka/ochaco uraraka uravity suit ripped.vvd
usermod/models/My Hero Academia/Ochaco Uraraka/ochaco uraraka festival.vvd
usermod/models/My Hero Academia/Ochaco Uraraka/ochaco uraraka cheerleader.vvd
usermod/models/My Hero Academia/Ochaco Uraraka/ochaco uraraka gym.vvd
usermod/models/My Hero Academia/Ochaco Uraraka/ochaco uraraka casual.mdl
usermod/models/My Hero Academia/Ochaco Uraraka/ochaco uraraka cheerleader.mdl
usermod/models/My Hero Academia/Ochaco Uraraka/ochaco uraraka festival.mdl
usermod/models/My Hero Academia/Ochaco Uraraka/ochaco uraraka swimsuit.mdl
usermod/models/My Hero Academia/Ochaco Uraraka/Ochaco Uraraka Gym.dx90.vtx
usermod/models/My Hero Academia/Ochaco Uraraka/Ochaco Uraraka Swimsuit.dx90.vtx
usermod/models/My Hero Academia/Ochaco Uraraka/ochaco uraraka ua.mdl
usermod/scripts/sfm/animset/rig_MHA Ochaco Uraraka.py
usermod/materials/models/My Hero Academia/Ochaco Uraraka UA/Toenails.vtf
usermod/materials/models/My Hero Academia/Ochaco Uraraka UA/map.vtf
usermod/materials/models/My Hero Academia/Ochaco Uraraka UA/Backpack.vtf
usermod/materials/models/My Hero Academia/Ochaco Uraraka UA/uniform.vmt
usermod/materials/models/My Hero Academia/Ochaco Uraraka UA/Backpack.vmt
usermod/materials/models/My Hero Academia/Ochaco Uraraka UA/hair.vmt
usermod/materials/models/My Hero Academia/Ochaco Uraraka UA/uniform.vtf
usermod/materials/models/My Hero Academia/Ochaco Uraraka UA/face_shader3.vtf
usermod/materials/models/My Hero Academia/Ochaco Uraraka UA/legs.vtf
usermod/materials/models/My Hero Academia/Ochaco Uraraka UA/eye Right.vmt
usermod/materials/models/My Hero Academia/Ochaco Uraraka UA/bra.vtf
usermod/materials/models/My Hero Academia/Ochaco Uraraka UA/Torso.vtf
usermod/materials/models/My Hero Academia/Ochaco Uraraka UA/eye R.vtf
usermod/materials/models/My Hero Academia/Ochaco Uraraka UA/face.vtf
usermod/materials/models/My Hero Academia/Ochaco Uraraka UA/map bra.vtf
usermod/materials/models/My Hero Academia/Ochaco Uraraka UA/Casual.vmt
usermod/materials/models/My Hero Academia/Ochaco Uraraka UA/toenails.vmt
usermod/materials/models/My Hero Academia/Ochaco Uraraka UA/eyes.vmt
usermod/materials/models/My Hero Academia/Ochaco Uraraka UA/White.vtf
usermod/materials/models/My Hero Academia/Ochaco Uraraka UA/Arms.vmt
usermod/materials/models/My Hero Academia/Ochaco Uraraka UA/lightwarp.vtf
usermod/materials/models/My Hero Academia/Ochaco Uraraka UA/Shirt.vmt
usermod/materials/models/My Hero Academia/Ochaco Uraraka UA/legs.vmt
usermod/materials/models/My Hero Academia/Ochaco Uraraka UA/Genitalia.vtf
usermod/materials/models/My Hero Academia/Ochaco Uraraka UA/shirt.vtf
usermod/materials/models/My Hero Academia/Ochaco Uraraka UA/Torso.vmt
usermod/materials/models/My Hero Academia/Ochaco Uraraka UA/eyes.vtf
usermod/materials/models/My Hero Academia/Ochaco Uraraka UA/Sclera.vmt
usermod/materials/models/My Hero Academia/Ochaco Uraraka UA/arms.vtf
usermod/materials/models/My Hero Academia/Ochaco Uraraka UA/eye Left.vmt
usermod/materials/models/My Hero Academia/Ochaco Uraraka UA/hair.vtf
usermod/materials/models/My Hero Academia/Ochaco Uraraka UA/Fingernails.vmt
usermod/materials/models/My Hero Academia/Ochaco Uraraka UA/face.vmt
usermod/materials/models/My Hero Academia/Ochaco Uraraka UA/Genitalia.vmt
usermod/materials/models/My Hero Academia/Ochaco Uraraka UA/eye L.vtf
usermod/materials/models/My Hero Academia/Ochaco Uraraka UA/bra.vmt
usermod/materials/models/My Hero Academia/Ochaco Uraraka UA/Panties.vmt
usermod/materials/models/My Hero Academia/Ochaco Uraraka UA/Casual.vtf
usermod/materials/models/My Hero Academia/Ochaco Uraraka Cheerleader/Toenails.vtf
usermod/materials/models/My Hero Academia/Ochaco Uraraka Cheerleader/map.vtf
usermod/materials/models/My Hero Academia/Ochaco Uraraka Cheerleader/Festival.vmt
usermod/materials/models/My Hero Academia/Ochaco Uraraka Cheerleader/black.vtf
usermod/materials/models/My Hero Academia/Ochaco Uraraka Cheerleader/hair.vmt
usermod/materials/models/My Hero Academia/Ochaco Uraraka Cheerleader/face_shader3.vtf
usermod/materials/models/My Hero Academia/Ochaco Uraraka Cheerleader/gym.vtf
usermod/materials/models/My Hero Academia/Ochaco Uraraka Cheerleader/legs.vtf
usermod/materials/models/My Hero Academia/Ochaco Uraraka Cheerleader/eye Right.vmt
usermod/materials/models/My Hero Academia/Ochaco Uraraka Cheerleader/bra.vtf
usermod/materials/models/My Hero Academia/Ochaco Uraraka Cheerleader/Torso.vtf
usermod/materials/models/My Hero Academia/Ochaco Uraraka Cheerleader/eye R.vtf
usermod/materials/models/My Hero Academia/Ochaco Uraraka Cheerleader/face.vtf
usermod/materials/models/My Hero Academia/Ochaco Uraraka Cheerleader/map bra.vtf
usermod/materials/models/My Hero Academia/Ochaco Uraraka Cheerleader/toenails.vmt
usermod/materials/models/My Hero Academia/Ochaco Uraraka Cheerleader/eyes.vmt
usermod/materials/models/My Hero Academia/Ochaco Uraraka Cheerleader/White.vtf
usermod/materials/models/My Hero Academia/Ochaco Uraraka Cheerleader/Arms.vmt
usermod/materials/models/My Hero Academia/Ochaco Uraraka Cheerleader/lightwarp.vtf
usermod/materials/models/My Hero Academia/Ochaco Uraraka Cheerleader/cheer.vtf
usermod/materials/models/My Hero Academia/Ochaco Uraraka Cheerleader/legs.vmt
usermod/materials/models/My Hero Academia/Ochaco Uraraka Cheerleader/Festival.vtf
usermod/materials/models/My Hero Academia/Ochaco Uraraka Cheerleader/Genitalia.vtf
usermod/materials/models/My Hero Academia/Ochaco Uraraka Cheerleader/Torso.vmt
usermod/materials/models/My Hero Academia/Ochaco Uraraka Cheerleader/eyes.vtf
usermod/materials/models/My Hero Academia/Ochaco Uraraka Cheerleader/Sclera.vmt
usermod/materials/models/My Hero Academia/Ochaco Uraraka Cheerleader/Cheer.vmt
usermod/materials/models/My Hero Academia/Ochaco Uraraka Cheerleader/arms.vtf
usermod/materials/models/My Hero Academia/Ochaco Uraraka Cheerleader/eye Left.vmt
usermod/materials/models/My Hero Academia/Ochaco Uraraka Cheerleader/hair.vtf
usermod/materials/models/My Hero Academia/Ochaco Uraraka Cheerleader/Fingernails.vmt
usermod/materials/models/My Hero Academia/Ochaco Uraraka Cheerleader/face.vmt
usermod/materials/models/My Hero Academia/Ochaco Uraraka Cheerleader/Genitalia.vmt
usermod/materials/models/My Hero Academia/Ochaco Uraraka Cheerleader/eye L.vtf
usermod/materials/models/My Hero Academia/Ochaco Uraraka Cheerleader/bra.vmt
usermod/materials/models/My Hero Academia/Ochaco Uraraka Cheerleader/black.vmt
usermod/materials/models/My Hero Academia/Ochaco Uraraka Cheerleader/Panties.vmt
usermod/materials/models/My Hero Academia/Ochaco Uraraka Cheerleader/Gym.vmt
usermod/materials/models/My Hero Academia/Ochaco Uraraka Uravity/Toenails.vtf
usermod/materials/models/My Hero Academia/Ochaco Uraraka Uravity/map.vtf
usermod/materials/models/My Hero Academia/Ochaco Uraraka Uravity/hair.vmt
usermod/materials/models/My Hero Academia/Ochaco Uraraka Uravity/uniform.vtf
usermod/materials/models/My Hero Academia/Ochaco Uraraka Uravity/face_shader3.vtf
usermod/materials/models/My Hero Academia/Ochaco Uraraka Uravity/visor.vtf
usermod/materials/models/My Hero Academia/Ochaco Uraraka Uravity/legs.vtf
usermod/materials/models/My Hero Academia/Ochaco Uraraka Uravity/eye Right.vmt
usermod/materials/models/My Hero Academia/Ochaco Uraraka Uravity/bra.vtf
usermod/materials/models/My Hero Academia/Ochaco Uraraka Uravity/Torso.vtf
usermod/materials/models/My Hero Academia/Ochaco Uraraka Uravity/eye R.vtf
usermod/materials/models/My Hero Academia/Ochaco Uraraka Uravity/face.vtf
usermod/materials/models/My Hero Academia/Ochaco Uraraka Uravity/map bra.vtf
usermod/materials/models/My Hero Academia/Ochaco Uraraka Uravity/toenails.vmt
usermod/materials/models/My Hero Academia/Ochaco Uraraka Uravity/Helmet.vtf
usermod/materials/models/My Hero Academia/Ochaco Uraraka Uravity/eyes.vmt
usermod/materials/models/My Hero Academia/Ochaco Uraraka Uravity/White.vtf
usermod/materials/models/My Hero Academia/Ochaco Uraraka Uravity/Arms.vmt
usermod/materials/models/My Hero Academia/Ochaco Uraraka Uravity/lightwarp.vtf
usermod/materials/models/My Hero Academia/Ochaco Uraraka Uravity/legs.vmt
usermod/materials/models/My Hero Academia/Ochaco Uraraka Uravity/Genitalia.vtf
usermod/materials/models/My Hero Academia/Ochaco Uraraka Uravity/shirt.vtf
usermod/materials/models/My Hero Academia/Ochaco Uraraka Uravity/Torso.vmt
usermod/materials/models/My Hero Academia/Ochaco Uraraka Uravity/eyes.vtf
usermod/materials/models/My Hero Academia/Ochaco Uraraka Uravity/Sclera.vmt
usermod/materials/models/My Hero Academia/Ochaco Uraraka Uravity/arms.vtf
usermod/materials/models/My Hero Academia/Ochaco Uraraka Uravity/eye Left.vmt
usermod/materials/models/My Hero Academia/Ochaco Uraraka Uravity/hair.vtf
usermod/materials/models/My Hero Academia/Ochaco Uraraka Uravity/Fingernails.vmt
usermod/materials/models/My Hero Academia/Ochaco Uraraka Uravity/face.vmt
usermod/materials/models/My Hero Academia/Ochaco Uraraka Uravity/Genitalia.vmt
usermod/materials/models/My Hero Academia/Ochaco Uraraka Uravity/eye L.vtf
usermod/materials/models/My Hero Academia/Ochaco Uraraka Uravity/bra.vmt
usermod/materials/models/My Hero Academia/Ochaco Uraraka Uravity/Main.vmt
usermod/materials/models/My Hero Academia/Ochaco Uraraka Uravity/Helmet.vmt
usermod/materials/models/My Hero Academia/Ochaco Uraraka Uravity/Panties.vmt
usermod/materials/models/My Hero Academia/Ochaco Uraraka Uravity/visor.vmt
usermod/materials/models/My Hero Academia/Ochaco Uraraka Uravity/Main.vtf
usermod/materials/models/Shared/n_flat.vtf
usermod/materials/models/Shared/bumpmap_flat.vtf
usermod/materials/models/Shared/lightwarp.vtf
usermod/materials/models/Shared/plain_color.vtf