Furry content
This content is marked as Furry/Anthro content. You can toggle your preferences regarding this content type in your account settings.
Adult content
This content is marked as Adult/NSFW content. You can toggle your preferences regarding this content type in your account settings.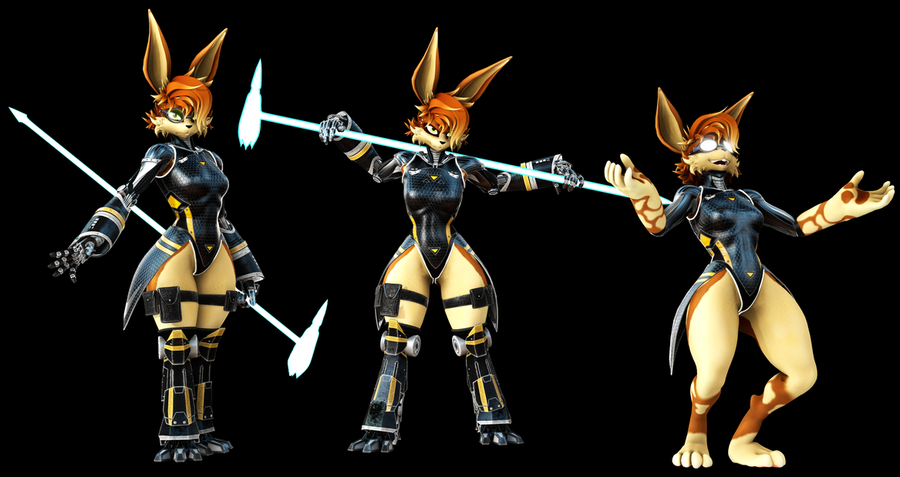 Show more
Description
The Cyber Bunno its ready for SLAM!
After 6 months of her initial creation in conceptual artwork the New Hazard Core OC its ready and available for everyone for Easter season!
Holly Zanzibar its another character in the line up of my OCs (like WAF troops, Katerine, Alilkira and Yennsee) more specifically The spiritual successor of Alilkira in terms of lore but different situation and narrative
Of course, later gonna fill the OC narrative in a proper wiki but some topics can be show here: https://www.furaffinity.net/view/40641787/ and here https://www.furaffinity.net/view/40142694/
Again another filthy excuse to add new thing to the actual base of models Holly now initiates a new Generations of models what was slowly improved since Alilkira what was the GEN 4.5+ Now with this one will be a more generational step of models with holly
In a nutshell new things was added on her to be the next test bed for other projects
Specially the implement of the Automatic CORRECTIVE SHAPE KEYS will add a more options and flexibility to the face expressions triggering a hidden flex when some in specific are On
aswell other techniques what improved the export process and allow this 150.000 vertex character be in Source + some experience in the modelling department and other what allowed this character looks wild in the hair and cheeks and some new stuff learned in the paint process and all stuff added in rouge model :3
the model came with 3 different main body variants 1 with no mechanical limbs and digitigrade feets
2 with mechanic limbs, one with digitigrade feets and another with Biped setup
as basic clothing,
-an jumpsuit
-glasses and a Hammer weapon prop
-Sweater prop
-Panties
-Added bodygrouped band-aid in nose
-extra flexes on suit on bodygroups like faring and boxes
-weird refraction slam prop
And a Blend file if you are interested in other projects with her in blender or other engine can be found in this repository place where i upload all the existing available models data https://www.furaffinity.net/journal/9824430
TODO & Knowed Bugs:
-Clipping in the hand if you use Sweater in robo limbs variants
to prevent Clipping use
-Breast press and -Cloth fix
flexes when the suit its attached
in order to attach cloths please follow this simple guide https://drive.google.com/file/d/1S4CfK48qDM68lxPp-f6pNAHRINmukJm-/view?usp=sharing
and Again! thanks for the support and patience!!
---
personal Notes:
Holly its one of my newest character, argumentally as well in production, one of her main goals was improve the knowledge i had in flexes for her expressions making it fun to use her, aswell some humor companion to Alilkira, Also she came out as cool as i expected and gonna give room to characters complex like her in the future!
Smoll, troublesome, and sexy, i hope you enjoy use her! and as always, Huge thanks for this support <3
---
credits for the posters at the end:
https://twitter.com/Lewd_Noodz/status/1376690440783724548/photo/1 https://www.furaffinity.net/view/41266472/ https://twitter.com/SFM_Deer_Anims/status/1348266681672593410
SFMLab is a free service. However, it costs about $0.03 to deliver you a 1GB file. With over 20TB of traffic every month and growing, SFMLab needs your help. If only 1% of our users each gave us $5 for a single month, we could keep the site running for several years.
Filename
Downloads
Created
Filesize
Files
Holly_Hornet_v1.20.7z
4501
2021-03-31 21:22:11
84.3 MB
File contents:

Holly Hornet v1.20/cfg/sfm_defaultanimationgroups.txt
Holly Hornet v1.20/models/fursonas/HazardCore/RCP2/Cosmetics/spark.mdl
Holly Hornet v1.20/models/fursonas/HazardCore/RCP2/Cosmetics/hollyprotosuit.mdl
Holly Hornet v1.20/models/fursonas/HazardCore/RCP2/Cosmetics/HollyProtosuit.dx90.vtx
Holly Hornet v1.20/models/fursonas/HazardCore/RCP2/Cosmetics/hollypanties.vvd
Holly Hornet v1.20/models/fursonas/HazardCore/RCP2/Cosmetics/hollypanties.mdl
Holly Hornet v1.20/models/fursonas/HazardCore/RCP2/Cosmetics/Hollypanties.dx90.vtx
Holly Hornet v1.20/models/fursonas/HazardCore/RCP2/Cosmetics/HollyLenses.dx90.vtx
Holly Hornet v1.20/models/fursonas/HazardCore/RCP2/Cosmetics/hollyhammer.mdl
Holly Hornet v1.20/models/fursonas/HazardCore/RCP2/Cosmetics/hollylenses.mdl
Holly Hornet v1.20/models/fursonas/HazardCore/RCP2/Cosmetics/HollySweater.dx90.vtx
Holly Hornet v1.20/models/fursonas/HazardCore/RCP2/Cosmetics/spark.vvd
Holly Hornet v1.20/models/fursonas/HazardCore/RCP2/Cosmetics/SPARK.dx90.vtx
Holly Hornet v1.20/models/fursonas/HazardCore/RCP2/Cosmetics/hollysweater.mdl
Holly Hornet v1.20/models/fursonas/HazardCore/RCP2/Cosmetics/hollyprotosuit.vvd
Holly Hornet v1.20/models/fursonas/HazardCore/RCP2/Cosmetics/hollylenses.vvd
Holly Hornet v1.20/models/fursonas/HazardCore/RCP2/Cosmetics/hollysweater.vvd
Holly Hornet v1.20/models/fursonas/HazardCore/RCP2/Cosmetics/HollyHammer.dx90.vtx
Holly Hornet v1.20/models/fursonas/HazardCore/RCP2/Cosmetics/hollyhammer.vvd
Holly Hornet v1.20/models/fursonas/HazardCore/RCP2/Bodies/HollyNOMECH.dx90.vtx
Holly Hornet v1.20/models/fursonas/HazardCore/RCP2/Bodies/HollyMECHLimbsBIP.dx90.vtx
Holly Hornet v1.20/models/fursonas/HazardCore/RCP2/Bodies/hollynomech.vvd
Holly Hornet v1.20/models/fursonas/HazardCore/RCP2/Bodies/hollymechlimbsdigi.mdl
Holly Hornet v1.20/models/fursonas/HazardCore/RCP2/Bodies/hollynomech.mdl
Holly Hornet v1.20/models/fursonas/HazardCore/RCP2/Bodies/hollymechlimbsdigi.vvd
Holly Hornet v1.20/models/fursonas/HazardCore/RCP2/Bodies/HollyMECHLimbsDIGI.dx90.vtx
Holly Hornet v1.20/models/fursonas/HazardCore/RCP2/Bodies/hollymechlimbsbip.vvd
Holly Hornet v1.20/models/fursonas/HazardCore/RCP2/Bodies/hollymechlimbsbip.mdl
Holly Hornet v1.20/scripts/sfm/animset/rig_hollynomech.py
Holly Hornet v1.20/materials/models/fursonas/HollyZan/eyeR.vtf
Holly Hornet v1.20/materials/models/fursonas/HollyZan/wires.vmt
Holly Hornet v1.20/materials/models/fursonas/HollyZan/eye-cornea1.vtf
Holly Hornet v1.20/materials/models/fursonas/HollyZan/black.vtf
Holly Hornet v1.20/materials/models/fursonas/HollyZan/eye-extra.vtf
Holly Hornet v1.20/materials/models/fursonas/HollyZan/1_wing.vtf
Holly Hornet v1.20/materials/models/fursonas/HollyZan/eyeball_r2.vmt
Holly Hornet v1.20/materials/models/fursonas/HollyZan/ring.vmt
Holly Hornet v1.20/materials/models/fursonas/HollyZan/hair.vmt
Holly Hornet v1.20/materials/models/fursonas/HollyZan/cartoon_chrome.hdr.vtf
Holly Hornet v1.20/materials/models/fursonas/HollyZan/pupil_ambient.vtf
Holly Hornet v1.20/materials/models/fursonas/HollyZan/band.vmt
Holly Hornet v1.20/materials/models/fursonas/HollyZan/Lids.vmt
Holly Hornet v1.20/materials/models/fursonas/HollyZan/eyeball_r3.vmt
Holly Hornet v1.20/materials/models/fursonas/HollyZan/N_head.vtf
Holly Hornet v1.20/materials/models/fursonas/HollyZan/Furp.vtf
Holly Hornet v1.20/materials/models/fursonas/HollyZan/cases.vmt
Holly Hornet v1.20/materials/models/fursonas/HollyZan/softchrome.hdr.vtf
Holly Hornet v1.20/materials/models/fursonas/HollyZan/MechArm.vmt
Holly Hornet v1.20/materials/models/fursonas/HollyZan/N_Wing.vtf
Holly Hornet v1.20/materials/models/fursonas/HollyZan/hN.vtf
Holly Hornet v1.20/materials/models/fursonas/HollyZan/body.vmt
Holly Hornet v1.20/materials/models/fursonas/HollyZan/nainl.vtf
Holly Hornet v1.20/materials/models/fursonas/HollyZan/eyeball_l3.vmt
Holly Hornet v1.20/materials/models/fursonas/HollyZan/1_hair.vtf
Holly Hornet v1.20/materials/models/fursonas/HollyZan/n_interior.vtf
Holly Hornet v1.20/materials/models/fursonas/HollyZan/hand.vmt
Holly Hornet v1.20/materials/models/fursonas/HollyZan/white.vtf
Holly Hornet v1.20/materials/models/fursonas/HollyZan/head.vmt
Holly Hornet v1.20/materials/models/fursonas/HollyZan/eyeball_l2.vmt
Holly Hornet v1.20/materials/models/fursonas/HollyZan/1_genitals.vtf
Holly Hornet v1.20/materials/models/fursonas/HollyZan/eye.vtf
Holly Hornet v1.20/materials/models/fursonas/HollyZan/1_interior.vtf
Holly Hornet v1.20/materials/models/fursonas/HollyZan/eye-cornea.vtf
Holly Hornet v1.20/materials/models/fursonas/HollyZan/eyeball_l1.vmt
Holly Hornet v1.20/materials/models/fursonas/HollyZan/Nband.vtf
Holly Hornet v1.20/materials/models/fursonas/HollyZan/1_head.vtf
Holly Hornet v1.20/materials/models/fursonas/HollyZan/1_hair2.vtf
Holly Hornet v1.20/materials/models/fursonas/HollyZan/1_body.vtf
Holly Hornet v1.20/materials/models/fursonas/HollyZan/legrob.vmt
Holly Hornet v1.20/materials/models/fursonas/HollyZan/n_hair.vtf
Holly Hornet v1.20/materials/models/fursonas/HollyZan/eye-cornea2.vtf
Holly Hornet v1.20/materials/models/fursonas/HollyZan/e_body.vtf
Holly Hornet v1.20/materials/models/fursonas/HollyZan/N_body.vtf
Holly Hornet v1.20/materials/models/fursonas/HollyZan/blue.vtf
Holly Hornet v1.20/materials/models/fursonas/HollyZan/eyeball_l.vmt
Holly Hornet v1.20/materials/models/fursonas/HollyZan/softcube.hdr.vtf
Holly Hornet v1.20/materials/models/fursonas/HollyZan/teeths.vmt
Holly Hornet v1.20/materials/models/fursonas/HollyZan/eye2.vtf
Holly Hornet v1.20/materials/models/fursonas/HollyZan/eyeball_r1.vmt
Holly Hornet v1.20/materials/models/fursonas/HollyZan/muscles.vmt
Holly Hornet v1.20/materials/models/fursonas/HollyZan/eyeDilated1.vtf
Holly Hornet v1.20/materials/models/fursonas/HollyZan/eyeball_r.vmt
Holly Hornet v1.20/materials/models/fursonas/HollyZan/Genitals.vmt
Holly Hornet v1.20/materials/models/fursonas/HollyZan/eye-reflection-cubemap-.vtf
Holly Hornet v1.20/materials/models/fursonas/HollyZan/band.vtf
Holly Hornet v1.20/materials/models/fursonas/HollyZan/Mech/1_hand.vtf
Holly Hornet v1.20/materials/models/fursonas/HollyZan/Mech/1_leg.vtf
Holly Hornet v1.20/materials/models/fursonas/HollyZan/Mech/n_mecharm.vtf
Holly Hornet v1.20/materials/models/fursonas/HollyZan/Mech/n_leg.vtf
Holly Hornet v1.20/materials/models/fursonas/HollyZan/Mech/1_cases.vtf
Holly Hornet v1.20/materials/models/fursonas/HollyZan/Mech/1_mus.vtf
Holly Hornet v1.20/materials/models/fursonas/HollyZan/Mech/1_mecharm.vtf
Holly Hornet v1.20/materials/models/fursonas/HollyZan/Mech/n_hand.vtf
Holly Hornet v1.20/materials/models/fursonas/HollyZan/Mech/n_mus.vtf
Holly Hornet v1.20/materials/models/fursonas/HollyZan/Mech/n_cases.vtf
Holly Hornet v1.20/materials/models/fursonas/HollyZan/underwear/n_sw.vtf
Holly Hornet v1.20/materials/models/fursonas/HollyZan/underwear/rosepanty.vtf
Holly Hornet v1.20/materials/models/fursonas/HollyZan/underwear/nainl.vtf
Holly Hornet v1.20/materials/models/fursonas/HollyZan/underwear/bura_2.vtf
Holly Hornet v1.20/materials/models/fursonas/HollyZan/underwear/bura_1.vmt
Holly Hornet v1.20/materials/models/fursonas/HollyZan/underwear/Material.vmt
Holly Hornet v1.20/materials/models/fursonas/HollyZan/underwear/1_sw.vtf
Holly Hornet v1.20/materials/models/fursonas/HollyZan/suit/softgold.hdr.vtf
Holly Hornet v1.20/materials/models/fursonas/HollyZan/suit/warpmap.vtf
Holly Hornet v1.20/materials/models/fursonas/HollyZan/suit/hammer.vmt
Holly Hornet v1.20/materials/models/fursonas/HollyZan/suit/n_suit.vtf
Holly Hornet v1.20/materials/models/fursonas/HollyZan/suit/ring.vmt
Holly Hornet v1.20/materials/models/fursonas/HollyZan/suit/gold.vmt
Holly Hornet v1.20/materials/models/fursonas/HollyZan/suit/hammerlit.vmt
Holly Hornet v1.20/materials/models/fursonas/HollyZan/suit/SpinalGyro.vmt
Holly Hornet v1.20/materials/models/fursonas/HollyZan/suit/1_mark.vtf
Holly Hornet v1.20/materials/models/fursonas/HollyZan/suit/visor1.vtf
Holly Hornet v1.20/materials/models/fursonas/HollyZan/suit/n_mark.vtf
Holly Hornet v1.20/materials/models/fursonas/HollyZan/suit/suit.vmt
Holly Hornet v1.20/materials/models/fursonas/HollyZan/suit/glass.vmt
Holly Hornet v1.20/materials/models/fursonas/HollyZan/suit/mark.vmt
Holly Hornet v1.20/materials/models/fursonas/HollyZan/suit/n_gyro.vtf
Holly Hornet v1.20/materials/models/fursonas/HollyZan/suit/glass3.vmt
Holly Hornet v1.20/materials/models/fursonas/HollyZan/suit/line.vmt
Holly Hornet v1.20/materials/models/fursonas/HollyZan/suit/1_gyro.vtf
Holly Hornet v1.20/materials/models/fursonas/HollyZan/suit/1_suit.vtf
Holly Hornet v1.20/materials/models/fursonas/HollyZan/suit/glass1.vmt
Holly Hornet v1.20/materials/models/fursonas/HollyZan/suit/glass2.vmt