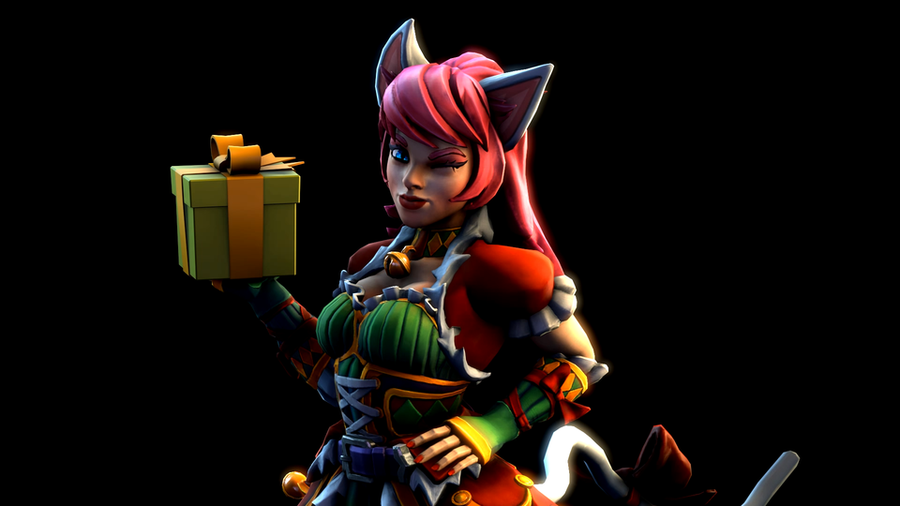 Show more
Description
MORE MAEVE MODELS WILL COME WITH THE SAME IMPROVEMENTS
Hello everyone, after a lot of work I have improved Maeve's model as much as I could and I plan to do the same with her other skins.
-I have modified her armature.
-I added bodygroups.
-I improved her mouth and created a better tongue.
-Face flexes, which are not the best but I did what I could since her face is not very well rigged xD.
It comes with two more models that give a wet/sweaty surface to Maeve's model.
Extracted from here: https://www.deviantart.com/greetdoufly/art/Paladins-Maeve-Merrymaker-for-XNAlara-793802010
SFMLab is a free service. However, it costs about $0.03 to deliver you a 1GB file. With over 20TB of traffic every month and growing, SFMLab needs your help. If only 1% of our users each gave us $5 for a single month, we could keep the site running for several years.
Filename
Downloads
Created
Filesize
Files
Merrymakermaeveenhanced_DKRyBpc.rar
1109
2021-04-14 22:20:53
12.7 MB
File contents:

Sweatdrops/How to use.txt
Sweatdrops/prev.png
MODEL/usermod/models/jgrosso/MaeveMerrymakerEnhanced/maevemerrymakerenhancedsfm.vvd
MODEL/usermod/models/jgrosso/MaeveMerrymakerEnhanced/merrymakerknife.vvd
MODEL/usermod/models/jgrosso/MaeveMerrymakerEnhanced/wetmerrycustom.vvd
MODEL/usermod/models/jgrosso/MaeveMerrymakerEnhanced/FaceWet.dx90.vtx
MODEL/usermod/models/jgrosso/MaeveMerrymakerEnhanced/wetmerrycustom.mdl
MODEL/usermod/models/jgrosso/MaeveMerrymakerEnhanced/MerryMakerKnife.dx90.vtx
MODEL/usermod/models/jgrosso/MaeveMerrymakerEnhanced/MaeveMerrymakerEnhancedSFM.dx90.vtx
MODEL/usermod/models/jgrosso/MaeveMerrymakerEnhanced/maevemerrymakerenhancedsfm.mdl
MODEL/usermod/models/jgrosso/MaeveMerrymakerEnhanced/facewet.mdl
MODEL/usermod/models/jgrosso/MaeveMerrymakerEnhanced/merrymakerknife.mdl
MODEL/usermod/models/jgrosso/MaeveMerrymakerEnhanced/facewet.vvd
MODEL/usermod/models/jgrosso/MaeveMerrymakerEnhanced/WetMerryCustom.dx90.vtx
MODEL/usermod/materials/models/jgrosso/MaeveMerrymakerEnhanced/top-eyes_emission.vtf
MODEL/usermod/materials/models/jgrosso/MaeveMerrymakerEnhanced/bottom_bump.vtf
MODEL/usermod/materials/models/jgrosso/MaeveMerrymakerEnhanced/top.vmt
MODEL/usermod/materials/models/jgrosso/MaeveMerrymakerEnhanced/knife_n.vtf
MODEL/usermod/materials/models/jgrosso/MaeveMerrymakerEnhanced/top_bump.vtf
MODEL/usermod/materials/models/jgrosso/MaeveMerrymakerEnhanced/Wet.vmt
MODEL/usermod/materials/models/jgrosso/MaeveMerrymakerEnhanced/Blush.vmt
MODEL/usermod/materials/models/jgrosso/MaeveMerrymakerEnhanced/Metal2.vmt
MODEL/usermod/materials/models/jgrosso/MaeveMerrymakerEnhanced/KnifeFruit.vmt
MODEL/usermod/materials/models/jgrosso/MaeveMerrymakerEnhanced/WetFace.vmt
MODEL/usermod/materials/models/jgrosso/MaeveMerrymakerEnhanced/bottom.vtf
MODEL/usermod/materials/models/jgrosso/MaeveMerrymakerEnhanced/Metal.vmt
MODEL/usermod/materials/models/jgrosso/MaeveMerrymakerEnhanced/KnifeBody.vmt
MODEL/usermod/materials/models/jgrosso/MaeveMerrymakerEnhanced/Eyes.vmt
MODEL/usermod/materials/models/jgrosso/MaeveMerrymakerEnhanced/knife_d.vtf
MODEL/usermod/materials/models/jgrosso/MaeveMerrymakerEnhanced/facewet.vtf
MODEL/usermod/materials/models/jgrosso/MaeveMerrymakerEnhanced/Tongue.vmt
MODEL/usermod/materials/models/jgrosso/MaeveMerrymakerEnhanced/knife_s.vtf
MODEL/usermod/materials/models/jgrosso/MaeveMerrymakerEnhanced/wetbody.vtf
MODEL/usermod/materials/models/jgrosso/MaeveMerrymakerEnhanced/blush.vtf
MODEL/usermod/materials/models/jgrosso/MaeveMerrymakerEnhanced/normal.vtf
MODEL/usermod/materials/models/jgrosso/MaeveMerrymakerEnhanced/wetbodywater.vtf
MODEL/usermod/materials/models/jgrosso/MaeveMerrymakerEnhanced/KnifeMetal.vmt
MODEL/usermod/materials/models/jgrosso/MaeveMerrymakerEnhanced/top.vtf
MODEL/usermod/materials/models/jgrosso/MaeveMerrymakerEnhanced/bottom.vmt
MODEL/usermod/materials/models/jgrosso/MaeveMerrymakerEnhanced/bodymaevefacec.vtf