Adult content
This content is marked as Adult/NSFW content. You can toggle your preferences regarding this content type in your account settings.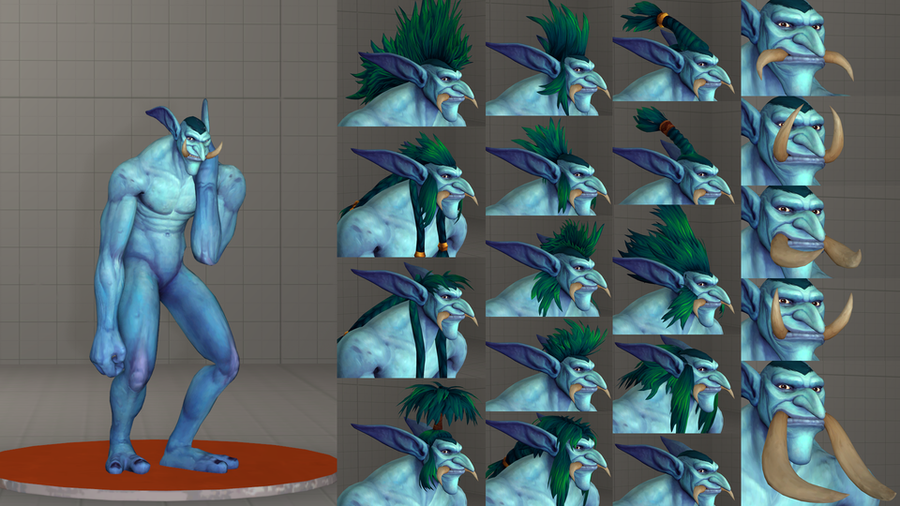 Show more
Description
Good evening, everyone.
I don't do such things professionally, and I make models only for personal use, but since I'm trying to get away from SFM, I want to share my work, some models that have accumulated during this time, because it's a shame that all my work will be lost.
MEDIUM QUALITY MODELS!
Use it at your own risk, but I think for beginners it may be interesting.
The Troll model from the World of Warcraft (Blizzard).
The model has all the custom appearance settings available in the game (including Shadowlands). All parameters can be viewed in the model settings.
---
Model Settings:
Body - 2 options (with and without dick)
Hair - 17 options (due to the large amount of hair, some are tied to 1 bone)
Tusk - 10 options
Earring - 5 options
NoseRing - 2 options
100% of the bones. I warn you, you may find a lot of bones. This is done so that you can somehow work with hair that has all the variations at once
---
You can turn the cock on and off. (made for those who want to use third-party models)
I added a few options for skins, so that those who are just starting out could have at least some variation. (Because those who understand the program can easily change the skin themselves in their preferences)
Also in the folder there is a rig, just in case (this rig is suitable for all my models)
If you are interested, then most likely I will post a few more similar prefabricated models
[And yes, I communicate using translate, so don't be surprised why the text is so strange]
If you have any questions or you found a bug and I can fix it you can contact me here
SFMLab is a free service. However, it costs about $0.03 to deliver you a 1GB file. With over 20TB of traffic every month and growing, SFMLab needs your help. If only 1% of our users each gave us $5 for a single month, we could keep the site running for several years.
Filename
Downloads
Created
Filesize
Files
Troll.rar
1940
2021-05-04 01:24:26
15.7 MB
File contents:

Troll/MrKipler.py
Troll/models/amymy/warcraft/heroes/player/troll/troll/troll.mdl
Troll/models/amymy/warcraft/heroes/player/troll/troll/Troll.dx90.vtx
Troll/models/amymy/warcraft/heroes/player/troll/troll/troll.vvd
Troll/materials/models/amymy/warcraft/heroes/player/troll/troll/Body_5.vtf
Troll/materials/models/amymy/warcraft/heroes/player/troll/troll/Hair_8.vmt
Troll/materials/models/amymy/warcraft/heroes/player/troll/troll/Penis_3.vmt
Troll/materials/models/amymy/warcraft/heroes/player/troll/troll/Eyes_2.vmt
Troll/materials/models/amymy/warcraft/heroes/player/troll/troll/Penis_3.vtf
Troll/materials/models/amymy/warcraft/heroes/player/troll/troll/Hair_8.vtf
Troll/materials/models/amymy/warcraft/heroes/player/troll/troll/Penis.vtf
Troll/materials/models/amymy/warcraft/heroes/player/troll/troll/Body_8.vmt
Troll/materials/models/amymy/warcraft/heroes/player/troll/troll/Hair_2.vtf
Troll/materials/models/amymy/warcraft/heroes/player/troll/troll/Hair_3.vmt
Troll/materials/models/amymy/warcraft/heroes/player/troll/troll/Eyes_7.vmt
Troll/materials/models/amymy/warcraft/heroes/player/troll/troll/Penis_8.vmt
Troll/materials/models/amymy/warcraft/heroes/player/troll/troll/Hair_n.vtf
Troll/materials/models/amymy/warcraft/heroes/player/troll/troll/Penis_4.vmt
Troll/materials/models/amymy/warcraft/heroes/player/troll/troll/Body_5.vmt
Troll/materials/models/amymy/warcraft/heroes/player/troll/troll/Eyes_2.vtf
Troll/materials/models/amymy/warcraft/heroes/player/troll/troll/Eyes_7.vtf
Troll/materials/models/amymy/warcraft/heroes/player/troll/troll/Penis_7.vmt
Troll/materials/models/amymy/warcraft/heroes/player/troll/troll/Body_8.vtf
Troll/materials/models/amymy/warcraft/heroes/player/troll/troll/Penis_2.vmt
Troll/materials/models/amymy/warcraft/heroes/player/troll/troll/Accessories_n.vtf
Troll/materials/models/amymy/warcraft/heroes/player/troll/troll/Eyes_5.vtf
Troll/materials/models/amymy/warcraft/heroes/player/troll/troll/Body_7.vtf
Troll/materials/models/amymy/warcraft/heroes/player/troll/troll/Eyes_3.vtf
Troll/materials/models/amymy/warcraft/heroes/player/troll/troll/Penis_5.vtf
Troll/materials/models/amymy/warcraft/heroes/player/troll/troll/Penis_6.vmt
Troll/materials/models/amymy/warcraft/heroes/player/troll/troll/Penis_2.vtf
Troll/materials/models/amymy/warcraft/heroes/player/troll/troll/Hair_2.vmt
Troll/materials/models/amymy/warcraft/heroes/player/troll/troll/Eyes_3.vmt
Troll/materials/models/amymy/warcraft/heroes/player/troll/troll/Body_n.vtf
Troll/materials/models/amymy/warcraft/heroes/player/troll/troll/Eyes.vtf
Troll/materials/models/amymy/warcraft/heroes/player/troll/troll/Penis_4.vtf
Troll/materials/models/amymy/warcraft/heroes/player/troll/troll/Body_3.vtf
Troll/materials/models/amymy/warcraft/heroes/player/troll/troll/Eyes_8.vtf
Troll/materials/models/amymy/warcraft/heroes/player/troll/troll/Eyes_8.vmt
Troll/materials/models/amymy/warcraft/heroes/player/troll/troll/Hair_6.vtf
Troll/materials/models/amymy/warcraft/heroes/player/troll/troll/Hair_4.vtf
Troll/materials/models/amymy/warcraft/heroes/player/troll/troll/Hair.vmt
Troll/materials/models/amymy/warcraft/heroes/player/troll/troll/Eyes.vmt
Troll/materials/models/amymy/warcraft/heroes/player/troll/troll/Penis_n.vtf
Troll/materials/models/amymy/warcraft/heroes/player/troll/troll/Hair_5.vmt
Troll/materials/models/amymy/warcraft/heroes/player/troll/troll/Hair_6.vmt
Troll/materials/models/amymy/warcraft/heroes/player/troll/troll/Body_2.vtf
Troll/materials/models/amymy/warcraft/heroes/player/troll/troll/Eyes_5.vmt
Troll/materials/models/amymy/warcraft/heroes/player/troll/troll/Eyes_4.vmt
Troll/materials/models/amymy/warcraft/heroes/player/troll/troll/Hair_7.vtf
Troll/materials/models/amymy/warcraft/heroes/player/troll/troll/Eyes_4.vtf
Troll/materials/models/amymy/warcraft/heroes/player/troll/troll/Body_4.vmt
Troll/materials/models/amymy/warcraft/heroes/player/troll/troll/Penis_6.vtf
Troll/materials/models/amymy/warcraft/heroes/player/troll/troll/Penis_5.vmt
Troll/materials/models/amymy/warcraft/heroes/player/troll/troll/Penis_8.vtf
Troll/materials/models/amymy/warcraft/heroes/player/troll/troll/Eyes_n.vtf
Troll/materials/models/amymy/warcraft/heroes/player/troll/troll/Hair_3.vtf
Troll/materials/models/amymy/warcraft/heroes/player/troll/troll/Penis.vmt
Troll/materials/models/amymy/warcraft/heroes/player/troll/troll/Hair.vtf
Troll/materials/models/amymy/warcraft/heroes/player/troll/troll/Penis_7.vtf
Troll/materials/models/amymy/warcraft/heroes/player/troll/troll/Accessories.vmt
Troll/materials/models/amymy/warcraft/heroes/player/troll/troll/Hair_7.vmt
Troll/materials/models/amymy/warcraft/heroes/player/troll/troll/Hair_5.vtf
Troll/materials/models/amymy/warcraft/heroes/player/troll/troll/Body.vtf
Troll/materials/models/amymy/warcraft/heroes/player/troll/troll/Body_3.vmt
Troll/materials/models/amymy/warcraft/heroes/player/troll/troll/Body_6.vmt
Troll/materials/models/amymy/warcraft/heroes/player/troll/troll/Hair_4.vmt
Troll/materials/models/amymy/warcraft/heroes/player/troll/troll/Body_4.vtf
Troll/materials/models/amymy/warcraft/heroes/player/troll/troll/Body_7.vmt
Troll/materials/models/amymy/warcraft/heroes/player/troll/troll/Body_2.vmt
Troll/materials/models/amymy/warcraft/heroes/player/troll/troll/Body.vmt
Troll/materials/models/amymy/warcraft/heroes/player/troll/troll/Accessories.vtf
Troll/materials/models/amymy/warcraft/heroes/player/troll/troll/Body_6.vtf