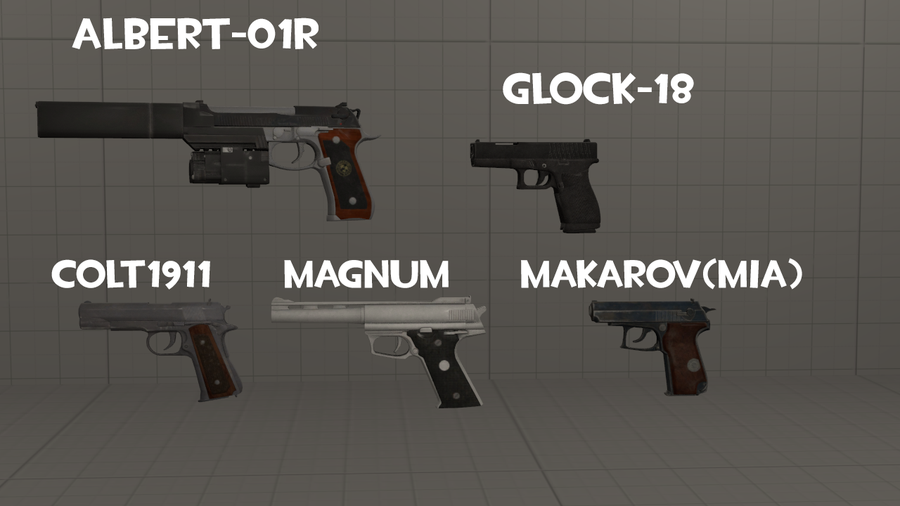 Show more
Description
Hey, it's Me.
I haven't posted in awhile, so thought I can post somethin people might need Eh?
So here's Resident evil 7 weapons AND Props pack! I noticed a Awhile back RESIDENT EVIL 7 Weapons and stuff was removed from the workshop, again I don't know why but I remember one person said due to Copyrights and somethin about people taking things down? So I guess that Sums it up Eh?
So one thing to point out before I start putting in details, I am but a porter I just port models from whatever I find and put em in the workshop. Mostly G-mod stuff or occassionally Removed SFM workshop Items. Cause We all love when SFM Workshop just decides to remove things that are pretty good or useful items but then just like that it's gone like a sweet angel's kiss. So I can't really update the models, I might make a couple of cool textures or pack of textures but don't expect Me to fix the bones or somethin, You're welcome to rework them if You wish to.
So first thing's first the pistols
-Albert-01R (A Very beautiful pistol I might say Eh?)
-Glock-18 (For every book making, Suicidal hooded boy's Trusty side-arm to shoot Your way out of the monsters You made)
-Colt-1911
-44.Magnum Everybody loves alittle kick in their gun Eh?
-Makarov for a evil guy likes blowing up the Eiffel tower and really Hates soap
Shotguns
-M37 Just a pump shotgun.
-M21 I was gonna make a Doom joke but That's too Iconic to talk about
Other weapons
-P19 SMG
-Hillbilly's Flamethrower
-Redneck's Grenade Launcher
And a Couple of Knives and Some Baker weapons
They are all posable, abit funny to work with but I'm sure You'll get used to it.
Chainsaw is not animated sadly.... But it's optional to animate the Circular saw if You know how to properly.
there is a back-pack, couple of Flashlights, L A M P, Liquid bomb and so much little more.
If Your finding the models be sure to look at "re7' and it should pop up in SFM.
ALL CREDIT GOES TO CAPCOM AND RESIDENT EVIL 7/BIOHAZARD.
(I Do not Own RESIDENT EVIL 7 And neither the Models are mine, Please Support the OFFICIAL Release!)
SFMLab is a free service. However, it costs about $0.03 to deliver you a 1GB file. With over 20TB of traffic every month and growing, SFMLab needs your help. If only 1% of our users each gave us $5 for a single month, we could keep the site running for several years.
Filename
Downloads
Created
Filesize
Files
RESIDENT_EVIL_7_Weapons_and_Props.zip
1566
2021-06-23 19:39:14
320.75 MB
File contents:

Weapons-and-Props-Models-Resident-Evil-7-Biohazard/models/re7/weapons/shotgun_bullets.sw.vtx
Weapons-and-Props-Models-Resident-Evil-7-Biohazard/models/re7/weapons/handgun_albert.vvd
Weapons-and-Props-Models-Resident-Evil-7-Biohazard/models/re7/weapons/cutter.mdl
Weapons-and-Props-Models-Resident-Evil-7-Biohazard/models/re7/weapons/light.sw.vtx
Weapons-and-Props-Models-Resident-Evil-7-Biohazard/models/re7/weapons/shotgun_pump.phy
Weapons-and-Props-Models-Resident-Evil-7-Biohazard/models/re7/weapons/gasburner.dx80.vtx
Weapons-and-Props-Models-Resident-Evil-7-Biohazard/models/re7/weapons/light.dx90.vtx
Weapons-and-Props-Models-Resident-Evil-7-Biohazard/models/re7/weapons/shotgun_2_barrel.vvd
Weapons-and-Props-Models-Resident-Evil-7-Biohazard/models/re7/weapons/handgun.dx90.vtx
Weapons-and-Props-Models-Resident-Evil-7-Biohazard/models/re7/weapons/roller_o_o.mdl
Weapons-and-Props-Models-Resident-Evil-7-Biohazard/models/re7/weapons/lantern.dx80.vtx
Weapons-and-Props-Models-Resident-Evil-7-Biohazard/models/re7/weapons/axe.mdl
Weapons-and-Props-Models-Resident-Evil-7-Biohazard/models/re7/weapons/portablecannon.sw.vtx
Weapons-and-Props-Models-Resident-Evil-7-Biohazard/models/re7/weapons/handgun_albert.sw.vtx
Weapons-and-Props-Models-Resident-Evil-7-Biohazard/models/re7/weapons/flashlight.phy
Weapons-and-Props-Models-Resident-Evil-7-Biohazard/models/re7/weapons/lantern.vvd
Weapons-and-Props-Models-Resident-Evil-7-Biohazard/models/re7/weapons/woodenchip.dx90.vtx
Weapons-and-Props-Models-Resident-Evil-7-Biohazard/models/re7/weapons/makarov_mia_gun.phy
Weapons-and-Props-Models-Resident-Evil-7-Biohazard/models/re7/weapons/chainsaw.dx90.vtx
Weapons-and-Props-Models-Resident-Evil-7-Biohazard/models/re7/weapons/liquidbomb.dx90.vtx
Weapons-and-Props-Models-Resident-Evil-7-Biohazard/models/re7/weapons/lantern.mdl
Weapons-and-Props-Models-Resident-Evil-7-Biohazard/models/re7/weapons/staple.phy
Weapons-and-Props-Models-Resident-Evil-7-Biohazard/models/re7/weapons/shht_glass.vvd
Weapons-and-Props-Models-Resident-Evil-7-Biohazard/models/re7/weapons/handgun_albert.phy
Weapons-and-Props-Models-Resident-Evil-7-Biohazard/models/re7/weapons/woodenchip.vvd
Weapons-and-Props-Models-Resident-Evil-7-Biohazard/models/re7/weapons/fireaxe.dx90.vtx
Weapons-and-Props-Models-Resident-Evil-7-Biohazard/models/re7/weapons/chainsaw.dx80.vtx
Weapons-and-Props-Models-Resident-Evil-7-Biohazard/models/re7/weapons/liquidbomb.mdl
Weapons-and-Props-Models-Resident-Evil-7-Biohazard/models/re7/weapons/backpack.sw.vtx
Weapons-and-Props-Models-Resident-Evil-7-Biohazard/models/re7/weapons/staple.sw.vtx
Weapons-and-Props-Models-Resident-Evil-7-Biohazard/models/re7/weapons/scissors.dx80.vtx
Weapons-and-Props-Models-Resident-Evil-7-Biohazard/models/re7/weapons/shovel.dx80.vtx
Weapons-and-Props-Models-Resident-Evil-7-Biohazard/models/re7/weapons/handgun_shell.mdl
Weapons-and-Props-Models-Resident-Evil-7-Biohazard/models/re7/weapons/flame_bullet.phy
Weapons-and-Props-Models-Resident-Evil-7-Biohazard/models/re7/weapons/flashlight.sw.vtx
Weapons-and-Props-Models-Resident-Evil-7-Biohazard/models/re7/weapons/flame_bullet.dx90.vtx
Weapons-and-Props-Models-Resident-Evil-7-Biohazard/models/re7/weapons/scissors.phy
Weapons-and-Props-Models-Resident-Evil-7-Biohazard/models/re7/weapons/handgun_bullets.mdl
Weapons-and-Props-Models-Resident-Evil-7-Biohazard/models/re7/weapons/plier.dx80.vtx
Weapons-and-Props-Models-Resident-Evil-7-Biohazard/models/re7/weapons/knife_nail.mdl
Weapons-and-Props-Models-Resident-Evil-7-Biohazard/models/re7/weapons/backpack.dx80.vtx
Weapons-and-Props-Models-Resident-Evil-7-Biohazard/models/re7/weapons/handgun_glock.dx90.vtx
Weapons-and-Props-Models-Resident-Evil-7-Biohazard/models/re7/weapons/flashlight.dx90.vtx
Weapons-and-Props-Models-Resident-Evil-7-Biohazard/models/re7/weapons/flashlight_mini.dx80.vtx
Weapons-and-Props-Models-Resident-Evil-7-Biohazard/models/re7/weapons/woodenchip.sw.vtx
Weapons-and-Props-Models-Resident-Evil-7-Biohazard/models/re7/weapons/portablecannon.mdl
Weapons-and-Props-Models-Resident-Evil-7-Biohazard/models/re7/weapons/woodenchip.dx80.vtx
Weapons-and-Props-Models-Resident-Evil-7-Biohazard/models/re7/weapons/makarov_mia_gun.sw.vtx
Weapons-and-Props-Models-Resident-Evil-7-Biohazard/models/re7/weapons/circsaw.sw.vtx
Weapons-and-Props-Models-Resident-Evil-7-Biohazard/models/re7/weapons/magnum.vvd
Weapons-and-Props-Models-Resident-Evil-7-Biohazard/models/re7/weapons/handgun_bullets.dx80.vtx
Weapons-and-Props-Models-Resident-Evil-7-Biohazard/models/re7/weapons/shotgun_pump.sw.vtx
Weapons-and-Props-Models-Resident-Evil-7-Biohazard/models/re7/weapons/woodenchip.mdl
Weapons-and-Props-Models-Resident-Evil-7-Biohazard/models/re7/weapons/roller_o_o.sw.vtx
Weapons-and-Props-Models-Resident-Evil-7-Biohazard/models/re7/weapons/flame_bullet.mdl
Weapons-and-Props-Models-Resident-Evil-7-Biohazard/models/re7/weapons/light.mdl
Weapons-and-Props-Models-Resident-Evil-7-Biohazard/models/re7/weapons/glasschip.vvd
Weapons-and-Props-Models-Resident-Evil-7-Biohazard/models/re7/weapons/knife_nail.sw.vtx
Weapons-and-Props-Models-Resident-Evil-7-Biohazard/models/re7/weapons/chainsaw.sw.vtx
Weapons-and-Props-Models-Resident-Evil-7-Biohazard/models/re7/weapons/roller_o_o.dx90.vtx
Weapons-and-Props-Models-Resident-Evil-7-Biohazard/models/re7/weapons/flashlight_mini.sw.vtx
Weapons-and-Props-Models-Resident-Evil-7-Biohazard/models/re7/weapons/glasschip.dx90.vtx
Weapons-and-Props-Models-Resident-Evil-7-Biohazard/models/re7/weapons/shotgun_2_barrel.dx90.vtx
Weapons-and-Props-Models-Resident-Evil-7-Biohazard/models/re7/weapons/shovel.dx90.vtx
Weapons-and-Props-Models-Resident-Evil-7-Biohazard/models/re7/weapons/handgun_shell.dx90.vtx
Weapons-and-Props-Models-Resident-Evil-7-Biohazard/models/re7/weapons/handgun_glock.phy
Weapons-and-Props-Models-Resident-Evil-7-Biohazard/models/re7/weapons/glasschip.sw.vtx
Weapons-and-Props-Models-Resident-Evil-7-Biohazard/models/re7/weapons/handgun_glock.sw.vtx
Weapons-and-Props-Models-Resident-Evil-7-Biohazard/models/re7/weapons/roller_o_o.phy
Weapons-and-Props-Models-Resident-Evil-7-Biohazard/models/re7/weapons/axe.vvd
Weapons-and-Props-Models-Resident-Evil-7-Biohazard/models/re7/weapons/shotgun_2_barrel.mdl
Weapons-and-Props-Models-Resident-Evil-7-Biohazard/models/re7/weapons/candle.dx90.vtx
Weapons-and-Props-Models-Resident-Evil-7-Biohazard/models/re7/weapons/circsaw.vvd
Weapons-and-Props-Models-Resident-Evil-7-Biohazard/models/re7/weapons/staple.mdl
Weapons-and-Props-Models-Resident-Evil-7-Biohazard/models/re7/weapons/handgun.sw.vtx
Weapons-and-Props-Models-Resident-Evil-7-Biohazard/models/re7/weapons/handgun_bullets.dx90.vtx
Weapons-and-Props-Models-Resident-Evil-7-Biohazard/models/re7/weapons/knife_nail.phy
Weapons-and-Props-Models-Resident-Evil-7-Biohazard/models/re7/weapons/shovel.sw.vtx
Weapons-and-Props-Models-Resident-Evil-7-Biohazard/models/re7/weapons/fireaxe.phy
Weapons-and-Props-Models-Resident-Evil-7-Biohazard/models/re7/weapons/gasburner.phy
Weapons-and-Props-Models-Resident-Evil-7-Biohazard/models/re7/weapons/staple.dx80.vtx
Weapons-and-Props-Models-Resident-Evil-7-Biohazard/models/re7/weapons/shht_glass.phy
Weapons-and-Props-Models-Resident-Evil-7-Biohazard/models/re7/weapons/shotgun_pump.vvd
Weapons-and-Props-Models-Resident-Evil-7-Biohazard/models/re7/weapons/handgun_bullets.phy
Weapons-and-Props-Models-Resident-Evil-7-Biohazard/models/re7/weapons/knife.sw.vtx
Weapons-and-Props-Models-Resident-Evil-7-Biohazard/models/re7/weapons/axe.dx90.vtx
Weapons-and-Props-Models-Resident-Evil-7-Biohazard/models/re7/weapons/axe.dx80.vtx
Weapons-and-Props-Models-Resident-Evil-7-Biohazard/models/re7/weapons/handgun.mdl
Weapons-and-Props-Models-Resident-Evil-7-Biohazard/models/re7/weapons/machinegun.dx80.vtx
Weapons-and-Props-Models-Resident-Evil-7-Biohazard/models/re7/weapons/chainsaw.mdl
Weapons-and-Props-Models-Resident-Evil-7-Biohazard/models/re7/weapons/makarov_mia_gun.dx80.vtx
Weapons-and-Props-Models-Resident-Evil-7-Biohazard/models/re7/weapons/magnum.dx90.vtx
Weapons-and-Props-Models-Resident-Evil-7-Biohazard/models/re7/weapons/flashlight.vvd
Weapons-and-Props-Models-Resident-Evil-7-Biohazard/models/re7/weapons/handgun_shell.dx80.vtx
Weapons-and-Props-Models-Resident-Evil-7-Biohazard/models/re7/weapons/glasschip.dx80.vtx
Weapons-and-Props-Models-Resident-Evil-7-Biohazard/models/re7/weapons/handgun_shell.vvd
Weapons-and-Props-Models-Resident-Evil-7-Biohazard/models/re7/weapons/handgun_glock.vvd
Weapons-and-Props-Models-Resident-Evil-7-Biohazard/models/re7/weapons/shotgun_2_barrel.sw.vtx
Weapons-and-Props-Models-Resident-Evil-7-Biohazard/models/re7/weapons/lantern.phy
Weapons-and-Props-Models-Resident-Evil-7-Biohazard/models/re7/weapons/lantern.sw.vtx
Weapons-and-Props-Models-Resident-Evil-7-Biohazard/models/re7/weapons/circsaw.phy
Weapons-and-Props-Models-Resident-Evil-7-Biohazard/models/re7/weapons/gasburner.dx90.vtx
Weapons-and-Props-Models-Resident-Evil-7-Biohazard/models/re7/weapons/magnum.phy
Weapons-and-Props-Models-Resident-Evil-7-Biohazard/models/re7/weapons/handgun_albert.dx80.vtx
Weapons-and-Props-Models-Resident-Evil-7-Biohazard/models/re7/weapons/flashlight_mini.mdl
Weapons-and-Props-Models-Resident-Evil-7-Biohazard/models/re7/weapons/magnum.sw.vtx
Weapons-and-Props-Models-Resident-Evil-7-Biohazard/models/re7/weapons/fireaxe.vvd
Weapons-and-Props-Models-Resident-Evil-7-Biohazard/models/re7/weapons/chainsaw.phy
Weapons-and-Props-Models-Resident-Evil-7-Biohazard/models/re7/weapons/makarov_mia_gun.vvd
Weapons-and-Props-Models-Resident-Evil-7-Biohazard/models/re7/weapons/flashlight_mini.vvd
Weapons-and-Props-Models-Resident-Evil-7-Biohazard/models/re7/weapons/flame_bullet.dx80.vtx
Weapons-and-Props-Models-Resident-Evil-7-Biohazard/models/re7/weapons/handgun_albert.mdl
Weapons-and-Props-Models-Resident-Evil-7-Biohazard/models/re7/weapons/crowbar_mini.mdl
Weapons-and-Props-Models-Resident-Evil-7-Biohazard/models/re7/weapons/shht_glass.dx80.vtx
Weapons-and-Props-Models-Resident-Evil-7-Biohazard/models/re7/weapons/knife_mia.mdl
Weapons-and-Props-Models-Resident-Evil-7-Biohazard/models/re7/weapons/shht_glass.sw.vtx
Weapons-and-Props-Models-Resident-Evil-7-Biohazard/models/re7/weapons/makarov_mia_gun.mdl
Weapons-and-Props-Models-Resident-Evil-7-Biohazard/models/re7/weapons/flashlight.mdl
Weapons-and-Props-Models-Resident-Evil-7-Biohazard/models/re7/weapons/liquidbomb.dx80.vtx
Weapons-and-Props-Models-Resident-Evil-7-Biohazard/models/re7/weapons/plier.sw.vtx
Weapons-and-Props-Models-Resident-Evil-7-Biohazard/models/re7/weapons/flashlight_mini.phy
Weapons-and-Props-Models-Resident-Evil-7-Biohazard/models/re7/weapons/glasschip.phy
Weapons-and-Props-Models-Resident-Evil-7-Biohazard/models/re7/weapons/handgun_shell.sw.vtx
Weapons-and-Props-Models-Resident-Evil-7-Biohazard/models/re7/weapons/shotgun_bullets.dx80.vtx
Weapons-and-Props-Models-Resident-Evil-7-Biohazard/models/re7/weapons/roller_o_o.vvd
Weapons-and-Props-Models-Resident-Evil-7-Biohazard/models/re7/weapons/candle.sw.vtx
Weapons-and-Props-Models-Resident-Evil-7-Biohazard/models/re7/weapons/lantern.dx90.vtx
Weapons-and-Props-Models-Resident-Evil-7-Biohazard/models/re7/weapons/handgun.phy
Weapons-and-Props-Models-Resident-Evil-7-Biohazard/models/re7/weapons/backpack.dx90.vtx
Weapons-and-Props-Models-Resident-Evil-7-Biohazard/models/re7/weapons/glasschip.mdl
Weapons-and-Props-Models-Resident-Evil-7-Biohazard/models/re7/weapons/scissors.mdl
Weapons-and-Props-Models-Resident-Evil-7-Biohazard/models/re7/weapons/knife_mia.vvd
Weapons-and-Props-Models-Resident-Evil-7-Biohazard/models/re7/weapons/knife_mia.dx90.vtx
Weapons-and-Props-Models-Resident-Evil-7-Biohazard/models/re7/weapons/shotgun_pump.dx90.vtx
Weapons-and-Props-Models-Resident-Evil-7-Biohazard/models/re7/weapons/cutter.sw.vtx
Weapons-and-Props-Models-Resident-Evil-7-Biohazard/models/re7/weapons/flashlight.dx80.vtx
Weapons-and-Props-Models-Resident-Evil-7-Biohazard/models/re7/weapons/knife_mia.sw.vtx
Weapons-and-Props-Models-Resident-Evil-7-Biohazard/models/re7/weapons/crowbar_mini.dx80.vtx
Weapons-and-Props-Models-Resident-Evil-7-Biohazard/models/re7/weapons/handgun_bullets.vvd
Weapons-and-Props-Models-Resident-Evil-7-Biohazard/models/re7/weapons/shotgun_bullets.vvd
Weapons-and-Props-Models-Resident-Evil-7-Biohazard/models/re7/weapons/portablecannon.dx90.vtx
Weapons-and-Props-Models-Resident-Evil-7-Biohazard/models/re7/weapons/circsaw.dx90.vtx
Weapons-and-Props-Models-Resident-Evil-7-Biohazard/models/re7/weapons/crowbar_mini.sw.vtx
Weapons-and-Props-Models-Resident-Evil-7-Biohazard/models/re7/weapons/machinegun.dx90.vtx
Weapons-and-Props-Models-Resident-Evil-7-Biohazard/models/re7/weapons/shovel.vvd
Weapons-and-Props-Models-Resident-Evil-7-Biohazard/models/re7/weapons/knife.phy
Weapons-and-Props-Models-Resident-Evil-7-Biohazard/models/re7/weapons/cutter.dx90.vtx
Weapons-and-Props-Models-Resident-Evil-7-Biohazard/models/re7/weapons/fireaxe.dx80.vtx
Weapons-and-Props-Models-Resident-Evil-7-Biohazard/models/re7/weapons/backpack.mdl
Weapons-and-Props-Models-Resident-Evil-7-Biohazard/models/re7/weapons/handgun.vvd
Weapons-and-Props-Models-Resident-Evil-7-Biohazard/models/re7/weapons/plier.dx90.vtx
Weapons-and-Props-Models-Resident-Evil-7-Biohazard/models/re7/weapons/shht_glass.dx90.vtx
Weapons-and-Props-Models-Resident-Evil-7-Biohazard/models/re7/weapons/fireaxe.mdl
Weapons-and-Props-Models-Resident-Evil-7-Biohazard/models/re7/weapons/candle.vvd
Weapons-and-Props-Models-Resident-Evil-7-Biohazard/models/re7/weapons/knife.dx90.vtx
Weapons-and-Props-Models-Resident-Evil-7-Biohazard/models/re7/weapons/candle.dx80.vtx
Weapons-and-Props-Models-Resident-Evil-7-Biohazard/models/re7/weapons/portablecannon.vvd
Weapons-and-Props-Models-Resident-Evil-7-Biohazard/models/re7/weapons/cutter.dx80.vtx
Weapons-and-Props-Models-Resident-Evil-7-Biohazard/models/re7/weapons/liquidbomb.phy
Weapons-and-Props-Models-Resident-Evil-7-Biohazard/models/re7/weapons/scissors.dx90.vtx
Weapons-and-Props-Models-Resident-Evil-7-Biohazard/models/re7/weapons/makarov_mia_gun.dx90.vtx
Weapons-and-Props-Models-Resident-Evil-7-Biohazard/models/re7/weapons/magnum.dx80.vtx
Weapons-and-Props-Models-Resident-Evil-7-Biohazard/models/re7/weapons/knife.mdl
Weapons-and-Props-Models-Resident-Evil-7-Biohazard/models/re7/weapons/knife_mia.dx80.vtx
Weapons-and-Props-Models-Resident-Evil-7-Biohazard/models/re7/weapons/shotgun_pump.mdl
Weapons-and-Props-Models-Resident-Evil-7-Biohazard/models/re7/weapons/handgun.dx80.vtx
Weapons-and-Props-Models-Resident-Evil-7-Biohazard/models/re7/weapons/crowbar_mini.phy
Weapons-and-Props-Models-Resident-Evil-7-Biohazard/models/re7/weapons/gasburner.vvd
Weapons-and-Props-Models-Resident-Evil-7-Biohazard/models/re7/weapons/shotgun_2_barrel.phy
Weapons-and-Props-Models-Resident-Evil-7-Biohazard/models/re7/weapons/scissors.sw.vtx
Weapons-and-Props-Models-Resident-Evil-7-Biohazard/models/re7/weapons/handgun_glock.dx80.vtx
Weapons-and-Props-Models-Resident-Evil-7-Biohazard/models/re7/weapons/shovel.mdl
Weapons-and-Props-Models-Resident-Evil-7-Biohazard/models/re7/weapons/machinegun.mdl
Weapons-and-Props-Models-Resident-Evil-7-Biohazard/models/re7/weapons/liquidbomb.vvd
Weapons-and-Props-Models-Resident-Evil-7-Biohazard/models/re7/weapons/magnum.mdl
Weapons-and-Props-Models-Resident-Evil-7-Biohazard/models/re7/weapons/plier.phy
Weapons-and-Props-Models-Resident-Evil-7-Biohazard/models/re7/weapons/flame_bullet.sw.vtx
Weapons-and-Props-Models-Resident-Evil-7-Biohazard/models/re7/weapons/staple.dx90.vtx
Weapons-and-Props-Models-Resident-Evil-7-Biohazard/models/re7/weapons/shht_glass.mdl
Weapons-and-Props-Models-Resident-Evil-7-Biohazard/models/re7/weapons/cutter.phy
Weapons-and-Props-Models-Resident-Evil-7-Biohazard/models/re7/weapons/scissors.vvd
Weapons-and-Props-Models-Resident-Evil-7-Biohazard/models/re7/weapons/handgun_albert.dx90.vtx
Weapons-and-Props-Models-Resident-Evil-7-Biohazard/models/re7/weapons/axe.sw.vtx
Weapons-and-Props-Models-Resident-Evil-7-Biohazard/models/re7/weapons/machinegun.phy
Weapons-and-Props-Models-Resident-Evil-7-Biohazard/models/re7/weapons/machinegun.vvd
Weapons-and-Props-Models-Resident-Evil-7-Biohazard/models/re7/weapons/portablecannon.dx80.vtx
Weapons-and-Props-Models-Resident-Evil-7-Biohazard/models/re7/weapons/handgun_shell.phy
Weapons-and-Props-Models-Resident-Evil-7-Biohazard/models/re7/weapons/portablecannon.phy
Weapons-and-Props-Models-Resident-Evil-7-Biohazard/models/re7/weapons/knife_nail.vvd
Weapons-and-Props-Models-Resident-Evil-7-Biohazard/models/re7/weapons/roller_o_o.dx80.vtx
Weapons-and-Props-Models-Resident-Evil-7-Biohazard/models/re7/weapons/plier.vvd
Weapons-and-Props-Models-Resident-Evil-7-Biohazard/models/re7/weapons/knife_mia.phy
Weapons-and-Props-Models-Resident-Evil-7-Biohazard/models/re7/weapons/gasburner.mdl
Weapons-and-Props-Models-Resident-Evil-7-Biohazard/models/re7/weapons/staple.vvd
Weapons-and-Props-Models-Resident-Evil-7-Biohazard/models/re7/weapons/axe.phy
Weapons-and-Props-Models-Resident-Evil-7-Biohazard/models/re7/weapons/flame_bullet.vvd
Weapons-and-Props-Models-Resident-Evil-7-Biohazard/models/re7/weapons/machinegun.sw.vtx
Weapons-and-Props-Models-Resident-Evil-7-Biohazard/models/re7/weapons/shotgun_bullets.mdl
Weapons-and-Props-Models-Resident-Evil-7-Biohazard/models/re7/weapons/fireaxe.sw.vtx
Weapons-and-Props-Models-Resident-Evil-7-Biohazard/models/re7/weapons/liquidbomb.sw.vtx
Weapons-and-Props-Models-Resident-Evil-7-Biohazard/models/re7/weapons/backpack.phy
Weapons-and-Props-Models-Resident-Evil-7-Biohazard/models/re7/weapons/shotgun_2_barrel.dx80.vtx
Weapons-and-Props-Models-Resident-Evil-7-Biohazard/models/re7/weapons/shotgun_bullets.dx90.vtx
Weapons-and-Props-Models-Resident-Evil-7-Biohazard/models/re7/weapons/candle.phy
Weapons-and-Props-Models-Resident-Evil-7-Biohazard/models/re7/weapons/shotgun_bullets.phy
Weapons-and-Props-Models-Resident-Evil-7-Biohazard/models/re7/weapons/handgun_bullets.sw.vtx
Weapons-and-Props-Models-Resident-Evil-7-Biohazard/models/re7/weapons/plier.mdl
Weapons-and-Props-Models-Resident-Evil-7-Biohazard/models/re7/weapons/knife.vvd
Weapons-and-Props-Models-Resident-Evil-7-Biohazard/models/re7/weapons/crowbar_mini.dx90.vtx
Weapons-and-Props-Models-Resident-Evil-7-Biohazard/models/re7/weapons/woodenchip.phy
Weapons-and-Props-Models-Resident-Evil-7-Biohazard/models/re7/weapons/circsaw.dx80.vtx
Weapons-and-Props-Models-Resident-Evil-7-Biohazard/models/re7/weapons/cutter.vvd
Weapons-and-Props-Models-Resident-Evil-7-Biohazard/models/re7/weapons/light.vvd
Weapons-and-Props-Models-Resident-Evil-7-Biohazard/models/re7/weapons/chainsaw.vvd
Weapons-and-Props-Models-Resident-Evil-7-Biohazard/models/re7/weapons/gasburner.sw.vtx
Weapons-and-Props-Models-Resident-Evil-7-Biohazard/models/re7/weapons/crowbar_mini.vvd
Weapons-and-Props-Models-Resident-Evil-7-Biohazard/models/re7/weapons/light.phy
Weapons-and-Props-Models-Resident-Evil-7-Biohazard/models/re7/weapons/shovel.phy
Weapons-and-Props-Models-Resident-Evil-7-Biohazard/models/re7/weapons/knife.dx80.vtx
Weapons-and-Props-Models-Resident-Evil-7-Biohazard/models/re7/weapons/shotgun_pump.dx80.vtx
Weapons-and-Props-Models-Resident-Evil-7-Biohazard/models/re7/weapons/candle.mdl
Weapons-and-Props-Models-Resident-Evil-7-Biohazard/models/re7/weapons/flashlight_mini.dx90.vtx
Weapons-and-Props-Models-Resident-Evil-7-Biohazard/models/re7/weapons/light.dx80.vtx
Weapons-and-Props-Models-Resident-Evil-7-Biohazard/models/re7/weapons/handgun_glock.mdl
Weapons-and-Props-Models-Resident-Evil-7-Biohazard/models/re7/weapons/knife_nail.dx90.vtx
Weapons-and-Props-Models-Resident-Evil-7-Biohazard/models/re7/weapons/knife_nail.dx80.vtx
Weapons-and-Props-Models-Resident-Evil-7-Biohazard/models/re7/weapons/backpack.vvd
Weapons-and-Props-Models-Resident-Evil-7-Biohazard/models/re7/weapons/circsaw.mdl
Weapons-and-Props-Models-Resident-Evil-7-Biohazard/materials/models/minitiv/re7/weapons/wp0070_circularsaw/wp0070_circularsaw_albm.vtf
Weapons-and-Props-Models-Resident-Evil-7-Biohazard/materials/models/minitiv/re7/weapons/wp0070_circularsaw/wp0070_circularsaw_nrmr.vtf
Weapons-and-Props-Models-Resident-Evil-7-Biohazard/materials/models/minitiv/re7/weapons/wp0070_circularsaw/24_circsaw_0.vmt
Weapons-and-Props-Models-Resident-Evil-7-Biohazard/materials/models/minitiv/re7/weapons/wp0070_circularsaw/wp0070_circularsaw_spe.vtf
Weapons-and-Props-Models-Resident-Evil-7-Biohazard/materials/models/minitiv/re7/weapons/wp1340_alberthandgun/24_gun2_0.vmt
Weapons-and-Props-Models-Resident-Evil-7-Biohazard/materials/models/minitiv/re7/weapons/wp1340_alberthandgun/wp1340_chrishandgun_01_albm.vtf
Weapons-and-Props-Models-Resident-Evil-7-Biohazard/materials/models/minitiv/re7/weapons/wp1340_alberthandgun/24_gun1_0.vmt
Weapons-and-Props-Models-Resident-Evil-7-Biohazard/materials/models/minitiv/re7/weapons/wp1340_alberthandgun/wp1340_chrishandgun_02_spe.vtf
Weapons-and-Props-Models-Resident-Evil-7-Biohazard/materials/models/minitiv/re7/weapons/wp1340_alberthandgun/wp1340_chrishandgun_02_albm.vtf
Weapons-and-Props-Models-Resident-Evil-7-Biohazard/materials/models/minitiv/re7/weapons/wp1340_alberthandgun/wp1340_chrishandgun_02_nrmr.vtf
Weapons-and-Props-Models-Resident-Evil-7-Biohazard/materials/models/minitiv/re7/weapons/wp1340_alberthandgun/wp1340_chrishandgun_01_nrmr.vtf
Weapons-and-Props-Models-Resident-Evil-7-Biohazard/materials/models/minitiv/re7/weapons/wp1340_alberthandgun/wp1340_chrishandgun_01_spe.vtf
Weapons-and-Props-Models-Resident-Evil-7-Biohazard/materials/models/minitiv/re7/weapons/wp1000_gasburner/24_gasburner_0.vmt
Weapons-and-Props-Models-Resident-Evil-7-Biohazard/materials/models/minitiv/re7/weapons/wp1000_gasburner/24_+gascan_0.vmt
Weapons-and-Props-Models-Resident-Evil-7-Biohazard/materials/models/minitiv/re7/weapons/wp1000_gasburner/wp1000_gasburner_nrmr.vtf
Weapons-and-Props-Models-Resident-Evil-7-Biohazard/materials/models/minitiv/re7/weapons/wp1000_gasburner/wp1000_gasburner_spe.vtf
Weapons-and-Props-Models-Resident-Evil-7-Biohazard/materials/models/minitiv/re7/weapons/wp1000_gasburner/wp1000_gasburner_albm.vtf
Weapons-and-Props-Models-Resident-Evil-7-Biohazard/materials/models/minitiv/re7/weapons/wp1160_machinegun/24_machinegun_0.vmt
Weapons-and-Props-Models-Resident-Evil-7-Biohazard/materials/models/minitiv/re7/weapons/wp1160_machinegun/wp1160_albm.vtf
Weapons-and-Props-Models-Resident-Evil-7-Biohazard/materials/models/minitiv/re7/weapons/wp1160_machinegun/wp1160_spe.vtf
Weapons-and-Props-Models-Resident-Evil-7-Biohazard/materials/models/minitiv/re7/weapons/wp1160_machinegun/wp1160_nrmr.vtf
Weapons-and-Props-Models-Resident-Evil-7-Biohazard/materials/models/minitiv/re7/weapons/wp1031_shotgunbullet/wp1031_nrmr.vtf
Weapons-and-Props-Models-Resident-Evil-7-Biohazard/materials/models/minitiv/re7/weapons/wp1031_shotgunbullet/wp1031_albm.vtf
Weapons-and-Props-Models-Resident-Evil-7-Biohazard/materials/models/minitiv/re7/weapons/wp1031_shotgunbullet/24_bullets_0.vmt
Weapons-and-Props-Models-Resident-Evil-7-Biohazard/materials/models/minitiv/re7/weapons/wp1031_shotgunbullet/wp1031_spe.vtf
Weapons-and-Props-Models-Resident-Evil-7-Biohazard/materials/models/minitiv/re7/weapons/wp2100_scissors/wp2100_spe.vtf
Weapons-and-Props-Models-Resident-Evil-7-Biohazard/materials/models/minitiv/re7/weapons/wp2100_scissors/wp2100_nrmr.vtf
Weapons-and-Props-Models-Resident-Evil-7-Biohazard/materials/models/minitiv/re7/weapons/wp2100_scissors/wp2100_albm.vtf
Weapons-and-Props-Models-Resident-Evil-7-Biohazard/materials/models/minitiv/re7/weapons/wp2100_scissors/24_scissors_0.vmt
Weapons-and-Props-Models-Resident-Evil-7-Biohazard/materials/models/minitiv/re7/weapons/wp2130_glass/24_shovel_0.vmt
Weapons-and-Props-Models-Resident-Evil-7-Biohazard/materials/models/minitiv/re7/weapons/wp2130_glass/24_glass_0.vmt
Weapons-and-Props-Models-Resident-Evil-7-Biohazard/materials/models/minitiv/re7/weapons/wp2130_glass/wp2130_glass_spe.vtf
Weapons-and-Props-Models-Resident-Evil-7-Biohazard/materials/models/minitiv/re7/weapons/wp2130_glass/wp2130_glass_albm.vtf
Weapons-and-Props-Models-Resident-Evil-7-Biohazard/materials/models/minitiv/re7/weapons/wp2130_glass/wp2130_glass_nrmr.vtf
Weapons-and-Props-Models-Resident-Evil-7-Biohazard/materials/models/minitiv/re7/weapons/wp0030_light/24_light_0.vmt
Weapons-and-Props-Models-Resident-Evil-7-Biohazard/materials/models/minitiv/re7/weapons/wp0030_light/wp0030_albm.vtf
Weapons-and-Props-Models-Resident-Evil-7-Biohazard/materials/models/minitiv/re7/weapons/wp0030_light/wp0030_nrmr.vtf
Weapons-and-Props-Models-Resident-Evil-7-Biohazard/materials/models/minitiv/re7/weapons/wp0030_light/wp0030_spe.vtf
Weapons-and-Props-Models-Resident-Evil-7-Biohazard/materials/models/minitiv/re7/weapons/wp2080_lantern/wp2080_spe.vtf
Weapons-and-Props-Models-Resident-Evil-7-Biohazard/materials/models/minitiv/re7/weapons/wp2080_lantern/25_lantern_0.vmt
Weapons-and-Props-Models-Resident-Evil-7-Biohazard/materials/models/minitiv/re7/weapons/wp2080_lantern/wp2080_nrmr.vtf
Weapons-and-Props-Models-Resident-Evil-7-Biohazard/materials/models/minitiv/re7/weapons/wp2080_lantern/wp2080_albm.vtf
Weapons-and-Props-Models-Resident-Evil-7-Biohazard/materials/models/minitiv/re7/weapons/wp1090_woodchip01a/wp1090_woodchip01a_nrmr.vtf
Weapons-and-Props-Models-Resident-Evil-7-Biohazard/materials/models/minitiv/re7/weapons/wp1090_woodchip01a/24_wood_0.vmt
Weapons-and-Props-Models-Resident-Evil-7-Biohazard/materials/models/minitiv/re7/weapons/wp1090_woodchip01a/wp1090_woodchip01a_albm.vtf
Weapons-and-Props-Models-Resident-Evil-7-Biohazard/materials/models/minitiv/re7/weapons/wp2090_roller/24_roller_0.vmt
Weapons-and-Props-Models-Resident-Evil-7-Biohazard/materials/models/minitiv/re7/weapons/wp2090_roller/wp2090_albm.vtf
Weapons-and-Props-Models-Resident-Evil-7-Biohazard/materials/models/minitiv/re7/weapons/wp2090_roller/wp2090_nrmr.vtf
Weapons-and-Props-Models-Resident-Evil-7-Biohazard/materials/models/minitiv/re7/weapons/wp2090_roller/wp2090_spe.vtf
Weapons-and-Props-Models-Resident-Evil-7-Biohazard/materials/models/minitiv/re7/weapons/wp1260_glasses/24_glass_0.vmt
Weapons-and-Props-Models-Resident-Evil-7-Biohazard/materials/models/minitiv/re7/weapons/wp1260_glasses/wp1260_albm.vtf
Weapons-and-Props-Models-Resident-Evil-7-Biohazard/materials/models/minitiv/re7/weapons/wp1260_glasses/wp1260_nrmr.vtf
Weapons-and-Props-Models-Resident-Evil-7-Biohazard/materials/models/minitiv/re7/weapons/wp1260_glasses/wp1260_spe.vtf
Weapons-and-Props-Models-Resident-Evil-7-Biohazard/materials/models/minitiv/re7/weapons/wp1260_glasses/24_candle_0.vmt
Weapons-and-Props-Models-Resident-Evil-7-Biohazard/materials/models/minitiv/re7/weapons/wp1030_shotgun/wp1030_shotgun_spe.vtf
Weapons-and-Props-Models-Resident-Evil-7-Biohazard/materials/models/minitiv/re7/weapons/wp1030_shotgun/24_shotgun_0.vmt
Weapons-and-Props-Models-Resident-Evil-7-Biohazard/materials/models/minitiv/re7/weapons/wp1030_shotgun/24_bullet4_0.vmt
Weapons-and-Props-Models-Resident-Evil-7-Biohazard/materials/models/minitiv/re7/weapons/wp1030_shotgun/wp1030_shotgun_albm.vtf
Weapons-and-Props-Models-Resident-Evil-7-Biohazard/materials/models/minitiv/re7/weapons/wp1030_shotgun/wp1030_shotgun_nrmr.vtf
Weapons-and-Props-Models-Resident-Evil-7-Biohazard/materials/models/minitiv/re7/weapons/wp1030_shotgun/24_bullet2_0.vmt
Weapons-and-Props-Models-Resident-Evil-7-Biohazard/materials/models/minitiv/re7/weapons/wp1030_shotgun/24_bullet1_0.vmt
Weapons-and-Props-Models-Resident-Evil-7-Biohazard/materials/models/minitiv/re7/weapons/wp1030_shotgun/24_bullet3_0.vmt
Weapons-and-Props-Models-Resident-Evil-7-Biohazard/materials/models/minitiv/re7/weapons/wp1240_miahandgun/wp1240_miahandgun_spe.vtf
Weapons-and-Props-Models-Resident-Evil-7-Biohazard/materials/models/minitiv/re7/weapons/wp1240_miahandgun/wp1240_miahandgun_albm.vtf
Weapons-and-Props-Models-Resident-Evil-7-Biohazard/materials/models/minitiv/re7/weapons/wp1240_miahandgun/wp1240_miahandgun_nrmr.vtf
Weapons-and-Props-Models-Resident-Evil-7-Biohazard/materials/models/minitiv/re7/weapons/wp1240_miahandgun/24_handgun_0.vmt
Weapons-and-Props-Models-Resident-Evil-7-Biohazard/materials/models/minitiv/re7/weapons/wp1220_staplegun/wp1220_nrmr.vtf
Weapons-and-Props-Models-Resident-Evil-7-Biohazard/materials/models/minitiv/re7/weapons/wp1220_staplegun/wp1220_spe.vtf
Weapons-and-Props-Models-Resident-Evil-7-Biohazard/materials/models/minitiv/re7/weapons/wp1220_staplegun/24_staple_0.vmt
Weapons-and-Props-Models-Resident-Evil-7-Biohazard/materials/models/minitiv/re7/weapons/wp1220_staplegun/wp1220_albm.vtf
Weapons-and-Props-Models-Resident-Evil-7-Biohazard/materials/models/minitiv/re7/weapons/wp1360_miaknife/wp1360_miaknife_nrmr.vtf
Weapons-and-Props-Models-Resident-Evil-7-Biohazard/materials/models/minitiv/re7/weapons/wp1360_miaknife/wp1360_miaknife_albm.vtf
Weapons-and-Props-Models-Resident-Evil-7-Biohazard/materials/models/minitiv/re7/weapons/wp1360_miaknife/24_knife_0.vmt
Weapons-and-Props-Models-Resident-Evil-7-Biohazard/materials/models/minitiv/re7/weapons/wp1360_miaknife/wp1360_miaknife_spe.vtf
Weapons-and-Props-Models-Resident-Evil-7-Biohazard/materials/models/minitiv/re7/weapons/wp2120_nailknife/wp2120_nailknife_albm.vtf
Weapons-and-Props-Models-Resident-Evil-7-Biohazard/materials/models/minitiv/re7/weapons/wp2120_nailknife/wp2120_nailknife_nrmr.vtf
Weapons-and-Props-Models-Resident-Evil-7-Biohazard/materials/models/minitiv/re7/weapons/wp2120_nailknife/24_shovel_0.vmt
Weapons-and-Props-Models-Resident-Evil-7-Biohazard/materials/models/minitiv/re7/weapons/wp2120_nailknife/24_knife_0.vmt
Weapons-and-Props-Models-Resident-Evil-7-Biohazard/materials/models/minitiv/re7/weapons/wp2120_nailknife/wp2120_nailknife_spe.vtf
Weapons-and-Props-Models-Resident-Evil-7-Biohazard/materials/models/minitiv/re7/weapons/wp1250_candle/wp1250_spe.vtf
Weapons-and-Props-Models-Resident-Evil-7-Biohazard/materials/models/minitiv/re7/weapons/wp1250_candle/wp1250_albm.vtf
Weapons-and-Props-Models-Resident-Evil-7-Biohazard/materials/models/minitiv/re7/weapons/wp1250_candle/wp1250_nrmr.vtf
Weapons-and-Props-Models-Resident-Evil-7-Biohazard/materials/models/minitiv/re7/weapons/wp1250_candle/24_candle_0.vmt
Weapons-and-Props-Models-Resident-Evil-7-Biohazard/materials/models/minitiv/re7/weapons/wp1320_crowbar/wp1320_bar_spe.vtf
Weapons-and-Props-Models-Resident-Evil-7-Biohazard/materials/models/minitiv/re7/weapons/wp1320_crowbar/wp1320_bar_nrmr.vtf
Weapons-and-Props-Models-Resident-Evil-7-Biohazard/materials/models/minitiv/re7/weapons/wp1320_crowbar/wp1320_bar_albm.vtf
Weapons-and-Props-Models-Resident-Evil-7-Biohazard/materials/models/minitiv/re7/weapons/wp1320_crowbar/24_bar_0.vmt
Weapons-and-Props-Models-Resident-Evil-7-Biohazard/materials/models/minitiv/re7/weapons/wp1270_liquidbomb/wp1270_spe.vtf
Weapons-and-Props-Models-Resident-Evil-7-Biohazard/materials/models/minitiv/re7/weapons/wp1270_liquidbomb/24_bomb_0.vmt
Weapons-and-Props-Models-Resident-Evil-7-Biohazard/materials/models/minitiv/re7/weapons/wp1270_liquidbomb/wp1270_nrmr.vtf
Weapons-and-Props-Models-Resident-Evil-7-Biohazard/materials/models/minitiv/re7/weapons/wp1270_liquidbomb/wp1270_albm.vtf
Weapons-and-Props-Models-Resident-Evil-7-Biohazard/materials/models/minitiv/re7/weapons/wp1111_flamebullet/wp1111_nrmr.vtf
Weapons-and-Props-Models-Resident-Evil-7-Biohazard/materials/models/minitiv/re7/weapons/wp1111_flamebullet/wp1111_albm.vtf
Weapons-and-Props-Models-Resident-Evil-7-Biohazard/materials/models/minitiv/re7/weapons/wp1111_flamebullet/24_bullet_0.vmt
Weapons-and-Props-Models-Resident-Evil-7-Biohazard/materials/models/minitiv/re7/weapons/wp1111_flamebullet/wp1111_spe.vtf
Weapons-and-Props-Models-Resident-Evil-7-Biohazard/materials/models/minitiv/re7/weapons/wp1050_bag/24_bag_0.vmt
Weapons-and-Props-Models-Resident-Evil-7-Biohazard/materials/models/minitiv/re7/weapons/wp1050_bag/wp1050_albm.vtf
Weapons-and-Props-Models-Resident-Evil-7-Biohazard/materials/models/minitiv/re7/weapons/wp1050_bag/wp1050_nrmr.vtf
Weapons-and-Props-Models-Resident-Evil-7-Biohazard/materials/models/minitiv/re7/weapons/wp1050_bag/wp1050_spe.vtf
Weapons-and-Props-Models-Resident-Evil-7-Biohazard/materials/models/minitiv/re7/weapons/wp1140_magnum/24_magnum_0.vmt
Weapons-and-Props-Models-Resident-Evil-7-Biohazard/materials/models/minitiv/re7/weapons/wp1140_magnum/wp1140_nrmr.vtf
Weapons-and-Props-Models-Resident-Evil-7-Biohazard/materials/models/minitiv/re7/weapons/wp1140_magnum/24_bullet_0.vmt
Weapons-and-Props-Models-Resident-Evil-7-Biohazard/materials/models/minitiv/re7/weapons/wp1140_magnum/wp1140_albm.vtf
Weapons-and-Props-Models-Resident-Evil-7-Biohazard/materials/models/minitiv/re7/weapons/wp1140_magnum/wp1140_spe.vtf
Weapons-and-Props-Models-Resident-Evil-7-Biohazard/materials/models/minitiv/re7/weapons/wp1011_handgunbullet/wp1011_nrmr.vtf
Weapons-and-Props-Models-Resident-Evil-7-Biohazard/materials/models/minitiv/re7/weapons/wp1011_handgunbullet/wp1011_albm.vtf
Weapons-and-Props-Models-Resident-Evil-7-Biohazard/materials/models/minitiv/re7/weapons/wp1011_handgunbullet/24_bullets_0.vmt
Weapons-and-Props-Models-Resident-Evil-7-Biohazard/materials/models/minitiv/re7/weapons/wp1011_handgunbullet/wp1011_spe.vtf
Weapons-and-Props-Models-Resident-Evil-7-Biohazard/materials/models/minitiv/re7/weapons/wp1010_handgun/wp1010_nrmr.vtf
Weapons-and-Props-Models-Resident-Evil-7-Biohazard/materials/models/minitiv/re7/weapons/wp1010_handgun/wp1010_spe.vtf
Weapons-and-Props-Models-Resident-Evil-7-Biohazard/materials/models/minitiv/re7/weapons/wp1010_handgun/24_handgun_0.vmt
Weapons-and-Props-Models-Resident-Evil-7-Biohazard/materials/models/minitiv/re7/weapons/wp1010_handgun/wp1010_albm.vtf
Weapons-and-Props-Models-Resident-Evil-7-Biohazard/materials/models/minitiv/re7/weapons/wp1100_chaincutter/wp1100_spe.vtf
Weapons-and-Props-Models-Resident-Evil-7-Biohazard/materials/models/minitiv/re7/weapons/wp1100_chaincutter/24_cutter_0.vmt
Weapons-and-Props-Models-Resident-Evil-7-Biohazard/materials/models/minitiv/re7/weapons/wp1100_chaincutter/wp1100_albm.vtf
Weapons-and-Props-Models-Resident-Evil-7-Biohazard/materials/models/minitiv/re7/weapons/wp1100_chaincutter/wp1100_nrmr.vtf
Weapons-and-Props-Models-Resident-Evil-7-Biohazard/materials/models/minitiv/re7/weapons/wp0060_chainsaw/24_+chainsaw1_0.vmt
Weapons-and-Props-Models-Resident-Evil-7-Biohazard/materials/models/minitiv/re7/weapons/wp0060_chainsaw/24_-chainsaw2_0.vmt
Weapons-and-Props-Models-Resident-Evil-7-Biohazard/materials/models/minitiv/re7/weapons/wp0060_chainsaw/wp0060_albm.vtf
Weapons-and-Props-Models-Resident-Evil-7-Biohazard/materials/models/minitiv/re7/weapons/wp0060_chainsaw/24_chain_0.vmt
Weapons-and-Props-Models-Resident-Evil-7-Biohazard/materials/models/minitiv/re7/weapons/wp0060_chainsaw/wp0060_spe.vtf
Weapons-and-Props-Models-Resident-Evil-7-Biohazard/materials/models/minitiv/re7/weapons/wp0060_chainsaw/wp0060_nrmr.vtf
Weapons-and-Props-Models-Resident-Evil-7-Biohazard/materials/models/minitiv/re7/weapons/com/lightwarp.vtf
Weapons-and-Props-Models-Resident-Evil-7-Biohazard/materials/models/minitiv/re7/weapons/com/exponent.vtf
Weapons-and-Props-Models-Resident-Evil-7-Biohazard/materials/models/minitiv/re7/weapons/wp2150_fireaxe/24_fireaxe_0.vmt
Weapons-and-Props-Models-Resident-Evil-7-Biohazard/materials/models/minitiv/re7/weapons/wp2150_fireaxe/wp2150_fireaxe_albm.vtf
Weapons-and-Props-Models-Resident-Evil-7-Biohazard/materials/models/minitiv/re7/weapons/wp2150_fireaxe/24_shovel_0.vmt
Weapons-and-Props-Models-Resident-Evil-7-Biohazard/materials/models/minitiv/re7/weapons/wp2150_fireaxe/wp2150_fireaxe_nrmr.vtf
Weapons-and-Props-Models-Resident-Evil-7-Biohazard/materials/models/minitiv/re7/weapons/wp2150_fireaxe/wp2150_fireaxe_spe.vtf
Weapons-and-Props-Models-Resident-Evil-7-Biohazard/materials/models/minitiv/re7/weapons/wp1180_flashlight/wp1200_spe.vtf
Weapons-and-Props-Models-Resident-Evil-7-Biohazard/materials/models/minitiv/re7/weapons/wp1180_flashlight/wp1180_albm.vtf
Weapons-and-Props-Models-Resident-Evil-7-Biohazard/materials/models/minitiv/re7/weapons/wp1180_flashlight/24_flashlight_0.vmt
Weapons-and-Props-Models-Resident-Evil-7-Biohazard/materials/models/minitiv/re7/weapons/wp1180_flashlight/wp1200_albm.vtf
Weapons-and-Props-Models-Resident-Evil-7-Biohazard/materials/models/minitiv/re7/weapons/wp1180_flashlight/wp1180_nrmr.vtf
Weapons-and-Props-Models-Resident-Evil-7-Biohazard/materials/models/minitiv/re7/weapons/wp1180_flashlight/wp1200_nrmr.vtf
Weapons-and-Props-Models-Resident-Evil-7-Biohazard/materials/models/minitiv/re7/weapons/wp1180_flashlight/24_flashlight_1.vmt
Weapons-and-Props-Models-Resident-Evil-7-Biohazard/materials/models/minitiv/re7/weapons/wp1180_flashlight/wp1180_spe.vtf
Weapons-and-Props-Models-Resident-Evil-7-Biohazard/materials/models/minitiv/re7/weapons/wp1012_handguncartridge/24_catridge_0.vmt
Weapons-and-Props-Models-Resident-Evil-7-Biohazard/materials/models/minitiv/re7/weapons/wp1012_handguncartridge/wp1012_spe.vtf
Weapons-and-Props-Models-Resident-Evil-7-Biohazard/materials/models/minitiv/re7/weapons/wp1012_handguncartridge/wp1012_albm.vtf
Weapons-and-Props-Models-Resident-Evil-7-Biohazard/materials/models/minitiv/re7/weapons/wp1012_handguncartridge/wp1012_nrmr.vtf
Weapons-and-Props-Models-Resident-Evil-7-Biohazard/materials/models/minitiv/re7/weapons/wp0020_knife/wp0020_nrmr.vtf
Weapons-and-Props-Models-Resident-Evil-7-Biohazard/materials/models/minitiv/re7/weapons/wp0020_knife/wp0020_albm.vtf
Weapons-and-Props-Models-Resident-Evil-7-Biohazard/materials/models/minitiv/re7/weapons/wp0020_knife/24_knife_0.vmt
Weapons-and-Props-Models-Resident-Evil-7-Biohazard/materials/models/minitiv/re7/weapons/wp0020_knife/wp0020_spe.vtf
Weapons-and-Props-Models-Resident-Evil-7-Biohazard/materials/models/minitiv/re7/weapons/wp2110_pliers/wp2110_spe.vtf
Weapons-and-Props-Models-Resident-Evil-7-Biohazard/materials/models/minitiv/re7/weapons/wp2110_pliers/wp2110_albm.vtf
Weapons-and-Props-Models-Resident-Evil-7-Biohazard/materials/models/minitiv/re7/weapons/wp2110_pliers/24_pliers_0.vmt
Weapons-and-Props-Models-Resident-Evil-7-Biohazard/materials/models/minitiv/re7/weapons/wp2110_pliers/wp2110_nrmr.vtf
Weapons-and-Props-Models-Resident-Evil-7-Biohazard/materials/models/minitiv/re7/weapons/wp1110_portablecannon/wp1111_nrmr.vtf
Weapons-and-Props-Models-Resident-Evil-7-Biohazard/materials/models/minitiv/re7/weapons/wp1110_portablecannon/wp1112_spe.vtf
Weapons-and-Props-Models-Resident-Evil-7-Biohazard/materials/models/minitiv/re7/weapons/wp1110_portablecannon/wp1111_albm.vtf
Weapons-and-Props-Models-Resident-Evil-7-Biohazard/materials/models/minitiv/re7/weapons/wp1110_portablecannon/24_-bullet1_0.vmt
Weapons-and-Props-Models-Resident-Evil-7-Biohazard/materials/models/minitiv/re7/weapons/wp1110_portablecannon/wp1110_spe.vtf
Weapons-and-Props-Models-Resident-Evil-7-Biohazard/materials/models/minitiv/re7/weapons/wp1110_portablecannon/24_-bullet2_0.vmt
Weapons-and-Props-Models-Resident-Evil-7-Biohazard/materials/models/minitiv/re7/weapons/wp1110_portablecannon/24_gun_0.vmt
Weapons-and-Props-Models-Resident-Evil-7-Biohazard/materials/models/minitiv/re7/weapons/wp1110_portablecannon/wp1112_albm.vtf
Weapons-and-Props-Models-Resident-Evil-7-Biohazard/materials/models/minitiv/re7/weapons/wp1110_portablecannon/wp1110_nrmr.vtf
Weapons-and-Props-Models-Resident-Evil-7-Biohazard/materials/models/minitiv/re7/weapons/wp1110_portablecannon/wp1110_albm.vtf
Weapons-and-Props-Models-Resident-Evil-7-Biohazard/materials/models/minitiv/re7/weapons/wp1110_portablecannon/wp1111_spe.vtf
Weapons-and-Props-Models-Resident-Evil-7-Biohazard/materials/models/minitiv/re7/weapons/wp1110_portablecannon/wp1112_nrmr.vtf
Weapons-and-Props-Models-Resident-Evil-7-Biohazard/materials/models/minitiv/re7/weapons/wp2040_shovel/wp2040_shovel_spe.vtf
Weapons-and-Props-Models-Resident-Evil-7-Biohazard/materials/models/minitiv/re7/weapons/wp2040_shovel/wp2040_shovel_nrmr.vtf
Weapons-and-Props-Models-Resident-Evil-7-Biohazard/materials/models/minitiv/re7/weapons/wp2040_shovel/wp2040_shovel_albm.vtf
Weapons-and-Props-Models-Resident-Evil-7-Biohazard/materials/models/minitiv/re7/weapons/wp2040_shovel/24_shovel_0.vmt
Weapons-and-Props-Models-Resident-Evil-7-Biohazard/materials/models/minitiv/re7/weapons/wp1230_pumpshotgun/24_shotgun_0.vmt
Weapons-and-Props-Models-Resident-Evil-7-Biohazard/materials/models/minitiv/re7/weapons/wp1230_pumpshotgun/wp1230_nrmr.vtf
Weapons-and-Props-Models-Resident-Evil-7-Biohazard/materials/models/minitiv/re7/weapons/wp1230_pumpshotgun/wp1230_spe.vtf
Weapons-and-Props-Models-Resident-Evil-7-Biohazard/materials/models/minitiv/re7/weapons/wp1230_pumpshotgun/wp1230_albm.vtf
Weapons-and-Props-Models-Resident-Evil-7-Biohazard/materials/models/minitiv/re7/weapons/wp0040_axe/wp0040_nrmr.vtf
Weapons-and-Props-Models-Resident-Evil-7-Biohazard/materials/models/minitiv/re7/weapons/wp0040_axe/wp0040_spe.vtf
Weapons-and-Props-Models-Resident-Evil-7-Biohazard/materials/models/minitiv/re7/weapons/wp0040_axe/wp0040_albm.vtf
Weapons-and-Props-Models-Resident-Evil-7-Biohazard/materials/models/minitiv/re7/weapons/wp0040_axe/24_axe_0.vmt
Weapons-and-Props-Models-Resident-Evil-7-Biohazard/materials/models/minitiv/re7/weapons/wp1210_handgun_glock/wp1210_spe.vtf
Weapons-and-Props-Models-Resident-Evil-7-Biohazard/materials/models/minitiv/re7/weapons/wp1210_handgun_glock/24_handgun_0.vmt
Weapons-and-Props-Models-Resident-Evil-7-Biohazard/materials/models/minitiv/re7/weapons/wp1210_handgun_glock/wp1210_nrmr.vtf
Weapons-and-Props-Models-Resident-Evil-7-Biohazard/materials/models/minitiv/re7/weapons/wp1210_handgun_glock/wp1210_albm.vtf