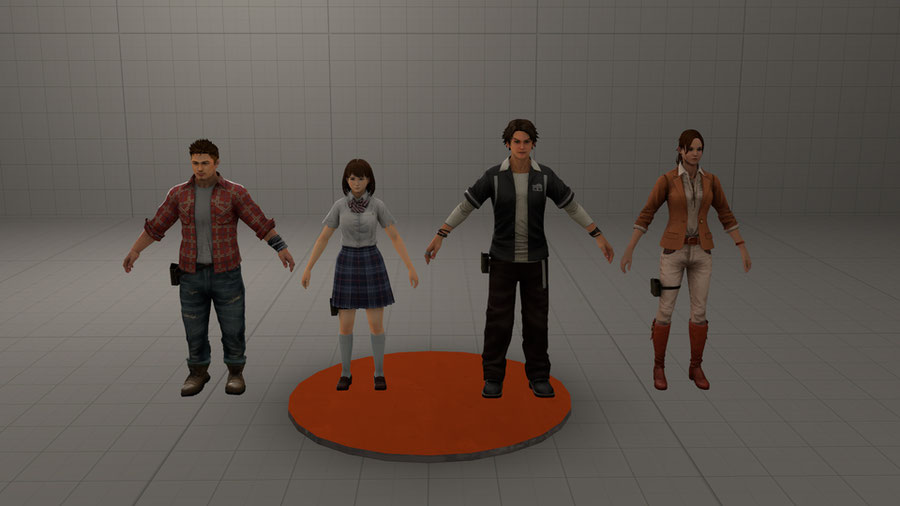 Show more
Description
THESE ARE REPLACEMENTS
Blake replaces Ellis
Yusuke replaces Nick
Sara replaces Rochelle
Haruka replaces Coach
If you would like to have the original models and the Japanese versions, download this here.
https://steamcommunity.com/sharedfiles/filedetails/?id=747813334
These are the normal L4D2 models that don't effect the replacements so you can still have the original L4D2 models.
I dont own these models, I converted them from the Left 4 Dead 2 workshop.
Credit goes to Adorabird!, The King Trashmouth and Dr. Tony, all users can be found on steam.
Model credit goes to Valve.
Will take down if asked to, other then that, enjoy the models :)
SFMLab is a free service. However, it costs about $0.03 to deliver you a 1GB file. With over 20TB of traffic every month and growing, SFMLab needs your help. If only 1% of our users each gave us $5 for a single month, we could keep the site running for several years.
Filename
Downloads
Created
Filesize
Files
Left_4_Dead_Survivors_lG9DB5S.zip
597
2021-06-27 13:54:54
223.4 MB
File contents:

models/survivors/survivor_mechanic.phy
models/survivors/survivor_coach.vvd
models/survivors/anim_yusuke.ani
models/survivors/survivor_gambler.phy
models/survivors/survivor_producer.phy
models/survivors/anim_yusukefix.mdl
models/survivors/anim_yusukefix.ani
models/survivors/survivor_producer.mdl
models/survivors/anim_jun.ani
models/survivors/survivor_coach.mdl
models/survivors/survivor_coach.phy
models/survivors/survivor_mechanic.vvd
models/survivors/survivor_gambler.mdl
models/survivors/survivor_gambler.dx90.vtx
models/survivors/anim_jun.mdl
models/survivors/survivor_mechanic.mdl
models/survivors/survivor_gambler.vvd
models/survivors/survivor_coach.dx90.vtx
models/survivors/anim_yusuke.mdl
models/survivors/survivor_mechanic.dx90.vtx
models/survivors/survivor_producer.dx90.vtx
models/survivors/survivor_producer.vvd
models/weapons/w_glock.dx80.vtx
models/weapons/v_HGun.sw.vtx
models/weapons/c_arms_ow_mercy.vvd
models/weapons/w_missile_closed.vvd
models/weapons/v_rpg.vvd
models/weapons/irifleshell.sw.vtx
models/weapons/w_rpgammo.jpg
models/weapons/v_glock.vvd
models/weapons/w_mp5.mdl
models/weapons/v_357.sw.vtx
models/weapons/c_crowbar_frame.dx80.vtx
models/weapons/w_shotgun.vvd
models/weapons/v_satchel_radio.sw.vtx
models/weapons/w_satchel.jpg
models/weapons/w_smg_mac10.sw.vtx
models/weapons/v_egon.dx80.vtx
models/weapons/w_satchel.dx80.vtx
models/weapons/c_arms_mercy.dx90.vtx
models/weapons/w_gauss.jpg
models/weapons/w_gauss.vvd
models/weapons/W_missile.dx80.vtx
models/weapons/w_stunbaton.dx80.vtx
models/weapons/w_slam.dx80.vtx
models/weapons/v_stunstick.dx80.vtx
models/weapons/w_hornet.jpg
models/weapons/w_rocket_launcher.vvd
models/weapons/v_357.vvd
models/weapons/w_irifle.mdl
models/weapons/w_usas12.sw.vtx
models/weapons/w_grenade.jpg
models/weapons/w_glock.mdl
models/weapons/w_hgun.jpg
models/weapons/w_sniper.dx90.vtx
models/weapons/w_crossbow.vvd
models/weapons/w_crossbow.dx80.vtx
models/weapons/w_smg_mac10.mdl
models/weapons/v_wolve_t.dx90.vtx
models/weapons/w_tripmine.jpg
models/weapons/w_egon.mdl
models/weapons/w_shot_u12.dx90.vtx
models/weapons/v_superphyscannon.sw.vtx
models/weapons/w_crossbow.mdl
models/weapons/w_crossbow.jpg
models/weapons/w_rpgammo.phy
models/weapons/w_glock_lh.sw.vtx
models/weapons/w_missile.vvd
models/weapons/W_357.phy
models/weapons/v_shotgun.mdl
models/weapons/w_stunbaton.dx90.vtx
models/weapons/w_rpg.sw.vtx
models/weapons/aileri_sombra_epics_arms.dx90.vtx
models/weapons/v_oicw.sw.vtx
models/weapons/v_wolve_t.mdl
models/weapons/w_oicw.dx90.vtx
models/weapons/c_arms_gor.vvd
models/weapons/v_357.mdl
models/weapons/w_missile_launch.dx90.vtx
models/weapons/v_mp5.jpg
models/weapons/w_smg_mac10.dx90.vtx
models/weapons/w_egon_pickup.jpg
models/weapons/w_missile_launch.dx80.vtx
models/weapons/v_ar_sl8.xbox.vtx
models/weapons/aileri_sombra_arms.mdl
models/weapons/w_crossbow_clip.dx90.vtx
models/weapons/w_egon_pickup.dx90.vtx
models/weapons/w_crowbar.dx90.vtx
models/weapons/v_physcannon.mdl
models/weapons/v_egon.vvd
models/weapons/w_hopwire.sw.vtx
models/weapons/v_shot_u12.mdl
models/weapons/v_gauss.jpg
models/weapons/w_shotgun.sw.vtx
models/weapons/v_physcannon.sw.vtx
models/weapons/v_pistol.vvd
models/weapons/w_irifle.dx80.vtx
models/weapons/w_sniper.mdl
models/weapons/w_shotgun.jpg
models/weapons/w_slam.mdl
models/weapons/c_arms_ow_mercy.dx90.vtx
models/weapons/v_mp5.sw.vtx
models/weapons/v_satchel_radio.dx80.vtx
models/weapons/v_gauss.dx90.vtx
models/weapons/w_rpg.vvd
models/weapons/v_smg_mac10.mdl
models/weapons/w_rpg.dx90.vtx
models/weapons/w_rif_fear.dx90.vtx
models/weapons/w_egon_pickup.sw.vtx
models/weapons/w_357.dx80.vtx
models/weapons/w_glock.dx90.vtx
models/weapons/v_pistol.sw.vtx
models/weapons/v_squeak.jpg
models/weapons/v_crossbow.sw.vtx
models/weapons/v_shotgun.dx90.vtx
models/weapons/w_satchel.dx90.vtx
models/weapons/v_egon.mdl
models/weapons/v_superphyscannon.vvd
models/weapons/crossbow_bolt.jpg
models/weapons/v_crowbar.mdl
models/weapons/W_missile.phy
models/weapons/w_shotgun.phy
models/weapons/v_hands.mdl
models/weapons/irifleshell.vvd
models/weapons/w_ar_sl8.mdl
models/weapons/w_slam.vvd
models/weapons/v_Grenade.mdl
models/weapons/w_shot_u12.vvd
models/weapons/w_satchel.sw.vtx
models/weapons/w_ar_sl8.dx80.vtx
models/weapons/V_bugbait.dx90.vtx
models/weapons/v_crowbar.vvd
models/weapons/shell.dx90.vtx
models/weapons/w_miniguno.vvd
models/weapons/w_usas12.dx90.vtx
models/weapons/w_hornet.dx80.vtx
models/weapons/v_usas12.mdl
models/weapons/w_gauss.dx80.vtx
models/weapons/v_egon.dx90.vtx
models/weapons/w_pistol.dx90.vtx
models/weapons/w_usas12.mdl
models/weapons/v_smg1.dx80.vtx
models/weapons/v_mp5.mdl
models/weapons/v_shot_u12.vvd
models/weapons/v_smg_mac10.dx80.vtx
models/weapons/w_tfa_arrow.phy
models/weapons/c_arms_mercy.vvd
models/weapons/w_stunbaton.sw.vtx
models/weapons/w_crossbow_clip.phy
models/weapons/v_glock.jpg
models/weapons/w_pistol.dx80.vtx
models/weapons/w_hornet.dx90.vtx
models/weapons/w_357.dx90.vtx
models/weapons/w_rpg_projectile.mdl
models/weapons/v_slam.sw.vtx
models/weapons/v_smg_mac10.dx90.vtx
models/weapons/v_crowbar.sw.vtx
models/weapons/v_HGun.vvd
models/weapons/v_hands.vvd
models/weapons/w_pistol.sw.vtx
models/weapons/v_shotgun.sw.vtx
models/weapons/w_grenade.dx80.vtx
models/weapons/w_hopwire.dx90.vtx
models/weapons/w_rif_fear.dx80.vtx
models/weapons/w_gauss.phy
models/weapons/w_miniguno.dx80.vtx
models/weapons/w_rocket_launcher.dx90.vtx
models/weapons/w_mp5.dx80.vtx
models/weapons/v_oicw.vvd
models/weapons/w_tripmine.dx90.vtx
models/weapons/c_arms_mercy.dx80.vtx
models/weapons/v_superphyscannon.dx80.vtx
models/weapons/v_HGun.dx80.vtx
models/weapons/v_pist_fiveseven.vvd
models/weapons/w_usas12.phy
models/weapons/w_tfa_arrow.mdl
models/weapons/w_missile_closed.phy
models/weapons/w_irifle.dx90.vtx
models/weapons/v_hopwire.sw.vtx
models/weapons/v_crowbar.xbox.vtx
models/weapons/w_crossbow_clip.jpg
models/weapons/w_missile_closed.dx90.vtx
models/weapons/w_rpg.dx80.vtx
models/weapons/v_superphyscannon.dx90.vtx
models/weapons/w_miniguno.phy
models/weapons/w_shot_u12.mdl
models/weapons/v_satchel.mdl
models/weapons/w_crowbar.sw.vtx
models/weapons/w_sniper.sw.vtx
models/weapons/w_usas12.vvd
models/weapons/w_crossbow.sw.vtx
models/weapons/w_rif_fear.sw.vtx
models/weapons/w_crossbow_clip.sw.vtx
models/weapons/w_smg1.mdl
models/weapons/v_squeak.dx80.vtx
models/weapons/w_gauss.mdl
models/weapons/w_rpg_projectile.dx80.vtx
models/weapons/w_rif_fear.phy
models/weapons/v_gauss.dx80.vtx
models/weapons/w_tfa_arrow.sw.vtx
models/weapons/crossbow_bolt.sw.vtx
models/weapons/w_grenade.sw.vtx
models/weapons/aileri_sombra_arms.sw.vtx
models/weapons/v_satchel_radio.vvd
models/weapons/w_crossbow.xbox.vtx
models/weapons/w_hopwire.phy
models/weapons/aileri_sombra_arms.dx80.vtx
models/weapons/aileri_sombra_arms.dx90.vtx
models/weapons/v_irifle.mdl
models/weapons/w_missile_closed.sw.vtx
models/weapons/v_357.dx90.vtx
models/weapons/irifleshell.dx90.vtx
models/weapons/v_mp5.dx90.vtx
models/weapons/v_satchel_radio.mdl
models/weapons/crossbow_bolt.phy
models/weapons/v_wolve_t.vvd
models/weapons/crossbow_bolt.vvd
models/weapons/w_tfa_arrow.dx80.vtx
models/weapons/w_miniguno.mdl
models/weapons/w_missile_closed.mdl
models/weapons/w_missile_launch.mdl
models/weapons/irifleshell.dx80.vtx
models/weapons/w_egon_pickup.vvd
models/weapons/w_hopwire.vvd
models/weapons/w_stunbaton.mdl
models/weapons/v_rpg.mdl
models/weapons/v_pistol.dx80.vtx
models/weapons/v_slam.vvd
models/weapons/w_357.mdl
models/weapons/v_usas12.vvd
models/weapons/v_ar_sl8.sw.vtx
models/weapons/v_physcannon.dx80.vtx
models/weapons/w_physics.phy
models/weapons/w_357.sw.vtx
models/weapons/v_wolve_t.dx80.vtx
models/weapons/v_slam.mdl
models/weapons/v_pist_fiveseven.xbox.vtx
models/weapons/w_smg1.dx80.vtx
models/weapons/v_shotgun.dx80.vtx
models/weapons/w_rpg_projectile.sw.vtx
models/weapons/w_rocket_launcher.sw.vtx
models/weapons/v_crowbar.dx90.vtx
models/weapons/w_bugbait.sw.vtx
models/weapons/v_glock.sw.vtx
models/weapons/v_crossbow.mdl
models/weapons/v_HGun.jpg
models/weapons/v_smg1.mdl
models/weapons/v_crossbow.vvd
models/weapons/v_satchel_radio.dx90.vtx
models/weapons/w_hgun.sw.vtx
models/weapons/aileri_sombra_arms.vvd
models/weapons/v_stunstick_anim.mdl
models/weapons/w_egon.sw.vtx
models/weapons/v_tripmine.dx90.vtx
models/weapons/w_crossbow_clip.vvd
models/weapons/v_satchel.dx80.vtx
models/weapons/c_crowbar_frame.sw.vtx
models/weapons/w_missile_launch.sw.vtx
models/weapons/v_crossbow.dx90.vtx
models/weapons/w_missile_closed.dx80.vtx
models/weapons/w_bugbait.mdl
models/weapons/v_mp5.dx80.vtx
models/weapons/w_irifle.phy
models/weapons/c_arms_mercy.sw.vtx
models/weapons/v_stunstick.mdl
models/weapons/v_crossbow.jpg
models/weapons/w_shotgun.mdl
models/weapons/v_satchel.sw.vtx
models/weapons/w_physics.sw.vtx
models/weapons/v_Hands.sw.vtx
models/weapons/w_hornet.mdl
models/weapons/w_357.jpg
models/weapons/v_HGun.dx90.vtx
models/weapons/v_ar_sl8.vvd
models/weapons/crossbow_bolt.dx90.vtx
models/weapons/w_hornet.vvd
models/weapons/w_rif_fear.vvd
models/weapons/v_squeak.mdl
models/weapons/w_egon.dx90.vtx
models/weapons/v_satchel.dx90.vtx
models/weapons/v_smg_mac10.xbox.vtx
models/weapons/w_grenade.dx90.vtx
models/weapons/w_egon_pickup.mdl
models/weapons/c_arms_gor.mdl
models/weapons/v_pist_fiveseven.mdl
models/weapons/w_stunbaton.phy
models/weapons/w_ar_sl8.dx90.vtx
models/weapons/w_ar_sl8.vvd
models/weapons/v_shot_u12.sw.vtx
models/weapons/c_arms_ow_mercy.sw.vtx
models/weapons/w_smg_mac10.vvd
models/weapons/v_tripmine.vvd
models/weapons/w_glock.jpg
models/weapons/v_wolve_t.xbox.vtx
models/weapons/w_hornet.phy
models/weapons/v_HGun.mdl
models/weapons/aileri_sombra_epics_arms.sw.vtx
models/weapons/v_tripmine.sw.vtx
models/weapons/w_rocket_launcher.mdl
models/weapons/w_9mmclip.sw.vtx
models/weapons/v_bugbait.vvd
models/weapons/w_pistol.mdl
models/weapons/w_missile_launch.vvd
models/weapons/w_rpgammo.sw.vtx
models/weapons/w_bugbait.vvd
models/weapons/v_oicw.dx80.vtx
models/weapons/v_satchel.vvd
models/weapons/w_rocket_launcher.dx80.vtx
models/weapons/v_hopwire.dx90.vtx
models/weapons/w_shot_u12.phy
models/weapons/w_smg1.sw.vtx
models/weapons/w_crossbow_clip.dx80.vtx
models/weapons/v_stunstick.vvd
models/weapons/w_glock.sw.vtx
models/weapons/v_rpg.jpg
models/weapons/w_sniper.xbox.vtx
models/weapons/w_grenade.mdl
models/weapons/w_pistol.phy
models/weapons/w_shotgun.dx90.vtx
models/weapons/v_glock.dx90.vtx
models/weapons/v_smg_mac10.vvd
models/weapons/shell.jpg
models/weapons/w_physics.vvd
models/weapons/v_satchel_radio.jpg
models/weapons/v_shotgun.vvd
models/weapons/v_ar_sl8.dx90.vtx
models/weapons/shell.vvd
models/weapons/shell.sw.vtx
models/weapons/v_pistol.dx90.vtx
models/weapons/w_mp5.phy
models/weapons/w_hgun.dx80.vtx
models/weapons/v_gauss.mdl
models/weapons/w_mp5.dx90.vtx
models/weapons/w_stunbaton.vvd
models/weapons/v_smg1.vvd
models/weapons/w_satchel.vvd
models/weapons/w_egon.phy
models/weapons/w_missile_launch.phy
models/weapons/w_hopwire.dx80.vtx
models/weapons/w_9mmclip.vvd
models/weapons/w_crowbar.vvd
models/weapons/w_mp5.vvd
models/weapons/v_pistol.mdl
models/weapons/w_9mmclip.dx80.vtx
models/weapons/v_shot_u12.dx90.vtx
models/weapons/w_crowbar.phy
models/weapons/w_bugbait.dx90.vtx
models/weapons/w_smg_mac10.phy
models/weapons/w_satchel.phy
models/weapons/w_miniguno.dx90.vtx
models/weapons/shell.mdl
models/weapons/w_crowbar.xbox.vtx
models/weapons/w_egon.dx80.vtx
models/weapons/v_slam.dx80.vtx
models/weapons/w_usas12.dx80.vtx
models/weapons/w_rpg_projectile.phy
models/weapons/v_rpg.dx90.vtx
models/weapons/v_squeak.sw.vtx
models/weapons/w_oicw.phy
models/weapons/shell.dx80.vtx
models/weapons/c_arms_ow_mercy.dx80.vtx
models/weapons/w_rpgammo.dx90.vtx
models/weapons/w_glock_lh.phy
models/weapons/w_smg_mac10.dx80.vtx
models/weapons/v_slam.dx90.vtx
models/weapons/w_tripmine.sw.vtx
models/weapons/w_slam.sw.vtx
models/weapons/W_missile.dx90.vtx
models/weapons/w_ar_sl8.xbox.vtx
models/weapons/w_9mmclip.mdl
models/weapons/v_oicw.dx90.vtx
models/weapons/w_shot_u12.sw.vtx
models/weapons/v_superphyscannon.mdl
models/weapons/v_smg1.sw.vtx
models/weapons/w_gauss.dx90.vtx
models/weapons/v_crowbar.dx80.vtx
models/weapons/v_usas12.sw.vtx
models/weapons/w_missile.mdl
models/weapons/w_smg1.phy
models/weapons/v_mp5.vvd
models/weapons/v_rpg.dx80.vtx
models/weapons/v_tripmine.jpg
models/weapons/w_egon.vvd
models/weapons/w_rpg.phy
models/weapons/w_irifle.vvd
models/weapons/v_stunstick.sw.vtx
models/weapons/w_sniper.phy
models/weapons/w_smg1.vvd
models/weapons/w_mp5.sw.vtx
models/weapons/W_missile.sw.vtx
models/weapons/w_tripmine.vvd
models/weapons/w_rpg_projectile.dx90.vtx
models/weapons/w_9mmclip.jpg
models/weapons/c_arms_gor.dx90.vtx
models/weapons/v_rpg.sw.vtx
models/weapons/v_glock.mdl
models/weapons/w_tfa_arrow.dx90.vtx
models/weapons/v_crossbow.dx80.vtx
models/weapons/v_ar_sl8.dx80.vtx
models/weapons/w_hgun.vvd
models/weapons/w_hornet.sw.vtx
models/weapons/v_grenade.jpg
models/weapons/w_physics.mdl
models/weapons/v_Hands.dx90.vtx
models/weapons/w_miniguno.sw.vtx
models/weapons/w_physics.dx90.vtx
models/weapons/v_ar_sl8.mdl
models/weapons/v_Grenade.sw.vtx
models/weapons/w_rpg_projectile.vvd
models/weapons/w_rpg.mdl
models/weapons/w_crowbar.jpg
models/weapons/w_oicw.dx80.vtx
models/weapons/v_hopwire.vvd
models/weapons/v_gauss.vvd
models/weapons/w_crossbow.phy
models/weapons/v_bugbait.mdl
models/weapons/V_bugbait.sw.vtx
models/weapons/v_glock.dx80.vtx
models/weapons/v_satchel.jpg
models/weapons/w_rpg_projectile.jpg
models/weapons/w_glock_lh.dx90.vtx
models/weapons/c_crowbar_frame.mdl
models/weapons/w_oicw.vvd
models/weapons/w_crowbar.mdl
models/weapons/w_glock.vvd
models/weapons/w_egon_pickup.phy
models/weapons/w_sniper.dx80.vtx
models/weapons/v_oicw.mdl
models/weapons/w_glock_lh.dx80.vtx
models/weapons/v_IRifle.dx80.vtx
models/weapons/w_shot_u12.dx80.vtx
models/weapons/v_squeak.vvd
models/weapons/w_satchel.mdl
models/weapons/v_pist_fiveseven.dx80.vtx
models/weapons/w_rocket_launcher.phy
models/weapons/v_stunstick.dx90.vtx
models/weapons/w_crossbow_clip.mdl
models/weapons/w_ar_sl8.sw.vtx
models/weapons/v_physcannon.dx90.vtx
models/weapons/v_smg1.dx90.vtx
models/weapons/c_crowbar_frame.vvd
models/weapons/v_physcannon.vvd
models/weapons/aileri_sombra_epics_arms.vvd
models/weapons/w_rpg.jpg
models/weapons/crossbow_bolt.dx80.vtx
models/weapons/v_Grenade.vvd
models/weapons/aileri_sombra_epics_arms.dx80.vtx
models/weapons/v_hands.jpg
models/weapons/v_gauss.sw.vtx
models/weapons/v_hopwire.dx80.vtx
models/weapons/v_shot_u12.dx80.vtx
models/weapons/w_hgun.mdl
models/weapons/w_slam.dx90.vtx
models/weapons/w_hgun.phy
models/weapons/v_hopwire.mdl
models/weapons/w_grenade.vvd
models/weapons/w_pistol.vvd
models/weapons/w_rpgammo.vvd
models/weapons/v_egon.sw.vtx
models/weapons/v_usas12.dx90.vtx
models/weapons/w_tfa_arrow.vvd
models/weapons/w_tripmine.phy
models/weapons/w_glock.phy
models/weapons/c_arms_ow_mercy.mdl
models/weapons/v_shotgun.jpg
models/weapons/w_gauss.sw.vtx
models/weapons/v_squeak.dx90.vtx
models/weapons/V_bugbait.dx80.vtx
models/weapons/w_egon.jpg
models/weapons/w_crowbar.dx80.vtx
models/weapons/v_Hands.dx80.vtx
models/weapons/w_rpgammo.dx80.vtx
models/weapons/v_pist_fiveseven.sw.vtx
models/weapons/w_357.vvd
models/weapons/v_357.dx80.vtx
models/weapons/w_9mmclip.dx90.vtx
models/weapons/w_glock_lh.vvd
models/weapons/w_grenade.phy
models/weapons/w_hopwire.mdl
models/weapons/c_crowbar_frame.dx90.vtx
models/weapons/v_pist_fiveseven.dx90.vtx
models/weapons/w_physics.dx80.vtx
models/weapons/w_oicw.sw.vtx
models/weapons/w_tripmine.dx80.vtx
models/weapons/w_oicw.mdl
models/weapons/w_glock_lh.mdl
models/weapons/v_Grenade.dx90.vtx
models/weapons/v_smg_mac10.sw.vtx
models/weapons/w_bugbait.dx80.vtx
models/weapons/w_9mmclip.phy
models/weapons/w_shotgun.dx80.vtx
models/weapons/v_wolve_t.sw.vtx
models/weapons/w_irifle.sw.vtx
models/weapons/w_sniper.vvd
models/weapons/w_hgun.dx90.vtx
models/weapons/v_tripmine.dx80.vtx
models/weapons/w_egon_pickup.dx80.vtx
models/weapons/v_irifle.vvd
models/weapons/irifleshell.mdl
models/weapons/w_rpgammo.mdl
models/weapons/w_crossbow.dx90.vtx
models/weapons/w_rif_fear.mdl
models/weapons/crossbow_bolt.mdl
models/weapons/aileri_sombra_epics_arms.mdl
models/weapons/v_IRifle.dx90.vtx
models/weapons/v_tripmine.mdl
models/weapons/v_IRifle.sw.vtx
models/weapons/v_Grenade.dx80.vtx
models/weapons/v_egon.jpg
models/weapons/c_arms_gor.dx80.vtx
models/weapons/w_tripmine.mdl
models/weapons/v_usas12.dx80.vtx
models/weapons/w_smg1.dx90.vtx
models/weapons/c_arms_mercy.mdl
models/weapons/cw_ffar/w_cw_ffar.dx80.vtx
models/weapons/cw_ffar/w_cw_ffar.sw.vtx
models/weapons/cw_ffar/v_ffar_cw.vvd
models/weapons/cw_ffar/w_cw_ffar.dx90.vtx
models/weapons/cw_ffar/v_ffar_cw.dx80.vtx
models/weapons/cw_ffar/v_ffar_cw.mdl
models/weapons/cw_ffar/v_ffar_cw.dx90.vtx
models/weapons/cw_ffar/w_cw_ffar.phy
models/weapons/cw_ffar/w_cw_ffar.mdl
models/weapons/cw_ffar/v_ffar_cw.sw.vtx
models/weapons/cw_ffar/w_cw_ffar.vvd
models/weapons/cw_lc10/v_lc10_cw.sw.vtx
models/weapons/cw_lc10/w_cw_lc10.phy
models/weapons/cw_lc10/w_cw_lc10.sw.vtx
models/weapons/cw_lc10/w_cw_lc10.vvd
models/weapons/cw_lc10/v_lc10_cw.mdl
models/weapons/cw_lc10/v_lc10_cw.vvd
models/weapons/cw_lc10/w_cw_lc10.dx90.vtx
models/weapons/cw_lc10/w_cw_lc10.dx80.vtx
models/weapons/cw_lc10/v_lc10_cw.dx80.vtx
models/weapons/cw_lc10/w_cw_lc10.mdl
models/weapons/cw_lc10/v_lc10_cw.dx90.vtx
models/weapons/cw_1911/w_cw_1911.dx80.vtx
models/weapons/cw_1911/w_cw_1911.vvd
models/weapons/cw_1911/w_cw_1911.phy
models/weapons/cw_1911/w_cw_1911.sw.vtx
models/weapons/cw_1911/v_1911_cw.sw.vtx
models/weapons/cw_1911/w_cw_1911.dx90.vtx
models/weapons/cw_1911/v_1911_cw.vvd
models/weapons/cw_1911/v_1911_cw.mdl
models/weapons/cw_1911/v_1911_cw.dx80.vtx
models/weapons/cw_1911/w_cw_1911.mdl
models/weapons/cw_1911/v_1911_cw.dx90.vtx
models/weapons/cw_raygun/w_cw_raygun.sw.vtx
models/weapons/cw_raygun/v_raygun_cw.vvd
models/weapons/cw_raygun/w_cw_raygun.mdl
models/weapons/cw_raygun/w_cw_raygun.dx80.vtx
models/weapons/cw_raygun/v_raygun_cw.dx80.vtx
models/weapons/cw_raygun/w_cw_raygun.vvd
models/weapons/cw_raygun/w_cw_raygun.dx90.vtx
models/weapons/cw_raygun/w_cw_raygun.phy
models/weapons/cw_raygun/v_raygun_cw.mdl
models/weapons/cw_raygun/v_raygun_cw.sw.vtx
models/weapons/cw_raygun/v_raygun_cw.dx90.vtx
models/weapons/shells/shotgun_shell.mdl
models/weapons/shells/shotgun_shell.phy
models/weapons/shells/shotgun_shell.dx80.vtx
models/weapons/shells/shotgun_shell.dx90.vtx
models/weapons/shells/shotgun_shell.sw.vtx
models/weapons/shells/shotgun_shell.vvd
models/weapons/tacticalm3/v_shot_m3super90.dx80.vtx
models/weapons/tacticalm3/v_shot_m3super90.vvd
models/weapons/tacticalm3/v_shot_m3super90.dx90.vtx
models/weapons/tacticalm3/v_shot_m3super90.mdl
models/weapons/tacticalm3/v_shot_m3super90.sw.vtx
models/weapons/tacticalm3/v_shot_m3super90.xbox.vtx
models/weapons/supershorty/v_shot_m3super90.dx80.vtx
models/weapons/supershorty/v_shot_m3super90.vvd
models/weapons/supershorty/v_shot_m3super90.dx90.vtx
models/weapons/supershorty/v_shot_m3super90.mdl
models/weapons/supershorty/v_shot_m3super90.sw.vtx
models/weapons/supershorty/v_shot_m3super90.xbox.vtx
models/weapons/cw_magnum/v_cw_magnum.dx90.vtx
models/weapons/cw_magnum/w_cw_magnum.dx80.vtx
models/weapons/cw_magnum/v_cw_magnum.sw.vtx
models/weapons/cw_magnum/w_cw_magnum.mdl
models/weapons/cw_magnum/v_cw_magnum.dx80.vtx
models/weapons/cw_magnum/w_cw_magnum.sw.vtx
models/weapons/cw_magnum/w_cw_magnum.phy
models/weapons/cw_magnum/v_cw_magnum.vvd
models/weapons/cw_magnum/v_cw_magnum.mdl
models/weapons/cw_magnum/w_cw_magnum.vvd
models/weapons/cw_magnum/w_cw_magnum.dx90.vtx
models/weapons/c_models/c_engineer_arms.mdl
models/weapons/c_models/c_engineer_gunslinger.sw.vtx
models/weapons/c_models/c_engineer_arms.dx90.vtx
models/weapons/c_models/c_engineer_gunslinger.dx90.vtx
models/weapons/c_models/c_engineer_arms.sw.vtx
models/weapons/c_models/c_engineer_arms.dx80.vtx
models/weapons/c_models/c_engineer_gunslinger.dx80.vtx
models/weapons/c_models/c_engineer_gunslinger.vvd
models/weapons/c_models/c_engineer_arms.vvd
models/weapons/c_models/c_engineer_gunslinger.mdl
models/weapons/c_models/w_models/w_grenade_grenadelauncher.phy
models/weapons/c_models/w_models/w_grenade_grenadelauncher.dx90.vtx
models/weapons/c_models/w_models/w_grenade_grenadelauncher.sw.vtx
models/weapons/c_models/w_models/w_grenade_grenadelauncher.mdl
models/weapons/c_models/w_models/w_grenade_grenadelauncher.dx80.vtx
models/weapons/c_models/w_models/w_grenade_grenadelauncher.vvd
models/weapons/c_models/c_grenadelauncher/c_grenadelauncher.dx90.vtx
models/weapons/c_models/c_grenadelauncher/c_grenadelauncher.dx80.vtx
models/weapons/c_models/c_grenadelauncher/c_grenadelauncher.phy
models/weapons/c_models/c_grenadelauncher/c_grenadelauncher.sw.vtx
models/weapons/c_models/c_grenadelauncher/c_grenadelauncher.mdl
models/weapons/c_models/c_grenadelauncher/c_grenadelauncher.vvd
models/weapons/cw_ak47/w_cw_ak47.phy
models/weapons/cw_ak47/v_ak47_cw.dx90.vtx
models/weapons/cw_ak47/w_cw_ak47.dx80.vtx
models/weapons/cw_ak47/v_ak47_cw.dx80.vtx
models/weapons/cw_ak47/v_ak47_cw.sw.vtx
models/weapons/cw_ak47/w_cw_ak47.sw.vtx
models/weapons/cw_ak47/v_ak47_cw.vvd
models/weapons/cw_ak47/v_ak47_cw.mdl
models/weapons/cw_ak47/w_cw_ak47.vvd
models/weapons/cw_ak47/w_cw_ak47.dx90.vtx
models/weapons/cw_ak47/w_cw_ak47.mdl
models/weapons/arms/v_arms_producer_new.mdl
models/weapons/arms/v_charger_arms.mdl
models/weapons/arms/v_charger_arms.dx90.vtx
models/weapons/arms/v_arms_mechanic_new.dx90.vtx
models/weapons/arms/v_charger_arms.sw.vtx
models/weapons/arms/v_arms_gambler_new.mdl
models/weapons/arms/v_arms_gambler_new.dx90.vtx
models/weapons/arms/v_spitter_arms.mdl
models/weapons/arms/v_spitter_arms.dx80.vtx
models/weapons/arms/v_jockey_arms.mdl
models/weapons/arms/v_arms_mechanic_new.mdl
models/weapons/arms/v_spitter_arms.sw.vtx
models/weapons/arms/v_jockey_arms.vvd
models/weapons/arms/v_arms_producer_new.vvd
models/weapons/arms/v_spitter_arms.vvd
models/weapons/arms/v_arms_producer_new.dx90.vtx
models/weapons/arms/v_charger_arms.dx80.vtx
models/weapons/arms/v_arms_coach_new.dx90.vtx
models/weapons/arms/v_jockey_arms.dx80.vtx
models/weapons/arms/v_arms_gambler_new.vvd
models/weapons/arms/v_arms_coach_new.mdl
models/weapons/arms/v_arms_coach_new.vvd
models/weapons/arms/v_jockey_arms.sw.vtx
models/weapons/arms/v_arms_mechanic_new.vvd
models/weapons/arms/v_jockey_arms.dx90.vtx
models/weapons/arms/v_spitter_arms.dx90.vtx
models/weapons/arms/v_charger_arms.vvd
models/weapons/melee/v_frying_pan.dx80.vtx
models/weapons/melee/w_cricket_bat.dx80.vtx
models/weapons/melee/v_frying_pan.sw.vtx
models/weapons/melee/v_bat.dx80.vtx
models/weapons/melee/v_electric_guitar.dx90.vtx
models/weapons/melee/v_chainsaw.mdl
models/weapons/melee/w_bat.phy
models/weapons/melee/w_katana.mdl
models/weapons/melee/v_katana.dx90.vtx
models/weapons/melee/v_katana.dx80.vtx
models/weapons/melee/v_fireaxe.mdl
models/weapons/melee/w_crowbar.dx90.vtx
models/weapons/melee/w_golfclub.vvd
models/weapons/melee/w_cricket_bat.dx90.vtx
models/weapons/melee/v_cricket_bat.mdl
models/weapons/melee/w_machete.mdl
models/weapons/melee/v_fireaxe.dx90.vtx
models/weapons/melee/v_katana.sw.vtx
models/weapons/melee/w_frying_pan.mdl
models/weapons/melee/w_golfclub.dx90.vtx
models/weapons/melee/v_crowbar.mdl
models/weapons/melee/v_chainsaw.dx80.vtx
models/weapons/melee/v_crowbar.vvd
models/weapons/melee/v_machete.sw.vtx
models/weapons/melee/v_bat.sw.vtx
models/weapons/melee/v_katana.mdl
models/weapons/melee/w_fireaxe.mdl
models/weapons/melee/v_cricket_bat.sw.vtx
models/weapons/melee/w_fireaxe.dx80.vtx
models/weapons/melee/v_crowbar.sw.vtx
models/weapons/melee/w_electric_guitar.dx80.vtx
models/weapons/melee/v_cricket_bat.vvd
models/weapons/melee/w_fireaxe.vvd
models/weapons/melee/v_machete.vvd
models/weapons/melee/v_fireaxe.vvd
models/weapons/melee/v_golfclub.dx80.vtx
models/weapons/melee/w_golfclub.phy
models/weapons/melee/w_machete.dx80.vtx
models/weapons/melee/v_bat.mdl
models/weapons/melee/v_golfclub.sw.vtx
models/weapons/melee/w_crowbar.sw.vtx
models/weapons/melee/v_cricket_bat.dx90.vtx
models/weapons/melee/v_golfclub.mdl
models/weapons/melee/w_fireaxe.dx90.vtx
models/weapons/melee/w_frying_pan.phy
models/weapons/melee/v_frying_pan.vvd
models/weapons/melee/w_machete.dx90.vtx
models/weapons/melee/v_crowbar.dx90.vtx
models/weapons/melee/w_golfclub.mdl
models/weapons/melee/w_cricket_bat.mdl
models/weapons/melee/v_machete.dx90.vtx
models/weapons/melee/v_electric_guitar.sw.vtx
models/weapons/melee/w_tonfa.dx80.vtx
models/weapons/melee/w_tonfa.vvd
models/weapons/melee/w_fireaxe.sw.vtx
models/weapons/melee/v_electric_guitar.dx80.vtx
models/weapons/melee/w_frying_pan.vvd
models/weapons/melee/v_frying_pan.mdl
models/weapons/melee/w_bat.dx90.vtx
models/weapons/melee/w_chainsaw.dx90.vtx
models/weapons/melee/v_bat.dx90.vtx
models/weapons/melee/w_fireaxe.phy
models/weapons/melee/v_electric_guitar.vvd
models/weapons/melee/w_frying_pan.sw.vtx
models/weapons/melee/w_machete.sw.vtx
models/weapons/melee/w_tonfa.mdl
models/weapons/melee/w_tonfa.dx90.vtx
models/weapons/melee/w_electric_guitar.vvd
models/weapons/melee/v_tonfa.vvd
models/weapons/melee/v_cricket_bat.dx80.vtx
models/weapons/melee/w_crowbar.vvd
models/weapons/melee/w_crowbar.phy
models/weapons/melee/w_chainsaw.dx80.vtx
models/weapons/melee/w_golfclub.sw.vtx
models/weapons/melee/w_electric_guitar.sw.vtx
models/weapons/melee/w_katana.vvd
models/weapons/melee/v_fireaxe.dx80.vtx
models/weapons/melee/v_fireaxe.sw.vtx
models/weapons/melee/w_chainsaw.vvd
models/weapons/melee/v_chainsaw.vvd
models/weapons/melee/w_tonfa.sw.vtx
models/weapons/melee/w_frying_pan.dx80.vtx
models/weapons/melee/v_crowbar.dx80.vtx
models/weapons/melee/w_bat.mdl
models/weapons/melee/w_golfclub.dx80.vtx
models/weapons/melee/w_bat.sw.vtx
models/weapons/melee/v_golfclub.dx90.vtx
models/weapons/melee/v_katana.vvd
models/weapons/melee/w_katana.sw.vtx
models/weapons/melee/w_electric_guitar.dx90.vtx
models/weapons/melee/w_cricket_bat.phy
models/weapons/melee/w_cricket_bat.sw.vtx
models/weapons/melee/v_machete.mdl
models/weapons/melee/v_frying_pan.dx90.vtx
models/weapons/melee/w_chainsaw.phy
models/weapons/melee/v_chainsaw.dx90.vtx
models/weapons/melee/w_tonfa.phy
models/weapons/melee/w_crowbar.mdl
models/weapons/melee/w_frying_pan.dx90.vtx
models/weapons/melee/v_machete.dx80.vtx
models/weapons/melee/w_bat.vvd
models/weapons/melee/w_machete.vvd
models/weapons/melee/w_katana.dx80.vtx
models/weapons/melee/w_electric_guitar.mdl
models/weapons/melee/v_tonfa.sw.vtx
models/weapons/melee/v_electric_guitar.mdl
models/weapons/melee/w_cricket_bat.vvd
models/weapons/melee/v_tonfa.dx80.vtx
models/weapons/melee/w_katana.dx90.vtx
models/weapons/melee/w_machete.phy
models/weapons/melee/w_katana.phy
models/weapons/melee/v_bat.vvd
models/weapons/melee/v_chainsaw.sw.vtx
models/weapons/melee/w_bat.dx80.vtx
models/weapons/melee/w_crowbar.dx80.vtx
models/weapons/melee/v_tonfa.mdl
models/weapons/melee/v_golfclub.vvd
models/weapons/melee/v_tonfa.dx90.vtx
models/weapons/melee/w_chainsaw.sw.vtx
models/weapons/melee/w_electric_guitar.phy
models/weapons/melee/w_chainsaw.mdl
models/weapons/ksg/v_shot_m3super90.dx80.vtx
models/weapons/ksg/v_shot_m3super90.vvd
models/weapons/ksg/v_shot_m3super90.dx90.vtx
models/weapons/ksg/v_shot_m3super90.mdl
models/weapons/ksg/v_shot_m3super90.sw.vtx
models/weapons/minigun/v_minigun.xbox.vtx
models/weapons/minigun/v_minigun.sw.vtx
models/weapons/minigun/w_minigun.vvd
models/weapons/minigun/v_minigun.mdl
models/weapons/minigun/w_minigun.phy
models/weapons/minigun/v_minigun.dx80.vtx
models/weapons/minigun/w_minigun.mdl
models/weapons/minigun/w_minigun.dx90.vtx
models/weapons/minigun/v_minigun.vvd
models/weapons/minigun/w_minigun.dx80.vtx
models/weapons/minigun/w_minigun.sw.vtx
models/weapons/minigun/v_minigun.dx90.vtx
models/weapons/spas12stock/v_shot_xm1014.vvd
models/weapons/spas12stock/v_shot_xm1014.sw.vtx
models/weapons/spas12stock/v_shot_xm1014.dx80.vtx
models/weapons/spas12stock/v_shot_xm1014.dx90.vtx
models/weapons/spas12stock/v_shot_xm1014.mdl
models/weapons/cw_milano/w_cw_milano.dx90.vtx
models/weapons/cw_milano/v_milano_cw.dx90.vtx
models/weapons/cw_milano/w_cw_milano.mdl
models/weapons/cw_milano/v_milano_cw.dx80.vtx
models/weapons/cw_milano/w_cw_milano.phy
models/weapons/cw_milano/w_cw_milano.vvd
models/weapons/cw_milano/w_cw_milano.dx80.vtx
models/weapons/cw_milano/v_milano_cw.vvd
models/weapons/cw_milano/v_milano_cw.sw.vtx
models/weapons/cw_milano/v_milano_cw.mdl
models/weapons/cw_milano/w_cw_milano.sw.vtx
models/weapons/cw_mp5/w_cw_mp5.sw.vtx
models/weapons/cw_mp5/v_mp5_cw.dx90.vtx
models/weapons/cw_mp5/v_mp5_cw.dx80.vtx
models/weapons/cw_mp5/v_mp5_cw.mdl
models/weapons/cw_mp5/w_cw_mp5.phy
models/weapons/cw_mp5/w_cw_mp5.dx80.vtx
models/weapons/cw_mp5/w_cw_mp5.mdl
models/weapons/cw_mp5/v_mp5_cw.sw.vtx
models/weapons/cw_mp5/w_cw_mp5.dx90.vtx
models/weapons/cw_mp5/w_cw_mp5.vvd
models/weapons/cw_mp5/v_mp5_cw.vvd
models/weapons/cw_krig6/w_cw_krig6.sw.vtx
models/weapons/cw_krig6/v_krig6_cw.dx80.vtx
models/weapons/cw_krig6/w_cw_krig6.dx90.vtx
models/weapons/cw_krig6/w_cw_krig6.vvd
models/weapons/cw_krig6/w_cw_krig6.dx80.vtx
models/weapons/cw_krig6/v_krig6_cw.dx90.vtx
models/weapons/cw_krig6/w_cw_krig6.mdl
models/weapons/cw_krig6/v_krig6_cw.sw.vtx
models/weapons/cw_krig6/w_cw_krig6.phy
models/weapons/cw_krig6/v_krig6_cw.mdl
models/weapons/cw_krig6/v_krig6_cw.vvd
models/weapons/spas12silenced/v_shot_m3super90.dx80.vtx
models/weapons/spas12silenced/v_shot_m3super90.vvd
models/weapons/spas12silenced/v_shot_m3super90.dx90.vtx
models/weapons/spas12silenced/v_shot_m3super90.mdl
models/weapons/spas12silenced/v_shot_m3super90.sw.vtx
models/weapons/spas12silenced/v_shot_m3super90.xbox.vtx
models/weapons/tps/v_shot_m3super90.dx80.vtx
models/weapons/tps/v_shot_m3super90.vvd
models/weapons/tps/v_shot_m3super90.dx90.vtx
models/weapons/tps/v_shot_m3super90.mdl
models/weapons/tps/v_shot_m3super90.sw.vtx
models/weapons/cw_groza/w_cw_groza.mdl
models/weapons/cw_groza/v_groza_cw.dx80.vtx
models/weapons/cw_groza/w_cw_groza.dx90.vtx
models/weapons/cw_groza/v_groza_cw.dx90.vtx
models/weapons/cw_groza/v_groza_cw.mdl
models/weapons/cw_groza/w_cw_groza.phy
models/weapons/cw_groza/w_cw_groza.sw.vtx
models/weapons/cw_groza/v_groza_cw.sw.vtx
models/weapons/cw_groza/w_cw_groza.vvd
models/weapons/cw_groza/w_cw_groza.dx80.vtx
models/weapons/cw_groza/v_groza_cw.vvd
models/weapons/dragonsbreath/v_shot_m3super90.dx80.vtx
models/weapons/dragonsbreath/v_shot_m3super90.vvd
models/weapons/dragonsbreath/v_shot_m3super90.dx90.vtx
models/weapons/dragonsbreath/v_shot_m3super90.mdl
models/weapons/dragonsbreath/v_shot_m3super90.sw.vtx
models/weapons/cw_bullfrog/w_cw_bullfrog.sw.vtx
models/weapons/cw_bullfrog/w_cw_bullfrog.phy
models/weapons/cw_bullfrog/v_bullfrog_cw.vvd
models/weapons/cw_bullfrog/w_cw_bullfrog.dx80.vtx
models/weapons/cw_bullfrog/v_bullfrog_cw.dx80.vtx
models/weapons/cw_bullfrog/v_bullfrog_cw.dx90.vtx
models/weapons/cw_bullfrog/w_cw_bullfrog.vvd
models/weapons/cw_bullfrog/v_bullfrog_cw.mdl
models/weapons/cw_bullfrog/w_cw_bullfrog.mdl
models/weapons/cw_bullfrog/v_bullfrog_cw.sw.vtx
models/weapons/cw_bullfrog/w_cw_bullfrog.dx90.vtx
models/weapons/cw_mac10/w_cw_mac10.mdl
models/weapons/cw_mac10/w_cw_mac10.sw.vtx
models/weapons/cw_mac10/w_cw_mac10.dx80.vtx
models/weapons/cw_mac10/w_cw_mac10.phy
models/weapons/cw_mac10/v_mac10_cw.dx80.vtx
models/weapons/cw_mac10/w_cw_mac10.dx90.vtx
models/weapons/cw_mac10/v_mac10_cw.vvd
models/weapons/cw_mac10/v_mac10_cw.mdl
models/weapons/cw_mac10/v_mac10_cw.sw.vtx
models/weapons/cw_mac10/w_cw_mac10.vvd
models/weapons/cw_mac10/v_mac10_cw.dx90.vtx
models/weapons/doi/w_marinebayonet.vvd
models/weapons/doi/w_marinebayonet.mdl
models/weapons/doi/w_marinebayonet.sw.vtx
models/weapons/doi/w_marinebayonet.dx90.vtx
models/weapons/doi/w_marinebayonet.dx80.vtx
models/weapons/doi/w_marinebayonet.phy
models/weapons/cw_xm4/v_xm4_cw.dx90.vtx
models/weapons/cw_xm4/w_cw_xm4.phy
models/weapons/cw_xm4/w_cw_xm4.mdl
models/weapons/cw_xm4/w_cw_xm4.dx90.vtx
models/weapons/cw_xm4/v_xm4_cw.vvd
models/weapons/cw_xm4/v_xm4_cw.sw.vtx
models/weapons/cw_xm4/v_xm4_cw.mdl
models/weapons/cw_xm4/w_cw_xm4.dx80.vtx
models/weapons/cw_xm4/v_xm4_cw.dx80.vtx
models/weapons/cw_xm4/w_cw_xm4.vvd
models/weapons/cw_xm4/w_cw_xm4.sw.vtx
models/weapons/cw_m16/w_cw_m16.dx80.vtx
models/weapons/cw_m16/w_cw_m16.vvd
models/weapons/cw_m16/v_m16_cw.dx90.vtx
models/weapons/cw_m16/w_cw_m16.dx90.vtx
models/weapons/cw_m16/v_m16_cw.dx80.vtx
models/weapons/cw_m16/w_cw_m16.phy
models/weapons/cw_m16/w_cw_m16.sw.vtx
models/weapons/cw_m16/w_cw_m16.mdl
models/weapons/cw_m16/v_m16_cw.vvd
models/weapons/cw_m16/v_m16_cw.mdl
models/weapons/cw_m16/v_m16_cw.sw.vtx
models/weapons/cw_dmr14/w_cw_dmr14.phy
models/weapons/cw_dmr14/w_cw_dmr14.sw.vtx
models/weapons/cw_dmr14/v_dmr14_cw.sw.vtx
models/weapons/cw_dmr14/w_cw_dmr14.dx80.vtx
models/weapons/cw_dmr14/v_dmr14_cw.vvd
models/weapons/cw_dmr14/v_dmr14_cw.dx90.vtx
models/weapons/cw_dmr14/w_cw_dmr14.mdl
models/weapons/cw_dmr14/w_cw_dmr14.dx90.vtx
models/weapons/cw_dmr14/v_dmr14_cw.mdl
models/weapons/cw_dmr14/w_cw_dmr14.vvd
models/weapons/cw_dmr14/v_dmr14_cw.dx80.vtx
models/weapons/baikal/v_shot_xm1014.vvd
models/weapons/baikal/v_shot_xm1014.sw.vtx
models/weapons/baikal/v_shot_xm1014.xbox.vtx
models/weapons/baikal/v_shot_xm1014.dx80.vtx
models/weapons/baikal/v_shot_xm1014.dx90.vtx
models/weapons/baikal/v_shot_xm1014.mdl
models/weapons/fear/v_minigun2.dx80.vtx
models/weapons/fear/w_vulcane.dx80.vtx
models/weapons/fear/v_tesla.sw.vtx
models/weapons/fear/v_asp.sw.vtx
models/weapons/fear/v_laser.dx80.vtx
models/weapons/fear/w_vulcan.dx90.vtx
models/weapons/fear/v_rpg.vvd
models/weapons/fear/w_spas.dx80.vtx
models/weapons/fear/v_smg.vvd
models/weapons/fear/w_laser.vvd
models/weapons/fear/w_spas.sw.vtx
models/weapons/fear/v_bomb.mdl
models/weapons/fear/v_at14_duble.vvd
models/weapons/fear/w_ves.sw.vtx
models/weapons/fear/c_grenade.sw.vtx
models/weapons/fear/v_at14_duble.dx90.vtx
models/weapons/fear/rocket.dx80.vtx
models/weapons/fear/v_at14.dx90.vtx
models/weapons/fear/v_claws.mdl
models/weapons/fear/w_neilgun.vvd
models/weapons/fear/v_claws.sw.vtx
models/weapons/fear/c_mine.dx80.vtx
models/weapons/fear/v_bomb.sw.vtx
models/weapons/fear/v_neil2.dx90.vtx
models/weapons/fear/v_neil2.sw.vtx
models/weapons/fear/v_spas.sw.vtx
models/weapons/fear/w_asp.sw.vtx
models/weapons/fear/w_rpg.sw.vtx
models/weapons/fear/v_minigun.sw.vtx
models/weapons/fear/v_type7.dx90.vtx
models/weapons/fear/grenade.dx90.vtx
models/weapons/fear/w_50mm.dx80.vtx
models/weapons/fear/v_bomb.dx80.vtx
models/weapons/fear/w_bomb.vvd
models/weapons/fear/rocket.sw.vtx
models/weapons/fear/v_rg.sw.vtx
models/weapons/fear/w_50mm.vvd
models/weapons/fear/v_rg.dx80.vtx
models/weapons/fear/c_mine.mdl
models/weapons/fear/w_smg.mdl
models/weapons/fear/w_at14_duble.mdl
models/weapons/fear/w_vulcan.vvd
models/weapons/fear/w_rpg.vvd
models/weapons/fear/v_at14.mdl
models/weapons/fear/w_rpg.dx90.vtx
models/weapons/fear/c_grenade.dx80.vtx
models/weapons/fear/w_laser.sw.vtx
models/weapons/fear/w_minigun.vvd
models/weapons/fear/w_spas.dx90.vtx
models/weapons/fear/w_ves.vvd
models/weapons/fear/w_rg.dx80.vtx
models/weapons/fear/v_tesla.dx90.vtx
models/weapons/fear/w_mine.mdl
models/weapons/fear/v_bomb.vvd
models/weapons/fear/v_neil2.dx80.vtx
models/weapons/fear/w_mine2.dx80.vtx
models/weapons/fear/v_spas.mdl
models/weapons/fear/v_at14_duble.sw.vtx
models/weapons/fear/v_g2a2.dx90.vtx
models/weapons/fear/w_smg.dx90.vtx
models/weapons/fear/w_at14.sw.vtx
models/weapons/fear/w_ves.dx90.vtx
models/weapons/fear/shield.phy
models/weapons/fear/v_at14.vvd
models/weapons/fear/v_minigun2.dx90.vtx
models/weapons/fear/v_ves.sw.vtx
models/weapons/fear/v_claws.dx80.vtx
models/weapons/fear/w_grenade.dx80.vtx
models/weapons/fear/w_smg.vvd
models/weapons/fear/w_at14_duble.vvd
models/weapons/fear/w_bomb.phy
models/weapons/fear/w_rif_m4a1.dx80.vtx
models/weapons/fear/w_neil.phy
models/weapons/fear/w_bomb.mdl
models/weapons/fear/v_laser.vvd
models/weapons/fear/w_vulcan.sw.vtx
models/weapons/fear/w_rpg.dx80.vtx
models/weapons/fear/v_type7.sw.vtx
models/weapons/fear/v_smg.mdl
models/weapons/fear/v_neil2.vvd
models/weapons/fear/v_minigun.mdl
models/weapons/fear/w_smg.dx80.vtx
models/weapons/fear/w_at14.mdl
models/weapons/fear/w_rg.dx90.vtx
models/weapons/fear/w_vulcane.mdl
models/weapons/fear/w_tesla.sw.vtx
models/weapons/fear/w_grenade.sw.vtx
models/weapons/fear/rocket.mdl
models/weapons/fear/v_rg.mdl
models/weapons/fear/w_tesla.phy
models/weapons/fear/grenade.mdl
models/weapons/fear/w_spas.mdl
models/weapons/fear/w_at14_duble.dx90.vtx
models/weapons/fear/c_mine.vvd
models/weapons/fear/w_rif_m4a1.dx90.vtx
models/weapons/fear/v_laser.sw.vtx
models/weapons/fear/w_laser.dx80.vtx
models/weapons/fear/w_g2a2.mdl
models/weapons/fear/w_neilgun.phy
models/weapons/fear/v_rpg.mdl
models/weapons/fear/w_bomb.sw.vtx
models/weapons/fear/w_neil.dx80.vtx
models/weapons/fear/w_rg.phy
models/weapons/fear/c_mine.sw.vtx
models/weapons/fear/v_50mm.dx90.vtx
models/weapons/fear/w_type7.dx80.vtx
models/weapons/fear/v_50mm.sw.vtx
models/weapons/fear/w_type7.mdl
models/weapons/fear/w_neil.vvd
models/weapons/fear/w_rg.vvd
models/weapons/fear/w_tesla.mdl
models/weapons/fear/v_type7.dx80.vtx
models/weapons/fear/w_vulcan.dx80.vtx
models/weapons/fear/w_minigun.phy
models/weapons/fear/w_g2a2.sw.vtx
models/weapons/fear/v_minigun2.vvd
models/weapons/fear/w_neil.mdl
models/weapons/fear/v_at14.dx80.vtx
models/weapons/fear/w_bomb.dx80.vtx
models/weapons/fear/v_g2a2.vvd
models/weapons/fear/w_asp.mdl
models/weapons/fear/w_ves.mdl
models/weapons/fear/v_50mm.mdl
models/weapons/fear/w_smg.phy
models/weapons/fear/c_mine.dx90.vtx
models/weapons/fear/rocket.phy
models/weapons/fear/grenade.phy
models/weapons/fear/w_rg.mdl
models/weapons/fear/v_neil.dx80.vtx
models/weapons/fear/w_grenade.dx90.vtx
models/weapons/fear/w_ves.dx80.vtx
models/weapons/fear/w_at14.vvd
models/weapons/fear/w_neilgun.sw.vtx
models/weapons/fear/v_ves.dx80.vtx
models/weapons/fear/v_smg.dx80.vtx
models/weapons/fear/w_mine2.dx90.vtx
models/weapons/fear/v_minigun.dx80.vtx
models/weapons/fear/v_mine.vvd
models/weapons/fear/w_50mm.sw.vtx
models/weapons/fear/w_rif_m4a1.mdl
models/weapons/fear/w_50mm.mdl
models/weapons/fear/w_tesla.dx80.vtx
models/weapons/fear/w_vulcane.phy
models/weapons/fear/v_spas.dx80.vtx
models/weapons/fear/shield.dx90.vtx
models/weapons/fear/w_neilgun.dx80.vtx
models/weapons/fear/w_grenade.mdl
models/weapons/fear/v_minigun2.sw.vtx
models/weapons/fear/v_mine.mdl
models/weapons/fear/w_g2a2.vvd
models/weapons/fear/c_grenade.dx90.vtx
models/weapons/fear/w_vulcane.dx90.vtx
models/weapons/fear/w_mine2.mdl
models/weapons/fear/v_rg.vvd
models/weapons/fear/w_laser.mdl
models/weapons/fear/v_claws.vvd
models/weapons/fear/w_50mm.phy
models/weapons/fear/w_neil.dx90.vtx
models/weapons/fear/v_neil.sw.vtx
models/weapons/fear/w_vulcane.sw.vtx
models/weapons/fear/v_claws.dx90.vtx
models/weapons/fear/w_mine2.phy
models/weapons/fear/v_at14_duble.dx80.vtx
models/weapons/fear/w_vulcan.phy
models/weapons/fear/grenade.dx80.vtx
models/weapons/fear/w_type7.dx90.vtx
models/weapons/fear/v_rpg.dx90.vtx
models/weapons/fear/v_tesla.vvd
models/weapons/fear/v_g2a2.mdl
models/weapons/fear/w_spas.phy
models/weapons/fear/w_rif_m4a1.vvd
models/weapons/fear/v_mine.dx80.vtx
models/weapons/fear/w_smg.sw.vtx
models/weapons/fear/w_minigun.mdl
models/weapons/fear/v_at14.sw.vtx
models/weapons/fear/v_laser.dx90.vtx
models/weapons/fear/w_g2a2.dx80.vtx
models/weapons/fear/grenade.sw.vtx
models/weapons/fear/v_type7.vvd
models/weapons/fear/v_rpg.dx80.vtx
models/weapons/fear/v_asp.vvd
models/weapons/fear/w_rpg.phy
models/weapons/fear/w_type7.vvd
models/weapons/fear/w_type7.sw.vtx
models/weapons/fear/w_mine.sw.vtx
models/weapons/fear/w_laser.dx90.vtx
models/weapons/fear/w_at14_duble.dx80.vtx
models/weapons/fear/v_mine.dx90.vtx
models/weapons/fear/v_asp.dx90.vtx
models/weapons/fear/rocket.dx90.vtx
models/weapons/fear/v_tesla.dx80.vtx
models/weapons/fear/w_mine.vvd
models/weapons/fear/w_mine2.sw.vtx
models/weapons/fear/v_rpg.sw.vtx
models/weapons/fear/v_ves.vvd
models/weapons/fear/w_asp.dx90.vtx
models/weapons/fear/w_bomb.dx90.vtx
models/weapons/fear/v_spas.vvd
models/weapons/fear/w_at14_duble.phy
models/weapons/fear/w_g2a2.phy
models/weapons/fear/v_bomb.dx90.vtx
models/weapons/fear/v_rg.dx90.vtx
models/weapons/fear/w_rpg.mdl
models/weapons/fear/v_50mm.dx80.vtx
models/weapons/fear/v_neil.vvd
models/weapons/fear/w_at14.dx90.vtx
models/weapons/fear/shield.mdl
models/weapons/fear/w_neil.sw.vtx
models/weapons/fear/w_at14.phy
models/weapons/fear/w_spas.vvd
models/weapons/fear/v_g2a2.sw.vtx
models/weapons/fear/w_neilgun.dx90.vtx
models/weapons/fear/w_minigun.dx90.vtx
models/weapons/fear/v_ves.mdl
models/weapons/fear/shield.sw.vtx
models/weapons/fear/w_laser.phy
models/weapons/fear/v_50mm.vvd
models/weapons/fear/w_vulcane.vvd
models/weapons/fear/v_tesla.mdl
models/weapons/fear/w_asp.dx80.vtx
models/weapons/fear/v_minigun.vvd
models/weapons/fear/w_minigun.dx80.vtx
models/weapons/fear/v_g2a2.dx80.vtx
models/weapons/fear/v_at14_duble.mdl
models/weapons/fear/v_smg.sw.vtx
models/weapons/fear/rocket.vvd
models/weapons/fear/v_spas.dx90.vtx
models/weapons/fear/w_tesla.dx90.vtx
models/weapons/fear/v_neil.dx90.vtx
models/weapons/fear/grenade.vvd
models/weapons/fear/w_mine.dx80.vtx
models/weapons/fear/w_minigun.sw.vtx
models/weapons/fear/w_grenade.vvd
models/weapons/fear/w_rg.sw.vtx
models/weapons/fear/w_tesla.vvd
models/weapons/fear/w_type7.phy
models/weapons/fear/v_neil2.mdl
models/weapons/fear/v_smg.dx90.vtx
models/weapons/fear/w_neilgun.mdl
models/weapons/fear/v_neil.mdl
models/weapons/fear/v_ves.dx90.vtx
models/weapons/fear/w_grenade.phy
models/weapons/fear/w_ves.phy
models/weapons/fear/c_grenade.vvd
models/weapons/fear/w_mine.dx90.vtx
models/weapons/fear/c_grenade.mdl
models/weapons/fear/w_at14_duble.sw.vtx
models/weapons/fear/w_rif_m4a1.phy
models/weapons/fear/v_asp.dx80.vtx
models/weapons/fear/v_minigun.dx90.vtx
models/weapons/fear/w_mine2.vvd
models/weapons/fear/v_asp.mdl
models/weapons/fear/v_laser.mdl
models/weapons/fear/w_at14.dx80.vtx
models/weapons/fear/w_vulcan.mdl
models/weapons/fear/w_asp.phy
models/weapons/fear/v_type7.mdl
models/weapons/fear/v_mine.sw.vtx
models/weapons/fear/shield.vvd
models/weapons/fear/v_minigun2.mdl
models/weapons/fear/w_50mm.dx90.vtx
models/weapons/fear/w_g2a2.dx90.vtx
models/weapons/fear/w_mine.phy
models/weapons/fear/shield.dx80.vtx
models/weapons/fear/w_asp.vvd
models/weapons/cw_hauer77/w_cw_hauer77.mdl
models/weapons/cw_hauer77/v_cw_hauer77.dx80.vtx
models/weapons/cw_hauer77/v_cw_hauer77.mdl
models/weapons/cw_hauer77/v_cw_hauer77.vvd
models/weapons/cw_hauer77/w_cw_hauer77.phy
models/weapons/cw_hauer77/v_cw_hauer77.sw.vtx
models/weapons/cw_hauer77/w_cw_hauer77.dx90.vtx
models/weapons/cw_hauer77/v_cw_hauer77.dx90.vtx
models/weapons/cw_hauer77/w_cw_hauer77.sw.vtx
models/weapons/cw_hauer77/w_cw_hauer77.vvd
models/weapons/cw_hauer77/w_cw_hauer77.dx80.vtx
models/weapons/cw_diamatti/w_cw_diamatti.dx90.vtx
models/weapons/cw_diamatti/w_cw_diamatti.mdl
models/weapons/cw_diamatti/w_cw_diamatti.sw.vtx
models/weapons/cw_diamatti/v_diamatti_cw.vvd
models/weapons/cw_diamatti/w_cw_diamatti.dx80.vtx
models/weapons/cw_diamatti/v_diamatti_cw.dx90.vtx
models/weapons/cw_diamatti/w_cw_diamatti.vvd
models/weapons/cw_diamatti/v_diamatti_cw.mdl
models/weapons/cw_diamatti/v_diamatti_cw.dx80.vtx
models/weapons/cw_diamatti/v_diamatti_cw.sw.vtx
models/weapons/cw_diamatti/w_cw_diamatti.phy
models/weapons/cw_ak74u/w_cw_ak74u.dx90.vtx
models/weapons/cw_ak74u/w_cw_ak74u.vvd
models/weapons/cw_ak74u/v_ak74u_cw.dx90.vtx
models/weapons/cw_ak74u/w_cw_ak74u.dx80.vtx
models/weapons/cw_ak74u/w_cw_ak74u.sw.vtx
models/weapons/cw_ak74u/v_ak74u_cw.dx80.vtx
models/weapons/cw_ak74u/v_ak74u_cw.sw.vtx
models/weapons/cw_ak74u/w_cw_ak74u.phy
models/weapons/cw_ak74u/v_ak74u_cw.mdl
models/weapons/cw_ak74u/w_cw_ak74u.mdl
models/weapons/cw_ak74u/v_ak74u_cw.vvd
models/weapons/cw_gallo/w_cw_gallo.vvd
models/weapons/cw_gallo/w_cw_gallo.phy
models/weapons/cw_gallo/w_cw_gallo.sw.vtx
models/weapons/cw_gallo/v_cw_gallo.dx90.vtx
models/weapons/cw_gallo/v_cw_gallo.sw.vtx
models/weapons/cw_gallo/v_cw_gallo.vvd
models/weapons/cw_gallo/w_cw_gallo.dx80.vtx
models/weapons/cw_gallo/v_cw_gallo.mdl
models/weapons/cw_gallo/w_cw_gallo.mdl
models/weapons/cw_gallo/v_cw_gallo.dx80.vtx
models/weapons/cw_gallo/w_cw_gallo.dx90.vtx
materials/models/survivors/jordan/jordan_arm_col.vtf
materials/models/survivors/jordan/jordan_lower_col.vmt
materials/models/survivors/jordan/jordan_lower_col.vtf
materials/models/survivors/jordan/jordan_arm_col.vmt
materials/models/survivors/jordan/jordan_hair_col.vtf
materials/models/survivors/jordan/jordan_acc_nor.vtf
materials/models/survivors/jordan/jordan_head_nor.vtf
materials/models/survivors/jordan/jordan_acc_col.vmt
materials/models/survivors/jordan/jordan_arm2_normal.vtf
materials/models/survivors/jordan/jordan_head_col.vtf
materials/models/survivors/jordan/jordan_upper_col.vtf
materials/models/survivors/jordan/jordan_arm2_color.vtf
materials/models/survivors/jordan/lashes_color.vtf
materials/models/survivors/jordan/lashes_color.vmt
materials/models/survivors/jordan/jordan_face_nom.vtf
materials/models/survivors/jordan/jordan_acc_col.vtf
materials/models/survivors/jordan/holster_color.vmt
materials/models/survivors/jordan/jordan_head_col.vmt
materials/models/survivors/jordan/jordan_lower_nor.vtf
materials/models/survivors/jordan/jordan_face_cor.vmt
materials/models/survivors/jordan/jordan_upper_nor.vtf
materials/models/survivors/jordan/jordan_face_cor.vtf
materials/models/survivors/jordan/jordan_arm_nor.vtf
materials/models/survivors/jordan/jordan_hair_col.vmt
materials/models/survivors/jordan/holster_normal.vtf
materials/models/survivors/jordan/jordan_hair_nom.vtf
materials/models/survivors/jordan/holster_color.vtf
materials/models/survivors/jordan/jordan_upper_col.vmt
materials/models/survivors/jun/leg_color.vtf
materials/models/survivors/jun/head_color.vmt
materials/models/survivors/jun/hair_color.vmt
materials/models/survivors/jun/naked_upper_avt_s_00c_00v.vtf
materials/models/survivors/jun/chrome_color.vmt
materials/models/survivors/jun/body_normal.vtf
materials/models/survivors/jun/lashes_r_color.vtf
materials/models/survivors/jun/lenz_color.vmt
materials/models/survivors/jun/chrome_normal.vtf
materials/models/survivors/jun/copper_color.vtf
materials/models/survivors/jun/lashes_color.vtf
materials/models/survivors/jun/brass_color.vtf
materials/models/survivors/jun/lashes_color.vmt
materials/models/survivors/jun/skin_color.vtf
materials/models/survivors/jun/body_color.vmt
materials/models/survivors/jun/lashes_l_color.vmt
materials/models/survivors/jun/lashes_r_color.vmt
materials/models/survivors/jun/tail_color.vtf
materials/models/survivors/jun/lashes_normal.vtf
materials/models/survivors/jun/tail_normal.vtf
materials/models/survivors/jun/lenz_color.vtf
materials/models/survivors/jun/skin_color.vmt
materials/models/survivors/jun/holster_color.vmt
materials/models/survivors/jun/hair_normal.vtf
materials/models/survivors/jun/lashes_l_color.vtf
materials/models/survivors/jun/head_color.vtf
materials/models/survivors/jun/leg_normal.vtf
materials/models/survivors/jun/body_color.vtf
materials/models/survivors/jun/leg_color.vmt
materials/models/survivors/jun/brass_normal.vtf
materials/models/survivors/jun/brass_color.vmt
materials/models/survivors/jun/skin_normal.vtf
materials/models/survivors/jun/naked_upper_avt_s_00n_00v.vtf
materials/models/survivors/jun/chrome_color.vtf
materials/models/survivors/jun/copper_color.vmt
materials/models/survivors/jun/holster_normal.vtf
materials/models/survivors/jun/hair_color.vtf
materials/models/survivors/jun/holster_color.vtf
materials/models/survivors/jun/lenz_normal.vtf
materials/models/survivors/jun/naked_upper_avt_s_00c_00v.vmt
materials/models/survivors/jun/tail_color.vmt
materials/models/survivors/jun/head_normal.vtf
materials/models/survivors/yusuke/kudo_hair2_col.vtf
materials/models/survivors/yusuke/kudo_chrome3_col.vtf
materials/models/survivors/yusuke/kudo_hair2_nor.vtf
materials/models/survivors/yusuke/kudo_head_col.vmt
materials/models/survivors/yusuke/kudo_arm2_normal.vtf
materials/models/survivors/yusuke/kudo_chrome2_col.vmt
materials/models/survivors/yusuke/kudo_lower_nor.vtf
materials/models/survivors/yusuke/kudo_hair_col.vtf
materials/models/survivors/yusuke/kudo_chrome2_nor.vtf
materials/models/survivors/yusuke/lenz_color.vmt
materials/models/survivors/yusuke/kudo_arm2_color.vtf
materials/models/survivors/yusuke/kudo_upper_col.vtf
materials/models/survivors/yusuke/lashes_color.vtf
materials/models/survivors/yusuke/lashes_color.vmt
materials/models/survivors/yusuke/lenz_color.vtf
materials/models/survivors/yusuke/holster_color.vmt
materials/models/survivors/yusuke/kudo_lower_col.vtf
materials/models/survivors/yusuke/kudo_chrome2_col.vtf
materials/models/survivors/yusuke/kudo_lower_col.vmt
materials/models/survivors/yusuke/kudo_hair_nor.vtf
materials/models/survivors/yusuke/kudo_upper_nor.vtf
materials/models/survivors/yusuke/kudo_arm2_color.vmt
materials/models/survivors/yusuke/kudo_head_col.vtf
materials/models/survivors/yusuke/kudo_chrome_col.vmt
materials/models/survivors/yusuke/brass_normal.vtf
materials/models/survivors/yusuke/kudo_chrome3_nor.vtf
materials/models/survivors/yusuke/kudo_head_nor.vtf
materials/models/survivors/yusuke/holster_normal.vtf
materials/models/survivors/yusuke/kudo_upper_col.vmt
materials/models/survivors/yusuke/holster_color.vtf
materials/models/survivors/yusuke/kudo_hair_col.vmt
materials/models/survivors/yusuke/lenz_normal.vtf
materials/models/survivors/yusuke/kudo_hair2_col.vmt
materials/models/survivors/yusuke/kudo_chrome3_col.vmt
materials/models/survivors/yusuke/kudo_chrome_col.vtf
materials/models/survivors/paruru/paruru_upper_col.vmt
materials/models/survivors/paruru/paruru_head_col.vtf
materials/models/survivors/paruru/paruru_lower_col.vtf
materials/models/survivors/paruru/paruru_under_col.vmt
materials/models/survivors/paruru/paruru_upper_col.vtf
materials/models/survivors/paruru/paruru_body_col.vmt
materials/models/survivors/paruru/paruru_eyelash_col.vtf
materials/models/survivors/paruru/naked_lower_avt_h_00c_00v.vmt
materials/models/survivors/paruru/paruru_under_col.vtf
materials/models/survivors/paruru/paruru_body_nor.vtf
materials/models/survivors/paruru/paruru_body_it.vmt
materials/models/survivors/paruru/paruru_body_col.vtf
materials/models/survivors/paruru/naked_lower_avt_h_00n_00v.vtf
materials/models/survivors/paruru/paruru_lip_col.vtf
materials/models/survivors/paruru/paruru_eyelash_col.vmt
materials/models/survivors/paruru/naked_lower_avt_h_00c_00v.vtf
materials/models/survivors/paruru/paruru_head_nor.vtf
materials/models/survivors/paruru/paruru_lower_nor.vtf
materials/models/survivors/paruru/paruru_head_col.vmt
materials/models/survivors/paruru/paruru_under_nor.vtf
materials/models/survivors/paruru/holster_color.vmt
materials/models/survivors/paruru/naked_upper_avt_h_00c_00v.vmt
materials/models/survivors/paruru/paruru_lower_col.vmt
materials/models/survivors/paruru/paruru_lip_nor.vtf
materials/models/survivors/paruru/naked_upper_avt_h_00c_00v.vtf
materials/models/survivors/paruru/paruru_arm2_color.vtf
materials/models/survivors/paruru/paruru_hair_col.vmt
materials/models/survivors/paruru/paruru_body_tes.vtf
materials/models/survivors/paruru/paruru_hair_col.vtf
materials/models/survivors/paruru/paruru_upper_nor.vtf
materials/models/survivors/paruru/brown_iris.vtf
materials/models/survivors/paruru/holster_normal.vtf
materials/models/survivors/paruru/paruru_arm2_normal.vtf
materials/models/survivors/paruru/paruru_head_it.vmt
materials/models/survivors/paruru/paruru_lip_col.vmt
materials/models/survivors/paruru/holster_color.vtf
materials/models/survivors/paruru/naked_upper_avt_h_00n_00v.vtf
materials/models/survivors/paruru/paruru_hair_nor.vtf
materials/vgui/s_panel_gambler_incap.vtf
materials/vgui/s_panel_coach_incap.vtf
materials/vgui/s_panel_lobby_mechanic.vtf
materials/vgui/s_panel_mechanic_incap.vtf
materials/vgui/s_panel_lobby_producer.vtf
materials/vgui/s_panel_producer_incap.vtf
materials/vgui/s_panel_lobby_mechanic.vmt
materials/vgui/s_panel_mechanic.vmt
materials/vgui/s_panel_lobby_gambler.vtf
materials/vgui/s_panel_coach.vtf
materials/vgui/s_panel_mechanic_incap.vmt
materials/vgui/s_panel_producer.vtf
materials/vgui/s_panel_mechanic.vtf
materials/vgui/s_panel_lobby_coach.vtf
materials/vgui/s_panel_gambler.vtf