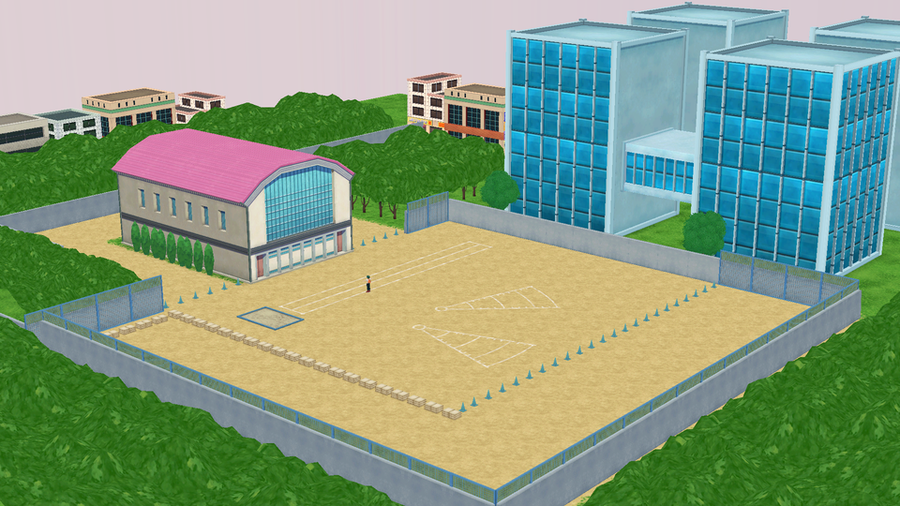 Show more
Description
These are not maps, you load them like a model
Been working on porting these on the side for a while now. Now you can use these with the My Hero Academia models.
Classroom and Sports Festival Stadium is by Xelandis Thank you for rigging all the desks and doors!
LOV Hideout bar is by Mijumarunr1
UA PE grounds is by Emidikun
Check out my Patreon if you want to send some support, see wips or vote on which model I'll do next. https://www.patreon.com/Yinyama3D
Have fun~
Edit
For the Stadium I fixed some bodygroup issues and textures
SFMLab is a free service. However, it costs about $0.03 to deliver you a 1GB file. With over 20TB of traffic every month and growing, SFMLab needs your help. If only 1% of our users each gave us $5 for a single month, we could keep the site running for several years.
Filename
Downloads
Created
Filesize
Files
MHA_maps_V1.2.zip
2715
2021-07-13 06:46:49
22.52 MB
File contents:

usermod/models/My Hero Academia/Map/PE Grounds.dx90.vtx
usermod/models/My Hero Academia/Map/Classroom.dx90.vtx
usermod/models/My Hero Academia/Map/LOV hideout.dx90.vtx
usermod/models/My Hero Academia/Map/classroom.mdl
usermod/models/My Hero Academia/Map/stadium.mdl
usermod/models/My Hero Academia/Map/pe grounds.vvd
usermod/models/My Hero Academia/Map/lov hideout.vvd
usermod/models/My Hero Academia/Map/classroom.vvd
usermod/models/My Hero Academia/Map/pe grounds.mdl
usermod/models/My Hero Academia/Map/Stadium.dx90.vtx
usermod/models/My Hero Academia/Map/stadium.vvd
usermod/models/My Hero Academia/Map/lov hideout.mdl
usermod/materials/models/My Hero Academia/Map/Stadium/6_mesh23_0.vtf
usermod/materials/models/My Hero Academia/Map/Stadium/6_mesh13_0.vtf
usermod/materials/models/My Hero Academia/Map/Stadium/lightwrap.vtf
usermod/materials/models/My Hero Academia/Map/Stadium/6_mesh09_0.vmt
usermod/materials/models/My Hero Academia/Map/Stadium/6_mesh11_0.vmt
usermod/materials/models/My Hero Academia/Map/Stadium/6_mesh07_0.vtf
usermod/materials/models/My Hero Academia/Map/Stadium/map.vtf
usermod/materials/models/My Hero Academia/Map/Stadium/6_mesh03_0.vtf
usermod/materials/models/My Hero Academia/Map/Stadium/6_mesh09_0.vtf
usermod/materials/models/My Hero Academia/Map/Stadium/6_mesh16_0.vtf
usermod/materials/models/My Hero Academia/Map/Stadium/6_mesh10_0.vtf
usermod/materials/models/My Hero Academia/Map/Stadium/6_mesh04_0.vmt
usermod/materials/models/My Hero Academia/Map/Stadium/6_mesh10_0.vmt
usermod/materials/models/My Hero Academia/Map/Stadium/6_mesh08_0.vtf
usermod/materials/models/My Hero Academia/Map/Stadium/Screens.vmt
usermod/materials/models/My Hero Academia/Map/Stadium/6_mesh15_0.vtf
usermod/materials/models/My Hero Academia/Map/Stadium/6_mesh14_0.vmt
usermod/materials/models/My Hero Academia/Map/Stadium/6_mesh05_0.vmt
usermod/materials/models/My Hero Academia/Map/Stadium/6_mesh17_0.vtf
usermod/materials/models/My Hero Academia/Map/Stadium/6_mesh16_0.vmt
usermod/materials/models/My Hero Academia/Map/Stadium/6_mesh13_0.vmt
usermod/materials/models/My Hero Academia/Map/Stadium/6_mesh26_0.vmt
usermod/materials/models/My Hero Academia/Map/Stadium/6_mesh06_0.vtf
usermod/materials/models/My Hero Academia/Map/Stadium/6_mesh14_0.vtf
usermod/materials/models/My Hero Academia/Map/Stadium/6_mesh15_0.vmt
usermod/materials/models/My Hero Academia/Map/Stadium/6_mesh26_0.vtf
usermod/materials/models/My Hero Academia/Map/Stadium/6_mesh18_0.vtf
usermod/materials/models/My Hero Academia/Map/Stadium/6_mesh19_0.vtf
usermod/materials/models/My Hero Academia/Map/Stadium/6_mesh04_0.vtf
usermod/materials/models/My Hero Academia/Map/Stadium/6_mesh02_0.vmt
usermod/materials/models/My Hero Academia/Map/Stadium/6_mesh23_0.vmt
usermod/materials/models/My Hero Academia/Map/Stadium/6_mesh07_0.vmt
usermod/materials/models/My Hero Academia/Map/Stadium/6_mesh19_0.vmt
usermod/materials/models/My Hero Academia/Map/Stadium/6_mesh27_0.vmt
usermod/materials/models/My Hero Academia/Map/Stadium/6_mesh24_0.vtf
usermod/materials/models/My Hero Academia/Map/Stadium/6_mesh18_0.vmt
usermod/materials/models/My Hero Academia/Map/Stadium/6_mesh05_0.vtf
usermod/materials/models/My Hero Academia/Map/Stadium/6_mesh21_0.vtf
usermod/materials/models/My Hero Academia/Map/Stadium/6_mesh11_0.vtf
usermod/materials/models/My Hero Academia/Map/Stadium/6_mesh06_0.vmt
usermod/materials/models/My Hero Academia/Map/Stadium/6_mesh22_0.vtf
usermod/materials/models/My Hero Academia/Map/Stadium/6_mesh27_0.vtf
usermod/materials/models/My Hero Academia/Map/Stadium/6_mesh25_0.vtf
usermod/materials/models/My Hero Academia/Map/Stadium/6_mesh20_0.vmt
usermod/materials/models/My Hero Academia/Map/Stadium/6_mesh08_0.vmt
usermod/materials/models/My Hero Academia/Map/Stadium/6_mesh21_0.vmt
usermod/materials/models/My Hero Academia/Map/Stadium/T_st501_ext14B_D.vtf
usermod/materials/models/My Hero Academia/Map/Stadium/6_mesh03_0.vmt
usermod/materials/models/My Hero Academia/Map/Stadium/6_mesh25_0.vmt
usermod/materials/models/My Hero Academia/Map/Stadium/6_mesh17_0.vmt
usermod/materials/models/My Hero Academia/Map/Stadium/6_mesh02_0.vtf
usermod/materials/models/My Hero Academia/Map/Stadium/6_mesh24_0.vmt
usermod/materials/models/My Hero Academia/Map/Stadium/6_mesh12_0.vmt
usermod/materials/models/My Hero Academia/Map/Stadium/6_mesh20_0.vtf
usermod/materials/models/My Hero Academia/Map/Stadium/Screens.vtf
usermod/materials/models/My Hero Academia/Map/Stadium/6_mesh22_0.vmt
usermod/materials/models/My Hero Academia/Map/Stadium/6_mesh12_0.vtf
usermod/materials/models/My Hero Academia/Map/Classroom/mado001.vmt
usermod/materials/models/My Hero Academia/Map/Classroom/Cabinets Back.vtf
usermod/materials/models/My Hero Academia/Map/Classroom/lightwrap.vtf
usermod/materials/models/My Hero Academia/Map/Classroom/Class Glass.vtf
usermod/materials/models/My Hero Academia/Map/Classroom/Teacher Plat.vtf
usermod/materials/models/My Hero Academia/Map/Classroom/Teacher Podium.vtf
usermod/materials/models/My Hero Academia/Map/Classroom/Books.vtf
usermod/materials/models/My Hero Academia/Map/Classroom/map.vtf
usermod/materials/models/My Hero Academia/Map/Classroom/awhite.vtf
usermod/materials/models/My Hero Academia/Map/Classroom/Board 2.vmt
usermod/materials/models/My Hero Academia/Map/Classroom/walls.vtf
usermod/materials/models/My Hero Academia/Map/Classroom/Costume.vtf
usermod/materials/models/My Hero Academia/Map/Classroom/Books.vmt
usermod/materials/models/My Hero Academia/Map/Classroom/doa2.vmt
usermod/materials/models/My Hero Academia/Map/Classroom/kabe001.vmt
usermod/materials/models/My Hero Academia/Map/Classroom/Teacher Podium.vmt
usermod/materials/models/My Hero Academia/Map/Classroom/Door Back.vtf
usermod/materials/models/My Hero Academia/Map/Classroom/Teacher Plat.vmt
usermod/materials/models/My Hero Academia/Map/Classroom/tenjyou.vmt
usermod/materials/models/My Hero Academia/Map/Classroom/skybox.vmt
usermod/materials/models/My Hero Academia/Map/Classroom/doa2.vtf
usermod/materials/models/My Hero Academia/Map/Classroom/cornerpillars.vtf
usermod/materials/models/My Hero Academia/Map/Classroom/Door Inside.vtf
usermod/materials/models/My Hero Academia/Map/Classroom/walls.vmt
usermod/materials/models/My Hero Academia/Map/Classroom/mado001.vtf
usermod/materials/models/My Hero Academia/Map/Classroom/Board 2.vtf
usermod/materials/models/My Hero Academia/Map/Classroom/Cabinet Tall.vtf
usermod/materials/models/My Hero Academia/Map/Classroom/Sign Outside.vtf
usermod/materials/models/My Hero Academia/Map/Classroom/doa.vmt
usermod/materials/models/My Hero Academia/Map/Classroom/siro.vtf
usermod/materials/models/My Hero Academia/Map/Classroom/Black Board.vtf
usermod/materials/models/My Hero Academia/Map/Classroom/Board Front Side.vtf
usermod/materials/models/My Hero Academia/Map/Classroom/glass.vtf
usermod/materials/models/My Hero Academia/Map/Classroom/tree.vmt
usermod/materials/models/My Hero Academia/Map/Classroom/kabe002.vmt
usermod/materials/models/My Hero Academia/Map/Classroom/Light Beam.vtf
usermod/materials/models/My Hero Academia/Map/Classroom/kabe001.vtf
usermod/materials/models/My Hero Academia/Map/Classroom/sen.vtf
usermod/materials/models/My Hero Academia/Map/Classroom/Sign Outside.vmt
usermod/materials/models/My Hero Academia/Map/Classroom/clock.vmt
usermod/materials/models/My Hero Academia/Map/Classroom/siro.vmt
usermod/materials/models/My Hero Academia/Map/Classroom/sen.vmt
usermod/materials/models/My Hero Academia/Map/Classroom/Desks.vmt
usermod/materials/models/My Hero Academia/Map/Classroom/Cabinets Back.vmt
usermod/materials/models/My Hero Academia/Map/Classroom/Costume.vmt
usermod/materials/models/My Hero Academia/Map/Classroom/yuka.vmt
usermod/materials/models/My Hero Academia/Map/Classroom/Cabinet Tall.vmt
usermod/materials/models/My Hero Academia/Map/Classroom/Class Glass.vmt
usermod/materials/models/My Hero Academia/Map/Classroom/yuka.vtf
usermod/materials/models/My Hero Academia/Map/Classroom/glass.vmt
usermod/materials/models/My Hero Academia/Map/Classroom/Board Front Side.vmt
usermod/materials/models/My Hero Academia/Map/Classroom/kokuban.vmt
usermod/materials/models/My Hero Academia/Map/Classroom/tenjyou.vtf
usermod/materials/models/My Hero Academia/Map/Classroom/clock.vtf
usermod/materials/models/My Hero Academia/Map/Classroom/kokuban.vtf
usermod/materials/models/My Hero Academia/Map/Classroom/Bin.vmt
usermod/materials/models/My Hero Academia/Map/Classroom/Door Back.vmt
usermod/materials/models/My Hero Academia/Map/Classroom/kabe002.vtf
usermod/materials/models/My Hero Academia/Map/Classroom/sky.vtf
usermod/materials/models/My Hero Academia/Map/Classroom/doa.vtf
usermod/materials/models/My Hero Academia/Map/Classroom/Light Beam.vmt
usermod/materials/models/My Hero Academia/Map/Classroom/Door Inside.vmt
usermod/materials/models/My Hero Academia/Map/Classroom/cornerpillars.vmt
usermod/materials/models/My Hero Academia/Map/Classroom/Black Board.vmt
usermod/materials/models/My Hero Academia/Map/Classroom/awhite.vmt
usermod/materials/models/My Hero Academia/Map/PE Grounds/lightwrap.vtf
usermod/materials/models/My Hero Academia/Map/PE Grounds/map.vtf
usermod/materials/models/My Hero Academia/Map/PE Grounds/cone.vmt
usermod/materials/models/My Hero Academia/Map/PE Grounds/building.vtf
usermod/materials/models/My Hero Academia/Map/PE Grounds/Floor.vtf
usermod/materials/models/My Hero Academia/Map/PE Grounds/Shadow.vmt
usermod/materials/models/My Hero Academia/Map/PE Grounds/line.vtf
usermod/materials/models/My Hero Academia/Map/PE Grounds/building.vmt
usermod/materials/models/My Hero Academia/Map/PE Grounds/Forest.vtf
usermod/materials/models/My Hero Academia/Map/PE Grounds/tree.vmt
usermod/materials/models/My Hero Academia/Map/PE Grounds/UA.vmt
usermod/materials/models/My Hero Academia/Map/PE Grounds/Shadow.vtf
usermod/materials/models/My Hero Academia/Map/PE Grounds/Forest.vmt
usermod/materials/models/My Hero Academia/Map/PE Grounds/tree.vtf
usermod/materials/models/My Hero Academia/Map/PE Grounds/cone.vtf
usermod/materials/models/My Hero Academia/Map/PE Grounds/UA.vtf
usermod/materials/models/My Hero Academia/Map/PE Grounds/line.vmt
usermod/materials/models/My Hero Academia/Map/PE Grounds/Floor.vmt
usermod/materials/models/My Hero Academia/Map/LOV hideout/t000.vmt
usermod/materials/models/My Hero Academia/Map/LOV hideout/T_st103_mov01_D.vtf
usermod/materials/models/My Hero Academia/Map/LOV hideout/t010.vmt
usermod/materials/models/My Hero Academia/Map/LOV hideout/t0poster.vmt
usermod/materials/models/My Hero Academia/Map/LOV hideout/lightwrap.vtf
usermod/materials/models/My Hero Academia/Map/LOV hideout/t000.vtf
usermod/materials/models/My Hero Academia/Map/LOV hideout/t014.vtf
usermod/materials/models/My Hero Academia/Map/LOV hideout/t004.vmt
usermod/materials/models/My Hero Academia/Map/LOV hideout/map.vtf
usermod/materials/models/My Hero Academia/Map/LOV hideout/t004.vtf
usermod/materials/models/My Hero Academia/Map/LOV hideout/t008.vmt
usermod/materials/models/My Hero Academia/Map/LOV hideout/Screen.vmt
usermod/materials/models/My Hero Academia/Map/LOV hideout/t0poster.vtf
usermod/materials/models/My Hero Academia/Map/LOV hideout/T_st103_mov13_D.vmt
usermod/materials/models/My Hero Academia/Map/LOV hideout/t013.vmt
usermod/materials/models/My Hero Academia/Map/LOV hideout/t018.vmt
usermod/materials/models/My Hero Academia/Map/LOV hideout/Screen.vtf
usermod/materials/models/My Hero Academia/Map/LOV hideout/t007.vtf
usermod/materials/models/My Hero Academia/Map/LOV hideout/t014.vmt
usermod/materials/models/My Hero Academia/Map/LOV hideout/T_st103_mov11_D.vmt
usermod/materials/models/My Hero Academia/Map/LOV hideout/T_st103_mov11_D.vtf
usermod/materials/models/My Hero Academia/Map/LOV hideout/t007.vmt
usermod/materials/models/My Hero Academia/Map/LOV hideout/t002.vmt
usermod/materials/models/My Hero Academia/Map/LOV hideout/t020.vmt
usermod/materials/models/My Hero Academia/Map/LOV hideout/t013.vtf
usermod/materials/models/My Hero Academia/Map/LOV hideout/T_st103_mov01_D.vmt
usermod/materials/models/My Hero Academia/Map/LOV hideout/t002.vtf
usermod/materials/models/My Hero Academia/Map/LOV hideout/T_st103_mov13_D.vtf
usermod/materials/models/My Hero Academia/Map/LOV hideout/t019.vtf
usermod/materials/models/My Hero Academia/Map/LOV hideout/t020.vtf
usermod/materials/models/My Hero Academia/Map/LOV hideout/t015.vtf
usermod/materials/models/My Hero Academia/Map/LOV hideout/t018.vtf
usermod/materials/models/My Hero Academia/Map/LOV hideout/t010.vtf
usermod/materials/models/My Hero Academia/Map/LOV hideout/t019.vmt
usermod/materials/models/My Hero Academia/Map/LOV hideout/t008.vtf
usermod/materials/models/My Hero Academia/Map/LOV hideout/t015.vmt
usermod/materials/models/My Hero Academia/Map/LOV hideout/black.vmt
usermod/materials/models/My Hero Academia/Map/LOV hideout/Black.vtf
usermod/materials/models/Shared/n_flat.vtf
usermod/materials/models/Shared/bumpmap_flat.vtf
usermod/materials/models/Shared/lightwarp.vtf
usermod/materials/models/Shared/plain_color.vtf