Adult content
This content is marked as Adult/NSFW content. You can toggle your preferences regarding this content type in your account settings.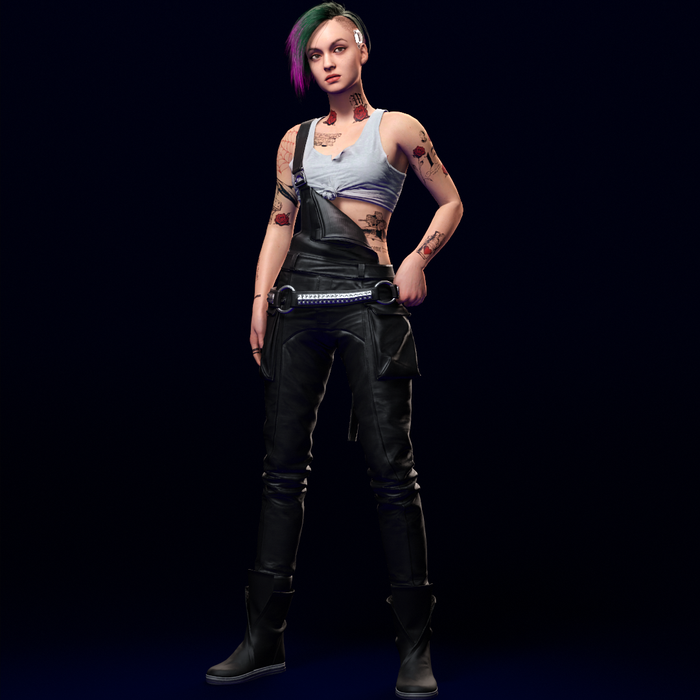 Show more
Description
Judy Alvarez, as seen in Cyberpunk 2077.
2nd Placer winner of my patreon poll.
Features include
○ Facial Flexes compatible with FACS phonemes
○ Body flexes for light customization/tweaking
○ A few bodygroups for her outfit, with a flex for her shirt
○ Procedural bones for her knees and forearm.
○ Jigglebones for her hair, breasts, and butt.
IMPORTANT
○ You -may- need to replace your sfm_defaultanimationgroups file with the one I have uploaded here just in case your rig behaves oddly. back up the original!
○ Created with valvebiped 3spine in mind.
○ If you want to pose her hair, breasts, or anything else that uses jigglebones,
-->right click the model
-->utilities
-->bake procedural bones
○ In order to lock her hair/outfit to her body/head, select the main model, drag it over the outfit/hair, select the locked bones, then under the procedurals tab, use the "zero" slider.
I'd also like to recommend LordAardvark's Outfit Loader to do this automatically.
Updates/Fixes
Update 1.01 - Bonus flexes should no longer cause stray vertices from her mouth clipping outwards. Replace existing files/May change existing sessions. (Reuploaded to fix issues with nail/crotch)
Additional Info
You can follow me and see what I'm up to here https://twitter.com/A_nother_Alias
Or support me on patreon, head over via that little icon near my name or this link here. https://www.patreon.com/YetAnotherAlias
All previews are rendered in SFM with a touch of photoshop.
Credits
Dr.Dabblur for his tip on procedural bones.
All testers, you know who you are.
SFMLab is a free service. However, it costs about $0.03 to deliver you a 1GB file. With over 20TB of traffic every month and growing, SFMLab needs your help. If only 1% of our users each gave us $5 for a single month, we could keep the site running for several years.
Filename
Downloads
Created
Filesize
Files
JudyAlvarez_REL.7z
4018
2021-07-24 00:34:26
139.05 MB
File contents:

models/a.lias/characters/cyberpunk 2077/judy alvarez/judy_alvarez_hair.mdl
models/a.lias/characters/cyberpunk 2077/judy alvarez/judy_alvarez_clothing.dx90.vtx
models/a.lias/characters/cyberpunk 2077/judy alvarez/judy_alvarez_clothing.vvd
models/a.lias/characters/cyberpunk 2077/judy alvarez/judy_alvarez_nude.mdl
models/a.lias/characters/cyberpunk 2077/judy alvarez/judy_alvarez_nude.vvd
models/a.lias/characters/cyberpunk 2077/judy alvarez/judy_alvarez_hair.vvd
models/a.lias/characters/cyberpunk 2077/judy alvarez/judy_alvarez_nude.dx90.vtx
models/a.lias/characters/cyberpunk 2077/judy alvarez/judy_alvarez_clothing.mdl
models/a.lias/characters/cyberpunk 2077/judy alvarez/judy_alvarez_hair.dx90.vtx
materials/engine/eye-reflection-cubemap-.vtf
materials/models/a.lias/characters/cyberpunk 2077/judy alvarez/judy_scalp_d.vtf
materials/models/a.lias/characters/cyberpunk 2077/judy alvarez/judy_leg_col.vtf
materials/models/a.lias/characters/cyberpunk 2077/judy alvarez/judy_head.vmt
materials/models/a.lias/characters/cyberpunk 2077/judy alvarez/judy_hair_a.vmt
materials/models/a.lias/characters/cyberpunk 2077/judy alvarez/body_legs_exponent.vtf
materials/models/a.lias/characters/cyberpunk 2077/judy alvarez/judy_scalp.vmt
materials/models/a.lias/characters/cyberpunk 2077/judy alvarez/headxp.vtf
materials/models/a.lias/characters/cyberpunk 2077/judy alvarez/cyberwaretext_d.vtf
materials/models/a.lias/characters/cyberpunk 2077/judy alvarez/judy_hair.vmt
materials/models/a.lias/characters/cyberpunk 2077/judy alvarez/judy_freckles.vtf
materials/models/a.lias/characters/cyberpunk 2077/judy alvarez/judy_hair_d.vtf
materials/models/a.lias/characters/cyberpunk 2077/judy alvarez/judy_torso_col.vtf
materials/models/a.lias/characters/cyberpunk 2077/judy alvarez/judy_head_col.vtf
materials/models/a.lias/characters/cyberpunk 2077/judy alvarez/cyberware_2_s.vmt
materials/models/a.lias/characters/cyberpunk 2077/judy alvarez/cyberware_s.vmt
materials/models/a.lias/characters/cyberpunk 2077/judy alvarez/ht_001_ma_teeth_d01.vtf
materials/models/a.lias/characters/cyberpunk 2077/judy alvarez/judy_head_n.vtf
materials/models/a.lias/characters/cyberpunk 2077/judy alvarez/judy_gens_n.vtf
materials/models/a.lias/characters/cyberpunk 2077/judy alvarez/judy_eyeshadow.vtf
materials/models/a.lias/characters/cyberpunk 2077/judy alvarez/judy_arms_col.vtf
materials/models/a.lias/characters/cyberpunk 2077/judy alvarez/judy_legs.vmt
materials/models/a.lias/characters/cyberpunk 2077/judy alvarez/judyeye.vtf
materials/models/a.lias/characters/cyberpunk 2077/judy alvarez/gen_labia.vmt
materials/models/a.lias/characters/cyberpunk 2077/judy alvarez/cyberwareexp.vtf
materials/models/a.lias/characters/cyberpunk 2077/judy alvarez/judy_torso_n.vtf
materials/models/a.lias/characters/cyberpunk 2077/judy alvarez/gen_vagina.vmt
materials/models/a.lias/characters/cyberpunk 2077/judy alvarez/judy_toenails.vmt
materials/models/a.lias/characters/cyberpunk 2077/judy alvarez/cyberware_n.vtf
materials/models/a.lias/characters/cyberpunk 2077/judy alvarez/judy_gens_col.vtf
materials/models/a.lias/characters/cyberpunk 2077/judy alvarez/judy_eyebrow.vmt
materials/models/a.lias/characters/cyberpunk 2077/judy alvarez/judy_legs_n.vtf
materials/models/a.lias/characters/cyberpunk 2077/judy alvarez/judy_lips_2.vmt
materials/models/a.lias/characters/cyberpunk 2077/judy alvarez/eye_ao.vtf
materials/models/a.lias/characters/cyberpunk 2077/judy alvarez/judy_hair_n.vtf
materials/models/a.lias/characters/cyberpunk 2077/judy alvarez/judylip.vtf
materials/models/a.lias/characters/cyberpunk 2077/judy alvarez/judy_arms.vmt
materials/models/a.lias/characters/cyberpunk 2077/judy alvarez/judy_eyelashes.vmt
materials/models/a.lias/characters/cyberpunk 2077/judy alvarez/judy_mouth.vmt
materials/models/a.lias/characters/cyberpunk 2077/judy alvarez/judy_brows.vtf
materials/models/a.lias/characters/cyberpunk 2077/judy alvarez/judy_torso.vmt
materials/models/a.lias/characters/cyberpunk 2077/judy alvarez/gen_rectum.vmt
materials/models/a.lias/characters/cyberpunk 2077/judy alvarez/eyeball_l.vmt
materials/models/a.lias/characters/cyberpunk 2077/judy alvarez/judy_fingernails.vmt
materials/models/a.lias/characters/cyberpunk 2077/judy alvarez/cyberware_d.vtf
materials/models/a.lias/characters/cyberpunk 2077/judy alvarez/body_arms_exponent.vtf
materials/models/a.lias/characters/cyberpunk 2077/judy alvarez/judy_eyelashes.vtf
materials/models/a.lias/characters/cyberpunk 2077/judy alvarez/eye_cornea.vtf
materials/models/a.lias/characters/cyberpunk 2077/judy alvarez/judy_arms_n.vtf
materials/models/a.lias/characters/cyberpunk 2077/judy alvarez/judy_eyeshadow.vmt
materials/models/a.lias/characters/cyberpunk 2077/judy alvarez/ht_001_ma_teeth_n01.vtf
materials/models/a.lias/characters/cyberpunk 2077/judy alvarez/eyeball_r.vmt
materials/models/a.lias/characters/cyberpunk 2077/judy alvarez/judy_freckles.vmt
materials/models/a.lias/characters/cyberpunk 2077/judy alvarez/cyberware_2.vmt
materials/models/a.lias/characters/cyberpunk 2077/judy alvarez/cyberware.vmt
materials/models/a.lias/characters/cyberpunk 2077/judy alvarez/cyberware_text.vmt
materials/models/a.lias/characters/cyberpunk 2077/judy alvarez/body_torso_exponent.vtf
materials/models/a.lias/characters/cyberpunk 2077/judy alvarez/judy clothing/judy_top.vmt
materials/models/a.lias/characters/cyberpunk 2077/judy alvarez/judy clothing/judy_pants_n.vtf
materials/models/a.lias/characters/cyberpunk 2077/judy alvarez/judy clothing/judy_shoe_n.vtf
materials/models/a.lias/characters/cyberpunk 2077/judy alvarez/judy clothing/judy_shoe.vmt
materials/models/a.lias/characters/cyberpunk 2077/judy alvarez/judy clothing/belt.vmt
materials/models/a.lias/characters/cyberpunk 2077/judy alvarez/judy clothing/judy_tank_d.vtf
materials/models/a.lias/characters/cyberpunk 2077/judy alvarez/judy clothing/metal_s.vmt
materials/models/a.lias/characters/cyberpunk 2077/judy alvarez/judy clothing/judy_shoe_bottom.vmt
materials/models/a.lias/characters/cyberpunk 2077/judy alvarez/judy clothing/judy_pants.vmt
materials/models/a.lias/characters/cyberpunk 2077/judy alvarez/judy clothing/buckle.vmt
materials/models/a.lias/characters/cyberpunk 2077/judy alvarez/judy clothing/judy_shoe_d.vtf
materials/models/a.lias/characters/cyberpunk 2077/judy alvarez/judy clothing/loop.vmt
materials/models/a.lias/characters/cyberpunk 2077/judy alvarez/judy clothing/pants.vtf
materials/models/a.lias/characters/cyberpunk 2077/judy alvarez/judy clothing/judy_tank_n.vtf
materials/models/a.lias/characters/cyberpunk 2077/judy alvarez/judy clothing/judy_pants_d.vtf




sfm_defaultanimationgroups.txt
1222
2021-07-24 00:36:57
260.76 KB
Judy_Update_1.01_6vKjEpW.7z
1392
2021-08-07 21:37:39
6.41 MB
File contents:

judy_alvarez_nude.mdl
judy_alvarez_nude.vvd
Judy_Alvarez_Nude.dx90.vtx