Adult content
This content is marked as Adult/NSFW content. You can toggle your preferences regarding this content type in your account settings.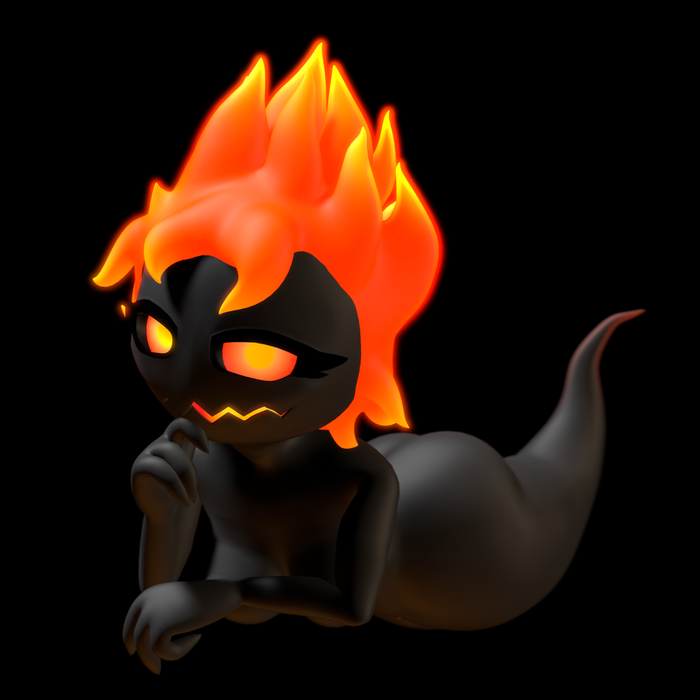 Show more
Description
Make sure to follow my Twitter for model updates/releases, and all that good stuff! https://twitter.com/willow_void Make sure to tag me on twitter when you make stuff with her, I'm curious to see what you all come up with!
Dark Esau, or Shesau as she is known in the community, is out for SFM! Shes quite a lovely fire ghost.
Comes with tons of different flexes. She can make many, many different eye expressions and a fair amount of mouth expressions. In addition quite a bit of genital flexes as well!
Stereo flexes
Good butt bones for butt wiggles and all that good stuff.
Mouth also has bones if you need even more control over how her mouth should look. Her mouth can be quite expressive!
Glowing textures. She does emirate fire after all!
Two different models. The difference being the amount of bones in her tail. One for stuff not really bothering with her tail, the other for tail-centric stuff
Lots and lots of control over her flaming hair. (Hair is its own model and requires proper zeroing/snapping to the main body.)
Can be rigged using Mets Magic Rigger and Autorigger
There are a few issues however that you might experience, here is how to fix them.
When you use her jaw bone to open her mouth, you will notice the side of her mouth wont really move with the jaw. This can be fixed using the lower lip bone on the edge of her mouth. You will just need to manually rotate it to match up with the jaw.
You may need to counter animate her mouth closed or close her pussy. These are flexes.
Bottom Eyelid Up has a corrective flex you must use if you only want to bring the eyelid up a little bit so it doesn't clip into her eye.
And don't be afraid to experiment with flexes that might not go in sequence. BJ size without using the BJ Flex for example leads to a really funny expression.
Enjoy and let me know if you have any problems down below.
Thanks to Voui for the pictures/thumbnails!
SFMLab is a free service. However, it costs about $0.03 to deliver you a 1GB file. With over 20TB of traffic every month and growing, SFMLab needs your help. If only 1% of our users each gave us $5 for a single month, we could keep the site running for several years.
Filename
Downloads
Created
Filesize
Files
FemDarkEsau_SFM.7z
2311
2021-07-26 20:05:03
3.78 MB
File contents:

FemDarkEsau/models/voidwillow/boinsfw/FemDEsauHair.dx90.vtx
FemDarkEsau/models/voidwillow/boinsfw/femdesauhair.mdl
FemDarkEsau/models/voidwillow/boinsfw/femdesaucomptail.vvd
FemDarkEsau/models/voidwillow/boinsfw/femdesau.vvd
FemDarkEsau/models/voidwillow/boinsfw/femdesaucomptail.mdl
FemDarkEsau/models/voidwillow/boinsfw/femdesauhair.vvd
FemDarkEsau/models/voidwillow/boinsfw/FemDEsau.dx90.vtx
FemDarkEsau/models/voidwillow/boinsfw/FemDEsauCompTail.dx90.vtx
FemDarkEsau/models/voidwillow/boinsfw/femdesau.mdl
FemDarkEsau/materials/models/voidwillow/Boinsfw/EyesN.vtf
FemDarkEsau/materials/models/voidwillow/Boinsfw/BodyN.vtf
FemDarkEsau/materials/models/voidwillow/Boinsfw/Eyes.vtf
FemDarkEsau/materials/models/voidwillow/Boinsfw/Hair.vmt
FemDarkEsau/materials/models/voidwillow/Boinsfw/Hair.vtf
FemDarkEsau/materials/models/voidwillow/Boinsfw/Eye.vmt
FemDarkEsau/materials/models/voidwillow/Boinsfw/Body.vtf
FemDarkEsau/materials/models/voidwillow/Boinsfw/HairN.vtf
FemDarkEsau/materials/models/voidwillow/Boinsfw/Body.vmt