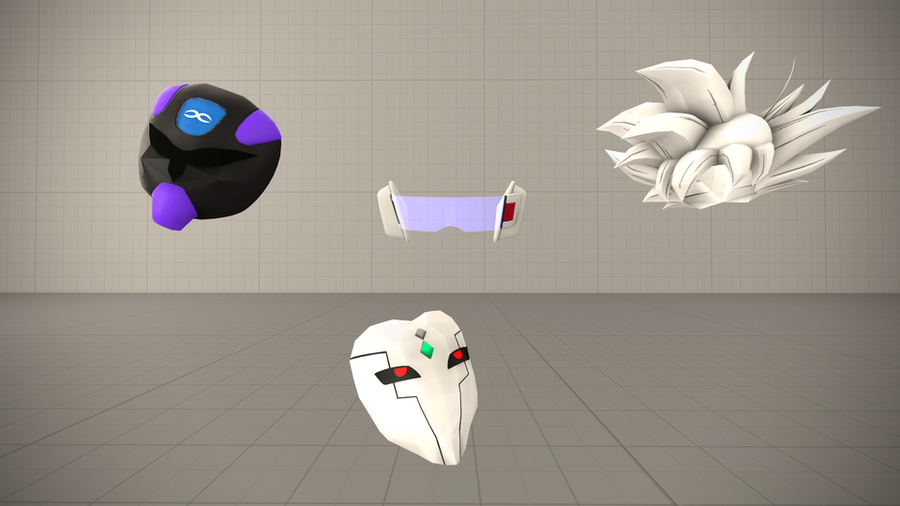 Show more
Description
First pack contains two timebreaker masks, turles' ultra instinct hair and tagoma's scouter. Turles' mask has one bodygroup, Super 17 masks contains skins, and same thing for the scouter.
Second Pack contains the three craters that appear in Dragon Ball Kakarot
Third pack has the desert, demonrealm, and demon tower from super dragon ball Heroes. All have bodygroups.
Credits to..... Bandai Namco for creating all of these models.
Zitro for super 17's mask, ZunDB for Turles mask and hair, and kumabound for the scouter
o-Dv89-o for uploading the models for the second pack
HiGuys920 for uploading the desert and demon tower for the third pack
LorisCangini for uploading the demon realm map
SFMLab is a free service. However, it costs about $0.03 to deliver you a 1GB file. With over 20TB of traffic every month and growing, SFMLab needs your help. If only 1% of our users each gave us $5 for a single month, we could keep the site running for several years.
Filename
Downloads
Created
Filesize
Files
props.zip
706
2021-08-01 18:05:07
1.95 MB
File contents:

props/models/Jake/Models/DragonBall/turlesmask.mdl
props/models/Jake/Models/DragonBall/tagomascouter.mdl
props/models/Jake/Models/DragonBall/s17mask.dx90.vtx
props/models/Jake/Models/DragonBall/s17mask.vvd
props/models/Jake/Models/DragonBall/turlesultrahair.dx90.vtx
props/models/Jake/Models/DragonBall/turlesmask.dx90.vtx
props/models/Jake/Models/DragonBall/turlesultrahair.mdl
props/models/Jake/Models/DragonBall/turlesultrahair.vvd
props/models/Jake/Models/DragonBall/tagomascouter.vvd
props/models/Jake/Models/DragonBall/turlesmask.vvd
props/models/Jake/Models/DragonBall/tagomascouter.dx90.vtx
props/models/Jake/Models/DragonBall/s17mask.mdl
props/materials/models/Jake/Models/turlesultrahair/white.vmt
props/materials/models/Jake/Models/turlesultrahair/black.vtf
props/materials/models/Jake/Models/turlesultrahair/white.vtf
props/materials/models/Jake/Models/turlesultrahair/normal.vtf
props/materials/models/Jake/Models/turlesultrahair/black.vmt
props/materials/models/Jake/Models/s17mask/flash5.vmt
props/materials/models/Jake/Models/s17mask/flash1.vtf
props/materials/models/Jake/Models/s17mask/flash.vmt
props/materials/models/Jake/Models/s17mask/flash4.vtf
props/materials/models/Jake/Models/s17mask/reverse1.vmt
props/materials/models/Jake/Models/s17mask/jewel1.vtf
props/materials/models/Jake/Models/s17mask/mask_n.vtf
props/materials/models/Jake/Models/s17mask/flash3.vtf
props/materials/models/Jake/Models/s17mask/reverse2.vtf
props/materials/models/Jake/Models/s17mask/blacklines.vtf
props/materials/models/Jake/Models/s17mask/reverse2.vmt
props/materials/models/Jake/Models/s17mask/mask1_n.vtf
props/materials/models/Jake/Models/s17mask/flash1.vmt
props/materials/models/Jake/Models/s17mask/savitar3.vtf
props/materials/models/Jake/Models/s17mask/mask.vtf
props/materials/models/Jake/Models/s17mask/flash2.vmt
props/materials/models/Jake/Models/s17mask/reverse3.vtf
props/materials/models/Jake/Models/s17mask/jewel1.vmt
props/materials/models/Jake/Models/s17mask/jewel.vmt
props/materials/models/Jake/Models/s17mask/flash4.vmt
props/materials/models/Jake/Models/s17mask/eyes1.vmt
props/materials/models/Jake/Models/s17mask/savitar2.vmt
props/materials/models/Jake/Models/s17mask/jewel.vtf
props/materials/models/Jake/Models/s17mask/reverse1.vtf
props/materials/models/Jake/Models/s17mask/eyes.vmt
props/materials/models/Jake/Models/s17mask/flash.vtf
props/materials/models/Jake/Models/s17mask/eyes1.vtf
props/materials/models/Jake/Models/s17mask/reverse3.vmt
props/materials/models/Jake/Models/s17mask/eyes.vtf
props/materials/models/Jake/Models/s17mask/mask.vmt
props/materials/models/Jake/Models/s17mask/blacklines.vmt
props/materials/models/Jake/Models/s17mask/savitar2.vtf
props/materials/models/Jake/Models/s17mask/savitar.vtf
props/materials/models/Jake/Models/s17mask/reverse.vtf
props/materials/models/Jake/Models/s17mask/flash3.vmt
props/materials/models/Jake/Models/s17mask/flash5.vtf
props/materials/models/Jake/Models/s17mask/savitar3.vmt
props/materials/models/Jake/Models/s17mask/reverse.vmt
props/materials/models/Jake/Models/s17mask/savitar1.vmt
props/materials/models/Jake/Models/s17mask/savitar1.vtf
props/materials/models/Jake/Models/s17mask/flash2.vtf
props/materials/models/Jake/Models/s17mask/savitar.vmt
props/materials/models/Jake/Models/turlesmask/jewel1.vtf
props/materials/models/Jake/Models/turlesmask/symbol.vtf
props/materials/models/Jake/Models/turlesmask/face1.vtf
props/materials/models/Jake/Models/turlesmask/jewel1.vmt
props/materials/models/Jake/Models/turlesmask/eye.vmt
props/materials/models/Jake/Models/turlesmask/jewel.vmt
props/materials/models/Jake/Models/turlesmask/face.vtf
props/materials/models/Jake/Models/turlesmask/jewel.vtf
props/materials/models/Jake/Models/turlesmask/eye.vtf
props/materials/models/Jake/Models/turlesmask/symbol.vmt
props/materials/models/Jake/Models/turlesmask/terminator.vmt
props/materials/models/Jake/Models/turlesmask/face.vmt
props/materials/models/Jake/Models/turlesmask/normal.vtf
props/materials/models/Jake/Models/turlesmask/face1.vmt
props/materials/models/Jake/Models/turlesmask/terminator.vtf
props/materials/models/Jake/Models/tagomascouter/white.vmt
props/materials/models/Jake/Models/tagomascouter/yellow.vmt
props/materials/models/Jake/Models/tagomascouter/ears.vmt
props/materials/models/Jake/Models/tagomascouter/default_n.vtf
props/materials/models/Jake/Models/tagomascouter/button.vmt
props/materials/models/Jake/Models/tagomascouter/black.vtf
props/materials/models/Jake/Models/tagomascouter/ears.vtf
props/materials/models/Jake/Models/tagomascouter/red.vmt
props/materials/models/Jake/Models/tagomascouter/red.vtf
props/materials/models/Jake/Models/tagomascouter/green.vtf
props/materials/models/Jake/Models/tagomascouter/button.vtf
props/materials/models/Jake/Models/tagomascouter/green.vmt
props/materials/models/Jake/Models/tagomascouter/lavendar.vtf
props/materials/models/Jake/Models/tagomascouter/muffs.vmt
props/materials/models/Jake/Models/tagomascouter/white.vtf
props/materials/models/Jake/Models/tagomascouter/orange.vmt
props/materials/models/Jake/Models/tagomascouter/default.vtf
props/materials/models/Jake/Models/tagomascouter/lavendar.vmt
props/materials/models/Jake/Models/tagomascouter/orange.vtf
props/materials/models/Jake/Models/tagomascouter/default.vmt
props/materials/models/Jake/Models/tagomascouter/black.vmt
props/materials/models/Jake/Models/tagomascouter/muffs.vtf
props/materials/models/Jake/Models/tagomascouter/yellow.vtf




craters.zip
633
2021-08-01 18:06:20
12.37 MB
File contents:

craters/models/Jake/Models/DragonBall/crater3.mdl
craters/models/Jake/Models/DragonBall/crater2.dx90.vtx
craters/models/Jake/Models/DragonBall/crater1.vvd
craters/models/Jake/Models/DragonBall/crater2.vvd
craters/models/Jake/Models/DragonBall/crater1.mdl
craters/models/Jake/Models/DragonBall/crater2.mdl
craters/models/Jake/Models/DragonBall/crater3.vvd
craters/models/Jake/Models/DragonBall/crater1.dx90.vtx
craters/models/Jake/Models/DragonBall/crater3.dx90.vtx
craters/materials/models/Jake/Models/dbzcrater/crater2/crater.vmt
craters/materials/models/Jake/Models/dbzcrater/crater2/crater.vtf
craters/materials/models/Jake/Models/dbzcrater/crater2/crater_n.vtf
craters/materials/models/Jake/Models/dbzcrater/crater1/crater.vmt
craters/materials/models/Jake/Models/dbzcrater/crater1/crater.vtf
craters/materials/models/Jake/Models/dbzcrater/crater1/crater_n.vtf
craters/materials/models/Jake/Models/dbzcrater/crater3/crater2.vtf
craters/materials/models/Jake/Models/dbzcrater/crater3/crater.vmt
craters/materials/models/Jake/Models/dbzcrater/crater3/crater.vtf
craters/materials/models/Jake/Models/dbzcrater/crater3/crater2_n.vtf
craters/materials/models/Jake/Models/dbzcrater/crater3/crater_n.vtf
craters/materials/models/Jake/Models/dbzcrater/crater3/crater1.vmt
craters/materials/models/Jake/Models/dbzcrater/crater3/crater1.vtf
craters/materials/models/Jake/Models/dbzcrater/crater3/crater2.vmt
craters/materials/models/Jake/Models/dbzcrater/crater3/crater1_n.vtf




maps.zip
655
2021-08-01 18:07:19
6.19 MB
File contents:

maps/models/Jake/Models/DragonBall/dbzdesert.vvd
maps/models/Jake/Models/DragonBall/demonrealm.mdl
maps/models/Jake/Models/DragonBall/dbzdesert.mdl
maps/models/Jake/Models/DragonBall/demontower.mdl
maps/models/Jake/Models/DragonBall/demonrealm.dx90.vtx
maps/models/Jake/Models/DragonBall/demonrealm.vvd
maps/models/Jake/Models/DragonBall/demontower.dx90.vtx
maps/models/Jake/Models/DragonBall/dbzdesert.dx90.vtx
maps/models/Jake/Models/DragonBall/demontower.vvd
maps/materials/models/Jake/Models/demonrealm/DATA015.vmt
maps/materials/models/Jake/Models/demonrealm/DATA002.vtf
maps/materials/models/Jake/Models/demonrealm/DATA016.vmt
maps/materials/models/Jake/Models/demonrealm/DATA012.vmt
maps/materials/models/Jake/Models/demonrealm/DATA015.vtf
maps/materials/models/Jake/Models/demonrealm/DATA018.vtf
maps/materials/models/Jake/Models/demonrealm/DATA010.vmt
maps/materials/models/Jake/Models/demonrealm/DATA002.vmt
maps/materials/models/Jake/Models/demonrealm/DATA007.vmt
maps/materials/models/Jake/Models/demonrealm/DATA005.vmt
maps/materials/models/Jake/Models/demonrealm/DATA017.vmt
maps/materials/models/Jake/Models/demonrealm/DATA012.vtf
maps/materials/models/Jake/Models/demonrealm/DATA000.vmt
maps/materials/models/Jake/Models/demonrealm/DATA008.vmt
maps/materials/models/Jake/Models/demonrealm/DATA017.vtf
maps/materials/models/Jake/Models/demonrealm/DATA007.vtf
maps/materials/models/Jake/Models/demonrealm/DATA014.vmt
maps/materials/models/Jake/Models/demonrealm/DATA006.vtf
maps/materials/models/Jake/Models/demonrealm/DATA014.vtf
maps/materials/models/Jake/Models/demonrealm/DATA004.vtf
maps/materials/models/Jake/Models/demonrealm/DATA013.vtf
maps/materials/models/Jake/Models/demonrealm/DATA008.vtf
maps/materials/models/Jake/Models/demonrealm/DATA001.vtf
maps/materials/models/Jake/Models/demonrealm/DATA016.vtf
maps/materials/models/Jake/Models/demonrealm/DATA009.vtf
maps/materials/models/Jake/Models/demonrealm/DATA011.vmt
maps/materials/models/Jake/Models/demonrealm/DATA010.vtf
maps/materials/models/Jake/Models/demonrealm/DATA003.vmt
maps/materials/models/Jake/Models/demonrealm/DATA004.vmt
maps/materials/models/Jake/Models/demonrealm/DATA000.vtf
maps/materials/models/Jake/Models/demonrealm/DATA005.vtf
maps/materials/models/Jake/Models/demonrealm/DATA001.vmt
maps/materials/models/Jake/Models/demonrealm/DATA009.vmt
maps/materials/models/Jake/Models/demonrealm/DATA018.vmt
maps/materials/models/Jake/Models/demonrealm/DATA006.vmt
maps/materials/models/Jake/Models/demonrealm/DATA011.vtf
maps/materials/models/Jake/Models/demonrealm/DATA003.vtf
maps/materials/models/Jake/Models/demonrealm/DATA013.vmt
maps/materials/models/Jake/Models/demontower/DATA008_n.vtf
maps/materials/models/Jake/Models/demontower/DATA015.vmt
maps/materials/models/Jake/Models/demontower/DATA002.vtf
maps/materials/models/Jake/Models/demontower/DATA016.vmt
maps/materials/models/Jake/Models/demontower/DATA015.vtf
maps/materials/models/Jake/Models/demontower/DATA002.vmt
maps/materials/models/Jake/Models/demontower/DATA005_n.vtf
maps/materials/models/Jake/Models/demontower/DATA007.vmt
maps/materials/models/Jake/Models/demontower/DATA005.vmt
maps/materials/models/Jake/Models/demontower/DATA008.vmt
maps/materials/models/Jake/Models/demontower/DATA006_n.vtf
maps/materials/models/Jake/Models/demontower/DATA007.vtf
maps/materials/models/Jake/Models/demontower/DATA014.vmt
maps/materials/models/Jake/Models/demontower/DATA006.vtf
maps/materials/models/Jake/Models/demontower/DATA014.vtf
maps/materials/models/Jake/Models/demontower/DATA009_n.vtf
maps/materials/models/Jake/Models/demontower/DATA001_n.vtf
maps/materials/models/Jake/Models/demontower/DATA016_n.vtf
maps/materials/models/Jake/Models/demontower/DATA013.vtf
maps/materials/models/Jake/Models/demontower/DATA008.vtf
maps/materials/models/Jake/Models/demontower/DATA013_n.vtf
maps/materials/models/Jake/Models/demontower/DATA001.vtf
maps/materials/models/Jake/Models/demontower/DATA016.vtf
maps/materials/models/Jake/Models/demontower/DATA009.vtf
maps/materials/models/Jake/Models/demontower/DATA003.vmt
maps/materials/models/Jake/Models/demontower/DATA005.vtf
maps/materials/models/Jake/Models/demontower/DATA001.vmt
maps/materials/models/Jake/Models/demontower/DATA009.vmt
maps/materials/models/Jake/Models/demontower/DATA007_n.vtf
maps/materials/models/Jake/Models/demontower/DATA003_n.vtf
maps/materials/models/Jake/Models/demontower/DATA002_n.vtf
maps/materials/models/Jake/Models/demontower/DATA014_n.vtf
maps/materials/models/Jake/Models/demontower/DATA015_n.vtf
maps/materials/models/Jake/Models/demontower/DATA006.vmt
maps/materials/models/Jake/Models/demontower/DATA003.vtf
maps/materials/models/Jake/Models/demontower/DATA013.vmt
maps/materials/models/Jake/Models/dbzdesert/DATA015.vmt
maps/materials/models/Jake/Models/dbzdesert/DATA012.vmt
maps/materials/models/Jake/Models/dbzdesert/DATA015.vtf
maps/materials/models/Jake/Models/dbzdesert/DATA005_n.vtf
maps/materials/models/Jake/Models/dbzdesert/DATA005.vmt
maps/materials/models/Jake/Models/dbzdesert/DATA012.vtf
maps/materials/models/Jake/Models/dbzdesert/DATA006_n.vtf
maps/materials/models/Jake/Models/dbzdesert/DATA006.vtf
maps/materials/models/Jake/Models/dbzdesert/DATA001_n.vtf
maps/materials/models/Jake/Models/dbzdesert/DATA013.vtf
maps/materials/models/Jake/Models/dbzdesert/DATA013_n.vtf
maps/materials/models/Jake/Models/dbzdesert/DATA001.vtf
maps/materials/models/Jake/Models/dbzdesert/DATA003.vmt
maps/materials/models/Jake/Models/dbzdesert/DATA005.vtf
maps/materials/models/Jake/Models/dbzdesert/DATA001.vmt
maps/materials/models/Jake/Models/dbzdesert/DATA003_n.vtf
maps/materials/models/Jake/Models/dbzdesert/DATA012_n.vtf
maps/materials/models/Jake/Models/dbzdesert/DATA015_n.vtf
maps/materials/models/Jake/Models/dbzdesert/DATA006.vmt
maps/materials/models/Jake/Models/dbzdesert/DATA003.vtf
maps/materials/models/Jake/Models/dbzdesert/DATA013.vmt