Adult content
This content is marked as Adult/NSFW content. You can toggle your preferences regarding this content type in your account settings.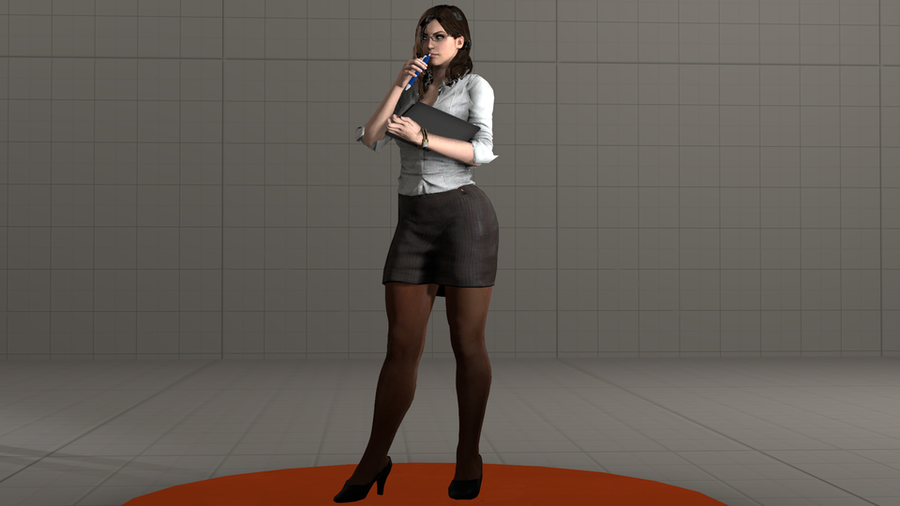 Show more
Description
Here is Gina Foley from Residebt Evil Revelations 2!
Love this thicc woman!
USE GinaCanonBody, Heels Fit and set breastsclevage to 0.9 to have the clothes fit
has jiggly tits and ass
Face posing
Eye posing
Everything is removable And a shit ton of body flexes
ENJOY!!
P.S. I might change the hair soon.
SFMLab is a free service. However, it costs about $0.03 to deliver you a 1GB file. With over 20TB of traffic every month and growing, SFMLab needs your help. If only 1% of our users each gave us $5 for a single month, we could keep the site running for several years.
Filename
Downloads
Created
Filesize
Files
Gina_Foley.7z
2769
2021-08-06 23:25:26
58.97 MB
File contents:

usermod/models/Gina/Gina.dx90.vtx
usermod/models/Gina/skirt.smd
usermod/models/Gina/tights.smd
usermod/models/Gina/heels.smd
usermod/models/Gina/glasses.smd
usermod/models/Gina/shirt.smd
usermod/models/Gina/braclette.smd
usermod/models/Gina/Gina.dmx
usermod/models/Gina/Gina.qc
usermod/models/Gina/idle.smd
usermod/models/Gina/gina.vvd
usermod/models/Gina/hair.smd
usermod/models/Gina/gina.mdl
usermod/scripts/sfm/animset/rig_gina.py
usermod/materials/models/Gina/red_toenails.vtf
usermod/materials/models/Gina/pl_udewa_NullNM.vtf
usermod/materials/models/Gina/pl3700_01eye_NM.vtf
usermod/materials/models/Gina/pl3710_22skin_MM.vtf
usermod/materials/models/Gina/pl3710_23hand_BM.vtf
usermod/materials/models/Gina/pl3710_00face_NM.vtf
usermod/materials/models/Gina/pl3700_22suit_MM.vtf
usermod/materials/models/Gina/tights rims.vmt
usermod/materials/models/Gina/lashesin.vmt
usermod/materials/models/Gina/pupil_r.vmt
usermod/materials/models/Gina/detail.vtf
usermod/materials/models/Gina/pl3710_22skin_BM.vtf
usermod/materials/models/Gina/pupil_l.vmt
usermod/materials/models/Gina/gina_torso.vtf
usermod/materials/models/Gina/glasses.vmt
usermod/materials/models/Gina/lashesout.vmt
usermod/materials/models/Gina/pupil_ambient.vtf
usermod/materials/models/Gina/hair2.vmt
usermod/materials/models/Gina/pl3700_05hair_NM.vtf
usermod/materials/models/Gina/pl3710_23Leg_BM.vtf
usermod/materials/models/Gina/genitals_interior.vtf
usermod/materials/models/Gina/fingernails.vtf
usermod/materials/models/Gina/body_arms_n.vtf
usermod/materials/models/Gina/pl3710_00face_MM.vtf
usermod/materials/models/Gina/dirt_null.vtf
usermod/materials/models/Gina/pl3700_11megane_NM.vtf
usermod/materials/models/Gina/pl_udewa_BM.vtf
usermod/materials/models/Gina/phongwarp_hair.vtf
usermod/materials/models/Gina/bura_2.vtf
usermod/materials/models/Gina/pl3710_23hand_MM.vtf
usermod/materials/models/Gina/gens_inner.vmt
usermod/materials/models/Gina/shirtout.vmt
usermod/materials/models/Gina/pl3710_00_shirt_BM.vtf
usermod/materials/models/Gina/skirt.vmt
usermod/materials/models/Gina/gina_torso2.vtf
usermod/materials/models/Gina/gens_outter.vmt
usermod/materials/models/Gina/pl3710_24_shirt_MM.vtf
usermod/materials/models/Gina/mouth.vmt
usermod/materials/models/Gina/pl3700_23Leg_MM.vtf
usermod/materials/models/Gina/gina_legs.vtf
usermod/materials/models/Gina/toenails.vmt
usermod/materials/models/Gina/pl3710_22skin_NM.vtf
usermod/materials/models/Gina/pupil.vtf
usermod/materials/models/Gina/body_torso_n.vtf
usermod/materials/models/Gina/braclette.vmt
usermod/materials/models/Gina/hair1.vmt
usermod/materials/models/Gina/head.vmt
usermod/materials/models/Gina/flat_n.vtf
usermod/materials/models/Gina/body_legs_n.vtf
usermod/materials/models/Gina/pl3710_05hair_BM.vtf
usermod/materials/models/Gina/gina_gens_outter.vtf
usermod/materials/models/Gina/legs.vmt
usermod/materials/models/Gina/pupil.vmt
usermod/materials/models/Gina/pl3700_11megane_BM.vtf
usermod/materials/models/Gina/pl3700_02eyelash_BM.vtf
usermod/materials/models/Gina/pl3710_05hair_MM.vtf
usermod/materials/models/Gina/arms.vmt
usermod/materials/models/Gina/gina_arms.vtf
usermod/materials/models/Gina/heels.vmt
usermod/materials/models/Gina/pl3700_22suit_NM.vtf
usermod/materials/models/Gina/pl3700_24_shirt_NM.vtf
usermod/materials/models/Gina/torso.vmt
usermod/materials/models/Gina/red_fingernails.vtf
usermod/materials/models/Gina/pl_udewa_BM_modified.vtf
usermod/materials/models/Gina/toenails.vtf
usermod/materials/models/Gina/genitals_interior_n.vtf
usermod/materials/models/Gina/fingernails.vmt
usermod/materials/models/Gina/pl3710_23hand_NM.vtf
usermod/materials/models/Gina/pl3700_11megane_MM.vtf
usermod/materials/models/Gina/pl3700_01eye_BM.vtf
usermod/materials/models/Gina/pl3700_23Leg_NM.vtf
usermod/materials/models/Gina/pl3710_00face_BM.vtf
usermod/materials/models/Gina/tights.vmt
usermod/materials/models/Gina/pl3710_22suit_BM.vtf
usermod/materials/models/Gina/pl3700_01eye_MM.vtf