Adult content
This content is marked as Adult/NSFW content. You can toggle your preferences regarding this content type in your account settings.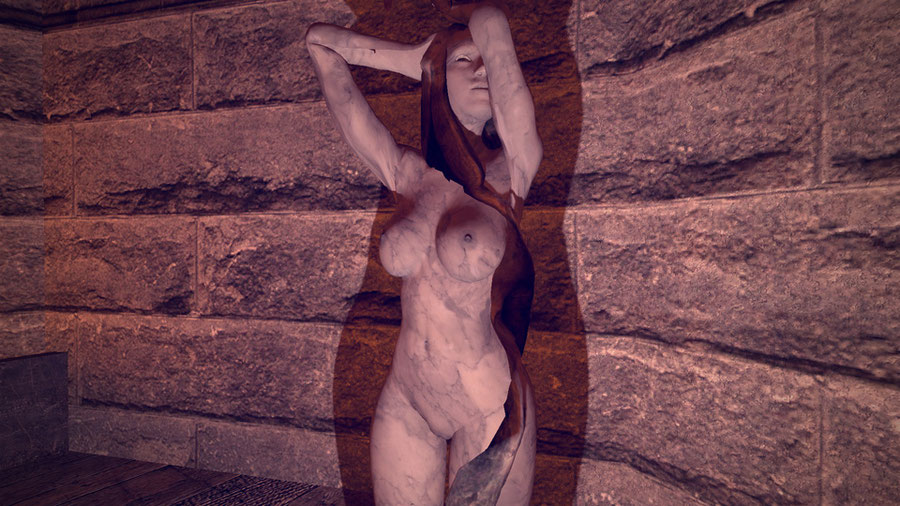 Show more
Description
Add a little spice to your goddess shrine.
Models ported from original Skyrim mod with permission of the mod maker.
Original mod: https://www.nexusmods.com/skyrimspecialedition/mods/16244
Some statues have been resized because they are far too massive in their original size.
Pack contains SFM AND Gmod versions.
SFMLab is a free service. However, it costs about $0.03 to deliver you a 1GB file. With over 20TB of traffic every month and growing, SFMLab needs your help. If only 1% of our users each gave us $5 for a single month, we could keep the site running for several years.
Filename
Downloads
Created
Filesize
Files
skyrim_sexy_statues_V2.7z
1337
2021-08-30 10:47:41
189.5 MB
File contents:

skyrim sexy statues/SFM/usermod/models/props_sr_sexy_statues/shrine_of_azura_sexy.phy
skyrim sexy statues/SFM/usermod/models/props_sr_sexy_statues/statue_mara_sexy.dx90.vtx
skyrim sexy statues/SFM/usermod/models/props_sr_sexy_statues/statue_mara_sexy.mdl
skyrim sexy statues/SFM/usermod/models/props_sr_sexy_statues/shrine_of_boethiah_sexy.phy
skyrim sexy statues/SFM/usermod/models/props_sr_sexy_statues/statue_mara_sexy.vvd
skyrim sexy statues/SFM/usermod/models/props_sr_sexy_statues/statue_falmer_sexy.dx90.vtx
skyrim sexy statues/SFM/usermod/models/props_sr_sexy_statues/mage_statue_sexy.mdl
skyrim sexy statues/SFM/usermod/models/props_sr_sexy_statues/shrine_of_meridia_sexy.mdl
skyrim sexy statues/SFM/usermod/models/props_sr_sexy_statues/shrine_of_meridia_sexy.dx90.vtx
skyrim sexy statues/SFM/usermod/models/props_sr_sexy_statues/nocturnal_statue_sexy.vvd
skyrim sexy statues/SFM/usermod/models/props_sr_sexy_statues/mage_statue_sexy.phy
skyrim sexy statues/SFM/usermod/models/props_sr_sexy_statues/shrine_of_azura_sexy.mdl
skyrim sexy statues/SFM/usermod/models/props_sr_sexy_statues/shrine_of_boethiah_sexy.vvd
skyrim sexy statues/SFM/usermod/models/props_sr_sexy_statues/statue_falmer_sexy.vvd
skyrim sexy statues/SFM/usermod/models/props_sr_sexy_statues/nocturnal_statue_sexy.dx90.vtx
skyrim sexy statues/SFM/usermod/models/props_sr_sexy_statues/shrine_of_azura_sexy.vvd
skyrim sexy statues/SFM/usermod/models/props_sr_sexy_statues/shrine_of_boethiah_sexy.mdl
skyrim sexy statues/SFM/usermod/models/props_sr_sexy_statues/statue_dibella_sexy.phy
skyrim sexy statues/SFM/usermod/models/props_sr_sexy_statues/mage_statue_sexy.vvd
skyrim sexy statues/SFM/usermod/models/props_sr_sexy_statues/nocturnal_statue_sexy.phy
skyrim sexy statues/SFM/usermod/models/props_sr_sexy_statues/shrine_of_boethiah_sexy.dx90.vtx
skyrim sexy statues/SFM/usermod/models/props_sr_sexy_statues/statue_falmer_sexy.phy
skyrim sexy statues/SFM/usermod/models/props_sr_sexy_statues/statue_dibella_sexy.vvd
skyrim sexy statues/SFM/usermod/models/props_sr_sexy_statues/shrine_of_meridia_sexy.phy
skyrim sexy statues/SFM/usermod/models/props_sr_sexy_statues/statue_mara_sexy.phy
skyrim sexy statues/SFM/usermod/models/props_sr_sexy_statues/shrine_of_azura_sexy.dx90.vtx
skyrim sexy statues/SFM/usermod/models/props_sr_sexy_statues/statue_dibella_sexy.mdl
skyrim sexy statues/SFM/usermod/models/props_sr_sexy_statues/mage_statue_sexy.dx90.vtx
skyrim sexy statues/SFM/usermod/models/props_sr_sexy_statues/shrine_of_meridia_sexy.vvd
skyrim sexy statues/SFM/usermod/models/props_sr_sexy_statues/nocturnal_statue_sexy.mdl
skyrim sexy statues/SFM/usermod/models/props_sr_sexy_statues/statue_dibella_sexy.dx90.vtx
skyrim sexy statues/SFM/usermod/models/props_sr_sexy_statues/statue_falmer_sexy.mdl
skyrim sexy statues/SFM/usermod/materials/models/props_sr_sexy_statues/boethiah_body.vtf
skyrim sexy statues/SFM/usermod/materials/models/props_sr_sexy_statues/dibella_text_normal.vtf
skyrim sexy statues/SFM/usermod/materials/models/props_sr_sexy_statues/falmer_hands.vmt
skyrim sexy statues/SFM/usermod/materials/models/props_sr_sexy_statues/ice_sphere.vtf
skyrim sexy statues/SFM/usermod/materials/models/props_sr_sexy_statues/falmer_head.vtf
skyrim sexy statues/SFM/usermod/materials/models/props_sr_sexy_statues/shrine_of_azura.vtf
skyrim sexy statues/SFM/usermod/materials/models/props_sr_sexy_statues/statue_falmer.vtf
skyrim sexy statues/SFM/usermod/materials/models/props_sr_sexy_statues/falmer_head.vmt
skyrim sexy statues/SFM/usermod/materials/models/props_sr_sexy_statues/dibella_text.vtf
skyrim sexy statues/SFM/usermod/materials/models/props_sr_sexy_statues/statue_of_meridia_normal.vtf
skyrim sexy statues/SFM/usermod/materials/models/props_sr_sexy_statues/lava_sphere.vtf
skyrim sexy statues/SFM/usermod/materials/models/props_sr_sexy_statues/dibella_hands_text.vmt
skyrim sexy statues/SFM/usermod/materials/models/props_sr_sexy_statues/shrine_of_boethiah_normal.vtf
skyrim sexy statues/SFM/usermod/materials/models/props_sr_sexy_statues/shrine_of_azura.vmt
skyrim sexy statues/SFM/usermod/materials/models/props_sr_sexy_statues/mara_amulet.vtf
skyrim sexy statues/SFM/usermod/materials/models/props_sr_sexy_statues/meridia_text_normal.vtf
skyrim sexy statues/SFM/usermod/materials/models/props_sr_sexy_statues/falmer_body.vtf
skyrim sexy statues/SFM/usermod/materials/models/props_sr_sexy_statues/shrine_of_azura_normal.vtf
skyrim sexy statues/SFM/usermod/materials/models/props_sr_sexy_statues/nocturnal_bird.vmt
skyrim sexy statues/SFM/usermod/materials/models/props_sr_sexy_statues/nocturnal_bird.vtf
skyrim sexy statues/SFM/usermod/materials/models/props_sr_sexy_statues/falmer_body.vmt
skyrim sexy statues/SFM/usermod/materials/models/props_sr_sexy_statues/falmer_hands.vtf
skyrim sexy statues/SFM/usermod/materials/models/props_sr_sexy_statues/mage_statue_normal.vtf
skyrim sexy statues/SFM/usermod/materials/models/props_sr_sexy_statues/dibella_statue.vmt
skyrim sexy statues/SFM/usermod/materials/models/props_sr_sexy_statues/mage_face_ice_normal.vtf
skyrim sexy statues/SFM/usermod/materials/models/props_sr_sexy_statues/nocturnal_statue.vtf
skyrim sexy statues/SFM/usermod/materials/models/props_sr_sexy_statues/meridia_text.vmt
skyrim sexy statues/SFM/usermod/materials/models/props_sr_sexy_statues/dibella_text.vmt
skyrim sexy statues/SFM/usermod/materials/models/props_sr_sexy_statues/mage_normal.vtf
skyrim sexy statues/SFM/usermod/materials/models/props_sr_sexy_statues/statue_of_meridia.vtf
skyrim sexy statues/SFM/usermod/materials/models/props_sr_sexy_statues/boethiah_head.vtf
skyrim sexy statues/SFM/usermod/materials/models/props_sr_sexy_statues/boethiah_hands.vmt
skyrim sexy statues/SFM/usermod/materials/models/props_sr_sexy_statues/ice_sphere_normal.vtf
skyrim sexy statues/SFM/usermod/materials/models/props_sr_sexy_statues/mage_face_ice.vmt
skyrim sexy statues/SFM/usermod/materials/models/props_sr_sexy_statues/mage_hands.vtf
skyrim sexy statues/SFM/usermod/materials/models/props_sr_sexy_statues/statue_falmer_normal.vtf
skyrim sexy statues/SFM/usermod/materials/models/props_sr_sexy_statues/nocturnal_body.vmt
skyrim sexy statues/SFM/usermod/materials/models/props_sr_sexy_statues/dibella_statue.vtf
skyrim sexy statues/SFM/usermod/materials/models/props_sr_sexy_statues/mage_statue.vmt
skyrim sexy statues/SFM/usermod/materials/models/props_sr_sexy_statues/mara_amulet.vmt
skyrim sexy statues/SFM/usermod/materials/models/props_sr_sexy_statues/boethiah_head.vmt
skyrim sexy statues/SFM/usermod/materials/models/props_sr_sexy_statues/mara_text.vmt
skyrim sexy statues/SFM/usermod/materials/models/props_sr_sexy_statues/nocturnal_robe.vmt
skyrim sexy statues/SFM/usermod/materials/models/props_sr_sexy_statues/azura_body.vtf
skyrim sexy statues/SFM/usermod/materials/models/props_sr_sexy_statues/mage_statue.vtf
skyrim sexy statues/SFM/usermod/materials/models/props_sr_sexy_statues/statue_of_meridia.vmt
skyrim sexy statues/SFM/usermod/materials/models/props_sr_sexy_statues/lava_sphere_normal.vtf
skyrim sexy statues/SFM/usermod/materials/models/props_sr_sexy_statues/dibella_hands_text.vtf
skyrim sexy statues/SFM/usermod/materials/models/props_sr_sexy_statues/mara_text.vtf
skyrim sexy statues/SFM/usermod/materials/models/props_sr_sexy_statues/azura_body.vmt
skyrim sexy statues/SFM/usermod/materials/models/props_sr_sexy_statues/statue_falmer.vmt
skyrim sexy statues/SFM/usermod/materials/models/props_sr_sexy_statues/dibella_head_text.vtf
skyrim sexy statues/SFM/usermod/materials/models/props_sr_sexy_statues/shrine_of_boethiah.vmt
skyrim sexy statues/SFM/usermod/materials/models/props_sr_sexy_statues/nocturnal_statue_normal.vtf
skyrim sexy statues/SFM/usermod/materials/models/props_sr_sexy_statues/mage_body_ice.vmt
skyrim sexy statues/SFM/usermod/materials/models/props_sr_sexy_statues/boethiah_body.vmt
skyrim sexy statues/SFM/usermod/materials/models/props_sr_sexy_statues/nocturnal_body.vtf
skyrim sexy statues/SFM/usermod/materials/models/props_sr_sexy_statues/nocturnal_statue.vmt
skyrim sexy statues/SFM/usermod/materials/models/props_sr_sexy_statues/statue_mara.vtf
skyrim sexy statues/SFM/usermod/materials/models/props_sr_sexy_statues/mara_text_normal.vtf
skyrim sexy statues/SFM/usermod/materials/models/props_sr_sexy_statues/statue_mara_normal.vtf
skyrim sexy statues/SFM/usermod/materials/models/props_sr_sexy_statues/boethiah_hands.vtf
skyrim sexy statues/SFM/usermod/materials/models/props_sr_sexy_statues/nocturnal_robe.vtf
skyrim sexy statues/SFM/usermod/materials/models/props_sr_sexy_statues/mara_amulet_normal.vtf
skyrim sexy statues/SFM/usermod/materials/models/props_sr_sexy_statues/dibella_head_text.vmt
skyrim sexy statues/SFM/usermod/materials/models/props_sr_sexy_statues/lava_sphere.vmt
skyrim sexy statues/SFM/usermod/materials/models/props_sr_sexy_statues/blank_normal.vtf
skyrim sexy statues/SFM/usermod/materials/models/props_sr_sexy_statues/mage_body_ice.vtf
skyrim sexy statues/SFM/usermod/materials/models/props_sr_sexy_statues/statue_mara.vmt
skyrim sexy statues/SFM/usermod/materials/models/props_sr_sexy_statues/mage_hands.vmt
skyrim sexy statues/SFM/usermod/materials/models/props_sr_sexy_statues/ice_sphere.vmt
skyrim sexy statues/SFM/usermod/materials/models/props_sr_sexy_statues/shrine_of_boethiah.vtf
skyrim sexy statues/SFM/usermod/materials/models/props_sr_sexy_statues/mage_face_ice.vtf
skyrim sexy statues/SFM/usermod/materials/models/props_sr_sexy_statues/meridia_text.vtf
skyrim sexy statues/gmod/addons/models/props_sr_sexy_statues/shrine_of_azura_sexy.phy
skyrim sexy statues/gmod/addons/models/props_sr_sexy_statues/statue_mara_sexy.dx90.vtx
skyrim sexy statues/gmod/addons/models/props_sr_sexy_statues/statue_mara_sexy.mdl
skyrim sexy statues/gmod/addons/models/props_sr_sexy_statues/shrine_of_boethiah_sexy.phy
skyrim sexy statues/gmod/addons/models/props_sr_sexy_statues/statue_mara_sexy.vvd
skyrim sexy statues/gmod/addons/models/props_sr_sexy_statues/statue_falmer_sexy.dx90.vtx
skyrim sexy statues/gmod/addons/models/props_sr_sexy_statues/mage_statue_sexy.mdl
skyrim sexy statues/gmod/addons/models/props_sr_sexy_statues/shrine_of_meridia_sexy.mdl
skyrim sexy statues/gmod/addons/models/props_sr_sexy_statues/shrine_of_meridia_sexy.dx90.vtx
skyrim sexy statues/gmod/addons/models/props_sr_sexy_statues/nocturnal_statue_sexy.vvd
skyrim sexy statues/gmod/addons/models/props_sr_sexy_statues/mage_statue_sexy.phy
skyrim sexy statues/gmod/addons/models/props_sr_sexy_statues/shrine_of_azura_sexy.mdl
skyrim sexy statues/gmod/addons/models/props_sr_sexy_statues/shrine_of_boethiah_sexy.vvd
skyrim sexy statues/gmod/addons/models/props_sr_sexy_statues/statue_falmer_sexy.vvd
skyrim sexy statues/gmod/addons/models/props_sr_sexy_statues/nocturnal_statue_sexy.dx90.vtx
skyrim sexy statues/gmod/addons/models/props_sr_sexy_statues/shrine_of_azura_sexy.vvd
skyrim sexy statues/gmod/addons/models/props_sr_sexy_statues/shrine_of_boethiah_sexy.mdl
skyrim sexy statues/gmod/addons/models/props_sr_sexy_statues/statue_dibella_sexy.phy
skyrim sexy statues/gmod/addons/models/props_sr_sexy_statues/mage_statue_sexy.vvd
skyrim sexy statues/gmod/addons/models/props_sr_sexy_statues/nocturnal_statue_sexy.phy
skyrim sexy statues/gmod/addons/models/props_sr_sexy_statues/shrine_of_boethiah_sexy.dx90.vtx
skyrim sexy statues/gmod/addons/models/props_sr_sexy_statues/statue_falmer_sexy.phy
skyrim sexy statues/gmod/addons/models/props_sr_sexy_statues/statue_dibella_sexy.vvd
skyrim sexy statues/gmod/addons/models/props_sr_sexy_statues/shrine_of_meridia_sexy.phy
skyrim sexy statues/gmod/addons/models/props_sr_sexy_statues/statue_mara_sexy.phy
skyrim sexy statues/gmod/addons/models/props_sr_sexy_statues/shrine_of_azura_sexy.dx90.vtx
skyrim sexy statues/gmod/addons/models/props_sr_sexy_statues/statue_dibella_sexy.mdl
skyrim sexy statues/gmod/addons/models/props_sr_sexy_statues/mage_statue_sexy.dx90.vtx
skyrim sexy statues/gmod/addons/models/props_sr_sexy_statues/shrine_of_meridia_sexy.vvd
skyrim sexy statues/gmod/addons/models/props_sr_sexy_statues/nocturnal_statue_sexy.mdl
skyrim sexy statues/gmod/addons/models/props_sr_sexy_statues/statue_dibella_sexy.dx90.vtx
skyrim sexy statues/gmod/addons/models/props_sr_sexy_statues/statue_falmer_sexy.mdl
skyrim sexy statues/gmod/addons/materials/models/props_sr_sexy_statues/boethiah_body.vtf
skyrim sexy statues/gmod/addons/materials/models/props_sr_sexy_statues/dibella_text_normal.vtf
skyrim sexy statues/gmod/addons/materials/models/props_sr_sexy_statues/falmer_hands.vmt
skyrim sexy statues/gmod/addons/materials/models/props_sr_sexy_statues/ice_sphere.vtf
skyrim sexy statues/gmod/addons/materials/models/props_sr_sexy_statues/falmer_head.vtf
skyrim sexy statues/gmod/addons/materials/models/props_sr_sexy_statues/shrine_of_azura.vtf
skyrim sexy statues/gmod/addons/materials/models/props_sr_sexy_statues/statue_falmer.vtf
skyrim sexy statues/gmod/addons/materials/models/props_sr_sexy_statues/falmer_head.vmt
skyrim sexy statues/gmod/addons/materials/models/props_sr_sexy_statues/dibella_text.vtf
skyrim sexy statues/gmod/addons/materials/models/props_sr_sexy_statues/statue_of_meridia_normal.vtf
skyrim sexy statues/gmod/addons/materials/models/props_sr_sexy_statues/lava_sphere.vtf
skyrim sexy statues/gmod/addons/materials/models/props_sr_sexy_statues/dibella_hands_text.vmt
skyrim sexy statues/gmod/addons/materials/models/props_sr_sexy_statues/shrine_of_boethiah_normal.vtf
skyrim sexy statues/gmod/addons/materials/models/props_sr_sexy_statues/shrine_of_azura.vmt
skyrim sexy statues/gmod/addons/materials/models/props_sr_sexy_statues/mara_amulet.vtf
skyrim sexy statues/gmod/addons/materials/models/props_sr_sexy_statues/meridia_text_normal.vtf
skyrim sexy statues/gmod/addons/materials/models/props_sr_sexy_statues/falmer_body.vtf
skyrim sexy statues/gmod/addons/materials/models/props_sr_sexy_statues/nocturnal_bowl.vmt
skyrim sexy statues/gmod/addons/materials/models/props_sr_sexy_statues/nocturnal_altar.vmt
skyrim sexy statues/gmod/addons/materials/models/props_sr_sexy_statues/shrine_of_azura_normal.vtf
skyrim sexy statues/gmod/addons/materials/models/props_sr_sexy_statues/nocturnal_bird.vmt
skyrim sexy statues/gmod/addons/materials/models/props_sr_sexy_statues/nocturnal_bird.vtf
skyrim sexy statues/gmod/addons/materials/models/props_sr_sexy_statues/falmer_body.vmt
skyrim sexy statues/gmod/addons/materials/models/props_sr_sexy_statues/falmer_hands.vtf
skyrim sexy statues/gmod/addons/materials/models/props_sr_sexy_statues/mage_statue_normal.vtf
skyrim sexy statues/gmod/addons/materials/models/props_sr_sexy_statues/dibella_statue.vmt
skyrim sexy statues/gmod/addons/materials/models/props_sr_sexy_statues/mage_face_ice_normal.vtf
skyrim sexy statues/gmod/addons/materials/models/props_sr_sexy_statues/nocturnal_statue.vtf
skyrim sexy statues/gmod/addons/materials/models/props_sr_sexy_statues/meridia_text.vmt
skyrim sexy statues/gmod/addons/materials/models/props_sr_sexy_statues/dibella_text.vmt
skyrim sexy statues/gmod/addons/materials/models/props_sr_sexy_statues/mage_normal.vtf
skyrim sexy statues/gmod/addons/materials/models/props_sr_sexy_statues/nocturnal_bird_normal.vtf
skyrim sexy statues/gmod/addons/materials/models/props_sr_sexy_statues/statue_of_meridia.vtf
skyrim sexy statues/gmod/addons/materials/models/props_sr_sexy_statues/boethiah_head.vtf
skyrim sexy statues/gmod/addons/materials/models/props_sr_sexy_statues/boethiah_hands.vmt
skyrim sexy statues/gmod/addons/materials/models/props_sr_sexy_statues/ice_sphere_normal.vtf
skyrim sexy statues/gmod/addons/materials/models/props_sr_sexy_statues/nocturnal_bowl_normal.vtf
skyrim sexy statues/gmod/addons/materials/models/props_sr_sexy_statues/mage_face_ice.vmt
skyrim sexy statues/gmod/addons/materials/models/props_sr_sexy_statues/mage_hands.vtf
skyrim sexy statues/gmod/addons/materials/models/props_sr_sexy_statues/statue_falmer_normal.vtf
skyrim sexy statues/gmod/addons/materials/models/props_sr_sexy_statues/nocturnal_body.vmt
skyrim sexy statues/gmod/addons/materials/models/props_sr_sexy_statues/dibella_statue.vtf
skyrim sexy statues/gmod/addons/materials/models/props_sr_sexy_statues/mage_statue.vmt
skyrim sexy statues/gmod/addons/materials/models/props_sr_sexy_statues/mara_amulet.vmt
skyrim sexy statues/gmod/addons/materials/models/props_sr_sexy_statues/boethiah_head.vmt
skyrim sexy statues/gmod/addons/materials/models/props_sr_sexy_statues/mara_text.vmt
skyrim sexy statues/gmod/addons/materials/models/props_sr_sexy_statues/nocturnal_altar_normal.vtf
skyrim sexy statues/gmod/addons/materials/models/props_sr_sexy_statues/nocturnal_robe.vmt
skyrim sexy statues/gmod/addons/materials/models/props_sr_sexy_statues/azura_body.vtf
skyrim sexy statues/gmod/addons/materials/models/props_sr_sexy_statues/mage_statue.vtf
skyrim sexy statues/gmod/addons/materials/models/props_sr_sexy_statues/statue_of_meridia.vmt
skyrim sexy statues/gmod/addons/materials/models/props_sr_sexy_statues/lava_sphere_normal.vtf
skyrim sexy statues/gmod/addons/materials/models/props_sr_sexy_statues/dibella_hands_text.vtf
skyrim sexy statues/gmod/addons/materials/models/props_sr_sexy_statues/mara_text.vtf
skyrim sexy statues/gmod/addons/materials/models/props_sr_sexy_statues/azura_body.vmt
skyrim sexy statues/gmod/addons/materials/models/props_sr_sexy_statues/statue_falmer.vmt
skyrim sexy statues/gmod/addons/materials/models/props_sr_sexy_statues/dibella_head_text.vtf
skyrim sexy statues/gmod/addons/materials/models/props_sr_sexy_statues/shrine_of_boethiah.vmt
skyrim sexy statues/gmod/addons/materials/models/props_sr_sexy_statues/nocturnal_statue_normal.vtf
skyrim sexy statues/gmod/addons/materials/models/props_sr_sexy_statues/mage_body_ice.vmt
skyrim sexy statues/gmod/addons/materials/models/props_sr_sexy_statues/boethiah_body.vmt
skyrim sexy statues/gmod/addons/materials/models/props_sr_sexy_statues/nocturnal_body.vtf
skyrim sexy statues/gmod/addons/materials/models/props_sr_sexy_statues/nocturnal_statue.vmt
skyrim sexy statues/gmod/addons/materials/models/props_sr_sexy_statues/nocturnal_altar.vtf
skyrim sexy statues/gmod/addons/materials/models/props_sr_sexy_statues/statue_mara.vtf
skyrim sexy statues/gmod/addons/materials/models/props_sr_sexy_statues/mara_text_normal.vtf
skyrim sexy statues/gmod/addons/materials/models/props_sr_sexy_statues/statue_mara_normal.vtf
skyrim sexy statues/gmod/addons/materials/models/props_sr_sexy_statues/boethiah_hands.vtf
skyrim sexy statues/gmod/addons/materials/models/props_sr_sexy_statues/nocturnal_robe.vtf
skyrim sexy statues/gmod/addons/materials/models/props_sr_sexy_statues/mara_amulet_normal.vtf
skyrim sexy statues/gmod/addons/materials/models/props_sr_sexy_statues/dibella_head_text.vmt
skyrim sexy statues/gmod/addons/materials/models/props_sr_sexy_statues/lava_sphere.vmt
skyrim sexy statues/gmod/addons/materials/models/props_sr_sexy_statues/blank_normal.vtf
skyrim sexy statues/gmod/addons/materials/models/props_sr_sexy_statues/mage_body_ice.vtf
skyrim sexy statues/gmod/addons/materials/models/props_sr_sexy_statues/statue_mara.vmt
skyrim sexy statues/gmod/addons/materials/models/props_sr_sexy_statues/mage_hands.vmt
skyrim sexy statues/gmod/addons/materials/models/props_sr_sexy_statues/nocturnal_bowl.vtf
skyrim sexy statues/gmod/addons/materials/models/props_sr_sexy_statues/ice_sphere.vmt
skyrim sexy statues/gmod/addons/materials/models/props_sr_sexy_statues/shrine_of_boethiah.vtf
skyrim sexy statues/gmod/addons/materials/models/props_sr_sexy_statues/mage_face_ice.vtf
skyrim sexy statues/gmod/addons/materials/models/props_sr_sexy_statues/meridia_text.vtf




skyrim_sexy_statues.7z
558
2021-08-24 12:37:05
189.5 MB
File contents:

skyrim sexy statues/SFM/usermod/models/props_sr_sexy_statues/shrine_of_azura_sexy.phy
skyrim sexy statues/SFM/usermod/models/props_sr_sexy_statues/statue_mara_sexy.dx90.vtx
skyrim sexy statues/SFM/usermod/models/props_sr_sexy_statues/statue_mara_sexy.mdl
skyrim sexy statues/SFM/usermod/models/props_sr_sexy_statues/shrine_of_boethiah_sexy.phy
skyrim sexy statues/SFM/usermod/models/props_sr_sexy_statues/statue_mara_sexy.vvd
skyrim sexy statues/SFM/usermod/models/props_sr_sexy_statues/statue_falmer_sexy.dx90.vtx
skyrim sexy statues/SFM/usermod/models/props_sr_sexy_statues/mage_statue_sexy.mdl
skyrim sexy statues/SFM/usermod/models/props_sr_sexy_statues/shrine_of_meridia_sexy.mdl
skyrim sexy statues/SFM/usermod/models/props_sr_sexy_statues/shrine_of_meridia_sexy.dx90.vtx
skyrim sexy statues/SFM/usermod/models/props_sr_sexy_statues/nocturnal_statue_sexy.vvd
skyrim sexy statues/SFM/usermod/models/props_sr_sexy_statues/mage_statue_sexy.phy
skyrim sexy statues/SFM/usermod/models/props_sr_sexy_statues/shrine_of_azura_sexy.mdl
skyrim sexy statues/SFM/usermod/models/props_sr_sexy_statues/shrine_of_boethiah_sexy.vvd
skyrim sexy statues/SFM/usermod/models/props_sr_sexy_statues/statue_falmer_sexy.vvd
skyrim sexy statues/SFM/usermod/models/props_sr_sexy_statues/nocturnal_statue_sexy.dx90.vtx
skyrim sexy statues/SFM/usermod/models/props_sr_sexy_statues/shrine_of_azura_sexy.vvd
skyrim sexy statues/SFM/usermod/models/props_sr_sexy_statues/shrine_of_boethiah_sexy.mdl
skyrim sexy statues/SFM/usermod/models/props_sr_sexy_statues/statue_dibella_sexy.phy
skyrim sexy statues/SFM/usermod/models/props_sr_sexy_statues/mage_statue_sexy.vvd
skyrim sexy statues/SFM/usermod/models/props_sr_sexy_statues/nocturnal_statue_sexy.phy
skyrim sexy statues/SFM/usermod/models/props_sr_sexy_statues/shrine_of_boethiah_sexy.dx90.vtx
skyrim sexy statues/SFM/usermod/models/props_sr_sexy_statues/statue_falmer_sexy.phy
skyrim sexy statues/SFM/usermod/models/props_sr_sexy_statues/statue_dibella_sexy.vvd
skyrim sexy statues/SFM/usermod/models/props_sr_sexy_statues/shrine_of_meridia_sexy.phy
skyrim sexy statues/SFM/usermod/models/props_sr_sexy_statues/statue_mara_sexy.phy
skyrim sexy statues/SFM/usermod/models/props_sr_sexy_statues/shrine_of_azura_sexy.dx90.vtx
skyrim sexy statues/SFM/usermod/models/props_sr_sexy_statues/statue_dibella_sexy.mdl
skyrim sexy statues/SFM/usermod/models/props_sr_sexy_statues/mage_statue_sexy.dx90.vtx
skyrim sexy statues/SFM/usermod/models/props_sr_sexy_statues/shrine_of_meridia_sexy.vvd
skyrim sexy statues/SFM/usermod/models/props_sr_sexy_statues/nocturnal_statue_sexy.mdl
skyrim sexy statues/SFM/usermod/models/props_sr_sexy_statues/statue_dibella_sexy.dx90.vtx
skyrim sexy statues/SFM/usermod/models/props_sr_sexy_statues/statue_falmer_sexy.mdl
skyrim sexy statues/SFM/usermod/materials/props_sr_sexy_statues/boethiah_body.vtf
skyrim sexy statues/SFM/usermod/materials/props_sr_sexy_statues/dibella_text_normal.vtf
skyrim sexy statues/SFM/usermod/materials/props_sr_sexy_statues/falmer_hands.vmt
skyrim sexy statues/SFM/usermod/materials/props_sr_sexy_statues/ice_sphere.vtf
skyrim sexy statues/SFM/usermod/materials/props_sr_sexy_statues/falmer_head.vtf
skyrim sexy statues/SFM/usermod/materials/props_sr_sexy_statues/shrine_of_azura.vtf
skyrim sexy statues/SFM/usermod/materials/props_sr_sexy_statues/statue_falmer.vtf
skyrim sexy statues/SFM/usermod/materials/props_sr_sexy_statues/falmer_head.vmt
skyrim sexy statues/SFM/usermod/materials/props_sr_sexy_statues/dibella_text.vtf
skyrim sexy statues/SFM/usermod/materials/props_sr_sexy_statues/statue_of_meridia_normal.vtf
skyrim sexy statues/SFM/usermod/materials/props_sr_sexy_statues/lava_sphere.vtf
skyrim sexy statues/SFM/usermod/materials/props_sr_sexy_statues/dibella_hands_text.vmt
skyrim sexy statues/SFM/usermod/materials/props_sr_sexy_statues/shrine_of_boethiah_normal.vtf
skyrim sexy statues/SFM/usermod/materials/props_sr_sexy_statues/shrine_of_azura.vmt
skyrim sexy statues/SFM/usermod/materials/props_sr_sexy_statues/mara_amulet.vtf
skyrim sexy statues/SFM/usermod/materials/props_sr_sexy_statues/meridia_text_normal.vtf
skyrim sexy statues/SFM/usermod/materials/props_sr_sexy_statues/falmer_body.vtf
skyrim sexy statues/SFM/usermod/materials/props_sr_sexy_statues/shrine_of_azura_normal.vtf
skyrim sexy statues/SFM/usermod/materials/props_sr_sexy_statues/nocturnal_bird.vmt
skyrim sexy statues/SFM/usermod/materials/props_sr_sexy_statues/nocturnal_bird.vtf
skyrim sexy statues/SFM/usermod/materials/props_sr_sexy_statues/falmer_body.vmt
skyrim sexy statues/SFM/usermod/materials/props_sr_sexy_statues/falmer_hands.vtf
skyrim sexy statues/SFM/usermod/materials/props_sr_sexy_statues/mage_statue_normal.vtf
skyrim sexy statues/SFM/usermod/materials/props_sr_sexy_statues/dibella_statue.vmt
skyrim sexy statues/SFM/usermod/materials/props_sr_sexy_statues/mage_face_ice_normal.vtf
skyrim sexy statues/SFM/usermod/materials/props_sr_sexy_statues/nocturnal_statue.vtf
skyrim sexy statues/SFM/usermod/materials/props_sr_sexy_statues/meridia_text.vmt
skyrim sexy statues/SFM/usermod/materials/props_sr_sexy_statues/dibella_text.vmt
skyrim sexy statues/SFM/usermod/materials/props_sr_sexy_statues/mage_normal.vtf
skyrim sexy statues/SFM/usermod/materials/props_sr_sexy_statues/statue_of_meridia.vtf
skyrim sexy statues/SFM/usermod/materials/props_sr_sexy_statues/boethiah_head.vtf
skyrim sexy statues/SFM/usermod/materials/props_sr_sexy_statues/boethiah_hands.vmt
skyrim sexy statues/SFM/usermod/materials/props_sr_sexy_statues/ice_sphere_normal.vtf
skyrim sexy statues/SFM/usermod/materials/props_sr_sexy_statues/mage_face_ice.vmt
skyrim sexy statues/SFM/usermod/materials/props_sr_sexy_statues/mage_hands.vtf
skyrim sexy statues/SFM/usermod/materials/props_sr_sexy_statues/statue_falmer_normal.vtf
skyrim sexy statues/SFM/usermod/materials/props_sr_sexy_statues/nocturnal_body.vmt
skyrim sexy statues/SFM/usermod/materials/props_sr_sexy_statues/dibella_statue.vtf
skyrim sexy statues/SFM/usermod/materials/props_sr_sexy_statues/mage_statue.vmt
skyrim sexy statues/SFM/usermod/materials/props_sr_sexy_statues/mara_amulet.vmt
skyrim sexy statues/SFM/usermod/materials/props_sr_sexy_statues/boethiah_head.vmt
skyrim sexy statues/SFM/usermod/materials/props_sr_sexy_statues/mara_text.vmt
skyrim sexy statues/SFM/usermod/materials/props_sr_sexy_statues/nocturnal_robe.vmt
skyrim sexy statues/SFM/usermod/materials/props_sr_sexy_statues/azura_body.vtf
skyrim sexy statues/SFM/usermod/materials/props_sr_sexy_statues/mage_statue.vtf
skyrim sexy statues/SFM/usermod/materials/props_sr_sexy_statues/statue_of_meridia.vmt
skyrim sexy statues/SFM/usermod/materials/props_sr_sexy_statues/lava_sphere_normal.vtf
skyrim sexy statues/SFM/usermod/materials/props_sr_sexy_statues/dibella_hands_text.vtf
skyrim sexy statues/SFM/usermod/materials/props_sr_sexy_statues/mara_text.vtf
skyrim sexy statues/SFM/usermod/materials/props_sr_sexy_statues/azura_body.vmt
skyrim sexy statues/SFM/usermod/materials/props_sr_sexy_statues/statue_falmer.vmt
skyrim sexy statues/SFM/usermod/materials/props_sr_sexy_statues/dibella_head_text.vtf
skyrim sexy statues/SFM/usermod/materials/props_sr_sexy_statues/shrine_of_boethiah.vmt
skyrim sexy statues/SFM/usermod/materials/props_sr_sexy_statues/nocturnal_statue_normal.vtf
skyrim sexy statues/SFM/usermod/materials/props_sr_sexy_statues/mage_body_ice.vmt
skyrim sexy statues/SFM/usermod/materials/props_sr_sexy_statues/boethiah_body.vmt
skyrim sexy statues/SFM/usermod/materials/props_sr_sexy_statues/nocturnal_body.vtf
skyrim sexy statues/SFM/usermod/materials/props_sr_sexy_statues/nocturnal_statue.vmt
skyrim sexy statues/SFM/usermod/materials/props_sr_sexy_statues/statue_mara.vtf
skyrim sexy statues/SFM/usermod/materials/props_sr_sexy_statues/mara_text_normal.vtf
skyrim sexy statues/SFM/usermod/materials/props_sr_sexy_statues/statue_mara_normal.vtf
skyrim sexy statues/SFM/usermod/materials/props_sr_sexy_statues/boethiah_hands.vtf
skyrim sexy statues/SFM/usermod/materials/props_sr_sexy_statues/nocturnal_robe.vtf
skyrim sexy statues/SFM/usermod/materials/props_sr_sexy_statues/mara_amulet_normal.vtf
skyrim sexy statues/SFM/usermod/materials/props_sr_sexy_statues/dibella_head_text.vmt
skyrim sexy statues/SFM/usermod/materials/props_sr_sexy_statues/lava_sphere.vmt
skyrim sexy statues/SFM/usermod/materials/props_sr_sexy_statues/blank_normal.vtf
skyrim sexy statues/SFM/usermod/materials/props_sr_sexy_statues/mage_body_ice.vtf
skyrim sexy statues/SFM/usermod/materials/props_sr_sexy_statues/statue_mara.vmt
skyrim sexy statues/SFM/usermod/materials/props_sr_sexy_statues/mage_hands.vmt
skyrim sexy statues/SFM/usermod/materials/props_sr_sexy_statues/ice_sphere.vmt
skyrim sexy statues/SFM/usermod/materials/props_sr_sexy_statues/shrine_of_boethiah.vtf
skyrim sexy statues/SFM/usermod/materials/props_sr_sexy_statues/mage_face_ice.vtf
skyrim sexy statues/SFM/usermod/materials/props_sr_sexy_statues/meridia_text.vtf
skyrim sexy statues/gmod/addons/models/props_sr_sexy_statues/shrine_of_azura_sexy.phy
skyrim sexy statues/gmod/addons/models/props_sr_sexy_statues/statue_mara_sexy.dx90.vtx
skyrim sexy statues/gmod/addons/models/props_sr_sexy_statues/statue_mara_sexy.mdl
skyrim sexy statues/gmod/addons/models/props_sr_sexy_statues/shrine_of_boethiah_sexy.phy
skyrim sexy statues/gmod/addons/models/props_sr_sexy_statues/statue_mara_sexy.vvd
skyrim sexy statues/gmod/addons/models/props_sr_sexy_statues/statue_falmer_sexy.dx90.vtx
skyrim sexy statues/gmod/addons/models/props_sr_sexy_statues/mage_statue_sexy.mdl
skyrim sexy statues/gmod/addons/models/props_sr_sexy_statues/shrine_of_meridia_sexy.mdl
skyrim sexy statues/gmod/addons/models/props_sr_sexy_statues/shrine_of_meridia_sexy.dx90.vtx
skyrim sexy statues/gmod/addons/models/props_sr_sexy_statues/nocturnal_statue_sexy.vvd
skyrim sexy statues/gmod/addons/models/props_sr_sexy_statues/mage_statue_sexy.phy
skyrim sexy statues/gmod/addons/models/props_sr_sexy_statues/shrine_of_azura_sexy.mdl
skyrim sexy statues/gmod/addons/models/props_sr_sexy_statues/shrine_of_boethiah_sexy.vvd
skyrim sexy statues/gmod/addons/models/props_sr_sexy_statues/statue_falmer_sexy.vvd
skyrim sexy statues/gmod/addons/models/props_sr_sexy_statues/nocturnal_statue_sexy.dx90.vtx
skyrim sexy statues/gmod/addons/models/props_sr_sexy_statues/shrine_of_azura_sexy.vvd
skyrim sexy statues/gmod/addons/models/props_sr_sexy_statues/shrine_of_boethiah_sexy.mdl
skyrim sexy statues/gmod/addons/models/props_sr_sexy_statues/statue_dibella_sexy.phy
skyrim sexy statues/gmod/addons/models/props_sr_sexy_statues/mage_statue_sexy.vvd
skyrim sexy statues/gmod/addons/models/props_sr_sexy_statues/nocturnal_statue_sexy.phy
skyrim sexy statues/gmod/addons/models/props_sr_sexy_statues/shrine_of_boethiah_sexy.dx90.vtx
skyrim sexy statues/gmod/addons/models/props_sr_sexy_statues/statue_falmer_sexy.phy
skyrim sexy statues/gmod/addons/models/props_sr_sexy_statues/statue_dibella_sexy.vvd
skyrim sexy statues/gmod/addons/models/props_sr_sexy_statues/shrine_of_meridia_sexy.phy
skyrim sexy statues/gmod/addons/models/props_sr_sexy_statues/statue_mara_sexy.phy
skyrim sexy statues/gmod/addons/models/props_sr_sexy_statues/shrine_of_azura_sexy.dx90.vtx
skyrim sexy statues/gmod/addons/models/props_sr_sexy_statues/statue_dibella_sexy.mdl
skyrim sexy statues/gmod/addons/models/props_sr_sexy_statues/mage_statue_sexy.dx90.vtx
skyrim sexy statues/gmod/addons/models/props_sr_sexy_statues/shrine_of_meridia_sexy.vvd
skyrim sexy statues/gmod/addons/models/props_sr_sexy_statues/nocturnal_statue_sexy.mdl
skyrim sexy statues/gmod/addons/models/props_sr_sexy_statues/statue_dibella_sexy.dx90.vtx
skyrim sexy statues/gmod/addons/models/props_sr_sexy_statues/statue_falmer_sexy.mdl
skyrim sexy statues/gmod/addons/materials/models/props_sr_sexy_statues/boethiah_body.vtf
skyrim sexy statues/gmod/addons/materials/models/props_sr_sexy_statues/dibella_text_normal.vtf
skyrim sexy statues/gmod/addons/materials/models/props_sr_sexy_statues/falmer_hands.vmt
skyrim sexy statues/gmod/addons/materials/models/props_sr_sexy_statues/ice_sphere.vtf
skyrim sexy statues/gmod/addons/materials/models/props_sr_sexy_statues/falmer_head.vtf
skyrim sexy statues/gmod/addons/materials/models/props_sr_sexy_statues/shrine_of_azura.vtf
skyrim sexy statues/gmod/addons/materials/models/props_sr_sexy_statues/statue_falmer.vtf
skyrim sexy statues/gmod/addons/materials/models/props_sr_sexy_statues/falmer_head.vmt
skyrim sexy statues/gmod/addons/materials/models/props_sr_sexy_statues/dibella_text.vtf
skyrim sexy statues/gmod/addons/materials/models/props_sr_sexy_statues/statue_of_meridia_normal.vtf
skyrim sexy statues/gmod/addons/materials/models/props_sr_sexy_statues/lava_sphere.vtf
skyrim sexy statues/gmod/addons/materials/models/props_sr_sexy_statues/dibella_hands_text.vmt
skyrim sexy statues/gmod/addons/materials/models/props_sr_sexy_statues/shrine_of_boethiah_normal.vtf
skyrim sexy statues/gmod/addons/materials/models/props_sr_sexy_statues/shrine_of_azura.vmt
skyrim sexy statues/gmod/addons/materials/models/props_sr_sexy_statues/mara_amulet.vtf
skyrim sexy statues/gmod/addons/materials/models/props_sr_sexy_statues/meridia_text_normal.vtf
skyrim sexy statues/gmod/addons/materials/models/props_sr_sexy_statues/falmer_body.vtf
skyrim sexy statues/gmod/addons/materials/models/props_sr_sexy_statues/nocturnal_bowl.vmt
skyrim sexy statues/gmod/addons/materials/models/props_sr_sexy_statues/nocturnal_altar.vmt
skyrim sexy statues/gmod/addons/materials/models/props_sr_sexy_statues/shrine_of_azura_normal.vtf
skyrim sexy statues/gmod/addons/materials/models/props_sr_sexy_statues/nocturnal_bird.vmt
skyrim sexy statues/gmod/addons/materials/models/props_sr_sexy_statues/nocturnal_bird.vtf
skyrim sexy statues/gmod/addons/materials/models/props_sr_sexy_statues/falmer_body.vmt
skyrim sexy statues/gmod/addons/materials/models/props_sr_sexy_statues/falmer_hands.vtf
skyrim sexy statues/gmod/addons/materials/models/props_sr_sexy_statues/mage_statue_normal.vtf
skyrim sexy statues/gmod/addons/materials/models/props_sr_sexy_statues/dibella_statue.vmt
skyrim sexy statues/gmod/addons/materials/models/props_sr_sexy_statues/mage_face_ice_normal.vtf
skyrim sexy statues/gmod/addons/materials/models/props_sr_sexy_statues/nocturnal_statue.vtf
skyrim sexy statues/gmod/addons/materials/models/props_sr_sexy_statues/meridia_text.vmt
skyrim sexy statues/gmod/addons/materials/models/props_sr_sexy_statues/dibella_text.vmt
skyrim sexy statues/gmod/addons/materials/models/props_sr_sexy_statues/mage_normal.vtf
skyrim sexy statues/gmod/addons/materials/models/props_sr_sexy_statues/nocturnal_bird_normal.vtf
skyrim sexy statues/gmod/addons/materials/models/props_sr_sexy_statues/statue_of_meridia.vtf
skyrim sexy statues/gmod/addons/materials/models/props_sr_sexy_statues/boethiah_head.vtf
skyrim sexy statues/gmod/addons/materials/models/props_sr_sexy_statues/boethiah_hands.vmt
skyrim sexy statues/gmod/addons/materials/models/props_sr_sexy_statues/ice_sphere_normal.vtf
skyrim sexy statues/gmod/addons/materials/models/props_sr_sexy_statues/nocturnal_bowl_normal.vtf
skyrim sexy statues/gmod/addons/materials/models/props_sr_sexy_statues/mage_face_ice.vmt
skyrim sexy statues/gmod/addons/materials/models/props_sr_sexy_statues/mage_hands.vtf
skyrim sexy statues/gmod/addons/materials/models/props_sr_sexy_statues/statue_falmer_normal.vtf
skyrim sexy statues/gmod/addons/materials/models/props_sr_sexy_statues/nocturnal_body.vmt
skyrim sexy statues/gmod/addons/materials/models/props_sr_sexy_statues/dibella_statue.vtf
skyrim sexy statues/gmod/addons/materials/models/props_sr_sexy_statues/mage_statue.vmt
skyrim sexy statues/gmod/addons/materials/models/props_sr_sexy_statues/mara_amulet.vmt
skyrim sexy statues/gmod/addons/materials/models/props_sr_sexy_statues/boethiah_head.vmt
skyrim sexy statues/gmod/addons/materials/models/props_sr_sexy_statues/mara_text.vmt
skyrim sexy statues/gmod/addons/materials/models/props_sr_sexy_statues/nocturnal_altar_normal.vtf
skyrim sexy statues/gmod/addons/materials/models/props_sr_sexy_statues/nocturnal_robe.vmt
skyrim sexy statues/gmod/addons/materials/models/props_sr_sexy_statues/azura_body.vtf
skyrim sexy statues/gmod/addons/materials/models/props_sr_sexy_statues/mage_statue.vtf
skyrim sexy statues/gmod/addons/materials/models/props_sr_sexy_statues/statue_of_meridia.vmt
skyrim sexy statues/gmod/addons/materials/models/props_sr_sexy_statues/lava_sphere_normal.vtf
skyrim sexy statues/gmod/addons/materials/models/props_sr_sexy_statues/dibella_hands_text.vtf
skyrim sexy statues/gmod/addons/materials/models/props_sr_sexy_statues/mara_text.vtf
skyrim sexy statues/gmod/addons/materials/models/props_sr_sexy_statues/azura_body.vmt
skyrim sexy statues/gmod/addons/materials/models/props_sr_sexy_statues/statue_falmer.vmt
skyrim sexy statues/gmod/addons/materials/models/props_sr_sexy_statues/dibella_head_text.vtf
skyrim sexy statues/gmod/addons/materials/models/props_sr_sexy_statues/shrine_of_boethiah.vmt
skyrim sexy statues/gmod/addons/materials/models/props_sr_sexy_statues/nocturnal_statue_normal.vtf
skyrim sexy statues/gmod/addons/materials/models/props_sr_sexy_statues/mage_body_ice.vmt
skyrim sexy statues/gmod/addons/materials/models/props_sr_sexy_statues/boethiah_body.vmt
skyrim sexy statues/gmod/addons/materials/models/props_sr_sexy_statues/nocturnal_body.vtf
skyrim sexy statues/gmod/addons/materials/models/props_sr_sexy_statues/nocturnal_statue.vmt
skyrim sexy statues/gmod/addons/materials/models/props_sr_sexy_statues/nocturnal_altar.vtf
skyrim sexy statues/gmod/addons/materials/models/props_sr_sexy_statues/statue_mara.vtf
skyrim sexy statues/gmod/addons/materials/models/props_sr_sexy_statues/mara_text_normal.vtf
skyrim sexy statues/gmod/addons/materials/models/props_sr_sexy_statues/statue_mara_normal.vtf
skyrim sexy statues/gmod/addons/materials/models/props_sr_sexy_statues/boethiah_hands.vtf
skyrim sexy statues/gmod/addons/materials/models/props_sr_sexy_statues/nocturnal_robe.vtf
skyrim sexy statues/gmod/addons/materials/models/props_sr_sexy_statues/mara_amulet_normal.vtf
skyrim sexy statues/gmod/addons/materials/models/props_sr_sexy_statues/dibella_head_text.vmt
skyrim sexy statues/gmod/addons/materials/models/props_sr_sexy_statues/lava_sphere.vmt
skyrim sexy statues/gmod/addons/materials/models/props_sr_sexy_statues/blank_normal.vtf
skyrim sexy statues/gmod/addons/materials/models/props_sr_sexy_statues/mage_body_ice.vtf
skyrim sexy statues/gmod/addons/materials/models/props_sr_sexy_statues/statue_mara.vmt
skyrim sexy statues/gmod/addons/materials/models/props_sr_sexy_statues/mage_hands.vmt
skyrim sexy statues/gmod/addons/materials/models/props_sr_sexy_statues/nocturnal_bowl.vtf
skyrim sexy statues/gmod/addons/materials/models/props_sr_sexy_statues/ice_sphere.vmt
skyrim sexy statues/gmod/addons/materials/models/props_sr_sexy_statues/shrine_of_boethiah.vtf
skyrim sexy statues/gmod/addons/materials/models/props_sr_sexy_statues/mage_face_ice.vtf
skyrim sexy statues/gmod/addons/materials/models/props_sr_sexy_statues/meridia_text.vtf