Adult content
This content is marked as Adult/NSFW content. You can toggle your preferences regarding this content type in your account settings.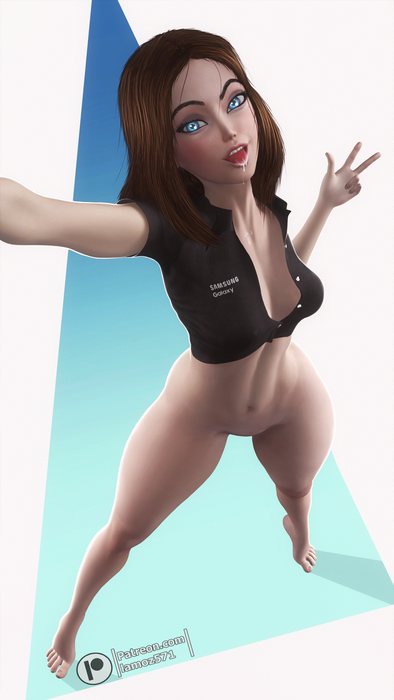 Show more
Description
Dang, what a bitch it was to port it for SFM, anyway
*Sam has*:
Valve's biped bones (rig_biped_simple);
Custom made eyes and WrinkleMaps textures;
FACS 2 and body Shapekeys/flexes;
flexes for clothes;
Jigglebones for hair, breasts and ass;
Paintable nails and hair materials (use material override to change color);
Update V1.1:
Fix for eyes materials (thx to hotdingydong02 for that);
Removed fake_pelvis bone;
Added IK-rig with footrool sliders;
*Credits*:
Porting to Source: Carpethop
Facial Shapekeys, Wrinkle maps and additional weights edit: Adma
Original model: Mavixtious
Preview pics: lamoz571, Jimme, Anon
In order to attach the hair to the head, you'll have to lock the "ValveBiped.Bip01_Head1" bone from the main model to the "ValveBiped.Bip01_Head1" bone on the hair model.
P.S. Due Source Engine limitation with bodygroups flexes, clothes was separated into separate models for less noticable clipping issues.
---
SFMLab is a free service. However, it costs about $0.03 to deliver you a 1GB file. With over 20TB of traffic every month and growing, SFMLab needs your help. If only 1% of our users each gave us $5 for a single month, we could keep the site running for several years.
Filename
Downloads
Created
Filesize
Files
Samsung_Sam_V.1.1.7z
2776
2021-12-13 23:34:51
119.91 MB
File contents:

Samsung_Sam_V.1.1/platform/cfg/sfm_defaultanimationgroups.txt
Samsung_Sam_V.1.1/platform/scripts/sfm/animset/rig_samsung_sam.py
Samsung_Sam_V.1.1/models/carpethop/ragdolls/samsung_sam_hair.mdl
Samsung_Sam_V.1.1/models/carpethop/ragdolls/samsung_sam_hair.dx90.vtx
Samsung_Sam_V.1.1/models/carpethop/ragdolls/samsung_sam.mdl
Samsung_Sam_V.1.1/models/carpethop/ragdolls/samsung_sam_hair.vvd
Samsung_Sam_V.1.1/models/carpethop/ragdolls/samsung_sam_jeanshorts.vvd
Samsung_Sam_V.1.1/models/carpethop/ragdolls/samsung_sam_Top.dx90.vtx
Samsung_Sam_V.1.1/models/carpethop/ragdolls/samsung_sam_jeanshorts.mdl
Samsung_Sam_V.1.1/models/carpethop/ragdolls/samsung_sam_top.vvd
Samsung_Sam_V.1.1/models/carpethop/ragdolls/samsung_sam.dx90.vtx
Samsung_Sam_V.1.1/models/carpethop/ragdolls/samsung_sam_top.mdl
Samsung_Sam_V.1.1/models/carpethop/ragdolls/samsung_sam_Jeanshorts.dx90.vtx
Samsung_Sam_V.1.1/models/carpethop/ragdolls/samsung_sam.vvd
Samsung_Sam_V.1.1/materials/Carpethop/ragdolls/samsung_sam/Sam_brows.vtf
Samsung_Sam_V.1.1/materials/Carpethop/ragdolls/samsung_sam/Sam_hair.vtf
Samsung_Sam_V.1.1/materials/Carpethop/ragdolls/samsung_sam/Sam_brows.vmt
Samsung_Sam_V.1.1/materials/Carpethop/ragdolls/samsung_sam/eyes_cornea.vtf
Samsung_Sam_V.1.1/materials/Carpethop/ragdolls/samsung_sam/metal.vmt
Samsung_Sam_V.1.1/materials/Carpethop/ragdolls/samsung_sam/Sam_mouth.vmt
Samsung_Sam_V.1.1/materials/Carpethop/ragdolls/samsung_sam/blank.vtf
Samsung_Sam_V.1.1/materials/Carpethop/ragdolls/samsung_sam/Sam_shirt_n.vtf
Samsung_Sam_V.1.1/materials/Carpethop/ragdolls/samsung_sam/Sam_n_compress.vtf
Samsung_Sam_V.1.1/materials/Carpethop/ragdolls/samsung_sam/Sam_shirtD.vtf
Samsung_Sam_V.1.1/materials/Carpethop/ragdolls/samsung_sam/NormalMap.vtf
Samsung_Sam_V.1.1/materials/Carpethop/ragdolls/samsung_sam/Sam_jeanshorts_n.vtf
Samsung_Sam_V.1.1/materials/Carpethop/ragdolls/samsung_sam/Sam_hair.vmt
Samsung_Sam_V.1.1/materials/Carpethop/ragdolls/samsung_sam/color.vmt
Samsung_Sam_V.1.1/materials/Carpethop/ragdolls/samsung_sam/Sam_lashes.vtf
Samsung_Sam_V.1.1/materials/Carpethop/ragdolls/samsung_sam/phongwarp_hair.vtf
Samsung_Sam_V.1.1/materials/Carpethop/ragdolls/samsung_sam/Sam_hair_t.vmt
Samsung_Sam_V.1.1/materials/Carpethop/ragdolls/samsung_sam/painted_silver.vtf
Samsung_Sam_V.1.1/materials/Carpethop/ragdolls/samsung_sam/Sam_d.vtf
Samsung_Sam_V.1.1/materials/Carpethop/ragdolls/samsung_sam/Sam_d_stretch.vtf
Samsung_Sam_V.1.1/materials/Carpethop/ragdolls/samsung_sam/Sam_d_compress.vtf
Samsung_Sam_V.1.1/materials/Carpethop/ragdolls/samsung_sam/Sam_hair_n.vtf
Samsung_Sam_V.1.1/materials/Carpethop/ragdolls/samsung_sam/blank_n.vtf
Samsung_Sam_V.1.1/materials/Carpethop/ragdolls/samsung_sam/Sam_top.vmt
Samsung_Sam_V.1.1/materials/Carpethop/ragdolls/samsung_sam/shorts.vmt
Samsung_Sam_V.1.1/materials/Carpethop/ragdolls/samsung_sam/sam_eyemoisture.vmt
Samsung_Sam_V.1.1/materials/Carpethop/ragdolls/samsung_sam/sam_nails.vmt
Samsung_Sam_V.1.1/materials/Carpethop/ragdolls/samsung_sam/Sam_body.vmt
Samsung_Sam_V.1.1/materials/Carpethop/ragdolls/samsung_sam/Sam_jeanshorts.vtf
Samsung_Sam_V.1.1/materials/Carpethop/ragdolls/samsung_sam/NormalMap.png
Samsung_Sam_V.1.1/materials/Carpethop/ragdolls/samsung_sam/Sam_n_stretch.vtf
Samsung_Sam_V.1.1/materials/Carpethop/ragdolls/samsung_sam/Sam_mouth.vtf
Samsung_Sam_V.1.1/materials/Carpethop/ragdolls/samsung_sam/eye_reflection_cubemap.vtf
Samsung_Sam_V.1.1/materials/Carpethop/ragdolls/samsung_sam/Sam_haircap_T.vtf
Samsung_Sam_V.1.1/materials/Carpethop/ragdolls/samsung_sam/bump.vtf
Samsung_Sam_V.1.1/materials/Carpethop/ragdolls/samsung_sam/Sam_lashes.vmt
Samsung_Sam_V.1.1/materials/Carpethop/ragdolls/samsung_sam/eyeball_l.vmt
Samsung_Sam_V.1.1/materials/Carpethop/ragdolls/samsung_sam/eyes.vtf
Samsung_Sam_V.1.1/materials/Carpethop/ragdolls/samsung_sam/specular.vtf
Samsung_Sam_V.1.1/materials/Carpethop/ragdolls/samsung_sam/Sam_hair_cap_t.vmt
Samsung_Sam_V.1.1/materials/Carpethop/ragdolls/samsung_sam/Sam_hair_cap.vmt
Samsung_Sam_V.1.1/materials/Carpethop/ragdolls/samsung_sam/Sam_mouth_n.vtf
Samsung_Sam_V.1.1/materials/Carpethop/ragdolls/samsung_sam/ao.vtf
Samsung_Sam_V.1.1/materials/Carpethop/ragdolls/samsung_sam/eyeball_r.vmt
Samsung_Sam_V.1.1/materials/Carpethop/ragdolls/samsung_sam/Sam_n.vtf
Samsung_Sam_V.1.1/materials/Carpethop/ragdolls/samsung_sam/sam_eyes.vmt
Samsung_Sam_V.1.1/materials/Carpethop/ragdolls/samsung_sam/color.vtf
Samsung_Sam_V.1.1/materials/Carpethop/ragdolls/samsung_sam/roghness.vtf




Samsung_Sam_V.1.7z
2748
2021-09-12 17:51:02
119.91 MB
File contents:

Samsung_Sam_V.1/platform/cfg/sfm_defaultanimationgroups.txt
Samsung_Sam_V.1/models/carpethop/ragdolls/samsung_sam_hair.mdl
Samsung_Sam_V.1/models/carpethop/ragdolls/samsung_sam_hair.dx90.vtx
Samsung_Sam_V.1/models/carpethop/ragdolls/samsung_sam.mdl
Samsung_Sam_V.1/models/carpethop/ragdolls/samsung_sam_hair.vvd
Samsung_Sam_V.1/models/carpethop/ragdolls/samsung_sam_jeanshorts.vvd
Samsung_Sam_V.1/models/carpethop/ragdolls/samsung_sam_Top.dx90.vtx
Samsung_Sam_V.1/models/carpethop/ragdolls/samsung_sam_jeanshorts.mdl
Samsung_Sam_V.1/models/carpethop/ragdolls/samsung_sam_top.vvd
Samsung_Sam_V.1/models/carpethop/ragdolls/samsung_sam.dx90.vtx
Samsung_Sam_V.1/models/carpethop/ragdolls/samsung_sam_top.mdl
Samsung_Sam_V.1/models/carpethop/ragdolls/samsung_sam_Jeanshorts.dx90.vtx
Samsung_Sam_V.1/models/carpethop/ragdolls/samsung_sam.vvd
Samsung_Sam_V.1/materials/Carpethop/ragdolls/samsung_sam/Sam_brows.vtf
Samsung_Sam_V.1/materials/Carpethop/ragdolls/samsung_sam/Sam_hair.vtf
Samsung_Sam_V.1/materials/Carpethop/ragdolls/samsung_sam/Sam_brows.vmt
Samsung_Sam_V.1/materials/Carpethop/ragdolls/samsung_sam/eyes_cornea.vtf
Samsung_Sam_V.1/materials/Carpethop/ragdolls/samsung_sam/metal.vmt
Samsung_Sam_V.1/materials/Carpethop/ragdolls/samsung_sam/Sam_mouth.vmt
Samsung_Sam_V.1/materials/Carpethop/ragdolls/samsung_sam/blank.vtf
Samsung_Sam_V.1/materials/Carpethop/ragdolls/samsung_sam/Sam_shirt_n.vtf
Samsung_Sam_V.1/materials/Carpethop/ragdolls/samsung_sam/Sam_n_compress.vtf
Samsung_Sam_V.1/materials/Carpethop/ragdolls/samsung_sam/Sam_shirtD.vtf
Samsung_Sam_V.1/materials/Carpethop/ragdolls/samsung_sam/NormalMap.vtf
Samsung_Sam_V.1/materials/Carpethop/ragdolls/samsung_sam/Sam_jeanshorts_n.vtf
Samsung_Sam_V.1/materials/Carpethop/ragdolls/samsung_sam/Sam_hair.vmt
Samsung_Sam_V.1/materials/Carpethop/ragdolls/samsung_sam/color.vmt
Samsung_Sam_V.1/materials/Carpethop/ragdolls/samsung_sam/Sam_lashes.vtf
Samsung_Sam_V.1/materials/Carpethop/ragdolls/samsung_sam/phongwarp_hair.vtf
Samsung_Sam_V.1/materials/Carpethop/ragdolls/samsung_sam/Sam_hair_t.vmt
Samsung_Sam_V.1/materials/Carpethop/ragdolls/samsung_sam/painted_silver.vtf
Samsung_Sam_V.1/materials/Carpethop/ragdolls/samsung_sam/Sam_d.vtf
Samsung_Sam_V.1/materials/Carpethop/ragdolls/samsung_sam/Sam_d_stretch.vtf
Samsung_Sam_V.1/materials/Carpethop/ragdolls/samsung_sam/Sam_d_compress.vtf
Samsung_Sam_V.1/materials/Carpethop/ragdolls/samsung_sam/Sam_hair_n.vtf
Samsung_Sam_V.1/materials/Carpethop/ragdolls/samsung_sam/blank_n.vtf
Samsung_Sam_V.1/materials/Carpethop/ragdolls/samsung_sam/Sam_top.vmt
Samsung_Sam_V.1/materials/Carpethop/ragdolls/samsung_sam/shorts.vmt
Samsung_Sam_V.1/materials/Carpethop/ragdolls/samsung_sam/sam_eyemoisture.vmt
Samsung_Sam_V.1/materials/Carpethop/ragdolls/samsung_sam/sam_nails.vmt
Samsung_Sam_V.1/materials/Carpethop/ragdolls/samsung_sam/Sam_body.vmt
Samsung_Sam_V.1/materials/Carpethop/ragdolls/samsung_sam/Sam_jeanshorts.vtf
Samsung_Sam_V.1/materials/Carpethop/ragdolls/samsung_sam/NormalMap.png
Samsung_Sam_V.1/materials/Carpethop/ragdolls/samsung_sam/Sam_n_stretch.vtf
Samsung_Sam_V.1/materials/Carpethop/ragdolls/samsung_sam/Sam_mouth.vtf
Samsung_Sam_V.1/materials/Carpethop/ragdolls/samsung_sam/eye_reflection_cubemap.vtf
Samsung_Sam_V.1/materials/Carpethop/ragdolls/samsung_sam/Sam_haircap_T.vtf
Samsung_Sam_V.1/materials/Carpethop/ragdolls/samsung_sam/bump.vtf
Samsung_Sam_V.1/materials/Carpethop/ragdolls/samsung_sam/Sam_lashes.vmt
Samsung_Sam_V.1/materials/Carpethop/ragdolls/samsung_sam/eyeball_l.vmt
Samsung_Sam_V.1/materials/Carpethop/ragdolls/samsung_sam/eyes.vtf
Samsung_Sam_V.1/materials/Carpethop/ragdolls/samsung_sam/specular.vtf
Samsung_Sam_V.1/materials/Carpethop/ragdolls/samsung_sam/Sam_hair_cap_t.vmt
Samsung_Sam_V.1/materials/Carpethop/ragdolls/samsung_sam/Sam_hair_cap.vmt
Samsung_Sam_V.1/materials/Carpethop/ragdolls/samsung_sam/Sam_mouth_n.vtf
Samsung_Sam_V.1/materials/Carpethop/ragdolls/samsung_sam/ao.vtf
Samsung_Sam_V.1/materials/Carpethop/ragdolls/samsung_sam/eyeball_r.vmt
Samsung_Sam_V.1/materials/Carpethop/ragdolls/samsung_sam/Sam_n.vtf
Samsung_Sam_V.1/materials/Carpethop/ragdolls/samsung_sam/sam_eyes.vmt
Samsung_Sam_V.1/materials/Carpethop/ragdolls/samsung_sam/color.vtf
Samsung_Sam_V.1/materials/Carpethop/ragdolls/samsung_sam/roghness.vtf