Adult content
This content is marked as Adult/NSFW content. You can toggle your preferences regarding this content type in your account settings.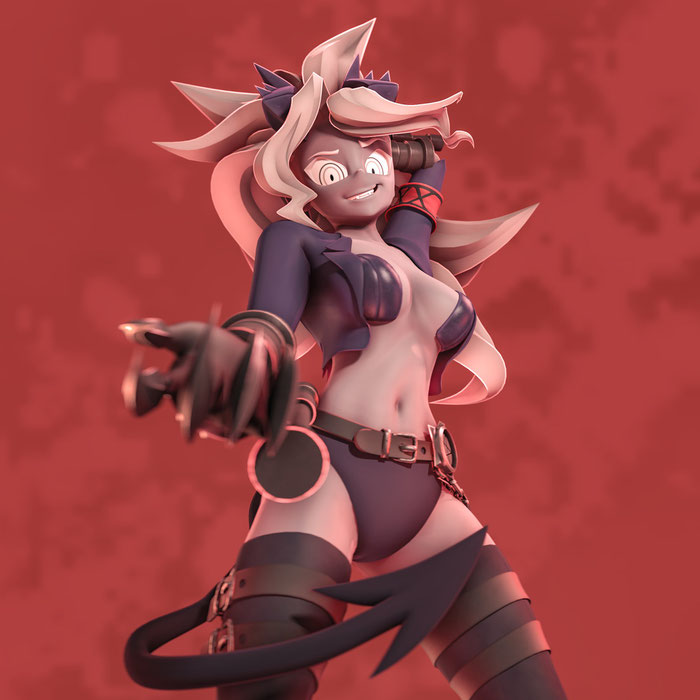 Show more
Description
The ahegao is not a clickbait, I'm just flexing my flex skills. But let's be real - it's the reason you clicked the thumbnail, right?
Don't scroll the gallery then.
This is a public version of Judgement model I did a while ago, made with the v4 ReVAmped body. It has a custom arms bodygroup (switchable to normal arms) and comes with a set of her signature clothing (shirt, belt, pants, chain, badge, legwear, leg belts, armband, and - rejoice - thigh high socks) that have same flexes as the body and are recolorable.
HWM model version and sourcefiles, as well as the Blender IK rigged version that I've put my heart and soul and very scarce knowledge of math into, are available at Patreon: https://patreon.com/posts/53157021
Preview pictures are by ImAFutureGuitarHero, Cori and my non-sober mind.
https://twitter.com/ImAFutureGH
SFMLab is a free service. However, it costs about $0.03 to deliver you a 1GB file. With over 20TB of traffic every month and growing, SFMLab needs your help. If only 1% of our users each gave us $5 for a single month, we could keep the site running for several years.
Filename
Downloads
Created
Filesize
Files
judgement_public.rar
7861
2021-09-21 19:26:50
60.71 MB
File contents:

cfg/sfm_defaultanimationgroups.txt
models/reVAmped_anthros/reVAmped_judgement_public.dx90.vtx
models/reVAmped_anthros/revamped_judgement_public.mdl
models/reVAmped_anthros/revamped_judgement_public.vvd
models/reVAmped_anthros/eyebrows/revamped_eyebrows_judgement.mdl
models/reVAmped_anthros/eyebrows/revamped_eyebrows_judgement.phy
models/reVAmped_anthros/eyebrows/revamped_eyebrows_judgement.dx90.vtx
models/reVAmped_anthros/eyebrows/revamped_eyebrows_judgement.vvd
models/reVAmped_anthros/clothing/reVAmped_belt_judgement.dx90.vtx
models/reVAmped_anthros/clothing/revamped_belt_judgement.mdl
models/reVAmped_anthros/clothing/revamped_shirt_judgement.mdl
models/reVAmped_anthros/clothing/revamped_thigh_bracers_judgement.vvd
models/reVAmped_anthros/clothing/revamped_band_mirrored_judgement.mdl
models/reVAmped_anthros/clothing/revamped_chain_judgement.mdl
models/reVAmped_anthros/clothing/revamped_breastplates_judgement.vvd
models/reVAmped_anthros/clothing/reVAmped_badge_judgement.dx90.vtx
models/reVAmped_anthros/clothing/revamped_shirt_judgement.vvd
models/reVAmped_anthros/clothing/revamped_band_mirrored_judgement.vvd
models/reVAmped_anthros/clothing/reVAmped_chain_judgement.dx90.vtx
models/reVAmped_anthros/clothing/reVAmped_boots_judgement.dx90.vtx
models/reVAmped_anthros/clothing/revamped_boots_judgement.vvd
models/reVAmped_anthros/clothing/revamped_thigh_bracers_judgement.mdl
models/reVAmped_anthros/clothing/reVAmped_thigh_bracers_judgement.dx90.vtx
models/reVAmped_anthros/clothing/revamped_badge_judgement.mdl
models/reVAmped_anthros/clothing/reVAmped_socks_high.dx90.vtx
models/reVAmped_anthros/clothing/reVAmped_breastplates_judgement.dx90.vtx
models/reVAmped_anthros/clothing/revamped_socks_high.vvd
models/reVAmped_anthros/clothing/reVAmped_pants_judgement.dx90.vtx
models/reVAmped_anthros/clothing/revamped_belt_judgement.vvd
models/reVAmped_anthros/clothing/revamped_chain_judgement.vvd
models/reVAmped_anthros/clothing/reVAmped_band_mirrored_judgement.dx90.vtx
models/reVAmped_anthros/clothing/revamped_band_judgement.mdl
models/reVAmped_anthros/clothing/revamped_socks_high.mdl
models/reVAmped_anthros/clothing/revamped_band_judgement.vvd
models/reVAmped_anthros/clothing/reVAmped_band_judgement.dx90.vtx
models/reVAmped_anthros/clothing/revamped_badge_judgement.vvd
models/reVAmped_anthros/clothing/revamped_boots_judgement.mdl
models/reVAmped_anthros/clothing/revamped_pants_judgement.vvd
models/reVAmped_anthros/clothing/revamped_pants_judgement.mdl
models/reVAmped_anthros/clothing/reVAmped_shirt_judgement.dx90.vtx
models/reVAmped_anthros/clothing/revamped_breastplates_judgement.mdl
materials/models/aeridiccore/revamped/anthros/judgement/chain.vtf
materials/models/aeridiccore/revamped/anthros/judgement/gums.vtf
materials/models/aeridiccore/revamped/anthros/judgement/gums.vmt
materials/models/aeridiccore/revamped/anthros/judgement/gauntlet_metal_S.vtf
materials/models/aeridiccore/revamped/anthros/judgement/shirt_recolorable.vmt
materials/models/aeridiccore/revamped/anthros/judgement/chain.vmt
materials/models/aeridiccore/revamped/anthros/judgement/pupil_r.vmt
materials/models/aeridiccore/revamped/anthros/judgement/cubemap.vtf
materials/models/aeridiccore/revamped/anthros/judgement/pupil_l.vmt
materials/models/aeridiccore/revamped/anthros/judgement/socks_recolorable.vmt
materials/models/aeridiccore/revamped/anthros/judgement/gauntlet_metal.vmt
materials/models/aeridiccore/revamped/anthros/judgement/body_anthro_n.vtf
materials/models/aeridiccore/revamped/anthros/judgement/breastplate_s.vtf
materials/models/aeridiccore/revamped/anthros/judgement/tongue.vmt
materials/models/aeridiccore/revamped/anthros/judgement/tail.vtf
materials/models/aeridiccore/revamped/anthros/judgement/hair.vmt
materials/models/aeridiccore/revamped/anthros/judgement/head.vtf
materials/models/aeridiccore/revamped/anthros/judgement/eyeball_r.vtf
materials/models/aeridiccore/revamped/anthros/judgement/band.vmt
materials/models/aeridiccore/revamped/anthros/judgement/blank.vtf
materials/models/aeridiccore/revamped/anthros/judgement/body_anthro.vtf
materials/models/aeridiccore/revamped/anthros/judgement/badge.vtf
materials/models/aeridiccore/revamped/anthros/judgement/pants.vmt
materials/models/aeridiccore/revamped/anthros/judgement/pants_recolorable.vmt
materials/models/aeridiccore/revamped/anthros/judgement/gauntlet_metal.vtf
materials/models/aeridiccore/revamped/anthros/judgement/eyelens_mask.vtf
materials/models/aeridiccore/revamped/anthros/judgement/socks.vmt
materials/models/aeridiccore/revamped/anthros/judgement/leggins.vtf
materials/models/aeridiccore/revamped/anthros/judgement/tongue.vtf
materials/models/aeridiccore/revamped/anthros/judgement/pupil_l.vtf
materials/models/aeridiccore/revamped/anthros/judgement/teeth.vmt
materials/models/aeridiccore/revamped/anthros/judgement/horns.vmt
materials/models/aeridiccore/revamped/anthros/judgement/breastplate_recolorable.vmt
materials/models/aeridiccore/revamped/anthros/judgement/badge_n.vtf
materials/models/aeridiccore/revamped/anthros/judgement/eyebrow.vmt
materials/models/aeridiccore/revamped/anthros/judgement/breastplate.vmt
materials/models/aeridiccore/revamped/anthros/judgement/band_n.vtf
materials/models/aeridiccore/revamped/anthros/judgement/boots_metal_recolorable.vmt
materials/models/aeridiccore/revamped/anthros/judgement/horns.vtf
materials/models/aeridiccore/revamped/anthros/judgement/phongexponenttexture.vtf
materials/models/aeridiccore/revamped/anthros/judgement/blank_n.vtf
materials/models/aeridiccore/revamped/anthros/judgement/eyelens.vmt
materials/models/aeridiccore/revamped/anthros/judgement/boots_metal_n.vtf
materials/models/aeridiccore/revamped/anthros/judgement/tail.vmt
materials/models/aeridiccore/revamped/anthros/judgement/body_anthro.vmt
materials/models/aeridiccore/revamped/anthros/judgement/leather.vmt
materials/models/aeridiccore/revamped/anthros/judgement/eyeball_l.vtf
materials/models/aeridiccore/revamped/anthros/judgement/head.vmt
materials/models/aeridiccore/revamped/anthros/judgement/leather_recolorable.vmt
materials/models/aeridiccore/revamped/anthros/judgement/leather.vtf
materials/models/aeridiccore/revamped/anthros/judgement/breastplate.vtf
materials/models/aeridiccore/revamped/anthros/judgement/badge_s.vtf
materials/models/aeridiccore/revamped/anthros/judgement/boots_metal_s.vtf
materials/models/aeridiccore/revamped/anthros/judgement/badge_recolorable.vmt
materials/models/aeridiccore/revamped/anthros/judgement/chain_n.vtf
materials/models/aeridiccore/revamped/anthros/judgement/chain_s.vtf
materials/models/aeridiccore/revamped/anthros/judgement/boots_metal.vmt
materials/models/aeridiccore/revamped/anthros/judgement/breastplate_n.vtf
materials/models/aeridiccore/revamped/anthros/judgement/shirt.vmt
materials/models/aeridiccore/revamped/anthros/judgement/shirt.vtf
materials/models/aeridiccore/revamped/anthros/judgement/eyeball_l.vmt
materials/models/aeridiccore/revamped/anthros/judgement/gauntlet_metal_n.vtf
materials/models/aeridiccore/revamped/anthros/judgement/pupil_r.vtf
materials/models/aeridiccore/revamped/anthros/judgement/hair.vtf
materials/models/aeridiccore/revamped/anthros/judgement/teeth.vtf
materials/models/aeridiccore/revamped/anthros/judgement/chain_recolorable.vmt
materials/models/aeridiccore/revamped/anthros/judgement/leather_n.vtf
materials/models/aeridiccore/revamped/anthros/judgement/leggins.vmt
materials/models/aeridiccore/revamped/anthros/judgement/hairband.vtf
materials/models/aeridiccore/revamped/anthros/judgement/eyeball_r.vmt
materials/models/aeridiccore/revamped/anthros/judgement/leggins_recolorable.vmt
materials/models/aeridiccore/revamped/anthros/judgement/hairband.vmt
materials/models/aeridiccore/revamped/anthros/judgement/eyelashes.vmt
materials/models/aeridiccore/revamped/anthros/judgement/band_recolorable.vmt
materials/models/aeridiccore/revamped/anthros/judgement/boots_n.vtf
materials/models/aeridiccore/revamped/anthros/judgement/boots_metal.vtf
materials/models/aeridiccore/revamped/anthros/judgement/badge.vmt
materials/models/aeridiccore/revamped/anthros/judgement/band.vtf