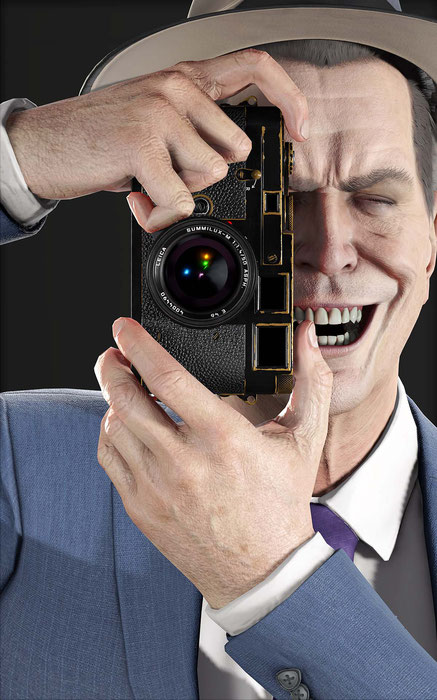 Show more
Description
Port of various camera models for use in SFM2. All models feature 4k PBR textures. Following cameras can be downloaded:
Leica M3 with 50mm f1.4 (CC0 model from PolyHaven)
Zenit 6 with Rubin-1 37-80 mm f/2.8 (CC0 model from Sketchfab)
Canon AT-1 with 50mm f1.8 (CC-BY 4.0, made by AleixoAlonso,from Sketchfab)
Zenit Photosniper 3 (CC-BY 4.0, made by Adrian Kozioł, from Sketchfab)
4k Cinema Camera with 35mm T2.1 (CC-BY 4.0, re1monsen, from Sketchfab)
Installation instructions:
Extract the content of the archive into your Half-Life Alyx\game\hlvr_addons\ currentaddon folder
SFMLab is a free service. However, it costs about $0.03 to deliver you a 1GB file. With over 20TB of traffic every month and growing, SFMLab needs your help. If only 1% of our users each gave us $5 for a single month, we could keep the site running for several years.
Filename
Downloads
Created
Filesize
Files
justaLeicaM3Camaera.zip
679
2021-10-12 03:39:41
86.3 MB
File contents:

models/justaSFMusername/CC0/LeicaM3/justaleicam3camera.vmdl_c
materials/dev/panel_normal_tga_2e02986c.vtex_c
materials/dev/flat_normal_psd_244b2aeb.vtex_c
materials/dev/panel_normal_tga_52eef3d4.vtex_c
materials/dev/black_color_tga_41691a4.vtex_c
materials/default/default_eyes_gloss_tga_ac39d5d1.vtex_c
materials/default/default_normal_tga_e60f5789.vtex_c
materials/default/default_black_mask_tga_8311d595.vtex_c
materials/default/default_color_tga_97460bfa.vtex_c
materials/default/default_eyes_normal_psd_351cb966.vtex_c
materials/default/default_selfillum_tga_e58fcf1c.vtex_c
materials/default/default_normal_tga_b19c8c1f.vtex_c
materials/default/default_eyes_color_psd_c1df5ea2.vtex_c
materials/default/default_ao_tga_559f1ac6.vtex_c
materials/default/default_cube_pfm_26490dc9.vtex_c
materials/default/default_tga_9c286083.vtex_c
materials/default/default_color_tga_faa8dd4b.vtex_c
materials/default/default_eyes_color_psd_4fb05d2d.vtex_c
materials/default/default_skin_diffusewarp_tga_e58a9ed.vtex_c
materials/default/default_bentnormal_tga_2023e987.vtex_c
materials/default/default_gloss_tga_2df0325d.vtex_c
materials/default/default_detailmask_tga_86bae0f6.vtex_c
materials/default/default_diffusewarp_tga_d1753cba.vtex_c
materials/default/default_normal_tga_8d77c6aa.vtex_c
materials/default/default_eyes_normal_psd_eda9f33c.vtex_c
materials/default/default_black_mask_tga_e3812bec.vtex_c
materials/default/default_normal_tga_7be61377.vtex_c
materials/default/default_black_mask_tga_1b52f511.vtex_c
materials/default/default_color_tga_150d6b82.vtex_c
materials/default/default_eyes_normal_psd_fcc74b48.vtex_c
materials/default/default_mask_tga_344101f8.vtex_c
materials/default/default_skin_shadowwarp_tga_f2855b6e.vtex_c
materials/default/default_metal_tga_af1d7118.vtex_c
materials/default/default_black_mask_tga_53c489b3.vtex_c
materials/default/default_color_tga_47b1af3d.vtex_c
materials/default/default_color_tga_61c2da90.vtex_c
materials/default/default_color_tga_5bb165c6.vtex_c
materials/default/default_eyes_height_psd_7d590f1c.vtex_c
materials/models/justaSFMusername/cc0/camera/camera_01_body_nor_gl_4k_png_948ca578.vtex_c
materials/models/justaSFMusername/cc0/camera/camera_body.vmat_c
materials/models/justaSFMusername/cc0/camera/camera_lens_vmat_g_tnormal_9525cea0.vtex_c
materials/models/justaSFMusername/cc0/camera/camera_lensbody.vmat_c
materials/models/justaSFMusername/cc0/camera/camera_01_lens_body_nor_gl_4k_png_cb35396a.vtex_c
materials/models/justaSFMusername/cc0/camera/camera_01_body_diff_4k_png_e59bc246.vtex_c
materials/models/justaSFMusername/cc0/camera/camera_lens_vmat_g_tcolor_10508dce.vtex_c
materials/models/justaSFMusername/cc0/camera/camera_lens_vmat_g_tcolor_3c87363.vtex_c
materials/models/justaSFMusername/cc0/camera/camera_lens_vmat_g_tnormal_9a10347d.vtex_c
materials/models/justaSFMusername/cc0/camera/camera_01_body_nor_gl_4k_png_8453c253.vtex_c
materials/models/justaSFMusername/cc0/camera/camera_lens.vmat_c
materials/models/justaSFMusername/cc0/camera/camera_lens_vmat_g_tcolor_72c95670.vtex_c
materials/models/justaSFMusername/cc0/camera/camera_01_lens_body_nor_gl_4k_png_86c5f2f.vtex_c
materials/models/justaSFMusername/cc0/camera/camera_01_lens_body_diff_4k_png_fb605a69.vtex_c
materials/models/justaSFMusername/cc0/camera/camera_lens_vmat_g_tanisogloss_b5963534.vtex_c
materials/models/justaSFMusername/cc0/camera/materialize/lensbody_ao_png_7de96e0b.vtex_c
materials/models/justaSFMusername/cc0/camera/materialize/body_ao_png_9358d9e4.vtex_c




justaZenit6camera.zip
458
2021-10-12 03:50:59
94.5 MB
File contents:

models/justaSFMusername/CC0/Zenit6/justazenitcamerasfm2.vmdl_c
materials/dev/panel_normal_tga_2e02986c.vtex_c
materials/dev/flat_normal_psd_244b2aeb.vtex_c
materials/dev/panel_normal_tga_52eef3d4.vtex_c
materials/dev/black_color_tga_41691a4.vtex_c
materials/default/default_eyes_gloss_tga_ac39d5d1.vtex_c
materials/default/default_normal_tga_e60f5789.vtex_c
materials/default/default_black_mask_tga_8311d595.vtex_c
materials/default/default_color_tga_97460bfa.vtex_c
materials/default/default_eyes_normal_psd_351cb966.vtex_c
materials/default/default_selfillum_tga_e58fcf1c.vtex_c
materials/default/default_normal_tga_b19c8c1f.vtex_c
materials/default/default_eyes_color_psd_c1df5ea2.vtex_c
materials/default/default_ao_tga_559f1ac6.vtex_c
materials/default/default_cube_pfm_26490dc9.vtex_c
materials/default/default_tga_9c286083.vtex_c
materials/default/default_color_tga_faa8dd4b.vtex_c
materials/default/default_eyes_color_psd_4fb05d2d.vtex_c
materials/default/default_skin_diffusewarp_tga_e58a9ed.vtex_c
materials/default/default_bentnormal_tga_2023e987.vtex_c
materials/default/default_gloss_tga_2df0325d.vtex_c
materials/default/default_detailmask_tga_86bae0f6.vtex_c
materials/default/default_diffusewarp_tga_d1753cba.vtex_c
materials/default/default_normal_tga_8d77c6aa.vtex_c
materials/default/default_eyes_normal_psd_eda9f33c.vtex_c
materials/default/default_black_mask_tga_e3812bec.vtex_c
materials/default/default_normal_tga_7be61377.vtex_c
materials/default/default_black_mask_tga_1b52f511.vtex_c
materials/default/default_color_tga_150d6b82.vtex_c
materials/default/default_eyes_normal_psd_fcc74b48.vtex_c
materials/default/default_mask_tga_344101f8.vtex_c
materials/default/default_skin_shadowwarp_tga_f2855b6e.vtex_c
materials/default/default_metal_tga_af1d7118.vtex_c
materials/default/default_black_mask_tga_53c489b3.vtex_c
materials/default/default_color_tga_47b1af3d.vtex_c
materials/default/default_color_tga_61c2da90.vtex_c
materials/default/default_color_tga_5bb165c6.vtex_c
materials/default/default_eyes_height_psd_7d590f1c.vtex_c
materials/models/justaSFMusername/cc0/zenitcamera/mhf_797_i_zenit_modo_uv_flatten_default_ba_png_62c93419.vtex_c
materials/models/justaSFMusername/cc0/zenitcamera/zenitcamera_glass.vmat_c
materials/models/justaSFMusername/cc0/zenitcamera/mhf_797_i_zenit_modo_uv_flatten_default_ba_png_a1b3392e.vtex_c
materials/models/justaSFMusername/cc0/zenitcamera/mhf_797_i_zenit_modo_uv_flatten_default_no_png_c3f4028d.vtex_c
materials/models/justaSFMusername/cc0/zenitcamera/zenitcamera_body.vmat_c
materials/models/justaSFMusername/cc0/zenitcamera/mhf_797_i_zenit_modo_uv_flatten_default_no_png_f1c451e.vtex_c
materials/models/justaSFMusername/cc0/zenitcamera/mhf_797_i_zenit_modo_uv_flatten_default_no_png_2cb78e49.vtex_c
materials/models/justaSFMusername/cc0/zenitcamera/mhf_797_i_zenit_modo_uv_flatten_default_ba_png_d625febe.vtex_c
materials/models/justaSFMusername/cc0/zenitcamera/mhf_797_i_zenit_modo_uv_flatten_default_no_png_43525093.vtex_c
materials/models/justaSFMusername/cc0/zenitcamera/materialize/zenithcamera_ao_png_f320ac66.vtex_c




justaCanonAT1Camera.zip
464
2021-10-12 03:53:40
36.58 MB
File contents:

models/justaSFMusername/aleixoalonso/CanonAT/justacanonatcamerasfm2.vmdl_c
materials/dev/panel_normal_tga_2e02986c.vtex_c
materials/dev/flat_normal_psd_244b2aeb.vtex_c
materials/dev/panel_normal_tga_52eef3d4.vtex_c
materials/dev/black_color_tga_41691a4.vtex_c
materials/default/default_eyes_gloss_tga_ac39d5d1.vtex_c
materials/default/default_normal_tga_e60f5789.vtex_c
materials/default/default_black_mask_tga_8311d595.vtex_c
materials/default/default_color_tga_97460bfa.vtex_c
materials/default/default_eyes_normal_psd_351cb966.vtex_c
materials/default/default_selfillum_tga_e58fcf1c.vtex_c
materials/default/default_normal_tga_b19c8c1f.vtex_c
materials/default/default_eyes_color_psd_c1df5ea2.vtex_c
materials/default/default_ao_tga_559f1ac6.vtex_c
materials/default/default_cube_pfm_26490dc9.vtex_c
materials/default/default_tga_9c286083.vtex_c
materials/default/default_color_tga_faa8dd4b.vtex_c
materials/default/default_eyes_color_psd_4fb05d2d.vtex_c
materials/default/default_skin_diffusewarp_tga_e58a9ed.vtex_c
materials/default/default_bentnormal_tga_2023e987.vtex_c
materials/default/default_gloss_tga_2df0325d.vtex_c
materials/default/default_detailmask_tga_86bae0f6.vtex_c
materials/default/default_diffusewarp_tga_d1753cba.vtex_c
materials/default/default_normal_tga_8d77c6aa.vtex_c
materials/default/default_eyes_normal_psd_eda9f33c.vtex_c
materials/default/default_black_mask_tga_e3812bec.vtex_c
materials/default/default_normal_tga_7be61377.vtex_c
materials/default/default_black_mask_tga_1b52f511.vtex_c
materials/default/default_color_tga_150d6b82.vtex_c
materials/default/default_eyes_normal_psd_fcc74b48.vtex_c
materials/default/default_mask_tga_344101f8.vtex_c
materials/default/default_skin_shadowwarp_tga_f2855b6e.vtex_c
materials/default/default_metal_tga_af1d7118.vtex_c
materials/default/default_black_mask_tga_53c489b3.vtex_c
materials/default/default_color_tga_47b1af3d.vtex_c
materials/default/default_color_tga_61c2da90.vtex_c
materials/default/default_color_tga_5bb165c6.vtex_c
materials/default/default_eyes_height_psd_7d590f1c.vtex_c
materials/models/justaSFMusername/aleixoalonso/canon/#cam0001_textures_col_4k_png_268bf0c0.vtex_c
materials/models/justaSFMusername/aleixoalonso/canon/canonat_body2.vmat_c
materials/models/justaSFMusername/aleixoalonso/canon/#cam0001_textures_col_4k_png_21a022a2.vtex_c
materials/models/justaSFMusername/aleixoalonso/canon/#cam0001_textures_nrml_4k_png_87258d26.vtex_c
materials/models/justaSFMusername/aleixoalonso/canon/#cam0001_textures_col_4k_png_99b9e4fd.vtex_c
materials/models/justaSFMusername/aleixoalonso/canon/#cam0001_textures_metl_4k_png_9266d0a3.vtex_c
materials/models/justaSFMusername/aleixoalonso/canon/canonat_body.vmat_c
materials/models/justaSFMusername/aleixoalonso/canon/#cam0001_textures_col_4k_png_3b314bdf.vtex_c
materials/models/justaSFMusername/aleixoalonso/canon/#cam0001_textures_nrml_4k_png_5c55eb5b.vtex_c
materials/models/justaSFMusername/aleixoalonso/canon/materialize/camerabody_ao_png_339f8981.vtex_c




justaZenitPhotoSniperSFM2.zip
437
2021-10-12 03:58:30
154.85 MB
File contents:

models/justaSFMusername/AdrianKoziol/PhotoSniper/justaphotosnipersfm2.vmdl_c
materials/dev/panel_normal_tga_2e02986c.vtex_c
materials/dev/flat_normal_psd_244b2aeb.vtex_c
materials/dev/panel_normal_tga_52eef3d4.vtex_c
materials/dev/black_color_tga_41691a4.vtex_c
materials/default/default_eyes_gloss_tga_ac39d5d1.vtex_c
materials/default/default_normal_tga_e60f5789.vtex_c
materials/default/default_black_mask_tga_8311d595.vtex_c
materials/default/default_color_tga_97460bfa.vtex_c
materials/default/default_eyes_normal_psd_351cb966.vtex_c
materials/default/default_selfillum_tga_e58fcf1c.vtex_c
materials/default/default_normal_tga_b19c8c1f.vtex_c
materials/default/default_eyes_color_psd_c1df5ea2.vtex_c
materials/default/default_ao_tga_559f1ac6.vtex_c
materials/default/default_cube_pfm_26490dc9.vtex_c
materials/default/default_tga_9c286083.vtex_c
materials/default/default_color_tga_faa8dd4b.vtex_c
materials/default/default_eyes_color_psd_4fb05d2d.vtex_c
materials/default/default_skin_diffusewarp_tga_e58a9ed.vtex_c
materials/default/default_bentnormal_tga_2023e987.vtex_c
materials/default/default_gloss_tga_2df0325d.vtex_c
materials/default/default_detailmask_tga_86bae0f6.vtex_c
materials/default/default_diffusewarp_tga_d1753cba.vtex_c
materials/default/default_normal_tga_8d77c6aa.vtex_c
materials/default/default_eyes_normal_psd_eda9f33c.vtex_c
materials/default/default_black_mask_tga_e3812bec.vtex_c
materials/default/default_normal_tga_7be61377.vtex_c
materials/default/default_black_mask_tga_1b52f511.vtex_c
materials/default/default_color_tga_150d6b82.vtex_c
materials/default/default_eyes_normal_psd_fcc74b48.vtex_c
materials/default/default_mask_tga_344101f8.vtex_c
materials/default/default_skin_shadowwarp_tga_f2855b6e.vtex_c
materials/default/default_metal_tga_af1d7118.vtex_c
materials/default/default_black_mask_tga_53c489b3.vtex_c
materials/default/default_color_tga_47b1af3d.vtex_c
materials/default/default_color_tga_61c2da90.vtex_c
materials/default/default_color_tga_5bb165c6.vtex_c
materials/default/default_eyes_height_psd_7d590f1c.vtex_c
materials/models/justaSFMusername/newfolder/photosniper/camera_normal_directx_png_d57f2510.vtex_c
materials/models/justaSFMusername/newfolder/photosniper/gun_base_color_png_98c9cab1.vtex_c
materials/models/justaSFMusername/newfolder/photosniper/camera_normal_directx_png_7a7f2564.vtex_c
materials/models/justaSFMusername/newfolder/photosniper/justaphotosniper_camera.vmat_c
materials/models/justaSFMusername/newfolder/photosniper/camera_mixed_ao_png_ffc60b2c.vtex_c
materials/models/justaSFMusername/newfolder/photosniper/lens_base_color_png_13697f26.vtex_c
materials/models/justaSFMusername/newfolder/photosniper/justaphotosniper_lens.vmat_c
materials/models/justaSFMusername/newfolder/photosniper/glass_normal_directx_png_609e8c05.vtex_c
materials/models/justaSFMusername/newfolder/photosniper/lens_mixed_ao_png_aeb52a66.vtex_c
materials/models/justaSFMusername/newfolder/photosniper/glass_base_color_png_f1d343e9.vtex_c
materials/models/justaSFMusername/newfolder/photosniper/camera_base_color_png_93213fce.vtex_c
materials/models/justaSFMusername/newfolder/photosniper/gun_normal_directx_png_403856c2.vtex_c
materials/models/justaSFMusername/newfolder/photosniper/glass_normal_directx_png_ca5fc9c0.vtex_c
materials/models/justaSFMusername/newfolder/photosniper/justaphotosniper_glass.vmat_c
materials/models/justaSFMusername/newfolder/photosniper/gun_normal_directx_png_201126a9.vtex_c
materials/models/justaSFMusername/newfolder/photosniper/glass_mixed_ao_png_c721ecd0.vtex_c
materials/models/justaSFMusername/newfolder/photosniper/justaphotosniper_gun.vmat_c
materials/models/justaSFMusername/newfolder/photosniper/lens_normal_directx_png_72e18ea0.vtex_c
materials/models/justaSFMusername/newfolder/photosniper/lens_normal_directx_png_805be7f6.vtex_c
materials/models/justaSFMusername/newfolder/photosniper/gun_mixed_ao_png_e70c1bee.vtex_c




justaCinemaCameraSFM2.zip
459
2021-10-12 04:05:36
101.46 MB
File contents:

models/justaSFMusername/re1monsen/justacinemacamerasfm2.vmdl_c
materials/dev/panel_normal_tga_2e02986c.vtex_c
materials/dev/flat_normal_psd_244b2aeb.vtex_c
materials/dev/panel_normal_tga_52eef3d4.vtex_c
materials/dev/black_color_tga_41691a4.vtex_c
materials/default/default_eyes_gloss_tga_ac39d5d1.vtex_c
materials/default/default_normal_tga_e60f5789.vtex_c
materials/default/default_black_mask_tga_8311d595.vtex_c
materials/default/default_color_tga_97460bfa.vtex_c
materials/default/default_eyes_normal_psd_351cb966.vtex_c
materials/default/default_selfillum_tga_e58fcf1c.vtex_c
materials/default/default_normal_tga_b19c8c1f.vtex_c
materials/default/default_eyes_color_psd_c1df5ea2.vtex_c
materials/default/default_ao_tga_559f1ac6.vtex_c
materials/default/default_cube_pfm_26490dc9.vtex_c
materials/default/default_tga_9c286083.vtex_c
materials/default/default_color_tga_faa8dd4b.vtex_c
materials/default/default_eyes_color_psd_4fb05d2d.vtex_c
materials/default/default_skin_diffusewarp_tga_e58a9ed.vtex_c
materials/default/default_bentnormal_tga_2023e987.vtex_c
materials/default/default_gloss_tga_2df0325d.vtex_c
materials/default/default_detailmask_tga_86bae0f6.vtex_c
materials/default/default_diffusewarp_tga_d1753cba.vtex_c
materials/default/default_normal_tga_8d77c6aa.vtex_c
materials/default/default_eyes_normal_psd_eda9f33c.vtex_c
materials/default/default_black_mask_tga_e3812bec.vtex_c
materials/default/default_normal_tga_7be61377.vtex_c
materials/default/default_black_mask_tga_1b52f511.vtex_c
materials/default/default_color_tga_150d6b82.vtex_c
materials/default/default_eyes_normal_psd_fcc74b48.vtex_c
materials/default/default_mask_tga_344101f8.vtex_c
materials/default/default_skin_shadowwarp_tga_f2855b6e.vtex_c
materials/default/default_metal_tga_af1d7118.vtex_c
materials/default/default_black_mask_tga_53c489b3.vtex_c
materials/default/default_color_tga_47b1af3d.vtex_c
materials/default/default_color_tga_61c2da90.vtex_c
materials/default/default_color_tga_5bb165c6.vtex_c
materials/default/default_eyes_height_psd_7d590f1c.vtex_c
materials/models/justaSFMusername/re1monsen/cinemacamera/justacinemacamera_lens.vmat_c
materials/models/justaSFMusername/re1monsen/cinemacamera/present_24_blackmagic_low_camera_body_emis_jpg_50a322c4.vtex_c
materials/models/justaSFMusername/re1monsen/cinemacamera/present_24_blackmagic_low_camera_body_norm_jpg_a5a0c802.vtex_c
materials/models/justaSFMusername/re1monsen/cinemacamera/present_24_blackmagic_low_camera_case_norm_jpg_d43f64a7.vtex_c
materials/models/justaSFMusername/re1monsen/cinemacamera/present_24_blackmagic_low_camera_lense_nor_jpg_ab5f0e3b.vtex_c
materials/models/justaSFMusername/re1monsen/cinemacamera/present_24_blackmagic_low_camera_body_norm_jpg_df94fe71.vtex_c
materials/models/justaSFMusername/re1monsen/cinemacamera/present_24_blackmagic_low_camera_body_base_jpg_33b3863d.vtex_c
materials/models/justaSFMusername/re1monsen/cinemacamera/present_24_blackmagic_low_camera_case_norm_jpg_32182b5c.vtex_c
materials/models/justaSFMusername/re1monsen/cinemacamera/justacinemacamera_body.vmat_c
materials/models/justaSFMusername/re1monsen/cinemacamera/present_24_blackmagic_low_camera_case_base_jpg_44c8affc.vtex_c
materials/models/justaSFMusername/re1monsen/cinemacamera/present_24_blackmagic_low_camera_lense_nor_jpg_948d7ea9.vtex_c
materials/models/justaSFMusername/re1monsen/cinemacamera/justacinemacamera_case.vmat_c
materials/models/justaSFMusername/re1monsen/cinemacamera/present_24_blackmagic_low_camera_lense_bas_jpg_f15a2092.vtex_c
materials/models/justaSFMusername/re1monsen/cinemacamera/materialize/case_ao_jpg_3cb95a0b.vtex_c
materials/models/justaSFMusername/re1monsen/cinemacamera/materialize/lens_ao_jpg_5cefac28.vtex_c
materials/models/justaSFMusername/re1monsen/cinemacamera/materialize/body_ao_jpg_c603808e.vtex_c