Adult content
This content is marked as Adult/NSFW content. You can toggle your preferences regarding this content type in your account settings.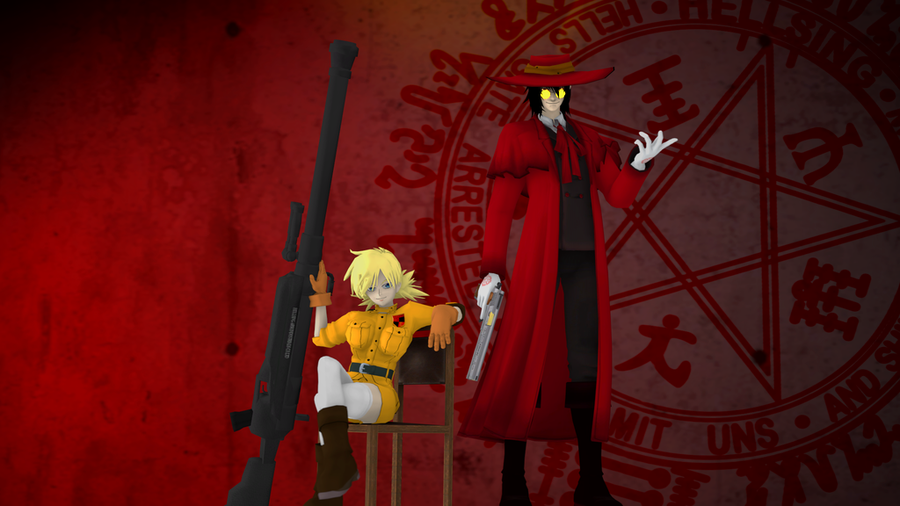 Show more
Description
The Police Girl is here!
The original model was made by Tidy_Flyer
I just made a lewd version. This model has a lot of skins some swithing between blue eyes and red eyes. Outfit colors too!
Special thanks to Nyahs_smut for testing it out and for the preview pics!
IK rig is rig_Hellsing Seras Victoria.py
Gun models are not included
Check out my Patreon if you want to send some support, see wips or vote on which model I'll do next. https://www.patreon.com/Yinyama3D
SFMLab is a free service. However, it costs about $0.03 to deliver you a 1GB file. With over 20TB of traffic every month and growing, SFMLab needs your help. If only 1% of our users each gave us $5 for a single month, we could keep the site running for several years.
Filename
Downloads
Created
Filesize
Files
Seras_Victoria.zip
1151
2021-10-17 00:00:31
9.61 MB
File contents:

usermod/models/Hellsing/Seras Victoria/seras victoria.mdl
usermod/models/Hellsing/Seras Victoria/seras victoria.vvd
usermod/models/Hellsing/Seras Victoria/Seras Victoria.dx90.vtx
usermod/scripts/sfm/animset/rig_Hellsing Seras Victoria.py
usermod/materials/models/Hellsing/Seras Victoria/Seras Victoria/Fingernails.vtf
usermod/materials/models/Hellsing/Seras Victoria/Seras Victoria/Eyes 2.vmt
usermod/materials/models/Hellsing/Seras Victoria/Seras Victoria/map.vtf
usermod/materials/models/Hellsing/Seras Victoria/Seras Victoria/outline.vmt
usermod/materials/models/Hellsing/Seras Victoria/Seras Victoria/hair.vmt
usermod/materials/models/Hellsing/Seras Victoria/Seras Victoria/red.vmt
usermod/materials/models/Hellsing/Seras Victoria/Seras Victoria/torso.vtf
usermod/materials/models/Hellsing/Seras Victoria/Seras Victoria/face_shader3.vtf
usermod/materials/models/Hellsing/Seras Victoria/Seras Victoria/hair 2.vmt
usermod/materials/models/Hellsing/Seras Victoria/Seras Victoria/clothes 2.vtf
usermod/materials/models/Hellsing/Seras Victoria/Seras Victoria/Clothes.vmt
usermod/materials/models/Hellsing/Seras Victoria/Seras Victoria/legs.vtf
usermod/materials/models/Hellsing/Seras Victoria/Seras Victoria/Toenails.vmt
usermod/materials/models/Hellsing/Seras Victoria/Seras Victoria/eye L2.vtf
usermod/materials/models/Hellsing/Seras Victoria/Seras Victoria/eye Right.vmt
usermod/materials/models/Hellsing/Seras Victoria/Seras Victoria/Clothes 2.vmt
usermod/materials/models/Hellsing/Seras Victoria/Seras Victoria/red.vtf
usermod/materials/models/Hellsing/Seras Victoria/Seras Victoria/Black.vmt
usermod/materials/models/Hellsing/Seras Victoria/Seras Victoria/face 2.vmt
usermod/materials/models/Hellsing/Seras Victoria/Seras Victoria/hair 2.vtf
usermod/materials/models/Hellsing/Seras Victoria/Seras Victoria/eye R.vtf
usermod/materials/models/Hellsing/Seras Victoria/Seras Victoria/grey.vmt
usermod/materials/models/Hellsing/Seras Victoria/Seras Victoria/White.vmt
usermod/materials/models/Hellsing/Seras Victoria/Seras Victoria/face.vtf
usermod/materials/models/Hellsing/Seras Victoria/Seras Victoria/Eyes.vmt
usermod/materials/models/Hellsing/Seras Victoria/Seras Victoria/white.vtf
usermod/materials/models/Hellsing/Seras Victoria/Seras Victoria/eye Right2.vmt
usermod/materials/models/Hellsing/Seras Victoria/Seras Victoria/grey.vtf
usermod/materials/models/Hellsing/Seras Victoria/Seras Victoria/lightwarp.vtf
usermod/materials/models/Hellsing/Seras Victoria/Seras Victoria/Clothes blue.vmt
usermod/materials/models/Hellsing/Seras Victoria/Seras Victoria/legs.vmt
usermod/materials/models/Hellsing/Seras Victoria/Seras Victoria/Clothes red.vmt
usermod/materials/models/Hellsing/Seras Victoria/Seras Victoria/Genitalia.vtf
usermod/materials/models/Hellsing/Seras Victoria/Seras Victoria/arms.vmt
usermod/materials/models/Hellsing/Seras Victoria/Seras Victoria/eyes.vtf
usermod/materials/models/Hellsing/Seras Victoria/Seras Victoria/torso.vmt
usermod/materials/models/Hellsing/Seras Victoria/Seras Victoria/eyes 2.vtf
usermod/materials/models/Hellsing/Seras Victoria/Seras Victoria/arms.vtf
usermod/materials/models/Hellsing/Seras Victoria/Seras Victoria/eye Left.vmt
usermod/materials/models/Hellsing/Seras Victoria/Seras Victoria/hair.vtf
usermod/materials/models/Hellsing/Seras Victoria/Seras Victoria/eye R2.vtf
usermod/materials/models/Hellsing/Seras Victoria/Seras Victoria/face 2.vtf
usermod/materials/models/Hellsing/Seras Victoria/Seras Victoria/Vagina&Rectum.vmt
usermod/materials/models/Hellsing/Seras Victoria/Seras Victoria/Fingernails.vmt
usermod/materials/models/Hellsing/Seras Victoria/Seras Victoria/toenails.vtf
usermod/materials/models/Hellsing/Seras Victoria/Seras Victoria/face.vmt
usermod/materials/models/Hellsing/Seras Victoria/Seras Victoria/clothes.vtf
usermod/materials/models/Hellsing/Seras Victoria/Seras Victoria/eye left2.vmt
usermod/materials/models/Hellsing/Seras Victoria/Seras Victoria/Genitalia.vmt
usermod/materials/models/Hellsing/Seras Victoria/Seras Victoria/eye L.vtf
usermod/materials/models/Hellsing/Seras Victoria/Seras Victoria/Clothes blue.vtf
usermod/materials/models/Hellsing/Seras Victoria/Seras Victoria/clothes red.vtf
usermod/materials/models/Hellsing/Seras Victoria/Seras Victoria/Vagina&Rectum.vtf
usermod/materials/models/Hellsing/Seras Victoria/Seras Victoria/Black.vtf
usermod/materials/models/Hellsing/Seras Victoria/Seras Victoria unlit/Eyes 2.vmt
usermod/materials/models/Hellsing/Seras Victoria/Seras Victoria unlit/outline.vmt
usermod/materials/models/Hellsing/Seras Victoria/Seras Victoria unlit/hair.vmt
usermod/materials/models/Hellsing/Seras Victoria/Seras Victoria unlit/red.vmt
usermod/materials/models/Hellsing/Seras Victoria/Seras Victoria unlit/hair 2.vmt
usermod/materials/models/Hellsing/Seras Victoria/Seras Victoria unlit/Clothes.vmt
usermod/materials/models/Hellsing/Seras Victoria/Seras Victoria unlit/Toenails.vmt
usermod/materials/models/Hellsing/Seras Victoria/Seras Victoria unlit/Clothes 2.vmt
usermod/materials/models/Hellsing/Seras Victoria/Seras Victoria unlit/Black.vmt
usermod/materials/models/Hellsing/Seras Victoria/Seras Victoria unlit/face 2.vmt
usermod/materials/models/Hellsing/Seras Victoria/Seras Victoria unlit/grey.vmt
usermod/materials/models/Hellsing/Seras Victoria/Seras Victoria unlit/White.vmt
usermod/materials/models/Hellsing/Seras Victoria/Seras Victoria unlit/Eyes.vmt
usermod/materials/models/Hellsing/Seras Victoria/Seras Victoria unlit/Clothes blue.vmt
usermod/materials/models/Hellsing/Seras Victoria/Seras Victoria unlit/legs.vmt
usermod/materials/models/Hellsing/Seras Victoria/Seras Victoria unlit/Clothes red.vmt
usermod/materials/models/Hellsing/Seras Victoria/Seras Victoria unlit/arms.vmt
usermod/materials/models/Hellsing/Seras Victoria/Seras Victoria unlit/torso.vmt
usermod/materials/models/Hellsing/Seras Victoria/Seras Victoria unlit/Vagina&Rectum.vmt
usermod/materials/models/Hellsing/Seras Victoria/Seras Victoria unlit/Fingernails.vmt
usermod/materials/models/Hellsing/Seras Victoria/Seras Victoria unlit/face.vmt
usermod/materials/models/Hellsing/Seras Victoria/Seras Victoria unlit/Genitalia.vmt




Seras_Victoria_unlit.zip
706
2021-10-17 00:00:31
11.66 MB
File contents:

usermod/models/Hellsing/Seras Victoria/seras victoria unlit.mdl
usermod/models/Hellsing/Seras Victoria/Seras Victoria unlit.dx90.vtx
usermod/models/Hellsing/Seras Victoria/seras victoria unlit.vvd
usermod/scripts/sfm/animset/rig_Hellsing Seras Victoria.py
usermod/materials/models/Hellsing/Seras Victoria/Seras Victoria/Fingernails.vtf
usermod/materials/models/Hellsing/Seras Victoria/Seras Victoria/Eyes 2.vmt
usermod/materials/models/Hellsing/Seras Victoria/Seras Victoria/map.vtf
usermod/materials/models/Hellsing/Seras Victoria/Seras Victoria/outline.vmt
usermod/materials/models/Hellsing/Seras Victoria/Seras Victoria/hair.vmt
usermod/materials/models/Hellsing/Seras Victoria/Seras Victoria/red.vmt
usermod/materials/models/Hellsing/Seras Victoria/Seras Victoria/torso.vtf
usermod/materials/models/Hellsing/Seras Victoria/Seras Victoria/face_shader3.vtf
usermod/materials/models/Hellsing/Seras Victoria/Seras Victoria/hair 2.vmt
usermod/materials/models/Hellsing/Seras Victoria/Seras Victoria/clothes 2.vtf
usermod/materials/models/Hellsing/Seras Victoria/Seras Victoria/Clothes.vmt
usermod/materials/models/Hellsing/Seras Victoria/Seras Victoria/legs.vtf
usermod/materials/models/Hellsing/Seras Victoria/Seras Victoria/Toenails.vmt
usermod/materials/models/Hellsing/Seras Victoria/Seras Victoria/eye L2.vtf
usermod/materials/models/Hellsing/Seras Victoria/Seras Victoria/eye Right.vmt
usermod/materials/models/Hellsing/Seras Victoria/Seras Victoria/Clothes 2.vmt
usermod/materials/models/Hellsing/Seras Victoria/Seras Victoria/red.vtf
usermod/materials/models/Hellsing/Seras Victoria/Seras Victoria/Black.vmt
usermod/materials/models/Hellsing/Seras Victoria/Seras Victoria/face 2.vmt
usermod/materials/models/Hellsing/Seras Victoria/Seras Victoria/hair 2.vtf
usermod/materials/models/Hellsing/Seras Victoria/Seras Victoria/eye R.vtf
usermod/materials/models/Hellsing/Seras Victoria/Seras Victoria/grey.vmt
usermod/materials/models/Hellsing/Seras Victoria/Seras Victoria/White.vmt
usermod/materials/models/Hellsing/Seras Victoria/Seras Victoria/face.vtf
usermod/materials/models/Hellsing/Seras Victoria/Seras Victoria/Eyes.vmt
usermod/materials/models/Hellsing/Seras Victoria/Seras Victoria/white.vtf
usermod/materials/models/Hellsing/Seras Victoria/Seras Victoria/eye Right2.vmt
usermod/materials/models/Hellsing/Seras Victoria/Seras Victoria/grey.vtf
usermod/materials/models/Hellsing/Seras Victoria/Seras Victoria/lightwarp.vtf
usermod/materials/models/Hellsing/Seras Victoria/Seras Victoria/Clothes blue.vmt
usermod/materials/models/Hellsing/Seras Victoria/Seras Victoria/legs.vmt
usermod/materials/models/Hellsing/Seras Victoria/Seras Victoria/Clothes red.vmt
usermod/materials/models/Hellsing/Seras Victoria/Seras Victoria/Genitalia.vtf
usermod/materials/models/Hellsing/Seras Victoria/Seras Victoria/arms.vmt
usermod/materials/models/Hellsing/Seras Victoria/Seras Victoria/eyes.vtf
usermod/materials/models/Hellsing/Seras Victoria/Seras Victoria/torso.vmt
usermod/materials/models/Hellsing/Seras Victoria/Seras Victoria/eyes 2.vtf
usermod/materials/models/Hellsing/Seras Victoria/Seras Victoria/arms.vtf
usermod/materials/models/Hellsing/Seras Victoria/Seras Victoria/eye Left.vmt
usermod/materials/models/Hellsing/Seras Victoria/Seras Victoria/hair.vtf
usermod/materials/models/Hellsing/Seras Victoria/Seras Victoria/eye R2.vtf
usermod/materials/models/Hellsing/Seras Victoria/Seras Victoria/face 2.vtf
usermod/materials/models/Hellsing/Seras Victoria/Seras Victoria/Vagina&Rectum.vmt
usermod/materials/models/Hellsing/Seras Victoria/Seras Victoria/Fingernails.vmt
usermod/materials/models/Hellsing/Seras Victoria/Seras Victoria/toenails.vtf
usermod/materials/models/Hellsing/Seras Victoria/Seras Victoria/face.vmt
usermod/materials/models/Hellsing/Seras Victoria/Seras Victoria/clothes.vtf
usermod/materials/models/Hellsing/Seras Victoria/Seras Victoria/eye left2.vmt
usermod/materials/models/Hellsing/Seras Victoria/Seras Victoria/Genitalia.vmt
usermod/materials/models/Hellsing/Seras Victoria/Seras Victoria/eye L.vtf
usermod/materials/models/Hellsing/Seras Victoria/Seras Victoria/Clothes blue.vtf
usermod/materials/models/Hellsing/Seras Victoria/Seras Victoria/clothes red.vtf
usermod/materials/models/Hellsing/Seras Victoria/Seras Victoria/Vagina&Rectum.vtf
usermod/materials/models/Hellsing/Seras Victoria/Seras Victoria/Black.vtf
usermod/materials/models/Hellsing/Seras Victoria/Seras Victoria unlit/Eyes 2.vmt
usermod/materials/models/Hellsing/Seras Victoria/Seras Victoria unlit/outline.vmt
usermod/materials/models/Hellsing/Seras Victoria/Seras Victoria unlit/hair.vmt
usermod/materials/models/Hellsing/Seras Victoria/Seras Victoria unlit/red.vmt
usermod/materials/models/Hellsing/Seras Victoria/Seras Victoria unlit/hair 2.vmt
usermod/materials/models/Hellsing/Seras Victoria/Seras Victoria unlit/Clothes.vmt
usermod/materials/models/Hellsing/Seras Victoria/Seras Victoria unlit/Toenails.vmt
usermod/materials/models/Hellsing/Seras Victoria/Seras Victoria unlit/Clothes 2.vmt
usermod/materials/models/Hellsing/Seras Victoria/Seras Victoria unlit/Black.vmt
usermod/materials/models/Hellsing/Seras Victoria/Seras Victoria unlit/face 2.vmt
usermod/materials/models/Hellsing/Seras Victoria/Seras Victoria unlit/grey.vmt
usermod/materials/models/Hellsing/Seras Victoria/Seras Victoria unlit/White.vmt
usermod/materials/models/Hellsing/Seras Victoria/Seras Victoria unlit/Eyes.vmt
usermod/materials/models/Hellsing/Seras Victoria/Seras Victoria unlit/Clothes blue.vmt
usermod/materials/models/Hellsing/Seras Victoria/Seras Victoria unlit/legs.vmt
usermod/materials/models/Hellsing/Seras Victoria/Seras Victoria unlit/Clothes red.vmt
usermod/materials/models/Hellsing/Seras Victoria/Seras Victoria unlit/arms.vmt
usermod/materials/models/Hellsing/Seras Victoria/Seras Victoria unlit/torso.vmt
usermod/materials/models/Hellsing/Seras Victoria/Seras Victoria unlit/Vagina&Rectum.vmt
usermod/materials/models/Hellsing/Seras Victoria/Seras Victoria unlit/Fingernails.vmt
usermod/materials/models/Hellsing/Seras Victoria/Seras Victoria unlit/face.vmt
usermod/materials/models/Hellsing/Seras Victoria/Seras Victoria unlit/Genitalia.vmt