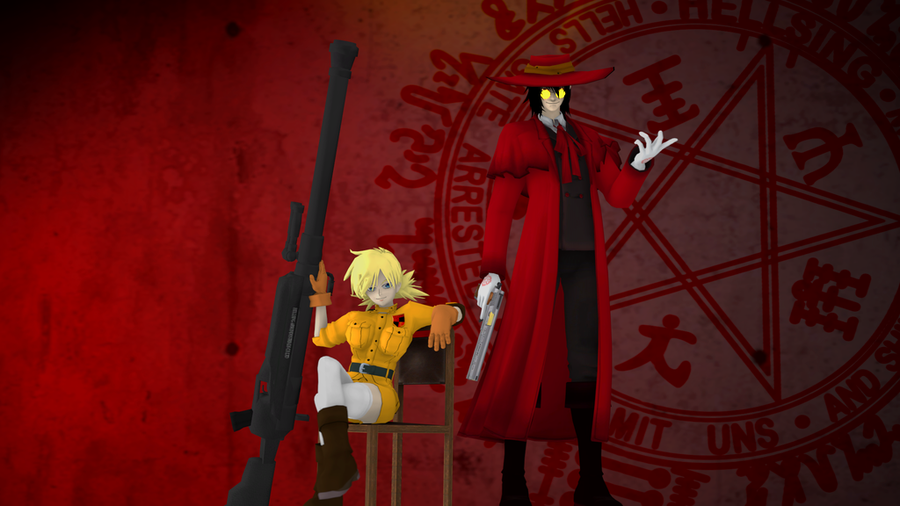 Show more
Description
A Fuck Mothering Vampire is here!
The original model was made by Chibideko
Had to do Alucard after porting Seras. There some skingroups to make the face darker. This also has bones to control the hat and bones. Also has a long hair slider.
Lots of bones for the coat but that is also a bodygroup.
IK rig is rig_Hellsing Alucard.py
Special thanks to Nyahs_smut for testing it out and for the preview pic!
Gun models are not included
Check out my Patreon if you want to send some support, see wips or vote on which model I'll do next. https://www.patreon.com/Yinyama3D
SFMLab is a free service. However, it costs about $0.03 to deliver you a 1GB file. With over 20TB of traffic every month and growing, SFMLab needs your help. If only 1% of our users each gave us $5 for a single month, we could keep the site running for several years.
Filename
Downloads
Created
Filesize
Files
Alucard_pack.zip
605
2021-10-17 00:02:36
7.26 MB
File contents:

usermod/models/Hellsing/Alucard/alucard chibideko unlit.mdl
usermod/models/Hellsing/Alucard/alucard chibideko unlit.vvd
usermod/models/Hellsing/Alucard/alucard chibideko.mdl
usermod/models/Hellsing/Alucard/Alucard chibideko unlit.dx90.vtx
usermod/models/Hellsing/Alucard/alucard chibideko.vvd
usermod/models/Hellsing/Alucard/Alucard chibideko.dx90.vtx
usermod/scripts/sfm/animset/rig_Hellsing Alucard.py
usermod/materials/models/Hellsing/Alucard/Alucard unlit/acdsuit.vmt
usermod/materials/models/Hellsing/Alucard/Alucard unlit/Pink.vmt
usermod/materials/models/Hellsing/Alucard/Alucard unlit/outline.vmt
usermod/materials/models/Hellsing/Alucard/Alucard unlit/hair.vmt
usermod/materials/models/Hellsing/Alucard/Alucard unlit/Black.vmt
usermod/materials/models/Hellsing/Alucard/Alucard unlit/face 2.vmt
usermod/materials/models/Hellsing/Alucard/Alucard unlit/acdeyeall.vmt
usermod/materials/models/Hellsing/Alucard/Alucard unlit/White.vmt
usermod/materials/models/Hellsing/Alucard/Alucard unlit/acdeyeall shine.vmt
usermod/materials/models/Hellsing/Alucard/Alucard unlit/lens2.vmt
usermod/materials/models/Hellsing/Alucard/Alucard unlit/lens.vmt
usermod/materials/models/Hellsing/Alucard/Alucard unlit/face.vmt
usermod/materials/models/Hellsing/Alucard/Alucard unlit/acdcort.vmt
usermod/materials/models/Hellsing/Alucard/Alucard unlit/Skin.vmt
usermod/materials/models/Hellsing/Alucard/Alucard/acdsuit.vmt
usermod/materials/models/Hellsing/Alucard/Alucard/map.vtf
usermod/materials/models/Hellsing/Alucard/Alucard/map skin.vtf
usermod/materials/models/Hellsing/Alucard/Alucard/Pink.vmt
usermod/materials/models/Hellsing/Alucard/Alucard/outline.vmt
usermod/materials/models/Hellsing/Alucard/Alucard/acdcort.vtf
usermod/materials/models/Hellsing/Alucard/Alucard/skin.vtf
usermod/materials/models/Hellsing/Alucard/Alucard/hair.vmt
usermod/materials/models/Hellsing/Alucard/Alucard/face_shader3.vtf
usermod/materials/models/Hellsing/Alucard/Alucard/Black.vmt
usermod/materials/models/Hellsing/Alucard/Alucard/acdeyeall.vtf
usermod/materials/models/Hellsing/Alucard/Alucard/face 2.vmt
usermod/materials/models/Hellsing/Alucard/Alucard/acdeyeall.vmt
usermod/materials/models/Hellsing/Alucard/Alucard/White.vmt
usermod/materials/models/Hellsing/Alucard/Alucard/acdeyeall shine.vmt
usermod/materials/models/Hellsing/Alucard/Alucard/face.vtf
usermod/materials/models/Hellsing/Alucard/Alucard/white.vtf
usermod/materials/models/Hellsing/Alucard/Alucard/lens2.vmt
usermod/materials/models/Hellsing/Alucard/Alucard/lightwarp.vtf
usermod/materials/models/Hellsing/Alucard/Alucard/acdsuit.vtf
usermod/materials/models/Hellsing/Alucard/Alucard/hair.vtf
usermod/materials/models/Hellsing/Alucard/Alucard/lens.vmt
usermod/materials/models/Hellsing/Alucard/Alucard/face 2.vtf
usermod/materials/models/Hellsing/Alucard/Alucard/face.vmt
usermod/materials/models/Hellsing/Alucard/Alucard/lens.vtf
usermod/materials/models/Hellsing/Alucard/Alucard/acdcort.vmt
usermod/materials/models/Hellsing/Alucard/Alucard/pink.vtf
usermod/materials/models/Hellsing/Alucard/Alucard/Skin.vmt
usermod/materials/models/Hellsing/Alucard/Alucard/Black.vtf