Adult content
This content is marked as Adult/NSFW content. You can toggle your preferences regarding this content type in your account settings.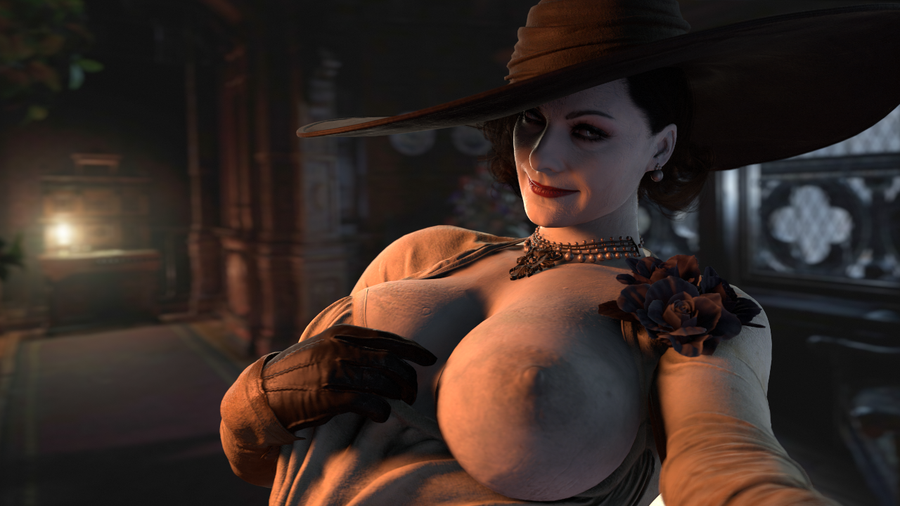 Show more
Description
Alcina Dimitrescu, Lady Dimitrescu, Big D, Lady D, Big Lady, Etc.
As seen in Resident Evil Village
Features
○ Complete outfit with bodygroups and flexes for exposing/posing
○ Full hair and Hat+Hair
○ HWM flexes with added phoneme table
○ Bonus Flexes for added customization
IMPORTANT
○ Includes sfm_defaultanimationgroups, overwrite your own if certain bones aren't sorted.
Don't forget to back it up!
○ Uses valve_3spine as the rig.
○ Make use of the shrink flexes in order to fit her body into the various outfit pieces she comes with.
○ If you want to pose her hair, breasts, outfits or anything else that uses jigglebones,
-->right click the model
-->utilities
-->bake procedural bones
○ To attatch outfits/hair, lock the root transform to the main model, zero them in, then drag each sub model onto the main model
Alternatively, use the outfit loader by lordaardvark
Credits
♦ Rigging for head, hair, parts of her body, as well as bonus flexes, and some facial flexes were done by me.
♦ Hair, various outfit meshes,and the base body normal were done by BlopBlopFish, purchased and ported from daz to SFM.
https://www.deviantart.com/blopblopfish
♦ Materials and Head were used from the workshop release, by Arachnit
https://steamcommunity.com/sharedfiles/filedetails/?id=2477043386&searchtext=alcina
♦Additional body textures were provided by https://twitter.com/DrDabblur
Additional Info
You can follow me and see what I'm up to here https://twitter.com/A_nother_Alias
Or support me on patreon, head over via that little icon near my name or this link here. https://www.patreon.com/YetAnotherAlias
Updates/Fixes
1.01 - glute pushup/pushdown flex should no longer affect teeth
SFMLab is a free service. However, it costs about $0.03 to deliver you a 1GB file. With over 20TB of traffic every month and growing, SFMLab needs your help. If only 1% of our users each gave us $5 for a single month, we could keep the site running for several years.
Filename
Downloads
Created
Filesize
Files
Alcina_REL_v1.0.7z
7419
2021-11-07 02:09:56
207.41 MB
File contents:

sfm_defaultanimationgroups.txt
models/a.lias/characters/re8/alcina dimitrescu/alcina_dimitrescu_re8_hat_hair.mdl
models/a.lias/characters/re8/alcina dimitrescu/alcina_dimitrescu_re8_hair.vvd
models/a.lias/characters/re8/alcina dimitrescu/alcina_dimitrescu_re8_hat_hair.vvd
models/a.lias/characters/re8/alcina dimitrescu/alcina_dimitrescu_re8_nude.mdl
models/a.lias/characters/re8/alcina dimitrescu/alcina_dimitrescu_re8_hat_hair.dx90.vtx
models/a.lias/characters/re8/alcina dimitrescu/alcina_dimitrescu_re8_nude.dx90.vtx
models/a.lias/characters/re8/alcina dimitrescu/alcina_dimitrescu_re8_hair.mdl
models/a.lias/characters/re8/alcina dimitrescu/alcina_dimitrescu_re8_nude_phoneme.pre
models/a.lias/characters/re8/alcina dimitrescu/alcina_dimitrescu_re8_nude.vvd
models/a.lias/characters/re8/alcina dimitrescu/alcina_dimitrescu_re8_hair.dx90.vtx
models/a.lias/characters/re8/alcina dimitrescu/clothing/alcina_clothing_re8.dx90.vtx
models/a.lias/characters/re8/alcina dimitrescu/clothing/alcina_clothing_stockingsolo_re8.vvd
models/a.lias/characters/re8/alcina dimitrescu/clothing/alcina_clothing_re8.vvd
models/a.lias/characters/re8/alcina dimitrescu/clothing/alcina_clothing_re8.mdl
models/a.lias/characters/re8/alcina dimitrescu/clothing/alcina_clothing_stockingsolo_re8.mdl
models/a.lias/characters/re8/alcina dimitrescu/clothing/alcina_clothing_re8_lingerie.dx90.vtx
models/a.lias/characters/re8/alcina dimitrescu/clothing/alcina_clothing_re8_lingerie.vvd
models/a.lias/characters/re8/alcina dimitrescu/clothing/alcina_clothing_stockingsolo_re8.dx90.vtx
materials/engine/eye-reflection-cubemap-.vtf
materials/models/a.lias/characters/re8/alcina dimitrescu/alcina_eyelashes.vmt
materials/models/a.lias/characters/re8/alcina dimitrescu/eyes_cornea.vtf
materials/models/a.lias/characters/re8/alcina dimitrescu/alcina_head.vmt
materials/models/a.lias/characters/re8/alcina dimitrescu/body_legs_exponent.vtf
materials/models/a.lias/characters/re8/alcina dimitrescu/dimitrescu_arms_normal.vtf
materials/models/a.lias/characters/re8/alcina dimitrescu/black.vtf
materials/models/a.lias/characters/re8/alcina dimitrescu/alcina_head_alt.vtf
materials/models/a.lias/characters/re8/alcina dimitrescu/alcina_head_d.vtf
materials/models/a.lias/characters/re8/alcina dimitrescu/alcina_legs.vmt
materials/models/a.lias/characters/re8/alcina dimitrescu/alcina_torso_d.vtf
materials/models/a.lias/characters/re8/alcina dimitrescu/eye_lightwarp.vtf
materials/models/a.lias/characters/re8/alcina dimitrescu/alcina_eyeao_albd.vtf
materials/models/a.lias/characters/re8/alcina dimitrescu/gen_d.vtf
materials/models/a.lias/characters/re8/alcina dimitrescu/alcina_hair_d2.vtf
materials/models/a.lias/characters/re8/alcina dimitrescu/alcina_torso.vmt
materials/models/a.lias/characters/re8/alcina dimitrescu/alcina_teeth_msk.vtf
materials/models/a.lias/characters/re8/alcina dimitrescu/alcina_torso_alt.vmt
materials/models/a.lias/characters/re8/alcina dimitrescu/alcina_hat_mask.vtf
materials/models/a.lias/characters/re8/alcina dimitrescu/alcina_teeth.vmt
materials/models/a.lias/characters/re8/alcina dimitrescu/alcina_hair_d.vtf
materials/models/a.lias/characters/re8/alcina dimitrescu/alcina_torso_n.vtf
materials/models/a.lias/characters/re8/alcina dimitrescu/alci_hair_msk.vtf
materials/models/a.lias/characters/re8/alcina dimitrescu/alcina_hat.vmt
materials/models/a.lias/characters/re8/alcina dimitrescu/gen_labia.vmt
materials/models/a.lias/characters/re8/alcina dimitrescu/alcina_hair_mask.vtf
materials/models/a.lias/characters/re8/alcina dimitrescu/alci_hair_nrml.vtf
materials/models/a.lias/characters/re8/alcina dimitrescu/alcina_arms.vmt
materials/models/a.lias/characters/re8/alcina dimitrescu/alcina_arms_alt.vmt
materials/models/a.lias/characters/re8/alcina dimitrescu/dimitrescu_legs_color.vtf
materials/models/a.lias/characters/re8/alcina dimitrescu/hair_sub.vmt
materials/models/a.lias/characters/re8/alcina dimitrescu/alcina_head_alt.vmt
materials/models/a.lias/characters/re8/alcina dimitrescu/gen_vagina.vmt
materials/models/a.lias/characters/re8/alcina dimitrescu/alcina_legs_d.vtf
materials/models/a.lias/characters/re8/alcina dimitrescu/alcina_teeth_d.vtf
materials/models/a.lias/characters/re8/alcina dimitrescu/toenails.vmt
materials/models/a.lias/characters/re8/alcina dimitrescu/dimitrescu_legs_normal.vtf
materials/models/a.lias/characters/re8/alcina dimitrescu/alcina_eyes.vtf
materials/models/a.lias/characters/re8/alcina dimitrescu/alcina_head_n.vtf
materials/models/a.lias/characters/re8/alcina dimitrescu/eyetear.vmt
materials/models/a.lias/characters/re8/alcina dimitrescu/eyeao.vmt
materials/models/a.lias/characters/re8/alcina dimitrescu/alcina_arms_alt_n.vtf
materials/models/a.lias/characters/re8/alcina dimitrescu/alcina_hat_n.vtf
materials/models/a.lias/characters/re8/alcina dimitrescu/alcina_hat_d.vtf
materials/models/a.lias/characters/re8/alcina dimitrescu/alcina_teeth_n.vtf
materials/models/a.lias/characters/re8/alcina dimitrescu/alcina_head_noshadow_d.vtf
materials/models/a.lias/characters/re8/alcina dimitrescu/gen_rectum.vmt
materials/models/a.lias/characters/re8/alcina dimitrescu/eyeball_l.vmt
materials/models/a.lias/characters/re8/alcina dimitrescu/alcina_torso_alt_n.vtf
materials/models/a.lias/characters/re8/alcina dimitrescu/alcina_legs_n.vtf
materials/models/a.lias/characters/re8/alcina dimitrescu/alcina_arms_n.vtf
materials/models/a.lias/characters/re8/alcina dimitrescu/body_arms_exponent.vtf
materials/models/a.lias/characters/re8/alcina dimitrescu/fingernails.vmt
materials/models/a.lias/characters/re8/alcina dimitrescu/dimitrescu_arms_color.vtf
materials/models/a.lias/characters/re8/alcina dimitrescu/alcina_legs_alt.vmt
materials/models/a.lias/characters/re8/alcina dimitrescu/hair_main.vmt
materials/models/a.lias/characters/re8/alcina dimitrescu/eyeball_r.vmt
materials/models/a.lias/characters/re8/alcina dimitrescu/alcina_eyelashes_d.vtf
materials/models/a.lias/characters/re8/alcina dimitrescu/alcina_legs_alt_n.vtf
materials/models/a.lias/characters/re8/alcina dimitrescu/alcina_hat_stitch.vmt
materials/models/a.lias/characters/re8/alcina dimitrescu/gen_n.vtf
materials/models/a.lias/characters/re8/alcina dimitrescu/hair_main_a.vmt
materials/models/a.lias/characters/re8/alcina dimitrescu/body_torso_exponent.vtf
materials/models/a.lias/characters/re8/alcina dimitrescu/hair_sub_a.vmt
materials/models/a.lias/characters/re8/alcina dimitrescu/alcina_face_msk.vtf
materials/models/a.lias/characters/re8/alcina dimitrescu/alcina_head_noshadow.vmt
materials/models/a.lias/characters/re8/alcina dimitrescu/mechanic_eye_ao.vtf
materials/models/a.lias/characters/re8/alcina dimitrescu/clothing/necklace_stone_s.vmt
materials/models/a.lias/characters/re8/alcina dimitrescu/clothing/alcina_claws_glove.vmt
materials/models/a.lias/characters/re8/alcina dimitrescu/clothing/phongwarp_metal2.vtf
materials/models/a.lias/characters/re8/alcina dimitrescu/clothing/dim_gloves_col.vtf
materials/models/a.lias/characters/re8/alcina dimitrescu/clothing/alcina_claws_1.vmt
materials/models/a.lias/characters/re8/alcina dimitrescu/clothing/dim_dress_b_msk.vtf
materials/models/a.lias/characters/re8/alcina dimitrescu/clothing/brooch_s.vmt
materials/models/a.lias/characters/re8/alcina dimitrescu/clothing/dim_heel_d.vtf
materials/models/a.lias/characters/re8/alcina dimitrescu/clothing/dim_acc_n.vtf
materials/models/a.lias/characters/re8/alcina dimitrescu/clothing/boutonniere_pin_a.vmt
materials/models/a.lias/characters/re8/alcina dimitrescu/clothing/alcina_stocking.vmt
materials/models/a.lias/characters/re8/alcina dimitrescu/clothing/earring_metal_s.vmt
materials/models/a.lias/characters/re8/alcina dimitrescu/clothing/alcina_dress_2_buttons.vmt
materials/models/a.lias/characters/re8/alcina dimitrescu/clothing/boutonniere.vmt
materials/models/a.lias/characters/re8/alcina dimitrescu/clothing/brooch.vmt
materials/models/a.lias/characters/re8/alcina dimitrescu/clothing/alcina_heels.vmt
materials/models/a.lias/characters/re8/alcina dimitrescu/clothing/alcina_stocking_n.vtf
materials/models/a.lias/characters/re8/alcina dimitrescu/clothing/alcina_dress_1_buttons.vmt
materials/models/a.lias/characters/re8/alcina dimitrescu/clothing/boutonniere_pin.vmt
materials/models/a.lias/characters/re8/alcina dimitrescu/clothing/earring_stone.vmt
materials/models/a.lias/characters/re8/alcina dimitrescu/clothing/dim_claws_mask.vtf
materials/models/a.lias/characters/re8/alcina dimitrescu/clothing/dim_claws.vtf
materials/models/a.lias/characters/re8/alcina dimitrescu/clothing/dim_heel-n.vtf
materials/models/a.lias/characters/re8/alcina dimitrescu/clothing/dim_dress_a_n.vtf
materials/models/a.lias/characters/re8/alcina dimitrescu/clothing/dim_dress_c_nrml.vtf
materials/models/a.lias/characters/re8/alcina dimitrescu/clothing/alcina_claws.vmt
materials/models/a.lias/characters/re8/alcina dimitrescu/clothing/dim_dress_c_col.vtf
materials/models/a.lias/characters/re8/alcina dimitrescu/clothing/necklace_metal_s.vmt
materials/models/a.lias/characters/re8/alcina dimitrescu/clothing/earring_stone_s.vmt
materials/models/a.lias/characters/re8/alcina dimitrescu/clothing/alcina_dress_3.vmt
materials/models/a.lias/characters/re8/alcina dimitrescu/clothing/necklace_metal.vmt
materials/models/a.lias/characters/re8/alcina dimitrescu/clothing/dim_acc_spec.vtf
materials/models/a.lias/characters/re8/alcina dimitrescu/clothing/alcina_dress_2.vmt
materials/models/a.lias/characters/re8/alcina dimitrescu/clothing/alcina_stocking_d.vtf
materials/models/a.lias/characters/re8/alcina dimitrescu/clothing/alcina_dress_1.vmt
materials/models/a.lias/characters/re8/alcina dimitrescu/clothing/alcina_gloves.vmt
materials/models/a.lias/characters/re8/alcina dimitrescu/clothing/dim_dress_a_d.vtf
materials/models/a.lias/characters/re8/alcina dimitrescu/clothing/dim_dress_c_msk.vtf
materials/models/a.lias/characters/re8/alcina dimitrescu/clothing/dim_dressb_nrml.vtf
materials/models/a.lias/characters/re8/alcina dimitrescu/clothing/dim_dress_a_msk.vtf
materials/models/a.lias/characters/re8/alcina dimitrescu/clothing/dim_heel_msk.vtf
materials/models/a.lias/characters/re8/alcina dimitrescu/clothing/dim_gloves_msk.vtf
materials/models/a.lias/characters/re8/alcina dimitrescu/clothing/earring_metal.vmt
materials/models/a.lias/characters/re8/alcina dimitrescu/clothing/dim_acc_d.vtf
materials/models/a.lias/characters/re8/alcina dimitrescu/clothing/dim_gloves_nrml.vtf
materials/models/a.lias/characters/re8/alcina dimitrescu/clothing/dim_claw_spec.vtf
materials/models/a.lias/characters/re8/alcina dimitrescu/clothing/dim_claws_n.vtf
materials/models/a.lias/characters/re8/alcina dimitrescu/clothing/dim_dress_b_col.vtf
materials/models/a.lias/characters/re8/alcina dimitrescu/clothing/dim_acc_msk.vtf
materials/models/a.lias/characters/re8/alcina dimitrescu/clothing/necklace_stone.vmt




Stocking_Hotfix.7z
2205
2021-11-08 00:22:33
6.28 MB
File contents:

Stocking Hotfix/alcina_stocking.vmt
Stocking Hotfix/alcina_stocking_d.vtf




Alcina_1.01.7z
2333
2022-01-11 00:20:00
7.31 MB
File contents:

models/a.lias/characters/re8/alcina dimitrescu/Alcina_Dimitrescu_RE8_Nude.dx90.vtx
models/a.lias/characters/re8/alcina dimitrescu/alcina_dimitrescu_re8_nude.mdl
models/a.lias/characters/re8/alcina dimitrescu/alcina_dimitrescu_re8_nude.vvd