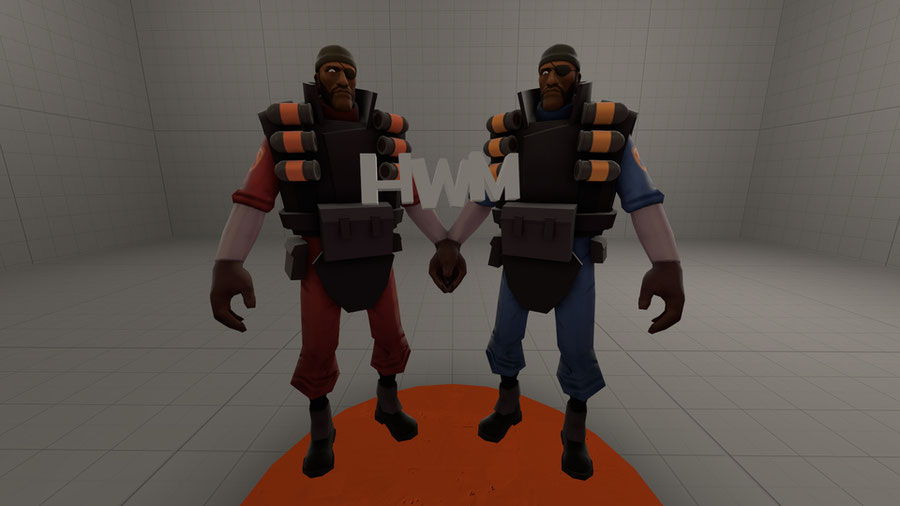 Show more
Description
Disclaimer
I didn't make this or ask permission. This is from Gmod workshop to SFM ported through Steam Workshop Downloader: https://steamworkshopdownloader.io/
ps
most models have missing textures for uber skins.
---
Original mod by: SarisKhan
Gmod: TF2 HD Beta Skins
---
Models
Rig: Rig-bip simple
Face posing: have faces flexes
Body-groups: just like the current tf2 models
gibes: for all models
Skins: models have red and blue skins but some uber skins are missing
Sequins: they have the sequins but they don't work on these models 🤷‍♂️ ( I suggest using the puppet script on the workshop) Or you can copy the samples from the other model and paste them on the beat models. Witch is actually easier to me at least.
---
SFMLab is a free service. However, it costs about $0.03 to deliver you a 1GB file. With over 20TB of traffic every month and growing, SFMLab needs your help. If only 1% of our users each gave us $5 for a single month, we could keep the site running for several years.
Filename
Downloads
Created
Filesize
Files
TF2-HD-Beta-Skins.zip
573
2021-12-11 13:04:44
78.57 MB
File contents:

TF2-HD-Beta-Skins/models/tfbeta/pyro.dx80.vtx
TF2-HD-Beta-Skins/models/tfbeta/sniper.vvd
TF2-HD-Beta-Skins/models/tfbeta/demo.sw.vtx
TF2-HD-Beta-Skins/models/tfbeta/medic.mdl
TF2-HD-Beta-Skins/models/tfbeta/spy.sw.vtx
TF2-HD-Beta-Skins/models/tfbeta/heavy.mdl
TF2-HD-Beta-Skins/models/tfbeta/soldier.sw.vtx
TF2-HD-Beta-Skins/models/tfbeta/soldier.phy
TF2-HD-Beta-Skins/models/tfbeta/pyro.mdl
TF2-HD-Beta-Skins/models/tfbeta/sniper.dx90.vtx
TF2-HD-Beta-Skins/models/tfbeta/heavy.dx90.vtx
TF2-HD-Beta-Skins/models/tfbeta/pyro.sw.vtx
TF2-HD-Beta-Skins/models/tfbeta/spy.mdl
TF2-HD-Beta-Skins/models/tfbeta/sniper.sw.vtx
TF2-HD-Beta-Skins/models/tfbeta/scout.dx90.vtx
TF2-HD-Beta-Skins/models/tfbeta/spy.vvd
TF2-HD-Beta-Skins/models/tfbeta/scout.mdl
TF2-HD-Beta-Skins/models/tfbeta/scout.sw.vtx
TF2-HD-Beta-Skins/models/tfbeta/sniper.dx80.vtx
TF2-HD-Beta-Skins/models/tfbeta/sniper.mdl
TF2-HD-Beta-Skins/models/tfbeta/heavy.dx80.vtx
TF2-HD-Beta-Skins/models/tfbeta/heavy.sw.vtx
TF2-HD-Beta-Skins/models/tfbeta/demo.vvd
TF2-HD-Beta-Skins/models/tfbeta/engineer.dx90.vtx
TF2-HD-Beta-Skins/models/tfbeta/heavy.phy
TF2-HD-Beta-Skins/models/tfbeta/scout.dx80.vtx
TF2-HD-Beta-Skins/models/tfbeta/engineer.mdl
TF2-HD-Beta-Skins/models/tfbeta/demo.phy
TF2-HD-Beta-Skins/models/tfbeta/pyro.dx90.vtx
TF2-HD-Beta-Skins/models/tfbeta/soldier.vvd
TF2-HD-Beta-Skins/models/tfbeta/engineer.sw.vtx
TF2-HD-Beta-Skins/models/tfbeta/soldier.dx90.vtx
TF2-HD-Beta-Skins/models/tfbeta/scout.phy
TF2-HD-Beta-Skins/models/tfbeta/soldier.mdl
TF2-HD-Beta-Skins/models/tfbeta/spy.phy
TF2-HD-Beta-Skins/models/tfbeta/demo.dx80.vtx
TF2-HD-Beta-Skins/models/tfbeta/heavy.vvd
TF2-HD-Beta-Skins/models/tfbeta/engineer.phy
TF2-HD-Beta-Skins/models/tfbeta/scout.vvd
TF2-HD-Beta-Skins/models/tfbeta/pyro.vvd
TF2-HD-Beta-Skins/models/tfbeta/medic.phy
TF2-HD-Beta-Skins/models/tfbeta/engineer.vvd
TF2-HD-Beta-Skins/models/tfbeta/engineer.dx80.vtx
TF2-HD-Beta-Skins/models/tfbeta/spy.dx90.vtx
TF2-HD-Beta-Skins/models/tfbeta/spy.dx80.vtx
TF2-HD-Beta-Skins/models/tfbeta/sniper.phy
TF2-HD-Beta-Skins/models/tfbeta/medic.sw.vtx
TF2-HD-Beta-Skins/models/tfbeta/demo.dx90.vtx
TF2-HD-Beta-Skins/models/tfbeta/medic.dx80.vtx
TF2-HD-Beta-Skins/models/tfbeta/medic.vvd
TF2-HD-Beta-Skins/models/tfbeta/medic.dx90.vtx
TF2-HD-Beta-Skins/models/tfbeta/demo.mdl
TF2-HD-Beta-Skins/models/tfbeta/soldier.dx80.vtx
TF2-HD-Beta-Skins/models/tfbeta/pyro.phy
TF2-HD-Beta-Skins/models/tfbeta/hwm/pyro.dx80.vtx
TF2-HD-Beta-Skins/models/tfbeta/hwm/sniper.vvd
TF2-HD-Beta-Skins/models/tfbeta/hwm/demo.sw.vtx
TF2-HD-Beta-Skins/models/tfbeta/hwm/medic.mdl
TF2-HD-Beta-Skins/models/tfbeta/hwm/spy.sw.vtx
TF2-HD-Beta-Skins/models/tfbeta/hwm/heavy.mdl
TF2-HD-Beta-Skins/models/tfbeta/hwm/soldier.sw.vtx
TF2-HD-Beta-Skins/models/tfbeta/hwm/soldier.phy
TF2-HD-Beta-Skins/models/tfbeta/hwm/pyro.mdl
TF2-HD-Beta-Skins/models/tfbeta/hwm/sniper.dx90.vtx
TF2-HD-Beta-Skins/models/tfbeta/hwm/heavy.dx90.vtx
TF2-HD-Beta-Skins/models/tfbeta/hwm/pyro.sw.vtx
TF2-HD-Beta-Skins/models/tfbeta/hwm/spy.mdl
TF2-HD-Beta-Skins/models/tfbeta/hwm/sniper.sw.vtx
TF2-HD-Beta-Skins/models/tfbeta/hwm/scout.dx90.vtx
TF2-HD-Beta-Skins/models/tfbeta/hwm/spy.vvd
TF2-HD-Beta-Skins/models/tfbeta/hwm/scout.mdl
TF2-HD-Beta-Skins/models/tfbeta/hwm/scout.sw.vtx
TF2-HD-Beta-Skins/models/tfbeta/hwm/sniper.dx80.vtx
TF2-HD-Beta-Skins/models/tfbeta/hwm/sniper.mdl
TF2-HD-Beta-Skins/models/tfbeta/hwm/heavy.dx80.vtx
TF2-HD-Beta-Skins/models/tfbeta/hwm/heavy.sw.vtx
TF2-HD-Beta-Skins/models/tfbeta/hwm/demo.vvd
TF2-HD-Beta-Skins/models/tfbeta/hwm/engineer.dx90.vtx
TF2-HD-Beta-Skins/models/tfbeta/hwm/heavy.phy
TF2-HD-Beta-Skins/models/tfbeta/hwm/scout.dx80.vtx
TF2-HD-Beta-Skins/models/tfbeta/hwm/engineer.mdl
TF2-HD-Beta-Skins/models/tfbeta/hwm/demo.phy
TF2-HD-Beta-Skins/models/tfbeta/hwm/pyro.dx90.vtx
TF2-HD-Beta-Skins/models/tfbeta/hwm/soldier.vvd
TF2-HD-Beta-Skins/models/tfbeta/hwm/engineer.sw.vtx
TF2-HD-Beta-Skins/models/tfbeta/hwm/soldier.dx90.vtx
TF2-HD-Beta-Skins/models/tfbeta/hwm/scout.phy
TF2-HD-Beta-Skins/models/tfbeta/hwm/soldier.mdl
TF2-HD-Beta-Skins/models/tfbeta/hwm/spy.phy
TF2-HD-Beta-Skins/models/tfbeta/hwm/demo.dx80.vtx
TF2-HD-Beta-Skins/models/tfbeta/hwm/heavy.vvd
TF2-HD-Beta-Skins/models/tfbeta/hwm/engineer.phy
TF2-HD-Beta-Skins/models/tfbeta/hwm/scout.vvd
TF2-HD-Beta-Skins/models/tfbeta/hwm/pyro.vvd
TF2-HD-Beta-Skins/models/tfbeta/hwm/medic.phy
TF2-HD-Beta-Skins/models/tfbeta/hwm/engineer.vvd
TF2-HD-Beta-Skins/models/tfbeta/hwm/engineer.dx80.vtx
TF2-HD-Beta-Skins/models/tfbeta/hwm/spy.dx90.vtx
TF2-HD-Beta-Skins/models/tfbeta/hwm/spy.dx80.vtx
TF2-HD-Beta-Skins/models/tfbeta/hwm/sniper.phy
TF2-HD-Beta-Skins/models/tfbeta/hwm/medic.sw.vtx
TF2-HD-Beta-Skins/models/tfbeta/hwm/demo.dx90.vtx
TF2-HD-Beta-Skins/models/tfbeta/hwm/medic.dx80.vtx
TF2-HD-Beta-Skins/models/tfbeta/hwm/medic.vvd
TF2-HD-Beta-Skins/models/tfbeta/hwm/medic.dx90.vtx
TF2-HD-Beta-Skins/models/tfbeta/hwm/demo.mdl
TF2-HD-Beta-Skins/models/tfbeta/hwm/soldier.dx80.vtx
TF2-HD-Beta-Skins/models/tfbeta/hwm/pyro.phy
TF2-HD-Beta-Skins/models/tfbeta/gibs/snipergib007.dx90.vtx
TF2-HD-Beta-Skins/models/tfbeta/gibs/heavygib005.mdl
TF2-HD-Beta-Skins/models/tfbeta/gibs/soldiergib008.sw.vtx
TF2-HD-Beta-Skins/models/tfbeta/gibs/demogib001.mdl
TF2-HD-Beta-Skins/models/tfbeta/gibs/snipergib005.vvd
TF2-HD-Beta-Skins/models/tfbeta/gibs/medicgib001.phy
TF2-HD-Beta-Skins/models/tfbeta/gibs/snipergib001.sw.vtx
TF2-HD-Beta-Skins/models/tfbeta/gibs/spygib007.phy
TF2-HD-Beta-Skins/models/tfbeta/gibs/heavygib007.dx90.vtx
TF2-HD-Beta-Skins/models/tfbeta/gibs/snipergib007.phy
TF2-HD-Beta-Skins/models/tfbeta/gibs/scoutgib006.dx90.vtx
TF2-HD-Beta-Skins/models/tfbeta/gibs/engineergib005.dx80.vtx
TF2-HD-Beta-Skins/models/tfbeta/gibs/heavygib004.dx80.vtx
TF2-HD-Beta-Skins/models/tfbeta/gibs/scoutgib007.sw.vtx
TF2-HD-Beta-Skins/models/tfbeta/gibs/heavygib001.mdl
TF2-HD-Beta-Skins/models/tfbeta/gibs/scoutgib002.sw.vtx
TF2-HD-Beta-Skins/models/tfbeta/gibs/heavygib002.mdl
TF2-HD-Beta-Skins/models/tfbeta/gibs/medicgib003.dx90.vtx
TF2-HD-Beta-Skins/models/tfbeta/gibs/scoutgib004.vvd
TF2-HD-Beta-Skins/models/tfbeta/gibs/medicgib002.dx90.vtx
TF2-HD-Beta-Skins/models/tfbeta/gibs/engineergib002.phy
TF2-HD-Beta-Skins/models/tfbeta/gibs/snipergib001.dx90.vtx
TF2-HD-Beta-Skins/models/tfbeta/gibs/snipergib003.sw.vtx
TF2-HD-Beta-Skins/models/tfbeta/gibs/spygib006.vvd
TF2-HD-Beta-Skins/models/tfbeta/gibs/heavygib002.phy
TF2-HD-Beta-Skins/models/tfbeta/gibs/pyrogib005.vvd
TF2-HD-Beta-Skins/models/tfbeta/gibs/spygib002.phy
TF2-HD-Beta-Skins/models/tfbeta/gibs/scoutgib003.vvd
TF2-HD-Beta-Skins/models/tfbeta/gibs/spygib005.sw.vtx
TF2-HD-Beta-Skins/models/tfbeta/gibs/snipergib006.dx80.vtx
TF2-HD-Beta-Skins/models/tfbeta/gibs/heavygib005.phy
TF2-HD-Beta-Skins/models/tfbeta/gibs/soldiergib003.vvd
TF2-HD-Beta-Skins/models/tfbeta/gibs/engineergib007.vvd
TF2-HD-Beta-Skins/models/tfbeta/gibs/demogib004.vvd
TF2-HD-Beta-Skins/models/tfbeta/gibs/spygib006.mdl
TF2-HD-Beta-Skins/models/tfbeta/gibs/engineergib001.dx90.vtx
TF2-HD-Beta-Skins/models/tfbeta/gibs/heavygib005.sw.vtx
TF2-HD-Beta-Skins/models/tfbeta/gibs/engineergib004.mdl
TF2-HD-Beta-Skins/models/tfbeta/gibs/heavygib005.vvd
TF2-HD-Beta-Skins/models/tfbeta/gibs/scoutgib002.phy
TF2-HD-Beta-Skins/models/tfbeta/gibs/soldiergib006.sw.vtx
TF2-HD-Beta-Skins/models/tfbeta/gibs/soldiergib008.dx90.vtx
TF2-HD-Beta-Skins/models/tfbeta/gibs/scoutgib001.dx80.vtx
TF2-HD-Beta-Skins/models/tfbeta/gibs/engineergib002.vvd
TF2-HD-Beta-Skins/models/tfbeta/gibs/soldiergib001.phy
TF2-HD-Beta-Skins/models/tfbeta/gibs/heavygib004.sw.vtx
TF2-HD-Beta-Skins/models/tfbeta/gibs/spygib007.vvd
TF2-HD-Beta-Skins/models/tfbeta/gibs/soldiergib005.phy
TF2-HD-Beta-Skins/models/tfbeta/gibs/demogib004.dx80.vtx
TF2-HD-Beta-Skins/models/tfbeta/gibs/soldiergib001.sw.vtx
TF2-HD-Beta-Skins/models/tfbeta/gibs/demogib002.vvd
TF2-HD-Beta-Skins/models/tfbeta/gibs/medicgib004.dx90.vtx
TF2-HD-Beta-Skins/models/tfbeta/gibs/scoutgib002.mdl
TF2-HD-Beta-Skins/models/tfbeta/gibs/snipergib003.mdl
TF2-HD-Beta-Skins/models/tfbeta/gibs/heavygib006.mdl
TF2-HD-Beta-Skins/models/tfbeta/gibs/scoutgib006.mdl
TF2-HD-Beta-Skins/models/tfbeta/gibs/scoutgib003.sw.vtx
TF2-HD-Beta-Skins/models/tfbeta/gibs/snipergib001.dx80.vtx
TF2-HD-Beta-Skins/models/tfbeta/gibs/scoutgib003.mdl
TF2-HD-Beta-Skins/models/tfbeta/gibs/pyrogib008.vvd
TF2-HD-Beta-Skins/models/tfbeta/gibs/snipergib005.dx90.vtx
TF2-HD-Beta-Skins/models/tfbeta/gibs/snipergib005.dx80.vtx
TF2-HD-Beta-Skins/models/tfbeta/gibs/demogib004.sw.vtx
TF2-HD-Beta-Skins/models/tfbeta/gibs/scoutgib005.sw.vtx
TF2-HD-Beta-Skins/models/tfbeta/gibs/snipergib003.vvd
TF2-HD-Beta-Skins/models/tfbeta/gibs/spygib001.dx80.vtx
TF2-HD-Beta-Skins/models/tfbeta/gibs/pyrogib006.vvd
TF2-HD-Beta-Skins/models/tfbeta/gibs/demogib003.phy
TF2-HD-Beta-Skins/models/tfbeta/gibs/demogib003.dx90.vtx
TF2-HD-Beta-Skins/models/tfbeta/gibs/pyrogib008.mdl
TF2-HD-Beta-Skins/models/tfbeta/gibs/heavygib003.sw.vtx
TF2-HD-Beta-Skins/models/tfbeta/gibs/snipergib003.dx90.vtx
TF2-HD-Beta-Skins/models/tfbeta/gibs/demogib005.phy
TF2-HD-Beta-Skins/models/tfbeta/gibs/pyrogib002.sw.vtx
TF2-HD-Beta-Skins/models/tfbeta/gibs/scoutgib008.mdl
TF2-HD-Beta-Skins/models/tfbeta/gibs/pyrogib004.mdl
TF2-HD-Beta-Skins/models/tfbeta/gibs/engineergib003.vvd
TF2-HD-Beta-Skins/models/tfbeta/gibs/spygib005.dx90.vtx
TF2-HD-Beta-Skins/models/tfbeta/gibs/heavygib004.phy
TF2-HD-Beta-Skins/models/tfbeta/gibs/pyrogib007.dx90.vtx
TF2-HD-Beta-Skins/models/tfbeta/gibs/spygib006.phy
TF2-HD-Beta-Skins/models/tfbeta/gibs/pyrogib007.vvd
TF2-HD-Beta-Skins/models/tfbeta/gibs/scoutgib003.dx80.vtx
TF2-HD-Beta-Skins/models/tfbeta/gibs/engineergib007.dx80.vtx
TF2-HD-Beta-Skins/models/tfbeta/gibs/scoutgib007.phy
TF2-HD-Beta-Skins/models/tfbeta/gibs/soldiergib003.dx90.vtx
TF2-HD-Beta-Skins/models/tfbeta/gibs/engineergib001.phy
TF2-HD-Beta-Skins/models/tfbeta/gibs/medicgib001.mdl
TF2-HD-Beta-Skins/models/tfbeta/gibs/scoutgib009.dx90.vtx
TF2-HD-Beta-Skins/models/tfbeta/gibs/scoutgib009.phy
TF2-HD-Beta-Skins/models/tfbeta/gibs/demogib006.sw.vtx
TF2-HD-Beta-Skins/models/tfbeta/gibs/soldiergib008.dx80.vtx
TF2-HD-Beta-Skins/models/tfbeta/gibs/heavygib002.dx90.vtx
TF2-HD-Beta-Skins/models/tfbeta/gibs/spygib004.dx80.vtx
TF2-HD-Beta-Skins/models/tfbeta/gibs/soldiergib007.dx90.vtx
TF2-HD-Beta-Skins/models/tfbeta/gibs/pyrogib003.dx90.vtx
TF2-HD-Beta-Skins/models/tfbeta/gibs/pyrogib007.mdl
TF2-HD-Beta-Skins/models/tfbeta/gibs/scoutgib006.sw.vtx
TF2-HD-Beta-Skins/models/tfbeta/gibs/heavygib006.phy
TF2-HD-Beta-Skins/models/tfbeta/gibs/pyrogib006.dx80.vtx
TF2-HD-Beta-Skins/models/tfbeta/gibs/snipergib001.vvd
TF2-HD-Beta-Skins/models/tfbeta/gibs/medicgib001.sw.vtx
TF2-HD-Beta-Skins/models/tfbeta/gibs/spygib004.mdl
TF2-HD-Beta-Skins/models/tfbeta/gibs/engineergib005.phy
TF2-HD-Beta-Skins/models/tfbeta/gibs/demogib005.sw.vtx
TF2-HD-Beta-Skins/models/tfbeta/gibs/snipergib002.phy
TF2-HD-Beta-Skins/models/tfbeta/gibs/medicgib004.sw.vtx
TF2-HD-Beta-Skins/models/tfbeta/gibs/engineergib001.sw.vtx
TF2-HD-Beta-Skins/models/tfbeta/gibs/pyrogib005.dx90.vtx
TF2-HD-Beta-Skins/models/tfbeta/gibs/medicgib001.dx90.vtx
TF2-HD-Beta-Skins/models/tfbeta/gibs/medicgib002.mdl
TF2-HD-Beta-Skins/models/tfbeta/gibs/medicgib007.vvd
TF2-HD-Beta-Skins/models/tfbeta/gibs/soldiergib004.phy
TF2-HD-Beta-Skins/models/tfbeta/gibs/spygib003.phy
TF2-HD-Beta-Skins/models/tfbeta/gibs/soldiergib008.mdl
TF2-HD-Beta-Skins/models/tfbeta/gibs/engineergib002.dx90.vtx
TF2-HD-Beta-Skins/models/tfbeta/gibs/spygib005.mdl
TF2-HD-Beta-Skins/models/tfbeta/gibs/scoutgib001.dx90.vtx
TF2-HD-Beta-Skins/models/tfbeta/gibs/scoutgib009.vvd
TF2-HD-Beta-Skins/models/tfbeta/gibs/demogib005.dx80.vtx
TF2-HD-Beta-Skins/models/tfbeta/gibs/engineergib003.mdl
TF2-HD-Beta-Skins/models/tfbeta/gibs/pyrogib004.vvd
TF2-HD-Beta-Skins/models/tfbeta/gibs/soldiergib008.phy
TF2-HD-Beta-Skins/models/tfbeta/gibs/soldiergib007.sw.vtx
TF2-HD-Beta-Skins/models/tfbeta/gibs/medicgib007.dx80.vtx
TF2-HD-Beta-Skins/models/tfbeta/gibs/spygib002.sw.vtx
TF2-HD-Beta-Skins/models/tfbeta/gibs/soldiergib005.vvd
TF2-HD-Beta-Skins/models/tfbeta/gibs/pyrogib003.vvd
TF2-HD-Beta-Skins/models/tfbeta/gibs/engineergib007.phy
TF2-HD-Beta-Skins/models/tfbeta/gibs/engineergib006.vvd
TF2-HD-Beta-Skins/models/tfbeta/gibs/demogib001.vvd
TF2-HD-Beta-Skins/models/tfbeta/gibs/heavygib004.mdl
TF2-HD-Beta-Skins/models/tfbeta/gibs/engineergib005.sw.vtx
TF2-HD-Beta-Skins/models/tfbeta/gibs/heavygib007.mdl
TF2-HD-Beta-Skins/models/tfbeta/gibs/pyrogib002.vvd
TF2-HD-Beta-Skins/models/tfbeta/gibs/scoutgib004.mdl
TF2-HD-Beta-Skins/models/tfbeta/gibs/demogib003.dx80.vtx
TF2-HD-Beta-Skins/models/tfbeta/gibs/medicgib005.dx80.vtx
TF2-HD-Beta-Skins/models/tfbeta/gibs/soldiergib004.mdl
TF2-HD-Beta-Skins/models/tfbeta/gibs/pyrogib006.dx90.vtx
TF2-HD-Beta-Skins/models/tfbeta/gibs/spygib007.sw.vtx
TF2-HD-Beta-Skins/models/tfbeta/gibs/medicgib003.vvd
TF2-HD-Beta-Skins/models/tfbeta/gibs/soldiergib002.mdl
TF2-HD-Beta-Skins/models/tfbeta/gibs/soldiergib006.phy
TF2-HD-Beta-Skins/models/tfbeta/gibs/soldiergib007.mdl
TF2-HD-Beta-Skins/models/tfbeta/gibs/heavygib002.dx80.vtx
TF2-HD-Beta-Skins/models/tfbeta/gibs/scoutgib001.mdl
TF2-HD-Beta-Skins/models/tfbeta/gibs/engineergib007.sw.vtx
TF2-HD-Beta-Skins/models/tfbeta/gibs/scoutgib005.vvd
TF2-HD-Beta-Skins/models/tfbeta/gibs/pyrogib007.phy
TF2-HD-Beta-Skins/models/tfbeta/gibs/medicgib004.vvd
TF2-HD-Beta-Skins/models/tfbeta/gibs/pyrogib002.dx90.vtx
TF2-HD-Beta-Skins/models/tfbeta/gibs/engineergib005.dx90.vtx
TF2-HD-Beta-Skins/models/tfbeta/gibs/snipergib004.dx80.vtx
TF2-HD-Beta-Skins/models/tfbeta/gibs/spygib002.mdl
TF2-HD-Beta-Skins/models/tfbeta/gibs/medicgib002.dx80.vtx
TF2-HD-Beta-Skins/models/tfbeta/gibs/scoutgib004.phy
TF2-HD-Beta-Skins/models/tfbeta/gibs/snipergib007.mdl
TF2-HD-Beta-Skins/models/tfbeta/gibs/pyrogib004.phy
TF2-HD-Beta-Skins/models/tfbeta/gibs/medicgib006.dx90.vtx
TF2-HD-Beta-Skins/models/tfbeta/gibs/pyrogib007.sw.vtx
TF2-HD-Beta-Skins/models/tfbeta/gibs/engineergib007.dx90.vtx
TF2-HD-Beta-Skins/models/tfbeta/gibs/engineergib001.vvd
TF2-HD-Beta-Skins/models/tfbeta/gibs/medicgib008.vvd
TF2-HD-Beta-Skins/models/tfbeta/gibs/scoutgib002.dx90.vtx
TF2-HD-Beta-Skins/models/tfbeta/gibs/heavygib005.dx80.vtx
TF2-HD-Beta-Skins/models/tfbeta/gibs/heavygib005.dx90.vtx
TF2-HD-Beta-Skins/models/tfbeta/gibs/medicgib004.phy
TF2-HD-Beta-Skins/models/tfbeta/gibs/soldiergib004.sw.vtx
TF2-HD-Beta-Skins/models/tfbeta/gibs/medicgib005.vvd
TF2-HD-Beta-Skins/models/tfbeta/gibs/spygib006.dx80.vtx
TF2-HD-Beta-Skins/models/tfbeta/gibs/heavygib006.vvd
TF2-HD-Beta-Skins/models/tfbeta/gibs/soldiergib003.sw.vtx
TF2-HD-Beta-Skins/models/tfbeta/gibs/engineergib006.phy
TF2-HD-Beta-Skins/models/tfbeta/gibs/snipergib004.vvd
TF2-HD-Beta-Skins/models/tfbeta/gibs/scoutgib006.dx80.vtx
TF2-HD-Beta-Skins/models/tfbeta/gibs/pyrogib003.dx80.vtx
TF2-HD-Beta-Skins/models/tfbeta/gibs/demogib002.mdl
TF2-HD-Beta-Skins/models/tfbeta/gibs/engineergib006.sw.vtx
TF2-HD-Beta-Skins/models/tfbeta/gibs/demogib006.dx90.vtx
TF2-HD-Beta-Skins/models/tfbeta/gibs/medicgib008.mdl
TF2-HD-Beta-Skins/models/tfbeta/gibs/soldiergib002.sw.vtx
TF2-HD-Beta-Skins/models/tfbeta/gibs/pyrogib002.dx80.vtx
TF2-HD-Beta-Skins/models/tfbeta/gibs/spygib001.vvd
TF2-HD-Beta-Skins/models/tfbeta/gibs/soldiergib001.dx80.vtx
TF2-HD-Beta-Skins/models/tfbeta/gibs/demogib006.dx80.vtx
TF2-HD-Beta-Skins/models/tfbeta/gibs/spygib003.dx90.vtx
TF2-HD-Beta-Skins/models/tfbeta/gibs/spygib006.sw.vtx
TF2-HD-Beta-Skins/models/tfbeta/gibs/medicgib008.sw.vtx
TF2-HD-Beta-Skins/models/tfbeta/gibs/spygib001.phy
TF2-HD-Beta-Skins/models/tfbeta/gibs/scoutgib008.dx90.vtx
TF2-HD-Beta-Skins/models/tfbeta/gibs/spygib003.mdl
TF2-HD-Beta-Skins/models/tfbeta/gibs/spygib001.mdl
TF2-HD-Beta-Skins/models/tfbeta/gibs/soldiergib006.dx80.vtx
TF2-HD-Beta-Skins/models/tfbeta/gibs/pyrogib008.dx90.vtx
TF2-HD-Beta-Skins/models/tfbeta/gibs/pyrogib001.vvd
TF2-HD-Beta-Skins/models/tfbeta/gibs/engineergib006.dx90.vtx
TF2-HD-Beta-Skins/models/tfbeta/gibs/medicgib008.dx80.vtx
TF2-HD-Beta-Skins/models/tfbeta/gibs/demogib006.phy
TF2-HD-Beta-Skins/models/tfbeta/gibs/scoutgib001.sw.vtx
TF2-HD-Beta-Skins/models/tfbeta/gibs/snipergib006.vvd
TF2-HD-Beta-Skins/models/tfbeta/gibs/demogib003.mdl
TF2-HD-Beta-Skins/models/tfbeta/gibs/scoutgib008.vvd
TF2-HD-Beta-Skins/models/tfbeta/gibs/medicgib006.phy
TF2-HD-Beta-Skins/models/tfbeta/gibs/engineergib001.mdl
TF2-HD-Beta-Skins/models/tfbeta/gibs/engineergib002.mdl
TF2-HD-Beta-Skins/models/tfbeta/gibs/soldiergib002.dx90.vtx
TF2-HD-Beta-Skins/models/tfbeta/gibs/scoutgib008.dx80.vtx
TF2-HD-Beta-Skins/models/tfbeta/gibs/demogib004.mdl
TF2-HD-Beta-Skins/models/tfbeta/gibs/engineergib005.vvd
TF2-HD-Beta-Skins/models/tfbeta/gibs/pyrogib003.sw.vtx
TF2-HD-Beta-Skins/models/tfbeta/gibs/pyrogib006.phy
TF2-HD-Beta-Skins/models/tfbeta/gibs/snipergib006.mdl
TF2-HD-Beta-Skins/models/tfbeta/gibs/heavygib007.phy
TF2-HD-Beta-Skins/models/tfbeta/gibs/medicgib003.sw.vtx
TF2-HD-Beta-Skins/models/tfbeta/gibs/snipergib007.vvd
TF2-HD-Beta-Skins/models/tfbeta/gibs/medicgib002.vvd
TF2-HD-Beta-Skins/models/tfbeta/gibs/engineergib006.mdl
TF2-HD-Beta-Skins/models/tfbeta/gibs/scoutgib008.phy
TF2-HD-Beta-Skins/models/tfbeta/gibs/pyrogib005.sw.vtx
TF2-HD-Beta-Skins/models/tfbeta/gibs/soldiergib001.vvd
TF2-HD-Beta-Skins/models/tfbeta/gibs/heavygib003.vvd
TF2-HD-Beta-Skins/models/tfbeta/gibs/snipergib002.dx90.vtx
TF2-HD-Beta-Skins/models/tfbeta/gibs/soldiergib008.vvd
TF2-HD-Beta-Skins/models/tfbeta/gibs/pyrogib005.phy
TF2-HD-Beta-Skins/models/tfbeta/gibs/snipergib006.sw.vtx
TF2-HD-Beta-Skins/models/tfbeta/gibs/snipergib003.dx80.vtx
TF2-HD-Beta-Skins/models/tfbeta/gibs/pyrogib001.phy
TF2-HD-Beta-Skins/models/tfbeta/gibs/snipergib003.phy
TF2-HD-Beta-Skins/models/tfbeta/gibs/scoutgib001.phy
TF2-HD-Beta-Skins/models/tfbeta/gibs/scoutgib007.mdl
TF2-HD-Beta-Skins/models/tfbeta/gibs/soldiergib004.dx80.vtx
TF2-HD-Beta-Skins/models/tfbeta/gibs/soldiergib007.vvd
TF2-HD-Beta-Skins/models/tfbeta/gibs/snipergib002.vvd
TF2-HD-Beta-Skins/models/tfbeta/gibs/heavygib001.dx80.vtx
TF2-HD-Beta-Skins/models/tfbeta/gibs/demogib002.phy
TF2-HD-Beta-Skins/models/tfbeta/gibs/soldiergib003.phy
TF2-HD-Beta-Skins/models/tfbeta/gibs/heavygib002.vvd
TF2-HD-Beta-Skins/models/tfbeta/gibs/engineergib004.dx90.vtx
TF2-HD-Beta-Skins/models/tfbeta/gibs/demogib001.phy
TF2-HD-Beta-Skins/models/tfbeta/gibs/scoutgib009.mdl
TF2-HD-Beta-Skins/models/tfbeta/gibs/snipergib002.mdl
TF2-HD-Beta-Skins/models/tfbeta/gibs/heavygib006.sw.vtx
TF2-HD-Beta-Skins/models/tfbeta/gibs/medicgib003.phy
TF2-HD-Beta-Skins/models/tfbeta/gibs/demogib001.dx90.vtx
TF2-HD-Beta-Skins/models/tfbeta/gibs/heavygib007.vvd
TF2-HD-Beta-Skins/models/tfbeta/gibs/heavygib003.dx80.vtx
TF2-HD-Beta-Skins/models/tfbeta/gibs/pyrogib008.dx80.vtx
TF2-HD-Beta-Skins/models/tfbeta/gibs/soldiergib005.dx90.vtx
TF2-HD-Beta-Skins/models/tfbeta/gibs/pyrogib006.mdl
TF2-HD-Beta-Skins/models/tfbeta/gibs/pyrogib002.mdl
TF2-HD-Beta-Skins/models/tfbeta/gibs/spygib005.dx80.vtx
TF2-HD-Beta-Skins/models/tfbeta/gibs/soldiergib006.vvd
TF2-HD-Beta-Skins/models/tfbeta/gibs/heavygib004.vvd
TF2-HD-Beta-Skins/models/tfbeta/gibs/spygib002.dx90.vtx
TF2-HD-Beta-Skins/models/tfbeta/gibs/engineergib004.dx80.vtx
TF2-HD-Beta-Skins/models/tfbeta/gibs/spygib003.dx80.vtx
TF2-HD-Beta-Skins/models/tfbeta/gibs/soldiergib002.phy
TF2-HD-Beta-Skins/models/tfbeta/gibs/soldiergib005.sw.vtx
TF2-HD-Beta-Skins/models/tfbeta/gibs/heavygib001.sw.vtx
TF2-HD-Beta-Skins/models/tfbeta/gibs/scoutgib003.dx90.vtx
TF2-HD-Beta-Skins/models/tfbeta/gibs/demogib001.sw.vtx
TF2-HD-Beta-Skins/models/tfbeta/gibs/heavygib007.sw.vtx
TF2-HD-Beta-Skins/models/tfbeta/gibs/scoutgib004.sw.vtx
TF2-HD-Beta-Skins/models/tfbeta/gibs/scoutgib005.phy
TF2-HD-Beta-Skins/models/tfbeta/gibs/scoutgib006.phy
TF2-HD-Beta-Skins/models/tfbeta/gibs/heavygib001.phy
TF2-HD-Beta-Skins/models/tfbeta/gibs/soldiergib006.dx90.vtx
TF2-HD-Beta-Skins/models/tfbeta/gibs/demogib003.vvd
TF2-HD-Beta-Skins/models/tfbeta/gibs/medicgib004.dx80.vtx
TF2-HD-Beta-Skins/models/tfbeta/gibs/medicgib004.mdl
TF2-HD-Beta-Skins/models/tfbeta/gibs/scoutgib007.vvd
TF2-HD-Beta-Skins/models/tfbeta/gibs/pyrogib005.dx80.vtx
TF2-HD-Beta-Skins/models/tfbeta/gibs/scoutgib009.dx80.vtx
TF2-HD-Beta-Skins/models/tfbeta/gibs/engineergib002.sw.vtx
TF2-HD-Beta-Skins/models/tfbeta/gibs/spygib001.dx90.vtx
TF2-HD-Beta-Skins/models/tfbeta/gibs/spygib004.dx90.vtx
TF2-HD-Beta-Skins/models/tfbeta/gibs/snipergib004.dx90.vtx
TF2-HD-Beta-Skins/models/tfbeta/gibs/scoutgib004.dx90.vtx
TF2-HD-Beta-Skins/models/tfbeta/gibs/soldiergib005.dx80.vtx
TF2-HD-Beta-Skins/models/tfbeta/gibs/demogib005.dx90.vtx
TF2-HD-Beta-Skins/models/tfbeta/gibs/medicgib006.sw.vtx
TF2-HD-Beta-Skins/models/tfbeta/gibs/scoutgib007.dx80.vtx
TF2-HD-Beta-Skins/models/tfbeta/gibs/soldiergib007.dx80.vtx
TF2-HD-Beta-Skins/models/tfbeta/gibs/medicgib001.dx80.vtx
TF2-HD-Beta-Skins/models/tfbeta/gibs/medicgib003.dx80.vtx
TF2-HD-Beta-Skins/models/tfbeta/gibs/heavygib006.dx80.vtx
TF2-HD-Beta-Skins/models/tfbeta/gibs/scoutgib005.mdl
TF2-HD-Beta-Skins/models/tfbeta/gibs/demogib003.sw.vtx
TF2-HD-Beta-Skins/models/tfbeta/gibs/medicgib006.mdl
TF2-HD-Beta-Skins/models/tfbeta/gibs/scoutgib005.dx90.vtx
TF2-HD-Beta-Skins/models/tfbeta/gibs/scoutgib007.dx90.vtx
TF2-HD-Beta-Skins/models/tfbeta/gibs/heavygib003.mdl
TF2-HD-Beta-Skins/models/tfbeta/gibs/scoutgib006.vvd
TF2-HD-Beta-Skins/models/tfbeta/gibs/medicgib005.mdl
TF2-HD-Beta-Skins/models/tfbeta/gibs/medicgib003.mdl
TF2-HD-Beta-Skins/models/tfbeta/gibs/snipergib006.dx90.vtx
TF2-HD-Beta-Skins/models/tfbeta/gibs/soldiergib007.phy
TF2-HD-Beta-Skins/models/tfbeta/gibs/pyrogib003.phy
TF2-HD-Beta-Skins/models/tfbeta/gibs/spygib006.dx90.vtx
TF2-HD-Beta-Skins/models/tfbeta/gibs/engineergib004.phy
TF2-HD-Beta-Skins/models/tfbeta/gibs/spygib007.mdl
TF2-HD-Beta-Skins/models/tfbeta/gibs/spygib002.vvd
TF2-HD-Beta-Skins/models/tfbeta/gibs/spygib005.phy
TF2-HD-Beta-Skins/models/tfbeta/gibs/engineergib003.dx90.vtx
TF2-HD-Beta-Skins/models/tfbeta/gibs/soldiergib001.dx90.vtx
TF2-HD-Beta-Skins/models/tfbeta/gibs/medicgib005.dx90.vtx
TF2-HD-Beta-Skins/models/tfbeta/gibs/engineergib004.vvd
TF2-HD-Beta-Skins/models/tfbeta/gibs/engineergib002.dx80.vtx
TF2-HD-Beta-Skins/models/tfbeta/gibs/soldiergib002.dx80.vtx
TF2-HD-Beta-Skins/models/tfbeta/gibs/medicgib005.phy
TF2-HD-Beta-Skins/models/tfbeta/gibs/demogib006.mdl
TF2-HD-Beta-Skins/models/tfbeta/gibs/medicgib006.vvd
TF2-HD-Beta-Skins/models/tfbeta/gibs/snipergib007.dx80.vtx
TF2-HD-Beta-Skins/models/tfbeta/gibs/engineergib003.sw.vtx
TF2-HD-Beta-Skins/models/tfbeta/gibs/scoutgib004.dx80.vtx
TF2-HD-Beta-Skins/models/tfbeta/gibs/engineergib001.dx80.vtx
TF2-HD-Beta-Skins/models/tfbeta/gibs/soldiergib005.mdl
TF2-HD-Beta-Skins/models/tfbeta/gibs/demogib002.dx80.vtx
TF2-HD-Beta-Skins/models/tfbeta/gibs/spygib007.dx80.vtx
TF2-HD-Beta-Skins/models/tfbeta/gibs/medicgib008.dx90.vtx
TF2-HD-Beta-Skins/models/tfbeta/gibs/medicgib002.phy
TF2-HD-Beta-Skins/models/tfbeta/gibs/heavygib001.dx90.vtx
TF2-HD-Beta-Skins/models/tfbeta/gibs/soldiergib003.dx80.vtx
TF2-HD-Beta-Skins/models/tfbeta/gibs/medicgib008.phy
TF2-HD-Beta-Skins/models/tfbeta/gibs/engineergib003.phy
TF2-HD-Beta-Skins/models/tfbeta/gibs/spygib005.vvd
TF2-HD-Beta-Skins/models/tfbeta/gibs/snipergib006.phy
TF2-HD-Beta-Skins/models/tfbeta/gibs/engineergib004.sw.vtx
TF2-HD-Beta-Skins/models/tfbeta/gibs/pyrogib008.sw.vtx
TF2-HD-Beta-Skins/models/tfbeta/gibs/soldiergib001.mdl
TF2-HD-Beta-Skins/models/tfbeta/gibs/heavygib001.vvd
TF2-HD-Beta-Skins/models/tfbeta/gibs/soldiergib004.dx90.vtx
TF2-HD-Beta-Skins/models/tfbeta/gibs/heavygib003.dx90.vtx
TF2-HD-Beta-Skins/models/tfbeta/gibs/pyrogib001.dx90.vtx
TF2-HD-Beta-Skins/models/tfbeta/gibs/snipergib001.phy
TF2-HD-Beta-Skins/models/tfbeta/gibs/medicgib007.sw.vtx
TF2-HD-Beta-Skins/models/tfbeta/gibs/medicgib001.vvd
TF2-HD-Beta-Skins/models/tfbeta/gibs/scoutgib003.phy
TF2-HD-Beta-Skins/models/tfbeta/gibs/spygib004.phy
TF2-HD-Beta-Skins/models/tfbeta/gibs/engineergib007.mdl
TF2-HD-Beta-Skins/models/tfbeta/gibs/engineergib006.dx80.vtx
TF2-HD-Beta-Skins/models/tfbeta/gibs/pyrogib004.sw.vtx
TF2-HD-Beta-Skins/models/tfbeta/gibs/snipergib005.sw.vtx
TF2-HD-Beta-Skins/models/tfbeta/gibs/heavygib007.dx80.vtx
TF2-HD-Beta-Skins/models/tfbeta/gibs/heavygib006.dx90.vtx
TF2-HD-Beta-Skins/models/tfbeta/gibs/soldiergib004.vvd
TF2-HD-Beta-Skins/models/tfbeta/gibs/demogib001.dx80.vtx
TF2-HD-Beta-Skins/models/tfbeta/gibs/soldiergib003.mdl
TF2-HD-Beta-Skins/models/tfbeta/gibs/scoutgib002.vvd
TF2-HD-Beta-Skins/models/tfbeta/gibs/spygib001.sw.vtx
TF2-HD-Beta-Skins/models/tfbeta/gibs/pyrogib005.mdl
TF2-HD-Beta-Skins/models/tfbeta/gibs/snipergib001.mdl
TF2-HD-Beta-Skins/models/tfbeta/gibs/demogib005.vvd
TF2-HD-Beta-Skins/models/tfbeta/gibs/pyrogib001.dx80.vtx
TF2-HD-Beta-Skins/models/tfbeta/gibs/demogib002.dx90.vtx
TF2-HD-Beta-Skins/models/tfbeta/gibs/snipergib005.phy
TF2-HD-Beta-Skins/models/tfbeta/gibs/scoutgib008.sw.vtx
TF2-HD-Beta-Skins/models/tfbeta/gibs/pyrogib007.dx80.vtx
TF2-HD-Beta-Skins/models/tfbeta/gibs/spygib003.vvd
TF2-HD-Beta-Skins/models/tfbeta/gibs/heavygib003.phy
TF2-HD-Beta-Skins/models/tfbeta/gibs/scoutgib005.dx80.vtx
TF2-HD-Beta-Skins/models/tfbeta/gibs/spygib007.dx90.vtx
TF2-HD-Beta-Skins/models/tfbeta/gibs/pyrogib004.dx90.vtx
TF2-HD-Beta-Skins/models/tfbeta/gibs/medicgib007.dx90.vtx
TF2-HD-Beta-Skins/models/tfbeta/gibs/pyrogib003.mdl
TF2-HD-Beta-Skins/models/tfbeta/gibs/pyrogib001.mdl
TF2-HD-Beta-Skins/models/tfbeta/gibs/medicgib007.phy
TF2-HD-Beta-Skins/models/tfbeta/gibs/scoutgib001.vvd
TF2-HD-Beta-Skins/models/tfbeta/gibs/spygib004.vvd
TF2-HD-Beta-Skins/models/tfbeta/gibs/engineergib003.dx80.vtx
TF2-HD-Beta-Skins/models/tfbeta/gibs/snipergib002.dx80.vtx
TF2-HD-Beta-Skins/models/tfbeta/gibs/demogib004.phy
TF2-HD-Beta-Skins/models/tfbeta/gibs/spygib004.sw.vtx
TF2-HD-Beta-Skins/models/tfbeta/gibs/heavygib002.sw.vtx
TF2-HD-Beta-Skins/models/tfbeta/gibs/spygib002.dx80.vtx
TF2-HD-Beta-Skins/models/tfbeta/gibs/pyrogib006.sw.vtx
TF2-HD-Beta-Skins/models/tfbeta/gibs/soldiergib002.vvd
TF2-HD-Beta-Skins/models/tfbeta/gibs/pyrogib001.sw.vtx
TF2-HD-Beta-Skins/models/tfbeta/gibs/spygib003.sw.vtx
TF2-HD-Beta-Skins/models/tfbeta/gibs/pyrogib008.phy
TF2-HD-Beta-Skins/models/tfbeta/gibs/medicgib006.dx80.vtx
TF2-HD-Beta-Skins/models/tfbeta/gibs/demogib005.mdl
TF2-HD-Beta-Skins/models/tfbeta/gibs/snipergib004.mdl
TF2-HD-Beta-Skins/models/tfbeta/gibs/snipergib007.sw.vtx
TF2-HD-Beta-Skins/models/tfbeta/gibs/snipergib005.mdl
TF2-HD-Beta-Skins/models/tfbeta/gibs/scoutgib009.sw.vtx
TF2-HD-Beta-Skins/models/tfbeta/gibs/demogib006.vvd
TF2-HD-Beta-Skins/models/tfbeta/gibs/medicgib005.sw.vtx
TF2-HD-Beta-Skins/models/tfbeta/gibs/soldiergib006.mdl
TF2-HD-Beta-Skins/models/tfbeta/gibs/pyrogib004.dx80.vtx
TF2-HD-Beta-Skins/models/tfbeta/gibs/demogib004.dx90.vtx
TF2-HD-Beta-Skins/models/tfbeta/gibs/snipergib002.sw.vtx
TF2-HD-Beta-Skins/models/tfbeta/gibs/medicgib007.mdl
TF2-HD-Beta-Skins/models/tfbeta/gibs/snipergib004.sw.vtx
TF2-HD-Beta-Skins/models/tfbeta/gibs/demogib002.sw.vtx
TF2-HD-Beta-Skins/models/tfbeta/gibs/snipergib004.phy
TF2-HD-Beta-Skins/models/tfbeta/gibs/pyrogib002.phy
TF2-HD-Beta-Skins/models/tfbeta/gibs/medicgib002.sw.vtx
TF2-HD-Beta-Skins/models/tfbeta/gibs/heavygib004.dx90.vtx
TF2-HD-Beta-Skins/models/tfbeta/gibs/engineergib005.mdl
TF2-HD-Beta-Skins/models/tfbeta/gibs/scoutgib002.dx80.vtx
TF2-HD-Beta-Skins/models/beteng/engineer.dx90.vtx
TF2-HD-Beta-Skins/models/beteng/engineer.mdl
TF2-HD-Beta-Skins/models/beteng/engineer.sw.vtx
TF2-HD-Beta-Skins/models/beteng/engineer.phy
TF2-HD-Beta-Skins/models/beteng/engineer.vvd
TF2-HD-Beta-Skins/models/beteng/engineer.dx80.vtx
TF2-HD-Beta-Skins/models/beteng/hwm/engineer.dx90.vtx
TF2-HD-Beta-Skins/models/beteng/hwm/engineer.mdl
TF2-HD-Beta-Skins/models/beteng/hwm/engineer.sw.vtx
TF2-HD-Beta-Skins/models/beteng/hwm/engineer.phy
TF2-HD-Beta-Skins/models/beteng/hwm/engineer.vvd
TF2-HD-Beta-Skins/models/beteng/hwm/engineer.dx80.vtx
TF2-HD-Beta-Skins/materials/models/tfbeta/engineer/engineer_exponent.vtf
TF2-HD-Beta-Skins/materials/models/tfbeta/engineer/engineer_head_red_invun.vmt
TF2-HD-Beta-Skins/materials/models/tfbeta/engineer/engineer_blue_gib.vtf
TF2-HD-Beta-Skins/materials/models/tfbeta/engineer/engineer_head_blue.vmt
TF2-HD-Beta-Skins/materials/models/tfbeta/engineer/engineer_red.vtf
TF2-HD-Beta-Skins/materials/models/tfbeta/engineer/engineer_eyes_selfillum.vtf
TF2-HD-Beta-Skins/materials/models/tfbeta/engineer/engineer_red_gib.vtf
TF2-HD-Beta-Skins/materials/models/tfbeta/engineer/engineer_head_blue_invun.vmt
TF2-HD-Beta-Skins/materials/models/tfbeta/engineer/engineer_blue.vtf
TF2-HD-Beta-Skins/materials/models/tfbeta/engineer/engineer_mech_hand.vmt
TF2-HD-Beta-Skins/materials/models/tfbeta/engineer/engineer_eyes_red.vtf
TF2-HD-Beta-Skins/materials/models/tfbeta/engineer/engineer_red.vmt
TF2-HD-Beta-Skins/materials/models/tfbeta/engineer/engineer_blue_gib.vmt
TF2-HD-Beta-Skins/materials/models/tfbeta/engineer/engineer_hands_lightwarp.vtf
TF2-HD-Beta-Skins/materials/models/tfbeta/engineer/engineer_head_red.vmt
TF2-HD-Beta-Skins/materials/models/tfbeta/engineer/engineer_mech_hand_blue.vmt
TF2-HD-Beta-Skins/materials/models/tfbeta/engineer/engineer_normal.vtf
TF2-HD-Beta-Skins/materials/models/tfbeta/engineer/engineer_blue_invun.vmt
TF2-HD-Beta-Skins/materials/models/tfbeta/engineer/engineer_red_gib.vmt
TF2-HD-Beta-Skins/materials/models/tfbeta/engineer/engineer_eyes_blue.vtf
TF2-HD-Beta-Skins/materials/models/tfbeta/engineer/engineer_red_invun.vmt
TF2-HD-Beta-Skins/materials/models/tfbeta/engineer/engineer_blue.vmt
TF2-HD-Beta-Skins/materials/models/tfbeta/engineer/engineer_head.vtf
TF2-HD-Beta-Skins/materials/models/tfbeta/engineer/hwm/engineer_head_blue.vmt
TF2-HD-Beta-Skins/materials/models/tfbeta/engineer/hwm/engineer_head_exponent.vtf
TF2-HD-Beta-Skins/materials/models/tfbeta/engineer/hwm/engineer_head_stretch.vtf
TF2-HD-Beta-Skins/materials/models/tfbeta/engineer/hwm/engineer_head_red.vmt
TF2-HD-Beta-Skins/materials/models/tfbeta/engineer/hwm/engineer_head_compress.vtf
TF2-HD-Beta-Skins/materials/models/tfbeta/engineer/hwm/engineer_head.vtf
TF2-HD-Beta-Skins/materials/models/tfbeta/soldier/soldier_red.vmt
TF2-HD-Beta-Skins/materials/models/tfbeta/soldier/soldier_blue.vtf
TF2-HD-Beta-Skins/materials/models/tfbeta/soldier/soldier_exponent.vtf
TF2-HD-Beta-Skins/materials/models/tfbeta/soldier/soldier_red_gib.vmt
TF2-HD-Beta-Skins/materials/models/tfbeta/soldier/soldier_blue_gib.vtf
TF2-HD-Beta-Skins/materials/models/tfbeta/soldier/soldier_normal_blue.vtf
TF2-HD-Beta-Skins/materials/models/tfbeta/soldier/soldier_red_invun.vmt
TF2-HD-Beta-Skins/materials/models/tfbeta/soldier/soldier_blue_gib.vmt
TF2-HD-Beta-Skins/materials/models/tfbeta/soldier/soldier_head_red.vmt
TF2-HD-Beta-Skins/materials/models/tfbeta/soldier/soldier_normal.vtf
TF2-HD-Beta-Skins/materials/models/tfbeta/soldier/eyeball_invun.vmt
TF2-HD-Beta-Skins/materials/models/tfbeta/soldier/soldier_red.vtf
TF2-HD-Beta-Skins/materials/models/tfbeta/soldier/soldier_blue.vmt
TF2-HD-Beta-Skins/materials/models/tfbeta/soldier/soldier_head_blue.vmt
TF2-HD-Beta-Skins/materials/models/tfbeta/soldier/eyeball_l.vmt
TF2-HD-Beta-Skins/materials/models/tfbeta/soldier/soldier_red_gib.vtf
TF2-HD-Beta-Skins/materials/models/tfbeta/soldier/soldier_blue_invun.vmt
TF2-HD-Beta-Skins/materials/models/tfbeta/soldier/soldier_head_blue_invun.vmt
TF2-HD-Beta-Skins/materials/models/tfbeta/soldier/eyeball_r.vmt
TF2-HD-Beta-Skins/materials/models/tfbeta/soldier/soldier_head_red_invun.vmt
TF2-HD-Beta-Skins/materials/models/tfbeta/soldier/soldier_head.vtf
TF2-HD-Beta-Skins/materials/models/tfbeta/soldier/hwm/soldier_head_stretch.vtf
TF2-HD-Beta-Skins/materials/models/tfbeta/soldier/hwm/soldier_head_red.vmt
TF2-HD-Beta-Skins/materials/models/tfbeta/soldier/hwm/soldier_head_exponent.vtf
TF2-HD-Beta-Skins/materials/models/tfbeta/soldier/hwm/soldier_head_blue.vmt
TF2-HD-Beta-Skins/materials/models/tfbeta/soldier/hwm/soldier_head.vtf
TF2-HD-Beta-Skins/materials/models/tfbeta/soldier/hwm/soldier_head_compress.vtf
TF2-HD-Beta-Skins/materials/models/tfbeta/scout/scout_head_red.vmt
TF2-HD-Beta-Skins/materials/models/tfbeta/scout/scout_blue.vtf
TF2-HD-Beta-Skins/materials/models/tfbeta/scout/scout_head_red_invun.vmt
TF2-HD-Beta-Skins/materials/models/tfbeta/scout/scout_red_invun.vmt
TF2-HD-Beta-Skins/materials/models/tfbeta/scout/scout_shoes_zombie.vtf
TF2-HD-Beta-Skins/materials/models/tfbeta/scout/scout_blue_invun.vmt
TF2-HD-Beta-Skins/materials/models/tfbeta/scout/scout_blue_gib.vtf
TF2-HD-Beta-Skins/materials/models/tfbeta/scout/scout_shoes.vtf
TF2-HD-Beta-Skins/materials/models/tfbeta/scout/scout_head_blue.vmt
TF2-HD-Beta-Skins/materials/models/tfbeta/scout/scout_red_gib.vtf
TF2-HD-Beta-Skins/materials/models/tfbeta/scout/scout_red.vmt
TF2-HD-Beta-Skins/materials/models/tfbeta/scout/eyeball_invun.vmt
TF2-HD-Beta-Skins/materials/models/tfbeta/scout/scout_blue.vmt
TF2-HD-Beta-Skins/materials/models/tfbeta/scout/eyeball_l.vmt
TF2-HD-Beta-Skins/materials/models/tfbeta/scout/scout_head.vtf
TF2-HD-Beta-Skins/materials/models/tfbeta/scout/scout_normal.vtf
TF2-HD-Beta-Skins/materials/models/tfbeta/scout/scout_exponent.vtf
TF2-HD-Beta-Skins/materials/models/tfbeta/scout/scout_red.vtf
TF2-HD-Beta-Skins/materials/models/tfbeta/scout/scout_head_blue_invun.vmt
TF2-HD-Beta-Skins/materials/models/tfbeta/scout/scout_blue_gib.vmt
TF2-HD-Beta-Skins/materials/models/tfbeta/scout/eyeball_r.vmt
TF2-HD-Beta-Skins/materials/models/tfbeta/scout/scout_red_gib.vmt
TF2-HD-Beta-Skins/materials/models/tfbeta/scout/hwm/scout_head_red.vmt
TF2-HD-Beta-Skins/materials/models/tfbeta/scout/hwm/scout_head_exponent.vtf
TF2-HD-Beta-Skins/materials/models/tfbeta/scout/hwm/scout_head_stretch.vtf
TF2-HD-Beta-Skins/materials/models/tfbeta/scout/hwm/scout_head_blue.vmt
TF2-HD-Beta-Skins/materials/models/tfbeta/scout/hwm/scout_head_compress.vtf
TF2-HD-Beta-Skins/materials/models/tfbeta/scout/hwm/scout_head.vtf
TF2-HD-Beta-Skins/materials/models/tfbeta/hvyweapon/hvyweapon_blue_gib.vmt
TF2-HD-Beta-Skins/materials/models/tfbeta/hvyweapon/heavy_head_red.vmt
TF2-HD-Beta-Skins/materials/models/tfbeta/hvyweapon/hvyweapon_blue_gib.vtf
TF2-HD-Beta-Skins/materials/models/tfbeta/hvyweapon/hvyweapon_blue.vmt
TF2-HD-Beta-Skins/materials/models/tfbeta/hvyweapon/hvyweapon_normal.vtf
TF2-HD-Beta-Skins/materials/models/tfbeta/hvyweapon/hvyweapon_red_gib.vtf
TF2-HD-Beta-Skins/materials/models/tfbeta/hvyweapon/hvyweapon_red.vmt
TF2-HD-Beta-Skins/materials/models/tfbeta/hvyweapon/heavy_head_blue.vmt
TF2-HD-Beta-Skins/materials/models/tfbeta/hvyweapon/heavy_head_red_invun.vmt
TF2-HD-Beta-Skins/materials/models/tfbeta/hvyweapon/heavy_head_blue_invun.vmt
TF2-HD-Beta-Skins/materials/models/tfbeta/hvyweapon/hvyweapon_red_gib.vmt
TF2-HD-Beta-Skins/materials/models/tfbeta/hvyweapon/heavy_head.vtf
TF2-HD-Beta-Skins/materials/models/tfbeta/hvyweapon/eyeball_invun.vmt
TF2-HD-Beta-Skins/materials/models/tfbeta/hvyweapon/hvyweapon_blue_invun.vmt
TF2-HD-Beta-Skins/materials/models/tfbeta/hvyweapon/eyeball_l.vmt
TF2-HD-Beta-Skins/materials/models/tfbeta/hvyweapon/hvyweapon_exponent.vtf
TF2-HD-Beta-Skins/materials/models/tfbeta/hvyweapon/hvyweapon_red_invun.vmt
TF2-HD-Beta-Skins/materials/models/tfbeta/hvyweapon/hvyweapon_red.vtf
TF2-HD-Beta-Skins/materials/models/tfbeta/hvyweapon/hvyweapon_blue.vtf
TF2-HD-Beta-Skins/materials/models/tfbeta/hvyweapon/eyeball_r.vmt
TF2-HD-Beta-Skins/materials/models/tfbeta/hvyweapon/hwm/heavy_head_red.vmt
TF2-HD-Beta-Skins/materials/models/tfbeta/hvyweapon/hwm/heavy_head_blue.vmt
TF2-HD-Beta-Skins/materials/models/tfbeta/hvyweapon/hwm/heavy_head.vtf
TF2-HD-Beta-Skins/materials/models/tfbeta/hvyweapon/hwm/heavy_head_stretch.vtf
TF2-HD-Beta-Skins/materials/models/tfbeta/hvyweapon/hwm/heavy_head_exponent.vtf
TF2-HD-Beta-Skins/materials/models/tfbeta/hvyweapon/hwm/heavy_head_compress.vtf
TF2-HD-Beta-Skins/materials/models/tfbeta/demo/demoman_red.vtf
TF2-HD-Beta-Skins/materials/models/tfbeta/demo/demoman_red_invun.vmt
TF2-HD-Beta-Skins/materials/models/tfbeta/demo/demoman_head_red.vmt
TF2-HD-Beta-Skins/materials/models/tfbeta/demo/demoman_head_blue_invun.vmt
TF2-HD-Beta-Skins/materials/models/tfbeta/demo/demoman_red_gib.vtf
TF2-HD-Beta-Skins/materials/models/tfbeta/demo/demoman_blue_invun.vmt
TF2-HD-Beta-Skins/materials/models/tfbeta/demo/demoman_head_blue.vtf
TF2-HD-Beta-Skins/materials/models/tfbeta/demo/demoman_head_blue.vmt
TF2-HD-Beta-Skins/materials/models/tfbeta/demo/demoman_head_red_invun.vmt
TF2-HD-Beta-Skins/materials/models/tfbeta/demo/demoman_red_gib.vmt
TF2-HD-Beta-Skins/materials/models/tfbeta/demo/demoman_red.vmt
TF2-HD-Beta-Skins/materials/models/tfbeta/demo/eyeball_invun.vmt
TF2-HD-Beta-Skins/materials/models/tfbeta/demo/demoman_head.vtf
TF2-HD-Beta-Skins/materials/models/tfbeta/demo/demoman_blue.vtf
TF2-HD-Beta-Skins/materials/models/tfbeta/demo/demoman_normal.vtf
TF2-HD-Beta-Skins/materials/models/tfbeta/demo/eyeball_r.vmt
TF2-HD-Beta-Skins/materials/models/tfbeta/demo/demoman_blue_gib.vtf
TF2-HD-Beta-Skins/materials/models/tfbeta/demo/demoman_blue_gib.vmt
TF2-HD-Beta-Skins/materials/models/tfbeta/demo/demoman_blue.vmt
TF2-HD-Beta-Skins/materials/models/tfbeta/demo/hwm/demoman_head_compress.vtf
TF2-HD-Beta-Skins/materials/models/tfbeta/demo/hwm/demoman_head_red.vmt
TF2-HD-Beta-Skins/materials/models/tfbeta/demo/hwm/demoman_head_exponent.vtf
TF2-HD-Beta-Skins/materials/models/tfbeta/demo/hwm/demoman_head_blue_stretch.vtf
TF2-HD-Beta-Skins/materials/models/tfbeta/demo/hwm/demoman_head_blue.vtf
TF2-HD-Beta-Skins/materials/models/tfbeta/demo/hwm/demoman_head_blue.vmt
TF2-HD-Beta-Skins/materials/models/tfbeta/demo/hwm/demoman_head_stretch.vtf
TF2-HD-Beta-Skins/materials/models/tfbeta/demo/hwm/demoman_head.vtf
TF2-HD-Beta-Skins/materials/models/tfbeta/demo/hwm/demoman_head_blue_compress.vtf
TF2-HD-Beta-Skins/materials/models/tfbeta/pyro/pyro_eyes_selfillum.vtf
TF2-HD-Beta-Skins/materials/models/tfbeta/pyro/pyro_blue_gib.vmt
TF2-HD-Beta-Skins/materials/models/tfbeta/pyro/pyro_red_invun.vmt
TF2-HD-Beta-Skins/materials/models/tfbeta/pyro/pyro_blue_gib.vtf
TF2-HD-Beta-Skins/materials/models/tfbeta/pyro/pyro_blue_invun.vmt
TF2-HD-Beta-Skins/materials/models/tfbeta/pyro/pyro_eyes_red.vtf
TF2-HD-Beta-Skins/materials/models/tfbeta/pyro/pyro_normal.vtf
TF2-HD-Beta-Skins/materials/models/tfbeta/pyro/pyro_red_gib.vmt
TF2-HD-Beta-Skins/materials/models/tfbeta/pyro/pyro_exponent.vtf
TF2-HD-Beta-Skins/materials/models/tfbeta/pyro/pyro_eyes_blue.vtf
TF2-HD-Beta-Skins/materials/models/tfbeta/pyro/pyro_blue.vtf
TF2-HD-Beta-Skins/materials/models/tfbeta/pyro/pyro_blue.vmt
TF2-HD-Beta-Skins/materials/models/tfbeta/pyro/pyro_red_gib.vtf
TF2-HD-Beta-Skins/materials/models/tfbeta/pyro/pyro_red.vmt
TF2-HD-Beta-Skins/materials/models/tfbeta/pyro/pyro_lightwarp.vtf
TF2-HD-Beta-Skins/materials/models/tfbeta/pyro/pyro_red.vtf
TF2-HD-Beta-Skins/materials/models/tfbeta/sniper/sniper_lens.vmt
TF2-HD-Beta-Skins/materials/models/tfbeta/sniper/sniper_red_gib.vmt
TF2-HD-Beta-Skins/materials/models/tfbeta/sniper/sniper_blue_gib.vmt
TF2-HD-Beta-Skins/materials/models/tfbeta/sniper/sniper_head_blue_invun.vmt
TF2-HD-Beta-Skins/materials/models/tfbeta/sniper/sniper_blue.vmt
TF2-HD-Beta-Skins/materials/models/tfbeta/sniper/sniper_lens_invuln.vmt
TF2-HD-Beta-Skins/materials/models/tfbeta/sniper/sniper_lens_specular.vtf
TF2-HD-Beta-Skins/materials/models/tfbeta/sniper/sniper_lens_invuln.vtf
TF2-HD-Beta-Skins/materials/models/tfbeta/sniper/sniper_normal.vtf
TF2-HD-Beta-Skins/materials/models/tfbeta/sniper/sniper_head_red.vmt
TF2-HD-Beta-Skins/materials/models/tfbeta/sniper/sniper_red_invun.vmt
TF2-HD-Beta-Skins/materials/models/tfbeta/sniper/eyeball_invun.vmt
TF2-HD-Beta-Skins/materials/models/tfbeta/sniper/sniper_blue_invun.vmt
TF2-HD-Beta-Skins/materials/models/tfbeta/sniper/sniper_red_gib.vtf
TF2-HD-Beta-Skins/materials/models/tfbeta/sniper/sniper_red.vmt
TF2-HD-Beta-Skins/materials/models/tfbeta/sniper/sniper_blue_gib.vtf
TF2-HD-Beta-Skins/materials/models/tfbeta/sniper/eyeball_l.vmt
TF2-HD-Beta-Skins/materials/models/tfbeta/sniper/sniper_lens_cloak.vmt
TF2-HD-Beta-Skins/materials/models/tfbeta/sniper/sniper_head_red_invun.vmt
TF2-HD-Beta-Skins/materials/models/tfbeta/sniper/eyeball_r.vmt
TF2-HD-Beta-Skins/materials/models/tfbeta/sniper/sniper_head_blue.vmt
TF2-HD-Beta-Skins/materials/models/tfbeta/sniper/sniper_lens.vtf
TF2-HD-Beta-Skins/materials/models/tfbeta/sniper/sniper_blue.vtf
TF2-HD-Beta-Skins/materials/models/tfbeta/sniper/sniper_red.vtf
TF2-HD-Beta-Skins/materials/models/tfbeta/sniper/hwm/sniper_head.vtf
TF2-HD-Beta-Skins/materials/models/tfbeta/sniper/hwm/sniper_head_compress.vtf
TF2-HD-Beta-Skins/materials/models/tfbeta/sniper/hwm/sniper_head_exponent.vtf
TF2-HD-Beta-Skins/materials/models/tfbeta/sniper/hwm/sniper_head_stretch.vtf
TF2-HD-Beta-Skins/materials/models/tfbeta/sniper/hwm/sniper_head_red.vmt
TF2-HD-Beta-Skins/materials/models/tfbeta/sniper/hwm/sniper_head_blue.vmt
TF2-HD-Beta-Skins/materials/models/tfbeta/spy/spy_blue.vmt
TF2-HD-Beta-Skins/materials/models/tfbeta/spy/spy_red_gib.vtf
TF2-HD-Beta-Skins/materials/models/tfbeta/spy/mask_medic.vtf
TF2-HD-Beta-Skins/materials/models/tfbeta/spy/spy_head_red.vmt
TF2-HD-Beta-Skins/materials/models/tfbeta/spy/spy_blue_gib.vmt
TF2-HD-Beta-Skins/materials/models/tfbeta/spy/mask_demo.vtf
TF2-HD-Beta-Skins/materials/models/tfbeta/spy/spy_red_invun.vmt
TF2-HD-Beta-Skins/materials/models/tfbeta/spy/spy_red.vtf
TF2-HD-Beta-Skins/materials/models/tfbeta/spy/mask_pyro.vtf
TF2-HD-Beta-Skins/materials/models/tfbeta/spy/mask_heavy.vtf
TF2-HD-Beta-Skins/materials/models/tfbeta/spy/mask_soldier.vtf
TF2-HD-Beta-Skins/materials/models/tfbeta/spy/spy_blue_invun.vmt
TF2-HD-Beta-Skins/materials/models/tfbeta/spy/spy_blue.vtf
TF2-HD-Beta-Skins/materials/models/tfbeta/spy/mask_sniper.vmt
TF2-HD-Beta-Skins/materials/models/tfbeta/spy/spy_normal.vtf
TF2-HD-Beta-Skins/materials/models/tfbeta/spy/mask_spy.vmt
TF2-HD-Beta-Skins/materials/models/tfbeta/spy/spy_blue_gib.vtf
TF2-HD-Beta-Skins/materials/models/tfbeta/spy/mask_pyro.vmt
TF2-HD-Beta-Skins/materials/models/tfbeta/spy/spy_red.vmt
TF2-HD-Beta-Skins/materials/models/tfbeta/spy/mask_engi.vmt
TF2-HD-Beta-Skins/materials/models/tfbeta/spy/spy_refractnormal.vtf
TF2-HD-Beta-Skins/materials/models/tfbeta/spy/mask_scout.vtf
TF2-HD-Beta-Skins/materials/models/tfbeta/spy/spy_head_blue_invun.vmt
TF2-HD-Beta-Skins/materials/models/tfbeta/spy/mask_heavy.vmt
TF2-HD-Beta-Skins/materials/models/tfbeta/spy/spy_head_red.vtf
TF2-HD-Beta-Skins/materials/models/tfbeta/spy/mask_scout.vmt
TF2-HD-Beta-Skins/materials/models/tfbeta/spy/spy_exponent.vtf
TF2-HD-Beta-Skins/materials/models/tfbeta/spy/spy_head_red_invun.vmt
TF2-HD-Beta-Skins/materials/models/tfbeta/spy/eyeball_invun.vmt
TF2-HD-Beta-Skins/materials/models/tfbeta/spy/mask_sniper.vtf
TF2-HD-Beta-Skins/materials/models/tfbeta/spy/eyeball_l.vmt
TF2-HD-Beta-Skins/materials/models/tfbeta/spy/mask_demo.vmt
TF2-HD-Beta-Skins/materials/models/tfbeta/spy/mask_spy.vtf
TF2-HD-Beta-Skins/materials/models/tfbeta/spy/mask_engi.vtf
TF2-HD-Beta-Skins/materials/models/tfbeta/spy/eyeball_r.vmt
TF2-HD-Beta-Skins/materials/models/tfbeta/spy/mask_medic.vmt
TF2-HD-Beta-Skins/materials/models/tfbeta/spy/mask_soldier.vmt
TF2-HD-Beta-Skins/materials/models/tfbeta/spy/spy_head_blue.vmt
TF2-HD-Beta-Skins/materials/models/tfbeta/spy/spy_head_blue.vtf
TF2-HD-Beta-Skins/materials/models/tfbeta/spy/spy_red_gib.vmt
TF2-HD-Beta-Skins/materials/models/tfbeta/spy/hwm/spy_head_red.vmt
TF2-HD-Beta-Skins/materials/models/tfbeta/spy/hwm/spy_head_blue_stretch.vtf
TF2-HD-Beta-Skins/materials/models/tfbeta/spy/hwm/spy_head_red.vtf
TF2-HD-Beta-Skins/materials/models/tfbeta/spy/hwm/spy_head_exponent.vtf
TF2-HD-Beta-Skins/materials/models/tfbeta/spy/hwm/spy_head_red_compress.vtf
TF2-HD-Beta-Skins/materials/models/tfbeta/spy/hwm/spy_head_blue_compress.vtf
TF2-HD-Beta-Skins/materials/models/tfbeta/spy/hwm/spy_head_blue.vmt
TF2-HD-Beta-Skins/materials/models/tfbeta/spy/hwm/spy_head_blue.vtf
TF2-HD-Beta-Skins/materials/models/tfbeta/spy/hwm/spy_head_red_stretch.vtf
TF2-HD-Beta-Skins/materials/models/tfbeta/shared/eye-iris-blue.vtf
TF2-HD-Beta-Skins/materials/models/tfbeta/shared/eye-extra.vtf
TF2-HD-Beta-Skins/materials/models/tfbeta/shared/eye_lightwarp.vtf
TF2-HD-Beta-Skins/materials/models/tfbeta/shared/eye-cornea.vtf
TF2-HD-Beta-Skins/materials/models/tfbeta/shared/eyeball_invun.vtf
TF2-HD-Beta-Skins/materials/models/tfbeta/shared/shared_normal.vtf
TF2-HD-Beta-Skins/materials/models/tfbeta/shared/eye-iris-brown.vtf
TF2-HD-Beta-Skins/materials/models/tfbeta/shared/eye-reflection-cubemap-.vtf
TF2-HD-Beta-Skins/materials/models/tfbeta/shared/dxlevel80/iris_blue_l.vtf
TF2-HD-Beta-Skins/materials/models/tfbeta/shared/dxlevel80/eyeball_r.vtf
TF2-HD-Beta-Skins/materials/models/tfbeta/shared/dxlevel80/eyeball_l.vtf
TF2-HD-Beta-Skins/materials/models/tfbeta/shared/dxlevel80/iris_blue_r.vtf
TF2-HD-Beta-Skins/materials/models/tfbeta/shared/dxlevel80/iris_brown_l.vtf
TF2-HD-Beta-Skins/materials/models/tfbeta/shared/dxlevel80/iris_brown_r.vtf
TF2-HD-Beta-Skins/materials/models/tfbeta/medic/medic_backpack_red.vmt
TF2-HD-Beta-Skins/materials/models/tfbeta/medic/medic_head_red.vmt
TF2-HD-Beta-Skins/materials/models/tfbeta/medic/medic_blue.vmt
TF2-HD-Beta-Skins/materials/models/tfbeta/medic/medic_backpack_blue.vmt
TF2-HD-Beta-Skins/materials/models/tfbeta/medic/medic_blue_invun.vmt
TF2-HD-Beta-Skins/materials/models/tfbeta/medic/medic_head_blue_invun.vmt
TF2-HD-Beta-Skins/materials/models/tfbeta/medic/medic_blue_gib.vtf
TF2-HD-Beta-Skins/materials/models/tfbeta/medic/medic_normal.vtf
TF2-HD-Beta-Skins/materials/models/tfbeta/medic/medic_head_red_invun.vmt
TF2-HD-Beta-Skins/materials/models/tfbeta/medic/medic_red_invun.vmt
TF2-HD-Beta-Skins/materials/models/tfbeta/medic/medic_red_gib.vmt
TF2-HD-Beta-Skins/materials/models/tfbeta/medic/medic_red_gib.vtf
TF2-HD-Beta-Skins/materials/models/tfbeta/medic/medic_blue_gib.vmt
TF2-HD-Beta-Skins/materials/models/tfbeta/medic/medic_head_blue.vmt
TF2-HD-Beta-Skins/materials/models/tfbeta/medic/medic_backpack_red.vtf
TF2-HD-Beta-Skins/materials/models/tfbeta/medic/medic_red.vmt
TF2-HD-Beta-Skins/materials/models/tfbeta/medic/medic_head_red.vtf
TF2-HD-Beta-Skins/materials/models/tfbeta/medic/eyeball_invun.vmt
TF2-HD-Beta-Skins/materials/models/tfbeta/medic/medic_backpack_blue.vtf
TF2-HD-Beta-Skins/materials/models/tfbeta/medic/eyeball_l.vmt
TF2-HD-Beta-Skins/materials/models/tfbeta/medic/medic_backpack_blue_invun.vmt
TF2-HD-Beta-Skins/materials/models/tfbeta/medic/eyeball_r.vmt
TF2-HD-Beta-Skins/materials/models/tfbeta/medic/medic_blue.vtf
TF2-HD-Beta-Skins/materials/models/tfbeta/medic/medic_red.vtf
TF2-HD-Beta-Skins/materials/models/tfbeta/medic/medic_head.vtf
TF2-HD-Beta-Skins/materials/models/tfbeta/medic/medic_backpack_red_invun.vmt
TF2-HD-Beta-Skins/materials/models/tfbeta/medic/hwm/medic_head_red.vmt
TF2-HD-Beta-Skins/materials/models/tfbeta/medic/hwm/medic_head_stretch.vtf
TF2-HD-Beta-Skins/materials/models/tfbeta/medic/hwm/medic_head_red_stretch.vtf
TF2-HD-Beta-Skins/materials/models/tfbeta/medic/hwm/medic_head_blue.vmt
TF2-HD-Beta-Skins/materials/models/tfbeta/medic/hwm/medic_head_red.vtf
TF2-HD-Beta-Skins/materials/models/tfbeta/medic/hwm/medic_head_exponent.vtf
TF2-HD-Beta-Skins/materials/models/tfbeta/medic/hwm/medic_head_red_compress.vtf
TF2-HD-Beta-Skins/materials/models/tfbeta/medic/hwm/medic_head_compress.vtf
TF2-HD-Beta-Skins/materials/models/tfbeta/medic/hwm/medic_head.vtf
TF2-HD-Beta-Skins/materials/models/beteng/engineer/engineer_exponent.vtf
TF2-HD-Beta-Skins/materials/models/beteng/engineer/engineer_head_red_invun.vmt
TF2-HD-Beta-Skins/materials/models/beteng/engineer/engineer_head_blue.vmt
TF2-HD-Beta-Skins/materials/models/beteng/engineer/engineer_red.vtf
TF2-HD-Beta-Skins/materials/models/beteng/engineer/engineer_head_blue_invun.vmt
TF2-HD-Beta-Skins/materials/models/beteng/engineer/engineer_blue.vtf
TF2-HD-Beta-Skins/materials/models/beteng/engineer/engineer_mech_hand.vmt
TF2-HD-Beta-Skins/materials/models/beteng/engineer/engineer_red.vmt
TF2-HD-Beta-Skins/materials/models/beteng/engineer/engineer_head_red.vmt
TF2-HD-Beta-Skins/materials/models/beteng/engineer/engineer_mech_hand_blue.vmt
TF2-HD-Beta-Skins/materials/models/beteng/engineer/engineer_blue_invun.vmt
TF2-HD-Beta-Skins/materials/models/beteng/engineer/engineer_red_invun.vmt
TF2-HD-Beta-Skins/materials/models/beteng/engineer/engineer_blue.vmt
TF2-HD-Beta-Skins/materials/models/beteng/engineer/hwm/engineer_head_blue.vmt
TF2-HD-Beta-Skins/materials/models/beteng/engineer/hwm/engineer_head_red.vmt
TF2-HD-Beta-Skins/materials/models/lightwarps/hand_lightwarp.vtf