Adult content
This content is marked as Adult/NSFW content. You can toggle your preferences regarding this content type in your account settings.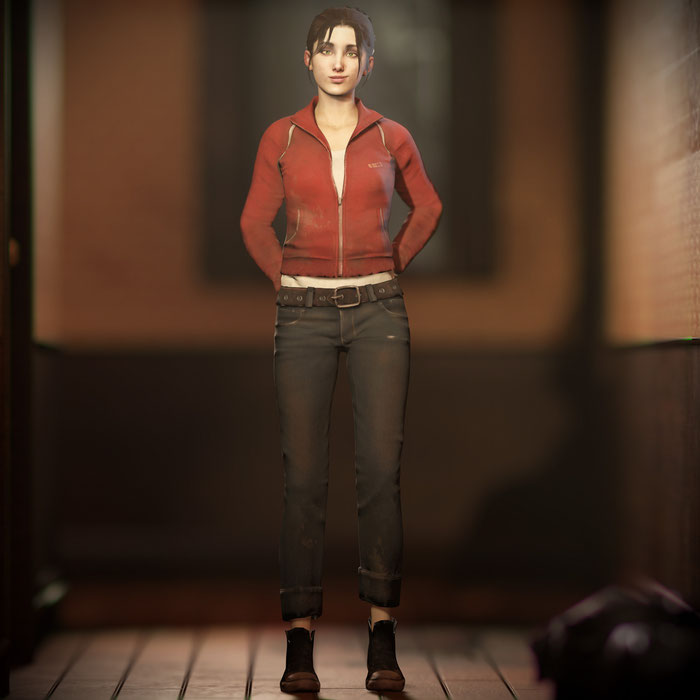 Show more
Description
This is a port of LordAardvark's Zoey SFM1 model to SFM2. The model is very heavily modified so it would work with the porting process. Therefore not all features of the SFM1 model transferred over to SFM2.
Features:
New Facial Flex Controller (Mixture of FACS2 and ARKit)
Source 1 like QC eyes (sliders)
Phoneme flexes
Tongue controls
Compatible with SFM2's Auto-Attach Rig (instructions below)
Renamed bones for body and finger so SFM2 sorts them automatically
Configurable outfit and full nude model
Skin option to disable AO on parts of or the whole model
Ray traced bent normal maps for face & body
Installation instructions:
Extract the content of the archive into your Half-Life Alyx\game\hlvr_addons\ currentaddon folder
Included files
The entire model is contained in "justaZoeySFM2".
Flex instructions:
The model uses a new "advanced" flex controllers which is based on FACS2 and ARKit. This will be new standard for all my models going forward, so if you are missing something please let me know.
I HIGHLY recommend using the sfm_default_animation_groups included on this page to sort all the flexes. If you don't, your "unknown" flex group will be littered with FACS action units (AU) and action descriptors (AD) that most people probably won't want to use. The sfm_default_animation_groups is compatible with all my other SFM2 models. If you have downloaded it from one of my other SFM2 models, then no need to redownload it.
IF you use the sfm_default_animation_groups, the raw AU and AD controls will be under "Manual FACS". These sliders allow you to use any flex ignoring the "rules" implemented in the flex controller.
Rigging Instructions
The Auto-Attach Rig won't work on the base pose of the model. You have to manually rotate the upper and lower leg bones a bit before applying the rig. Things seem to work mostly ok afterwards. The weight painting around the shoulders and thigh is a bit rough as well.
Body Groups
Her jacket, shirt pants, shoes and holster can be changed or removed. Unchecking all options leaves her nude body.
AO Control
As Source 2 does not have Screen Space Ambient Occlusion like Source 1, AO and Bent Normal maps have to be generated. For different outfits one needs different AO maps. To handle this there are 3 skin groups supplied. The default group provides AO for her standard outfit (the one she spawns with) ONLY. If you change her outfit (other than the holster) use skin group #2 labeled "Nude_AO". You can also disable AO on her completely using skin group #3 labeled "No_AO".
Eyes
Added sliders to move the eyes under "eyes" group. The eye sliders have L/R groups so the eyes can move independently from one another if you want to give the model a cross eyed expression. The eyes can also be moved using the eye bones. Easiest way is to select both eyes and set rotation to "local" so they move together.
Everything should work as well as with my other SFM2 ports. Any help/feedback is much appreciated to improve things.
SFMLab is a free service. However, it costs about $0.03 to deliver you a 1GB file. With over 20TB of traffic every month and growing, SFMLab needs your help. If only 1% of our users each gave us $5 for a single month, we could keep the site running for several years.
Filename
Downloads
Created
Filesize
Files
justaZoeySFM2.7z
1326
2022-01-06 19:59:21
191.43 MB
File contents:

justazoeysfm2.vmdl_c
justazoeysfm2/unnamed_1_vmorf.vtex_c
materials/dev/panel_normal_tga_2e02986c.vtex_c
materials/dev/flat_normal_psd_244b2aeb.vtex_c
materials/dev/panel_normal_tga_52eef3d4.vtex_c
materials/dev/black_color_tga_41691a4.vtex_c
materials/default/default_normal_tga_4fc2d3dd.vtex_c
materials/default/default_eyes_gloss_tga_ac39d5d1.vtex_c
materials/default/default_normal_tga_e60f5789.vtex_c
materials/default/default_black_mask_tga_8311d595.vtex_c
materials/default/default_color_tga_97460bfa.vtex_c
materials/default/default_eyes_normal_psd_351cb966.vtex_c
materials/default/default_selfillum_tga_e58fcf1c.vtex_c
materials/default/default_normal_tga_b19c8c1f.vtex_c
materials/default/default_eyes_color_psd_c1df5ea2.vtex_c
materials/default/default_ao_tga_559f1ac6.vtex_c
materials/default/default_cube_pfm_26490dc9.vtex_c
materials/default/default_tga_9c286083.vtex_c
materials/default/default_color_tga_faa8dd4b.vtex_c
materials/default/default_eyes_color_psd_4fb05d2d.vtex_c
materials/default/default_skin_diffusewarp_tga_e58a9ed.vtex_c
materials/default/default_bentnormal_tga_2023e987.vtex_c
materials/default/default_gloss_tga_2df0325d.vtex_c
materials/default/default_detailmask_tga_86bae0f6.vtex_c
materials/default/default_diffusewarp_tga_d1753cba.vtex_c
materials/default/default_normal_tga_8d77c6aa.vtex_c
materials/default/default_eyes_normal_psd_eda9f33c.vtex_c
materials/default/default_black_mask_tga_e3812bec.vtex_c
materials/default/default_normal_tga_7be61377.vtex_c
materials/default/default_black_mask_tga_1b52f511.vtex_c
materials/default/default_color_tga_150d6b82.vtex_c
materials/default/default_eyes_normal_psd_fcc74b48.vtex_c
materials/default/default_mask_tga_344101f8.vtex_c
materials/default/default_skin_shadowwarp_tga_f2855b6e.vtex_c
materials/default/default_metal_tga_af1d7118.vtex_c
materials/default/default_black_mask_tga_53c489b3.vtex_c
materials/default/default_color_tga_47b1af3d.vtex_c
materials/default/default_color_tga_61c2da90.vtex_c
materials/default/default_color_tga_5bb165c6.vtex_c
materials/default/default_eyes_height_psd_7d590f1c.vtex_c
materials/models/justaSFMusername/lordaardvark/left4dead/zoey/teenangst_ponytail_bm_tga_bad77b22.vtex_c
materials/models/justaSFMusername/lordaardvark/left4dead/zoey/cs_plcommon_02tongue_nm_tga_3dca42ec.vtex_c
materials/models/justaSFMusername/lordaardvark/left4dead/zoey/headao_png_fa79136d.vtex_c
materials/models/justaSFMusername/lordaardvark/left4dead/zoey/zoey_face_n_tga_b7e81a4d.vtex_c
materials/models/justaSFMusername/lordaardvark/left4dead/zoey/bodybentnormal_png_322b4e91.vtex_c
materials/models/justaSFMusername/lordaardvark/left4dead/zoey/cs_plcommon_02tongue_nm_tga_4bc79da0.vtex_c
materials/models/justaSFMusername/lordaardvark/left4dead/zoey/teenangst_ponytail_nm_tga_c43d3bac.vtex_c
materials/models/justaSFMusername/lordaardvark/left4dead/zoey/teenangst_hair_bm_tga_40eeccf9.vtex_c
materials/models/justaSFMusername/lordaardvark/left4dead/zoey/justazoey_handsnoao_vmat_g_tcombinedmasks_43bcb1a8.vtex_c
materials/models/justaSFMusername/lordaardvark/left4dead/zoey/outfitaonormal_png_49867dfc.vtex_c
materials/models/justaSFMusername/lordaardvark/left4dead/zoey/justazoey_bodynoao.vmat_c
materials/models/justaSFMusername/lordaardvark/left4dead/zoey/justazoey_hair.vmat_c
materials/models/justaSFMusername/lordaardvark/left4dead/zoey/teenangst_hair_bm_tga_672132de.vtex_c
materials/models/justaSFMusername/lordaardvark/left4dead/zoey/teenangst_hair_nm_tga_63deb5a1.vtex_c
materials/models/justaSFMusername/lordaardvark/left4dead/zoey/justazoey_facenude.vmat_c
materials/models/justaSFMusername/lordaardvark/left4dead/zoey/teenangst_hair_nm_tga_ca1936ad.vtex_c
materials/models/justaSFMusername/lordaardvark/left4dead/zoey/bodybent_png_c4bae69b.vtex_c
materials/models/justaSFMusername/lordaardvark/left4dead/zoey/justazoey_body.vmat_c
materials/models/justaSFMusername/lordaardvark/left4dead/zoey/cs_plcommon_01teeth_nm_tga_7585ffc7.vtex_c
materials/models/justaSFMusername/lordaardvark/left4dead/zoey/justazoey_handsnails.vmat_c
materials/models/justaSFMusername/lordaardvark/left4dead/zoey/bodyaonormal_png_f6adc2d6.vtex_c
materials/models/justaSFMusername/lordaardvark/left4dead/zoey/justazoey_handsnoao.vmat_c
materials/models/justaSFMusername/lordaardvark/left4dead/zoey/headbentnormal_png_9b7f0d3c.vtex_c
materials/models/justaSFMusername/lordaardvark/left4dead/zoey/justazoey_holster.vmat_c
materials/models/justaSFMusername/lordaardvark/left4dead/zoey/justazoey_legsnoao_vmat_g_tcombinedmasks_43bcb1a8.vtex_c
materials/models/justaSFMusername/lordaardvark/left4dead/zoey/justazoey_hair3_vmat_g_tambientocclusion_9782fd5c.vtex_c
materials/models/justaSFMusername/lordaardvark/left4dead/zoey/bodyao2_png_a65e49b9.vtex_c
materials/models/justaSFMusername/lordaardvark/left4dead/zoey/armao_png_d8314faa.vtex_c
materials/models/justaSFMusername/lordaardvark/left4dead/zoey/zoey_face_d_tga_72573b62.vtex_c
materials/models/justaSFMusername/lordaardvark/left4dead/zoey/justazoey_facenoao_vmat_g_tcombinedmasks_43bcb1a8.vtex_c
materials/models/justaSFMusername/lordaardvark/left4dead/zoey/justazoey_bodynoao_vmat_g_tcombinedmasks_43bcb1a8.vtex_c
materials/models/justaSFMusername/lordaardvark/left4dead/zoey/legao_png_3e8c42a9.vtex_c
materials/models/justaSFMusername/lordaardvark/left4dead/zoey/justazoey_hands.vmat_c
materials/models/justaSFMusername/lordaardvark/left4dead/zoey/zoey_face_d_tga_69ca0c14.vtex_c
materials/models/justaSFMusername/lordaardvark/left4dead/zoey/armao_png_afe404de.vtex_c
materials/models/justaSFMusername/lordaardvark/left4dead/zoey/justazoey_legsnails.vmat_c
materials/models/justaSFMusername/lordaardvark/left4dead/zoey/armaonormal_png_48ffb569.vtex_c
materials/models/justaSFMusername/lordaardvark/left4dead/zoey/cs_plcommon_02tongue_bm_tga_dea560f6.vtex_c
materials/models/justaSFMusername/lordaardvark/left4dead/zoey/outfitbentnormal_png_ab4db9d.vtex_c
materials/models/justaSFMusername/lordaardvark/left4dead/zoey/legbent_png_eb77a870.vtex_c
materials/models/justaSFMusername/lordaardvark/left4dead/zoey/teenangst_ponytail_bm_tga_d0c3d05c.vtex_c
materials/models/justaSFMusername/lordaardvark/left4dead/zoey/headaodnormal_png_2dcbca92.vtex_c
materials/models/justaSFMusername/lordaardvark/left4dead/zoey/justazoey_bodynude.vmat_c
materials/models/justaSFMusername/lordaardvark/left4dead/zoey/justazoey_legsnude.vmat_c
materials/models/justaSFMusername/lordaardvark/left4dead/zoey/teenangst_ponytail_nm_tga_ab0cd466.vtex_c
materials/models/justaSFMusername/lordaardvark/left4dead/zoey/legao_png_fafcbf94.vtex_c
materials/models/justaSFMusername/lordaardvark/left4dead/zoey/legaonormal_png_a887ec9f.vtex_c
materials/models/justaSFMusername/lordaardvark/left4dead/zoey/shirtbentnormal_png_f15ba76c.vtex_c
materials/models/justaSFMusername/lordaardvark/left4dead/zoey/justazoey_hair3.vmat_c
materials/models/justaSFMusername/lordaardvark/left4dead/zoey/justazoey_legs.vmat_c
materials/models/justaSFMusername/lordaardvark/left4dead/zoey/headbent2_png_a706a59.vtex_c
materials/models/justaSFMusername/lordaardvark/left4dead/zoey/teenangst_ponytail_nm_tga_ba368a73.vtex_c
materials/models/justaSFMusername/lordaardvark/left4dead/zoey/shirtaonormal_png_7f4391a9.vtex_c
materials/models/justaSFMusername/lordaardvark/left4dead/zoey/cs_plcommon_01teeth_bm_tga_fbd7da7f.vtex_c
materials/models/justaSFMusername/lordaardvark/left4dead/zoey/justazoey_face.vmat_c
materials/models/justaSFMusername/lordaardvark/left4dead/zoey/justazoey_tounge.vmat_c
materials/models/justaSFMusername/lordaardvark/left4dead/zoey/justazoey_eye.vmat_c
materials/models/justaSFMusername/lordaardvark/left4dead/zoey/justazoey_hair3_vmat_g_tcombinedmasks_43bcb1a8.vtex_c
materials/models/justaSFMusername/lordaardvark/left4dead/zoey/armbentnormal_png_7de1de25.vtex_c
materials/models/justaSFMusername/lordaardvark/left4dead/zoey/legsbentnormal_png_d7a03ab3.vtex_c
materials/models/justaSFMusername/lordaardvark/left4dead/zoey/teenangst_hair_nm_tga_bcde1364.vtex_c
materials/models/justaSFMusername/lordaardvark/left4dead/zoey/justazoey_eyes.vmat_c
materials/models/justaSFMusername/lordaardvark/left4dead/zoey/justazoey_legsnoao.vmat_c
materials/models/justaSFMusername/lordaardvark/left4dead/zoey/teenangst_ponytail_nm_tga_67a41d06.vtex_c
materials/models/justaSFMusername/lordaardvark/left4dead/zoey/cs_plcommon_01teeth_nm_tga_7a0a444c.vtex_c
materials/models/justaSFMusername/lordaardvark/left4dead/zoey/justazoey_handsnude.vmat_c
materials/models/justaSFMusername/lordaardvark/left4dead/zoey/justazoey_facenoao.vmat_c
materials/models/justaSFMusername/lordaardvark/left4dead/zoey/justazoey_ponytail.vmat_c
materials/models/justaSFMusername/lordaardvark/left4dead/zoey/justazoey_teeth.vmat_c
materials/models/justaSFMusername/lordaardvark/left4dead/zoey/pupil_tga_fa916977.vtex_c
materials/models/justaSFMusername/lordaardvark/left4dead/zoey/armbent_png_aed3f3cc.vtex_c
materials/models/justaSFMusername/lordaardvark/left4dead/zoey/eyes/eyenormal_png_d8e9cf87.vtex_c
materials/models/justaSFMusername/lordaardvark/left4dead/zoey/eyes/eli_eye_vmat_g_tocclusion_fbd30f34_png_755780c6.vtex_c
materials/models/justaSFMusername/lordaardvark/left4dead/zoey/eyes/eli_eye_iris_mask_psd_da1f5c55_png_6e513330.vtex_c
materials/models/justaSFMusername/lordaardvark/left4dead/zoey/eyes/eyeirisnormal_png_8491cc66.vtex_c
materials/models/justaSFMusername/lordaardvark/left4dead/zoey/eyes/greeneyecolor_png_76be5173.vtex_c
materials/models/justaSFMusername/lordaardvark/left4dead/zoey/outfit/teenangst_body_nm_tga_c0894a80.vtex_c
materials/models/justaSFMusername/lordaardvark/left4dead/zoey/outfit/justazoey_outfitnoao_vmat_g_tambientocclusion_9782fd5c.vtex_c
materials/models/justaSFMusername/lordaardvark/left4dead/zoey/outfit/em2000_body_atlas_nrmr_tga_1fd126c4.vtex_c
materials/models/justaSFMusername/lordaardvark/left4dead/zoey/outfit/teenangst_body_nm_tga_c9013df7.vtex_c
materials/models/justaSFMusername/lordaardvark/left4dead/zoey/outfit/holster_nm_tga_f77ffa9e.vtex_c
materials/models/justaSFMusername/lordaardvark/left4dead/zoey/outfit/em2000_body_atlas_albm_tga_807f5af0.vtex_c
materials/models/justaSFMusername/lordaardvark/left4dead/zoey/outfit/holster_nm_tga_fb0cb3c6.vtex_c
materials/models/justaSFMusername/lordaardvark/left4dead/zoey/outfit/justazoey_undershirt.vmat_c
materials/models/justaSFMusername/lordaardvark/left4dead/zoey/outfit/em2000_body_atlas_nrmr_tga_95658dcb.vtex_c
materials/models/justaSFMusername/lordaardvark/left4dead/zoey/outfit/em2000_body_atlas_nrmr_tga_3c69543a.vtex_c
materials/models/justaSFMusername/lordaardvark/left4dead/zoey/outfit/teenangst_body_bm_tga_bdfe5c3d.vtex_c
materials/models/justaSFMusername/lordaardvark/left4dead/zoey/outfit/teenangst_body_nm_tga_4a20f70f.vtex_c
materials/models/justaSFMusername/lordaardvark/left4dead/zoey/outfit/justazoey_outfit.vmat_c
materials/models/justaSFMusername/lordaardvark/left4dead/zoey/outfit/justazoey_undershirtnoao.vmat_c
materials/models/justaSFMusername/lordaardvark/left4dead/zoey/outfit/teenangst_body_nm_tga_3f7c3a6b.vtex_c
materials/models/justaSFMusername/lordaardvark/left4dead/zoey/outfit/justazoey_outfitnoao.vmat_c
materials/models/justaSFMusername/lordaardvark/left4dead/zoey/outfit/holster_bm_tga_c9dd4069.vtex_c
materials/models/justaSFMusername/lordaardvark/left4dead/zoey/outfit/em2000_body_atlas_nrmr_tga_ac12054d.vtex_c
materials/models/justaSFMusername/lordaardvark/left4dead/zoey/body/body_arms_n_tga_d48399b7.vtex_c
materials/models/justaSFMusername/lordaardvark/left4dead/zoey/body/body_legs_n_tga_d4015f86.vtex_c
materials/models/justaSFMusername/lordaardvark/left4dead/zoey/body/body_legs_n_tga_21264c8a.vtex_c
materials/models/justaSFMusername/lordaardvark/left4dead/zoey/body/body_legs_tga_c5744542.vtex_c
materials/models/justaSFMusername/lordaardvark/left4dead/zoey/body/zoey_torso.vmat_c
materials/models/justaSFMusername/lordaardvark/left4dead/zoey/body/zoey_holder.vmat_c
materials/models/justaSFMusername/lordaardvark/left4dead/zoey/body/zoey_face.vmat_c
materials/models/justaSFMusername/lordaardvark/left4dead/zoey/body/body_arms_tga_c41a5e8.vtex_c
materials/models/justaSFMusername/lordaardvark/left4dead/zoey/body/body_legs_tga_cba6a268.vtex_c
materials/models/justaSFMusername/lordaardvark/left4dead/zoey/body/body_torso_n_tga_349ed19a.vtex_c
materials/models/justaSFMusername/lordaardvark/left4dead/zoey/body/body_torso_tga_a99ba131.vtex_c
materials/models/justaSFMusername/lordaardvark/left4dead/zoey/body/zoey_hair.vmat_c
materials/models/justaSFMusername/lordaardvark/left4dead/zoey/body/body_legs_n_tga_c2a73097.vtex_c
materials/models/justaSFMusername/lordaardvark/left4dead/zoey/body/zoey_ponytailalpha.vmat_c
materials/models/justaSFMusername/lordaardvark/left4dead/zoey/body/body_arms_n_tga_4ef10bfc.vtex_c
materials/models/justaSFMusername/lordaardvark/left4dead/zoey/body/zoey_arms.vmat_c
materials/models/justaSFMusername/lordaardvark/left4dead/zoey/body/zoey_hairalpha.vmat_c
materials/models/justaSFMusername/lordaardvark/left4dead/zoey/body/zoey_teenangstbody.vmat_c
materials/models/justaSFMusername/lordaardvark/left4dead/zoey/body/zoey_ponytail.vmat_c
materials/models/justaSFMusername/lordaardvark/left4dead/zoey/body/body_arms_tga_b54af109.vtex_c
materials/models/justaSFMusername/lordaardvark/left4dead/zoey/body/zoey_em2000bodyatlasalbm.vmat_c
materials/models/justaSFMusername/lordaardvark/left4dead/zoey/body/zoey_legs.vmat_c
materials/models/justaSFMusername/lordaardvark/left4dead/zoey/body/body_arms_n_tga_34c23080.vtex_c




Animation_Groups_20220105_4nNrdLN.7z
473
2022-01-06 19:59:22
7.11 KB
File contents:

Animation_Groups/sfm_default_animation_groups.vcfg