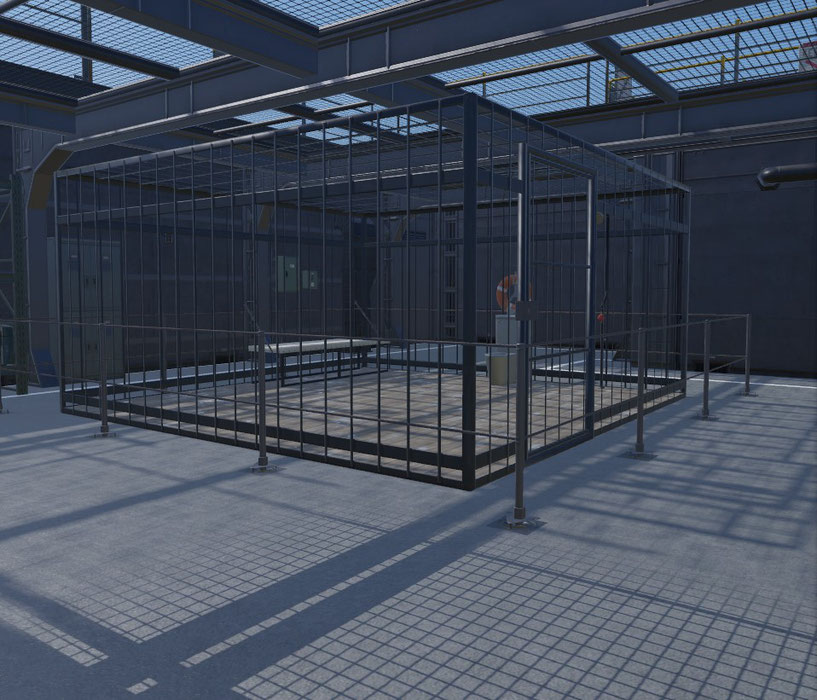 Description
This is a port of Dr.Dabblur's Quiet Cell SFM1 model to SFM2. This is a model, not a map like the original. Ported as original model was CC0.
Installation instructions:
Extract the content of the archive into your Half-Life Alyx\game\hlvr_addons\ currentaddon folder
SFMLab is a free service. However, it costs about $0.03 to deliver you a 1GB file. With over 20TB of traffic every month and growing, SFMLab needs your help. If only 1% of our users each gave us $5 for a single month, we could keep the site running for several years.
Filename
Downloads
Created
Filesize
Files
justaQuietCellSFM2.7z
459
2022-01-06 21:49:45
16.17 MB
File contents:

models/justaSFMusername/DrDabblur/MGSV/justaquietcellsfm2.vmdl_c
materials/dev/panel_normal_tga_2e02986c.vtex_c
materials/dev/flat_normal_psd_244b2aeb.vtex_c
materials/dev/panel_normal_tga_52eef3d4.vtex_c
materials/dev/black_color_tga_41691a4.vtex_c
materials/default/default_normal_tga_4fc2d3dd.vtex_c
materials/default/default_eyes_gloss_tga_ac39d5d1.vtex_c
materials/default/default_normal_tga_e60f5789.vtex_c
materials/default/default_black_mask_tga_8311d595.vtex_c
materials/default/default_color_tga_97460bfa.vtex_c
materials/default/default_eyes_normal_psd_351cb966.vtex_c
materials/default/default_selfillum_tga_e58fcf1c.vtex_c
materials/default/default_normal_tga_b19c8c1f.vtex_c
materials/default/default_eyes_color_psd_c1df5ea2.vtex_c
materials/default/default_ao_tga_559f1ac6.vtex_c
materials/default/default_cube_pfm_26490dc9.vtex_c
materials/default/default_tga_9c286083.vtex_c
materials/default/default_color_tga_faa8dd4b.vtex_c
materials/default/default_eyes_color_psd_4fb05d2d.vtex_c
materials/default/default_skin_diffusewarp_tga_e58a9ed.vtex_c
materials/default/default_bentnormal_tga_2023e987.vtex_c
materials/default/default_gloss_tga_2df0325d.vtex_c
materials/default/default_detailmask_tga_86bae0f6.vtex_c
materials/default/default_diffusewarp_tga_d1753cba.vtex_c
materials/default/default_normal_tga_8d77c6aa.vtex_c
materials/default/default_eyes_normal_psd_eda9f33c.vtex_c
materials/default/default_black_mask_tga_e3812bec.vtex_c
materials/default/default_normal_tga_7be61377.vtex_c
materials/default/default_black_mask_tga_1b52f511.vtex_c
materials/default/default_color_tga_150d6b82.vtex_c
materials/default/default_eyes_normal_psd_fcc74b48.vtex_c
materials/default/default_mask_tga_344101f8.vtex_c
materials/default/default_skin_shadowwarp_tga_f2855b6e.vtex_c
materials/default/default_metal_tga_af1d7118.vtex_c
materials/default/default_black_mask_tga_53c489b3.vtex_c
materials/default/default_color_tga_47b1af3d.vtex_c
materials/default/default_color_tga_61c2da90.vtex_c
materials/default/default_color_tga_5bb165c6.vtex_c
materials/default/default_eyes_height_psd_7d590f1c.vtex_c
materials/models/drdabblur/mgsv/motherbase/quiet_cell/room_stairs_df_tga_6009a7e4.vtex_c
materials/models/drdabblur/mgsv/motherbase/quiet_cell/room_stairs_nm_tga_d9a4c3d8.vtex_c
materials/models/drdabblur/mgsv/motherbase/quiet_cell/room_grating_nm_tga_4a074dd5.vtex_c
materials/models/drdabblur/mgsv/motherbase/quiet_cell/quietcell_propssignstairs.vmat_c
materials/models/drdabblur/mgsv/motherbase/quiet_cell/room_chainsdecals_nm_tga_5c8368ac.vtex_c
materials/models/drdabblur/mgsv/motherbase/quiet_cell/quietcell_propscardboard.vmat_c
materials/models/drdabblur/mgsv/motherbase/quiet_cell/quietcell_roomwindowframe.vmat_c
materials/models/drdabblur/mgsv/motherbase/quiet_cell/room_ceiling_bars_nm_tga_973a8e9f.vtex_c
materials/models/drdabblur/mgsv/motherbase/quiet_cell/room_windowframe_nm_tga_7db1a193.vtex_c
materials/models/drdabblur/mgsv/motherbase/quiet_cell/props_cardboard_df_tga_32475d83.vtex_c
materials/models/drdabblur/mgsv/motherbase/quiet_cell/room_floor_nm_tga_3074edbb.vtex_c
materials/models/drdabblur/mgsv/motherbase/quiet_cell/quietcell_propssignboard.vmat_c
materials/models/drdabblur/mgsv/motherbase/quiet_cell/room_stairs_top_df_tga_66f2e51b.vtex_c
materials/models/drdabblur/mgsv/motherbase/quiet_cell/quietcell_roomstairs.vmat_c
materials/models/drdabblur/mgsv/motherbase/quiet_cell/room_door_df_tga_3fab7576.vtex_c
materials/models/drdabblur/mgsv/motherbase/quiet_cell/props_signstairs_nm_tga_67232492.vtex_c
materials/models/drdabblur/mgsv/motherbase/quiet_cell/cell_stanchioncables_nm_tga_179b0f67.vtex_c
materials/models/drdabblur/mgsv/motherbase/quiet_cell/room_pipes_df_tga_f5e0c3d4.vtex_c
materials/models/drdabblur/mgsv/motherbase/quiet_cell/props_cannister_df_tga_22e1a4a8.vtex_c
materials/models/drdabblur/mgsv/motherbase/quiet_cell/cell_bed_nm_tga_c7d947fb.vtex_c
materials/models/drdabblur/mgsv/motherbase/quiet_cell/room_pipes_nm_tga_40483d76.vtex_c
materials/models/drdabblur/mgsv/motherbase/quiet_cell/quietcell_roomwindow.vmat_c
materials/models/drdabblur/mgsv/motherbase/quiet_cell/room_floor_edging_nm_tga_bfe0d99e.vtex_c
materials/models/drdabblur/mgsv/motherbase/quiet_cell/quietcell_roomwallcorner.vmat_c
materials/models/drdabblur/mgsv/motherbase/quiet_cell/room_grating_df_tga_2181cfc.vtex_c
materials/models/drdabblur/mgsv/motherbase/quiet_cell/cell_stanchionindents_df_tga_2954cdd8.vtex_c
materials/models/drdabblur/mgsv/motherbase/quiet_cell/cell_stanchions_df_tga_9cc618d9.vtex_c
materials/models/drdabblur/mgsv/motherbase/quiet_cell/cell_plumbing_nm_tga_9296c6cf.vtex_c
materials/models/drdabblur/mgsv/motherbase/quiet_cell/cell_floor_df_tga_fa79406b.vtex_c
materials/models/drdabblur/mgsv/motherbase/quiet_cell/room_lights02_nm_tga_c2a25ab0.vtex_c
materials/models/drdabblur/mgsv/motherbase/quiet_cell/room_stairs_topedge_nm_tga_bb000a2.vtex_c
materials/models/drdabblur/mgsv/motherbase/quiet_cell/quietcell_roomceilingbars.vmat_c
materials/models/drdabblur/mgsv/motherbase/quiet_cell/props_crate_df_tga_9bf4b975.vtex_c
materials/models/drdabblur/mgsv/motherbase/quiet_cell/cell_stanchioncables_df_tga_a242b8ba.vtex_c
materials/models/drdabblur/mgsv/motherbase/quiet_cell/quietcell_roomstairstopedge.vmat_c
materials/models/drdabblur/mgsv/motherbase/quiet_cell/room_arches_df_tga_63e1847f.vtex_c
materials/models/drdabblur/mgsv/motherbase/quiet_cell/room_ceilingrim_nm_tga_219a3171.vtex_c
materials/models/drdabblur/mgsv/motherbase/quiet_cell/props_lightpost_df_tga_9e5fec0f.vtex_c
materials/models/drdabblur/mgsv/motherbase/quiet_cell/cell_bed_df_tga_51bef9f1.vtex_c
materials/models/drdabblur/mgsv/motherbase/quiet_cell/props_wallboxes_nm_tga_c107ca9a.vtex_c
materials/models/drdabblur/mgsv/motherbase/quiet_cell/props_shelf_nm_tga_89039604.vtex_c
materials/models/drdabblur/mgsv/motherbase/quiet_cell/room_ceiling_bars_df_tga_5c63f7de.vtex_c
materials/models/drdabblur/mgsv/motherbase/quiet_cell/quietcell_roompipesdf.vmat_c
materials/models/drdabblur/mgsv/motherbase/quiet_cell/quietcell_propscrate.vmat_c
materials/models/drdabblur/mgsv/motherbase/quiet_cell/props_innertube_df_tga_b17e8b02.vtex_c
materials/models/drdabblur/mgsv/motherbase/quiet_cell/room_doorframe_df_tga_14f95b76.vtex_c
materials/models/drdabblur/mgsv/motherbase/quiet_cell/room_chainsdecals_df_tga_33b85643.vtex_c
materials/models/drdabblur/mgsv/motherbase/quiet_cell/room_ceiling_df_tga_6d9a350d.vtex_c
materials/models/drdabblur/mgsv/motherbase/quiet_cell/quietcell_roomdoor.vmat_c
materials/models/drdabblur/mgsv/motherbase/quiet_cell/room_grating_df_tga_3ea84612.vtex_c
materials/models/drdabblur/mgsv/motherbase/quiet_cell/quietcell_propslightpost.vmat_c
materials/models/drdabblur/mgsv/motherbase/quiet_cell/props_wallboxcords_df_tga_5fdecd7d.vtex_c
materials/models/drdabblur/mgsv/motherbase/quiet_cell/quietcell_roomlights02.vmat_c
materials/models/drdabblur/mgsv/motherbase/quiet_cell/props_cannister_nm_tga_a899f51a.vtex_c
materials/models/drdabblur/mgsv/motherbase/quiet_cell/quietcell_roomceilingriminside.vmat_c
materials/models/drdabblur/mgsv/motherbase/quiet_cell/room_stairs_top_nm_tga_2226e14a.vtex_c
materials/models/drdabblur/mgsv/motherbase/quiet_cell/room_window_df_tga_3c46426f.vtex_c
materials/models/drdabblur/mgsv/motherbase/quiet_cell/room_paintlines_df_tga_1423df38.vtex_c
materials/models/drdabblur/mgsv/motherbase/quiet_cell/props_innertube_nm_tga_d787250b.vtex_c
materials/models/drdabblur/mgsv/motherbase/quiet_cell/props_redbox_nm_tga_3a83988f.vtex_c
materials/models/drdabblur/mgsv/motherbase/quiet_cell/room_walls_nm_tga_54863a60.vtex_c
materials/models/drdabblur/mgsv/motherbase/quiet_cell/room_ceilingrim_inside_df_tga_8a983950.vtex_c
materials/models/drdabblur/mgsv/motherbase/quiet_cell/quietcell_cellplumbing.vmat_c
materials/models/drdabblur/mgsv/motherbase/quiet_cell/quietcell_cellstanchioncables.vmat_c
materials/models/drdabblur/mgsv/motherbase/quiet_cell/cell_bed_nm_tga_41d66116.vtex_c
materials/models/drdabblur/mgsv/motherbase/quiet_cell/room_paintlines_nm_tga_6ee95889.vtex_c
materials/models/drdabblur/mgsv/motherbase/quiet_cell/quietcell_propswallboxes.vmat_c
materials/models/drdabblur/mgsv/motherbase/quiet_cell/quietcell_roomdoorframe.vmat_c
materials/models/drdabblur/mgsv/motherbase/quiet_cell/props_redbox_df_tga_f5df830e.vtex_c
materials/models/drdabblur/mgsv/motherbase/quiet_cell/quietcell_cellstanchions.vmat_c
materials/models/drdabblur/mgsv/motherbase/quiet_cell/props_signstairs_df_tga_304fabb5.vtex_c
materials/models/drdabblur/mgsv/motherbase/quiet_cell/props_vents_nm_tga_8a848405.vtex_c
materials/models/drdabblur/mgsv/motherbase/quiet_cell/cell_plumbing_df_tga_a8607800.vtex_c
materials/models/drdabblur/mgsv/motherbase/quiet_cell/quietcell_cellfloor.vmat_c
materials/models/drdabblur/mgsv/motherbase/quiet_cell/room_ceilingrim_df_tga_df12c29c.vtex_c
materials/models/drdabblur/mgsv/motherbase/quiet_cell/cell_stanchionindents_nm_tga_f9967897.vtex_c
materials/models/drdabblur/mgsv/motherbase/quiet_cell/quietcell_roomflooredging.vmat_c
materials/models/drdabblur/mgsv/motherbase/quiet_cell/room_floor_edging_df_tga_190c008d.vtex_c
materials/models/drdabblur/mgsv/motherbase/quiet_cell/quietcell_propsinnertube.vmat_c
materials/models/drdabblur/mgsv/motherbase/quiet_cell/quietcell_roomceilingrim.vmat_c
materials/models/drdabblur/mgsv/motherbase/quiet_cell/props_innertube_nm_tga_568b6cfb.vtex_c
materials/models/drdabblur/mgsv/motherbase/quiet_cell/cell_bars_nm_tga_d717226b.vtex_c
materials/models/drdabblur/mgsv/motherbase/quiet_cell/room_arches_nm_tga_3f82bc5a.vtex_c
materials/models/drdabblur/mgsv/motherbase/quiet_cell/props_cabinet01_df_tga_61c857a2.vtex_c
materials/models/drdabblur/mgsv/motherbase/quiet_cell/cell_floor_nm_tga_a22eaa98.vtex_c
materials/models/drdabblur/mgsv/motherbase/quiet_cell/room_window_nm_tga_ce4f9857.vtex_c
materials/models/drdabblur/mgsv/motherbase/quiet_cell/cell_stanchions_nm_tga_99440ae3.vtex_c
materials/models/drdabblur/mgsv/motherbase/quiet_cell/props_signboard_nm_tga_79c110e3.vtex_c
materials/models/drdabblur/mgsv/motherbase/quiet_cell/quietcell_propscabinet01.vmat_c
materials/models/drdabblur/mgsv/motherbase/quiet_cell/quietcell_roomchainsdecals.vmat_c
materials/models/drdabblur/mgsv/motherbase/quiet_cell/room_lights01_nm_tga_46b496eb.vtex_c
materials/models/drdabblur/mgsv/motherbase/quiet_cell/cell_bars_df_tga_c9c8688c.vtex_c
materials/models/drdabblur/mgsv/motherbase/quiet_cell/quietcell_roomstairstop.vmat_c
materials/models/drdabblur/mgsv/motherbase/quiet_cell/quietcell_roomwall.vmat_c
materials/models/drdabblur/mgsv/motherbase/quiet_cell/quietcell_cellback.vmat_c
materials/models/drdabblur/mgsv/motherbase/quiet_cell/room_windowframe_df_tga_1bf2d500.vtex_c
materials/models/drdabblur/mgsv/motherbase/quiet_cell/props_railings_df_tga_6f978d21.vtex_c
materials/models/drdabblur/mgsv/motherbase/quiet_cell/quietcell_cellbed.vmat_c
materials/models/drdabblur/mgsv/motherbase/quiet_cell/room_ceilingrim_inside_nm_tga_c9260456.vtex_c
materials/models/drdabblur/mgsv/motherbase/quiet_cell/quietcell_roomfloor.vmat_c
materials/models/drdabblur/mgsv/motherbase/quiet_cell/room_floor_df_tga_472f6a24.vtex_c
materials/models/drdabblur/mgsv/motherbase/quiet_cell/quietcell_propsvents.vmat_c
materials/models/drdabblur/mgsv/motherbase/quiet_cell/quietcell_roomlights01.vmat_c
materials/models/drdabblur/mgsv/motherbase/quiet_cell/props_crate_nm_tga_de6d752b.vtex_c
materials/models/drdabblur/mgsv/motherbase/quiet_cell/room_stairs_topedge_df_tga_9cafc438.vtex_c
materials/models/drdabblur/mgsv/motherbase/quiet_cell/quietcell_roomgrating.vmat_c
materials/models/drdabblur/mgsv/motherbase/quiet_cell/room_wallcorners_df_tga_42051e46.vtex_c
materials/models/drdabblur/mgsv/motherbase/quiet_cell/room_doorframe_nm_tga_7ab2c488.vtex_c
materials/models/drdabblur/mgsv/motherbase/quiet_cell/room_walls_df_tga_44b16284.vtex_c
materials/models/drdabblur/mgsv/motherbase/quiet_cell/props_wallboxes_df_tga_5c6b547.vtex_c
materials/models/drdabblur/mgsv/motherbase/quiet_cell/props_shelf_df_tga_52bc442d.vtex_c
materials/models/drdabblur/mgsv/motherbase/quiet_cell/props_cabinet01_nm_tga_5baf9684.vtex_c
materials/models/drdabblur/mgsv/motherbase/quiet_cell/quietcell_roomceiling.vmat_c
materials/models/drdabblur/mgsv/motherbase/quiet_cell/quietcell_propsrailings.vmat_c
materials/models/drdabblur/mgsv/motherbase/quiet_cell/cell_floor_nm_tga_7b15ce7f.vtex_c
materials/models/drdabblur/mgsv/motherbase/quiet_cell/quietcell_roomarches.vmat_c
materials/models/drdabblur/mgsv/motherbase/quiet_cell/props_railings_nm_tga_5c36d37d.vtex_c
materials/models/drdabblur/mgsv/motherbase/quiet_cell/quietcell_roompaintlines.vmat_c
materials/models/drdabblur/mgsv/motherbase/quiet_cell/room_door_nm_tga_8a842636.vtex_c
materials/models/drdabblur/mgsv/motherbase/quiet_cell/room_lights02_df_tga_48d72b98.vtex_c
materials/models/drdabblur/mgsv/motherbase/quiet_cell/room_wallcorners_nm_tga_4eb65c4d.vtex_c
materials/models/drdabblur/mgsv/motherbase/quiet_cell/quietcell_propscannister.vmat_c
materials/models/drdabblur/mgsv/motherbase/quiet_cell/props_wallboxcords_nm_tga_a17192bb.vtex_c
materials/models/drdabblur/mgsv/motherbase/quiet_cell/quietcell_cellstanchionindents.vmat_c
materials/models/drdabblur/mgsv/motherbase/quiet_cell/quietcell_propsshelf.vmat_c
materials/models/drdabblur/mgsv/motherbase/quiet_cell/props_signboard_df_tga_8519e167.vtex_c
materials/models/drdabblur/mgsv/motherbase/quiet_cell/props_lightpost_nm_tga_e3ac39a9.vtex_c
materials/models/drdabblur/mgsv/motherbase/quiet_cell/props_cardboard_nm_tga_eeb7dc7c.vtex_c
materials/models/drdabblur/mgsv/motherbase/quiet_cell/quietcell_propswallboxcords.vmat_c
materials/models/drdabblur/mgsv/motherbase/quiet_cell/room_lights01_df_tga_309041da.vtex_c
materials/models/drdabblur/mgsv/motherbase/quiet_cell/room_ceiling_nm_tga_ef03076c.vtex_c
materials/models/drdabblur/mgsv/motherbase/quiet_cell/room_walls_nm_tga_7d79cfd1.vtex_c
materials/models/drdabblur/mgsv/motherbase/quiet_cell/quietcell_propsredbox.vmat_c
materials/models/drdabblur/mgsv/motherbase/quiet_cell/props_vents_df_tga_51441895.vtex_c