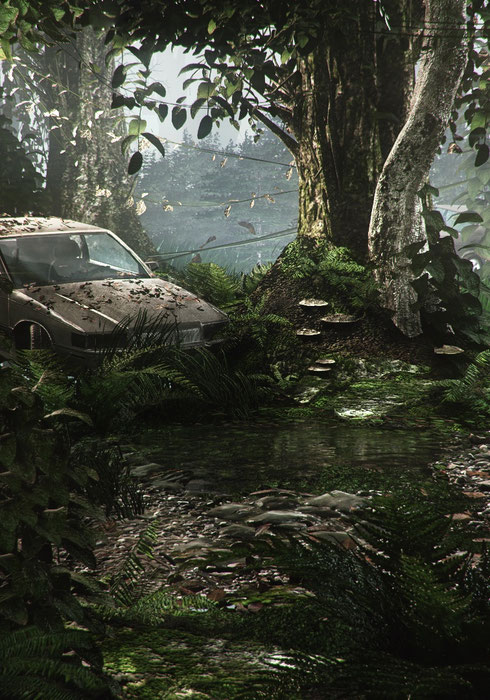 Show more
Description
Pack of foliage and other vegetation with normal maps. Simulates moisture on foliage and adds more texture.
The intensity of light reflections can be controlled with the $phongboost and $phongexponent attributes. I recommend phongboost values in the region of 0.02 - 0.1 A value of 0 phong will hide the bumpmap
Contains: Shrubs-bushes, creepers, ferns, vines, grass.
Artwork by
Me
Pupiy220
Atlas/RedLine2311
SFMLab is a free service. However, it costs about $0.03 to deliver you a 1GB file. With over 20TB of traffic every month and growing, SFMLab needs your help. If only 1% of our users each gave us $5 for a single month, we could keep the site running for several years.
Filename
Downloads
Created
Filesize
Files
Glossy_foliage.rar
6332
2022-01-18 18:30:41
33.29 MB
File contents:

preview.jpg
models/Nurserk/foliage/vine_large_leaves01_halfdry.sw.vtx
models/Nurserk/foliage/bush_angled_256_dead.dx90.vtx
models/Nurserk/foliage/bush01.vvd
models/Nurserk/foliage/Moss_wall01_256_vines.dx90.vtx
models/Nurserk/foliage/vines_suspended_cluster03_dry.sw.vtx
models/Nurserk/foliage/Vines_thick_ceiling01_nosway.dx80.vtx
models/Nurserk/foliage/fern_04.dx90.vtx
models/Nurserk/foliage/Vines_thick_ceilingcorner01.dx90.vtx
models/Nurserk/foliage/brushwood_01.dx90.vtx
models/Nurserk/foliage/Vines_thick_384_2D.sw.vtx
models/Nurserk/foliage/sm_beach_grass_01b.vvd
models/Nurserk/foliage/Vines_thick_ceiling01_nosway.sw.vtx
models/Nurserk/foliage/vine_large_leaves02_halfdry.mdl
models/Nurserk/foliage/vine_large_leaves04.dx90.vtx
models/Nurserk/foliage/sm_beach_grass_02.sw.vtx
models/Nurserk/foliage/sm_beach_grass_02.mdl
models/Nurserk/foliage/bush_angled_256.vvd
models/Nurserk/foliage/vine_large_leaves03.vvd
models/Nurserk/foliage/vine_large_leaves02_dry.sw.vtx
models/Nurserk/foliage/vine_cluster_loop01.vvd
models/Nurserk/foliage/dm_ivy_wall05.vvd
models/Nurserk/foliage/weu_ivy_floor.dx80.vtx
models/Nurserk/foliage/vine_large_leaves01_dry.sw.vtx
models/Nurserk/foliage/vine_large_leaves02.dx90.vtx
models/Nurserk/foliage/Foliage_Lotusleaf01c_S1,5.sw.vtx
models/Nurserk/foliage/dm_ivy_wall05.sw.vtx
models/Nurserk/foliage/vines_tall_patch01.vvd
models/Nurserk/foliage/vines_suspended_cluster01.dx90.vtx
models/Nurserk/foliage/moss_wall01_256_vines.mdl
models/Nurserk/foliage/bush01_dead.dx90.vtx
models/Nurserk/foliage/ferns02.dx90.vtx
models/Nurserk/foliage/sm_beach_grass_01b.sw.vtx
models/Nurserk/foliage/brushwood_01.sw.vtx
models/Nurserk/foliage/dm_ivy_wall05.mdl
models/Nurserk/foliage/vine_large_leaves03_halfdry.mdl
models/Nurserk/foliage/vine_large_leaves04_dry.sw.vtx
models/Nurserk/foliage/vine_large_leaves02_dry.mdl
models/Nurserk/foliage/vines_tall_patch01_halfdry.vvd
models/Nurserk/foliage/bush_angled_256_dead.dx80.vtx
models/Nurserk/foliage/vines_128_256_halfdry01_alphatest.dx90.vtx
models/Nurserk/foliage/Moss_wall01_256_vines.dx80.vtx
models/Nurserk/foliage/vine_large_leaves04_halfdry.mdl
models/Nurserk/foliage/dm_ivy_wall05.dx90.vtx
models/Nurserk/foliage/vine_large_leaves01_dry.dx80.vtx
models/Nurserk/foliage/Vines_tall_patch01_halfdry.sw.vtx
models/Nurserk/foliage/dream_foliage_01.mdl
models/Nurserk/foliage/vines_128_256_halfdry01_alphatest.vvd
models/Nurserk/foliage/vine_large_leaves02.dx80.vtx
models/Nurserk/foliage/Vines_tall_patch01.dx90.vtx
models/Nurserk/foliage/vine_large_leaves04_halfdry.vvd
models/Nurserk/foliage/vine_large_leaves02_dry.dx80.vtx
models/Nurserk/foliage/vines_tall_patch01_halfdry_alphatest.vvd
models/Nurserk/foliage/vine_large_leaves04.mdl
models/Nurserk/foliage/ferns03.sw.vtx
models/Nurserk/foliage/brushwood_02.mdl
models/Nurserk/foliage/vines_128_256_halfdry01_alphatest.mdl
models/Nurserk/foliage/vine_large_leaves04.sw.vtx
models/Nurserk/foliage/vine_large_leaves01_dry.dx90.vtx
models/Nurserk/foliage/bush01_dead.mdl
models/Nurserk/foliage/vines_suspended_cluster01_dry.dx90.vtx
models/Nurserk/foliage/vine_large_leaves04_dry.dx90.vtx
models/Nurserk/foliage/vines_128_256_halfdry01_alphatest.sw.vtx
models/Nurserk/foliage/vines_thick_384_2d.mdl
models/Nurserk/foliage/sm_beach_grass_01.dx90.vtx
models/Nurserk/foliage/vines_suspended_cluster01.sw.vtx
models/Nurserk/foliage/fern_02.mdl
models/Nurserk/foliage/vine_large_leaves02.sw.vtx
models/Nurserk/foliage/vines_suspended_cluster02.sw.vtx
models/Nurserk/foliage/ferns02.mdl
models/Nurserk/foliage/vines_suspended_cluster03_dry.mdl
models/Nurserk/foliage/bush_angled_256_dead.sw.vtx
models/Nurserk/foliage/vines_small01.dx90.vtx
models/Nurserk/foliage/vines_128_256_halfdry01_alphatest_static.dx80.vtx
models/Nurserk/foliage/vines_128_256_halfdry01_alphatest.dx80.vtx
models/Nurserk/foliage/foliage_waterplant02.mdl
models/Nurserk/foliage/Foliage_Waterplant02.sw.vtx
models/Nurserk/foliage/vines_tall_patch01.mdl
models/Nurserk/foliage/fern_01.dx80.vtx
models/Nurserk/foliage/vine_large_leaves01.dx90.vtx
models/Nurserk/foliage/vines_128_256_halfdry01_alphatest_static.vvd
models/Nurserk/foliage/vine_cluster_loop02_dry.vvd
models/Nurserk/foliage/vine_large_leaves04_halfdry.dx80.vtx
models/Nurserk/foliage/sm_beach_grass_02.vvd
models/Nurserk/foliage/Vines_tall_patch01.dx80.vtx
models/Nurserk/foliage/moss_wall01_256.mdl
models/Nurserk/foliage/Vine_cluster_loop02_dry.sw.vtx
models/Nurserk/foliage/vine_cluster_loop02_dry.mdl
models/Nurserk/foliage/fern_02.dx80.vtx
models/Nurserk/foliage/vine_large_leaves04_dry.vvd
models/Nurserk/foliage/vine_large_leaves01.vvd
models/Nurserk/foliage/fern_04.mdl
models/Nurserk/foliage/Foliage_Waterplant02.dx80.vtx
models/Nurserk/foliage/vine_large_leaves01_halfdry.mdl
models/Nurserk/foliage/vine_large_leaves02_halfdry.dx80.vtx
models/Nurserk/foliage/Vines_tall_patch01_halfdry_alphatest.dx80.vtx
models/Nurserk/foliage/vine_large_leaves04.dx80.vtx
models/Nurserk/foliage/vine_large_leaves02_dry.vvd
models/Nurserk/foliage/bush01.mdl
models/Nurserk/foliage/vine_large_leaves01.dx80.vtx
models/Nurserk/foliage/vine_large_leaves03.sw.vtx
models/Nurserk/foliage/Vines_tall_patch01_halfdry.dx80.vtx
models/Nurserk/foliage/bush01.dx90.vtx
models/Nurserk/foliage/sm_beach_grass_01b.mdl
models/Nurserk/foliage/sm_beach_grass_02.dx90.vtx
models/Nurserk/foliage/brushwood_02.vvd
models/Nurserk/foliage/vine_large_leaves03_halfdry.sw.vtx
models/Nurserk/foliage/vine_large_leaves04_dry.dx80.vtx
models/Nurserk/foliage/Vine_cluster_loop02_dry.dx90.vtx
models/Nurserk/foliage/fern_01.sw.vtx
models/Nurserk/foliage/ferns02.dx80.vtx
models/Nurserk/foliage/vines_suspended_cluster03_dry.vvd
models/Nurserk/foliage/vine_large_leaves02_dry.dx90.vtx
models/Nurserk/foliage/brushwood_01.mdl
models/Nurserk/foliage/sm_beach_grass_01.sw.vtx
models/Nurserk/foliage/bush01_dead.dx80.vtx
models/Nurserk/foliage/moss_wall01_256_vines.vvd
models/Nurserk/foliage/weu_ivy_floor.sw.vtx
models/Nurserk/foliage/ferns03.mdl
models/Nurserk/foliage/fern_04.vvd
models/Nurserk/foliage/ferns03.dx90.vtx
models/Nurserk/foliage/sm_beach_grass_01.mdl
models/Nurserk/foliage/vines_128_256_halfdry01_alphatest_static.dx90.vtx
models/Nurserk/foliage/vine_large_leaves02_halfdry.sw.vtx
models/Nurserk/foliage/Vine_cluster_loop01.dx90.vtx
models/Nurserk/foliage/ferns03.vvd
models/Nurserk/foliage/sm_beach_grass_01.dx80.vtx
models/Nurserk/foliage/Vines_tall_patch01_halfdry_alphatest.sw.vtx
models/Nurserk/foliage/vine_large_leaves02.mdl
models/Nurserk/foliage/ferns02.vvd
models/Nurserk/foliage/vine_large_leaves02_halfdry.dx90.vtx
models/Nurserk/foliage/ferns02.sw.vtx
models/Nurserk/foliage/Moss_patch_corner_192.sw.vtx
models/Nurserk/foliage/Vine_cluster_loop01.dx80.vtx
models/Nurserk/foliage/Vines_thick_ceiling01_nosway.dx90.vtx
models/Nurserk/foliage/moss_patch_corner_192.mdl
models/Nurserk/foliage/vine_large_leaves01_halfdry.dx80.vtx
models/Nurserk/foliage/vines_128_256_halfdry01_alphatest_static.sw.vtx
models/Nurserk/foliage/vines_suspended_cluster03_dry.dx90.vtx
models/Nurserk/foliage/Moss_wall01_256_vines.sw.vtx
models/Nurserk/foliage/Dream_Foliage_01.dx90.vtx
models/Nurserk/foliage/fern_04.dx80.vtx
models/Nurserk/foliage/vines_tall_patch01_halfdry_alphatest.mdl
models/Nurserk/foliage/vine_large_leaves03_halfdry.vvd
models/Nurserk/foliage/Moss_wall01_256.sw.vtx
models/Nurserk/foliage/vines_suspended_cluster01.vvd
models/Nurserk/foliage/Vines_tall_patch01.sw.vtx
models/Nurserk/foliage/Foliage_Lotusleaf01c_S1,5.dx90.vtx
models/Nurserk/foliage/Vine_cluster_loop01.sw.vtx
models/Nurserk/foliage/bush_angled_256_dead.mdl
models/Nurserk/foliage/vines_thick_384.vvd
models/Nurserk/foliage/vine_large_leaves01_dry.vvd
models/Nurserk/foliage/sm_beach_grass_02.dx80.vtx
models/Nurserk/foliage/fern_02.dx90.vtx
models/Nurserk/foliage/Foliage_Lotusleaf01c_S1,5.dx80.vtx
models/Nurserk/foliage/vines_suspended_cluster02.mdl
models/Nurserk/foliage/vine_large_leaves02_halfdry.vvd
models/Nurserk/foliage/Moss_wall01_256.dx90.vtx
models/Nurserk/foliage/bush_angled_256.dx80.vtx
models/Nurserk/foliage/Dream_Foliage_01.dx80.vtx
models/Nurserk/foliage/sm_beach_grass_01.vvd
models/Nurserk/foliage/vine_large_leaves01.mdl
models/Nurserk/foliage/sm_beach_grass_01b.dx80.vtx
models/Nurserk/foliage/vine_large_leaves03_halfdry.dx80.vtx
models/Nurserk/foliage/fern_01.mdl
models/Nurserk/foliage/bush01.sw.vtx
models/Nurserk/foliage/vine_cluster_loop01.mdl
models/Nurserk/foliage/vines_thick_ceilingcorner01.vvd
models/Nurserk/foliage/weu_ivy_floor.vvd
models/Nurserk/foliage/vine_large_leaves04_halfdry.sw.vtx
models/Nurserk/foliage/Moss_patch_corner_192.dx80.vtx
models/Nurserk/foliage/vine_large_leaves03_halfdry.dx90.vtx
models/Nurserk/foliage/fern_01.vvd
models/Nurserk/foliage/Vines_tall_patch01_halfdry.dx90.vtx
models/Nurserk/foliage/vine_large_leaves02.vvd
models/Nurserk/foliage/bush_angled_256.sw.vtx
models/Nurserk/foliage/fern_02.vvd
models/Nurserk/foliage/Vine_cluster_loop02_dry.dx80.vtx
models/Nurserk/foliage/vines_suspended_cluster01.mdl
models/Nurserk/foliage/Vines_thick_384.dx90.vtx
models/Nurserk/foliage/Vines_thick_384_2D.dx90.vtx
models/Nurserk/foliage/vine_large_leaves03.dx90.vtx
models/Nurserk/foliage/dream_foliage_01.vvd
models/Nurserk/foliage/bush01.dx80.vtx
models/Nurserk/foliage/brushwood_02.sw.vtx
models/Nurserk/foliage/bush01_dead.sw.vtx
models/Nurserk/foliage/vine_large_leaves01_halfdry.vvd
models/Nurserk/foliage/Foliage_Waterplant02.dx90.vtx
models/Nurserk/foliage/foliage_lotusleaf01c_s1,5.mdl
models/Nurserk/foliage/weu_ivy_floor.dx90.vtx
models/Nurserk/foliage/vines_small01.vvd
models/Nurserk/foliage/bush_angled_256_dead.vvd
models/Nurserk/foliage/foliage_lotusleaf01c_s1,5.vvd
models/Nurserk/foliage/vines_suspended_cluster02.dx90.vtx
models/Nurserk/foliage/brushwood_02.dx80.vtx
models/Nurserk/foliage/bush_angled_256.dx90.vtx
models/Nurserk/foliage/vines_suspended_cluster02.vvd
models/Nurserk/foliage/vines_thick_ceiling01_nosway.mdl
models/Nurserk/foliage/bush_angled_256.mdl
models/Nurserk/foliage/ferns03.dx80.vtx
models/Nurserk/foliage/brushwood_01.vvd
models/Nurserk/foliage/vines_suspended_cluster01.dx80.vtx
models/Nurserk/foliage/fern_04.sw.vtx
models/Nurserk/foliage/moss_patch_corner_192.vvd
models/Nurserk/foliage/Vines_tall_patch01_halfdry_alphatest.dx90.vtx
models/Nurserk/foliage/sm_beach_grass_01b.dx90.vtx
models/Nurserk/foliage/vines_suspended_cluster03_dry.dx80.vtx
models/Nurserk/foliage/vines_suspended_cluster02.dx80.vtx
models/Nurserk/foliage/vines_thick_ceilingcorner01.mdl
models/Nurserk/foliage/vine_large_leaves04_halfdry.dx90.vtx
models/Nurserk/foliage/vine_large_leaves01.sw.vtx
models/Nurserk/foliage/vine_large_leaves03.dx80.vtx
models/Nurserk/foliage/vines_thick_384_2d.vvd
models/Nurserk/foliage/Vines_thick_ceilingcorner01.dx80.vtx
models/Nurserk/foliage/vine_large_leaves01_halfdry.dx90.vtx
models/Nurserk/foliage/Dream_Foliage_01.sw.vtx
models/Nurserk/foliage/vine_large_leaves01_dry.mdl
models/Nurserk/foliage/vines_thick_384.mdl
models/Nurserk/foliage/bush01_dead.vvd
models/Nurserk/foliage/brushwood_01.dx80.vtx
models/Nurserk/foliage/vines_tall_patch01_halfdry.mdl
models/Nurserk/foliage/vines_thick_ceiling01_nosway.vvd
models/Nurserk/foliage/vines_suspended_cluster01_dry.vvd
models/Nurserk/foliage/vines_suspended_cluster01_dry.mdl
models/Nurserk/foliage/moss_wall01_256.vvd
models/Nurserk/foliage/Vines_thick_384_2D.dx80.vtx
models/Nurserk/foliage/fern_01.dx90.vtx
models/Nurserk/foliage/Moss_wall01_256.dx80.vtx
models/Nurserk/foliage/Moss_patch_corner_192.dx90.vtx
models/Nurserk/foliage/vine_large_leaves04_dry.mdl
models/Nurserk/foliage/foliage_waterplant02.vvd
models/Nurserk/foliage/vine_large_leaves03.mdl
models/Nurserk/foliage/fern_02.sw.vtx
models/Nurserk/foliage/vines_128_256_halfdry01_alphatest_static.mdl
models/Nurserk/foliage/dm_ivy_wall05.dx80.vtx
models/Nurserk/foliage/vines_small01.mdl
models/Nurserk/foliage/weu_ivy_floor.mdl
models/Nurserk/foliage/vine_large_leaves04.vvd
models/Nurserk/foliage/Vines_thick_ceilingcorner01.sw.vtx
models/Nurserk/foliage/brushwood_02.dx90.vtx
materials/models/Nurserk/foliage/vines_suspended_cluster03_dry.vtf
materials/models/Nurserk/foliage/tx_beach_grass_02_d.vmt
materials/models/Nurserk/foliage/tx_beach_grass_01_d_s.vtf
materials/models/Nurserk/foliage/vines_thick_384_static.vmt
materials/models/Nurserk/foliage/vine_halfdry01.vmt
materials/models/Nurserk/foliage/dream_foliage_n.vtf
materials/models/Nurserk/foliage/t_ms_wf_ivyground_01_nnrs.vtf
materials/models/Nurserk/foliage/t_wf_ivywall_01_mip.vmt
materials/models/Nurserk/foliage/leaves.vtf
materials/models/Nurserk/foliage/vines_swaying02.vmt
materials/models/Nurserk/foliage/vines_suspended01.vtf
materials/models/Nurserk/foliage/dream_foliage.vmt
materials/models/Nurserk/foliage/vines_suspended_cluster03_dry.vmt
materials/models/Nurserk/foliage/fern_04.vtf
materials/models/Nurserk/foliage/vine_n.vtf
materials/models/Nurserk/foliage/vines_thick_384.vmt
materials/models/Nurserk/foliage/moss_patches_n.vtf
materials/models/Nurserk/foliage/brushwood_01.vtf
materials/models/Nurserk/foliage/vines_thick_384_nosway.vmt
materials/models/Nurserk/foliage/leaves_large_vines.vmt
materials/models/Nurserk/foliage/dream_foliage.vtf
materials/models/Nurserk/foliage/t_ms_wf_ivyground_01_c.vtf
materials/models/Nurserk/foliage/fern_n.vtf
materials/models/Nurserk/foliage/tx_beach_grass_01_d.vmt
materials/models/Nurserk/foliage/leaves_dead.vmt
materials/models/Nurserk/foliage/vine_cluster_loop01_dry.vmt
materials/models/Nurserk/foliage/vine_halfdry01_n.vtf
materials/models/Nurserk/foliage/lv_arbajungle_foliage_waterplant01_d_phj.vtf
materials/models/Nurserk/foliage/lv_arbajungle_foliage_waterplant01_d_phj_n.vtf
materials/models/Nurserk/foliage/lv_arbajungle_foliage_waterplant01_d_phj.vmt
materials/models/Nurserk/foliage/leaves_dead.vtf
materials/models/Nurserk/foliage/vines_large_swaying01.vmt
materials/models/Nurserk/foliage/vines_swaying_verysubtle01.vmt
materials/models/Nurserk/foliage/leaves_skin2.vtf
materials/models/Nurserk/foliage/vines_suspended01.vmt
materials/models/Nurserk/foliage/leaves.vmt
materials/models/Nurserk/foliage/tx_beach_grass_02_d_s.vtf
materials/models/Nurserk/foliage/vine_halfdry01_alphatest.vmt
materials/models/Nurserk/foliage/t_ms_wf_ivyground_01_c.vmt
materials/models/Nurserk/foliage/lv_arbajungle_foliage_lotusleaf01_d_nwcmin.vmt
materials/models/Nurserk/foliage/vine_cluster_loop01_dry.vtf
materials/models/Nurserk/foliage/moss_patches.vmt
materials/models/Nurserk/foliage/tx_beach_grass_02_d.vtf
materials/models/Nurserk/foliage/t_wf_ivywall_01_nnrs.vtf
materials/models/Nurserk/foliage/vines_thick_384_n.vtf
materials/models/Nurserk/foliage/vines_swaying_verysubtle02.vmt
materials/models/Nurserk/foliage/fern_01.vtf
materials/models/Nurserk/foliage/leaves_n.vtf
materials/models/Nurserk/foliage/lv_arbajungle_foliage_lotusleaf01_d_nwcmin.vtf
materials/models/Nurserk/foliage/tx_beach_grass_01_d_n.vtf
materials/models/Nurserk/foliage/vines_swaying01.vmt
materials/models/Nurserk/foliage/bush_swaying01.vmt
materials/models/Nurserk/foliage/leaves_ref.vtf
materials/models/Nurserk/foliage/tx_beach_grass_01_d.vtf
materials/models/Nurserk/foliage/tx_beach_grass_02_d_n.vtf
materials/models/Nurserk/foliage/leaves_bushes.vmt
materials/models/Nurserk/foliage/vines_n.vtf
materials/models/Nurserk/foliage/fern_01.vmt
materials/models/Nurserk/foliage/vines_thick_384.vtf
materials/models/Nurserk/foliage/brushwood_01.vmt
materials/models/Nurserk/foliage/fern_04.vmt
materials/models/Nurserk/foliage/vine_halfdry01.vtf
materials/models/Nurserk/foliage/moss_patches.vtf
materials/models/Nurserk/foliage/t_wf_ivywall_01_mip.vtf
materials/models/Nurserk/foliage/lv_arbajungle_foliage_lotusleaf01_d_nwcmin_n.vtf
materials/models/Nurserk/foliage/leaves_skin2.vmt
materials/models/Nurserk/foliage/brushwood01_n.vtf
materials/models/Nurserk/foliage/fern4_n.vtf