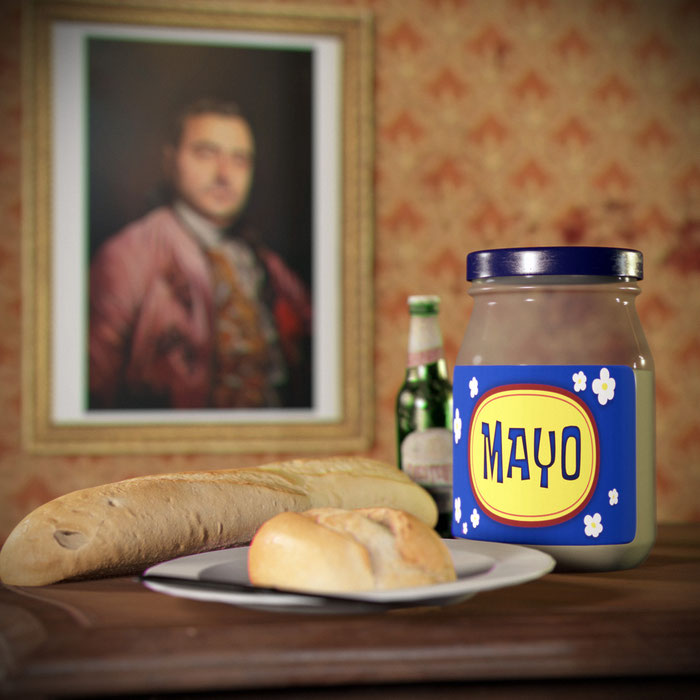 Description
A port of crute's Mayo Jar Blender model to SFM2. Ported as it was CC0 and HL Alyx's bread looked rather dry without some mayo.
Installation instructions:
Extract the content of the archive into your Half-Life Alyx\game\hlvr_addons\ currentaddon folder
Included files
The entire model is contained in "justsomeMayoSFM2".
Body Groups
There are body groups to remove the lid and the mayo from the jar.
Shapekeys
crute's original shapekeys to manipulate the shape of the mayo can be found in the "unknown" group.
SFMLab is a free service. However, it costs about $0.03 to deliver you a 1GB file. With over 20TB of traffic every month and growing, SFMLab needs your help. If only 1% of our users each gave us $5 for a single month, we could keep the site running for several years.
Filename
Downloads
Created
Filesize
Files
justsomeMayoSFM2.7z
555
2022-01-27 20:02:06
11.27 MB
File contents:

justsomemayosfm2.vmdl_c
justsomemayosfm2/unnamed_1_vmorf.vtex_c
justsomemayosfm2/mayo_vmorf.vtex_c
materials/dev/panel_normal_tga_2e02986c.vtex_c
materials/dev/flat_normal_psd_244b2aeb.vtex_c
materials/dev/panel_normal_tga_52eef3d4.vtex_c
materials/dev/black_color_tga_41691a4.vtex_c
materials/default/default_normal_tga_4fc2d3dd.vtex_c
materials/default/default_eyes_gloss_tga_ac39d5d1.vtex_c
materials/default/default_normal_tga_e60f5789.vtex_c
materials/default/default_black_mask_tga_8311d595.vtex_c
materials/default/default_color_tga_97460bfa.vtex_c
materials/default/default_mask_tga_8d99d870.vtex_c
materials/default/default_eyes_normal_psd_351cb966.vtex_c
materials/default/default_selfillum_tga_e58fcf1c.vtex_c
materials/default/default_normal_tga_b19c8c1f.vtex_c
materials/default/default_eyes_color_psd_c1df5ea2.vtex_c
materials/default/default_ao_tga_559f1ac6.vtex_c
materials/default/default_cube_pfm_26490dc9.vtex_c
materials/default/default_tga_9c286083.vtex_c
materials/default/default_normal_tga_794cb9ce.vtex_c
materials/default/default_color_tga_faa8dd4b.vtex_c
materials/default/default_eyes_color_psd_4fb05d2d.vtex_c
materials/default/default_skin_diffusewarp_tga_e58a9ed.vtex_c
materials/default/default_bentnormal_tga_2023e987.vtex_c
materials/default/default_gloss_tga_2df0325d.vtex_c
materials/default/default_detailmask_tga_86bae0f6.vtex_c
materials/default/default_diffusewarp_tga_d1753cba.vtex_c
materials/default/default_normal_tga_8d77c6aa.vtex_c
materials/default/default_eyes_normal_psd_eda9f33c.vtex_c
materials/default/default_black_mask_tga_e3812bec.vtex_c
materials/default/default_normal_tga_7be61377.vtex_c
materials/default/default_black_mask_tga_1b52f511.vtex_c
materials/default/default_color_tga_150d6b82.vtex_c
materials/default/default_eyes_normal_psd_fcc74b48.vtex_c
materials/default/default_mask_tga_344101f8.vtex_c
materials/default/default_skin_shadowwarp_tga_f2855b6e.vtex_c
materials/default/default_metal_tga_af1d7118.vtex_c
materials/default/default_color_tga_22e6f7.vtex_c
materials/default/default_black_mask_tga_53c489b3.vtex_c
materials/default/default_color_tga_47b1af3d.vtex_c
materials/default/default_color_tga_61c2da90.vtex_c
materials/default/default_color_tga_5bb165c6.vtex_c
materials/default/default_eyes_height_psd_7d590f1c.vtex_c
materials/models/justasfmusername/crute/justsomemayosfm2.vmat_c
materials/models/justasfmusername/crute/justsomemayosfm2_lid_vmat_g_tcolor_caca6526.vtex_c
materials/models/justasfmusername/crute/justsomemayosfm2_mayo_vmat_g_tnormala_bc517e1b.vtex_c
materials/models/justasfmusername/crute/justsomemayosfm2_mayo_vmat_g_tcolora_5ae0b487.vtex_c
materials/models/justasfmusername/crute/justsomemayosfm2_mayo_vmat_g_tliquidmask_49c02b0d.vtex_c
materials/models/justasfmusername/crute/justsomemayosfm2_label.vmat_c
materials/models/justasfmusername/crute/justsomemayosfm2_jar.vmat_c
materials/models/justasfmusername/crute/justsomemayosfm2_lid.vmat_c
materials/models/justasfmusername/crute/justsomemayosfm2_mayo.vmat_c
materials/models/justasfmusername/crute/justsomemayosfm2_mayo_vmat_g_tliquidmask_b0af83e1.vtex_c
materials/models/justasfmusername/crute/justsomemayosfm2_mayo_vmat_g_tnormala_15ef22cf.vtex_c
materials/models/justasfmusername/crute/plastic/scuffed-plastic-normal_png_8361e9e.vtex_c
materials/models/justasfmusername/crute/mayo/mayojar_label_png_95765b5b.vtex_c
materials/models/justasfmusername/crute/paper/paper002_2k_normalgl_jpg_156bfc6a.vtex_c
materials/models/justasfmusername/crute/paper/paper002_2k_roughness_jpg_976773f7.vtex_c
materials/models/justasfmusername/crute/paper/paper002_2k_normalgl_jpg_5fe2a2e2.vtex_c
materials/models/justasfmusername/crute/paper/paper002_2k_normalgl_jpg_f0943e9.vtex_c