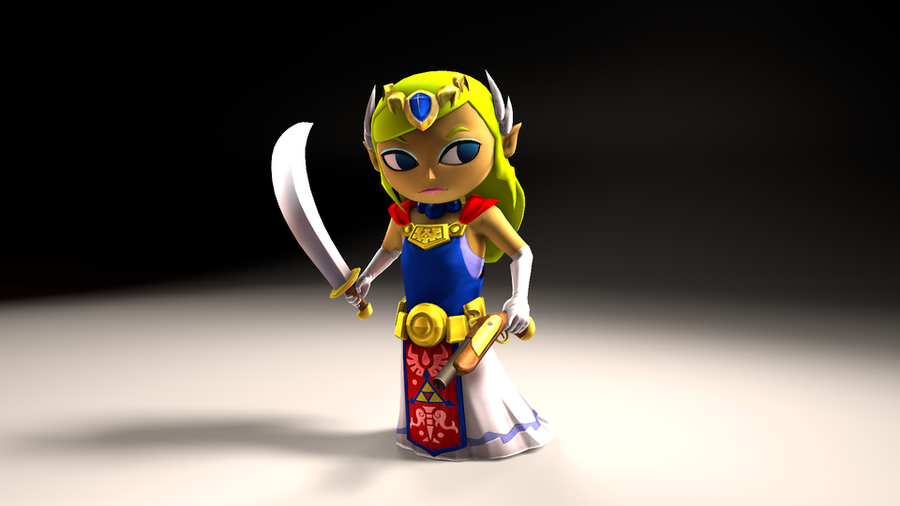 Show more
Description
!! NOW ALSO CEL-SHADING EDITION AVAILABLE !!
In the future, the weapons shown in the picture can be found separately for other technical reasons:
https://sfmlab.com/project/35992/
There is no question of permission or anything else that could fix and put the missing texture files in. Originally, this is from an MMD model that has been ported to both SFM and GMOD without AO and normal texture.
More likely not to have joined. This was found through Mode-Recourse and I added other texture features to the VMT file to make it look better.
Also with customs: These are the same patterns, but with different textures that are unofficial, i.e. fanmade. Most of these correspond to previous games like the arts Wind Waker, Four Swords, Minish Cap, Phantom Hourglass and Spirit Tracks.
Originally, these were supposed to come as mere textures, but I chose to separate the models with the nickname "alt" last, because one eye texture is glowing for Malladus, Demon King, and SFM can't read only the VTF but not the VMT file for some reason.
(Now also Toon Zelda: Tetra Edition like Queen/Princess Tetra!!)
You can also sub one unless all contents from "Hyrule Warriors: The Wind Waker Workshop collection" when it will automatically download to the right place without you having to do anything.
GMOD:
https://steamcommunity.com/sharedfiles/filedetails/?id=2788754287
SFM:
https://steamcommunity.com/sharedfiles/filedetails/?id=2788755095
Also full collection HW Wind Waker, if you like more manually install:
https://sfmlab.com/list/4948c79f-4c9e-49dd-8011-634c254b21b8/
Original porting importer: R2M
Source: Hyrule Warriors
Disclaimer: Zelda is Nintendo
SFMLab is a free service. However, it costs about $0.03 to deliver you a 1GB file. With over 20TB of traffic every month and growing, SFMLab needs your help. If only 1% of our users each gave us $5 for a single month, we could keep the site running for several years.
Filename
Downloads
Created
Filesize
Files
hyrulewarriors-tetrazelda-custom-v39-gmod.zip
2
2023-04-29 14:59:23
124.8 MB
File contents:

models/hyrulewarriors/toonzeldacel.dx90.vtx
models/hyrulewarriors/princesstetracel.dx80.vtx
models/hyrulewarriors/tetraalt.dx80.vtx
models/hyrulewarriors/toonzeldaalt.vvd
models/hyrulewarriors/tetracel.vvd
models/hyrulewarriors/toonzeldaalt.phy
models/hyrulewarriors/tetraalt.phy
models/hyrulewarriors/princesstetracel.dx90.vtx
models/hyrulewarriors/toonzeldacel.phy
models/hyrulewarriors/tetracel.phy
models/hyrulewarriors/tetraalt.sw.vtx
models/hyrulewarriors/toonzeldaalt.mdl
models/hyrulewarriors/toonzeldacel.vvd
models/hyrulewarriors/princesstetra.dx80.vtx
models/hyrulewarriors/toonzeldaalt.dx90.vtx
models/hyrulewarriors/toonzeldaalt.dx80.vtx
models/hyrulewarriors/tetracel.dx90.vtx
models/hyrulewarriors/toonzeldacel.mdl
models/hyrulewarriors/princesstetra.vvd
models/hyrulewarriors/princesstetra.phy
models/hyrulewarriors/tetraalt.mdl
models/hyrulewarriors/princesstetra.dx90.vtx
models/hyrulewarriors/princesstetracel.vvd
models/hyrulewarriors/princesstetracel.phy
models/hyrulewarriors/tetracel.sw.vtx
models/hyrulewarriors/princesstetra.mdl
models/hyrulewarriors/tetracel.mdl
models/hyrulewarriors/toonzeldacel.sw.vtx
models/hyrulewarriors/princesstetracel.sw.vtx
models/hyrulewarriors/princesstetra.sw.vtx
models/hyrulewarriors/toonzeldacel.dx80.vtx
models/hyrulewarriors/princesstetracel.mdl
models/hyrulewarriors/tetracel.dx80.vtx
models/hyrulewarriors/tetraalt.dx90.vtx
models/hyrulewarriors/toonzeldaalt.sw.vtx
models/hyrulewarriors/tetraalt.vvd
materials/models/hyrulewarriors/weapons/tetra/gun.vtf
materials/models/hyrulewarriors/weapons/tetra/sword.vtf
materials/models/hyrulewarriors/weapons/tetra/tetrabow.vmt
materials/models/hyrulewarriors/weapons/tetra/tetraarrow.vmt
materials/models/hyrulewarriors/weapons/tetra/sword_nrm.vtf
materials/models/hyrulewarriors/weapons/tetra/tetraarrow.vtf
materials/models/hyrulewarriors/weapons/tetra/tetrabow_nrm.vtf
materials/models/hyrulewarriors/weapons/tetra/tetrabow.vtf
materials/models/hyrulewarriors/weapons/tetra/gun.vmt
materials/models/hyrulewarriors/weapons/tetra/sword.vmt
materials/models/hyrulewarriors/weapons/tetra/tetraarrow_nrm.vtf
materials/models/hyrulewarriors/weapons/tetra/gun_nrm.vtf
materials/models/hyrulewarriors/shared/shared_Lightwarp.vtf
materials/models/hyrulewarriors/shared/bluberryeye.vmt
materials/models/hyrulewarriors/shared/exponent.vtf
materials/models/hyrulewarriors/shared/eyespiritart.vtf
materials/models/hyrulewarriors/shared/facials.vtf
materials/models/hyrulewarriors/shared/darkblueye.vmt
materials/models/hyrulewarriors/shared/eyespirit.vtf
materials/models/hyrulewarriors/shared/facialsspirit.vmt
materials/models/hyrulewarriors/shared/blueye.vtf
materials/models/hyrulewarriors/shared/facials.vmt
materials/models/hyrulewarriors/shared/toonshade.vtf
materials/models/hyrulewarriors/shared/eyedemon.vtf
materials/models/hyrulewarriors/shared/blueye.vmt
materials/models/hyrulewarriors/shared/bluberryeye.vtf
materials/models/hyrulewarriors/shared/shared_normal.vtf
materials/models/hyrulewarriors/shared/eyedemon.vmt
materials/models/hyrulewarriors/shared/eyespirit.vmt
materials/models/hyrulewarriors/shared/toon_lightwarp.vtf
materials/models/hyrulewarriors/shared/darkblueye.vtf
materials/models/hyrulewarriors/shared/facialsspirit.vtf
materials/models/hyrulewarriors/shared/cel/bluberryeye.vmt
materials/models/hyrulewarriors/shared/cel/eyespirit0.vtf
materials/models/hyrulewarriors/shared/cel/darkblueye.vmt
materials/models/hyrulewarriors/shared/cel/eyespirit.vtf
materials/models/hyrulewarriors/shared/cel/facialsspirit.vmt
materials/models/hyrulewarriors/shared/cel/blueye.vtf
materials/models/hyrulewarriors/shared/cel/facials.vmt
materials/models/hyrulewarriors/shared/cel/eyedemon.vtf
materials/models/hyrulewarriors/shared/cel/blueye.vmt
materials/models/hyrulewarriors/shared/cel/bluberryeye.vtf
materials/models/hyrulewarriors/shared/cel/eyespirit0.vmt
materials/models/hyrulewarriors/shared/cel/eyedemon.vmt
materials/models/hyrulewarriors/shared/cel/eyespirit.vmt
materials/models/hyrulewarriors/shared/cel/darkblueye.vtf
materials/models/hyrulewarriors/shared/cel/facials1.vmt
materials/models/hyrulewarriors/tetra/body1.vmt
materials/models/hyrulewarriors/tetra/body2.vmt
materials/models/hyrulewarriors/tetra/body_nrm.vtf
materials/models/hyrulewarriors/tetra/body3.vtf
materials/models/hyrulewarriors/tetra/hilt_nrm.vtf
materials/models/hyrulewarriors/tetra/body3.vmt
materials/models/hyrulewarriors/tetra/body1.vtf
materials/models/hyrulewarriors/tetra/body0.vtf
materials/models/hyrulewarriors/tetra/body0.vmt
materials/models/hyrulewarriors/tetra/body2.vtf
materials/models/hyrulewarriors/tetra/facials.vmt
materials/models/hyrulewarriors/tetra/blueye.vmt
materials/models/hyrulewarriors/tetra/body.vtf
materials/models/hyrulewarriors/tetra/hilt.vtf
materials/models/hyrulewarriors/tetra/hilt.vmt
materials/models/hyrulewarriors/tetra/body.vmt
materials/models/hyrulewarriors/toonzelda/bodyspirit.vmt
materials/models/hyrulewarriors/toonzelda/body_nrm.vtf
materials/models/hyrulewarriors/toonzelda/bodyspirit.vtf
materials/models/hyrulewarriors/toonzelda/blueye.vmt
materials/models/hyrulewarriors/toonzelda/body.vtf
materials/models/hyrulewarriors/toonzelda/eyespirit.vmt
materials/models/hyrulewarriors/toonzelda/body.vmt
materials/models/hyrulewarriors/custom/bodyfszeldap.vtf
materials/models/hyrulewarriors/custom/bluberryeye.vmt
materials/models/hyrulewarriors/custom/bodyspiritp.vtf
materials/models/hyrulewarriors/custom/bodyhwtetrap.vtf
materials/models/hyrulewarriors/custom/darkblueye.vmt
materials/models/hyrulewarriors/custom/bodywwzelda.vtf
materials/models/hyrulewarriors/custom/bodyspiritart.vtf
materials/models/hyrulewarriors/custom/bodyarttetra.vtf
materials/models/hyrulewarriors/custom/bodyartzeldap.vtf
materials/models/hyrulewarriors/custom/bodyspiritartp.vtf
materials/models/hyrulewarriors/custom/bodyarttetrap.vtf
materials/models/hyrulewarriors/custom/bodyartzelda.vtf
materials/models/hyrulewarriors/custom/eyedemon.vmt
materials/models/hyrulewarriors/custom/bodywwzeldap.vtf
materials/models/hyrulewarriors/custom/bodyhwtoonzeldap.vtf
materials/models/hyrulewarriors/custom/bodyfszelda.vtf
materials/models/hyrulewarriors/custom/bodywwtetrap.vtf
materials/models/hyrulewarriors/custom/bodywwtetra.vtf
materials/models/hyrulewarriors/custom/weapons/tetra/cel/gun.vmt
materials/models/hyrulewarriors/custom/weapons/tetra/cel/sword.vmt
materials/models/hyrulewarriors/custom/princesstetra/body1.vmt
materials/models/hyrulewarriors/custom/princesstetra/body2.vmt
materials/models/hyrulewarriors/custom/princesstetra/bodyp.vmt
materials/models/hyrulewarriors/custom/princesstetra/body_nrm.vtf
materials/models/hyrulewarriors/custom/princesstetra/body3.vtf
materials/models/hyrulewarriors/custom/princesstetra/bodyspirit0.vtf
materials/models/hyrulewarriors/custom/princesstetra/body3p.vmt
materials/models/hyrulewarriors/custom/princesstetra/bodyspirit1.vmt
materials/models/hyrulewarriors/custom/princesstetra/bodyspirit0p.vmt
materials/models/hyrulewarriors/custom/princesstetra/body0p.vtf
materials/models/hyrulewarriors/custom/princesstetra/body3.vmt
materials/models/hyrulewarriors/custom/princesstetra/body3p.vtf
materials/models/hyrulewarriors/custom/princesstetra/body1.vtf
materials/models/hyrulewarriors/custom/princesstetra/body0.vtf
materials/models/hyrulewarriors/custom/princesstetra/body0.vmt
materials/models/hyrulewarriors/custom/princesstetra/body2p.vtf
materials/models/hyrulewarriors/custom/princesstetra/body0p.vmt
materials/models/hyrulewarriors/custom/princesstetra/body1p.vmt
materials/models/hyrulewarriors/custom/princesstetra/bodyspirit1.vtf
materials/models/hyrulewarriors/custom/princesstetra/body2.vtf
materials/models/hyrulewarriors/custom/princesstetra/blueye.vmt
materials/models/hyrulewarriors/custom/princesstetra/body.vtf
materials/models/hyrulewarriors/custom/princesstetra/eyespirit0.vmt
materials/models/hyrulewarriors/custom/princesstetra/body4p.vtf
materials/models/hyrulewarriors/custom/princesstetra/body4p.vmt
materials/models/hyrulewarriors/custom/princesstetra/bodyspirit0.vmt
materials/models/hyrulewarriors/custom/princesstetra/body2p.vmt
materials/models/hyrulewarriors/custom/princesstetra/bodyspirit1p.vtf
materials/models/hyrulewarriors/custom/princesstetra/bodyspirit1p.vmt
materials/models/hyrulewarriors/custom/princesstetra/eyespirit.vmt
materials/models/hyrulewarriors/custom/princesstetra/body1p.vtf
materials/models/hyrulewarriors/custom/princesstetra/body.vmt
materials/models/hyrulewarriors/custom/princesstetra/body4.vmt
materials/models/hyrulewarriors/custom/princesstetra/body4.vtf
materials/models/hyrulewarriors/custom/princesstetra/bodyspirit0p.vtf
materials/models/hyrulewarriors/custom/princesstetra/bodyp.vtf
materials/models/hyrulewarriors/custom/princesstetra/cel/body1.vmt
materials/models/hyrulewarriors/custom/princesstetra/cel/body2.vmt
materials/models/hyrulewarriors/custom/princesstetra/cel/bodyp.vmt
materials/models/hyrulewarriors/custom/princesstetra/cel/body3P.vtf
materials/models/hyrulewarriors/custom/princesstetra/cel/body3.vtf
materials/models/hyrulewarriors/custom/princesstetra/cel/bodyspirit0.vtf
materials/models/hyrulewarriors/custom/princesstetra/cel/body3p.vmt
materials/models/hyrulewarriors/custom/princesstetra/cel/bodyspirit1.vmt
materials/models/hyrulewarriors/custom/princesstetra/cel/bodyspirit0p.vmt
materials/models/hyrulewarriors/custom/princesstetra/cel/body3.vmt
materials/models/hyrulewarriors/custom/princesstetra/cel/body1.vtf
materials/models/hyrulewarriors/custom/princesstetra/cel/body0.vtf
materials/models/hyrulewarriors/custom/princesstetra/cel/body0.vmt
materials/models/hyrulewarriors/custom/princesstetra/cel/body5.vtf
materials/models/hyrulewarriors/custom/princesstetra/cel/body0p.vmt
materials/models/hyrulewarriors/custom/princesstetra/cel/body1p.vmt
materials/models/hyrulewarriors/custom/princesstetra/cel/body0P.vtf
materials/models/hyrulewarriors/custom/princesstetra/cel/bodyspirit1.vtf
materials/models/hyrulewarriors/custom/princesstetra/cel/body2.vtf
materials/models/hyrulewarriors/custom/princesstetra/cel/bodyP.vtf
materials/models/hyrulewarriors/custom/princesstetra/cel/body2P.vtf
materials/models/hyrulewarriors/custom/princesstetra/cel/body.vtf
materials/models/hyrulewarriors/custom/princesstetra/cel/body4P.vtf
materials/models/hyrulewarriors/custom/princesstetra/cel/eyespirit0.vmt
materials/models/hyrulewarriors/custom/princesstetra/cel/body4p.vmt
materials/models/hyrulewarriors/custom/princesstetra/cel/bodyspirit0.vmt
materials/models/hyrulewarriors/custom/princesstetra/cel/bodyspirit1P.vtf
materials/models/hyrulewarriors/custom/princesstetra/cel/body2p.vmt
materials/models/hyrulewarriors/custom/princesstetra/cel/bodyspirit1p.vmt
materials/models/hyrulewarriors/custom/princesstetra/cel/eyespirit.vmt
materials/models/hyrulewarriors/custom/princesstetra/cel/body1P.vtf
materials/models/hyrulewarriors/custom/princesstetra/cel/body5P.vtf
materials/models/hyrulewarriors/custom/princesstetra/cel/bodyspirit0P.vtf
materials/models/hyrulewarriors/custom/princesstetra/cel/body.vmt
materials/models/hyrulewarriors/custom/princesstetra/cel/body4.vmt
materials/models/hyrulewarriors/custom/princesstetra/cel/body4.vtf
materials/models/hyrulewarriors/custom/princesstetra/cel/c/body5p.vtf
materials/models/hyrulewarriors/custom/princesstetra/cel/c/body0p.vtf
materials/models/hyrulewarriors/custom/princesstetra/cel/c/body3p.vtf
materials/models/hyrulewarriors/custom/princesstetra/cel/c/body2p.vtf
materials/models/hyrulewarriors/custom/princesstetra/cel/c/body4p.vtf
materials/models/hyrulewarriors/custom/princesstetra/cel/c/body1p.vtf
materials/models/hyrulewarriors/custom/princesstetra/cel/c/bodyp.vtf
materials/models/hyrulewarriors/custom/princesstetra/cel/p/body3.vtf
materials/models/hyrulewarriors/custom/princesstetra/cel/p/body1.vtf
materials/models/hyrulewarriors/custom/princesstetra/cel/p/body0.vtf
materials/models/hyrulewarriors/custom/princesstetra/cel/p/body5.vtf
materials/models/hyrulewarriors/custom/princesstetra/cel/p/body2.vtf
materials/models/hyrulewarriors/custom/princesstetra/cel/p/body.vtf
materials/models/hyrulewarriors/custom/princesstetra/cel/p/body4.vtf
materials/models/hyrulewarriors/custom/tetra/bodyp.vmt
materials/models/hyrulewarriors/custom/tetra/body3p.vmt
materials/models/hyrulewarriors/custom/tetra/body5p.vmt
materials/models/hyrulewarriors/custom/tetra/body0p.vtf
materials/models/hyrulewarriors/custom/tetra/body3p.vtf
materials/models/hyrulewarriors/custom/tetra/body2p.vtf
materials/models/hyrulewarriors/custom/tetra/body0p.vmt
materials/models/hyrulewarriors/custom/tetra/body1p.vmt
materials/models/hyrulewarriors/custom/tetra/body5.vmt
materials/models/hyrulewarriors/custom/tetra/body4p.vmt
materials/models/hyrulewarriors/custom/tetra/body2p.vmt
materials/models/hyrulewarriors/custom/tetra/body1p.vtf
materials/models/hyrulewarriors/custom/tetra/body4.vmt
materials/models/hyrulewarriors/custom/tetra/cel/bodyp.vmt
materials/models/hyrulewarriors/custom/tetra/cel/body5p.vmt
materials/models/hyrulewarriors/custom/tetra/cel/body5.vtf
materials/models/hyrulewarriors/custom/tetra/cel/body5.vmt
materials/models/hyrulewarriors/custom/tetra/cel/bodyP.vtf
materials/models/hyrulewarriors/custom/tetra/cel/body.vtf
materials/models/hyrulewarriors/custom/tetra/cel/body4P.vtf
materials/models/hyrulewarriors/custom/tetra/cel/body4p.vmt
materials/models/hyrulewarriors/custom/tetra/cel/body5P.vtf
materials/models/hyrulewarriors/custom/tetra/cel/hilt.vmt
materials/models/hyrulewarriors/custom/tetra/cel/body.vmt
materials/models/hyrulewarriors/custom/tetra/cel/body4.vmt
materials/models/hyrulewarriors/custom/tetra/cel/body4.vtf
materials/models/hyrulewarriors/custom/toonzelda/bodyspirit.vmt
materials/models/hyrulewarriors/custom/toonzelda/body1.vmt
materials/models/hyrulewarriors/custom/toonzelda/body2.vmt
materials/models/hyrulewarriors/custom/toonzelda/bodyp.vmt
materials/models/hyrulewarriors/custom/toonzelda/pantsspirit.vmt
materials/models/hyrulewarriors/custom/toonzelda/bodyspirit0p.vmt
materials/models/hyrulewarriors/custom/toonzelda/bodyspiritp.vmt
materials/models/hyrulewarriors/custom/toonzelda/body0.vmt
materials/models/hyrulewarriors/custom/toonzelda/body0p.vmt
materials/models/hyrulewarriors/custom/toonzelda/body1p.vmt
materials/models/hyrulewarriors/custom/toonzelda/pants.vmt
materials/models/hyrulewarriors/custom/toonzelda/eyespirit0.vmt
materials/models/hyrulewarriors/custom/toonzelda/bodyspirit0.vmt
materials/models/hyrulewarriors/custom/toonzelda/body2p.vmt
materials/models/hyrulewarriors/custom/toonzelda/eyespirit.vmt
materials/models/hyrulewarriors/custom/toonzelda/body.vmt
materials/models/hyrulewarriors/custom/toonzelda/cel/bodyspirit.vmt
materials/models/hyrulewarriors/custom/toonzelda/cel/body1.vmt
materials/models/hyrulewarriors/custom/toonzelda/cel/body2.vmt
materials/models/hyrulewarriors/custom/toonzelda/cel/bodyp.vmt
materials/models/hyrulewarriors/custom/toonzelda/cel/body3P.vtf
materials/models/hyrulewarriors/custom/toonzelda/cel/body3.vtf
materials/models/hyrulewarriors/custom/toonzelda/cel/body3p.vmt
materials/models/hyrulewarriors/custom/toonzelda/cel/bodyspirit0p.vmt
materials/models/hyrulewarriors/custom/toonzelda/cel/bodyspiritp.vmt
materials/models/hyrulewarriors/custom/toonzelda/cel/body3.vmt
materials/models/hyrulewarriors/custom/toonzelda/cel/body1.vtf
materials/models/hyrulewarriors/custom/toonzelda/cel/body0.vtf
materials/models/hyrulewarriors/custom/toonzelda/cel/body0.vmt
materials/models/hyrulewarriors/custom/toonzelda/cel/body0p.vmt
materials/models/hyrulewarriors/custom/toonzelda/cel/body1p.vmt
materials/models/hyrulewarriors/custom/toonzelda/cel/body0P.vtf
materials/models/hyrulewarriors/custom/toonzelda/cel/body2.vtf
materials/models/hyrulewarriors/custom/toonzelda/cel/bodyP.vtf
materials/models/hyrulewarriors/custom/toonzelda/cel/body2P.vtf
materials/models/hyrulewarriors/custom/toonzelda/cel/body.vtf
materials/models/hyrulewarriors/custom/toonzelda/cel/body4P.vtf
materials/models/hyrulewarriors/custom/toonzelda/cel/bodyspirit0.vmt
materials/models/hyrulewarriors/custom/toonzelda/cel/body2p.vmt
materials/models/hyrulewarriors/custom/toonzelda/cel/body1P.vtf
materials/models/hyrulewarriors/custom/toonzelda/cel/body.vmt
materials/models/hyrulewarriors/custom/toonzelda/cel/body4.vtf




hyrulewarriors-tetrazelda-v32-gmod.zip
2
2023-04-29 14:59:16
15.22 MB
File contents:

models/hyrulewarriors/tetra.vvd
models/hyrulewarriors/toonzelda.sw.vtx
models/hyrulewarriors/tetra.phy
models/hyrulewarriors/tetra.mdl
models/hyrulewarriors/tetra.sw.vtx
models/hyrulewarriors/toonzelda.dx90.vtx
models/hyrulewarriors/toonzelda.vvd
models/hyrulewarriors/toonzelda.phy
models/hyrulewarriors/toonzelda.mdl
models/hyrulewarriors/toonzelda.dx80.vtx
models/hyrulewarriors/tetra.dx80.vtx
models/hyrulewarriors/tetra.dx90.vtx
materials/models/hyrulewarriors/weapons/tetra/gun.vtf
materials/models/hyrulewarriors/weapons/tetra/sword.vtf
materials/models/hyrulewarriors/weapons/tetra/tetrabow.vmt
materials/models/hyrulewarriors/weapons/tetra/tetraarrow.vmt
materials/models/hyrulewarriors/weapons/tetra/sword_nrm.vtf
materials/models/hyrulewarriors/weapons/tetra/tetraarrow.vtf
materials/models/hyrulewarriors/weapons/tetra/tetrabow_nrm.vtf
materials/models/hyrulewarriors/weapons/tetra/tetrabow.vtf
materials/models/hyrulewarriors/weapons/tetra/gun.vmt
materials/models/hyrulewarriors/weapons/tetra/sword.vmt
materials/models/hyrulewarriors/weapons/tetra/tetraarrow_nrm.vtf
materials/models/hyrulewarriors/weapons/tetra/gun_nrm.vtf
materials/models/hyrulewarriors/shared/shared_Lightwarp.vtf
materials/models/hyrulewarriors/shared/exponent.vtf
materials/models/hyrulewarriors/shared/facials.vtf
materials/models/hyrulewarriors/shared/eyespirit.vtf
materials/models/hyrulewarriors/shared/facialsspirit.vmt
materials/models/hyrulewarriors/shared/blueye.vtf
materials/models/hyrulewarriors/shared/facials.vmt
materials/models/hyrulewarriors/shared/blueye.vmt
materials/models/hyrulewarriors/shared/shared_normal.vtf
materials/models/hyrulewarriors/shared/facialsspirit.vtf
materials/models/hyrulewarriors/tetra/body1.vmt
materials/models/hyrulewarriors/tetra/body2.vmt
materials/models/hyrulewarriors/tetra/body_nrm.vtf
materials/models/hyrulewarriors/tetra/gun.vtf
materials/models/hyrulewarriors/tetra/body3.vtf
materials/models/hyrulewarriors/tetra/sword.vtf
materials/models/hyrulewarriors/tetra/hilt_nrm.vtf
materials/models/hyrulewarriors/tetra/body3.vmt
materials/models/hyrulewarriors/tetra/body1.vtf
materials/models/hyrulewarriors/tetra/NRM.vtf
materials/models/hyrulewarriors/tetra/body0.vtf
materials/models/hyrulewarriors/tetra/body0.vmt
materials/models/hyrulewarriors/tetra/sword_nrm.vtf
materials/models/hyrulewarriors/tetra/body2.vtf
materials/models/hyrulewarriors/tetra/facials.vmt
materials/models/hyrulewarriors/tetra/blueye.vmt
materials/models/hyrulewarriors/tetra/body.vtf
materials/models/hyrulewarriors/tetra/hilt.vtf
materials/models/hyrulewarriors/tetra/tetra_nrm.vtf
materials/models/hyrulewarriors/tetra/gun.vmt
materials/models/hyrulewarriors/tetra/sword.vmt
materials/models/hyrulewarriors/tetra/hilt.vmt
materials/models/hyrulewarriors/tetra/body.vmt
materials/models/hyrulewarriors/tetra/gun_nrm.vtf
materials/models/hyrulewarriors/tetra/cel/body1.vmt
materials/models/hyrulewarriors/tetra/cel/body2.vmt
materials/models/hyrulewarriors/tetra/cel/Head0.vmt
materials/models/hyrulewarriors/tetra/cel/Head2.vmt
materials/models/hyrulewarriors/tetra/cel/body0.vmt
materials/models/hyrulewarriors/tetra/cel/Head.vmt
materials/models/hyrulewarriors/tetra/cel/HeadP.vmt
materials/models/hyrulewarriors/tetra/cel/boots.vmt
materials/models/hyrulewarriors/tetra/cel/Clothes0.vmt
materials/models/hyrulewarriors/tetra/cel/Head2P.vmt
materials/models/hyrulewarriors/tetra/cel/Clothes2.vmt
materials/models/hyrulewarriors/tetra/cel/Head1P.vmt
materials/models/hyrulewarriors/tetra/cel/Head0P.vmt
materials/models/hyrulewarriors/tetra/cel/Clothes1.vmt
materials/models/hyrulewarriors/tetra/cel/Head1.vmt
materials/models/hyrulewarriors/tetra/cel/body.vmt
materials/models/hyrulewarriors/tetra/cel/Clothes.vmt
materials/models/hyrulewarriors/toonzelda/bodyspirit.vmt
materials/models/hyrulewarriors/toonzelda/body_nrm.vtf
materials/models/hyrulewarriors/toonzelda/bodyspirit.vtf
materials/models/hyrulewarriors/toonzelda/blueye.vmt
materials/models/hyrulewarriors/toonzelda/body.vtf
materials/models/hyrulewarriors/toonzelda/eyespirit.vmt
materials/models/hyrulewarriors/toonzelda/body.vmt




hyrulewarriors-tetrazelda-custom-v39-sfm.zip
14
2023-04-29 14:59:15
123.55 MB
File contents:

models\hyrulewarriors\tetracel.mdl
models\hyrulewarriors\princesstetra.vvd
models\hyrulewarriors\princesstetracel.dx90.vtx
models\hyrulewarriors\tetraalt.dx90.vtx
models\hyrulewarriors\toonzeldaalt.vvd
models\hyrulewarriors\tetracel.vvd
models\hyrulewarriors\princesstetra.mdl
models\hyrulewarriors\princesstetra.dx90.vtx
models\hyrulewarriors\princesstetracel.vvd
models\hyrulewarriors\tetraalt.mdl
models\hyrulewarriors\toonzeldaalt.dx90.vtx
models\hyrulewarriors\tetracel.dx90.vtx
models\hyrulewarriors\toonzeldaalt.mdl
models\hyrulewarriors\princesstetracel.mdl
models\hyrulewarriors\toonzeldacel.vvd
models\hyrulewarriors\toonzeldacel.mdl
models\hyrulewarriors\tetraalt.vvd
models\hyrulewarriors\toonzeldacel.dx90.vtx
materials/models/hyrulewarriors/weapons/tetra/gun.vtf
materials/models/hyrulewarriors/weapons/tetra/sword.vtf
materials/models/hyrulewarriors/weapons/tetra/tetrabow.vmt
materials/models/hyrulewarriors/weapons/tetra/tetraarrow.vmt
materials/models/hyrulewarriors/weapons/tetra/sword_nrm.vtf
materials/models/hyrulewarriors/weapons/tetra/tetraarrow.vtf
materials/models/hyrulewarriors/weapons/tetra/tetrabow_nrm.vtf
materials/models/hyrulewarriors/weapons/tetra/tetrabow.vtf
materials/models/hyrulewarriors/weapons/tetra/gun.vmt
materials/models/hyrulewarriors/weapons/tetra/sword.vmt
materials/models/hyrulewarriors/weapons/tetra/tetraarrow_nrm.vtf
materials/models/hyrulewarriors/weapons/tetra/gun_nrm.vtf
materials/models/hyrulewarriors/shared/shared_Lightwarp.vtf
materials/models/hyrulewarriors/shared/bluberryeye.vmt
materials/models/hyrulewarriors/shared/exponent.vtf
materials/models/hyrulewarriors/shared/eyespiritart.vtf
materials/models/hyrulewarriors/shared/facials.vtf
materials/models/hyrulewarriors/shared/darkblueye.vmt
materials/models/hyrulewarriors/shared/eyespirit.vtf
materials/models/hyrulewarriors/shared/facialsspirit.vmt
materials/models/hyrulewarriors/shared/blueye.vtf
materials/models/hyrulewarriors/shared/facials.vmt
materials/models/hyrulewarriors/shared/toonshade.vtf
materials/models/hyrulewarriors/shared/eyedemon.vtf
materials/models/hyrulewarriors/shared/blueye.vmt
materials/models/hyrulewarriors/shared/bluberryeye.vtf
materials/models/hyrulewarriors/shared/shared_normal.vtf
materials/models/hyrulewarriors/shared/eyedemon.vmt
materials/models/hyrulewarriors/shared/eyespirit.vmt
materials/models/hyrulewarriors/shared/toon_lightwarp.vtf
materials/models/hyrulewarriors/shared/darkblueye.vtf
materials/models/hyrulewarriors/shared/facialsspirit.vtf
materials/models/hyrulewarriors/shared/cel/bluberryeye.vmt
materials/models/hyrulewarriors/shared/cel/eyespirit0.vtf
materials/models/hyrulewarriors/shared/cel/darkblueye.vmt
materials/models/hyrulewarriors/shared/cel/eyespirit.vtf
materials/models/hyrulewarriors/shared/cel/facialsspirit.vmt
materials/models/hyrulewarriors/shared/cel/blueye.vtf
materials/models/hyrulewarriors/shared/cel/facials.vmt
materials/models/hyrulewarriors/shared/cel/eyedemon.vtf
materials/models/hyrulewarriors/shared/cel/blueye.vmt
materials/models/hyrulewarriors/shared/cel/bluberryeye.vtf
materials/models/hyrulewarriors/shared/cel/eyespirit0.vmt
materials/models/hyrulewarriors/shared/cel/eyedemon.vmt
materials/models/hyrulewarriors/shared/cel/eyespirit.vmt
materials/models/hyrulewarriors/shared/cel/darkblueye.vtf
materials/models/hyrulewarriors/shared/cel/facials1.vmt
materials/models/hyrulewarriors/tetra/body1.vmt
materials/models/hyrulewarriors/tetra/body2.vmt
materials/models/hyrulewarriors/tetra/body_nrm.vtf
materials/models/hyrulewarriors/tetra/body3.vtf
materials/models/hyrulewarriors/tetra/hilt_nrm.vtf
materials/models/hyrulewarriors/tetra/body3.vmt
materials/models/hyrulewarriors/tetra/body1.vtf
materials/models/hyrulewarriors/tetra/body0.vtf
materials/models/hyrulewarriors/tetra/body0.vmt
materials/models/hyrulewarriors/tetra/body2.vtf
materials/models/hyrulewarriors/tetra/facials.vmt
materials/models/hyrulewarriors/tetra/blueye.vmt
materials/models/hyrulewarriors/tetra/body.vtf
materials/models/hyrulewarriors/tetra/hilt.vtf
materials/models/hyrulewarriors/tetra/hilt.vmt
materials/models/hyrulewarriors/tetra/body.vmt
materials/models/hyrulewarriors/toonzelda/bodyspirit.vmt
materials/models/hyrulewarriors/toonzelda/body_nrm.vtf
materials/models/hyrulewarriors/toonzelda/bodyspirit.vtf
materials/models/hyrulewarriors/toonzelda/blueye.vmt
materials/models/hyrulewarriors/toonzelda/body.vtf
materials/models/hyrulewarriors/toonzelda/eyespirit.vmt
materials/models/hyrulewarriors/toonzelda/body.vmt
materials/models/hyrulewarriors/custom/bodyfszeldap.vtf
materials/models/hyrulewarriors/custom/bluberryeye.vmt
materials/models/hyrulewarriors/custom/bodyspiritp.vtf
materials/models/hyrulewarriors/custom/bodyhwtetrap.vtf
materials/models/hyrulewarriors/custom/darkblueye.vmt
materials/models/hyrulewarriors/custom/bodywwzelda.vtf
materials/models/hyrulewarriors/custom/bodyspiritart.vtf
materials/models/hyrulewarriors/custom/bodyarttetra.vtf
materials/models/hyrulewarriors/custom/bodyartzeldap.vtf
materials/models/hyrulewarriors/custom/bodyspiritartp.vtf
materials/models/hyrulewarriors/custom/bodyarttetrap.vtf
materials/models/hyrulewarriors/custom/bodyartzelda.vtf
materials/models/hyrulewarriors/custom/eyedemon.vmt
materials/models/hyrulewarriors/custom/bodywwzeldap.vtf
materials/models/hyrulewarriors/custom/bodyhwtoonzeldap.vtf
materials/models/hyrulewarriors/custom/bodyfszelda.vtf
materials/models/hyrulewarriors/custom/bodywwtetrap.vtf
materials/models/hyrulewarriors/custom/bodywwtetra.vtf
materials/models/hyrulewarriors/custom/weapons/tetra/cel/gun.vmt
materials/models/hyrulewarriors/custom/weapons/tetra/cel/sword.vmt
materials/models/hyrulewarriors/custom/princesstetra/body1.vmt
materials/models/hyrulewarriors/custom/princesstetra/body2.vmt
materials/models/hyrulewarriors/custom/princesstetra/bodyp.vmt
materials/models/hyrulewarriors/custom/princesstetra/body_nrm.vtf
materials/models/hyrulewarriors/custom/princesstetra/body3.vtf
materials/models/hyrulewarriors/custom/princesstetra/bodyspirit0.vtf
materials/models/hyrulewarriors/custom/princesstetra/body3p.vmt
materials/models/hyrulewarriors/custom/princesstetra/bodyspirit1.vmt
materials/models/hyrulewarriors/custom/princesstetra/bodyspirit0p.vmt
materials/models/hyrulewarriors/custom/princesstetra/body0p.vtf
materials/models/hyrulewarriors/custom/princesstetra/body3.vmt
materials/models/hyrulewarriors/custom/princesstetra/body3p.vtf
materials/models/hyrulewarriors/custom/princesstetra/body1.vtf
materials/models/hyrulewarriors/custom/princesstetra/body0.vtf
materials/models/hyrulewarriors/custom/princesstetra/body0.vmt
materials/models/hyrulewarriors/custom/princesstetra/body2p.vtf
materials/models/hyrulewarriors/custom/princesstetra/body0p.vmt
materials/models/hyrulewarriors/custom/princesstetra/body1p.vmt
materials/models/hyrulewarriors/custom/princesstetra/bodyspirit1.vtf
materials/models/hyrulewarriors/custom/princesstetra/body2.vtf
materials/models/hyrulewarriors/custom/princesstetra/blueye.vmt
materials/models/hyrulewarriors/custom/princesstetra/body.vtf
materials/models/hyrulewarriors/custom/princesstetra/eyespirit0.vmt
materials/models/hyrulewarriors/custom/princesstetra/body4p.vtf
materials/models/hyrulewarriors/custom/princesstetra/body4p.vmt
materials/models/hyrulewarriors/custom/princesstetra/bodyspirit0.vmt
materials/models/hyrulewarriors/custom/princesstetra/body2p.vmt
materials/models/hyrulewarriors/custom/princesstetra/bodyspirit1p.vtf
materials/models/hyrulewarriors/custom/princesstetra/bodyspirit1p.vmt
materials/models/hyrulewarriors/custom/princesstetra/eyespirit.vmt
materials/models/hyrulewarriors/custom/princesstetra/body1p.vtf
materials/models/hyrulewarriors/custom/princesstetra/body.vmt
materials/models/hyrulewarriors/custom/princesstetra/body4.vmt
materials/models/hyrulewarriors/custom/princesstetra/body4.vtf
materials/models/hyrulewarriors/custom/princesstetra/bodyspirit0p.vtf
materials/models/hyrulewarriors/custom/princesstetra/bodyp.vtf
materials/models/hyrulewarriors/custom/princesstetra/cel/body1.vmt
materials/models/hyrulewarriors/custom/princesstetra/cel/body2.vmt
materials/models/hyrulewarriors/custom/princesstetra/cel/bodyp.vmt
materials/models/hyrulewarriors/custom/princesstetra/cel/body3P.vtf
materials/models/hyrulewarriors/custom/princesstetra/cel/body3.vtf
materials/models/hyrulewarriors/custom/princesstetra/cel/bodyspirit0.vtf
materials/models/hyrulewarriors/custom/princesstetra/cel/body3p.vmt
materials/models/hyrulewarriors/custom/princesstetra/cel/bodyspirit1.vmt
materials/models/hyrulewarriors/custom/princesstetra/cel/bodyspirit0p.vmt
materials/models/hyrulewarriors/custom/princesstetra/cel/body3.vmt
materials/models/hyrulewarriors/custom/princesstetra/cel/body1.vtf
materials/models/hyrulewarriors/custom/princesstetra/cel/body0.vtf
materials/models/hyrulewarriors/custom/princesstetra/cel/body0.vmt
materials/models/hyrulewarriors/custom/princesstetra/cel/body5.vtf
materials/models/hyrulewarriors/custom/princesstetra/cel/body0p.vmt
materials/models/hyrulewarriors/custom/princesstetra/cel/body1p.vmt
materials/models/hyrulewarriors/custom/princesstetra/cel/body0P.vtf
materials/models/hyrulewarriors/custom/princesstetra/cel/bodyspirit1.vtf
materials/models/hyrulewarriors/custom/princesstetra/cel/body2.vtf
materials/models/hyrulewarriors/custom/princesstetra/cel/bodyP.vtf
materials/models/hyrulewarriors/custom/princesstetra/cel/body2P.vtf
materials/models/hyrulewarriors/custom/princesstetra/cel/body.vtf
materials/models/hyrulewarriors/custom/princesstetra/cel/body4P.vtf
materials/models/hyrulewarriors/custom/princesstetra/cel/eyespirit0.vmt
materials/models/hyrulewarriors/custom/princesstetra/cel/body4p.vmt
materials/models/hyrulewarriors/custom/princesstetra/cel/bodyspirit0.vmt
materials/models/hyrulewarriors/custom/princesstetra/cel/bodyspirit1P.vtf
materials/models/hyrulewarriors/custom/princesstetra/cel/body2p.vmt
materials/models/hyrulewarriors/custom/princesstetra/cel/bodyspirit1p.vmt
materials/models/hyrulewarriors/custom/princesstetra/cel/eyespirit.vmt
materials/models/hyrulewarriors/custom/princesstetra/cel/body1P.vtf
materials/models/hyrulewarriors/custom/princesstetra/cel/body5P.vtf
materials/models/hyrulewarriors/custom/princesstetra/cel/bodyspirit0P.vtf
materials/models/hyrulewarriors/custom/princesstetra/cel/body.vmt
materials/models/hyrulewarriors/custom/princesstetra/cel/body4.vmt
materials/models/hyrulewarriors/custom/princesstetra/cel/body4.vtf
materials/models/hyrulewarriors/custom/princesstetra/cel/c/body5p.vtf
materials/models/hyrulewarriors/custom/princesstetra/cel/c/body0p.vtf
materials/models/hyrulewarriors/custom/princesstetra/cel/c/body3p.vtf
materials/models/hyrulewarriors/custom/princesstetra/cel/c/body2p.vtf
materials/models/hyrulewarriors/custom/princesstetra/cel/c/body4p.vtf
materials/models/hyrulewarriors/custom/princesstetra/cel/c/body1p.vtf
materials/models/hyrulewarriors/custom/princesstetra/cel/c/bodyp.vtf
materials/models/hyrulewarriors/custom/princesstetra/cel/p/body3.vtf
materials/models/hyrulewarriors/custom/princesstetra/cel/p/body1.vtf
materials/models/hyrulewarriors/custom/princesstetra/cel/p/body0.vtf
materials/models/hyrulewarriors/custom/princesstetra/cel/p/body5.vtf
materials/models/hyrulewarriors/custom/princesstetra/cel/p/body2.vtf
materials/models/hyrulewarriors/custom/princesstetra/cel/p/body.vtf
materials/models/hyrulewarriors/custom/princesstetra/cel/p/body4.vtf
materials/models/hyrulewarriors/custom/tetra/bodyp.vmt
materials/models/hyrulewarriors/custom/tetra/body3p.vmt
materials/models/hyrulewarriors/custom/tetra/body5p.vmt
materials/models/hyrulewarriors/custom/tetra/body0p.vtf
materials/models/hyrulewarriors/custom/tetra/body3p.vtf
materials/models/hyrulewarriors/custom/tetra/body2p.vtf
materials/models/hyrulewarriors/custom/tetra/body0p.vmt
materials/models/hyrulewarriors/custom/tetra/body1p.vmt
materials/models/hyrulewarriors/custom/tetra/body5.vmt
materials/models/hyrulewarriors/custom/tetra/body4p.vmt
materials/models/hyrulewarriors/custom/tetra/body2p.vmt
materials/models/hyrulewarriors/custom/tetra/body1p.vtf
materials/models/hyrulewarriors/custom/tetra/body4.vmt
materials/models/hyrulewarriors/custom/tetra/cel/bodyp.vmt
materials/models/hyrulewarriors/custom/tetra/cel/body5p.vmt
materials/models/hyrulewarriors/custom/tetra/cel/body5.vtf
materials/models/hyrulewarriors/custom/tetra/cel/body5.vmt
materials/models/hyrulewarriors/custom/tetra/cel/bodyP.vtf
materials/models/hyrulewarriors/custom/tetra/cel/body.vtf
materials/models/hyrulewarriors/custom/tetra/cel/body4P.vtf
materials/models/hyrulewarriors/custom/tetra/cel/body4p.vmt
materials/models/hyrulewarriors/custom/tetra/cel/body5P.vtf
materials/models/hyrulewarriors/custom/tetra/cel/hilt.vmt
materials/models/hyrulewarriors/custom/tetra/cel/body.vmt
materials/models/hyrulewarriors/custom/tetra/cel/body4.vmt
materials/models/hyrulewarriors/custom/tetra/cel/body4.vtf
materials/models/hyrulewarriors/custom/toonzelda/bodyspirit.vmt
materials/models/hyrulewarriors/custom/toonzelda/body1.vmt
materials/models/hyrulewarriors/custom/toonzelda/body2.vmt
materials/models/hyrulewarriors/custom/toonzelda/bodyp.vmt
materials/models/hyrulewarriors/custom/toonzelda/pantsspirit.vmt
materials/models/hyrulewarriors/custom/toonzelda/bodyspirit0p.vmt
materials/models/hyrulewarriors/custom/toonzelda/bodyspiritp.vmt
materials/models/hyrulewarriors/custom/toonzelda/body0.vmt
materials/models/hyrulewarriors/custom/toonzelda/body0p.vmt
materials/models/hyrulewarriors/custom/toonzelda/body1p.vmt
materials/models/hyrulewarriors/custom/toonzelda/pants.vmt
materials/models/hyrulewarriors/custom/toonzelda/eyespirit0.vmt
materials/models/hyrulewarriors/custom/toonzelda/bodyspirit0.vmt
materials/models/hyrulewarriors/custom/toonzelda/body2p.vmt
materials/models/hyrulewarriors/custom/toonzelda/eyespirit.vmt
materials/models/hyrulewarriors/custom/toonzelda/body.vmt
materials/models/hyrulewarriors/custom/toonzelda/cel/bodyspirit.vmt
materials/models/hyrulewarriors/custom/toonzelda/cel/body1.vmt
materials/models/hyrulewarriors/custom/toonzelda/cel/body2.vmt
materials/models/hyrulewarriors/custom/toonzelda/cel/bodyp.vmt
materials/models/hyrulewarriors/custom/toonzelda/cel/body3P.vtf
materials/models/hyrulewarriors/custom/toonzelda/cel/body3.vtf
materials/models/hyrulewarriors/custom/toonzelda/cel/body3p.vmt
materials/models/hyrulewarriors/custom/toonzelda/cel/bodyspirit0p.vmt
materials/models/hyrulewarriors/custom/toonzelda/cel/bodyspiritp.vmt
materials/models/hyrulewarriors/custom/toonzelda/cel/body3.vmt
materials/models/hyrulewarriors/custom/toonzelda/cel/body1.vtf
materials/models/hyrulewarriors/custom/toonzelda/cel/body0.vtf
materials/models/hyrulewarriors/custom/toonzelda/cel/body0.vmt
materials/models/hyrulewarriors/custom/toonzelda/cel/body0p.vmt
materials/models/hyrulewarriors/custom/toonzelda/cel/body1p.vmt
materials/models/hyrulewarriors/custom/toonzelda/cel/body0P.vtf
materials/models/hyrulewarriors/custom/toonzelda/cel/body2.vtf
materials/models/hyrulewarriors/custom/toonzelda/cel/bodyP.vtf
materials/models/hyrulewarriors/custom/toonzelda/cel/body2P.vtf
materials/models/hyrulewarriors/custom/toonzelda/cel/body.vtf
materials/models/hyrulewarriors/custom/toonzelda/cel/body4P.vtf
materials/models/hyrulewarriors/custom/toonzelda/cel/bodyspirit0.vmt
materials/models/hyrulewarriors/custom/toonzelda/cel/body2p.vmt
materials/models/hyrulewarriors/custom/toonzelda/cel/body1P.vtf
materials/models/hyrulewarriors/custom/toonzelda/cel/body.vmt
materials/models/hyrulewarriors/custom/toonzelda/cel/body4.vtf




hyrulewarriors-tetrazelda-v32-sfm.zip
11
2023-04-29 14:59:04
14.81 MB
File contents:

models\hyrulewarriors\tetra.vvd
models\hyrulewarriors\toonzelda.vvd
models\hyrulewarriors\toonzelda.dx90.vtx
models\hyrulewarriors\toonzelda.mdl
models\hyrulewarriors\tetra.mdl
models\hyrulewarriors\tetra.dx90.vtx
materials/models/hyrulewarriors/weapons/tetra/gun.vtf
materials/models/hyrulewarriors/weapons/tetra/sword.vtf
materials/models/hyrulewarriors/weapons/tetra/tetrabow.vmt
materials/models/hyrulewarriors/weapons/tetra/tetraarrow.vmt
materials/models/hyrulewarriors/weapons/tetra/sword_nrm.vtf
materials/models/hyrulewarriors/weapons/tetra/tetraarrow.vtf
materials/models/hyrulewarriors/weapons/tetra/tetrabow_nrm.vtf
materials/models/hyrulewarriors/weapons/tetra/tetrabow.vtf
materials/models/hyrulewarriors/weapons/tetra/gun.vmt
materials/models/hyrulewarriors/weapons/tetra/sword.vmt
materials/models/hyrulewarriors/weapons/tetra/tetraarrow_nrm.vtf
materials/models/hyrulewarriors/weapons/tetra/gun_nrm.vtf
materials/models/hyrulewarriors/shared/shared_Lightwarp.vtf
materials/models/hyrulewarriors/shared/exponent.vtf
materials/models/hyrulewarriors/shared/facials.vtf
materials/models/hyrulewarriors/shared/eyespirit.vtf
materials/models/hyrulewarriors/shared/facialsspirit.vmt
materials/models/hyrulewarriors/shared/blueye.vtf
materials/models/hyrulewarriors/shared/facials.vmt
materials/models/hyrulewarriors/shared/blueye.vmt
materials/models/hyrulewarriors/shared/shared_normal.vtf
materials/models/hyrulewarriors/shared/facialsspirit.vtf
materials/models/hyrulewarriors/tetra/body1.vmt
materials/models/hyrulewarriors/tetra/body2.vmt
materials/models/hyrulewarriors/tetra/body_nrm.vtf
materials/models/hyrulewarriors/tetra/gun.vtf
materials/models/hyrulewarriors/tetra/body3.vtf
materials/models/hyrulewarriors/tetra/sword.vtf
materials/models/hyrulewarriors/tetra/hilt_nrm.vtf
materials/models/hyrulewarriors/tetra/body3.vmt
materials/models/hyrulewarriors/tetra/body1.vtf
materials/models/hyrulewarriors/tetra/NRM.vtf
materials/models/hyrulewarriors/tetra/body0.vtf
materials/models/hyrulewarriors/tetra/body0.vmt
materials/models/hyrulewarriors/tetra/sword_nrm.vtf
materials/models/hyrulewarriors/tetra/body2.vtf
materials/models/hyrulewarriors/tetra/facials.vmt
materials/models/hyrulewarriors/tetra/blueye.vmt
materials/models/hyrulewarriors/tetra/body.vtf
materials/models/hyrulewarriors/tetra/hilt.vtf
materials/models/hyrulewarriors/tetra/tetra_nrm.vtf
materials/models/hyrulewarriors/tetra/gun.vmt
materials/models/hyrulewarriors/tetra/sword.vmt
materials/models/hyrulewarriors/tetra/hilt.vmt
materials/models/hyrulewarriors/tetra/body.vmt
materials/models/hyrulewarriors/tetra/gun_nrm.vtf
materials/models/hyrulewarriors/tetra/cel/body1.vmt
materials/models/hyrulewarriors/tetra/cel/body2.vmt
materials/models/hyrulewarriors/tetra/cel/Head0.vmt
materials/models/hyrulewarriors/tetra/cel/Head2.vmt
materials/models/hyrulewarriors/tetra/cel/body0.vmt
materials/models/hyrulewarriors/tetra/cel/Head.vmt
materials/models/hyrulewarriors/tetra/cel/HeadP.vmt
materials/models/hyrulewarriors/tetra/cel/boots.vmt
materials/models/hyrulewarriors/tetra/cel/Clothes0.vmt
materials/models/hyrulewarriors/tetra/cel/Head2P.vmt
materials/models/hyrulewarriors/tetra/cel/Clothes2.vmt
materials/models/hyrulewarriors/tetra/cel/Head1P.vmt
materials/models/hyrulewarriors/tetra/cel/Head0P.vmt
materials/models/hyrulewarriors/tetra/cel/Clothes1.vmt
materials/models/hyrulewarriors/tetra/cel/Head1.vmt
materials/models/hyrulewarriors/tetra/cel/body.vmt
materials/models/hyrulewarriors/tetra/cel/Clothes.vmt
materials/models/hyrulewarriors/toonzelda/bodyspirit.vmt
materials/models/hyrulewarriors/toonzelda/body_nrm.vtf
materials/models/hyrulewarriors/toonzelda/bodyspirit.vtf
materials/models/hyrulewarriors/toonzelda/blueye.vmt
materials/models/hyrulewarriors/toonzelda/body.vtf
materials/models/hyrulewarriors/toonzelda/eyespirit.vmt
materials/models/hyrulewarriors/toonzelda/body.vmt