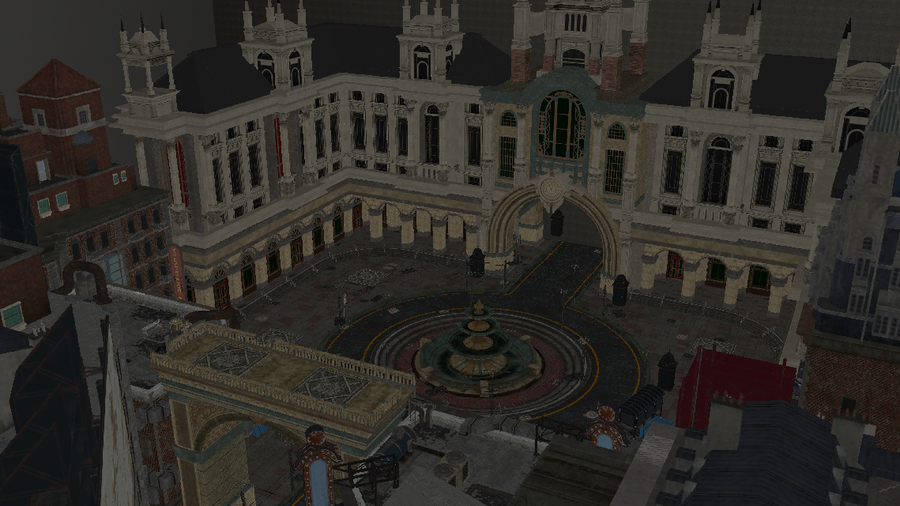 Show more
Description
*Edit*: I fixed the file pathing of the materials so there should be no more pink textures, sorry about that.
*Update 8-12-23* Fixed an issue where AO makes the entire map invisible. This may or may not make some minute things invisible like some windows but it's probably best to just use a flat plane model to cover them.
After about a year or so of constant fiddling, I've finally gotten this model to a point where I can release this and know that I've done all I could possibly do, within reason, to make it look useable and presentable.
I present to you, a chunk of the Fountain Plaza from FF7R.
That being said I'm going to immediately quash all over-expectations of this model.
There's only a diffuse map and no (Good)bumpmap(there's a flat bump tho) or any other texture for that matter, AO or SPEC.
The texture is one giant 8k texture with a few full res textures spliced in so some parts are clear enough for closer shots.
While the texture may be 8k it is an Atlas'ed texture meaning I've combined every single texture into one huge texture and managing to get it to 8k made it not look like COMPLETE ass, but it is a far cry from the original, it's source 1, comes with the territory.
This model is not perfect, however it is in a very usable state that it previously was nowhere near and I hope that those of you that come across this map can take it for what it is and make the best of it as I definitely will be using it.
I hope the preview images are enough to show you what this map has to offer. I'd show you the state it was in previously but it's unnecessary just know that it was far worse than what you might think of it in it's current state.
SFMLab is a free service. However, it costs about $0.03 to deliver you a 1GB file. With over 20TB of traffic every month and growing, SFMLab needs your help. If only 1% of our users each gave us $5 for a single month, we could keep the site running for several years.
Filename
Downloads
Created
Filesize
Files
FF7R_Fountain_Plaza_SFM_1.2.zip
259
2023-08-12 14:44:13
55.4 MB
File contents:

usermod/models/Lorisor/Final Fantasy/FF7/Remake/Locations/Fountain Plaza/fountain plaza.mdl
usermod/models/Lorisor/Final Fantasy/FF7/Remake/Locations/Fountain Plaza/fountain plaza 1.vvd
usermod/models/Lorisor/Final Fantasy/FF7/Remake/Locations/Fountain Plaza/fountain plaza 3.mdl
usermod/models/Lorisor/Final Fantasy/FF7/Remake/Locations/Fountain Plaza/fountain plaza 3.vvd
usermod/models/Lorisor/Final Fantasy/FF7/Remake/Locations/Fountain Plaza/Fountain Plaza 3.dx90.vtx
usermod/models/Lorisor/Final Fantasy/FF7/Remake/Locations/Fountain Plaza/Fountain Plaza 2.dx90.vtx
usermod/models/Lorisor/Final Fantasy/FF7/Remake/Locations/Fountain Plaza/fountain plaza 2.vvd
usermod/models/Lorisor/Final Fantasy/FF7/Remake/Locations/Fountain Plaza/Fountain Plaza.dx90.vtx
usermod/models/Lorisor/Final Fantasy/FF7/Remake/Locations/Fountain Plaza/fountain plaza 2.mdl
usermod/models/Lorisor/Final Fantasy/FF7/Remake/Locations/Fountain Plaza/Fountain Plaza 4.dx90.vtx
usermod/models/Lorisor/Final Fantasy/FF7/Remake/Locations/Fountain Plaza/fountain plaza.vvd
usermod/models/Lorisor/Final Fantasy/FF7/Remake/Locations/Fountain Plaza/Fountain Plaza 1.dx90.vtx
usermod/models/Lorisor/Final Fantasy/FF7/Remake/Locations/Fountain Plaza/fountain plaza 4.mdl
usermod/models/Lorisor/Final Fantasy/FF7/Remake/Locations/Fountain Plaza/fountain plaza 1.mdl
usermod/models/Lorisor/Final Fantasy/FF7/Remake/Locations/Fountain Plaza/fountain plaza 4.vvd
usermod/materials/models/Lorisor/Final Fantasy/FF7/Remake/Locations/Fountain Plaza/Metals.vmt
usermod/materials/models/Lorisor/Final Fantasy/FF7/Remake/Locations/Fountain Plaza/null-bumpmap.vtf
usermod/materials/models/Lorisor/Final Fantasy/FF7/Remake/Locations/Fountain Plaza/Windows.vmt
usermod/materials/models/Lorisor/Final Fantasy/FF7/Remake/Locations/Fountain Plaza/material_atlas_66153_1.vmt
usermod/materials/models/Lorisor/Final Fantasy/FF7/Remake/Locations/Fountain Plaza/plaza.vtf
usermod/materials/models/Lorisor/Final Fantasy/FF7/Remake/Locations/Fountain Plaza/plazaN.vtf
usermod/materials/models/Lorisor/Final Fantasy/FF7/Remake/Locations/Fountain Plaza/Tarp.vmt